Editor's note: Alidropship is the number one choice for dropshippers with Wordpress websites. It makes selling AliExpress items easy and simple. If you want to explore more about Alidropship and how it can help you grow, keep reading. Sam does a thorough review of Alidropship in this post. For help related to Wordpress and custom plugin requirements, contact a good Wordpress plugin development company in your area.
Sellers today face an enormous amount of competition, thanks to the rise of ecommerce.
The global ecommerce market is expected to hit over  $4 trillion in the next few years.
With ever rising competition, it's not easy to hold ground in the market. It's no longer enough to build a Wordpress site and watch your profits soar.
Fierce competition means sellers need to stand out and cut costs whenever possible.
And while there's no easy answer for ecommerce success, there's an emerging strategy that stands out above the rest; dropshipping.
Integrated with your Wordpress website, dropshipping can help you sell products without the associated overhead of traditional ecommerce selling. There's no warehouses, shipping fees, or distributor contracts.
Instead, you're selling other retailers' products at a markup.
The retailers stock the products, ship them, and let you collect the profits. With low overhead, there's almost unlimited potential.
Or there would be if dropshipping was straightforward. Coordinating your own online store, finding profitable niches, and marketing your own ecommerce business isn't easy.
Think of it this way, not only do you need to convince consumers to pay a markup for products, but you also need to handle the business logistics.
That's why more and more dropshippers are turning to tools like Alidropship to help streamline their logistics, leaving more time for marketing and brand building.
Though you can easily find Alidropship reviews on the internet but not the ones that touch upon every aspect of the tool.
So today, we're taking a look at Alidropship review to see if it's the best tool for your dropshipping business. Ready to get started? Let's break down Alidropship and how it can help your business.
Get Special Pricing for Alidropship
Dropshipping 101
Before we get into Alidropship review , we should touch on the dropshipping basics.
At its core, dropshipping amounts to reselling products at a markup.
You're using your store to list products from other retailers and collecting the difference between your price and the retail price.
The best dropshippers offer a variety of different products in different niches, sourced from low-cost retailers.
The goal being to offer customers a one-stop-shop to buy things they could find elsewhere. You're selling convenience, perhaps more than you're selling products.
The process works something like this. First, you set up an online storefront to advertise products.
Next, secure a retailer with low prices. Aliexpress works great (and is the focus of our review product).
The consumer then browses your store and purchases an item at markup. You pay the retailer yourself and enter the consumer's shipping details.
The product leaves the retailer's warehouse and arrives with the consumer assuming it came from your warehouse.
You can even include an extra shipping cost in your markup price to give the illusion that you're shipping the products.
You want consumers to view your business like any other ecommerce storefront.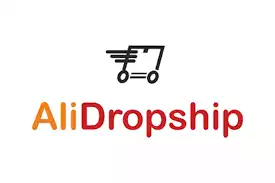 We earn a commission if you click this link and make a purchase at no additional cost to you.
Alidropship Overview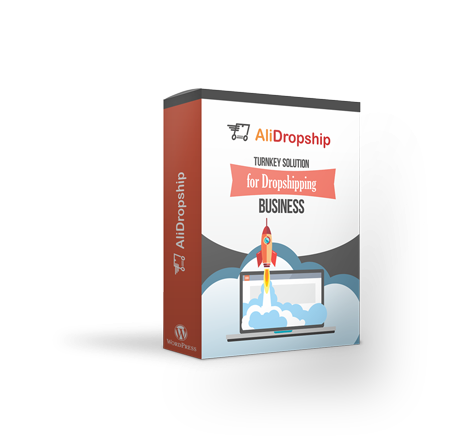 Alidropship focuses on solving the problems associated with dropshipping. Put simply, it pulls information from AliExpress to help build your Wordpress ecommerce storefront. It's a great Aliexpress plugin .
Getting into a little more detail, Alidropship is an Aliexpress Wordpress plugin that works with the AliExpress site to source product information.
It's like an automatic way to build your store (though you're still responsible for the store's design).
Alidropship Benefits
As we said earlier, all good Alidropship reviews cover things in detail. This Alidropship review is one of those. Let's get down to Alidropship benefits.
Build your own professional store
AliDropship plugin allows you to create your own store professionally and easily with all the features needed to build a highly profitable business.
Order custom store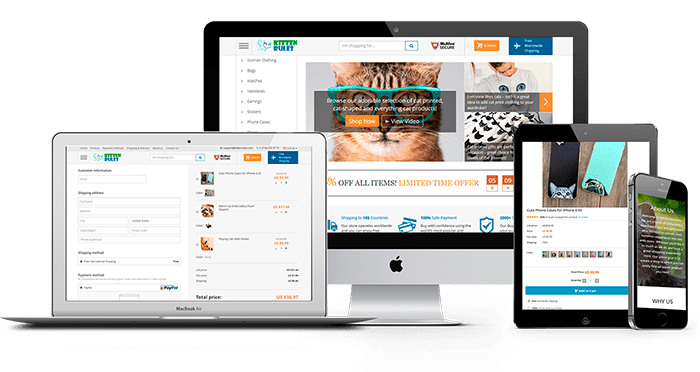 If you're pressed for time or don't have the patience to build your own web store, AliDropship developers will do the heavy lifting for you and build a beautiful store for your business.
100 percent ownership
Whether you create the store yourself or have it done for you, the ownership is 100 percent yours, and you keep all the profits. You also get to do whatever you want with your store.
Huge profit margins
AliExpress offers millions of products at very low prices so you get to enjoy, and cash in on, unprecedented profit margins.
Expand your business any time
AliDropship won't limit the number of products you want to have on your store, neither does it limit the monthly sales you receive.
Whether they're tens of thousands, or millions of products and orders, you don't get charged for anything. That's a guarantee from AliDropship.
Lifelong support and high quality services
A wide range of quality services are at your disposal so you can succeed at each growth stage of your business.
AliDropship also offers free personal support for each solution so they're always with you.
Alidropship Features
WooCommerce Plugin
The Alidropship WooCommerce plugin is simple to use and takes only seconds to import products into your WooCommerce web store from AliExpress, process orders from clients, and track the performance of your business.
Specifically, the Alidropship WooCommerce plugin helps you:
Send orders to suppliers with one click
Add an unlimited number of products to your store
Save time while boosting your income
One-time payment for the plugin so you save costs
Enjoy lifelong support and free plugin updates and guidance
Worth Reading : Best WooCommerce Dropshipping Plugins
Alidropship Search & Import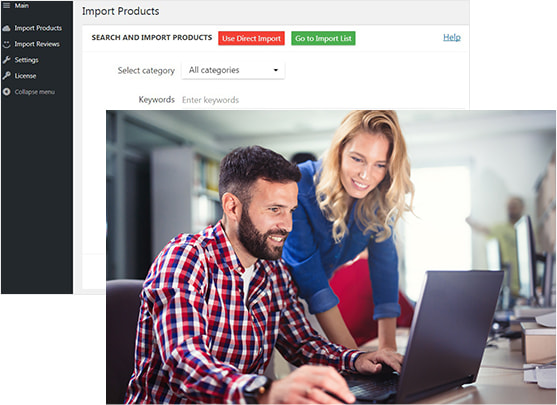 This Aliexpress plugin allows you to use different integrated filters to find AliExpress products you desire, and then add them easily to your web store.
Alidropship Image Editor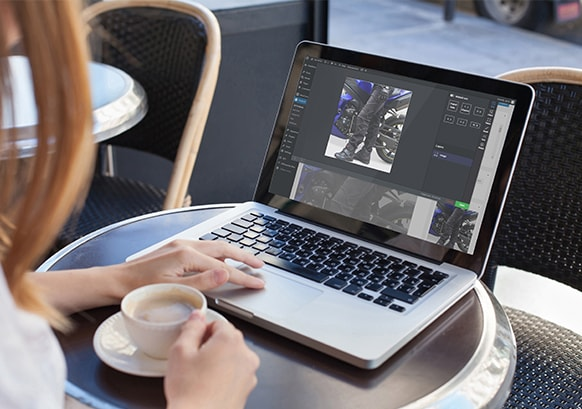 The tool has a built-in image editor that allows you to edit or change product images in Alidropship Chrome extension as you import items.
You can also change the images directly from WordPress admin panel by resizing, applying filters or stickers, removing watermarks, and more.
Automated Orders & Updating
With this Aliexpress plugin, you need not order products manually. Simply click 'Order' and confirm it on AliExpress.
It also has an automatic updating system that keeps product information fresh and corresponds to the most recent data from AliExpress.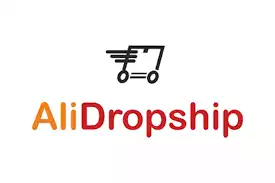 We earn a commission if you click this link and make a purchase at no additional cost to you.
Unlimited Products
AliDropship allows you to sell thousands or millions of products. There's no limit on how much or the type of products you can sell in your store.
Alidropship Product Reviews
Encourage sales by engaging your customers with options to import reviews directly from AliExpress into your dropshipping web store.
Cash-back System
This lets you earn eight percent commission on every purchase as an added bonus to the income you earn from your main dropshipping source.
Alidropship Chrome Extension
With Alidropship chrome extension , you can import products easily in bulk, or one by one, and select one or many shipping methods and countries.
Pricing Automation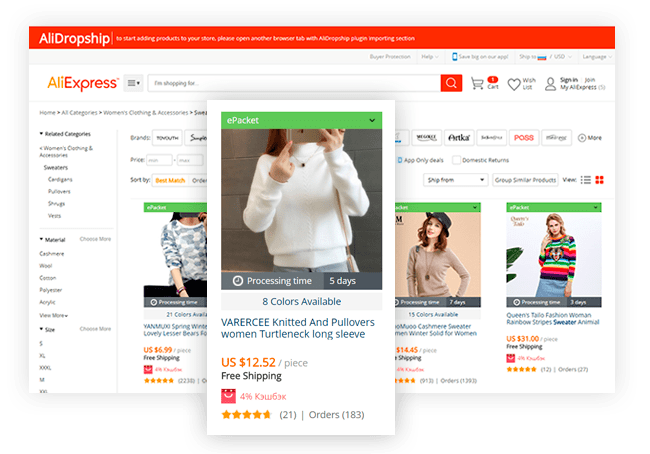 AliDropship offers an advanced formula for price markup that you can apply to your rules for specific products, or for each item in your web store.
Automated Order Tracking
AliDropship plugin checks orders for tracking updates, and then automatically sends emails to your clients.
ePacket Shipping Filter
This tool allows you to find products easily so that your customers get a free and fast delivery service.
Free Support and Updates


With the WooCommerce plugin for AliDropship, you can get full after-sales service support and a lifetime of free updates with the latest features and options.
The Woo plugin is compatible with any of the WooCommerce themes, so you can pick one and customize it for your store.
Alidropship Discount Coupons
This is a great marketing tool for your web store. You can run promotions and sales by offering customers custom discount coupon codes.
It also lets you pick the kind of discounts you want to offer, like percentage or dollars off, free shipping, and more.
SEO Product Tags
AliDropship offers this tool so you can optimize product pages for your search engines with specific titles, meta tags, keywords, and descriptions for your products.
Abandoned Cart
This is a common occurrence on web stores for several reasons, but the AliDropship plugin sends follow up emails to customers in order to recover sales that would be lost altogether.
Email Lists
AliDropship plugin gathers customers' emails and emails of users who dropped their contact details on your web store but did not close the purchase.
Live Statistics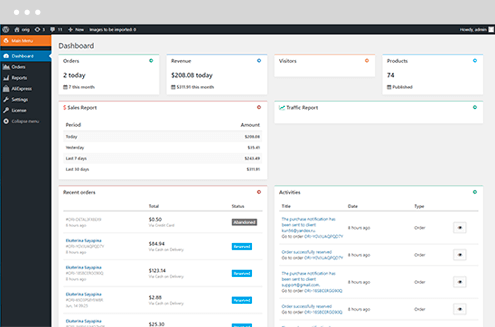 Connect your Google Analytics to AliDropship plugin for detailed data on traffic sources and visitors.
Inventory management
The plugin also lets you manage your entire inventory closely, while tracking your stock counts and you can halt sales whenever stock for specific products runs out.
Dashboard
An intuitive, all-in-one user dashboard is available for you to make the right business decisions and choices as you control and monitor orders, sales, traffic, and other store activities.
How To Create A Dropshipping Store In AliDropship?
With AliDropship, you get two options when you decide to pay for the service
Create a custom store
Using AliDropship plugin
1. Create a custom store
You can choose to create your own dropshipping website on the platform, or get your custom store created for you by AliDropship developers.
AliDropship offers the hosting, so you get to enjoy 100 percent ownership of your store. It also offers a library of templates to pick from when creating your store.
If you want the AliDropship team of developers to create your custom store for you from scratch. You'll make a one-time payment, whose pricing starts from $299, and offers:
Assistance in selecting the most profitable niche
A web store built from the ground up with all the required features
A unique design that matches your exact preferences
A personal manager to guide you through each step
A turnkey business, ready to make profits
With this option, you don't need to do any work or have any experience.
The AliDropship developers also run their own sites and have been in the business for quite some time, so they know what is required for a successful dropshipping business.
How it works
The process of getting a custom store created for you by the AliDropship developers' team is simple:
Place your order to get a ready-made custom store
A personal manager will be assigned to you and will contact you to start building your site
The developer team works tirelessly to create your premium dropshipping store
Finally, you get a turnkey business ready for you to bring in profits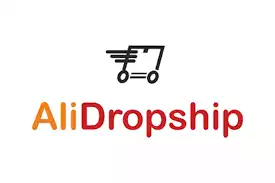 We earn a commission if you click this link and make a purchase at no additional cost to you.
Benefits of creating a custom store
Perfectly optimized themes –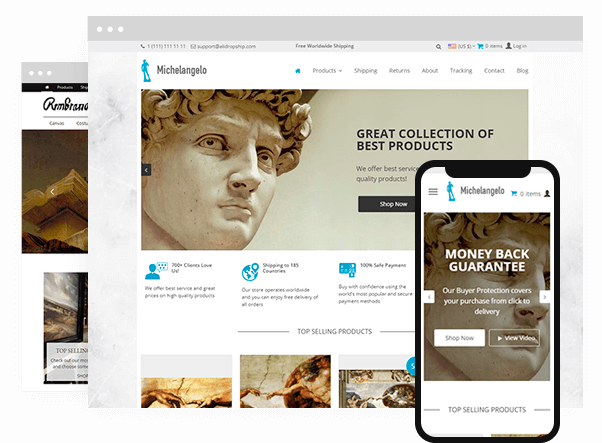 A variety of themes designed professionally and proven to generate high conversions are available for you to choose for your store.
They're all responsive and look fantastic in any operating system, browser, or device.
Complete Ecommerce solution –
The AliDropship team ensures your store has all the products you want, and your shopping cart is 100 percent ready for accepting payments.
The store will also have a dashboard that shows orders, sales, statistics, and activities, so you can manage your store effectively and with ease.
Integrated marketing tools – 
Your custom created web store will include every tool needed for marketing products, like discount coupons, emails for recovering abandoned carts, subscriber lists, product reviews, and more.
100 percent ownership – 
You own your store fully and can do anything you like with it. You can customize further, add or delete pages, change and/or edit the content, or even sell it.
Automated management – 
Your dropshipping store will also include features necessary to create and manage your product catalogs.
You can import products easily from AliExpress and the store updates product details automatically, with real time price changes.
Deep niche research – 
AliDropship team carefully selects and analyzes niches for you to find the most profitable ones using Google Trends and AdWords.
This means your niche is one that is on demand now, with maximum potential for growth and stable long-term resilience.
The team also analyzes the competition to give you in-depth analysis of keywords.
Popular Payment Methods – 
AliDropship plugin ensures a seamless experience for you and your customers as it supports the most trusted and convenient payment methods like credit cards, PayPal, Stripe, and more.
Mobile-friendly and responsive web store –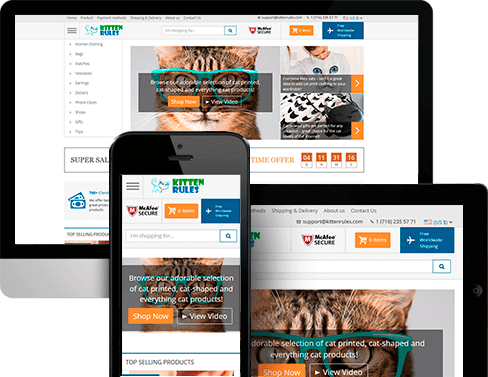 Mobile responsiveness is a ranking signal used heavily by Google in search results and it brings great rewards for sites fully optimized for mobile.
As such, you need a fast, responsive web store today, and AliDropship is careful to ensure your store has a cutting-edge and mobile-responsive design that adapts to any screen size.
Premium domain – 
AliDropship also buys an appealing domain name (.com) that'll fit your niche and the brand you desire.
They only select domain names that are search-engine friendly, short, and memorable. Once bought, they'll transfer
it to your GoDaddy account and you have full ownership rights.
On-site SEO – 
Optimizing your site makes your store appeal to search engines and your customers or shoppers.
This way, your visibility increases and search results deliver targeted, high quality traffic.
AliDropship developers use strategies to do this within the algorithmic (organic, natural, or free) search results.
Unique and stylish design – 
Your store will get a clean design with a custom logo, icons, header, favicon, images, banners, and everything else needed for a store you will be proud to put your name on.
Branded social pages – 
Creative and engaging pages on top social networking channels are included in your web store, with professionally crafted graphics from the AliDropship team of talented designers.
This boosts your store to come out strong. Also included is a social media promo tool, Social Rabbit, which is the best WordPress plugin to auto-run and auto-promote your store on social media.
This ensures constant flow of qualified traffic and saves you time every week, while your business runs on autopilot.
Promo videos – 
AliDropship's designers ensure your store incorporates video marketing, for better promotion of your store and products.
This brings more loyalty, trust, and search engine visibility. Your videos are also tailored to promote
your dropshipping store while explaining the benefits of your offerings.
2. Using AliDropship plugin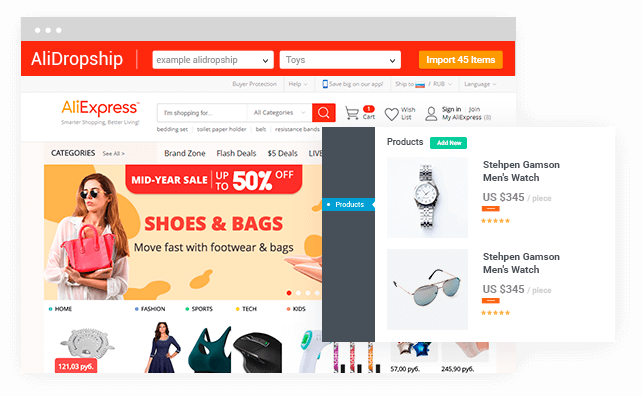 If you choose to use a plugin, you can work with the WordPress plugin, whose looks and functions are similar to the custom store.
However, it integrates with a WordPress site that has already been designed.
Thus, if you already use WordPress or WooCommerce, or have used that interface before, it makes more sense to use the AliDropship plugin option.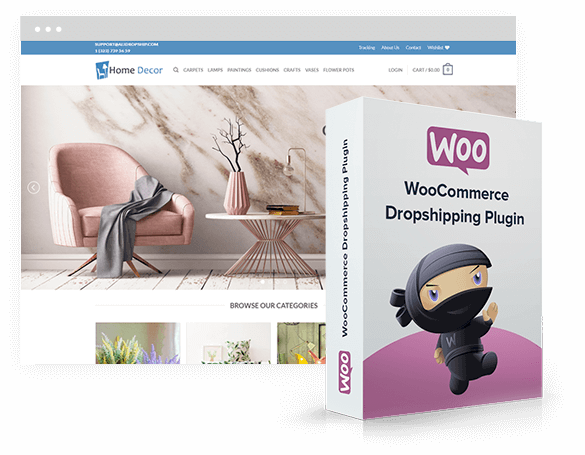 With the plugin, you get:
Easy installation
Easy customization
One-click importation of products from AliExpress
Profit margins set where you want them
Automated solutions for easy management and marketing
Full automation brings sales in 24/7
A wide array of add-ons to boost sales and traffic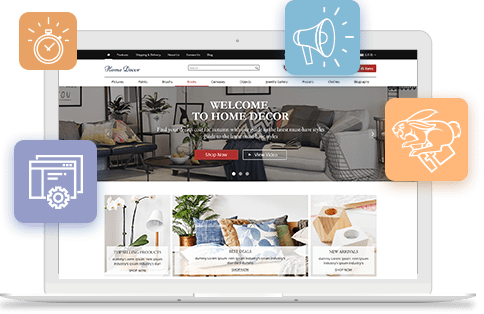 One-time payment for all features
Unlimited products to choose from
Alidropship Pricing
Now that you know the features you can get for your web store, and how to get one created, up, and running, it's time to talk about Alidropship pricing .
Below are the packages offered in Alidropship price : Basic, Advanced, and Ultimate.

Alidropship pricing is fairly simple and has something for all.
Basic package
This package offers all the tools you need to start your dropshipping business fast, and easily.
A one-time payment of $299 is charged, and if you want hosting, top up with $48 per year with free SSL included.
Advanced package
This includes extra features and marketing tools so your dropshipping business can experience rapid growth.
A one-time payment of $499 and an extra $48 per year for hosting is charged, with free SSL included.
Ultimate package
This is the perfect package for a 100 percent, hassle-free start, and a ready store for you to make instant profits.
It costs a one-time payment of $899 with $48 per year for hosting and free SSL included.
AliDropship doesn't offer a free trial, plus the domain isn't included in the hosting packages optimized for the AliDropship plugin.
AliDropship stands out as a robust and very affordable dropshipping plugin for WooCommerce and WordPress.
Unlike its competitors, it offers several powerful features and great pricing that is hard to beat. You can't go wrong with this tool.
Get Special Pricing for Alidropship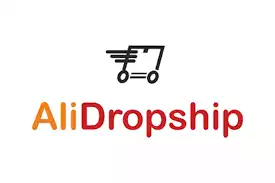 We earn a commission if you click this link and make a purchase at no additional cost to you.
3 Best AliDropship Alternatives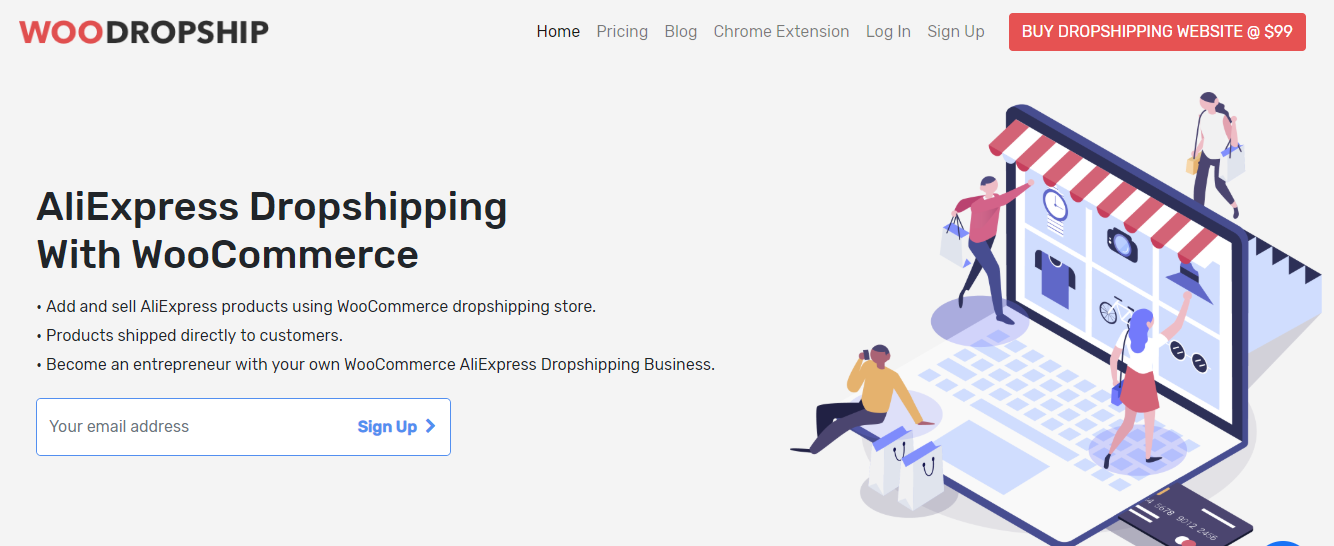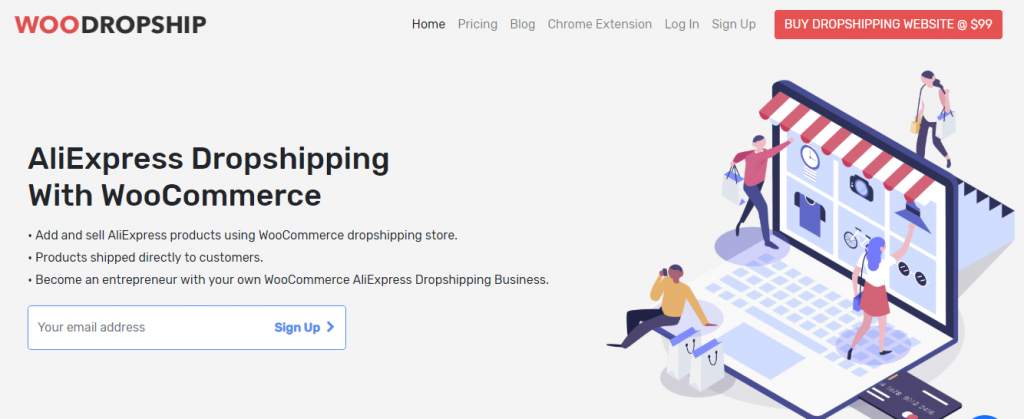 The first alternative on our list is WooDropship. Let's do a brief Woodropship review to know more.
This tool can transform your WooCommerce store into a fully-fledged dropshipping website. It can also help you create a dropshipping web store for AliExpress.
With WooDropship, products can be easily added from AliExpress to your store, as you fulfill customers' orders on AliExpress in one click.
Unlike AliDropship, this tool is subscription-based, so you need to subscribe to any of their packages, plus order fulfilment is determined by the plan you decide to use.
WooDropship Features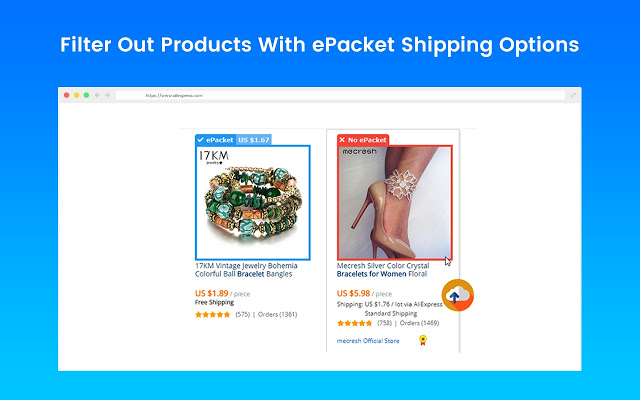 Importing and adding products in a few clicks from AliExpress as it syncs with this marketplace
Auto Update of inventory and products so you know when it's out of stock from suppliers
Automatic update and notifications on price changes for products
Order fulfilment in a single click
Built-in image editor to remove watermarks from AliExpress images
Automatic setting of prices for products imported from AliExpress with bulk edit. This helps you decide on profit margins for any product
WooDropship Pricing
WooDropship has a free 7-day trial that offers access to all the basic plan's features.


It has two packages:
Lifetime package costs $97 one time fee. Offers Unlimited products variants and orders
Monthly plan costs $19.99 monthly, for up to 5000 product variant imports, and order fulfilment for up to 100 orders a month
Let's talk about Pros and Cons in this Woodropship review .
WooDropship Pros
Customization
Smooth dropshipping with full automation with AliExpress
One year free hosting with the WooDropship Custom Store
WooDropship Cons
Doesn't give you full ownership of your store
Monthly recurring fee adds up to costs
Limits on orders you can receive based on subscription plan
Doesn't have extra add-ons
Limited support for custom store
Related : Salehoo Review – Best Dropshipping Guide


Formerly Shopified, this dropshipping company is about four years old and promises streamlined product sourcing and fulfilment of orders for your dropshipping business.
Dropified Features

Automated product imports in one click and automated order fulfilment
Store manager to upload products and process orders while managing your stores from the dashboard
Product syncing: you can import existing products from your store and sync them using Dropified app
Image editor to crop and resize images using the in-app photo editing tool
Bulk product management to edit details of multiple products like category, prices, and weight all in one go
Custom boards to pick your favorite products and upload to your store
Pricing rules and updates to achieve desired profit margins and get alerts on price changes. Dropified adjusts pricing automatically
Built-in shipment tracking to track deliveries and know where they are; it can also notify customers of their orders
Product bundling helps you manage multiple items in one place from several suppliers
Inventory alerts automatically adjusted so you don't sell items that are out of stock
Vendor switching in case better prices or inventory has run out
Order audit tool to monitor order logs and find errors like wrong addresses or duplicate orders
Chrome extension to import products easily and fulfill orders from the browser plugin
Dropified Pricing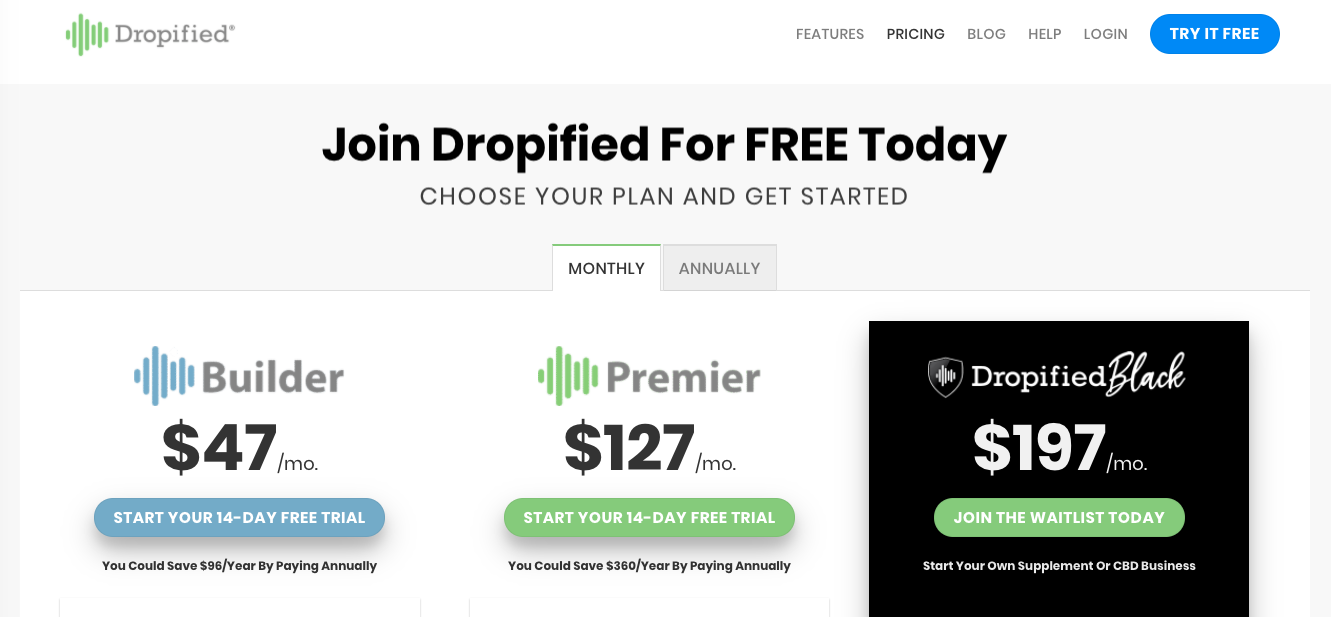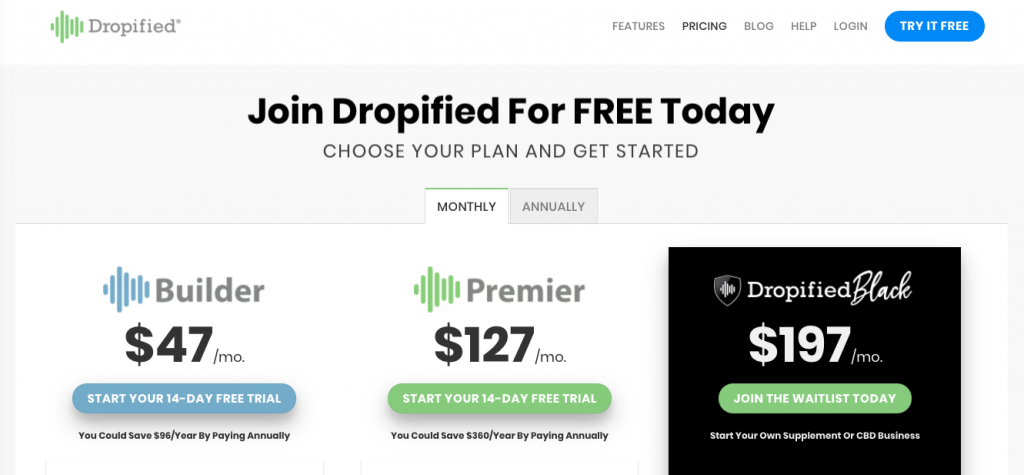 Dropified offers two pricing plans:
Builder: $47/month, for 1 store and up to 15,000 products, 50 product boards, and unlimited order fulfilment
Premier: $127 per month. Offers 5 stores with up to 50,000 products, 250 product boards, and unlimited order fulfilment
They have also come up with Dropified Black plan at $197/month for those wanting to start a supplement or CBD business.
Dropified Pros
Powerful features
Time-saving
Responsive live chat with Dropified team
Free trial (14 days) and 30-day money back guarantee
Multi-platform compatibility to find products
Dropified Cons
Limited automation that works only with AliExpress
Doesn't have a FAQ section for customer support
Needs manual processing to work with other marketplaces
You might want to read – Doba Dropshipping Review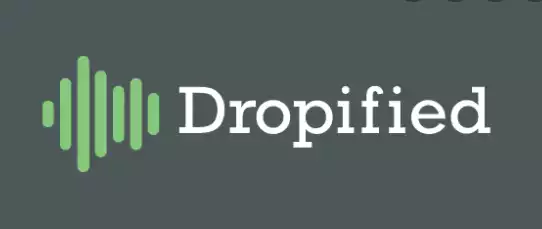 We earn a commission if you click this link and make a purchase at no additional cost to you.


This dropshipping plugin allows you to import selected AliExpress products easily with clear, edited descriptions and titles to your store.
It is a WordPress exclusive plugin and offers more than 50,000 bestselling products picked and edited manually for importing to your store in a few clicks.
It is efficient, and selects products in your niche then adds these quickly to your web store.
Dropship.me Features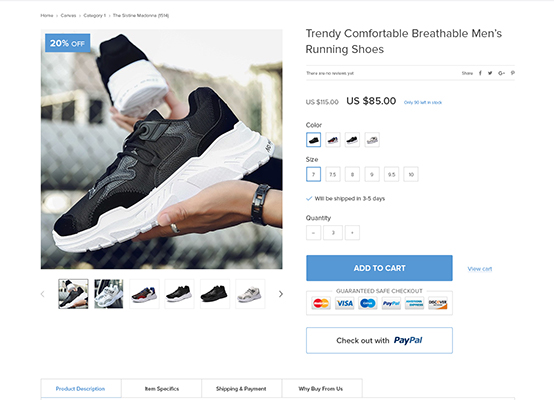 Free WordPress plugin with no extra extensions or plugins to set up.It syncs with your store, finds the products you like, and imports them to your store
Best handpicked products: a catalog of more than 50,000 products from AliExpress is available, curated from a base of thousands of bestselling items that are increasing over time. The products integrate with stores that are WordPress-based
Professional titles and images: Dropship.me doesn't let you edit images or titles manually for products imported to your store. Everything is optimized perfectly so you can start making profits in no time
Customer reviews: you can import reviews with this plugin and keep the sales increasing as you go along
Trusted suppliers
Fast working speeds to start and run your store as soon as possible
Native recommended pricing markup to guide you on prices to set
Easy search and handy filters for easier product searching and organizing them based on rating, price, profit potential, and more
Dropship.me Pricing
Dropship.me pricing plans are as follows:
50 products import: Free
100 products import: one-time payment of $29 with 10 bonus products
500 products import: one-time payment of $119 with 200 bonus products
1000 products import: one-time payment of $1999 with 500 bonus products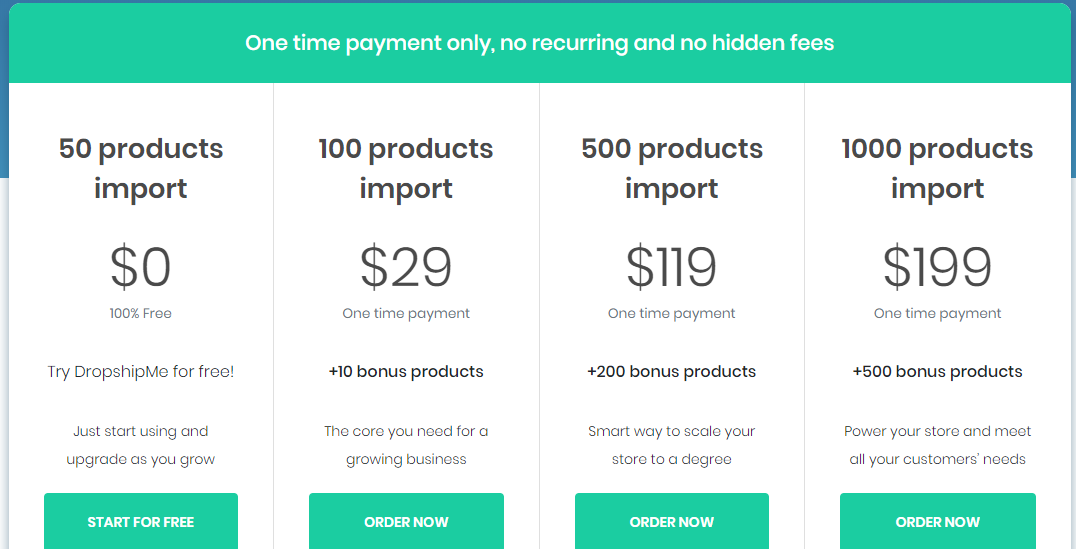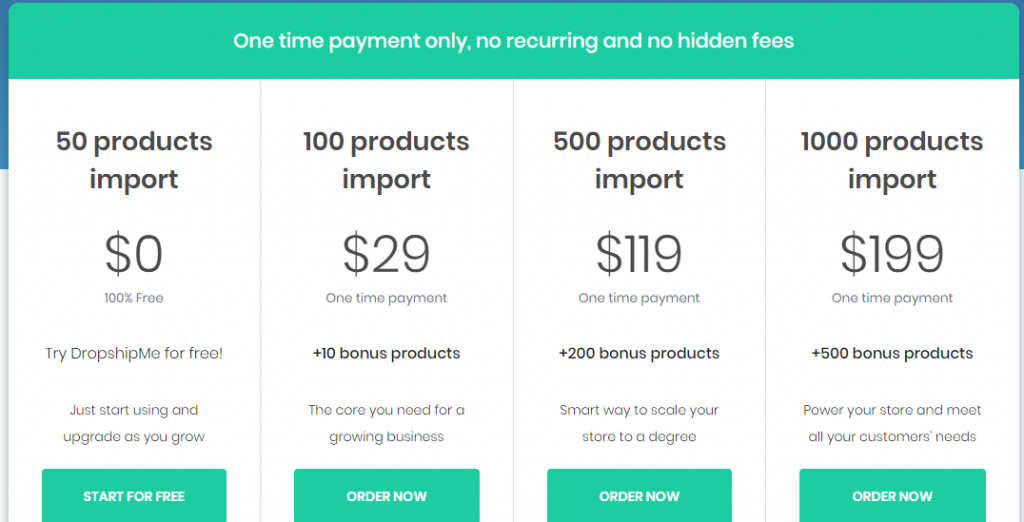 All packages include:
No extra charges
More than 50,000 best-selling products to select
Clear product titles and quality images
Free WordPress plugin for import management
Trusted suppliers
Customer Reviews
Lifetime support
Dropship.me Pros
Lifetime support
Trusted suppliers
Best-selling products
Dropship.me Cons
Starter plans have some limitations
Getting Started With AliDropship
Let's talk about how to get started with the tool in this Alidropship plugin review .
Getting started with the AliDropship plugin means downloading the plugin and activating it on your Wordpress page.
Once you've made the purchase, the company sends a code that you enter in the Wordpress backend.
It's easy enough, even if you do have to wait for an email.
Once you've installed the plugin, you'll need to install an ecommerce storefront.
If you don't already have a template, AliDropship offers their own options. Remember that the template you choose represents your storefront.
Easy to navigate templates with minimal clutter help consumers sort through your different products without getting lost.
And with the average website bounce rate sitting around 40 percent, it's more important than ever to keep consumers focused on your page.
Listing Your Products
Once you have your template and the AliDropship plugin installed, you can move onto using the plugin itself. The process is straightforward and we appreciate the automated updates after you've set up the basics.
It starts with selecting AliExpress products through the plugin.
AliDropship offers integrated filters that make searching AliExpress much more streamlined than scrolling through endless product pages.
Once you've selected a product, the plugin then pulls that product's AliExpress title, description, images, price, variations, and more.
All of that information compiles to create your unique product pages.
Plus, the plugin allows you to set custom prices and alter any and all product information.
What's more, all of that information auto-updates based on AliExpress's information. You can even set your prices to fluctuate based on AliExpress's listed price.
Making the Sale
Once a consumer buys something from your store, the plugin handles the ordering process. Details get sent through the plugin's database. Clicking "order" sends the sale to AliExpress and automates the shipping process.
Since AliDropship handles the transfer of customer information, it really saves time for busier stores.
We're impressed by just how streamlined the plugin makes the entire ordering process.
Marketing
While your storefront is the backbone of your business, without marketing you can't get much done.
Once more, AliDropship impresses us with a full suite of tools that go beyond normal dropshipping applications.
With the plugin, you can offer discount coupons, pull product reviews from AliExpress, collect email information, and create SEO-centric product tags.
In short, for a plugin that's focused on automating your business logistics, it offers an enormous amount of marketing potential.
The SEO-centric pages are especially useful in the ever competitive ecommerce space.
After all, it doesn't matter how streamlined your ordering and storefront if no one finds your website to begin with.
Summing It All Up
So here we have the Conclusion. We are done with our Alidropship review .
All in all, Alidropship is an excellent way to automate and streamline both the logistical and marketing aspects of your dropshipping business.
Pulling product details from AliExpress, the price setting, and the automated orders are invaluable when you're dealing with larger ecommerce stores.
Plus, we're big fans of the plugin's ability to help find new products.
The filtered search can help find products within certain niches that fit both your brand's theme as well as your price range.
Despite all of Alidropship's functionality, the plugin still maintains an easy to use layout that makes it simple for anyone to revamp their dropshipping business.
We seriously tried talking about all aspects in this Alidropship plugin review. From form to function, we highly recommend Alidropship.
If you're trying to start a new dropshipping business or just revamp your existing storefront, Alidropship is one of the best plugins around.
If you're serious about dropshipping, there's no better time than now to check them out.
Get Special Pricing for Alidropship

Author: Sam Zaman
Sam loves to write on technology & related stuff. Ecommerce, mobile and internet marketing equally drive her interest. Likes gardening and experimenting with new recipes. An avid reader and absolutely mad @bout donuts :)