Amazon's advertising service is changing the game for vendors and merchants.
For a service that launched in 2018, it has already changed the dynamics of the Amazon marketplace.
For retail companies, it delivers a more significant ROI than Facebook and Google.
Amazon Sponsored Products Ads play a critical role in helping you achieve your business goals. It gets your products in front of shoppers and drives sales and profits.
If you want to make the most out of your Amazon Sponsored Ad campaign, you need to optimize your PPC campaigns. You need the best Amazon PPC software in the business.
PPC Scope and PPC Entourage are incredible Amazon seller tools that help merchants optimize their ads and drive higher ROI from their PPC Campaigns.
They boost sales, increase the profit margin, and scale your Amazon business.
In this article, we will compare both Amazon PPC optimization tools to help you make the best choice.
So let's begin with our PPC Entourage vs PPC Scope review.
Also Read: Best Amazon Product Finder & Research Tools
Overview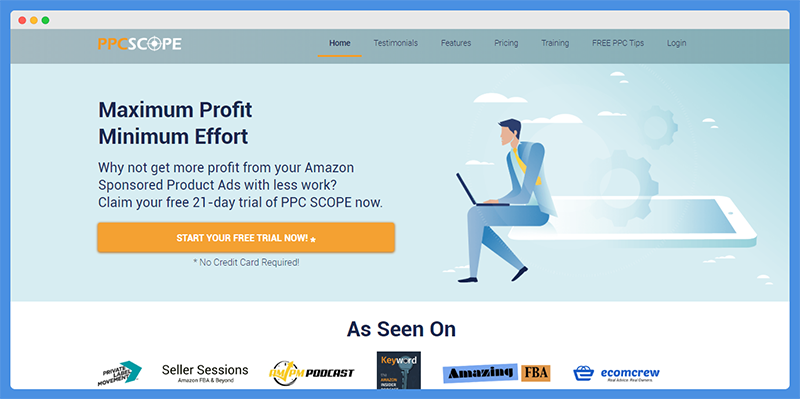 PPC Scope is an Amazon Sponsored Ad optimization software for Amazon merchants.
With this tool, sellers can increase sales and maximize profit. PPC Scope helps you organize, analyze, and optimize your Amazon Sponsored Ad to boost its efficiency.
More so, it lowers your advertising cost of sale (ACoS) so that you can earn more profit per ad spend.
PPC Scope was founded in 2015 by Brian Johnson, an Amazon merchant, and PPC expert. Whether you are a new or existing Amazon seller, PPC Scope has tools to help you build your business.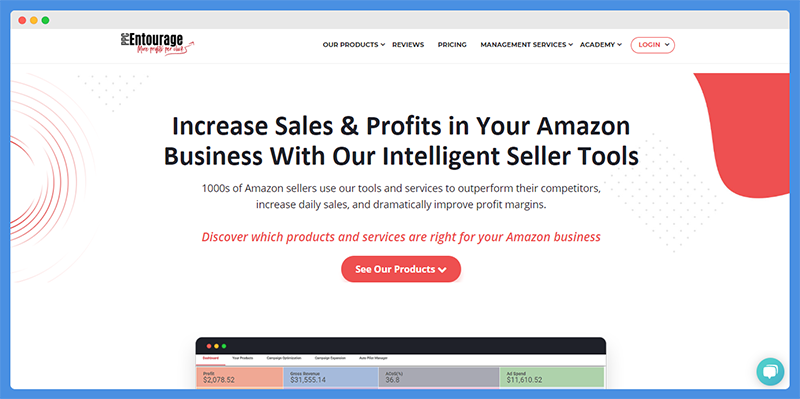 PPC Entourage is an Amazon PPC optimization software. It helps Amazon merchants optimize their sponsored ads to boost sales and drive business growth.
Mike Zagare created PPC Entourage in 2016 to help Amazon sellers increase sales and profits for their Amazon business.
With this intelligent seller tool, merchants can earn massive returns on investment from their Amazon PPC campaigns.
This tool is suitable for Amazon merchants, marketing managers, advertising agencies, and eCommerce businesses.
Sponsored Ads Optimization
Let's explore how these tools compare when it comes to helping you optimize your paid ads.
PPC Scope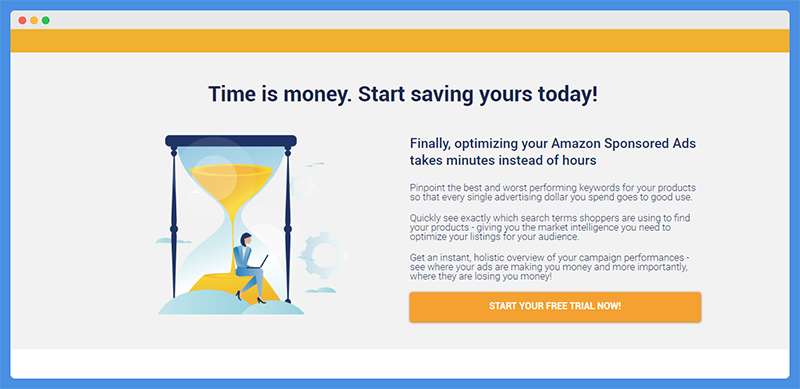 Merchants can finally say goodbye to sponsored ads that do not drive conversions. PPC Scope has a campaign optimization tool that helps you improve your PPC campaign with just a few clicks.
PPCScope helps you identify the best performing keywords so that you can use them to improve your PPC campaign. Furthermore, it monitors the non-performing keywords so that you can remove them and reduce wasted ad spend.
PPC Scope gives you an insight into the search terms that customers are using to find your products. Using market intelligence, you can optimize your listings to drive more conversions.
With PPC Scope, you can improve your product visibility, reach more buyers, and increase your sales numbers on Amazon.
PPC Scope can help you increase bids on keywords that have a high click-through rate.
PPC Entourage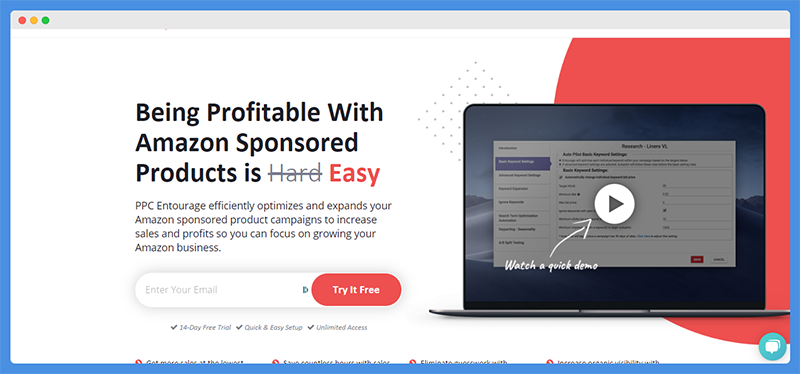 PPC Entourage makes it easy for merchants to increase their Amazon sales and profits. The ad optimization tool expands and improves your sponsored product ad.
PPC Entourage monitors your ads. More so, it pinpoints specific aspects that are causing a below-par performance and allows you to optimize them.
With PPC Entourage, merchants can save time and reduce their advertising costs of sales (ACoS). Their incredible sales-driven tool allows sellers to automate processes including
Control of bid price
Elimination of worst-performing search terms capable of wasting ad spend
PPC Entourage offers winning and data-driven PPC strategies to help you outperform competitors. They help you find popular search terms that shoppers are using to purchase similar products like yours.
You can apply these keywords to your campaigns to increase your product visibility for organic and paid searches.
With PPC Entourage, you can
Design powerful ads with the click of a button.
Use search terms from product data as keywords while creating your headline ads.
Create up to 27 versions of your ad so that you can identify the elements that perform best.
Verdict
PPC Entourage wins. Their ad optimization tool has more advanced features to help you create quality listings that will drive clicks and sales.
Also, you can automate your bid adjustments to ensure your campaign remains profitable.
Interesting Read: Ways To Find Amazon Product Niches With Low Competition
Keyword Manager
How do these tools help you monitor and utilize keywords to drive revenue? Let's find out.
PPCScope
Keywords are essential components for your Amazon Sponsored Ads. You need to use the right keyword match to enable shoppers to find your product.
PPC Scope can show you low competition keywords and search terms so that you can bid on them. Using the Change Manager, you can match your keywords directly from PPC Scope.
PPC Entourage
Using high conversions, keywords gives merchants an edge over their competitors. With PPC Entourage, you can obtain an extensive list of relevant keywords with high search volume.
You can take advantage of these keywords to create compelling listings that will attract shoppers to your product.
Also, PPC Entourage allows you to monitor your keyword performance and merchants can adjust keywords to improve their listings continuously.
Verdict
PPC Scope and PPC Entourage have features that help you identify low competition keywords. So they are both winners.
Profit Margin Optimizer
Making revenue is one thing, growing your profit margins is quite a different thing. This feature examines hot to get more profits from your revenue. It looks at all the areas where profits might be leaking and fixes them for you.
PPC Scope
PPC Scope does not support this feature.
PPC Entourage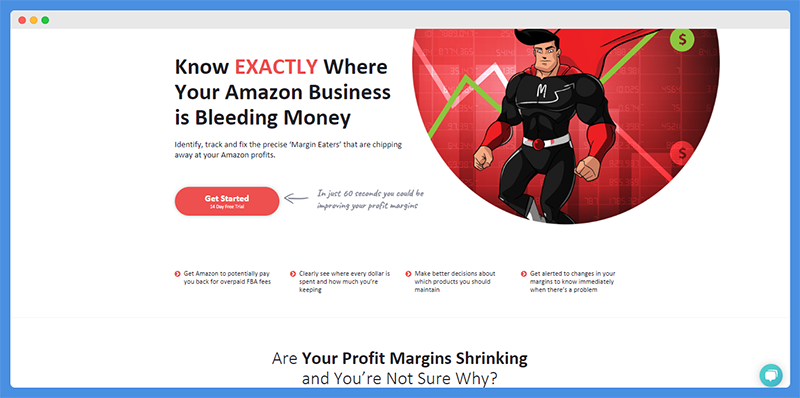 PPC Entourage helps merchants improve your profit margins. You can identify, track, and optimize the elements of each SKU that shrink your profit margins.
Let us take a look at some of the margin eaters.
FBA fees may shrink your profit margins. PPC Entourage shows the margin impact of your FBA fees to see if it's within the recommended range of 25 to 40 percent. Furthermore, it shows you the product that has the highest or incorrect FBA fees.
They can generate a report and send it to Amazon to re-evaluate your product. Amazon will stop the excess charges or issue refunds for overpaid fees.
Another critical element that may reduce your profit margins is your PPC ad spend. PPC Entourage ensures your overall margin impact is between six percent to 11 percent. It also shows the products you are overspending on.
Your returns also affect your profit margin. With PPC Entourage, you can see products with the highest return rates and why they have that return rate.
Promos and coupons are essential sales boosters, but they can eat up your profit margins.
With this tool, you can see how your promo fees affect your profit margins. And also, you will find out the products that have the highest impact on promo fees.
Storage fees may also affect your margins. PPC Entourage will show you the products that take up more money from storage fees so that you can make necessary adjustments.
Explore: Best Amazon FBA Seller Training Courses
Verdict
The profit margin optimizer is a valuable tool to help boost profits for Amazon sellers. Therefore, PPC Entourage wins.
PPC Tips
This feature should give you guidance on making more money from your PPC campaigns. How do PPC Scope and PPC Entourage compare here? Let's find out.
PPC Scope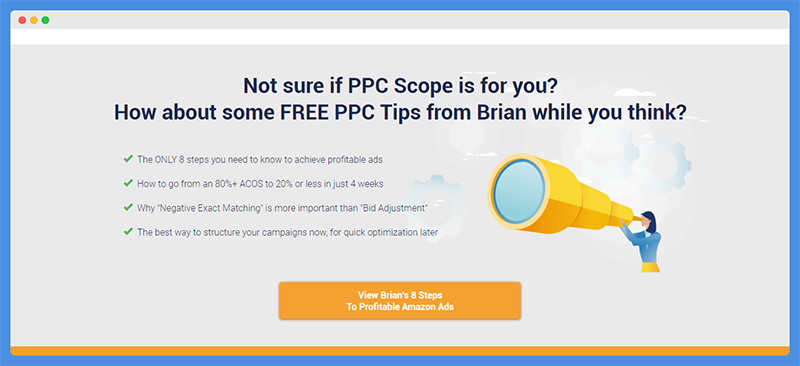 PPC Scope offers free tips to help merchants achieve profitable campaign ads. Some of the topics you will enjoy include
Reducing ad spend on underperforming search terms.
How to block ads from showing against irrelevant search terms or keywords
Reducing ad spend on keywords that are not generating sales.
How to convert search terms to keywords and more
PC Entourage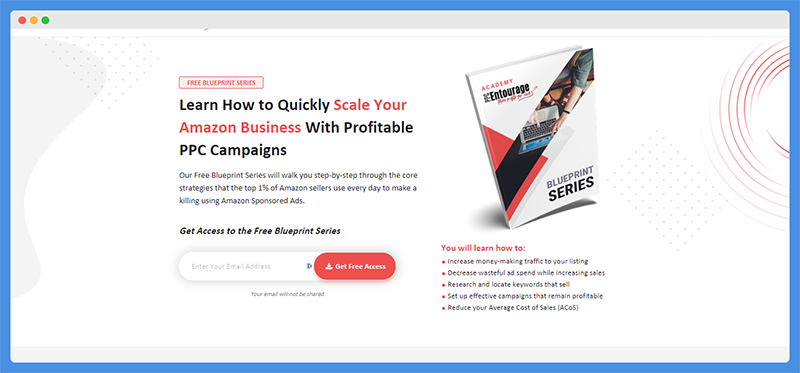 PPC Entourage offers a step by step guide on how to grow your business with Amazon PPC campaigns. You will learn how to increase traffic to your Amazon listings, decrease wasteful ad spend, and more.
The blueprint series is free and has topics such as
How to find seed keywords for your products
Setting up a proper structure for your campaign
PPC Entourage campaign set-up
Optimizing your campaign and more
Verdict
PPC Scope and PPC Entourage offer free tips and resources. So they are both winners.
Training
While tips count for something, it's better to get an education. So which of these platforms give you an education?
PPC Scope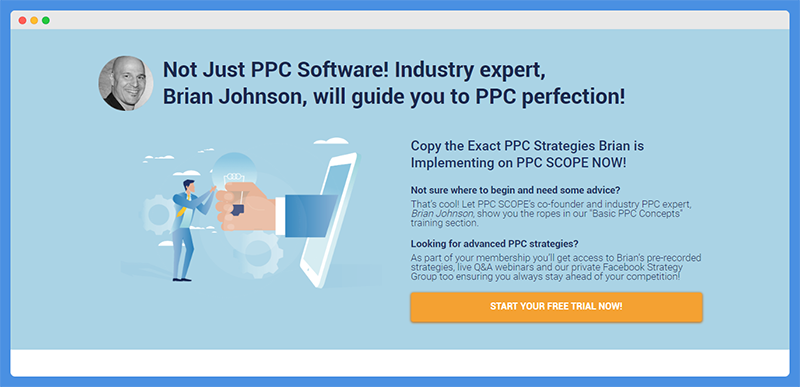 Their training program will teach you how to implement successful campaign ads that will help you scale your business.
PPC offers access to webinars, strategy sessions, live question and answer sessions, and a private Facebook group.
Also Read: Best Amazon FBA Calculators Review
PPC Entourage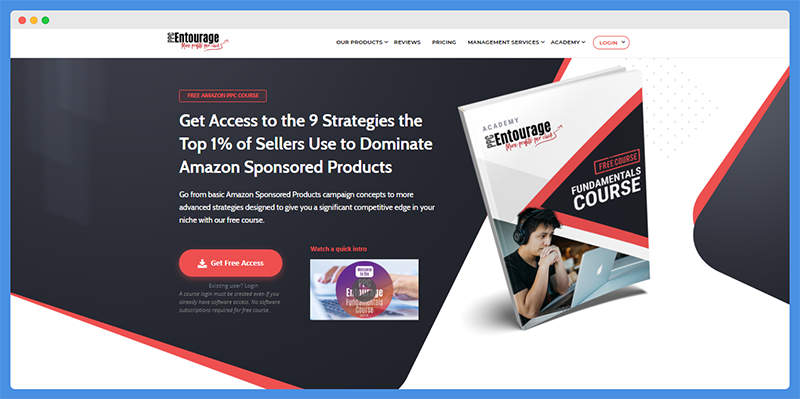 With their free training course, you can learn the strategies that the top Amazon merchants use to achieve a competitive advantage over their competitors.
Verdict
PPC Entourage scores a slight win. You don't need to purchase a subscription to access this course on PPC Entourage. It's free. To access the training program on PPC Scope, you need to sign up for a membership.
Management & Consultation Services
What if someone can help you get results? Let's look at how PPC Scope and PPC Entourage would work here.
PPC Scope
PPC Scope doesn't offer management services.
PPC Entourage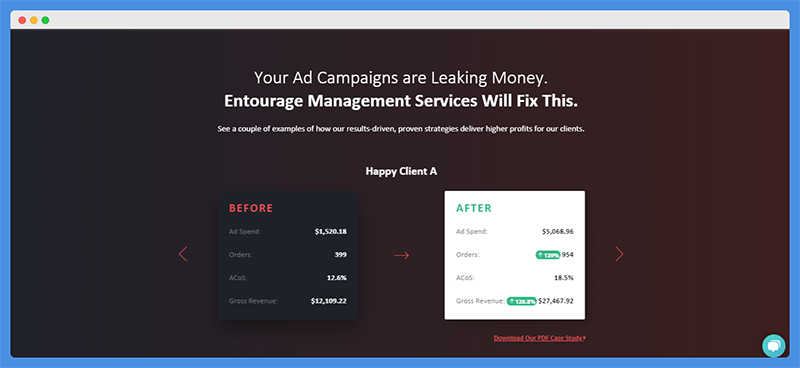 PPC Entourage offers management services. Merchants can access an expert that will advise and provide result-driven strategies that will help their businesses soar.
PPC Entourage will assign an account manager to your business. And your account manager will evaluate your business and develop a customized strategy.
They will also help you implement winning strategies within realistic timelines. More so, you will get a monthly progress report with important performance metrics and more.
For 12 weeks, they will optimize your listings and PPC ads to help you achieve a high ROI.
Their consultation services can also help merchants achieve exponential growth in their businesses. You will enjoy two calls (45 minutes each) every month with their team.
And they will show you the best PPC strategies that will help you achieve your business goals.
Verdict
Again PPC Entourage wins. PPC Scope does not offer this service.
Report and Analytics
Whose reports give you a better picture of your business results?
PPC Scope
With their comprehensive dashboard, you can get reports on everything you need to know about your sponsored ad campaign. You will get reports on
Best and worst performing keywords
Profits per campaign and ad group and more
PPC Entourage
PPC Entourage allows you to analyze and measure metrics from different groups of ads to determine which one has the best performance. You can also analyze the performance of all your PPC campaigns and get a free report.
Their Performance Grader for sponsored products gives you some insight into your current performance. It also reveals different areas of improvement.
Verdict
Both tools provide robust analytics and reports so they are both winners for this category.
Useful Post: Best Amazon Tools For FBA Sellers
Customer Support
Who is there for you more than the other one?
PPC Scope
PPC Scope provides email support and an extensive knowledge base for merchants. They also offer support via a private Facebook group for subscribers.
PPC Entourage
PPC Entourage offers live chat support, email support, and a comprehensive knowledge base with FAQs for merchants.
Verdict
PPC Entourage wins. With live chat support, customers can get instant answers to questions. Also, PPC Entourage offers more customer support features than PPC Scope.
Pricing
Whose pricing helps you get more results without hurting your bottom line?
PPC Scope Pricing
PPC Scope offers five pricing plans
Mini (for new sellers) – $19.99 monthly
Small (for growing sellers) – $44.99 monthly
Medium ( for international sellers) – $64.99 monthly
Large ( for kick-ass sellers) – $84.99 monthly
PPC Scope H.I. – (For sellers who want their ad management done by specialists) – $1495 monthly
PPC Scope offers a free 21-day trial.
PPC Entourage Pricing
Amazon Seller Software
For the Amazon seller software, paid plans are in three categories.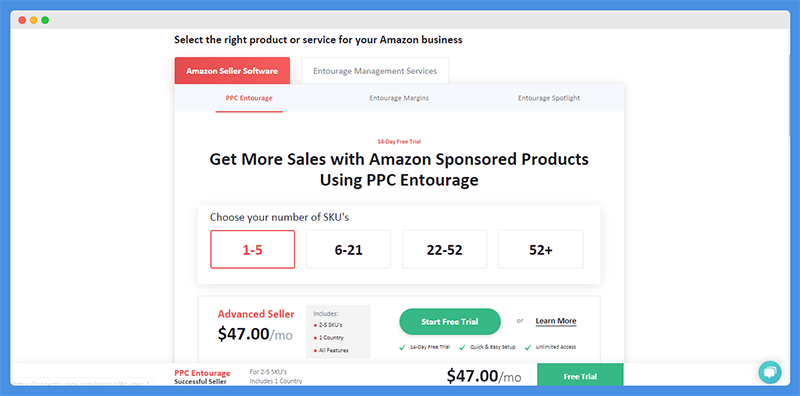 1.. For PPC Entourage (pricing depends on the number of SKUs)
1-5 SKUs – $47 per month
6-21 SKUs- $97 per month
22-52 SKUs – $147 per month
More than 52 SKUs – $247 monthly
Each additional USA account will enjoy 50 percent off. Furthermore, each additional non-USA country will pay $29.99 per month.
Worth Reading: Best Amazon Feedback & Review Management Software
PPC Entourage offers a free trial for 14 days.
2. Entourage Margins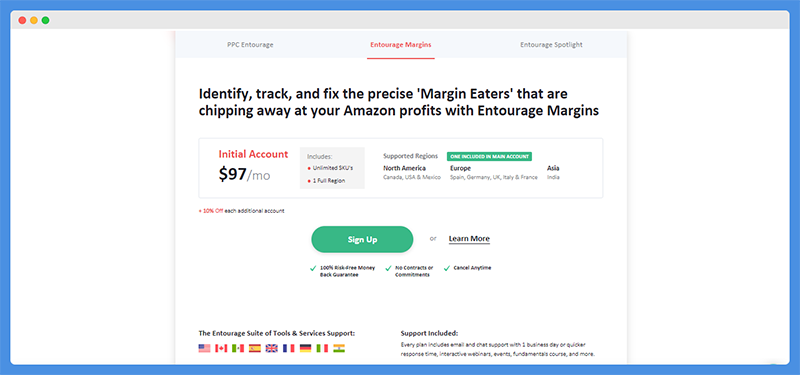 Initial account- $97 per month
Each additional account will enjoy a ten percent discount
3. Entourage Spotlight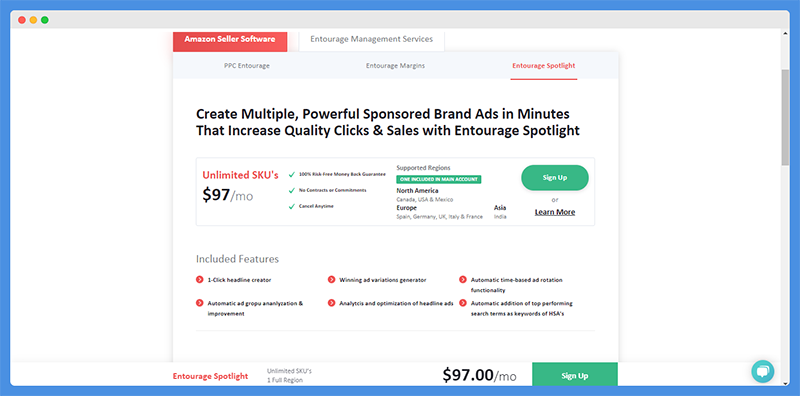 Unlimited SKUs – $97 per month
Entourage Management Services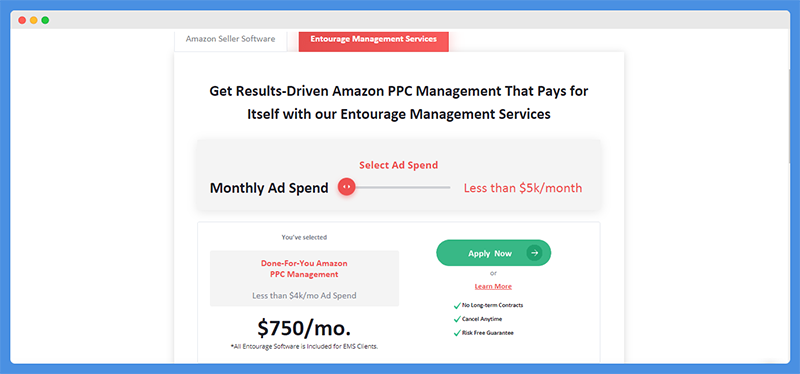 Pricing is based on your selected ad spend
Less than $5000 per month ad spend- $750 per month
$30,000 per month ad spend – $2100 per month
$50,000 per month ad spend – $3000 per month
Verdict
PPC Entourage is the winner. They offer more features and pricing plans to cater to the needs of all merchants.
Also Read: Best Amazon Keyword Tracking Tools
PPC Entourage vs PPC Scope Similarities & Differences
Similarities
PPC Scope and PPC Entourage share many similarities. With both tools, you can:
Optimize your Amazon Sponsored Ad campaigns.
Find low competition and high performing keywords.
See the search terms that customers are using to search for similar products.
Enjoy free tips on how to create compelling product listings.
Join their training program to learn how to outperform your competitors.
Differences
Here are the differences between PPC Scope and PPC Entourage.
Worth Exploring: Best Amazon Listing Software For Sellers
Advantages
PPC Scope
Here's why users love this tool
It is an excellent software that makes it easy to manage your PPC campaign
Dashboard analytics offers valuable insight
They offer free tips to help you create powerful listings
You can easily download your report
Subscribers can access a private Facebook group to get more idea on Amazon Sponsored Ads
Customer support is excellent and responsive
PPC Entourage
Some of the advantages of this tool include
The tool is feature-rich and is easy to use
They offer consultation and management services
Profit margin optimizer helps you increase your profit margins
Free tips and training program
Live chat support for merchants
Customer support responds almost immediately
They offer an extensive and helpful resource base
Comprehensive dashboard analytics and reports
Verdict
PPC Entourage edges PPC Scope. They have more features and a significant number of advantages.
Disadvantages
PPC Scope
Some of the drawbacks of this tool include:
No live chat support
They do not offer management services
You have to subscribe to access their training program
No profit margin optimizer
PPC Entourage
Paid plans are expensive
You may experience an occasional delay before your products start performing well and ranking higher
Verdict
Again PPC Entourage wins. They have fewer disadvantages than PPC Scope.
Check Out: Top Profitable Products To Sell On Amazon
Final Verdict: PPC Scope vs PPC Entourage 
So this was our PPC Entourage vs PPC Scope review.
In our opinion, PPC Entourage is a clear winner.
PPC Entourage optimizes your PPC campaign and allows you to earn a massive ROI on your investment.
More so, they will help you identify the elements that are shrinking your profit margin so that you can maximize your profits.
Their management and consultation team will analyze and implement proven strategies to help you grow your Amazon business.
With their live chat support, you can get instant answers to pending questions and issues.
Whether you are a new or existing Amazon merchant, you can enjoy this feature-rich solution. PPC Entourage has the perfect solution to help your business soar and stay ahead of the competition.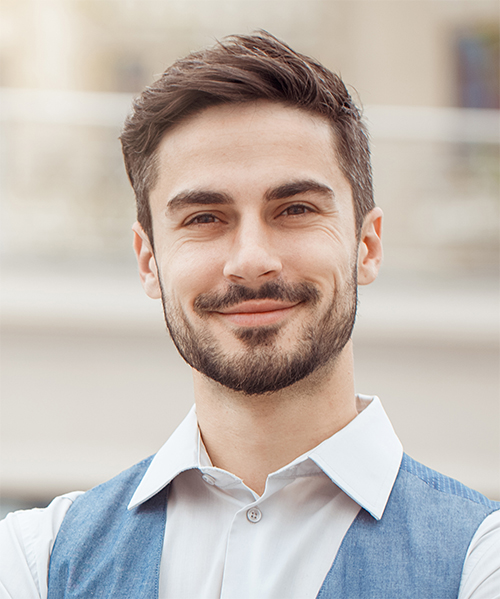 Author: Scott Macarthur
Scott L. Macarthur is a marketing consultant and an online author. He is mostly engaged in providing his expertise to startups and SMBs.