In the US alone, millions of Amazon shoppers buy more than 606 million products from the eCommerce giant every year.
Across the globe, Amazon sells over three billion products annually.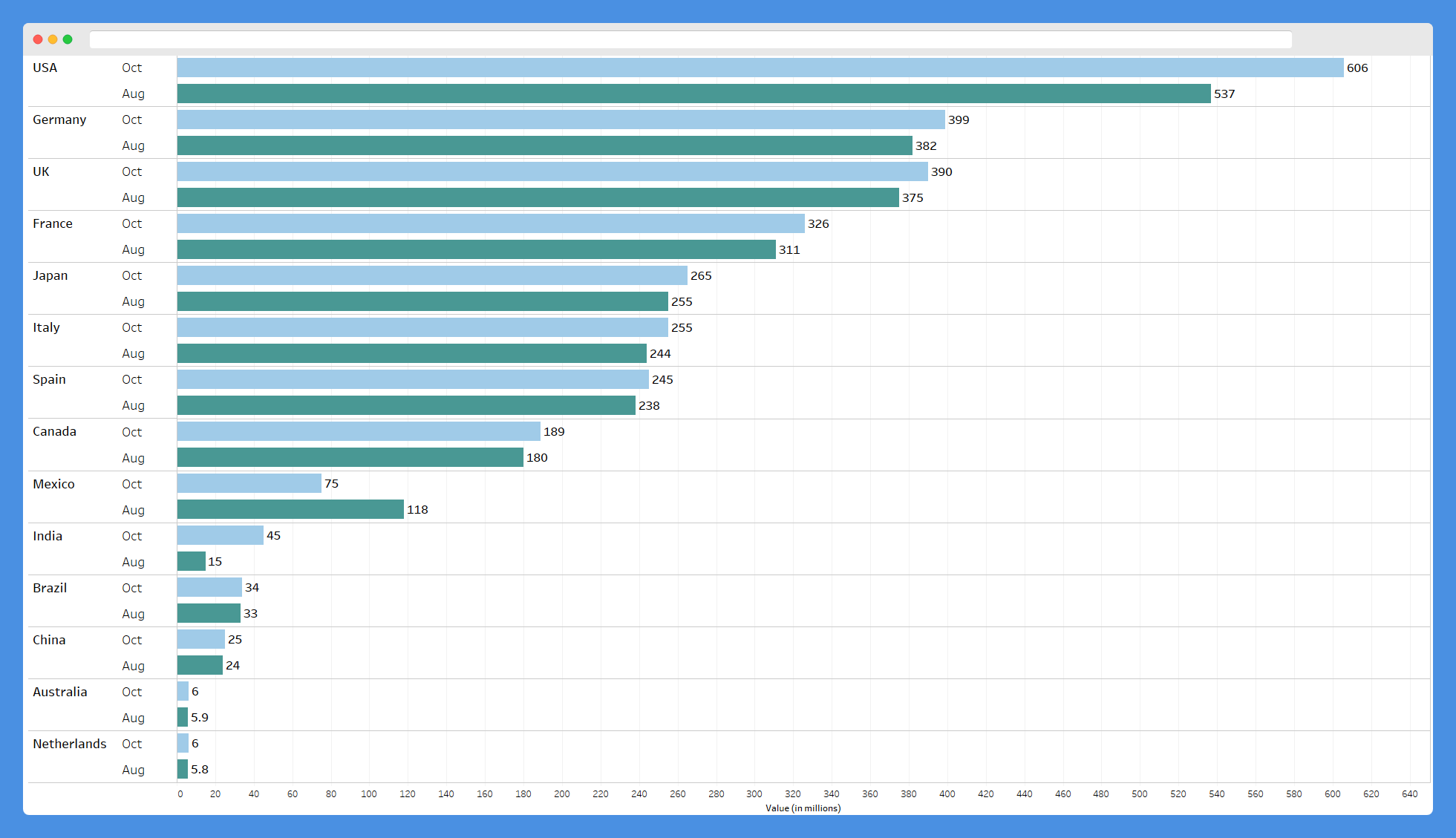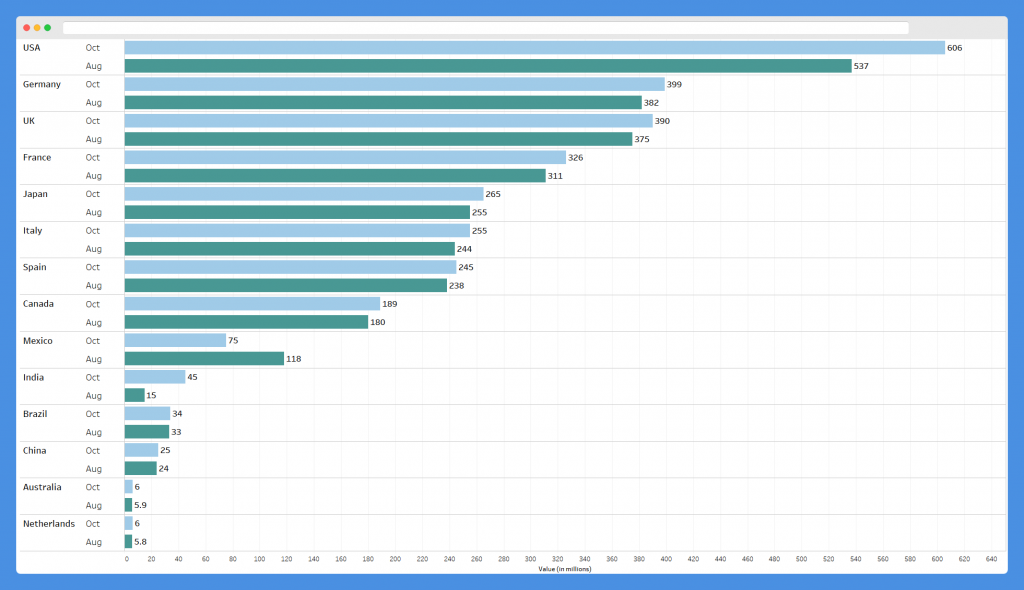 These buyers rely on Amazon's search function to find the products they want to buy. Meanwhile, merchants must know the keywords these searchers use to find products. Hence, the need for Amazon keyword tracking tools.
We'll explore the best tracking tools in the market today, 
Keyword Scout by JungleScout
AMZScout
SellerApp
Helium 10
Sonar by Sellics
Amazon Keyword Tool
Scientific Seller
Kparser
AMAZvol
WordTree
Let's explore their benefits, features, and pricing.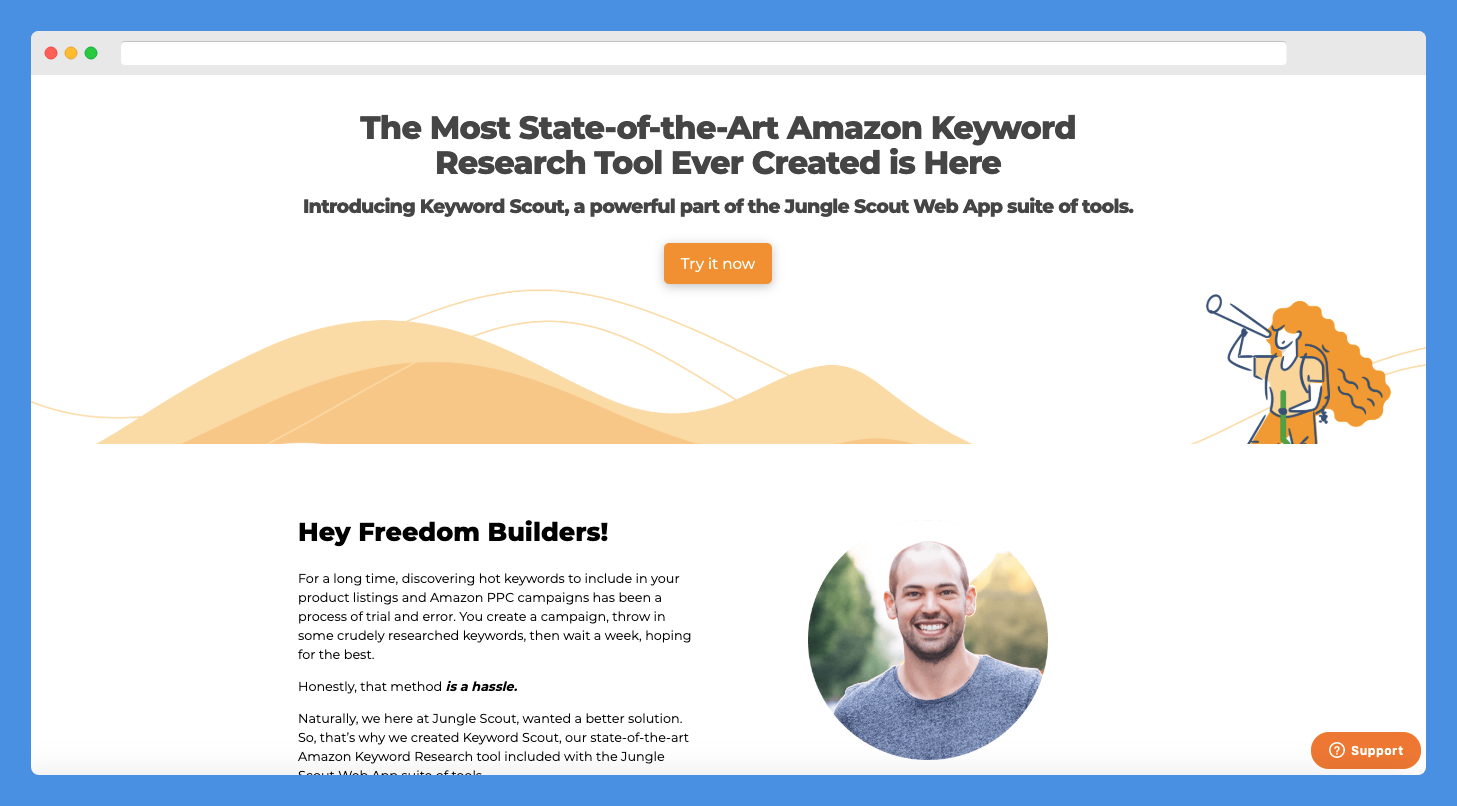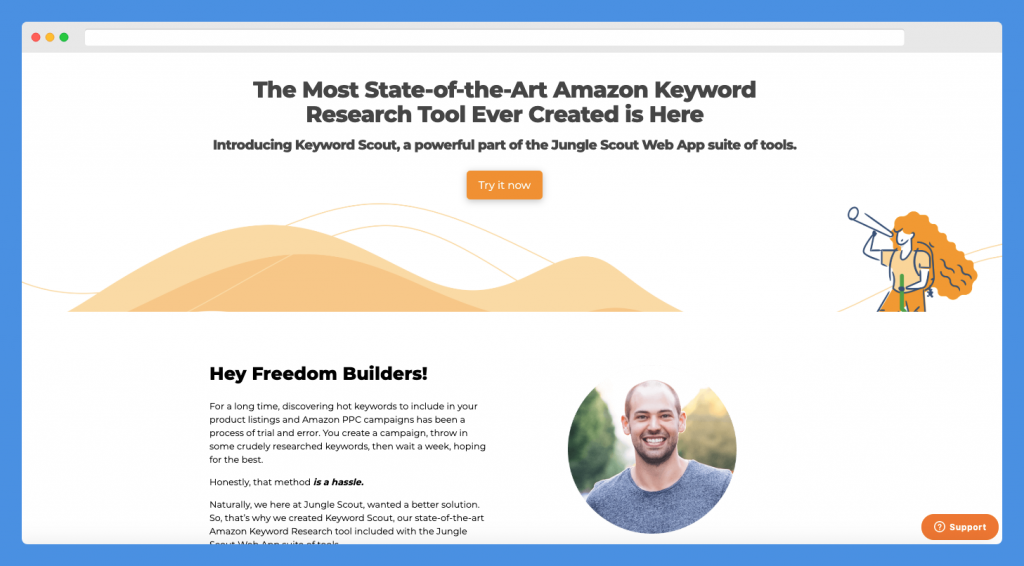 JungleScount has earned notoriety in the Amazon tools space. This brand features some of the industry's best merchant tools, and that includes its Keyword Scout.
Our Pick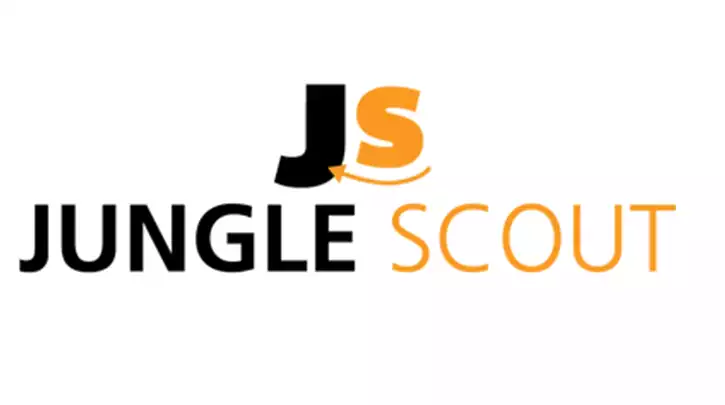 We earn a commission when you click this link and make a purchase.
Keyword Scout helps merchants discover profitable keywords for their Amazon listing, and decide their best PPC bids.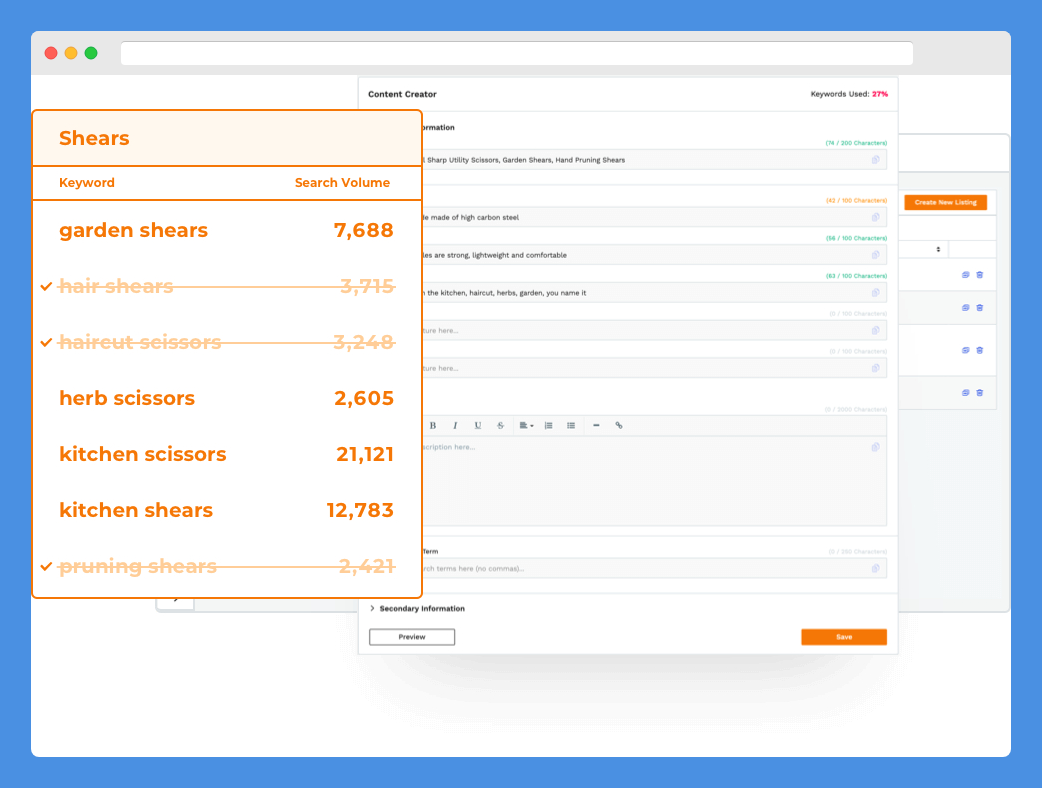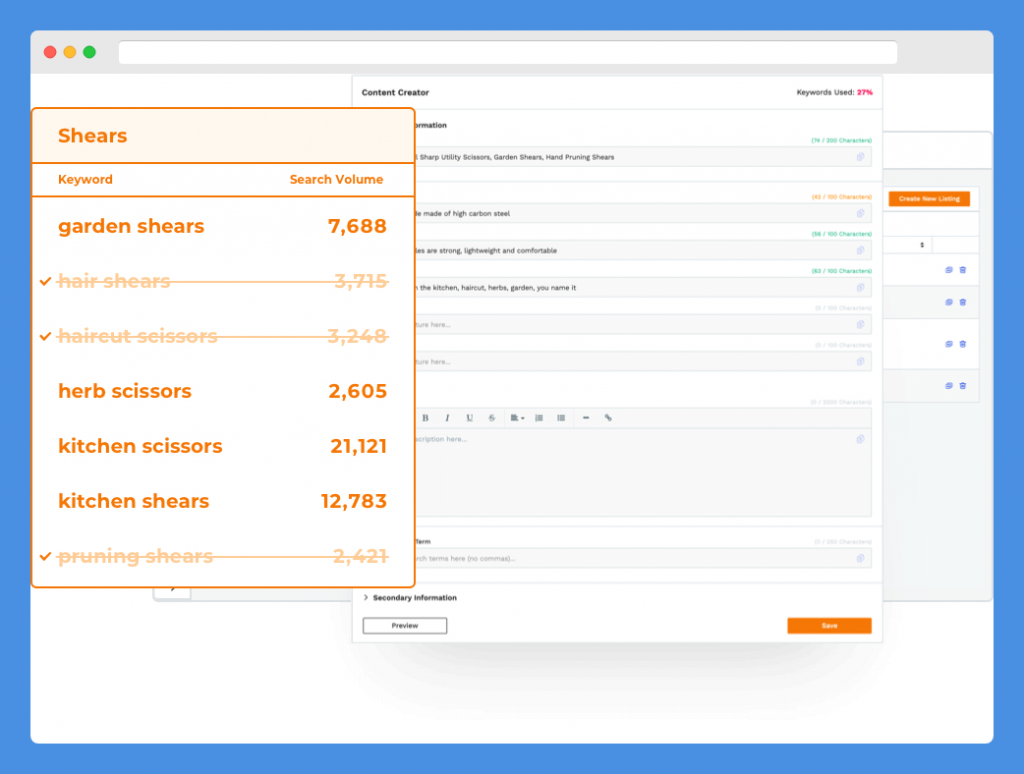 This keyword tool comes with a listing builder. So you can put your keyword discoveries to use immediately and begin to reap the rewards.
Features, Strengths, and Benefits
Keyword Scout has some powerful features and desirable benefits. Let's take a look.
Keyword Discovery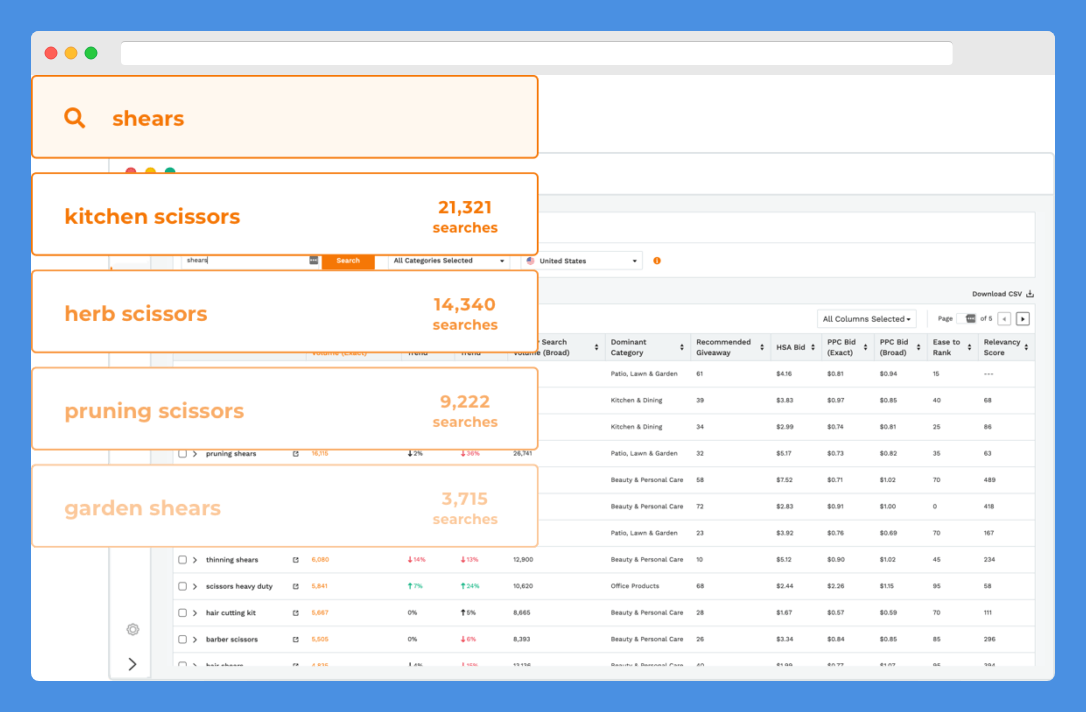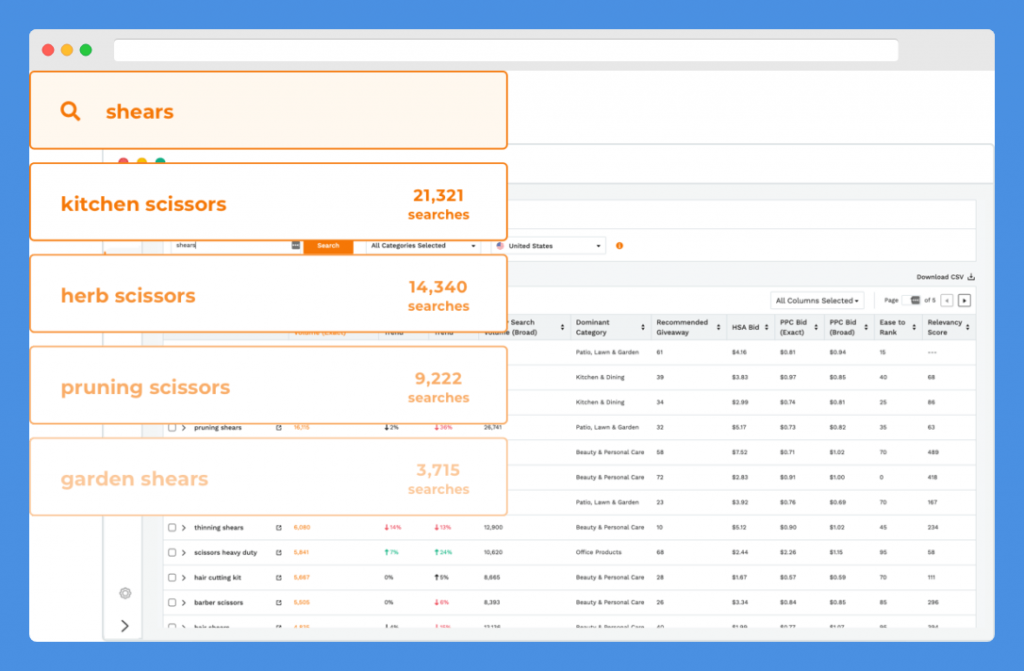 Keyword Scout shows merchants what their potential customers are searching for by drawing from millions of data points. You can find keyword search volumes by
ASIN
Exact match
Broad match
Global Market Places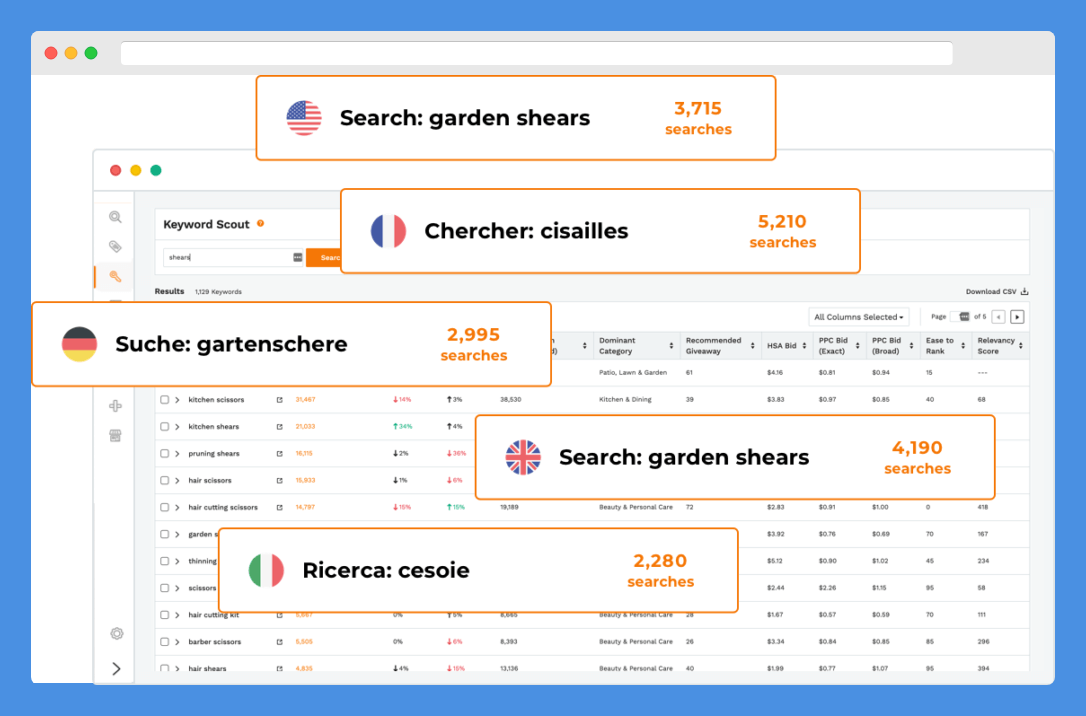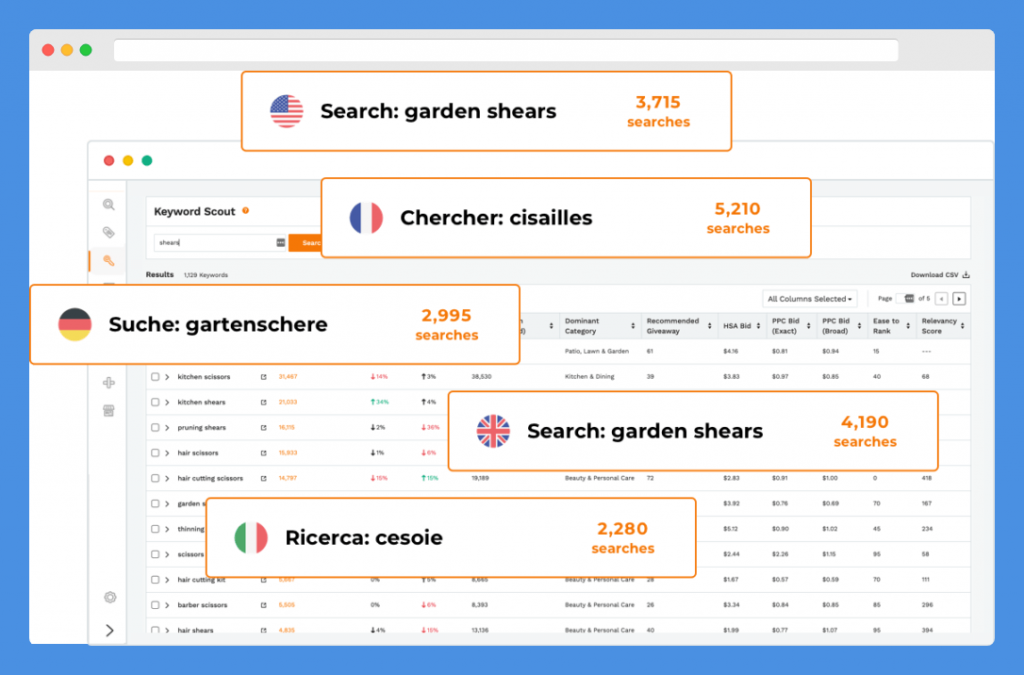 Shoppers from specific markets use search terms that reflect their local languages, terminology, or interests. Hence, Keyword Scout lets merchants find relevant keywords for shoppers from these countries:
Our Pick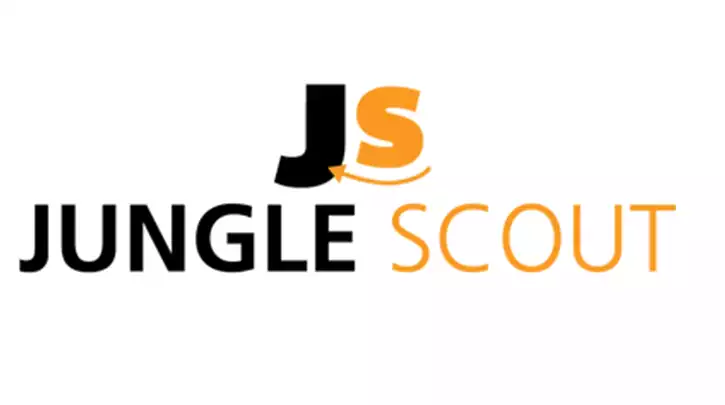 We earn a commission when you click this link and make a purchase.
United States
United Kingdom
France
Germany
Italy
Spain
Canada
Mexico
So you can target global markets better.
Historical Data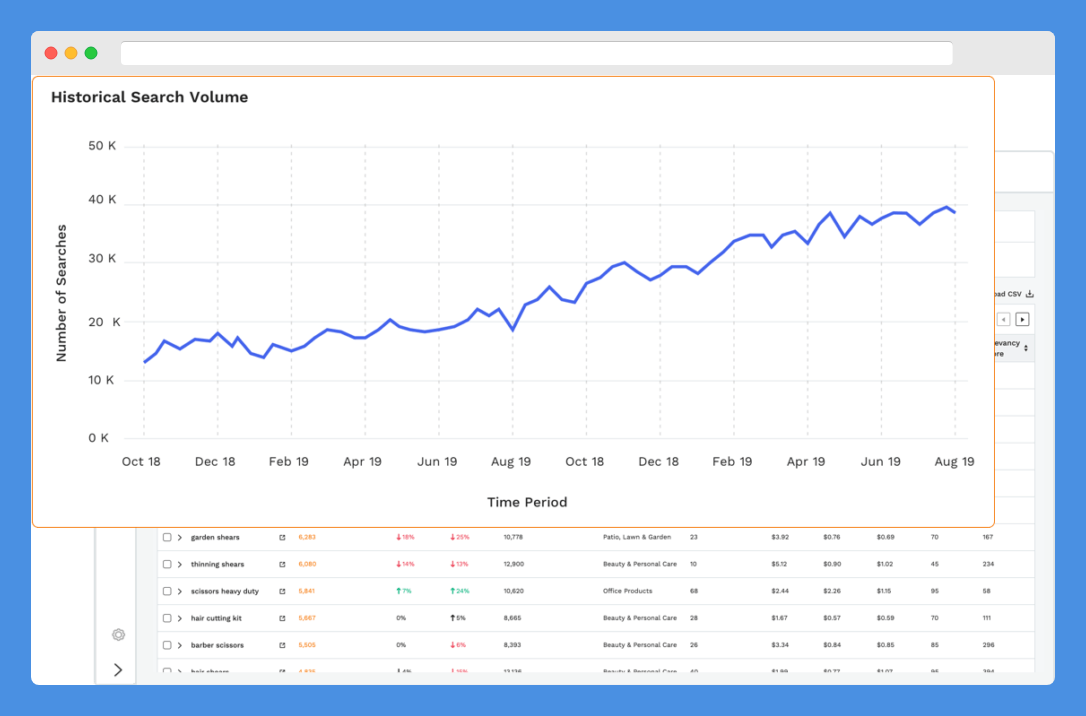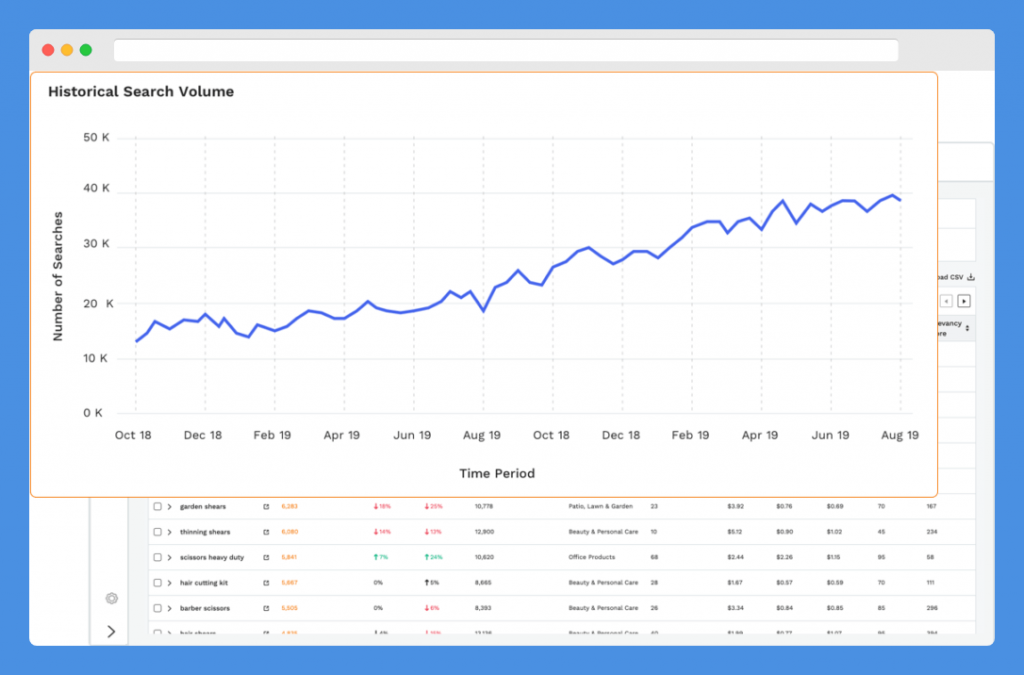 Historical data shows you a keyword performed in the last two years. It gives you monthly and quarterly data. Hence, you can spot any seasonality trends if they exist.
Competitor Analysis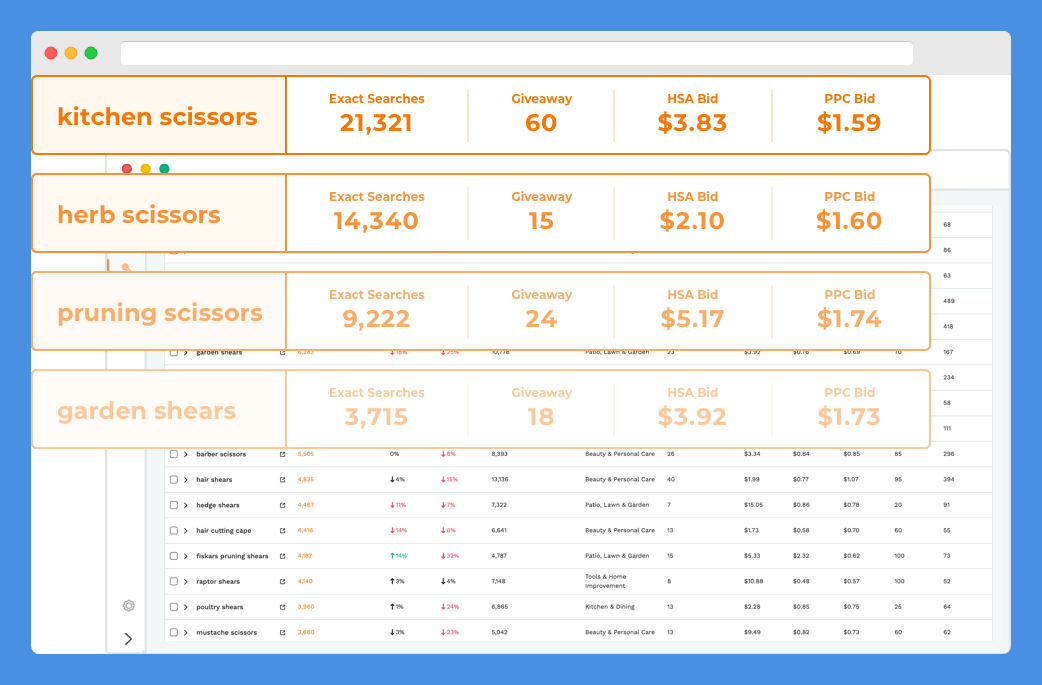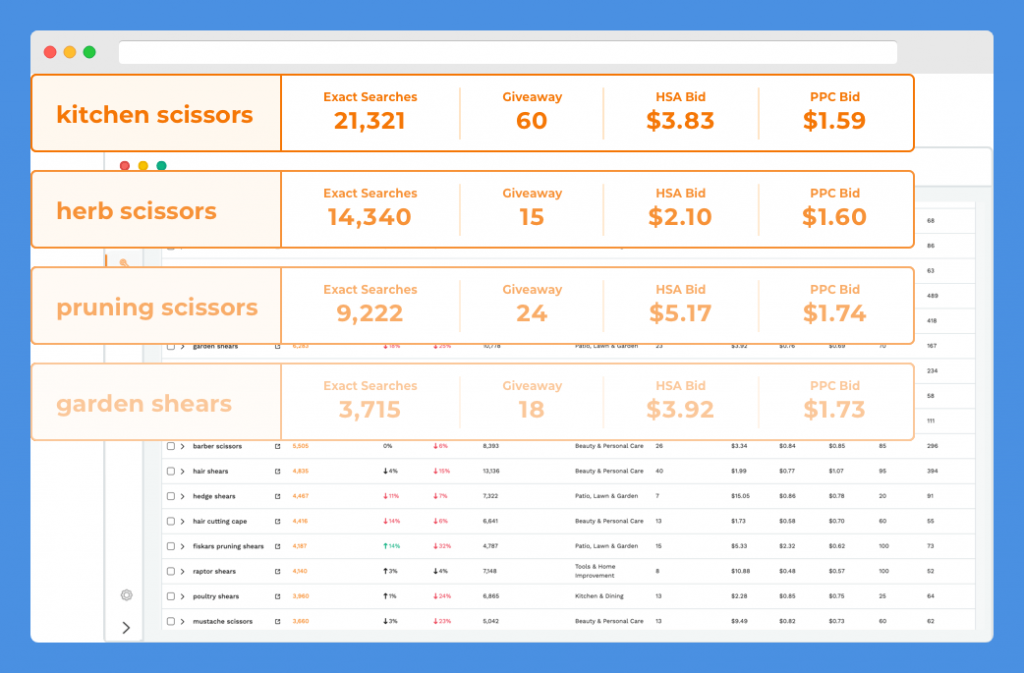 Amazon is competitive. So competitor insights are critical to building a thriving business. This keyword tool tracks competitor ranking, PPC costs, and more.
Save Money on Your PPC Campaigns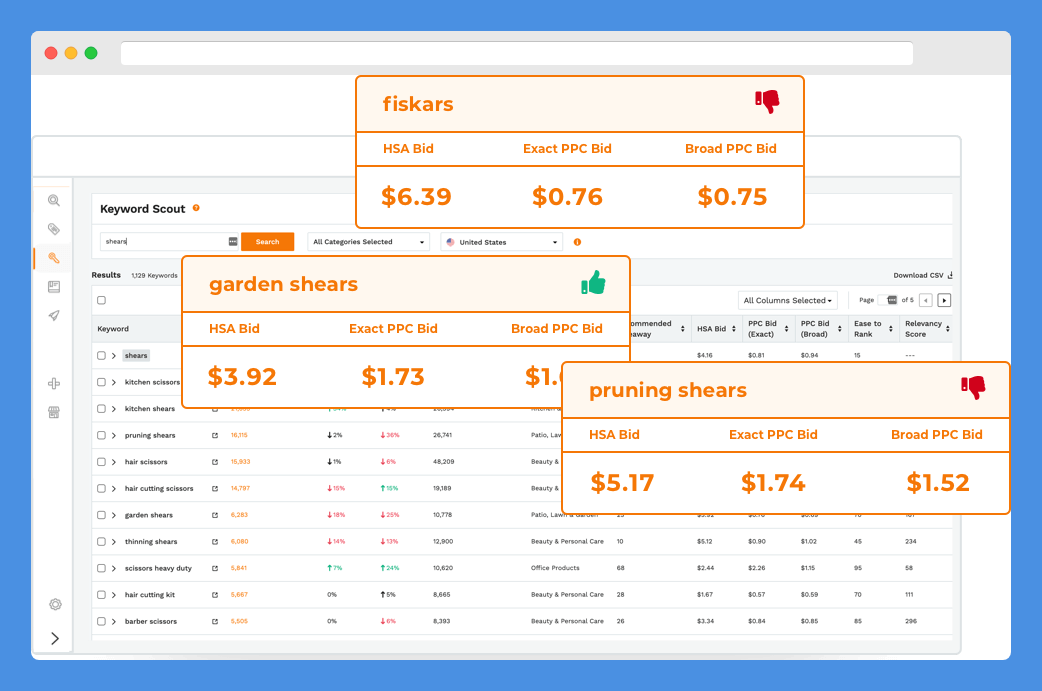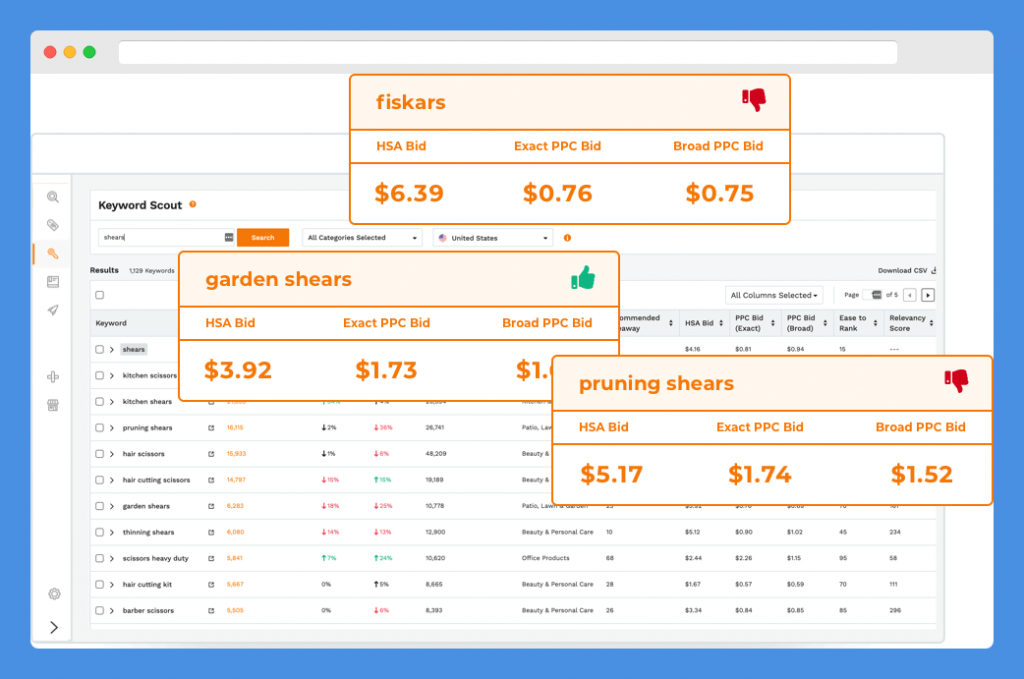 Keyword Scout promises to eliminate guesswork from your PPC campaign creation. For every keyword it lists, this tool shows you the cost-per-click so that you can make more intelligent decisions.
Our Pick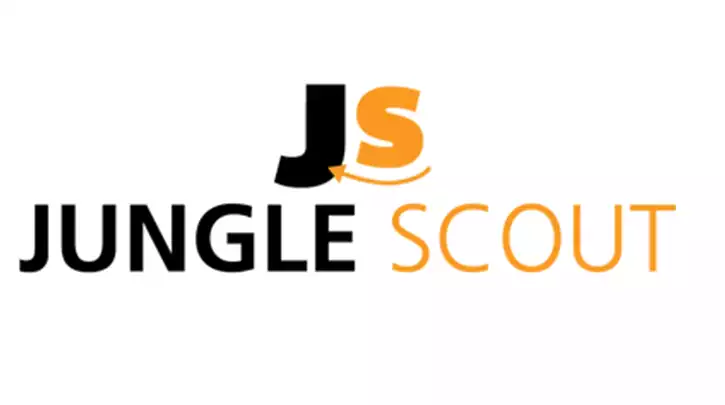 We earn a commission when you click this link and make a purchase.
Track Product Ranking by Keyword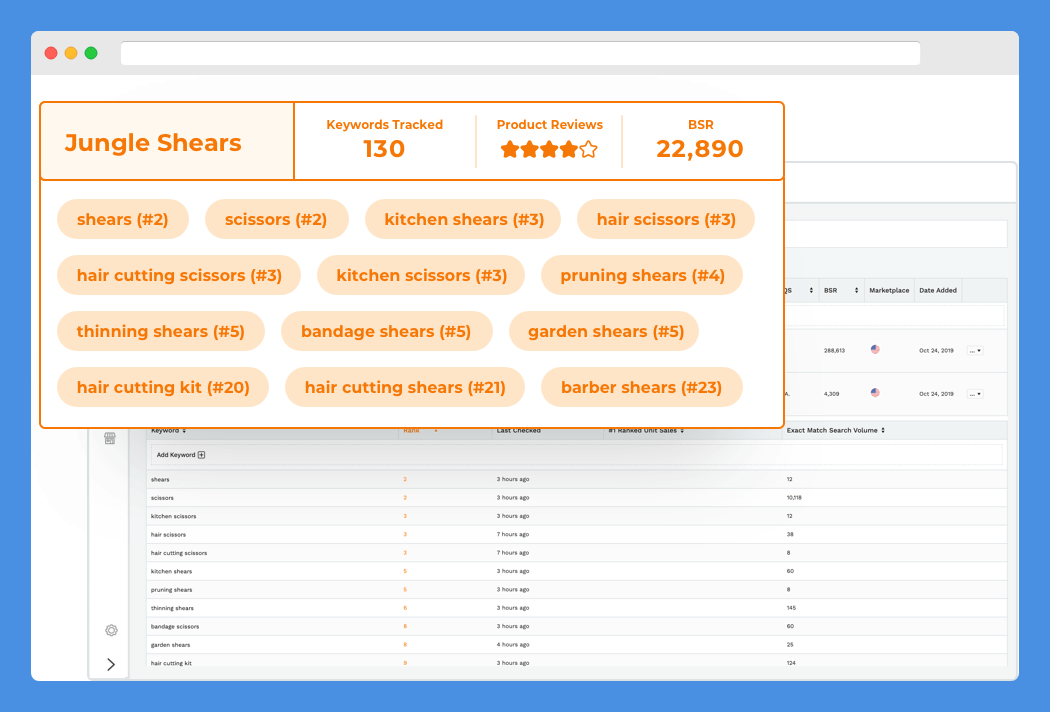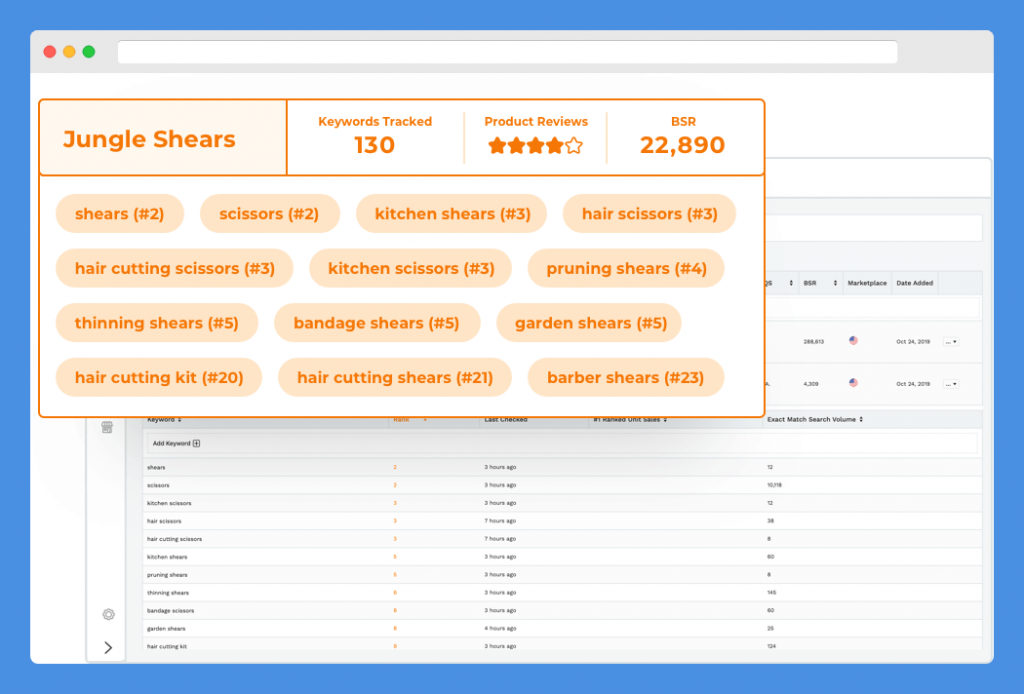 You can monitor your product's ranking performance over time for each keyword.
This feature lets you assess how your PPC and listing changes impact your sales performance.
If you're looking for a solid keyword monitoring Amazon tool, Keyword Scout is for you.
JungleScout Pricing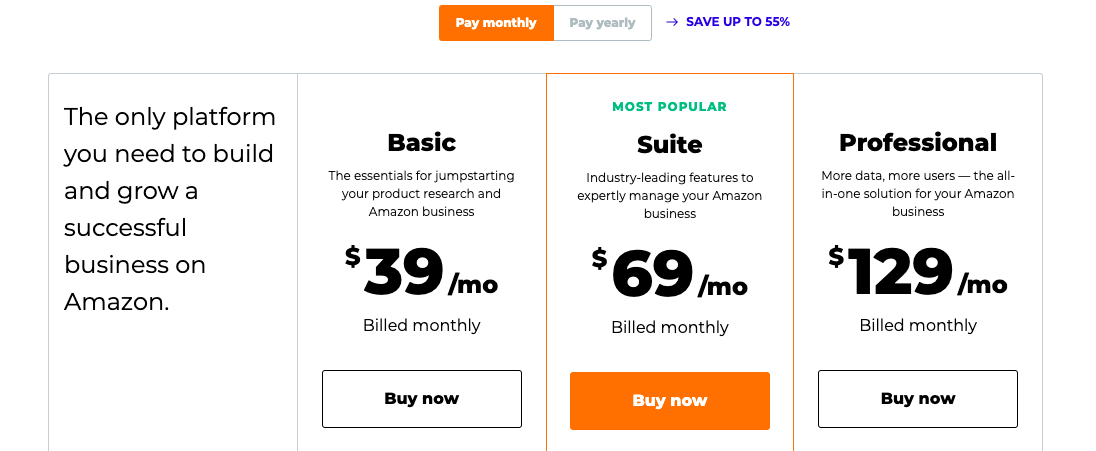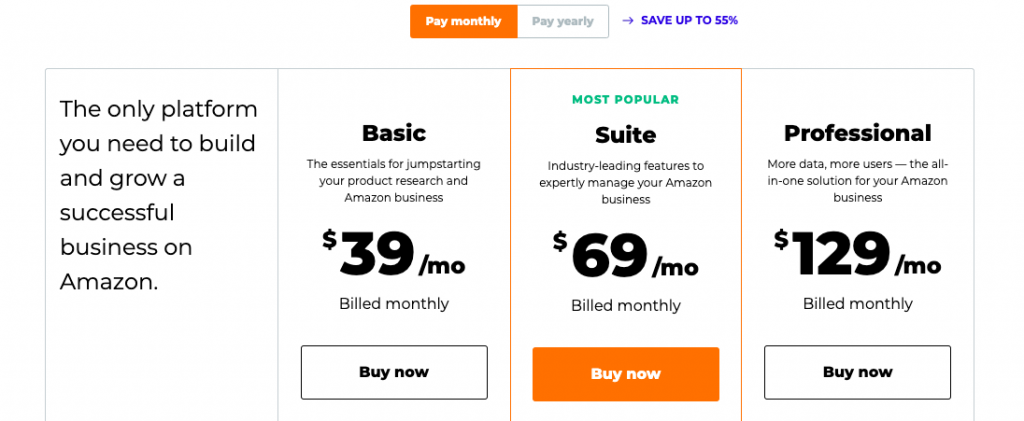 JungleScout comes with a 14 day risk-free trial offering full refund.
Basic – $39 per month
Suite – $69 per month
Professional – $129 per month
The good news is that Jungle Scout Chrome extension is now a feature and no more restricted to a specific plan.
These prices are for their monthly plans. You will pay significantly less for these plans if you choose their annual payment plan.
Related: Complete Jungle Scout Review
Our Pick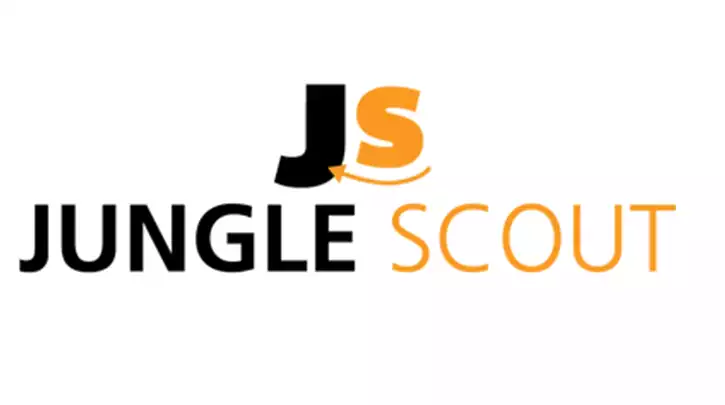 We earn a commission when you click this link and make a purchase.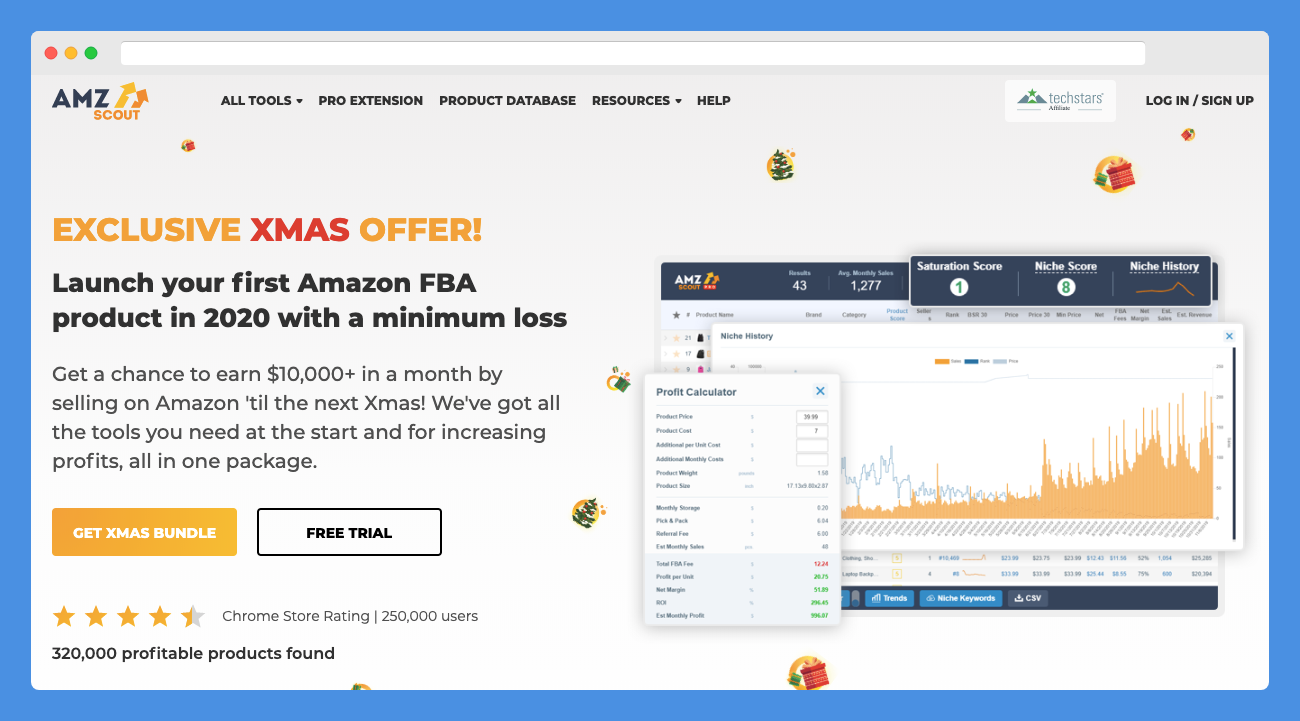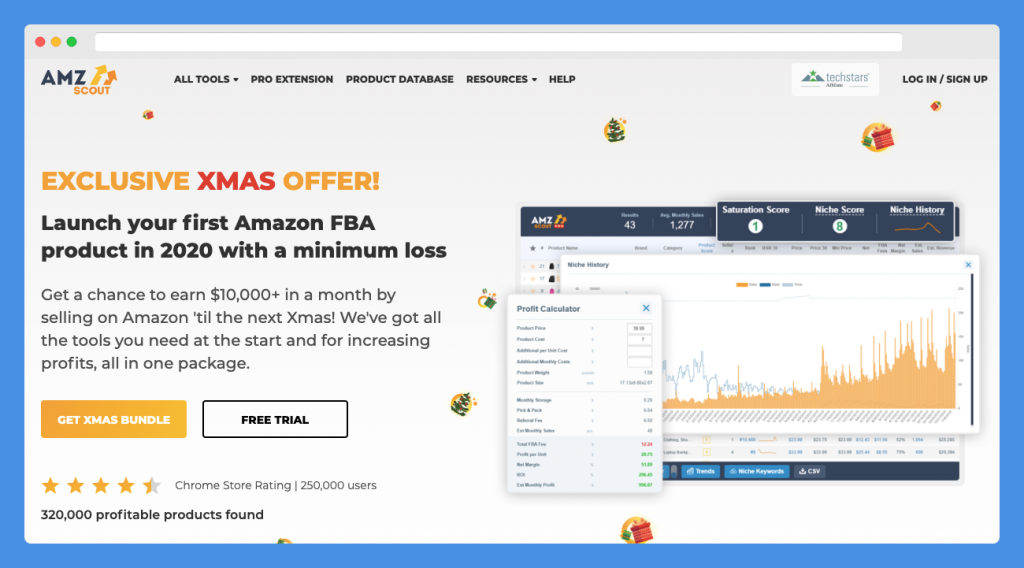 AMZScout offers some of the best tools for Amazon sellers. The software targets both advanced and newbie merchants. They have attracted top brands like Casio, Redbull, Disney, Dell, and more.
According to AMZScout, they help businesses
Discover profitable Amazon products ideas
Figure out the market size of the product
Provide paid and organic marketing support
Do competitor analysis
One of the key product lines in AMZScout's profile is its keyword tracking and analysis tool. What's in it for you?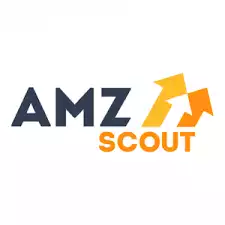 We earn a commission if you click this link and make a purchase at no additional cost to you.
Features, Strengths, and Benefits
AMAZScout provides some high-quality keyword tracking and research features. Let's take a look.
Keyword Tracker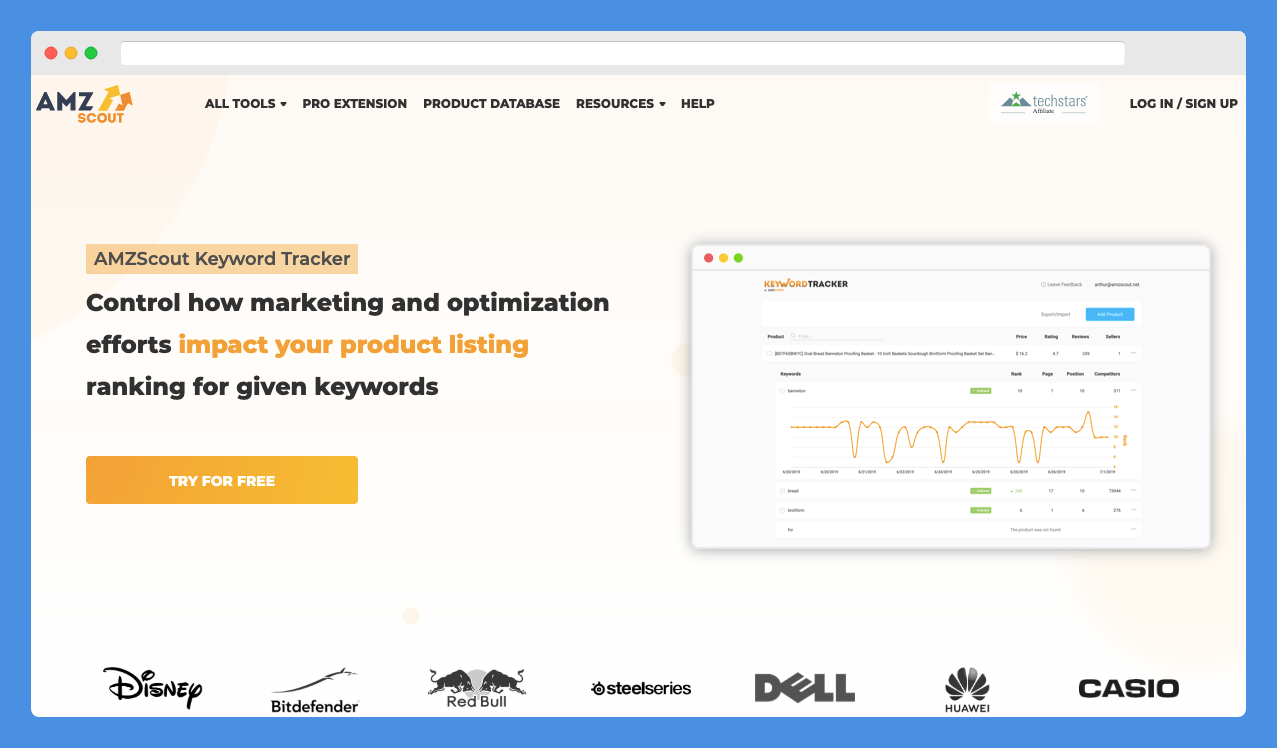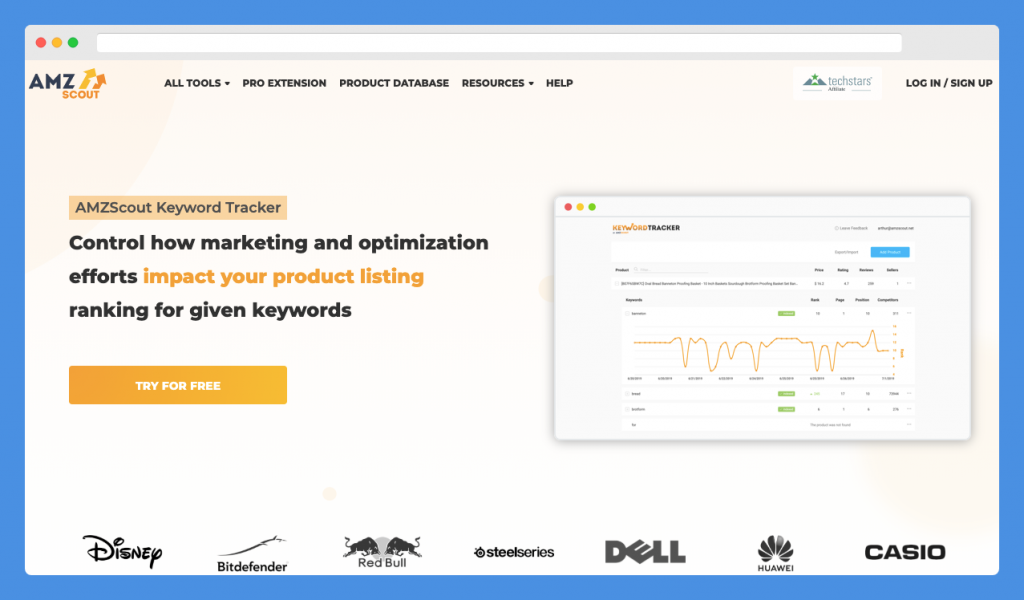 This feature helps you make sense of how your listings and your competitors' are performing. It uses a product's ASIN to monitor how new keywords are influencing product ranking performance. So you can control your marketing and product optimization efforts better.
Keyword Explorer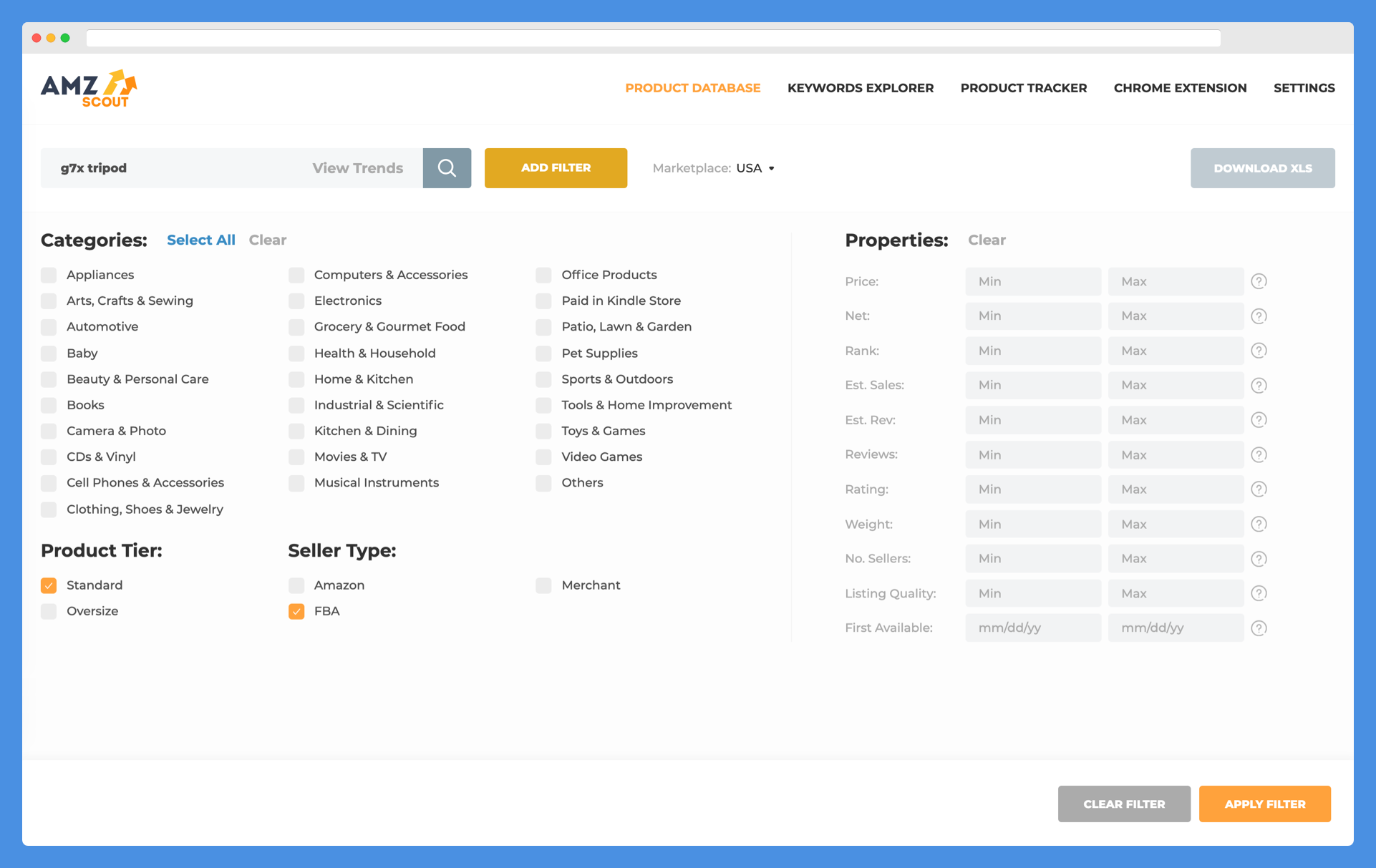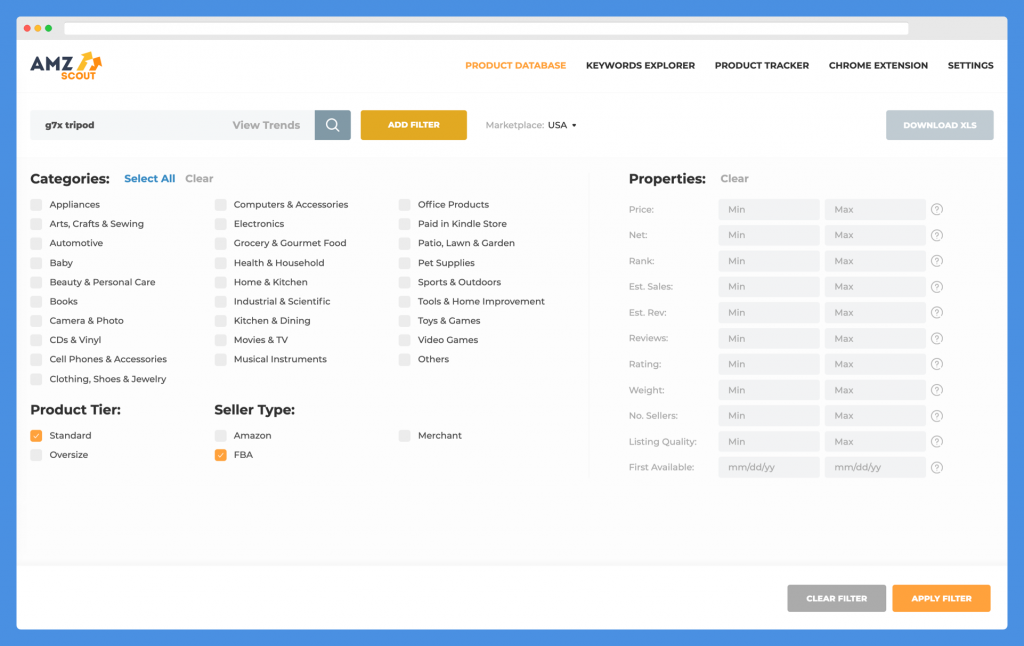 The Keyword Explorer feature lets you search for, spot, and use keywords that have significant demand. It's a product page optimization feature that helps you rank higher on search engines. This feature aims to help you drive more customers to your store from search.
This feature provides you with 44 advanced filters to help you discover the best products on Amazon.
Product Keywords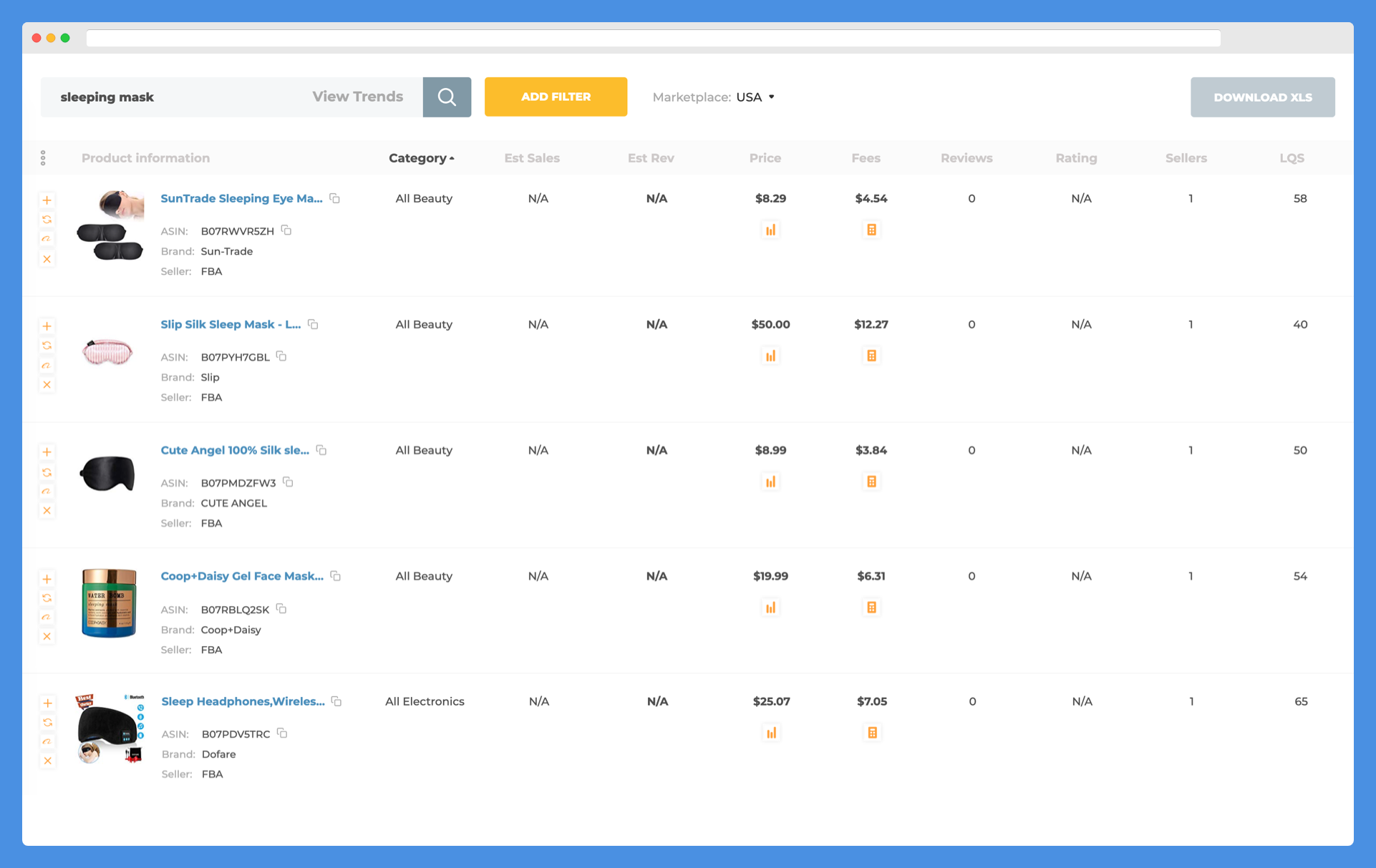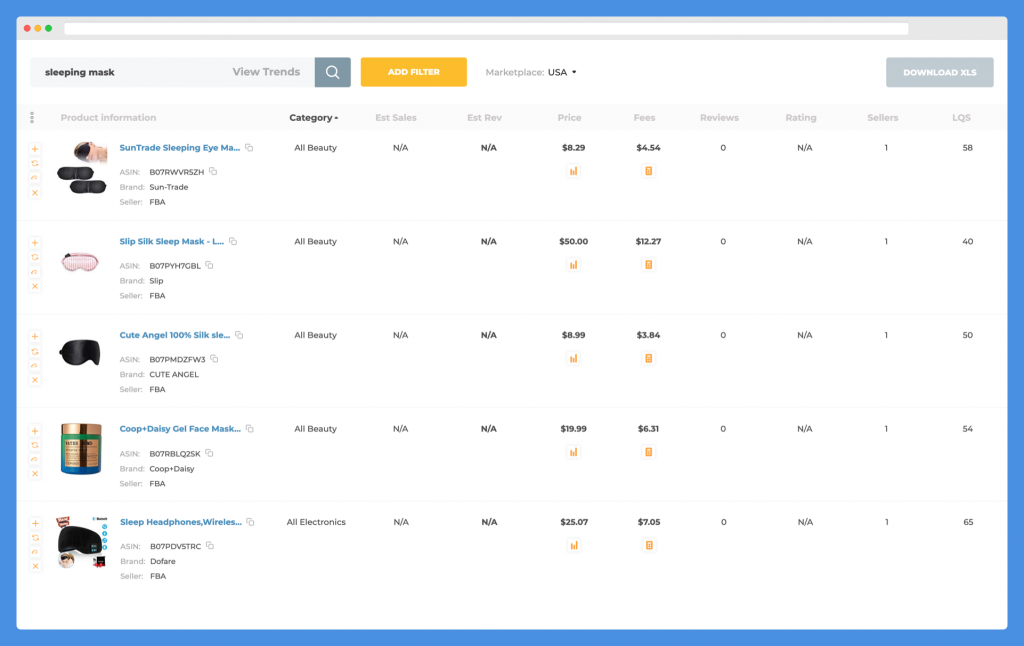 This feature helps you discover great products by leveraging their historical data. It shows you their average prices, ranks, ratings, and more within different time frames.
Listing Wizard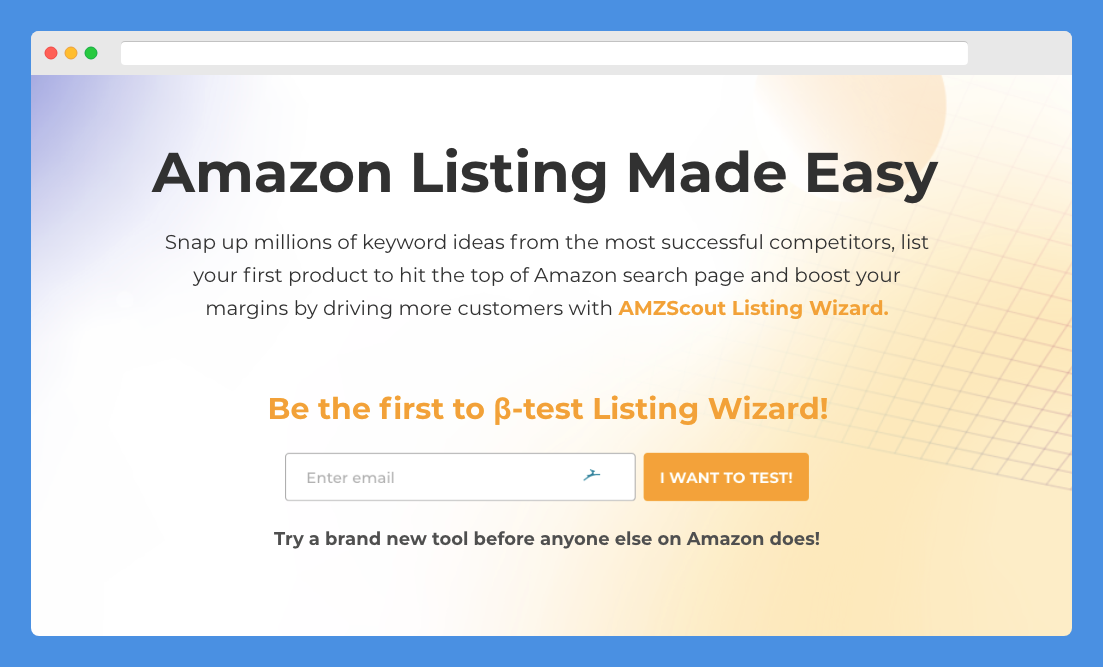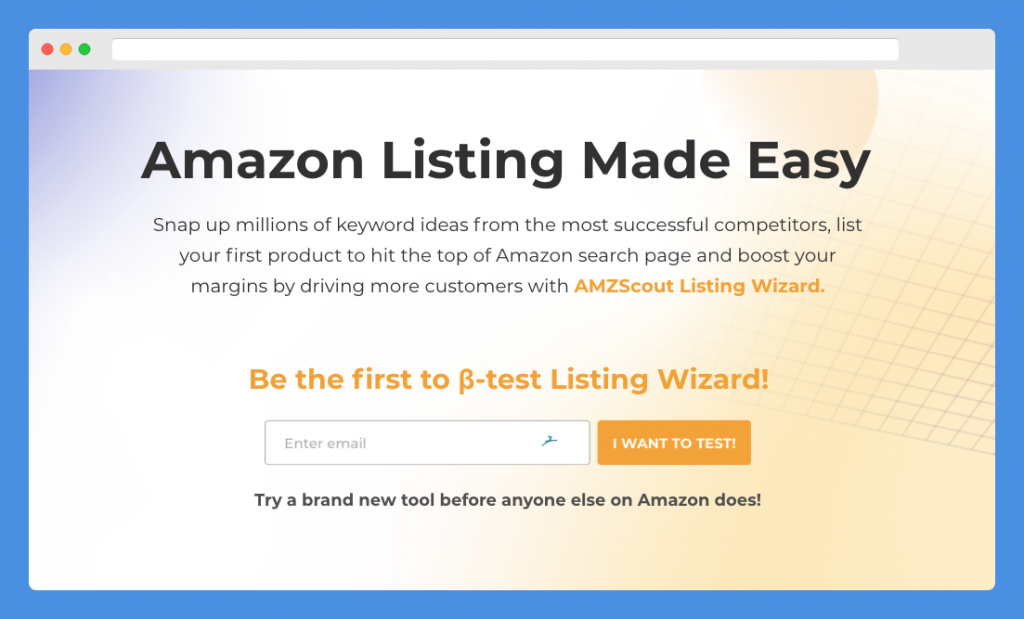 Listing Wizard is in beta. This new feature aims to help users automate their listing and optimization. The feature works by taking high performing keywords from your competitors and using them to boost your product ranking.
AMZScout Pricing
AMZScout has two pricing plans, including
Pro Extension – $44.99 per month
Bundle Plan – $49.87 per month
Yearly payment plans are cheaper. Lifetime subscription costs $299.
Related: Complete AMZ Scout Review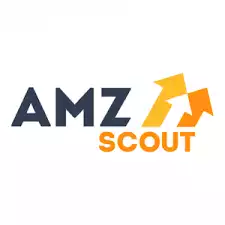 We earn a commission if you click this link and make a purchase at no additional cost to you.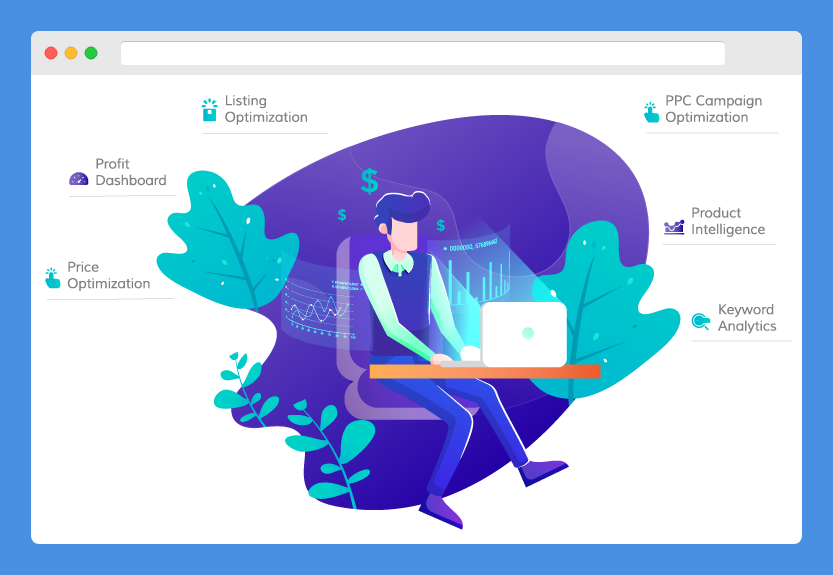 Features, Strengths, and Benefits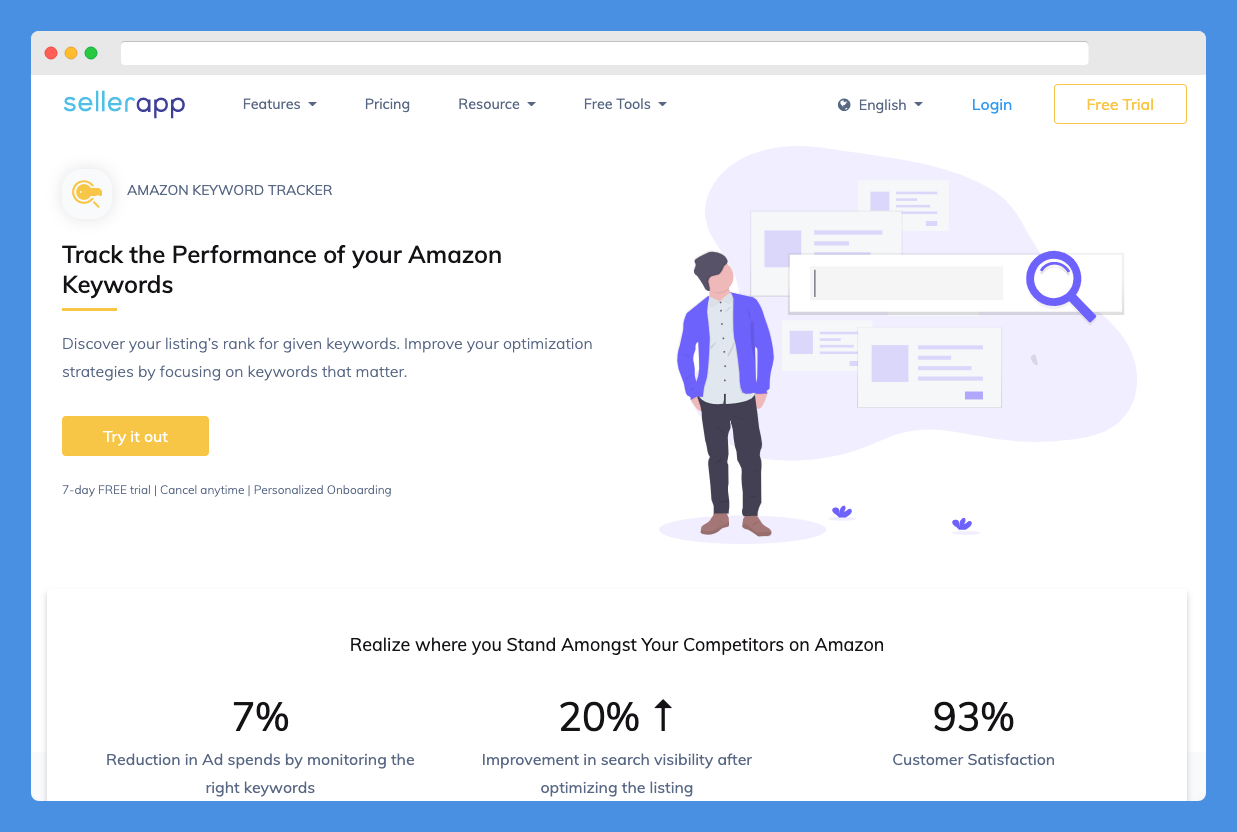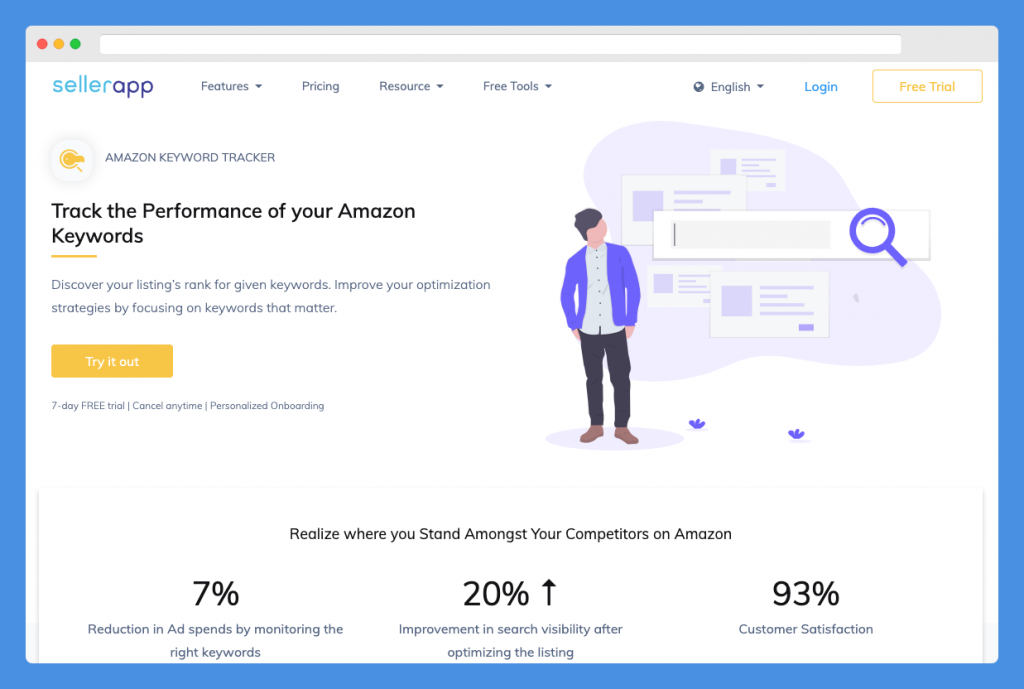 SellerApp provides both keyword research and tracking features. However, for this article, let's focus on their extensive tracking keyword tracking feature.
Amazon Keyword Tracker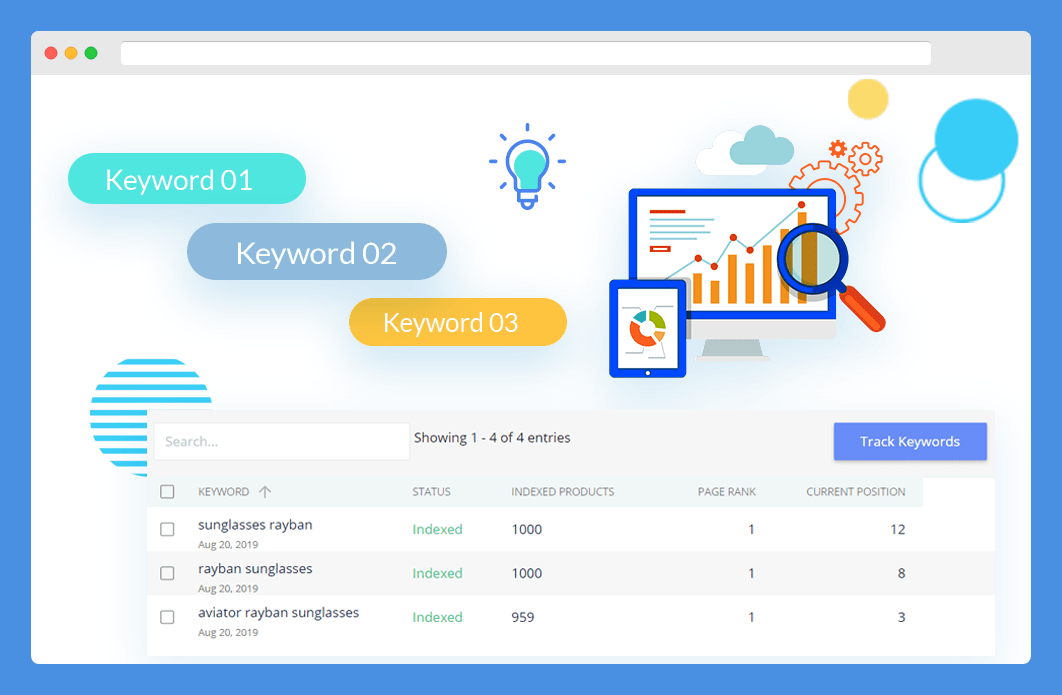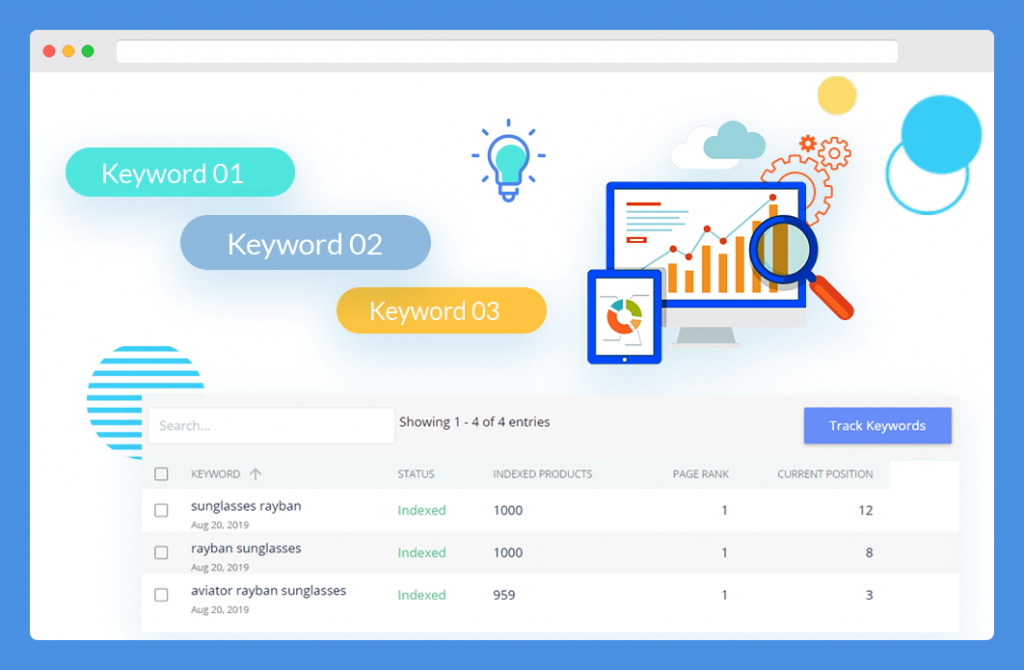 Amazon keyword tracker helps you spot your best performing keywords and the non-performing ones. More so, you're able to monitor your keyword rankings relative to your effort.
You'll gain insights into your site's key metrics, including
Page rank
Position
Search visibility
All thanks to this feature.
Keyword Trends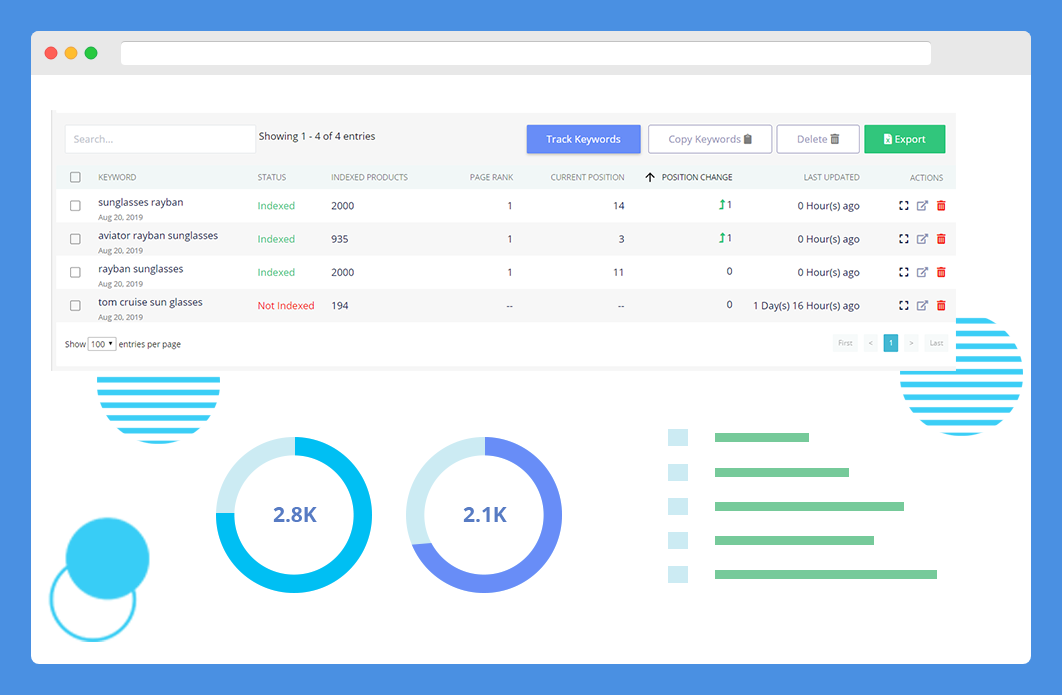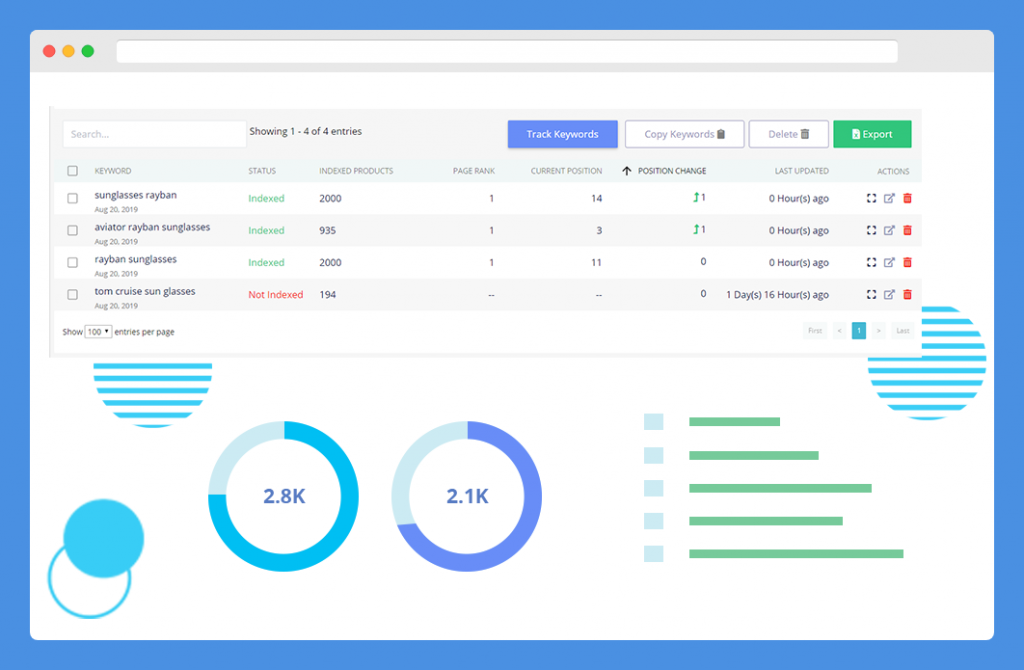 This feature shows you each keyword's index status, i.e., if the keyword is indexed or not. It also shows you the number of products that Amazon has indexed for that keyword.
Additionally, you'll see ranking changes, keyword position, and page rank. You will also see how your ranking history has changed over time. You may collate the data you get here and then measure the success you've enjoyed relative to your effort.
Track Competitors' Keywords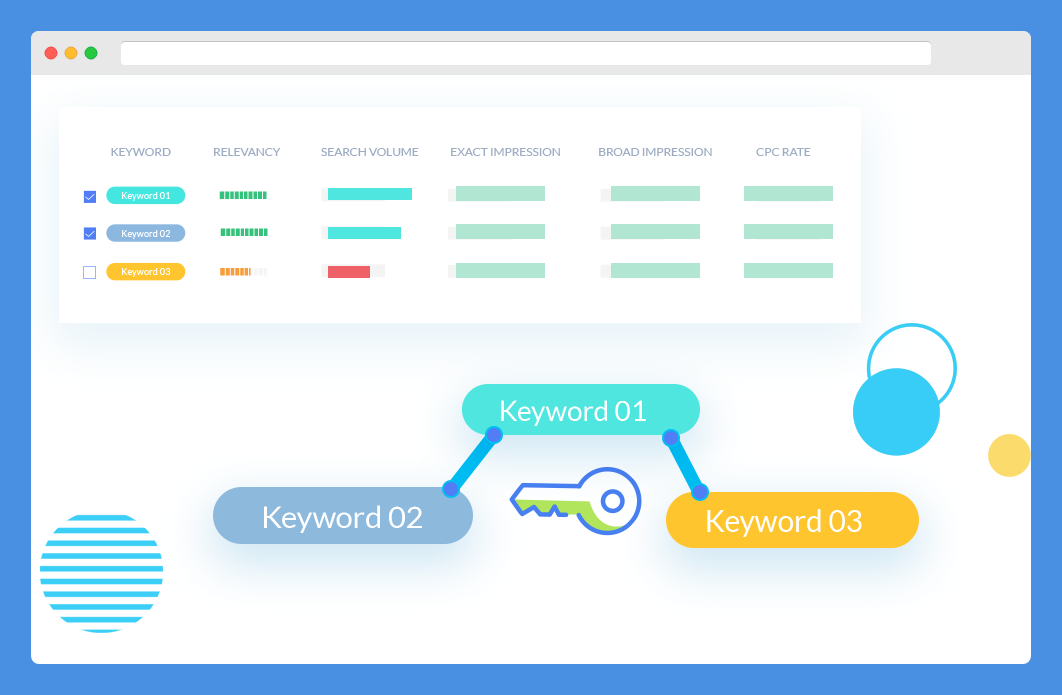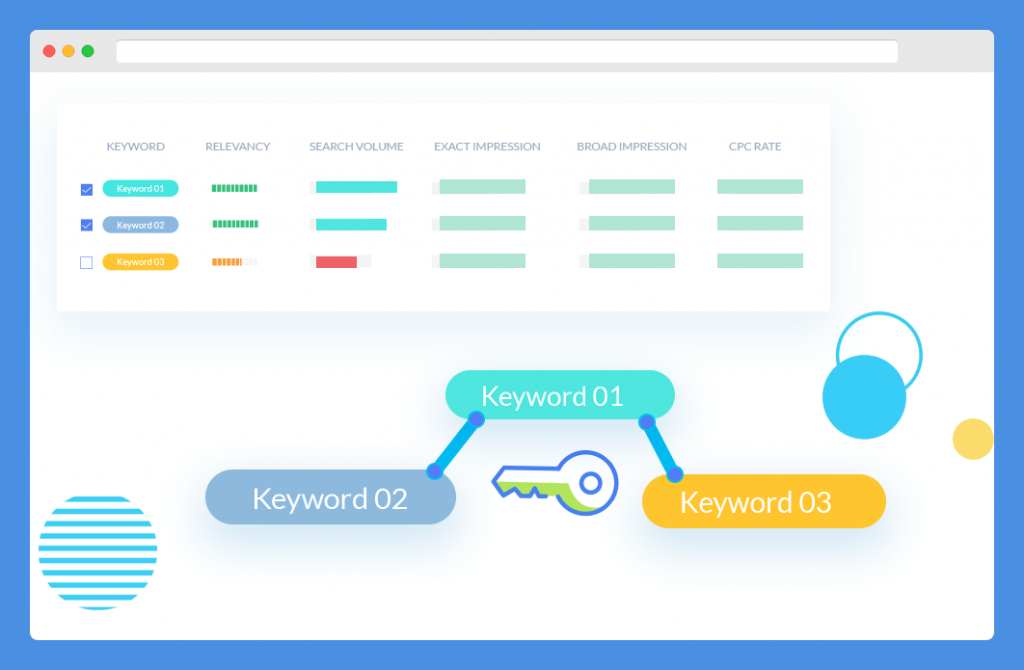 Making profits is as important in business as knowing the competition you're up against. Hence, SellerApp helps you spot the top sellers in your space and the keywords driving their business. It uses the Reverse ASIN feature to accomplish this task.
PPC Campaign Impact Analysis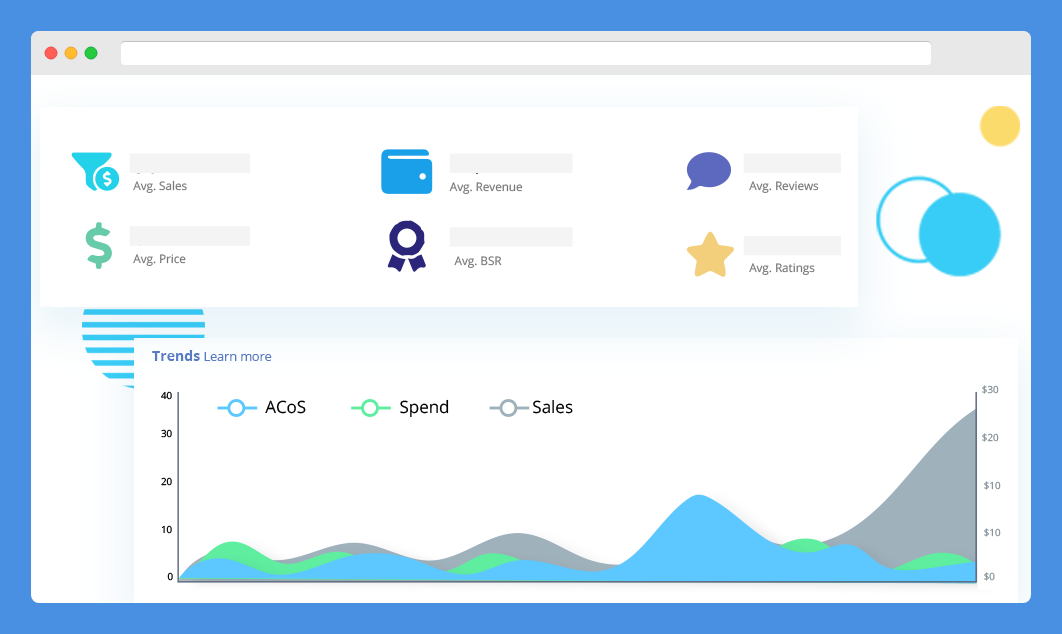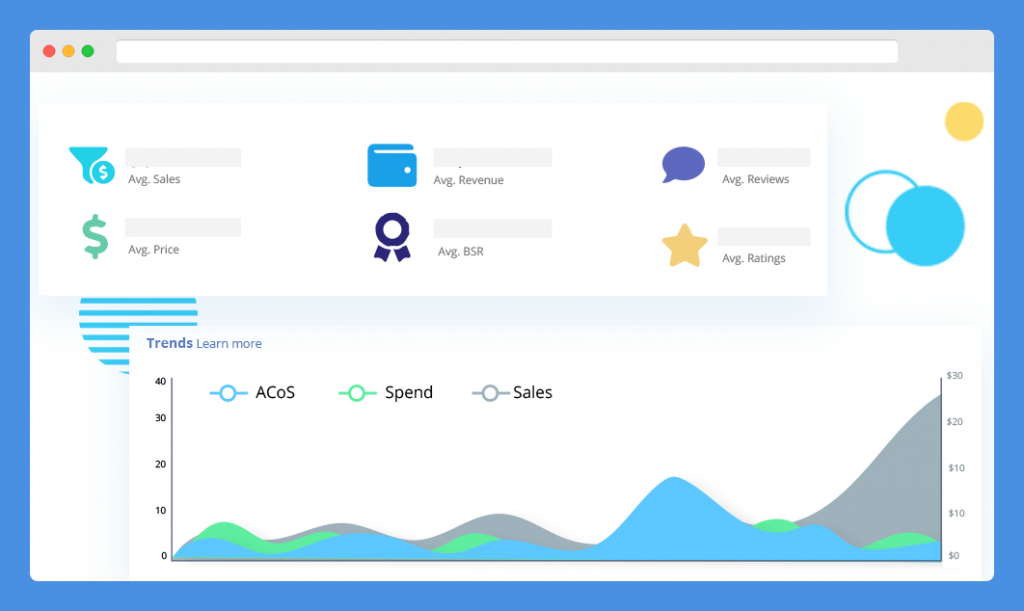 You can monitor how your PPC campaigns have driven more revenue for your business by boosting your organic keyword rankings. In short, this tool helps you make sure that your paid advertising is yielding profits for your business and lowing your ad costs.
SellerApp Pricing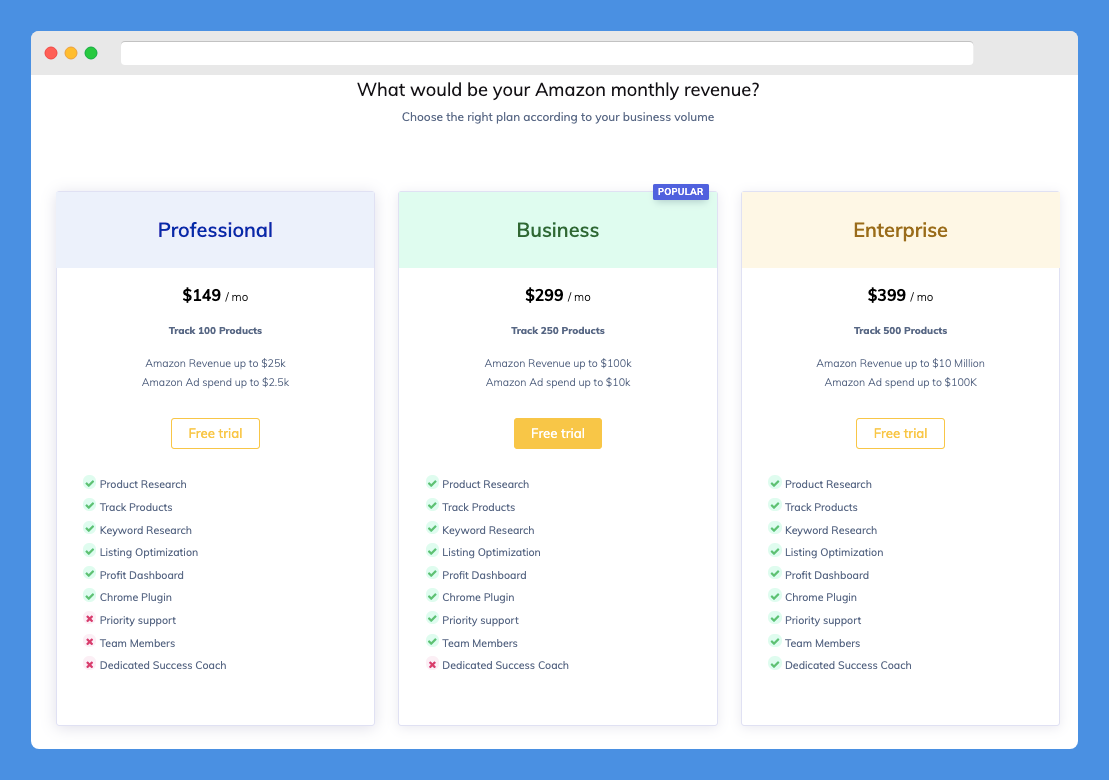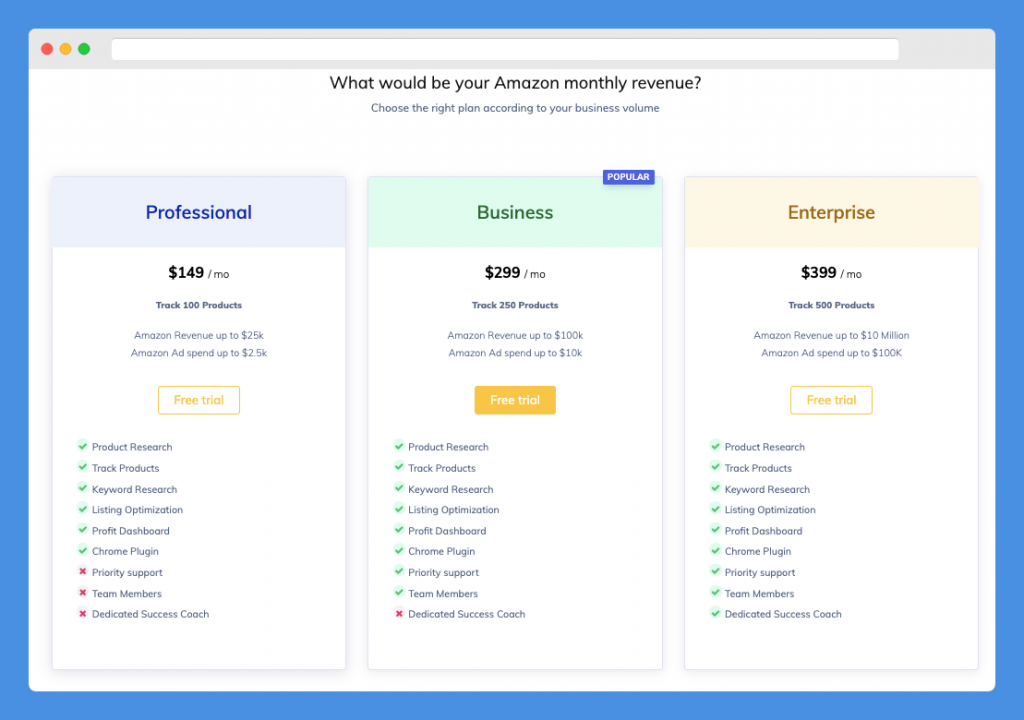 SellerApp offers you a 25 percent discount if you choose their annual billing. They offer three pricing plans.
Professional – $149 per month
Business – $299 per month
Entreprise – $399 per month
Also Read: Complete Seller App Review
4. Helium 10 Keyword Tracker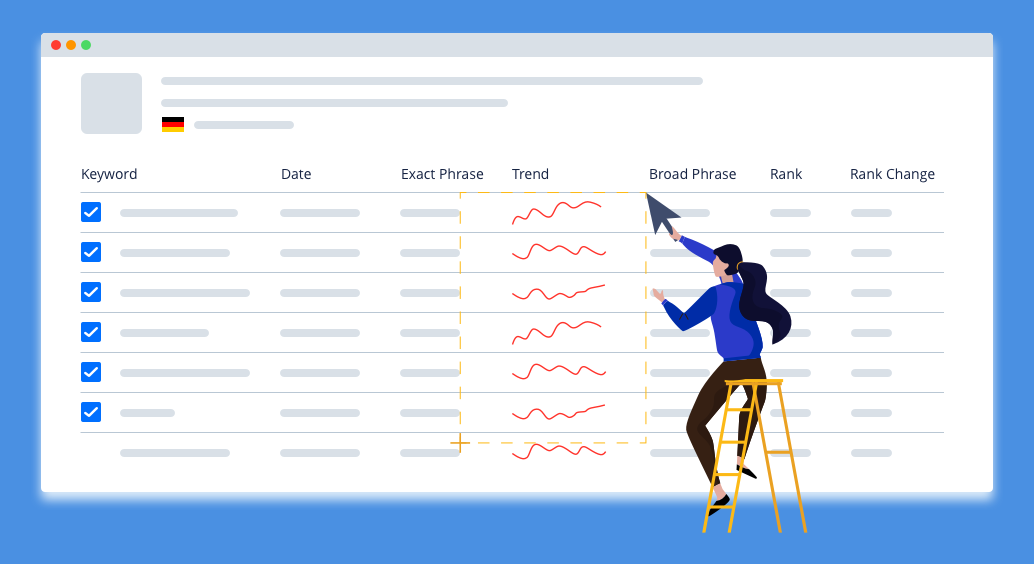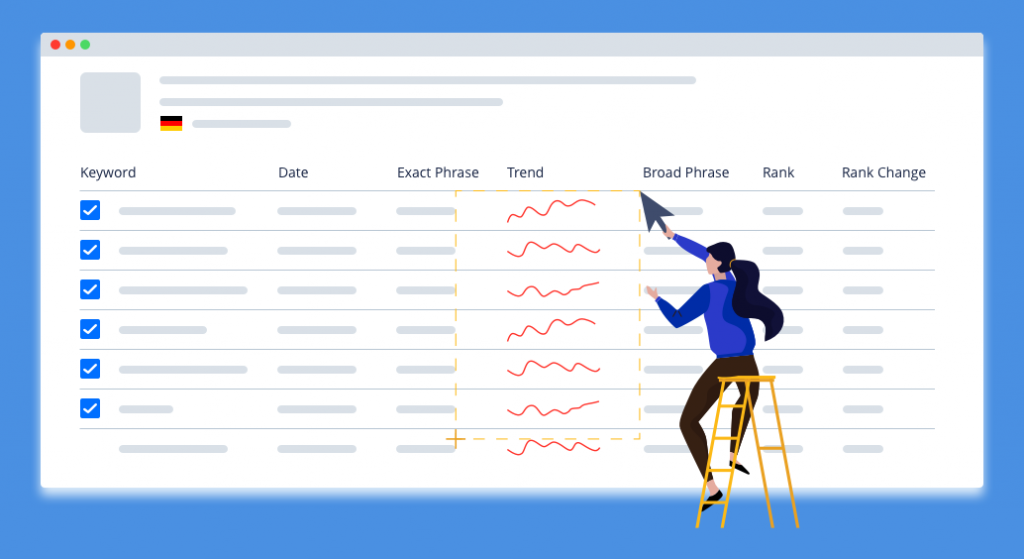 Helium 10 features a host of tools for Amazon sellers, about 20 tools in all. Among these tools are a host of top-notch keyword optimization tools like Magnet, Cerebro, Misspellinator, and Keyword Tracker.
This platform was founded by Manny Coats and Guilliamo Puyol with the purpose to help Amazon sellers rise t the top. The right keywords are critical for sellers to rise to the top.
So how does Helium 10 help?
Features, Strengths, and Benefits
For this article, we'll focus on the Keyword Tracker tool.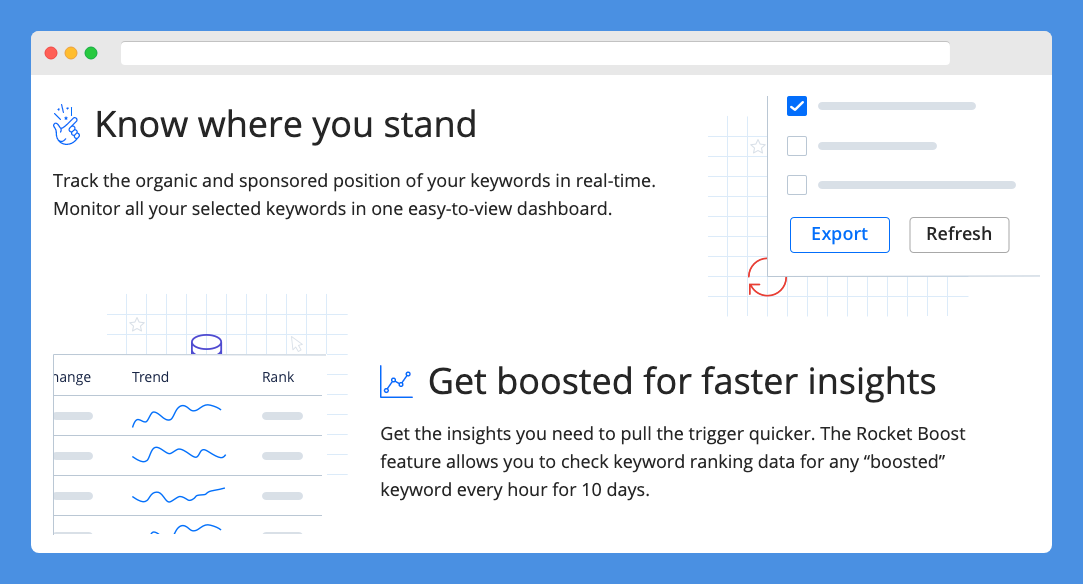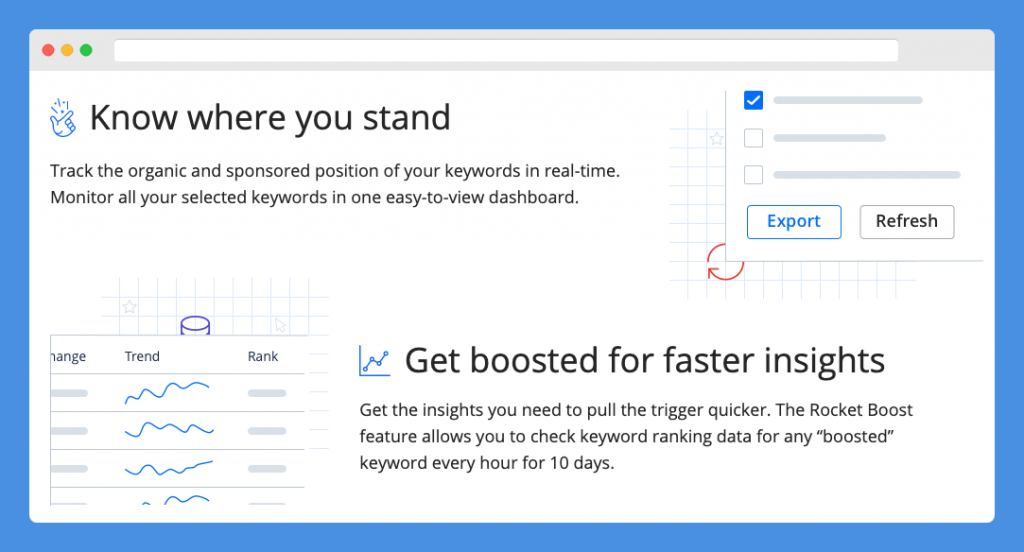 Dashboard
Helium 10's Keyword Tracking tool maintains an intuitive design and user-friendly interface. Consequently, you can track your product's keywords and improve your Amazon listing page with minimal effort.
Amazon Keyword Monitoring
Its Amazon keyword monitoring feature lets you key an eye on the Amazon niches you're targeting. It unearths the profitable keywords in that niche so that you can focus on boosting your rankings.
Log Changes
You can keep track of what worked in your marketing and what failed. And then use that information to optimize your efforts going forward.
Track Competitors
Competition is stiff on Amazon, and rankings change pretty frequently. So you want to ensure that you know how well your competitors are doing. And then, how your product's performance compares to their SEO strategy.
Data and Analytics
Helium 10's Keyword Tracker feature draws up data from your keywords and provides reporting that you can access. Including your
Keyword ranking
Percentage change in ranking
Ranking trends over time
Estimates of monthly searchers
And others.
Helium 10 Keyword Tracker Pricing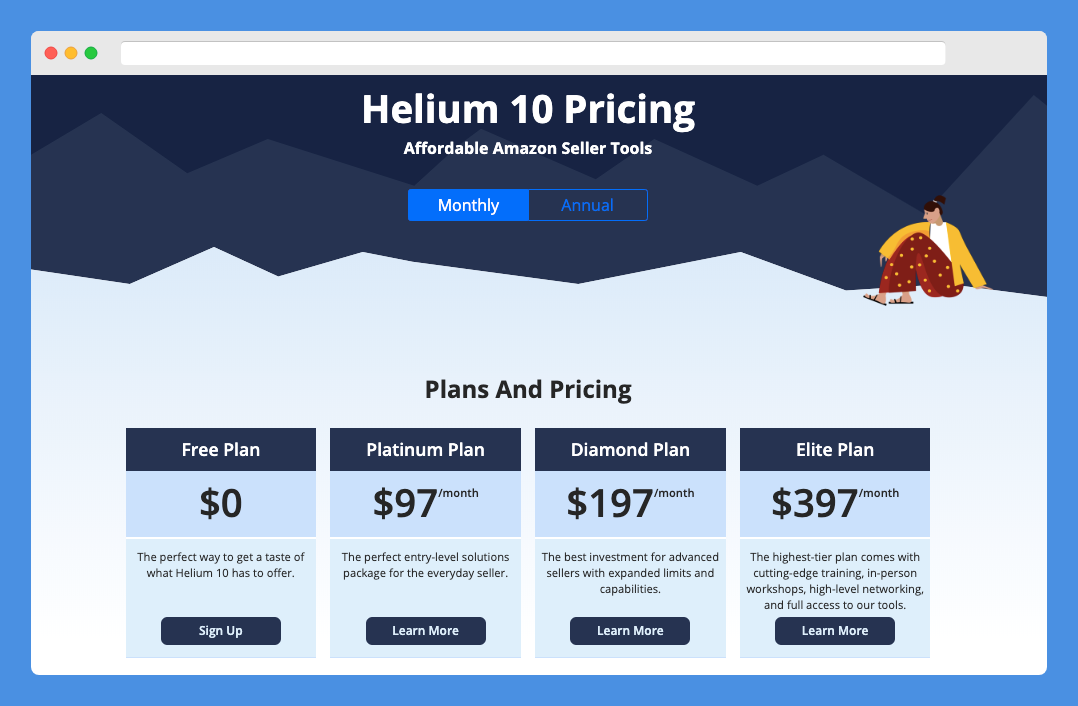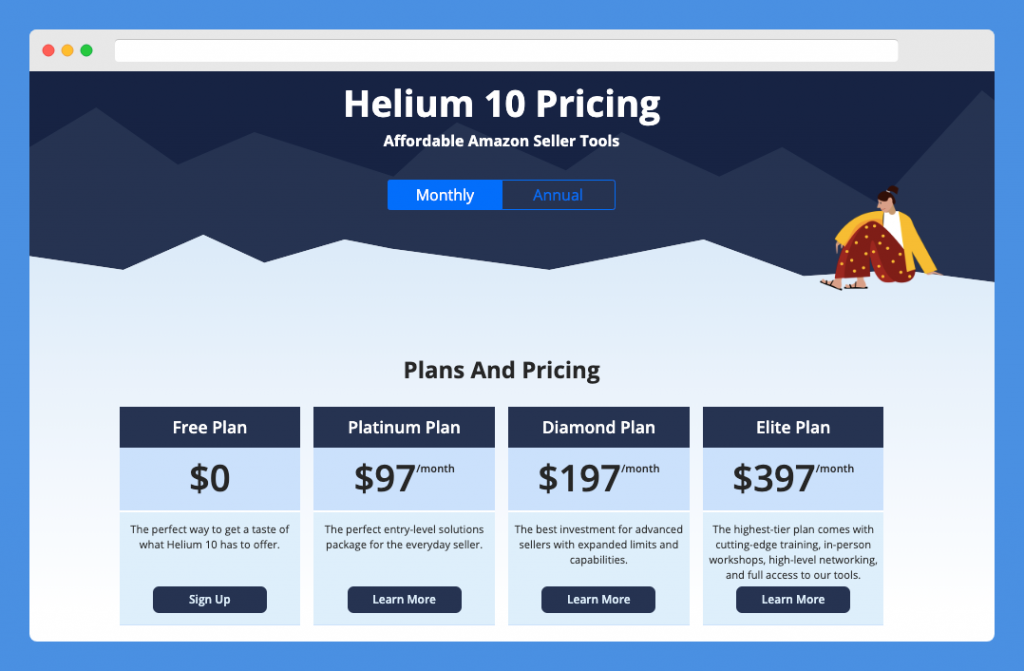 You can track two ASINs for free with the keyword tracker tool. Alternatively, you can buy the tool for $57 per month or $570 per year.
If you prefer to access all Hemium 10 products, you can pay $97 or higher.
Related: Helium 10 Review

We earn a commission if you click this link and make a purchase at no additional cost to you.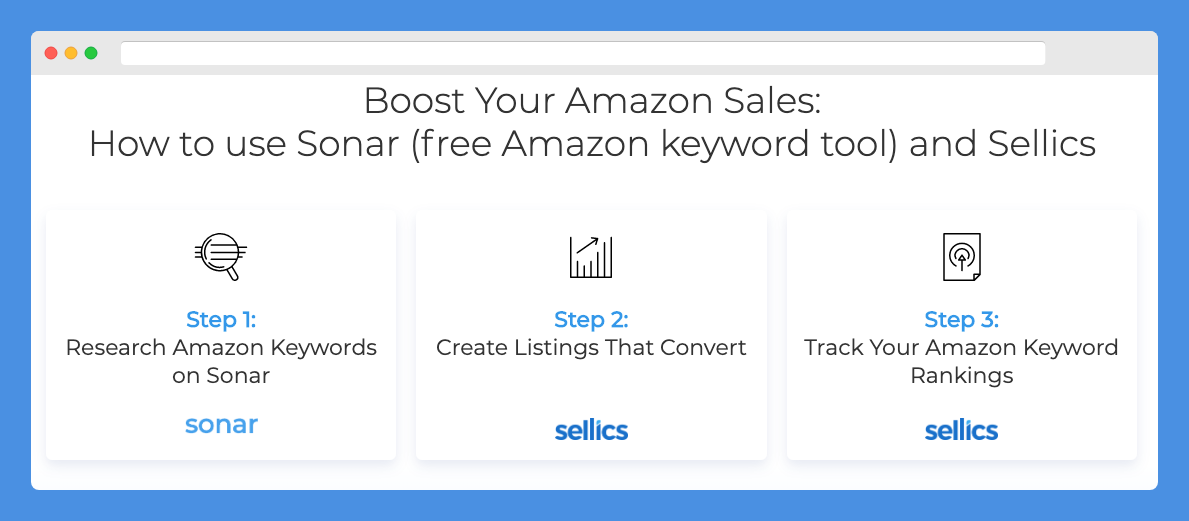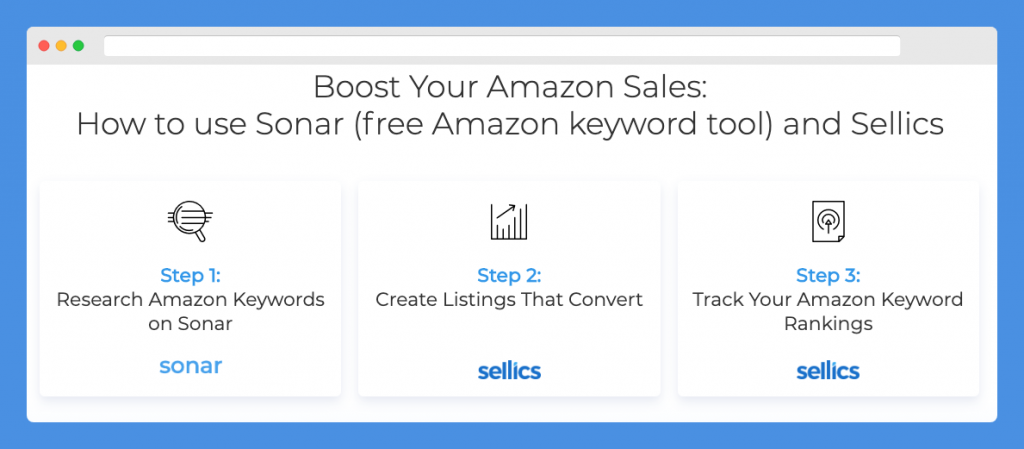 Sonar is an Amazon tool that's a part of Sellics. You can find and track product keywords based on their ASIN, language, and other parameters.
Users can get Sonar to work in just three steps, and may decide to go ahead to using Sellics if they desire. So how does it help you track Sonar Amazon keywords?
Features, Strengths, and Benefits
Here are Sonar's key features and benefits.
Keyword Search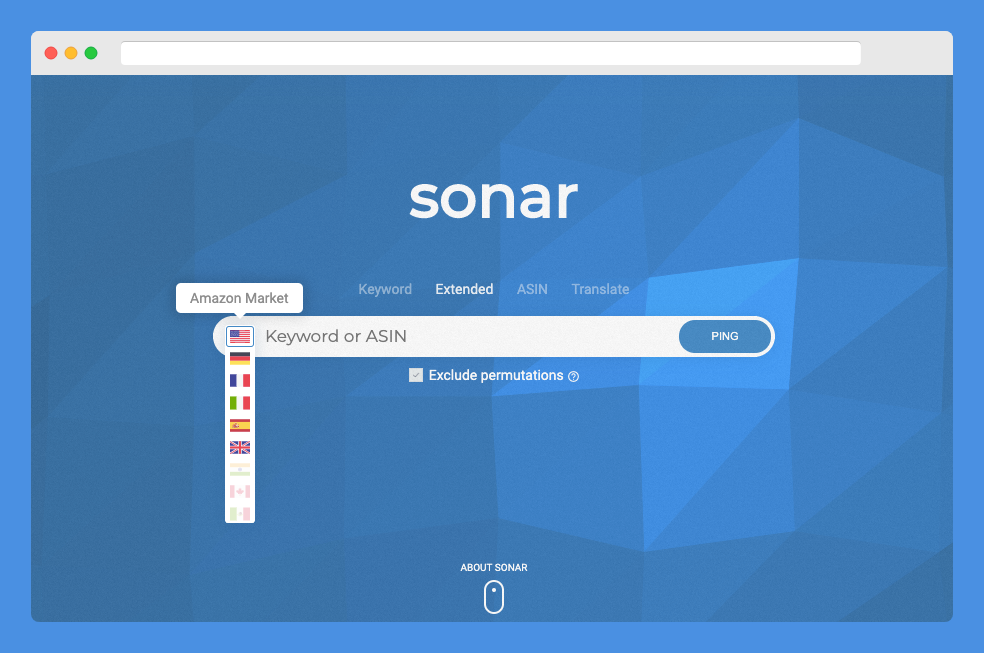 You can find and track keywords by related keywords, reverse-lookup, synonymous keywords, and cross-market search. On the Sonar search box, you'll find
Synonymous keywords as 'Extended.'
Related keywords as  'Keyword.'
Reverse ASIN lookup as 'ASIN.'
Cross market search as 'Translate.'
This tool can give you data from Amazon Marketplace across six countries, including
The United States of America
Germany
France
Italy
Spain
The United Kingdom
When you use the Translate function, you can choose German, English, French, Italian, and Spanish. Sonar also lets you filter and exclude permutations, i.e., if a keyword appears in more than one order, you can decide to exclude it.
Amazon Listing Creator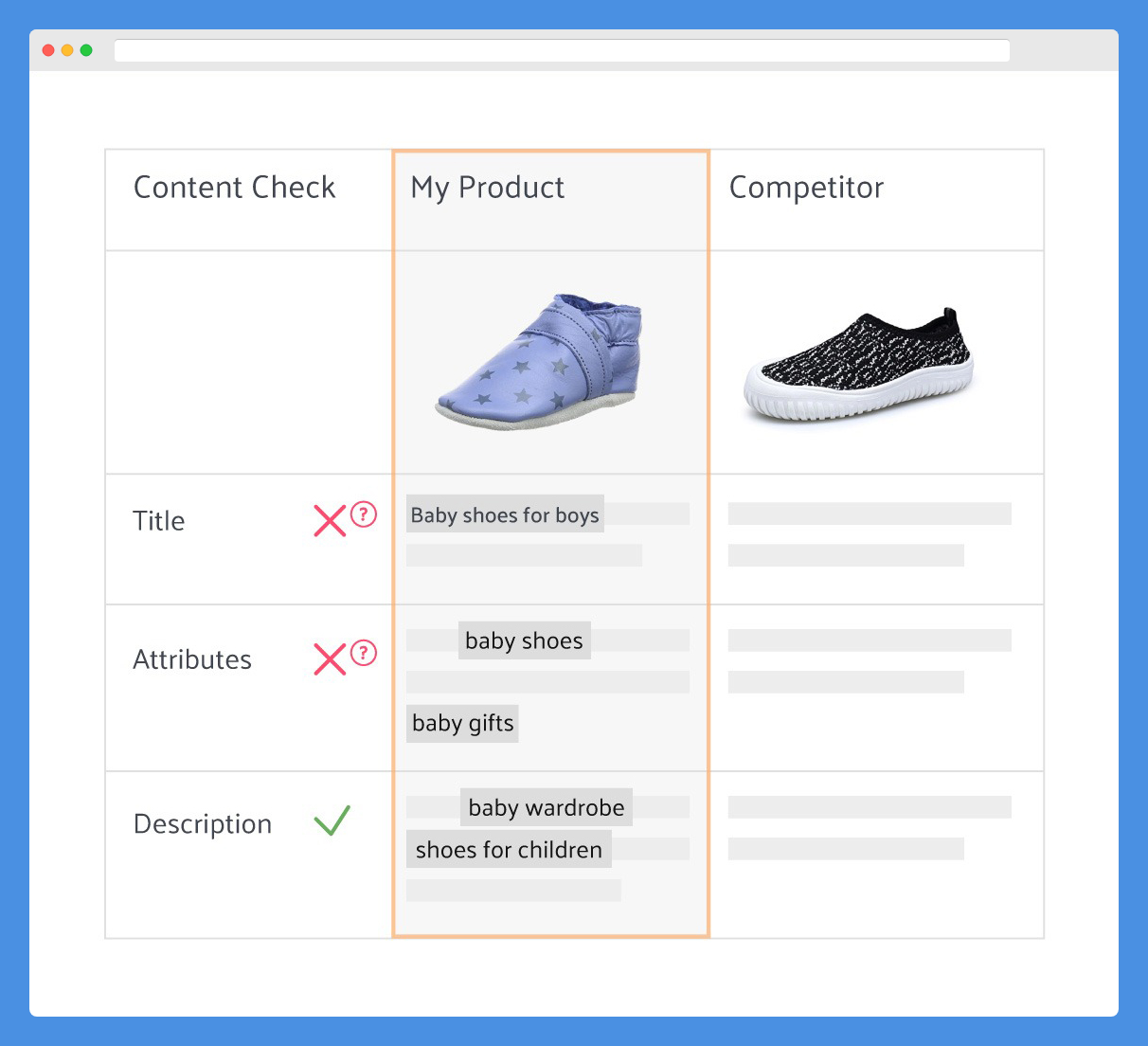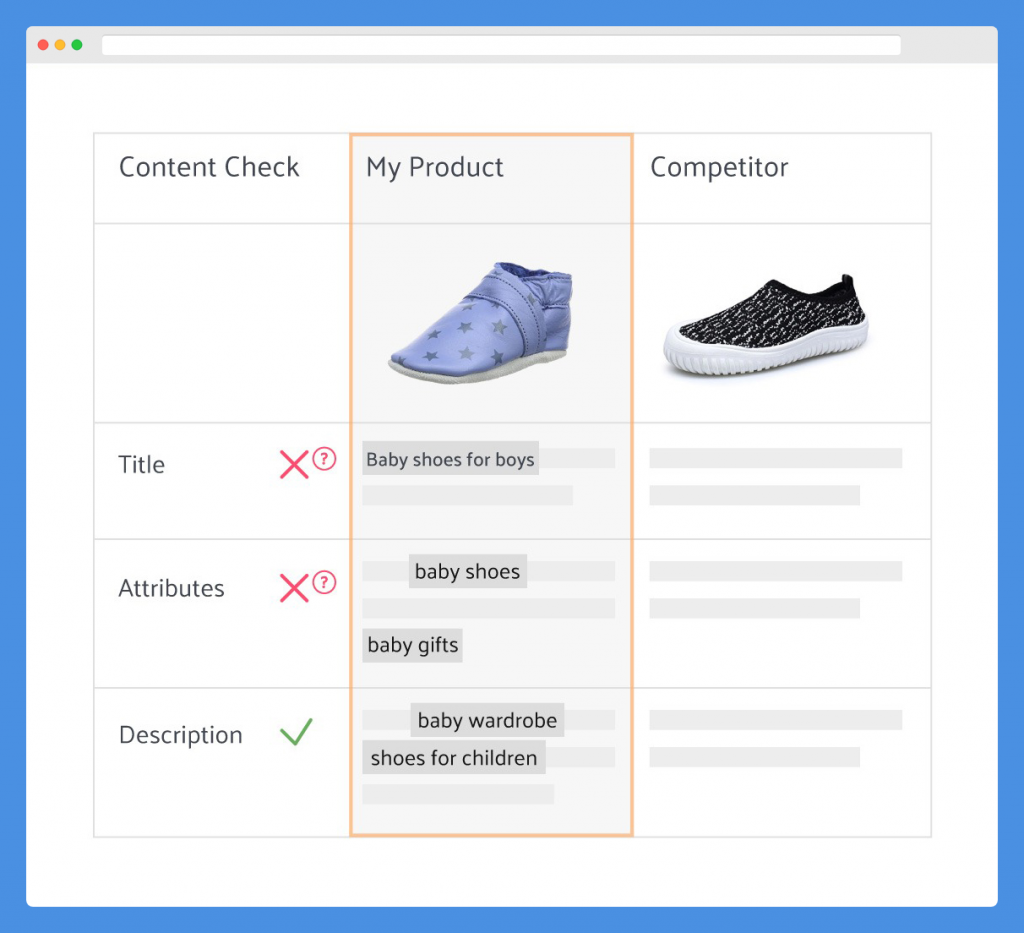 This tool helps you spot product listings that can use some improvement. From doing your Amazon keyword to getting recommendations for keyword optimizations. Specifically, you can optimize your product title, product descriptions, listing bullet points, and more.
Track Keyword Ranking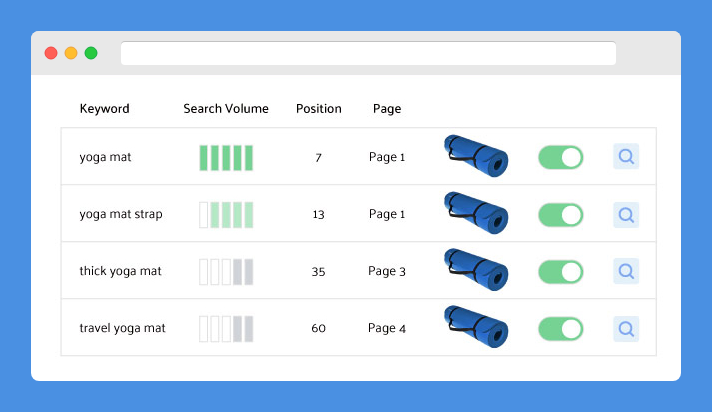 Use Sellics to track your keyword ranking and search volume. You can monitor unlimited keywords and run split tests to measure how your optimization efforts influence your ranking.
In short, it's a great keyword monitoring Amazon tool you can use.
Sonar by Sellics Pricing
You get 14 days free trial for this product. The pricing for this tool depends on your sales volume. For example, sellers with a sales volume of $1000 to $60,000 can choose from three plans.
Monthly –  $67 pay as you go
Biannual – $57 per month
Annual – $47 per month
These plans include all Amazon markets, the Mobile app, Unlimited products, and all features. You can also use this product at $57 per month if you sell below $1000 monthly.
Interesting Comparison: Jungle Scout Vs Sellics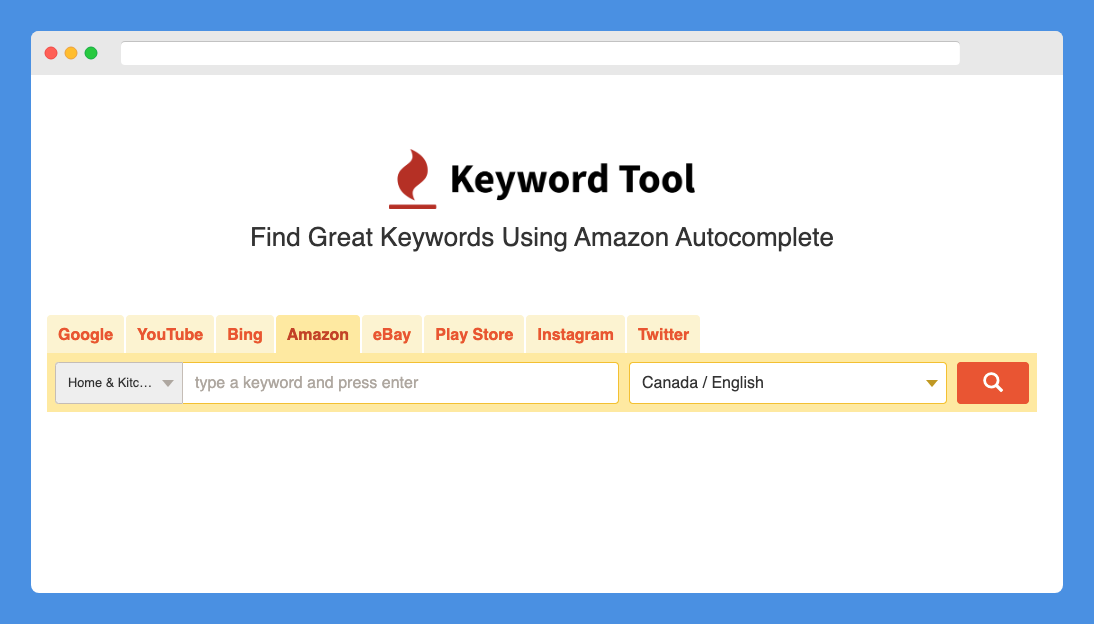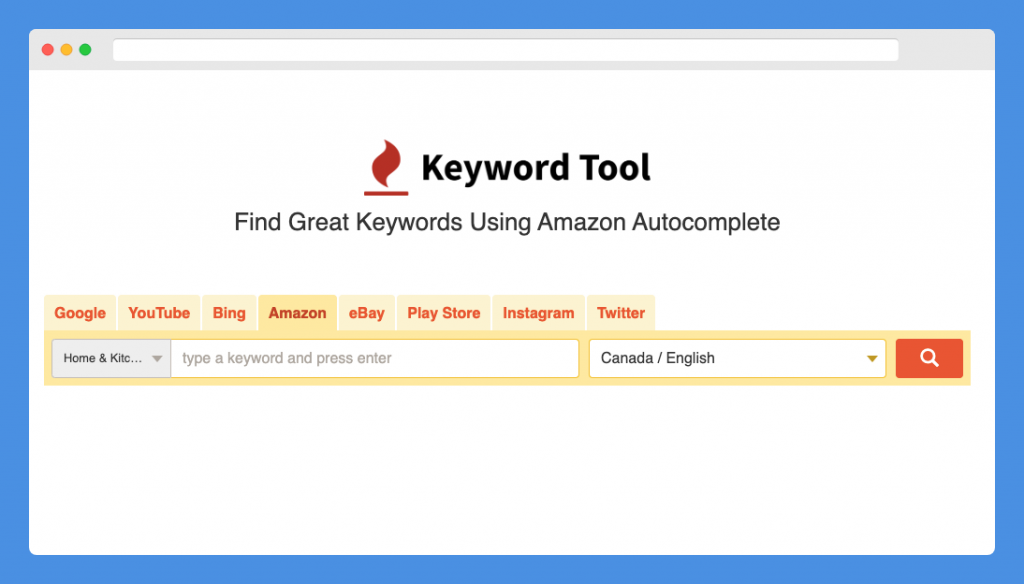 The Keyword Tool features the Amazon tool to help sellers discover great keywords using the Amazon autocomplete feature. When shoppers visit Amazon and use their search function, these searchers get search suggestions that other searchers have used frequently.
This keyword tool generates long-tail keywords from Amazon in a matter of seconds. The tool puts your seed word into an Amazon search box and then uses it to generate frequently searched keywords from buyers.
Features, Strengths, and Benefits
Here's what you get from this tool.
Amazon Departments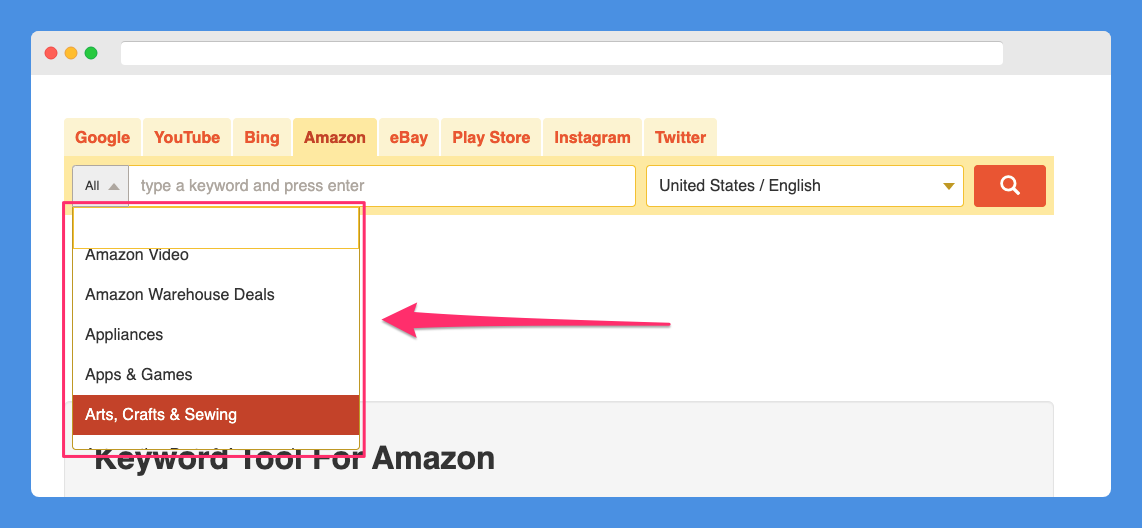 You can search based on individual Amazon departments or all departments. The Amazon Keyword tool features a drop-down menu of all Amazon product departments to help you search for keywords with more specificity.
Languages and Marketplaces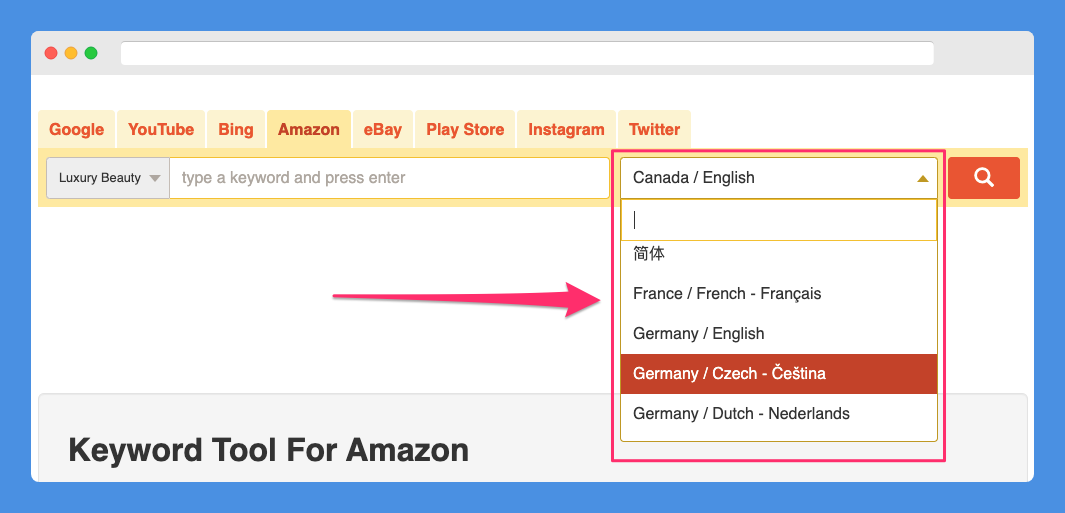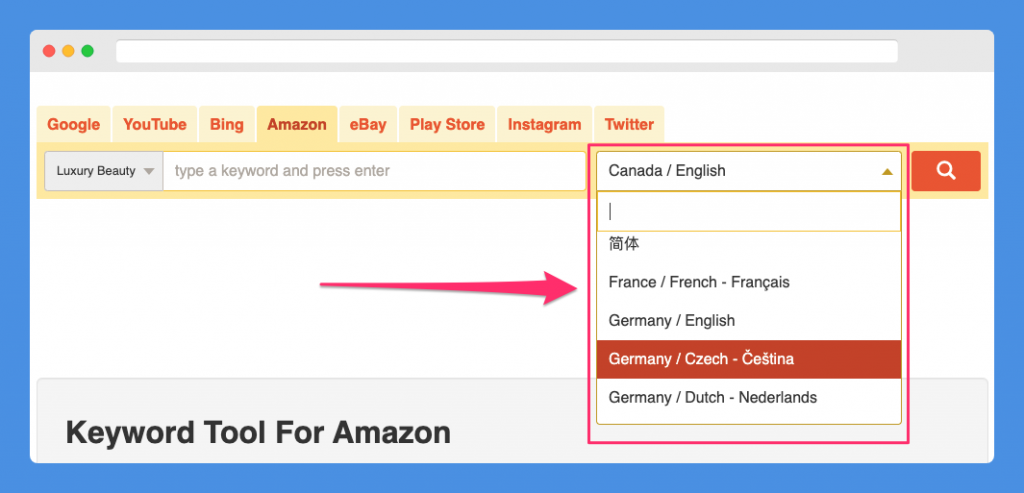 You can also filter products based on languages and market places. On the right side of the search box, you'll find a second drop-down menu that lists Amazon market places and appends their relevant languages.
So you can use this feature to find keywords that match specific marketplace in the language the audiences there speak.
Amazon Keywords Search Volume Estimates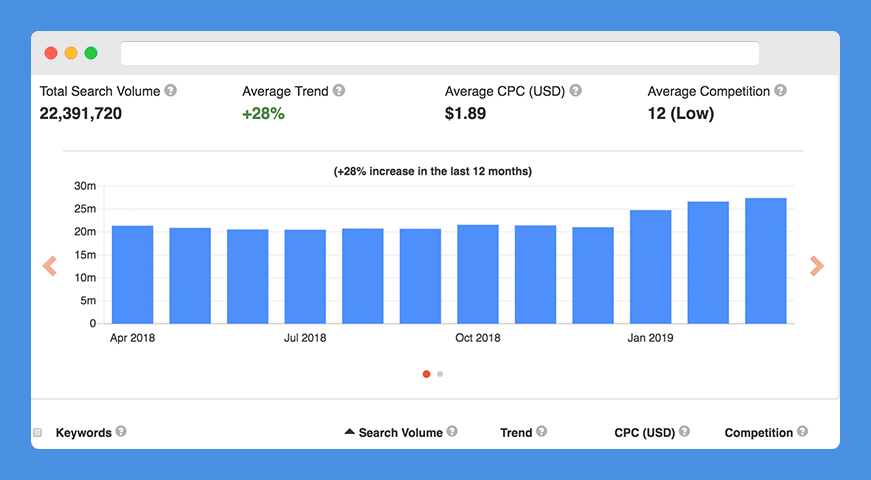 This tool's paid version lets users get search volume data on Amazon keywords using the clickstream data. The tool claims to make an accurate estimation of Amazon's keyword volumes.
Amazon Keyword Tool Pricing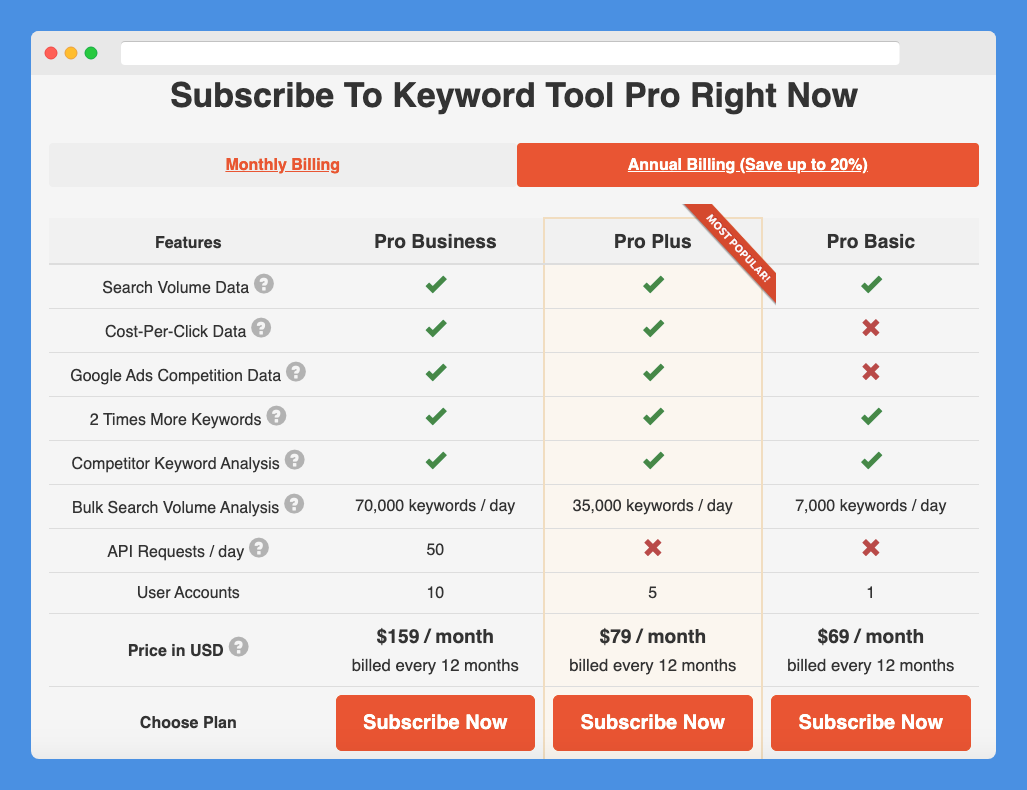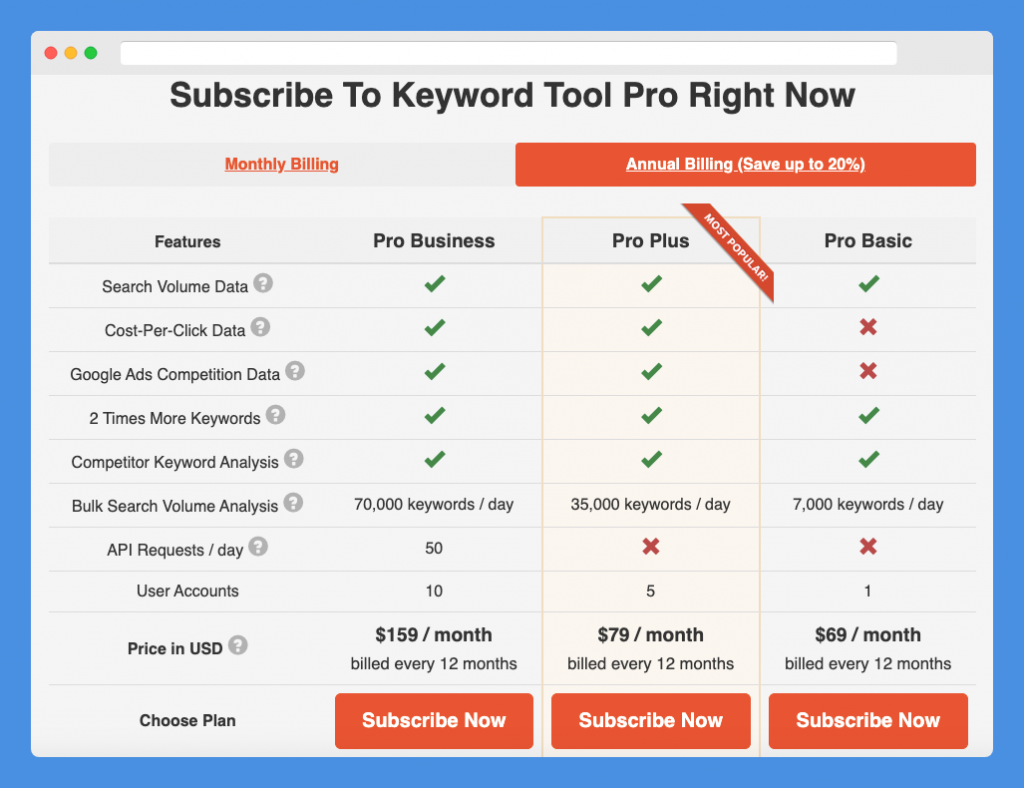 You can access this tool for free, but its Pro version has three price plans.
Business – $159 per month
Plus – $79 per month
Basic – $69 per month
You can save up to 20 percent if you pay yearly and not monthly.
Also Read: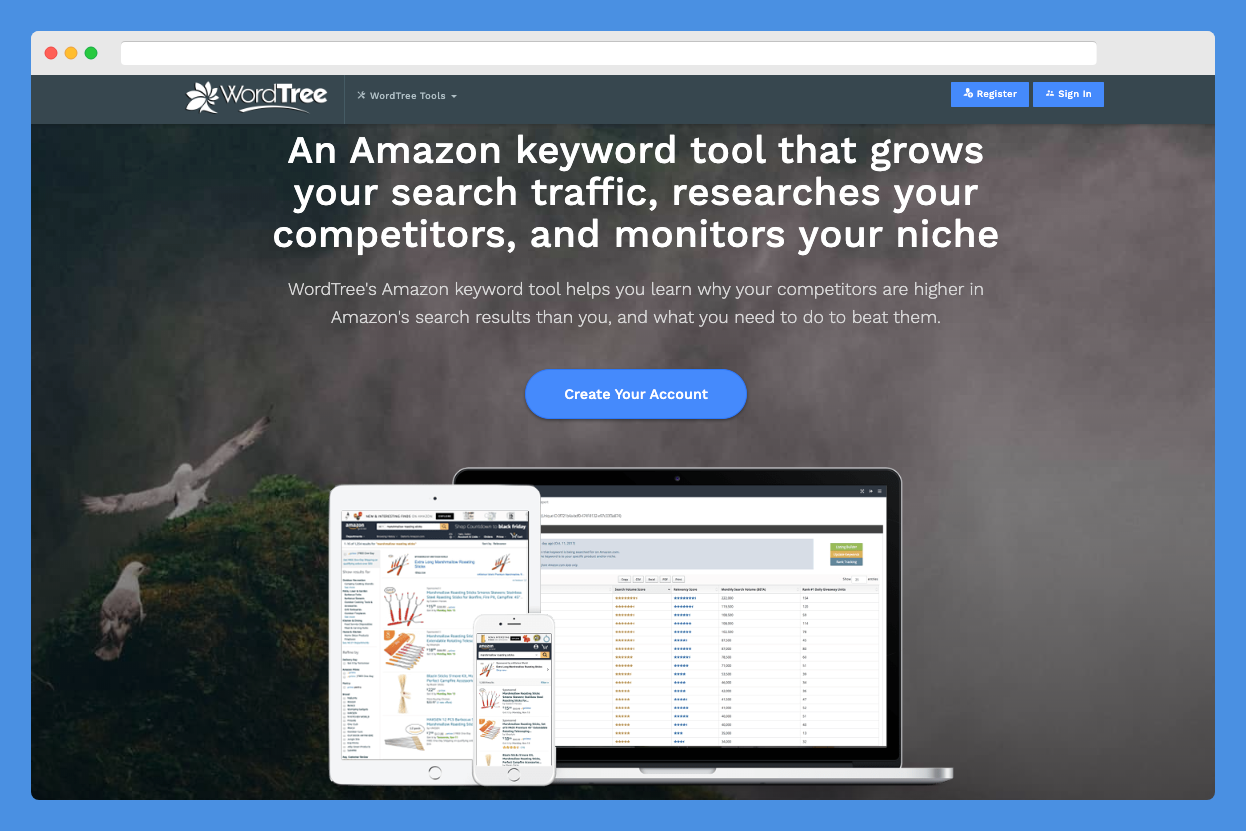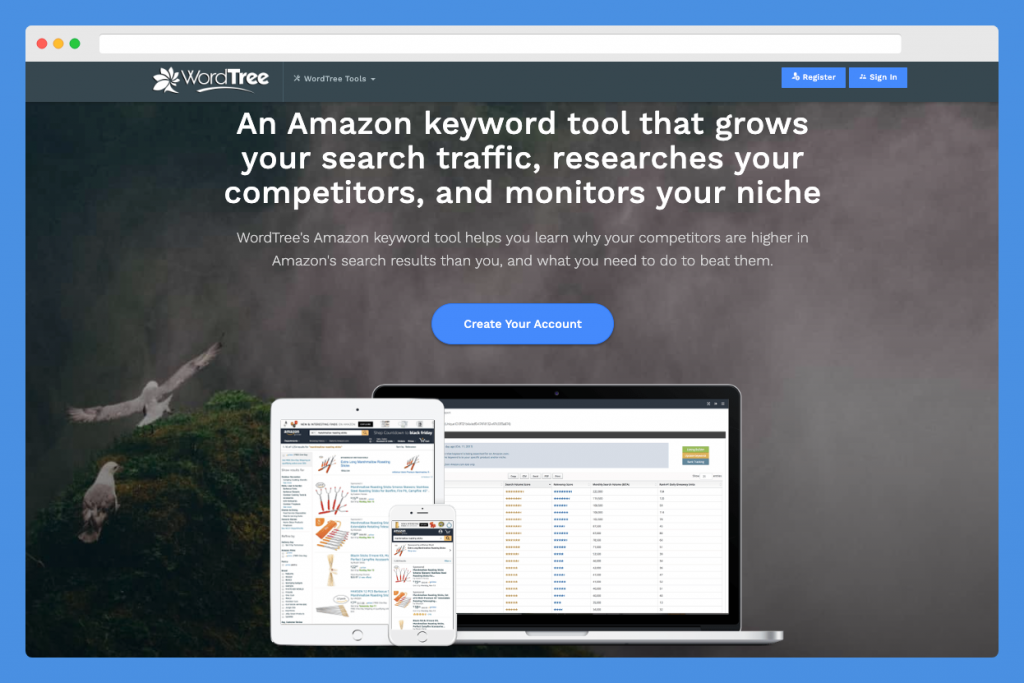 WordTree's mission is to help you discover why your competitors' products rank higher than your product, and how you can change that for good! Hence, they have some Amazon seller tools to help sellers enjoy this mission.
This platform features and prices four tools separately. Let's take a look.
Features, Strengths, and Benefits
One of the quick benefits here is that WordTree's featured tools do not come in a unit, so you can choose and pay for what you want.
Reverse ASIN Lookup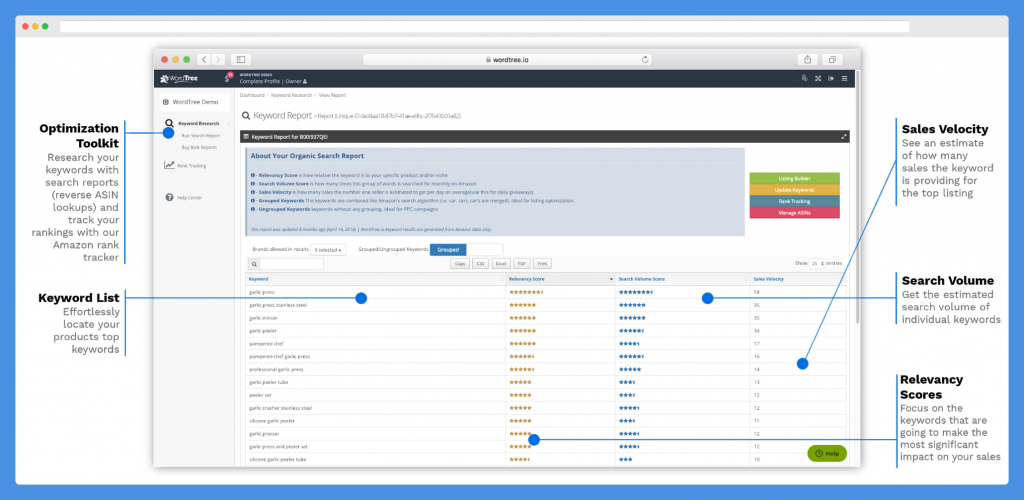 The reverse ASIN lookup feature helps you spot the keywords your audiences are typing into Amazon to find your competitors. Apart from an optimization toolkit and keyword list for your keyword, this features comes with other capabilities like
Sales velocity
Search volume
Relevancy scores
Amazon PPC Manager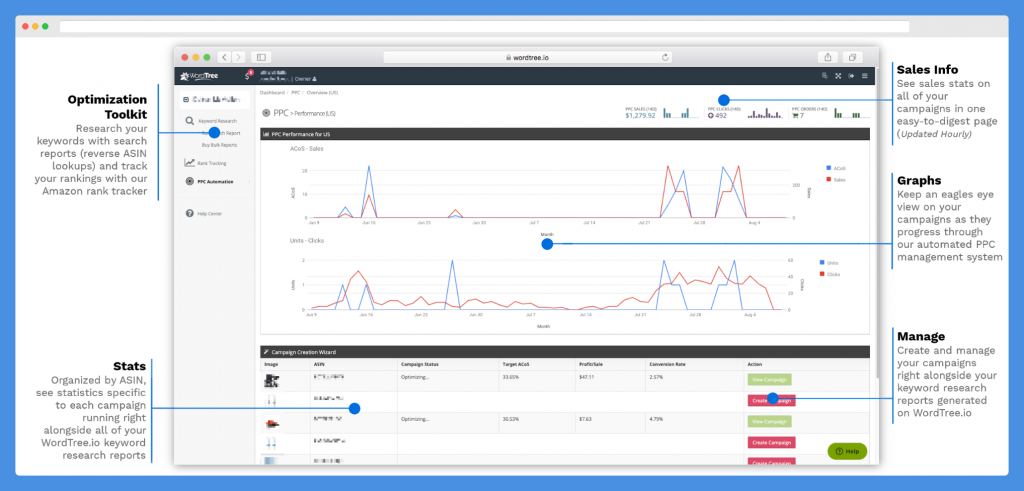 The WordTree Amazon PPC Manager takes just minutes to set up, but cuts costs and saves time that would have been lost without this software. It used advanced machine learning tools to help you manage your Amazon ads. The feature comes with 
An optimization toolkit
ASIN-specific stats
Sales information
Graphs
Manager
Amazon Rank Tracker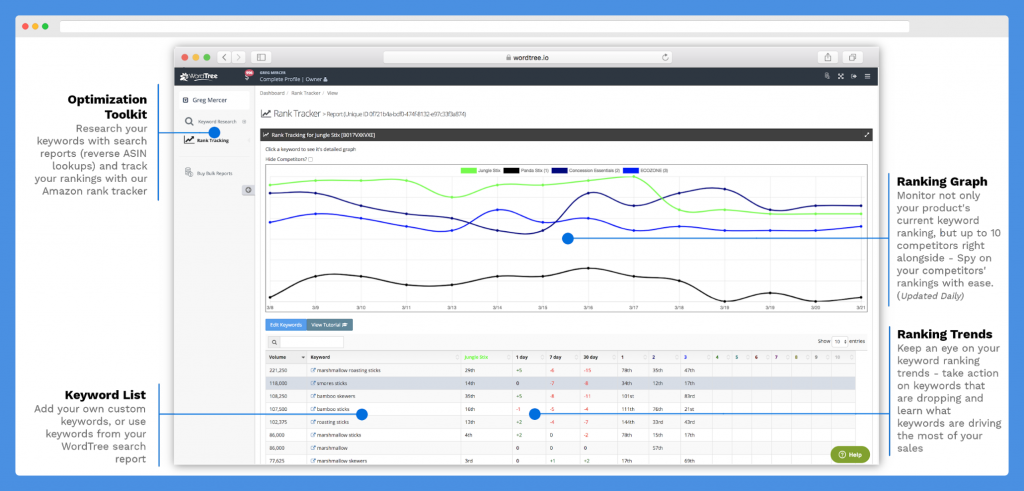 Amazon rank tracking tool helps you track your product's keyword ranking. So you'd know if your changes and investment in ranking keywords are working or failing. You'll enjoy this feature's visual experience, rich with graphs and tables. It comes with
An optimization toolkit
Keyword list
Ranking graph
Ranking trends
All in all, it's a decent Amazon rank tracking tool.
Keywords Index Checker
This is a free tool on Chrome for checking if Amazon has indexed your keywords.
WordTree Pricing
Reverse ASIN Lookup Pricing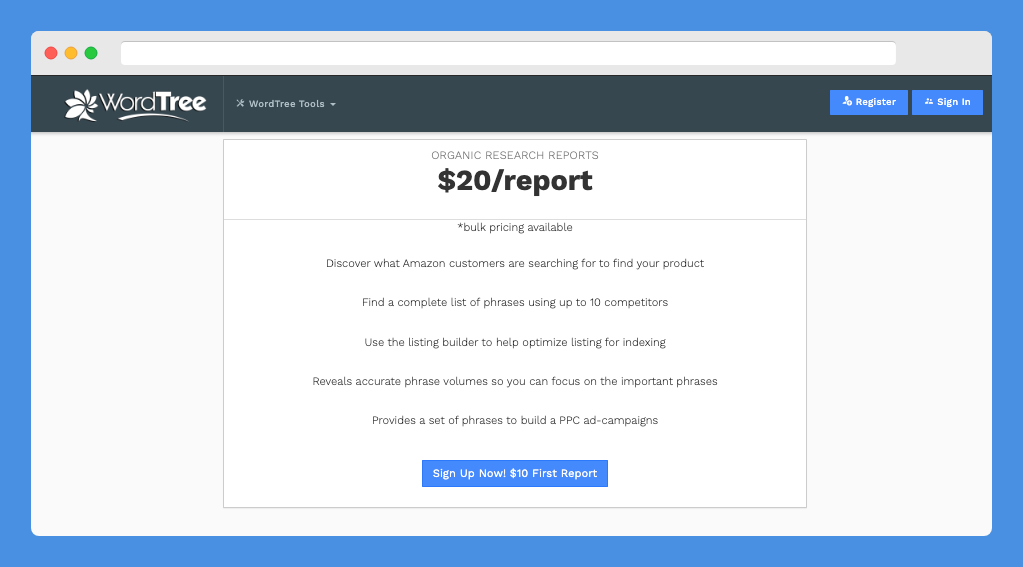 You get up to ten competitors, ASIN lookup with WordTree. This feature costs $20 for a report.
Amazon PPC Manager Pricing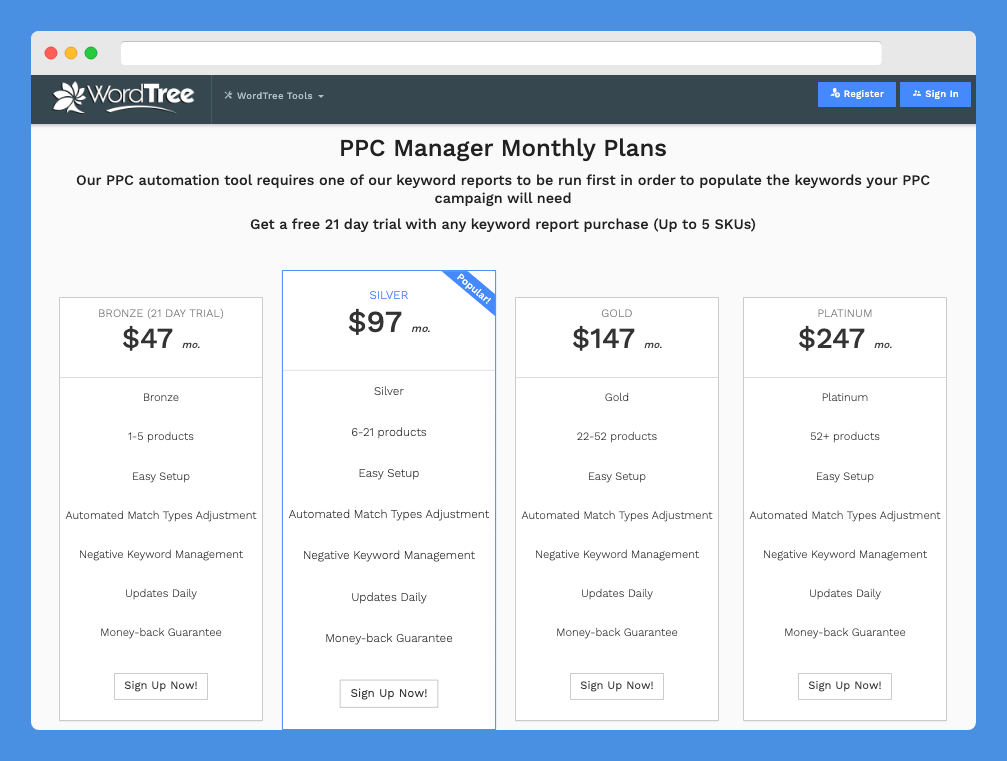 This feature has four pricing plans. It also gives a 21-day free trial. You may choose from these plans:
Bronze – $47 per month
Silver – $97 per month
Gold – $147 per month
Platinum – $247 per month
Amazon Rank Tracker Pricing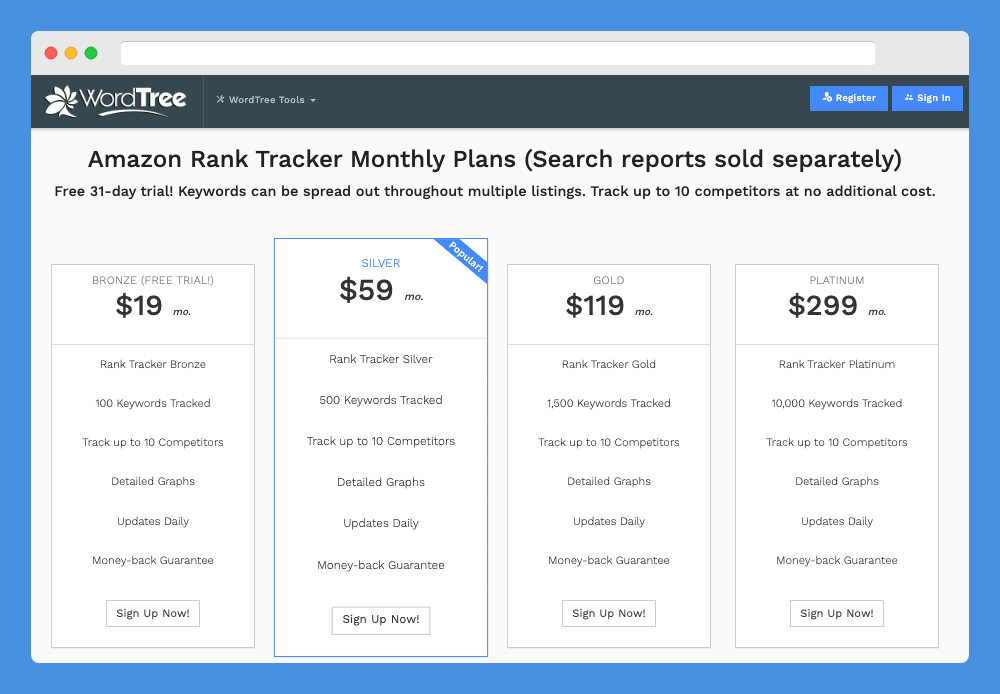 WordTree's Amazon Rank Tracker has four pricing plans. This feature also has a 31 days free trial.
Bronze – $19 per month
Silver – $59 per month
Gold – $119 per month
Platinum – $299 per month
Keywords Index Checker Pricing
The KW Index Checker is a free tool.
Useful Post: Best Amazon Tools For FBA Sellers
Decide: Your Best Amazon Keyword Tracking Tools
These tools are all incredibly useful. But, depending on your business goals, you might prefer one of them for now and then find the other tools useful later.
Look at your business goals and then decide what works for you. Get started!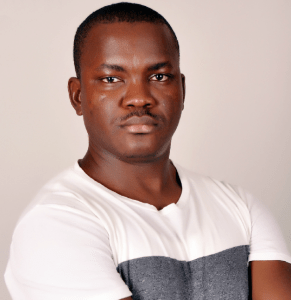 Author: Nicholas Godwin
Nicholas Godwin helps businesses tell profitable brand stories that their audiences love. He's worked on projects for Fortune 500 companies, global tech corporations and top consulting firms, from Bloomberg Beta, Accenture, PwC, and Deloitte to HP, Shell, and AT&T. Works with Mofluid these days.