Picture this: by December last year, Amazon had 2.73 billion visits (combined desktop and mobile) making it the most visited eCommerce property in the US. 
For any seller, that's a massive market that if tapped into properly, can bring in huge profits and business growth. 
If you're just getting started on Amazon as a seller or you're already in business and can't figure out why it's dwindling, pay-per-click (PPC) is one of the best ways to get your business up and running, or back to profitability.
However, it isn't easy to do without the best Amazon PPC management software.
Amazon PPC management software helps automate each step you need in order to convert more buyers while managing your PPC advertising so you can sell more products online.
They also allow you to focus more on growing your business while it handles the PPC for you, thus saving you time, effort, and the hassles of running a PPC campaign for your Amazon store.
The challenge lies in picking the best option for you to achieve your business goals and meet your needs while putting you ahead of the competition in terms of customer targeting and response time.
Thankfully, we did all the legwork and checked out some of the best Amazon PPC management software available for Amazon FBA sellers.
Check out our reviews of each of them and find out our recommendations for the top two at the tail end of this article.
What Is Amazon PPC & How It Works
Amazon PPC is the advertising system that sellers on the platform use to generate brand awareness, store visits, sales, and much more by creating ads for their products. 
These ads are displayed on the Amazon ad platform for certain keywords in the platform's search results as well as competitor product listings, and are available to sellers in three different formats: Sponsored Products, Sponsored Brands, and Product Display Ads. 
Sellers bid on search terms and the winning bid of the search term's ad in the auction-style system appears in the Amazon SERPs whenever a potential buyer types in and searches for that specific keyword or related word.
Explore: Best Amazon Keyword Ranking Tool
Best Amazon PPC Management Software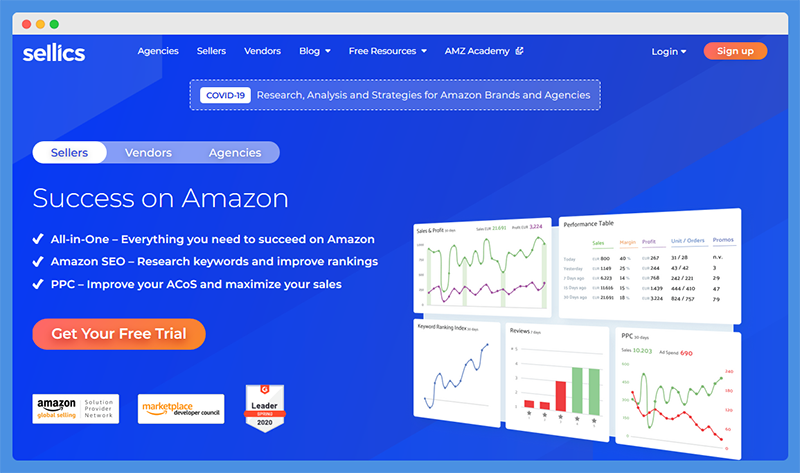 This leading Amazon PPC management software helps you maximize profits from the advertising platform.
For sellers, this tool offers a profit dashboard from where you can track your profits in real-time as it performs fully automated calculations of your real profit on Amazon.
It also deducts Amazon fees, PPC fees, shipping, cost of goods, taxes, and promos automatically.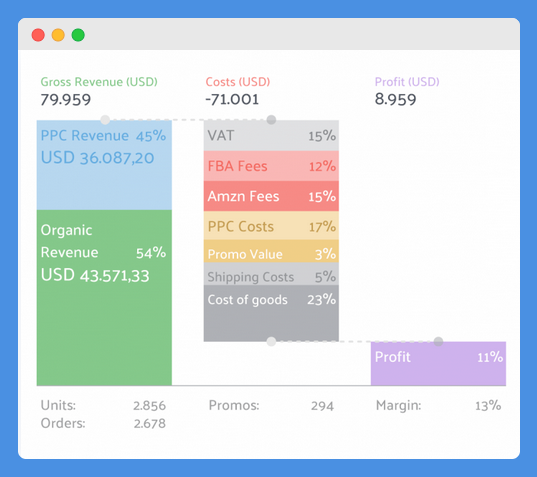 Its PPC manager helps you maximize your Amazon PPC revenues by saving you time and automating your campaigns so you can focus on profitability and get the most out of your ad spend.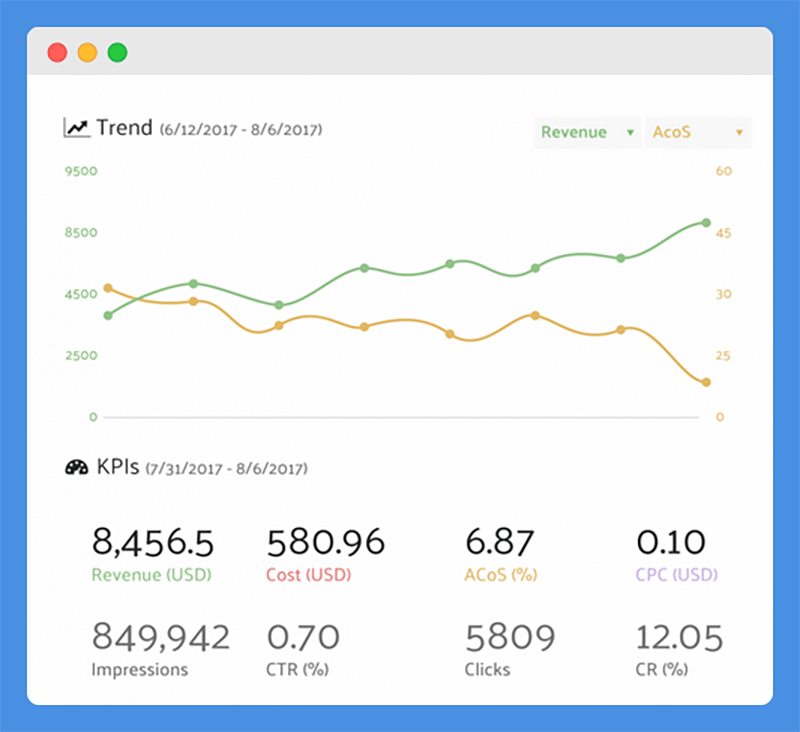 Another feature is the Amazon ranking optimizer that boosts keyword rankings so your products can rank higher on Amazon. It does this by researching high volume keywords, tracking keyword rankings, optimizing listings, and more.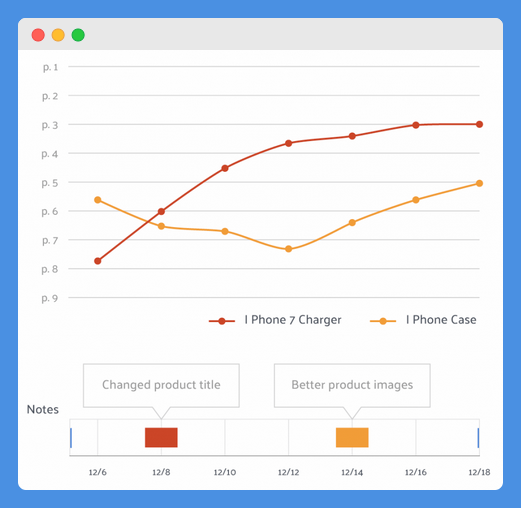 You can also get notifications of new reviews you get on Amazon and sort them by how they impact your average star ratings, plus prioritize response rates using the Review Management feature.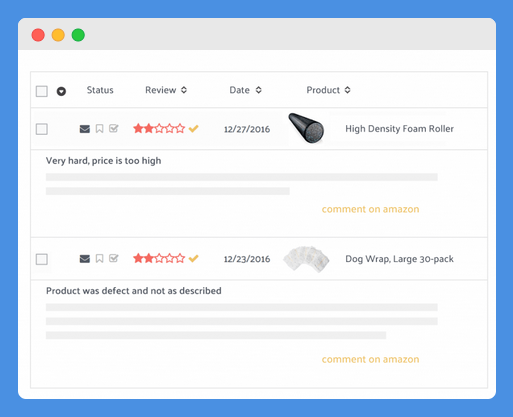 Finally, you won't have to run out of inventory because the inventory management feature lets you know when you'll run out of stock based on your sales and gives you specific lead times for products and low inventory alerts.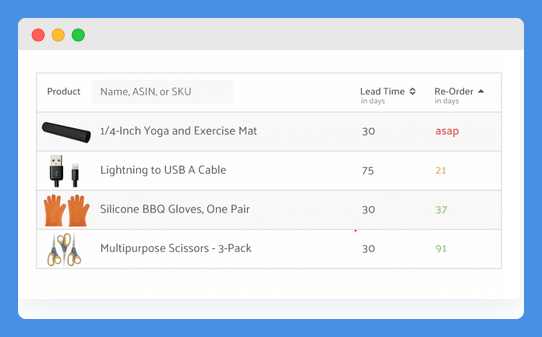 For vendors, Sellics saves you time and lets you run profitable ads with the complete PPC automation and dayparting tool.
It also helps you increase sales through improved search rankings, keyword recommendations, and identification of optimization potential in your product listings.
You can also control your brand's reputation on Amazon because the tool notifies you of new reviews so you can streamline customer feedback management workflow for quality service.
Through its Buy Box monitoring feature, you also get to see an overview of sellers selling your products, identify the 3P sellers who undercut your price, and get notifications when products lose the Buy Box, plus much more.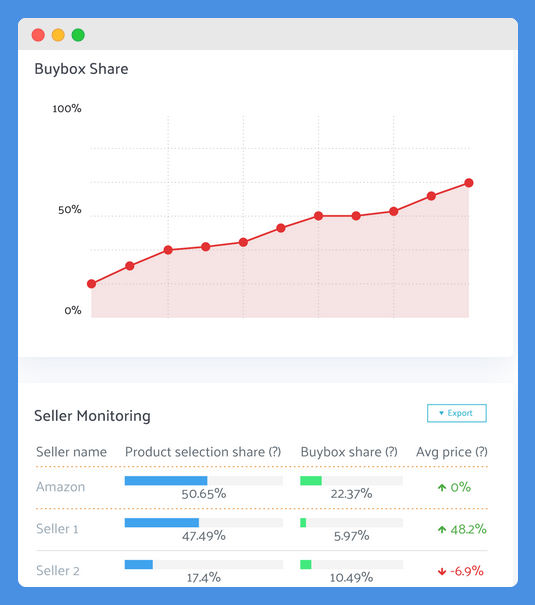 The Retail Analytics feature pulls your Amazon Advertising and ARA data so you can see ad performance and understand your organic and paid revenue growth while seeing how it impacts on your overall revenue.
Also Read: Sellics Vs AMZ Tracker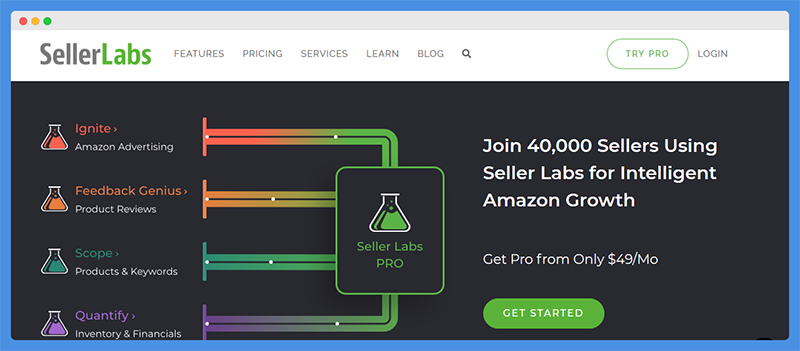 Sellerlabs offers various tools that help store owners on Amazon maximize their advertising, optimize time, and make better profits on the platform.
The intelligent Amazon PPC management process helps you spend less time managing campaigns through the following features:
Ignite (for Amazon PPC Advertising)
This feature helps you gain the Amazon advertising advantage by automating ads based on data so you spend less time managing complex campaigns, lowering and managing your ACoS percentages by helping you spend less on ads, and growing sales using targeted keywords. 
It also simplifies reports so you can understand the keywords, ads, and search terms that drive your sales and centralizes your PPC campaigns from up to seven marketplaces.
Scope (for keyword research)
With Scope, you can get more product reviews and feedback, win the Buy Box and sell more, grow and improve seller feedback and product reviews with timely, targeted, and relevant messages, and automate your messaging in eight marketplaces. 
It also lets you gain insights that help improve product-market fit based on buyer reviews by delivering product notifications.
Feedback Genius (for Amazon product reviews)
With this tool, you can boost your Amazon SEO and stand out in search results, compete for search positions using reverse ASIN lookup, which shows the keywords that drive a ranked ASIN's organic traffic, discover new products to sell with price, fee, and sales estimates, plus monitor keywords and product performance for easier optimization.
Quantify (for inventory and financials)
Finally, this tool simplifies reporting for inventory and financials by automating custom reports for easy analysis and helping you see what makes or costs you money without digging through reports.
It also performs smart inventory monitoring to prevent stock-outs and long-term storage costs and shows you key metrics daily, weekly, monthly, and annually with detailed sales data on a per-SKU level.

This Amazon PPC management software efficiently optimizes and expands your campaigns to increase sales and profits while allowing you to focus on business growth. 
With this software, you can get more sales at the lowest possible ad cost as it identifies areas that impact your campaign performance negatively so you can optimize them, thus lowering ACoS (advertising cost of sales) and increase profits in one click
Save time by using sales-driven automation thanks to the Amazon sales-driven tools in the software that does all the heavy lifting for you. This way, you can control bid price or remove search times that hog your ad spend, and more.
Remove guesswork using proven strategies instead of using spreadsheets and other methods while hoping that your campaigns will be profitable. PPC Entourage uses easily understandable data and winning strategies to help sellers be profitable
Use untapped keyword opportunities to increase organic visibility. The software helps you find untapped search terms currently used by customers to buy products like yours as it harvests such terms and converts them to keywords you can use in your campaigns. This way, you get into a larger audience, rank for the new keywords, and ultimately increase organic and PPC sales.
Also Read: PPC Scope Vs PPC Entourage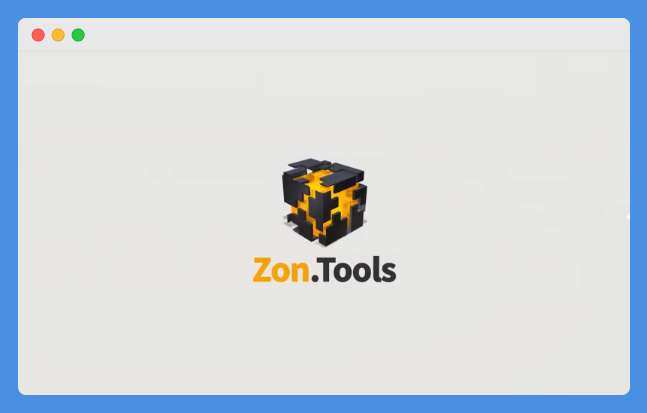 Zon.tools is an affordable solution that provides higher revenues and improved conversions while automating best practices for Amazon advertising so you can manage campaigns in unprecedented ways.
Its smart engines are flexible and adaptable to your advertising goals and strategies through proprietary algorithmic engines such as the Auto-Mate 3.0, which adjusts keywords and targets bids so you can reach your ACoS goals.
It calculates and adjusts bids up or down so you can maximize sales while optimizing your ACoS limits.
Other algorithmic engines include the Keyword Miner, which scans reports and adds any relevant converting search terms from customers back to its system and grows your campaigns in an automated environment. 
There's also a Target Miner that organically grows your ad reach and Bid Gambler that increases bids until you get more impressions and clicks, among others.
It's the most advanced and fastest tool that makes it easier to manage and automate campaigns but has a steep learning curve.
Teikametrics offers everything you need to optimize your Amazon ads on one platform.
It's unique blend of data science, next-gen automation, and expertise in the Amazon platform means you'll spend efficiently while capturing each opportunity that comes your way. 
Some of its powerful features include its best-in-class algorithmic bidding optimization, which replaces archaic rules-based bidding with machine learning optimization.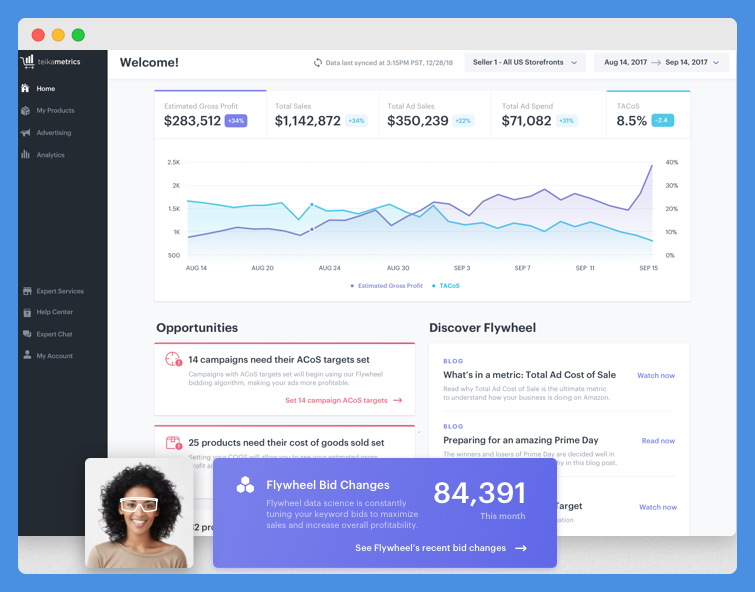 It also offers product-level profitability so you can see your individual and account level profitability including promos, ads, and fees. 
The keyword automation feature allows you to leverage automation to increase sales, visibility, and efficiency of your ad spend, putting an end to tedious keyword tasks. 
It also uses up-to-the-hour algorithm reviews of your sales and performance of your ads so as to update bids where necessary and keep you competitive on Amazon.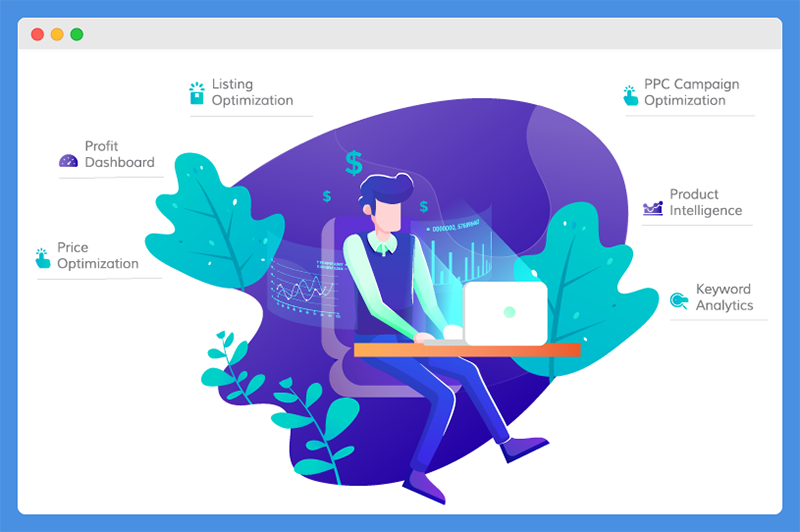 This tool is designed for Amazon merchants to reach their target ACoS by looking at their campaign data in just minutes. It also helps increase your ad rankings by bidding top buyer keywords using the best keyword optimization strategy.
It does all these using features such as product listings and research, Amazon Seller Analytics, keyword research, PPC analyzer, product alerts, and competitor lookup among many others.
The all-in-one robust analytics platform also offers usable reports to help you derive actionable insights from your data and clinch the top ad position easily. 
A profit calculator is included with the profit dashboard, which continuously pulls your data without your intervention and monitors, manages, and scales with ease, so you can get insights in seconds.
Sellerapp is built to fit your goals and customizes your numbers so that the data can work for you. Expert in-house support is available so you can be led to the right strategies for your business.
Also Read: Jungle Scout Vs Sellics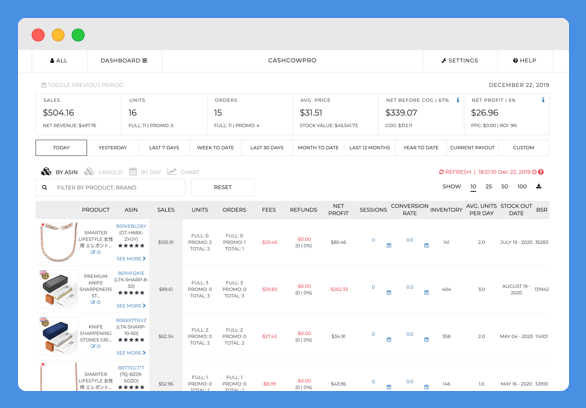 This Amazon PPC management tool has all the features you need to run and grow your business. 
It pulls all your sales data so you can know your profit in real time, and check your SKU in seconds so you can take action to boost growth. 
The Keyword Tracking feature helps you know your rank and track it across your main keywords while monitoring performance. It also analyzes and optimizes your product listings and checks keywords for competitiveness.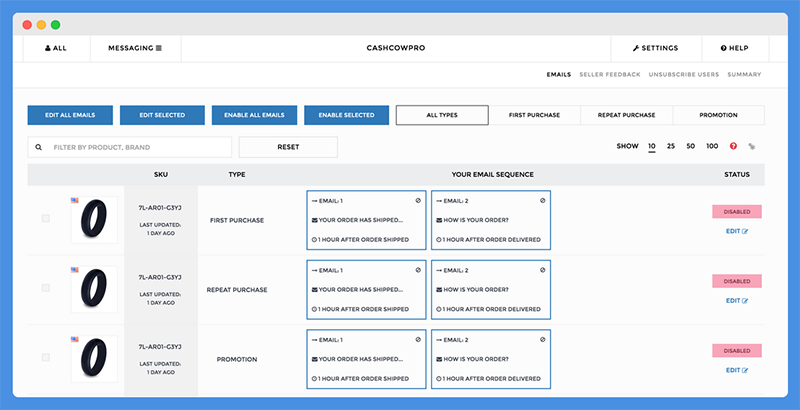 CashCowPro's automated feedback collection shows you organic reviews and allows you to send unlimited emails with Amazon-compliant and optimized email send times for all marketplaces while preventing negative feedback.
It also scans millions of products to show you the most profitable products in just seconds, so you can get hundreds of new product ideas to invest in.
Plus, inventory monitoring helps you track sales performance to prevent stock-outs by predicting when you'll run out of stock. 
You can see your top competitors, use the A/B testing tool to optimize your listing, and know the prices that'll deliver the most sales.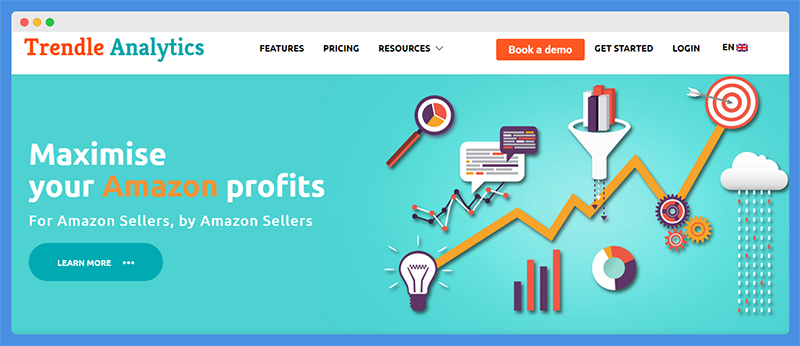 Trendle is a great Amazon PPC Management tool that supercharges your Amazon business. Its smart features help you optimize your PPC ads automatically using rules and algorithms, so you can focus on business growth. 
It tracks more than 140 different Amazon costs to show your profitability in each marketplace and per SKU, so you can adjust and correct accordingly. 
It also helps skyrocket your sales by allowing you to send post-order emails and monitor ranking and reviews on Amazon and provides split tests so you can test every element of your listing for better sales and profits.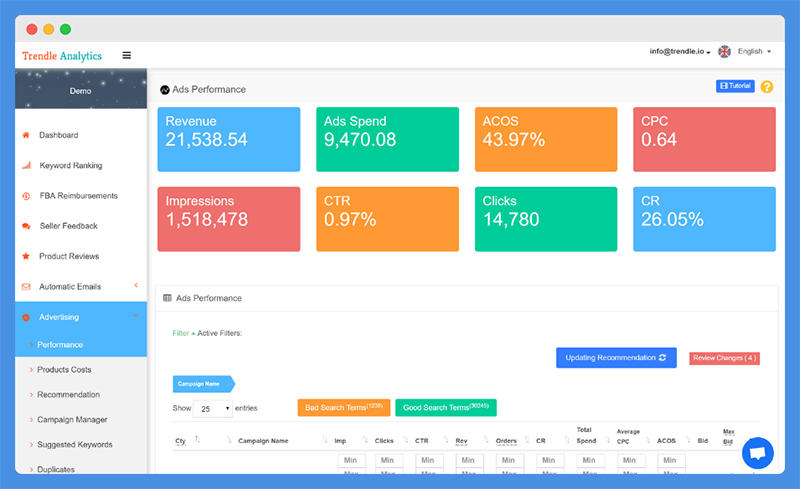 Trendle's FBA Reimbursement feature helps you get compensation for damaged or lost inventory as it has recovered more than $500,000 for sellers globally. 
Not only that, but it also automates your analytics to improve your ACoS based on your preferences and lets you make campaign changes such as bids, pausing campaigns, adding negative keywords, and more. 
Worth Reading: Jungle Scout's Keyword Scout Review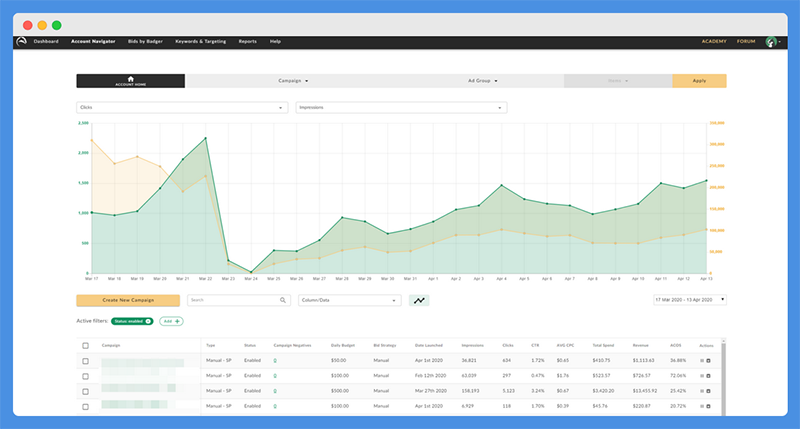 Adbager enhances your business making it easier to run using its PPC management software.
It does this by taking up the hard and tedious work of logging into the Sponsored Products section of Amazon so you can focus on other aspects of your business instead. 
This way, you can save money, protect your profits, and keep your ACoS under control, as the tool automatically adds keywords to products so you won't overpay for PPC ad clicks.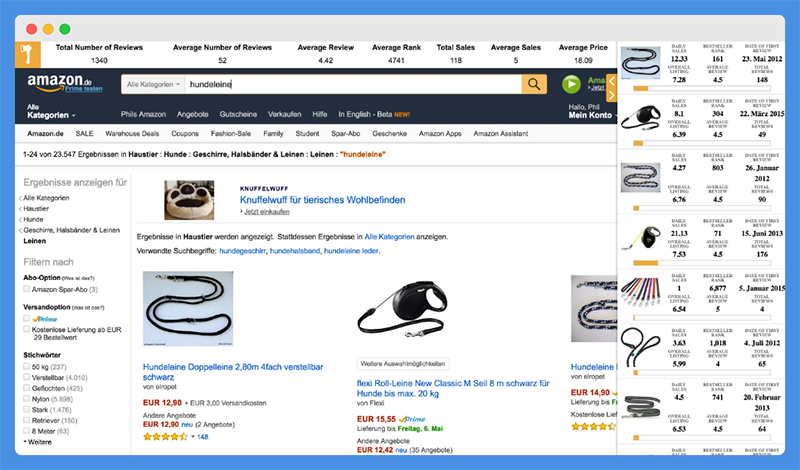 Amachete is a feature-rich Amazon PPC management software tool that does a lot for sellers.
Its features include a convenience Chrome extension that searches as you browse Amazon and shows the essentials by product along with data. 
You can scan and analyze your competitors to see the number of reviews, average reviews, price, and listing dates for dozens of items at once.
It also has a profitability estimator tool that determines a product's potential profitability with one glance. 
Amachete monitors your listing every minute to detect any hijackers attempting to take over your buy box or listing, and notifies you of such immediately so you can shut them down before they steal your sales.
It also checks rankings every hour to give you the daily or weekly average rankings for your products and its integrated global feedback or emailing system sends out custom emails for multiple marketplaces to generate more positive feedback and ensure you still dominate for your keywords.
A mobile app is available so you can search for products on the go.
Explore: Pageoneify Review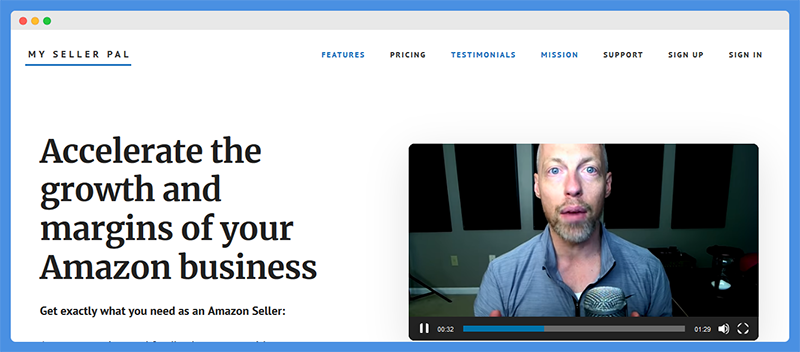 This tool helps you speed up business growth on Amazon by working in three stages. First, it offers your customers discounts and gives your products more reach, in turn generating more honest and positive reviews.
The software also helps you advertise more, gather more data, and allows for continuous optimization of your campaigns.
It also automates Amazon feedback requests, reviews, and promotes your products on social media platforms through landing pages and websites.
It also optimizes your sponsored products campaigns and displays your real Amazon profits after deducting the cost and fees of goods sold. 
It also has an autoresponder for Amazon emails, social media promotions for your products, and marketing education that gives you strategies on PPC optimization and Facebook marketing through articles and video tutorials.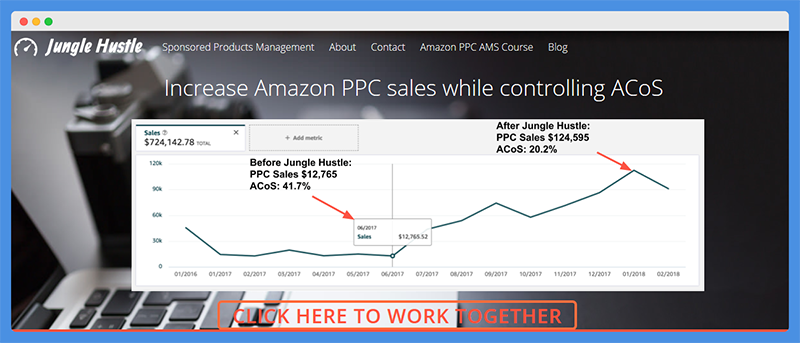 Junglehustle offers a done-for-you campaign management system that promises to make your campaigns more profitable.
Whether you're starting out or need an overhaul, the tool helps you keep up with changes in Amazon's PPC structure to give you the best ROI. 
The services offered include campaign management to boost sales and reduce ACoS, keyword recommendations to increase organic ranking and visibility, ongoing maintenance to scale and optimize your campaigns, and bi-weekly reporting on your campaign's performance.
Explore: Best Amazon Keyword Tracking Tools
Wrapping Up
In order to pick the best Amazon PPC Management software tool, you need to know what to look for in the best tool.
The focus should be placed on Amazon partners and services converted for Amazon sellers, which in turn make the work easier for you. 
This is why we recommend Sellics and Sellerlabs.
Sellics is feature-packed and excels at putting everything you need in one place, consolidates your performance and analytics metrics, and offers a complete and comprehensive tool with amazing customer support when you need it.
You can also switch marketplaces instantly without paying extra. 
Sellerlabs also offers a barrage of helpful features that help boost your business' performance on Amazon by automating everything so you can manage your business without much effort or any hassles. 
Plus, you get different products based on different benefits your business can gain, and you only subscribe to the software your business needs.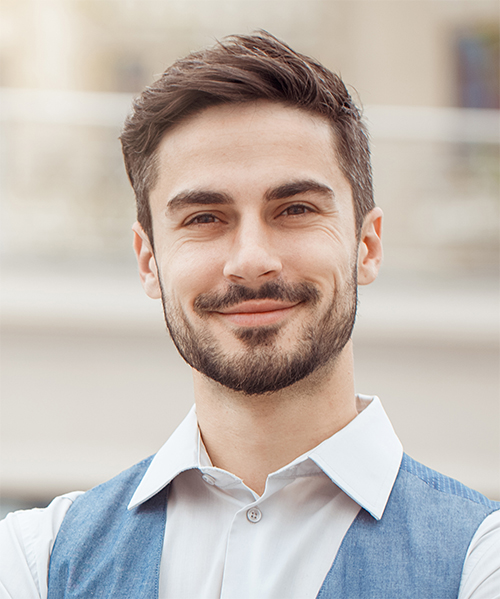 Author: Scott Macarthur
Scott L. Macarthur is a marketing consultant and an online author. He is mostly engaged in providing his expertise to startups and SMBs.