Amazon is the number one online marketplace in the world.
The platform boasts of being a hub of more than 12 million products and takes up almost half of the online market share in the United States.
If you are a retailer looking to sell your products to a vast audience, there is no better marketplace to begin your quest than Amazon. Amazon supports broad niches so you can sell almost anything.
To be a successful merchant on Amazon is not so easy due to the massive level of competitors.
Moreover, 12 million products are no small number, and there is hardly any niche on Amazon that you won't face intense competition.
If you are to do well on the Amazon platform, you would need some tools to help. Product launch tools are examples of such as their advantage goes beyond product launching and product ranking.
Thankfully, Viral Launch and ZonJump are worthy options.
However, we will put Viral Launch against ZonJump so you can make a better decision for your Amazon success.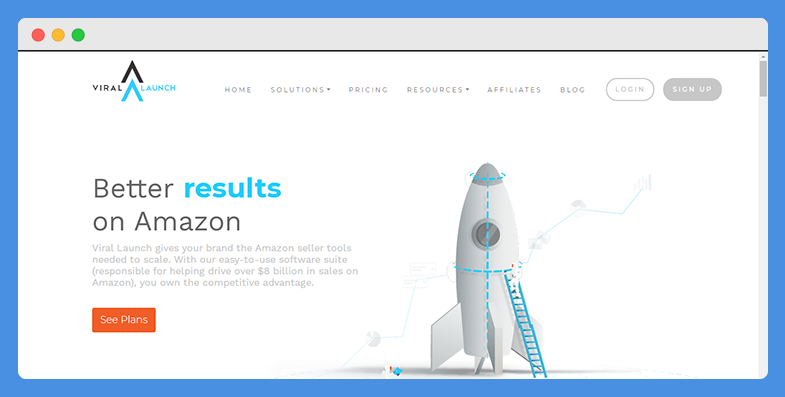 Viral Launch is described as a tool that helps businesses to sell on Amazon with confidence; it was launched in 2014.
The Viral Launch platform has been utilized to launch over 40,000 products on Amazon and has generated over $10 billion on the popular marketplace.
The platform is renowned for reliable Amazon data and insights that can help merchants make better decisions.
It offers solutions for finding and validating product ideas, finding product keywords, track ranking, and analyzing ASIN codes.
Thankfully, Viral Launch is available for Amazon merchants in the United States, United Kingdom, Spain, France, Italy, Japan, China, Germany, Canada, Mexico, India, and Brazil.
Additionally, Viral Launch offers various resources that provide immense benefits for Amazon merchants. This includes courses, guides, eBooks, and other free tools. Likewise, they feature an affiliate program, so you can promote the platform and earn money.
Explore: Viral Launch Review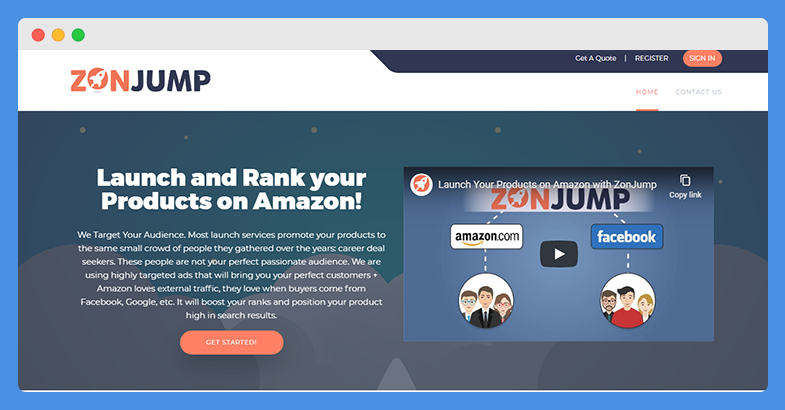 ZonJump is a product launch tool for Amazon. It was founded in 2017 by an Amazon marketing expert, Leo Limin. The platform was developed to help Amazon merchants launch their products and rank them using the right keywords.
With optimal audience targeting, ZonJump can help you generate targeted traffic to your product pages for more sales.
The ZonJump platform seamlessly integrates with ZonWords and ZonPages, which are all from the same founder. Their features are interwoven and they all work for the same function.
Apart from the United States, it is also available in Canada, Mexico, United Kingdom, Germany, France, Italy, and Spain.
ZonJump provides expert guidance to help new Amazon merchants succeed in the industry. Likewise, they can handle the keyword research and campaign launching process, thereby providing the best industry results.
Let's take a look at some of the features.
Explore: ZonJump Review
Campaign Launch
Viral Launch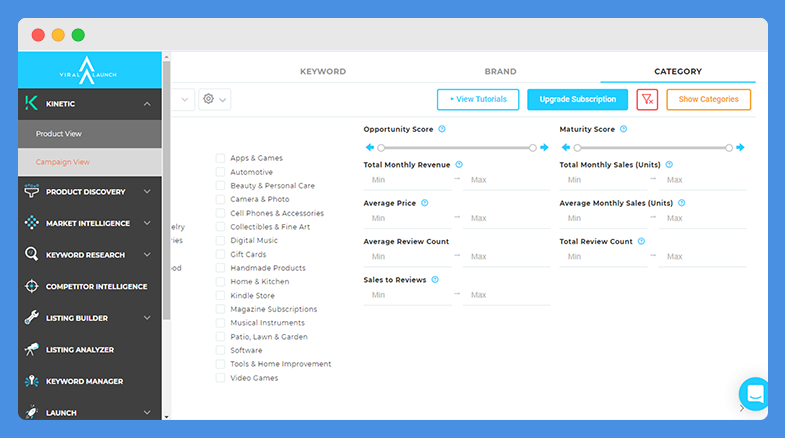 Viral Launch requires account registration before you can launch campaigns on the platform. The user dashboard is relatively user-friendly as it features icons that represent the tools.
From the dashboard, you can begin a new campaign by clicking on the 'Campaign Overview' section.
However, you would need to grant MWS and Seller Central authorization by selecting your marketplace and entering your Amazon ID and MWS Auth Token.
You can run automatic campaigns by allowing Viral Launch to run the entire campaign launching tasks. Alternatively, you can run manual campaigns on Viral Launch.
ZonJump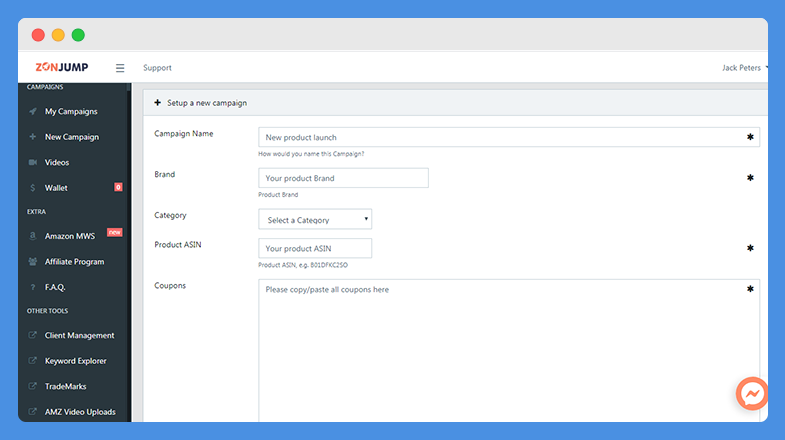 Registration on ZonJump is a simple process and you can sign up by using a Facebook account. The dashboard is straightforward, with all menus perfectly laid out on the left-hand panel.
To verify your campaigns, ZonJump requires a connection with Amazon via MWS. Launching a campaign can be quickly done by clicking on 'New Campaign' from the left-hand panel. Two options are offered; high discount (for high sales) and low discount (for low sales).
The default dashboard page displays all your running campaigns. Likewise, you can hide some product campaigns.
Verdict
You can easily launch product campaigns on both ZonJump and Viral Launch. Moreover, the dashboards are both user-friendly and once your Amazon account is connected, you're good to go.
Product Discovery
Viral Launch
There are two options for discovering products on Viral Launch i.e. search and pinned ideas. You can search for Amazon products by using the product name, keyword, brand, or category. Also, it features advanced filters for product discovery.
Nevertheless, significant selling categories on Amazon are supported on Viral Launch. You can sort through by price, monthly sales, review count, monthly revenue, brand success level, opportunity score, maturity score, and much more.
As you discover products, you can pin them to appear on pinned ideas for easier access. Pinned ideas display the up-to-date metrics of these products for better decision making.
ZonJump
On ZonJump, you cannot directly search for products on Amazon. This platform helps you to rank products but does not function in identifying the ideal products to sell.
You should provide your product ASINs to launch a new campaign. You can also select your preferred product category and product brand name for product discovery. ZonJump will discover the product once the campaign is launched.
Verdict
Viral Launch offers a rich product discovery feature that allows you to analyze products from various niches. On the other hand, ZonJump does not facilitate product discovery, so Viral Launch wins this round.
Interesting Comparison: Jungle Scout vs Viral Launch
Keyword Research
Viral Launch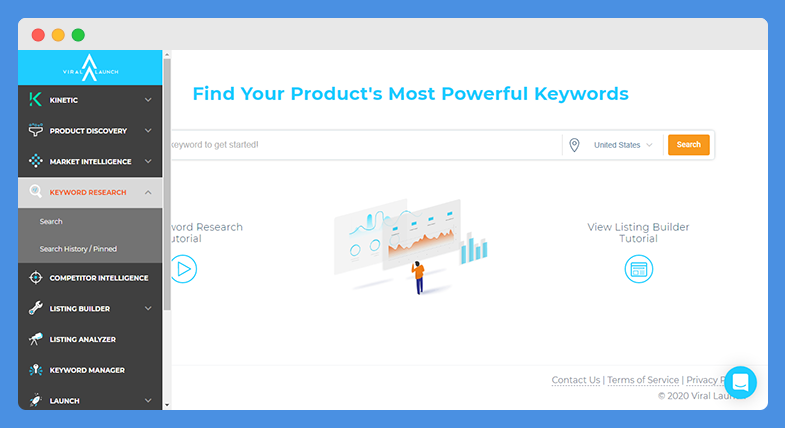 From the Viral Launch dashboard, you can access the keyword research tool from the left panel. It is simple to use; enter your target keywords, select your target location, and then click on search.
The search is relatively fast as it takes less than 5 seconds for results to appear. The search results can also display details for the exact keyword entered and related keywords.
You are provided with advanced details like priority score, relevancy score, volume estimate, search volume trends, opportunity score, average price, average sales, average review count, and the product category. Also, you can download the keyword research results in a CSV file.
Check Out: Jump Send vs ZonMaster
ZonJump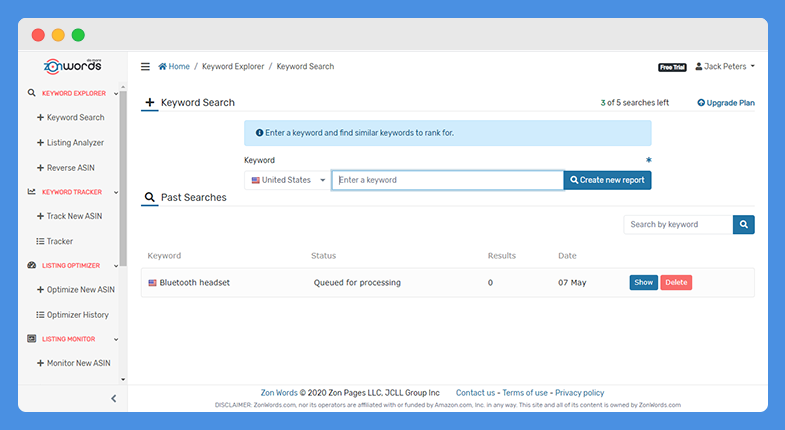 ZonJump's keyword research tool is integrated with ZonWords; hence, you will need to switch over to that platform to access this feature.
Nonetheless, the keyword search tool requires you to enter a keyword and select a target location to search.
A keyword suggestion tool is also featured in case you don't have any specific keyword to enter.
However, you can't get instant search results. The software queues it for processing and you might get the result in minutes or hours depending on the keyword density.
Verdict
Viral Launch clearly wins here due to its native keyword research tool and instant results delivering. Moreover, Zonjump utilizes a sister-platform and does not provide instant results.
Keyword Manager
Viral Launch
Viral Launch keyword manager allows you to manage keywords based on their ASINs. Once you select your ideal ASIN, it displays all keywords under it with metrics and competitor terms. The metrics provided include priority score, exact volume, CPC bid, and opposition score.
You can also identify keywords that are used in any listing or if they have been indexed. If there's any change in the keywords ranking, you will be notified.
Also, it can suggest ad bids. Bulk keyword management is supported for up to 2,000 keywords.
ZonJump
Once again, ZonJump's keyword manager is integrated with ZonWords. The keyword manager allows you to track keywords and ASINs. You simply select the keyword or enter the ASIN (parent or child) and select your target country.
It can provide keyword or ASIN metrics. If it is the parent ASIN, ZonWords can provide the metrics for all child ASINs under it.
You can manage keywords and ASINs individually or in bulk with ZonJump. This requires entering a keyword or ASIN list. Likewise, you can add tags for an efficient sorting process.
Verdict
Both Viral Launch and ZonJump have reliable keyword managers/trackers; however, you need ZonWords to access the keyword management functionality in ZonJump. Hence, Viral Launch takes the win.
Check Out: Zonblast vs Viral Launch
Listing Builder
Viral Launch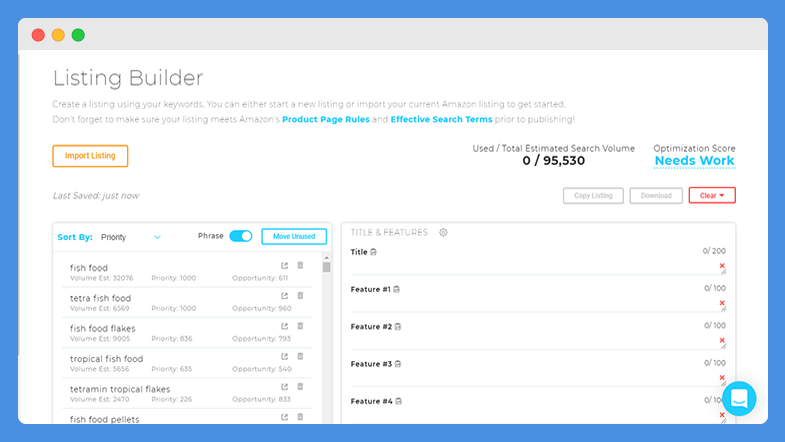 On Viral Launch, you can build listings from your keywords. If you have an Amazon listing already, you can import it or build a new one if otherwise.
The listing builder functionality provides you with the total estimated search volume, priority, and optimization score of the keywords that you enter.
You can sort the list by using any of these categories. Also, you can sort using phrases or unique words.
You can build rich lists by entering up to five features, description, search terms, and so many other attributes. From the link builder history section, you can view all listings you have built.
ZonJump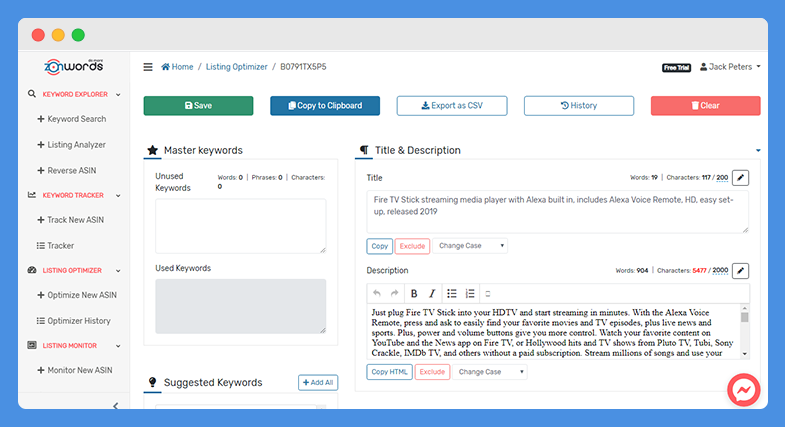 The list builder on ZonJump is accessible via ZonWords, and it is relatively easy-to-use. After entering your ASIN and selecting the target country, the link builder searches for the product and then prepares it for optimization.
On the optimization page, the tool lists out your used keywords related to the ASIN, unused ones, and also suggested keywords that you are yet to discover.
You can add other details like title & description that is auto-generated from the ASIN, even though you can still edit it. Also, you can add bullet points and backend keywords.
Verdict
The best platform for list building here is Viral Launch. Aside from the fact that ZonJump uses a sister-platform for that purpose, Viral Launch has richer options.
Also Read: Best Amazon Product Launch Service
Listing Analyzer
Viral Launch
Analyzing listings on Viral Launch is done based on the ASINs. This tool checks for the SWOT analysis of your Amazon products. This feature gives you reliable insights on how your listings are performing.
After searching for the target ASIN, it supplies the analysis score, competition analysis, photo analysis, and listing text analysis.
The details such as price, revenue, sales, etc. are displayed in bar charts and line graphs for easy comprehension.
Likewise, these details are compared with previous months.
ZonJump
ZonJump's Listing Analyzer tool is easy to use. All you have to do is enter the ASIN, select the target country, and then click on 'Create New Report.'
However, the report is not created instantly, just as in keyword research, it is queued for processing and can be completed in minutes or hours.
Nevertheless, the final report will feature a rich analysis of your listings. It will contain information such as the price, image, best seller, categories, reviews, and other critical analysis.
Additionally, the ZonJump's listing analyzing functionality is accessible through its sister-platform, ZonWords.
Verdict
Viral Launch's Listing Analyzer is featured directly on the platform and results are instant, so it takes the upper hand.
Analytics
Viral Launch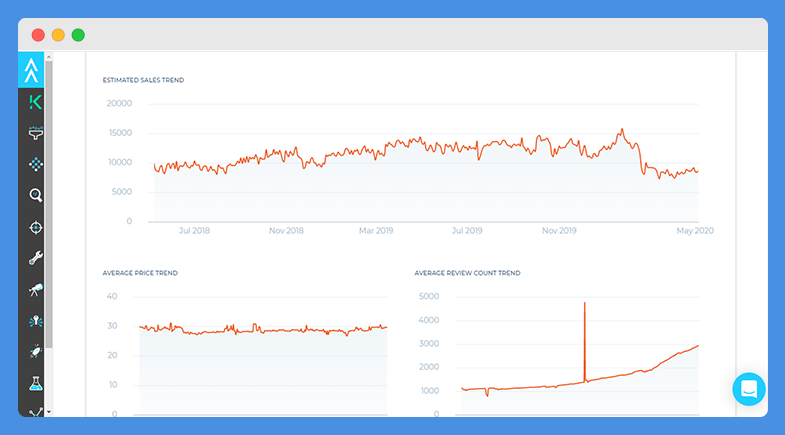 Viral Launch features a market intelligence tool that provides market insights and analytics on your products.
The analytics insights include market price trends, product scores, sales estimates, etc. that are displayed in trend graphs.
Also, it provides you with tips, warnings, and alerts to inform your decision making.
With the 5-star validation feature, you'll know the best products to source, and its built-in calculator allows you to calculate the cost and profit of products. Also, you can get analytical information on any keyword of your choice.
ZonJump
No analytics or market intelligence tool is featured on Zonjump. You can only get metrics of keywords and ASINs when you perform Listing analysis or Keyword research.
Verdict
Without debate, the winner here is Viral Launch.
Third-Party Integrations
Viral Launch
As an all-in-one solution, Viral Launch does not feature any third-party integration. However, it has an extension for the Google Chrome web browser.
ZonJump
The ZonJump platform integrates only with its sister-platforms – ZonWords, and ZonPages.
Though separate registrations are required on all of these platforms, they work seamlessly, and data can be shared between them with ease.
Unlike ZonWords which facilitates keyword research, you can build Amazon landing pages, and communicate with customers through its ZonPages integration.
Verdict
ZonJump is the winner for this round.
Explore: Egrow vs Viral Launch
Customer Support
Viral Launch
You can contact Viral Launch customer support service directly by email or by filling out a contact form from their website.
Additionally, Viral Launch is active on social media like Twitter, Instagram, and YouTube. Apart from the Viral Launch blog, they also offer free eBooks, podcasts, how-to guides, and a split-testing tool.
ZonJump
To contact ZonJump, you need to fill out a contact form accessible on their support page. They do not facilitate direct email contact.
Likewise, they are not active on social media platforms like Facebook and YouTube. However, you can get answers to some questions from their FAQ page.
Verdict
For better customer support, you can count on Viral Launch. Not to mention, they can provide you with numerous resources, most notably a split-testing tool.
Pricing
Viral Launch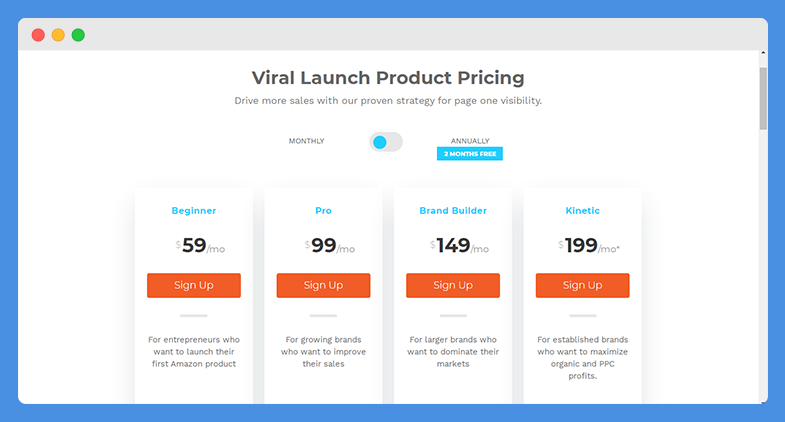 Viral Launch has various pricing plans based on the needs of its customers, which include:
MI Extension Plan – $25 per month. Costs $21/month when billed yearly.
Beginner Plan – $59 per month when billed monthly, $50 per month when billed annually
Pro Plan – $99 per month when billed monthly, $83 per month when billed annually
Brand Builder Plan – $149 per month when billed monthly, $125 per month when billed annually
Kinetic Plan – $199 per month when billed monthly, $166 per month when billed annually
Note: Viral Launch offers a 14-day free trial, so you can check out its features before subscribing.
ZonJump
ZonJump pricing plans are based on the number of coupons:
Less than 100 coupons – $1.50 per coupon
101 – 200 coupons – $1.40 per coupon
201 – 300 coupons – $1.30 per coupon
301 – 400 coupons – $1.20 per coupon
401 – 500 coupons – $1.10 per coupon
More than 500 coupons – $1 per coupon
Note: ZonJump add-ons such as ZonWords and ZonPages require a separate subscription.
Similarities And Differences
Pros And Cons
Viral Launch
Pros
Easy to use
Built-in tools
Available for multiple markets
Google Chrome extension
Market intelligence for analytics
Automated product launch
Good customer support
Useful resources for free
Cons
US market limited keyword research
Price is expensive
ZonJump
Pros
Built-in tools
Affordable pricing based on coupons
Guidance and expert services
Integrates with sister platforms
Cons
Poor support
Most of its features are linked to its sister platforms
Sister platforms require different subscriptions
Also Read: Helium 10 vs Viral Launch
Viral Launch vs ZonJump – Which Is Better?
Viral Launch and ZonJump might be similar in some aspects, but their difference is vast.
ZonJump was built solely as an Amazon product launch tool and not for product discovery, keyword research, list building, and the like.
Moreover, its developers separated these features among its sister platforms – ZonWords and ZonPages.
Hence, you can only launch campaigns on ZonJump, but for other essential features, you need to subscribe to its sister-platforms at different costs.
For Viral Launch, you are provided with all the essential features for Amazon product launch, keyword research, list building, and more.
The price may be on the high side, but it is less when compared with the cost of subscribing to ZonJump and its sister-platforms before accessing their features.
Not to mention, Viral Launch has a better user community, customer support system, and useful resources. Among these two platforms, Viral Launch is the platform you should consider.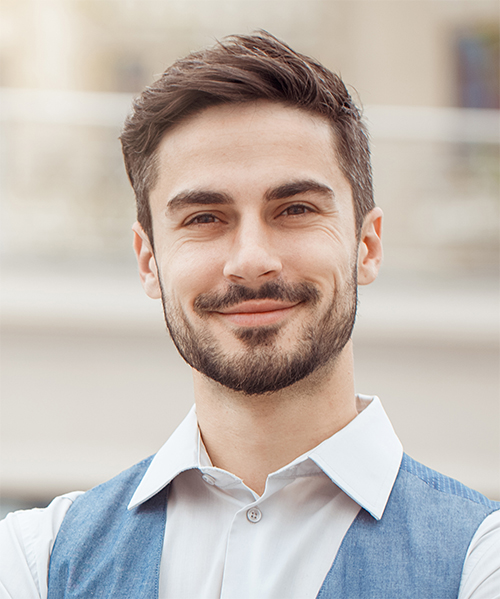 Author: Scott Macarthur
Scott L. Macarthur is a marketing consultant and an online author. He is mostly engaged in providing his expertise to startups and SMBs. He is also an author on TheNextWeb.