Whether you're a new or advanced Amazon FBA seller, it's not always easy knowing the best tool to use to help you sell on Amazon.
There is a myriad of real arbitrage software options, each offering unique features, benefits, but also with varied disadvantages.
Their main function is to help you pick out products at lower rates from eBay or Walmart and other such platforms, and sell them on Amazon for a profit.
Among these many tools are Egrow and Viral Launch, which we're going to look at in this side by side comparison based on different variables.
How To Choose The Right Amazon Selling Tool
When looking for an Amazon tool, you need to know what your business is, the product you're selling, and your buyers. However, here are the main factors that matter when selecting the right tool to help you sell on Amazon:
Data: Check how the data is collected and updated by the tool, and whether it's accurate.
User-friendliness: Is the tool easy to use, learn, and navigate? Do all of its features and functions work as they should?
Features: Check how many tools the software has and their relevance in as far as making strategic decisions is concerned.
Affordability: What's the cost of the software? Does it help you make more money and what value does it add over its cost?
These and other factors will form the basis of this comparative analysis of Egrow vs Viral Launch.
Let's dive in and see how they stack up against each other, and which tool ultimately wins this challenge.
Also Read: Amazon Product Finder & Research Tools
Egrow vs Viral Launch: What Are They?
Egrow is an all-in-one software that analyzes millions of products on a daily basis in the Amazon marketplace while aggregating sales data into simple and easy to understand panels and charts.
For Amazon sellers, it saves you time-in-market analysis, plus helps you find products you can sell easily.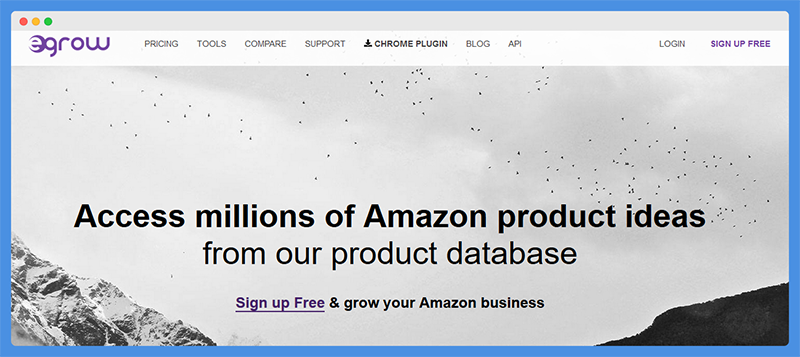 Viral Launch, on the other hand, offers products that help you as an Amazon seller become a dominant force in the marketplace.
It's also a complete and comprehensive toolbox that gives your brand everything you need to scale.
It's easy to use and ensures you have a competitive advantage for business success.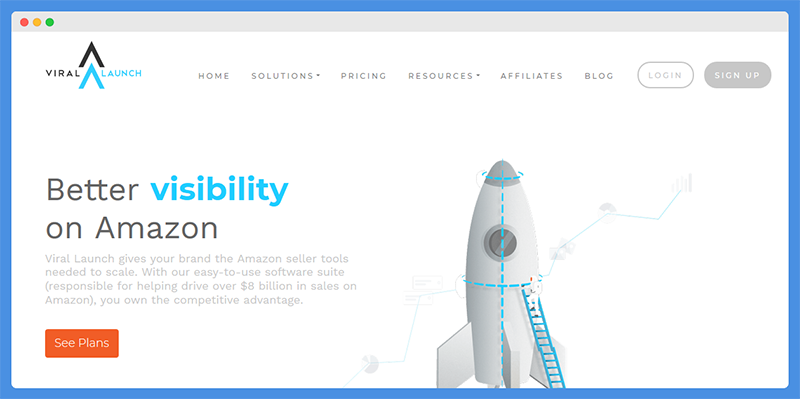 Egrow vs Viral Launch: Features
Egrow
Egrow has 8 different tools plus more embedded tools within them. Here's an overview of each of these tools:
Product Database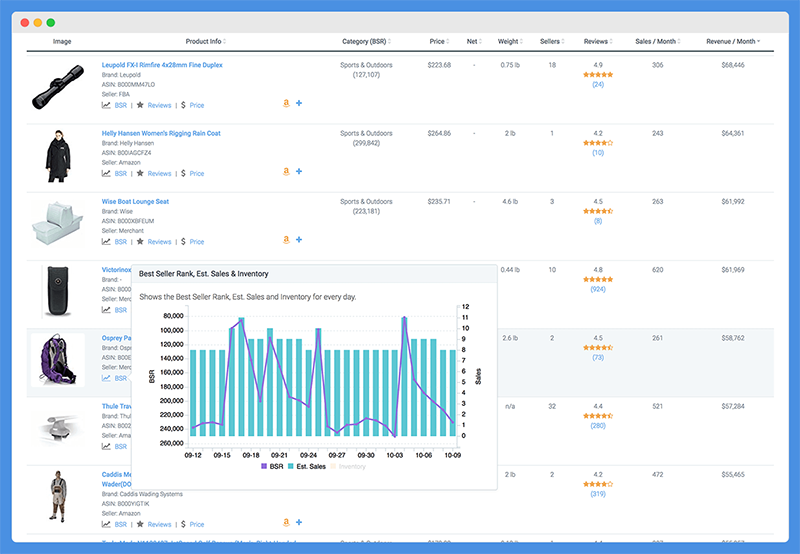 This tool collects data on potential products you'd like to sell on Amazon. You can add promising products to your database and it'll track sales, revenues, BSR, and other data.
You can get data about the product so you can base your decisions on a long-term and comprehensive analysis, and this tool ensures the products are all tracked and kept in a central location for easier analysis.
Check Out: Ways To Remove Bad Reviews On Amazon
Live Amazon Scanner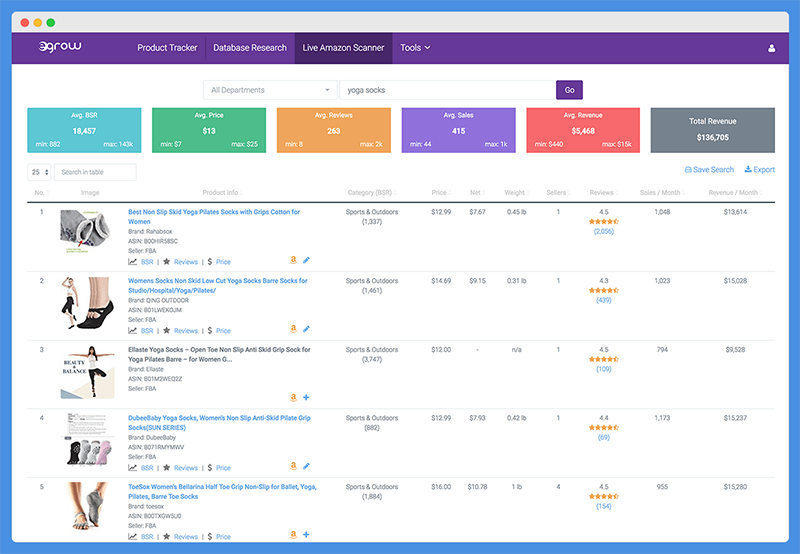 This is a market research tool you can use to find potential products to sell by typing in the keywords directly.
You don't need to open Amazon and type keywords to use the Chrome extension. This tool gives you everything you need in real-time for analysis.
Also Read: Ways To Find Best Selling Products On Amazon
Saved Searches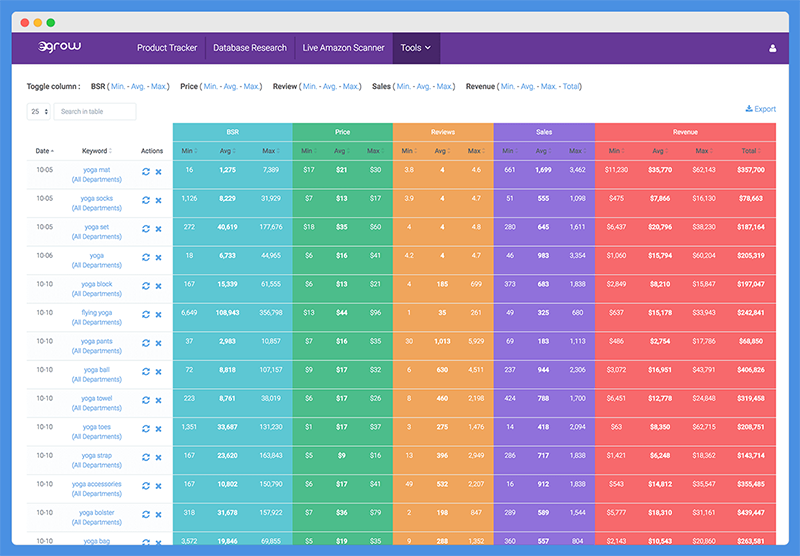 Egrow created this tool as an answer to the common best practice of watching product trends for potential items you want to sell on Amazon.
This way, you can ensure consistency in daily sales, BSR, and revenue, and track all products you'd like to keep tabs on from a central point.
It makes it easier for you to spot new trends and keep an eye on products you can sell. Save the product's ASIN and Egrow will ensure you get the data about the product.
Product Tracker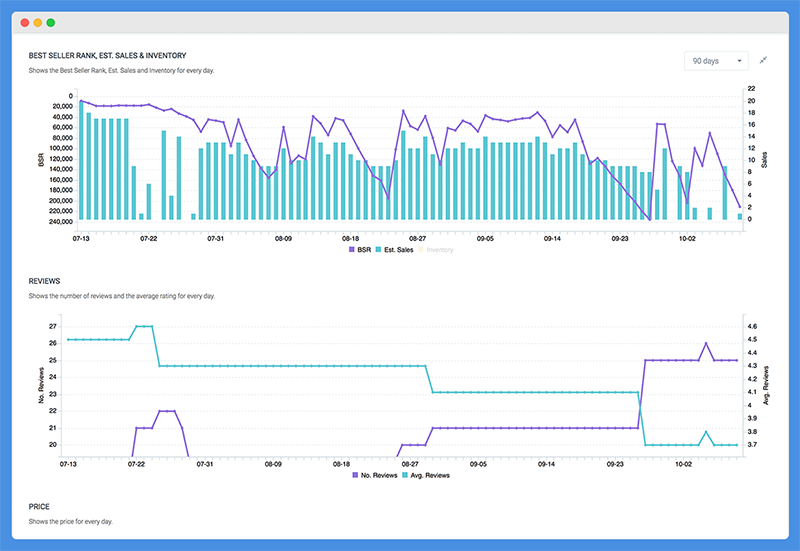 Egrow collects data on thousands of products, but, if there's an item you don't see in the system, you can use this tool to add it within 24 hours. The software will gather data about it so it's easily accessible to you.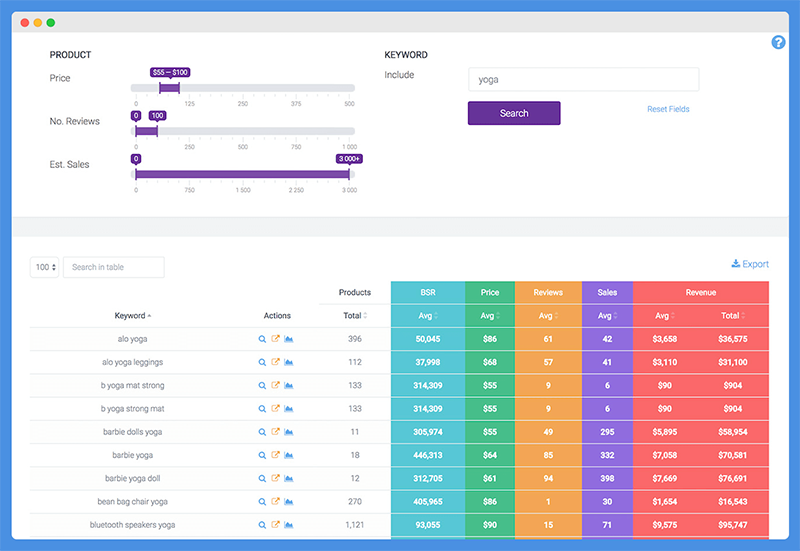 This tool helps you in your search for products to sell. Just input what you need and the software will give you several options for successful products.
It's good for finding great products especially if it's your first time and you don't know where to start.
Check Out: Best Amazon Keyword Ranking Tools
Reverse ASIN Research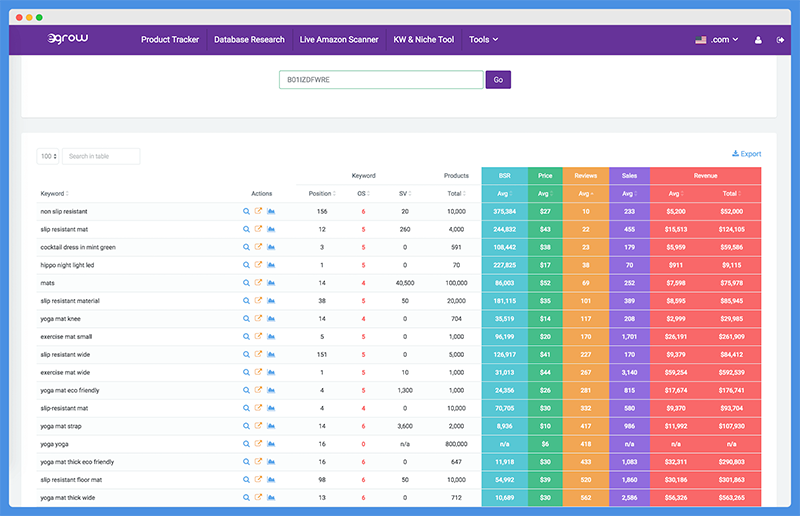 This tool is great for stealing keywords that your competition is using and finding new ones you can rank for. This way you can bid on them to move your listings up the ranks.
Reverse ASIN Lookup
With this feature, you can see all keywords your competitors rank for on page one.
This data helps you reduce advertising costs as you know what they rank for and their sales, plus you get more organic sales.
Rank Tracker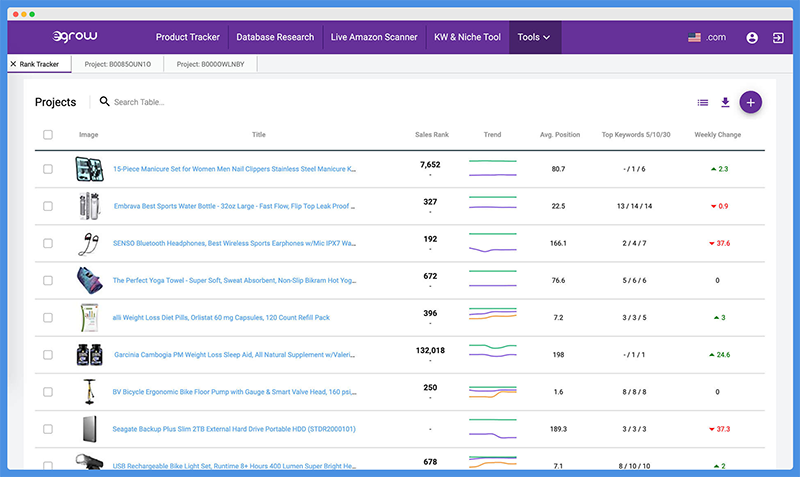 The number one key to succeeding in Amazon business is tracking your rank based on different high-volume keywords. If your rank is lower, you're closer to the number one page (at the top).
This feature lets you import keywords you'd like your products to rank for simply and pulls your rank from Amazon.
The table updates every day so you can see the keywords as they move up and down in rank, and adjust your strategy to make it clear and focused.
Amazon Market Research Chrome Extension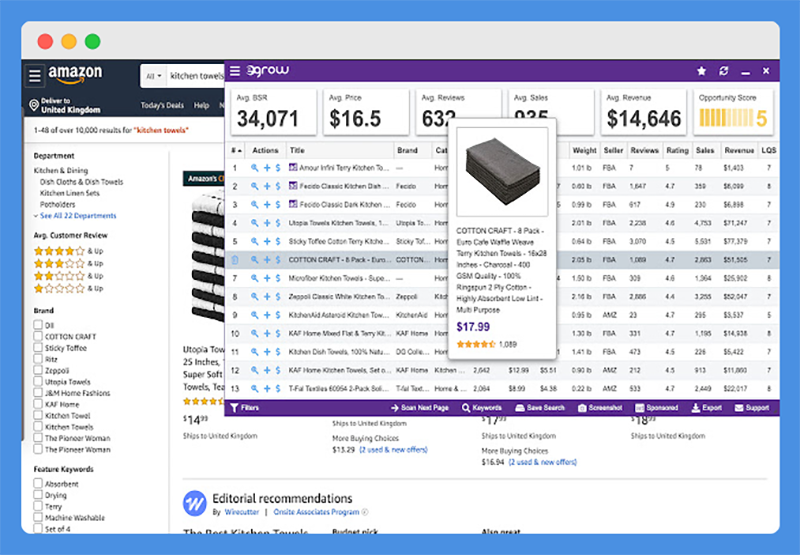 This tool helps you figure out whether there's potential to sell in a particular market or not.
It's the first step in finding a product and it's important that you have 100 percent accurate information. Compare data of multiple market research tools and use the two with the most similar information.
Explore: Jungle Scout vs Egrow
Viral Launch
Chrome Extension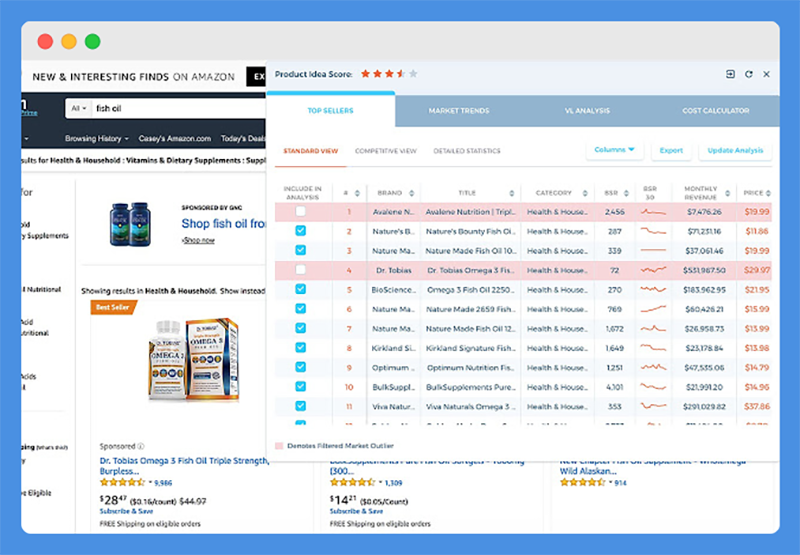 Viral Launch has a Chrome extension that's simple and light. To get it, go to Chrome's Web Store and download it, and then integrate it with the Chrome browser.
You can conduct extensive market research using this tool and generate intelligence on monthly revenue, product sales numbers, historical trends, and monthly sales among other data so you can identify the most profitable products and explore the marketplace.
It also provides insights as you browse Amazon thanks to the well-designed interface that also offers market analytics and sales estimates. However, it's only built for brief market intelligence and product discovery.
Dashboard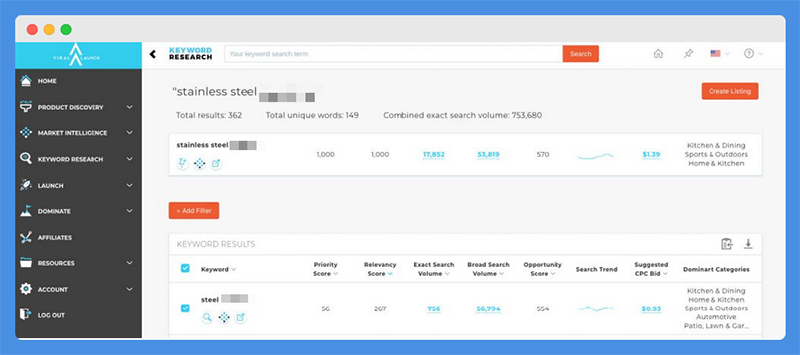 This is based on the web. To use it, sign up and log into your account to see a more comprehensive data outlook, though this depends on the plan you subscribe to.
This version is intuitive and organized, displaying two columns: the software tools and extra services you can buy.
For a simplified onboarding process, you have clear tutorials on both tools and services to use, and once you know how things work, the rest is a breeze.
Keyword Research
Amazon's search framework uses the same approach as search engines. Users seek products by typing keywords, and then Amazon uses an algorithm to rank subsequent results.
The tool helps you find specific phrases you can use to get your audience with favorable search ranking thanks to its extensive database that's packed with search data from Amazon.
This data is scanned using an AI system, and then conducts a thorough analysis of search patterns to establish keyword impact.
Viral Launch taps into the Amazon system several times on a weekly basis to update its keyword database. You also get to see the keywords your competitors rank for and their broad variations.
Another tool embedded in this is the Opportunity Score column from where you can gauge competition levels based on specific values across various market niches.
The AI system considers search volume, number of listings per keyword and other parameters to give accurate indications. Ultimately, you judge the relative opportunities based on the corresponding system scores between 0-1000.
It also dives deep into PPC keywords and uses this to assess competitors' keywords, which they use on their ads plus their accompanying sponsored ad bid cost.
Plus, you can filter keyword lists based on parameters you select, or download them via a CSV file or copy to your clipboard.
The keyword research tool also integrates with other tools seamlessly for more insights.
For example, the rank tracker and keyword research tool integrate to give you intelligence on competitor rankings on particular keywords.
Explore: Viral Launch Review
Product Discovery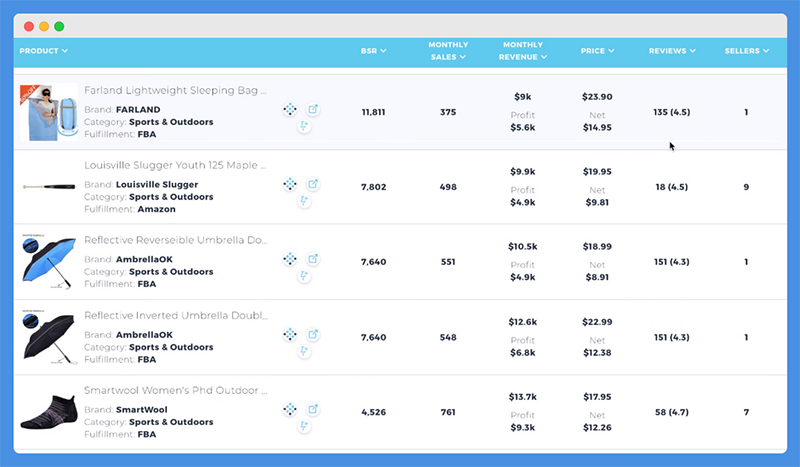 The type of product you choose to sell determines your success on Amazon. You may have great strategies, but if your items have low-market demand, you won't be successful.
The Product Discovery tool helps you identify the best products by reviewing them using parameters like categories, reviews, search volumes, brands, and the number of sellers among others.
It makes it easier for you to assess each product's business potential, with limitless possibilities available as the tool is pretty flexible, giving you the freedom to explore endless categories and products.
This tool dives into billions of historical and current data points on Amazon to give you real-time insights that are accurate, plus you can review projected profits and required upfront capital per product.
You can also supplement figures here with the insights you get from its market intelligence tool.
Competitor Intelligence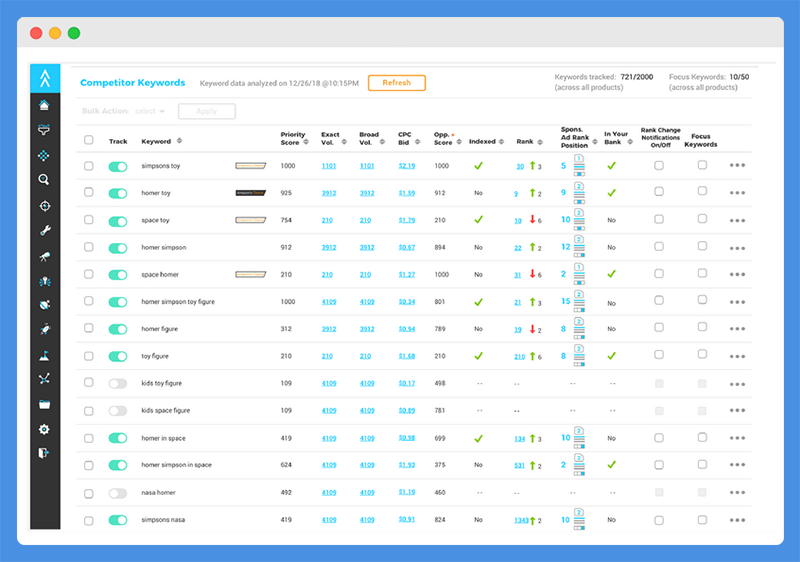 Viral Launch lets you spy on your competitors by monitoring their performance levels and helping you with notifications as soon as the search rankings are favorable for you and not your competitors.
It also helps you spy on their strategies, uncover their keywords, plus others they may have left out. This way, you can identify valuable keyword opportunities and capitalize on them to beat rivals at their game.
The tool also keeps you ahead of the competition so you can maintain market dominance over them. The Viral Launch system helps monitor their efforts so you're updated soon as a significant adjustment happens.
Market Intelligence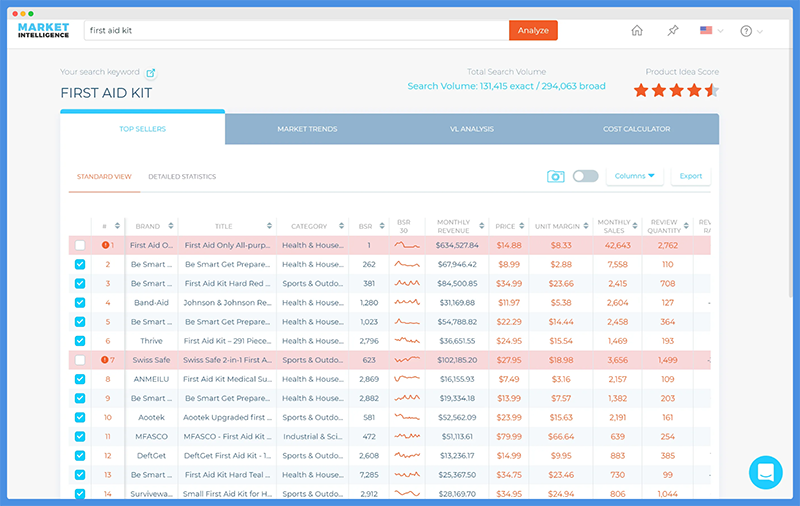 This is the ultimate market information resource. The billions of Amazon data points feed this tool with real-time figures, thus you get a consistent insight flow into market trends on Amazon.
It covers analytics on estimated product profits, historical trends, upfront investment amounts, product sales predictions and future predictions based on algorithms.
Kinetic PPC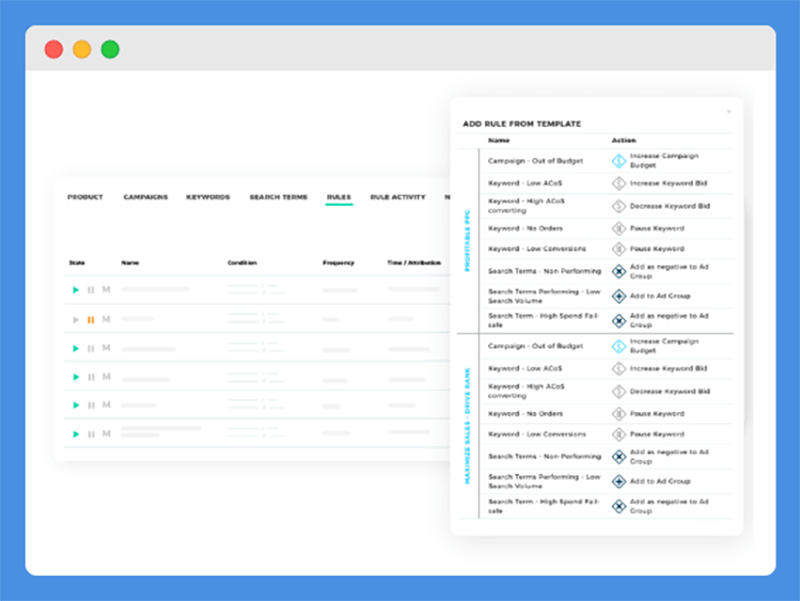 Kinetic is a powerful sales ranking engine that drives organic and PPC results on Amazon using a holistic approach.
This way, you get product research, strategy, automation, and useful analytics all in one tool.
It makes campaign management easier so you can achieve your advertising goals on Amazon, plus ensures your PPC campaign is effectively structured by targeting the right keywords and efficiently spending the advertising dollars.
Related: Viral Launch vs Zonblast
Listing Optimizer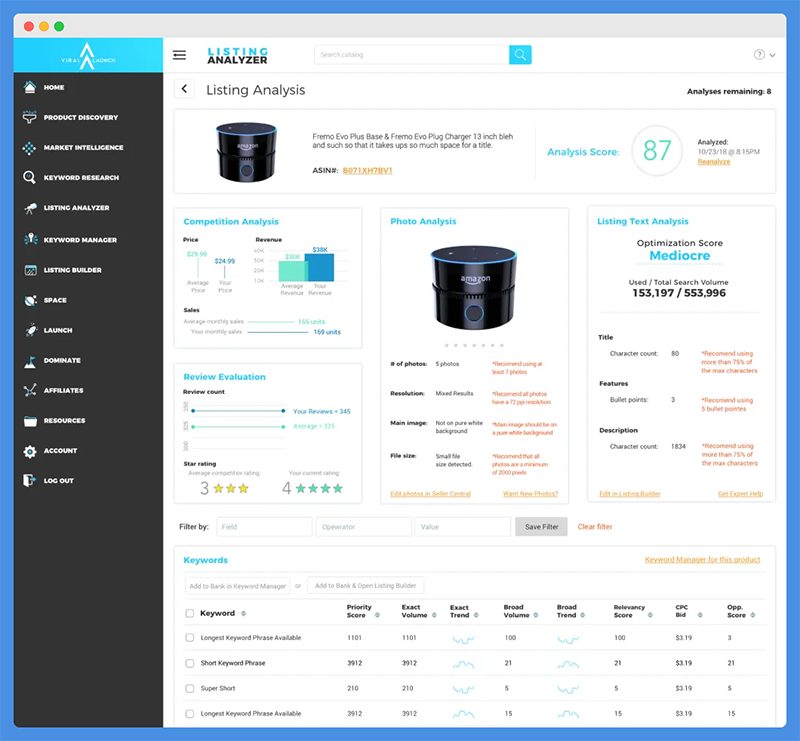 The Listing Analyzer uses ARCS technology to help you analyze in real-time how your listings are fairing in different aspects compared to the competition in your product market.
It offers Competition Analysis, Photo Analysis, Review Evaluation, a list of top keywords, and Listing Text Analysis.
Egrow vs Viral Launch: Pricing
Egrow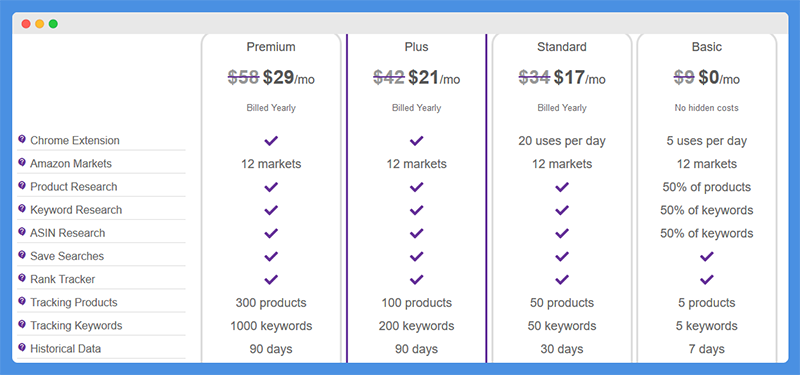 Egrow is priced to be affordable but still offers accurate services. It believes software should be affordable, new, and advanced for every seller, yet still deliver reliable and consistent data.
It has four plans: Premium, Plus, Standard, and Basic costing $29, $21, $17 & $0/month respectively.
Viral Launch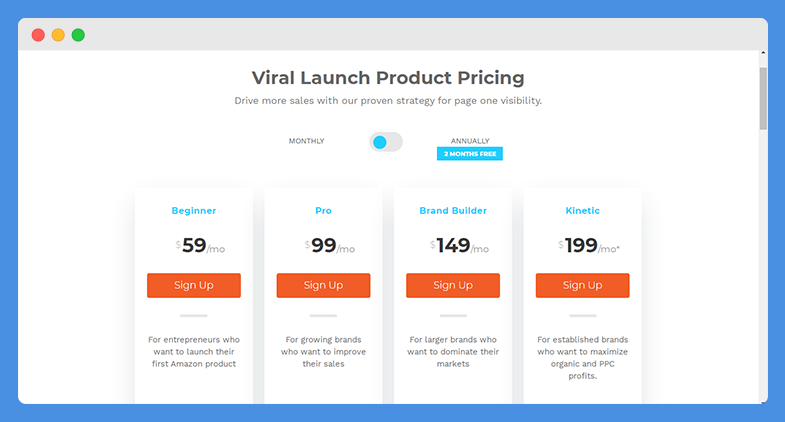 On the other hand, Viral Launch offers five plans.
MI Extension priced at $25/month
Beginner at $59/month
Pro at $99/month
Brand Builder at $149/month
Kinetic at $199/month
Yearly plans cost less. A 14-day free trial is also available incase you wish to try it before subscribing.
Also Read: AMZScout vs Viral Launch
Egrow vs Viral Launch: Similarities & Differences
Egrow vs Viral Launch: Pros & Cons
Egrow
Pros
Keyword scans in real-time
Product history changes of up to 90 days available
Allows you to request data for products not in its tracker
Best plan is affordable
Free plan available
Integration with Amazon
Cons
Not available in Mexico, Japan, or Middle Eastern marketplaces
Viral Launch
Pros
Comprehensive keyword insights
Combines multiple helpful tools through its full-stack system in one platform
Light, simple, and easy to use Chrome extension
Several other services you can purchase for professionally managed campaigns
Intuitive and well-designed
Robust product launch set of tools
Responsive and accessible customer support 24/7
Solid Artificial Intelligence system that gathers and analyzes data
Cons
Learning curve may be a bit steep for newbies
Pricier than other such tools
Information generated by the tool can be overwhelming for non-professional users
Has more tools for product discovery and launching than for the selling process
Check Out: Viral Launch vs AmazeOwl
Egrow vs Viral Launch: Which Is Better?
The best way to experience a product or service is to try it out first. With Egrow, it's not a matter of what tool to compare it with but the experience you get for yourself when using the tool.
Before picking a tool though, your research will tell you which one fits you best, and once you use it, you can know whether or not you like its interface, features, speed, support, and ultimately whether you can afford it.
Egrow lets you experience its services through the Basic plan, which you won't find with Viral Launch, even though the latter has a free trial. It's also affordable enough to purchase without feeling the pinch if you end up not liking the tool.
It also offers a fair pricing system, high-quality data, and multiple software features thanks to the eight tools with other embedded tools within them for better success on Amazon.
Viral Launch, on the other hand, is a tool suite with multiple components independently built into its streamlined system, whose tools are fully integrated with Amazon.
It has perfected and outshines the rest of the intelligence solutions in its product discovery function, but it also has a reliable Chrome extension tool for product discovery and research.
This doesn't mean the other features are poorly developed as they do just what you expect them to.
However, the tool weakens slightly once you launch your Amazon FBA products.
For example, you may not get accuracy with its split testing tool but you still have basic functionalities to work with. Plus, the rank tracking feature and competitor intelligence tool aren't anything out of the ordinary.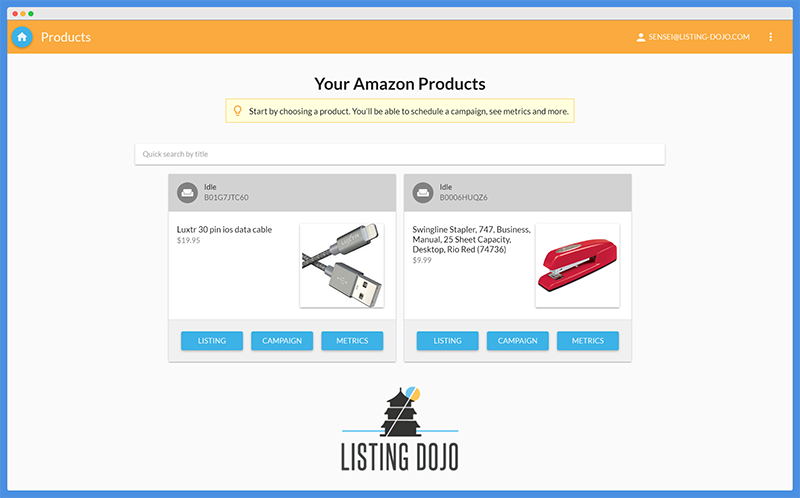 Thankfully, the company still has room to work on and improve its features, but the pricing is quite steep for a typical seller on Amazon.
Overall though, it's still a reliable option for any seller aspiring to get on Amazon marketplace and hit the ground running.
Interesting Comparison: Helium 10 Vs Viral Launch
Final Thoughts
Both Egrow and Viral Launch are super powerful to support you as you sell on Amazon.
They offer product and keyword research, listing optimization, and many other critical tasks.
If you're already an Amazon seller, any of these tools will work great for you to grow your business.
However, they're not built the same. Plus, the pricing is different too as Egrow is much more affordable than Viral Launch.
They're quite comparable in terms of function but still offer similar primary tools essential for your Amazon FBA business.
What varies is the data they deliver, which is what you need when making strategic business decisions for your FBA selling business on Amazon, because their algorithms are written differently.
Egrow and Viral Launch both deliver powerful data from their intelligence tools so, at this point, the main differentiators are accuracy and pricing.
It's therefore a no-brainer to pick Egrow as the winner for this challenge because it's much more affordable, offers powerful data, and multiple tools you can use to grow a successful Amazon FBA business.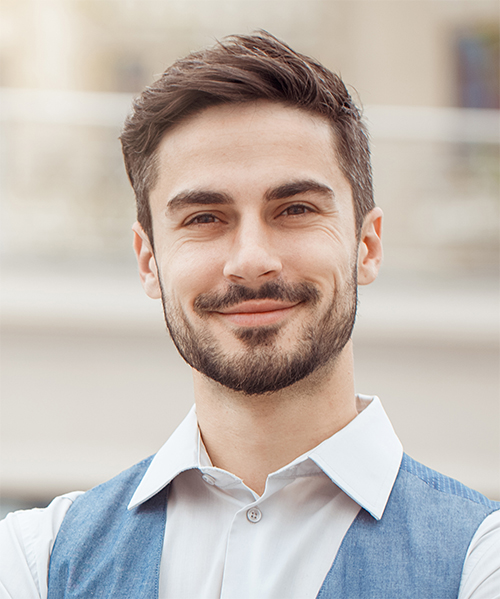 Author: Scott Macarthur
Scott L. Macarthur is a marketing consultant and an online author. He is mostly engaged in providing his expertise to startups and SMBs.