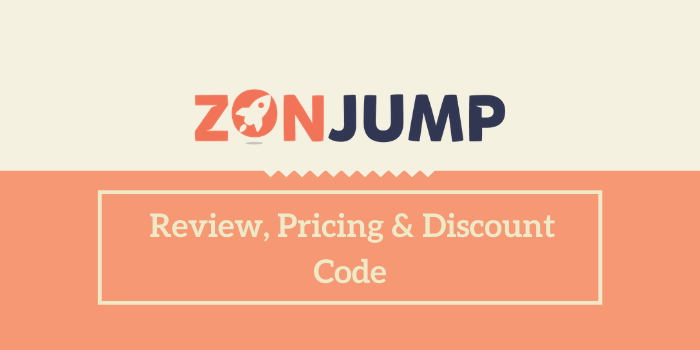 Every day, shoppers search Amazon's catalog holding over 12 million products to find items that will satisfy their needs.
About 89 percent of shoppers admit they would prefer to purchase products on Amazon than other e-commerce platforms.
However, 70 percent of shoppers don't go beyond the first page of Amazon search results.
If you are an Amazon merchant, the chances are that thousands of products are similar to yours and you don't want your product to get lost in the crowd.
The goal is to get your product to the first page so the buyers can see and buy it.
Product Launches are proven strategies that help Amazon sellers improve sales and product rankings.
ZonJump is a product launch software that allows sellers to boost their product rankings using high discount coupons.
In this article, you'll understand how ZonJump works for launching your Amazon products. We'll do a detailed ZonJump review.
Overview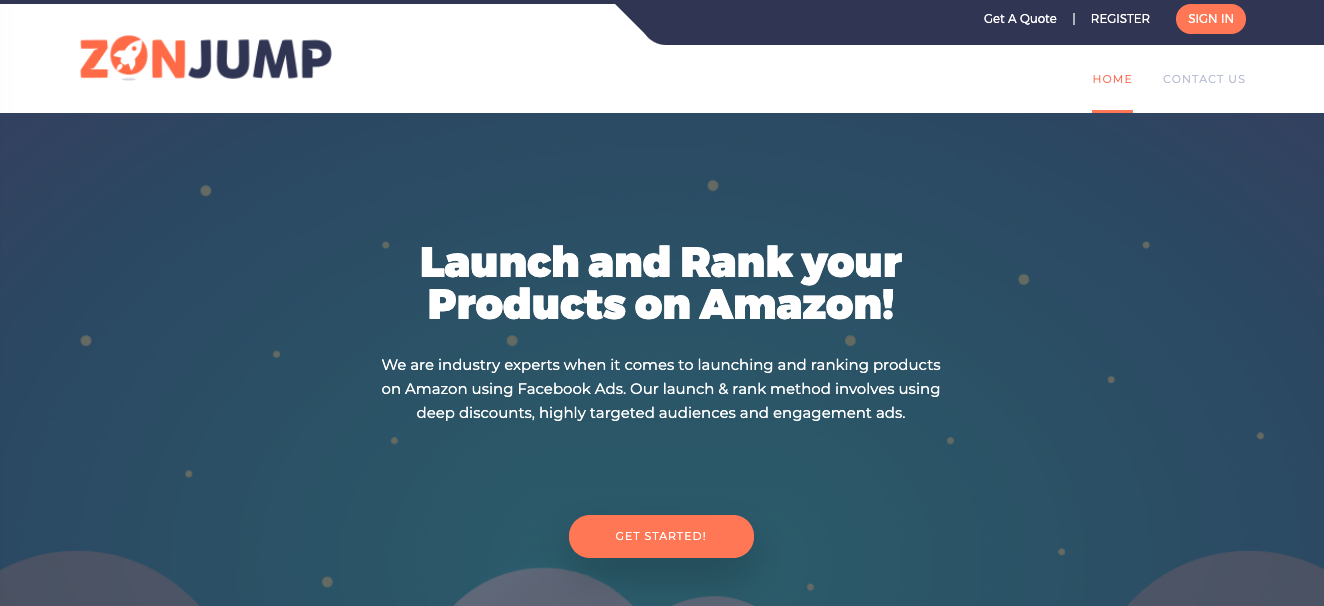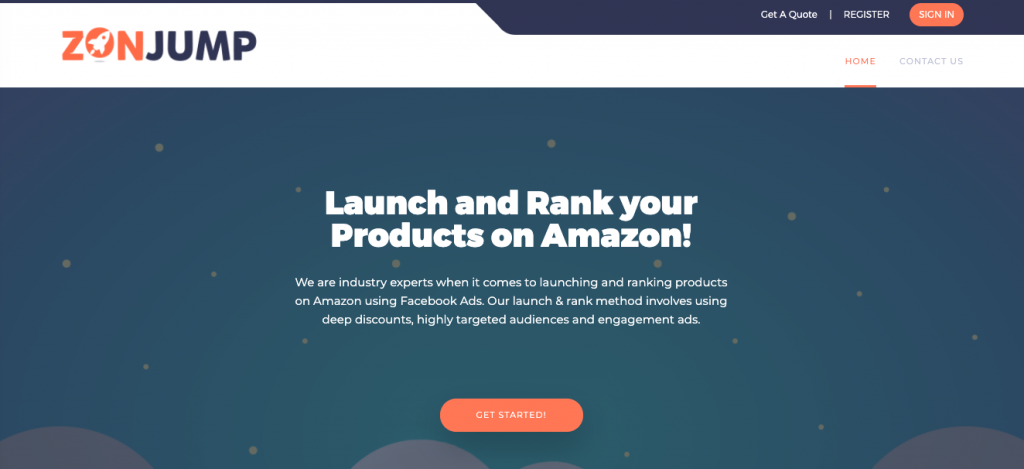 ZonJump is an Amazon seller software that helps merchants launch their products.
With this tool, you can boost your product ranking, grow your sales, and scale your Amazon business.
Built by Amazon and Facebook marketing experts, ZonJump drives external Facebook traffic to your Amazon listing to improve your product ranking on selected keywords.
Leo Limin, the founder and CEO of ZonJump, started the company in 2017.
He also created ZonPages and ZonWords in the same year. Together, these tools help Amazon merchants boost sales, maximize their profits, and achieve business success.
ZonJump currently supports only the Amazon US market.
Who Is It For?
ZonJump is for new and existing Amazon sellers who want to create winning products and boost product sales.
So, whether you are an FBA merchant, or you are still thinking of the right product to sell on Amazon, ZonJump is your go-to tool.
Also Read: Best Amazon Product Finder & Research Tools
Getting Started With ZonJump
ZonJump is a cloud-based software. You can access your account via any internet-enabled web or mobile browser.
To get started, you need to create an account or sign in with an existing ZonJump account. Also, you can sign up with your Facebook account.
Account Dashboard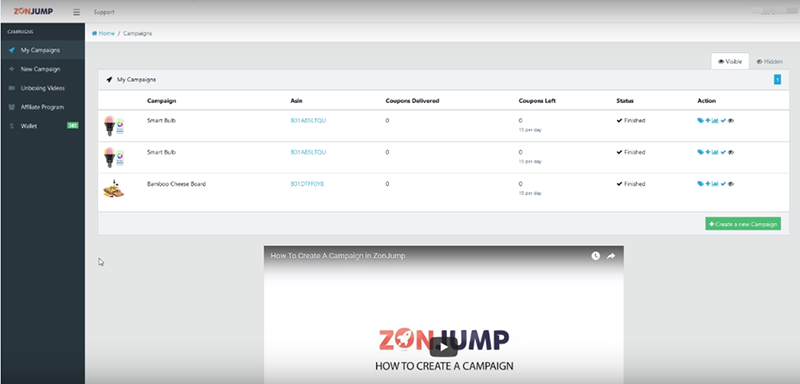 From your account dashboard, you can create new campaigns.
Also, you can view the activities from running, paused, and completed campaigns. Some of the campaign information you can access includes
Launched products
Product ASIN
Coupons delivered
Coupons left
Course of action
More so, you can view activities from hidden campaigns.
You can use your coupon wallet to manage the coupons in your account. Here are some of the benefits you will enjoy when you use your wallet.
With your wallet, you can buy coupons in bulk. You can even get volume discounts.
You can reclaim coupons that have not been redeemed from existing campaigns. However, you can only reclaim undistributed coupons that haven't expired yet.
Each credit in your wallet represents a single coupon. And you can add these coupons to any of your campaigns.
Merchants are not entitled to credit refunds from their wallets. They can use the remaining credits for another campaign.
Even if they don't want to use their wallet, they can make payments for each campaign as they launch.
ZonJump allows you to stay in touch with your account activities. When you enable your web push notifications from the dashboard, you can receive live notifications into your browser.
And even if you are not logged into ZonJump, you will get notifications for any critical events relating to your account.
You will get notifications when your
Products have synchronized
Coupons are exhausted
Email and phone append has finished and more
From your user dashboard, you can access other add-on tools to improve your campaign including
Client management via ZonPages
Keyword Explorer via ZonWords
TradeMarks
AMZ Video Uploads
We will discuss how you can harness these add-on tools later in the article.
How To Create A New Campaign
Campaign Information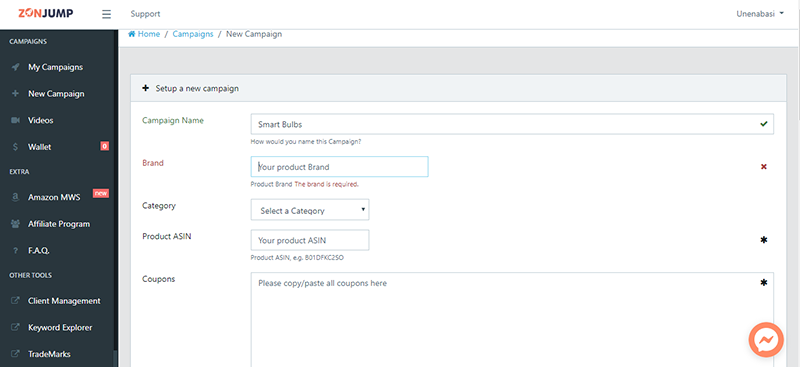 To create a new campaign,
Click on "Create a New Campaign."
Next, enter your Campaign Name. The campaign name will serve as a reference and help you identify your campaign properties.
Then, you can input your product brand name.
Next, you will select your product category from the drop-down list provided. The product category helps you target your campaign to a selected audience.
After selecting your category, enter your product ASIN.
Worth Exploring: Best Amazon Listing Software For Sellers
Coupons and Discount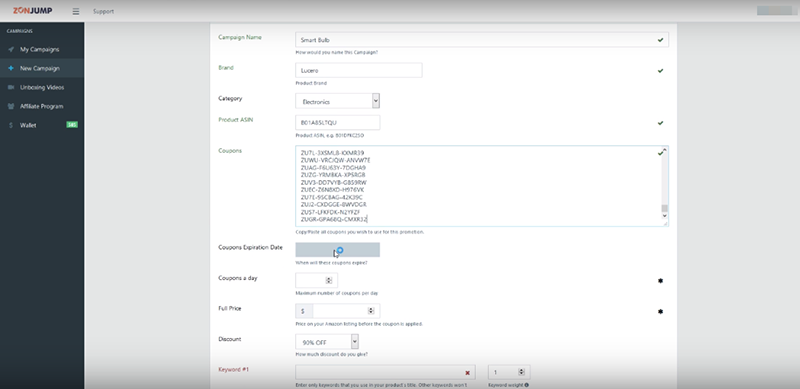 Next is the coupons and discounts section. Copy and Paste all the coupons you want to use for your campaign. You can create your single-use Amazon promo codes from your Amazon Seller Central account.
Then, set your coupon expiration date. You may need to set your coupon expiration one day before your Amazon promo code expires.
For instance, if your codes expire on the 16th 0f January, you should set your coupon expiration date to January 15th.
Additionally, when you are setting your promo code expiry on your Seller Central account, ensure they are still valid for two weeks after you plan to end your ZonJump campaign.
Next, input the maximum number of coupons you want to give out per day. This number represents the total number of giveaways for all keywords you pick per day.
For instance, if you're going to give out 200 coupons for ten days, the number of coupons per day should be 20.
The next field is the full price. This input shows the total price of your Amazon product listing before ZonJump activates your coupon.
You don't need to change your listing price during the product launch.
ZonJump will base your listing price on the input on your account dashboard. And if the prices are different, shoppers may not use the ZonJump coupon codes.
Then, enter your discount amount for your promo code. ZonJump recommends at least a 90 percent discount to help merchants achieve a high claim rate.
Keywords and Keyword Weight
After inputting your promo code, input your keywords and the keyword weights. You can use up to five keywords.
But for new product launches, focus on using one keyword. More so, you should only use keywords that you have used on your Amazon product title.
Your keyword weight is a number ranging from one to ten. You should use a higher number for the keyword that you want to receive more claims and sales.
For example, if you want keyword one (flashlight) to achieve two times more sales than keyword two (smart bulbs), then keyword weight for flashlights should be ten and five for smart bulbs.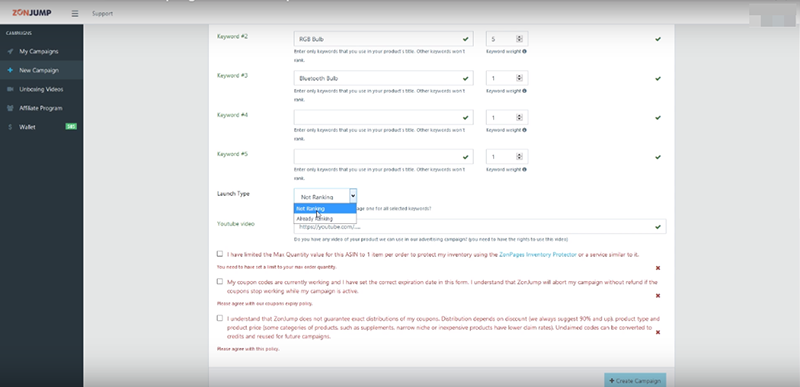 Next, you should select your launch type. If your product is new, you should choose "Not Ranking."
But if you have an old product that is already ranking on the first two pages, and you want to take it further to the top, select "Already Ranking."
Then you can add a YouTube video link for your product campaign. Be careful not to use any instructional or non-marketing video.
Focus on advertising your product with a marketing video that is less than one minute.
And then check the box that limits your maximum order quantity to one item per order.
The inventory protector feature will help you ensure that one customer does not clear your entire inventory with a discount code.
Also, confirm that your coupon codes and the expiration date are correct. After ensuring due diligence, click on "Create Campaign."
Interesting Read: Ways To Find Amazon Product Niches With Low Competition
You will see your campaign summary and the available payment options. You can make payment using a credit card, PayPal, cryptocurrency, or from your ZonJump wallet.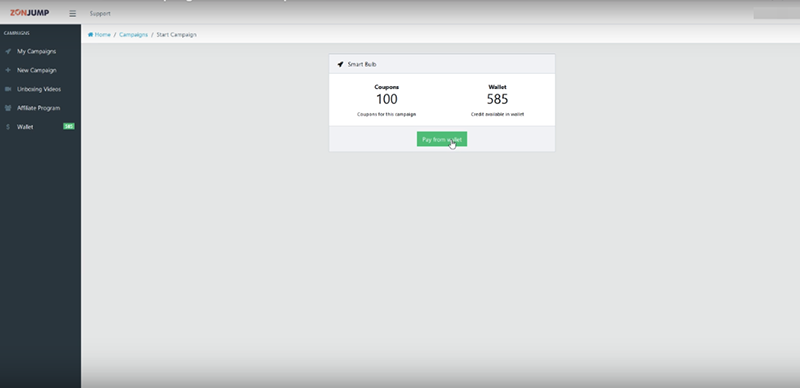 After payment, ZonJump will review your campaign. If your campaign setup is excellent, ZonJump will make it go live within 24 to 48 hours.
ZonJump Product Launch & Ranking
Product Launch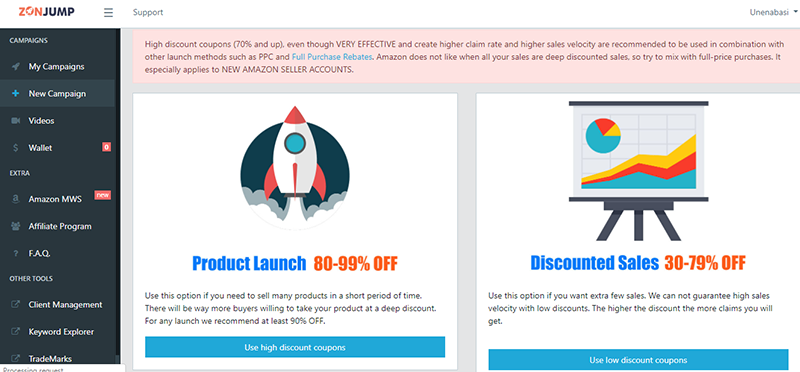 Product Launches are promotions and giveaways that help Amazon sellers improve sales and product rankings.
More so, it allows brands to increase awareness and visibility for their products.
ZonJump offers a unique product launch and ranking strategy to boost your Amazon keyword ranking.
ZonJump's approach involves the use of attractive discounts and advertisements served to highly targeted audiences.
For each product launch or campaign, ZonJump creates Facebook Ads to bring clients to drive traffic to your Amazon listing.
You can only have one active Launch for each ASIN or product.
When you create your campaign, ZonJump gives your discount claim codes to buyers.
They give out these codes during an ad campaign on Facebook to entice them to buy your product.
With this strategy, you can increase your product sales and boost your rankings and you don't have to rely on deal websites and groups to drive sales.
Explore: Best Amazon FBA Seller Training Courses
ZonJump offers two launch types.
High or deep discount coupons
Low discount coupons
The deep discounts allow you to enjoy massive inventory turnover coupled with high sales velocity.
ZonJump recommends a high discount giveaway price of about 85 percent to 95 percent.
You can use this option if you want to sell many products within a short time. More buyers will find your offer attractive and will be willing to buy your products.
The low discount coupons are suitable for merchants who have already attained top product rankings and want some extra sales.
You may not enjoy high sales velocity with this launch type.
ZonJump recommends a discounted sales of about 30 percent to 79 percent for new merchants.
Product Ranking
High product rankings allow you to get your products in front of shoppers.
It increases your chances of making organic sales. More coupons and discounts will increase your organic ranking quickly and also create stability at the top of rankings.
When you have achieved a high ranking, you may refine your strategy to stay on top. Here are some tips that may help you.
Your listings must have a high conversion rate.
You must continue to sell and never run out of stock.
Strive to maintain a competitive edge over your top competitors in terms of prices, product titles, descriptions, bullets, images, and more.
Most importantly, you need to ensure you deliver high product quality. If you sell low-quality products, you will have to deal with multiple product returns coupled with bad reviews. Bad reviews may ruin your listings and drop your product rankings.
If your product listing is not optimized, your pricing is not competitive, or your product is of low quality, ZonJump may also refuse to run your campaign.
They will tell you when your campaign is less likely to succeed and will refund your money.
More so, ZonJump can help you identify the issues with your listings and make recommendations.
When you correct the problems with your listings, you can go ahead and launch your product with them.
So before you get started with your product launch, you need to pay attention to important details.
Furthermore, before you launch your campaign, you need to enable MWS order tracking.
If you are already running your campaigns, you need to add your Amazon MWS account.
Adding your Amazon MWS account will enable ZonJump to verify orders and remove unwanted shoppers from the system.
Also Read: Best Amazon FBA Calculators Review
ZonJump Consulting & Launching Services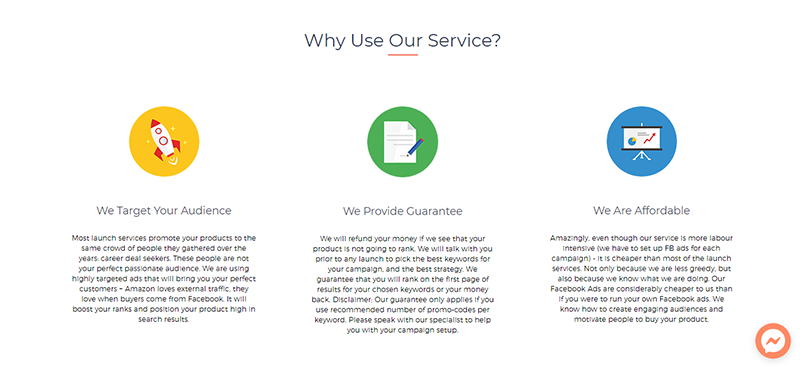 ZonJump also offers personalized consulting and launching services for Amazon sellers. If you are just starting and you don't have a suitable launch strategy, ZonJump can help you out.
Their team of experts will speak to you before any product launch. They will help you pick the best campaign strategy and the best keywords that will help you attain top rankings.
If you follow their expert advice and recommendations, you can rank on the first page of Amazon search results.
However, campaign results may differ based on your product price, images, title, and description.
Your listing optimization may also influence the campaign results. If your listings are not optimized, ZonJump cannot guarantee the rate of coupon claims by shoppers.
Products that are seasonal or products that appeal to marginal customer segments may have a lower claim rate.
ZonJump Add-on Services
ZonJump offers add-on services to help you optimize your product listings before your launch. They also provide tools to help you grow your Amazon business.
Let's take a look at some of the add-on services that may benefit your business.
ZonPages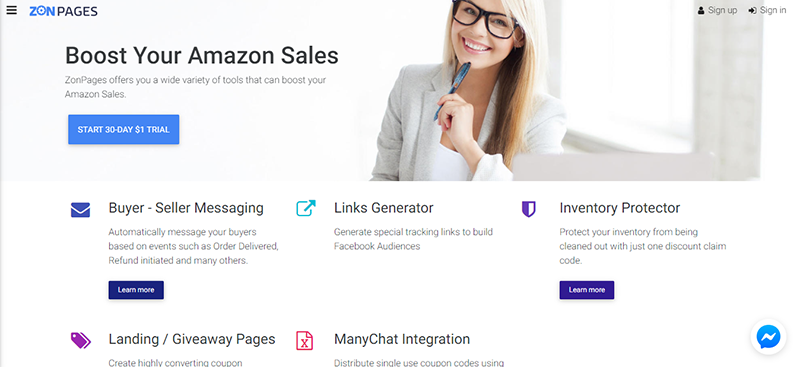 ZonPages makes your product launch simple and effective. They also offer tools to help you grow your organic sales.
Customer Messaging
With their client management platform, you can send automated messages to buyers.
Using email autoresponders, you can send emails based on specific events. You can send emails when
An item has been shipped and delivered
Refunds have been initiated
A customer has dropped a negative review and more
You can access the client management platform from your ZonJump account dashboard.
Landing and Giveaway Pages
Merchants can create beautiful landing and giveaway pages. With the landing pages, they can drive traffic from Facebook and Google ads to their Amazon listings.
Claim Codes Distributor
ZonPages allows you to distribute your discount claim codes via ManyChat.
The coupon code distribution is automated and their software will ensure equitable distribution so that users cannot access more than one claim code.
Useful Post: Best Amazon Tools For FBA Sellers
Inventory Protector
Without an inventory protector, there are chances that buyers can clear out your inventory.
Amazon doesn't allow sellers to limit the quantity that shoppers can buy using a single claim discount code.
But, ZonPages can help you restrict maximum purchase quantity. You can enable this option from your ZonJump dashboard.
This tool is free, but you must create an account on ZonPages.
Links Generator
With ZonPages, merchants can generate unique tracking links to help them build their Facebook Audience.
ZonWords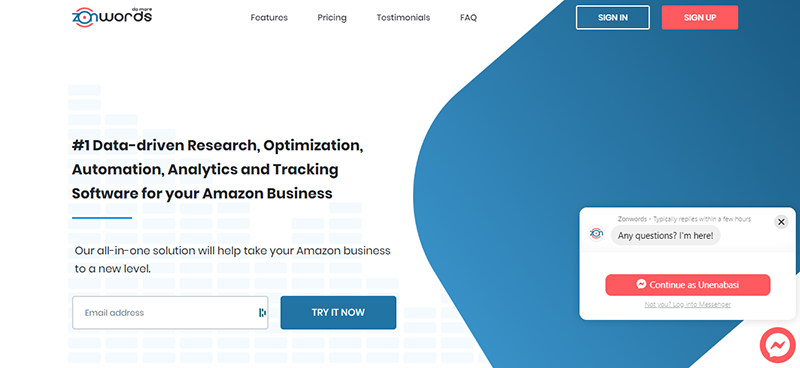 ZonWords can help you to find the best keywords for your product launch campaign. It also enables you to optimize your product listing as well as boost page ranking.
Keyword Explorer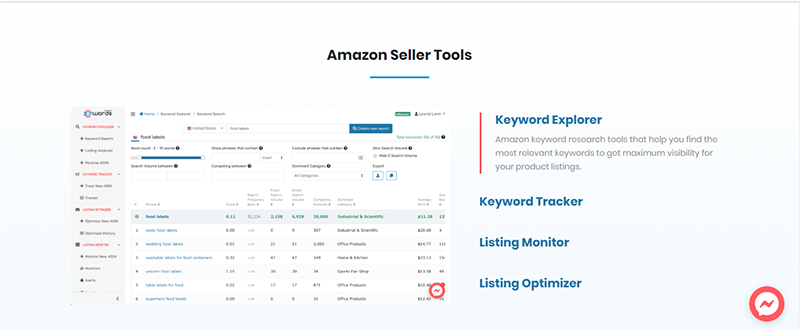 You need high conversion keywords for your product launch campaigns.
With the keyword research tool, you can find relevant keywords that will boost ranking and visibility.
Keyword Tracker
With the keyword monitor, you can track your keyword performance. Furthermore, you can see your daily keyword ranking on Amazon.
Listing Monitor
ZonWords will alert you instantly when there are
Price changes
Negative product reviews
Product suppressions
Buybox hijackers and more
Listing Optimizer
For you to have a successful product launch, your listings must be top-notch. With this feature, you can create listings that are fully optimized.
You can optimize your product titles, description, bullet points, and images.
ZonWords will also help to optimize your backend keywords by giving you a list of relevant keywords for your campaign.
Worth Reading: Best Amazon Feedback & Review Management Software
ZonJump Pricing
ZonJump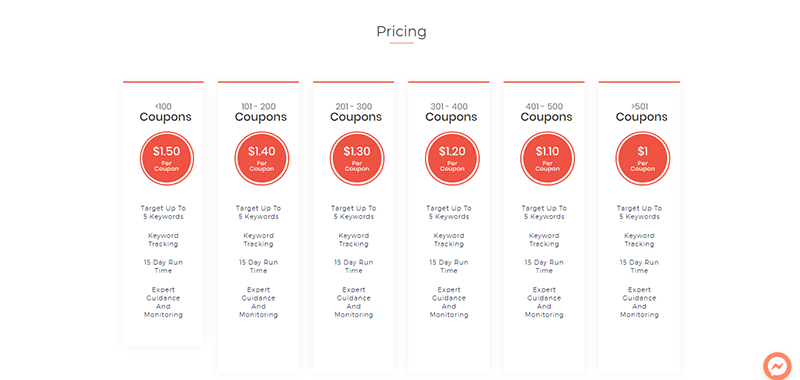 Pricing depends on the number of promos that your buyers have claimed.
ZonJump has six pricing plans. They include:
Less than 100 coupons – $1.50 per coupon
101-200 coupons – $1.40 per coupon
201- 300 coupons – $1.30 per coupon
301-400 coupons – $1.20 per coupon
401-500 coupons – $1.10 per coupon
More than 501 coupons – $1 per coupon
If you are not sure of the number of coupons you need, you can request a quote.
Here are some of the features you will enjoy:
Keyword targeting (up to five keywords)
Keyword tracking
Run time of 15 days
Monitoring and guidance from experts
Add-on Services
ZonPages
Pricing on ZonPages includes
Starter plan – $19.95 per month
Business plan – $14.95 per month
Enterprise plan – $99.95 per month
ZonPages offers a 30-day trial for $1.
ZonWords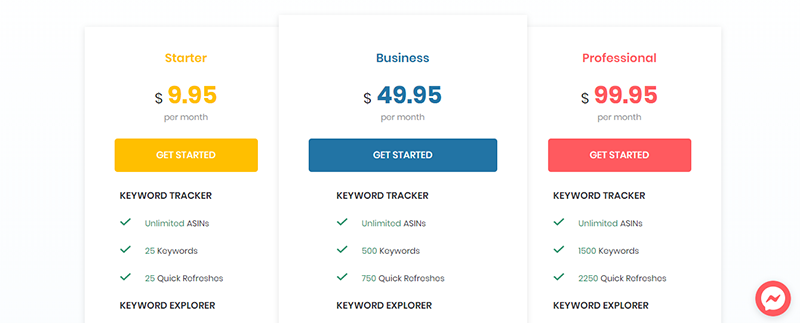 ZonWords has three pricing plans.
Starter plan – $9.95 per month
Business plan – $49.95 per month
Professional plan – $99.95 per month
Also Read: Best Amazon Keyword Tracking Tools
ZonJump Customer Service & Support
ZonJump doesn't offer phone support. However, they offer email support and live chat support via Facebook Messenger.
Ratings
Ease-of-Use
ZonJump's product launch tool is easy to use. When you log into your account, you can watch a video that shows you how to create an account.
Just follow their lead, and your campaign will be on the way in a few minutes. After creating your campaign, ZonJump takes over and does the hard work for you.
I'll give the tool a 5-star rating out of five for ease of use.
Features
ZonJump has excellent features to help you launch your products with ease. Together with the add-on tools, you can launch, boost your rankings, and grow your Amazon sales.
It's a complete tool for Amazon merchants. So the features earn a 5-star rating out of five.
Customer Service and Support
ZonJump doesn't offer phone support. And their chat and email support don't respond on time. So I'll give the customer service and support a 3-star rating out of five.
Value for Money
With the expert guidance and monitoring service, ZonJump ensures you get the best results in your industry.
Their pricing plan is also structured to ensure you pay when shoppers claim your coupons. Also, there are no additional fees, and you can enjoy other add-on features.
So I'll give this feature a 5-star rating out of five.
ZonJump Pros
Here are some of the reasons ZonJump has gained positive reviews:
The software is foolproof and easy to set up
Pricing is based on number of coupons claims
They offer expert and guidance services
ZonJump can protect your inventory from wipe out from fake shoppers, saboteurs, or competitors
The Inventory protector tool is free
You can access other add-on services like Keyword Explorer to get high conversion keywords for your campaigns
ZonJump Cons
Some of the issues you may experience while using ZonJump include:
They do not offer phone support
The customer support response is slow and unresponsive
Product ranking may decrease, or the expected increase in product ranking may be slow
Some add-on services are expensive
Check Out: Top Profitable Products To Sell On Amazon
Conclusion
From our review, you can see that ZonJump is a great Amazon product launch software.
ZonJump uses a unique product launch and ranking strategy to help your products get to the top.
They use attractive and high discount coupon codes to increase your sales and improve your product rankings.
Furthermore, ZonJump utilizes Facebook ads to drive shoppers to your listings by creating an advertisement for every launch campaign.
Their add-on services spice up your product launch campaign to help you achieve success.
The inventory protector tool protects your stock from massive clear out with a single discount code.
With the Keyword Explorer, you can find relevant keywords for your product campaigns and the listing optimizer helps you create fantastic product listings.
If you want to boost your ranking and enjoy a high sales velocity within a short time, ZonJump is your go-to tool. ZonJump can help your business soar.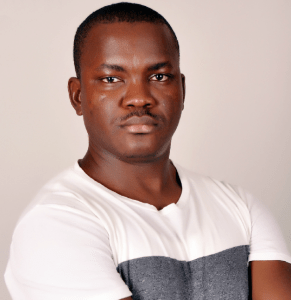 Nicholas Godwin helps businesses tell profitable brand stories that their audiences love. He's worked on projects for Fortune 500 companies, global tech corporations and top consulting firms, from Bloomberg Beta, Accenture, PwC, and Deloitte to HP, Shell, and AT&T. Works with Mofluid these days.