Are you looking for a way to launch a successful Amazon business and get ahead of your competitors?
The Viral Launch Product Launch software is a great tool that will help you research the right market to get into, find the best products to sell, and get more sales by using the right keywords and creating excellent listings.
In this Viral Launch review, we will go over the software's features and the available Viral Launch price options, see whether there is a Viral Launch free trial, and discuss whether Viral Launch is worth it.
Let's get into it.
What Is Viral Launch?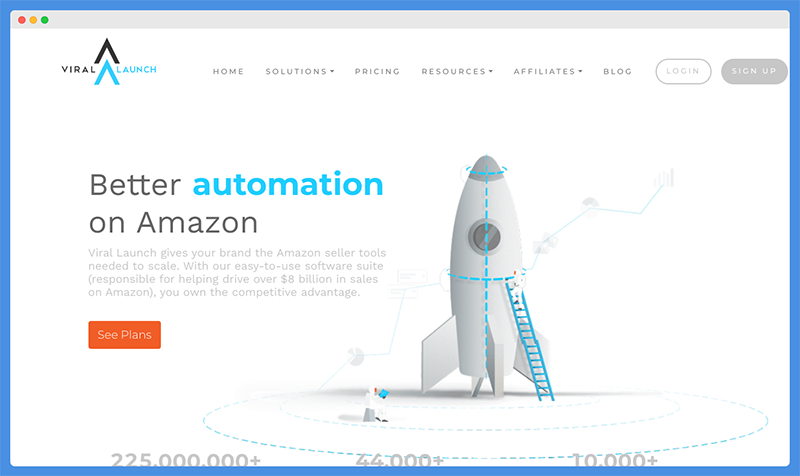 One of the challenges facing new and old Amazon sellers is how to stand out in the crowd.
Unfortunately, there are tons of Amazon sellers you will be competing against, and it is hard to get your product listings seen when there are so many other sellers selling the same items.
The trick is to find a niche that is not too saturated but which will provide you with a steady stream of customers.
In addition, you have to find the right products to sell — products that are popular, don't have a lot of competition, and will bring you great profits.
You also have to know how to market your listings effectively. This includes basic Amazon SEO so your listings get seen in the Amazon search results and extend to paid PPC ads used to promote your listings.
Also Read: ZonBlast Vs Viral Launch
Viral Launch Features
Let's start reviewing the different features and services offered by Viral Launch.
Viral Launch Product Discovery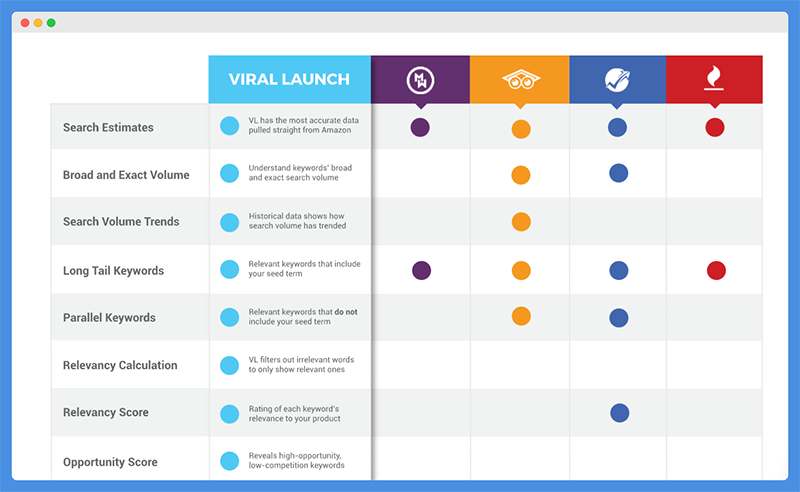 Your first step will be assessing different niches and markets and deciding whether they would make a good fit for your business.
There are two tools that can be used for this. One is the Market Intelligence tool and the other is the Product Discovery tool.
These two tools go hand in hand and should be used in conjunction with each other.
The Market Intelligence tool will help you assess a market's profitability by looking at its past sales history.
Are sales going up or down? Are they holding steady or is this market just a passing fad?
The Market Intelligence tool will help you make quick decisions by rating opportunities from between one and five stars. If an opportunity has only one star, you would probably be better off not investing in it.
There is also a built-in sales calculator that you can use to calculate your estimated investment costs and profits.
It is sometimes hard to get an accurate idea of how much money you can realistically make, but you should not go into an opportunity without knowing that.
Related: Viral Launch Vs ZonJump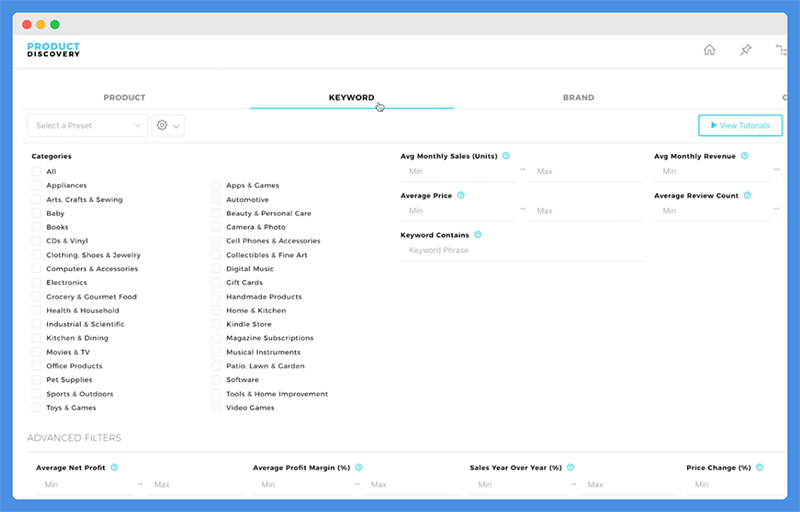 The Product Discovery tool will take your research to the next level. You can search through thousands of Amazon products by entering your desired keywords.
You can apply filters to filter out products that are not profitable enough or don't fit your other criteria. It's a great way to narrow down your product search and find products that will be great for your business.
You can research all of your ideas and get accurate information as to whether those ideas would be profitable or not.
The tool will give you updated data based on Amazon's own sources to help you decide whether a product would be worth it or not.
All the results will be personalized and tailored based on your needs, as you can use as many filters as you want.

You don't have to spend any time inputting the products that you like into a spreadsheet. If you see a product that catches your eye, you can always save it for later using the Tracker tool.
The Tracker tool will keep tracking the product you chose and will keep giving you updated information about its performance to help you understand how it is performing over time.
Even if a product seemed like a good opportunity in the beginning, it is possible that you will later see data that shows that its popularity is waning or that its popularity was a passing fad.
Explore: Viral Launch Vs Jungle Scout
Viral Launch Chrome Extension Free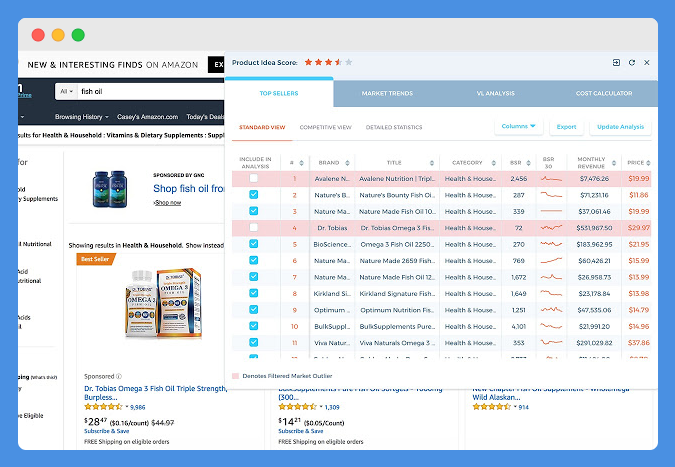 The Viral Launch Chrome extension is a great tool to use when browsing Amazon as it allows you to conduct research on Amazon and take advantage of Viral Launch's in-depth reporting at the same time.
The Viral Launch extension will open up a window in the upper right-hand corner of your browser while you are browsing Amazon.
You will see information for the products on the page, including the categories they are in, a small graph detailing their popularity over time, the revenue each product is bringing in, the average price of each product, and so on.
You can also see additional information, such as sales over time, the average selling price, and more. One thing you might find interesting is that it will tell you when it is best to sell this product.
For example, Christmas trees obviously sell more in the period before Christmas. However, other products may also have periods in which they are more in demand
Clothing sales will go up based on the season, for example, while water guns will probably be more popular during the summer months.
When searching for a product in general, it is a good idea to look for an evergreen product. In other words, look for a product that sells consistently all year round, as this will allow you to make a consistent income throughout the year.
On the other hand, if you choose to sell a seasonal product, there will be periods throughout the year in which you may not make a lot of money. In addition, your sales can fluctuate from year to year.
Another option is to sell different seasonal items at different times of the year. For example, you can sell Halloween costumes before Halloween, Christmas decorations in December, and Easter eggs in the spring.
This will ensure that you make money throughout the year, but you should still have some evergreen products that you can rely on for more consistent income.
There will be another tab in the Viral Launch product launch extension where you will be able to see how many estimated monthly sales you can get from a product.
You will also see how many reviews you will need to collect in order to get your product to rank highly.
There will even be useful tips and warnings. For example, you may get a warning that a certain product is being sold by competitors who have tons of great reviews.
In that case, it may be difficult for you to get traction with your listings as you will have to go against people who have already built up successful listings over time.
You can not get so many quality reviews overnight; this takes time to do.
You will also get a quick five-star rating to help you determine a product's profitability.
Check Out: Viral Launch Vs Helium 10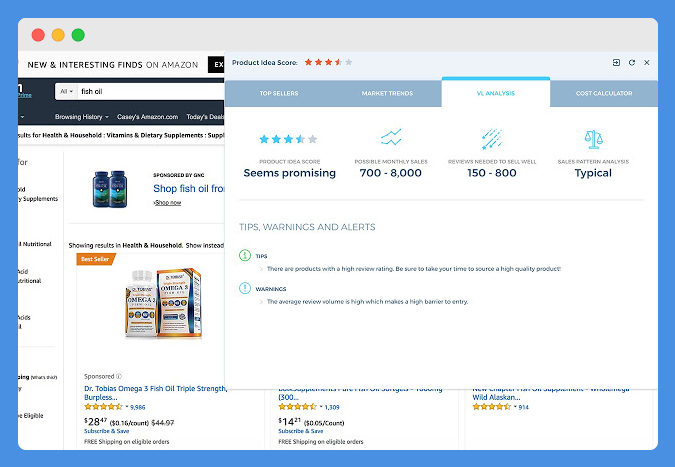 The final tab will give you information about the product itself. It will tell you what its dimensions and weight are, how much it costs per unit, and how much profit you can get per sale per unit.
All in all, the Chrome extension is an excellent tool to have as it allows you to quickly conduct research on products you see while you are browsing Amazon.
Viral Launch Keyword Research Review

Choosing the right products is only part of the equation. The other part is getting your product to show up when people search for it on Amazon.
The competition to appear on the top page of the Amazon search results is fierce. That is why it is important to target highly profitable keywords that not only get a lot of search volume but also do not have a lot of competition.
The keyword tool will give you a list of keywords that have a high Opportunity Score. The tool constantly tracks which keywords are gaining popularity on Amazon and which are losing popularity.
Worth Reading: Viral Launch Vs Unicorn Smasher

It also checks for keywords that are gaining popularity but which are not being used by your competitors. This way, you can tap into these "secret" keywords to boost your listings' rankings.
The tool will bring up all kinds of searches that customers are typing into the Amazon search bar but which you would not have thought of yourself.
Once you find keywords that seem promising, you can easily save them to a special keyword list so you can track them and use them later.
The keyword tool can be used in conjunction with the Product Discovery and Market Research tools. In other words, you can see keyword data while using those tools.
The tool will rank keywords from 0 to 1,000 based on how profitable they are.
In addition to giving you data about organic searches, the keyword tool will also give you data about paid keyword costs for Sponsored Amazon listings.
You can figure out which keywords you should use in your sponsored listings to save money on your advertising costs and get more out of your campaigns; the tool will give you a suggested price you should bid on the keyword as well.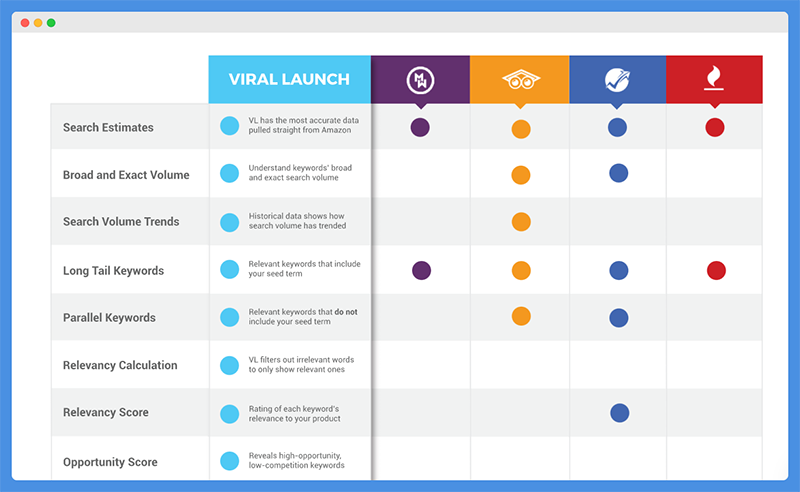 The Viral Launch Keyword Tool has a number of features that you will not find when using some other keyword tools.
For example, it will not only give you relevant keyword terms that include your original keyword but also keyword suggestions that are relevant to your original search term but use different words.
In addition, it will give you both broad and exact keyword search data, as well as historical data so you can see how a keyword has been trending over time.
Just because a keyword is popular right now, it does not mean it will be popular all year round.
The Viral Launch Keyword Manager is meant to be used in conjunction with the keyword tool.
You can track all of your favorite keywords in the Keyword Manager, see how their rankings have improved over time, and more.
Explore: Viral Launch Vs Merchant Words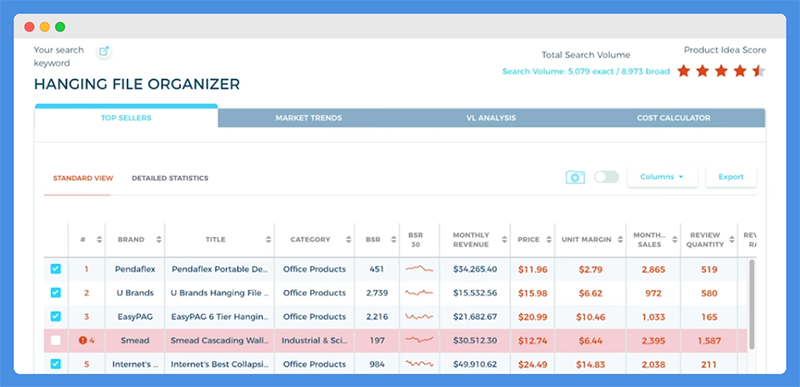 Viral Launch Photography Review
The Viral Launch software includes a tool that will analyze your listings and ensure that they are written properly. Your listings should have a number of things to help it rank, including great photos.
The Listing Analyzer will scan your listings and the listings of your competitors. It will compare your listings to those of your competitors and give you advice on how you can improve your listing for better rankings.
If you have not yet created any listings, the Listing Builder tool will help you create SEO optimized listings from scratch.
For example, the builder will help you include just the right amount of keywords in your listings to get great rankings.
Viral Launch Competitive Analysis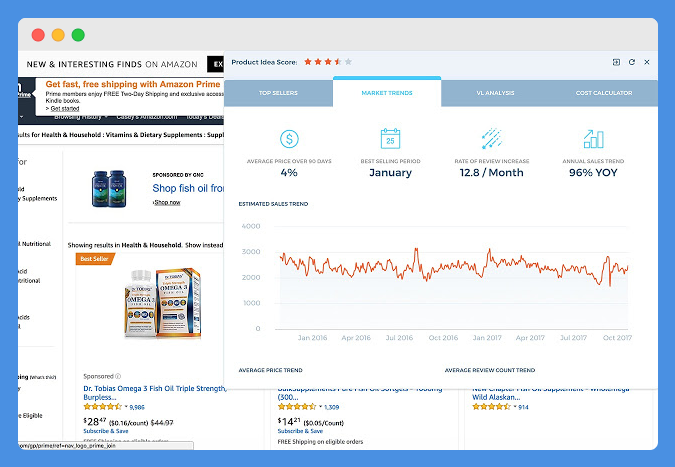 The Competitive Analysis tool helps you keep track of what your competitors are doing, what keywords they are using, whether they are succeeding with their paid campaigns, and much more.
Just enter any ASIN to get a list of keywords they are using, keyword rankings, opportunity scores, sponsored ad rankings, and much more.
You can set up notifications so that you never miss out when a competitor changes a product's price, loses their ranking, gets more sales, gets more reviews, and so on.
You can get a bird's eye view of exactly what is happening in your industry.
You can also steal the top-performing keywords that your competitors are using by searching for keywords that have at least 1,000 searches per month and which are getting your competitors to rank in the top 10 to 15 listings.
The tool will also show which keywords are ranking well but are being underutilized so you can use those keywords for yourself and gain an edge in the market.
Also Read: Viral Launch Vs AMZ Scout
Viral Launch Split Testing
The Split Testing tool helps you further increase your conversion rates by comparing two different versions of your listings to each other. This service is actually offered by Viral Launch's partner, Listing Dojo.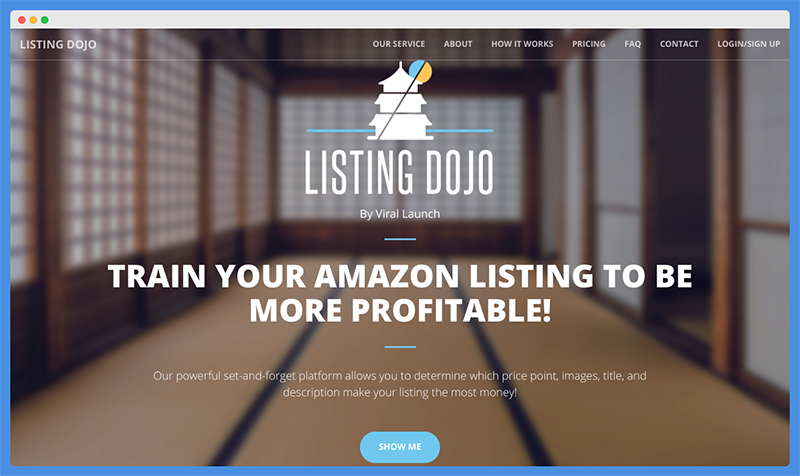 You will get in-depth reports and graphs that show you exactly how certain images, keywords, and listings work better than others to get you great results.
Split testing is one of the best ways to hone your listing and ads to get the highest conversion rates possible. Even if you increase your conversion rates by just one percent, it can really add up in the long run.
To use Listing Dojo, select a product that you are selling. Then, chose which elements you want to compare to each other.
For example, you can compare the product description, the price, or the images of one listing to another.
The tool will automatically compare those two images or two descriptions to each other and then give you the results.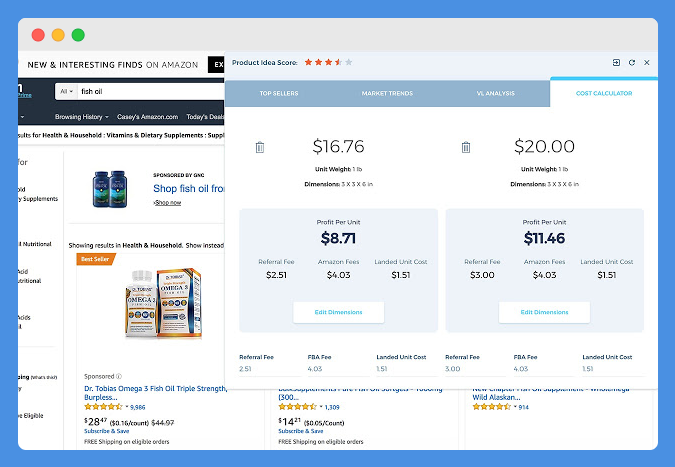 Viral Launch Kinetic PPC Review
Paid ads are great for driving more traffic to your listings. However, since you will be spending money on those ads, it is important to use a tool that will help you choose the right keywords and create the best listings for optimal results.
You will get detailed statistics about your campaign's performance to help you determine which ads are performing well and which are not.
You will also be able to set up rules to fine-tune your campaigns and so that you can earn money on autopilot.
You will be able to see how your product is performing across different ads, campaigns, and keywords, as well as how much of your money is coming in from paid ads and how much is coming in from organic ads.
This will help you decide whether it is worth it to continue paying for ads or whether you can rely on organic traffic and still retain the majority of your sales.
One of the unique features that come with the Kinetic PPC service is that you will get a one-on-one phone call with an Amazon PPC Kinetic specialist.
This is a one-time phone call for new customers, and the specialist will use that phone call to help you figure out your goals and come up with a strategy that will help you reach those goals, based on the type of product you are selling and the budget you have.
Check Out: Viral Launch Vs Egrow
Viral Launch Product Launch
Finally, the last service we will mention here is the Viral Launch Product Launch service, which is a done for you launch service for those who are going to sell a new product on Amazon.
This follows a standard launch model. In other words, Viral Launch will allow you to give away coupons so you can get a lot of initial sales for your product as soon as you release it on Amazon.
By getting a lot of sales quickly, even if they are at a discounted price, you will be able to collect reviews quickly. This will help you drive more sales later on as the reviews will positively influence your rankings.
According to Viral Launch, they will place your product in front of over 350,000 Amazon customers in their network.
The Launch is only available in select countries. It will cost a one time fee of $200 in the United States.
In the UK, Canada, and Germany, it will cost a one time fee of $100. In Spain, France, and Italy, it will cost a one time fee of $50.
Support for India, Japan, and Mexico is in the works.
You can schedule your launch in advance and run promotions for up to half a month. You can give away one-time coupons and even schedule for the number of units per day to be on sale to change.
Viral Launch Pricing
What is the Viral Launch cost? In this section, we will go over the available plans and see if there is a Viral Launch free trial or a Viral Launch coupon code that you can use.
There is a Viral Launch trial that you can sign up for here. This trial will give you access to the Launchpad so you can try Viral Launch out before you pay for a regular subscription.
The 5 plans are as follows:
MI Extension – $25/month
Beginner – $59/month
Pro – $99/month
Brand Builder – $149/month
Kinetic – $199/month
The Viral Launch trial does not require a credit card to get started. It lasts for a full 14 days, after which you will have to sign up for a premium plan to continue using the software.
Remember that prices can change at any time, and although these prices reflect the current cost as of this writing, it is best to check the pricing page for updated information.
If you sign up for a yearly plan, you will get two months free per year.
Also Read: AmazeOwl Vs Viral Launch
Viral Launch Coupon Code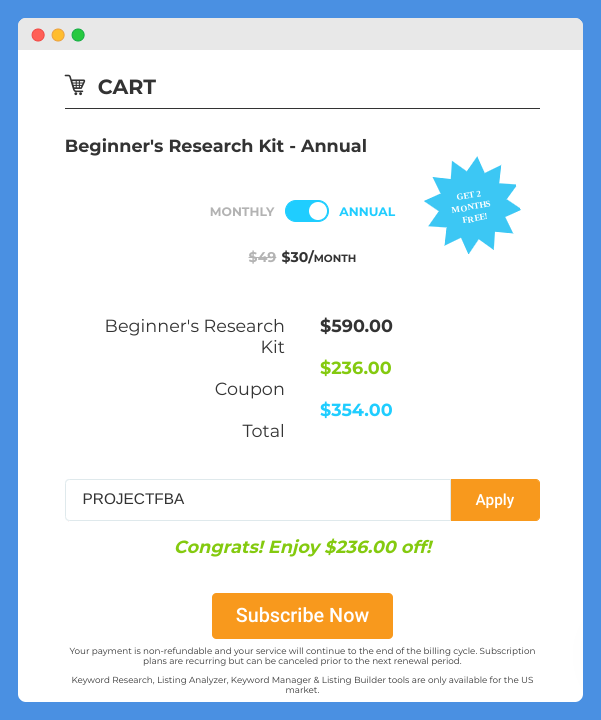 Use The Coupon Code PROJECTFBA from the guys at ProjectFBA.com to get 20 percent off your monthly membership and a whopping 40 percent off your yearly membership.
Considering that yearly memberships are already discounted, you will get a lot of savings by using it for your yearly membership.
For example, you will get an additional $236 off by using the coupon, besides the $108 off that you get from choosing the yearly plan, for a total of $344 in savings.
Explore: Viral Launch Vs Jump Send
Wrapping It Up — Is Viral Launch Legit?
Yes, Viral Launch is legit, and it is a great tool to use for upping your Amazon game and getting more sales.
You can get started today by signing up for a free trial on their website.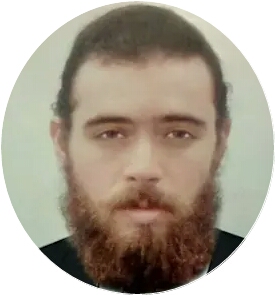 Author: Benjamin Levin
Benjamin Levin is a digital marketing professional with 4+ years of experience with inbound and outbound marketing. He helps small businesses reach their content creation, social media marketing, email marketing, and paid advertising goals. His hobbies include reading and traveling.