Lately, selling on Amazon is much harder due to the increasing competition among sellers.
Successful Amazon sellers turn to third-party tools in order to stay ahead of the competition.
While you can still use your Amazon sellers account to access the basic selling features, you also need to incorporate a third-party extension in order to access detailed analysis and invaluable insights on the market.
Part of the process of launching a product on Amazon is your promotion campaign.
Although the prospects of promoting your products seem like an exciting idea, it requires time and effort-something that most sellers on Amazon don't have.
Your target market might be unaware of the existence of your product if you don't have the right marketing campaign.
You will need to:
Do research on the best keywords.
Scout your competition
Generate positive reviews for your product
Ensure that you run a promotion campaign for your product on the right channels
It is obvious that you cannot do all these activities on your own.
The good news is that you can use various tools to increase your market reach without necessarily spreading yourself too thin.
Tools such as Zonblast and Viral Launch can help you launch a product successfully on Amazon.
By using such tools, you focus less on creating new leads for your business and concentrate on increasing your sales margins.
In this review, you will have a better understanding of how Viral Launch vs Zonblast work.
The analysis will include things such as researching the best keywords for the best launch strategies for your product.
Simply put, we are letting you in on a secret! The secret of how to scale the Amazon empire and become a successful seller with the help of product research tools such as these.
So let's begin with our Viral Launch vs Zonblast review.
Also Read: Best Amazon Product Finder & Research Tools

Zonblast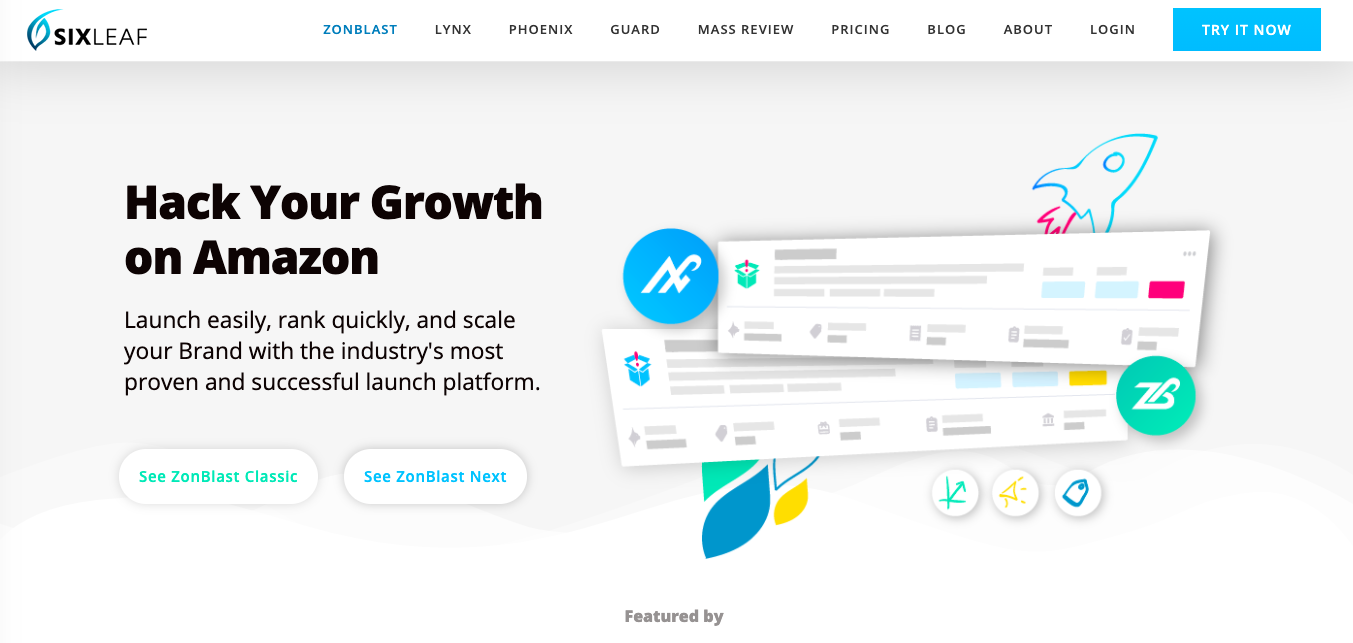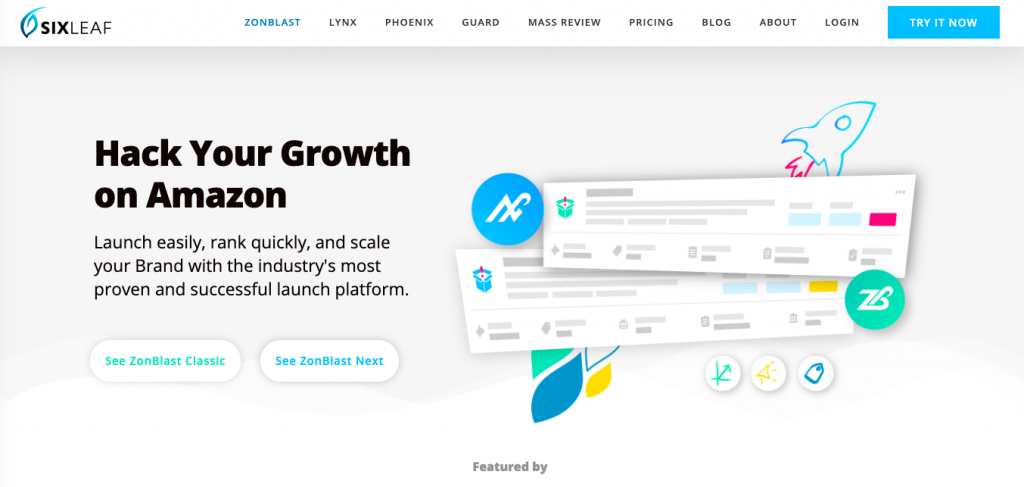 We will now do a detailed Zonblast review.
Before getting into the features of Zonblast, you need to know what this tool is all about.
This product research tool was launched in 2014 and was rebranded to Sixleaf in 2016.
Ideally, Zon blast is an optimization platform that helps Amazon sellers launch their products successfully.
The design strategy of Zonblast is not just to get the product in the marketplace but to also help Amazon sellers develop selling strategies that can transform their brands into household names.
Originally, the idea of Zonblast was meant to fulfill a personal need.
Several Amazon investors were trying to brainstorm ways of scaling their brands on Amazon.
After coming up with different theories, carrying out several tests, and reinforcing research with case studies, the investors tried to implement what they had come up with, with other sellers.
What we know as Zonblast is a product of these efforts.
Today, Zonblast has become an invaluable tool for sellers to navigate the e-commerce landscape.
Each feature on Zonblast is meant to offer a solution to common challenges that Amazon sellers face.
The ultimate goal of this tool is to create an automated launch process for sellers as well as increase their brand exposure.
Effective use of Zonblast can see you become a top seller on Amazon in no time!
Since the tool was created for sellers, each feature on Zonblast addresses a specific issue.
The developers of Zonblast were fully aware of some of the challenges that Amazon sellers face and they created a platform with solutions to some of these problems.
Zonblast Features
Here are some of the basic features of Zonblast.
Zonblast Keyword Tool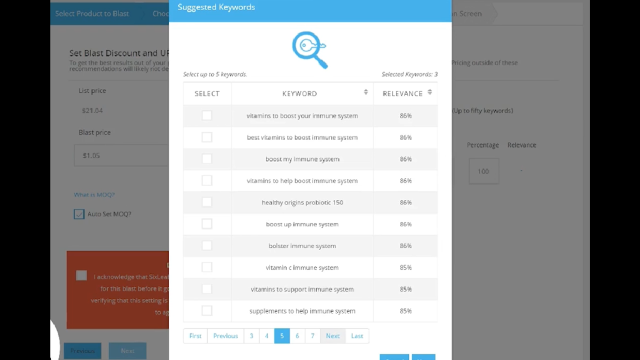 Regardless of which platform you are using for your business, you need to be able to search the right keywords.
This is the only way you can run a successful sales campaign.
Amazon, just like Google, uses the A9 algorithm when ranking the product listing based on the relevance of the keyword search.
To achieve a higher ranking on Amazon, using the right keywords that have the highest search volume is vital.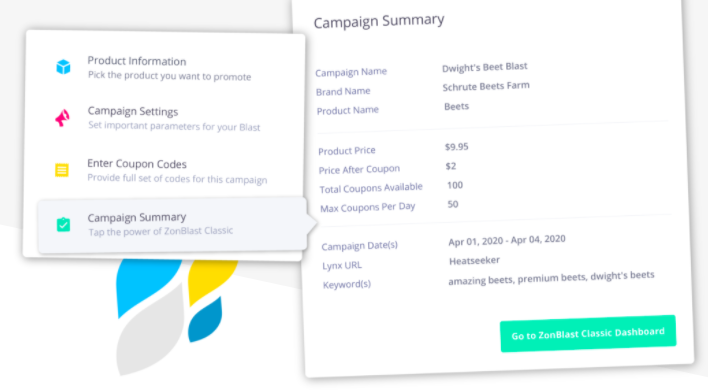 This is where Zonblast comes in. This tool helps you identify the best Zon keywords for your product by suggesting relevant keyword ideas.
From this function, the user has access to thousands of possible keywords for your product listing.
From the search, you are able to know the search terms that are most relevant to your target market.
Worth Exploring: Best Amazon Listing Software For Sellers
Zonblast Keyword Cluster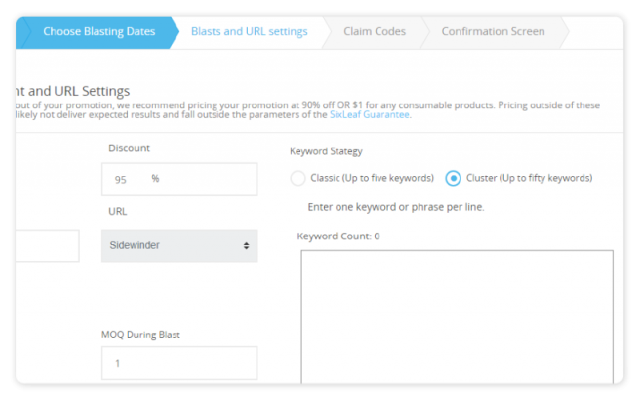 Keyword optimization is not as easy as it sounds.
In terms of keywords optimization, you need to understand that long-tail keywords are supreme.
Despite the fact that long-tail keywords tend to have less search volume compared to shorter keywords, they have an impressive conversion rate considering that the nature of their terms is very specific.
The idea behind achieving a high ranking on your search phrase is to generate more sales.
By using the keyword cluster feature on Zonblast, you can conveniently research the relevant long-tail keywords that are relevant to your product.
This feature not only gives you access to over 50 long-tail keyword suggestions but also suggests possible keywords that competing businesses might have overlooked.
Blasts on Zonblast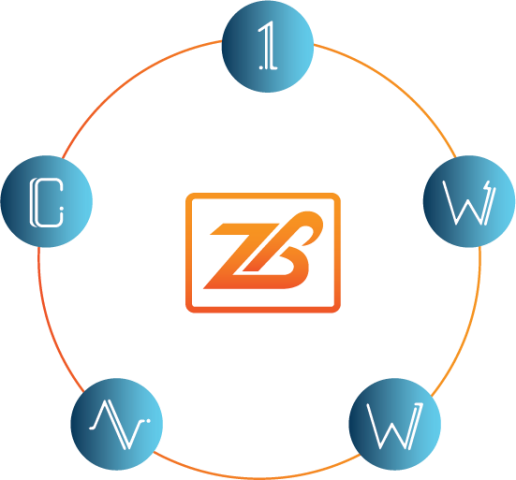 A blast is the primary item of promotion of Zonblast as a product research tool.
The blast features are unique tools in product promotion.
What is to blast? In relation to Zonblast, 'blasting' simply means putting your product out there to thousands of potential customers.
There are 5 blasts on Zonblast namely:
Solo blast: This feature gives your product listing a single boost. The solo blast is the perfect tool for Amazon sellers who have a huge product inventory but want to establish how well Zonblast will work for the rest of their product niches.
Wave4: The Wave4 feature blasts your product listing for 4 days consecutively. This selling strategy is perfect for sellers looking for a more realistic long-term approach to selling on Amazon.
Wave7: The Wave7 blasts your product listing for seven consecutive days. It is ideal for both old and new listings looking to gain traction. If you are a seller looking to dominate a highly-competitive niche, this feature is perfect for you.
Pulse: This feature tells the Amazon algorithm what is crucial for your product to appear in the top product listings. All you need to do is set the parameters and the system will work for you.
Custom: The custom feature enables you to customize your blasts based on a set of parameters. This feature will, therefore, enable you to customize your search listings and manage your business in the best way you see fit.
Interesting Read: Ways To Find Amazon Product Niches With Low Competition
Zonblast Variable Code Distribution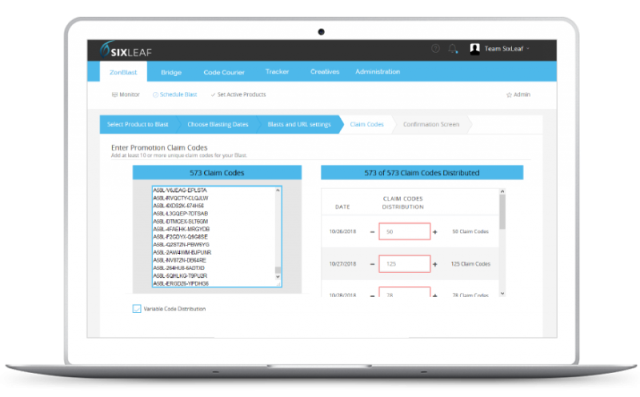 The variable code distribution feature on Zonblast helps you to distribute codes during a one-day multi-product promotion campaign.
For example, you can use coupon codes to prospective buyers as a strategy of generating more sales for your product on Amazon.
To maximize sales volume, you can distribute the coupon codes on Zonblast in a staggered manner.
You don't have to stick to certain days when making the decision on how best to distribute your coupon codes.
Using the Pulse and Wave7 features will give you organic results of your product's listing performance.
For instance, amp your codes on specific peak days and tone them down when product interest is minimal.
Zonblast Pros & Cons
Pros
An important fact about Zonblast is that it comes with the backing of SixLeaf.
SixLeaf happens to be an amazing platform for launching new products.
Apart from Zonblast, the entire suite of SixLeaf gives you access to many other tools for business growth.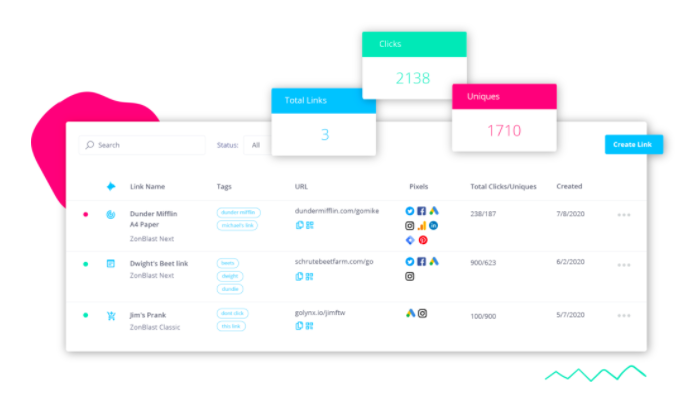 Zonblast's features are tried and tested, meaning that they can deliver the expected results as long as the user understands how to combine different features to achieve maximum results.
Since its launch in 2014, the developers of Zonblast have managed to consistently update the platform's algorithm to align with the changes on Amazon.
Apart from the basic features, there are no limitations on Zonblast with regard to the number of products you can put up for promotion.
The platform also has an excellent customer support team that is responsive to all your issues in real-time.
The platform also has an excellent customer support team that is responsive to all your issues in real-time.
Explore: Best Amazon FBA Seller Training Courses
Cons
The downside of Zonblast as a product research tool is that it is very pricey compared to other tools in the market.
Zonblast is also ideal for sellers with a lot of inventory.
This means that you will be required to practically give some products away in order to increase your sales margins.
You will have to sell some of your products at highly discounted prices for your business to gain traction on Amazon.
Zonblast web app also happens to be very unstable.
There are times when the tool can be very laggy or encounter occasional bugs that affect functionality.
Zonblast Pricing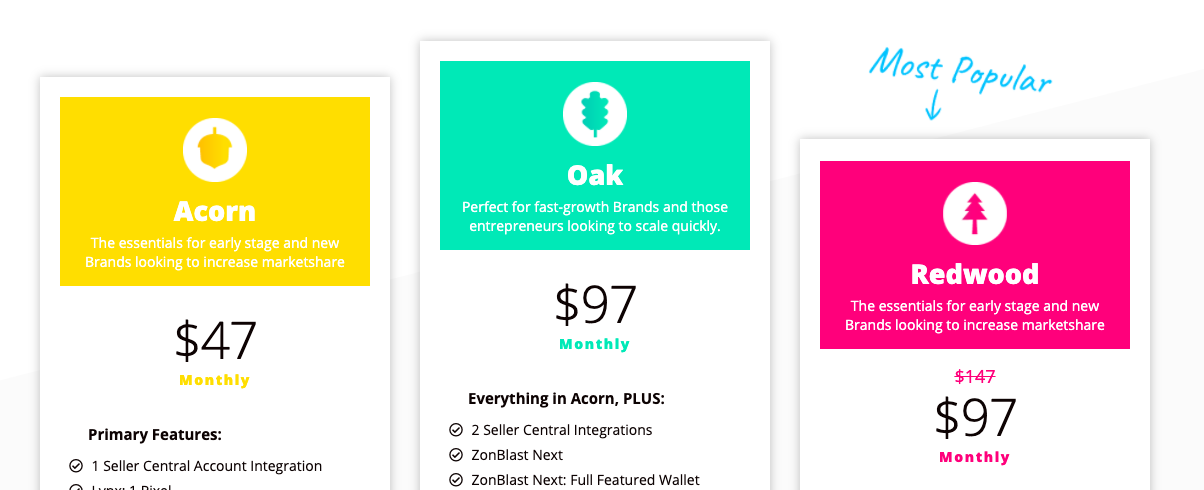 Sixleaf pricing plans include three plans, namely Acorn, Oak and Redwood. These are priced at $47, $97 & $97/month respectively.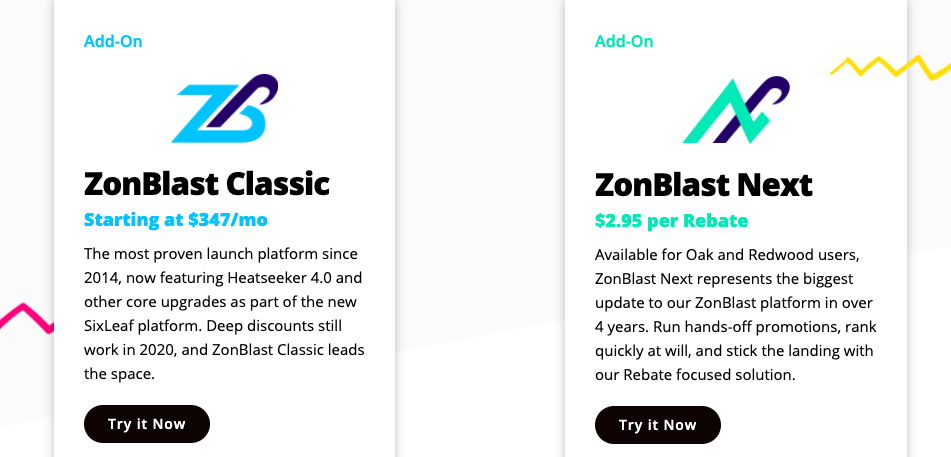 Zonblast is available as add-on with these plans. There are two versions, Zonblast Classic & Zonblast Next.
Viral Launch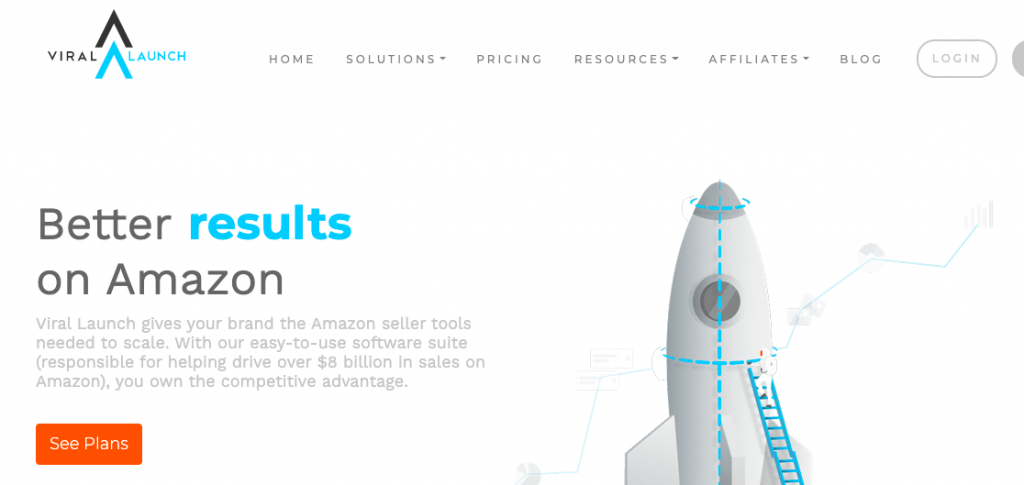 Viral Launch is another amazing product research tool used by Amazon sellers. Viral Launch comes with a number of features that enable you to make the right business decisions thereby improving sales.
When using Viral Launch, there are features for sales data, keyword research, competitor analysis, and many more. The tool's user interface is very interactive and easy to use.
Viral Launch Features
We will now discuss Viral Launch features in detail.
Viral Launch Top Sellers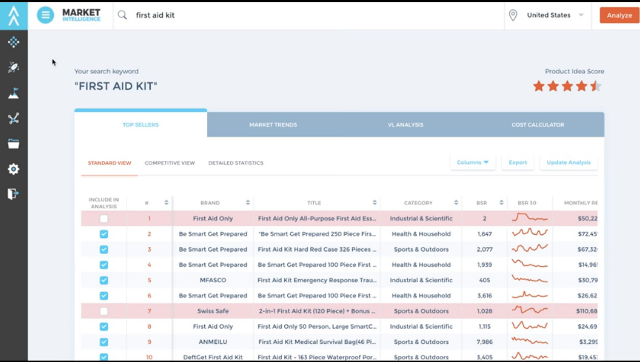 What you encounter on the first tab of Viral Launch's extension is the top sellers' tab.
This feature provides detailed statistics of the top sellers.
There is even an option where you select the columns you want to view.
For Amazon sellers, Viral Launch can provide quick sales estimates when browsing the Amazon website.
An amazing fact about the Viral Launch's chrome extension is that you can easily customize everything so that only the information that is most relevant to you is displayed.
You also have the option of personalizing the top sellers' tab so that it appears different from the rest of the default settings.
For example, you can add some columns for product images, fulfillment methods, and review quantities.
A major point of concern for some Amazon sellers when using Viral Launch is how accurate the sales estimates are.
Although the figures are considered to be quite accurate, there are times when the tool can overestimate the sales forecast of certain products by up to 10 percent.
When using Viral Launch, accuracy increases as sales volume increases.
Also Read: Viral Launch Review
Viral Launch Market Trends
The other key tab on Viral Launch looks at the market trends.
With a click of a button, you can see the sales trends of the top sellers on Amazon as well as the top-selling products.
The market trends tab is an invaluable tool as it gives you access to information regarding what products your competitors are selling to increase their sales volume.
By simply using Viral Launch, you are able to determine the sales trend of a certain product.
Using this tool, you can also establish the salinity of a product during different times of its lifecycle.
It becomes easy to tell if a product is seasonal or not.
Interesting Comparison: Helium 10 Vs Viral Launch
Viral Launch Analysis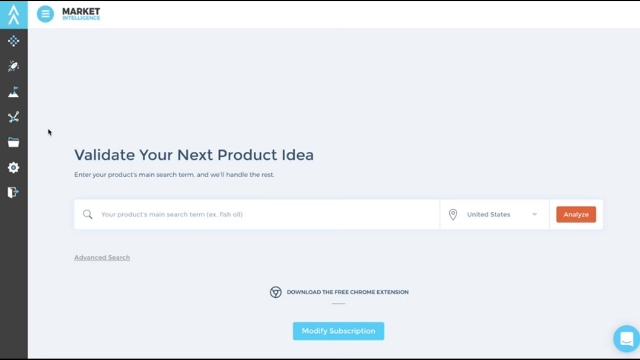 The analysis tab is backed by an algorithm that does an analysis of your product idea and tells how effective the idea is.
For experienced sellers, using the product analysis tab on Viral Launch enables you to do a comparison between the ideas generated by the tool and your own.
This tool is extremely valuable to sellers who are relatively new on the Amazon platform and have little idea of what to sell.
Ideally, this tab gives you a verdict in relation to your product idea.
The analysis shows you the estimates of your monthly sales.
You can also use the tool to check how many reviews your product should have for it to sell.
This feature will also give you warnings in the event there are any issues with sales.
For instance, if you have a relatively new product in the market, the analysis tab on Viral Launch will give you a warning if the product has many reviews that can affect your sales negatively.
Having such information prior to the product launch, you can develop a counter-strategy to address potential problems.
Check Out: Viral Launch Vs Jungle Scout
Viral Launch Cost Calculator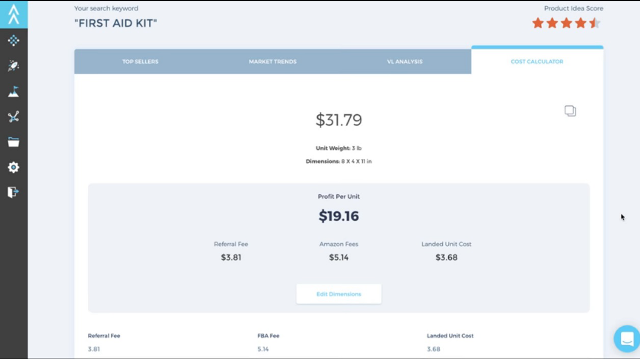 The other major tab on Viral Launch is the cost calculator.
For this tab, you simply enter the purchase cost and the selling price of your product.
Viral Launch calculates the FBA fees and estimates your sales margins of each product.
Viral Launch Product Discovery
The product discovery feature on Viral Launch offers invaluable help in relation to product research.
By using this feature, you can easily do a search on the untapped markets within your niche by applying several filters.
Using the filters, you are able to do a search on the products that match your search criteria and requirements.
Searching for items on the product discovery feature of Viral Launch can be based on keywords, brands, categories, ratings, unit sales, monthly revenues, and many more.
The search is meant to display only the products that meet your selection criteria.
From the search, you can apply market intelligence tools that not only display products that are most profitable but also suppliers who are inexpensive in terms of product sourcing.
This feature has a tracker that helps you evaluate how effective certain keywords are as well as the performance of specific product categories.
Based on current and historical data on Amazon, this feature displays the top markets, product niches, and categories.
Using the product discovery tool of Viral Launch is easy.
All you need to do is to enter the relevant constraints such as sales, price, ratings and many other parameters that you need your product to meet.
From your input, you can personalize the results based on relevant products that satisfy your requirements.
By using advanced filters, you can narrow down your search to get even more accurate results.
By using this feature, it means that you will be spending less time on product research since you have access to all the tools that enable you to conduct a comprehensive search.
From your results, you can select the most inexpensive supplier in order to increase your profit margins, since you have access to all the top suppliers and a range of other tools that enable you to make informed business decisions.
Even better is the fact that the FBA calculator on this feature provides you with an estimate of your upfront profits, total revenue, costs, and many more.
There is also a feature under product discovery called Idea Score that filters your selling ideas on the basis of potential.
Apart from gaining access to vital Amazon trends, this feature also provides selling alerts, warnings, and expert tips for different markets.
There are different ways of conducting product research using Viral Launch.
For instance, pinning your most promising ideas provides a clear picture of your product performance over a period of time.
Once you are satisfied with the possible product performance in the market, it is time to invest and successfully sell the product.
This ensures that you only sell products with a proven track record in order to minimize risks.
Also Read: AMZScout Vs Viral Launch
Viral Launch Market Intelligence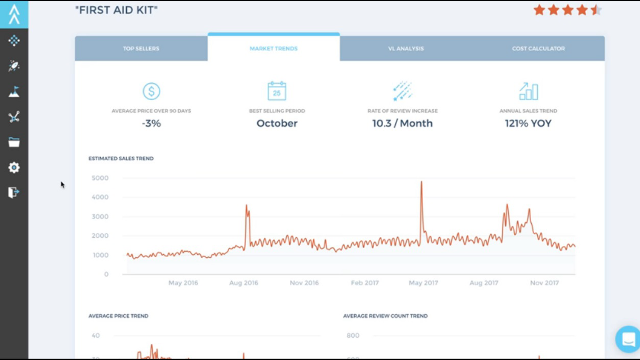 Apart from the product discovery feature, the market intelligence tool is another important tool that complements the former.
Once you establish the product that meets your requirements or criteria, using the market intelligence tool will give you access to the market information where that specific product belongs.
This process validates your idea regarding the product as well as helping you discover new opportunities in the market.
Basically, what the market intelligence tool does is to give you an overview of the market including things such as sales margins, average ratings, reviews, and many more.
Having such information enables you to predict the performance of your product in the market.
Viral Launch works in the following marketplaces; UK, USA, Canada, Japan, Mexico, and the European marketplaces.
Viral Launch Keyword Research
Keyword research happens to be a very vital tool for product research.
The keyword research tool in Viral Launch helps you track keyword trends that directly reflect your odds of success in the market.
You can also use keyword research to show the sales estimates of products that are within your selected criteria.
This means that the keyword research tool is not only about showing the keywords that are trending but also related categories that show signs of potential.
For instance, if you have a keyword on first aid kits, then you might get a suggestion from this tool suggesting the phrase 'first aid kits for cars'.
By narrowing down the search, you are able to view markets that have high revenue potential and low competition.
The keyword research tool is vital considering that high-ranking keywords are characterized by intense competition.
Apart from finding top keywords, it also helps to find related market niches for a particular product.
Check Out: Viral Launch Vs AmazeOwl
Viral Launch Pricing
Viral Launch has the following subscription options: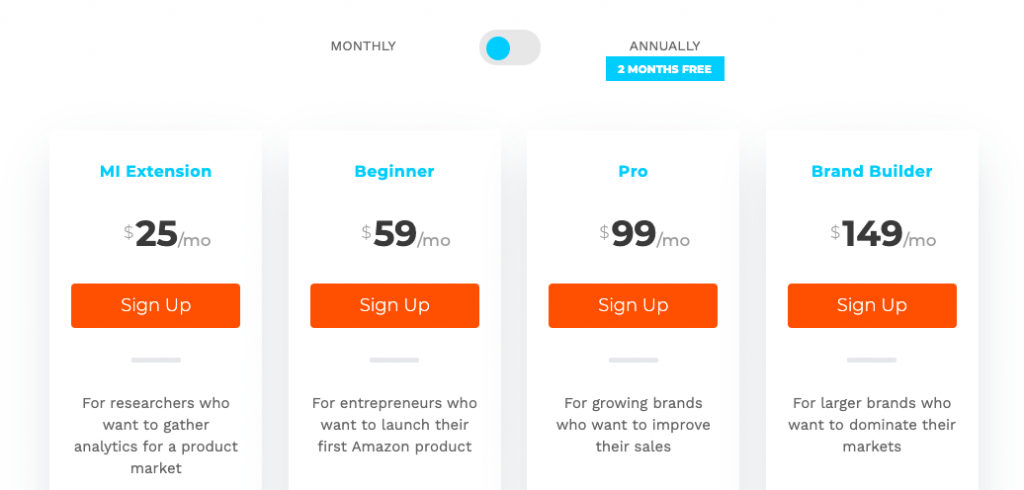 MI Extension – $25 a month
Beginner – $59 a month
Pro – $99 a month
Brand Builder – $149 a month
Kinetic – $199 a month
There is also a free trial version that gives you access to just a few features of the tool.
Zonblast Vs Viral Launch: Which One Is Better?
When trying to choose between Zonblast and Viral Launch, everything comes down to your specific product research needs.
Viral Launch has different options to choose from when it comes to subscription charges.
This means that even smaller brands can access product research features on Viral Launch by purchasing the Beginner's kit.
Zonblast is specifically designed for sellers with plenty of inventory.
Even with the backing of the SixLeaf Suite, access to different tools that can help your brand grow is not enough if the cost of access to these tools is pricey.
It is worth noting that Zonblast does not have any unique features that are not present on Viral Launch.
The only thing that sets Zonblast apart as a better product research tool on Amazon is that there is no limitation with regards to the number of products you can put up for promotion.
Viral Launch is user-friendly and offers sellers different options to choose from.
Zonblast is more of a tool for veteran sellers on Amazon. From this comparison analysis, Viral Launch wins it.
Sam loves to write on technology & related stuff. Ecommerce, mobile and internet marketing equally drive her interest. Likes gardening and experimenting with new recipes. An avid reader and absolutely mad @bout donuts 🙂