Editor's note: Are you struggling to make sales? Not able to figure out what's causing the downward trend? Then read this wonderful post by Martin. He shares 12 valuable tips on where to start and how to fix. And just in case, you want to get the ball rolling without wasting anymore time, hire a good company like EbizON that offers the best Magento ecommerce website development services. They will put you on track, slowly but surely.
So how do you hit your revenue goes this year? What about after the holidays?
In this post we present you 12 great ways that you can use to maximize the revenue that you generate during and after the holiday season:
1. Christmas & Seasonal Theme
Holiday decoration get people in the mood to start spending money. The moment they see it they start thinking about all the gifts they want to buy to family and friends.
Make sure to redesign your ecommerce theme in a way to let people know it's the holiday season now and Christmas and New Year's Eve are near.
Use colors such as white, red and gold to achieve this. Redesign your homepage banner to include holiday offers on your homepage.
Related :  Best StudioPress Themes For Ecommerce
2. Offer Exceptional Phone & Chat Support
At this time of the people need big help with their shopping. They certainly have questions and they would want to ask you before buying.
If you fail to respond on time, they might simply switch to another ecommerce store. People are in a rush so they won't wait much.
Be sure that you have enough people to answer the phone within seconds of ringing as well via chat and on social media.
Related : Best Tools For Your Ecommerce Business
3. Make Your Website Mobile Friendly
Last season around 30% of all online purchases were made from mobile. So if you want to maximize your profit from this channel you need to make your ecommerce site mobile friendly.
To do that you need to:
Design for the mobile screens (resolutions vary between 320 px to 400 px across; Tablets are 480 px to 800 px across when held like a book, and 1280 px across when held like a television)
Create separate mobile site (this means serving different HTML file as well)
Replace images with CSS3 files (they load faster)
Split content among multiple pages
Related : Going Mobile – Mobile Website Vs Mobile App
4. Upsell & Cross-sell
Upselling and cross-selling are great strategies to increase your revenue all year long but they are even more effective during the holiday season.
This is when people naturally loosen up and they are easily willing and convinced to spend more money.
Can you sell a better model to your customers? What about another item that's relevant to whatever they're currently buying?
Be sure to always upsell a product that costs 60% or less than the original to maximize the sales you can get. Otherwise, you might annoy people and they might decide to cancel their orders.
Related : Best Magento 2 Extensions To Run Upsell Offers That Convert
5. Use Scarcity
When there are limited amount of products available you need to act fast if you want to get one. Especially during the holiday season when the customers know everyone else is shopping.
This forces them to act now instead of delaying their decision.
To use it properly simply display the number of how many items are left on your product page.
Keep in mind that this needs to be a low number in order for the scarcity to work. Otherwise, this won't force people to take action.
Related : How To Optimize Your Product Pages For Higher Conversions
6. Send Behavior Targeting Emails
Email is a one of the best channels you can use to convert and close more sales.
Of course, don't send the same promotional emails to everybody as they won't convert as well.
You need to understand your audience and send them personalized offers based on their interests and behavior online.
You can use GetResponse's autoresponder to create and send automated massages based on open, clicks, complete transactions, contact signups, etc.
Related : Ecommerce Emails Your Customers Will Love
7. Deal With Shopping Cart Abandonment
If you don't have a strategy for dealing with shopping cart abandonment, you would be losing the majority of your revenue during the holiday season.
According to Baymard Institute 67.44% of shopping carts are being abandoned online.
To reduce this number for your ecommerce site we suggest you add a followup sequence of emails to remind your potential customers to come back and finish their order.
We suggest you read the mega guide to reducing shopping cart abandonment by VWO.
Related : Tips To Improve Magento Checkout Process 
8. Promote Products On Social Media
According to a recent MarketLive survey social media will account for half of holiday shoppers this season. So if you're ignoring this channel, you are missing out on huge opportunities to maximize your revenue this year.
Make sure you share your most popular products with your audience on social media, schedule paid ads and make flash deals.
Having special daily deals will trigger scarcity and urgency into audience and they will be forced to ask if they want to get the special offer.
Related : How To Create Content Strategy For Different Social Media Platforms
9. Optimize For Speed
Half of the web users are willing to wait no more than 2 seconds for a website to load before to leave it.
People are even less patient during the holidays so if you fail to make your website fast to load you'd lose a lot of customers.
According to Amazon a second of delay can decrease your conversion rates with 7%.
To avoid that be sure to:
Optimize your images for your site for speed
Use PageSpeed Insights to find issues with your site and fix them
Use CDN for faster delivery
Limit and avoid redirects
Minimize CSS and JavaScript
Related : Best CDN Providers To Speed-up a Website
10. Personalize The Content
Do you know that 74% of shoppers are frustrated because the content they see on websites has nothing to do with their interests?
That's simply because these sites never understood the power of content personalization and how to do it right for their visitors.
Your best option is to use Commerce Sciences. It is one of the most sophisticated tools out there when it comes to content personalization and it is especially created for ecommerce businesses.
You can segment and target your customers based on their location, browsing history, traffic sources, keywords used, etc.
You can target these visitors with personalized on-site messages, offers, announcements, email captures, etc.
Related : Guide To Content Personalization For Ecommerce
11. Offer Free Shipping
Charging for shipping is the top reason why people abandon shopping carts. This causes friction which makes them think again if they really want the product or not.
Instead, studies shows that when you offer free shipping people are actually ready to buy more stuff. 60% are ready to add more stuff to cart to qualify for it.
80% of the people are even willing to wait more than 2 days if the shipping is free. Which makes it for the next point.
Useful Post : Guide To Ecommerce Content Marketing
12. Provide Premium Shipping Options
During the holidays (and not only) a lot of people want to get their hands on their orders as soon as possible.
Of course, sometimes it will costs you a lot to make a same day or next day delivery so you can't really offer that for free to customers. But you can charge for it.
Give the option for a standard free shipping but also provide your customers with a premium shipping for same or next day delivery.
That way those that want can get their hands on their products asap and others that don't want to pay can wait a few days.
Useful Post : Ecommerce Traffic Woes? Resort To These Techniques
In Conclusion
Don't give up on your marketing with the end of the holiday season.
In fact, this is the moment when everybody else will become quite and it will be amazing opportunity for you to shine out with some amazing deals and offers.
Use the tips from this post and you will see the difference.
How do you plan on increasing your ecommerce sales during and after the holiday season? Let us know in the comments below.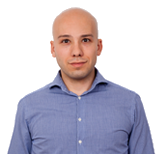 Author: Martin Zhel
Martin Zhel is an inbound marketing expert and Founder of Orior Creative. He specializes in SEO, content marketing & conversion rate optimization.