Editor's note: One way to boost your store revenue is to increase your customers' average order value (AOV). In other words, upselling and cross-selling products. There are several Magento 2 extensions you can use to achieve that. Read this article to explore the best ones to consider. While most of these extensions are easy to install and use, I suggest roping in a company like EbizON that offers quality Magento 2 extension development services. it might be easy to find Magento companies in the market today, but not the ones that are known for exceptional Magento 2 development services.
Each time a customer shows an interest to buy a product, you want to maximize it in any way possible. Increasing a customer's average order value (AOV) can help you maximize your sales.
But, how can you drive more purchases to your Magento 2 powered online store?
Lucky for you, Magento 2 has default features which enable online store owners in maximizing their AOVs right in their Admin Panel. The features use traditional yet highly effective marketing techniques: upselling and cross-selling.
These marketing disciplines have been found out to increase transactional value and grow a store's revenue by 70%.
If you want to sell more and do it faster now, here's how you can set up these Magento 2 features for free:
Related : What Makes Magento The Best Ecommerce Platform
Magento 2 Built-in Upsell & Cross-Sell Features
Magento 2 stores can easily configure upselling and cross-selling for each of their products. You have three available selections:
Related Products
Display complementary products which can be purchased in addition to the item the customer is currently viewing.
Available Placement Options: a) bottom of the product page, b) right sidebar of the product page
Upsell Products
Display similar products that are more superior either in price, feature, quality or version while the customer is viewing a product.
Available Placement Option: a) bottom of product page
Cross-Sell Products
Magento 2 Built-in Feature Limitations
While Magento 2's default upsell, cross-sell and related products feature are convenient enough for you to set up, the features are basic and the placement options are limited.
It is true that you can easily add recommended items for each of you products, but what if your store has multitudes of products? Sounds time-consuming, right? Plus, how can you be sure that you have the right products to upsell or cross-sell?
However, the good thing is: Magento 2 is flexible enough so you can add extensions to address this gap. Here's how you can get the best of 3rd party extensions:
Best Magento 2 Upsell Extensions
Consumer preference and behavior are both changing at a rapid pace and Magento understands this challenge in the eCommerce industry.
This is why Magento 2 Extensions have been introduced to help online store owners adapt and keep up to this rapid market change.
With Magento upsell cross sell extensions help, you can further elevate your upselling and cross-selling techniques by letting you:
Identify more placements to display your upsell and cross-sell offers. How about an interactive popup? On your homepage?
Learn more offers to upsell and cross-sell. Thinking about best-selling items? How about discounts?
Automatically configure related products. Tired of manually adding?
Use historical data to recommend products. Still guessing what products to add?
To achieve a unique shopper experience, we've handpicked a list of the best Magento 2 Extensions suitably designed for upselling and cross-selling:
Boost Sales has been uniquely outlined for eCommerce upselling and cross-selling purposes. The distinction of this extension from Magento 2's default features is it uses popup forms to encourage shoppers to increase their orders.
For instance, if a shopper adds an item to his cart, an interactive popup form will beautifully appear to get his attention on the offered upsell or cross-sell products. Here's how it looks like:
Explore : Best Abandoned Cart Email Plugins For Magento 2
If you are selling more than thousands of products, it will be pretty much challenging and time-consuming to manually add the related products for each of your items. To help you save time and energy, you can also enable the 'Smart Upsell' feature.
What it does is to track and understand the customer's browsing pattern and purchase history to help you automatically suggest the items without your manual intervention. Plus, you won't have to rely on your personal assumptions as the recommended items are backed up by historical data.
It also has the Sales Motivator feature which enables online store owners to upsell relevant products and at the same time driving them to purchase more and immediately by giving them an extra discount.
It is perhaps the best Magento 2 upsell extension.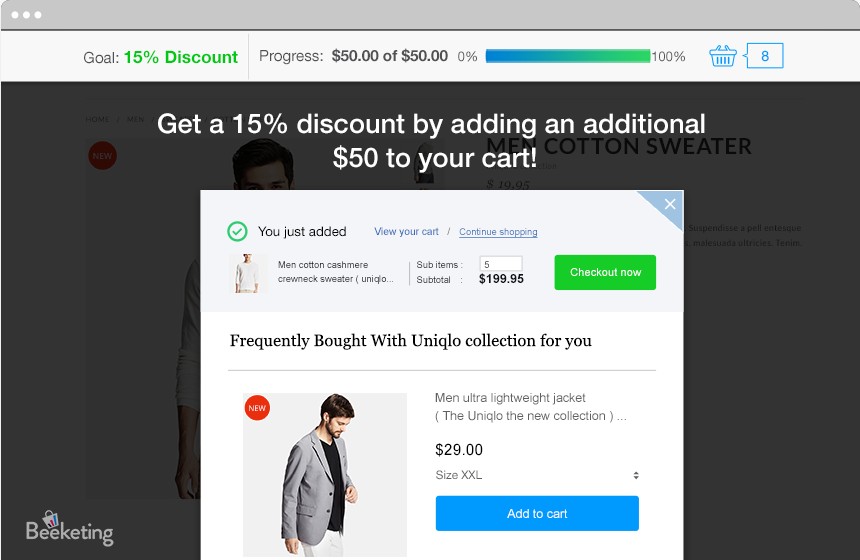 Another popular Magento upsell extension is Automatic Related Products.
The same idea applies to the Magento 2 auto related products extension by Amasty. It allows online store owners to display related, cross-selling, and upselling products based on an intelligent algorithm that captures consumer data and understands patterns in behavior.
Interesting Read : How To Optimize Product Pages To Boost Conversions
However, this time they are displayed via a gallery type widget below the product page or the cart page.
Display Relevant Products on the Product Page: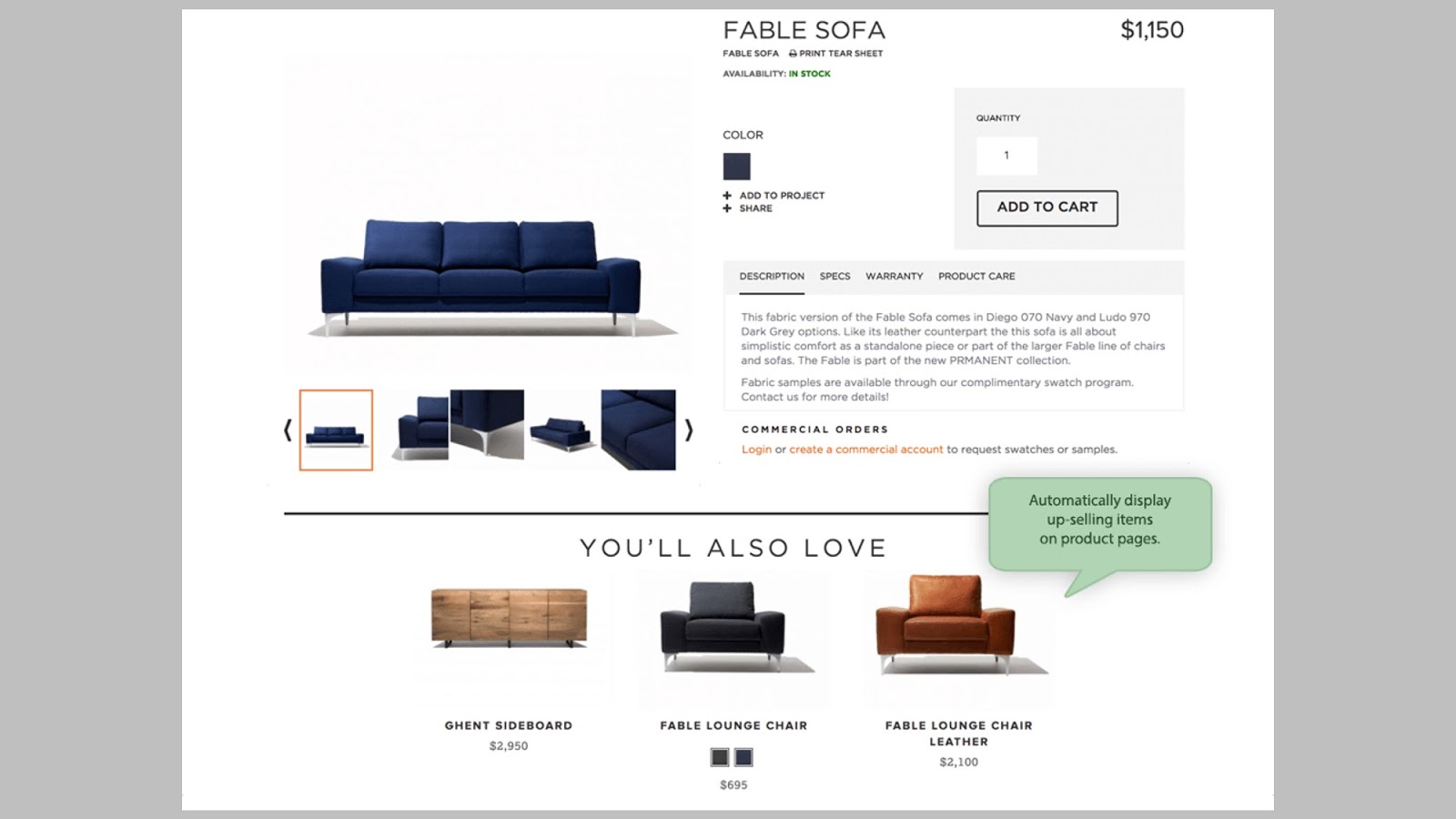 Display Relevant Products on the Cart Page: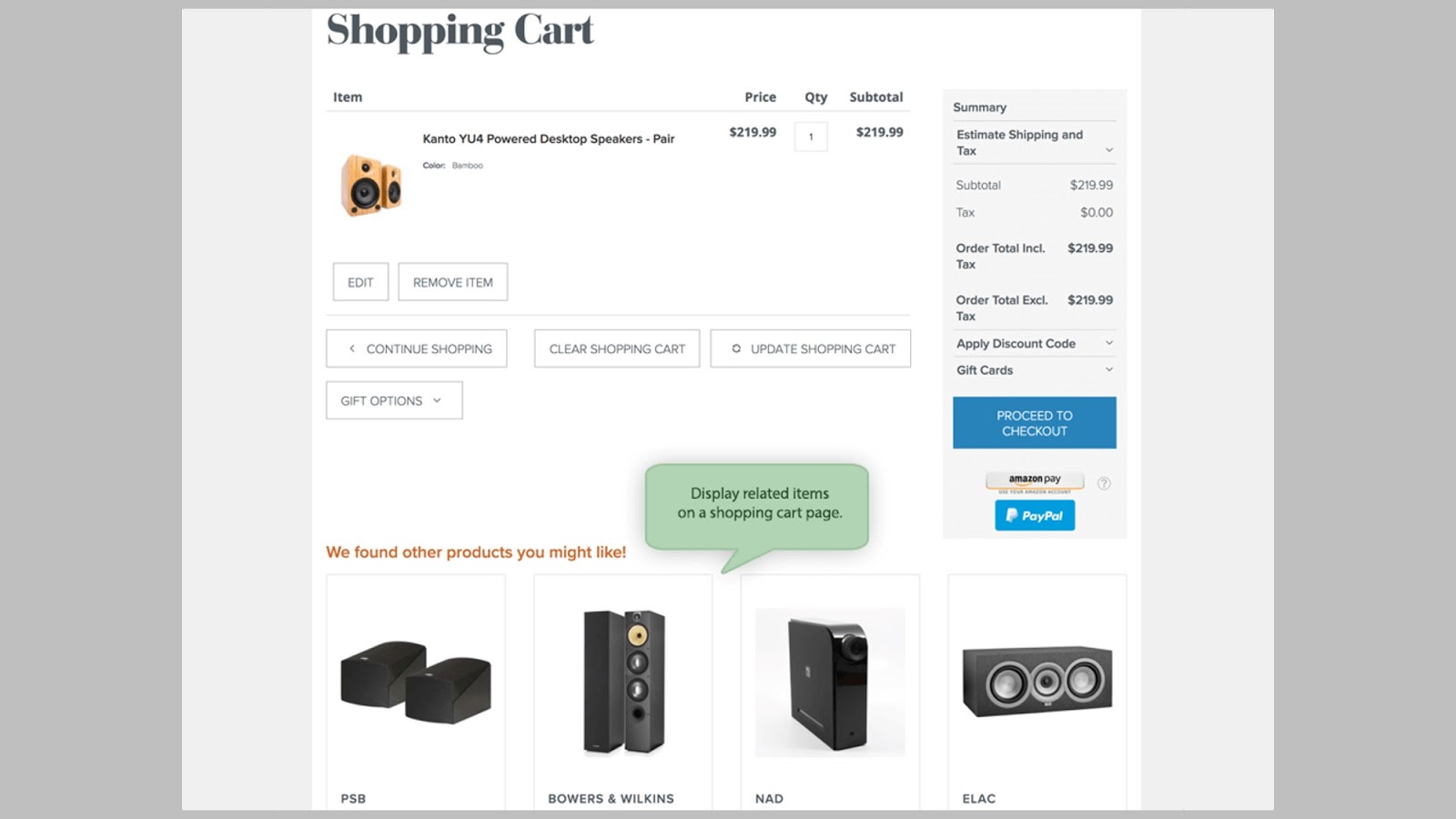 This Magento 2 Extension's smart algorithm automatically determines which items to show based on how frequent products are bought together or the number of views they received together.
This extension also allows you to conveniently exclude your out of stock items to prevent them from displaying in your suggested products giving more emphasis on items that your shoppers can immediately purchase.
Aheadworks' Automatic Related Products extension for Magento 2 almost works similarly with that of Amasty. Their difference, however, is how they arrived at their recommended products.
For Aheadworks, it uses rule-based conditions which can be set up by the online store owners to identify which products to suggest.
The good thing about this rule-based conditions is its flexibility. Online store owners can set multiple combinations of conditions to target different behaviors and principles.
It also has 'Rule Priority' feature that can be assigned to know which rule to prioritize and to avoid conflicts for opposing and inconsistent conditions to the same product.
This extension also uses pop-up upselling and cross-selling offers. What happens is whenever a shopper adds a product to his cart, he will be displayed by a pop-up upsell or cross-sell product.
You can set this using the 'Add to Cart Promotions' feature.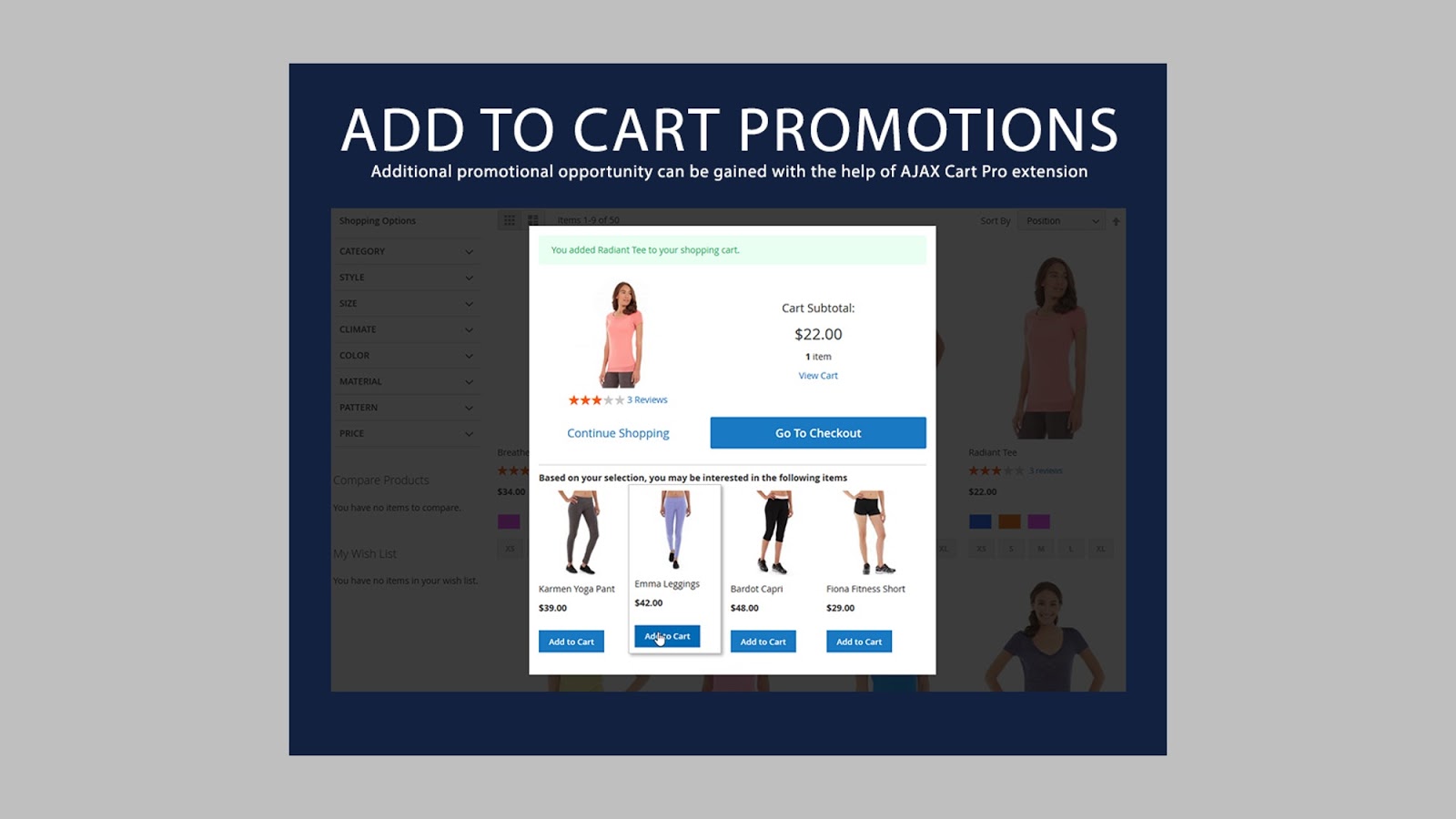 For upselling and cross-selling products to work more effectively, online store owners have adopted to recommending products that are personalized.
Personalized Recommendation uses data-driven analytics to offer the most relevant products that shoppers are more likely to purchase.
Related : Guide To Content Personalization For Ecommerce
The principle is to use your shoppers' behaviors and past purchases in order to suggest the most suitable items. There are many ways you can use Personalized Recommendation to your advantage.
For instance, if a shopper arrives at your store, the best thing to do is to simply show  your store's best-selling items right on your homepage. Why?
Because shoppers are still searching so this is the best time for them to get influenced by your store's most desired and popular products.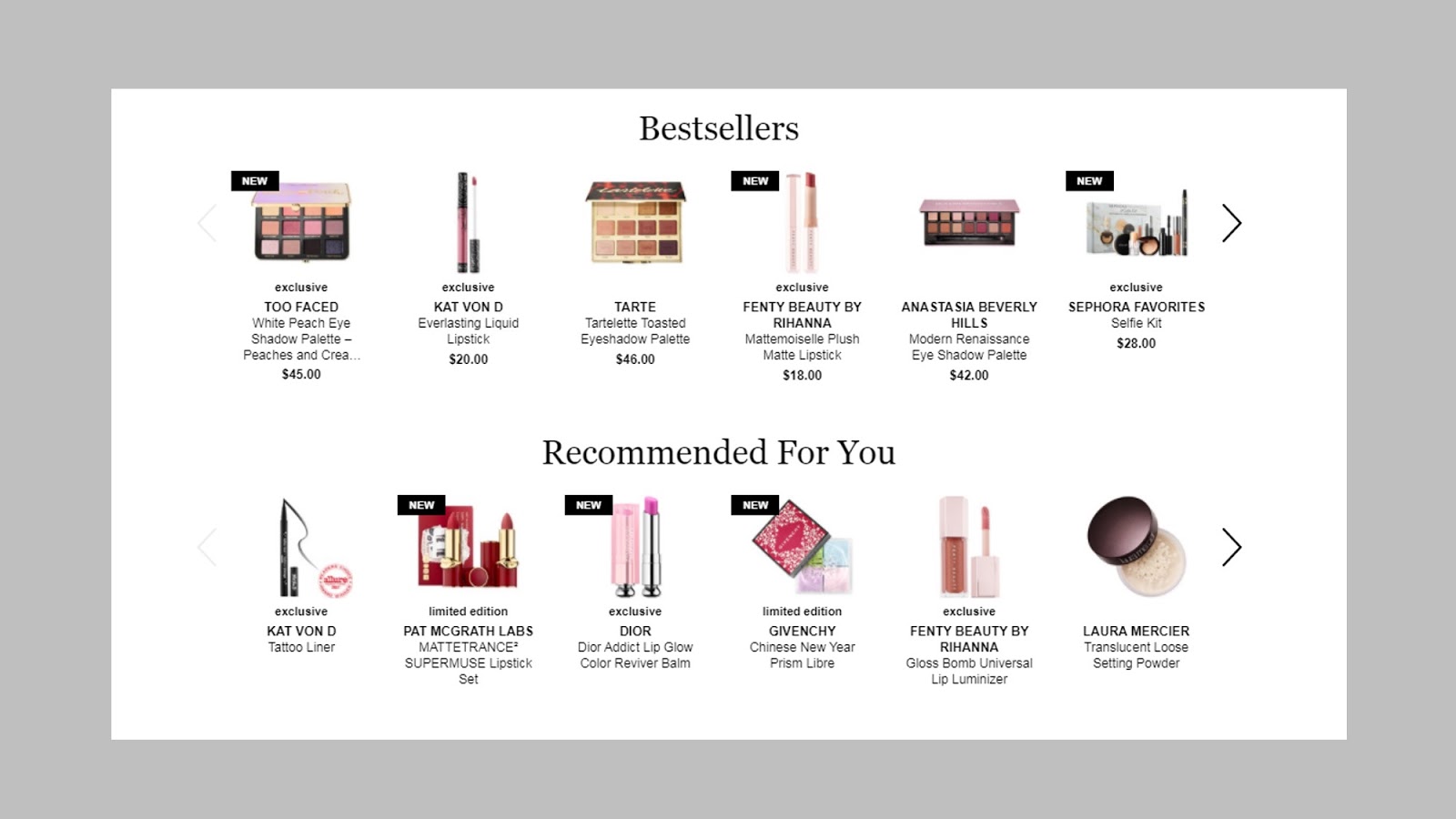 Sephora displays its best sellers right on the homepage together with a personalized recommendation based on the visitor's browsing and buying behavior.
Another interesting feature of this Magento 2 cross sell extension is the 'Quick View'. How it works is when a customer clicks a recommended item displayed below a product page, then a popup will automatically appear.
This popup contains more recommended items which the customer might be interested to buy.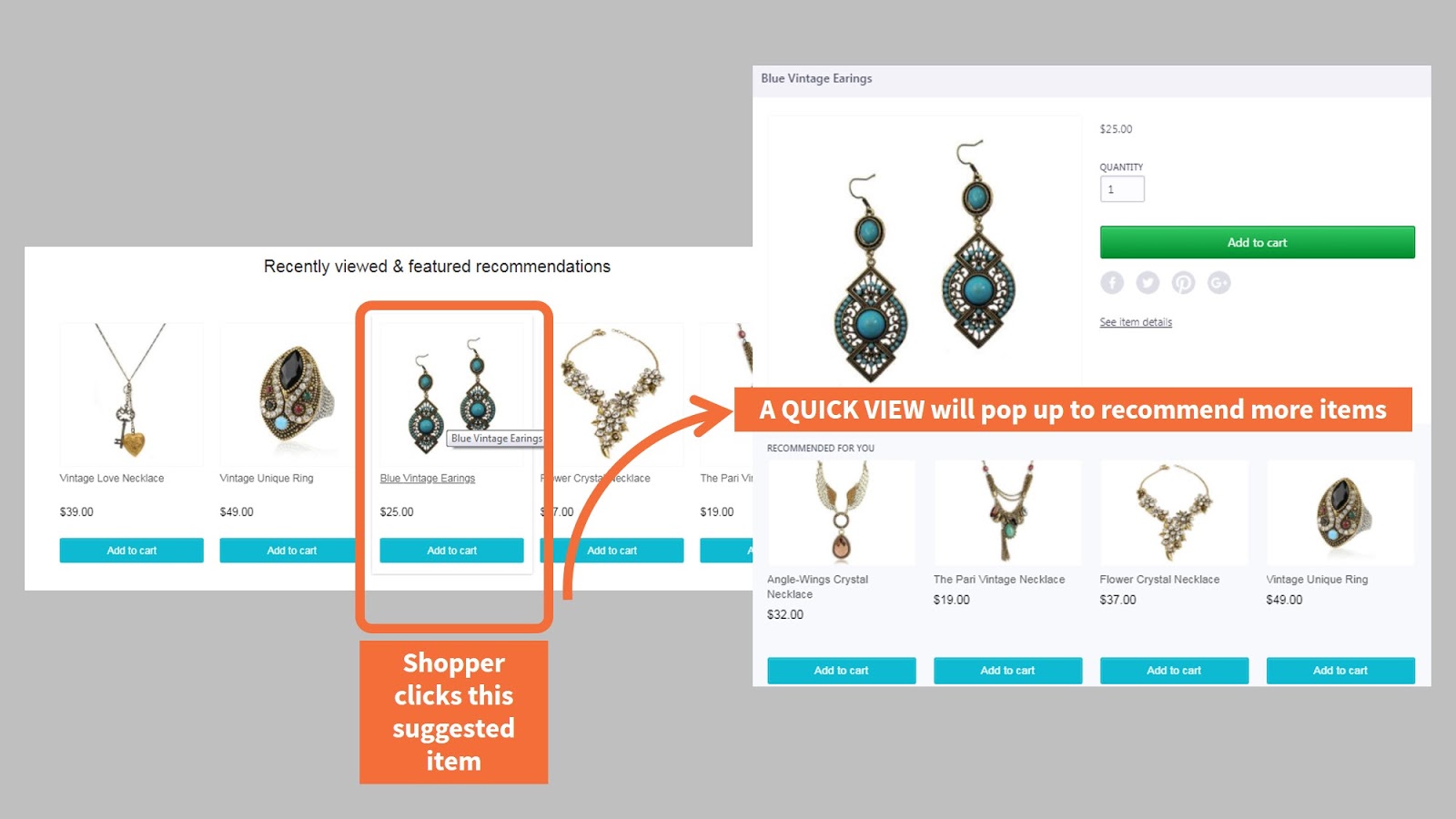 If you've visited the eCommerce selling giant, Amazon, you've most likely seen the phrase "Customers also shopped for" or "Customers also bought" below a product page.
This is an intelligent way of displaying upsell or cross-sell offers that might stir the interest of your shoppers.
If you want to steal this upsell strategy, Mageplaza's Who Bought This Also Bought will help you employ this with so much ease. This intelligent upselling display is based on the purchase history of your customers.
Interesting Read : Best Magento Cart Abandonment Extensions
The recommended products will be automatically displayed which only require user-friendly steps for configuration.
This product recommendation technique acts as a social proof by telling new customers that previous shoppers have bought these items in addition to what they're about to purchase.
You can add this "Who Bought This Item Also Bought" display on your product page, category page or even your cart page.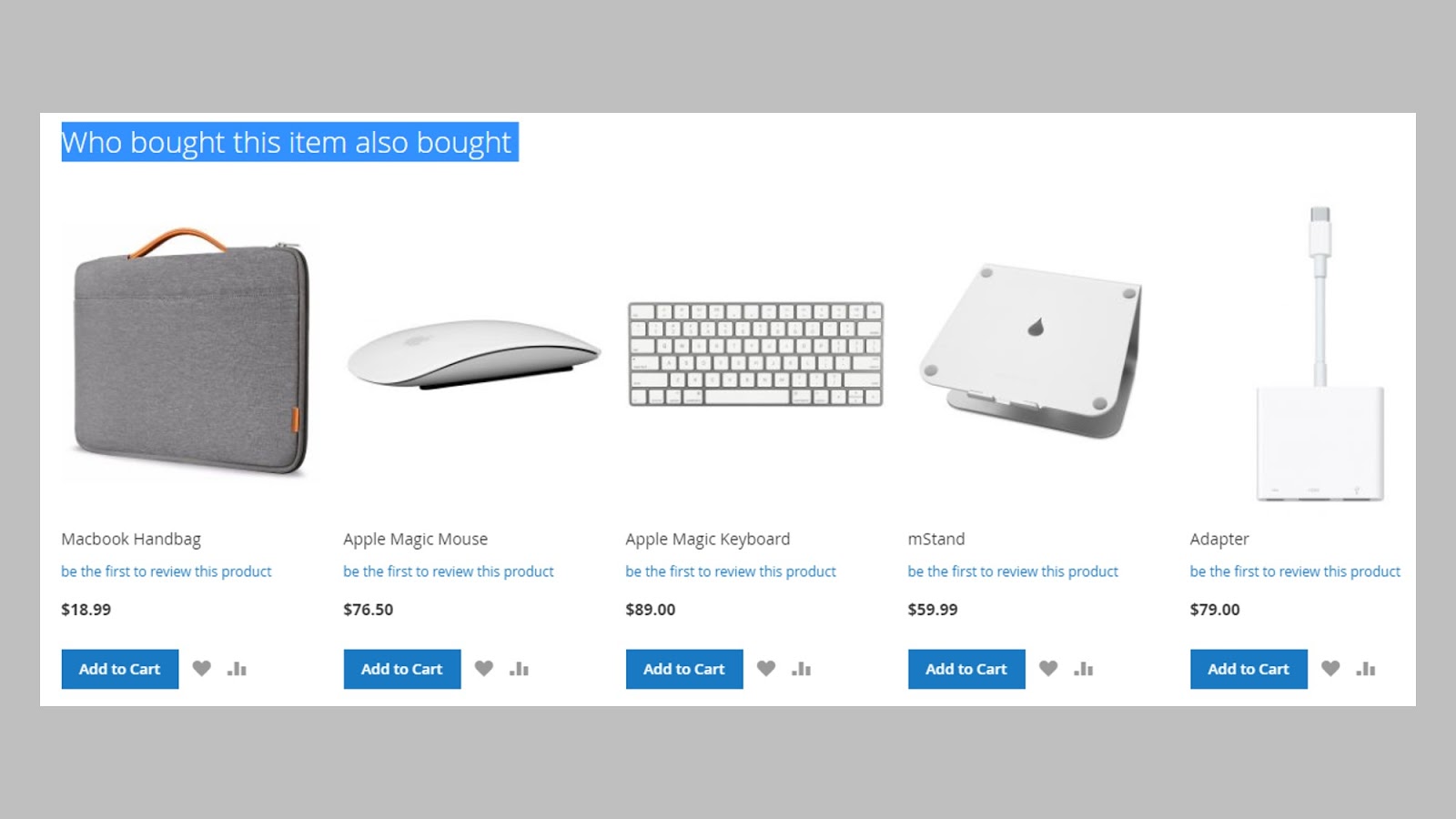 MageWorkx's Others Also Bought extension has the same objective as that of Mageplaza's 'Who Bought This Also Bought'.
It also uses the psychology of social proof by displaying related products based on what other customers have previously purchased in addition to the item that they're currently checking.
While both use automation to display suggested items, MageWork's enables online store owners to manually configure their order data to feed into the product suggestion display. This allows more flexibility whenever possible.
The difference, however, is that you can only display the suggested items on the product page.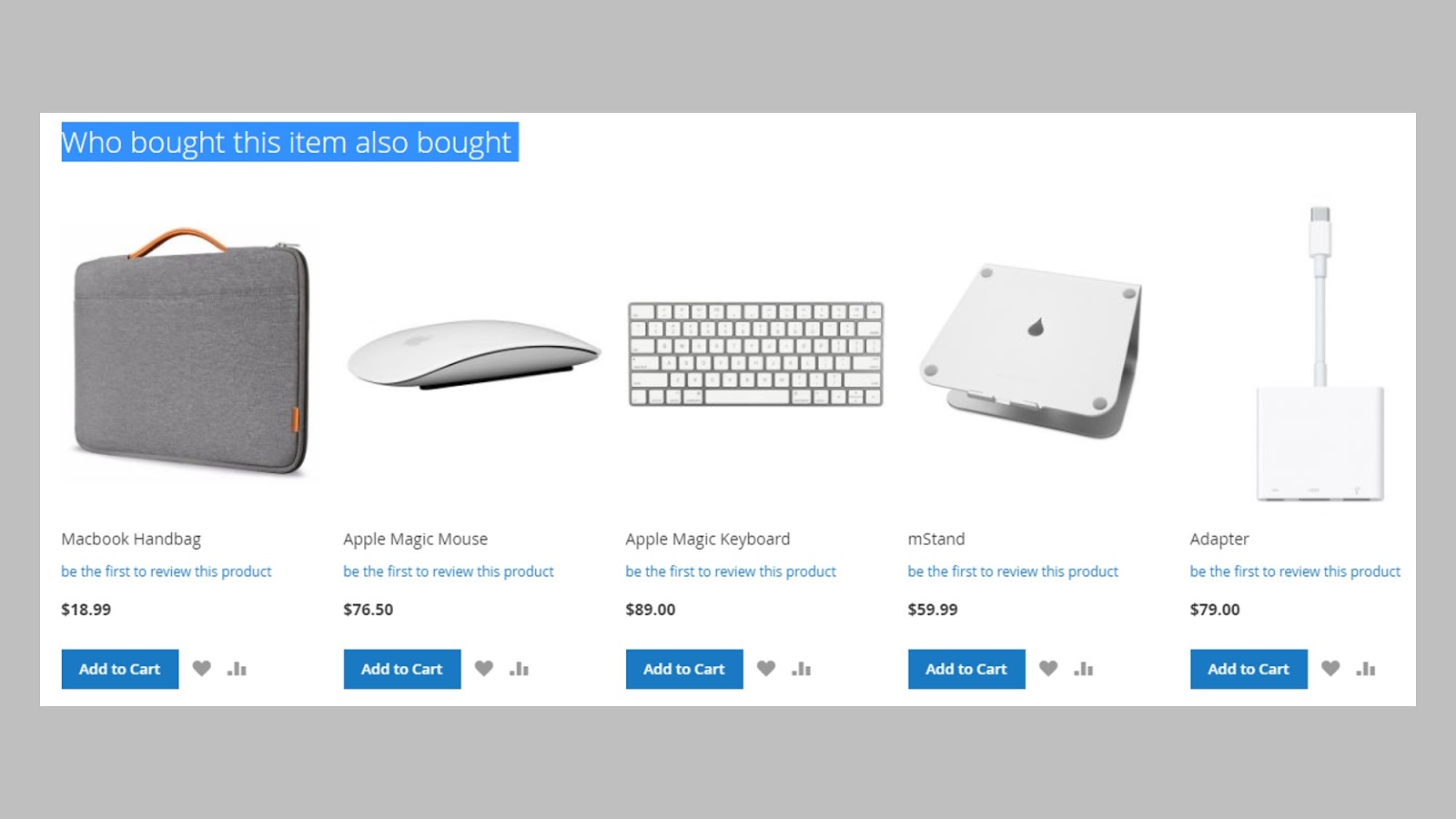 Nostos Personalization boasts recommending the most relevant items based on real-time user behavior that is also unique per visitor.
Its personalized onsite product recommendations can be displayed via various customer journeys to make sure that you're maximizing every step as an opportunity to upsell.
You can display personalized product recommendations in seven different areas. You can automatically display your most popular or best-selling products as soon as your customer arrives at your site on your homepage.
You can also use your product pages to automatically suggest higher priced or complementary products to boost your average order value.
Explore : Best Product Image Optimization Examples
It also allows you to use your product category page to provide relevant items, such as "best sellers in this category". You can still suggest complementary products on the buyer's shopping cart.
When your visitors query a search term, you can already display recommended items on the search page to match the search term.
If in case your visitor's query returned an error or an out-of-stock product, do not go empty-handed. At this point, you can display suggested items to turn this error into an advantage.
And to top it all, you can promote impulse purchases as site-wide recommendations by displaying suggested product when your customers are browsing products in your store.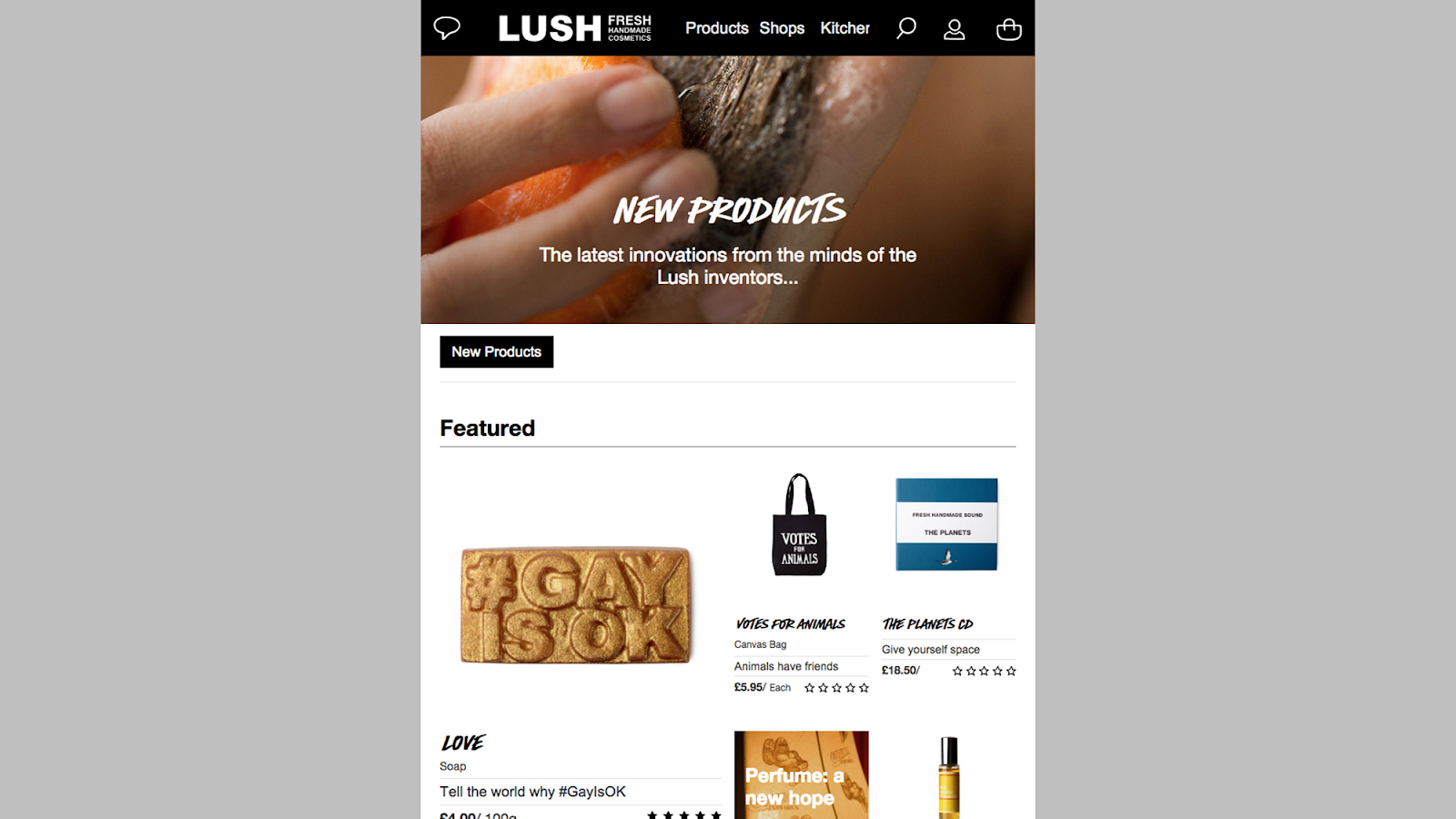 Extend The Spend
As online store owners, you are posed with this challenge: how can you make sure that you're promoting all relevant products without sacrificing the shopping experience of your customers?
And, with thousands of products at hand, how do you pick the ones to promote?
What we've shown you today is to fast track that tedious process of deciding because Magento 2's default setting already allows you to display the most relevant items that shoppers might likely to buy.
Not only that! We've also discussed how Magento cross sell extension and upselling tools will help your life much easier.
If you want to get more ideas about how other Magento 2 extensions can help you with your sales and marketing, you can read our list of Best Magento 2 Extensions.
Useful Post : Magento Community Vs Enterprise Edition
But remember, in order to sell more, don't underestimate the power of data-driven recommendations.
Display upsell, cross-sell, and relevant products based on your customer's browsing pattern and previous purchasing behavior.
Data-driven recommendations will even drive your shoppers to extend the spend.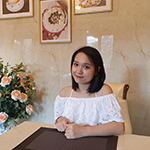 Author: Michelle Hoang
Sales & Marketing Specialist at Beeketing, the platform of marketing extensions that helps eCommerce businesses grow. With 10+ customisable marketing apps available, mobile-responsive and work on many platforms, Beeketing has generated $20,381,599 extra sales for e-Commerce entrepreneurs in the past 2 years. Learn more at - https://beeketing.com/