Social media is king these days.
Nearly every person in the United States uses social media at least once a day.
The average respondent will spend five years of his or her life on social media, more than they will spend grooming, socializing, or eating.
Experts expect that number will only increase as technology advances and accessing these platforms becomes easier.
Needless to say, social media is an increasingly important factor in the modern world.
If you have any hope of running a successful business, you must engage with social media in order to attract an audience.
For the unambitious, that likely means setting up a Facebook page and an Instagram account, making occasional posts, and nothing more.
But if you want to truly impact your bottom line, you'll need to carefully develop your social media content strategy.
A social media strategy is, quite simply, a summary of everything you plan to do and hope to achieve through your use of social media.
A definitive strategy helps guide your actions and gives you the ability to measure your success.
Furthermore, your content strategy will follow and fit into your overall social media strategy.
Every piece of content you post, every comment you reply to, every engagement you make, should all serve a purpose. Indeed, the more specific your strategy, the easier and more effective it will be to execute.
But you should keep things concise as well. Overly ambitious and broad plans are impossible to measure and will make your goals unattainable.
The important thing is to always have a strategy before you produce any content. Posting something just to fill your social media wall won't get you anywhere.
Once you begin delivering superb content, you will see your search engine rankings improving and your user engagement improving.
How To Define Social Media Content Strategy
This piece will walk you through how to set up a proper content strategy for different social media platforms and how to execute that plan.
1. Define your goals
At the beginning of any journey, you need a map. The fortunate thing about creating a strategy is that you can build your own map.
As we said, every piece of content should serve a purpose. So, to begin with, you need to define that purpose.
Begin by asking yourself if the content you're creating is meant to generate leads, convert users, boost your brand's awareness, bring back old customers, bolster your search ranking results, or something else entirely.
After you have clearly defined your goals, you'll need to decide whether content production is indeed the best way to achieve them.
Content won't always be the best solution to a problem. You may find that content adds little value near the bottom of the sales funnel, but it could be fantastic at improving your search engine ranking.
You'll also have to determine which content works at the right point in the sales funnel. Different parts of the funnel necessitate different forms of content, and it's your job to decide when a person will see the proper content.
Otherwise, you could miss out on a perfectly viable conversion opportunity.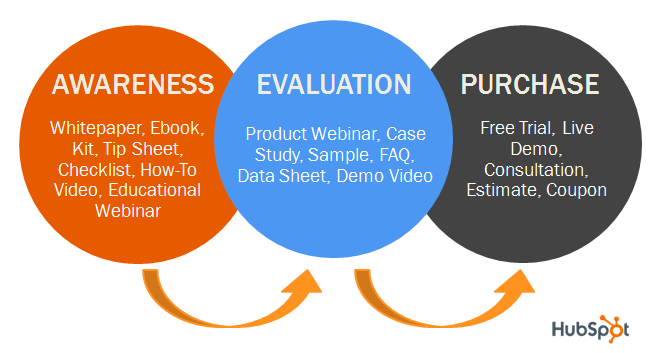 Image: Hubspot
This Hubspot graphic does a good job at demonstrating the different types of content that are best applied to different points in the sales funnel.
2. Be S.M.A.R.T. about your plans
Setting S.M.A.R.T. criteria is another fine way of defining your objectives:
Specific – targets a specific area for improvement.
Measurable – provides a quantifiable indicator of success.
Assignable – specifies who in your organization will carry it out.
Realistic – states what can realistically be achieved, given the resources available.
Time-related – specifies a time frame for when the results can be achieved.
The overarching idea here is that effective and meaningful goals all embody these qualities. Let's imagine you want to create a piece of content with the goal of generating new leads. How does this fit into the S.M.A.R.T. criteria?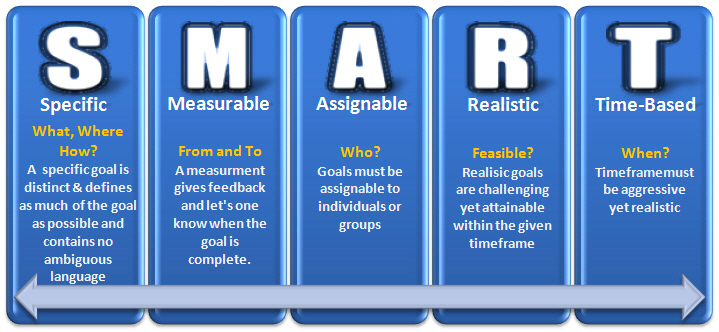 Image: Think Marketing Magazine
Specific – It needs to create new leads.
Measurable – How many new leads were generated in the time-frame?
Assignable – You will need to hire a blogger to create the content.
Realistic – A realistic target for this goal is 75 new leads.
Time-related – The new leads will be generated by the end of next week.
So, given this criteria, you can decide if the content is a worthwhile cash and time investment.
The best types of social media content strategy will capture the interest of your audience through the network they appear on.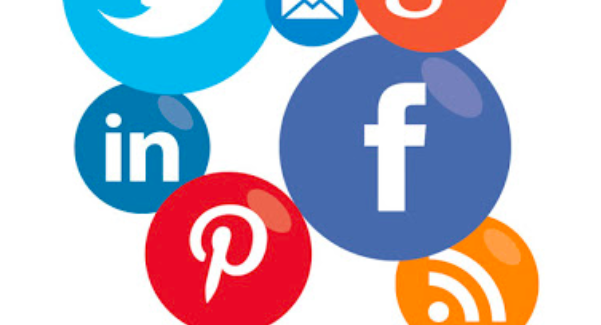 A scattershot posting across all of your networks usually leads to overspending and a lot of confusion. There are a few numbers one should consider for each network:
Facebook
There are over 2.70 billion monthly active users on Facebook. That makes it an excellent tool for creating measurable content with a long reach.
LinkedIn
This is one of the leading B2B social media platforms. People from 200 different countries access this network, making it ideal for personal brands looking to grow or for B2B companies.
Pinterest
About a third of adults on the internet use Pinterest, but most of those are women. That could make Pinterest an especially powerful tool if your product or brand is targeted toward females.
Twitter
This platform has approximately 330 million active users each month. About 80 percent of that activity is through mobile, making this a perfect platform for local companies that want to engage with customers who are out and about.
Instagram
More than 1 billion people access Instagram each month. Of that, more than 500 million use the platform each day. 88 percent of users are based outside of the United States, making it ideal for companies wanting to expand to international markets.
Snapchat
Is home to more than 360 million monthly active users. Most of those are between 18 and 24 years old, making this an excellent platform for anyone trying to appeal to a younger audience.
4. Get to know your audience
In addition to knowing the overall social media platforms, you must take time to get to know who your audience is.

After all, if you don't know who's reading the content, how can you possibly know what content to create?
Some of the things you'll want to check for include:
What sites are your visitors coming from?
What content are they engaging with?
What social media platforms do they share content on?
Google Analytics is your best friend when it comes to collecting this type of data. If you want to know which content is producing the highest results, click through Behavior > Site Content > Content Drilldown.
From there, you can sort by different factors including Average Time on Page, Bounce Rate, and Pageviews.
Image: TM Blast
This information allows you to create content that is targeted at a specific type of user, rather than only the content that you want to read yourself.
This type of content is usually meant to increase Average Time on Page, decrease your Bounce Rate, and increase your Pageviews.
5. Create unique and niche content
The user engagement metrics that we talked about above have become the unofficial ranking signals for Google. They measure what users do on your website and exactly how they do it.
Google pays attention to how users interact with content. A 200-word article with zero keyword density won't get you the engagement that it would in the old days of the internet.
Now, low quality content will have a negative impact on your site, pushing it further down the pile of search results that was created with SEO in mind.
Most people won't see the majority of content on the internet because it simply doesn't show up in their search engine results.
The good news is, content that stands out, offers unique takes and perspectives, has a distinct voice, and offers real value to readers, will rise above the static.
Marketers realize that niche markets are important. They know how important it is to have a clear-cut social media marketing content strategy.
More than half of them are paying for advertising to help target specific groups of people, according to a study from Search Engine Watch.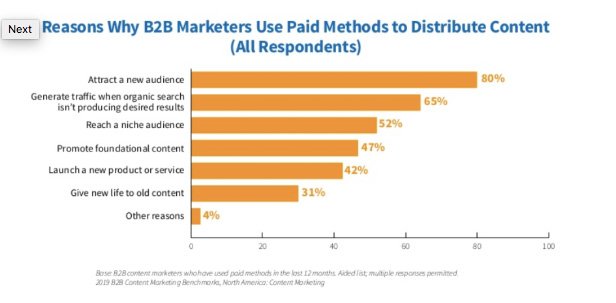 Image: Search Engine Watch
So, there is clearly value in targeting niche audiences. And there's good reason for that.
The more specific your content is, the more likely you are to be seen as an authority in your field. That's true whether visitors are looking for information or for entertainment.
6. Measure the results
Now we know that social media is a huge content strategy platform.
After investing time and money into a proper content strategy, you need to be able to determine if all that hard work has paid off.
If you're churning out content like its chocolate and you're Willy Wonka, you'll never know whether people are actually enjoying it. That's where metrics come in.
Among the more-important metrics to understand:
Consumption Metrics
This is primarily seen as the first layer of information gathered from people who view your content. Again, our old friend Google Analytics is the best tool to determine this number.
Go to Behavior > Site Content > Content Drilldown and sort by different factors to see if more people are consuming your content.
Using this data, you can change the type of content you're posting if necessary or see if your theories bore fruit.
Social Sharing Metrics
This measures whether people are sharing your posts through social media. It's a great metric to see how engaged your audience is.
You can see exactly what type of content is being shared, who is doing the sharing, and which platforms they're using. More importantly, you can see what content is actually converting readers.
To find this in Google Analytics, click on Acquisition > Social > Overview. That will generate a report that looks like this: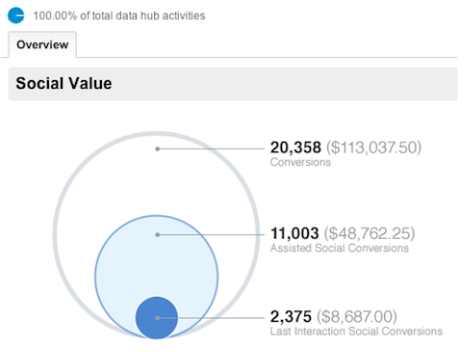 Image: Social Media Examiner
This provides three important metrics:
Conversions – the total number and amount of conversions that your content generates.
Assisted Social Conversions – "The buying response is the result of a process in which the customer has probably been exposed to several messages, and types of messages, along the way," according to John Andrade, from the University of Waterloo.
Last Interaction Social Conversions – For visitors who came from social media and completed an assigned goal in the same session.
Lead Metrics
This metric helps determine whether your content is attracting or leaking leads. By monitoring its performance you can identify any potential problem areas where users are dropping out of the sales funnel, as well as areas that could generate new leads.
Sales Metrics
If you're like most businesses, your content should ultimately improve your bottom line. Creating social media content strategy plan on the basis of revenue, will need you to figure out a way to measure the amount of cash your content has generated.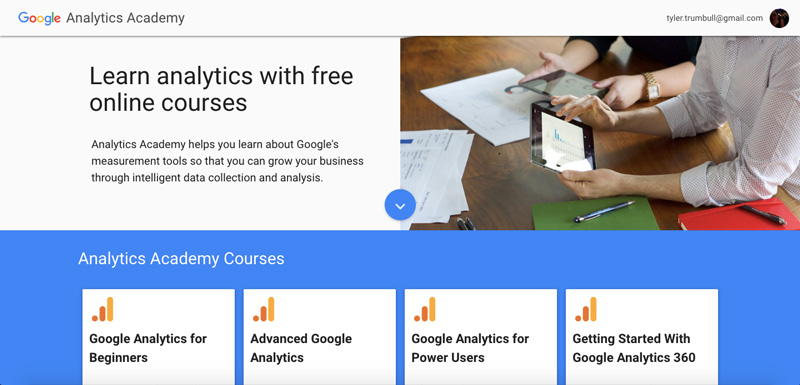 Image: Google Analytics
Nearly all of the above metrics can be monitored through Google Analytics, a free tool that Google has set up to help marketers improve their interactions with the search engine.
The company also offers a free tutorial on how to use the tool in order to achieve the best results.
Conclusion – Creating Social Media Content Strategy
So this was all about how to create a content strategy for social media.
The more people who access the web, the smaller it can start to seem. We're currently standing in the midst of a deluge of content. It's pouring down on us like never before.
Given the pervasiveness of social media, it can be even more difficult to know exactly how to target your content in order to achieve optimal results.
These days, if you want people to engage with your site, you need to know what to create, who to target it toward, and how to measure the success of your creations.
Fortunately, there are a number of steps you can take to create an effective content strategy for the different platforms.
With a robust, thoughtful strategy, you can ensure our businesses and websites receive higher rankings on search engine results and more engagement from our social media followers.
All of that comes together to bolster our bottom line and help protect our companies for years to come.

Author: Sam Zaman
Sam loves to write on technology & related stuff. Ecommerce, mobile and internet marketing equally drive her interest. Likes gardening and experimenting with new recipes. An avid reader and absolutely mad @bout donuts :)