In this article, you will read about the features of AMZScout and Viral Launch to find out about their relative pros and cons.
With this information, you can decide which Amazon product research tool is right for you.
Selling on Amazon is not easy since the competition is intense. The most successful sellers often make use of third-party tools to gain an edge over their competition.
While you can make use of your Amazon seller account to get access to basic features, you will need to turn to third-party extensions for detailed information that provides valuable insights.
Viral Launch and AMZScout offer a lot of decent features, which can help you to make smart decisions, manage your business more efficiently and increase your sales.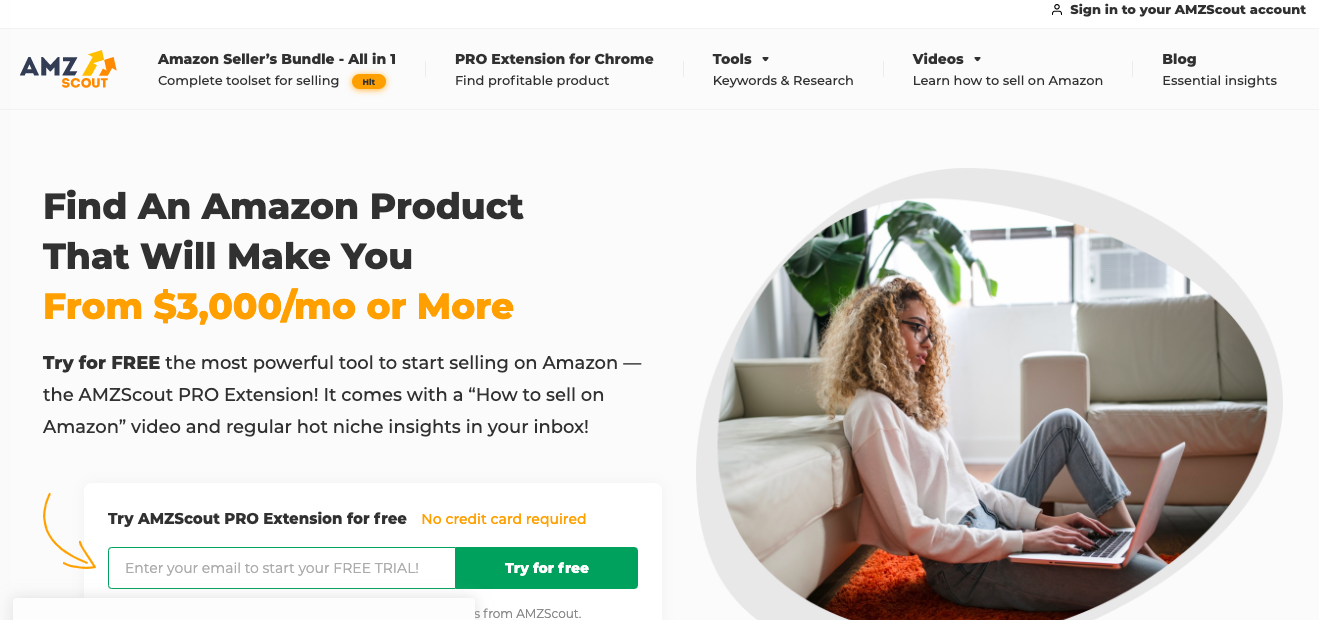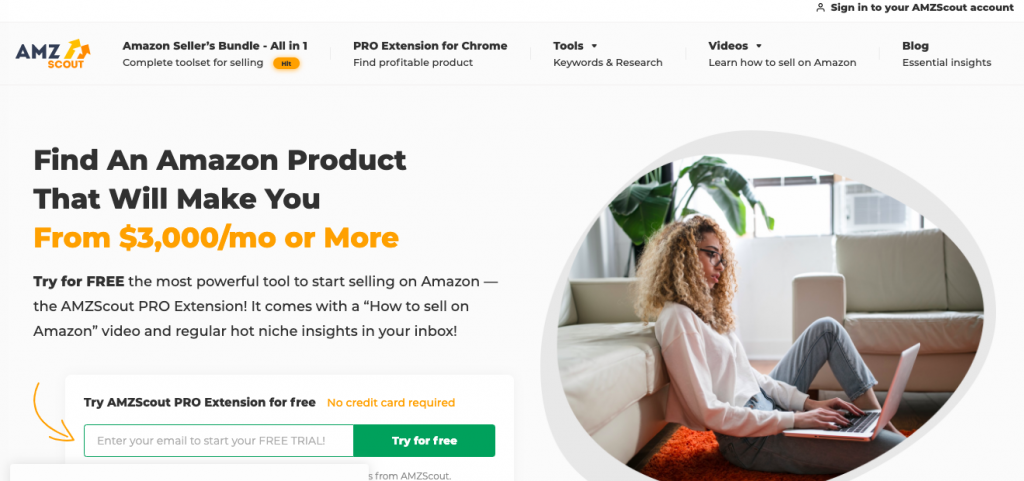 AMZScout is a popular tool for Amazon sellers that provides crucial information to them.
This includes useful data such sales figures of products sold on Amazon, details on competitors listings, analysis of your sales history to determine trends and many more insights.
AMZScout promises that you will not have to waste time on product research by using several different tools to gain relevant data.
The AMZScout tool provides plenty of data and sales statistics on a single platform.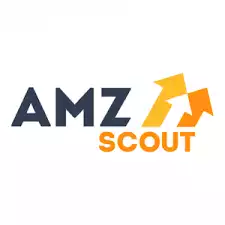 We earn a commission if you click this link and make a purchase at no additional cost to you.
With AMZScout, you can obtain sales data on more 20,000,000 products. Over 50,000 Amazon sellers have subscribed to AMZScout.
The tool covers nine marketplaces and is available in 9 countries.
Amzsocut is available for use in the following countries:
Canada
UK
Germany
USA
Mexico
France
Spain
Italy
India
Here is a list of a few key features at a glance:
Fulfillment details
Sales forecast
Historical data
Product sales rank
Revenue forecast
Trend analysis
Profit calculator
Favorites export
Amazon sellers find that AMZScout is easy to use and understand.
This research tool allows you to regularly monitor sales trends of many products sold on Amazon.
The data analysis is reliable and accurate.
With the help of this analysis, you can become one of the top sellers by capitalizing on seasonal and current sales trends.
Amazon sellers find that AMZScout allows them to make informed business decisions and helps them to conduct accurate research on product ideas.
AMZScout Features
Let's take a look what does the tool offer.
Find High Margin Products
AMZScout provides a list of the top high margin products. It also gives you information about the demand for the products and what your competitors are doing.
You will gain access to a lot of crucial information through 22 indicators and 10 extra features
AMZScout Product Research
The filter system allows you to conduct product research by narrowing down your search to the most relevant results.
You can define the constraints and numbers in which your relevant data lies.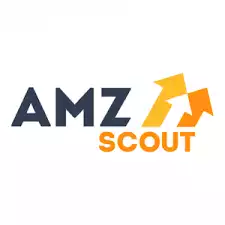 We earn a commission if you click this link and make a purchase at no additional cost to you.
Therefore, only those products will be retrieved that match your defined criteria.
This feature will also reveal what your competitors are selling for high revenue.
AMZScout Calculator
A calculator has been provided, which follows the profits made by competitors and forecasts the profits that you will make under similar circumstances.
An ROI index provides data on the how well your investments are performing.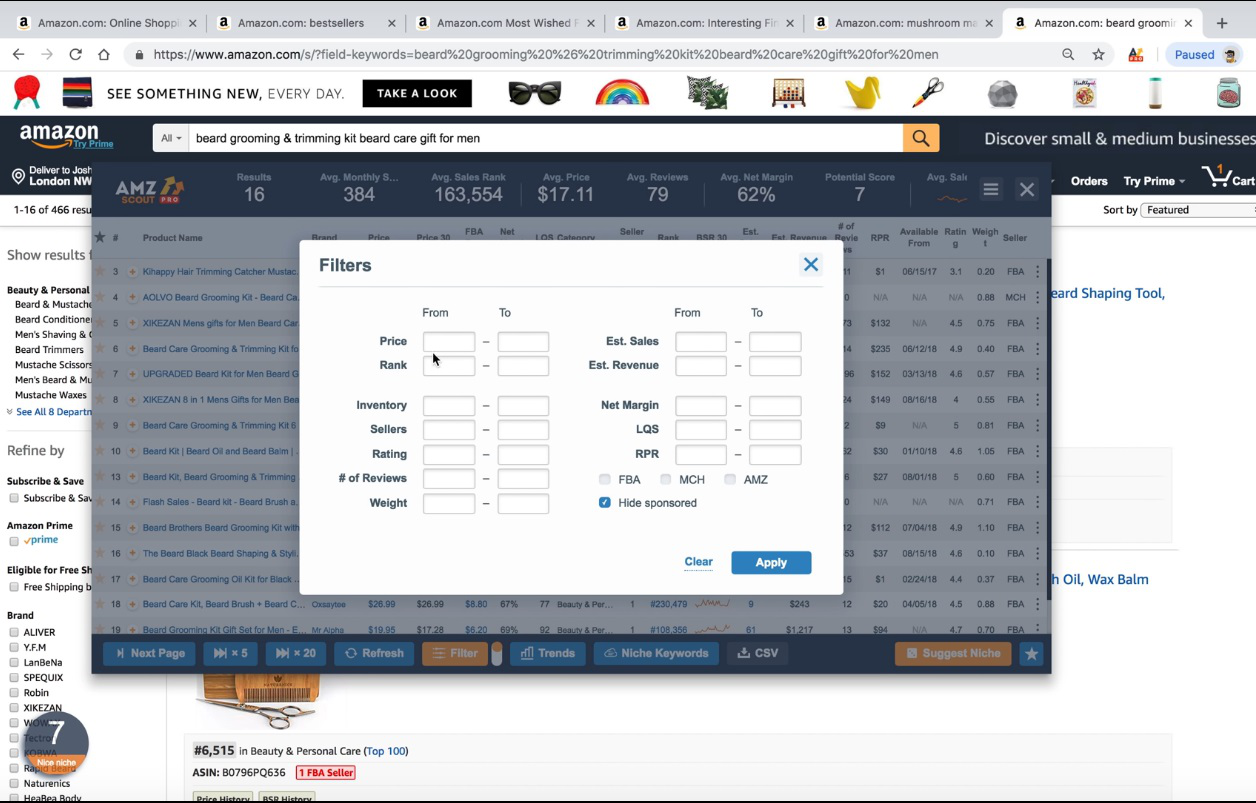 AMZScout Keyword Trends
A powerful feature allows you to follow keyword trends.
This will give a lot of valuable information about the popularity of the product over the course of months and even years.
This can help you to invest in the right inventory.
With the help of this tool, you can follow a product's trends, buy the stock at the right time when it is rising in popularity and sell it at a high volume.
Related : Best Amazon Keyword Tools To Boost Sales
AMZScout Alibaba Button
You can also find the best suppliers who will deliver quickly, reliably and inexpensively.
With the help of the Alibaba button, you can find suppliers for the product on the Alibaba website at the most competitive prices.
AMZScout Favorites List
If there is a product that interests you and you would like to perform further research on it, then you can save it in the favorites list with just one-click.
The favorites list will also provide relevant data on your saved products at a glance like the number of reviews, average price, ratings, estimated revenue, estimated sales, fulfillment fees and rank.
With so much information at your fingertips, you will not have to search separately for important data on your favorite products.
AMZScout Ranks & Price History
This feature allows you to assess product performance over the course of several months and years.
In fact, you can get complete information about how well the product performed since its inception.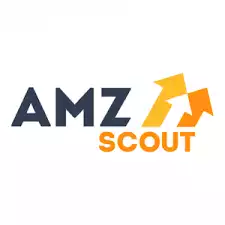 We earn a commission if you click this link and make a purchase at no additional cost to you.
You will also be able to gain valuable information from the price history.
For instance, you can determine if it is a seasonal product and what price range was offered by sellers to make high profits with the product.
LQS & Other Key Information
You can gain access to listing quality score to determine the effectiveness of the listing.
The 'good leftovers column' will give you an estimate about the unsold stock.
'Date first available' column will tell you whether it is a new item or if it has been available for a long time. You can also find hidden niches from this powerful feature.
The basic system requirements are minimal, so you can install it easily on your computer.
AMZScout Installation & Use
The extension works only the chrome browser. The webapp can work with any internet browser.
With one account, you can use the AMZScout extension on 5 different computers.
You can gain flexibility and convenience by using one account on multiple devices.
AMZScout Tracking Mechanism
The tracking mechanism on the web app allows you to monitor your competitors. You can gain information on their revenues, prices, inventory and list of products.
You will not have to waste your time and effort by looking at each competitor separately.
With this tool, you can keep an eye on the competition thanks to its automation feature, which can provide average values for key data about your rivals.
AMZScout FBA Calculator
AMZScout also provides a very useful FBA calculator.
In order to accurately determine how much profit you are actually making, you must keep track of several costs.
Fulfillment costs will have a deep impact on your profits, business performance and return on investments.
So, you need a reliable FBA calculator to keep track of these costs, which can be substantial and yet tricky to follow.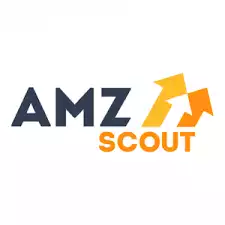 We earn a commission if you click this link and make a purchase at no additional cost to you.
You must monitor advertising expenses, returns, FBA fees, taxes, shipping fees, referral fees, selling fees and more.
The AMZScout extension allows you to track FBA fees and Amazon fees to substantially reduce your workload.
The AMZScout chrome extension provides a full set of features that can allow you to calculate fulfillment costs in just a few clicks.
AMZScout Profit Calculator
With the profit calculator, you can gain information on your monthly sales, daily sales, margins, niche competitiveness, number of reviews, listing optimization and more.
You can use the AMZScout profit calculator to find out your returns on investment, and your profit and revenue contributions by single selling items.
The calculator will factor in expenses like the cost of shipping to Amazon, advertising, storage costs and costs of shipping from manufacturer to shipping agent.
Related : AMZScout vs Jungle Scout
AMZScout Customer Support
The customer support team also provides prompt and useful response.
A soon as you visit their website, a live chat screen opens up and you can start communicating with a customer support representative right away.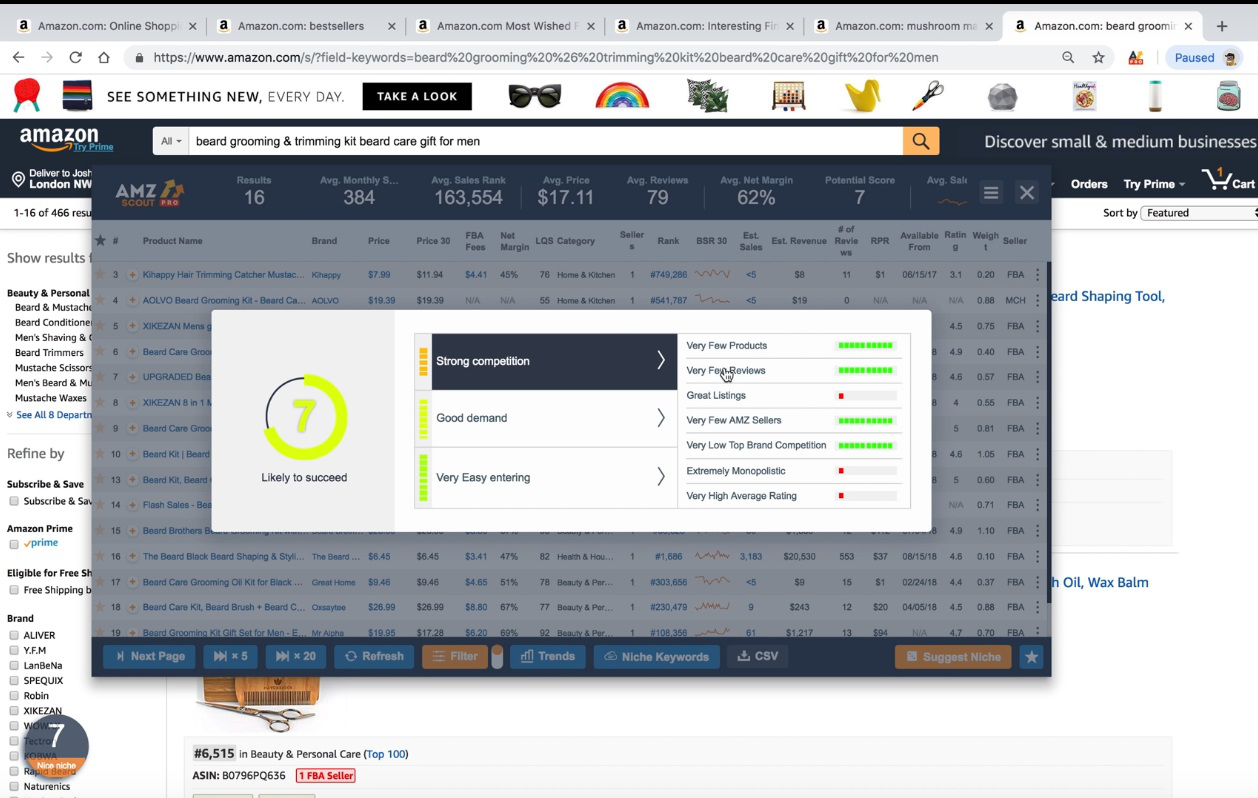 AMZScout Free Trial
One problem that users often complain about is that AMZScout does not unlock all of its features during free trial.
It will definitely be better if AMZScout unlocks all the features during the free trial so that users can get a full idea of what the full version will offer them.
However, you can be reasonably certain that your investment is safe because they provide a 100 percent money back guarantee.
AMZScout Reviews – Top Rating on Chrome
As of now (4-29-2019), AMZScout has an excellent 4.3 rating on Google chrome web store.
Not many apps have such a high rating on the Google Chrome Web Store. This shows that AMZScout is a reliable and accurate Amazon research tool.
In fact, there are a large number of successful Amazon sellers who recommend this tool. These Amazon sellers have thousands of subscribers and 7-digit sales figures.
According to them, AMZScout helps them to save a lot of time and provides them with data that allows them to get ahead of the competition.
You can see videos of these Amazon sellers on AMZScout's homepage.
Related :
AMZScout Pricing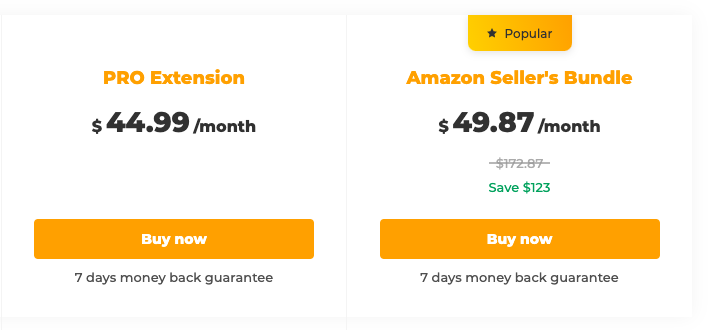 AMZScout pricing includes 2 plans. The Pro Extension priced at $44.99/month and the Seller Bundle at $49.87/month.
Both plans assure 7-day money-back guarantee.
Annual payments are a little cheaper. You also have a lifetime account option.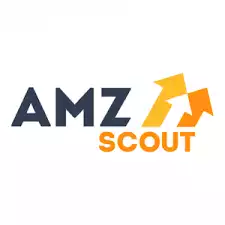 We earn a commission if you click this link and make a purchase at no additional cost to you.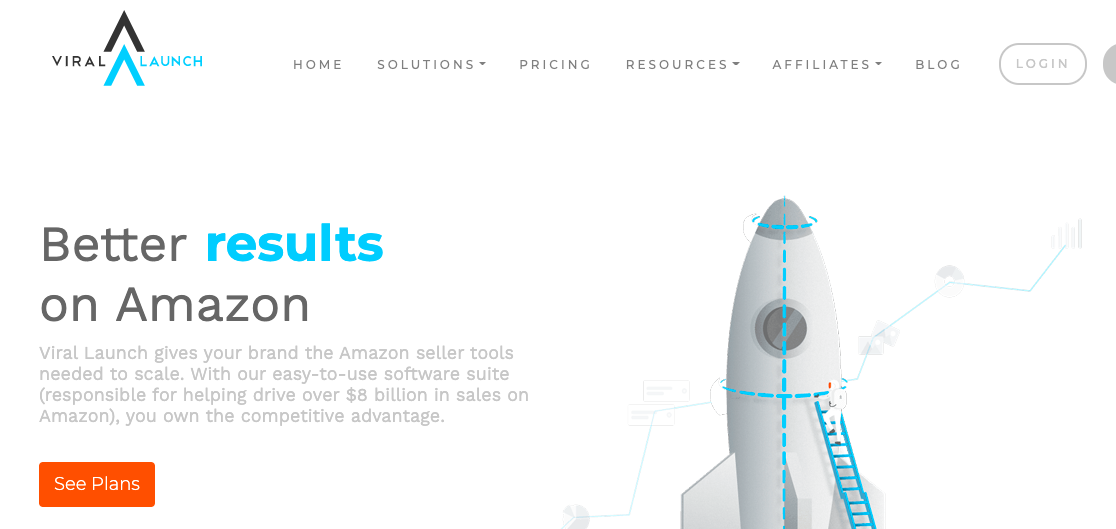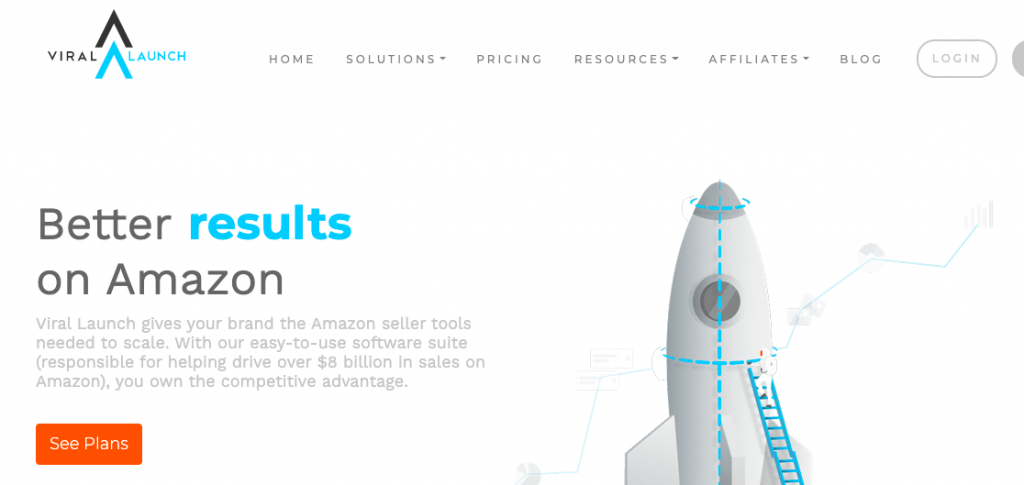 This is another popular sales research tool that is used by many successful Amazon sellers.
Viral Launch offers a number of features, which can help you to make the right decisions and improve your sales.
There are tools for sales research, keywords research, competitor information and more.
The user interface is very easy and intuitive.
Viral Launch Features
Here we talk about Viral Launch features.
Viral Launch Top Sellers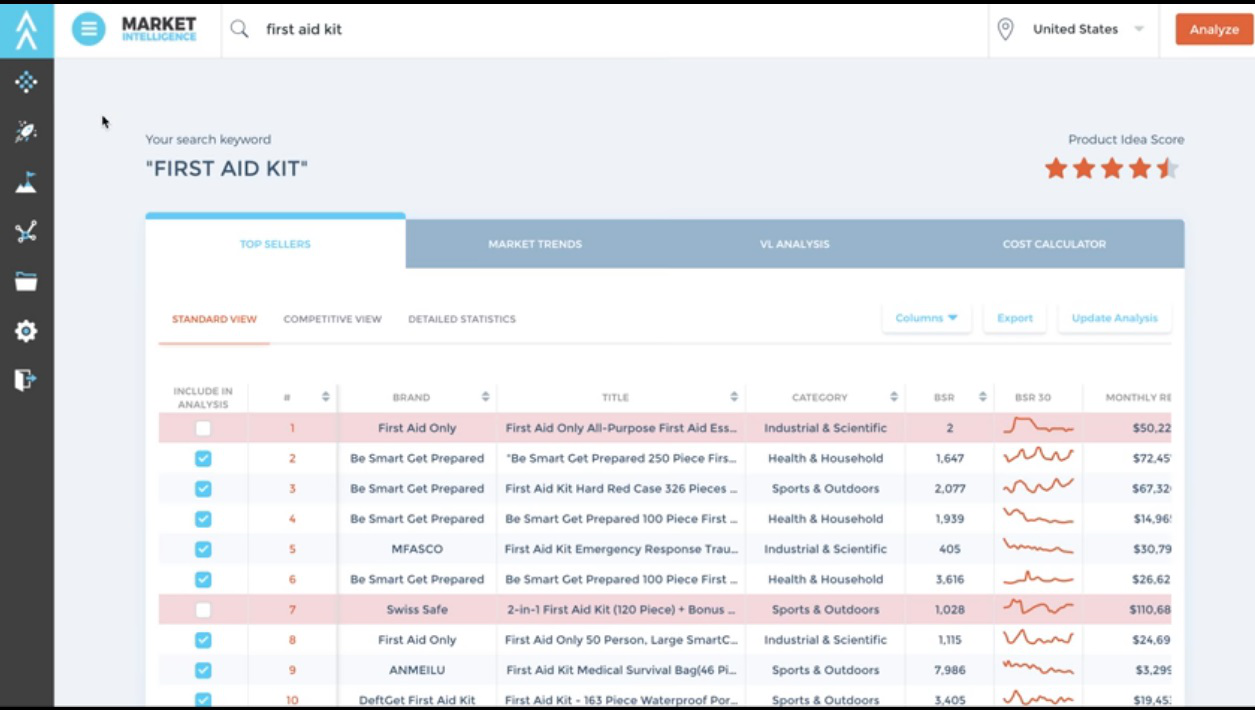 The first tab on the chrome extension is the top sellers tab
It has options for columns that you want to see and it can provide you detailed statistics (if you want more details).
The chrome extension will benefit Amazon sellers because it can provide a quick estimate of sales while they are browsing the Amazon website.
The great thing about the extension is that it is easily customizable and it can show you only the information that is relevant to you.
You can then personalize your top sellers tab so that it looks completely different from the default settings.
For instance, you can include columns for fulfillment method, product images, review quantities and more.
Another thing that users will be concerned about is the accuracy of the sales forecast.
Although the sales forecast is quite accurate, it can overestimate the sales figure for some products by around 10 percent.
The accuracy will increase with high volume products.
Viral Launch Market Trends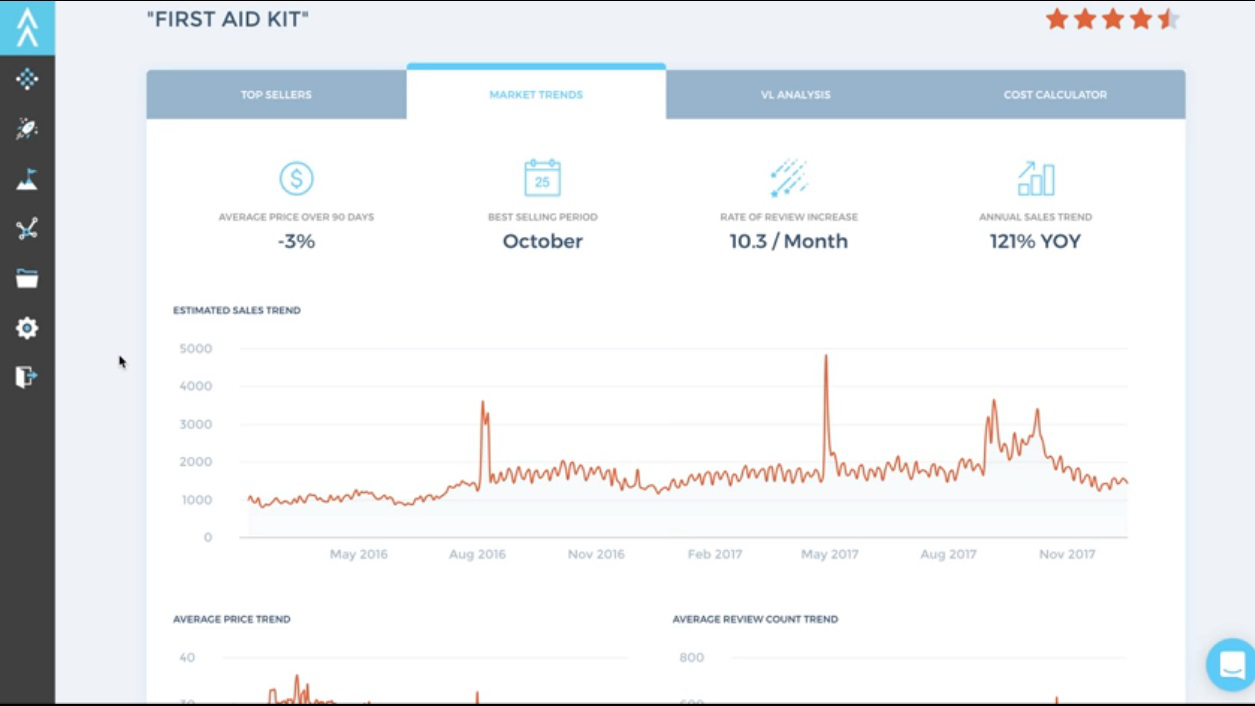 The second tab is based on markets trends. You can click on any of the leading sellers to find the sales trends of their top selling products.
This is an invaluable tool, which will give you plenty of information about the products that your rivals are using to drive sales.
With the help of this tool, you can determine the sales trend of a product.
You can understand its salability during different months of the year and find out if it is a seasonal product or not.
Viral Launch Analysis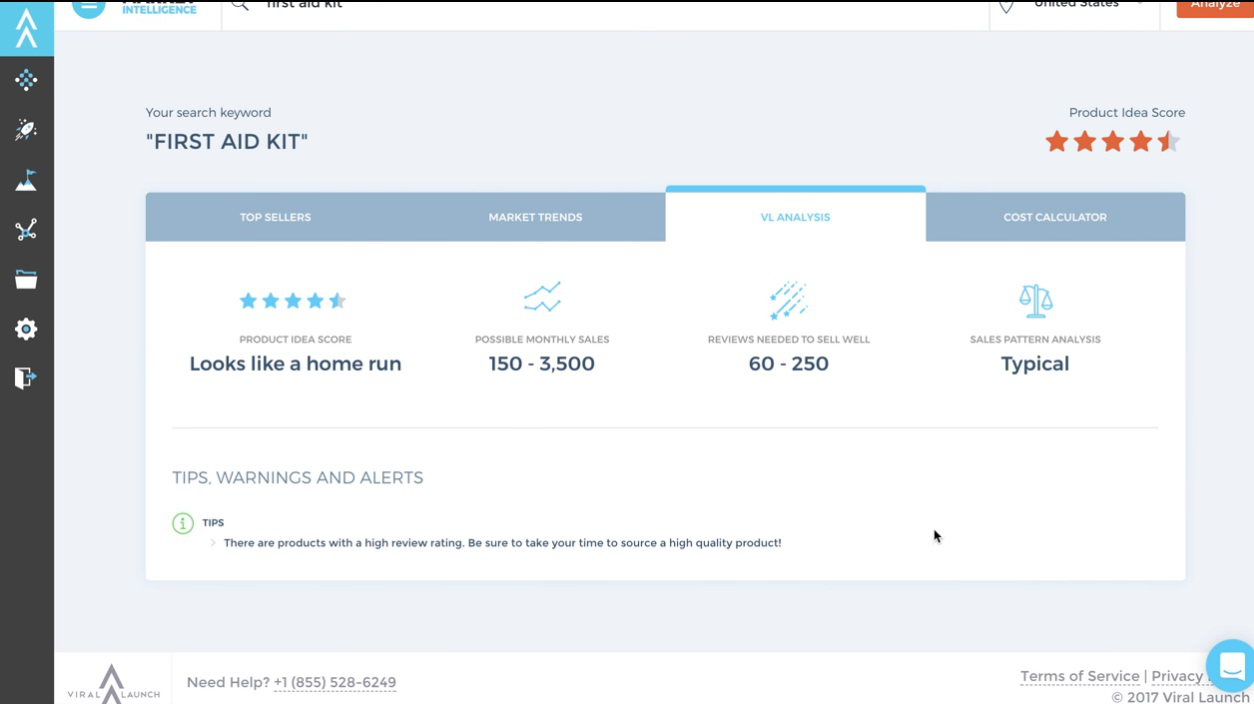 This tab is powered by an algorithm that analyzes your product idea and gives you feedback about its effectiveness.
If you are an experienced seller, then you can use this tool and compare its results with your own judgments.
This tool will be invaluable to those who are new to Amazon and don't have much idea about what sells well.
From this tab, you can read the overall verdict about your product idea.
You will also get estimates for the possible monthly sales, the number of reviews that are required for your product to sell and the sales pattern analysis.
It will also provide you with important warnings so that you can be informed about potential problems.
For instance, if you are selling a relatively new product, the VL analysis tab will warn you that the product type has a high number of reviews which can be a barrier to your product sales.
With such information, you can prepare a strategy in advance to resolve potential problems successfully.
Related : Amazon Seller App Review
Viral Launch Cost Calculator
The final tab is the cost calculator. For this tab, you can enter the selling cost and the purchase cost of your product.
Viral Launch will determine the FBA fees and tell you how much margin you are earning on the sale of each product.
There are also other sections that provide several useful features.
Here are the details:
Viral Launch Product Discovery
This is an important feature that can help you tremendously with product research.
With this tool, it will be easier for you to find untapped markets by using several filters.
You can use filters to find products that match your requirements and search criteria.
You can search items by brands, keywords, reviews, ratings, categories, monthly revenues, unit sales and more to find the perfect product that meets your goals.
And, you can use market intelligence tools to identify not just the most profitable products, but also the suppliers who source products inexpensively.
With the tracker, you can monitor real-time data to determine how your target products are performing.
You can also use the tracker to evaluate the effectiveness of keywords and see how different brands and categories are performing.
Based on historical and current Amazon data, the product discovery tool will reveal the top niches, markets and categories.
Using this tool is very easy. You just need to enter relevant constraints like ratings, sales, price, etc., that the product must meet.
Based on your input, you can get personalized results on the most relevant products to fulfill your aspirations.
You can perform more research in less time since you will get all the tools that you need for comprehensive research.
With the help of advanced filters, you can get even more specific results.
You can increase your profit margins by sourcing from the best suppliers.
You will have access to a list of top suppliers and all the information that is necessary to make the right sourcing decision.
With the integrated FBA calculator, you can get an idea of your upfront costs, profits, total revenue and more.
You can also arrange your selling ideas in order of the best potential products by using Idea Score filtering.
Not only will you get a wide view of several important Amazon market trends, you will also get expert tips, alerts and warnings for markets.
There are a number of different ways that you can perform your product research. For instance, you can pin promising ideas and see how well your product is performing over a passage of time.
Once satisfied, you can invest in the product and sell it successfully. This way, you can minimize risks and sell products with a proven track record.
You can ensure maximum safety for your investment with this feature.
Related : How To Find Best Selling Products on Amazon
Viral Launch Market Intelligence
The market intelligence tool is a feature that you can use in addition to the product discovery tool.
After you find the product that meets your criteria, you can use the market intelligence tool to gain relevant information about the market where the product belongs.
You can use this to validate your idea about the product or discover further opportunities which the market offers.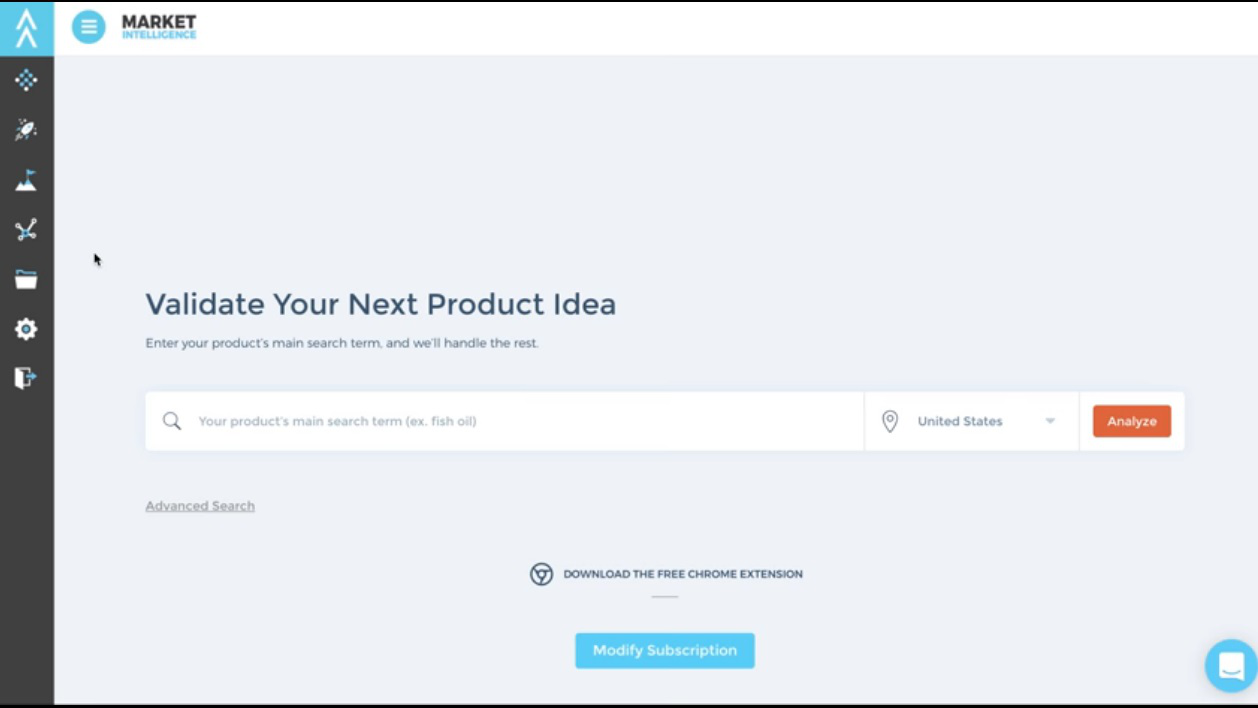 The market intelligence tool will give you information about the market, such as monthly sales of different products, average selling margins, number of reviews, average ratings and more.
This information will help you to estimate how successful your product will be on the market.
Viral Launch will work for USA, UK, Japan, Mexico, Canada as well as European marketplaces.
Viral Launch Keyword Research
Keyword research is an important part of market and product research. This tool will unveil the keyword trends and help you to understand the odds of your success.
Keyword research is a valuable tool that can help you to estimate the sales potential of the products that match your criteria.
This tool not only tells you about trending keywords, but it also reveals related categories which show signs of promise.
For instance, if you are researching first aid kits, then you may also get a suggestion for 'first aid kits for cars'.
This way, you can find niche markets that have a lower competition and high revenue potential.
This is a very important feature since a lot of high ranking keywords have intense competition.
So in addition to finding the top keywords, it pays to also look for related niches.
Viral Launch Pricing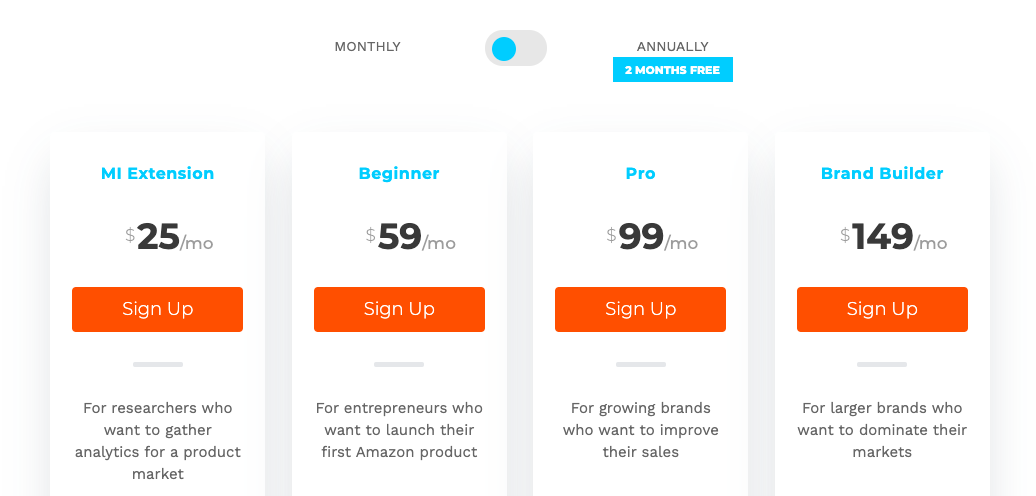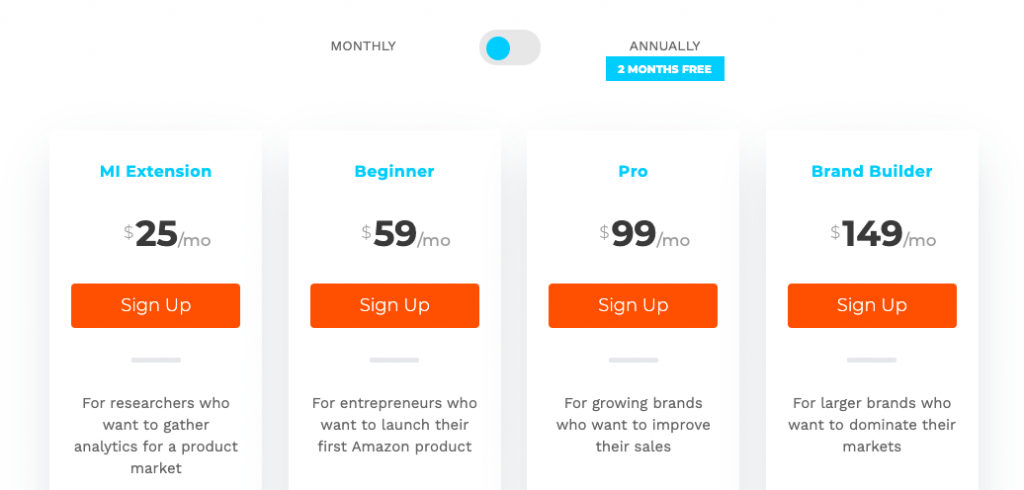 You can subscribe to any of the five different subscription plans:
MI Extension – $25/month
Beginner – $59/month
Pro – $99/month
Brand Builder – $149/month
Kinetic – $199/month
You can opt for 14-day free trial before making a decision.
AMZScout vs Viral Launch: Which One Is Better?
When comparing the two research tools, it is easy to see that the AMZScout is far more economical.
You just need to make a one-time payment of $287 to enjoy unlimited access to all of its tools and features.
On the other hand, for Viral Launch, you will have to pay $322 on a monthly basis to get access to all tools. Viral Launch is definitely more expensive.
Viral Launch also has lower rating of 3.2 and it has half as many users as AMZScout.
In addition, it does not offer any features which are not available in AMZScout.
Overall, AMZscout has much better response from users.
Based on this information, it would be a safe bet to use AMZScout in place of Viral Launch.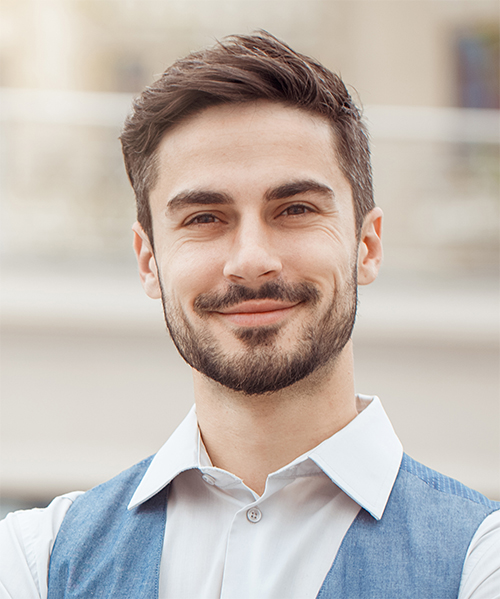 Author: Scott Macarthur
Scott L. Macarthur is a marketing consultant and an online author. He is mostly engaged in providing his expertise to startups and SMBs.