Amazon's market for third-party sellers is as competitive as it gets. 
In fact, there are more than 2.5 million active sellers on Amazon, and every year, more than a million new sellers join the platform. 
This means that for every product you are selling, there are thousands of other sellers doing the same. 
The best way to beat them is to research and develop keywords that will make your products stand out.
To do this, you must go as in-depth as possible to get the best keywords.
Also Read: Best Amazon Keyword Tracking Tools 
Best Amazon Keyword Ranking Tools
In this article, we have come up with the best Amazon keyword ranking tools that will save you hundreds of hours of research for the most profitable keywords. 
Let's dive in.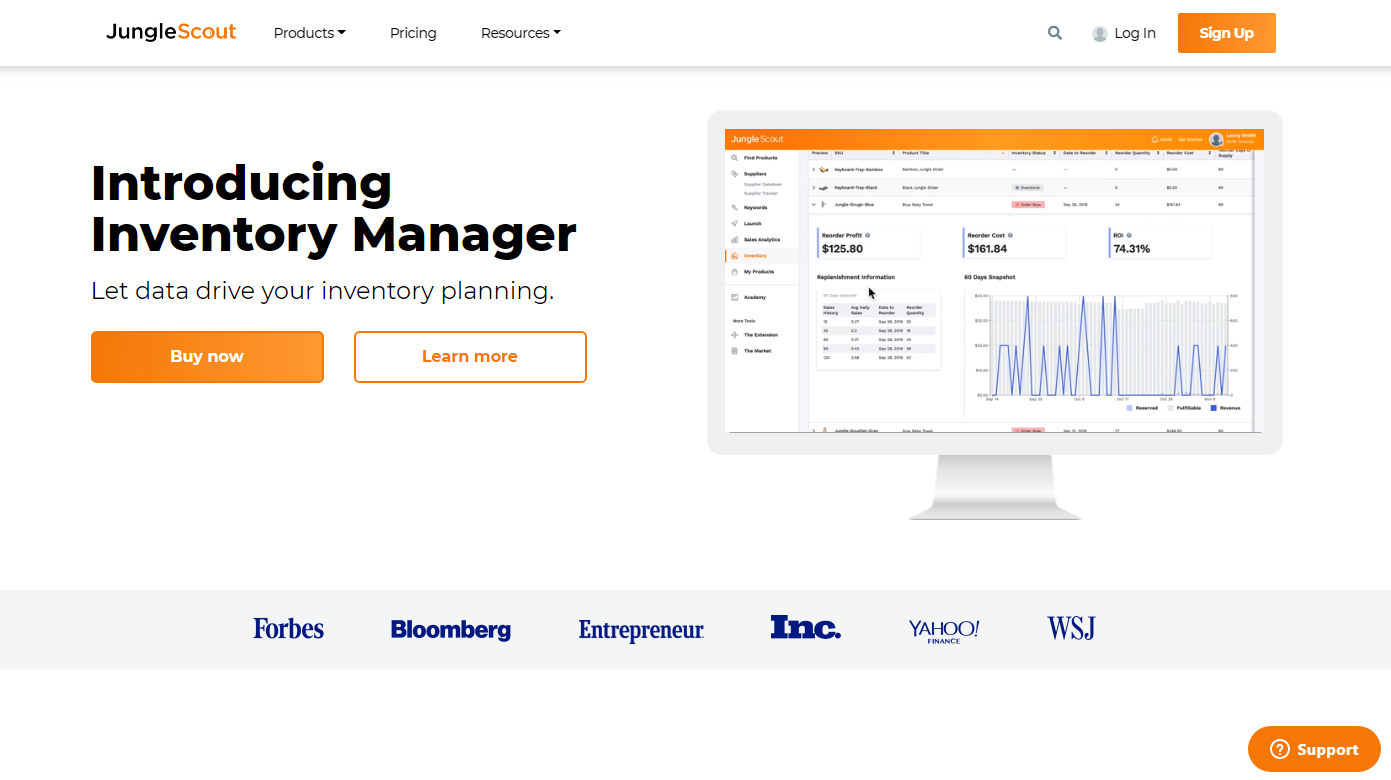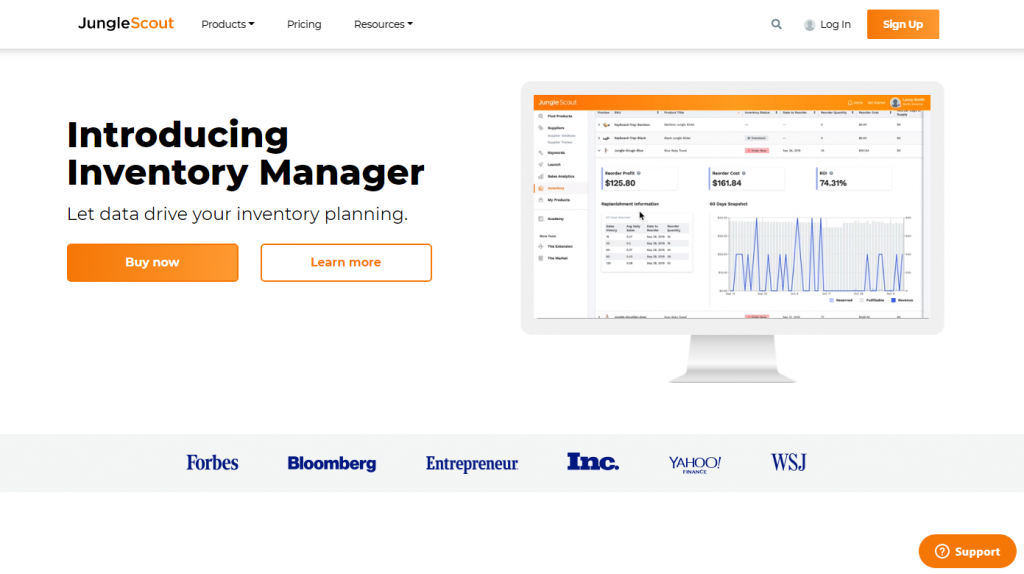 Jungle Scout is one of the most popular Amazon keyword research tools in the market.
It is used to help sellers spot items that will perform well on Amazon.
It has both a web application and a Chrome extension.
These two versions have a few functions in common, but they address different needs.
The primary function of the Chrome extension is to help users carry out research on individual products directly from their browser, which means that they can only pull out the report from one product at a time.
The Chrome extension online works inside of the Amazon website when it has been installed on Google Chrome. 
On the other hand, the web application can draw data and information regarding several products at once, but it does more than that.
With the web app, sellers can also track products whose data have already been gathered by the Chrome extension.
Unlike its extension tool, the Jungle Scout web browser application is not based on Amazon's website.
It is hosted on its own website and has a variety of features.
One of the top features is its product database.
This allows you to search through the entire Amazon website with the option of filtering through categories to show you results that are only relevant to you.
You can select the marketplace you want to dig into and set the app to show you results based on price, weight, ratings, etc.
Jungle Scout also has a product tracker that lets you keep tabs on relevant information such as sales, rank, and inventory in real-time.
The Niche Hunter feature is a lot of people's favorite part of Jungle Scout.
It lets you find specific niches based on a bunch of criteria like demand and competition level.
This feature is especially useful for sellers because it saves them a ton of time in research since they only need to set a few variables to get the best selling products. 
Related: Complete Jungle Scout Review
Our Pick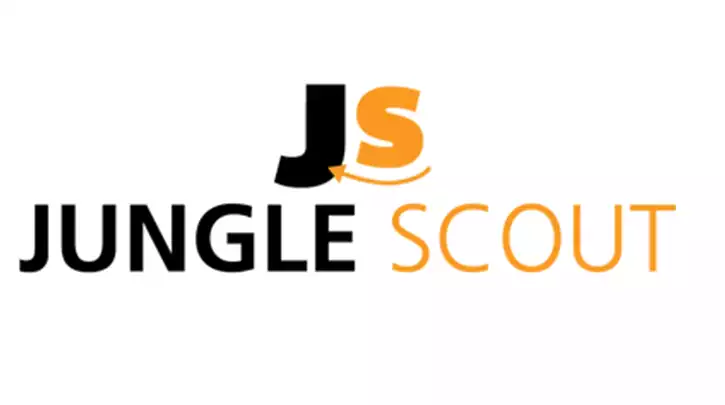 We earn a commission when you click this link and make a purchase.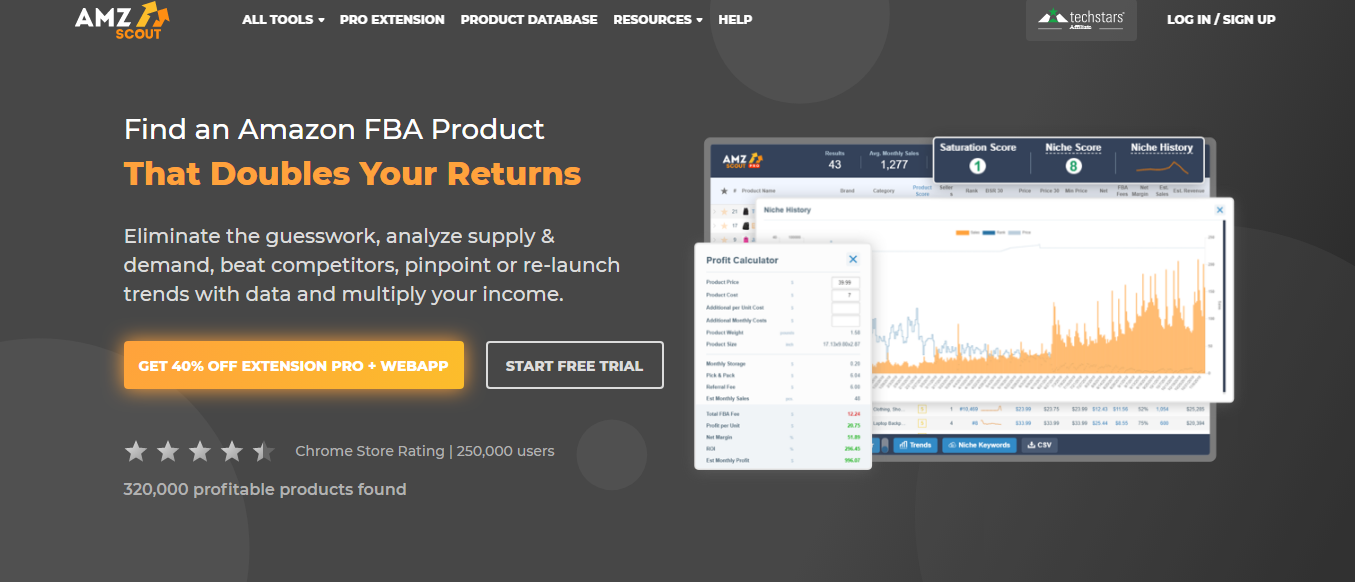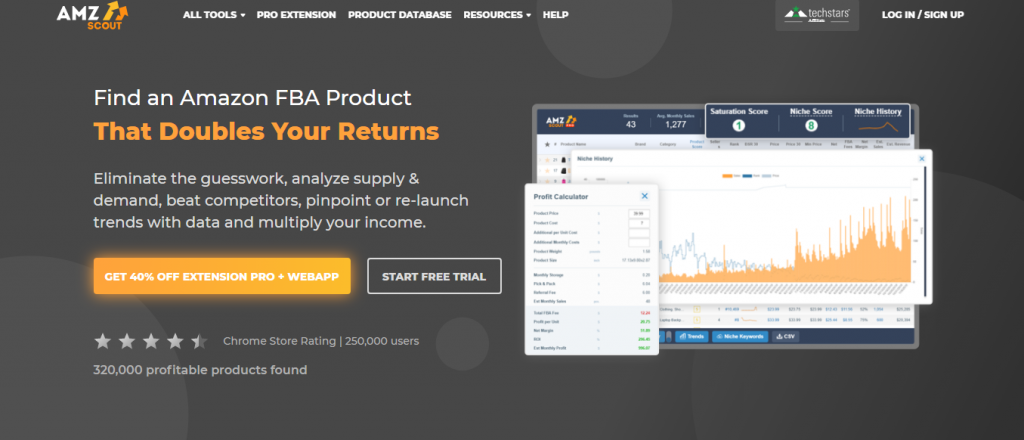 AMZScout was built by a group of pro-Amazon sellers who wanted to better the experience of other sellers on the marketplace.
They noticed how long it took sellers to find products to sell on Amazon, so they created AMZScout using Amazon's algorithm and developer's data. 
Like Jungle Scout, AMZScout has both a Chrome extension and a web application.
The Chrome extension may be the best of its kind for any Amazon research tool in the market. 
It is one of the easiest tools to use and it doesn't take much effort to pull out figures for the product that you are researching. 
This tool will help you get sales data for any product within any niche and it also gives you pointers on which products to choose based on its potential to sell.
The extension tool has a filter button that makes it easier to navigate through many products that will appear in your search.
AMZScout web application runs on three features: the database, keyword explorer, and the tracker.
The product database is the warehouse of AMZScout.
This is where all the products come from once you run a search on this platform.
You can filter your search or use a keyword to narrow down your results.
AMZScout will quickly run your search through the database and show you the products.
Once you have access to the data, you can easily scroll through them and choose the products with the best value.
The keyword explorer tool can be used to find relevant keywords that you will include when you list out your products.
You can also use the explorer to find the best niches.
The product tracker tool will help you to monitor potential products that you plan to sell in the future.
Once that is done, you will have access to all the products which will help you make better decisions on what products to select before you choose and launch products in your store. 
Related: Complete AMZ Scout Review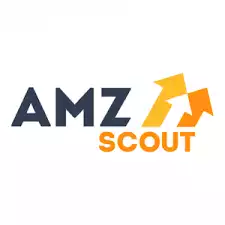 We earn a commission if you click this link and make a purchase at no additional cost to you.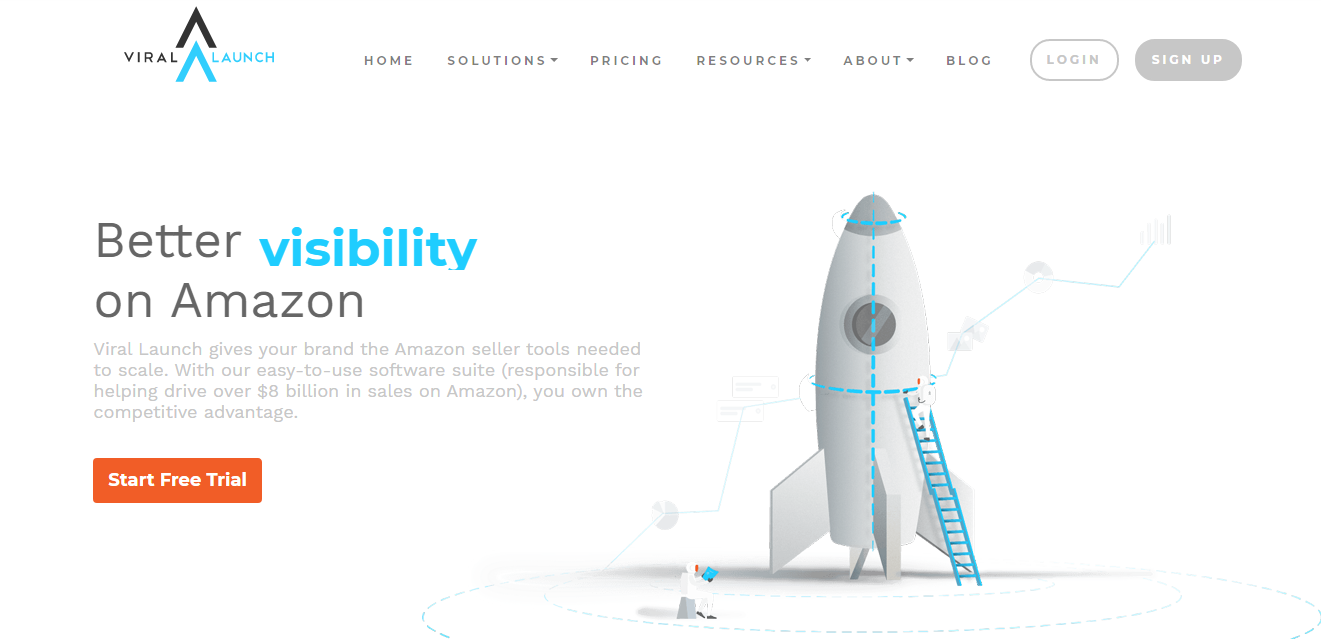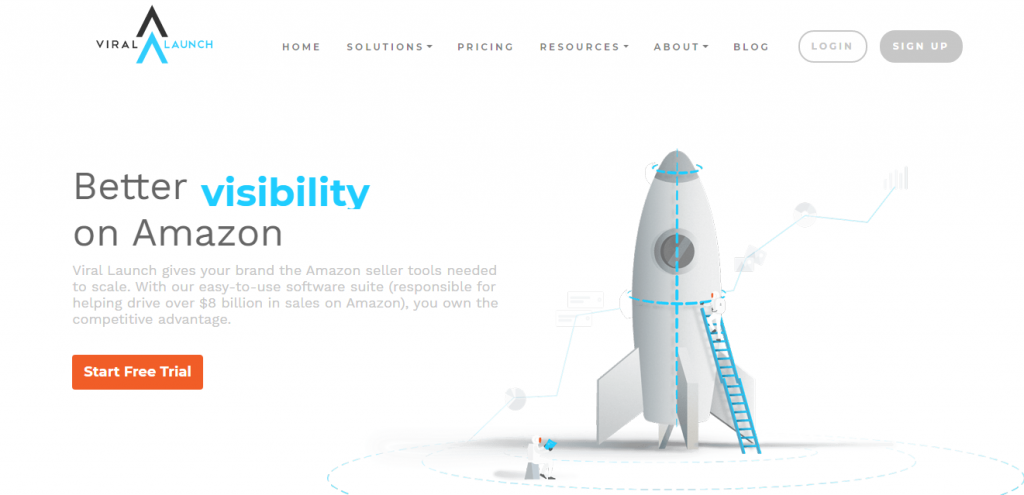 Viral Launch is another popular Amazon keyword ranking tool that is used by many sellers to boost their Amazon business.
These sellers use Viral Launch to compare different products to see which ones have the most potential to make money on the Amazon marketplace.
Sellers use Viral Launch to track their competitors and to know where the rankings of their products rise or drop in the marketplace, thereby allowing them to know if those products are good for business.
The tool suggests new ways that you can optimize your traffic for free or paid sources.
You can use this tool to get insights on a list of your current marketing efforts and it will show you changes that you can introduce to improve your conversion rate.
With Viral Launch, you will have access to millions of products and categories on one of the biggest Amazon databases in the industry.
This 'cheat' tool gives you all the relevant details you will need to make informed decisions on your product choices.
You will see the reviews on the products, the sales journey, and other factors that will inform your choice on which products to launch.
As far as I know, the data that Viral Launch gives is as accurate as it gets, which is why the tool is often recommended for sellers, although some sellers claim to have noticed that the reports they get on the profit margin of some products under comparison are a little incorrect.
My favorite feature in Viral Launch will be its competitor's ranking.
It does exactly what it says it does, that is tracking the products on your competitors' catalog every time.
That way, you are alerted whenever there is a rise or fall in any of their listings, which is a potential opportunity for you.
You can get these same alerts for your listings so that you will also be informed anytime your products rise or drop in the rankings.
With this, you can track your marketing efforts and know what strategies are working and what to drop.
It's keyword research option grants you access to thousands of recommended keywords with only a single click.
You will see a list of keywords that your competitors are ranked for and you can leverage that knowledge on your next campaigns to draw traffic from the same area that your competitors are pulling from. 
Explore: Viral Launch Review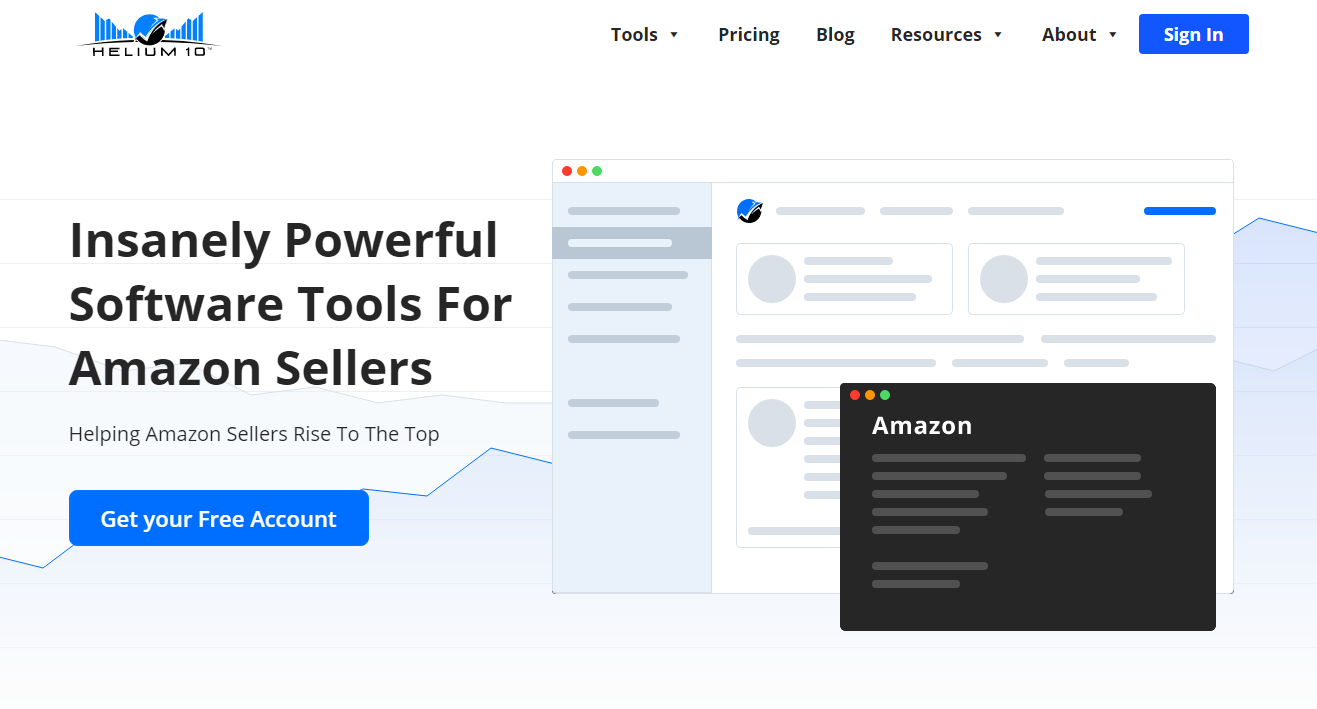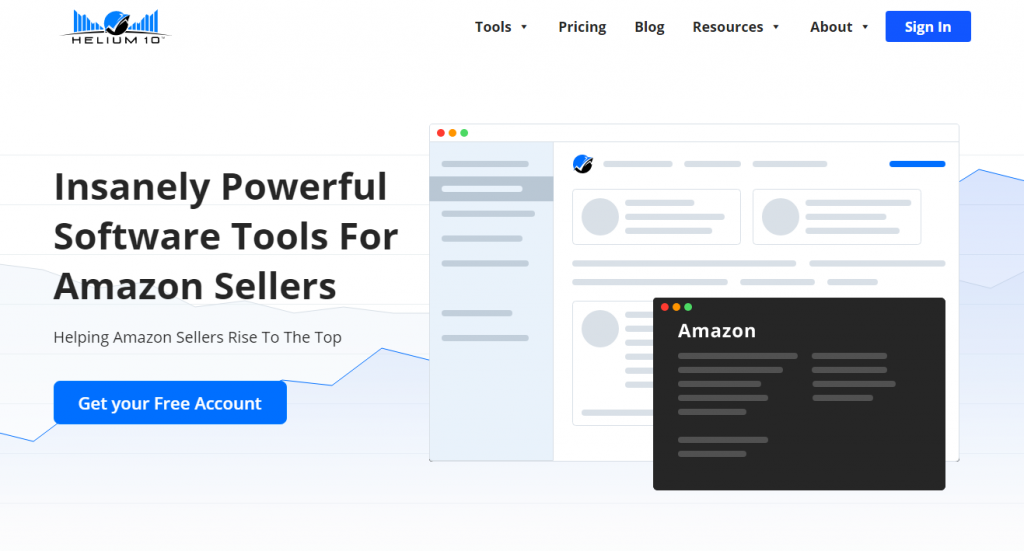 Helium 10 is a popular Amazon ranking tool.
You will not find many Amazon keyword research tools that have as many features and packages as Helium 10 does.
This tool surely has all the solutions that will help boost your Amazon business miles ahead of your competitors.
One of its top features is its black box.
This is often used by sellers to find new products based on their specific needs.
The black box utilizes complete data and advanced filtering to find potential bestsellers.
This process lets you quickly analyze all the factors that will determine the marketability of different products on Amazon in a matter of seconds.
To make things organized, you can place your findings into different categories to make sure that you can easily find them whenever you need to.
You will find out that there are many other keyword research tools in the market that have the capacity to do what Helium 10 does, but none of those tools can perform as quickly as Helium 10.
Just like Jungle Scout and AMZScout, Helium 10 also has a Chrome extension.
This Chrome extension houses some of the top features that the tool is known for.
It works as an Amazon ASIN grabber tool. You also get access to profitability calculator, Xray, review downloader, and more.
This means that with only a few clicks you can easily view sales trends, paid ads, analytics, estimated revenue, and prices.
With the profitability calculator, sellers are bound to know the exact profit they stand to get as it factors in the weight and dimensions of the product, manufacturing costs, and shipping fees.
The ASIN grabber makes it easy to find the best ads to give you an idea of how to run your own targeted ads.
It lets you easily copy and paste ASINs, which will show you running PPC ads or products that have the potential for high demand in the future.
Its review downloader does exactly what it sounds like.
It lets you look through a series of reviews, which you can export into a spreadsheet to know what buyers already think about the product.
Some of the other features you will find in this tool include the Trendster which performs similar roles to Google tends by showing you the seasonal potential of products within a given period.
Another attractive feature is its database.
There you can find thousands of high volume keywords that will fit your listing. 
Interesting Read: Jungle Scout Vs Helium 10

We earn a commission if you click this link and make a purchase at no additional cost to you.


MerchantWords is a solid Amazon product ranking tool.
It was created by George Lawrence to help Amazon sellers find out the best products that their prospective buyers are searching for.
It does this by showing sellers estimated figures of search results for different keywords.
This report will, in turn, give the sellers an idea of what products are in demand, which reduces the work that they have to do.
This software also helps sellers to identify the best keywords to add to their sales copy.
This is possible because MerchantWords include a variety of long and short tail keywords alongside their estimated search volumes.
Using these keywords will help sellers appear on searches for not only the specific name of their product but also for related search terms.
With this, your product will be likely to be found by more people since you have described them with different keywords that people search for.
MerchantWords is easy to use. Once you enter your search query on the search bar, the tool will show you the number of search results that others have made for that specific term.
This tool usually specifies the categories that the products you searched for are usually found.
Once you have looked through the results, the next point of action will be to compare the keywords.
Ideally, you will want to find keywords that have high search volume and low competition.
MerchantWords has the capacity to search for terms on Amazon and Walmart.
If you hover your mouse over your first search results, you see the option to search these marketplaces.
This option is great because you can use the comparison between marketplaces to check for search accuracy.
You have the option to narrow your search results down to the specifics since it will be difficult to comb through the millions of search results that the software will give you for a single searched term.
This tool saves you time by providing you with page one listings on Amazon for your search term. 
Explore: Viral Launch Vs Merchant Words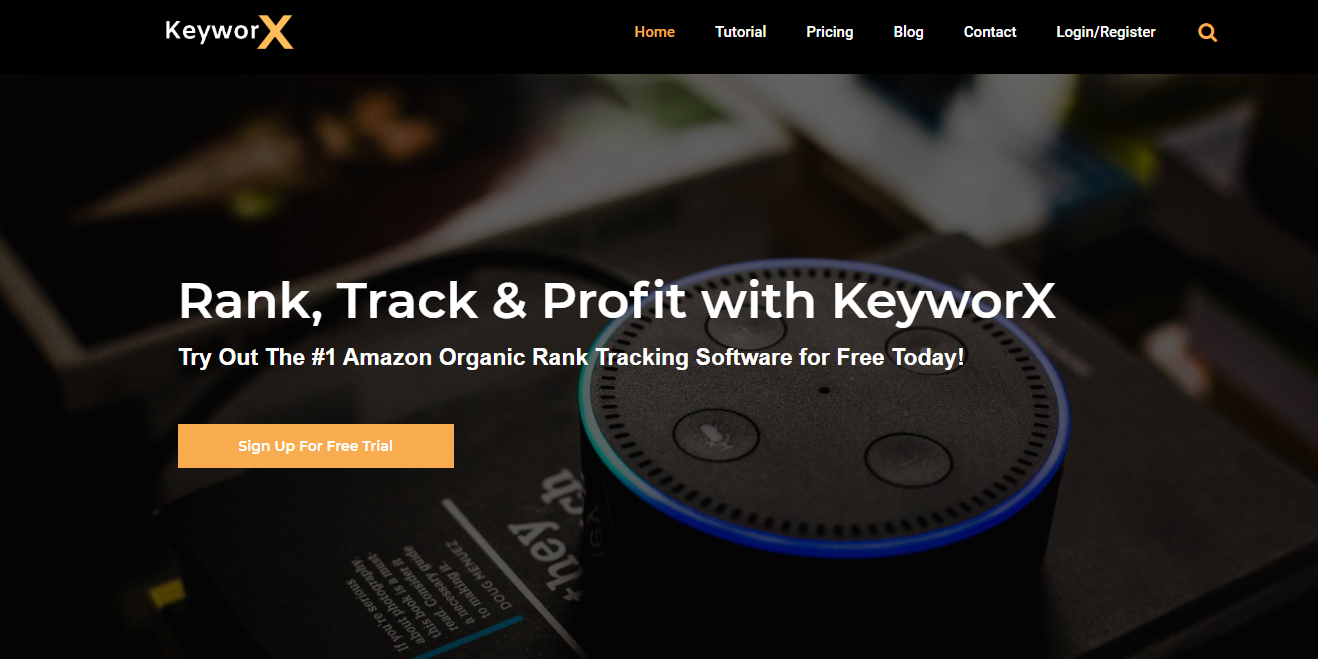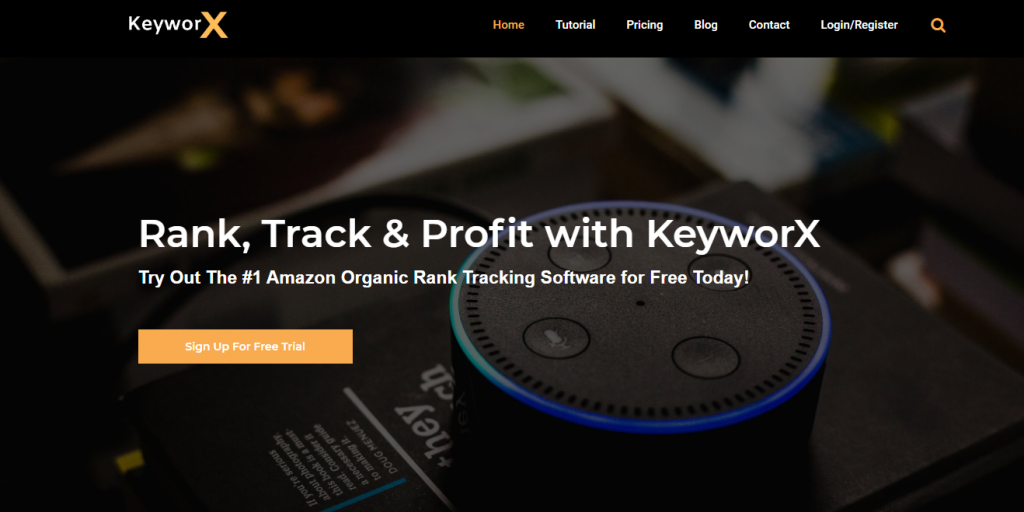 KeyworX boasts of being the number one Amazon rank tracking system in the market, and while that might be a bold claim, it is difficult to make a case against it. 
For starters, this tool is everything that a tracking tool should be In terms of interface.
It is clean and easy to navigate through. 
You will expect that tracking will take a little while to get used to, but you will likely understand how to use KeyworX almost as soon as you sign in. 
It will give you a list of the top 20 ranking ASINs for an Amazon keyword once you enter that keyword on its search bar, and that's not all. 
This result often comes with a historical graph that shows you all the changes in the ranking of the 20 keywords for the last 10 days. 
With this tool, it is easy to find out who the top-ranking competitors in your niche are.
Once you enter the name of your product, KeyworX will let you add up to five ASINs that product.
The best part about this tool is that you will qualify to get alerts for your keywords.
These alerts will come whenever there's a rise or drop in your product's performance, rise or drop in your competitors listing, and when a new competitor enters or drops out of the top 20.
KeyworX is worthy listee when it comes to the best Amazon keyword ranking tools.
Check Out: Best Amazon Product Finder & Research Tools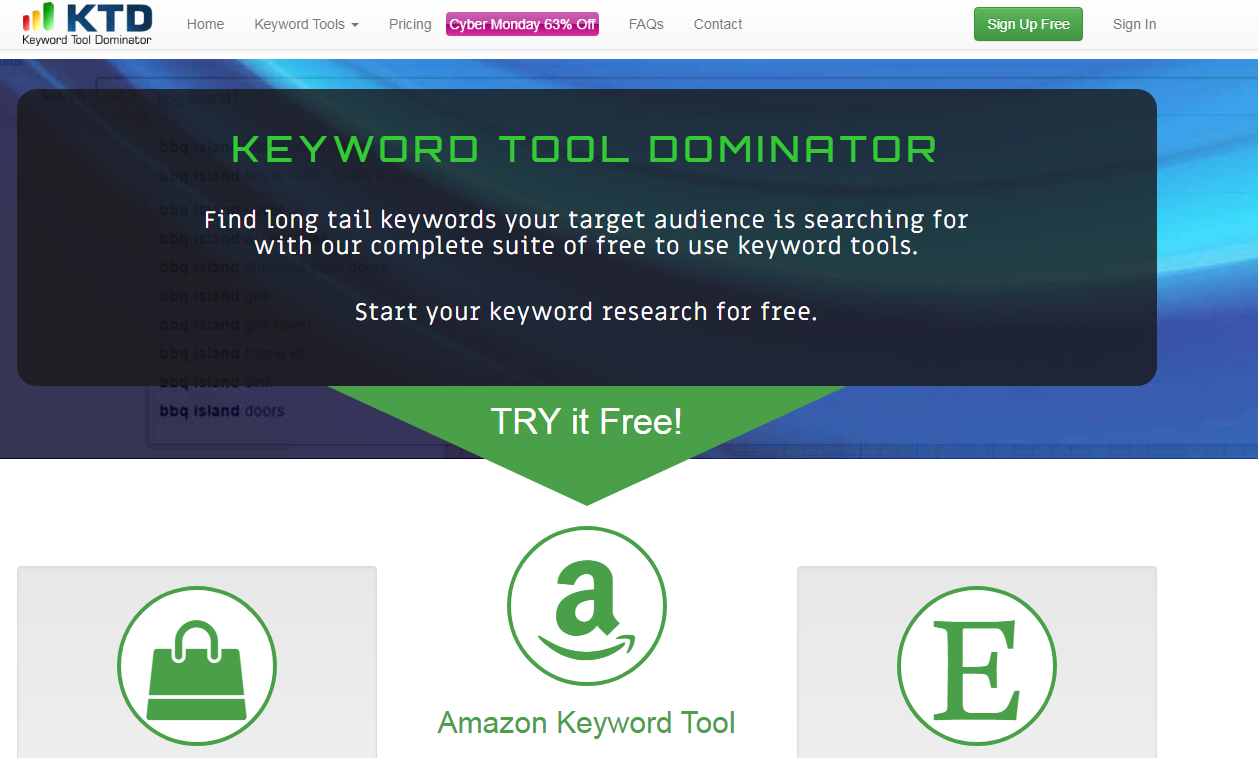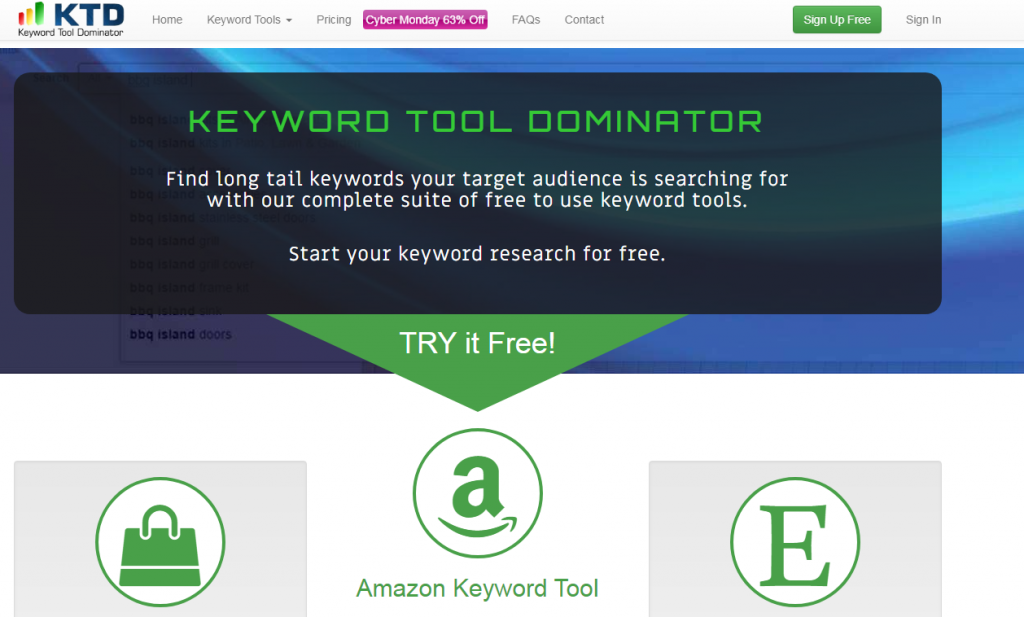 The Keyword Tool Dominator is an extension that utilizes autocomplete databases like Google, Amazon, YouTube, eBay, and other platforms with huge search engines.
If you love to try out several long-tail variations, then this Amazon ranking tracker is perfect for you.
The tool was created only a few years ago, but it is now used by thousands of people across the world and it is not restricted to only Amazon users.
With the Keyword Dominator Tool, all it takes to find a good number of high search volume long-tail keywords is to type in a single search term.
This tool has its drawbacks. The most notable of them is that its official website seems a little bit unprofessional and could do with a few touch-ups.
The payment plan isn't flexible.
It requires users to pay a lifetime fee, without any option of monthly or annual payments and you can really only use this tool if you are surfing through your marketplace on Google Chrome.
On the other hand, the tool has a lot of upsides.
Its main focus is keywords and it works on all the Amazon marketplaces.
The data that you get from it are all in real-time, and you can still draw data from Etsy and Google shopping marketplaces.
The keyword tool dominator is mostly ideal for Amazon sellers who are looking to add more long-tail keywords to their sales copy and website, which will go a long way in getting their products found since many sellers are too lazy to include extra keywords. 
Check Out: Best Amazon Keyword Research Tools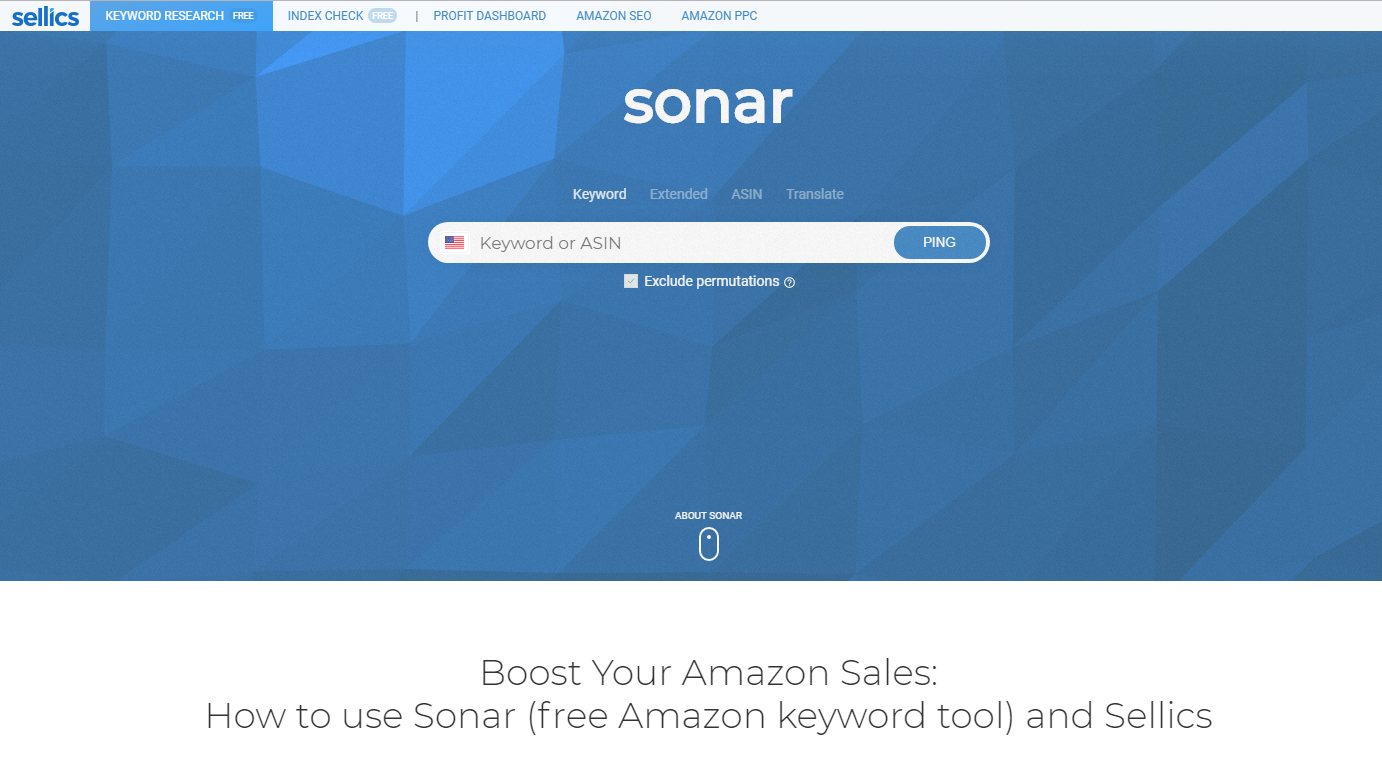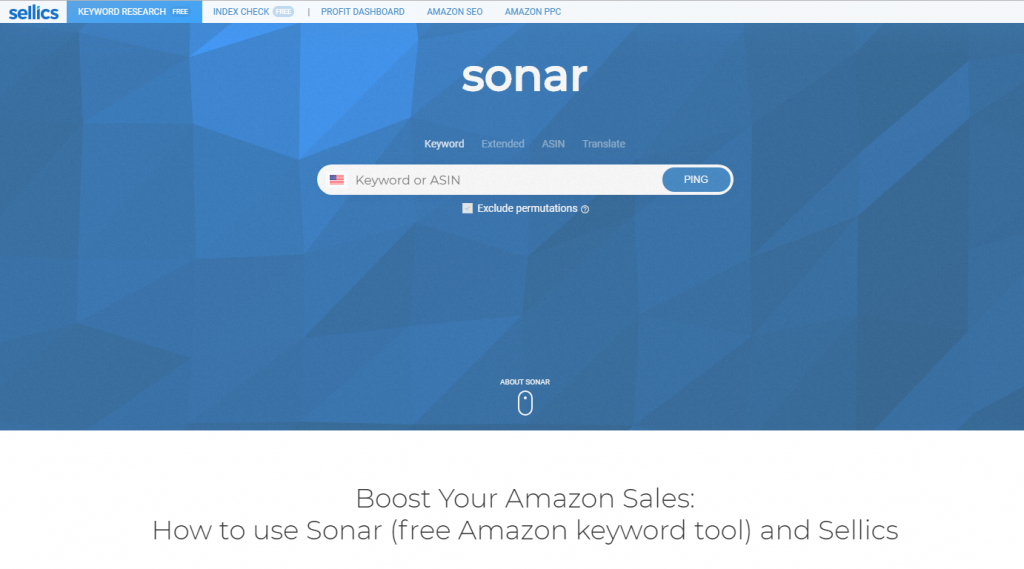 Sonar is one Amazon keyword rank tool that is becoming increasingly popular among Amazon sellers.
This is because it offers one of the fastest and easiest ways to search for keywords on Amazon.
Once you enter a search term on Sonar, it will redirect you to a web page that will show you your keyword and a list of related keywords.
These keywords and their corresponding data are obtained from Amazon as Sonar does not pull keywords from other sources like Google.
While this is a plus for Amazon sellers, it may very well be the reason why Sonar does not provide robust analytics like most of the other keyword research tools on this list.
Sonar presents its analytics in the form of a bar-type graph that shows the search range.
This makes it difficult to get specific pointers that will help you optimize your listings.
However, Sonar compensates for that by letting you remove permutations from the keywords.
This way, it cuts down on unnecessary clusters so that you can see the specific paths your keyword is taking.
You do not need any technical knowledge to use Sonar.
You can start using it as soon as you visit their website.
What this tool lacks in detail, it makes up for in its user-friendliness.
Interesting Read: Best Amazon FBA Seller Tools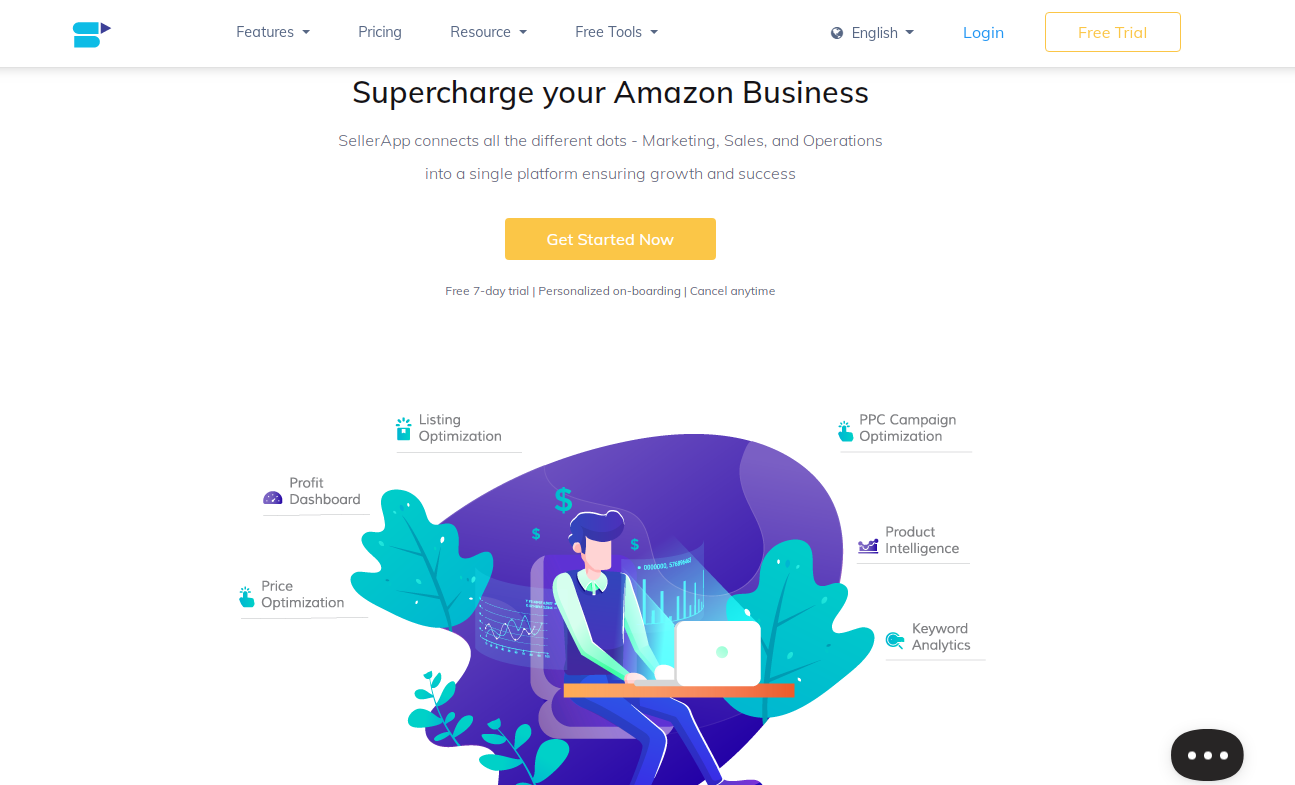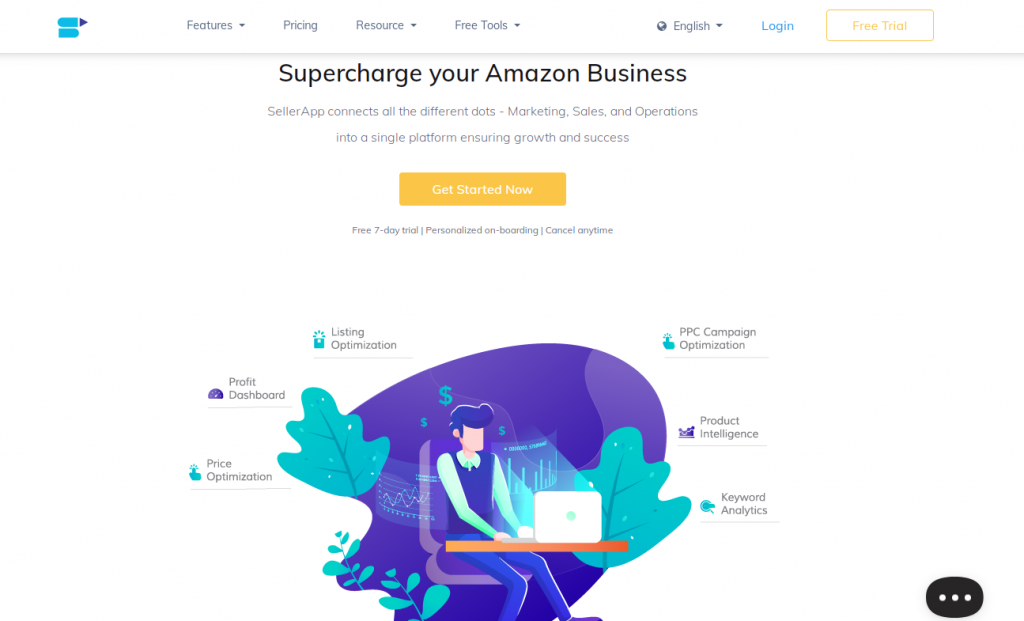 SellerApp is a go-to tool for eCommerce analysts to find actionable insights that can help influence sales positively for Amazon sellers.
This tool is essentially an eCommerce platform and the data obtained from it can be optimized and used to maximize sales from products and services.
The tool allows sellers to be able to analyze data from all stages of the buying cycle, meaning not a lot can get past its users, and this will increase their chances of optimizing product performance.
SellerApp allows Amazon sellers to work with real-time data that they can use to drive relevant ad campaigns to boost their sales and profits.
The insight gained from the data will enable sellers to understand their buyers' behaviors better and from there, they can drum up better strategies to encourage existing customers to return, while appealing new ones.
This application also offers a subtle way to spy on your competitors.
You can use SellerApp to see what your competitors have done within a certain period, their best performing keywords, and the impact their activities have had on their campaigns.
SellerApp offers an innovative way to improve your product listings and adverts by helping you find keywords of high potential.
Also Read: Seller App Review
Final Words
There you have it. 
These are the 10 best Amazon keyword research tools that will help you target the best products that will improve clicks and conversions more than any other tools in the market.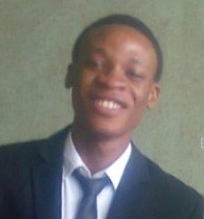 Author: Efose Ikhalo
Efose says he is a polymath, which reflects in his work. He excels at inbound marketing, tech, and business. He has a rich experience of working with renowned digital marketing agencies in the past. Often writes for top blogs.