Starting an online t-shirt business is no longer an unachievable dream. With some basic skills, you can open up an online t-shirt store in less than an hour.
Today, I will be comparing two platforms: Printful and Teespring. Both are great options whether you are a designer/artist who wants to share their art with the world, a business owner who wants to sell company merchandise, or a social media influencer who wants to increase their income by selling shirts and other items to their fans.
What Is Printful?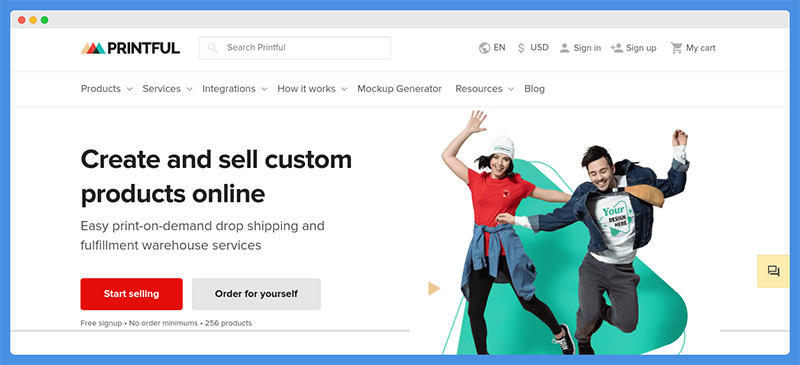 Printful is a popular print on demand company that focuses on t-shirts, clothes, mugs, and other accessories. Print on demand allows you to sell custom t-shirts and merchandise without purchasing any in bulk upfront.
Printful has warehouses around the world. When a customer places an order with you, all you have to do is forward that order to Printful.
Printful will then print your logo on the type of item the customer wanted and ship the completed product to the customer from one of their warehouses. It's simple and easy.
The fact that Printful is a complete POD platform with a plethora of features, people prefer it over its competitors like Printify, Redbubble, Print Aura, Spreadshirt and several others.
Our Pick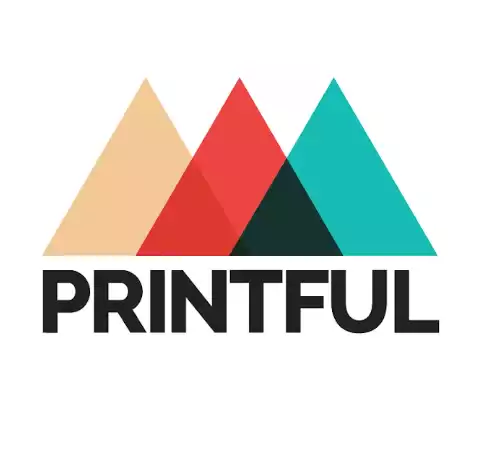 We earn a commission if you click this link and make a purchase.
What Is Teespring?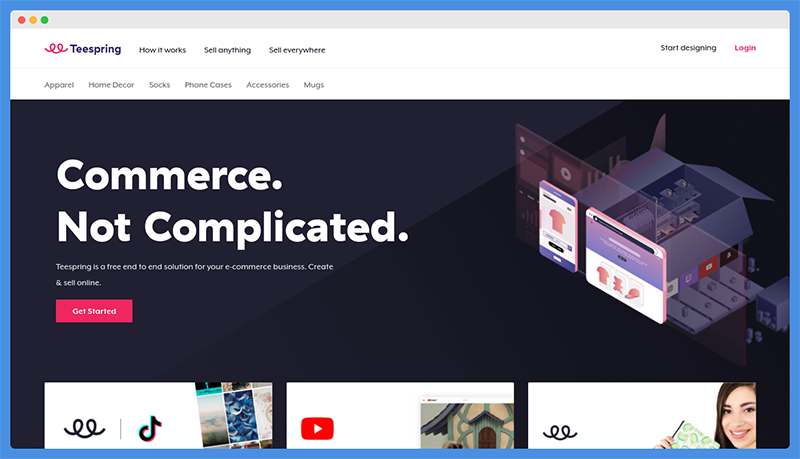 Like Printful, Printify, Spreadshirt, and others, Teespring is also a print on demand company. It mainly focuses on t-shirts and other clothes. It is geared towards online content creators.
However, there are some crucial differences between Teespring and Printful, which is what we will focus on in this article.
Printful vs Teespring: What Can You Sell?
If you are interested in selling specific items, it's important to make sure the platform has what you want to sell. Let's see whether Printful or Teespring has a larger selection of items to sell.
Printful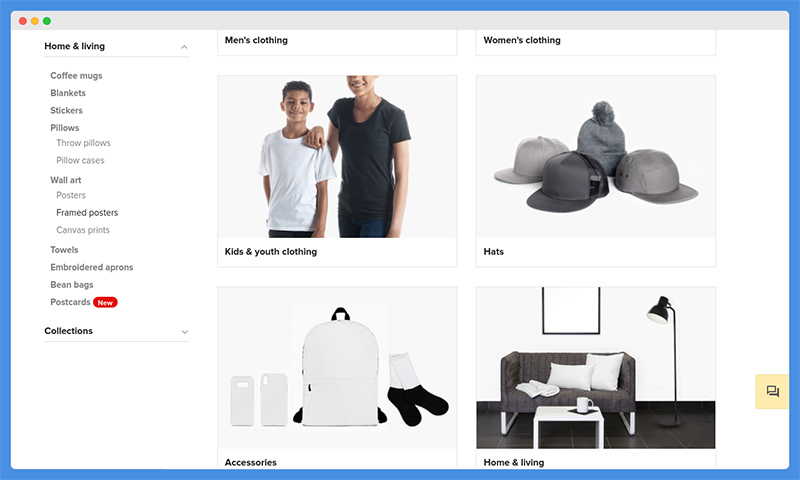 Printful's catalog focuses on more than just clothes. However, the clothing options are also pretty varied.
Not only can you sell all kinds of men's, women's, and children's shirts, sweaters, hoodies, leggings, swimwear, and dresses, but there are also various styles available for many of these products.
For example, there are three different styles of men's polo shirts to choose from. There are a total of 24 different unisex/women's t-shirt styles.
Of course, you can also sell each product in different sizes and colors.
In addition to clothes, however, you can sell various kinds of hats, caps, beanies, face masks, jewelry, mugs, laptop cases, tote bags, keychains, flip flops, blankets, wall art, towels, aprons, bean bags, postcards, and more.
Teespring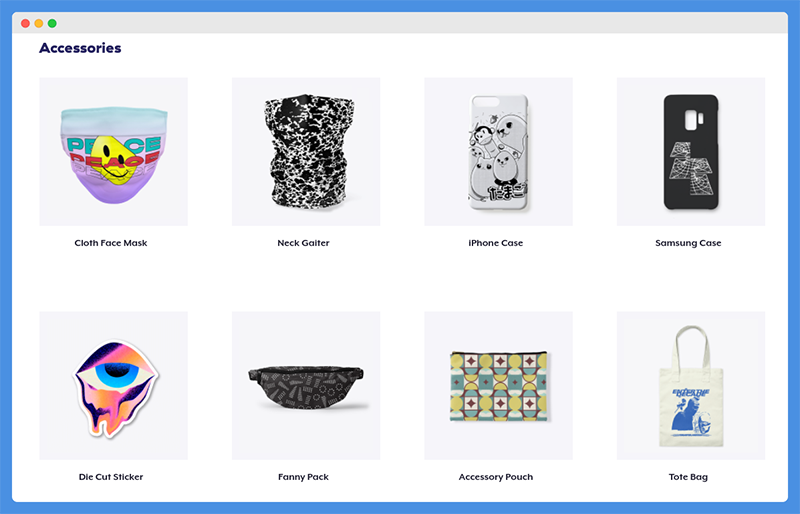 Unfortunately, while Teespring has a decent selection of products to choose from, it just does not come close to what Printful has to offer.
They have a decent selection of clothing options, even compared to Printful. However, some things are missing, like dresses and baby bibs.
When it comes to other accessories and home items, Printful definitely has more options. With Teespring, you can still sell things like posters, mugs, tote bags, stickers, phone cases, fanny packs, and more.
However, Printful has options that Teespring does not have, such as keychains, flip flops, earrings, bean bags, and many others.
In addition, Printful offers more style options for specific products, such as t-shirts, than Teespring.
If what you are looking for is a greater variety of products to sell, Printful is a better choice. However, Teespring still has most of the items that are commonly sold by print on demand sellers, so you probably won't be missing out too much if you use Teespring either.
Printful vs Teespring: Selling On Your Own Store Or Amazon
What if you have a WooCommerce or Shopify store and want to sell t-shirts on it? Or what if you have an Amazon or Etsy store or want to open one?
Printful
With Printful, you have a lot of options in terms of where you can sell your products.
Let's start with selling on your own website. You can use BigCommerce, Shopify, WooCommerce, Weebly, PrestaShop, Magento, or any other platform or eCommerce software that is popular.
In fact, here is a list of all the eCommerce software integrations offered by Printful: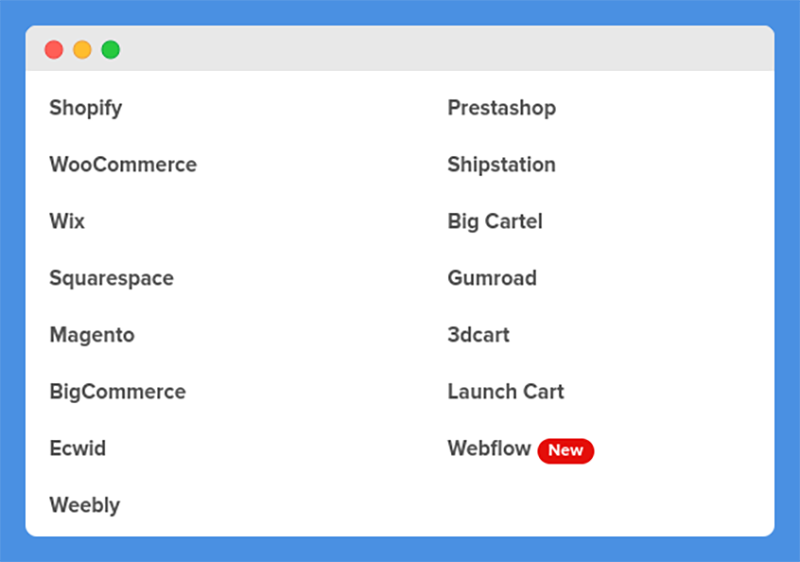 If the software you are using is not listed here, you can use the Printful API.
In addition, if you don't want to go through the hassle of creating a website by yourself, you can sell on a third-party online marketplace like Amazon. Available marketplace integrations include:
Amazon
eBay
Etsy
Wish
Storenvy
Bonanza
Teespring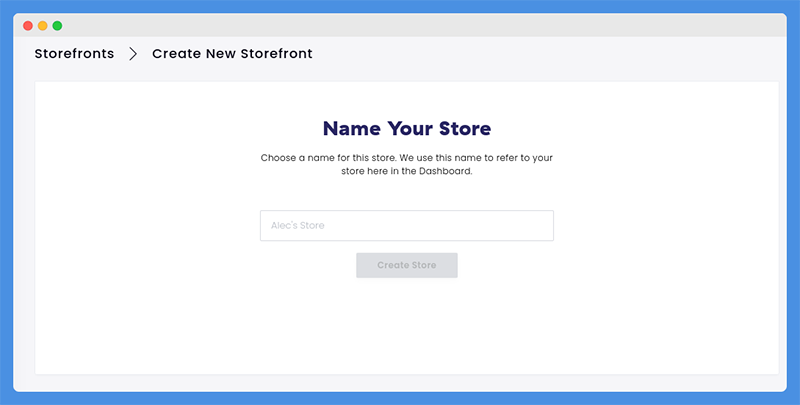 Here's the downside of Teespring: You have none of the selling options listed above. You can not sell on your own store, and you also can not sell on Amazon, eBay, or another online marketplace.
This doesn't mean that your product can't appear on Amazon. In fact, Teespring has an expanded promotion network where they do list products from their site on Amazon, Walmart, and four other online marketplaces.
However, although you will earn money if your product is listed on one of those marketplaces and gets purchased, you are not in control of this promotional service (although you can opt out). Your product may or may not be listed.
If you use Teespring, you can only sell through the Teespring marketplace. This doesn't mean you can't promote your products on your Youtube channel or other social media profiles, as we will see later, but the sale will always be made on the Teespring website.
You can, however, create your own Teespring storefront. Nevertheless, it will still be hosted on the Teespring site.
Teespring vs Printful: Promote to Your Fans
If you already have a fan base, which platform is better if you want to promote your merchandise to them?
Printful
Since you won't be selling your products on Printful itself, the integrations and promotional tools you will have will depend on the platform you are using.
For example, if you are selling your Printful merch on a Shopify store, you can integrate Shopify with Youtube by using Zapier. If you are using WooCommerce, you can create an Instagram Shop by following this WooCommerce Instagram guide.
Our Pick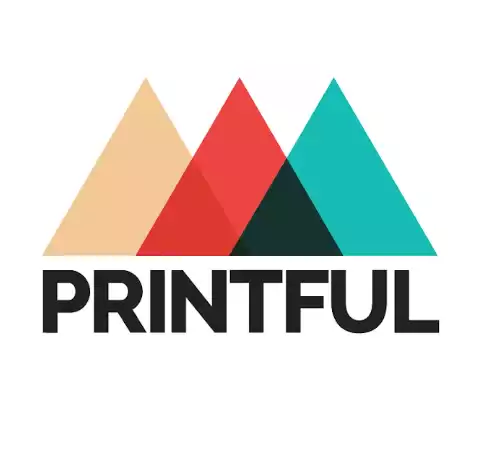 We earn a commission if you click this link and make a purchase.
As such, if you have a specific channel you want to promote your products on, it is worth doing some research as to what integrations are available with which software.
Teespring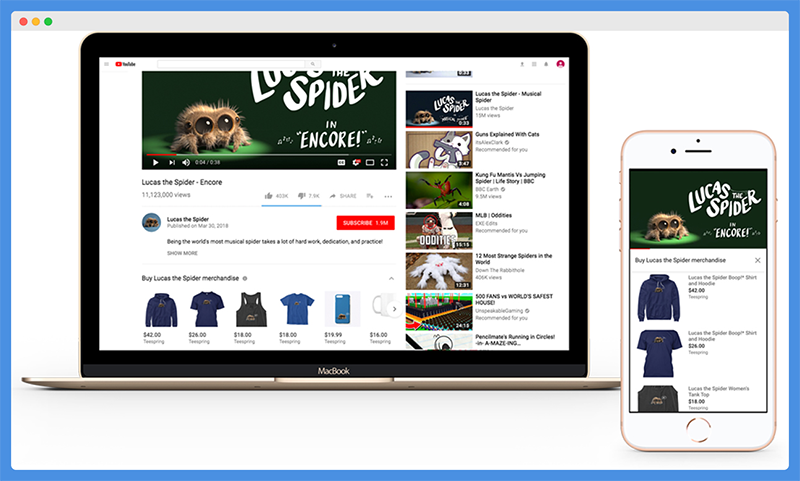 Fortunately, Teespring has a number of useful integrations that help you promote your merch to your fans. Perhaps the most useful one is geared towards YouTubers.
Have you ever seen YouTubers showcase their actual products, complete with pictures and pricing information, in a scrollable carousel under their videos on YouTube? This is made possible with Teespring's YouTube Merch Shelf integration.
There are some requirements, however. You have to have at least 10,000 subscribers on YouTube to be able to put up this merch shelf; if you don't have that many followers, you will have to put a link to your product into the description or a pinned comment instead.
In addition, you must be in the YouTube Partner Program and have no community strikes due to inappropriate content.
In addition to YouTube, streamers on Twitch can also display a merch shelf alongside their live streams.
Teespring is one of the few exclusive companies that have partnered with Instagram to allow sellers to create shoppable Instagram posts so fans can make purchases straight from the Instagram app. However, this is currently in Beta mode and is not open to new applicants yet.
Teespring vs Printful: How You Get Paid
Where is the money at? How do you make money, and is Teespring or Printful better in terms of the ease of accessing your earnings?
Printful
As mentioned, Printful sellers can sell on a number of different platforms. As such, how you access your money will depend on which platform you are selling on.
If you are selling on Etsy, Amazon, eBay, etc, you will get paid just like all other sellers on that platform. If you are selling on your own website, you will have to collect the money directly from your customers at the point of sale (this can be via PayPal, credit card, or whatever other payment systems you have set up).
Once a sale is made, Printful will charge you for the base price of the item and shipping. Therefore, make sure to add a margin onto that base price to charge to your customers so you can earn a profit.
Teespring
Since all sales will be made through Teespring, you won't have to worry about collecting payments directly from your customers. All you have to do is set the final selling price (make sure to add a margin for your profits).
Teespring will charge everything to the customer and then give you the profit margin you added on to the base price.
After a sale, the profits will be made available in your account within a day or two. You can request a payout at any time, and you will receive the money within one to seven days.
You can request a payout every three days.
Teespring vs Printful: Samples
What if you want to order a sample before you sell the actual product, just to make sure it came out looking good?
Printful
Printful allows you to order samples at a 20 percent discount with free shipping to select destinations. However, new Printful sellers are capped at one sample order per month, with a maximum quantity of three sample items per order.
As your sales volume increases, this limit will decrease. However, no Printful seller can make more than five sample orders per month (15 items).
You can learn more about which destinations qualify for free shipping when ordering samples here.
Teespring
You can order samples with Teespring too. Unfortunately, however, there are no discounts offered.
Instead, you have to pay the full base price of the item (minus the margin you will add on, of course). Printful wins a point here.
Teespring vs Printful: Warehousing And Fulfillment
Where do products ship from? What if you have your own products you want to sell — can you send them to Teespring or Printful so they can store them for you?
Printful

Printful has a warehouse and fulfillment service you can use for your non-Printful products. In other words, if you sell t-shirts, phone cases, bags, or anything else that you ordered from another manufacturer and not from Printful, you can still send them to Printful for storage and fulfillment.
This is very similar to Amazon's FBA. You simply arrange for your supplier to send the products to one of Printful's warehouses instead of to you.
Then, when an order comes in, Printful will ship out the product to your customer. Products usually get shipped out within a day, and since Printful has warehouses both in the USA and in Europe, shipping usually takes pretty quick.
Not all products are accepted, however. Products that are too big, cost too much, or are perishable can not be sent to the warehouse.
Our Pick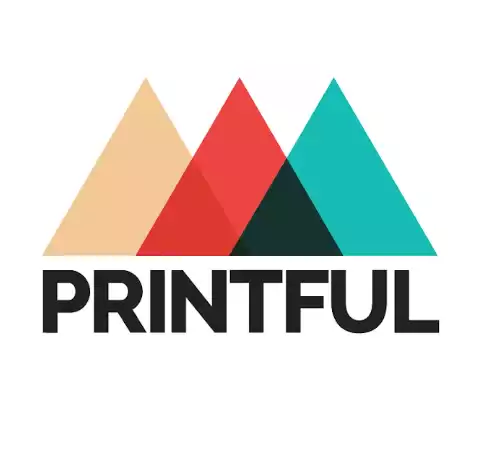 We earn a commission if you click this link and make a purchase.
In addition, this is a fulfillment service. You can't order t-shirts in bulk from another manufacturer and send them to Printful for them to print your design on them.
However, if you order those t-shirts from Printful, you can do exactly that.
Storage fees range from $0.75 per cubic foot to $1.65 per cubic foot, depending on how many items you are storing. There is always a $25 minimum monthly storage fee.
Handling and fulfillment fees are as follows: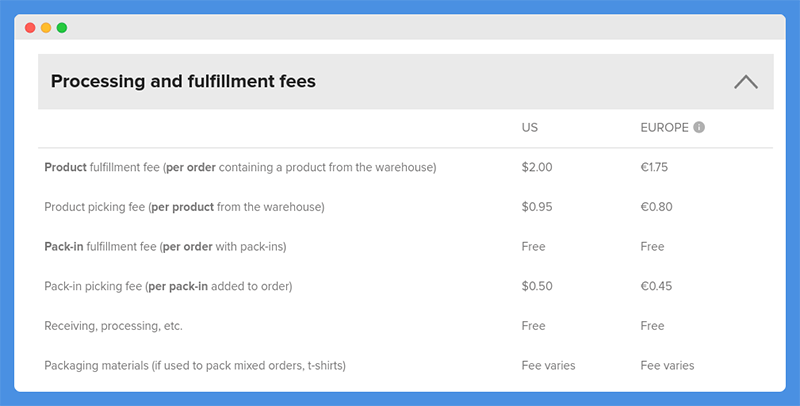 To calculate shipping fees, use the calculator on this page.
Teespring
Teespring does not have this service. In this regard, Printful wins another point against Teespring.
Printful vs Teespring: Packing Inserts And White Label
What about private and white label? Does Printful or Teespring offer this service?
Printful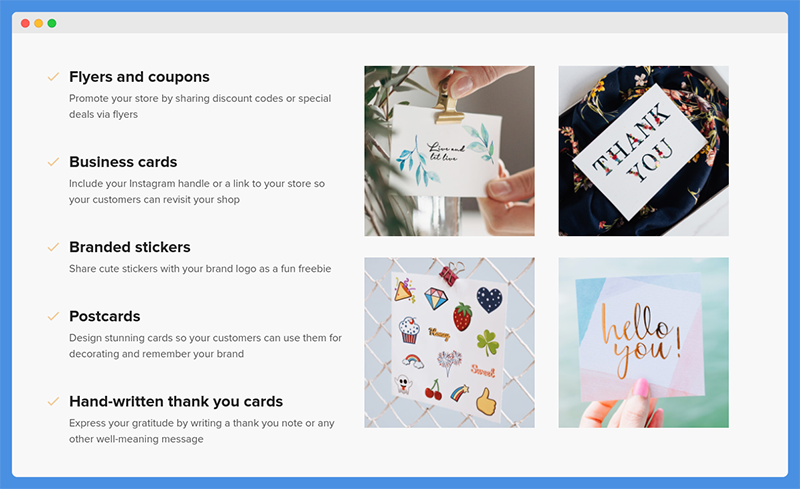 Printful does allow you to set up a white label business. In addition to printing your actual logo on the t-shirt or product you are selling, you can actually print on your own label on the inside or outside.
Inside labels are available for t-shirts, dresses, skirts, hoodies, and various other clothes. Depending on the product you are selling, you can also have an outside label printed.
You can also print a sleeve print on short and long-sleeved shirts and embroidered logos on caps.
Most labels cost $2.49 per label. Long sleeve prints cost $5.95 per sleeve, and embroidered logos cost $2.95 per logo.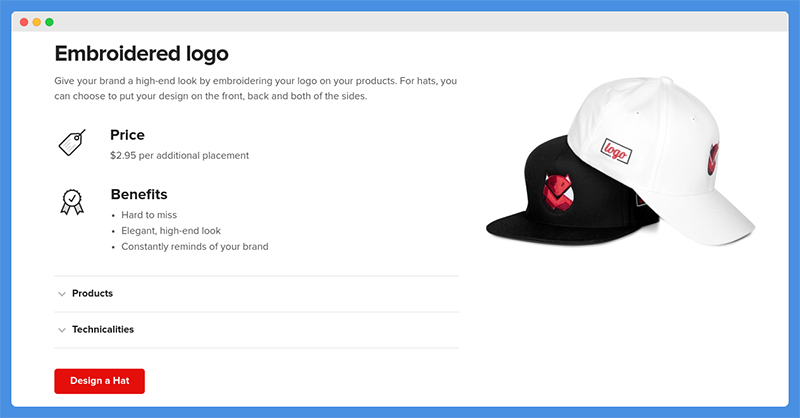 In addition to your own labels, you can have Printful put your own packing slips onto the packages. These slips are attached to the outside of the package, and they don't include the Printful logo.
Instead, they can contain your own logo or whatever else you want to print on them.
Finally, Printful also allows you to insert business cards, promotional flyers, stickers, and other inserts into the actual packages. This gives you a chance to promote your other products, advertise your website, offer deals, and create a relationship with the customer.
Pack-ins cost $0.50 per order. You also have to pay for storage ($25 monthly minimum), as Printful doesn't actually create these inserts for you; instead, you have them created yourself and then send them in so Printful can insert them into the packages.
Teespring
Teespring does not seem to offer a private label solution. I couldn't find information about customizing the packing slip, adding inserts into the packages, and removing any information about Teespring from the package.
Since customers are making their purchases on the Teespring website, there is no way Teespring is a private label solution. Private label requires having your own store so that customers don't know you are using a print on demand company.
Printful wins a point here.
Teespring vs Printful: Digital Products
What if you want to sell digital products, such as books or printable art? Can you do that on Teespring or Printful?
Printful
Printful focuses on printing physical products for you. If you will be selling Printful products on your own website, there is no reason you can't sell an ebook or other digital products on that same website; you will just have to take care of the payment options and downloads.
Our Pick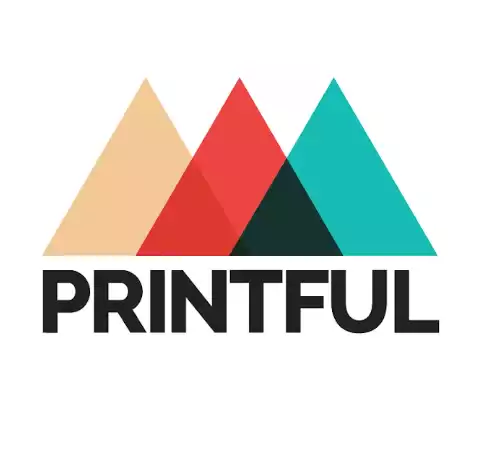 We earn a commission if you click this link and make a purchase.
Teespring
Teespring recently introduced the ability to sell digital products on your Teespring store. This can be an ebook, a printable poster, photo filters, audio files, and whatever else you want to sell.
What about making money? Of course, if it is a digital product, there is no "base" price that goes to Teespring.
Instead, Teespring will take a 10 percent fee, as well as a flat $0.40 charge. For example, if you price an ebook at $10, you will earn $8.60; if you price a phone wallpaper at $20, you will earn $17.60.
Printful vs Teespring: Bulk Discounts
What if you have a high sales volume — can you get a discount on the base prices of the products you sell? What if you preorder a lot in bulk?
Printful
Printful offers monthly discounts to sellers who reach at least more than $1,000 in sales every month. Every month, this will be based on your sales volume the previous month.
Discounts start at five percent. If you accumulate more than $5,000 in sales a month, it is eight percent.
Here is the full discount scheme for high-volume sellers: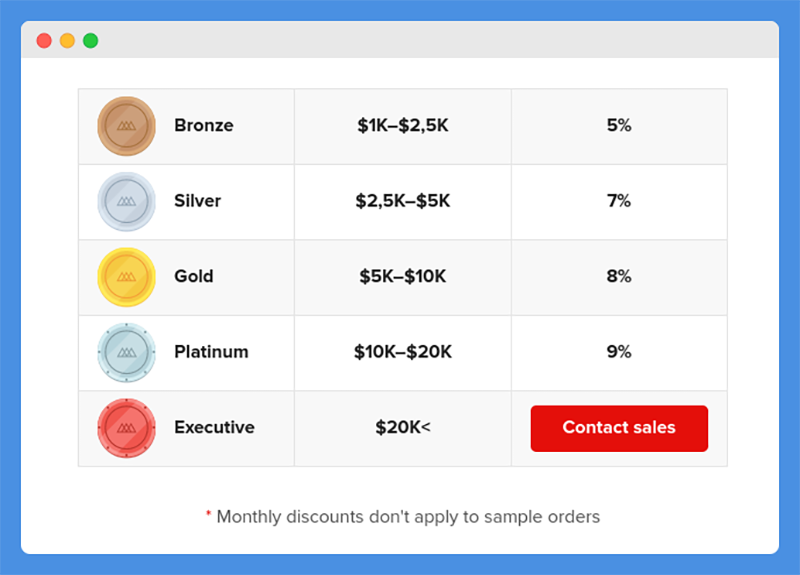 In addition, Printful allows you to purchase 25 or more items at once and have them stored in one of their warehouses. Orders of 25 or more may be eligible for a discount as well.
Teespring
Teespring also has a seller discount scheme that allows sellers to make more money. There are flat discounts applied to different tiers of sales volume, such as what is shown here: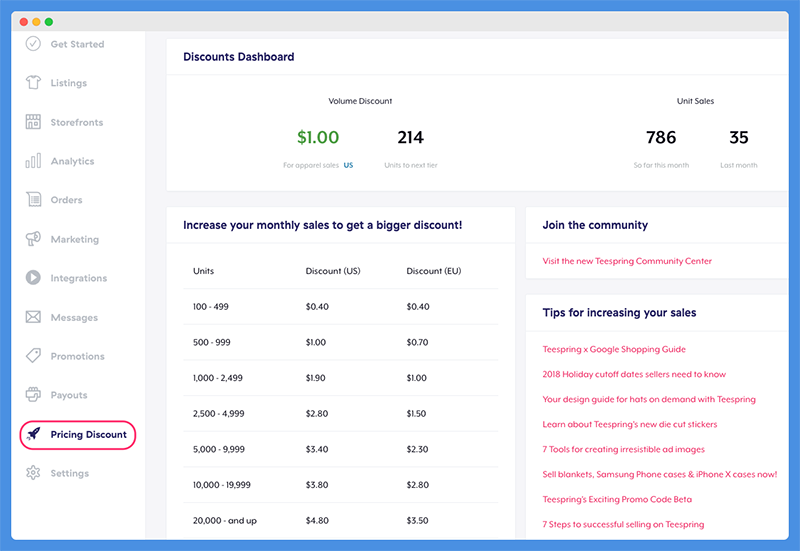 You can move up and down tiers depending on your sales volume the previous month.
Printful vs Teespring: Free Designs
What if you are just starting out and do not have any designs yet, nor the skill to make them yourself or the money to pay a freelancer to make some for you? Are there free designs you can use to test out the print on demand business model?
Printful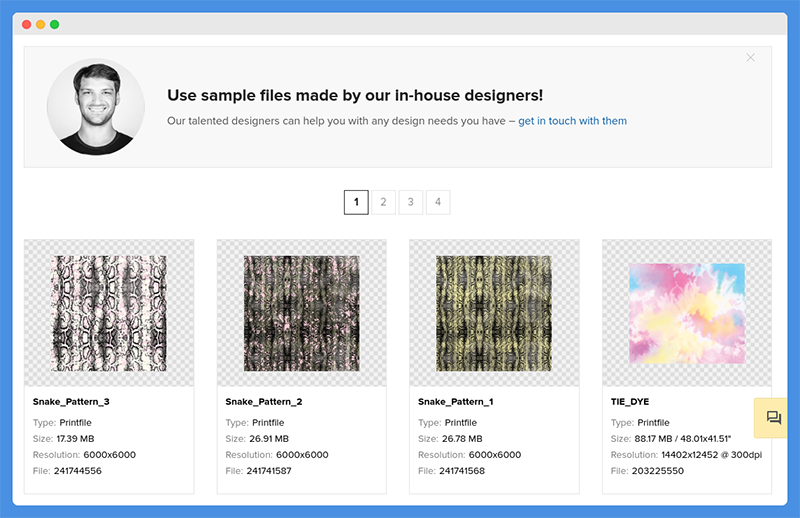 Printful offers sample files that you can find in the file library or when submitting an order. You can use these samples for any reason associated with Printful products, and you can also modify them (as long as they comply with Printful guidelines).
Teespring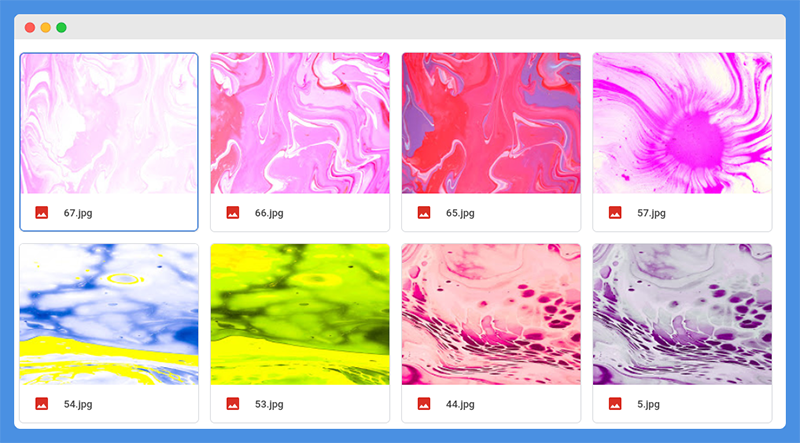 Teespring has a few free designs as well, which they gave away in some of their blog posts. You can find all of their blog posts tagged "free designs" on this page.
In addition, there are free designs and patterns you can download from this Google Drive link.
Important note: I do not recommend using free designs for your business. You need to offer something unique if you want to stand out and make sales.
Teespring vs Printful: Customer Service
What if you need to get help as a seller?
Printful
You can tap the chat icon in your seller account to send Printful a message at any time. Usually, there is live chat; because of the COVID-19 crisis, 24/7 live chat has been reduced but they are working on bringing it back.
You can also send Printful an email or fill out the contact form on their site.
Our Pick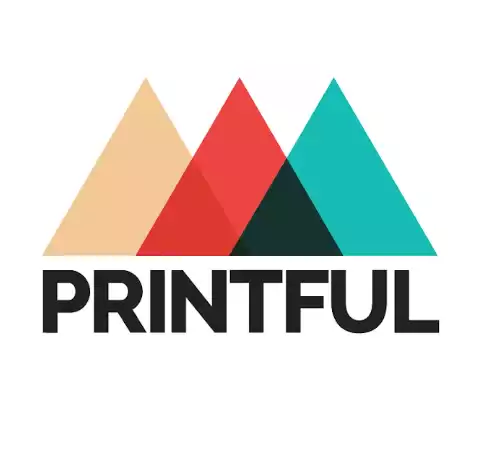 We earn a commission if you click this link and make a purchase.
Teespring
Live chat is available Monday to Friday, and you can always send the Teespring team an email as well.
Similarities And Differences
Printful vs Teespring: Which Is Better?
If you had to choose one, Printful is what I would recommend. There are many things going for it such as:
More product options
Warehousing and fulfillment
Private label and packing inserts
Discounts on samples
More selling options (your own store, your own Amazon/eBay/Etsy shop)
All in all, if you are looking to start your very own private label clothing brand, Printful offers one of the easiest ways to do so. You can get started today at no cost to you; you only pay after a sale has been made.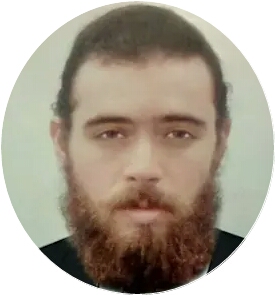 Author: Benjamin Levin
Benjamin Levin is a digital marketing professional with 4+ years of experience with inbound and outbound marketing. He helps small businesses reach their content creation, social media marketing, email marketing, and paid advertising goals. His hobbies include reading and traveling.