The number of digital buyers is expected to increase to 2.41 billion in 2021, and more and more online retailers are adopting dropshipping.

One form of dropshipping is known as print-on-demand. Print-on-demand involves selling t-shirts, mugs, and other accessories with your unique design or logo – but without doing any of the work yourself.

All you have to do is create a design and upload it to a print-on-demand platform (you can also outsource the design creation). Then, the platform will take care of everything else for you, including printing your design on products and shipping them out.

Today, we will be looking at two popular print-on-demand platforms: Printify and Teespring. We'll compare their features and let you know which one comes out as the winner.

Catalog/Product Selection

One of the first things to look for in a print-on-demand platform is how many products are available in their catalog. The more products, the better – you have a better chance of standing out from other competitors as you will be selling different things.

Printify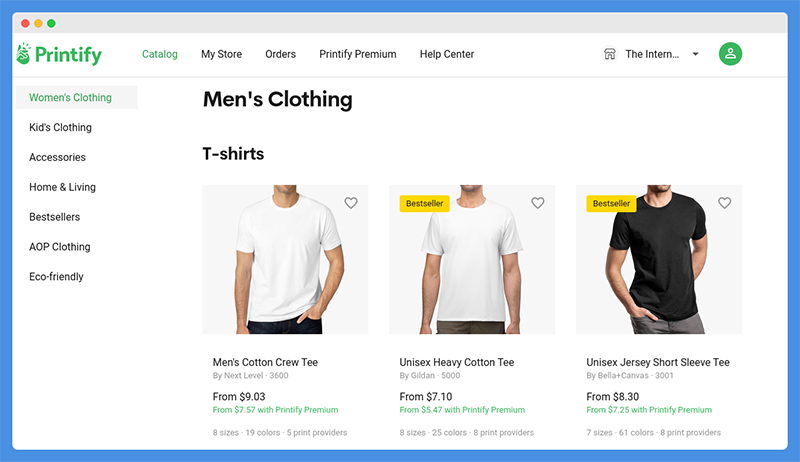 Printify has a wide range of products to choose from – over 250, in fact. Here are some of the products available in their catalog:

Men's Clothing

T-shirts
Long-sleeve shirts
Hoodies
Shoes
Sportswear
Sweatshirts
Tank tops

Women's Clothing:

T-shirts
Long-sleeve shirts
Hoodies
Pants
Shoes
Skirts and dresses
Sportswear
Sweatshirts
Tank tops

Kids Clothing:

T-shirts
Bodysuits
Bibs
Long-sleeve shirts
Sweatshirts

Accessories:

Bags
Jewelry
Phone cases
Socks
Hats
Christmas stockings
Pin buttons
Neckties
Mouse Pads

Home and Living:

Art and wall decor
Bathroom accessories
Blankets
Mugs
Pillows and covers
Stationary
Stickers
Magnets
Pet beds

We earn a commission when you click this link and make a purchase.
Teespring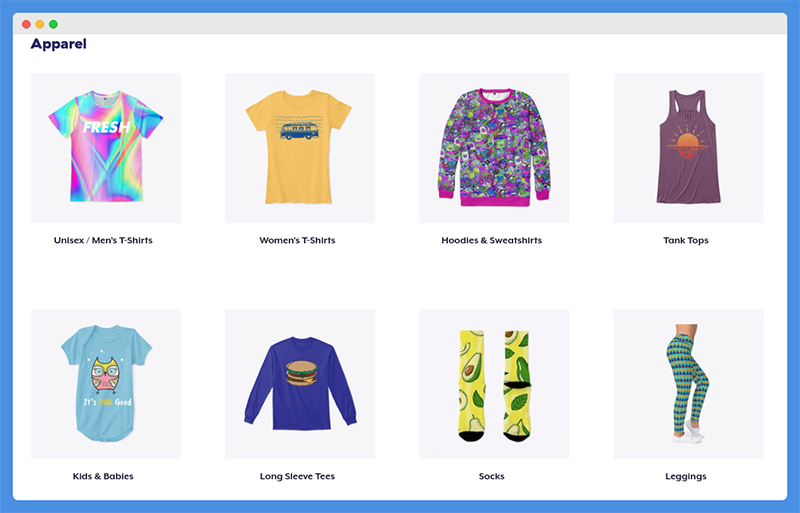 Teespring only has around 50 products in its catalog. Here are the available product types to choose from:

Men's t-shirts
Women's t-shirts
Hoodies and sweatshirts
Tank tops
Kids and babies
Long sleeve shirts
Socks
Leggings
Indoor pillows
Posters
Canvas prints
Wall tapestries
Beach towels
Fleece blankets
iPhone cases
Tote bags
Stickers
Mugs
Samsung cases
Die-cut stickers
Some of these have a few options to choose from, while others only have one version.

Although this is not a bad selection of products, it is a much smaller selection than Printify's.

Who wins here? Teespring and Printify both have similar products for the most part. However, Printify definitely has more product variations to choose from, while Teespring limits you.

In addition, Printify has some options such as pet beds and pin buttons, which don't seem to be available on Teespring. Overall, Printify wins in terms of product selection.

Also Read: Best Print On Demand Sites
Mockup Generator

The mockup generator is the tool you will be using to create t-shirts. You'll be able to upload your design and put it on the correct part of the t-shirt.

To compare the two, we will be using a men's t-shirt as an example.

Printify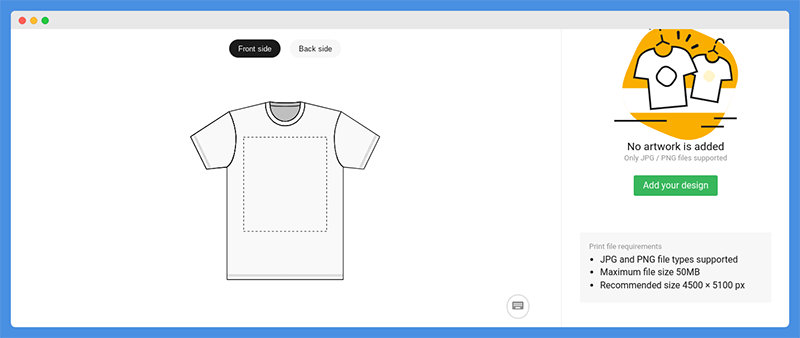 Printify's mockup generator is pretty easy to use. It has a white background, which makes it easier to focus on.

You can add a picture to either the front or the back. After clicking on the Settings icon, you can choose between different sizes and colors.

There are a number of keyboard shortcuts you can use when designing your t-shirt. For example, Alt + W lets you exit editing mode and enter preview mode.

Teespring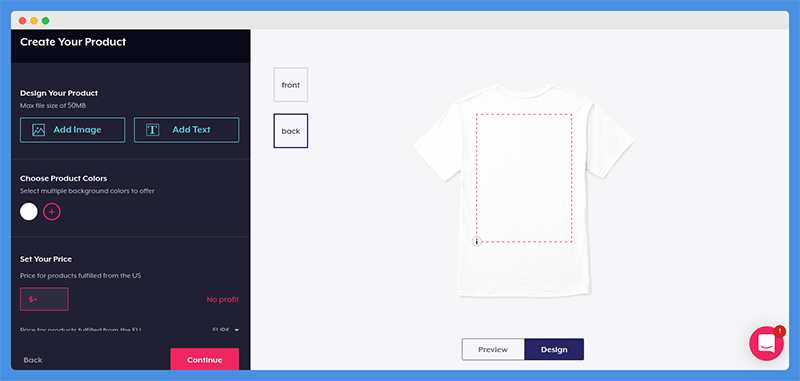 Teespring's mockup generator is a bit harder on the eyes, as the editing menu section has a black background.

As with Printify, you can see the front and the back of the t-shirt. Not only can you add an image, but you can add text as well.

This makes it easier to create a t-shirt; you can just add a funny slogan or phrase and start selling, without any great design skills.

You can also select different colors and set your price (more on that later).

Who wins here? Both Printify and Teespring let you do most of the same things; the only large differences are in the design of the generator tool.

However, although Printify's mockup generator is easier to use, Teespring comes out as the winner here. This is because you can add text straight to your product without first turning it into a PNG or JPG format as you have to do with Printify.

Creating Your Store

With both Printify and Teespring, creating your store only involves creating a design and publishing it. However, what you have to do next is a bit different.

Printify

With Printify, you have to connect your Printify store with your existing online store or online marketplace account. For example, you can connect your store with Wix, Shopify, eBay, and more.

In your store dashboard, Printify gives you a list of your published products.

We earn a commission when you click this link and make a purchase.
You can edit the design or edit the store details, including the product image, description, available variants, and store details.

Teespring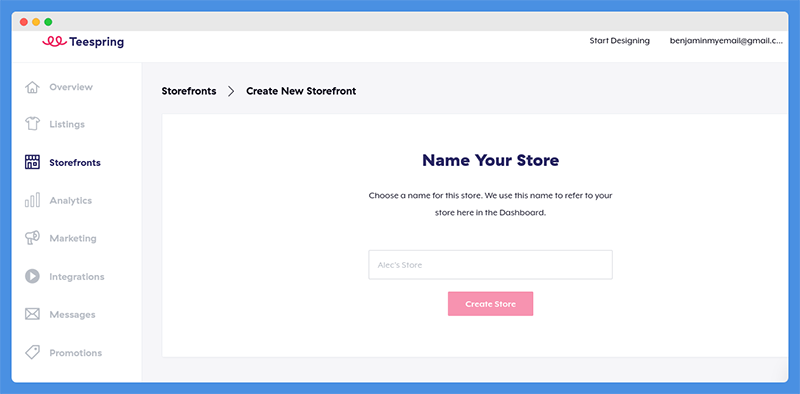 Teespring works a bit differently in that you sell your products directly on their own marketplace.

They give you more options than Printify. For example, you can view analytics for each product and choose from various settings options, including whether to set your product as private, set an end date to stop selling it, enter a Facebook pixel or Google Analytics code, and much more.

You can also set up your own custom storefront to stand out from competitors. You can create your own banner, titles, and more.

You can use marketing tools such as cross-selling to increase your revenue, and Teespring will even create retargeting campaigns for your products on Facebook and other platforms.

More than one storefront can be created, such as if you want to create stores with different themes or sell different kinds of products.

Who wins here: Although you can control your listings in a central dashboard both with Printify and Teespring, they work very differently.

Although Teespring has some benefits in that since you are listing your product on the Teespring marketplace, you don't have to build up your store and customer base from scratch – you get more visibility, Printify still wins as it gives you more control.

Worth Exploring: Print On Demand Shopify Store Examples

Merchants

With dropshipping, you will be working with third-party merchants who will be printing your products.

Printify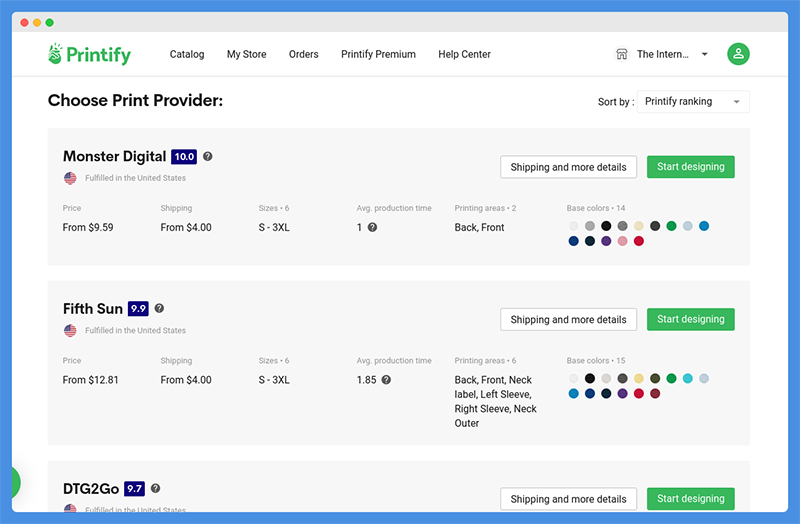 Printify gives you options – they let you choose from different merchants. Every product will have different merchants who can print and fulfill it – some products might only have one merchant, while others might have five or more.

You will get data about each merchant to help you make a decision, including which country they are in, their available sizes and colors, their average production time, the cost of the item, shipping fees, their average star rating, and more.

By clicking on Shipping and more details, you can find out information such as what kinds of printing technology they use, their quality control process, and how they package and ship their items.

This allows you to make the best choice about which merchant to work with.

Teespring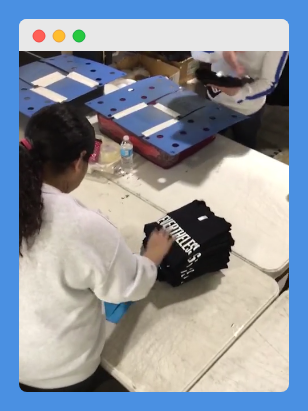 Teespring prints your products by themselves. They use one of two different printing methods, depending on the quantity of the order: Screen printing and direct-to-garment printing.

They then take care of the packaging and shipping themselves.

Who wins here? While you won't have to do any printing yourself with Printify or Teespring, they are different in that Printify connects you with third-party merchants instead of doing everything themselves.

Printify wins here because you have more choices. You aren't limited to one print provider; you can choose a different print provider who has better reviews, more advanced printing technology, or simply is closer to you geographically.

Product Costs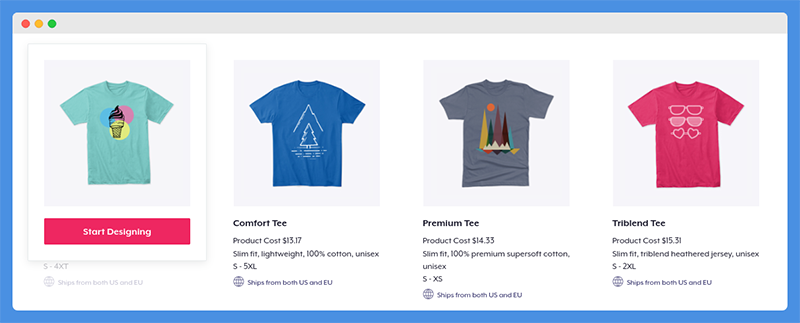 Who has costlier products? Let's take a few products and see how the two platforms compare in terms of the base prices.

Men's t-shirt: Printify's prices start at $7.10 while Teespring's start at $10.57
Leggings: Printify starts at $21.55 while Teespring starts at $27.5
Tote Bags: Printify starts at $9.16 while Teespring starts at $12.25
Who wins here? As you can see, it seems that prices on Printify are a bit lower than on Teespring. What this means is more profit for you.

We earn a commission when you click this link and make a purchase.
We'll go over how you earn money on both platforms in the next section, but if you charge the same price to consumers but have a lower base price, it translates into more earnings for you.

How Do You Make Money?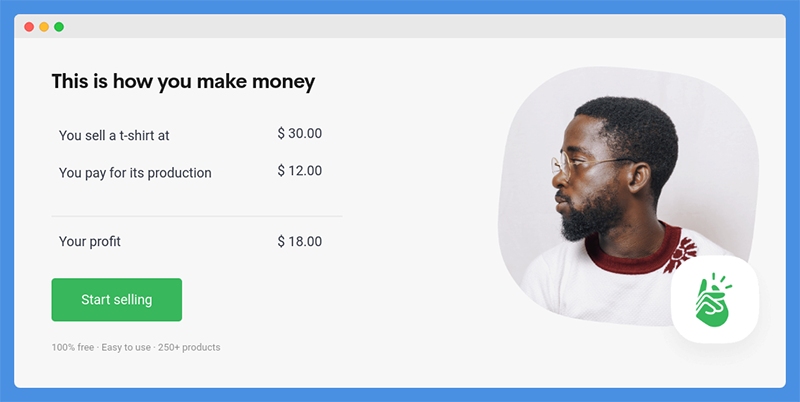 So, how do you make money with either platform? Both Printify and Teespring have base prices for their products.

To make money, you have to add a margin to your base price, which you pass on to the customer. For example, if a t-shirt costs $10 + $2 shipping and you sell it for $25, you will make a $13 profit for each sale.

Here's the main difference between Printify and Teespring:

Printify charges you directly for the base price of the product. Since you are connecting your Printify account to your own store, you will have to charge the customer yourself.

It will look something like this: You charge the customer $25, and then Printify charges you $12.

With Teespring, you are listing your products on their own marketplace. Because of this, they will be charging the customers themselves and passing on the profits (margin) to your account.

Who wins here: Teespring wins here because you don't have to worry about setting up a payment system to charge customers.
Interesting Post: Best Shopify Print On Demand Apps
Samples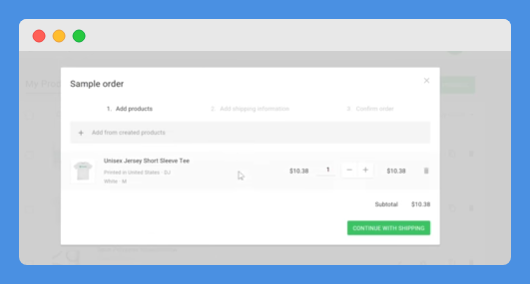 Before you publish a product to your store, you may want to order a sample first to make sure it came out correctly and the design wasn't botched.

Printify Samples

You don't get discounts when you order Printify samples.

However, if you sign up for Printify Premium, you can get $29 worth of sample order funds. Depending on what you are selling, this might not take you beyond two products, but at least it is something.

Teespring

Unfortunately, Teespring doesn't have any discounts for samples either. You will have to pay the full base price.

Who wins here? Although both Printify and Teespring sell you samples at the original price, Printify wins here because at least they give you free sample money if you sign up for the Premium plan.

Shipping

To keep customers satisfied, it is important that you offer fast shipping options at affordable rates. Let's take a look at how Printify and Teespring compare in terms of shipping

Printify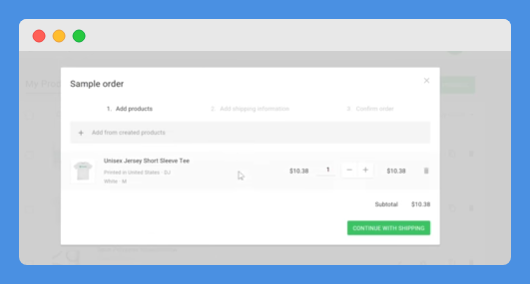 As mentioned, you can choose from different print providers for each product. This gives you more options in terms of shipping.

You will have a range of choices in terms of production time, Printify shipping times, and Printify shipping rates.

The downside of working with different merchants is that you can't offer the same shipping experience and packaging on all of your products.

Some products might ship quickly while others might take longer.

We earn a commission when you click this link and make a purchase.
However, you can see shipping rates and times for all print providers on Printify here. For example, Monster Digital ships shirts to the United States within 2-5 business days and charges $4 for the first item in an order and $2 for additional items.

Teespring

Teespring offers different rates and times for different products and shipping destinations.

For shipping rates, look at this chart: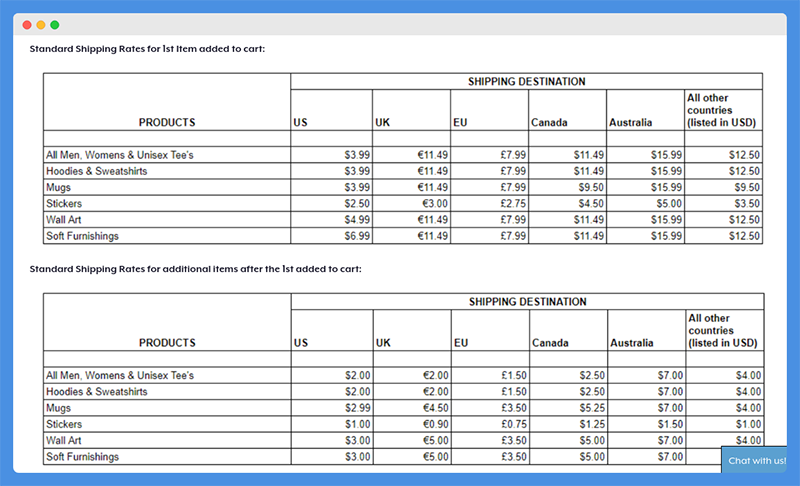 Express shipping is available to the United States, and this costs an additional $3.99 on top of existing rates.

If orders are fulfilled from the EU, shipping rates will be different. Go to this page for more information on all of Teespring's rates.

As for Teespring's shipping times, it works as follows:

Orders to a US address arrive within 9-12 business days
Express shipping to a US address (which is available for select products) takes 3-5 business days
Orders sent to an international address take 12-15 business days
EU-fulfilled orders to the UK, France, Germany, Netherlands, and Sweden arrive in 7-12 business days after production starts
EU-fulfilled orders to other countries in the EU arrive within 10-16 business days after production starts
Teespring's default print cycle is every three days, which means all orders in a listing will start to be produced every three days.

You can set a custom print cycle for different listings. You can also manually initiate a print cycle to start fulfilling orders, after which the cycle will automatically reset to three days.

Who wins here? Printify comes out as the winner. They allow you to choose the best option for your business, while with Teespring, you are limited.

You Might Want To Read: Printful vs Printify
Integrations

Let's take a look at some of the third-party platforms or services Printify and Teespring integrate with.

Printify

Printify integrates with two online marketplaces – Etsy and eBay. They also integrate with Shopify, WooCommerce, and Wix, so you can connect it to your own store.

However, this doesn't mean you can't sell anywhere else. These integrations let you create a seamless, automated system so orders are fulfilled automatically.

However, if you are willing to put in a bit more work, you can sell anywhere – you will just have to manually fulfill orders in your Printify account.

Teespring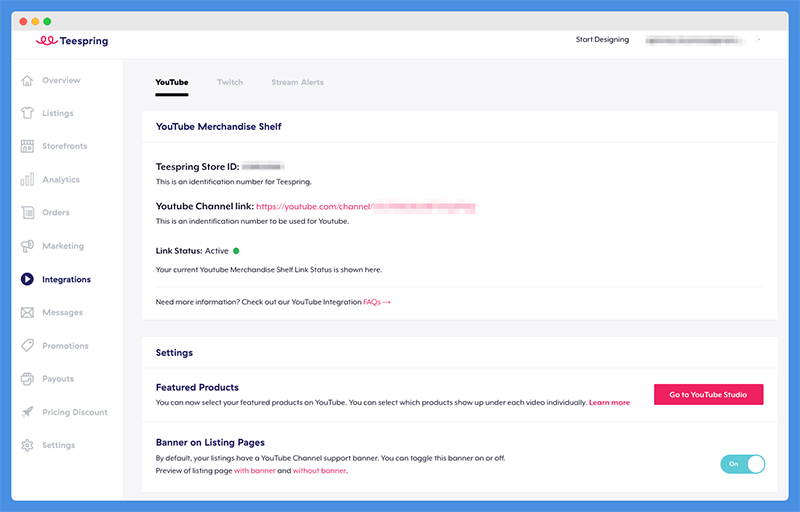 As mentioned with Teespring, you sell on the Teespring marketplace. However, they have a number of integrations that allow you to display and sell your products anywhere.

YouTube: The YouTube integration lets you display your merchandise under your YouTube videos. You can choose specific products to be displayed under specific videos, and you can also pin certain products during live streams.

Twitch: If you stream live on Twitch, you can display your merchandise next to your live videos so your fans can buy them without ever leaving your stream. Once you set up Twitch with Teespring, new products will be displayed within 15 minutes on Twitch after they are added to your store.

Streamlabs: You can let your followers set up custom alerts for whenever they buy a product of yours.

Who wins here: Teespring comes out the winner over here, as it's perfect for video content creators and live streamers.

Customer Support
When you are running an online print-on-demand store, it is important to be able to contact customer support in case something goes wrong. Let's see how the two platforms compare in terms of customer support.

Printify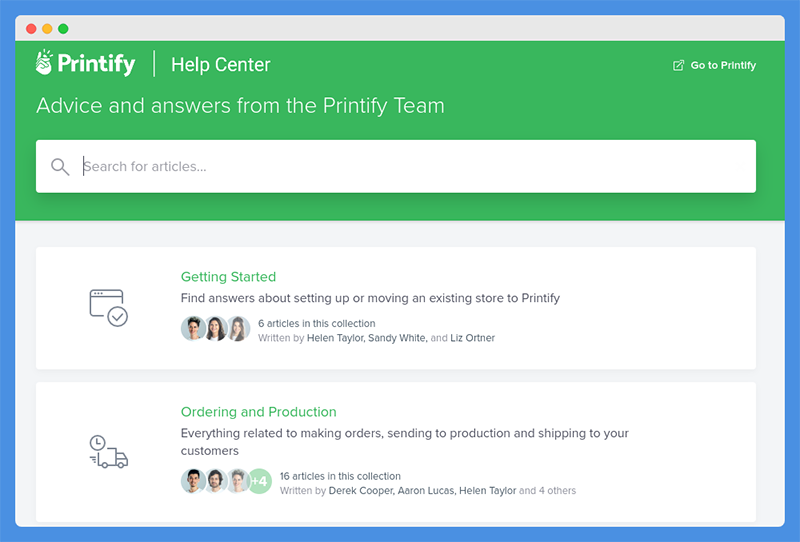 Printify has an extensive help center with dozens of articles to help you find answers to common questions.

You can also contact them directly by filling out an online form or sending them an email.

Teespring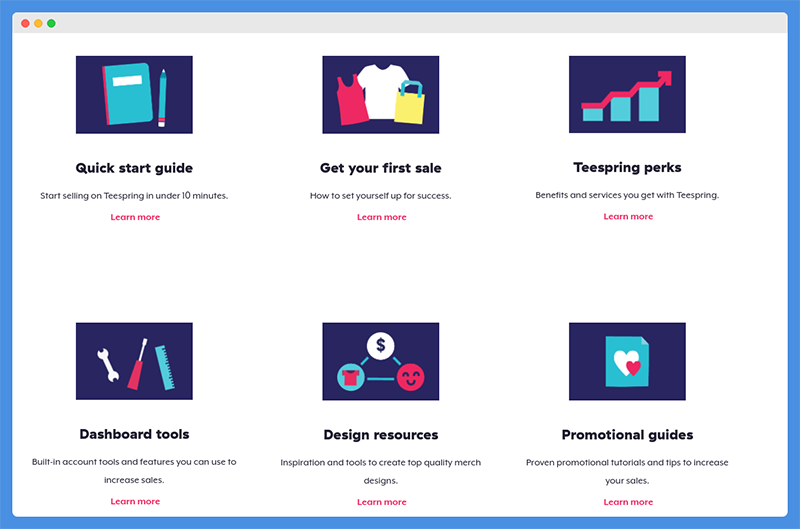 Teespring has an FAQ section, which is pretty much equivalent to Printify's help center. You can troubleshoot problems and find solutions to common issues.

There is also a training center, which is full of strategies to help you be successful in your store. For example, there is a quick-start guide to help you get started within 10 minutes, and there is also an ultimate selling guide to help you get your first sale.

Teespring can be contacted via an online form.

Who wins here: Teespring wins here because of their training center. Starting a print-on-demand business can be confusing to beginners, and the training center can help you get started even if you are a newbie.
Useful Post: Best T-shirt Dropshipping Companies
Teespring vs Printify – Pricing

Will you have to pay to start your print-on-demand business? Let's look at the prices for using Printify and Teespring.

Printify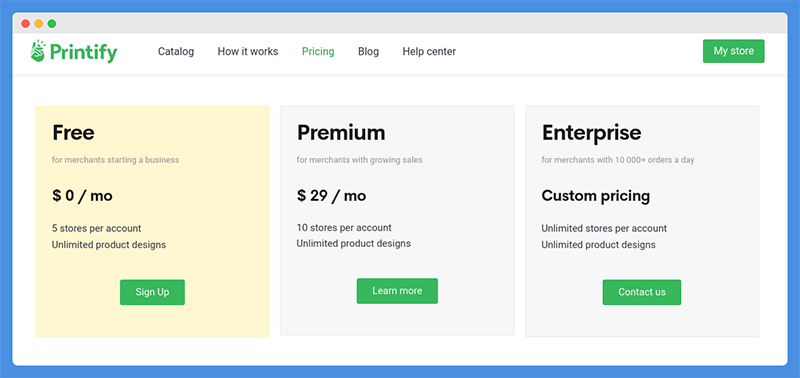 Printify has three price options.

Free: Printify's free plan lets you create unlimited product designs. You can upload unlimited designs and connect up to five stores (for example, you might want to sell on eBay, Etsy, and your own Shopify store).
Premium: The premium plan lets you create up to 10 stores and costs $29/month. It also gives you access to discounts on all products (up to 20 percent) and the custom order import tool so you can sell on any platform.
Enterprise: if you want to create unlimited stores, consider getting an Enterprise plan. Pricing will depend on your business. You will also get access to a dedicated account manager, custom API integrations, early access to new features, and branded customer support you can use as your own.

We earn a commission when you click this link and make a purchase.
Teespring Pricing

Teespring is free to use. There are no premium plans.

However, you can get discounts on the base price of products, depending on how many sales you made the previous month.

Affiliate Program

What if you want to sell cool t-shirts online and make money but not have to deal with setting up a store and dealing with customers? Affiliate marketing might be the best solution for you.

Printify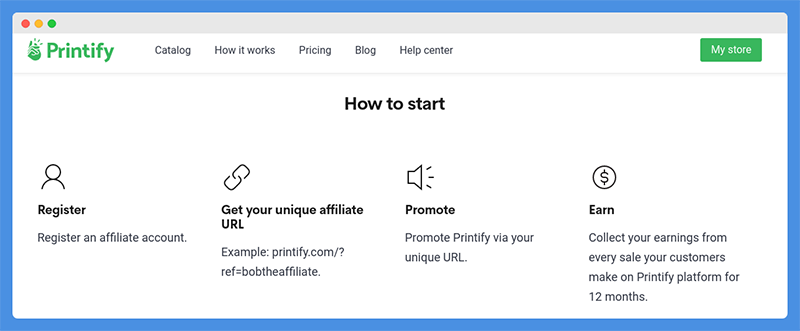 Printify's affiliate program lets you earn five percent commissions on all products you sell. In addition, you will earn commissions on further sales places placed by the customer you referred up to 12 months.

Teespring

There is no Teespring affiliate program. Unfortunately, you can not make money promoting the t-shirts and other merch featured on their site.

Who wins here: Printify comes out as the clear winner.

Free Designs

What if you want to test-run a store but don't yet have the time or resources to create your own designs or hire a freelancer to do so? Both Printify and Teespring offer free designs you can use.

Although it is not recommended (as your t-shirts won't really be original), it's okay for when you are just getting started or if you just want to test out the mockup generator.

Printify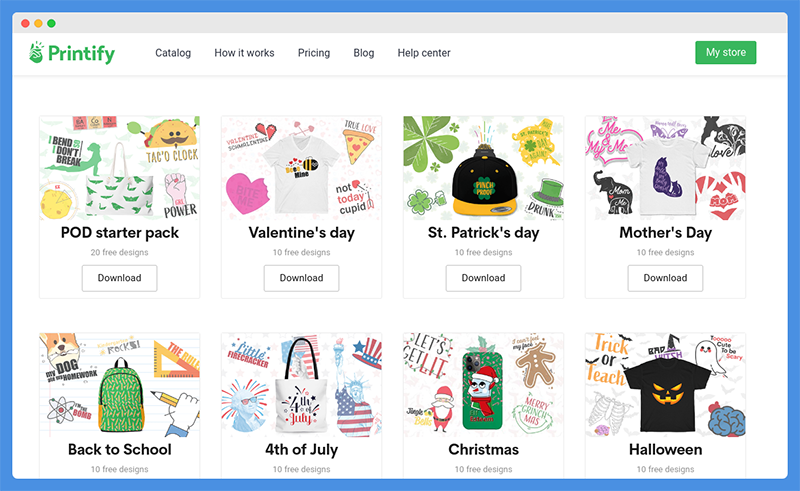 Printify has dozens of free designs for all sorts of holidays and categories, which you can find here. They are truly free to use – they have no "limited license" and you can put them on products right away.

Teespring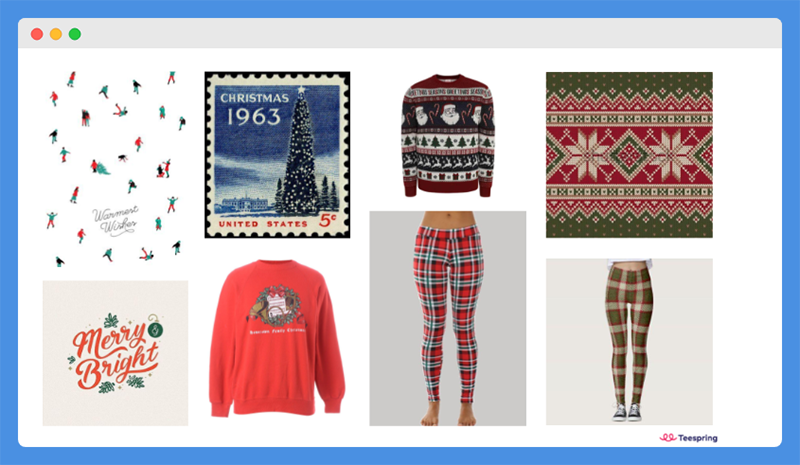 Teespring has put up some free designs on various blog posts, which you can use for your products. Go here to see all the blog posts with the tag "free designs."

However, as you can see, the selection of free designs is much more limited.
Interesting Comparison: Printful vs Print Aura
Which One Is the Better Choice – Printify vs Teespring

We now come to the end of Teespring vs Printify comparison. Having reviewed both the sites, we feel Printify has an edge over Teespring.

Printify has more products to choose from, better shipping rates and times (with more options), cheaper base prices for products, and an affiliate program. They also make it easy to sell on your own store, giving you more control.

Although Teespring does allow you to get more visibility right away as you are selling on their own marketplace, Printify can also be connected to Etsy and eBay if you are not interested in starting a store from scratch.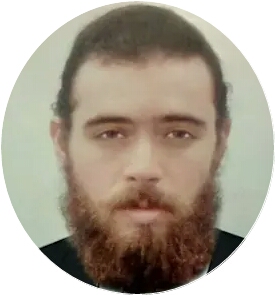 Author: Benjamin Levin
Benjamin Levin is a digital marketing professional with 4+ years of experience with inbound and outbound marketing. He helps small businesses reach their content creation, social media marketing, email marketing, and paid advertising goals. His hobbies include reading and traveling.