Selling merchandise with your name or logo is a great way to diversify your income, increase brand recognition, build relationships and loyalty in customers, and give customers a way to identify with you.

Many YouTubers and social media influencers sell merch under their videos or on their social media profiles.

Today, we will be looking at some of the best merchandise websites you can use to sell your merch.
Best Merch Websites
Using these platforms, you can not only create a merchandise store for your fans but also reach new people who are not yet your fans.

Let's get started.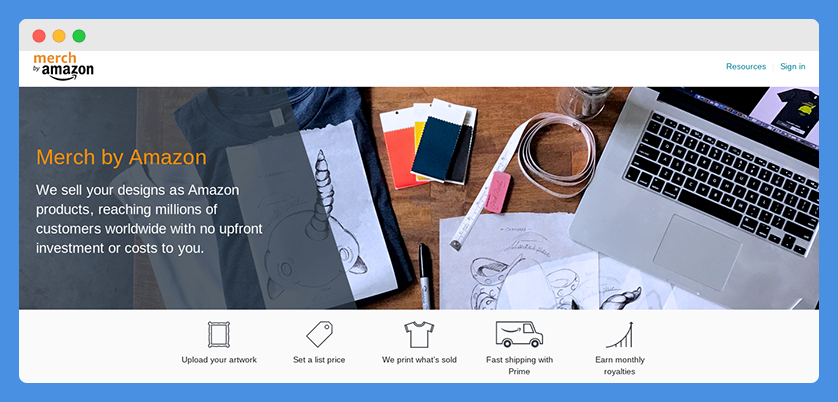 This is often overlooked, but Amazon has its own Merch features. All you have to do is upload your artwork and set your price.

Then, Amazon will sell the product as your own. When an order comes in, they will print it and ship it out.

Merch By Amazon is by invitation only. You will have to submit an application to see if you qualify for the program; according to Amazon, they have received too many requests and had to limit entry.

You may be thinking that the royalties awarded by Amazon must be too low, but that really depends on the price of your product.

If you sell a $15.99 t-shirt, your royalty will indeed only be $2.21. However, if you sell a t-shirt for $25.99, you will earn $9.77.

For a full list of royalties per product, selling price, and country, go to the Royalty Calculations page.

There are a number of benefits of selling merch on Amazon. For one, you will get access to their entire network of customers – Amazon has 300 million active users, and 197 million people visit Amazon every month!

You will also get access to Amazon's shipping rates. The products you sell will be available on Amazon Prime.

Big Brands such as Dr. Seuss, Disney, and Marvel sell merch on Amazon.

Applying to the program requires only simple information, such as your business and tax information.

Also Read: Best Print On Demand Sites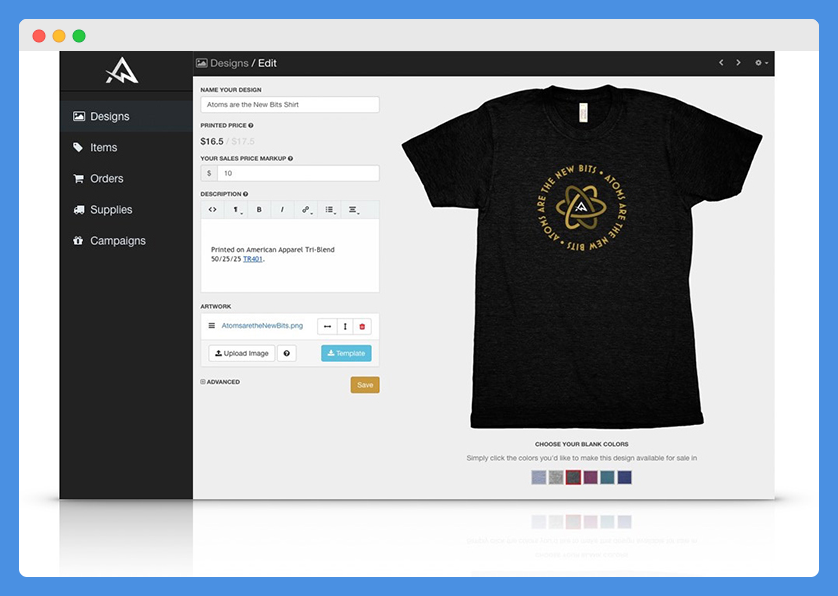 Amplifier, commonly known under its old name Merchify, is among popular merch websites where you can sell merchandise. The upgraded "Amplifier" version includes new apparel and stickers, integrated screen printing, new cancellation features, and much more.

Merchify integrates with Shopify; you can find the Merchify app on the Shopify app store and install it to get started.

After you install the app, you need to select which product you want to sell and the colors and sizes you want to sell, create a description for your product, upload your artwork, and set your prices.

Then, add your products to be published to Shopify. Although all this is done in your Merchify dashboard, you will need to log into your Shopify account and add them to a collection before they go live.

The selection of available products isn't that great, though – you can sell t-shirts, long sleeve shirts, tank tops, onesies, hoodies, tote bags, iPhone and iPad cases, laptop cases, canvas wraps, mousepads, mugs, and posters.

All base prices and shipping rates are preset; you can see them on this page.

As you will be selling your products in your own store, you will be the one charging your customers. This way, you can add whatever margin you want; you will later have to pay Merchify for the product when fulfilling an order.

Merchify usually fulfills and sends out the product within two to five business days. They will then upload a tracking number into the Shopify system so customers can see where their order is at.

There are some downsides of using Merchify; for example, they only let you print your logo on the front of your shirts and not on the back.

Amplifier has a 90,000 square-foot warehouse where they produce your order using printing techniques such as DTG and using high-quality ink and dyes.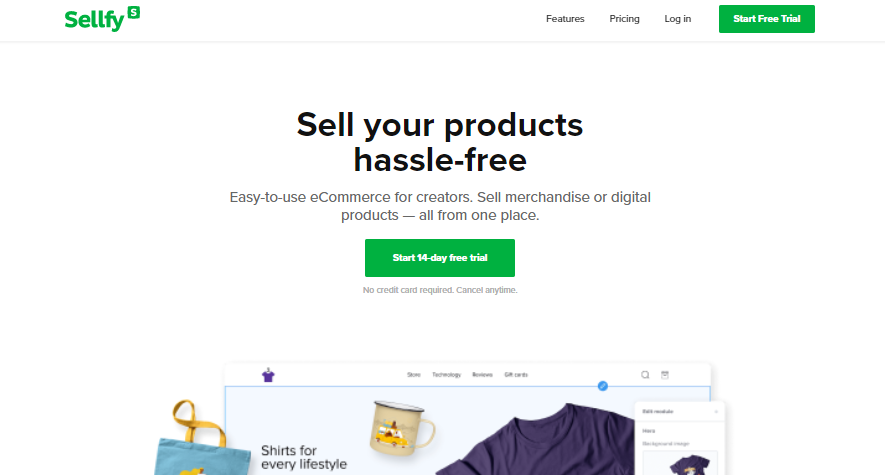 Sellfy is an avenue for selling your products hassle-free. With this easy-to-use eCommerce platform, you can easily sell merchandise or digital products. So if you're a creator looking to make some extra money, Selfy is the perfect solution for you!
You can sell all types of digital or virtual products, including:
Art
eBooks
Podcasts
Music
Videos
AI
You can also sell digital products to be picked right from your storefront. Video streaming services like YouTube and Twitch have been made easy to sell through Sellfy. All you need is a URL!
You can also sell subscriptions and print-on-demand merchandise.
Introduce limited downloads for downloadable items to prevent buyers from pirating your virtual products.
Sellfy further enhances security for users' financial information through PCI Data Security Standard compliance, and it also supports PDF stamping to protect your intellectual properties.
Sellfy empowers you to create a beautiful virtual storefront with unique branding for your franchise. A logo and color pallet tweaking will attract people to the shopping cart that Sellfy allows you to design.
Some of the marketing features that Sellfy offers include:
Discount codes
This feature allows you to generate codes that give your customers a percentage of their purchase or a set amount. You can also set an expiration date for the code and how many times it can be used, in total and per customer.
Timed discounts create a sense of urgency and encourage customers to buy your products before the offer expires.
Email marketing
With Sellfy, you can send out mass emails to your customer base with product updates, new arrivals, or special promotions. You can even segment your email list by purchase history, location, or other criteria.
Tracking pixels
Sellfy allows you to embed tracking pixels from Facebook and Twitter to enhance the accuracy of your targeting and retargeting campaigns on social media.
Upselling
This feature increases your sales by bundling products at the checkout phase as buyers complete orders.
Sellfy accepts payments via PayPal and Stripe.

We earn a commission if you click this link and make a purchase at no additional cost to you.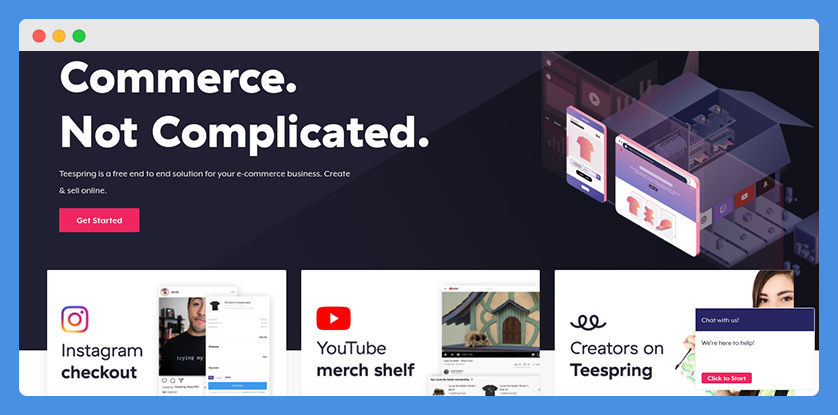 It's difficult to ignore Teespring when talking about the best merch websites.
Despite its name, you can sell all kinds of products on Teespring, not only t-shirts. Teespring, unlike Merchify, has its own marketplace; you are not selling your merch on your own store.

One benefit of this is that you get access to a wider pool of potential customers; your products will be displayed to Teespring's existing customers.

They will even promote your products for you using techniques such as remarketing.

Teespring also makes it to the list of best YouTube merch websites.
It integrates with YouTube and Instagram to help influencers and content creators promote their products.

You can display your products under your YouTube videos, with the ability to choose which products to display under which videos.

You can also display your products on Instagram; customers will be able to purchase your products and complete the checkout process without having to leave the Instagram app.

Teespring is currently the only print-on-demand site that Instagram integrates with for this new feature; however, you need to have at least 10,000 Instagram followers to qualify.

If you stream on Twitch, you can also display your merch products while you stream.

Teespring has a nice selection of products, although their selection isn't as extensive as some of the other platforms that will be mentioned later in this article.

Since your products will be listed on the Teespring marketplace, you also don't have to worry about payments. Teespring does all that for you and gives you your royalties directly.

Unlike with Amazon Merch, you determine your royalties – just add a margin of however much you want onto the base selling price.

If you want to use Teespring to place bulk orders of more than 100 items for your club, team, or organization, you will get design support and better pricing.

Worth Exploring: Print On Demand Shopify Store Examples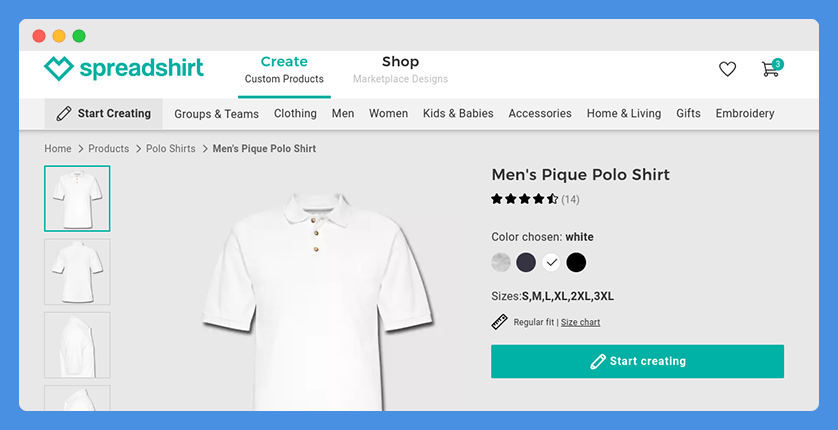 Spreadshirt is not only the best site to sell t shirt designs, it lets you sell more than just t shirts. You can sell iPhone cases, pillowcases, mugs, aprons, duffel bags, and much more. All in all, there are over 200 products you can sell.

Getting started is easy – just click on the "Start Selling" tab at the top of the page. One of the good things about Spreadshirt is that you have the option of either selling on their marketplace or creating your own merchandise store.

According to Spreadshirt, they have over 100,000 visitors every day. They use promotional and advertising campaigns to drive visitors to their site, and your products can benefit from campaigns such as T-Shirt of the Week and Design of the Month, which highlights the best designs on the Spreadshirt marketplace and puts them in the forefront.

Not only will you get sales from the Spreadshirt marketplace, but in some countries, they will also list your designs and products on Amazon and eBay.

If you choose to create your own store, you will be able to set up your own, unique storefront. You can earn up to 60 percent of the price of the products you sell.

If you choose this option, your products won't be listed on the general Spreadshirt marketplace; you will have your own, separate store.

You can also sell the products you create on Spreadshirt on your Shopify store. Just download the Spreadshirt Shopify app to integrate your store with Spreadshirt.

Spreadshirt has five factories in the United States and Europe, and they ship to over 150 countries. You can sell your designs in 12 different languages and 11 different currencies.

Spreadshirt offers its customers great customer support; they have phone support and a 30-day return policy.

For designers, there is a knowledge base, a forum to share ideas and get help from other designers, a support team, and expert design help.

For a full list of your royalties, see here. For example, for a Men's Premium T-Shirt, you will earn $4 on the marketplace and $3.40 for any sales through Amazon or eBay.

There is also the customize tool, which customers can use to customize their designs to their own liking. For sales made in the Customize Tool, you will earn a flat royalty of $3.

Before we finish up with Spreadshirt, it's worth mentioning another site with a similar name – Spreadshop.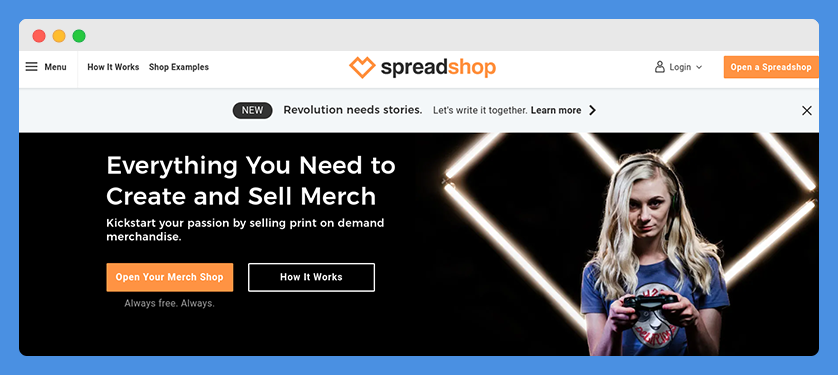 Spreadshop was created by Spreadshirt, but it is its own entity. It gives you a platform that is focused on your needs as a merch seller.

With Spreadshop, you get your own store (you can also connect it to your existing store). Spreadshop allows you to set your own prices and control how much money you make, unlike Spreadshirt.

You will also get in-depth statistics about your store's and products' performance.

Sometimes, you will be able to take advantage of promotions such as free shipping and discount codes to increase your sales.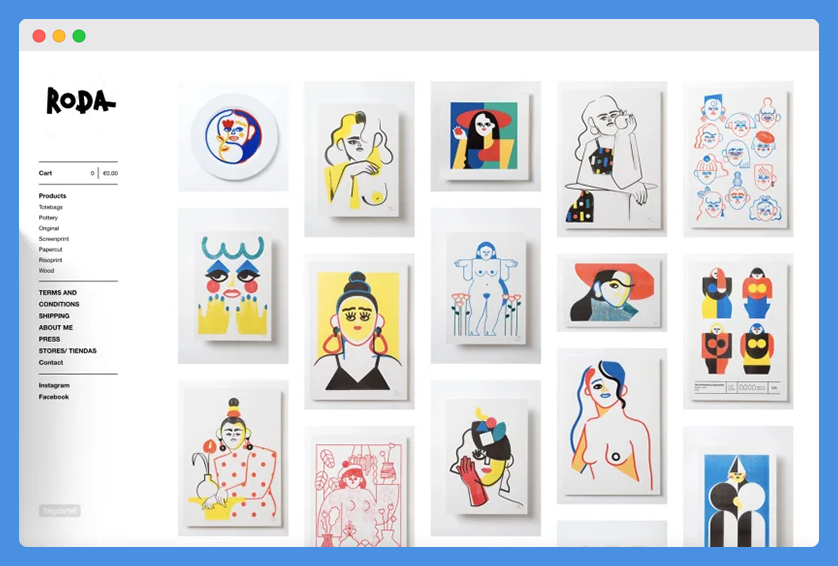 Big Cartel is designed for artists and other creators. At its core, it is not a print-on-demand platform, but rather an artist-targeted eCommerce builder.

With Big Cartel, you can create an online store, add products, choose your own price and add discounts, see your orders, and view your analytics.

Big Cartel doesn't charge per listing; rather, they charge a monthly fee.

However, there is a free plan that lets you list up to five products. If you are a social media influencer or YouTuber who is just starting out with selling merch, this can be perfect – if you have just one or two slogans, for example, you can use it to sell a t-shirt, cap, or mug.

Of course, you will have to do everything else yourself, which is a disadvantage if you want the ease of using a print-on-demand platform that takes care of printing and everything else for you.

Plans are as follows:

Twenty-five products: $9.99/month
One hundred products: $19.99/month
Three hundred products: $29.99/month
Premium plans give you access to features such as the ability to run promotions and offer discounts. You can also get access to new features such as automatic tax calculations and advanced tax settings.

All in all, Big Cartel is a good option if you already have merchandise you want to sell, printed, and ready to ship.

You Might Want To Read: Printful vs Printify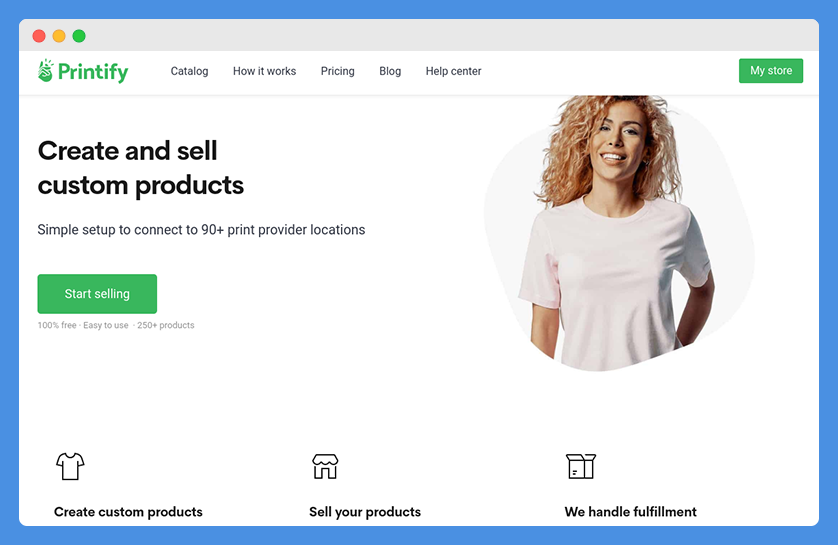 Printify is one of the more well-known print-on-demand eCommerce platforms. They have more than 250 products you can choose from, giving you a wide range of options and products to sell.

In addition, Printify lets you choose from different print providers. For each product, there will be different print providers ready to fulfill your order (some products will only have one).

You can choose the print provider you work with based on things such as their overall rating, their average production time, their prices, their available shipping options and rates, the technology they use to print the products, the packaging they use, and more.

With Printify, you can control your profits – just add a margin to the base price of the product. Base prices are competitive and reasonable.

Printify gives you a wide range of integrations to choose from when creating your store. You can sell on marketplaces like eBay and Etsy or use eCommerce site builders such as WooCommerce, Shopify, Wix, and Prestashop.

Printify is free to use, but they do have a premium plan available as well. The Premium plan costs $29/month and lets you connect up to 10 stores instead of only five; it also gives you discounted rates on the base prices of products (up to 20 percent off).

You can also get a custom Enterprise plan if you want to be able to connect unlimited stores.

We earn a commission when you click this link and make a purchase.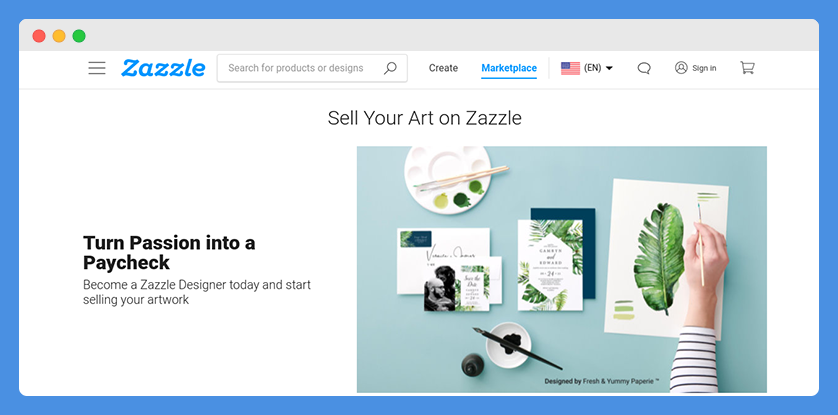 If you're looking for the best merch website, you can consider Zazzle.
Zazzle is another online marketplace where you can sell your products. You can control your own profits by setting the royalty rate you desire (between five and 99 percent), which will determine the final cost of your products.

Zazzle says they have a network of 30 million shoppers, and selling on the Zazzle marketplace means you will already get exposure built in.

Another way you can earn money with Zazzle is as an Associate or affiliate.

You can promote any product on the site and earn a 15 percent commission. Depending on how many sales you make and how much you earn, you can earn up to an additional 17 percent commission as a volume bonus.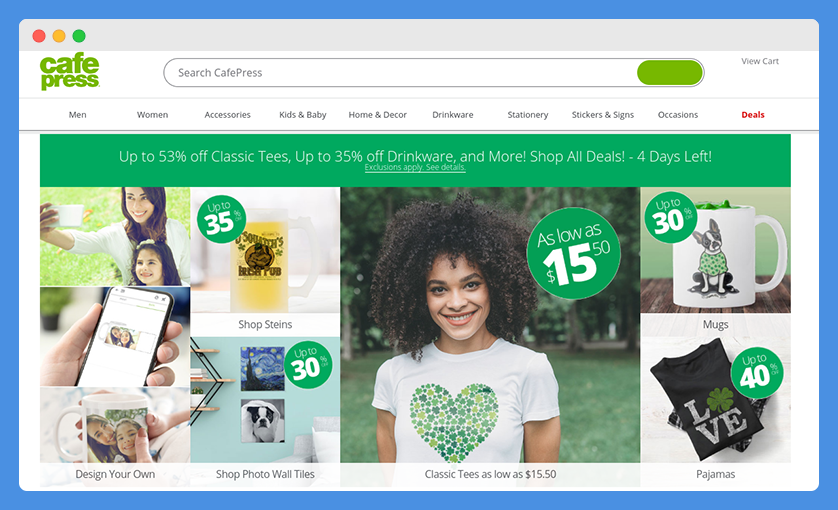 With CafePress, you can choose from two selling options: Design & List and Seller Shops.

Design & List makes things a lot simpler for sellers. All you have to do is upload a design.

Then, CafePress will automatically choose a product that fits well with your design. They will start selling the product on their site and will then pay out royalties of between five and 10 percent to you.

However, if you decide to sell with Seller Shops, you have a lot more control. You will sell in your own shop with your own storefront.

You will be able to choose which products to sell and control the prices – you can set your own margins to control your profit.

You can get paid via PayPal or via check. The minimum payout for PayPal is $25, while the minimum payout via check is $100.

Since there is a 30-day money-back guarantee on all products sold on CafePress, you can end up waiting up to 45 days until you receive your royalty from a sale.

If you decide to sell on the CafePress marketplace, you will still own all content rights to your designs, although you will be granting CafePress a license to display and market them.
This way, you will be able to benefit from having them display your product to their visitors.

You can also make money through the CafePress affiliate program; you will be able to earn up to 15 percent commissions on sales of any product on the marketplace, with cookies lasting for seven days.

Interesting Comparison: Printful Vs Redbubble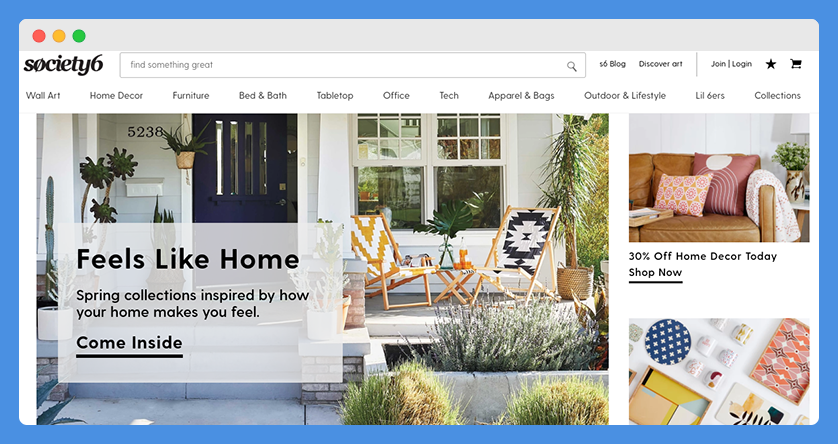 Society6 lets you sell products such as wall art, home decor, furniture, accessories, clothing, and more.
They seem to place a larger focus on products such as sling chairs, cushions, wall posters, curtains, tapestries, and other "higher-end products" than t-shirts, hats, and mugs, although you can certainly sell those products as well.

Your products will be displayed in the Society6 marketplace, giving you built-in exposure.

There is a built-in default markup. For art prints, canvas prints, and framed prints, the default markup is 10 percent, but you can set your own custom markup; for other products, you have no control over the markup as they are all preset by default.

If there are any promotions being run by Society6, your earnings will be affected, as the markup will continue to be 10 percent of the selling price.

You can also have your Society6 products displayed on third-party external marketplaces such as Amazon. For sales made through third-party marketplaces, markups remain the same.

Payments are made via PayPal, but you have to claim them yourself before thirty days. Otherwise, they will be sent back to Society6 and only become available again with the next payout.

All in all, Society6 is a decent print-on-demand platform to work with. However, it is not the best, and you may be better off selling on a platform where you can control the markup and set your own prices.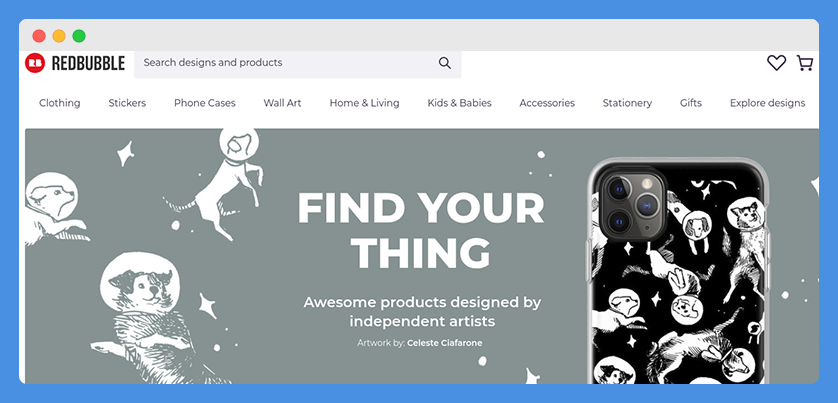 Redbubble is another popular entry in our list of best merch sites. You can sell t-shirts, stickers, device cases, and a lot more.

You have total control over your margin. According to Redbubble, the average margin is 17 percent, but you can choose it to be lower or higher.

Redbubble also handles the transactions for you, so you don't have to worry about collecting money from customers or setting up a secure payment system. They also handle printing.

Everything else is handled for you as well, including the delivery. All you have to do is upload your design, choose your product, and wait for the money to come in.

You will get paid via PayPal. Depending on which country you are in, you can also get paid straight to your bank account.

The payment threshold is only $20. This is a lot lower than many other print-on-demand platforms, which sometimes have a threshold as high as $50.

The low threshold makes it a perfect way to earn some extra money on the side, even if you are just starting out and making a few sales a month.

Worth Reading: Printful vs Print Aura

Wrapping It Up – Which Site Is the Best?

So these are some of the best websites to sell merchandise.
My vote would go to Printify for the best website to sell merch. It has a number of reasons. First of all, the signup process is very simple and easy, and the site is a pleasure to navigate – there's plenty of white space.

The mockup generator is also very easy to use but still gives you all the features you will need to customize your product according to your wishes.

You can choose your own profit margin by just adding a little bit onto the base price. This is unlike some of the platforms mentioned here, including Amazon Merch, which lock you into a certain profit margin.

(Remember to always play around with your margins until you find the ones that give you the most conversions while still bring you in a profit. If you have a lot of hardcore loyal fans, however, you can usually get away with charging more.)

You can choose from various printing providers, which means you are not locked into a certain production time frame, shipping rates, packaging, printing technology, and product prices.
You can choose the print provider that works best for you and which will allow you to give your customers the most satisfaction while earning the most profit.

Finally, Printify can be connected to either your own store (using Shopify, Wix, WooCommerce, or Prestashop) or an online marketplace such as eBay or Etsy. You can even connect them to both.

Connecting them to your own store gives you more flexibility and control and allows you to create your own brand. Selling on eBay and Etsy allows you to reach customers quickly by tapping into the existing customer base on those platforms.

The only exception is if you are a Twitch streamer, YouTuber, or Instagram influencer and you are looking to sell to your existing fans on those platforms as opposed to setting up your own store.
In that case, Teespring is the way to go due to their unique integrations with those channels.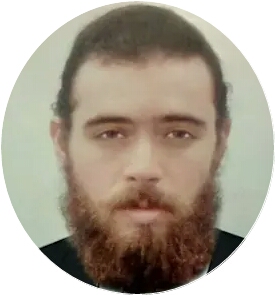 Author: Benjamin Levin
Benjamin Levin is a digital marketing professional with 4+ years of experience with inbound and outbound marketing. He helps small businesses reach their content creation, social media marketing, email marketing, and paid advertising goals. His hobbies include reading and traveling.