Are you stuck deciding between Printful and Redbubble for your print-on-demand needs?
You're in good company. Both platforms are heavy hitters in the print-on-demand industry, but each serves up its own set of advantages and limitations. The choice you make can significantly impact your revenue and brand.
So whether you're an artist looking to cash in on your creativity or an up-and-coming entrepreneur ready to launch your online store, this guide is your roadmap.
We're about to break down the ins and outs of Printful vs. Redbubble, so you can make a data-driven decision. Stay tuned.
Printful vs. Redbubble: What is the Difference?
Choosing between Printful and Redbubble? Each has its own unique selling points that set it apart, and here's how they stack up.
Printful acts like your personal production line. You make a sale, and Printful jumps into action: printing, packing, and shipping directly to your customer, all under your brand.
The best part? Zero inventory needed, making it a lean option for small businesses and emerging artists.
Switch gears to Redbubble, and you're looking at a different ball game.
It's an artist-friendly marketplace where you upload designs and they handle the rest—printing, shipping, and customer service.
You tap into Redbubble's massive reach without sweating over marketing or SEO.
But there's a trade-off: less control over your branding and pricing.
So, the question isn't which platform is better, but which one aligns with your specific needs and goals. Choose wisely.
Printful vs. Redbubble: Understanding The Basics
How Printful Works?
Our Pick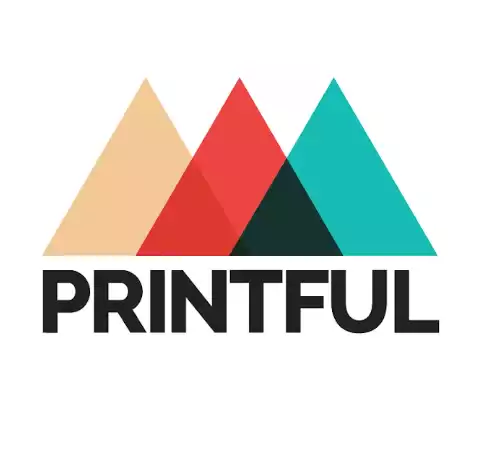 We earn a commission if you click this link and make a purchase.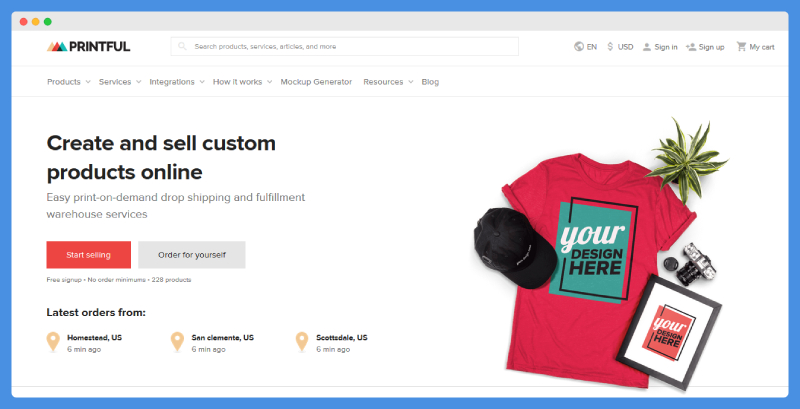 Launched in 2013, Printful isn't just another print-on-demand platform. Think of it as an all-in-one solution for anyone who wants to sell custom products online.
You design, they deliver—literally. With a team of over 800 individuals, Printful serves everyone from influencers to established brands.
How does it work? Simple.
You get an order, and Printful automatically takes care of printing and shipping, right from their warehouse.
Whether you're into selling customized t-shirts, hoodies, or even embroidered hats, Printful has you covered.
But they don't stop at printing; they offer warehousing and fulfillment services, too.
This means you can print, store, and ship products all from one central location.
Bottom line: Printful offers a streamlined, scalable solution for custom merchandise, taking care of everything behind the scenes.
Our Pick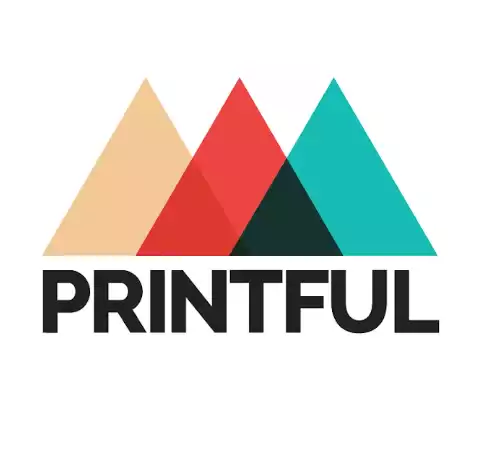 We earn a commission if you click this link and make a purchase.
How Redbubble Works?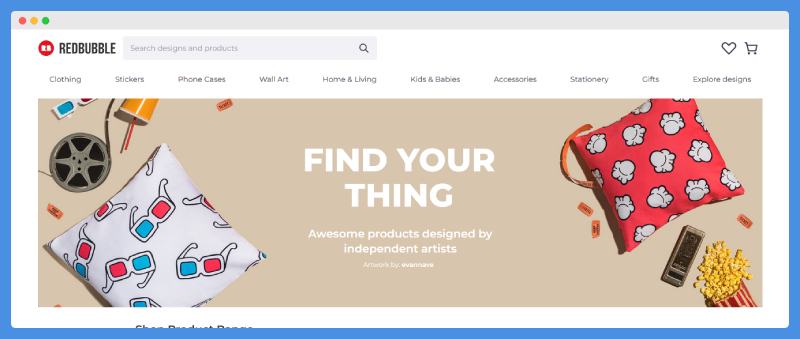 Founded in 2006, Redbubble is more than just a print-on-demand platform. It's a global marketplace designed for creators who want to sell custom products.
With over 700,000 active designers and artists, Redbubble is a major player in the game.
Here's how it works: You upload your design, and Redbubble handles the rest.
Whether it's t-shirts, phone cases, or mugs, they print and ship directly to your customer.
You're not just limited to one or two products; you can feature up to 60 different items in your Redbubble store. Plus, they offer worldwide shipping.
Want to get the inside scoop on maximizing your Redbubble experience? Check out RBTV, their in-house TV series that offers exclusive insights into the platform.
The bottom line: Redbubble gives you the global reach and product diversity to scale your custom merchandise business.
Also Read: Best Print On Demand Sites
Printful vs. Redbubble – Setup Process
Here's the lowdown on how Printful and Redbubble differ in their setup process.
Printful Setup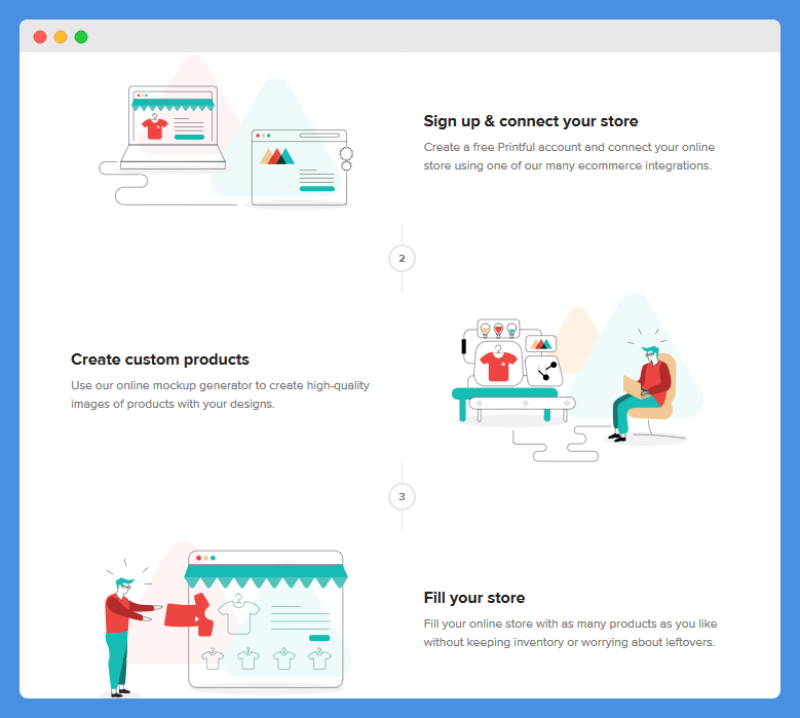 It's straightforward but involves a few steps.
First, create and save your designs.
Next, set up an eCommerce store and link it to Printful using compatible plugins.
The platform also offers a mock-up generator, letting you preview designs on products before going live.
Once you've chosen your products and pricing, integrate a payment processor and you're good to go.
Redbubble Setup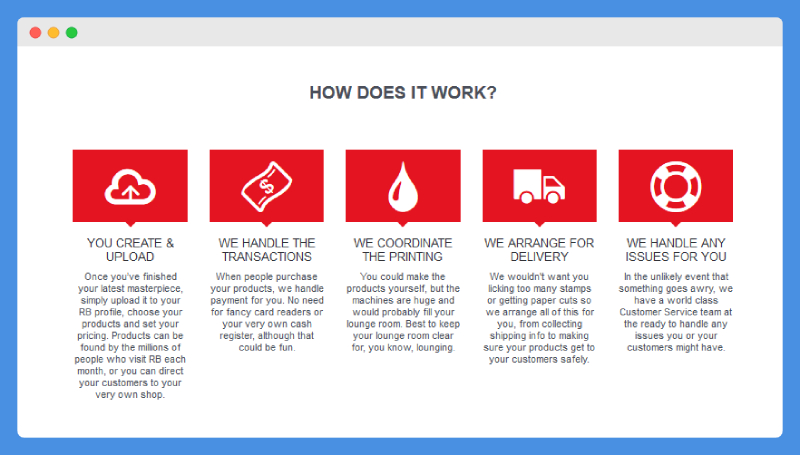 Redbubble is more streamlined because it acts as both a marketplace and a print-on-demand service.
Simply sign up, confirm your account, and you're almost set.
You'll need to set up a subdomain for customer access.
Then upload your designs, choose your payment method, and start selling.
A heads-up though: there's a $20 payment threshold you'll need to hit before getting paid, but if you earn above $2 within a year without meeting the threshold, they'll pay out whatever you've earned.
Useful Post: Best T-shirt Dropshipping Companies
Printful vs Redbubble – Product Designs
How to Design Your Products on Printful?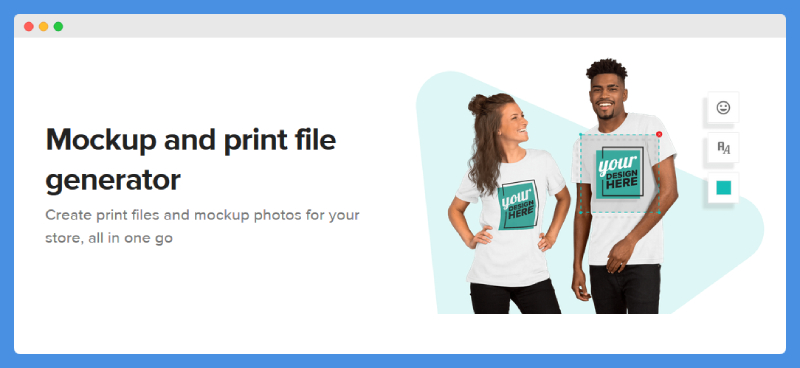 The Printful platform offers an intuitive mockup generator.
Just upload your offline-created designs to see how they'll look on the final product.
Want to elevate your brand? Add your logo directly through Printful.
And if design isn't your forte, no sweat. Printful offers a graphic design service—submit your idea and let them do the heavy lifting.
Our Pick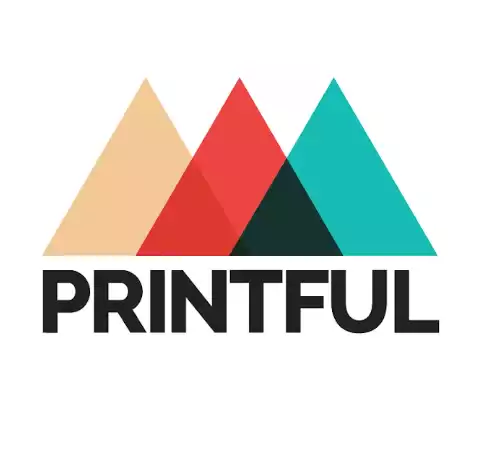 We earn a commission if you click this link and make a purchase.
How to Design Your Products on Redbubble?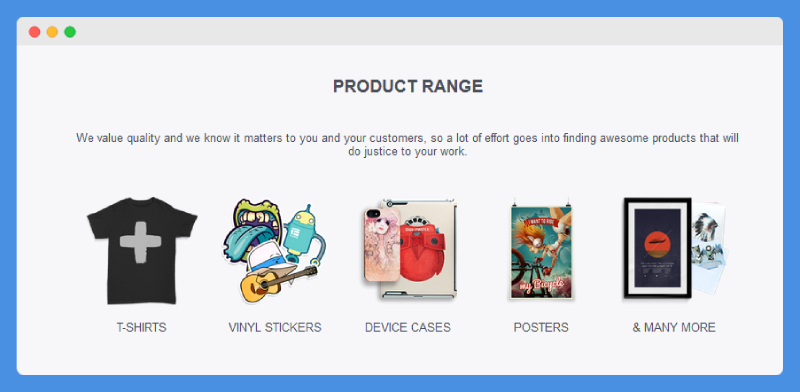 With Redbubble, it's all about simplicity and efficiency.
Upload your designs, but make sure they're high-res and tailored to each product's unique specifications.
Redbubble supports various media types, so you have flexibility.
Need to tweak multiple products? Edit them all at once.
Plus, there's a comprehensive guide to ensure your designs hit the mark.
Bottom line:
Printful gives you customization and branding control, while Redbubble speeds up the design-to-product process. Choose what syncs with your needs.
Printful vs. Redbubble – Product Options
Printful gives you a massive choice with 200+ products that are constantly updated.
Need custom labels and unique branding? They've got you covered. They even take dropshipping up a notch by offering a smorgasbord of all-over-print items like blankets and hoodies.
Redbubble, on the other hand, is a haven for indie artists, offering a marketplace to sell your art on 70+ unique items. From clothing to stickers and phone cases, it's a one-stop-shop for varied categories.
Want to set a default product view in your Artist Shop or upload different images for a polished look? Easy-peasy.
The takeaway?
Your ideal choice hinges on what you're looking to achieve.
Whether it's brand customization with Printful or tapping into an artist-focused marketplace with Redbubble, both platforms bring unique perks to the table.
Printful vs. Redbubble – Pricing
Want the scoop on pricing for Printful and Redbubble? Let's dive in.
First off, Printful. They work on a two-tier pricing strategy: base cost and artist markup.
The base cost is just the inherent price of the product, fluctuating by things like size and color.
Your artist markup is your desired profit, which you can adjust at will through their dashboard.
Once you add these two up, you've got your retail price.
But wait, there are additional fees. Shipping, taxes, and production costs are all tallied and deducted from the retail price, leaving you with your final profit.
Now, let's talk Redbubble. Here, artists call the shots on pricing.
You set your own markup through your dashboard, which gets added to the base cost to form the retail price.
But be smart; setting a high markup will jack up that retail price.
Just like Printful, Redbubble has its share of fees, but these depend on your account tier—Standard, Premium, or Pro.
Each has its own fee structure based on your earnings.
Bottom line:
Printful focuses on offering a detailed pricing structure, occasionally throwing in discounts and promotions.
Redbubble gives you more freedom but requires careful planning on your markup.
Both platforms aim for transparent pricing, but your final profit will depend on multiple variables from product type to shipping costs.
Worth Exploring: Print On Demand Shopify Store Examples
Printful vs. Redbubble – Production Process & Print Quality
How is the Quality of Printing and Manufacturing Standards of Printful?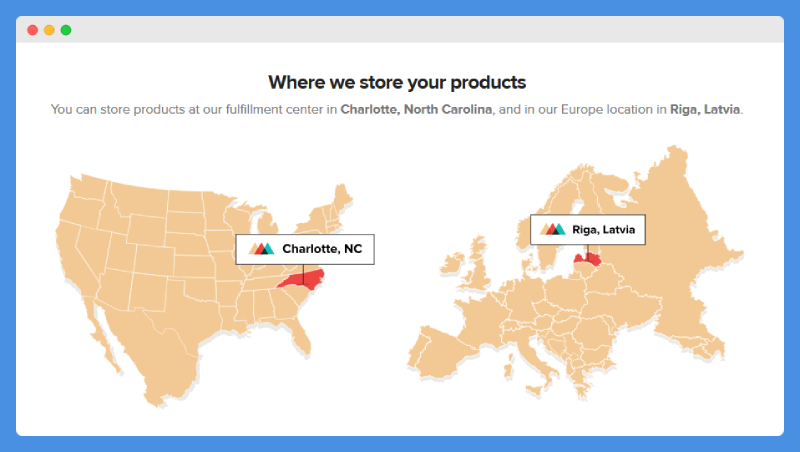 Looking for top-notch print quality? Printful's got you covered.
They use advanced tech to hit over 150 DPI for detailed items like mugs and phone cases. Plus, they're big on color accuracy. And if you're eco-conscious, you'll love their use of sustainable inks.
They source 99% of their products from top-tier suppliers to maintain quality.
Once you upload your design, they double-check the files and do a final quality sweep post-printing.
But let's keep it real: Printful's quality reviews are a mixed bag. The good? People love the array of over 200 products and generally solid print quality.
The not-so-good?
Some users report off-center prints and even say local screen printers do a better job. Product and design specifics can also introduce some inconsistencies.
So, while Printful checks a lot of boxes, your mileage may vary based on what you're printing and how you've set it up.
How is the Quality of Printing and Manufacturing Standards of Redbubble?
Looking for diverse print options? Redbubble's a solid bet.
They work with a global network of third-party manufacturers to deliver a variety of products. To make sure the print quality hits the mark, they've got pixel dimension requirements for every item.
Plus, they guide designers with detailed specs on color profiles and file types.
But here's the deal: Redbubble's print quality isn't universally acclaimed.
While some users give it a thumbs-up, others report issues like blurry prints or incorrect sizing.
One reason could be that Redbubble outsources its printing, so the quality varies depending on the third-party manufacturer.
And let's not forget, the quality can also hinge on the artist's original design specs.
So, before jumping in, consider scanning some reviews. Redbubble's got a lot of strengths, but a universal guarantee on print quality isn't one of them.
Interesting Comparison: Printful vs Print Aura
Printful vs Redbubble – Packaging & Branding
Both Printful and Redbubble have totally different games when it comes to packaging & branding.
Printful keeps it white-label, meaning no branding on the packaging or products.
You're free to add your own logo and messages.
They box everything up neatly, tailoring to the item's size and type. Plus, they include a handy packing slip and take extra care with fragile stuff like frames.
On the other side, Redbubble's packaging varies by product.
Expect poly bags for clothes and stickers, while framed art and posters ship in boxes and tubes, respectively. The catch?
No gift-wrapping and you'll see Redbubble's branding on everything since you're selling directly from their platform.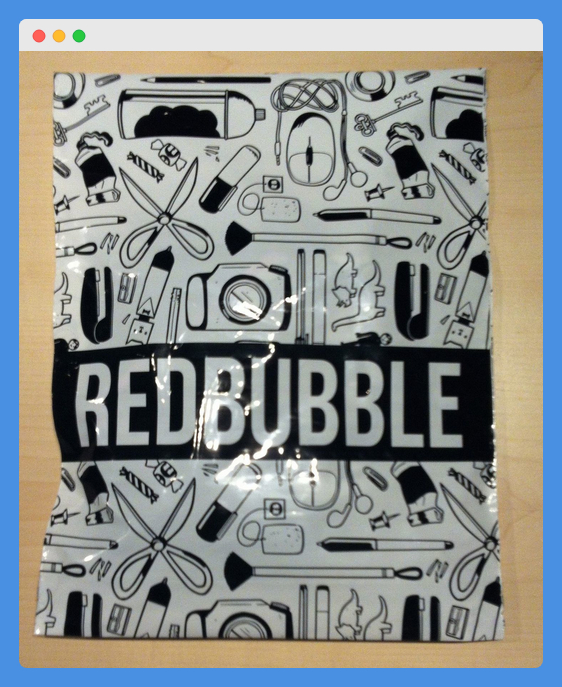 So if custom branding is a deal-breaker for you, take note.
Printful vs Redbubble – Shipping Costs & Delivery
Both Printful and Redbubble have you covered when it comes to shopping globally, but there are some key differences.
Printful ships everywhere except a few countries like Iran and North Korea. For apparel, expect a 2-7 business day prep time, and 2-5 days for other products.
UK deliveries are speedy, taking just 2-5 days.
In the U.S., you're looking at 3-4 days, and for places like South America and Asia, it can stretch to 6-14 days.
Switching gears to Redbubble: also a global player but no shipping to the same restricted countries as Printful.
They partner with big names like DHL and FedEx to get your products out.
Shipping times? Variable.
Local orders sometimes hit the road in under two days, but others may need up to three business days or more.
Keep in mind, Redbubble only ships on business days and tosses in a real-time order tracker. So your customers always know where their stuff is.
You Might Want To Read: Printful vs Printify
Printful vs. Redbubble – Product Cost
Printful
Our Pick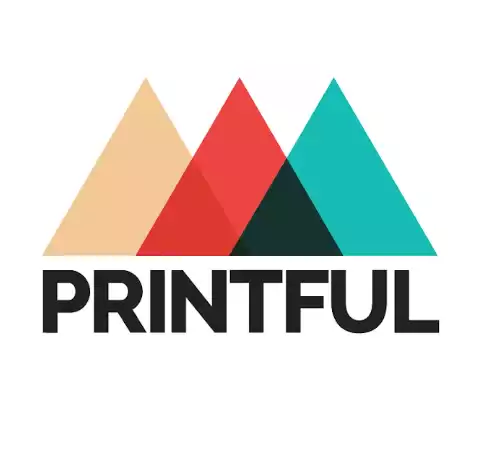 We earn a commission if you click this link and make a purchase.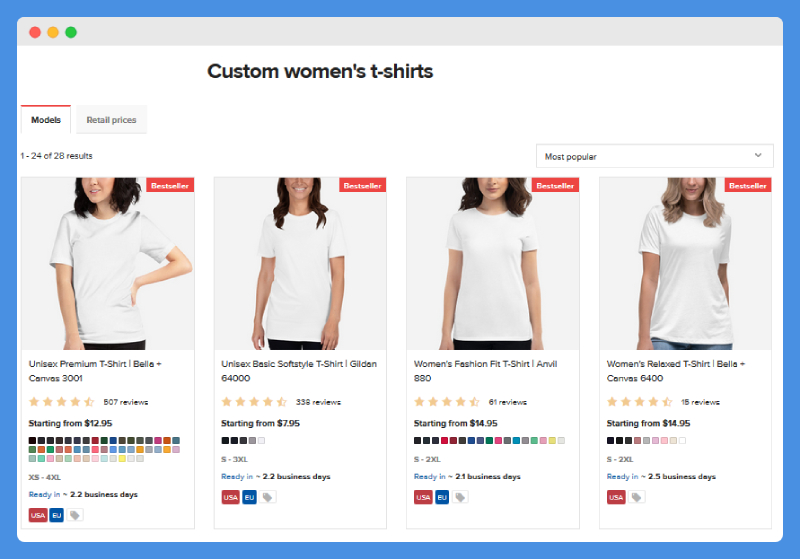 Printful sets a flat base price for each item. Nevertheless, the product type and the brand determine the cost of each product.
T-shirts and dresses range from $7 to $55.
Hoodies and jackets? They run a bit higher. Wall art costs between $7 and $30, and hats average around $15.50.
You can grab a mug for $8, while totes and pillows float between $10 and $25.
Redbubble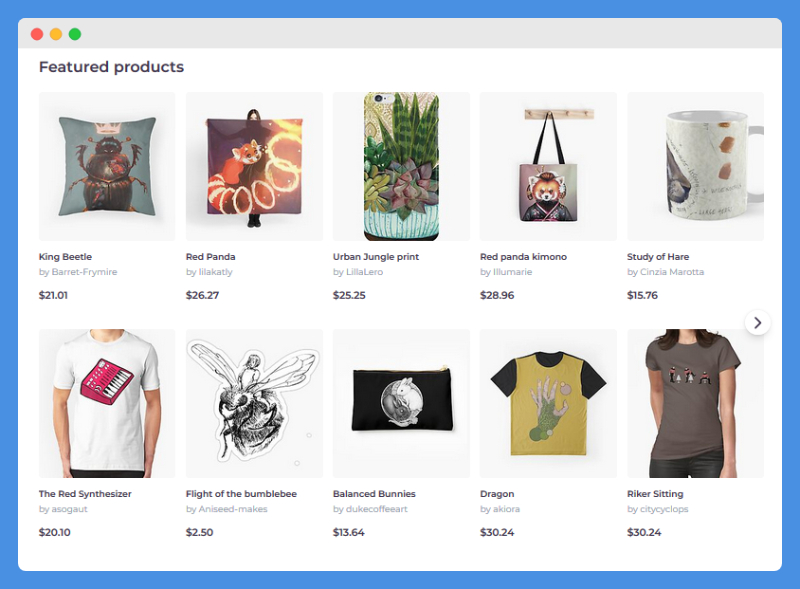 Over at Redbubble, pricing is more fluid.
Always double-check current rates before setting your profit margins. Clothing generally spans from $15 to $45. Stickers rarely go beyond $30. If you're into home decor like duvet covers, brace for $100 and up.
As for prints, posters sit between $14 and $30, while metal prints can reach up to $300.
Most other items like phone cases and stationery stay under the $50 mark.
Printful vs Redbubble – Analytics & Reports
Printful
Printful does not have an analytics section, although it has a sales stats report section. In this section, you can view costs based on different parameters such as amount, product, and the total sales and costs summary.
You can also view your billing and payment history. Additionally, Printful allows you to download these reports in an Excel file format.
For analytics, the Google Analytics tool is recommended for online retailers to use. Besides, Google Analytics is a top-notch analytics tool from Google, which provides you with comprehensive analytics of your online store.
However, you can't connect Google Analytics to Printful but you can connect it to your eCommerce platform such as Shopify, WooCommerce, etc.
Redbubble
Unlike Printful, Redbubble incorporates an artist analytics dashboard. This built-in analytics tool allows sellers to monitor their Redbubble shop activities efficiently.
With the artist analytics dashboard, you can view your earnings over time in daily, weekly, monthly, and yearly variations.
Also, you can track your store's traffic. This tool provides traffic reports from the Redbubble community, organic sources, direct sources, and social media.
Additionally, you can view top-selling products as well as low-selling products. However, this information takes about 48 hours to display as a result of time zone differences.
Besides that, Redbubble supports Google Analytics as a third-party analytics tool. Therefore, you can connect your Redbubble account with your Google Analytics account for advanced analytics and reports.
Printful vs Redbubble – Third-Party Integrations
Printful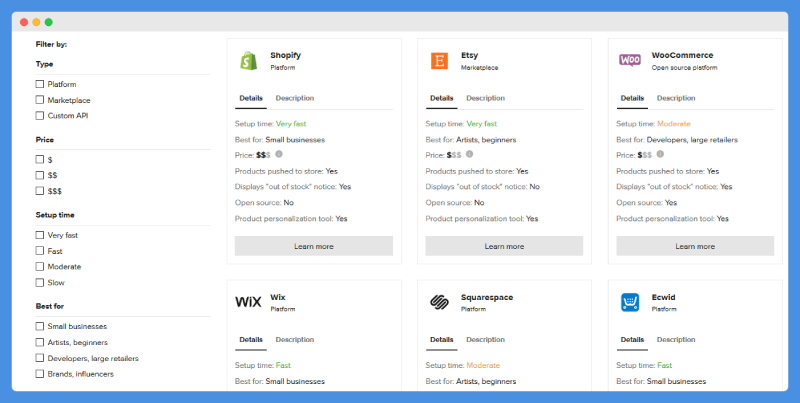 Printful seamlessly integrates with various third-party platforms, market places, and custom apps via API integration.
You can connect Printful with supported eCommerce platforms such as Shopify, WooCommerce, Wix, Squarespace, Ecwid, Bigcommerce, Prestashop, Weebly, Big Cartel, Gumroad, Magneto, ShipStation, Launch Cart, and 3dcart.
Our Pick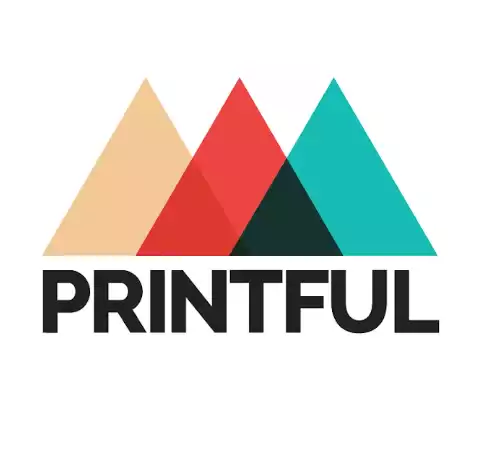 We earn a commission if you click this link and make a purchase.
Also, you can integrate your Printful account with notable marketplaces such as Amazon, eBay, Etsy, Wish, Bonanza, and Storenvy. Printful integration with Amazon and eBay are a bit slow but quicker with other online marketplaces.
Furthermore, Printful supports custom integrations through its API.
Redbubble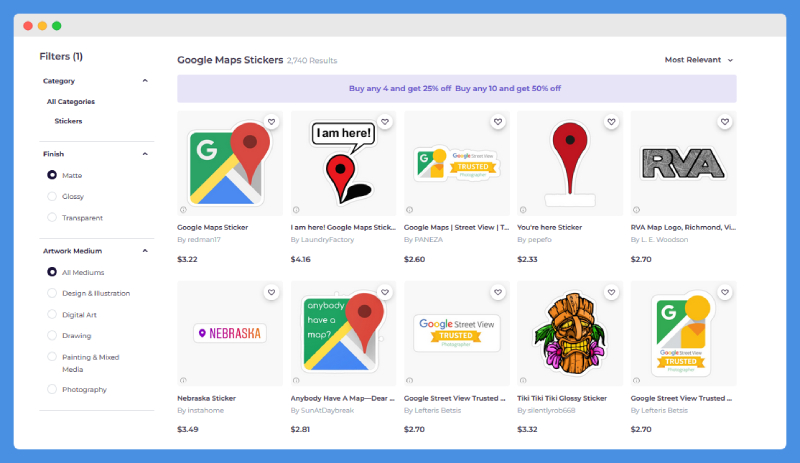 Let's talk about Redbubble integration options if any.
Since Redbubble is a fully-featured online marketplace, it does not offer any third-party integrations.
You cannot connect your Redbubble store to eCommerce platforms. Redbubble WooCommerce or Redbubble Shopify isn't an option.
Therefore, you can only upload your designs and sell them directly on the Redbubble platform. Additionally, Redbubble processes all orders, invoices, and payments within its platform.
However, the platform does support third-party tools such as Google Analytics and Google Maps.
Interesting Post: Best Shopify Print On Demand Apps
Printful vs Redbubble – Customer Support
Printful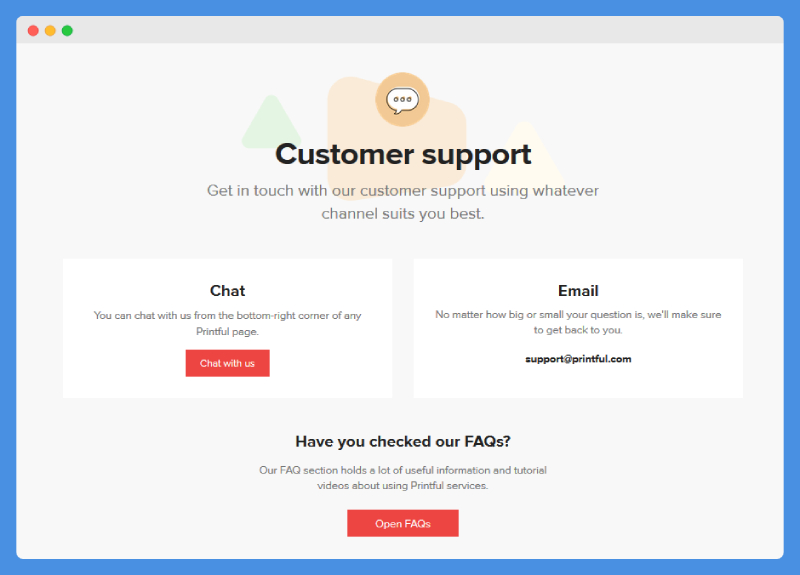 Printful offers quality customer support via various channels. For instance, it allows users to initiate a quick chat with support staff via the live-chat menu available at the right-bottom corner of their website. Also, customers can reach them via email or phone call.
From the Contacts page, customers can submit a contact form while the FAQ section facilitates quick answers.
Although Printful provides excellent customer support, it is not available on weekends; hence, you can only reach their support Monday – Friday from 9:00 AM – 5:30 PM EST.
Nevertheless, Printful has active social media communities on Instagram, Facebook, and YouTube, which allow you to get external support from other Printful users anytime.
Redbubble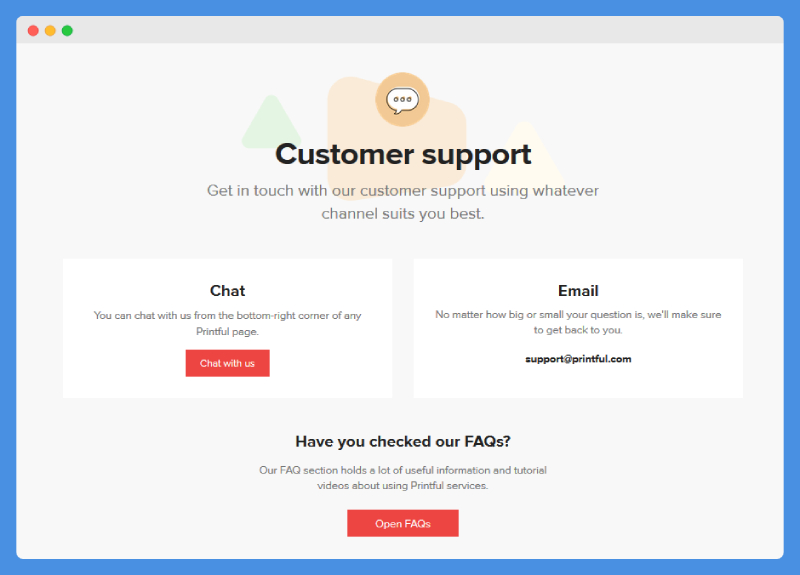 Redbubble offers 24/7 customer support. However, you cannot contact the support team via email or phone except by submitting a support request or sending a Twitter DM. Redbubble Twitter DMs can get instant replies while support tickets are replied to within 24 hours.
Conversely, Redbubble provides a detailed help section for both sellers and buyers. It is divided into two parts – buying and selling – and there is at least a published post on almost every procedure associated with using Redbubble.
To get more help, you can check out their social communities on Instagram, Facebook, Tumblr, and Pinterest.
Printful vs Redbubble – Similarities & Differences
Printful vs Redbubble – Pros & Cons
Printful
Pros
User-friendly interface

Quick order processing

Built-in file library

Multiple eCommerce platform integrations

Quality products

Mock-up generator

Good customer support
Cons
Override shipping not available on Shopify

Can't multi-edit products

No built-in analytics
Redbubble
Pros
Easy to use

Wide range of products

Built-in analytics

Fully-featured online marketplace

Helpful support guides

Quality products

Sellers can multi-edit products
Cons
Base price fluctuates

Product branding is not allowed

No phone or mail support

No eCommerce platform integration
Recap – Which is Better For Artists – Printful or Redbubble?
Our Pick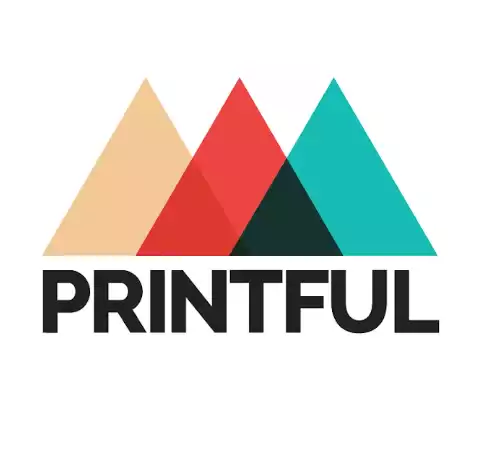 We earn a commission if you click this link and make a purchase.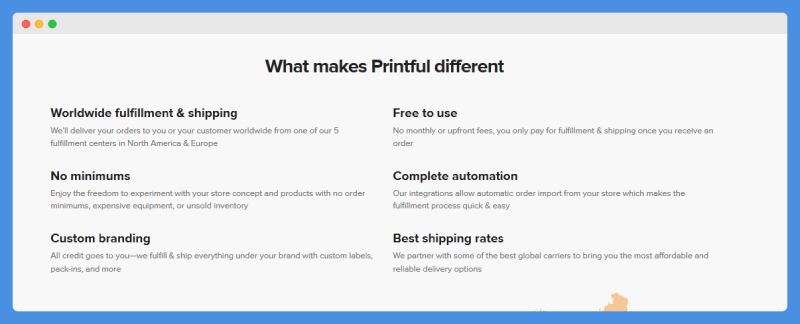 Both platforms incorporate useful features that can help online retailers to run a custom printed products business.
However, when placed against each other, Printful takes the upper hand.
Conversely, Printful provides a wide range of options for selling custom-printed products. For instance, Printful integrates with eCommerce platforms such as WooCommerce, Shopify, Wix, and other third-party platforms.
This allows you to easily connect your Printful store with your online store available on multiple eCommerce platforms. Additionally, Printful also supports integrations with online marketplaces such as Amazon, Etsy, and others.
On the flip side, Redbubble is usually easier on the wallet but has a narrower product selection. Don't expect to add personalized branding, and be aware that they charge buyers for shipping, which could eat into your profits. But where Redbubble really shines is in its active artist community and standout prints in graphic designs. Just remember, their marketplace model means quality can fluctuate.
Redbubble also does not support integrations with other eCommerce platforms; hence, you can only sell your custom printed products on the Redbubble platform.
Conversely, branding is essential for a brand to succeed. With Printful, you are in total control of your business branding; besides, Printful delivers products with your business branding.
However, Redbubble delivers products with their branding, which implies that you can only create designs, sell printed products, and make a profit.
Furthermore, Printful allows you to determine the shipping cost that your customer will pay while considering the base rate.
However, Redbubble charges buyers directly, thereby preventing you from adjusting the shipping cost to make more profits.
So, in a nutshell: Printful's all about variety and quality control, while Redbubble's your go-to for cost savings and community vibes.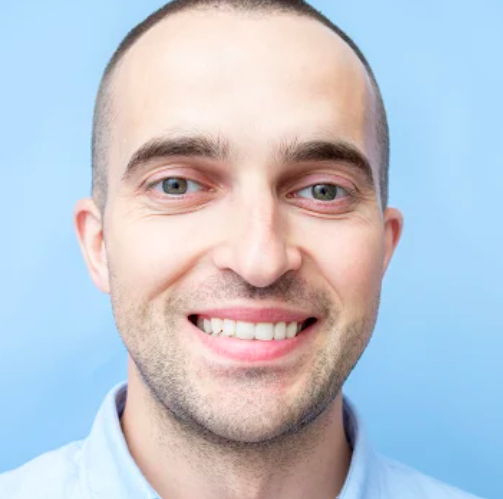 Author: Brian Erwin
I am Brian. I started my first e-commerce company in college designing and selling t-shirts for my campus bar crawl using Print-On-Demand. Having successfully established multiple 6 & 7 figure e-commerce businesses (in women's fashion and hiking gear), I think I can share a tip or 2 to help you get succeed.