In this modern era, online retail and shopping have become the norm, with close to 2 billion people making purchases on the internet.
An advantage of online shopping is the convenience it provides online shoppers to order items at any location. Meanwhile, this advantage also extends to online store owners as well.
Traditionally, online store owners will stock their items in a warehouse and then deliver after a customer orders them. But with recent innovations, retailers can now supply goods without having to stock the products.
For online store owners who specialize in selling custom printed products, there are several innovative print-on-demand platforms they can utilize.
Conversely, Printful and Redbubble are notable print-on-demand platforms that can be utilized by online retailers to sell custom printed products online.
In this post, we will be comparing Printful against Redbubble. This will help you make a better choice between the best.
Printful vs Redbubble: What Are They?
Printful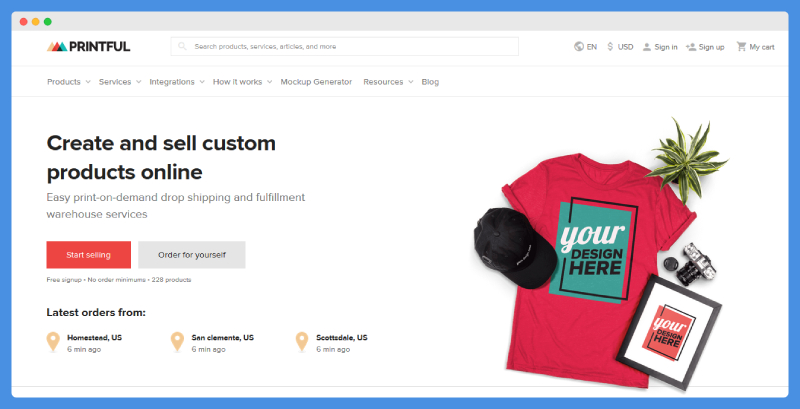 Printful is a print-on-demand platform founded in the year 2013. It enables you to create and link your custom-designed products for sale on your online store. This global platform has a working team of more than 800 individuals.
It is used by content creators, influencers, businesses, and brands. Its name was derived from the words 'Print Product' and 'Fulfillment Service.'
With Printful, you can ship products directly to your buyers from the Printful warehouse. Besides, the order fulfillment process is initiated once a buyer completes payment for an order.
You can customize any printed product such as shirts, hoodies, hats, blankets, and much more. They carry out both everyday printing and embroidery printing. Also, you can get your brand logo printed on any of their printed products.
Furthermore, Printful offers warehousing and fulfillment services. This allows you to order products and store them in their warehouse after printing.
Our Pick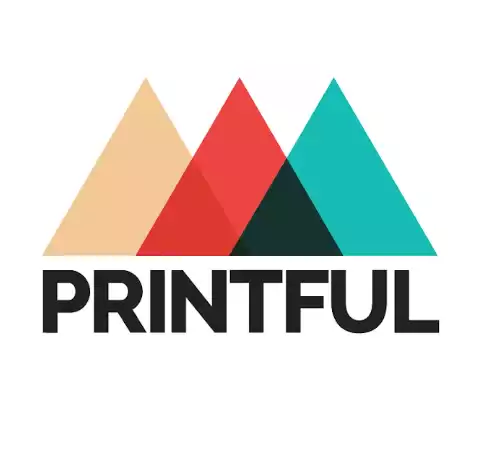 We earn a commission if you click this link and make a purchase.
Redbubble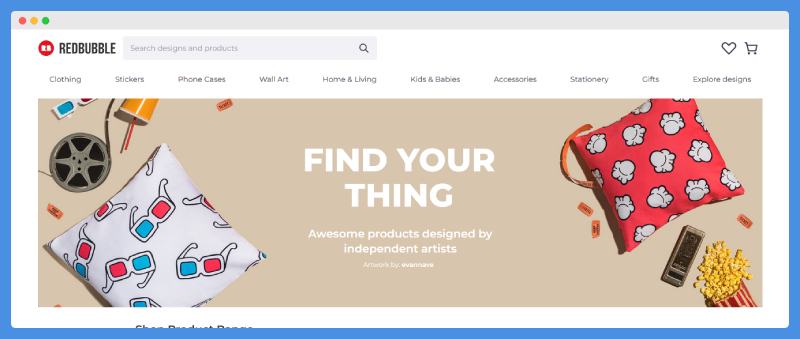 Redbubble is a platform for print-on-demand services and also a marketplace for buying and selling custom printed products. This platform has been around for quite a long time as far as the year 2006.
This platform was launched to help designers sell their designs conveniently. Presently, more than 700,000 designers and artists currently make use of the Redbubble platform.
Redbubble prints all types of products such as bags, shirts, caps, cups, mugs, phone cases, etc. Retailers need to upload their designs while Redbubble prints and delivers products with the design that the buyers pay for.
Notwithstanding, you can determine the designs you want for your printed products on the Redbubble platform.
On your Redbubble online store, you can display up to 60 different products for sale. Also, Redbubble facilitates global shipping; therefore, your goods can be delivered to customers irrespective of their location.
Redbubble runs a TV series – RBTV – which provides users with more knowledge about its platform.
Also Read: Best Print On Demand Sites
Setup Process
Printful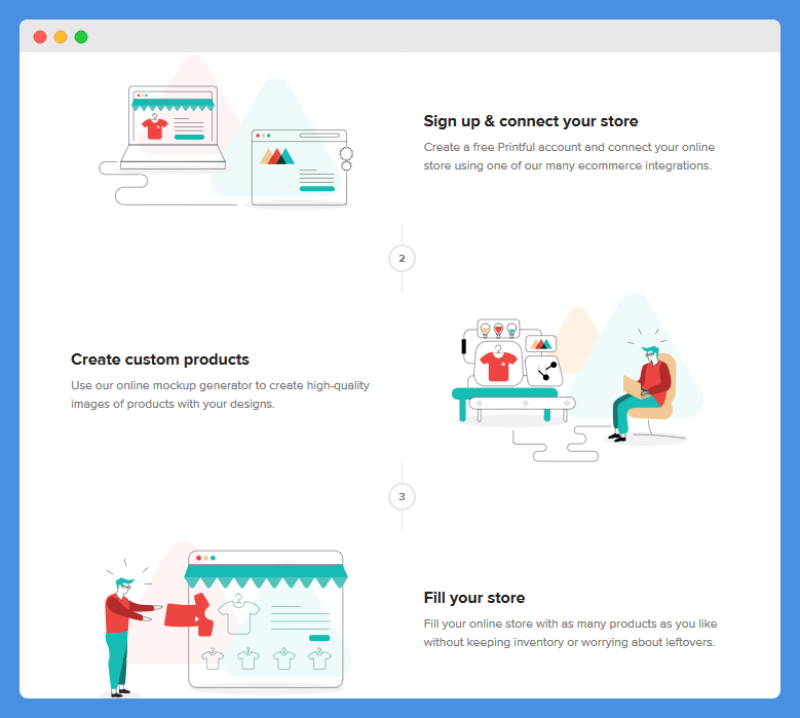 Printful users have to create and save their designs. When a customer orders a printed product, the design is printed on the product by Printful and shipped to the customer.
It has a simple setup process; however, you need to set up your eCommerce store and then connect it to your Printful account by installing any of its compatible integrations.
With your connected online store, you can create and upload your designs to your account.
Also, Printful incorporates a mock-up generator that allows you to test your designs and see how they appear on items. Then, you select products you want to sell and post them on your online store.
Afterward, you can determine the price, calculate shipping, and set up an ideal payment processor on your online store.
Redbubble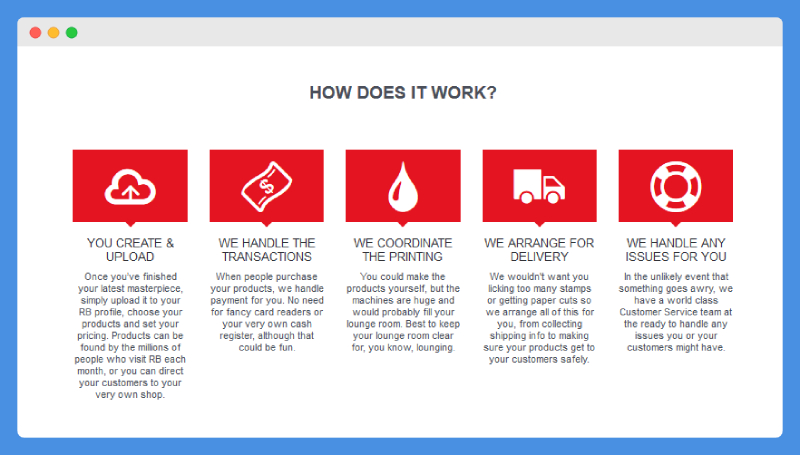 Redbubble works as both a marketplace and print-on-demand service. This eliminates the need for a third-party eCommerce platform to run your online store.
All you need to do is to sign up on the website, confirm your account, and set up your business profile. Then you just upload your designs to your account, select your ideal payment method(s), and start selling.
However, you will be required to create a Redbubble subdomain name from which your customers can access your store.
Unlike Printful, you will not get paid immediately when purchases are made. You are required to reach a payment threshold of $20. However, if you do not meet the threshold within a year, you will be paid whatever amount is in your account as long as it's above $2.
Useful Post: Best T-shirt Dropshipping Companies
Product Design
Printful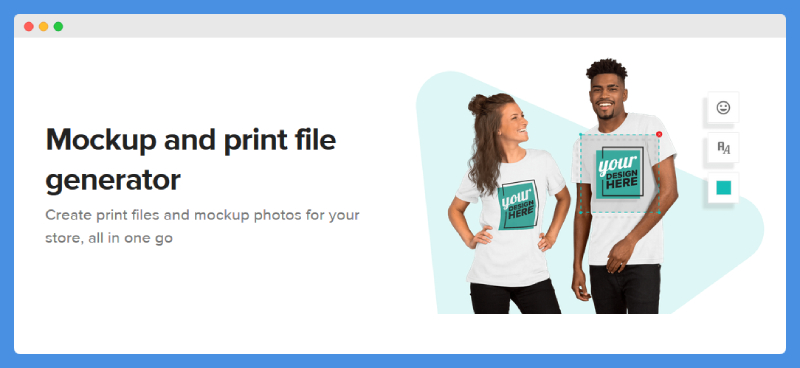 You can create your designs offline and upload them on your Printful account. Also, the Printful mockup generator tool allows you to make simple designs for your products.
You can see how designs will appear on products before listing them. Besides that, Printful allows you to upload your logo for brand personalization, which will be printed on your selected products.
Our Pick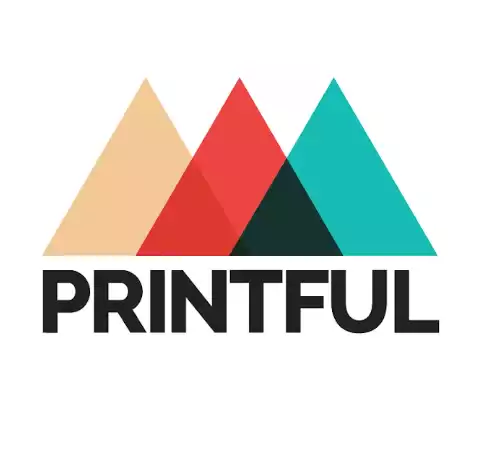 We earn a commission if you click this link and make a purchase.
For non-designers who wish to sell, Printful offers graphic design services to create designs of their choice. However, non-designers need to submit a request describing how they want their designs to look.
Redbubble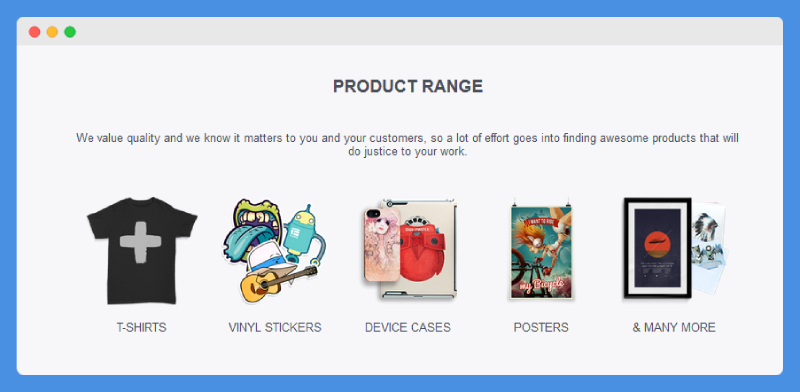 Designing on Redbubble is a simple process. As a seller, you should upload your created designs to your account. Redbubble accepts different media and art types; however, each product has a unique design model. Most importantly, you should consider dimensions.
Conversely, high-resolution image files are required for all items to ensure quality. Also, designs with transparent backgrounds should be in the PNG file format.
With Redbubble, you can edit designs on multiple products at the same time, thereby saving time and stress.
Furthermore, Redbubble has a detailed section that guides sellers on how to create designs for their products properly.
Production Process
Printful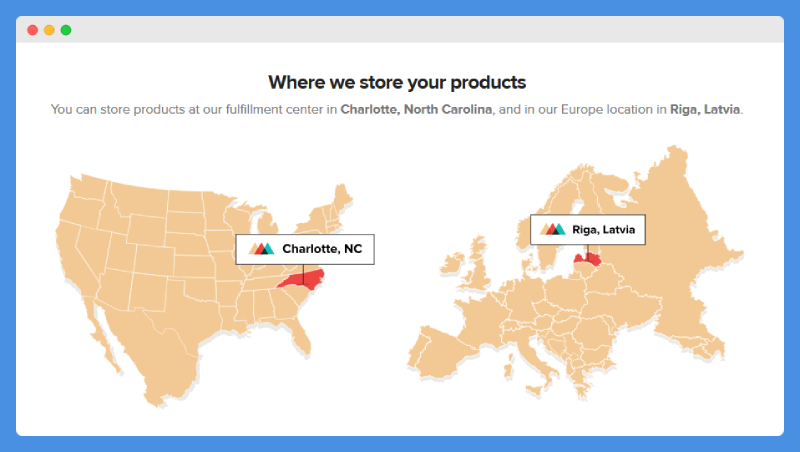 Printful has printing equipment worth about $27 million, which ensures that they produce only quality products for your customers.
Products are printed at any of their fulfillment centers located in the USA, and Latvia. The product production process starts once customers make payment for printed products via your online store.
Firstly, your uploaded design files are checked to ensure that they are of high quality. After the products have been imprinted with the design, Printful fulfillment specialists check their quality.
Additionally, Printful sources for products from renowned brands such as Bayside, Gildan, Next Level Apparel, Hanes, and others.
Redbubble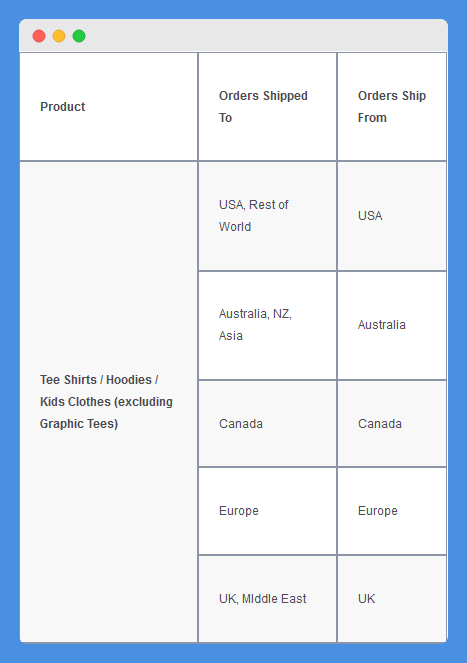 Wondering where is Redbubble located? The company has its headquarters in Melbourne, Australia.
However, Redbubble has different production locations. The location where your products will be produced depends entirely on the location of the buyer. Redbubble also works with third-party printers.
For instance, Redbubble works with printing companies based in the United States, Australia, Canada, United Kingdom, Germany, and the Netherlands.
Production commences once the customer makes the payment. The printed products are ethically-sourced to ensure good quality and value. Hence, Redbubble sellers can be guaranteed high-quality items for their customers.
The products are custom made for customers so the company says there is no Redbubble warehouse they maintain.
Nevertheless, it takes between 1 – 3 days for items to be printed, depending on the item type and the quantity.
Interesting Comparison: Printful vs Print Aura
Packaging & Branding
Printful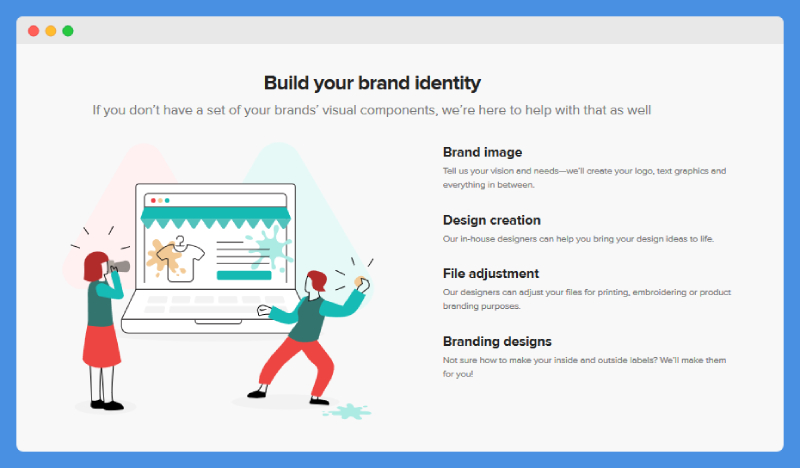 As a white-label platform, Printful does not print its branding on any product they print, not even in the packaging. Therefore, you can upload your brand logo and any custom message for printing on your product packages.
Printful packs items based on product type and dimension. However, all items are packed in corrugated boxes at the final packaging stage.
Our Pick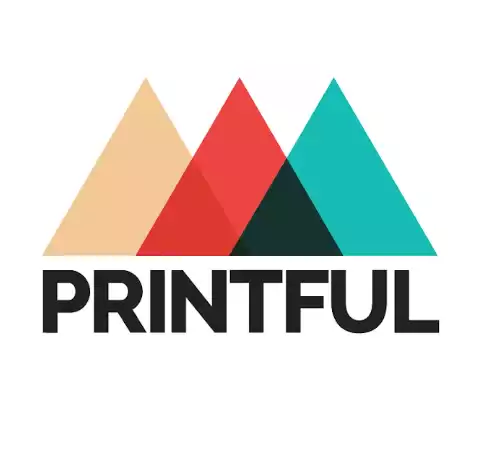 We earn a commission if you click this link and make a purchase.
Each package includes a packing slip that contains information about the order. Delicate items such as frames are well-wrapped to protect them from scratches and other damage.
Redbubble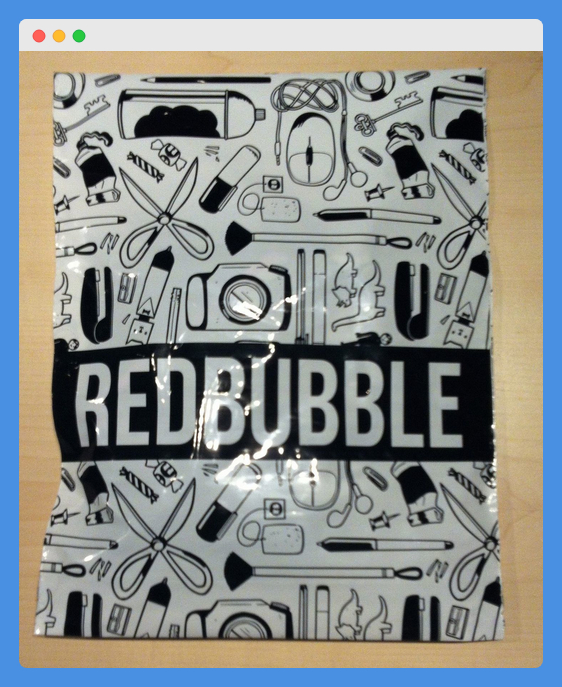 Unlike Printful, Redbubble packaging differs for various items types. Most clothing items are packaged in poly bags as well as stickers. Framed art is packed in boxes, while posters and smaller art prints are shipped in tubes.
Unfortunately, Redbubble does not offer gift wrapping. Also, product packages are branded with the Redbubble branding as you are selling directly from the platform and not from a third-party eCommerce platform. The disadvantage here is that you cannot add your branding to your products.
Shipping & Delivery
Printful
Printful ships products internationally except for some countries like Iran, Cuba, Syria, Crimea, and North Korea. Once orders are placed, apparel products will be ready for shipping within 2 – 7 business days, while non-apparel products will be ready for shipping within 2 – 5 business days.
Delivery time varies depending on the delivery destination. Delivery is fastest in the United Kingdom as it takes 2 – 5 days, for the United States, it takes 3 – 4 days, and 3 – 5 days for France. It takes up to 6 – 14 days for products to get shipped to South America, Asia, and other European countries.
Redbubble
Redbubble is global, so they ship products to almost any country. Just like Printful, they do not offer shipping services in countries like Iran, Cuba, Sudan, North Korea, Syria, or Crimea. Fortunately, Redbubble utilizes prominent shipping services such as DHL, UPS, and FedEx for product shipping.
Conversely, their shipping duration depends on the location, shipping method (standard or express), and the product type. Some orders – especially local ones – are shipped in less than two days, while others take up to 3 working days or more.
Redbubble carries out shipping only on business days, and national holidays are also excluded. Also, they provide an order tracker that allows your buyers to track the delivery of their orders in real-time.
You Might Want To Read: Printful vs Printify
Product Cost
Printful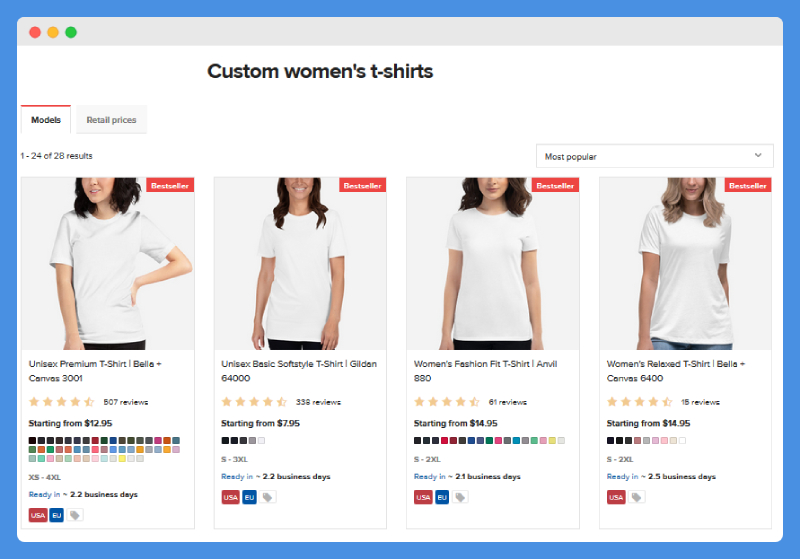 Printful has a fixed base price for each of their products. Nevertheless, the product type and the brand determine the cost of each product.
Shirts, dresses, and hoodies for men, women, and kids costs between $7 and $55; however, hoodies, sweatshirts, and jackets are priced higher than shirts.
Our Pick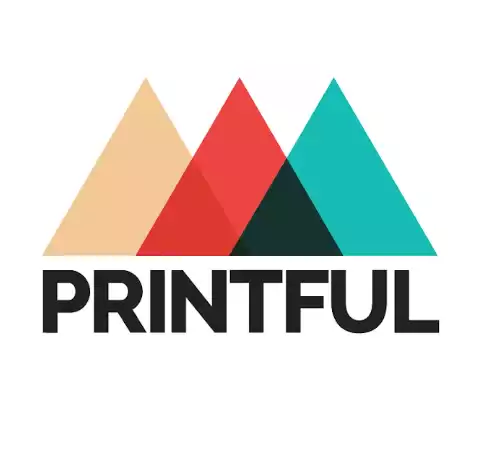 We earn a commission if you click this link and make a purchase.
Wall art is sold between $7 and $30, while hats cost $15.50 on average. Mugs cost about $8, while totes and bags cost between $10 and $25, and pillows cost $14 on average. Towels are sold for about $25, while phone cases cost $10 on average.
Redbubble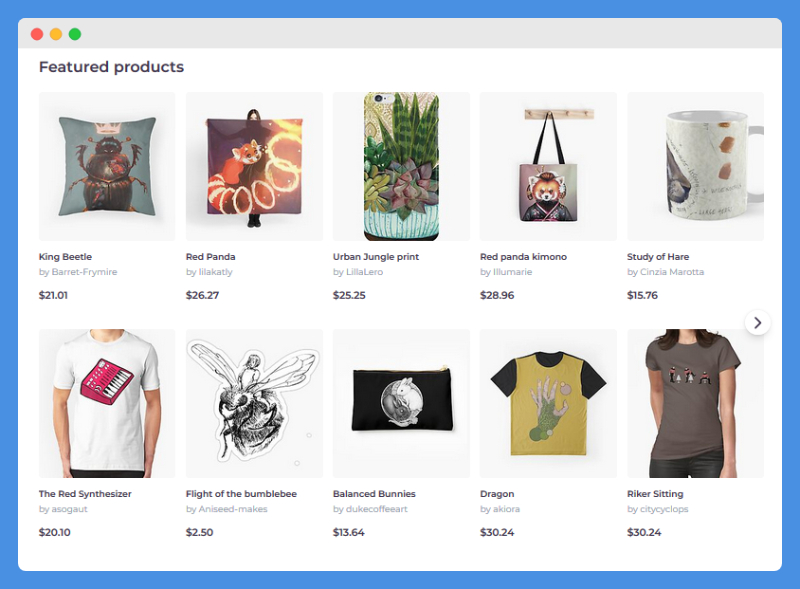 Redbubble product prices are subject to change. As a seller, you should check the current price of products before setting your margin.
Prices for clothing fall between $15 and $45, while stickers are usually not higher than $30. Home decor costs the most, e.g.; duvet covers cost more than $100.
Additionally, the cost for prints and cards depends on the type. For instance, posters cost between $14 and $30, while metal prints sell for $50 – $300. Other items such as phone cases, stationery, bags, etc. are usually not higher than $50.
Analytics & Reports
Printful
Printful does not have an analytics section, although it has a sales stats report section. In this section, you can view costs based on different parameters such as amount, product, and the total sales and costs summary.
You can also view your billing and payment history. Additionally, Printful allows you to download these reports in an Excel file format.
For analytics, the Google Analytics tool is recommended for online retailers to use. Besides, Google Analytics is a top-notch analytics tool from Google, which provides you with comprehensive analytics of your online store.
However, you can't connect Google Analytics to Printful but you can connect it to your eCommerce platform such as Shopify, WooCommerce, etc.
Redbubble
Unlike Printful, Redbubble incorporates an artist analytics dashboard. This built-in analytics tool allows sellers to monitor their Redbubble shop activities efficiently.
With the artist analytics dashboard, you can view your earnings over time in daily, weekly, monthly, and yearly variations.
Also, you can track your store's traffic. This tool provides traffic reports from the Redbubble community, organic sources, direct sources, and social media.
Additionally, you can view top-selling products as well as low-selling products. However, this information takes about 48 hours to display as a result of time zone differences.
Besides that, Redbubble supports Google Analytics as a third-party analytics tool. Therefore, you can connect your Redbubble account with your Google Analytics account for advanced analytics and reports.
Third-Party Integrations
Printful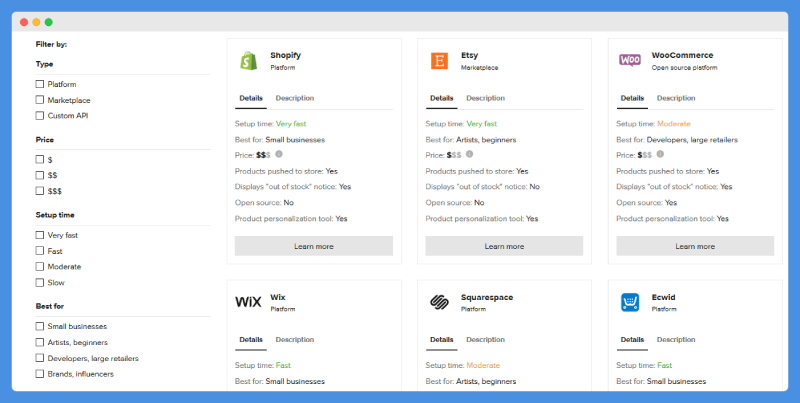 Printful seamlessly integrates with various third-party platforms, market places, and custom apps via API integration.
You can connect Printful with supported eCommerce platforms such as Shopify, WooCommerce, Wix, Squarespace, Ecwid, Bigcommerce, Prestashop, Weebly, Big Cartel, Gumroad, Magneto, ShipStation, Launch Cart, and 3dcart.
Our Pick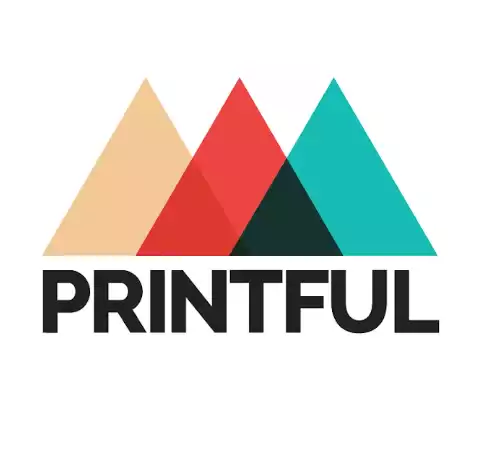 We earn a commission if you click this link and make a purchase.
Also, you can integrate your Printful account with notable marketplaces such as Amazon, eBay, Etsy, Wish, Bonanza, and Storenvy. Printful integration with Amazon and eBay are a bit slow but quicker with other online marketplaces.
Furthermore, Printful supports custom integrations through its API.
Redbubble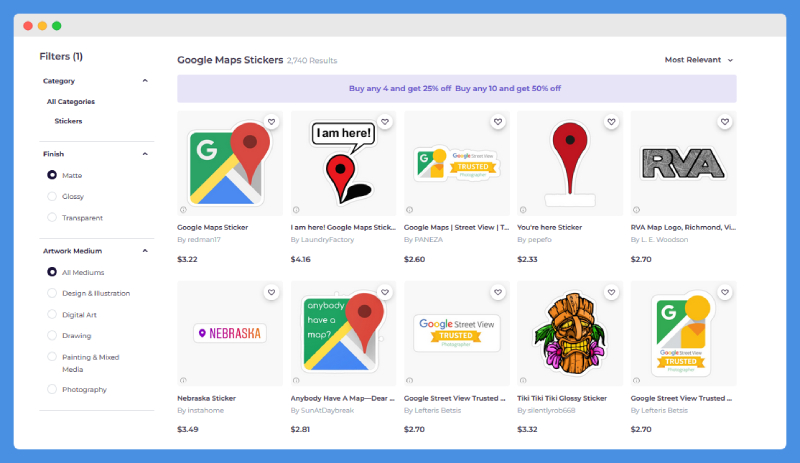 Let's talk about Redbubble integration options if any.
Since Redbubble is a fully-featured online marketplace, it does not offer any third-party integrations.
You cannot connect your Redbubble store to eCommerce platforms. Redbubble WooCommerce or Redbubble Shopify isn't an option.
Therefore, you can only upload your designs and sell them directly on the Redbubble platform. Additionally, Redbubble processes all orders, invoices, and payments within its platform.
However, the platform does support third-party tools such as Google Analytics and Google Maps.
Interesting Post: Best Shopify Print On Demand Apps
Customer Support
Printful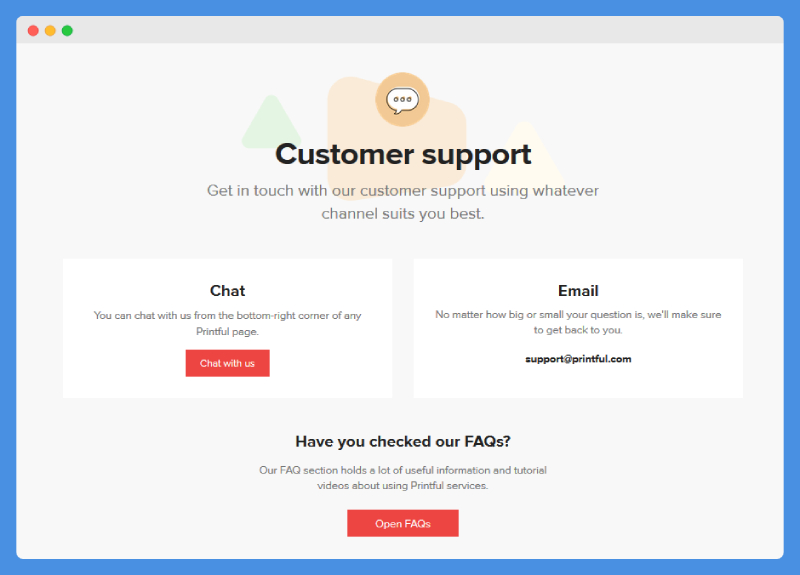 Printful offers quality customer support via various channels. For instance, it allows users to initiate a quick chat with support staff via the live-chat menu available at the right-bottom corner of their website. Also, customers can reach them via email or phone call.
From the Contacts page, customers can submit a contact form while the FAQ section facilitates quick answers.
Although Printful provides excellent customer support, it is not available on weekends; hence, you can only reach their support Monday – Friday from 9:00 AM – 5:30 PM EST.
Nevertheless, Printful has active social media communities on Instagram, Facebook, and YouTube, which allow you to get external support from other Printful users anytime.
Redbubble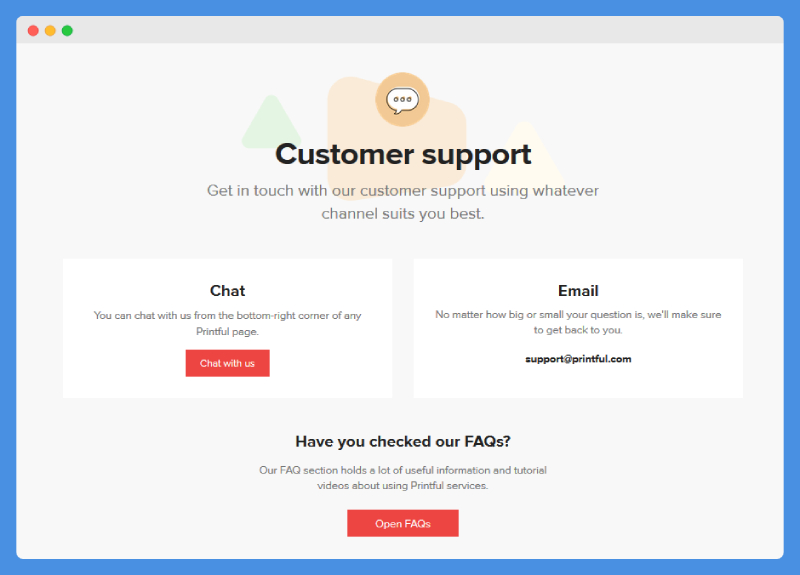 Redbubble offers 24/7 customer support. However, you cannot contact the support team via email or phone except by submitting a support request or sending a Twitter DM. Redbubble Twitter DMs can get instant replies while support tickets are replied to within 24 hours.
Conversely, Redbubble provides a detailed help section for both sellers and buyers. It is divided into two parts – buying and selling – and there is at least a published post on almost every procedure associated with using Redbubble.
To get more help, you can check out their social communities on Instagram, Facebook, Tumblr, and Pinterest.
Pricing
Both Printful and Redbubble use the base price + seller price = retail price pricing format; however, external factors may affect their pricing as well.
Printful pricing
You can register on Printful and connect it with your online store without paying a dime.
Printful sells products at a fixed base price for different item types, which includes the product and the printing cost. However, it is up to the seller to determine the product cost by calculating their profit with the Printful Profit Calculator.
Also, sellers are charged for shipping because the shipping cost is not fixed. Besides, shipping cost depends on the weight of the products, shipping destination, and the shipping method.
Conversely, sellers can set a shipping price for all printed products they sell on their online stores. For instance, the seller can set a standard or fluctuating shipping cost to increase their profitability.
Our Pick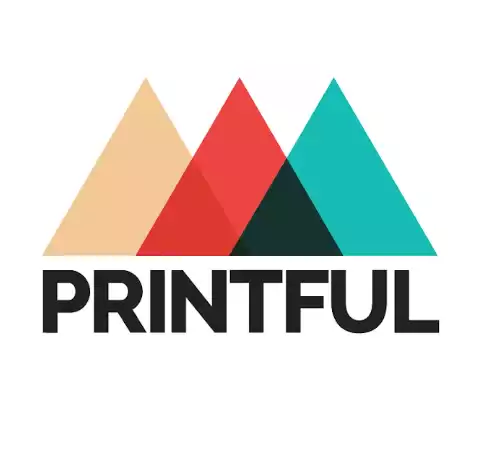 We earn a commission if you click this link and make a purchase.
Redbubble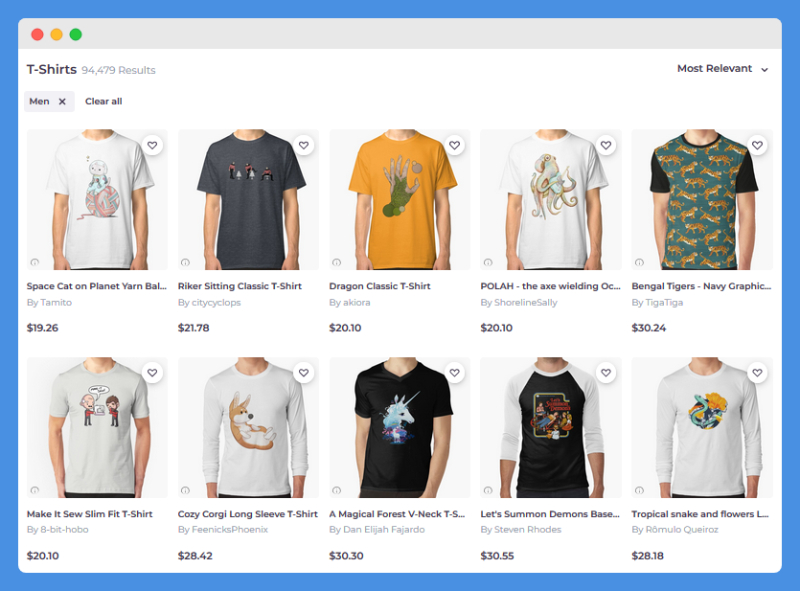 Redbubble does not charge you for signing up or using its platform.
However, Redbubble base prices fluctuate and but do not affect the shipping cost. Your selling price is in addition to the base price and your selling price, which depends on the percentage of profit you wish to make.
For shipping, the costs also fluctuate, but it does not involve the store owner. It is solely between Redbubble and the buyers. The price is calculated live on the buyer's cart depending on the shipping methods, shipping origin and destination, and the number of items in a particular order.
Worth Exploring: Print On Demand Shopify Store Examples
Similarities & Differences
Pros & Cons
Printful
Pros
User-friendly interface
Quick order processing
Built-in file library
Multiple eCommerce platform integrations
Quality products
Mock-up generator
Good customer support
Cons
Override shipping not available on Shopify
Can't multi-edit products
No built-in analytics
Redbubble
Pros
Easy to use
Wide range of products
Built-in analytics
Fully-featured online marketplace
Helpful support guides
Quality products
Sellers can multi-edit products
Cons
Base price fluctuates
Product branding is not allowed
No phone or mail support
No eCommerce platform integration
Conclusion – Printful vs Redbubble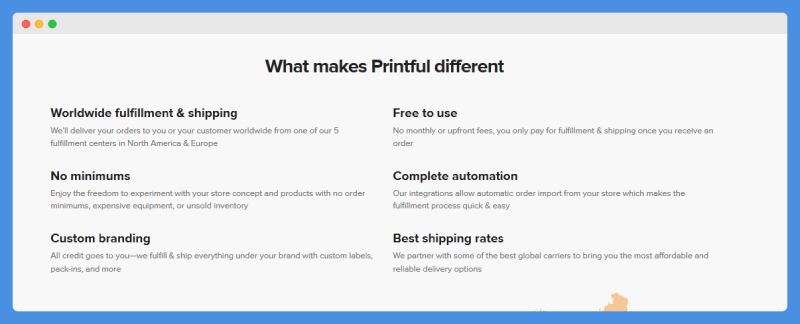 Here we come to the conclusion. We will answer which is better – Redbubble or Printful.
Both platforms incorporate useful features that can help online retailers to run a custom printed products business. However, when placed against each other, Printful takes the upper hand.
Conversely, Printful provides you with a wide range of options for selling custom printed products. For instance, Printful integrates with eCommerce platforms such as WooCommerce, Shopify, Wix, and other third-party platforms.
This allows you to easily connect your Printful store with your online store available on multiple eCommerce platforms. Additionally, Printful also supports integrations with online marketplaces such as Amazon, Etsy, and others.
However, Redbubble does not support integrations with other eCommerce platforms; hence, you can only sell your custom printed products on the Redbubble platform.
Conversely, branding is essential for a brand to succeed. With Printful, you are in total control of your business branding; besides, Printful delivers products with your business branding.
However, Redbubble delivers products with their branding, which implies that you can only create designs, sell printed products, and make a profit.
Furthermore, Printful allows you to determine the shipping cost that your customer will pay while considering the base rate. However, Redbubble charges buyers directly, thereby preventing you from adjusting the shipping cost to make more profits.
If you're looking for the ideal print-on-demand service to use, you should consider Printful instead of Redbubble.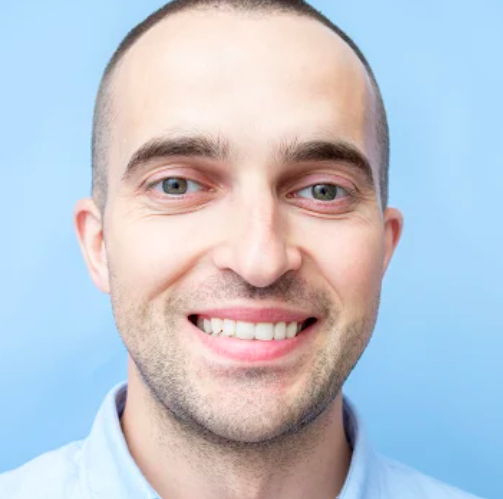 Author: Brian Erwin
I am Brian. I started my first e-commerce company in college designing and selling t-shirts for my campus bar crawl using Print-On-Demand. Having successfully established multiple 6 & 7 figure e-commerce businesses (in women's fashion and hiking gear), I think I can share a tip or 2 to help you get succeed.