Dropshipping continues to be a popular ecommerce business model, especially for those who are new to the ecommerce scene and/or do not have a large budget to start with.

Dropshipping allows you to get started without purchasing any inventory upfront and without having to deal with the usual hassles of an ecommerce business.
You won't have to take care of the production of products or their shipping and handling; all you have to do is be the middleman between consumers and suppliers.

A particular sub-niche of dropshipping is on-demand t-shirt printing. With this model, you allow customers to create and design their own t-shirts.

Instead of printing out the shirts and shipping them yourself, you forward the orders to a manufacturer or printing provider who does it for you.

In this article, we will explore the top 10 platforms for building a successful t-shirt dropshipping business.
Best T-shirt Dropshipping Companies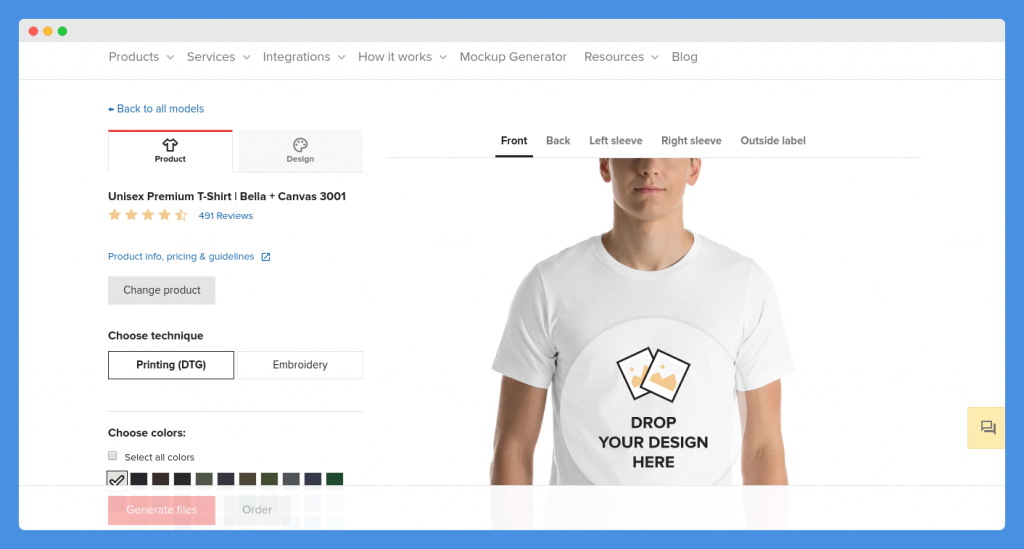 Printful is one of the top on-demand print platforms out there. They let you create and upload custom prints for t-shirts, hoodies, sweatshirts, blankets, jewelry, laptop cases, stickers, coffee mugs, jackets, home decorations, and much more. 
The first step is creating your account and uploading your designs. Then, select the products you want to sell on your store. 
Connect your online store to your Printful account so that your products are displayed on your store and so that orders are automatically synced with Printful.
When a customer makes a purchase, Printful will take care of the printing, shipping, and handling for you. You don't have to do anything – your package will arrive at the customer's address with your own brand and logo so that it appears as if it came from you. 
Using the white-label service, you can even print your own brand logo on your item (including on the back so that it can be seen without being too conspicuous).
Printful can even create your brand logo for you from scratch. Let them know what your visions and goals are for your business so they can create a logo just for you, text and images included. 
As with brand logos, you can have your ecommerce photos created for you by their professional photography team. You can use these custom-made photos on your store and products.
If you don't have any experience setting up a website, don't worry! There is a store set-up service; Printful will create a beautiful, functional store from scratch. 
You can take advantage of their video services to get videos showcasing your various products. Videos have been shown to increase conversion rates. 
Printful has a Warehouse and Fulfillment service that allows you to store your inventory at Printful's warehouse. It is kind of like Amazon FBA. 
You can use this service if you sell non-Printful products as well and want them to be shipped together with Printful products so that customers get them both at the same time. 
All you have to do is send your inventory to Printful and they will take care of the storage and fulfillment. 
There are two storage and fulfillment centers – one in Latvia for European orders and one in South Carolina for orders in the United States. 
There are no account maintenance or signup fees. In addition, you can take advantage of the same-day shipping that Printful offers (for orders that are placed before noon). 
Printful integrates with more than 20 ecommerce platforms and services, including Wix, Shopify, BigCommerce, Prestashop, Shipstation, Amazon, eBay, Wish, Etsy, Bonanza, and many more. 
There are some other useful features, such as the ability to set alternatives for products. This way, if a particular product is out of stock, your customers can choose different options. 
You have the ability to order each of your products (and product alternatives) to test them out yourself before they go live in your store. 
If you want to get a feel for how it works, you can use their free mockup generator to see how easy it is to create logos for t-shirts and other products. 
Printful had a couple of pricing plans earlier but very recently, they made the service free for all, that too with additional features.
So Printful is free. You only need to pay for the products, and shipping. Check out the pricing page for the latest on product and shipping costs.
You can get discounts of up to 30 percent on bulk orders. Event organizers, schools, sports teams, and others can take advantage of these discounts.
Explore: Printful Vs Printify
Our Pick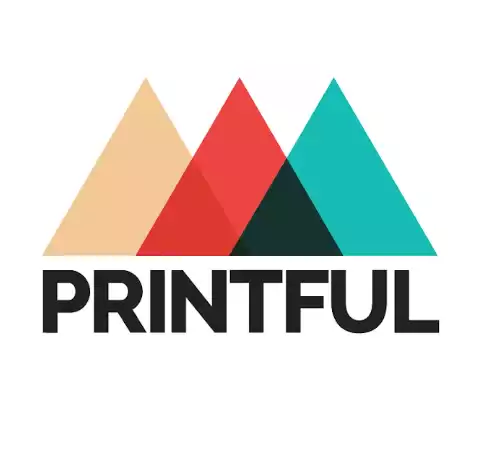 We earn a commission if you click this link and make a purchase.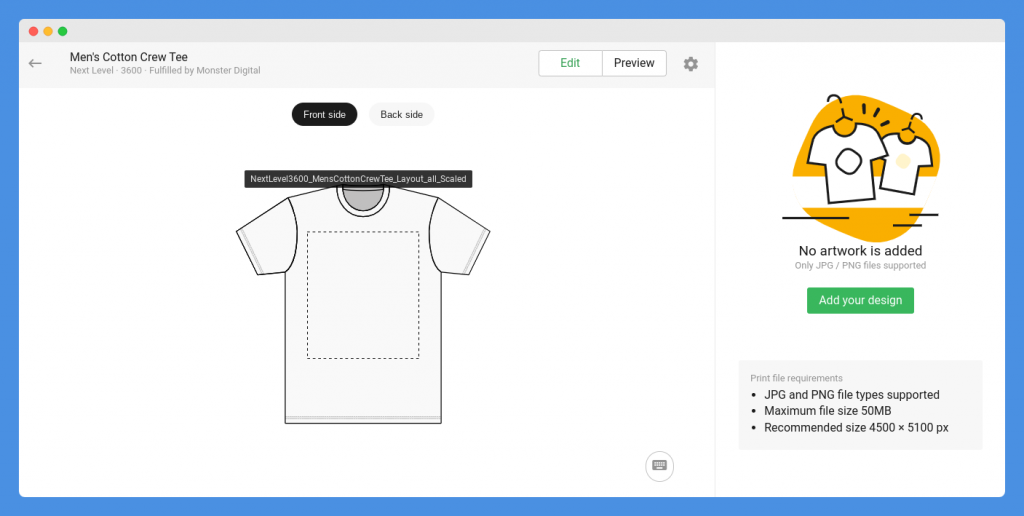 Next on our list of the best t shirt dropshipping companies is Printify.
Printify has only a slightly different name than Printful, and it's a great alternative.

They boast a large catalog of over 250 products to choose from, including t-shirts, hoodies, women's clothing, kid's clothing, bags, jewelry, phone cases, socks, mugs, stationery, pet products, blankets, home decorations, and much more.

The actual process is very similar to Printful. First, pick a product; then, use the mockup generator to add your logo and play around with different colors and designs.

After you have ordered a sample product to ensure it came out correctly – after all, you don't want to sell an end-product where your logo is misplaced – you can publish the product on your store.

All products must go through quality control. This only happens once (and each time you update your product).

The product and files you uploaded will be inspected to make sure they are suitable for manufacturing. The entire process usually takes less than 12 hours.

Printify integrates with different ecommerce platforms, including Shopify, Etsy, and eBay, so you can use it in conjunction with your existing store.

The great part about Printify is that it allows you to choose from over 90 print providers. Each print provider will have different products and styles and apply your designs differently.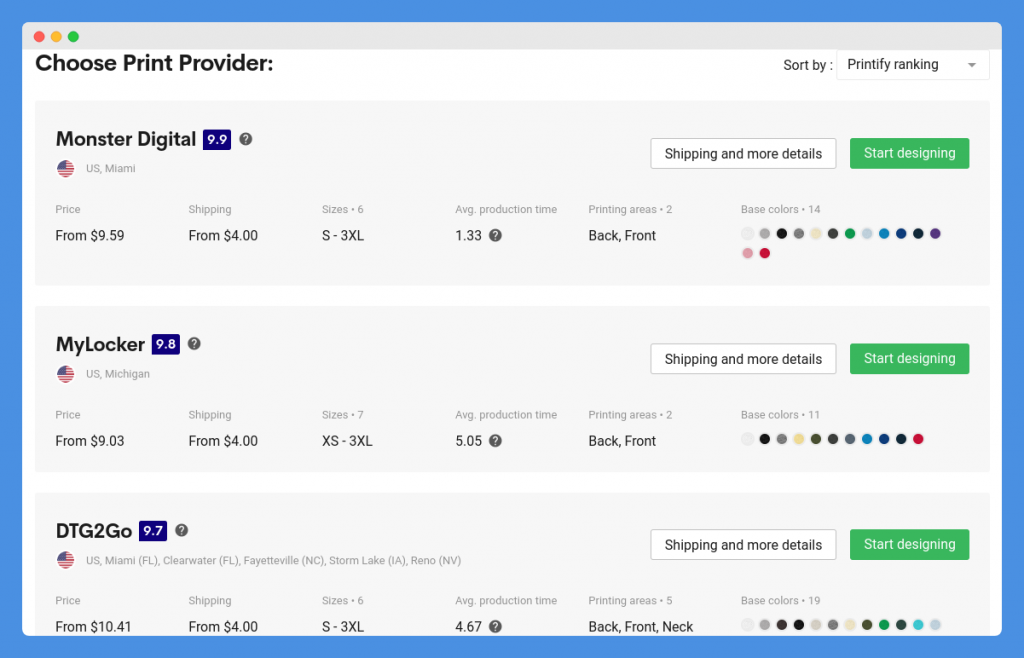 You can choose a print provider that has the best prices for you and is located closest to you so that your customers get their ordered products quicker.

When a purchase is made, it will be forwarded to your printing provider, who will take care of the printing, shipping, and handling.
Your card on file will be charged for the retail price and shipping fees; you will set up your own payment acceptance system on your store to charge customers this price and whatever margin you want to add.

You can use the free Printify Shopify plugin to automatically add the built-in shipping rates to your Shopify store.

Printify is free to use. The free account lets you connect up to five stores, which should be enough for most people.

The Premium plan, which is $29/month, lets you connect up to 10 stores and gives you access to the custom order import tool and discounts of up to 20 percent on all products.
You can also get a custom plan with unlimited stores, a dedicated account manager, and other premium features.
Also Read: Printify Review

We earn a commission when you click this link and make a purchase.

Sellfy is a popular ecommerce platform allowing you to sell digital products and merchandize.
You can also use it as a dropshipping platform to sell t-shirts and other products like mugs, posters, hoodies, bags, phone cases, caps, stickers, and more.
The company handles the printing and shipping of orders for you so you can concentrate on creating your designs and selling to your customers.
All you have to do is upload your designs, create your merchandise, set a price that works for you, and fill up your store with all your different merchandise.
Sellfy's apparels are available in over 40 colors and the sizes range from XS-5XL, making it an ideal option for people who want to sell custom clothing.
Sellfy also allows you to cater to customers who prefer sustainable and eco-friendly products with organically produced phone cases and cotton totes bags.
The main difference between Sellfy and other t-shirt dropshipping solutions is that it also functions as an all-in-one ecommerce platform. You have the option of selling digital and physical products such as videos, ebooks, music, and other kinds of files.
If you are a digital content creator using videos as your medium of expression and you want to avoid download issues associated with streaming or lower the risk of your content getting pirated, you can take advantage of Sellfy's videos on demand option.
You can even offer your products or services on a subscription basis and charge customers weekly, monthly, or yearly. Sellfy also provides upsell, discount codes, tracking pixels, and email marketing features that you can leverage to engage your customers, boost sales, and monitor the performance of Facebook and Twitter ads.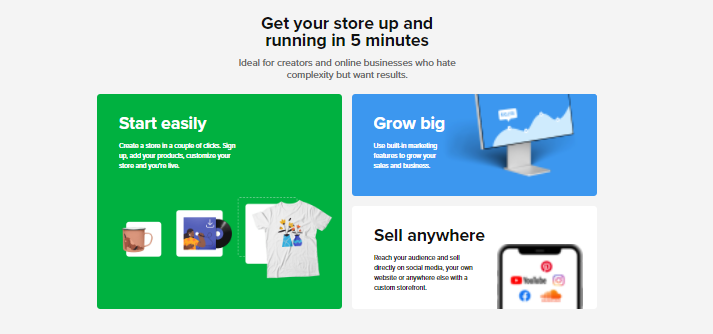 Receiving payments from customers is simple and convenient because Sellfy accepts different currencies and offers multiple payment options including PayPal, Stripe, wallets, credit or debit cards, and more.
Setting up a storefront on Sellfy is very easy to do and only takes about five minutes. You can customize your store by adding your logo and brand colors, and choosing your preferred layout.
Sellfy provides a shopping cart function that you can add to your store to encourage shoppers to buy multiple items. If you have an existing domain, Sellfy lets you connect it to your store to consolidate your brand presence.
Depending on where your customers are located, you can automatically translate your Sellfy store to their language. You can also offer a fully optimized, mobile-responsive store with a seamless checkout experience to your customers with Sellfy.
To increase your t-shirt or product sales and monetize existing content, Sellfy comes with "buy now" buttons and product cards that you cash add to other websites and pages.
You can even embed your entire Sellfy store on any website or use direct product links to promote your t-shirt designs anywhere you want.
In total, Sellfy is a great option if you want to start your t-shirt dropshipping business and flourish in quick time.

We earn a commission if you click this link and make a purchase at no additional cost to you.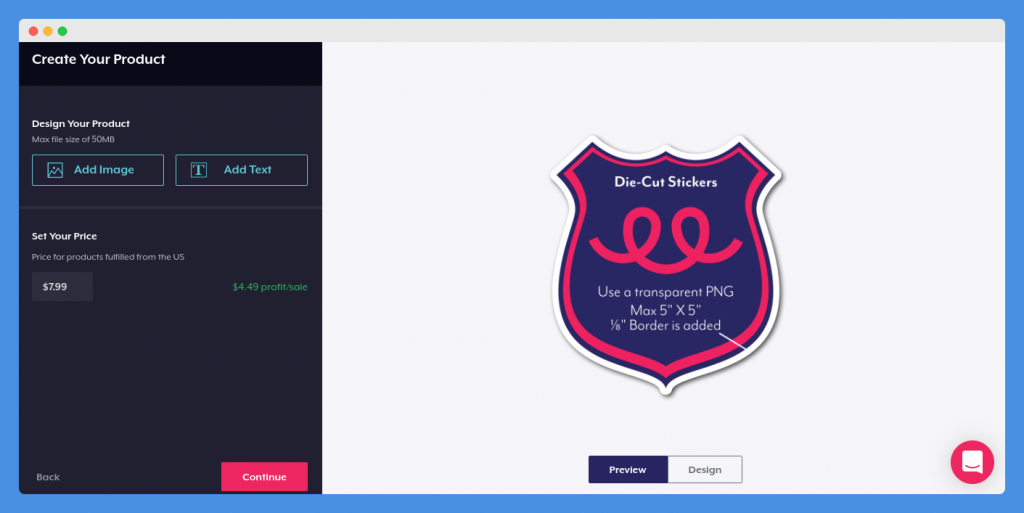 Teespring, despite its name, doesn't limit you to only selling t-shirts. You can sell a variety of other products as well, including hoodies, leggings, pillows, canvas prints, home decorations, and phone cases.

One of its latest features is the Instagram Checkout option.

Instagram Checkout is a new feature that is only available for a few brands as of yet. It allows users to order products and complete the checkout process straight from Instagram, without ever leaving the app.

Since this greatly reduces the number of steps needed to make purchases, it can increase your conversion rates.

Teespring announced that it was the only print-on-demand platform that was granted access to this feature. Because of that, it offers Teespring sellers access to it on a case-by-case basis.

Nevertheless, this is something that you will not find on other print-on-demand platforms.

Some of the other 25 brands that have been granted access to this feature include Michael Kors, Adidas, and Kylie Cosmetics.

Teespring has also teamed up with Youtube to allow you to integrate your store and have your merchandise displayed on a virtual shelf under your Youtube videos.
If you're a Youtuber and are thinking of making some extra money by selling merch with your brand, logo, or slogan, this is perfect for you.

Not all Youtube content creators are eligible for "Merch Shelf." You must have at least 10,000 subscribers and no community strikes against you; you must also be part of the Youtube Partner Program and reside in one of the following countries: France, Germany, the United Kingdom, Ireland, Italy, Belgium, the Netherlands, Portugal, Spain, Canada, Australia or the United States (it will be available in other countries soon).

Keep in mind that this is in addition to Adsense and does not replace it.

If you are a Twitch streamer, you can use the Twitch add-on to display your merch right under your stream. It's the same idea as with Youtube.

It's important to point out that Teespring works a bit differently than both Printful and Printify.

With the latter two, you use the platform to upload logos, create products, and connect with suppliers. However, your end product is sold on your own store, whether that is your personal website, a Shopify store, or an Amazon account.

Teespring, however, has its own marketplace. The products you create will be listed on the Teespring marketplace.

This can be a big plus if you are starting from scratch. Instead of having to drive traffic to your own t-shirt website, you can get views from people who are already browsing the Teespring marketplace in search of cool t-shirts, mugs, and other items.

There are even some products featured on the Teespring homepage.

Another benefit is that Teespring has their own customer service team to help customers out with issues since the products are sold on their own site.

Finally, you can benefit from Teespring's own promotions, including their Boosted Network, marketing tools, and partnership integrations.

If you are interested in ordering t-shirts or other branded items for your club or event, you can get a discount on orders of over 100 units.

Teespring is free to use. All items have a base price; you get to decide how much of a margin you want to add on (this can be $2 or $30; it all depends on the type of product you are selling).

Since the products are sold on the Teespring marketplace, the customer will be billed for it directly by Teespring; they don't bill your credit card first like Printify does. Your profit will be available for withdrawal in your account.

There's a reason why Teespring is so popular with artists and content creators – it lets you start a t shirt drop shipping business without the hassle of creating your own store.
Related: Printify Vs Teespring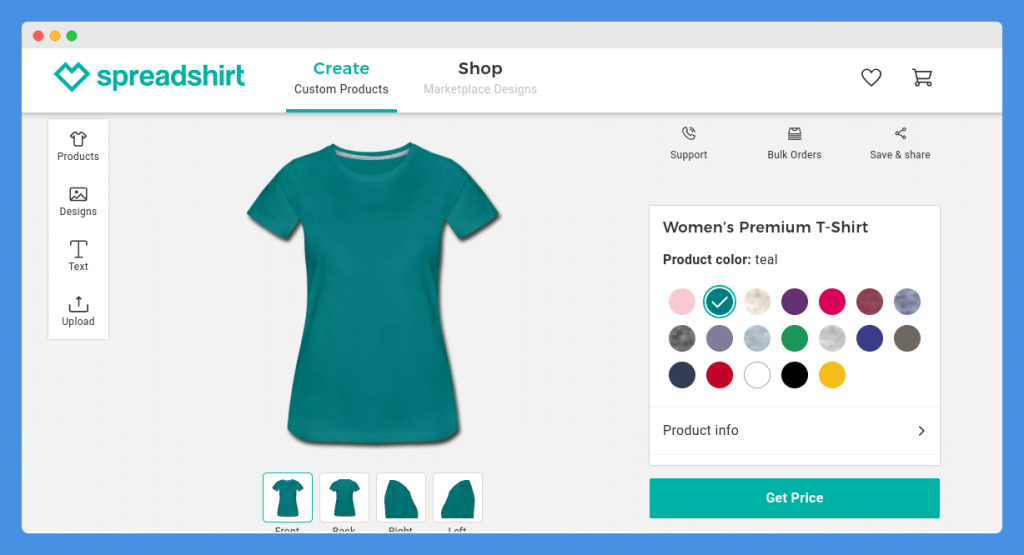 Spreadshirt lets you sell not just t-shirts but also a variety of other products, such as baby bibs, duffel bags, all kinds of posters, travel bags, buttons, and much more.

All in all, there are over 200 products you can customize and make your own. The platform is free to use, and you can get monthly payouts and royalties from any products you are selling on Spreadshirt.

Spreadshirt has an interesting payout system. All new sellers will start getting a 20 percent commission, which they call the Affiliate Commission.

As you make more sales, a Volume Commission will be added. This starts at just 0.5 percent if you sell between 26-50 products a month.

It keeps going higher until you can get up to a 40 percent Volume Commission if you sell over 4,000 products a month.

The Volume Commission is always in addition to the base Affiliate Commission.
Related: Best Print On Demand Sites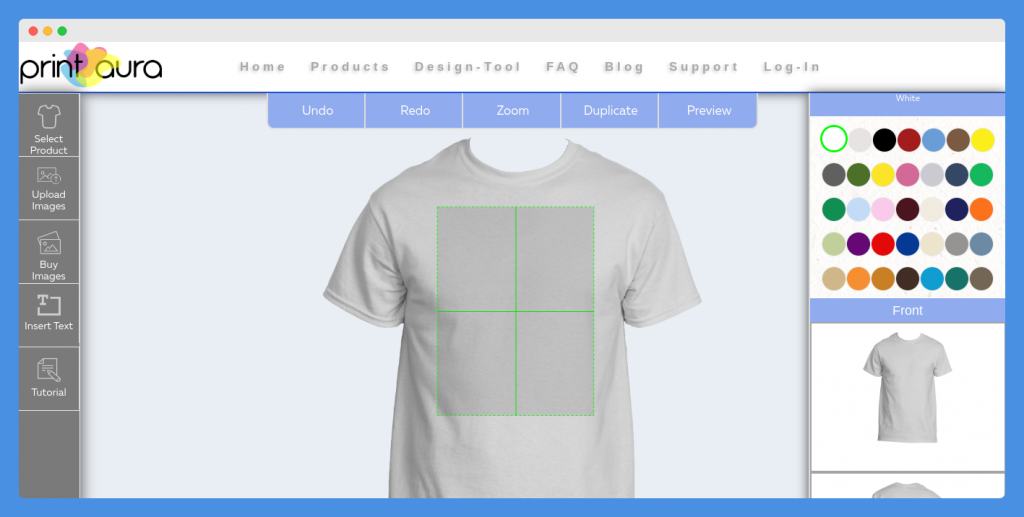 Print Aura focuses mostly on drop shipping t shirts but they also let you sell hoodies, dresses, onesies, caps, phone cases, wall art, drinkware, and other products.

Their site seems a bit simpler and old-fashioned than the other sites on this list, but it is free to use and has many custom branding options (inside labels, outside labels, hang tags, and more).

They have a design tool that replaced their old mockup tool. It comes with templates for caps, t-shirts, and other products you can use when creating your products.

Print Aura does all of the printing themselves; they use DTG (direct-to-garment) printing to create your products.

Most products shipped from Print Auria will come with a product purchase slip and a garment care instruction card. You can opt for additional branded options, such as hang tags.

Shipping rates are clearly defined on their website for all of their products. This takes away any ambiguity.

When a customer buys from you, they pay you first; then, you pay Print Aura for the base price of the product + shipping fees.
Also Read: Printful Vs Print Aura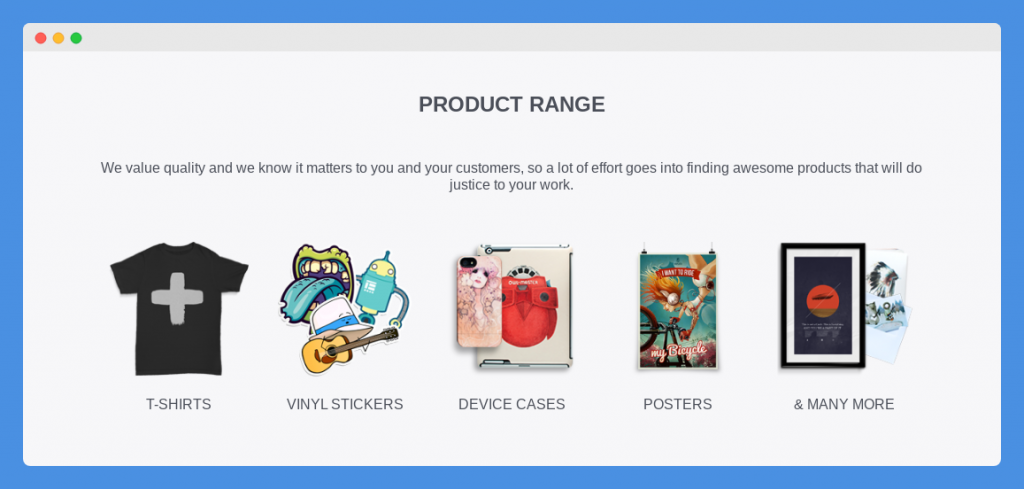 RedBubble is similar to Teespring. It also features an online marketplace where you can buy or sell products such as clothing, stickers, phone cases, wall art, weird art, home and living decorations, kids' toys and clothing, accessories, stationery, gifts, and more.

RedBubble has both featured products and featured artists on their homepage. They also feature fan-made art (for Ricky Morty, Adventure Time, The Last Unicorn, etc).

RedBubble works like most other print-on-demand platforms that have their own marketplace: You upload your design, create your products, and have orders printed and fulfilled by the RedBubble team.

RedBubble is free to use; your profit consists of the margin you place on top of the base price. All designs and logos remain your copyrighted property forever.

If you want, you can allow customers to send you special requests for customized designs.
Also Read: Printful Vs Redbubble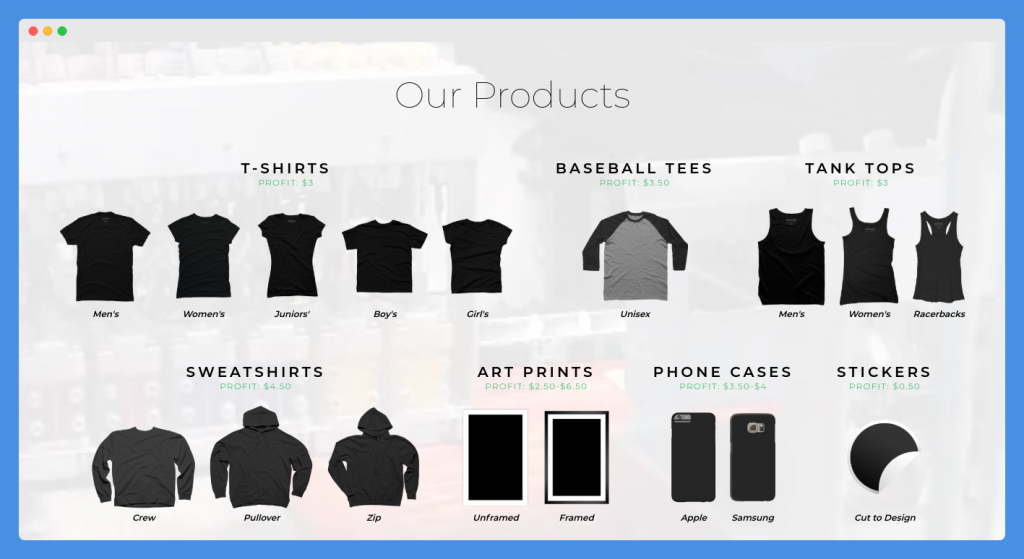 Design By Humans is an online marketplace where you can open a store and start selling t-shirts, women's clothing, backpacks, mousepads, coffee mugs, art, prints, and much more.

What sets it apart is that there are a lot of licensed and official brand stores with branded merchandise on it, including Star Wars, Disney, Star Trek, Marvel, Nintendo, Discord, and more. Besides official stores, there are licensed fan stores for NASA, Assassin's Creed, Sea of Thieves, and many others.

There is also an entire Charity section where you can shop branded merchandise from charities and support them at the same time.
Some charities on Design By Humans include Kids Saving Rainforests, the St. Jude Children's Research Hospital, the Animal Hope and Wellness Foundation, Charity Gaming, Conservación Panama, and many others.

Opening up a store on Design By Humans is free and easy, and it allows you to get access to licensing opportunities from brands.

At the same time, unlike many other print-on-demand platforms where you can set your own margins and rates, Design By Humans has set royalties for all of the products you sell.

For example, t-shirts earn you royalties of $3, stickers $0.50, mugs $2.50, phone cases $3.50-$4, etc. For a list of royalties, go here.

You can make money by promoting Design By Human products even if they are not your own. Your royalties will be less, though; you will only make $0.30 for stickers you sell, for example.
Also Read: Best Shopify Print On Demand Apps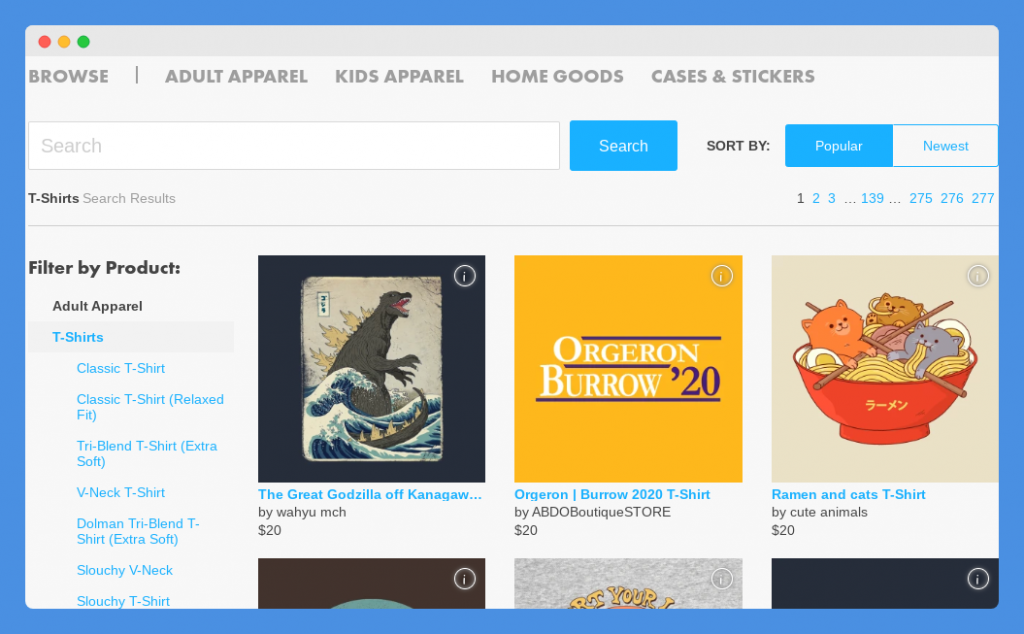 Teepublic has a smaller selection of products; only around 75. However, it's still enough for most designers.

According to Teepublic, their artists collect the highest royalty earnings of any other print-on-demand site per $20 shirt. It's also super easy to create products – all you need is one art file to create beautifully-designed items.

Dropshipping t shirts, tapestries, laptop cases, mugs, notebooks, hoodies, phone cases, and other items is quite rewarding using Teepublic.

Teepublic is like Design By Humans – you earn a set royalty amount for each item. However, as mentioned above, their royalties are better than many other sites.

For a $20 t-shirt, you will earn $4; for a $45 hoodie, you will earn $8; and for a $2.50 sticker, you will earn $0.75.

For the first 72 hours that your product is live, it will be at a discounted price. This means that you will earn less, but it can also boost sales, which is important when launching a product.
Explore: Best Print On Demand Shopify Store Examples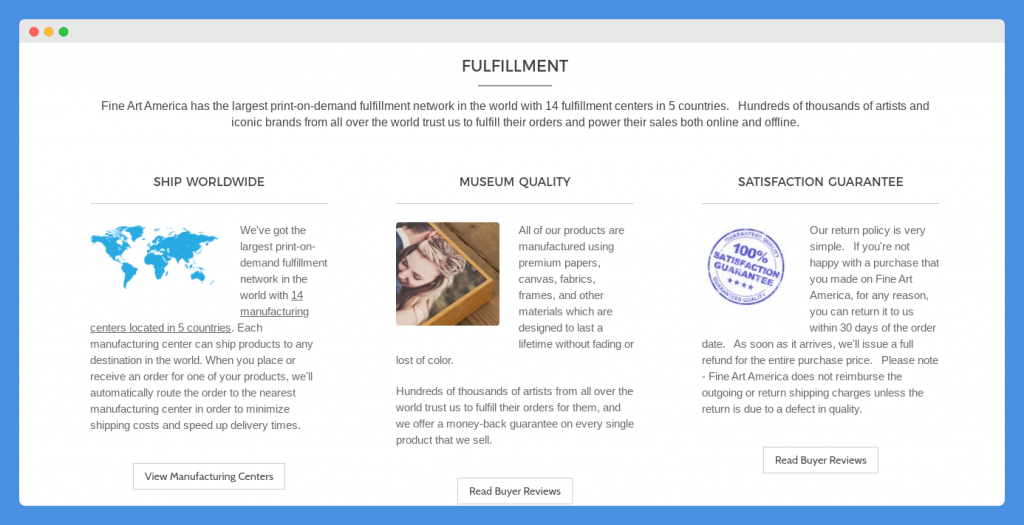 Fine Art America is more geared towards art prints and finer art, but it still has a wide range of products.

You can sell beach towels, portable battery chargers, tote bags, t-shirts, hoodies, canvas prints, metal prints, wood prints, glossed greeting cards, tapestries, coffee mugs, shower curtains, duvet covers, yoga mats, phone cases, baby onesies, and much more.

You can join Fine Art America either as an independent artist who wants to sell their own branded products or as a gallery owner who is interested in advertising their business online or selling new online products and product versions.

What sets Fine Art America apart from most print-on-demand businesses is that they allow you to sell digital downloads. You can sell royalty-free images and designs and keep 100 percent of your asking price (though FAA will add their own 30 percent margin).

There is a licensing configurator tool so you can clearly show which licenses you are giving over.

Another thing that sets FAA apart is that if you have original artwork you want to sell online, you can sell it 100 percent commission-free. However, the buyer will have to contact you and you will have to talk with them directly, as well as take care of the shipping and handling yourself.

For all other dropshipping products, you can set your own margin rates, which will be applied on top of the base prices.

Although it is called Fine Art America, they actually have 14 fulfillment centers in five countries around the world. This includes various states in the US, the UK, the Netherlands, and Australia.

When an order is placed, it will be automatically routed to the nearest fulfillment center.
Check Out: Best Merch Websites To Sell Your Merch Designs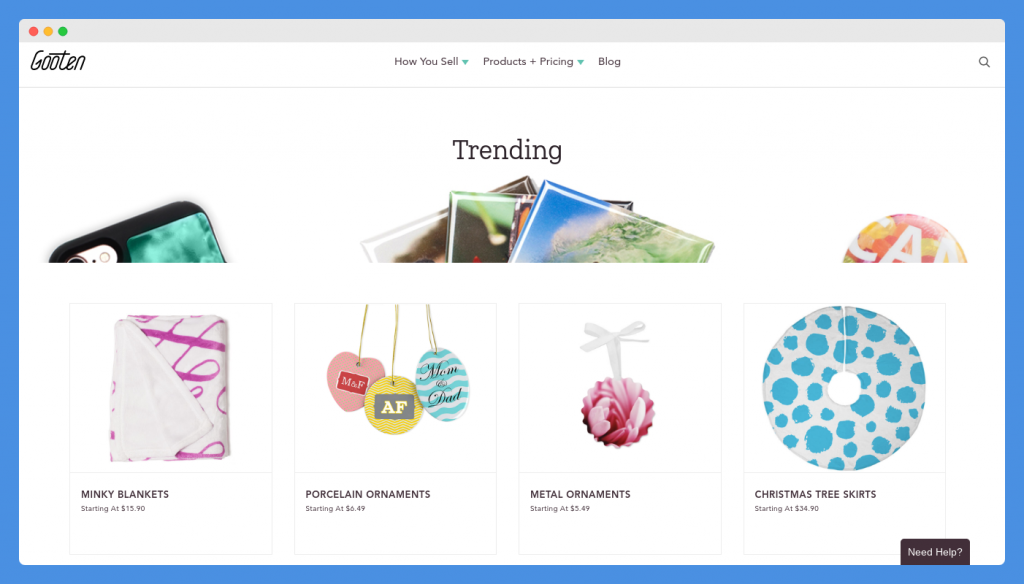 Gooten is a print-on-demand site that integrates with Shopify, Etsy, and WooCommerce. It also has an API and allows for custom order uploads if you are using a different platform.

It has a nice selection of products, such as wine tumblers, business cards, t-shirts, wall art, and other apparel and accessories.

Gooten will automatically route your products to the best vendors and manufacturers, which makes everything much simpler.

You can even use Gooten with your mobile ecommerce app to sell items to people on their phones.

Overall, Gooten is a solid option that is perfect if you are using one of the platforms it supports.
Wrapping Up – Best T shirt Dropshipping Companies
Selling t-shirts online is easier than you might have thought.
There are dozens of platforms to choose from. The above list mentions some of the best t shirt drop shipping companies in the market.
Though Printful is the number one company for us but even others on the list give Printful a run for its money.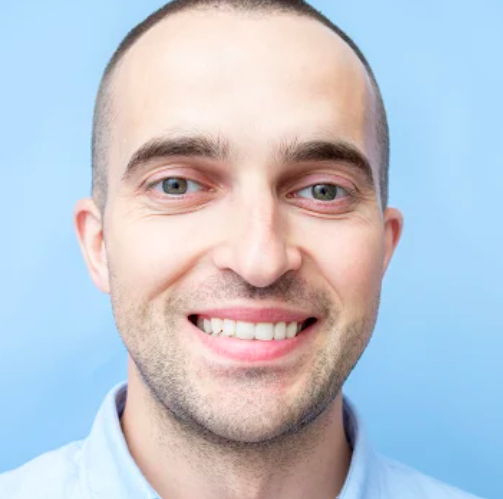 Author: Brian Erwin
I am Brian. I started my first e-commerce company in college designing and selling t-shirts for my campus bar crawl using Print-On-Demand. Having successfully established multiple 6 & 7 figure e-commerce businesses (in women's fashion and hiking gear), I think I can share a tip or 2 to help you get succeed.