Do you intend to launch a print on demand dropshipping store? There are many POD platforms you can use to streamline your business.
During the last few weeks, we reviewed Printful, compared it with notable platforms like RedBubble, Printify, Print Aura, TeeSpring and several others. So in a way, we have covered almost every popular print on demand service.
That said, we are not going to stop. Taking it forward, we have picked Spreadshirt today. We'll do a thorough review of Spreadshirt against Printful. Both platforms are similar but unique; however, several online merchants use them to rake in profits.
Which is the better platform to use? Find out as I compare Printful vs Spreadshirt in this post.
What Is Printful?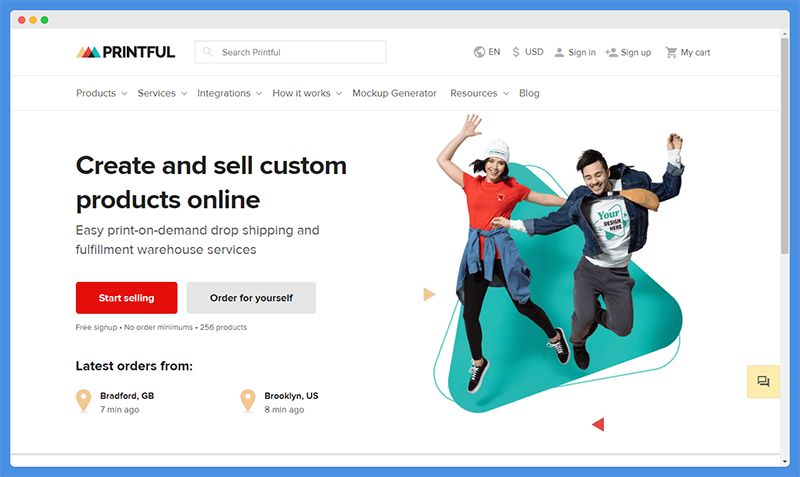 Printful is a POD dropshipping platform for selling customized products online. Launched in 2013, the platform has delivered more than 23 million items.
You can sell several items on Printful. Not to mention, Printful is a free platform. You will only be charged when customers make purchases.
All you have to do is connect your online store and add Printful products that incorporate your designs, arts, etc. If a product is purchased, Printful automatically fulfills it while you get paid.
You can link your Printful to your online store built on eCommerce platforms like Shopify, WooCommerce, Etsy, etc.
Our Pick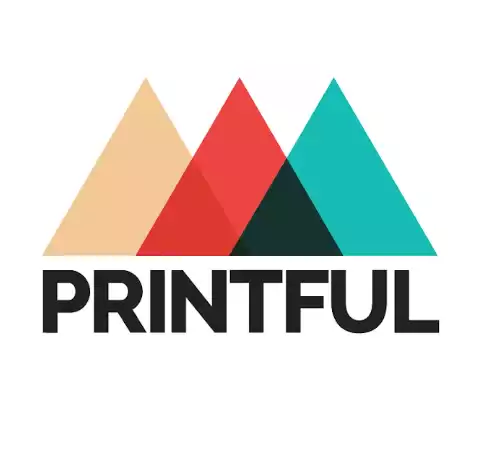 We earn a commission if you click this link and make a purchase.
What Is Spreadshirt?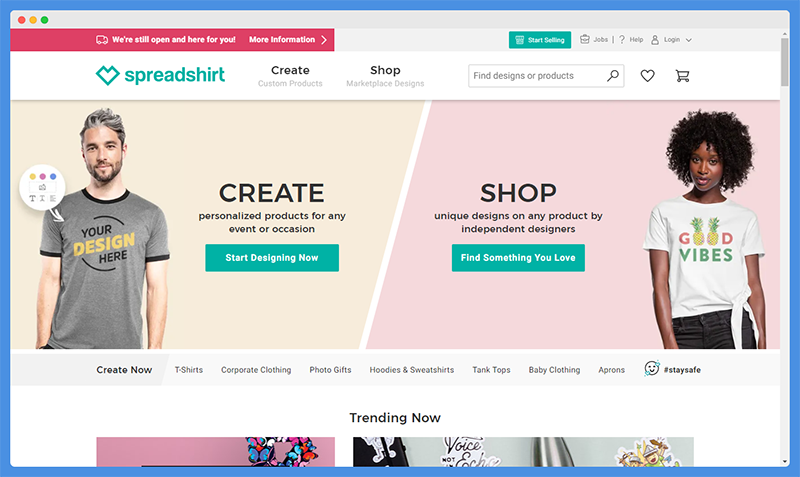 Spreadshirt is both an online marketplace and print on demand platform that focuses on clothing. The platform works simply; you create your designs, upload them on shirts and other clothing, and then put them up for sale.
Spreadshirt has been around since 2002, so the company has a strong presence in the print on demand industry.
As an online marketplace, you can sell your customized clothing directly on Spreadshirt. With over 100,000 daily visitors, there are so many prospective customers.
Spreadshirt equally lets you sell their products with your customization on other platforms like Shopify and WordPress.
Setup Process
Printful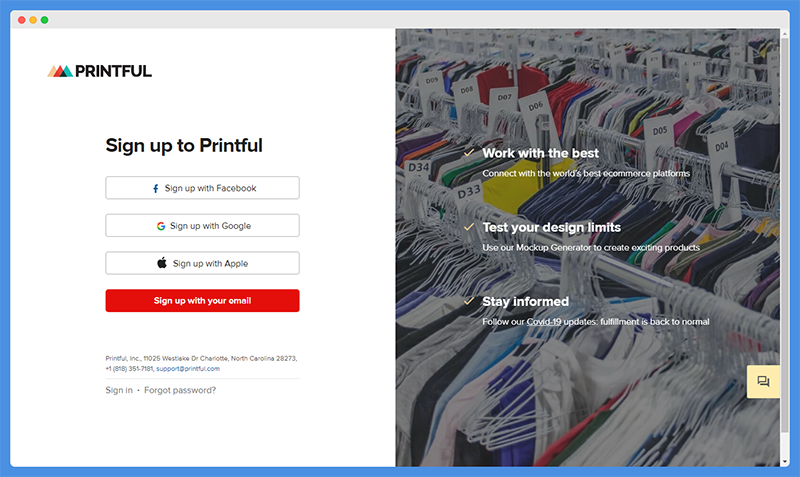 To get started with Printful, you need to create an account on the platform and create an online store on a supported eCommerce platform.
Next, you integrate both Printful and your online store.
Afterward, you should customize your store to suit your brand. Also, you should set up payment methods, base, currency, etc. Then, you can add Printful products to your online store.
There are multiple ways to add Printful products to your online store. You can use the Product Push Generator, Manual Sync, or Duplicate method.
The product push generator is the easiest to use because it automatically sends a product to your store. However, it doesn't work for all supported eCommerce platforms; hence the manual sync and duplicate method.
With Printful, you can add multiple admins if you're working with a partner on the business.
Spreadshirt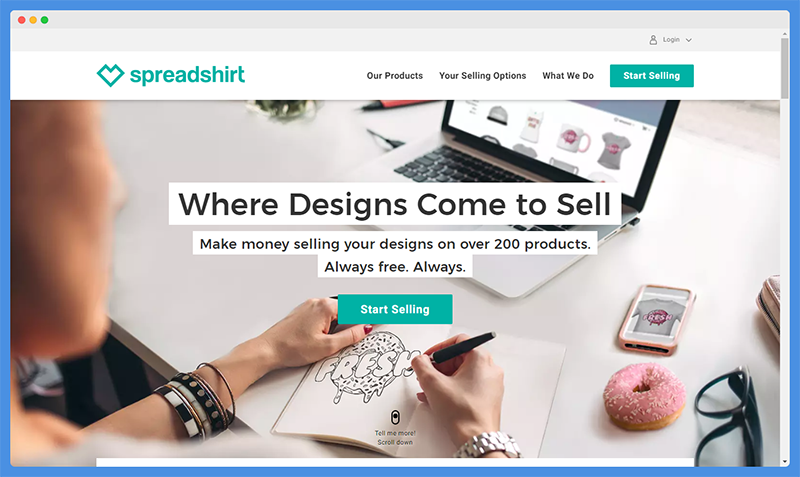 There are two options to use Spreadshirt: the Spreadshirt marketplace, or your eCommerce store.
To set up your store, you should create an account. Afterward, you can upload your designs. Select the product you want to sell, and they'll be featured in the Spreadshirt marketplace once you hit publish.
However, you'll want to sell with a different eCommerce platform if you want to have more control over how your store looks.
After creating your store on the eCommerce platform, connect to Spreadshirt, and start publishing products. You are regarded as a "Partner" when you sell Spreadshirt products on other eCommerce platforms.
Verdict
Unlike Printful, Spreadshirt has a more straightforward setup process as you can sell your products directly on the platform.
Product Catalog
Printful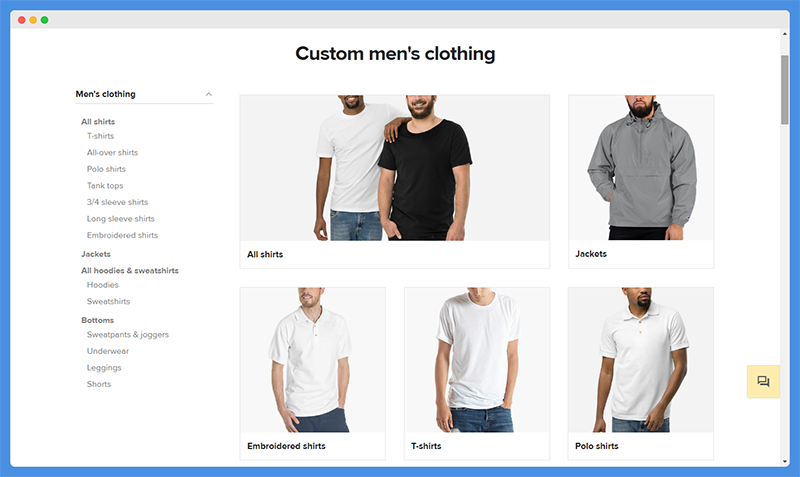 Printful boasts of a rich product catalog with vast product types. In total, there are over 200 product types available on Printful.
These products are grouped into seven categories: men's clothing, women's clothing, kids & youth clothing, hats, accessories, home & living, and collections.
There are T-shirts, tank tops, hoodies, sweatshirts, leggings, polo shirts, long sleeve shirts, underwear, and shorts under clothing.
You can sell snapbacks, mesh hats, beanies, baseball caps, etc. Phone & laptop cases, bracelets, necklaces, earrings, socks, and face masks are available accessories.
Other products include posters, canvas prints, pillowcases, towels, postcards, etc.
Spreadshirt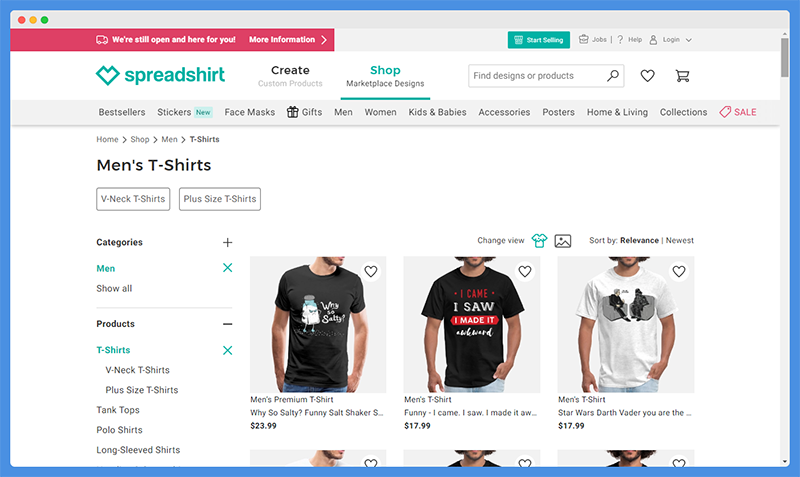 As mentioned earlier, Spreadshirt is focused on clothing; hence, its product catalog consists of them. Nevertheless, there are other product types, and in total, there are more than 200 products to sell on Spreadshirt.
These products include t-shirts, sweatshirts, long sleeves, hoodies, tank tops, and caps.
The other products on Spreadshirt that aren't clothing are phone cases, tablet cases, mugs, and stickers. There are also gift cards, pillowcases, and aprons.
You can sort the products in the marketplace by type or by topic. For instance, you can sort products by camping, hiking, funny, vintage, etc.
Verdict
The winner in this Spreadshirt vs Printful comparison is Printful as it features more product types in its catalog than Spreadshirt.
Product Customization
Printful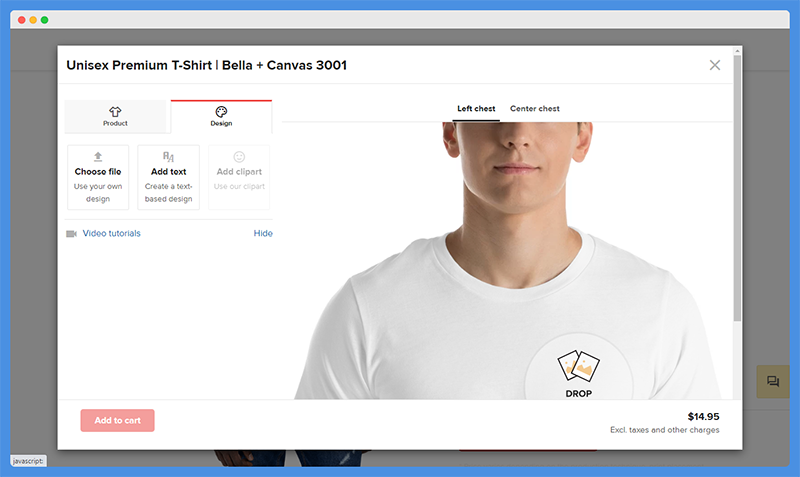 Printful enables you to customize your products with product templates. These are readymade designs; hence, you only have to edit the details and publish them to your store.
It also has a mockup generator for testing your designs on products before publishing. Also, Printful features a text tool for creating easy text designs for your products.
Additionally, Printful features a Product Personalization Tool that works with Shopify, WooCommerce, and Etsy.
With this product personalization tool, customers who visit your store can personalize your designs before buying.
Our Pick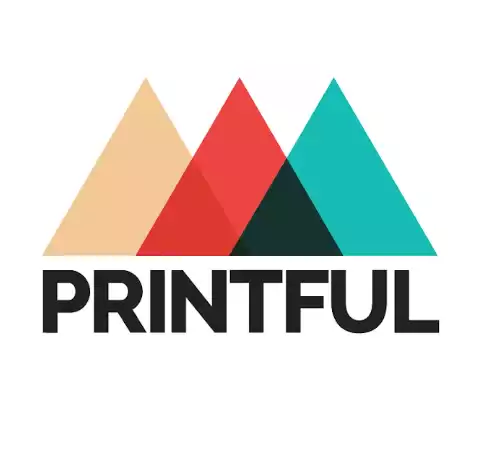 We earn a commission if you click this link and make a purchase.
Spreadshirt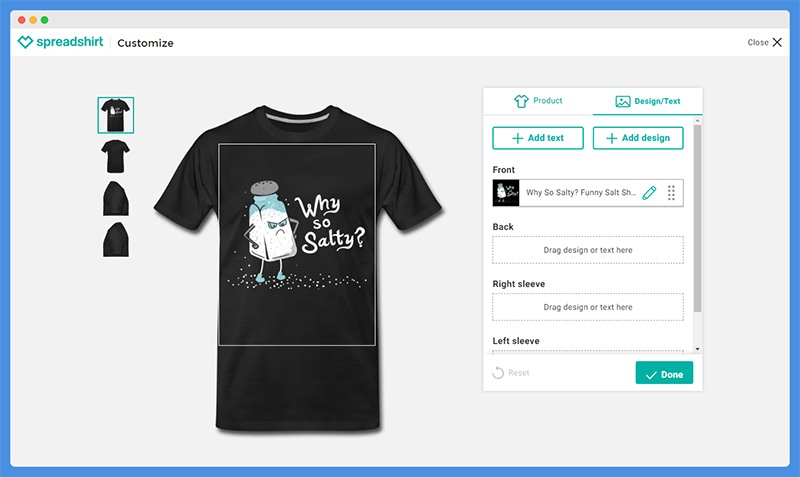 Spreadshirt features a design tool for customizing products with your designs before publishing them for sale.
With this tool, you can optimize already created vector graphics and pixel graphics for the best print results.
Also, Spreadshirt makes product customization easy by featuring product templates. There are two categories, dark and light templates.
The templates have predefined product types, colors, sizes, etc. Hence, you can apply the templates to individual products or bulk products.
After customizing your products, you can also save them as templates.
Verdict
Spreadshirt and Printful support product customization, but with the Product Personalization Tool, Printful is the winner of this round.
Product Cost
Printful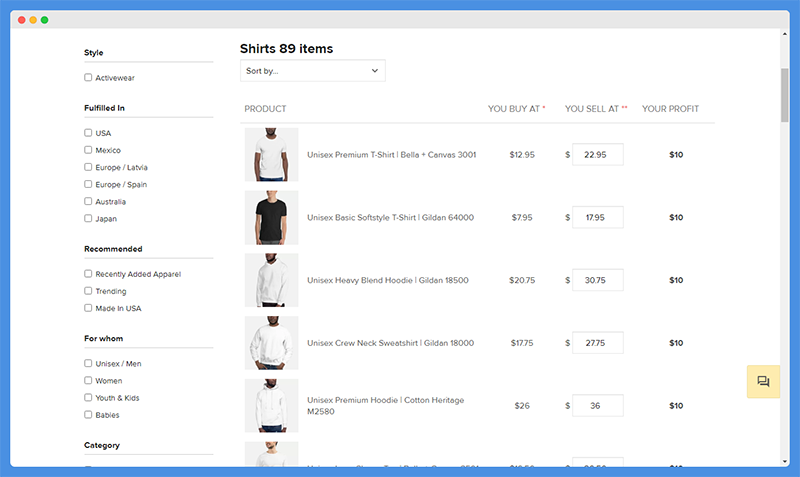 The cost of products on Printful depends on the product type and the material used in production.
T-shirts cost from $7 to $15 while long sleeves and sweatshirts cost from $10 to $20. It applies to both men's and women's clothing.
Conversely, mugs cost from $5 to $15 depending on the size. Bags are relatively high priced at $20 to over $35, although it depends on the type of bag and design. Phone cases cost $11 on average.
With Printful, the product price doesn't influence your selling price. You can sell at any amount and make any percentage of profit.
Spreadshirt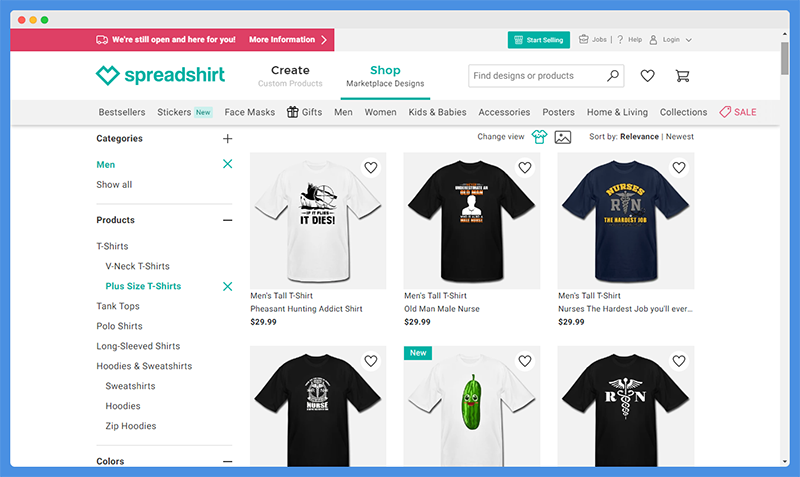 Several things affect product cost on Spreadshirt. They include the product type, store country, and print area.
For example, T-shirts cost about $10.99 for printing, but a print area costs $8. So if there are two print areas, it is $10.99 + $16. The same applies to other products.
Hoodies on Spreadshirt costs over $30 for adults and over $15 for kids. Other products like mugs, bibs, pillowcases, and beanies are priced at $7 to $10.
Backpacks cost over $25 while other bags like tote bags, string bags, and pouches cost around $8.
Verdict
Unlike Spreadshirt, Printful offers more affordable rates for its products.
Payment Methods
Printful
The payment method to use on Printful depends on the eCommerce platform you are selling with. However, the primary methods featured are debit/credit cards, PayPal, and Sofort.
You can set the payment methods in the Billing section from your Printful dashboard.
For example, if you use Shopify, you can use any other payment methods supported by Shopify. This includes Braintree, Stripe, Authorize.net, etc.
When you get paid, the money gets deposited into your Printful wallet. Later on, you can withdraw money from your wallet to your bank account.
Our Pick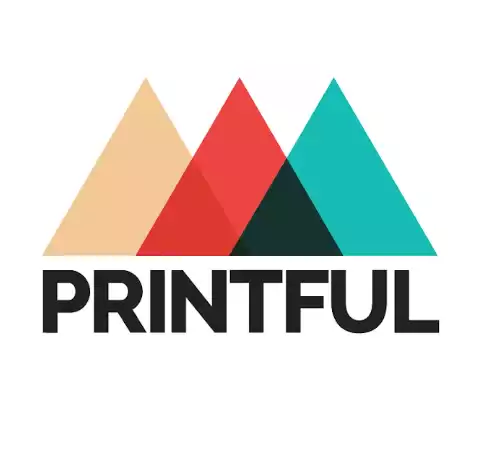 We earn a commission if you click this link and make a purchase.
Spreadshirt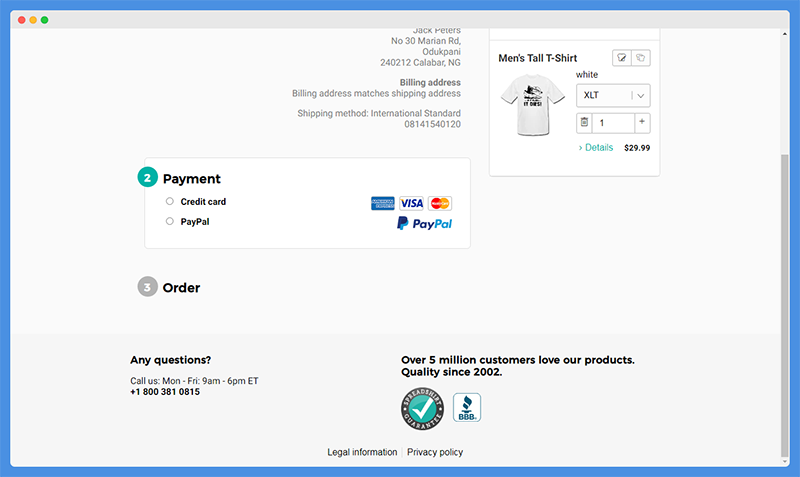 If you choose to sell your customized products directly on the Spreadshirt marketplace, you can only receive payment via two payment methods, either through PayPal or credit/debit cards.
However, if you're connecting Spreadshirt to other eCommerce store solutions like WooCommerce or Shopify, you can use more payment methods.
You can only withdraw your profits from the Spreadshirt marketplace when you reach the minimum threshold of just $10. Also, you will receive your payment within 15 working days via wire transfer or PayPal.
Verdict
Both Printful and Spreadshirt support few and similar native payment systems, but Sofort support gives Printful the winning edge.
Manufacturing/Production Process
Printful
Printful uses different machines for printing different products. In total, over $39.8 million has been invested in their printing facility.
For Direct to Garment (DTG) printing on apparel, Printful uses Kornit series printers, while for sublimation printing, Printful uses Mimaki series printers. Also, the Mimaki series printers are used for phone cases as well.
Printful uses Epson series printers for producing wall arts while SubliJET HD printers are used for mugs.
To ensure quality, products pass through a 3-step quality check with the 2nd and 3rd relating to production. Product quality is checked during printing, and after printing, they are rechecked before shipping.
Spreadshirt
Spreadshirt has four production sites with over 3,000 workers in all. These sites are located across the USA and Europe.
Also, they engage in digital direct, thermal sublimation, laser transfer, flex printing, flock printing, digital transfer, etc.
As the designer, you choose the production method you want, although this depends on the product and design file type.
Nevertheless, most of the printing methods will work for any file format. The exception is just Flex printing.
Before shipping, the products are routinely tested and examined to ensure they meet standard quality.
Verdict
In this Spreadshirt vs Printful comparison category, it's a draw because both have quality production facilities.
Packaging & Branding
Printful
Printful supports custom branding and packaging. That implies that the package your customers receive will incorporate your brand name, logo, etc. There'll be no reference to Printful on any of them.
There are five types of custom branding inserts you can pay for. This includes flyers, business cards, branded stickers, postcards, and handwritten notes.
With the flyers, you can promote your other products or discounts and coupons that may interest your customers.
Business cards allow you to showcase your brand, including title, logo, address, social media handles, etc. Meanwhile, you can add handwritten notes as gratitude to customers.
Spreadshirt
Spreadshirt doesn't include many options for merchants to customize their product branding and packages.
If you are selling directly on the marketplace, the product is sold under the "Spreadshirt" brand. As a result, the package, when delivered, will reflect the Spreadshirt brand on the package slip, receipt, etc.
It is the same when you connect Spreadshirt with a different eCommerce platform.
If you want to display your branding on your products with Spreadshirt, you can simply add it as one of your designs. Display it on any part of the product, although this will increase the product price.
Verdict
With more options for personal branding and packaging, Printful wins here.
Shipping & Delivery
Printful
Printful ships to most countries including many European nations, Australia, NZ, Canada, USA, etc.
After production, products are ready for shipping within 2 – 7 days, depending on the product quantity. The average shipping time is around 4 business days, and shipping costs vary for different products.
For shipping to close locations within the US, it takes 3 to 4 days, while it takes 2 to 10 days for Canada shipping. For European countries, it takes 6 to 12 days for orders to be fulfilled.
For instance, if your customers are in South America, Brazil, or Argentina, it will take 8 to 14 days for them to get their products. The same applies to delivery to customers in Africa.
Our Pick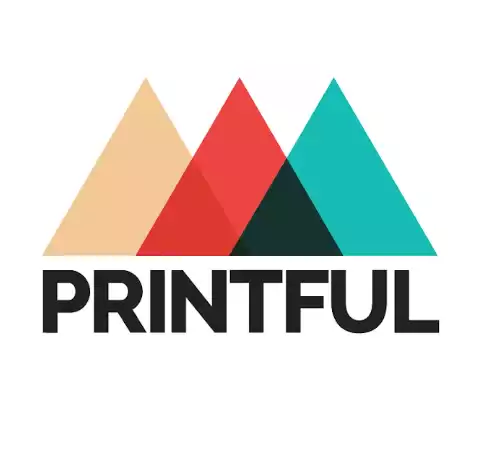 We earn a commission if you click this link and make a purchase.
Spreadshirt
Spreadshirt have different shipping methods for different shipping locations. The three major locations they ship from includes the USA, Canada, and Australia.
The USA has Standard shipping that takes 4 to 10 days, Premium shipping that takes 3 to 7 days, and Express shipping that takes 1 to 4 days to complete.
The Canada location is for International shipping. International standard shipping takes 21 to 35 days, International premium shipping takes 4 to 17 days, while International express shipping takes 2 to 9 days. The same applies to Australia too.
Shipping costs vary for products, but the faster the delivery method, the higher the price.
Verdict
International shipping is faster with Printful at a moderate rate.
Analytics & Reports
Printful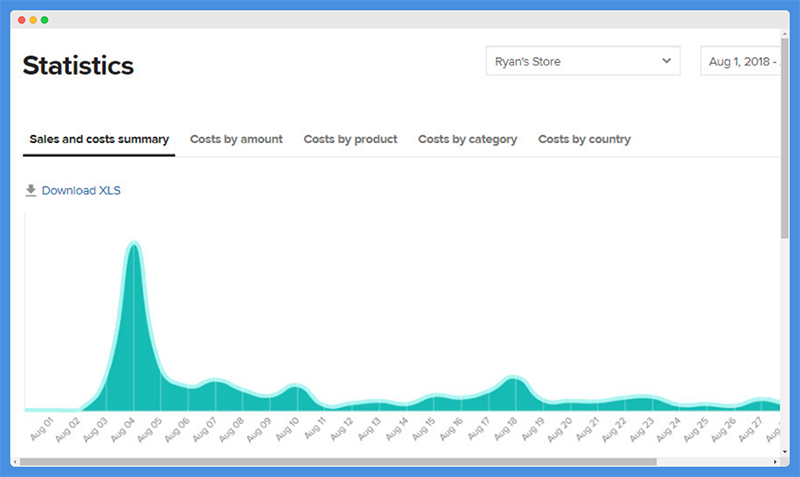 Printful has a statistics section that showcases your store sales statistics. Here, you get a monthly sales rundown of cost by amount, cost by product, cost by category, cost by country, and best selling products.
The stats are visually represented in a graph, and you can download the data for other users in a CSV, XLSX, or PDF file.
You can get more deep stats from the Payment history section under Payments and Billing. Here, a VAT report file is automatically generated for you to download. In addition, you can download all your invoices from this section.
Spreadshirt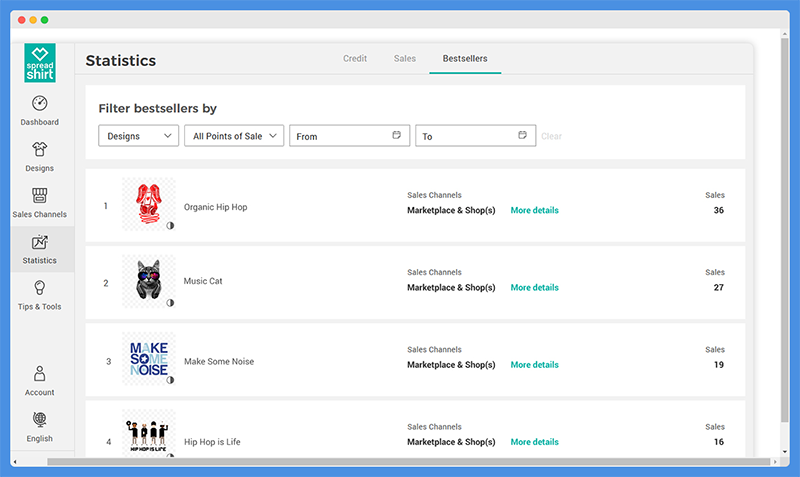 You can follow up your store sales statistics from the Stats page with Spreadshirt. This is the third option in the menu from the dashboard.
The page is categorized into two parts, credit and sales. It delivers insights on all your credit sources, including design prices, returned payouts, commissions, etc.
From the sales tab, you get insights on the revenue you make from product purchases.
Conversely, Spreadshirt has an Android and iOS mobile app i.e. the SpreadApp, for keeping up with your store sale stats on the go.
Verdict
Both platforms deliver reliable insights, so it is a draw.
Third-Party Integrations
Printful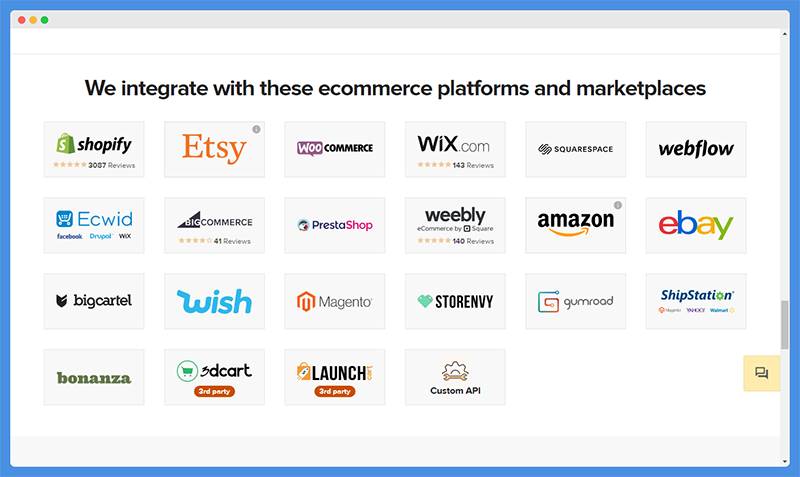 Printful supports integrations with eCommerce platforms, including Shopify, WooCommerce, BigCommerce, 3dCart, Ecwid, Prestashop, Magento, BigCartel, LaunchCart, Gumroad, and ShipStation.
Furthermore, Printful integrates with online marketplaces like Amazon, eBay, Wish, Bonanza, Etsy, and Storeenvy.
Printful also integrates with web building platforms, which include Wix, Squarespace, Webflow, and Weebly. WordPress is already supported via WooCommerce.
For payment, PayPal is the only supported gateway. Furthermore, there's the Printful API for custom integration with other platforms not natively supported.
Check Out: Best Print On Demand Shopify Apps
Spreadshirt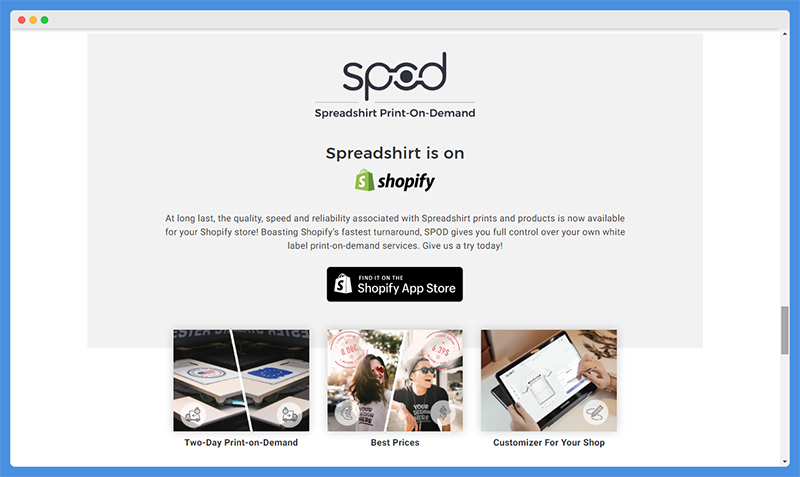 Spreadshirt supports a handful of third-party integrations. It integrates with Shopify via a store app, WordPress via a plugin, and PayPal for payments.
With the Spreadshirt T-Shirt Designer tool, you can access Spreadshirt on any website. The designer enables you to customize and upload Spreadshirt products on your store, irrespective of the platform.
Spreadshirt also has an API that gives you access to its developer functions.
Verdict
Printful has more native integrations than Spreadshirt.
Customer Support & Resources
Printful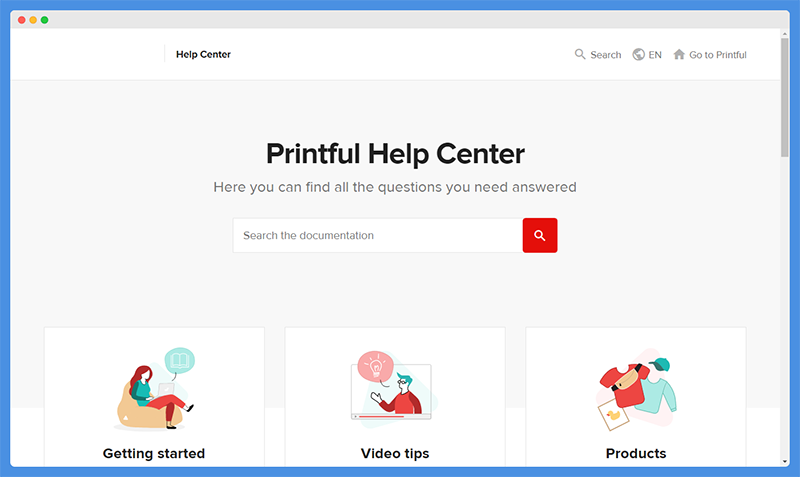 A LiveChat is featured on the Printful website for quick support. You can also send a message to the support team via email or via the onsite contact form.
Printful is rich in terms of resources. There's a help center with numerous articles that answers questions users might have. The help center includes videos too.
Other resources include dropshipping and print on demand guides, webinars, keyword scout, profit calculator, and several marketing tools.
You can also join the Printful community on social media via the Facebook Group, YouTube channel, and Instagram page.
Spreadshirt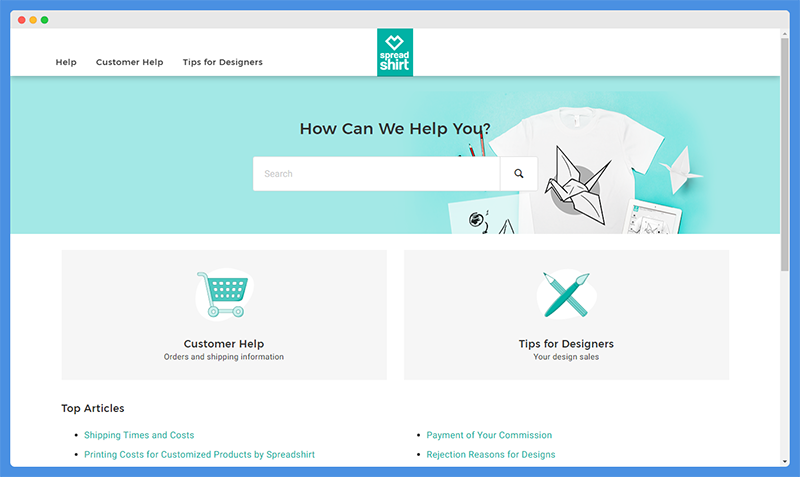 You can reach the Spreadshirt customer support team by email or by phone. The phone line is available from 9 am to 6 pm on business days, while you would expect an email reply within 3 to 4 business days.
For support, you can use the Spreadshirt help center or FAQ section. Other help resources provided are tips for designers to make the most out of their works.
You can connect with Spreadshirt on Facebook, Twitter, Instagram, YouTube, etc.
Verdict
With either Printful or Spreadshirt, you can get good support with reliable resources. However, Printful has more resources than Spreadshirt.
Spreadshirt vs Printful Pricing
Printful
Printful had a couple of pricing plans earlier but very recently, they made the service free for all, that too with additional features.
So Printful is free. You only need to pay for the products, and shipping. Check out the pricing page for the latest on product and shipping costs.
Our Pick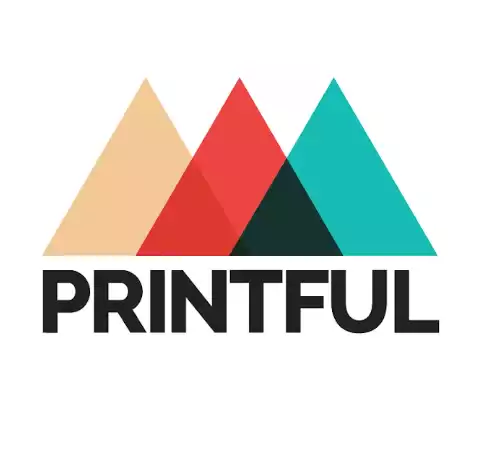 We earn a commission if you click this link and make a purchase.
Spreadshirt
Whether you sell on the Spreadshirt marketplace or you connect to a different eCommerce platform, you aren't required to pay for a subscription or setup
You can only pay for the products you selected. You won't be charged until the products are paid for by customers before printing.
Similarities & Differences
Similarities
Both Printful and Spreadshirt platforms are free to use.
They both support credit/debit cards and PayPal.
They both integrate with other eCommerce platforms.
Both Printful and Spreadshirt have quality printing facilities.
Both Printful and Spreadshirt facilitate local and international shipping.
With either Spreadshirt or Printful, you can get reliable reports and statistics.
Differences
Spreadshirt features mainly clothing, while Printful features clothing and other products.
Spreadshirt features a marketplace while Printful doesn't.
Unlike Spreadshirt, Printful enables customers to customize their orders with the Product Personalization tool.
Printful is a completely white-label platform, unlike Spreadshirt.
Printful features a mobile app with robust features, while the Spreadshirt mobile app is for sales monitoring.
Printful supports more integrations than Spreadshirt.
Pros & Cons
Printful
Pros
No subscription
Product varieties
Product personalization tool
Quality production
Supports integrations
Completely white label
Sales statistics and reports
Mobile app
Reliable support and resources
Cons
Has no marketplace
Few native payment methods
Spreadshirt
Pros
No subscription
Quality production
Supports integration
T-shirt designer
Sales statistics and reports
Mobile app for statistics
Reliable support and resources
Cons
Mainly clothing products
Few native payment methods
Print area pricing increases product cost
Not white label
Printful vs Spreadshirt – Which Is Supreme?
With this Printful vs Spreadshirt comparison, you'll agree that both platforms are ideal for running a POD dropshipping store. However, the winner is Printful because it has more winning features.
Unlike Spreadshirt, Printful has more products, more third-party integrations, and more customization options. Also, Printful is more profitable due to its more affordable products.

Author: Sam Zaman
Sam loves to write on technology & related stuff. Ecommerce, mobile and internet marketing equally drive her interest. Likes gardening and experimenting with new recipes. An avid reader and absolutely mad @bout donuts :)