Etsy is one of the largest online marketplaces. Although it's not as big as Amazon, eBay, or Walmart, that's because it is geared towards original items and custom crafts, such as custom t-shirts and stickers, instead of general products. 
Although a lot of Etsy sellers sell products that they created themselves, you can still set up an Etsy store even if you don't have any special creative design skills.
You don't even need to handle products at all to sell them on Etsy if you are selling print on demand products. 
Why Use Print On Demand For Etsy
If you are already selling print on demand products on other online marketplaces or your own store, selling on Etsy is a great way to reach more people and create a new income stream.
If you are already selling on Etsy, switching to print on demand can help you diversify your business, outsource product creation to give yourself more freedom and flexibility, and expand your product selection. 
Till date, over 45 million people have purchased something through Etsy. People who are Etsy customers are usually looking for interesting, funny, and creative designs, such as t-shirts with interesting graphics and slogans – something that you can easily create with print on demand. 
Print on demand is a business model where you sell products with a design you created (or hired someone to create) without actually manufacturing those products.
All you have to do is provide the design and a print on demand supplier will print your design on a t-shirt, mug, or other item when an order comes through and ship the final product to your customer for you. 
Essentially, print on demand is an advanced form of dropshipping.
Not all print on demand suppliers work with Etsy, however. Some print on demand platforms have their own online marketplaces and don't allow you to sell your products elsewhere. 
In this article, we will be going over the top 10 print on demand platforms that you can use for Etsy. 
Also Read: Best Print On Demand Sites
Best Print On Demand For Etsy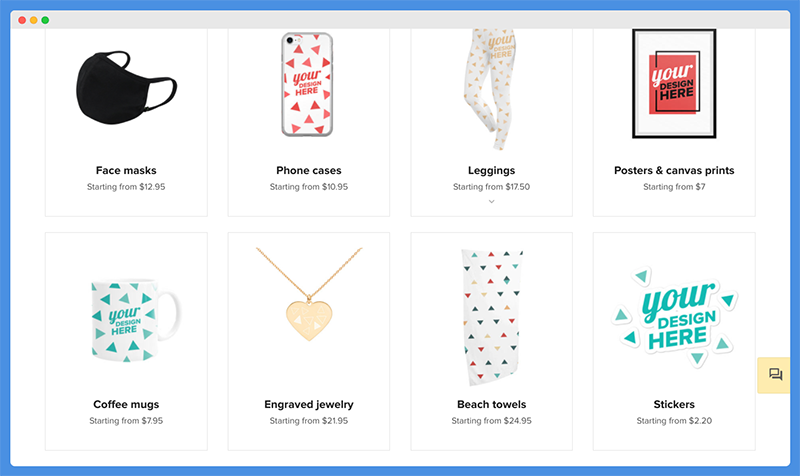 Printful is one of the most well-known print on demand platforms. It is one of the few major print on demand companies that offer an Etsy integration. 
There are some limitations to the Etsy integration, however. For example, although it will push your Printful products to your Etsy store, your products will not have live, dynamic shipping rates displayed in Etsy, nor will they be marked as out of stock.
However, the good part is that Printful will take care of all of your Etsy orders for you, including shipping and handling. You also will only have to pay when an order comes through, so you won't have to worry about extra fees piling up (there is also a 20 cent listing fee). 
There are tons of products you can sell with Printful, including men's and women's clothing, hats, bags, jewelry, phone cases, home decorations, and more.
Everything will be sold under your white label brand, so your Etsy customers will never know that you are using Printful as your product supplier instead of actually printing and manufacturing the products yourself. 
In addition, since Printful has fulfillment centers in both Europe and the United States, you can ship to all over the world and get products to anywhere quickly at competitive rates. 
In addition, not only does Printful have competitive base prices but they also let you set your own profit margin (though they recommend a profit margin of 30 percent as a minimum). This allows you to control your earnings. 
You can play around with the Printful profit calculator to get an idea of what you can earn. 
Another thing unique to Printful, which you won't get from most other print on demand companies, is their fulfillment services that are available even for non-Printful products.
In other words, if you have products that are not created by Printful, you can still store them in Printful's warehouses (for a fee) and Printful will ship them to your customers when orders come through. 
This allows you to operate an Etsy business remotely, giving you more freedom and flexibility. 
Interesting Comparison: Printful Vs Redbubble
Our Pick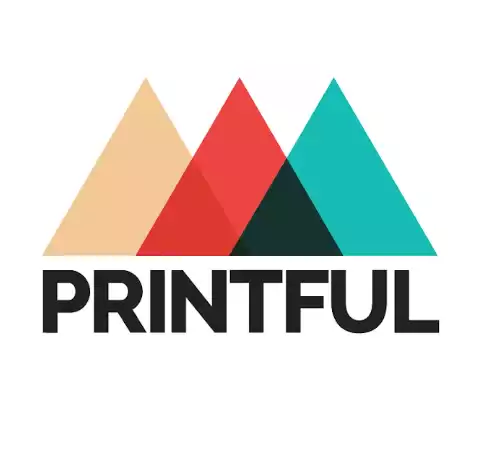 We earn a commission if you click this link and make a purchase.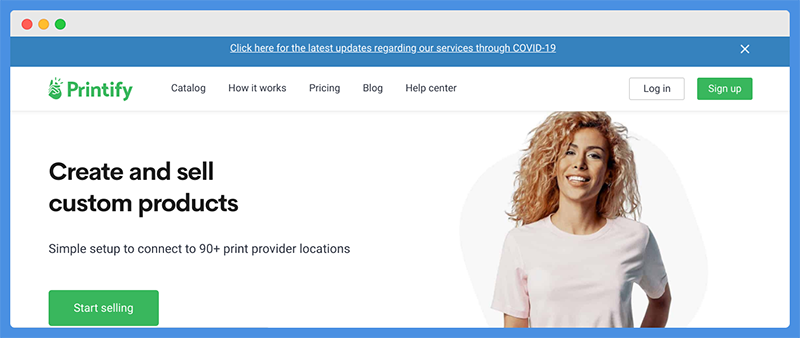 Despite having a similar name, Printify is not connected with Printful in any way. Instead, it is an alternative print on demand provider that Etsy sellers can use. 
Printify claims that over 250,000 stores have been connected to their platform.
Like Printful, Printify charges a 20 cent listing fee. However, you will not be charged any other fees until you actually make a sale. 
Although the Etsy integration is really easy to get started with and use, there are some limitations. For example, there is no HTML editor in Etsy for Printify products; you will have to edit them in your Printify dashboard. 
Listings will be saved as drafts, and you can activate them at any time and publish them to your Etsy store for 20 cents. Other limitations include not being able to publish size charts to Etsy nor being able to publish more than 10 images at a time. 
Like Printful, Printify is free to use for Etsy sellers. However, if you sign up for a premium Printify account at $29/month, you will get access to cheaper base prices and the ability to set up 10 stores instead of one. 
There are over 200 products you can sell with Printify. In addition, many products have multiple print providers available which you can choose from based on shipping costs, production times, printing methods, and reviews. 
To make money, just add your own profit margin (such as an extra $10) onto the base price of the shirt. Don't forget to take shipping rates into account. 
In conclusion, both Printful and Printify are great options in terms of product selection, pricing, and ease of use. However, there are still eight other options for us to go over. 
Explore: Printify Review

We earn a commission when you click this link and make a purchase.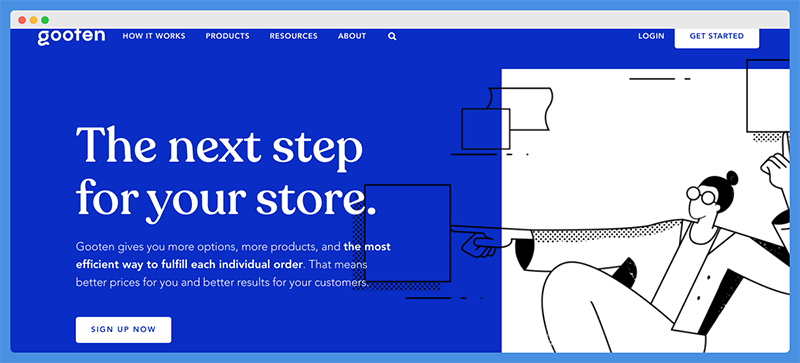 Gooten may not have a product selection as large as Printify's (130+ products instead of 200+), but they have enough options available for you to be able to set up a successful store on Etsy. 
One of the benefits of using Gooten instead of Printify is that you can set up an unlimited number of stores, whereas with Printify, you are limited to five on the free plan and 10 on the premium plan (you will need a custom Enterprise plan to be able to set up unlimited stores). 
Setting up a Gooten account is easy and only requires a few minutes. You will have to fill out some basic business information, and you will then be able to create and publish listings in your Product Hub. 
If you have already connected Gooten to your Shopify store, connecting your Gooten account with your Etsy account will involve a very similar process.
If you already have products in your store that you want to fulfill with Gooten, you can easily link them to your Gooten account for automatic fulfillment. 
Again, there are limitations. Etsy only allows 10 images, 13 tags, and two product variations, so if your Gooten listing was created with more than two variations or 10 images, not all of them will be published to your Etsy store. 
Gooten has a large catalog with a wide variety of clothes, home products, pet products, accessories, and decorations. They offer very competitive prices, which you can check out here.
You have full control over the final prices of each product you sell in your Etsy store. Gooten is always auditing the printing suppliers who are creating and selling products to ensure that your customers will only get the best quality products available.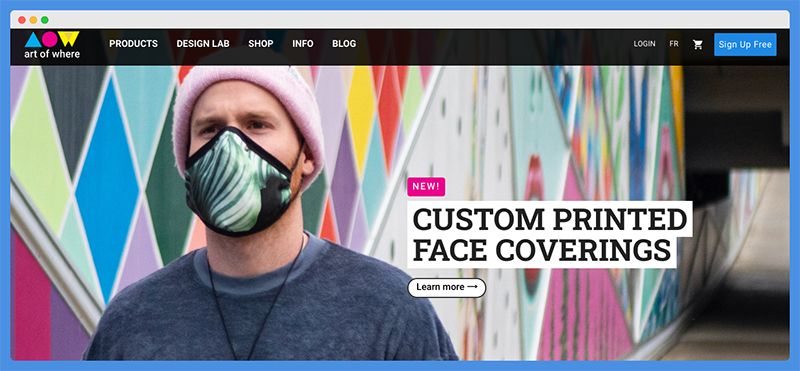 Art Of Where is a lesser-known print on demand platform, but what makes it so interesting is that it offers some things that many print on demand platforms do not, such as notebooks, pencil cases, headbands, wooden wall art, and more. 
It has a beautiful 3D design lab that you can use to create mockup versions of your products. Just choose what kind of product you want to sell and upload your design or slogan. 
Since Art of Where is an approved Etsy Manufacturer and Production Partner, you can use it as a supplier and fulfillment provider of your Etsy products.
However, unlike Printful and Printify, for example, they don't offer global shipping and only ship to the USA and Canada. 
Nevertheless, they are a good option, as they provide customized packaging with stickers to print and paste on the outside of your packages. You can even insert Artist Cards inside the packages to make them even more customized. 
Your Etsy buyers will never know that you did not create your products yourself!
For clothes and pillowcases, you can print custom labels and attach them to the clothes so you can start your own brand. Although they are free for wholesale orders, they cost $1 each for dropship orders. 
Although the Art of Where catalog is not as large as the catalogs of some other print on demand platforms, there are some advantages to using it for Etsy. 
For example, although it has a 20 cent listing fee like Printful, it only charges a 3.5 percent transaction fee for each purchase instead of a 5 percent transaction fee like Printful does.
This means that you will be able to retain an extra 1.5 percent in profits per sale, which can really add up and help you if you are a struggling designer. 
Also Read: Printful Vs Printify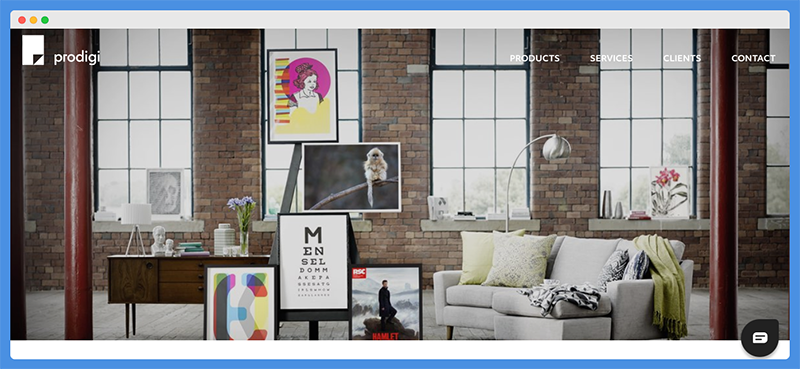 Prodigi is a print on demand fulfillment company that meets Etsy's Terms and Conditions for being a fulfillment provider. However, they do not offer a direct Etsy integration, unlike Printful and Printify. 
Nevertheless, selling Prodigi products on Etsy isn't very difficult or time-consuming. There's an easy workaround – all you have to do is set up a Shopify store, connect Prodigi with Shopify, add all of your Prodigi products to Shopify, and then use the Etsify plugin to publish your Shopify listings to Etsy. 
However, the Etsify plugin does cost $69 (this is a one-time fee and not a recurring payment). You can try it out with five products for free to get a feel for it, but you will have to pay to get the full version of the plugin. 
If you do not want to pay $69 and you still want to use Prodigi for Etsy, you can always simply use the Prodigi Manual Order Form to manually submit Etsy orders to Prodigi.
You will have to do this manually for each order so that Prodigi can fulfill the orders for you. 
Yet another option is to use the CSV bulk importer tool. This is great if you have many Etsy orders coming in at once and don't have the time to manually complete an order form for each one individually. 
Prodigi offers a wide variety of cheap, affordable products, in addition to the standard men's and women's clothing that they offer. For example, they offer stickers starting at just 0.89 pounds, stationary from just 0.20 pounds, canvas art from just 2 pounds, etc. 
Although they are based in the UK, different products ship from different countries. For example, photographic and art prints, which start at just 0.15 pounds, ship from the UK, the USA, Canada, Australia, and the EU.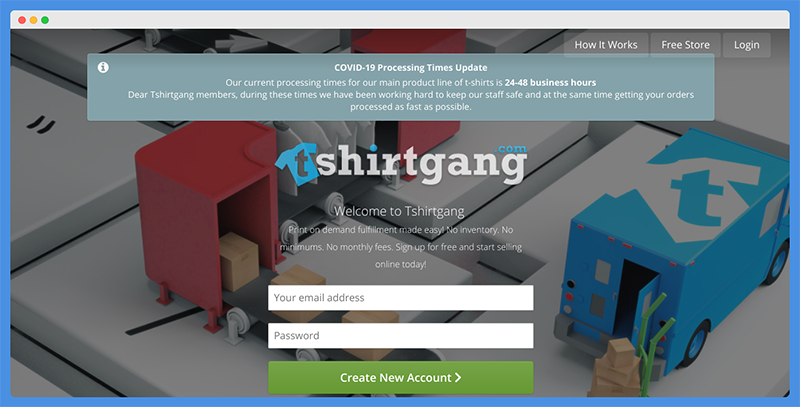 Despite its name, T-Shirt Gang does not limit you to selling t-shirts, although that is their main focus. Their inventory is not that large compared to other print on demand providers, but they do give you options. 
For example, you can sell mugs, hats, facemasks, and tote bags in addition to clothing. 
Even though their product selection is that not great, they do offer a quick and easy Etsy integration. You can publish listings directly to Etsy, and you can also retrieve Etsy orders quickly. 
This makes it a bit more convenient than Prodigi. 
All in all, T-Shirt Gang offers decent prices and quick turnaround times for your orders. If you are only selling a few basic products like t-shirts, hoodies, caps, and mugs, it is a good provider to use to sell on Etsy.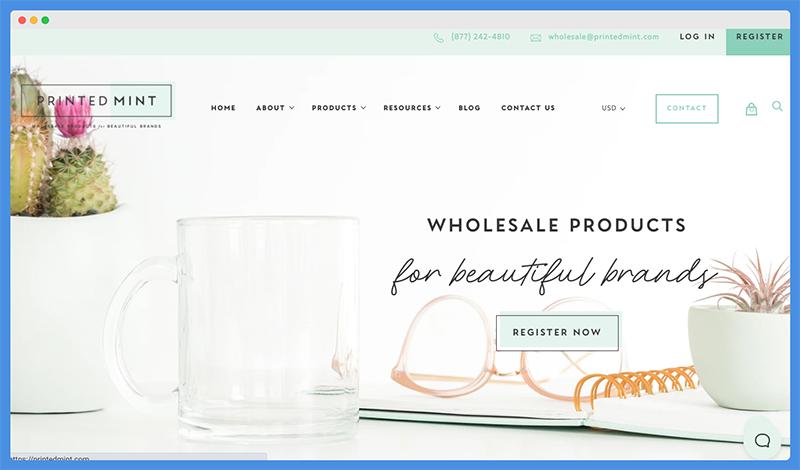 Printed Mint allows you to integrate with Etsy through their API. However, it is important to note that their API is not endorsed or affiliated with Etsy in any way. 
In terms of product selection, Printed Mint is pretty standard – they have clothing, accessories, and wall art. 
Interesting Comparison: Printful Vs Print Aura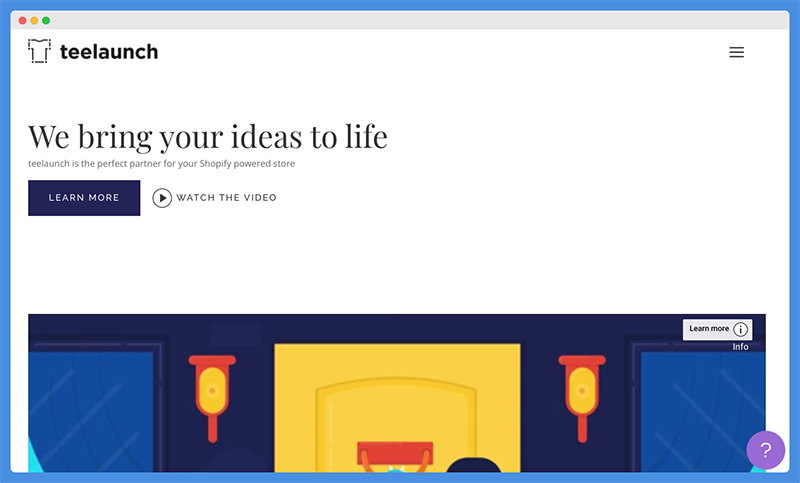 Although Teelaunch is made for Shopify, they also offer an Etsy app that you can use to sell products on Etsy. You will need a Shopify account to be able to use the Etsy app. 
They offer over 50 different products, including interesting products like a Bluetooth speaker and a large backpack. These are all quality products that you can sell on either Shopify or Etsy. 
Of course, there are also the standard products, like mugs and t-shirts.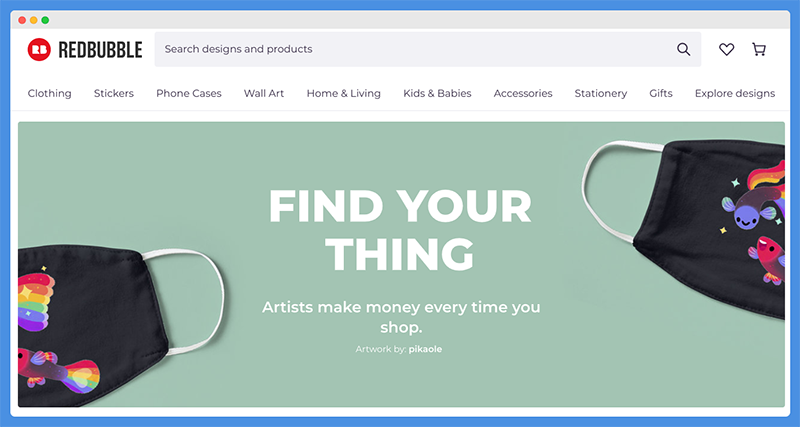 Redbubble is a pretty well-known print on demand platform, but it is not often used for Etsy because it doesn't offer a direct integration. However, you can still use RedBubble for Etsy, you will just have to manually place orders as they come in. 
This will require a little bit of time and effort, but if you do not have a large Etsy store, it is very doable. 
RedBubble has a very nice selection of available products to sell. 
Worth Reading: Best Print On Demand Book Companies
Shirtee Cloud offers 4,000 different product variations you can sell. Keep in mind that these are product variations and not actual products. 
They make it easy to link your account with Etsy, but you will face an 0.18 euro fee per listing, as well as a 4 percent fee per sale (in addition to Etsy's 5 percent fee). In addition, there will also be a 0.30 euro fee per sale. 
The Shirtee Cloud app makes it easy to check the status of your orders, which will be fulfilled automatically and processed within 2-5 days. 
Shirtee Cloud also has a warehouse fulfillment service, which allows you to store and sell products that aren't produced by Shirtee Cloud. 
Explore: TeeSpring Vs Spreadshirt
Tips For Selling Print On Demand Products On Etsy
Regardless of which print on demand provider you choose, it is important to promote your products so you can make more sales. The following are some ways you can get more sales, as well as some tips for selling on Etsy. 
Do SEO
Optimize for SEO in your Etsy listings. A lot of sellers don't pay attention to this. 
There are two types of SEO you should be optimizing for Regular SEO and Etsy SEO. 
Regular SEO is for Google, Bing, and other search networks. Use a free keyword tool like Keywordtool.io to find popular, high-volume keywords that people are typing into Google. 
Then, use those keywords in your listing and description. 
Optimizing for Etsy SEO is a similar process. Just find out which keywords are trending on Etsy by using the Etsy search bar suggestions. 
Upload Nice Images
Make sure that you get nice images of your products. One way to do this is by ordering a sample of each product you are selling so you can take professional photos of it. 
You can always just upload images that were created by the mockup generator of whichever platform you are using, but they usually don't come out as great as real images you took of the actual product. 
Offer Free Shipping
People love free shipping, and it really helps increase conversions. This doesn't mean that you have to pay shipping fees out of pocket. 
Instead, just increase the price of the item itself and offer free shipping, whenever possible. 
If you can not offer free shipping, focus on getting quick shipping instead. To do this, choose a print on demand provider that promises quick processing and shipping. 
This can vary from product to product. One print on demand provider might be better for your t-shirts while another might be better for your mugs, so do your research. 
Promote On Social Media
If you are an artist or designer that has a specific style, create an Instagram and/or Pinterest account where you can promote your designs and products. It's a great way to attract a following and get fans. 
You can also set up a Facebook page.
Create Paid Ads
One way to increase sales is by running paid ads. For t-shirts and other products, Facebook and Instagram are great platforms to run ads on. 
You can run ads on both Facebook and Instagram if you have a Facebook page. 
Another option is using Etsy's promoted listings. You may or may not see results from this, but it is worth a try. 
Focus On Your Brand
Make sure to choose a print on demand provider that will help you build your brand by using customized packaging. If customers know that you are not creating and shipping the products yourself, it will be difficult to create a brand. 
Creating a brand is more than just using the right packaging, however. Have a theme that you use in your social media posts. 
Consider setting up a website, even if you just want to blog. You don't have to actually sell products on your website as you can direct your website visitors to your Etsy store. 
Expand Your Reach
Although Etsy is a great place to sell products, you would be doing yourself a bit of a disservice if you only sold on Etsy. There are so many other channels you can sell on, such as eBay, Amazon, and your own Shopify store. 
See if your print on demand provider offers additional integrations besides Etsy. 
Wrapping It Up
There you have it – ten options for starting a print on demand business on Etsy. Printful comes out as the best option, but regardless of which option you choose, focus on creating your brand and take into account the tips in this article. 
By working hard and focusing on your goals, you can achieve success and financial freedom from home.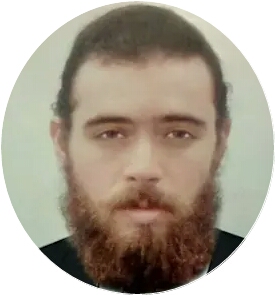 Author: Benjamin Levin
Benjamin Levin is a digital marketing professional with 4+ years of experience with inbound and outbound marketing. He helps small businesses reach their content creation, social media marketing, email marketing, and paid advertising goals. His hobbies include reading and traveling.