On-demand printing has transformed the printing industry. From garments to mugs to phone cases, you can customize, print, and ship products as soon as your customer places an order.
The global on-demand printing market will continue to soar in the years to come. For T-shirts printing alone, the market will reach an estimated $10 billion by 2025.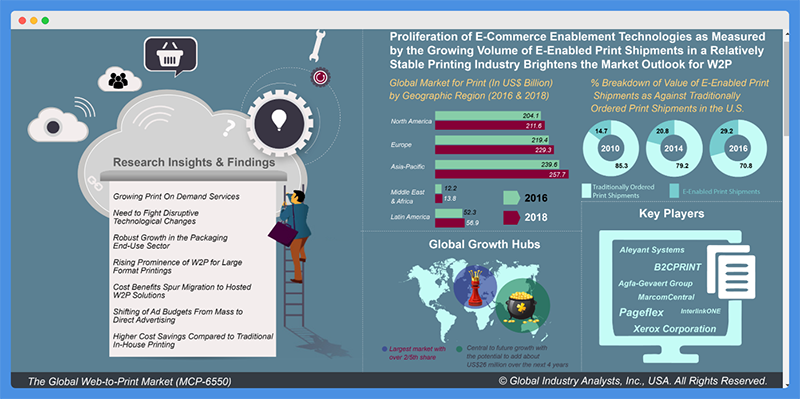 For businesses and even customers, on-demand printing offers immense value. Merchants can achieve a broader market reach, increase sales, and serve their customers better. Customers can get unique and favorite designs on their items at the click of a button.
In this article, we will compare Printful vs Print Aura. Both companies offer on-demand printing services, but our article will guide your decisions on the best tool for use.

Overview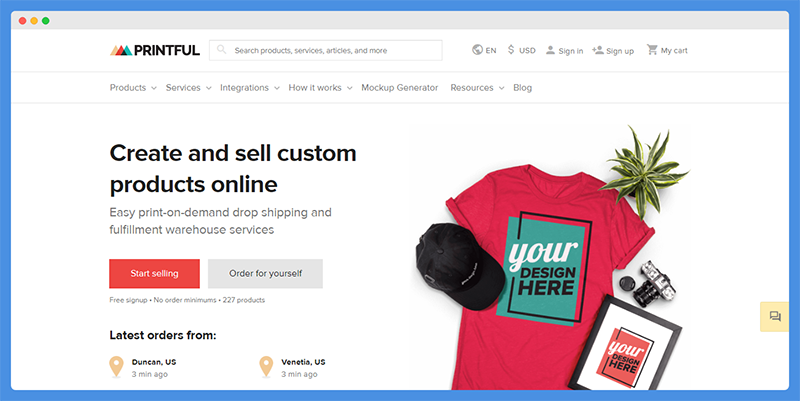 Printful is an on-demand printing and dropshipping service for online businesses. Printful offers customized printing on apparel, accessories, items, and more. They also store packages and ship them to your customers.
Setting up on Printful is free and easy. Just connect your online businesses with Printful, and when customers order your product, they will fulfill and send it to the customer.
There are no minimum order requirements, and you don't have to pay monthly charges. Printful will produce the required order quantity. Printful helps you handle shipping, packing, and warehousing. More so, they can store your items and track your stock.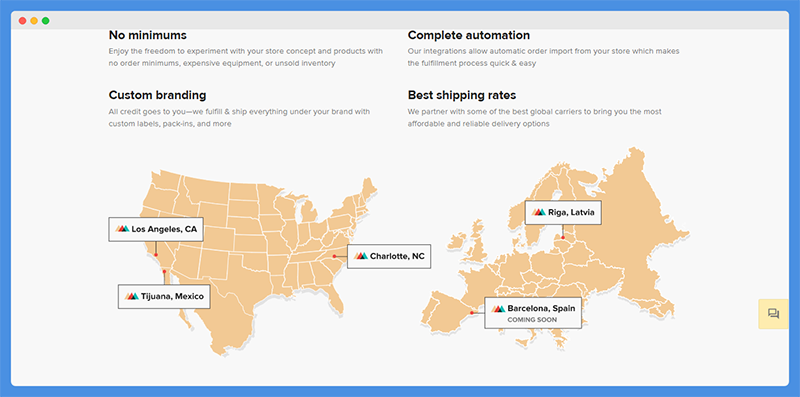 Since it was founded in 2013 by Lauris Liberts and Davis Siksnans, Printful has delivered more than 16.1 million items. Talking about Printful location, they have fulfilment centers and offices across four locations including
California
North Carolina
Mexico
Latvia
Our Pick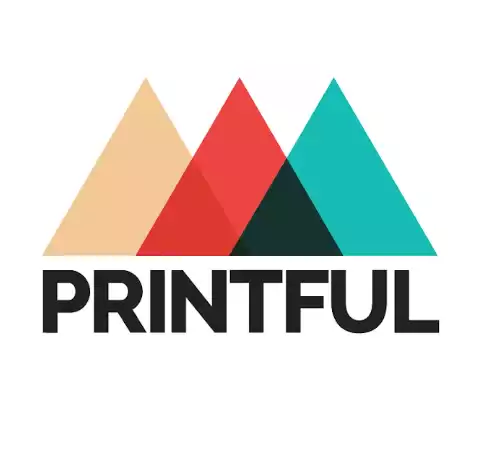 We earn a commission if you click this link and make a purchase.
Print Aura is a platform that offers on-demand printing and drop-shipping services to online retailers. With Print Aura, you can create customized items and execute your product ideas under your brand.
Print Aura offers printing on items including T-Shirts, Bags, Mug, Pillows, Hats, etc. Furthermore, PrintAura simplifies the process of selling online. They will help you handle logistics so that you focus on other aspects of your business.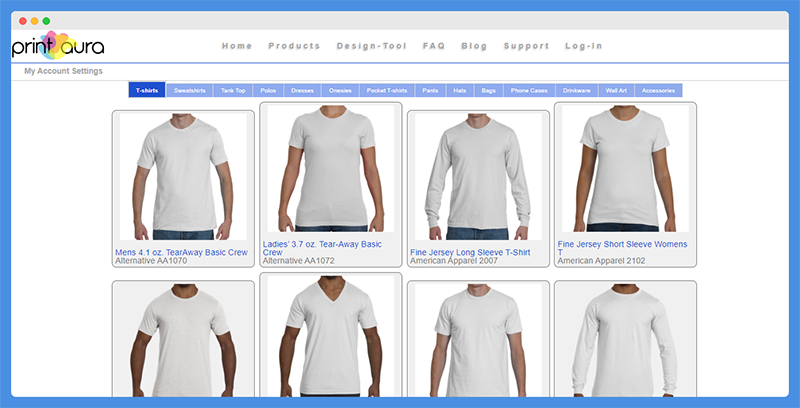 There are no setup costs and no minimum order requirements. Whether you are ordering one or 1000 items, Print Aura will print your products on demand.
Printing Aura offers guarantees, so if there are errors or defects, they will replace your product.
Matt Brickley founded Print Aura in 2011. They have a community of over 150,000 members including
Entrepreneurs
Independent Designers
Businesses
Non-profit organizations
Also Read: Printful vs Printify
We'll now take a look at their features.
Shipping Cost
Printful
Printful shipping rates vary according to the shipping location.
Check out the shipping rates on this page.
The company offers discounts for bulk orders. You can save up to 30% in Printful shipping costs when you take advantage of this offer.
Print Aura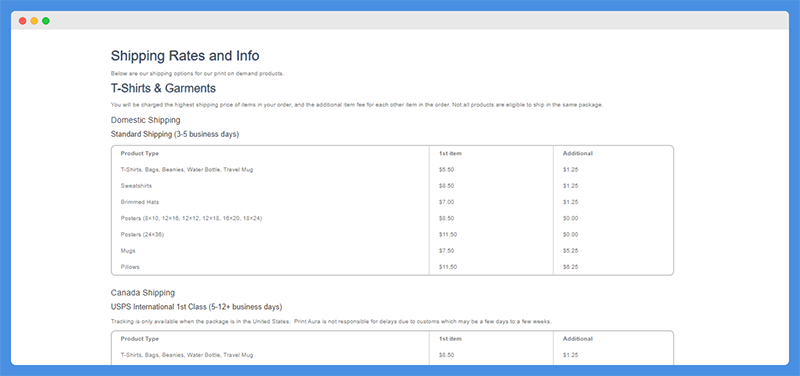 Shipping rates for prints include:
T-Shirts, bags, beanies, water bottles, travel mugs – $5.50
Sweatshirts – $8.50
Brimmed hats – $ 7.0
Mugs – $7.50
Pillows – $11.50
Cell phone cases – $5.50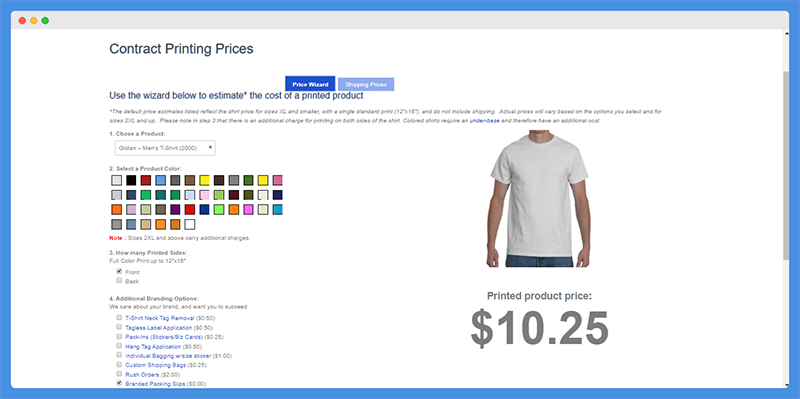 Print Aura has a pricing wizard to help you estimate product costs.
Verdict
The shipping costs on Printful are cheaper than Print Aura. Therefore Printful is the winner.
Profits
Printful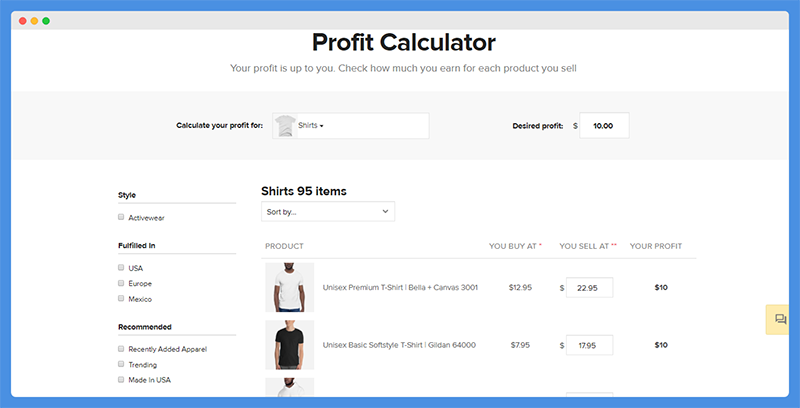 The Printful Proft calculator tool lets you calculate potential gains from a product.
For example, if you sell a Unisex Premium T-Shirt, Bella Plus Canvas 3001 from a Shopify store for $25 to customers in the USA, your profits will be $8.66.
Here is the breakdown
Unisex Premium T-Shirt Bella Plus Canvas 3001 – $12.95
Shipping Cost (US)- $3.99
Total cost (t-shirt plus shipping) amounts to $16.34
Profits for selling for $25 will be $8.66
Our Pick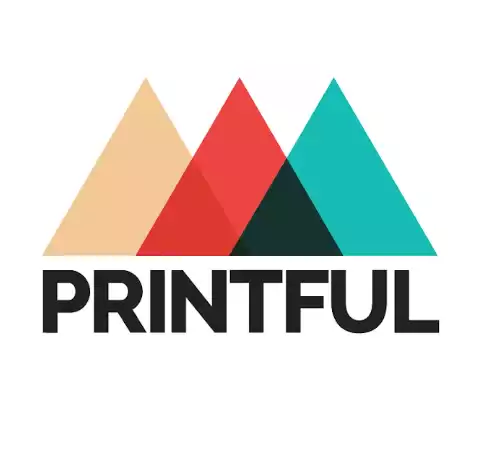 We earn a commission if you click this link and make a purchase.
PrintAura
Let us take a look at how much profit you can make with Print Aura for a similar product.
Selling a Unisex Premium T-Shirt | Bella Plus Canvas 3001 from a Shopify store for $25 to customers in the USA will amount to a profit of $5.50.
Unisex Premium T-Shirt Bella Plus Canvas 3001 – $14.00
Shipping fees- $5.50
Total cost (T-Shirt + Shipping) – $19.50
Profits (sales at $25) – $5.50
Verdict
Again, Printful is the winner. With Printful, merchants can realize more profits on sales of items because the shipping charges are greater.
Also Read: Best Print On Demand Sites
Integrations
Printful Integrations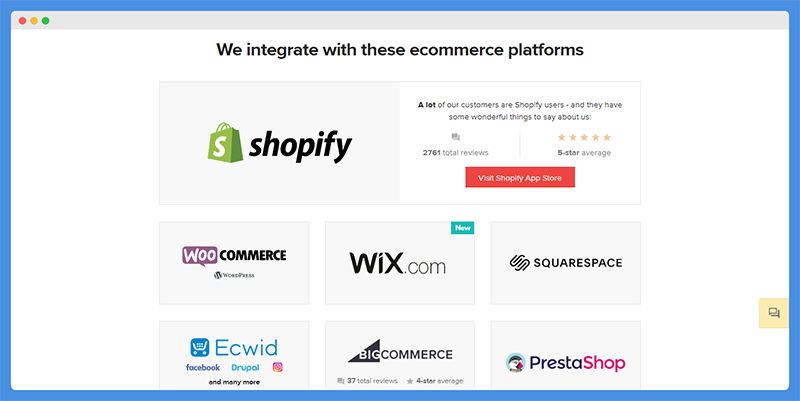 Ecommerce Platforms
If you are looking to grow your brand and used eCommerce platforms to build your online shop, Printful offers integrations for your online store.
Printful supports 14 SaaS, open-source, and third-party eCommerce integrations including
Shopify
WooCommerce
Wix
Squarespace
Ecwid
Big Commerce
PrestaShop
Weebly
Big Cartel
Magento
Gumroad
Shipstation
3D cart
Launch Cart
Online Marketplaces
If you are riding on the back of an existing marketplace and your store is an account, you are not left out. Printful allows integrations for six online marketplaces including
Amazon
Etsy
eBay
Wish
Storenvy
Bonanza
Platform Comparison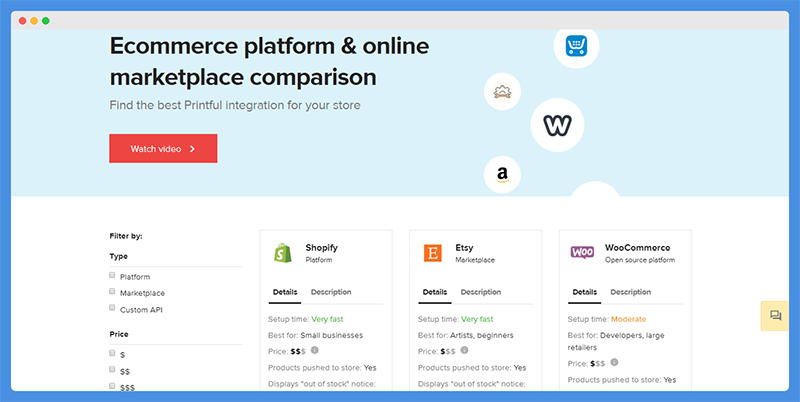 Printful offers a comparison tool to help merchants choose a suitable integration and eCommerce platform for them.
The comparison tool has filters based on the type of integration. Filter options include marketplaces, platforms, or custom API.
You can also filter based on price and range from tens to thousands of dollars. There are filters based on setup time; therefore, you can choose a fast, moderate, or slow setup time.
You can filter to choose the integration that's best for
Small businesses
Artists and beginners
Developers and large retailers
Brands and influencers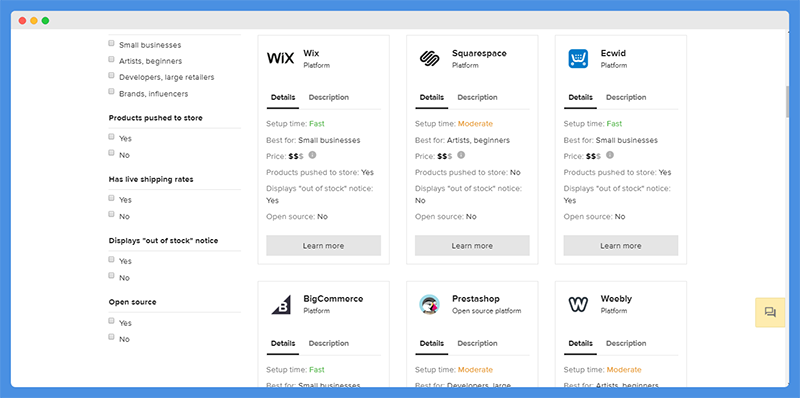 You can select the integrations that
Allow or disallow your products to be pushed to your store
Display or does not display live shipping rates
For example, merchants who love open source platforms can filter for open source platforms, and those who want platforms with fast setup times can filter for them too.
Printful API
The Printful API integration allows you to automate your print order directly from your online store. Merchants can automatically send orders directly to their system without lifting a finger.
You may need to hire a programmer to build a custom API for you. But here is the fun part. Printful can help you set up the API integration for free if
You have an existing online store
Your shop has achieved 1000 orders per month or $250,000 worth of orders, then Printful will fulfill your requests
Print Aura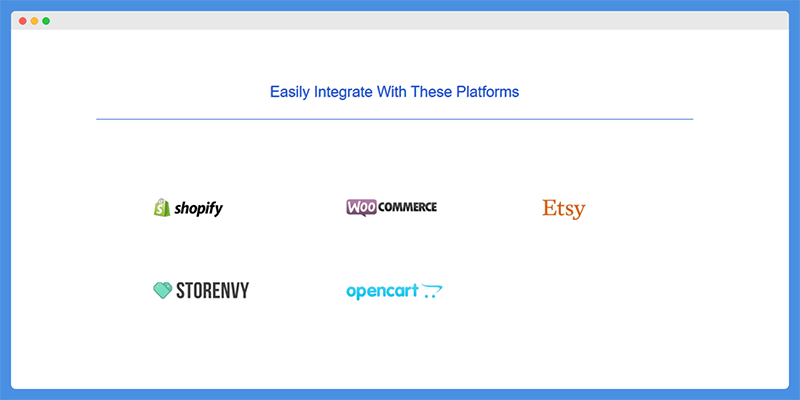 Print Aura offers integrations for merchants who leverage on the traffic from online marketplaces including
Just add the Print Aura app for instant prints, create mockups of your products, and sell them. When customers place orders, Print Aura will handle the rest.
Merchants using open source platforms are not left out. Print Aura allows integration with WooCommerce and Open Cart.
Also, the Custom API allows you to integrate your application or website with their API and have access to their features.
Verdict
Printful is the winner here. Printful offers more options to merchants. Printful support integrations with a broader range of online marketplaces and eCommerce platforms. The comparison tool provides filters to help you decide on the best integration for use.
Interesting Comparison: Printful vs Redbubble
Mockup Files Generator
Printful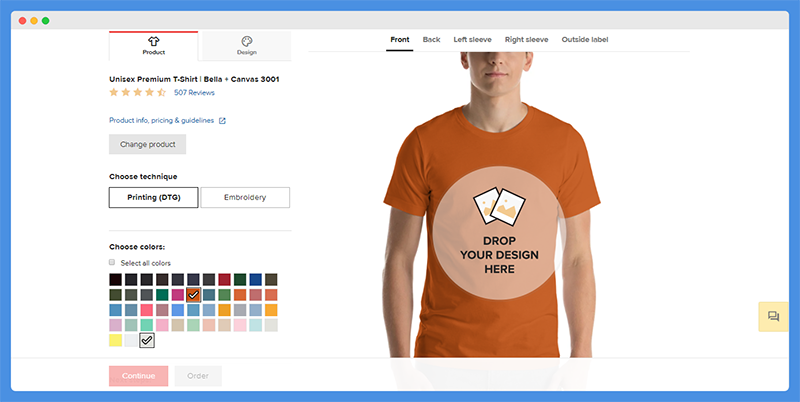 The Printful mockup generator lets you create awesome mockups. You don't need to be a graphics design professional.
Here is how it works:
Pick a product from the mockup generator
Choose a technique from either printing (DTG) or embroidery
Select single or multiple product colors and item size
Next, you can go ahead and upload your file, add text, or use clip art designs. You can place designs on the front, back, left sleeve, right sleeve, and outside label. From the mockup generator, merchants can select background colors specifically for the print area.
Our Pick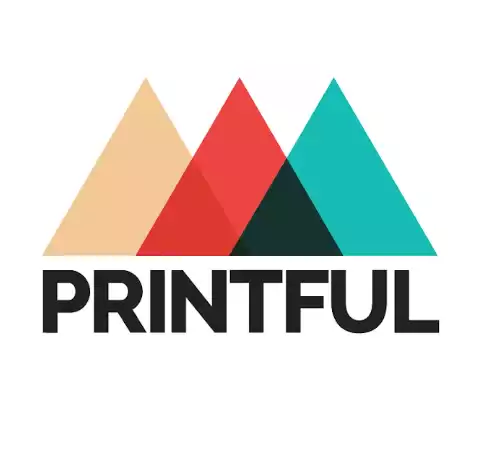 We earn a commission if you click this link and make a purchase.
Furthermore, you can rotate your designs and publish them directly to your online shop. You can generate print files and submit them to place orders.
Print Aura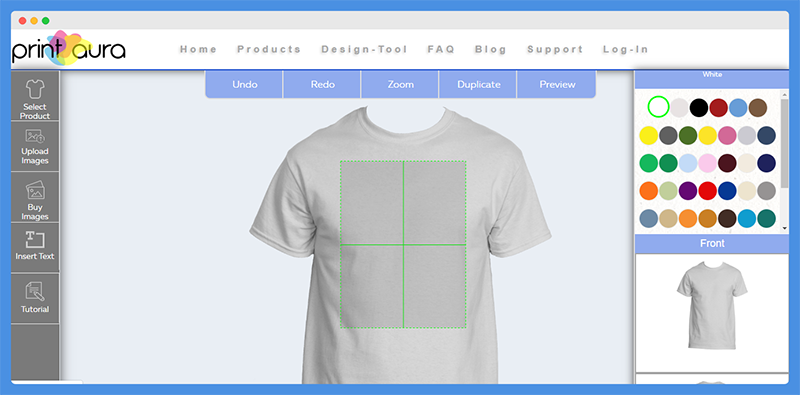 Print Aura mock up generator is equally good. In fact, most Print Aura reviews online would second this.
With the Print Aura file generator, you can create customized mockup designs. Just select your product and choose your product color.
You can select from mockup set options. Options include:
Full body with a smile
Entire body without a smile
Cut off bod
Nobody (Ghost)
Retailers can also choose from the Standard or Jumbo size option. They can also show or hide the printable area and maximum print size.
Next, upload your images, or you can even buy images from the Print Aura library. More so, you can write a text, select fonts, and outline. Merchants can place designs on the front and back.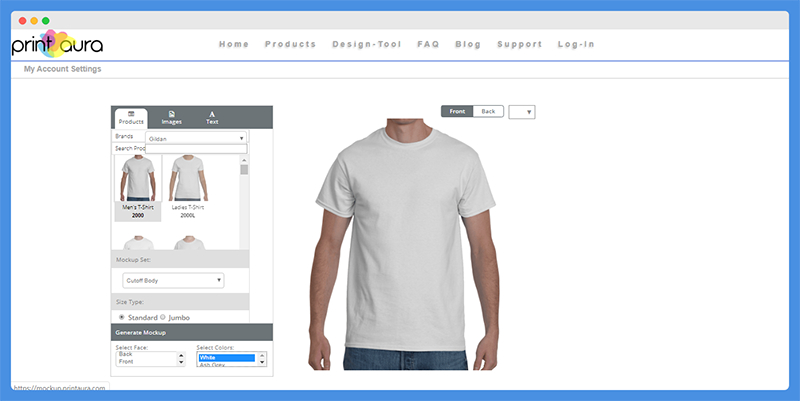 Verdict
Print Aura and Printful stand toe to toe on this one. Print Aura provides a wide range of mockup body set options, including full-body models. Printful only offers cut off body models.
Printful lets you place designs on the front, back, left sleeve, right sleeve, and outside label. But Print Aura only allows you front and back designs.
Brand Customization
Printful
White Labeling
Printful lets you create white label products to create a unique brand experience for your customers. More so, you can customize your product to carry a professional touch and a refined look.
With Printful, you can create customized inside and outside labels, packing slips, and pack-ins to boost brand loyalty and visibility.
Photography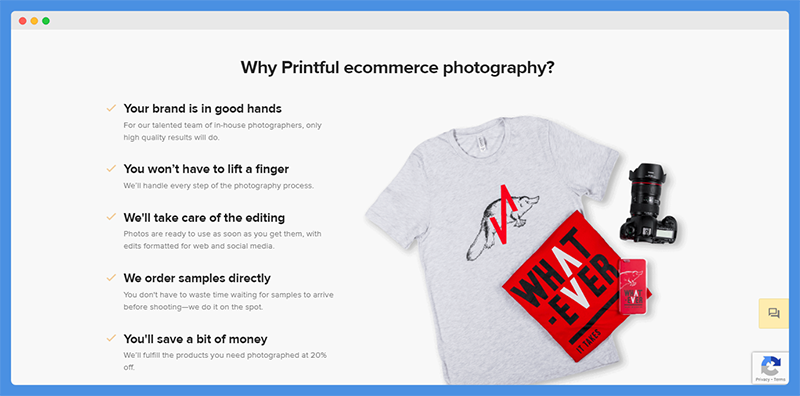 Printful offers photography services. Their photography professionals will provide high-quality photos, editing, and copies formatted for web and social media.
You can choose the basic and advanced model in-studio and model on-location product photos. Printful will offer a 20% discount on fulfillment for products photographed by them.
Video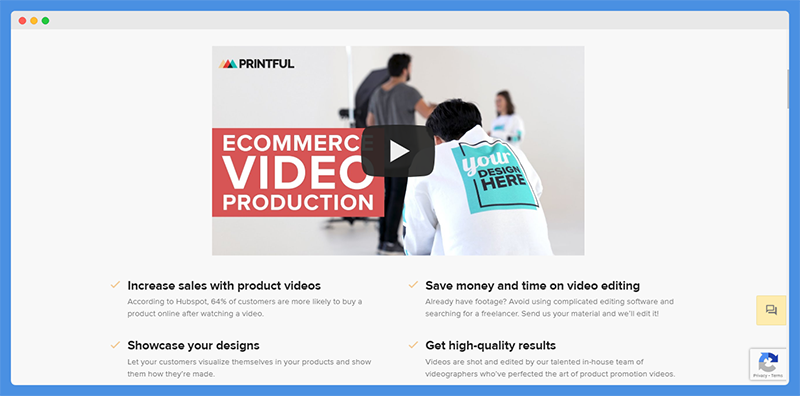 Printful offers video production and editing services.
If you need videos for promotional purposes, Printful can provide
Product videos
Item production videos
Showcase video (shows the production process and final product)
Our Pick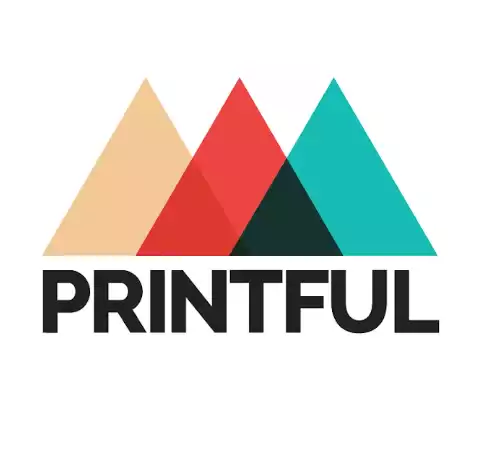 We earn a commission if you click this link and make a purchase.
Graphics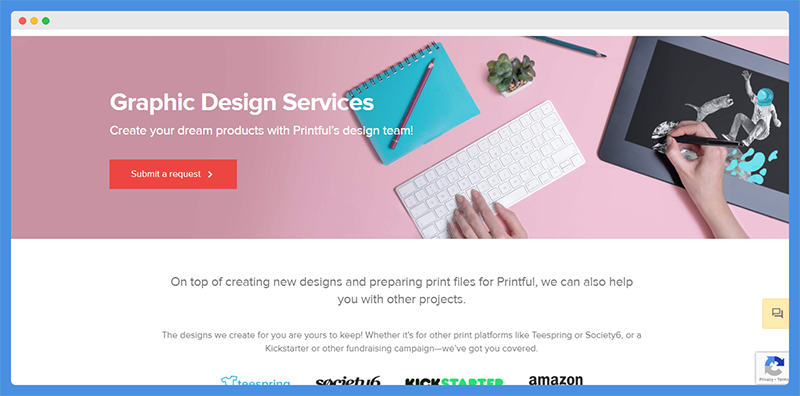 Printful also offers graphic design services. Their design team will help you bring your idea into reality. They can design logos, create, and adjust print files.
Print Aura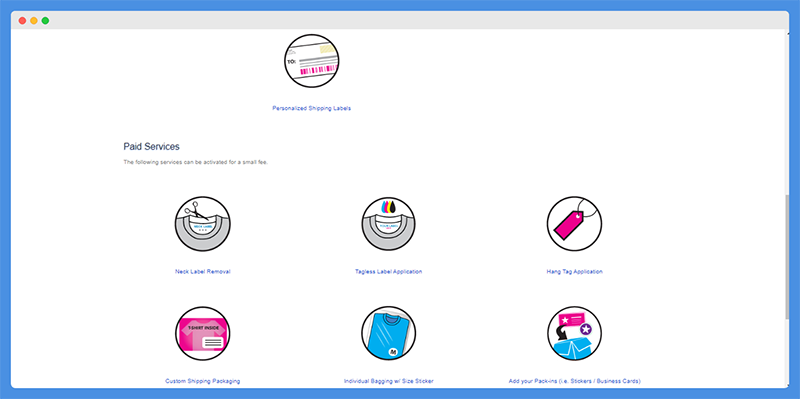 Print Aura provides customized branding and white labeling services. They can create customized packing slips and shipping labels.
On your packing slip, they will include your logo, custom brand message, customer service info, and package contents.
Furthermore, Print Aura also offers
Application of hand tags
Neck label removal
Tagless label application
Custom shipping packaging
Individual bagging
Pack-ins (stickers and business cards)
Verdict
Again Printful wins, Printful does not only offer white-labeling, but they also provide photography, graphics designs, and video production services. Their photography professionals can also visit your location to shoot product photos.
Also Explore: Best Shopify Print On Demand Apps
Warehousing & Fulfilment
Printful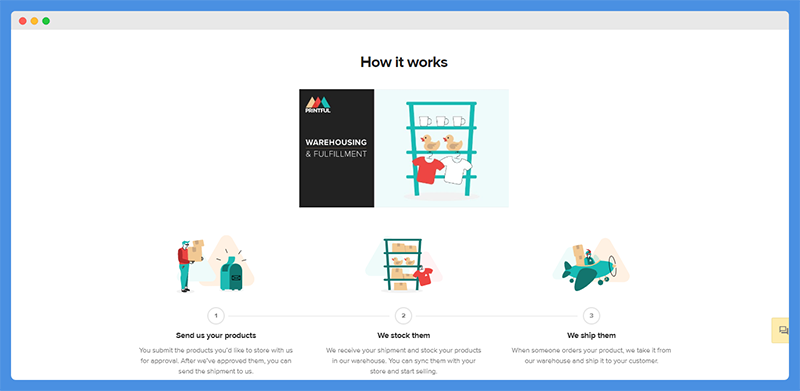 Printful can print items as soon as customers place their orders. There is no minimum order requirement.
If you have an online store and you don't want to deal with the hassle of managing your inventory, then Printful can help you handle that. They will store both your Printful and Non-Printful products and fulfill orders on your behalf.
You can store your products at their fulfillment center in North Carolina, US, and Riga, Latvia.
Their drop shopping service lets you sell products through your suppliers. When customers buy your products, your suppliers send the product to Printful's fulfillment center. And they fulfill, package, and ship to your customers.
Print Aura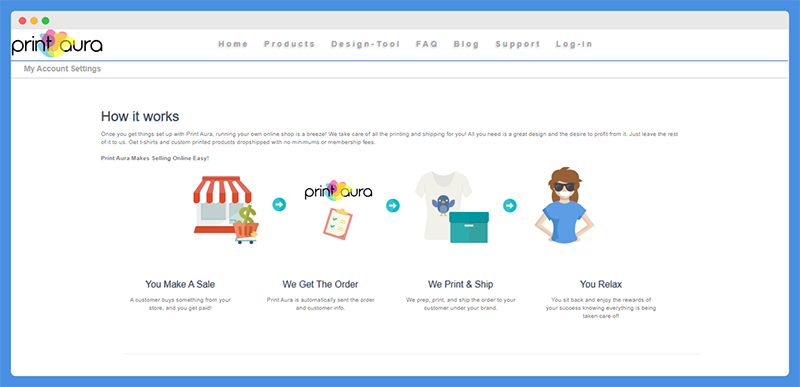 Print Aura offers dropshipping and on-demand printing solutions. When you sell your products, the order is sent to Print Aura, and they take care of the rest.
Print Aura will print, package, and ship the item to your customers with your brand name. There are no minimum order requirements. Also, they offer tracking services so that your customer will know their order status and location.
Verdict
Both Printful and Print Aura offer on-demand printing, dropshipping, order processing, and fulfillment.
Print Quality
Printful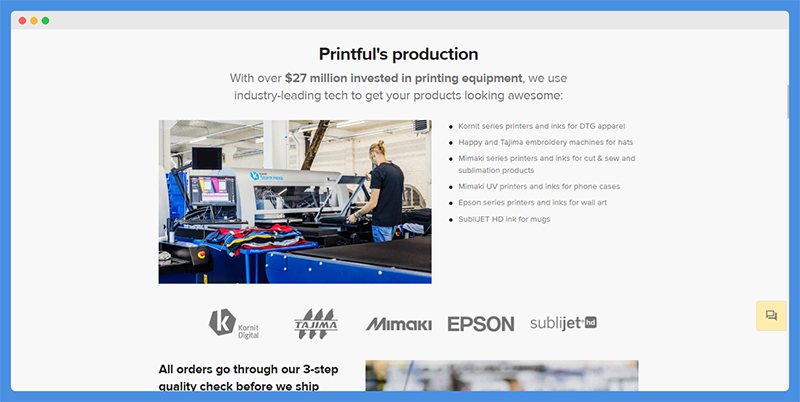 Printful has invested over $27 million in printing equipment. They utilize industry-leading technology to ensure high-quality printing on all the products.
Printful uses Ornit series printers and Direct to Garment clothing. For hats, they use Happy and Tajima embroidery machines, Mimaki UV printers for phone cases, and SubliJET HD ink for mugs, etc.
Print Aura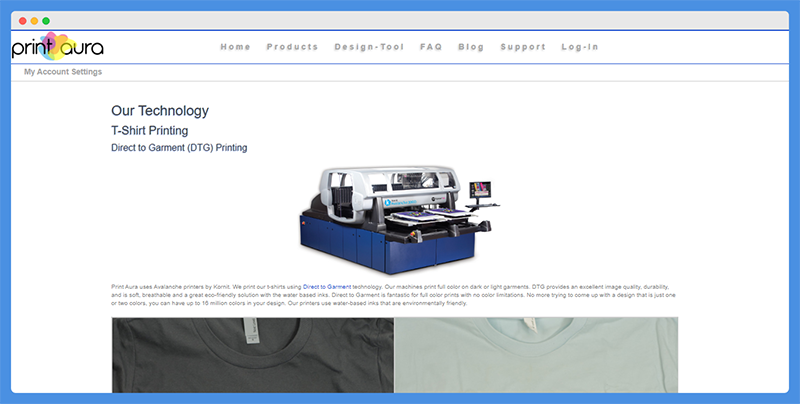 Print Aura delivers products with exceptional quality. They utilize Avalanche printers by Kornit and Direct to Garment Technology for clothing. Their machines can print full colors on light and dark clothing.
Verdict
Both Printful and Print Aura use similar printing technologies. Therefore, they produce excellent print quality results.
Interesting Post: Best Print On Demand Shopify Store Examples
Support And Marketing
Printful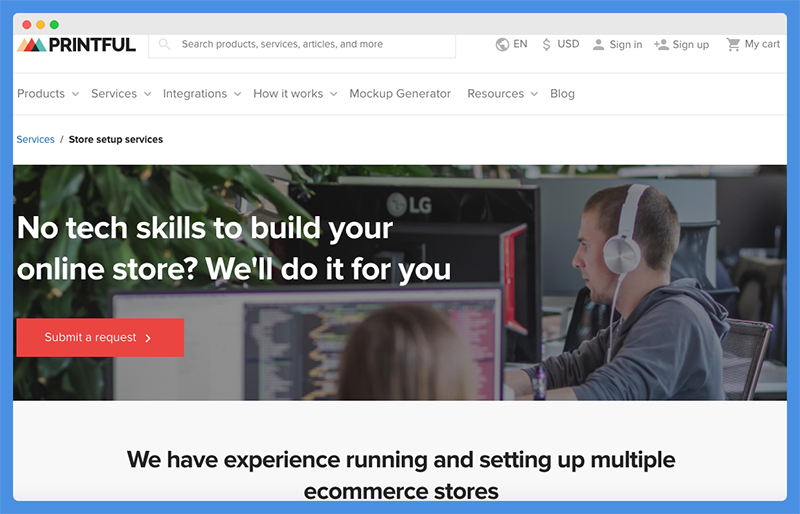 Printful customer service is available 24×7. You can talk to their agents via live chat, email, or phone. More so, their extensive resource base will give answers to pending questions.
Printful can help you set up your eCommerce store. And with their marketing tools and resources, you are equipped with everything you need to be a successful merchant.
Our Pick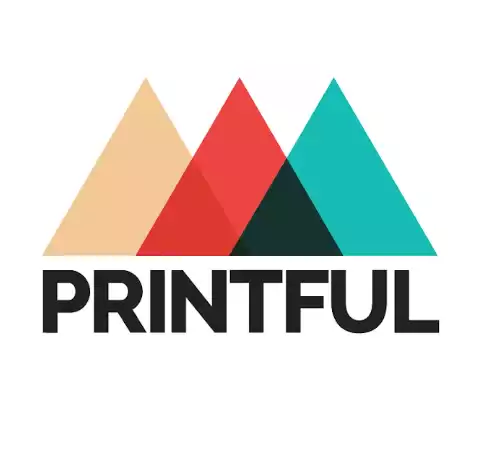 We earn a commission if you click this link and make a purchase.
Print Aura
To access support, you have to fill out a form or send an email. Print Aura has a resource bank where merchants can learn how to use the solution.
Verdict
Printful's support feature is better. You can access support via a wide range of options, including live chat, phone number, and email. Plus, Printful offers marketing and store setup services.
Printful vs Print Aura: Similarities And Differences
Printful and Print Aura are widely used platforms. While they share similar features, some features set them apart.
Both Printful and Print Aura offer white-labeling and brand customizations. You can select products from their catalog, and your brand logo will be attached to it. Also, they store packages and ship items to your customers.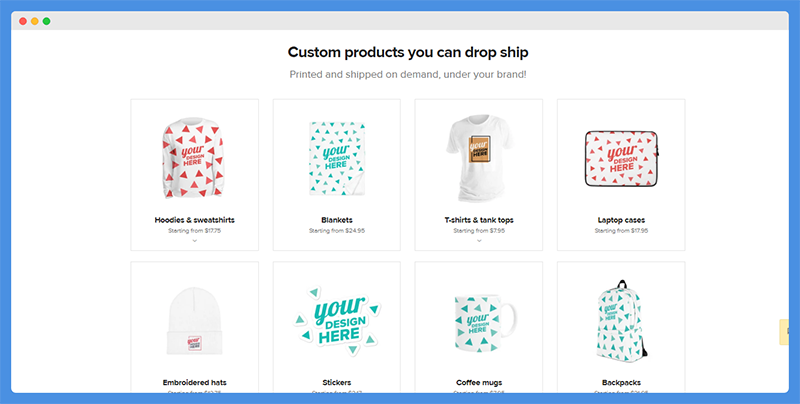 With their mockup creation tool, merchants can sketch and print product ideas and designs for their online store. Furthermore, they also offer pricing calculators so that you can estimate costs and profits.
Printful and Print Aura supports integrations with multiple e-commerce platforms, including Shopify, WooCommerce, Etsy, Opencart, etc.
Printful has four fulfillment centers across the world and also serves the Japanese and Spanish markets. But Print Aura has one fulfillment center and does not serve the Japanese and Spanish markets.
With Printful, merchants can enjoy robust marketing services and resources. On the other hand, Print Aura doesn't offer marketing services.
Print Aura vs Printful: Pros & Cons
Printful
Pros
Printful has had a lot of positive reviews. Here is why users love it
No setup fees and monthly costs
No minimum order requirements
Offers a wide range of services
Support integrations with multiple eCommerce platforms and online marketplaces
The platform comparison helps with decision making
Mockup creation tools are easy to use.
You can place manual orders
Real-time and 24-hour support
APIs are easy to set up and Printful offers setup services
Store management on your mobile device
Cons
Some of the issues you will face with this solution include:
You will not get refunds if the order is not damaged
Merchants will pay for reshipment of damaged items
Print Aura
Pros
Here's why users love this solution
Zero monthly and setup fees
No minimum order requirements
Provides more options for brand labeling and customization
Manual order is supported
Mockup generator is simple and easy to use
You can track customer items
Cons
Here are some of the Print Aura's demerits
Print Aura does not offer photography, video production, and graphic design services
Shipping cost for some items are expensive when compared with other tools
No real-time and 24-hour support
Customer support response time is slow
Online marketplace and platform integration options are limited
Verdict: Printful vs Print Aura
That's it. We are done reviewing Print Aura vs Printful.
In our opinion, the winner is Printful. While both tools provide high-quality on-demand prints, Printful offers much more. With their mobile app, you can manage your store on the go.
Additionally, Printful offers product photography, video production, and marketing services. They support integrations with about 20 eCommerce platforms and marketplaces. Printful provides 24-hour customer support and their response is swift.
In short, Printful has more features to help your business succeed and offers more benefits than Print Aura.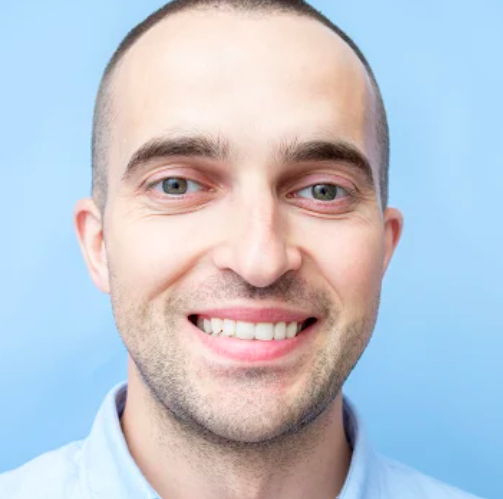 Author: Brian Erwin
I am Brian. I started my first e-commerce company in college designing and selling t-shirts for my campus bar crawl using Print-On-Demand. Having successfully established multiple 6 & 7 figure e-commerce businesses (in women's fashion and hiking gear), I think I can share a tip or 2 to help you get succeed.