Print on demand, as the word explains, these are sites where printing is done in small quantities based on the order.
Unlike publishing houses and garment companies which print books or apparels in bulk; print on demand sites & services are more customer need based.
You can print books, clothes, mugs, mobile cases, home décor et all in these sites.
So, what makes these sites & services different? Over the years the print on demand is becoming a revolution and a number of people get benefitted from them.
For Artists: You can upload your designs on these sites.
Artists get paid out for whichever art has been used (refer individual sites for payment process).
So, for an artist it is a bigger platform to get your art noticed by people across the globe.
Most sites do not expect any upfront payment for showcasing your designs
For a Consumer: You get products that are custom made and unique.
There are many out there who do not want to support big brands and want something "different".
These sites & services are the answer to such consumers.
Let's look at the sites that are the best Print on Demand sites & services.
Printful is an old player of the game.
It is also my favourite print on demand service.
They have been in business since 2013 and have a slightly different model compared to other portals.
The site works better for entrepreneurs.
Entrepreneurs advertise their products on other e-commerce sites. When an order is received they communicate with
Printful who print and deliver the product to the consumer.
What can I print at Printful: clothes for all ages, wall art, accessories like tote bags, phone cases, décor items like pillow covers, towels.
Highlights:
No hassle of stocks, printing and production related issues
Entrepreneurs can concentrate only on creating products and selling them
High quality products and drop shipping.
How Printful Works?
Connect your online store to Printful and it fills it up with products covered in your own custom designs.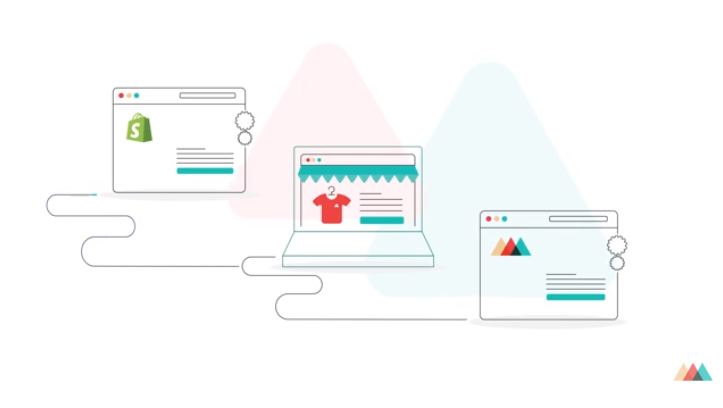 Your customers will place their orders, and products get printed and shipped on demand under your brand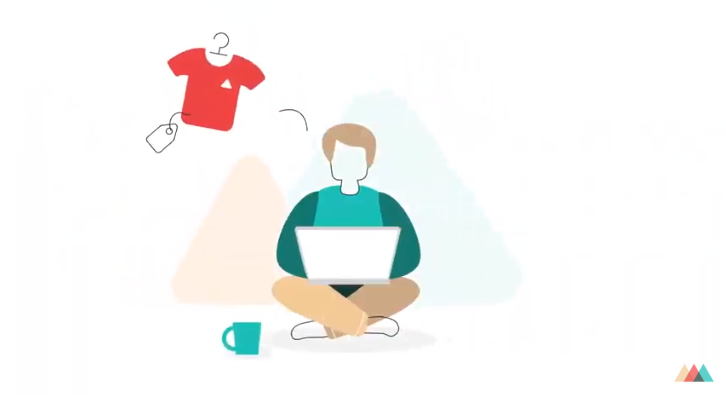 Orders are sent automatically to Printful through Printful factory, where they're printed, packed and shipped.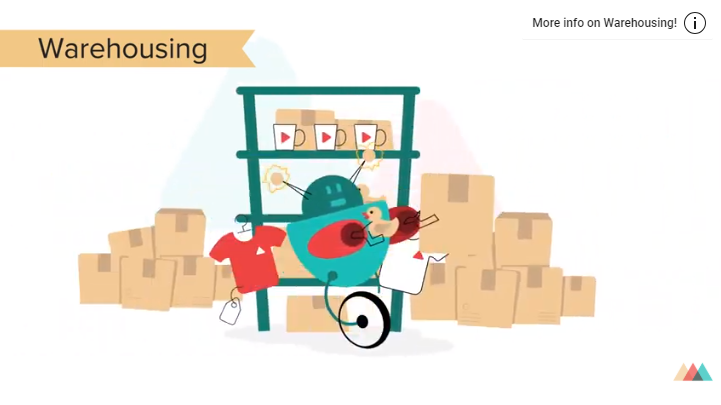 A notification is sent to you with the tracking number once orders are shipped.
Our Pick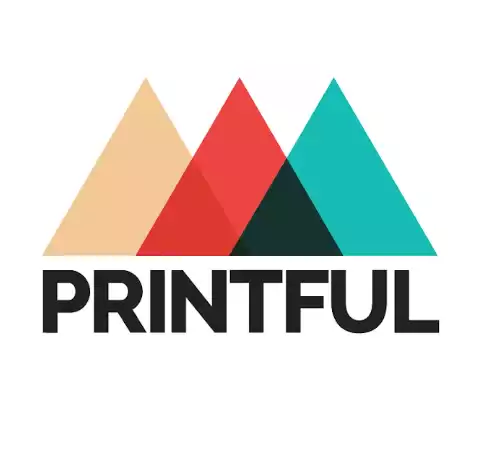 We earn a commission if you click this link and make a purchase.
Clients receive their orders in packages covered with your brand, appearing as if you shipped it out yourself.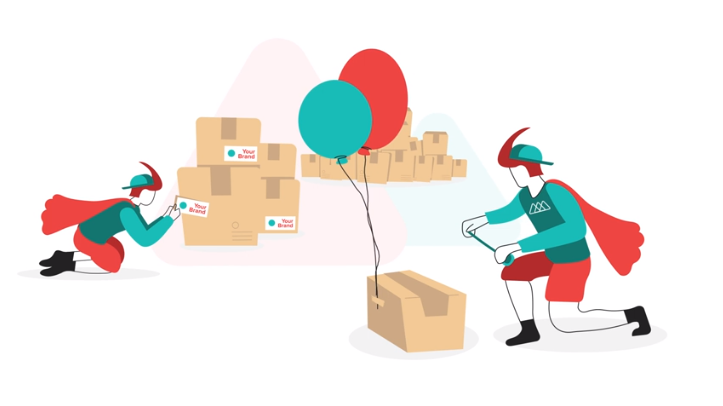 The Printful Difference
Printful stands out as one of the top print on-demand sites for these reasons:
Custom branding options: everything is printed and shipped under your brand with custom labels and pack-ins among other options
No minimums: Everything is printed on-demand, so you get to order however much you need without keeping inventory
Free signup without monthly fees: Only pay when an order is submitted, and only for products ordered
4 fulfilment locations: Printful is located in strategic spots including North Carolina, Charlotte, and Rigia or Latvia in Europe so you can be closer to your customers
Automated order import: Orders received from your online store are imported automatically into the Printful system and sent to fulfilment
Low shipping rates: Printful partners with global carriers like FedEx, DHL, USPS.Com, and APC Postal Logistics, so you can get more reliable and affordable shipping options
Friendly support: Printful's support team is ready to answer all your questions any time
Printful integrates with more than 14 platforms including but not limited to: Shopify, Etsy, WooCommerce, Amazon, eBay, and BigCommerce.
Our Pick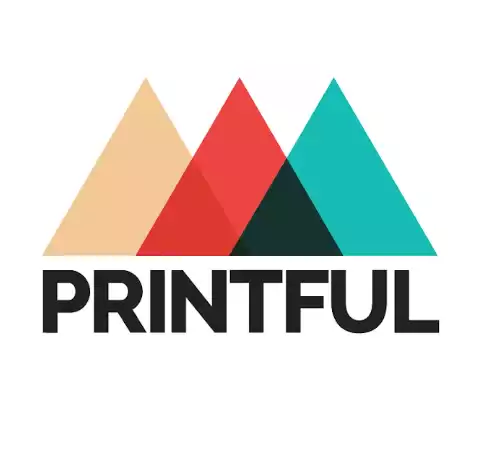 We earn a commission if you click this link and make a purchase.
Printful App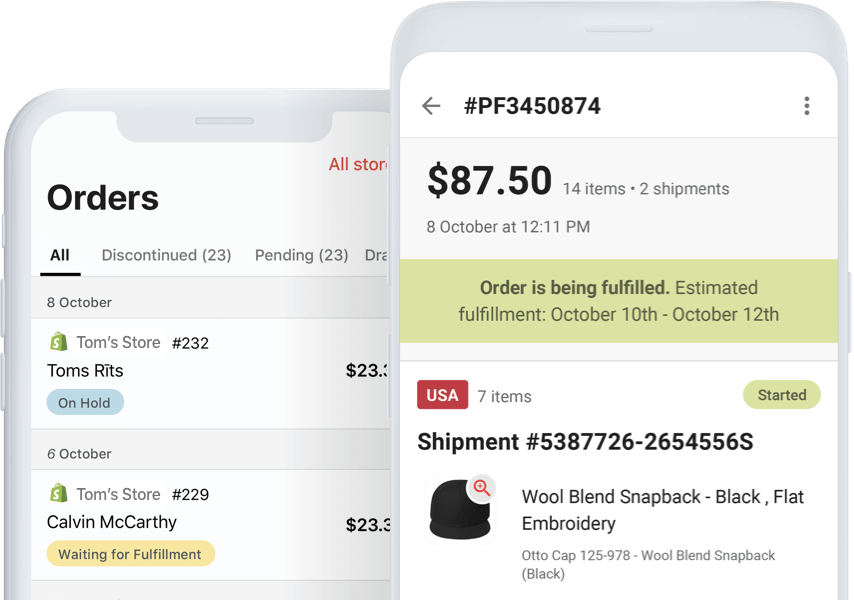 This is available for when you're on the go, so you can stay informed and manage your store.
With the app, you can receive notifications, email or call Printful support, hold orders when necessary, track your orders, and report any problems with a simple snap or use existing photos.
The app is available for iOS and Android platforms.
Also Read: Printful Vs Print Aura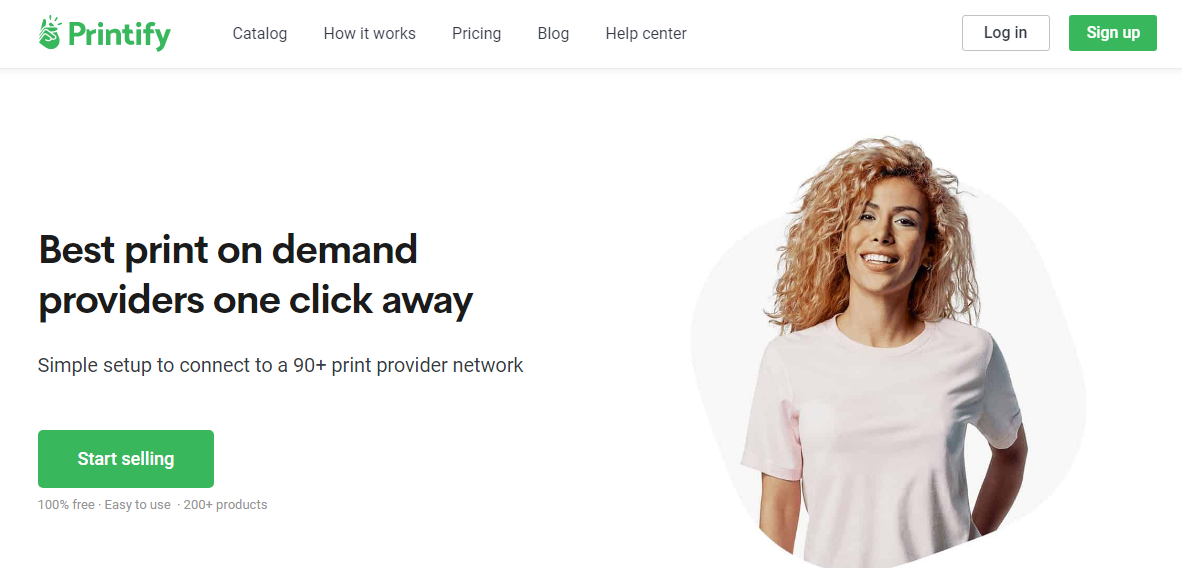 Printify, an 80-person startup, is reimagining print-on-demand (POD) business, such that Ecommerce business owners no longer have to create customized products to sell on other platforms.
Today, they can sell them directly on their own stores online.
The on-demand printing business based in Riga, Latvia, allows merchants to build their own brand, as they benefit from its low-cost, fast-printing, and high-quality platform. This way, they can create their own micro-brands.
Founded in 2015, Printify, which continues to raise seed funding to date, now operates as a B2B marketplace, connecting ecommerce stores and manufacturers.

We earn a commission when you click this link and make a purchase.
They take away the hassle of handling mundane tasks like order fulfilment, billing, manufacturing requests, and shipping.
As a store owner, this allows you to focus more on building your brand, unlike other platforms that don't do as much, only allowing you to sell your wares.
Printify caters mostly to designers and artists, political campaign employees, 'hustlers', and influencers, or self-taught pros in digital sales management.
The platform has a fixed pricing scheme so store owners know just what they're paying to Printify, but they can price their products with flexibility.
This is different from other first-wave platforms, which don't give merchants the leeway to set their own profit margins. Instead, they give merchants a small portion of revenue share.
Printify does things differently. Merchants pay a small fee, but eventually realize high profit margins.
The POD platform enables online store owners to create their products and sell them, using a third-party to deliver on order fulfilment, so merchants can focus on brand building and selling.
More than a hundred thousand merchants use the platform as if offers:
A wide range of products
Mock up generator that's easy to use
Competitive pricing on products
Extensive printing partner networks in over 90 locations in Germany, US, China, UK, and Australia
Syncs automatically with your store
Integration with Etsy and WooCommerce

We earn a commission when you click this link and make a purchase.
How Printify Works?
With Printify, the complex processes involved from product creation to final delivery to the customer is simplified for your ecommerce business.
The process involves:
Selection: this ranges from homeware, to apparel, accessories and much more. Printify has it all. The Printify catalog lets you select from hundreds of products you want to sell on your store.
Creation: once you select products, you can customize them with your art, logos, or designs, or even a photo about your brand or business
Get the samples: identify the right print provider for your online store, then test the product and order a sample from the platform
Add products to your store: Sell your customized product creations and start raking in the revenues
Printify will take care of order fulfillment as you sell products, plus the billing, manufacturing requests, and shipping so you can focus on branding, business growth, and marketing.

We earn a commission when you click this link and make a purchase.
Printify Pricing
Printify has three packages:
Free $0/month, for 5 stores per account, and unlimited designs, for merchants starting a business
Premium $29/month for 10 stores per account, and unlimited designs, for merchants with growing sales
Enterprise, which has custom pricing for unlimited stores per account and unlimited designs for merchants with more than 10,000 orders a day.
Also Read: Printful Vs Printify

Sellfy is a simple-to-use eCommerce platform for content creators. They can sell both physical and digital items from a single location. The platform is ideal for creators and all those who want to start their print-on-demand business.
Sellfy's built-in print-on-demand feature will sell t-shirts, jackets, mugs, caps, etc. The platform will print incoming orders and send them to your clients.
Highlight
No hidden charges

Set your own prices.

Extensive customer base

Variety of products
How it Works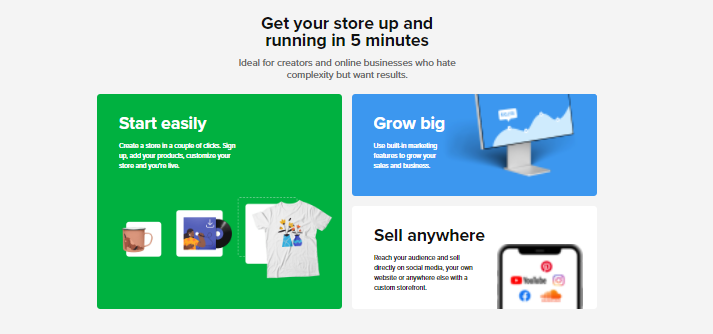 Depending on your preference, you'll create your merchandise and sell it directly to the target customers through your Sellfy store or your website. Sellfy will take care of the printing and delivery without any upfront charges for you to bear.
The platform prints and fulfills orders only when you get them. That implies that you can make as many designs as you like without paying for the product. When consumers buy from your store, their payment will settle the item's cost.
You'll receive the whole amount once customers purchase them. Sellfy will then bill you for the cost and transportation of the goods, leaving you with your profit.

We earn a commission if you click this link and make a purchase at no additional cost to you.
Because you are not required to pre-order, stock, or pay for the merchandise, you are selling, the procedure is quite straightforward. You will incur no upfront fees to develop and sell your merchandise online.
A Sellfy member must sell print-on-demand through Sellfy. Besides, they can integrate Sellfy on their website.
If you want to order your sample, just know the samples of your items are available for order. To have a feel for what you'd want to offer, they propose that you purchase them via your Sellfy store or your website.
You will gain valuable insight into the whole purchase process from your customers' perspective and acquire a sample of the items you want to sell to them.
Sellfy's Pricing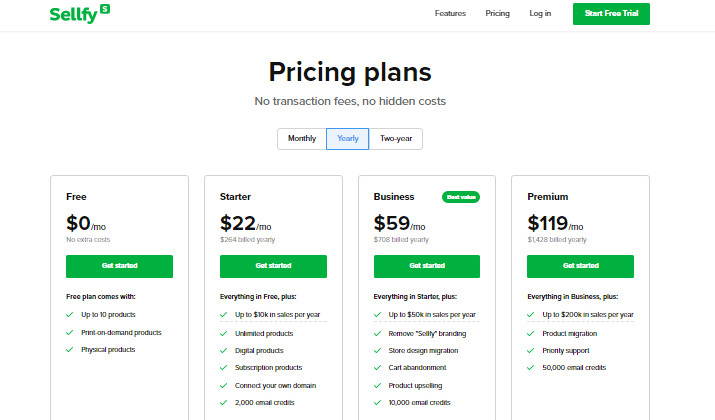 Sellfy has four pricing options: Free, Starter, Business, and Premium. All programs include a complimentary 14-day trial.
Free
The Free plan is completely free. You will never be charged anything until your Store grows to the point where you need to upgrade.
The Free plan allows for the creation of up to ten items. You can sell either tangible things or products that are printed on-demand.
Starter
The beginner plan, which costs $22/month, is ideal for developing enterprises that want more features than the free plan.
Business
The Business Plan costs $59 per month. You'll receive everything included in the Starter package, as well as the following benefits:
Transferring your store's design (if you're switching from another platform)

Product upselling is a technique used to sell more products.

Abandonment of the shopping cart

You can remove Sellfy branding from your website if you choose to do so.
Premium
The Premium plan is charged at $119 per month. You will receive 50,000 email credits as well as VIP assistance. It allows you to sell up to $200K worth of items or services.

We earn a commission if you click this link and make a purchase at no additional cost to you.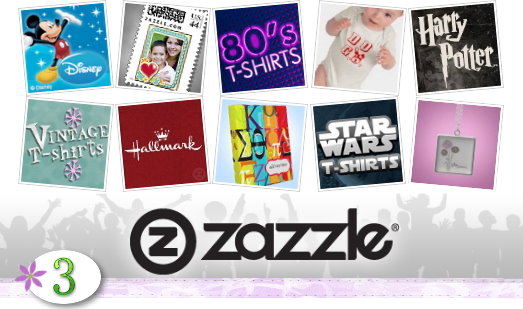 Zazzle USP is its customization capacity which is incredible and unique.
At Zazzle you can create 1300+ items and then further customize them to make them. One can choose art of an artist or design something themselves.
The website is very popular and has close to 30 million visitors each month.
What can I print at Zazzle: t-shirts, buttons, tote bags, invitations, mugs, stickers, business cards, kid's clothes, kid's pacifiers and more.
Highlights:
Lots of products for artists to sell art and consumers to buy
High traffic
Select your royalty
Tutorials and tips from Zazzle to improve your product
How it works
Sign up for an account.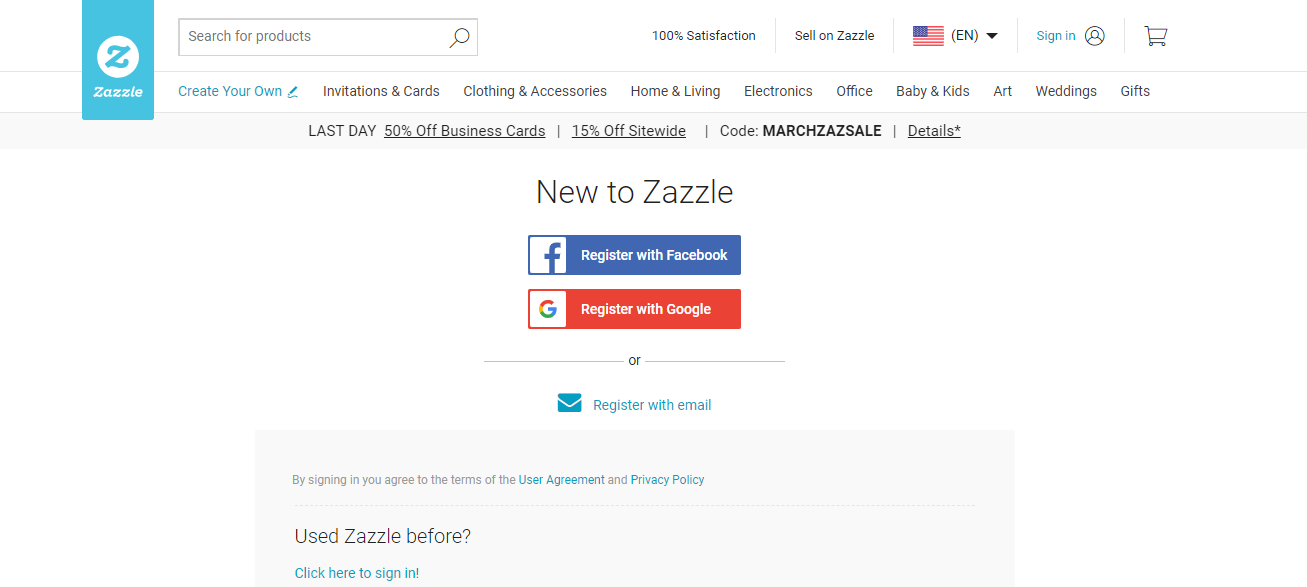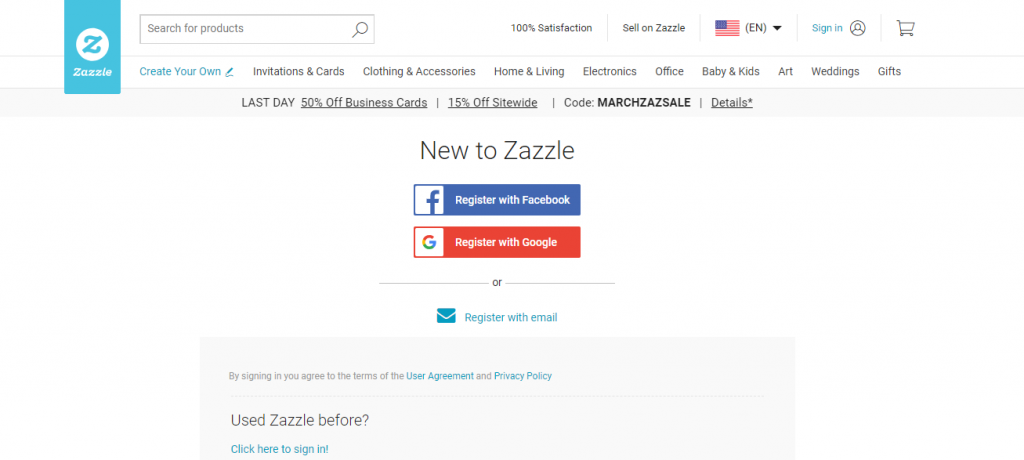 There are three account options: Designer, Maker, or Affiliate.
Each comes with its own tools, which is why you need to know which account you want.
Designers upload your designs on the platform, select the products on which you'd like your designs printed, and post them for sale.
Zazzle handles manufacture, printing, and shipping.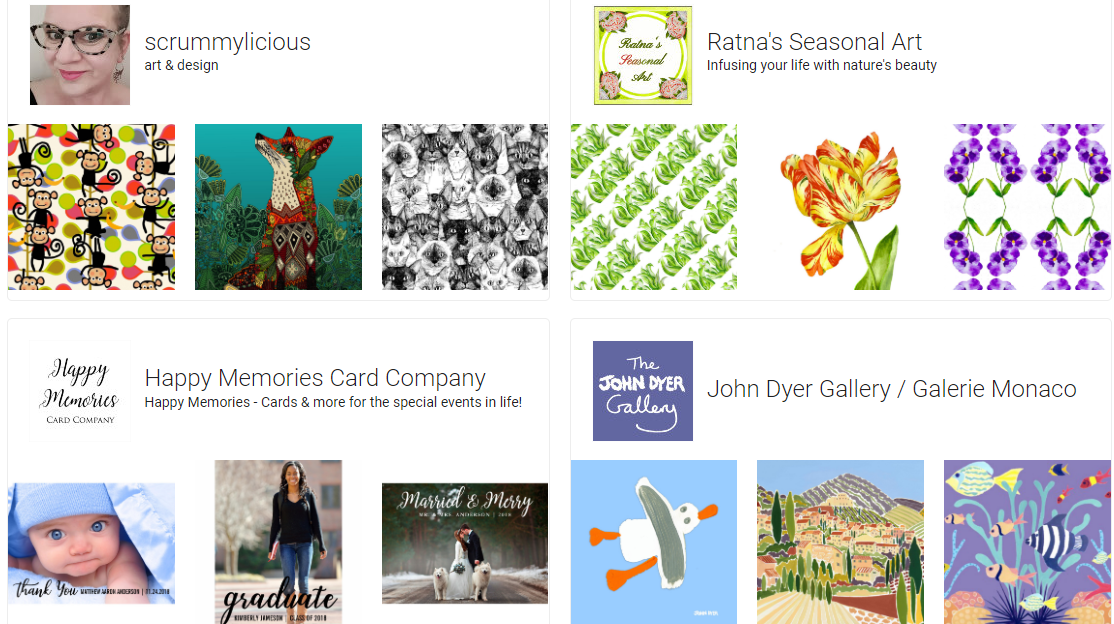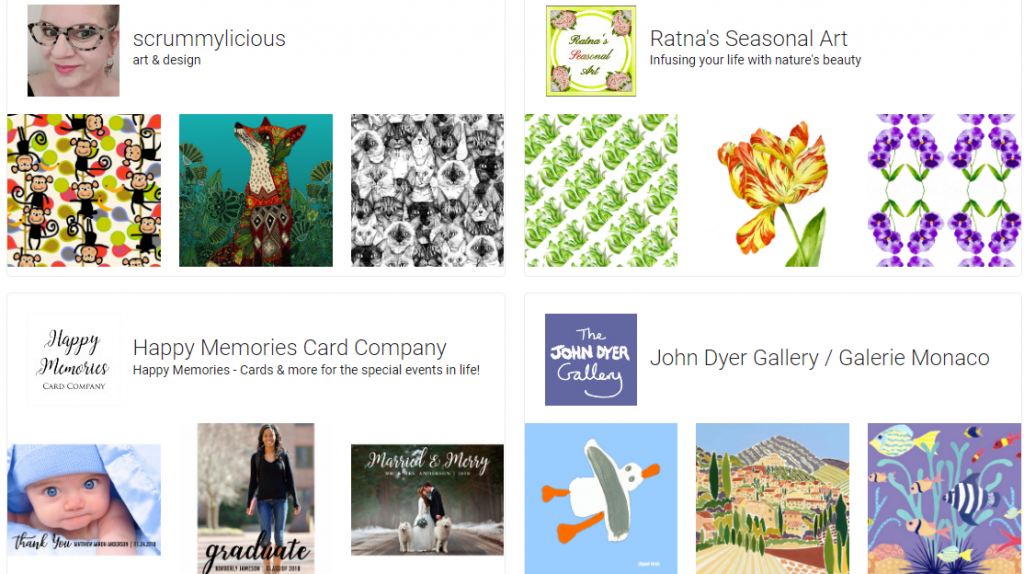 Makers can manufacture their own products and put them on Zazzle for sale.
The only difference is you handle manufacturing and shipping.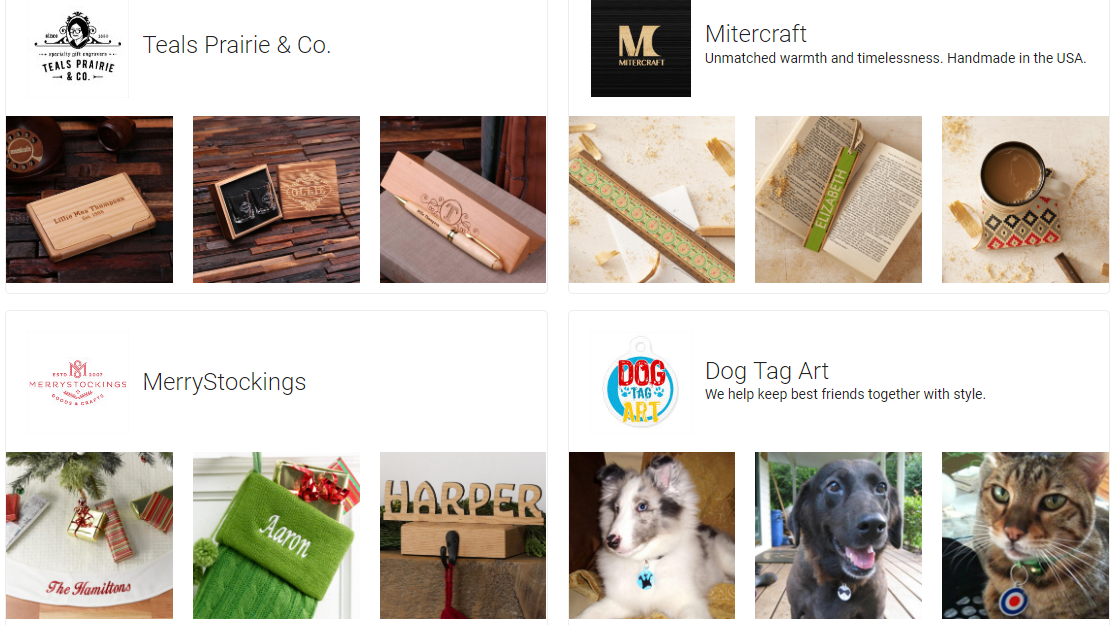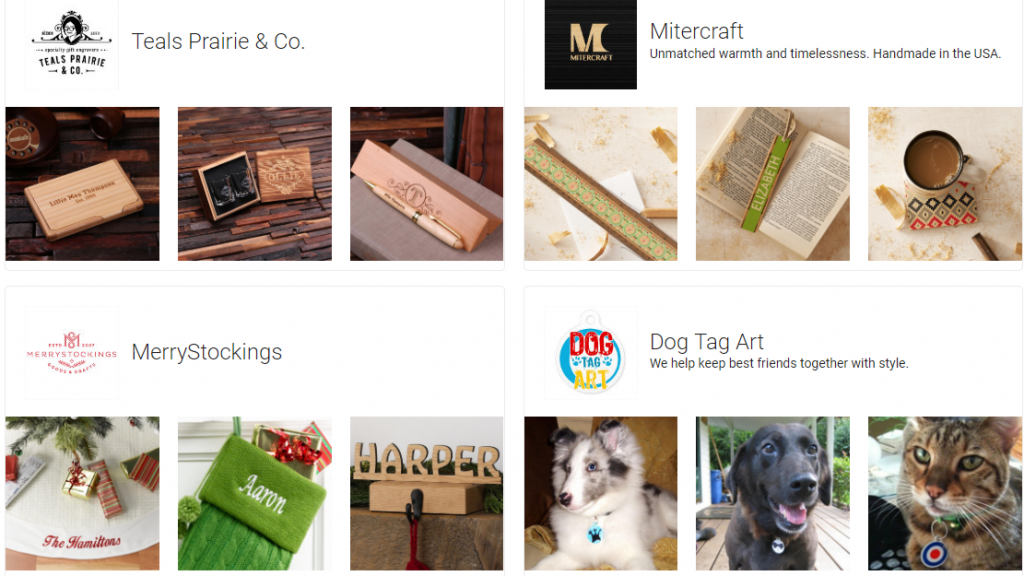 Affiliate accounts earn commissions on every product sold, whether or not it is your product.
You can sell whatever is on the platform and earn from it.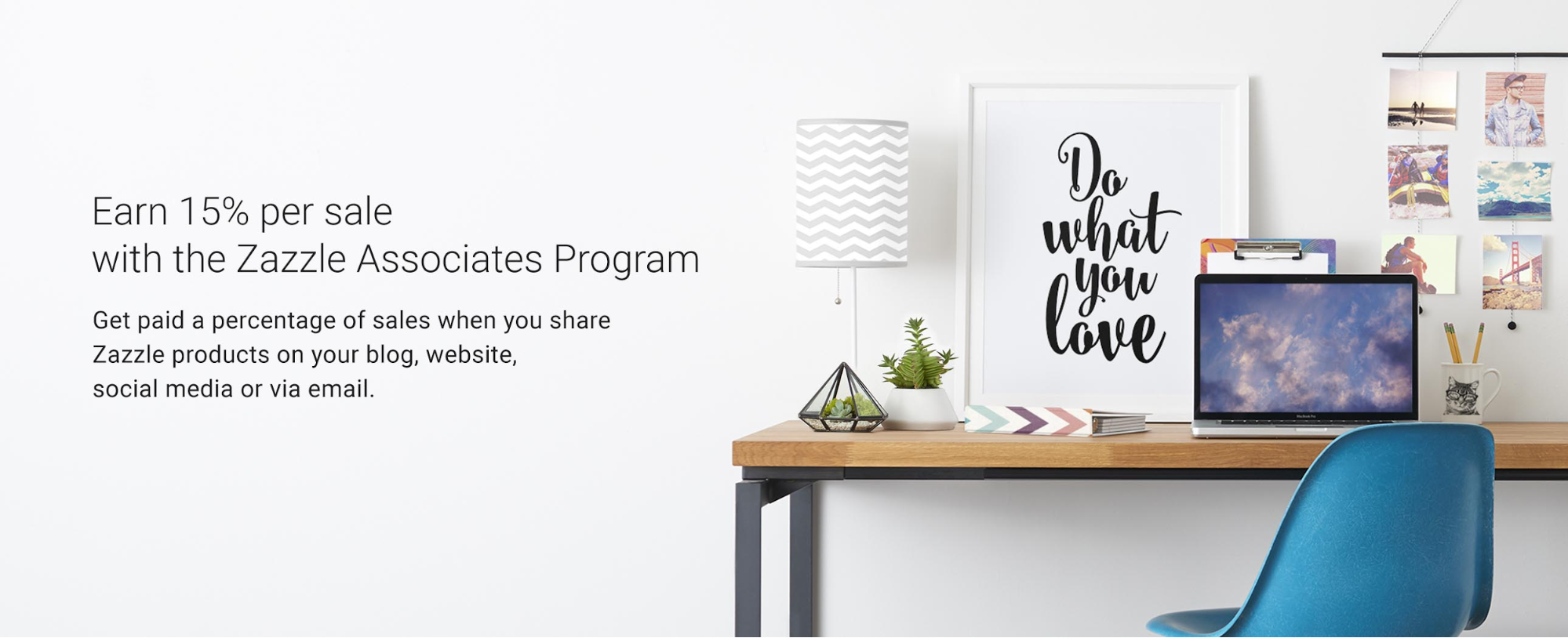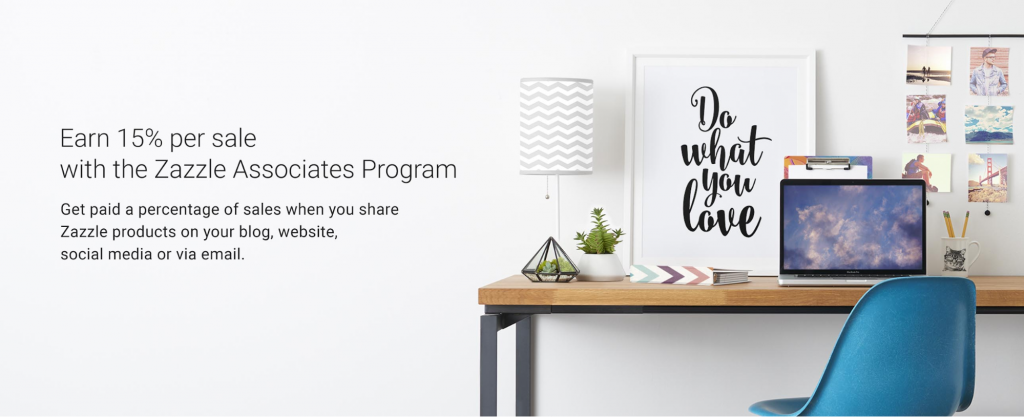 The Zazzle Difference
Free sign up: Zazzle is free to join and set up your store to sell a wide variety of products.
Variety of design options: Upload your designs and sell products using Zazzle-provided options, or using designs uploaded by other members on your products.
Zazzle Marketplace: This is a platform on which you can make your own designs available for others to sell. You set your pricing on your items, and earn huge discounts (volume) based on monthly sales.
Customization options: Zazzle members enjoy store customization options over and above other Zazzle benefits.
Frees you to focus on sales: Zazzle handles production, payment processing, shipping, returns, and customer service so you can focus on creating and selling your products
Name Your Royalty: This is a Zazzle program that lets you set your own profits.
Promotion and Reports: Zazzle offers helpful promotional tools, plus useful tracking reports
Customer support: A dedicated support team is always on hand to help with your questions via email, online chat, or call.
Knowledgebase: Zazzle's help center is extensive with answers to frequently asked questions so you don't have to contact support on every minor issue. It offers information relevant to all three account types: sellers, makers, or designers.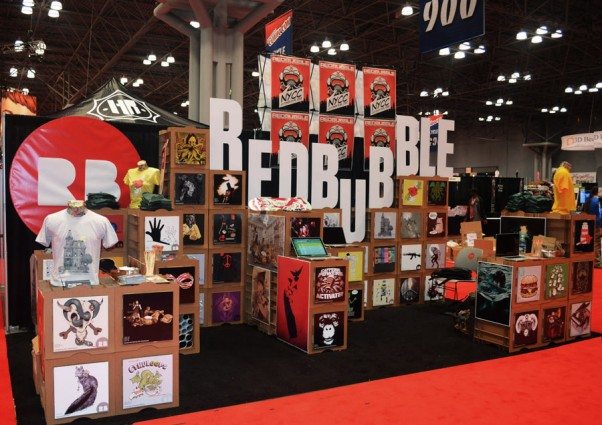 Redbubble is an online marketplace for a number of products.
The artwork is submitted by a diverse community and they remain a big player in the game.
It is a loved site and has a big consumer base.
What can I print at Redbubble: A wide variety of merchandise like t-shirts, skirts, notebooks, duvet covers, postcards, hoodies, scarves, stickers and more.
Highlights:
You can sell your art for a number of products
Easy to use interface
Fast upload process
Free to join
Set your own margins/pricing.
How it works
The first step is to sign up for a free account with Redbubble.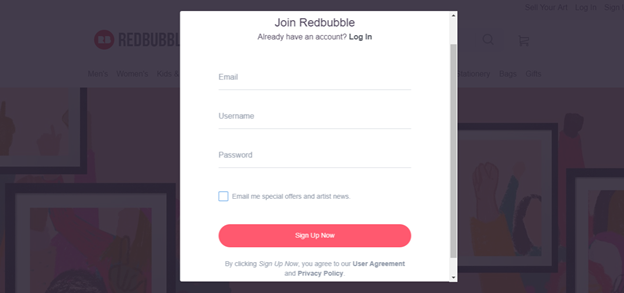 You'll receive email updates on features and promotions, and best of all, there's no formal vetting process.
As long as you're above 16, and have combed over the User Agreement responsibly, you're good to go.
Open a Redbubble shop and upload your designs.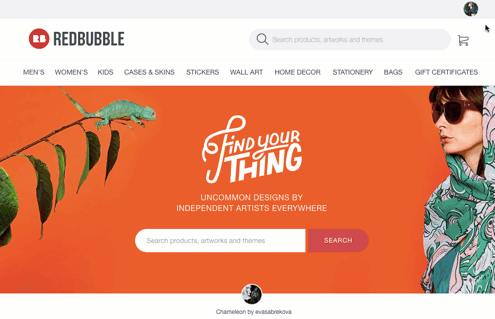 Find a design you love on a product you want.
Redbubble has a global third-party printer and shipper network that can make and send your customers' orders to their doorsteps
Get paid. Once you choose a payment option that is available in your country and works for you, pick a currency and tax options, and then hit Save changes.
You can set profit margins for each product, and Redbubble only charges base prices, so anything above that is yours.
The Redbubble Difference
Simple and straightforward: Redbubble's user experience can be used even for newbies.The platform is easy to navigate, though uploading designs and deselecting items may take some getting used to.It also offers self-explanatory features and buttons.
Variety of products: Redbubble ensures high standards of quality are met for the products offered.
There's a wide variety to choose from with multiple variants including men/women/kids and baby items, stickers, home décor, wall art, device cases, bags, gifts, stationery and more.
Shipping: Redbubble doesn't ship for free, but their service is high quality.The costs also vary based on type of shipping and location.
Customer support: a highly responsive and dedicated support team is available with a 4-hour response time.Live chat, email, Twitter, and other options to contact support are offered.
Knowledgebase: A help center is available for sellers and buyers to get answers to their questions.
Payment options: these are done via direct bank deposit (select countries) or PayPal within each payment cycle from 15th of a month to 15th of the next month.
Interesting Comparison: Printful Vs Redbubble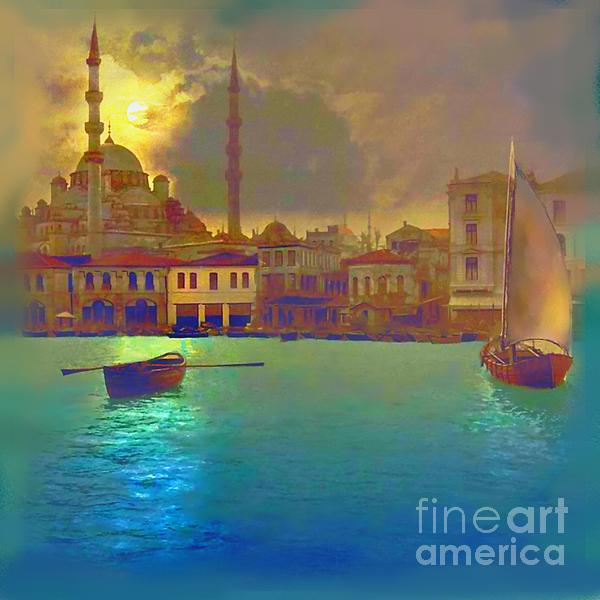 This is one site that doesn't print apparel.
This is a platform that is heavy on art. One can see many paintings and images of paintings but few digital art images found commonly in other sites.
So, true lovers of art this is the place for you.
What can I print at Fine Art America: wall art, home décor like cushions, shower curtains, bath towels, Tech products like chargers and phone cases and select beach gear.
Highlights:
Set your own prices
Can sell for free
License your artwork or sell the rights
On the flip side, though artists can set their sale price they do not get to know the final price of the product.
So, the profit margin that Fine Arts America makes remains unknown to them.

Like Zazzle one can either choose an existing design on the portal or create one of your own.
Teespring however has a minimum quantity requirement for printing.
Also, here an artist needs to meet the minimum sale requirement and promote their product to get paid.
What can I print at Teespring: T-shirts and other apparel, home décor, mugs and gift items.
Highlights:
Good client base
Excellent training at the Teespring university
Set your own prices
Interesting Comparison: Printify Vs Teespring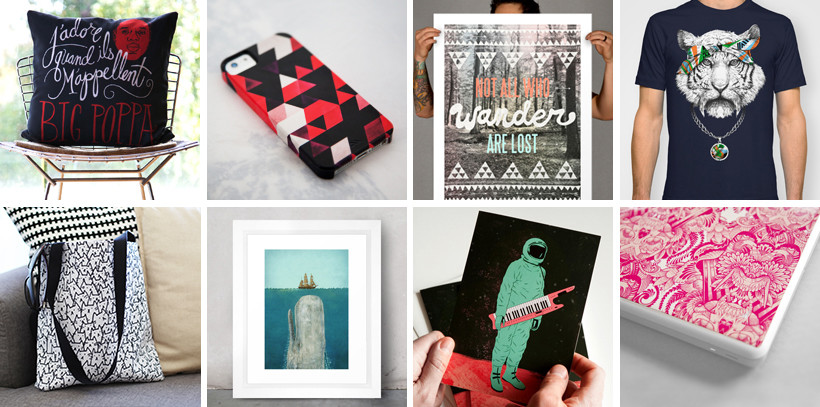 Society6 has no geographical borders.
Artists across the globe can upload and sell their art.
The niche area for Society6 is Art prints.
This makes them unique. Apart from this they also have other products to choose from.
What can I print at Society6: Apart from products like apparel, gifts, furnishings one can also order art prints, framed art prints and stretched canvases.
Highlights:
Lots or products to print on
A great place for art lovers
Set your sale margin
Sometimes difficult to put up art because each item has a different size specification.
Also Explore: Best Shopify Print On Demand Apps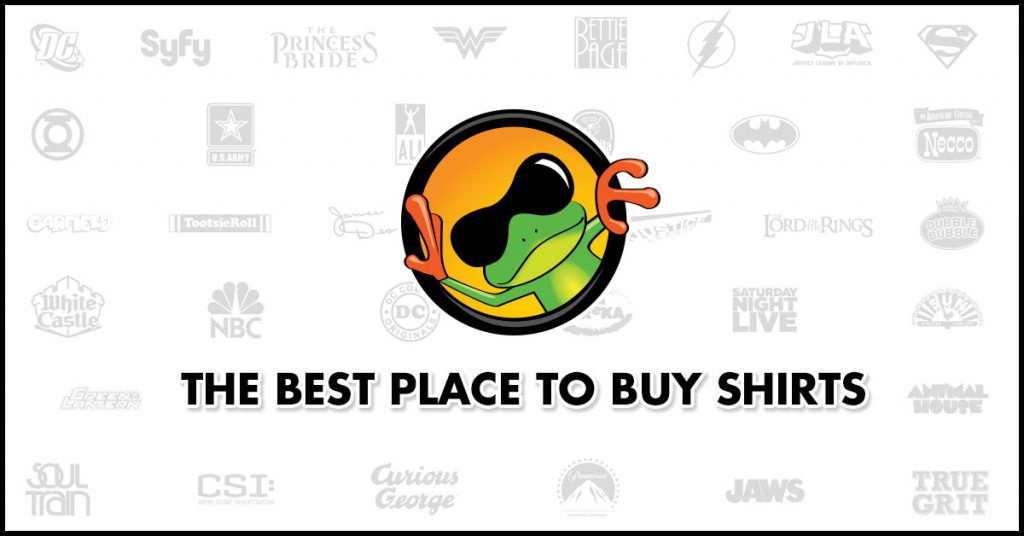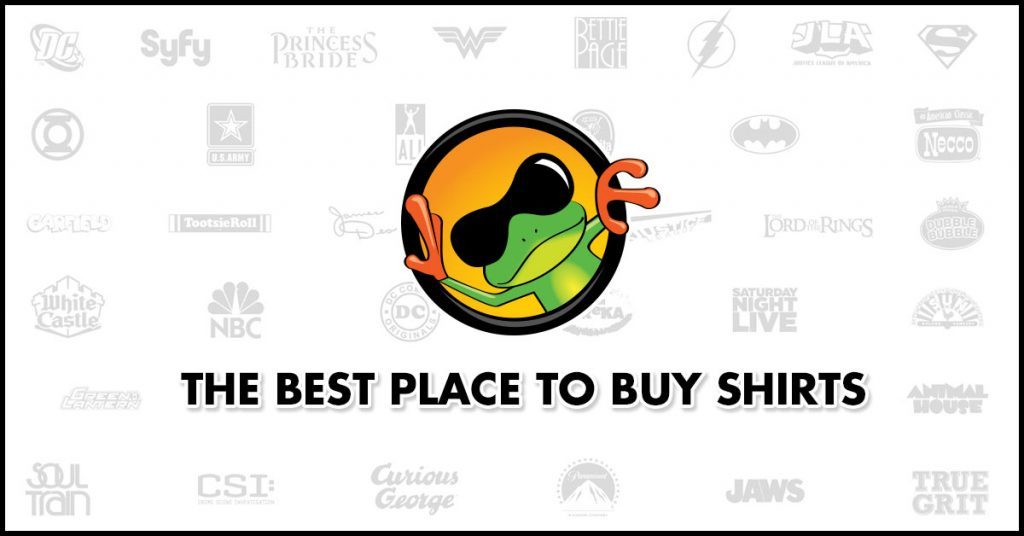 They are famous for their shirts and t-shirts.
There are a number of categories one can choose from.
Given the wide choice, Sunfrog has good customer traffic.
Their products are printed in the USA but shipped worldwide.
What can I print at Sunfrog: As mentioned earlier t-shirts, shirts, hoodies apparels of all sizes for various moods and occasions.
Highlights:
Vast choice of designs
Good pricing for consumers
The Sunfrog academy is one of the best for artists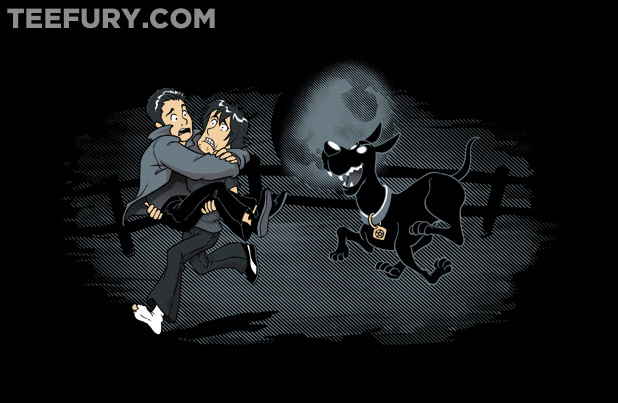 This portal is all about high quality t-shirts, hoodies and posters.
They have kept it simple and stuck to a limited choice in products.
The site has a unique marketing strategy.
Certain designs are made available for a limited time period for as low as 11USD.
This helps them get good customer traffic.
What can I print at Teefury: T-shirts, hoodies and posters.
Highlights:
Diverse collection of their merchandise
Offbeat designs
Not an artist friendly marketplace
Interesting Post: Best Print On Demand Shopify Store Examples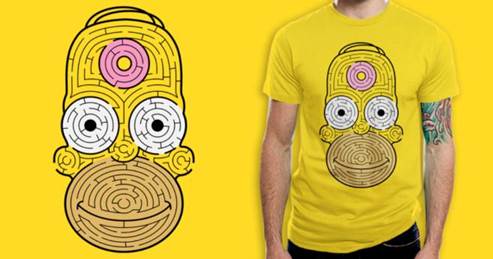 This site has a unique way of working.
An artist can submit their design but the design is available for sale only if it is voted by the threadless community.
So, there is a stringent selection process before the design is made available to the consumer.
They also ship worldwide.
What can I print at Threadless: Apparel for all ages, home décor and accessories like phone cases, hats, notebooks, beach towels and much more.
Highlights:
An artist can set up shop at Threadless
Original designs and exquisite talent
Artist's designs can be customized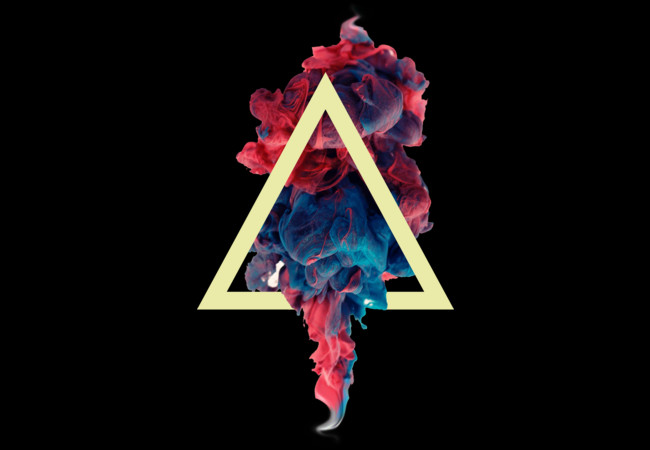 This is a community of artists, gamers, designers and youtubers.
This portal is home to some of the greatest pieces of art on the internet.
Shirt competitions which are mostly themed take place almost every day.
The winning designs are sold at discounted rates.
An artist's commission increases with the sales that happen.
What can I print at Design by Humans: Apparel for all ages, accessories like mugs, buttons, hats and Art by itself in prints of various sizes.
Highlights:
A supportive community with one common goal that is to empower artists worldwide.
Good profit margin for artists
Best marketplace to find prints
Conclusion
As mentioned above most sites do not charge an artist for uploading their art.
Payment methods for artists vary from site to site.
While most of them payout using Paypal, their criteria for sales and payments differ.
So, please check with individual sites.
The print on demand services listed above are good for both artists and a shopper.
We have listed them based on reviews from both artists and consumers.
Of course, individual experience does vary. They may not be cheap, but overall these are trusted sites.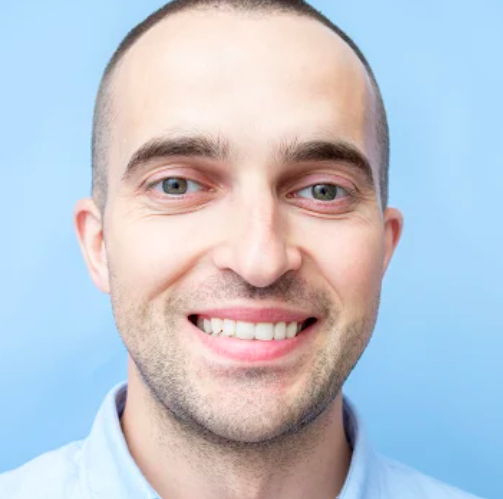 Author: Brian Erwin
I am Brian. I started my first e-commerce company in college designing and selling t-shirts for my campus bar crawl using Print-On-Demand. Having successfully established multiple 6 & 7 figure e-commerce businesses (in women's fashion and hiking gear), I think I can share a tip or 2 to help you get succeed.