Editor's Note: Do you want to start your print-on-demand business using Shopify? If yes, then this post will give you inspiration to get started. Scott has picked some of the best Shopify stores that are successfully running their printing business. Creating and customizing a Shopify store isn't difficult these days. You can get in touch with a good Shopify development company that specializes in Shopify store development services. They will help you put everything in place.
Print On Demand (POD) has gained popularity over the years since its inception, and isn't about to slow down any time soon, given the advantages it offers over traditional Ecommerce.
Not only does it have a potentially large product catalog, it also requires no inventory management or much capital to start. POD also allows you to create and design unique products for your brand.
This kind of business has been around for more than a decade with the one-off printing concept for custom designs being introduced by several early entrants of POD ecommerce.
Today, a large number of products like art, apparel, and gift items are available to POD sellers, with POD platforms becoming available to merchants who then have more channels on which to sell their wares.
If you've finally decided to get into the POD business and set up your own products store, or you've run one for a while but haven't enjoyed much success, we're going to show you some successful and profitable Print on Demand Shopify store examples.
How Print On Demand Works
Print on Demand is an ecommerce model and dropshipping practice where merchants sell customized products without dealing with inventory management or shipping.
The merchant signs up with a POD platform, which handles the print jobs and order fulfillment processes on their behalf, and the products are printed only after a customer places an order.
POD sellers don't incur any costs of holding stock as they don't get charged for anything until someone orders a product from their store.
If you own a Shopify store, or intend to get started with such a business, it's possible to integrate a POD app with your store as Shopify integrates with many of these apps.
You can then work with one or several suppliers to customize white-label products such as bags, mugs, t-shirts, baseball hats and more with your own designs, and sell them under your brand on a per-order basis.
The main process takes this form: create, sell, print and ship.
You'll begin by creating or designing your products, and add them to your Shopify store.
When a customer orders a product or more from your store, his or her order is sent automatically to the POD service for printing.
The POD service you're using, or that's integrated with your Shopify store will print the order, package and ship it directly to the customer.
POD services are best used when you want to test a business idea without inventory risks, monetize your current audience (especially for online influencers or celebrities), create original niche products, or print one-off items easily.
If you're looking for some inspiration to start your own POD Shopify store or spruce up your existing one, we've compiled a list of the 25 best POD Shopify stores you can get ideas from.
Best Print On Demand Shopify Store Examples
Also Read: Printful Vs Printify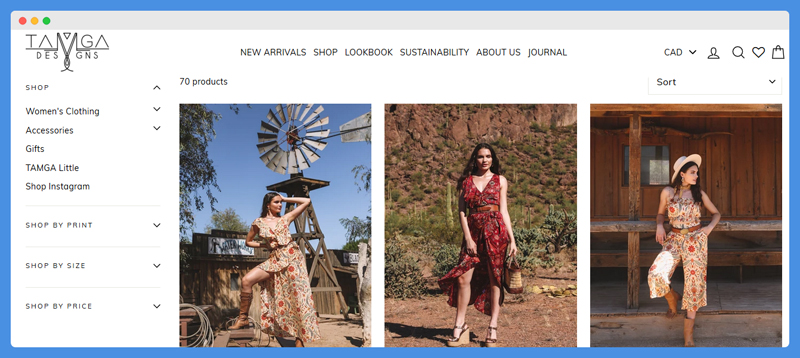 This POD Shopify store by Eric and Yana Dales was birthed while they were in Bangladesh, where they met while doing humanitarian aid work.
The couple saw what the bigger players in the fashion industry were doing, draining the environment and social fabric from the labor conditions and fast use of unsustainable raw materials and decided to create their own fashion company.
TAMGA Designs' mission is to create a sustainable movement in the fashion niche, and build a company that's conscious of people, fashion and style.
Their production partner also produces fabric from sustainably grown beech wood and eucalyptus trees to create low-impact dye colored pieces.
These are sourced from Asia and move to Canada from where they're shipped out to consumers in over 25 countries.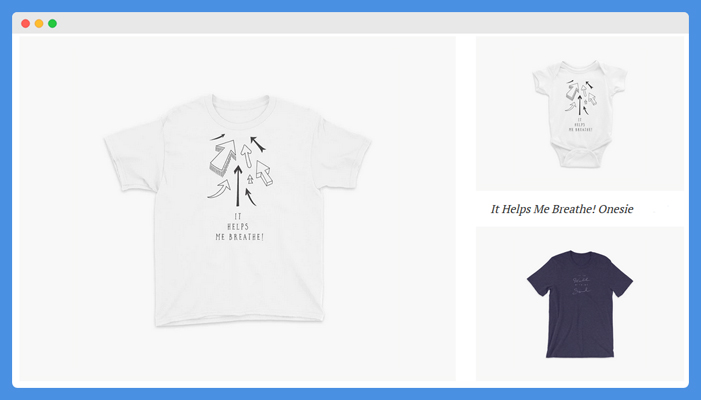 Nick Abrams and his wife Darlene run this POD Shopify store.
Abrams, a freelance designer, is passionate about illustration, and together with his wife, they manage StomaStoma, an online store that offers baby one-pieces and t-shirts with fun illustrations and empowering quotes.
It's not a regular apparel store though, because each design has a unique touch that people don't recognize or relate to immediately they see them, but they're a universal thing anyone can wear.
The couple used a Shopify website template and free apps to build their store, while social media is their main communication channel to reach out and connect with customers.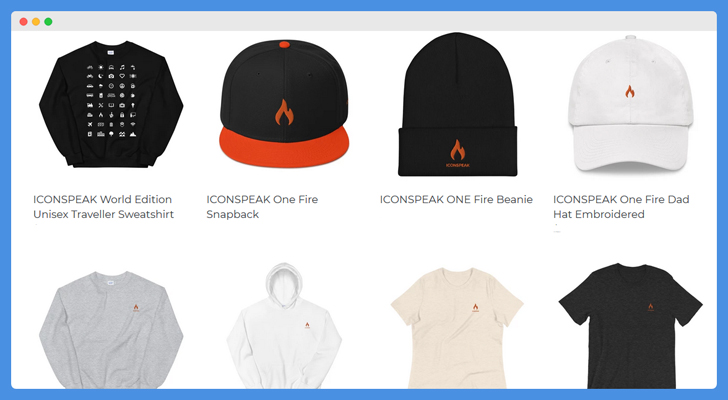 This POD Shopify store is also run by a couple, Georg and Florian, who launched it in 2013 from a friend's garage in Switzerland.
They wanted to launch a good product and have fun with it, but after experiencing viral phenomenal growth, they got into serious business.
Their persistence in business paid off after a story in the media set off their massive popularity, and in no time, they were servicing up to seven orders per minute.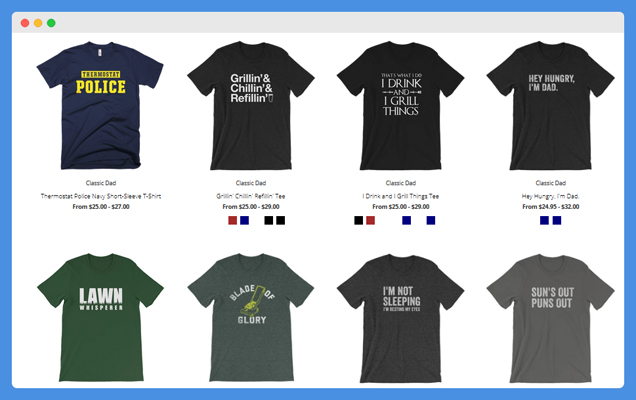 This Shopify store started as a fun social media page sharing dad memes, but quickly grew into a POD business after gaining a loyal following on Facebook and Instagram.
Followers started requesting merchandise, so the team behind it started looking for merchandise partners.
They set up a POD fulfillment service through an app on Shopify and this helped the brand succeed, with the very first sale coming from a Shopify feature.
Classic Dad sells a variety of products including hats, t-shirts, mugs and aprons, plus clothing tailored to first-time or older dads, who have different tastes, sizes and preferences.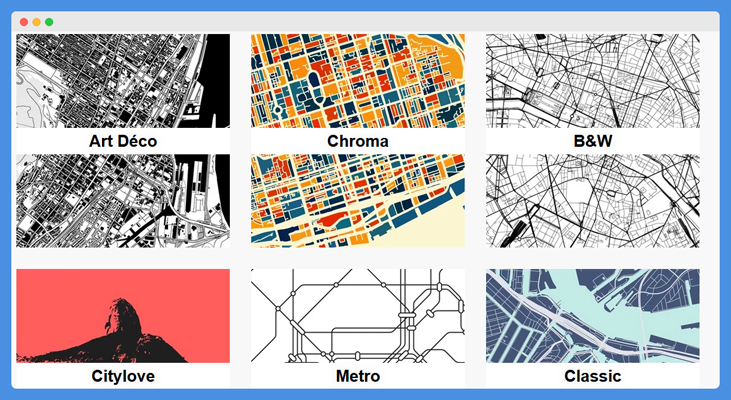 iLikeMaps is run by Olivier Gratton-Gagne, who launched the Shopify store in 2012. Back then, it was just a hobby for Gagne, who was designing map posters and coding his site, so he didn't really think it would evolve into a full-time job.
With the growth of his customer base and development of new sales channels, Gagne decided to do more from his hobby and started working on a Shopify store business, though he also runs one on Etsy.
The site together with the business infrastructure is custom-coded, and runs on Shopify. Plus, he has a large retailer network that sells his products in physical stores.
Also Read: Best Print On Demand Sites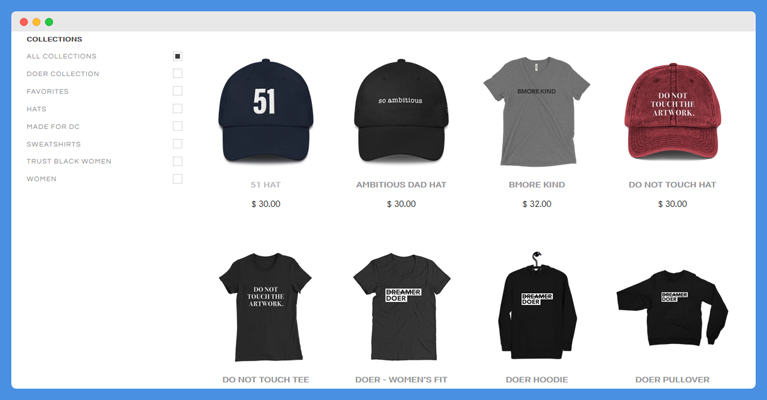 This Shopify store is owned and run by Dionna Dorsey, a graphic designer, creative director and strategist.
Dorsey runs it as a side hustle, but plans to make it into a full-time project over time.
She started the POD store in 2014, inspired by the creative community around her, and wanted to push positivity into the world by selling products with inspiring messages on hoodies, shirts, hats, and kids wear.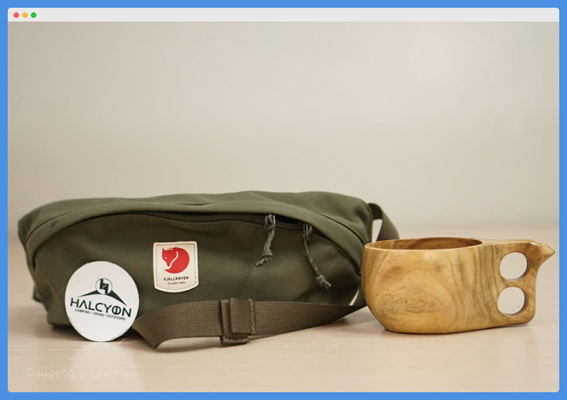 This Shopify POD store was started by Ryan Ross, who started his own clothing and lifestyle brand.
He chose to work with Shopify, Bella + Canvas and a POD service to run his ecommerce store. He got high quality garments on which to print on, and chose Shopify to work with for order fulfillment.
For Ryan, this was a win-win situation as it offered customers a seamless interaction, and it was easy to use for him too.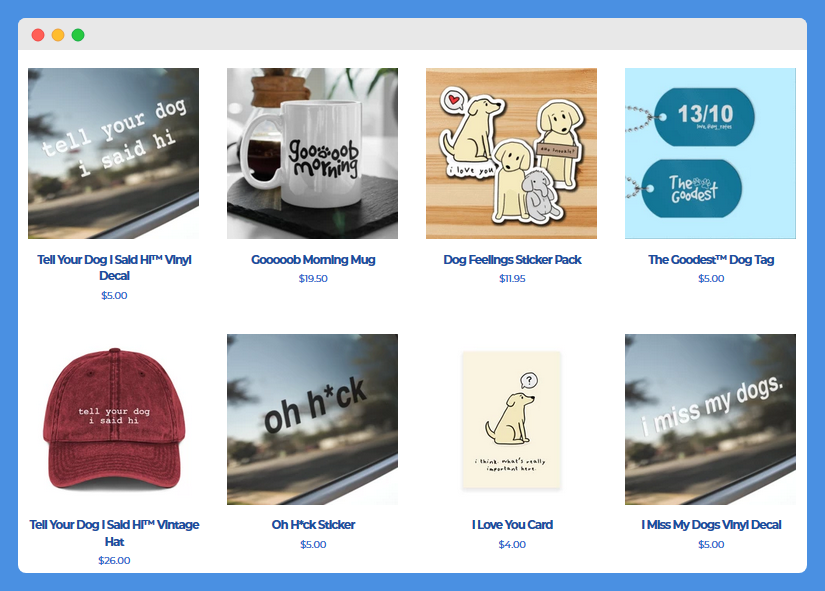 This isn't just a POD Shopify store, but also a worldwide phenomenon.
The store is the brainchild of Matt, John and Tyler, who started it after an idea from a Twitter feud with a follower turned into an international bestseller.
If you've seen the original tweet, you can follow it to see how far this business comes from.
Matt joined the social channel in 2014, though he didn't intend to build an ecommerce business from it.
His Twitter account started gaining more followers, who also liked his many jokes, and soon a business was born.
Matt took the We Rate Dogs fashion to his followers and it went viral.
In late 2015, the store's Twitter account was created, and later it was monetized through an ecommerce store on Shopify.
The orders rolled in almost immediately, and their success story began from there on, making go-to gifts for any and every one, plus any occasion.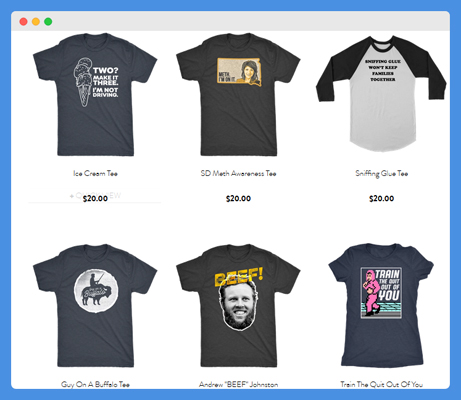 This POD Shopify store is more than a store, it's also a design agency.
They create and sell killer apparel and personal items with some humor and style, which is why its customers love it.
The company was started because many people couldn't find what they want over the internet, so instead of looking, they chose to design themselves.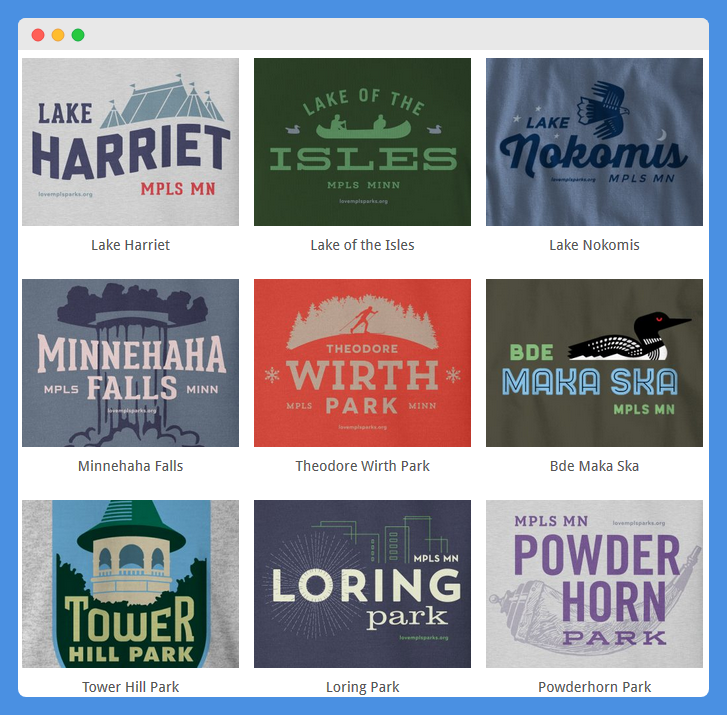 Dan Woychick, a creative strategist and designer, runs this Shopify POD store.
He combines his love for Minneapolis and his profession to create an online store with designs that pay homage to the city's beautiful lakes and parks.
From the t-shirts sold, Woychick donates half of the profits to People for Parks, a non-profit whose mission is to improve the parks in Minneapolis.
He does all the design work, except one that he says is done by his friend Jeff Johnson, the I Cherry Minneapolis.
The designs are created with a retro vibe feel, and are all custom-made.
Interesting Comparison: Printful Vs Redbubble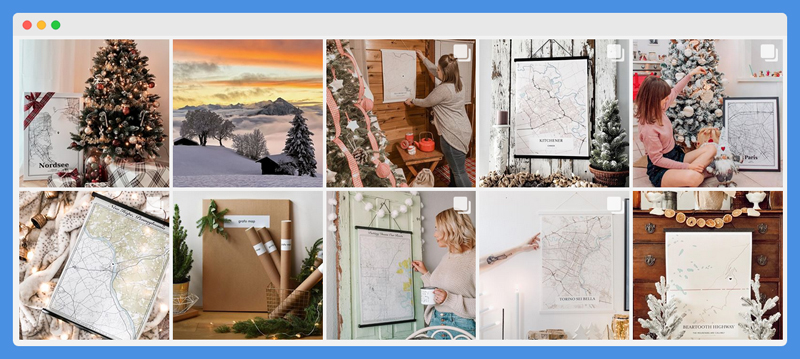 This POD Shopify store is created by Rihards Piks, who knows a lot about mapping out new ideas to realize goals using maps.
He worked with Karlis, Janis, and Rudolfs, who are the lead programmer, designer and second programmer respectively.
The idea began with an alfa product, and then Piks started following ecommerce podcasts, which sparked the idea of creating his own ecommerce operation.
Initially, he didn't see the opportunity, but after learning about OpenStreetMap, he realized he could combine a POD service and create beautiful map posters for sale, and Grafomap was born.

Every slope has a story, that's what Sean Douglas, the creator of Circle Square Diamond believes. If you're a fan of skiing, you'll love his minimalist yet visually appealing designs.
Douglas started this POD Shopify store some years back while browsing Reddit, and noticed some people using trail maps as artwork for their homes.
He shared the idea with his aunt, who said she loves using such maps as wall art, but didn't like the raw look.
He then modernized and cleaned up the maps and gave her as a gift, which she loved and suggested he turns the idea into a business.
He created and sold them to some Reddit users, and an online store was birthed from 2013 to date.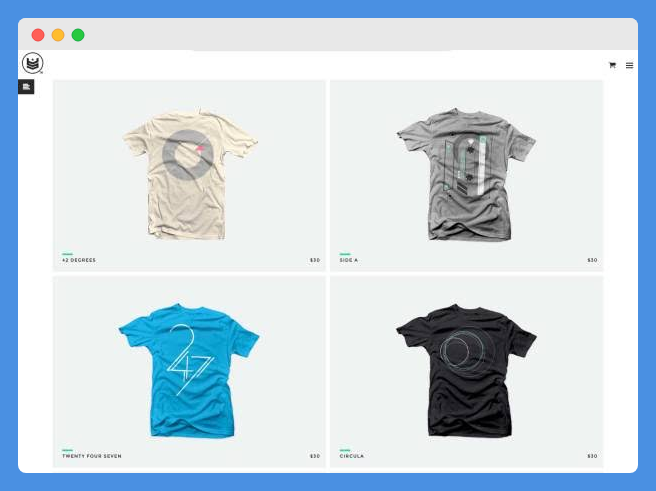 Launched in June 2014, this POD store deals in unique t-shirts with a design-centric approach.
He created the Shopify powered store from the owner Jeff's art, graphics and design, and branding passion, which gave him ideas about what he wanted in a clothing company.
However, much of what he wanted didn't exist so he decided to take the plunge.
The United Strands concept was birthed in late 2013, and it envisions creation of a unique brand that fuses modern, bold designs with creative but clear messages, in a bid to spread visual unity across the globe.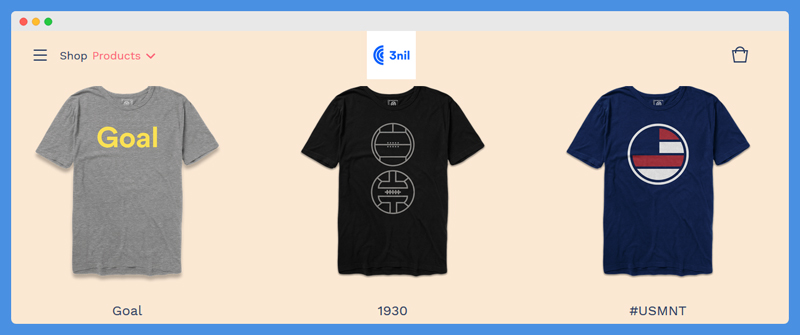 3Nil is a football club that creates apparel representing football culture. The store runs on Shopify and seeks to offer shirts that people across the world will love.
The line of apparel and gear revolves around football or soccer culture, and has a global squad of fans, and thousands of crews, shirts, hats, hoodies, posters, and wallets sold in more than 45 countries.
The founder, Dan Gribbon, a designer, uses his skill and passion to design unique apparel, and chose Shopify to gain exposure and make more sales globally.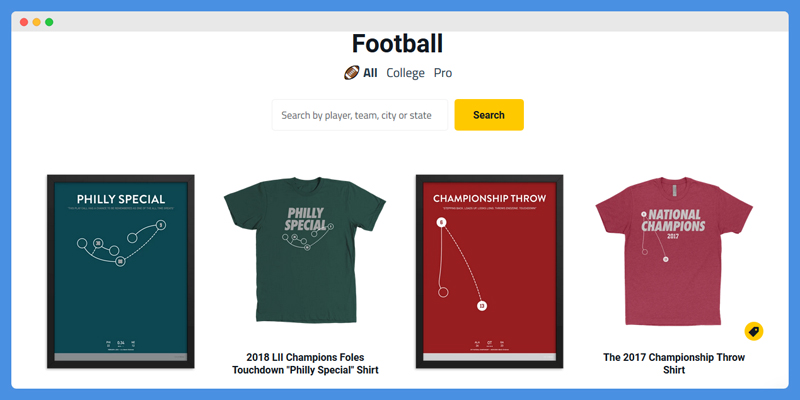 Hunter Mize runs this Shopify POD store that produces classic sports plays on posters and t-shirts.
The profitable store was born from Mize's sports history interests, based on the details of plays or moments, how they happen, and who makes the plays.
Sports fans create memories from such moments, which turn to emotional feelings, and they get to relive the moment through the store's shirts and prints.
The store runs on Shopify thanks to its clean and easy interface and order fulfillment process, with endless options for updates and apps.
Interesting Post: Printful Vs Print Aura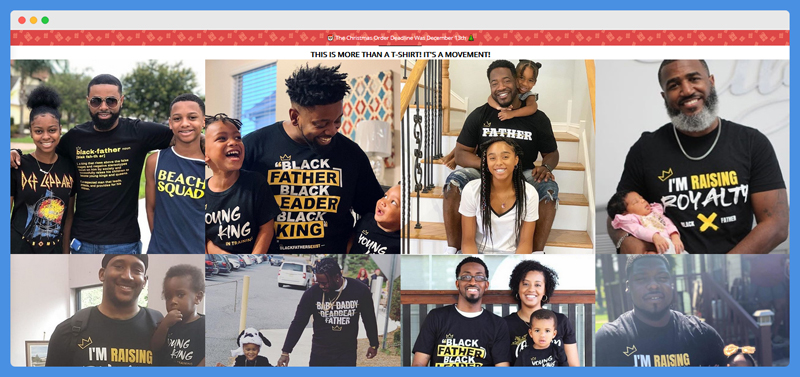 Charles Smith started this store a few years ago as a young father living in Atlanta, Georgia. He left his plum job in pursuit of happiness, after being frustrated by the daily routine of work, and wanting something more fulfilling.
Smith discovered POD business, found a niche, and began his brand, which resonates with fatherhood.
Today, his store is one of the best performing Shopify POD stores, which he says fits perfectly with his ability to create designs that are printed on products that people love.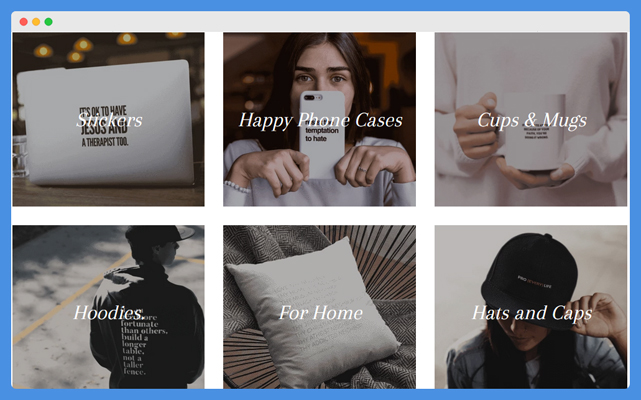 This Shopify POD store is run by Pastor Carlos Rodriguez, its founder, who profits from growing revenues and a community-backed thriving brand.
Rodriguez' store's story started with disappointing moments as most of the ideas he believed would work flopped, and sales weren't growing, but he pressed on.
The Happy Givers' mission isn't just a profit-making venture, but also helps serve the poor by feeding and educating them, and transforming communities worldwide.
He managed to build a do-good ecommerce store when he joined forces with some talented experts and partners, who helped him build and grow an empire.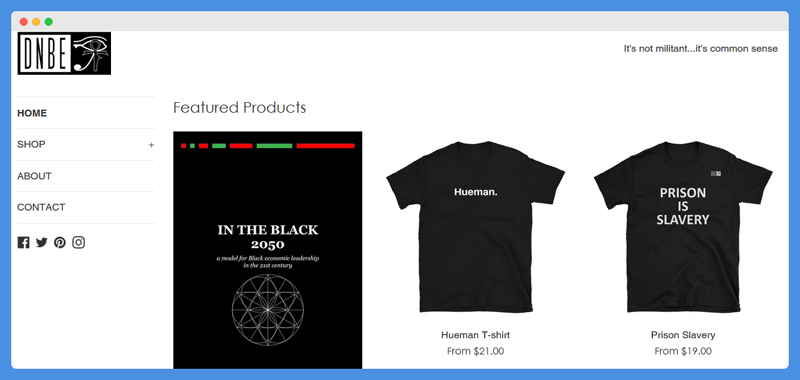 This is another cause-oriented POD Shopify store that aims to grow socially conscious people worldwide, while increasing its impact on the community.
It's aim is to represent the Black Empowerment movement through visual and audio, with more than 200 unique designs printed on products like tanks and t-shirts.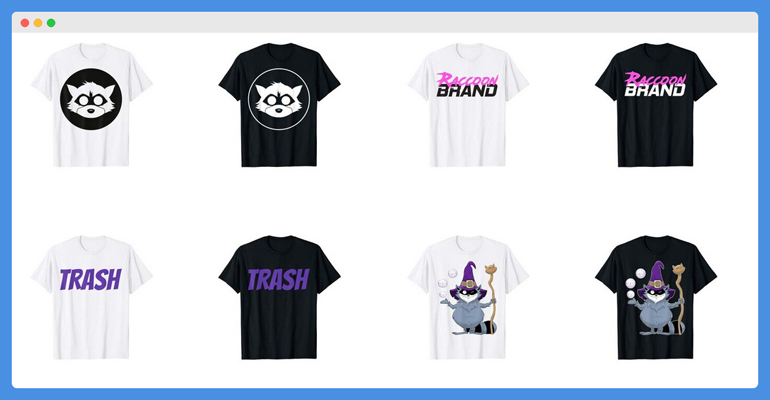 This clothing line has products such as tanks, t-shirts, hats, and sweatshirts, which primarily feature pro-marijuana and brand-based graphics.
Its focus is mischief and adventure, with several customer quotes describing them as young, creative, noon-follower and skaters.

This POD Shopify store comes with an app where writers easily create text-images, which in turn increases social media visibility.
Its idea is built on words and people who create them, plus, the shop has text-based designs, custom products and pre-designed themes.
Interesting Comparison: Printify Vs Teespring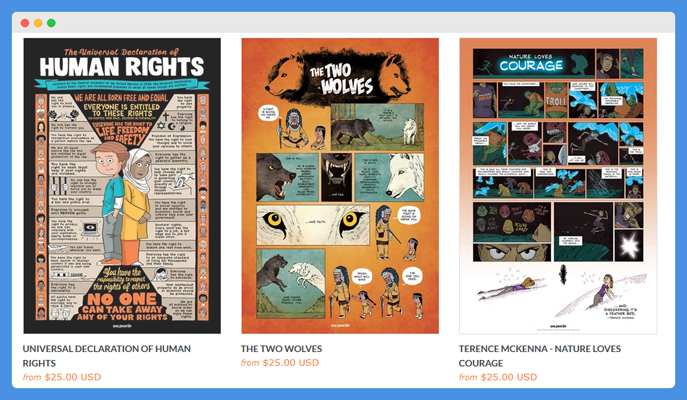 Gavin Aung Than, a cartoon blog artist from Australia started this POD Shopify store, adapting famous quotes and joining them to his artwork.
The store sells products such as posters, mugs, t-shirts and more which have select scenes, comics and characters printed on them.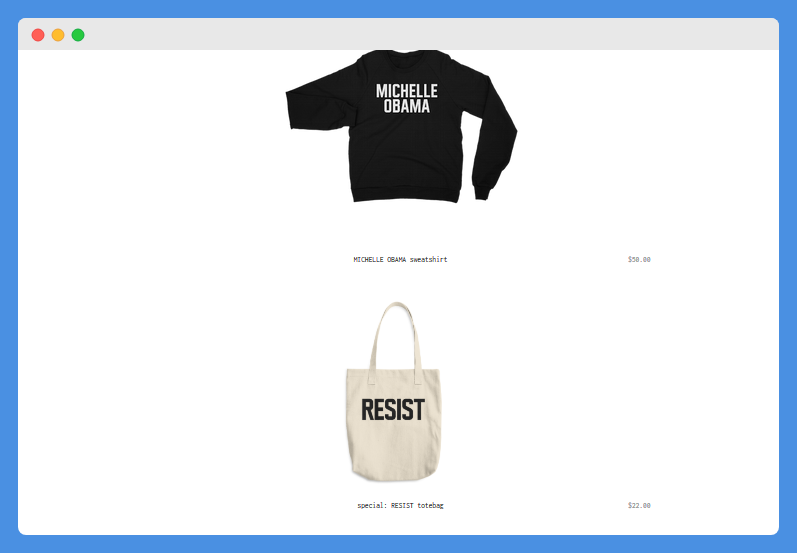 This store seeks to celebrate progressive women who are also game changers, and donates proceeds of sales from their text-adorned sweatshirts and tote bags to a non-profit that supports women.

This is a beautiful POD store whose t-shirts, posters, coffee mugs and other products designs are created from original Moto themes, and feature vehicles like planes, helicopters, motorcycles, jeeps, and sailboards among others.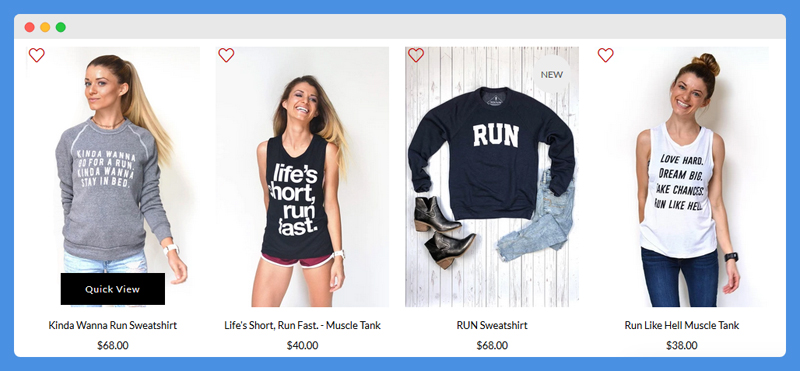 This store is designed by a company with a strong social media following, who print inspirational designs on products such as performance wear, t-shirts and accessories among others.
The owner, Sarah FitzPatrick Clancy, combines her love of design and art, with running, her favorite hobby.
It's a woman-owned lifestyle brand of clever yet fun apparel and accessories focusing on fitness, running, girl power and inclusivity.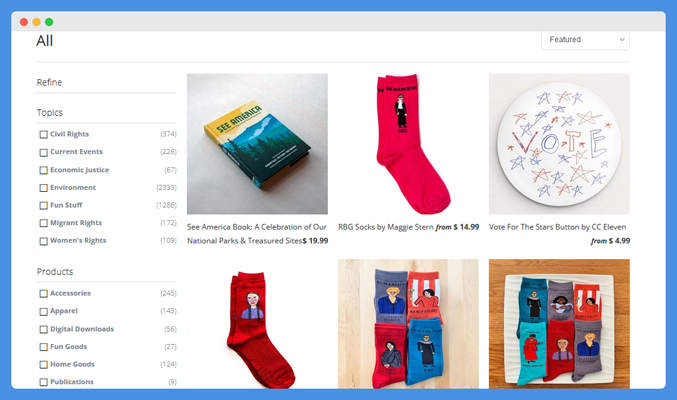 This brand is more of a community of advocates and artists, running crowdsourced campaigns around different causes.
The designs are printed on a variety of POD products including home goods, posters and apparel, which are sold via the site, or other retailers. The proceeds of the sales go towards the causes and the artists.
Also Explore: Best Shopify Print On Demand Apps
Tips For Print On Demand Store Owners
A POD service may be easier than a traditional brick-and-mortar store, but there are some things to consider that are unique to POD stores, which you need to know.
Order samples to ensure product quality
Quality assurance is important in a POD business, so ensure the service you use to sell online offers samples you can look at.
This way, you know that the product will look and feel the way you intended it to, and avoid things getting lost in translation from on-screen designs to the printed final products.
They're also good to have for your website and social media pages.
Strategic shipping
Although you won't ship the items yourself, it still comes with complexities in the form of costs and shipping times, plus you have to set customer expectations.
Be sure of printing times depending on the product, and be upfront about it otherwise your mailbox will be packed with queries from customers.
Have an FAQ page that manages such queries and outlines to customers what to expect.
Create product mockups
These are effective on your product pages, and you can get them with a POD service or app, which usually have mockup generators.
They also help customers know what to choose as they get to see what to expect.
You can use models to take compelling product photos, but mockups are effective and can stay on as prominent parts of your store's product pages.
There are also plenty of free mockup templates you can use to bring life to your products, creating either photo or video mockups, or just use Illustrator or Photoshop and other editing tools if you can.
Market to a specific niche
Marketing goes along with business success.
If you target everybody, you're not marketing to anyone as such, so focus on a particular market and niche so you can create on-demand products, minimize costs and maximize your profits.
You can also build your own audience through marketing, and ultimately create a permanent asset for your store, whether or not the products you sell change.
For this, you can use an Instagram account where you create and curate content, run Facebook ads that target your audience's interests, use influencers to help you make sales, and collect visitors' emails so you can market to them for free every time.
Final Thoughts
Shopify stores may look almost similar to each other, especially if owners don't know about the customization options they can use.
However, with the right tweaks, you can negate the rigid, massive headers and clunky menus to create a beautiful, stunning store for your POD business.
These 25 POD Shopify store examples should give you some inspiration to setup your own store, and with a little work, you can start reaping the benefits the platform has to offer.