Forget what the skeptics are saying; email marketing is still in play.
Statistics show that over 102 trillion emails are sent out every day worldwide; a figure which is expected to surpass the 126 trillion mark by 2022.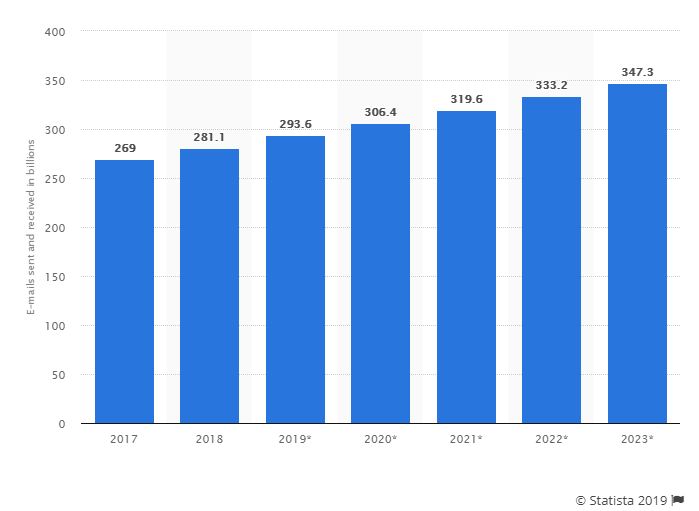 According to Optinmonster, more than 5 in every 10 people will check their emails first before doing anything else online.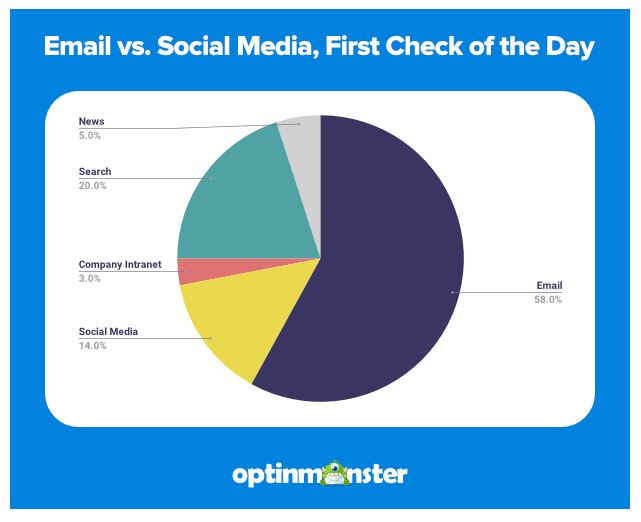 Email marketing is how you turn your online craft into a business, whether you are a blogger, YouTuber or you run an ecommerce store, and it is one of those details that a lot of newbies deem difficult and run away from.
A lot of people just want to create their content and be anonymous, and that's fine, but if you want to make it big time online, you really should learn to be flexible and create different kinds of content, including emails.
With email marketing, you have a lot of options with different companies ranging from Aweber, MailChimp, ConvertKit, etc.
In this article, we will be looking at two of the most affordable solutions for most people, especially newbies. We are referring to MailerLite vs Brevo (formerly Sendinblue).
We will take a look at their different plans, features, and how they work to help you make a purchase decision.
Let's dive right in.
Related : Best Autoresponders & Email Softwares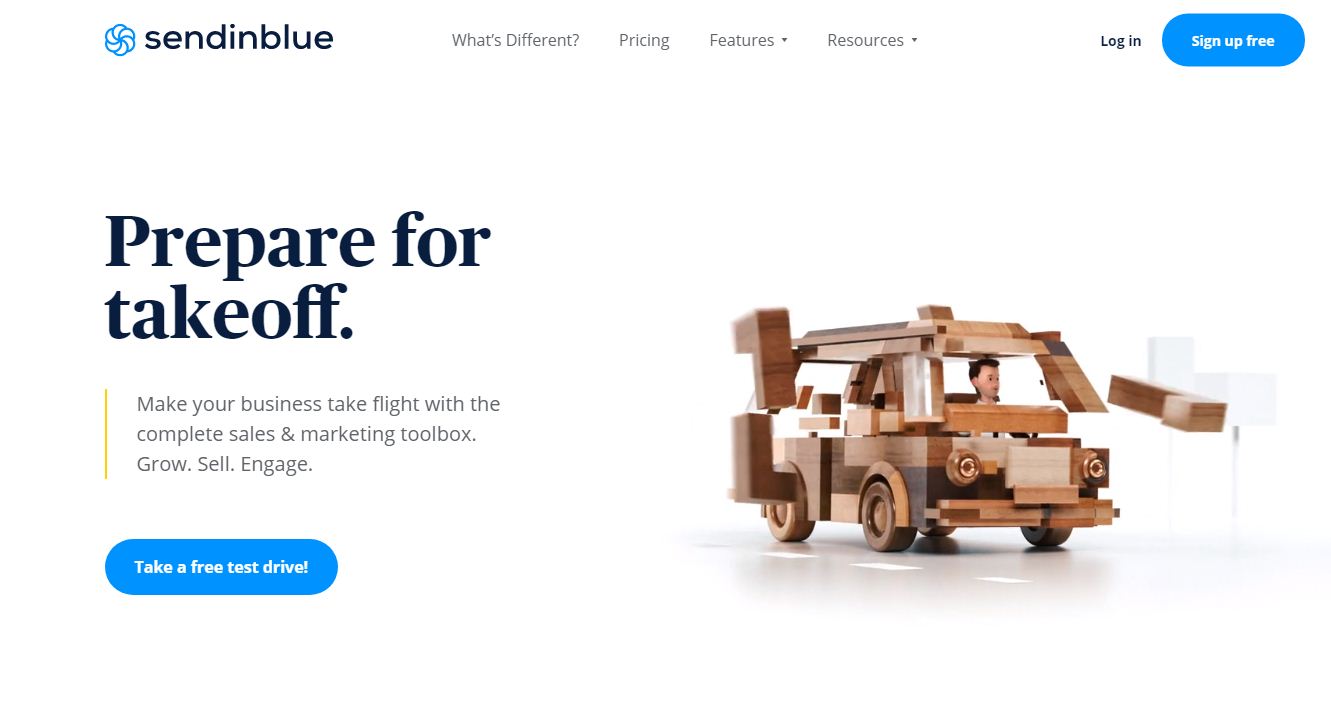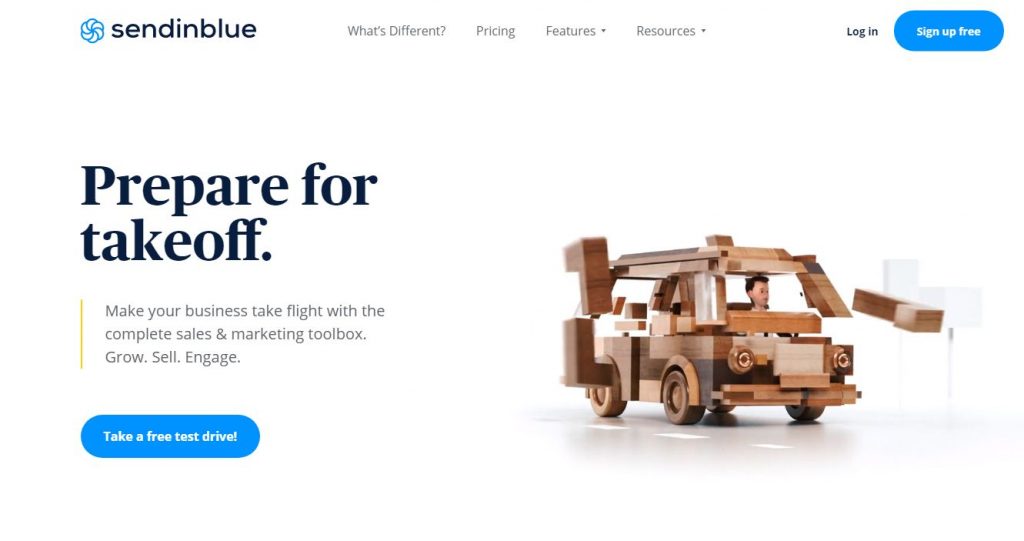 We'll begin with Sendinblue in our Sendinblue vs Mailerlite contest.
Apart from being one of the most affordable service providers, Sendinblue is one of the most unique platforms in the market based on the fact that all their plans allow you to send emails per day, whereas other providers calculate based on list size.
One very impressive feature of Sendinblue is their customer support; they respond to emails very quickly. They usually respond to queries within 12 hours, which is quite impressive.
Email campaigns are quite easy with Sendinblue. They have templates to ease up the entire process.
The drag and drop editor is intuitive, so it allows you to quickly adjust the elements within the email template. You can delete any element you don't want and move a new one from the sidebar to any position in your canvas.
Read : Complete Sendinblue Review
How To Create A Campaign In Sendinblue
To create a campaign in Sendinblue is simple.
If you are new to the platform, first sign up for free on the website without entering any of your billing information.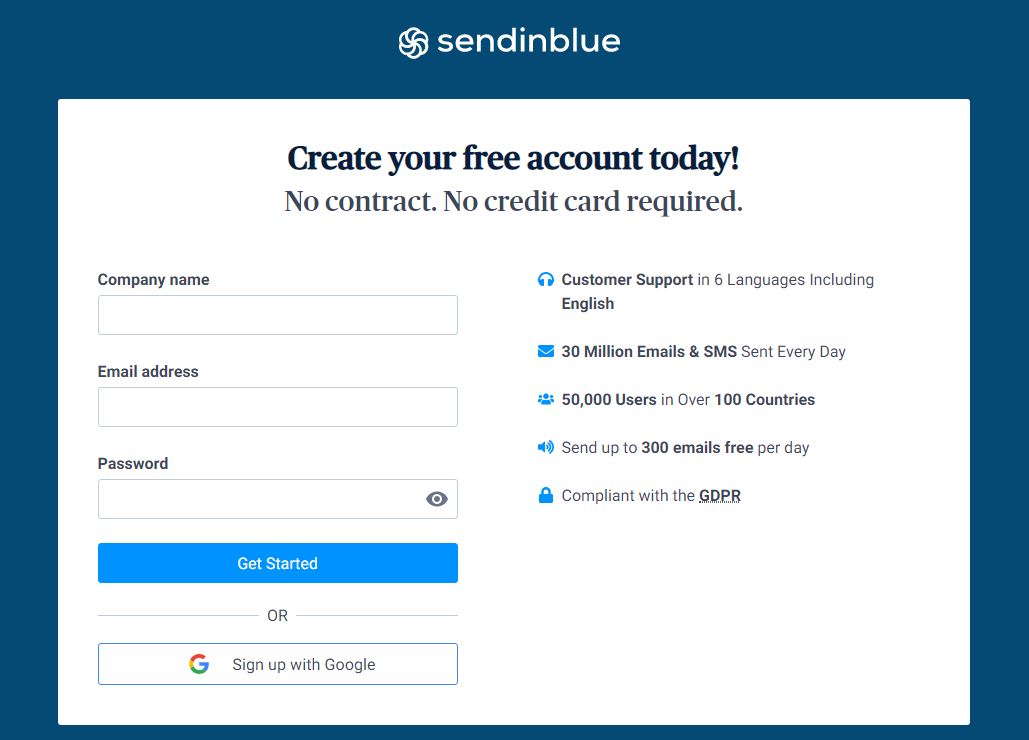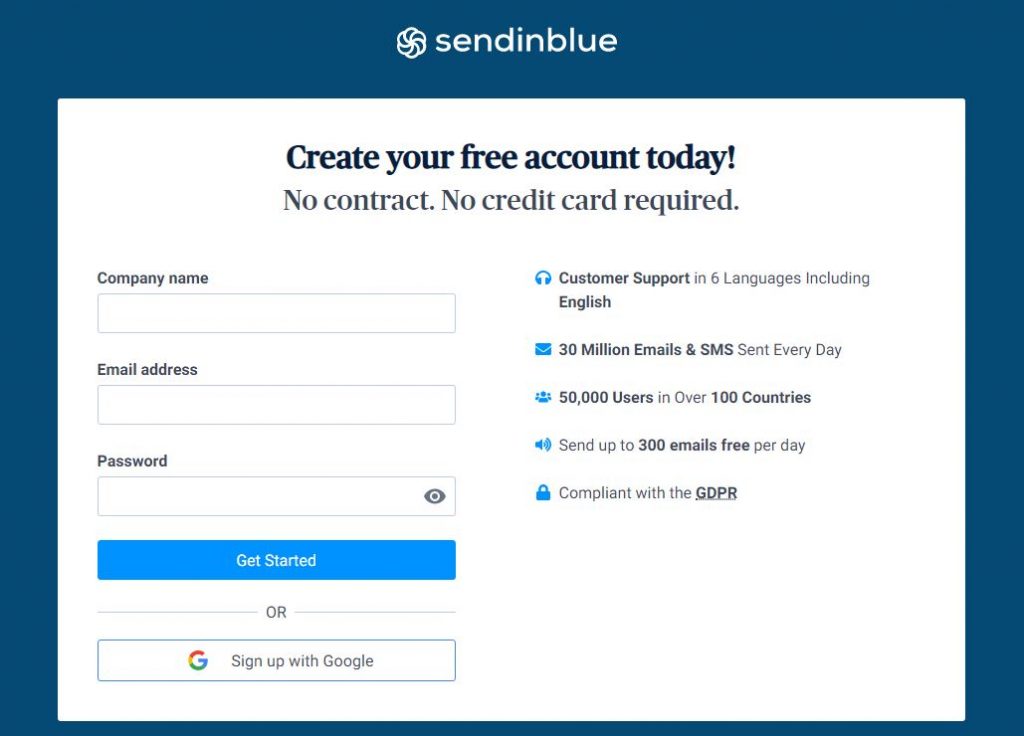 Once you have successfully signed up, you can create a new campaign from the campaign shortcut on your dashboard or from the top menu on your dashboard.
The next page will show you a new page where you will be required to fill in your account details like campaign name, subject line, and sender's email.
If you want a more personalized option for elements like the header and footer, you can enable the advanced option. These settings are critical parts of your campaign and the framework to its success, so be sure to review them carefully.
The next step is selecting an email design tool. For this, there are two options: The responsive design-builder and HTML/simple text editor.
If you can find your way around codes, and you have already written your HTML content, choose the HTML campaign option and paste it into the HTML editor.
It is important to pay attention to responsive designs as most of your users will come from mobile devices. Responsive designs will easily adapt to your screen size.
The best part about this option is that you don't need any coding knowledge before you can operate the backend of your designs. You only have to drag and drop to customize throughout the designing process.
If you don't want to build your email designs from scratch, you can choose a ready-made template from the Sendinblue free design library and then customize the design blocks with your content.
It will take only a few minutes to design your choice message and you can send it over to your email to preview it once you are done.
Move on to the next steps. Select your contact list and schedule your campaign by selecting a sending date and time and you are set.
Sendinblue did not originally start as a full email marketing service platform; it worked as a transactional email service, so users could only use it to send transactional emails such as an order confirmation after a sale had been made.
However, Sendinblue is now used to send out email marketing campaigns. Now you have the option of marketing, transactions, and automation.
Interesting Comparison : MailChimp vs Sendinblue vs Mailjet
Our Pick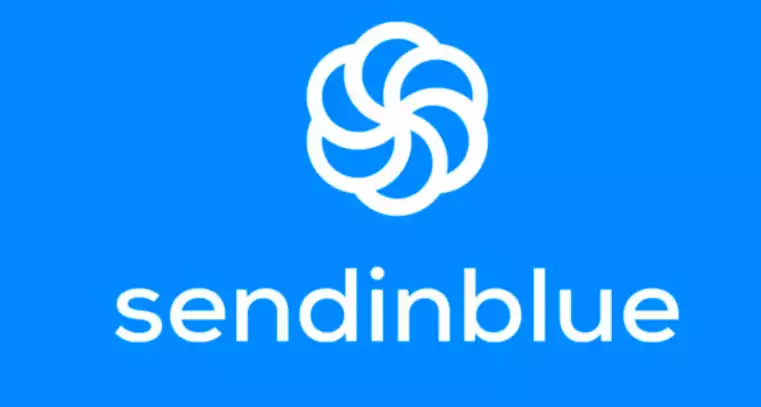 We earn a commission when you click this link and make a purchase.
Sendinblue Features
Let's take a deeper dive into its best features.
Sendinblue Email Designer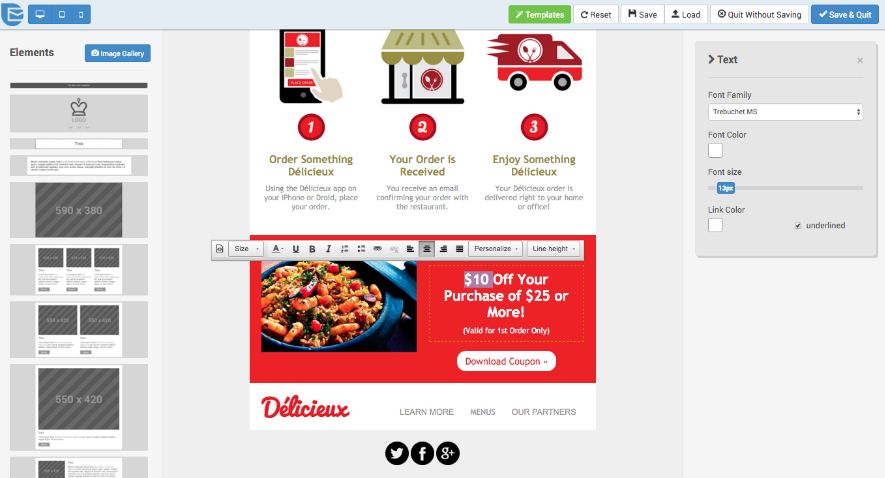 You might not notice this from a reader's POV, but the structure and design of an email play a huge role in determining if your email will be read or not.
With some other design platforms, you might be required to hire a programmer or someone with an eye for good designs to set this up for you.
Be that as it may, Sendinblue has you covered on all bases.
If you don't know coding or where to start from in your designs, Sendinblue houses more than 200 responsive templates that you can choose from which you can use to quickly build your emails.
If you'd prefer to build your blocks yourself, you use the drag and drop design editor. You can also opt to upload your designs and templates and you will be good to go.
While Sendinblue's email designer may not be as good as the big players like MailChimp, it can do the work alright.
Sendinblue Contact Management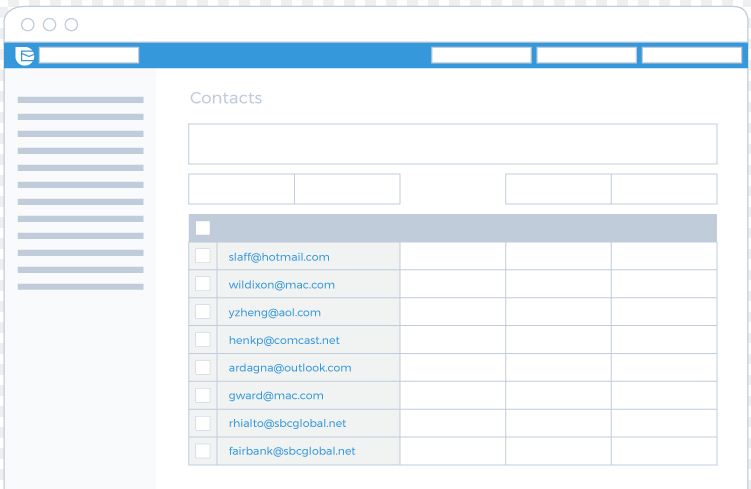 Your email list means everything to your business.
The great thing about using Sendinblue is that it allows you full access to your contact management feature regardless of the plan you are subscribed to, so even if you have opted for the free plan you will still be able to access this option.
Sendinblue allows you to send for contacts and contact lists on its menu bar, place them in different categories and segments, and even create new lists.
Our Pick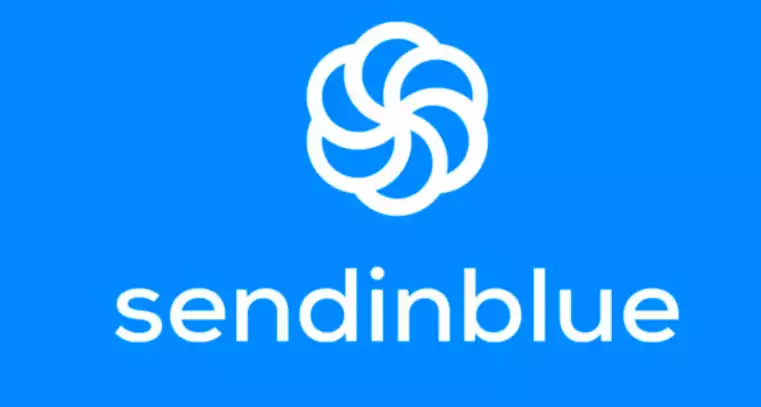 We earn a commission when you click this link and make a purchase.
Your new lists will automatically update themselves based on the factors that you have chosen.
The automation feature is also available to all users regardless of their plan. When you combine both this feature and the contact management feature, you can select a small crowd from your pool of subscribers and send them personalized messages.
Sendinblue Campaign Reports

Sendinblue is known for giving access to a lot of its features regardless of the plan their users are on, but its campaign report is one of the features where it draws the line.
You still get access to some of its campaign report features with its free and lite plans, but it limits you to its basic, real-time reporting tools.
To get access to some of its more advanced features such as Heatmaps, geography reporting features, and its open and click option, you will need to be enrolled in any of its essential, premium, and enterprise plans.
You can get away with the free or lite plans if you have additional email marketing software like ActiveCampaign, if not, you may want to invest in the more premium plans.
The open and click report lets you know just how captivating your headlines are and the Heatmaps will give you a better understanding of your campaign's performance.
Explore : MailChimp vs PhpList vs Sendinblue
Sendinblue Marketing Automation

Marketing automation is another area where Sendinblue offers open access across all its plans, free and paid, but just as in the campaign report, the Free, Lite, and Premium plans are limited to using this feature for not more than 2000 subscribers.
If you don't have that many subscribers, then it shouldn't be an issue for you. Once you have crossed the 2000 threshold, you should be able to have made enough money to upgrade to a higher plan.
Our Pick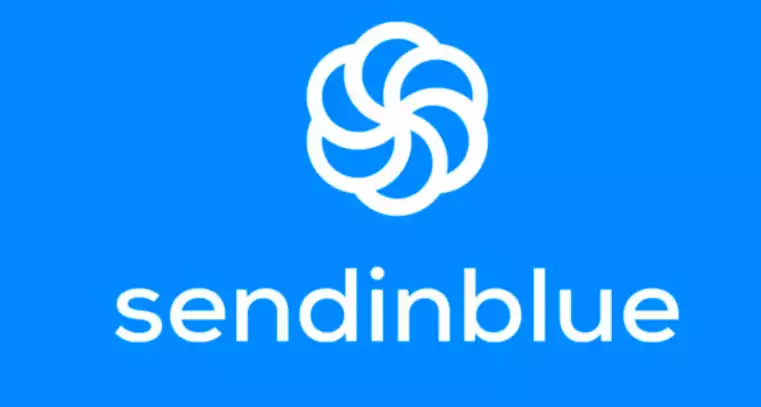 We earn a commission when you click this link and make a purchase.
And whereas MailChimp has a lot of dibs over Sendinblue, the latter allows for a more extensive response depending on the corresponding event.
You can use any of its premade automation templates or draw up your schedule. For example, you may offer first-time buyers a discount code to prompt them to continue purchasing and set repeat buyers to receive a thank-you message after any purchase.
Sendinblue has a lot of other features that have made it popular over the years, but without this marketing automation feature, it will be difficult to encourage anyone to spend a dime on it over other platforms in the market.
Sendinblue Transactional Message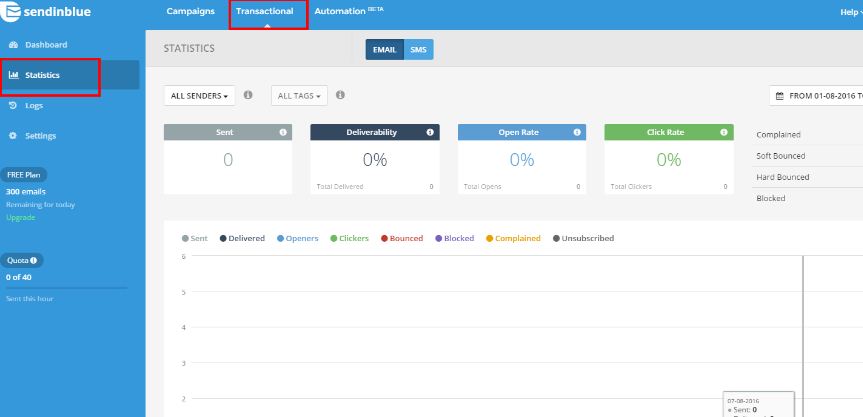 Transactional messages make up a big part of your email campaign if you run a business that sends out confirmation messages, payment receipts, and other transactional emails to your buyers and subscribers.
If not for other things, you will want to give Sendinblue a chance because its transactional message feature is the bomb.
A lot of marketers do not pay enough attention to transactional messages, but Sendinblue makes up for these marketers negligence by providing insights, templates, and delivery features for this purpose.
With this, you will be able to set transactional messages to be delivered after several different actions have been triggered, so if your customer signs up, signs in, make a purchase, or unsubscribes, they will receive an automated message.
On your part as the marketer, Sendinblue will send you a detailed report of your message performance, like the number of people that have received it in their inboxes, the number of people that provided a wrong email, and how many of the messages were opened.
You can hardly find this complete feature in any other email marketing platform, which is where Sendinblue stands out from the crowd.
Sendinblue Deliverability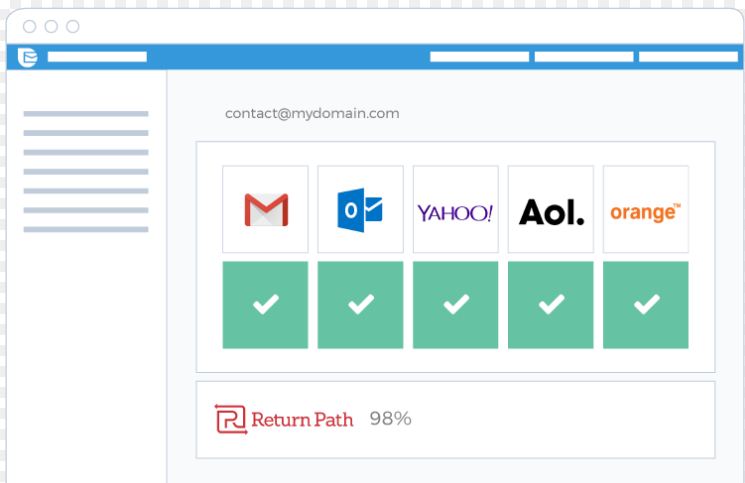 When it comes to email marketing, nothing sucks more than spending an awful lot of time in designing and optimizing an email only to have it get to less than half of the contacts you intended for it to reach.
It is one thing to send your messages to the right email and it is another thing for it to avoid the spam folder and get to your subscriber's inbox.
Sendinblue knows this, which is why they optimized their platform to minimize this type of occurrence.
Some situations that will result in this irregularity include: when a subscriber requests to opt-out of receiving your messages, when you send to a lot of invalid emails, when your email address has been marked as a spam email, etc.
To rectify this, Sendinblue's system is built to automatically blacklist invalid emails to stop you from sending further messages to them.
If you want, you can set your messages to be sent to only those who have opened previous messages within the last 6 to 12 months.
Also Read : Sendinblue vs Constant Contact
Sendinblue Pricing
Sendinblue offers some of the best packages you can get from any email marketing software.
For starters, its free plan is good enough to set you up until your business has become profitable enough to afford an upgrade, but it has a daily sending limit.
While the lite version is an upgrade from the free one, your customers still see the Sendinblue watermark at the bottom of your messages. To change that, you will have to opt for any of the premium, or enterprise plans.
The Lite plan is priced at $25/month and Premium at $65 a month. For Enterprise plan, you need to contact them for a quote.
Our Pick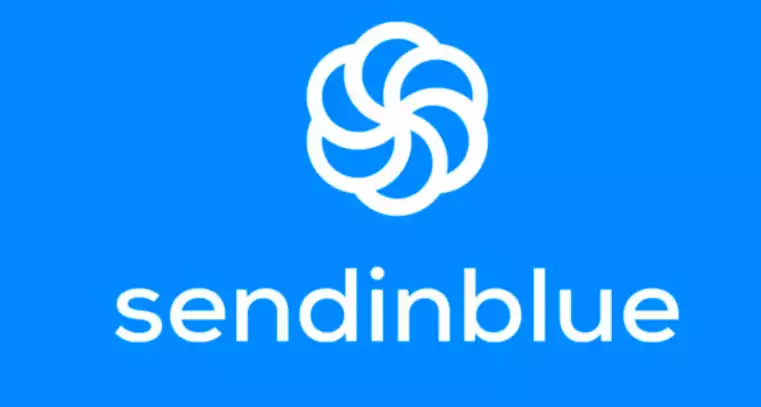 We earn a commission when you click this link and make a purchase.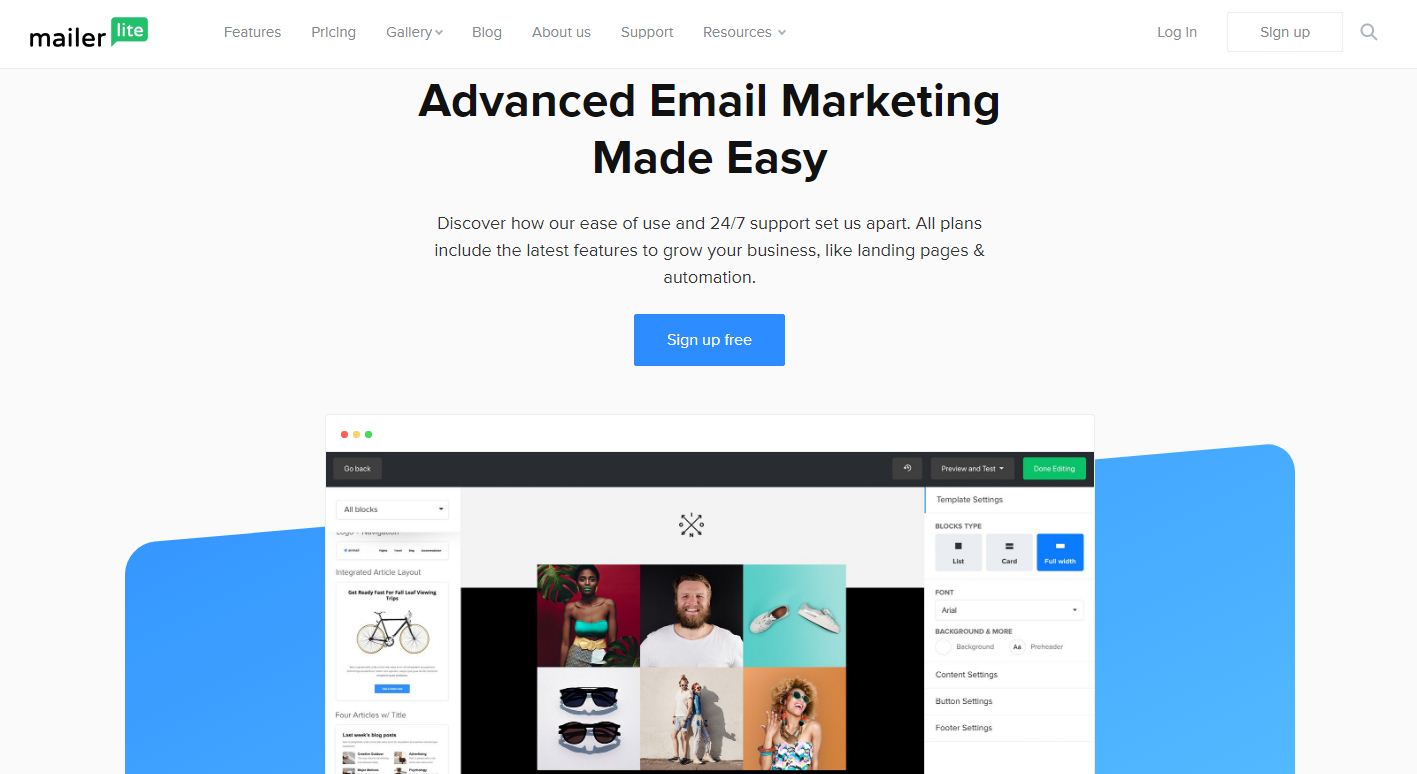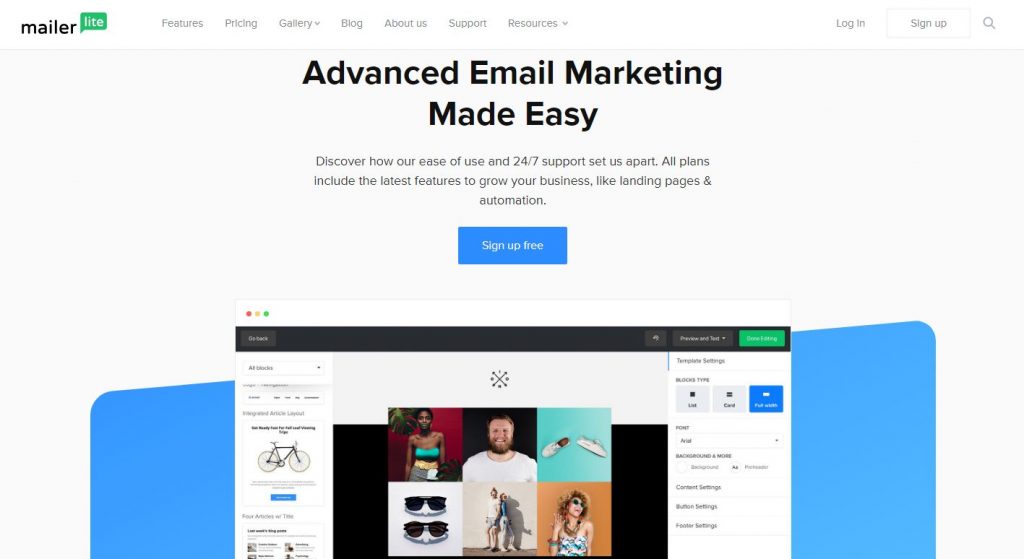 It's time to look at MailerLite in our MailerLite vs Sendinblue review.
If you'd rather send emails every week, then opting for MailerLite will be a cheaper option for you in the long run since it allows you to send unlimited emails per month.
The only limitations are the size of subscribers that your plan lets you send emails to, so if you pay $10 per month, you can send unlimited emails to up to 1000 people in your mailing list with all the features that MailerLite provides.
Just like Sendinblue, MailerLite is an apt alternative if you don't want to use a more advanced tool like ConvertKit.
While I'm not taking anything away from ConvertKit, if you are not creating a digital product or funnels, ConvertKit is simply overkill for your business.
One of the best parts about Sendinblue is its pricing plan.
The free plan allows you to send over 300 emails a day, so it means that if you have 300 subscribers on your email list, you can send them an email every single day.
Its cheapest plan lets you send up to 40,000 emails in a month, which means you can send 10,000 people one email every week for a meagre sum.
Worth Reading : MailChimp Review
How To Create A Campaign In MailerLite
First, sign up for free and login.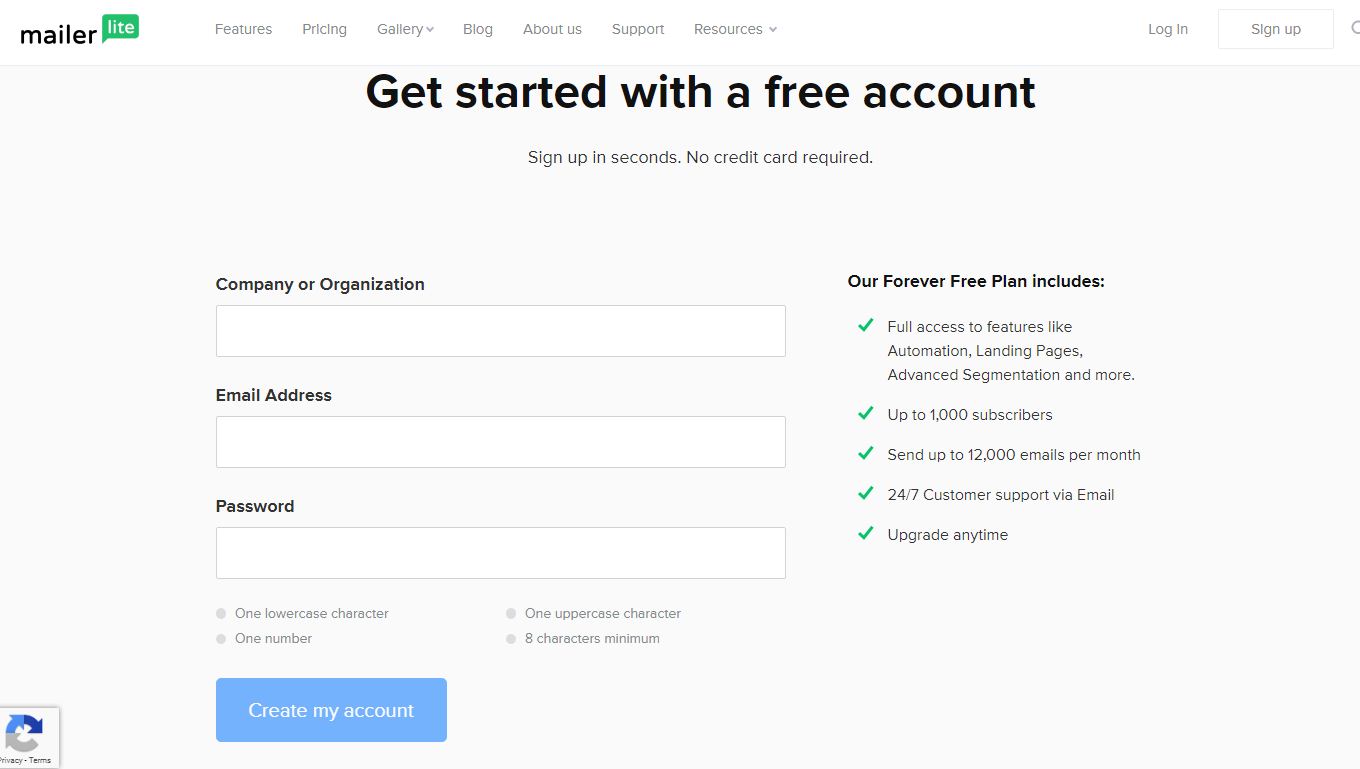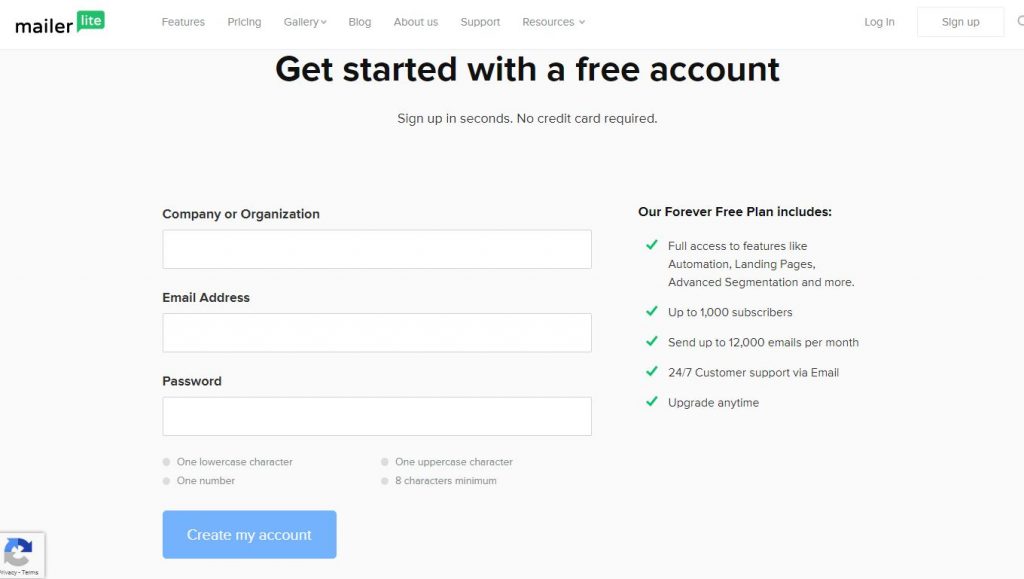 Go to the campaign tab on the top menu toolbar and click on it. You will create a new campaign on the next page.
From the create campaign button, you have a dropdown of regular campaign, A/B Split campaign, auto resend campaign, and RSS campaign.
Once you have chosen what type of campaign to create, you will be prompted to fill in the details of your campaign before you can proceed to design it.
The next page is where you will work on your actual content. MailerLite provides you with a drag and drop editor, an HTML editor and a rich text editor for simple text emails.
If you choose the drag and drop editor, you can decide how your email will be sent. You can drag any element from the sidebar and place it on your design canvas.
After you are done with your designs, go to the next screen to select the subscriber group that you want your email to be sent to.
You can send a test email to your email address to preview what the email looks like before you blast it out to your subscribers.
Once you are okay with your email, hit the send button.
When it comes to what these two email service apps provide, MailerLite is the clear winner.
You get a lot of features, even in its $10 plan. It gives you campaigns, automation, and a subscriber's form, so you can create pop-up offers, landing pages, embedded forms, and promotions.
Even if you don't have a website, you can still comfortably use MailerLite for your campaigns. For example, if you are a YouTuber, you can simply create a landing page to start collecting emails.
You can choose a template, add and adjust the elements to your taste, and put the link in the description of your YouTube channel and videos.
Explore : Constant Contact vs MailChimp
MailerLite Features
MailerLite offers a number of useful features. Let's take a look. 
MailerLite Automation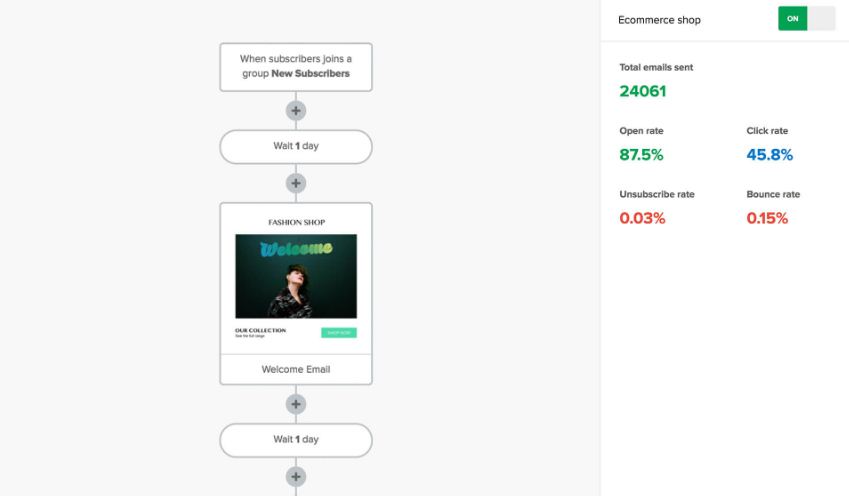 MailerLite offers some of the best automation tools across all its plans, including the free one.
One such automation tool is the RSS automation. MailerLite uses RSS feeds to send a push notification to your subscribers anytime you publish a new post.
You can set the frequency at which these messages get sent to your subscribers.
Another amazing automation feature that comes with this platform is the campaign trigger autoresponder. This one works by triggering an action or a sequence whenever your subscribers act on a CTA.
This is extremely helpful as it saves you the time and stress of sending multiple campaign messages anytime your users act on your page. It will keep your users occupied while optimizing your campaign reach in the process.
MailerLite Drag & Drop Builder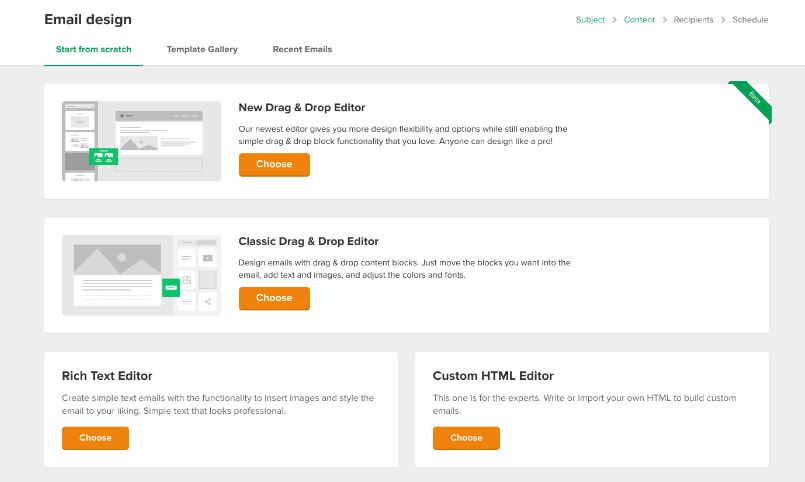 If you have never written a line of code before or know how to use a design application, then using an email service platform that does not have a drag and drop editor will create a lot of problems for you.
MailerLite helps you here as its drag and drop editor does not require that you have any programming or design knowledge. If you can use the basic features of Microsoft Word, then you are good to go.
However, if you trust your coding skills, then the HTML editor would thrive in your hands. You can paste your code directly in the box and it will run smoothly on the backend.
If you are looking for a quick method to create your designs, you can choose from several templates in MailerLite's library or import your design from the inbuilt gallery without leaving the page.
Also Read : Best MailChimp Alternatives
Collaboration & Team Management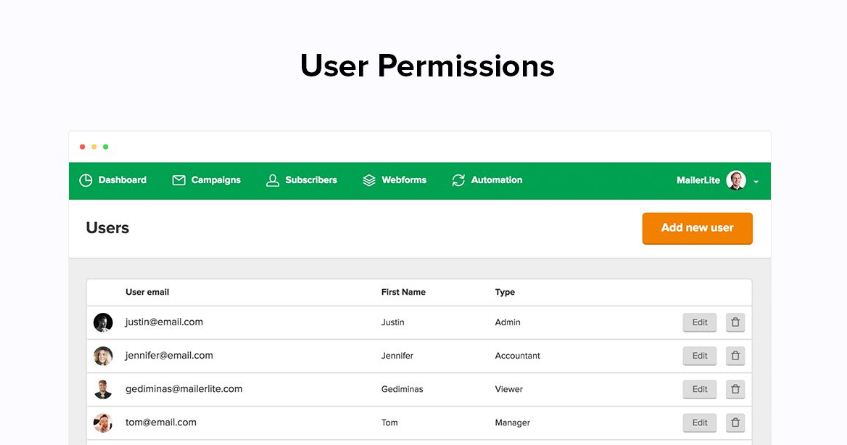 It is not everywhere that you get a platform that will allow you to collaborate with temporary or permanent team members, but MailerLite lets you.
With MailerLite, you can designate different roles and set their permissions for a different member of your team to smoothly collaborate and monitor their progress right from one place.
The permission option works by granting a different level of access to different people so that one member of your team cannot overstep their bounds and influence what they shouldn't be able to influence.
As the head of the team, you have access to unlimited resources and can set milestones on tasks.
Explore : Best ActiveCampaign Alternatives
MailerLite A/B Split Testing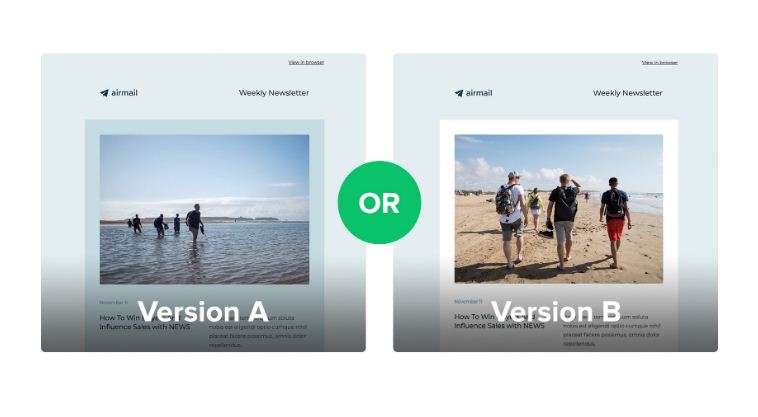 If you run an online business, it is always advisable to run multiple campaigns so that you can check which elements and pages work out best and double down on them.
MailerLite offers this option so when you send out your emails you can test the formats, headlines, word counts, and other elements to inform your choices going forward.
Once you have received the reports on your tests, you can analyze them to see which element combination work out best for you before you send out your next batch of email.
The thing about split testing though is that there's never a perfect design, so even if you feel that you have gotten the email that gets the right amount of response, it wouldn't hurt to test it out a new method on occasion.
Interesting Post : Best GetResponse Alternatives
MailerLite Pricing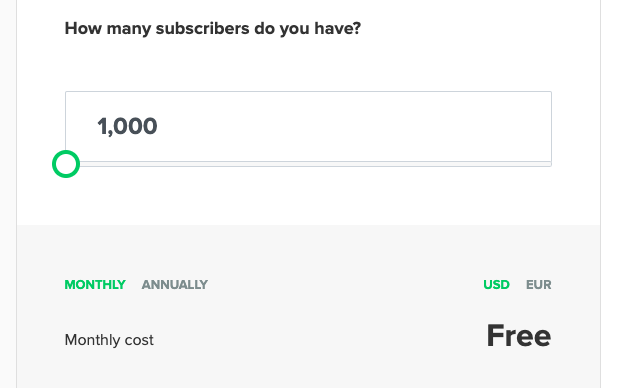 MailerLite pricing is one of the best in the industry.
It has a free plan that supports up to 1000 subscribers and lets you send out unlimited emails each month.
The biggest plan on its price list supports up to 650,000, but you may contact their support team if you require more slots.
Conclusion – Sendinblue vs MailerLite
Overall, these two platforms are good to get any marketer set up.
However, from a user experience point of view, I'd highly recommend MailerLite because it's quicker and more intuitive to use, but Sendinblue has an amazing pricing structure so if you can overlook the few roadblocks in its onboarding process, then you are good to go.
Before you settle for one, make sure to try out both of them, then make your choice.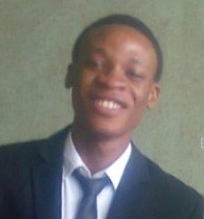 Author: Efose Ikhalo
Efose says he is a polymath, which reflects in his work. He excels at inbound marketing, tech, and business. He has a rich experience of working with renowned digital marketing agencies in the past. Often writes for top blogs.