Companies are constantly on the lookout for ways to improve their brand awareness. Email marketing software systems are a pivotal tool for accomplishing this goal.
Platforms like ActiveCampaign allow companies to tap existing and potential clients by way of automating the creation and sending of newsletters, ads, new sales, and other promotional materials.
It's also a way for businesses to stay connected with their clients and stay top of mind with their customers.
Generally speaking, email marketing software allows users to share any content they create with subscribers by automating the sending of emails.
These rely on a company's specific branding and calls-to-action to drive sales, but may also allow users to target a specific set of clients for especially high conversion rates.
These marketing platforms then allow users to create and track various analytics to help them gauge which tactics are working best and which factors saw the highest results.
Today, nearly 3.9 billion users use email. The number will continue to grow in the coming years.
So it should be no wonder that companies are increasingly aware of the importance of email marketing.
This is the market in which companies like ActiveCampaign have arisen.
User-friendly email marketing platforms that allows you to engage with clients through engaging email campaigns, but includes customizable automation functionalities surrounding client history, interests, and past behavior.
ActiveCampaign is a comprehensive marketing automation platform that has been widely embraced by small and large businesses alike.
Whether they're ecommerce stores, SaaS companies, marketing firms, bloggers, or anyone else interested in expanding their business, ActiveCampaign is a popular tool.
It offers a complete marketing suite, CRM, multichannel marketing, sales, and messaging platform, as well as advanced optimization tools.
Of course, ActiveCampaign isn't the right fit for everyone. Despite its popularity, it may not fit all your needs. Or it may just offer more features than are necessary for your business.
Whatever the reason, it's good to be aware of ActiveCampaign competitors and alternatives.
Today, we are going to touch base on the same. We'll discuss some of the best ActiveCampaign alternatives and competitors.
Related : Best Autoresponders & Email Softwares
Best Activecampaign Competitors & Alternatives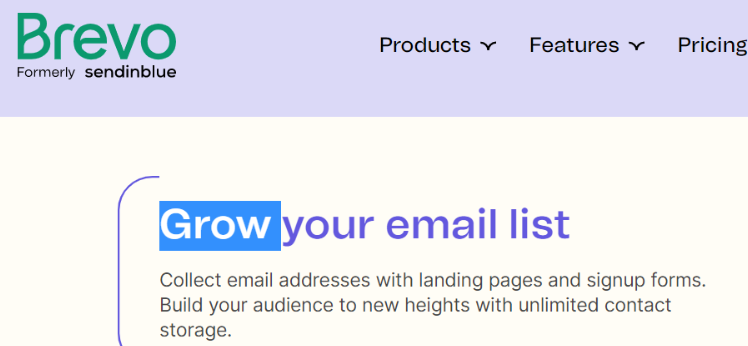 Brevo is one of the most popular alternatives to ActiveCampaign.
Thanks to its 200-plus responsive email templates accompanied by a free price tier and drag-and-drop email designer, many people have turned to Brevo to help automate their marketing campaigns.
Indeed, Brevo makes creating emails easy by allowing users to upload or customize templates or create their own layouts by dragging elements to where they're most effective.
Things like headers, text boxes, and logos can all be placed exactly where you want them.
Features
Brevo provides a dashboard where you can watch over all of your marketing campaigns like the consummate professional you are. From here, you can track things like opens, clicks, bounces, spam filters, and much more.
You are able to easily create personalized emails depending on your contact's details and preferences.
The preview function allows you to test and optimize your campaigns before giving it over to the unforgiving depths of email inboxes across the internet.
The advanced search and segmentation feature provides an opportunity to corral your contacts into useful marketing segments, allowing you to target specific types of audiences and ensure the right message makes it to their Unopened Messages folder.
Brevo also indulges the inner surveyor in all of us by allowing for the embedding of contact forms. With this feature, you can grow your audience and learn the specific details about their browsing habits and contact details that will allow you to connect to them on a personal level
Brevo Pricing
As mentioned above, Brevo is one of those email marketing software companies that provides a free plan.
Check out Brevo pricing plans here.
Brevo (formerly Sendinblue) | CRM Suite
Be it marketing, sales, or customer relations, Brevo is an all-in-one tool helping businesses to carry out everyday business functions with ease. Try it today!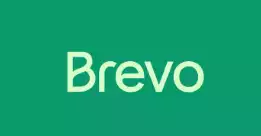 We earn a commission if you click this link and make a purchase at no additional cost to you.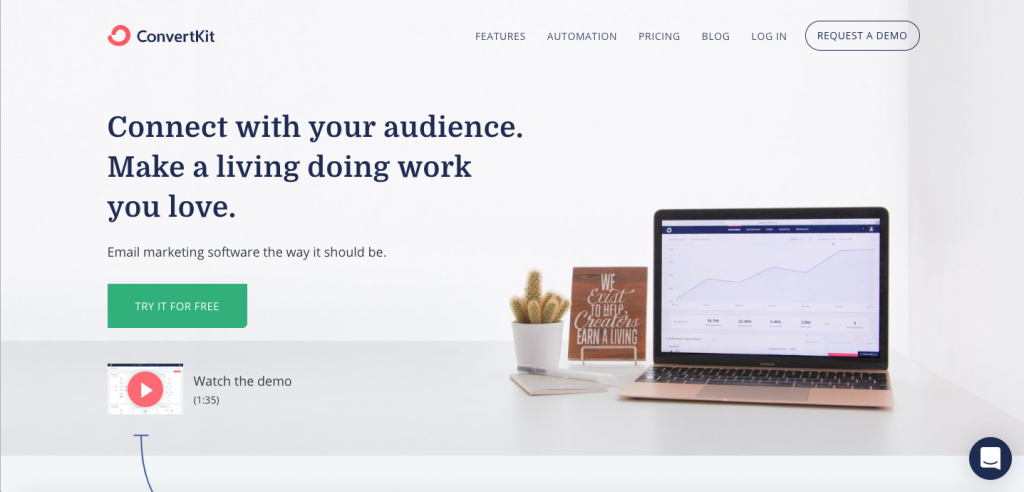 ConvertKit has emerged as a prominent ActiveCampaign alternative thanks in large part to its dexterity.
It has been embraced by small and mid-sized businesses as well as bloggers, ecommerce sites, affiliate marketers, SaaS providers, and many other business types.
ConvertKit provides the opportunity to tailor your forms to your own specifications and help convert measly website visitors into coveted content subscribers.
It is important to note that ConvertKit does not currently offer the ability to craft your own landing pages, instead relying on its cornerstone business as an email marketing tool. However, ActiveCampaign doesn't allow you to create landing pages either – so no harm there.
One of the reasons that ConvertKit has emerged as a perennial favorite of digital merchants is that the technology is based around a tag-based system.
This is generally seen as an effective way to create and manage databases of subscribers and to help run automations.
One of the key components of this system is that you can apply tags to subscribers based on how they behave.
So if someone clicks on a specific link in an email campaign, you can apply a certain tag to that person, allowing you to target them specifically later on or as part of a conglomerate of like-minded subscribers.
Features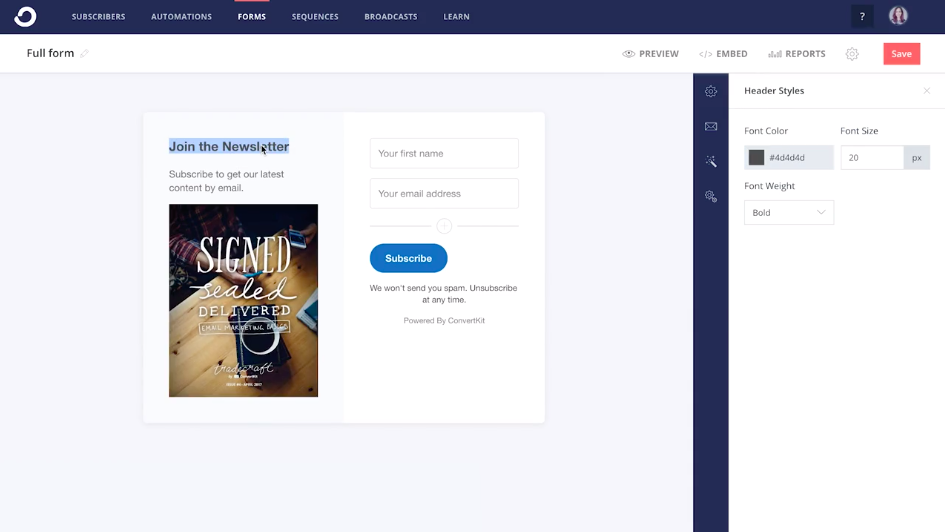 Some additional features of ConvertKit include:
A drag-and-drop interface that allows you to craft automated sequence emails. These can be bolstered with events, conditions, and various actions to further automate your campaigns.
IFTTT Support. IFTTT stands for "If this, then that." It's a web-based service used to create chains of simple conditional statements known as applets.
These applets are triggered by changes that happen within different web services like Pinterest, Instagram, Facebook, or Gmail.
Third-party Integration. ConvertKit allows users to integrate with more than 40 third-party tools with a simple API.
In general, features like these cement the idea that ConvertKit is ideal for beginner marketers.
It does away with many of the superfluous features that may scare away novice users from tools like ActiveCampaign and creates a sleek, usable interface that anyone can enjoy.
ConvertKit Pricing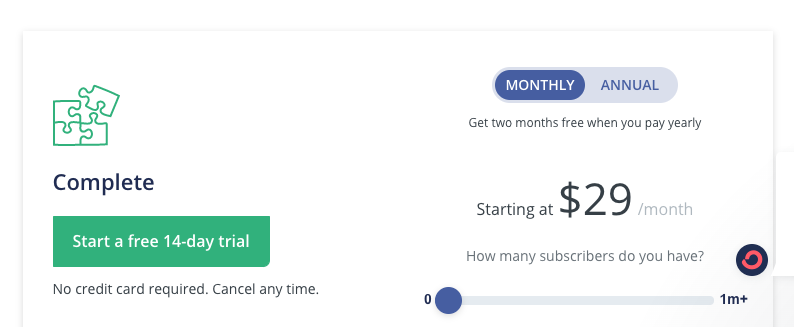 ConvertKit isn't willing to rest on the laurels of kind words from unknown internet reviewers though. No, rather than shut up, the company puts up a 14-day free trial so users can get a complete idea of what the service is.
ConvertKit's pricing structure is built around the number of subscribers you have. Beside the free plan, the Creator plan starts from $29/month. It goes further depending on the number of subscribers.
Finally, they have the Creator Pro plan which starts from $59 a month. It offers features like priority support, deliverability reporting, Facebook custom audiences etc.
Best of all, it doesn't matter which pricing tier you pay for, you'll receive every feature with your plan.
It's difficult to leave out ConvertKit when talking about the best Active campaign competitors.
Related : ConvertKit Vs Aweber
ConvertKit - With Free Plan
Unlimited landing pages & forms, Unlimited traffic, Customizable domain.
No credit card required. Cancel any time.

We earn a commission when you click this link and make a purchase.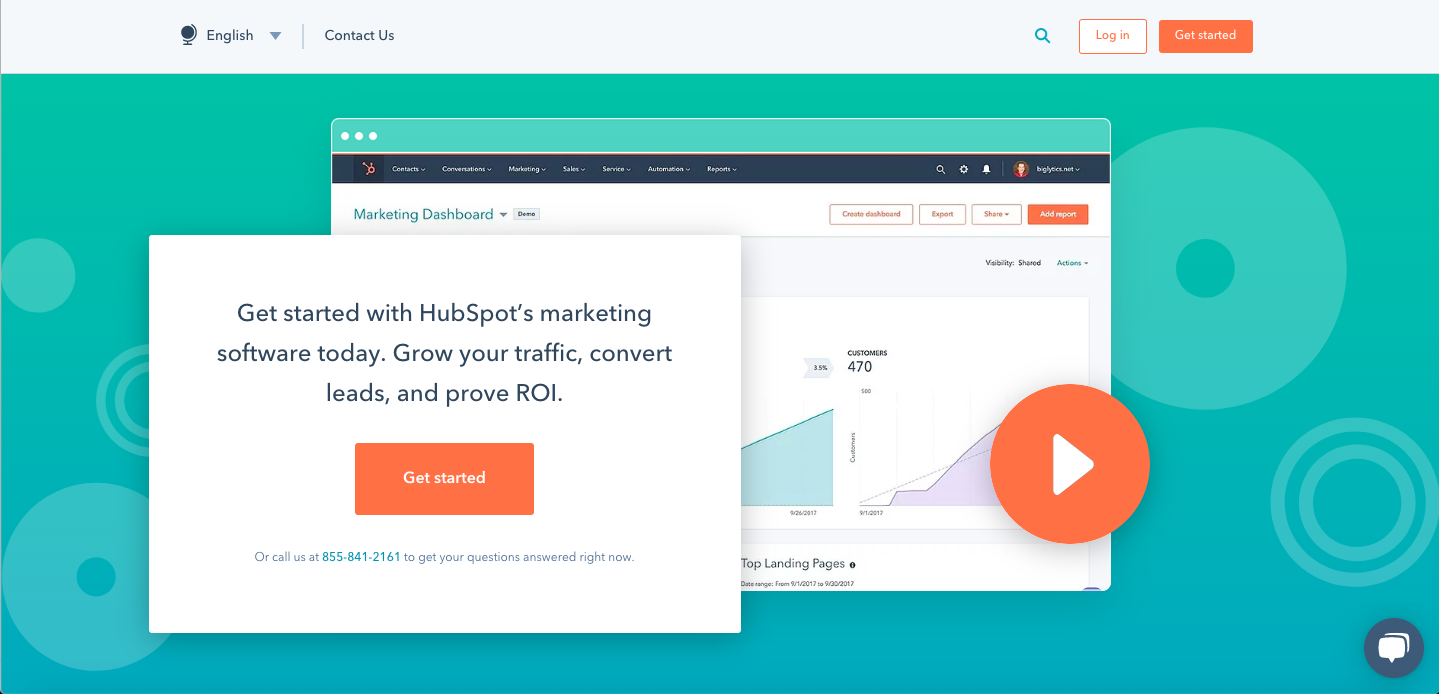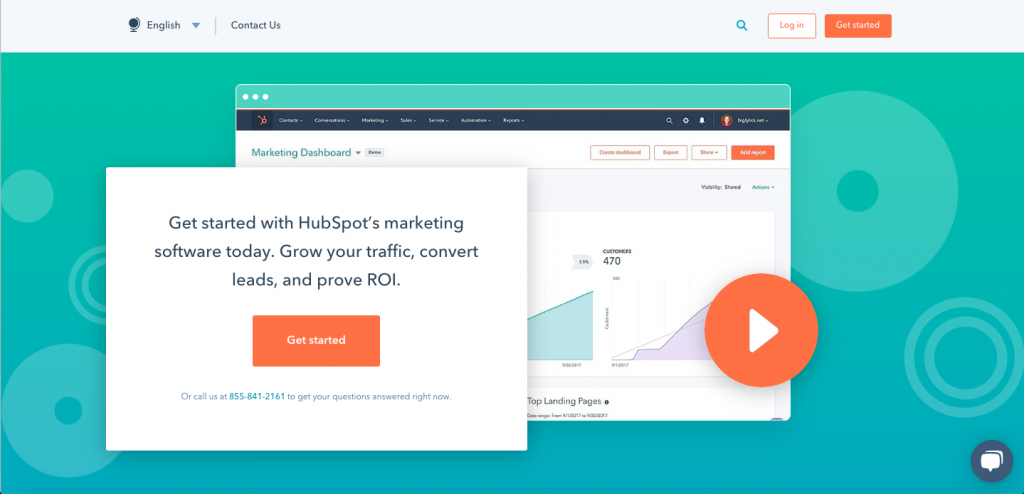 HubSpot Marketing is another ActiveCampaign competitor that seeks to help you boost website traffic and drive sales conversions.
It accomplishes this with a slick blend of engaging personalized messages, SEO optimization, and a drag-and-drop web builder.
That's together with the email marketing technology that brought us all together in the first place.
Indeed, Hubspot Marketing's email marketing tool provides users with dynamic tools to help build HTML messages and combines that with analytic tools that help you gauge things like interests and lifestyle.
Features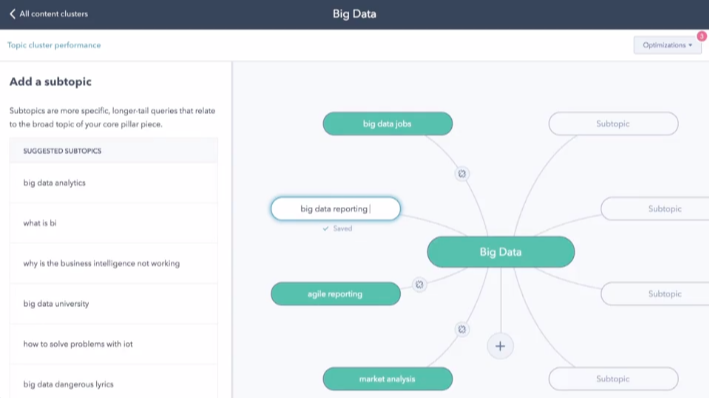 Navigate through sent, archived, drafted, or scheduled messages.
Filter emails by campaign or by type.
The search feature allows you to look for specific emails.
Export email information.
View your most recently created, edited, or sent emails along with a performance summary.
Editable columns allow you to look at metrics like bounce rates and delivery rates, among others.
Integrations with various marketing aspects, as well as the HubSpot CRM and Salesforce.
The resource library is a great way to help teach yourself how to take advantage of HubSpot's tools.
HubSpot's reliable customer support is comprised of marketing professionals who are able to help make.
Hubspot Pricing

Hubspot pricing plans include:
Starter – $40/month
Professional – $800/month, charged annually
Enterprise – $3200 per month, charged annually
With these plans, you receive benefits like marketing automation, smart content, attribution reporting, A/B testing, and more.
Interesting Post : MailChimp Vs Sendinblue Vs Mailjet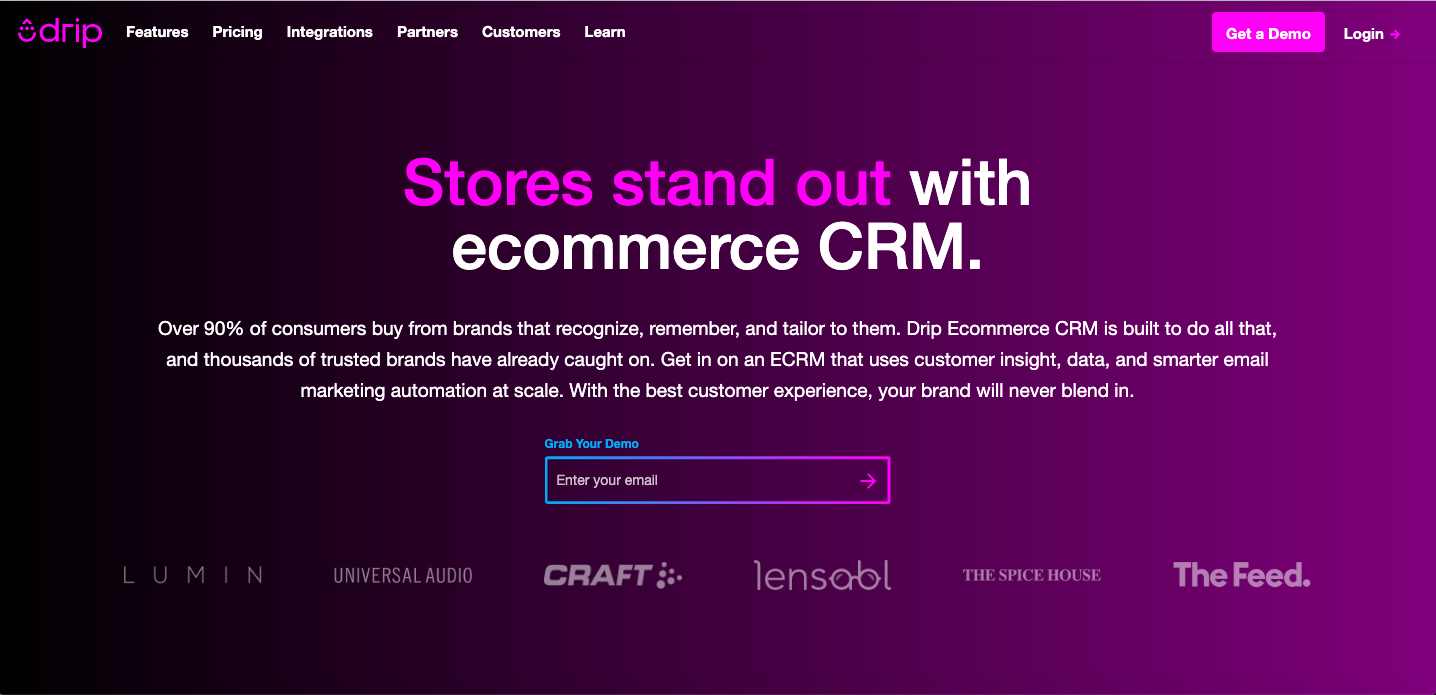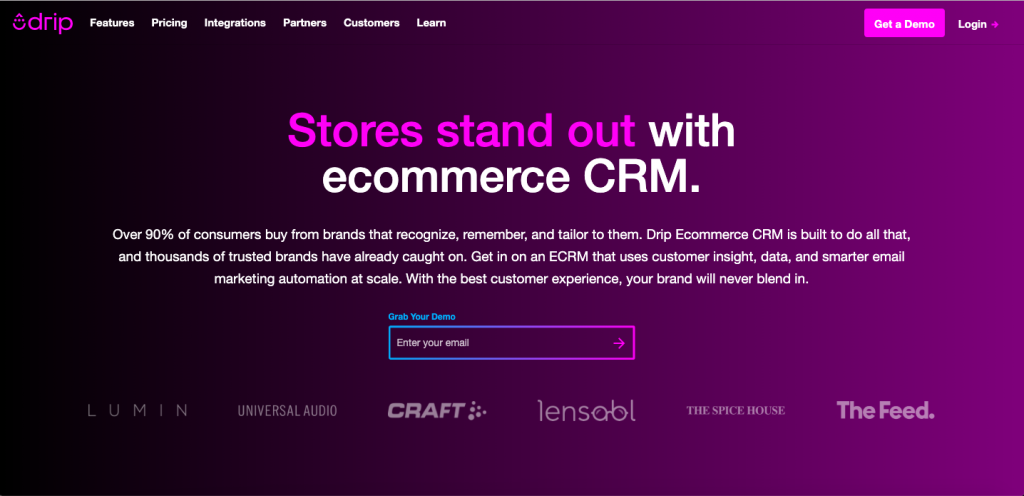 Among Active campaign alternatives, drip is notable mention.
Drip has positioned itself as a tool for SaaS (Software as a Service) companies, ecommerce providers, marketers, online sellers, as well as small and mid-sized businesses that sell digital or physical products through their online presence.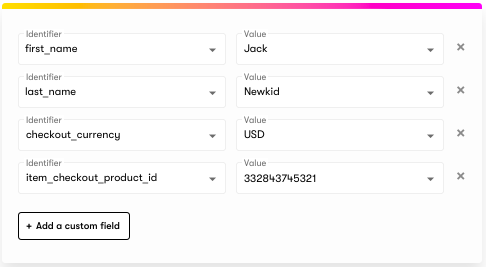 This feature-rich platform stands up well as an ActiveCampaign alternative, with both offering similar elements for businesses and marketers alike.
Drip doesn't provide the tools to build your own landing pages, instead concentrating on designing a basic opt-in form builder that allows you to create simple, yet effective forms.
But, while Drop doesn't allow you to build the landing pages yourself, it does integrate with other lead generation and landing page building tools like Instapage, LeadPages, and more.
On the email marketing and marketing automation front, Drip functions beautifully. It has automated workflows and prebuilt campaigns that any beginner can take full advantage of, while seasoned veterans should find the usability to their liking.
Features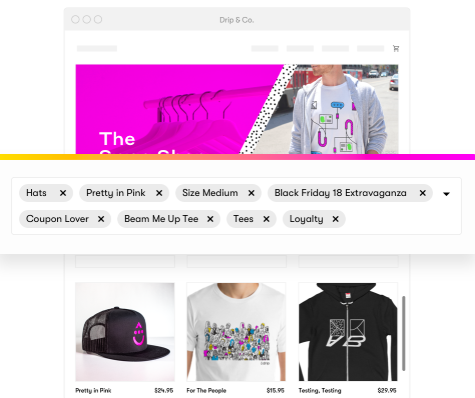 Hundreds of automated workflows that can be tweaked and modified as needed, or ready to go immediately.
Multichannel marketing allows you to integrate messages, Facebook ads, and other marketing channels.
Native integration
Purchase intent marketing
Content customization
Segmentation
Conversion tracking
Advanced analytics
Drip Pricing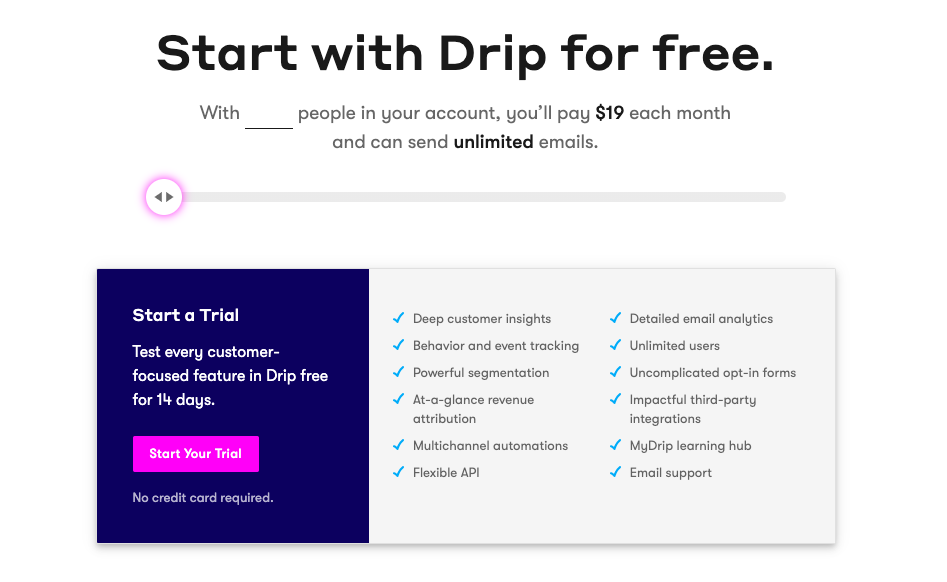 Drop offers a 14-day free trial period to help you evaluate whether Drip is a good fit for you.
Drip pricing starts from $19/month. It depends on the number of people in your account. You can send unlimited emails.
You can check your pricing using the calculator on their pricing page.
You Might Want To Read : MailChimp Review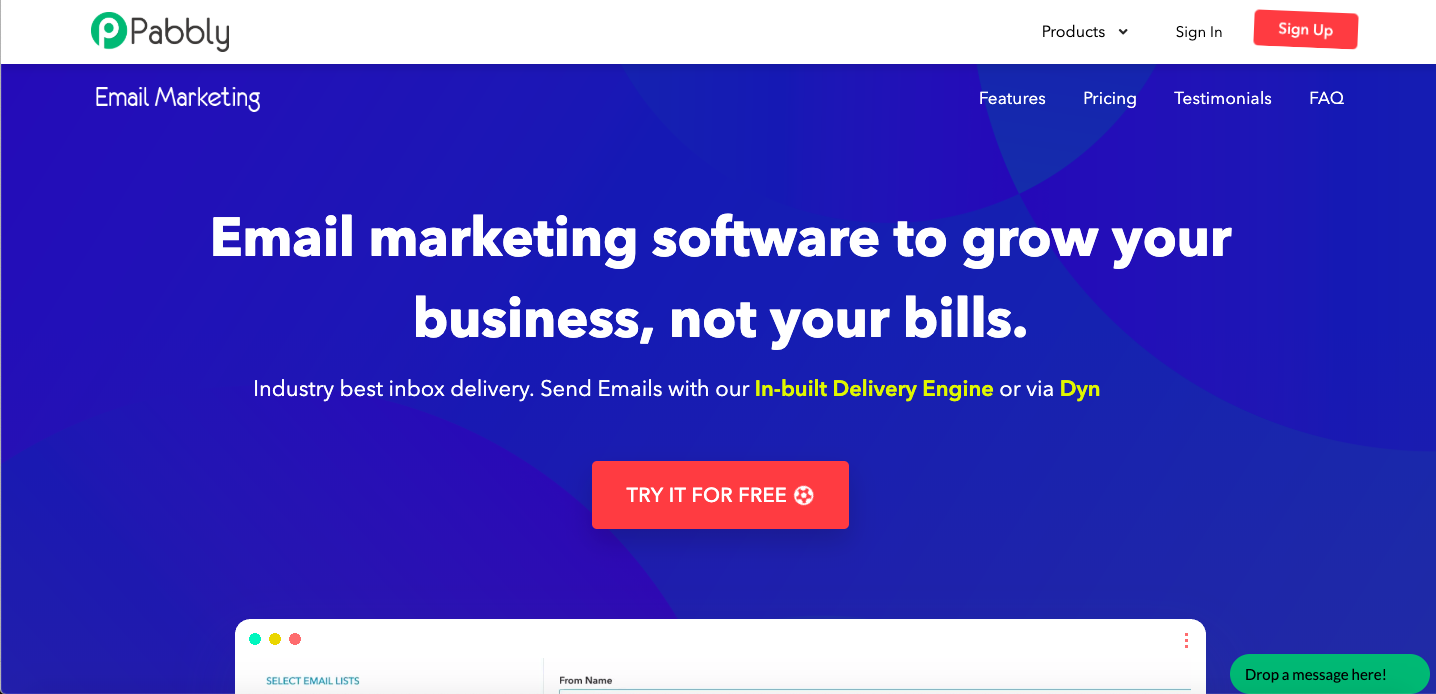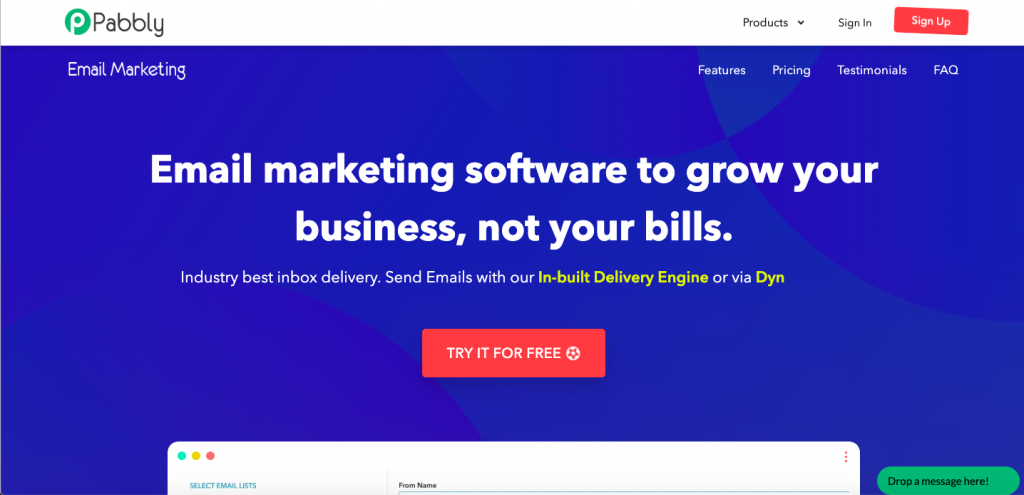 Another alternatives to ActiveCampaign is Pabbly.
Formerly known as MailGet, this sleek marketing tool provides a drag and drop email builder to help you create campaigns in only a few minutes.
Pabbly is designed to make sending emails to your clients a quick and easy process while providing a high deliverability rate.
Features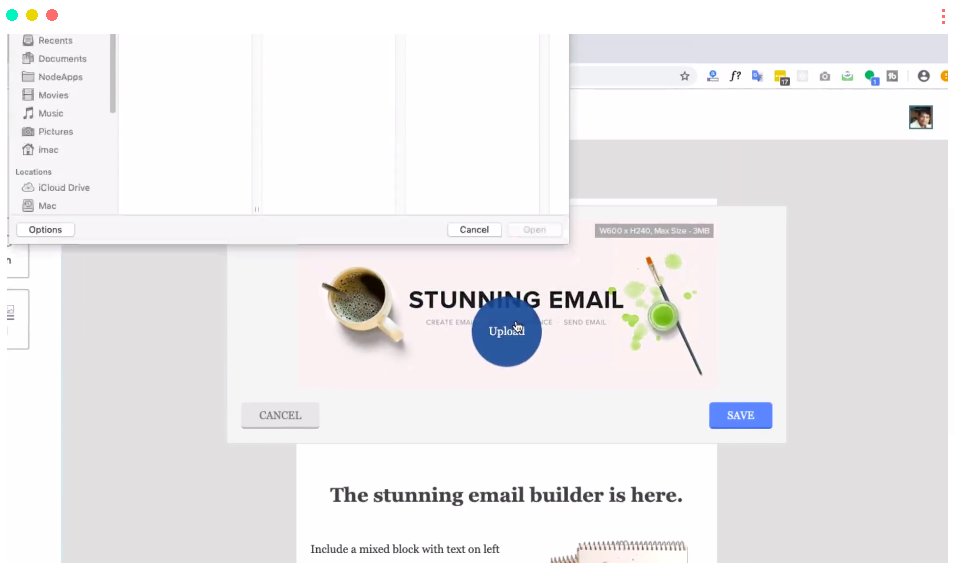 SMTP routing allows you to send emails to improve inbox delivery rates.
Subscriber segmentation
Create forms and embed them into your website.
Integrations with Google Analytics, Zapier, and Wufoo help you measure the performance of your campaigns.
Use the autoresponder feature to send instantaneous replies to clients via pre-built automatic emails.
Pabbly Pricing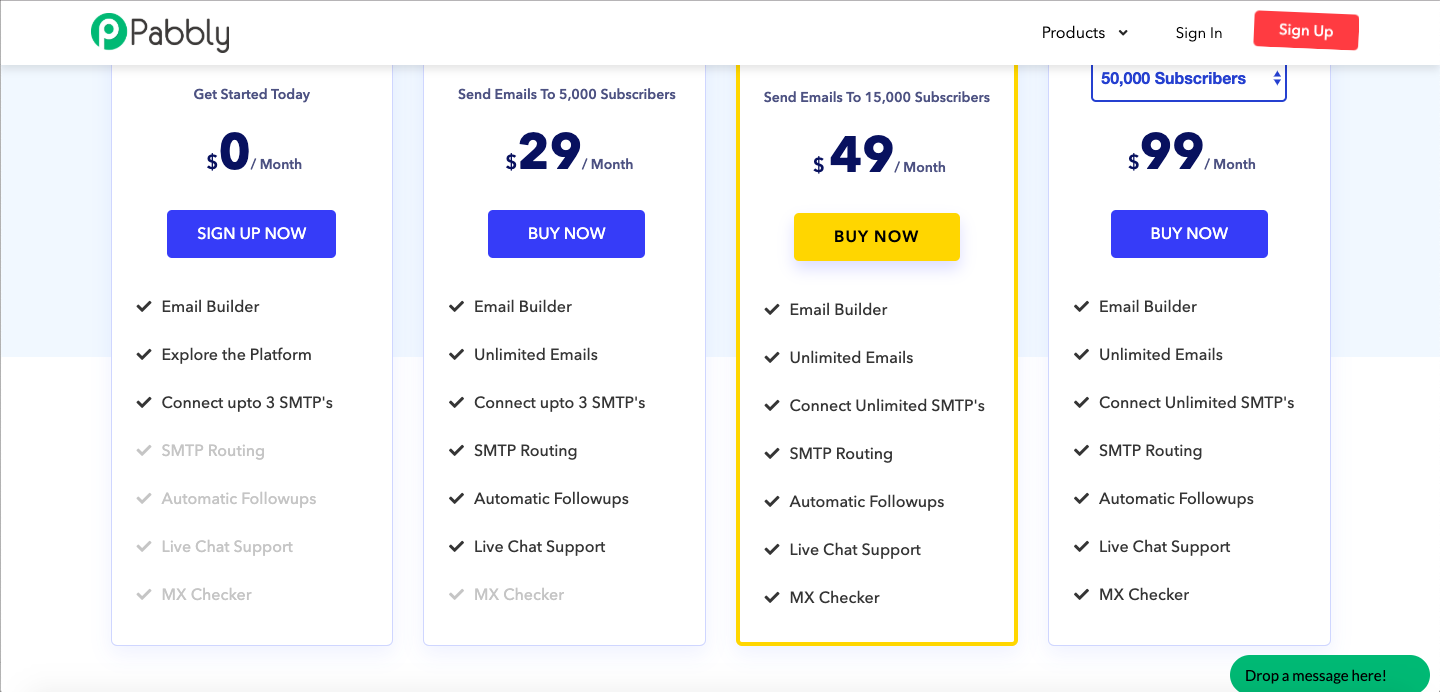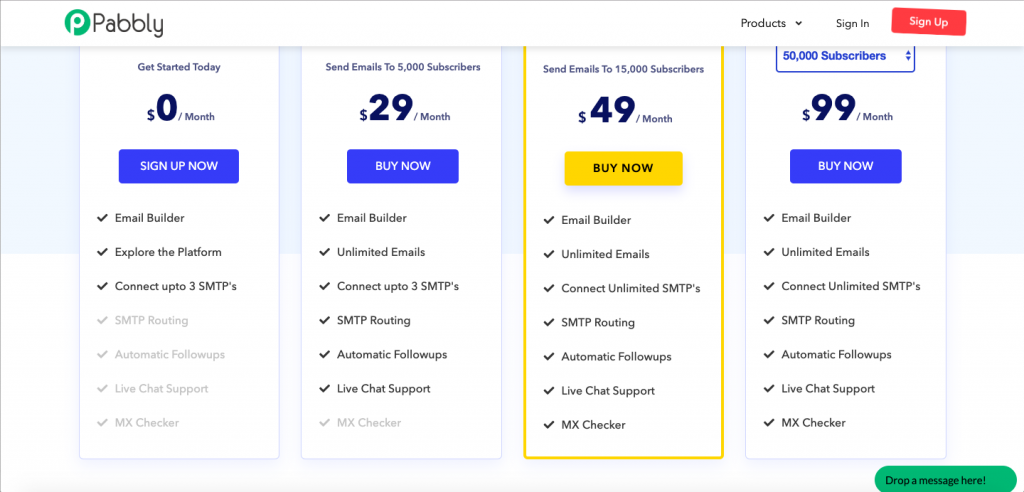 Like many of the others on this list, Pabbly divides its pricing tiers based on the amount of subscribers you have.
The Starters plan is free and allows you to have as many as 500 subscribers and 10 monthly campaigns.
The Rookie plan boosts you to 5,000 subscribers and costs $29 per month with full support.
If you want the Pro plan you'll be paying $49 each month to send to your 15,000 subscribers with the addition of live chat support.
Finally, the Advance plan offers all of the advanced features, 50,000 subscribers, and will cost $99 each month.
Worth Reading : Constant Contact Vs MailChimp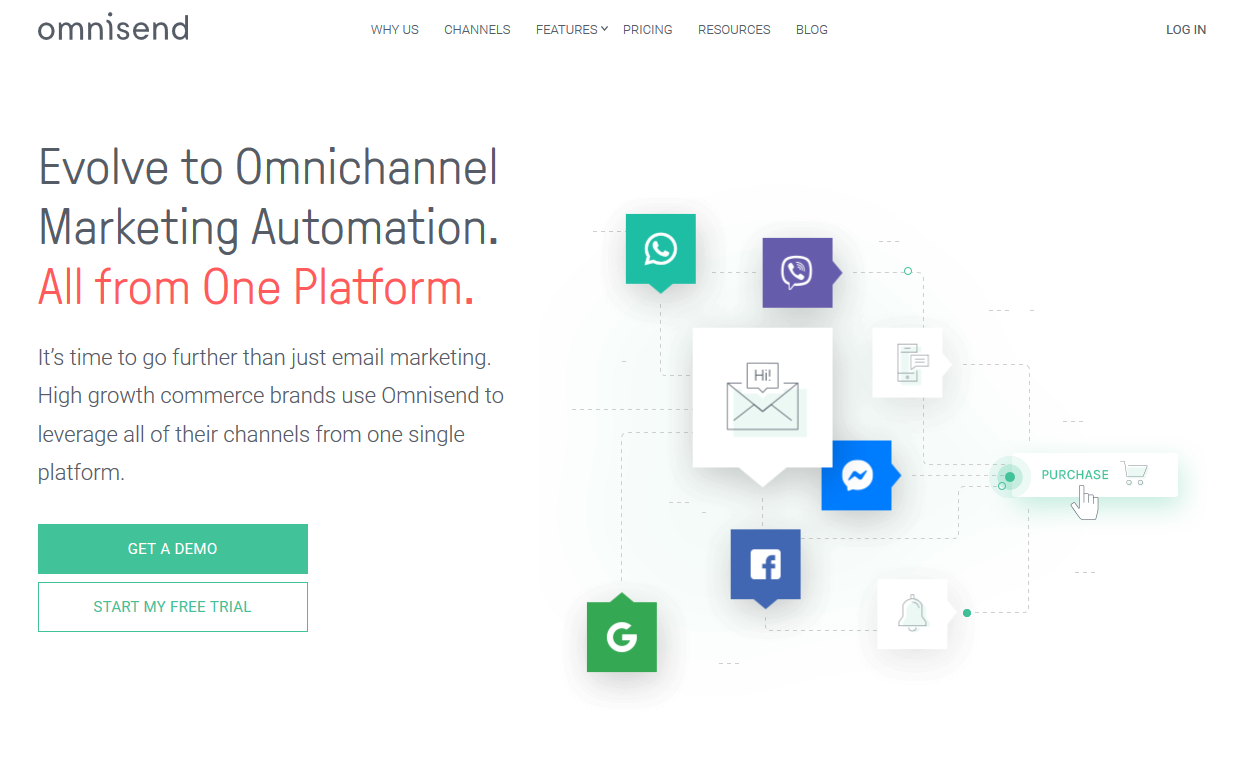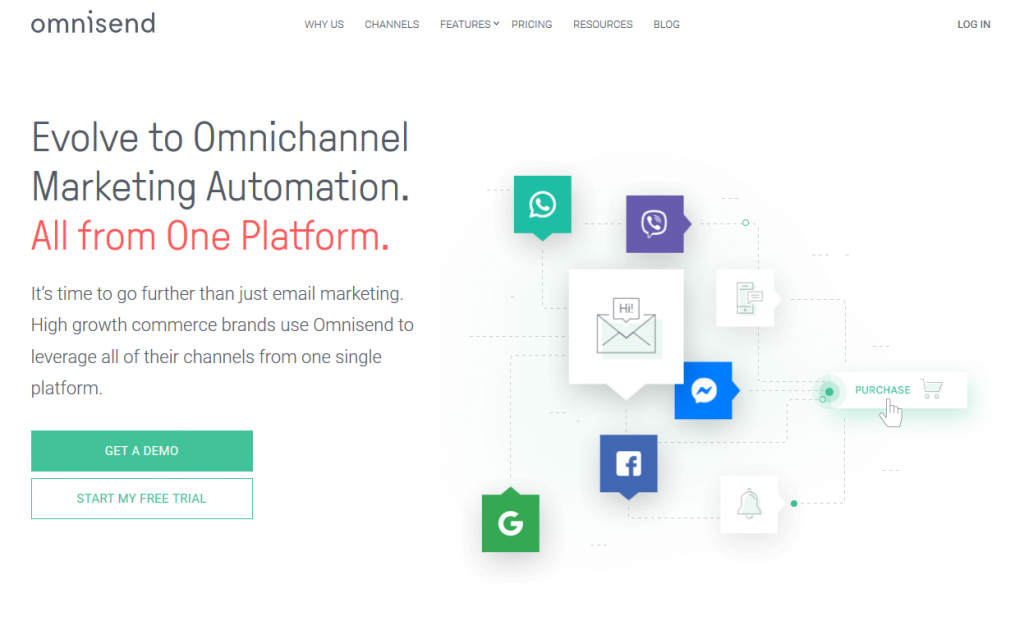 As an alternative to ActiveCampaign, you can't go wrong with Omnisend. With email marketing at its core, this omnichannel marketing automation platform is a one-stop shop with everything you need to manage your biggest channels.
With robust email marketing automation that employs a drag-and-drop UI for building emails, automation workflows, and anything else you need to create, Omnisend is extremely user-friendly.
But that's not all, in your automation workflows, you can add in several channels that will automatically send messages to your contacts based on the permissions and data you have on them: Facebook Messenger, WhatsApp, Viber, push notifications, SMS, and of course, email.
For a marketing automation platform that's just as powerful as ActiveCampaign, but much more
intuitive, Omnisend is a great alternative.
Features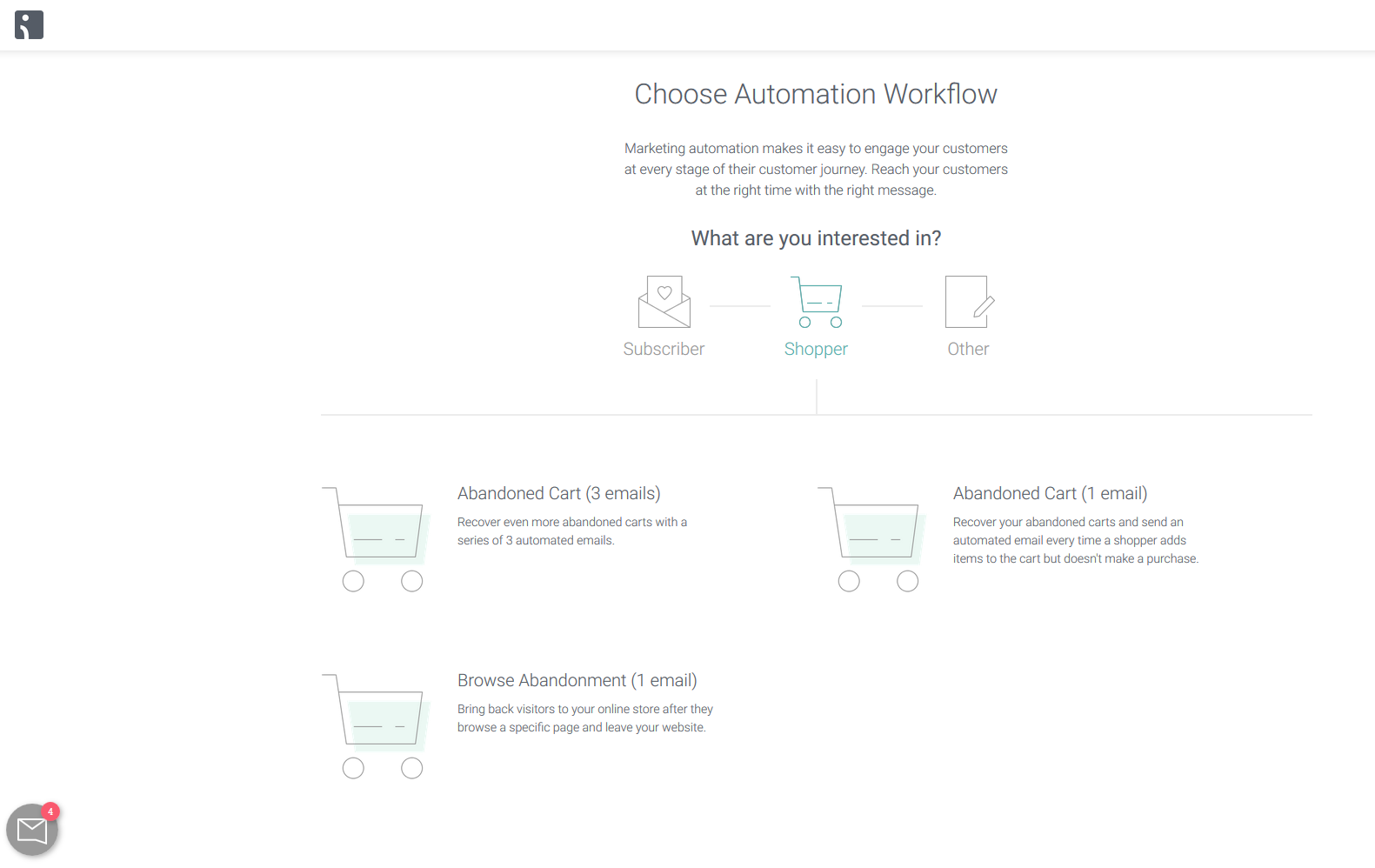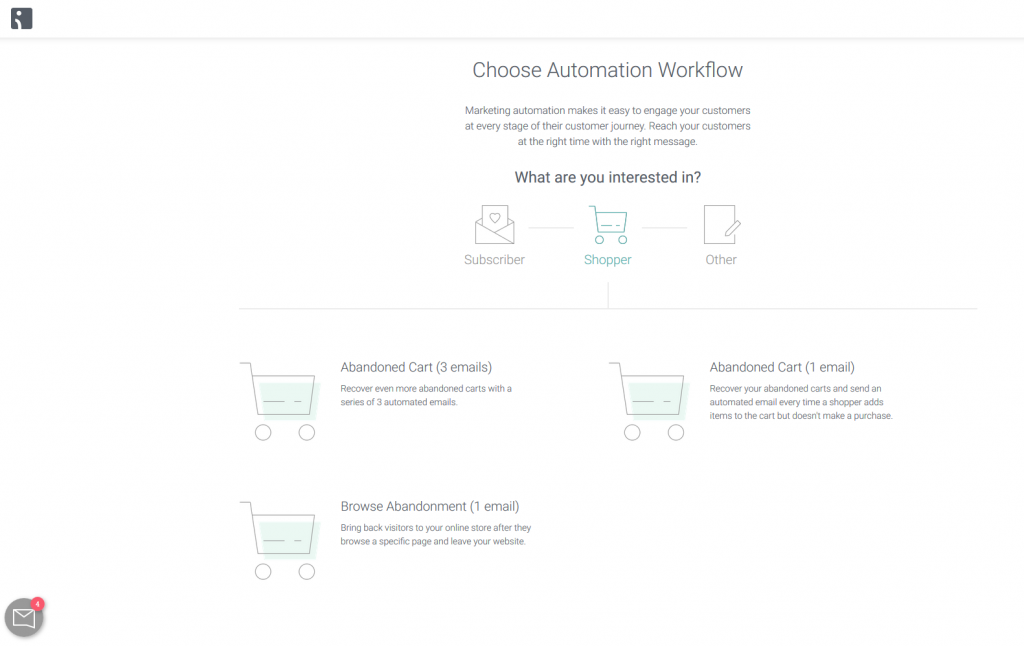 Powerful automation workflows that can connect several channels at once
Drag-and-drop interface for easy workflow and message building
Smart segmentation for precise targeting and message relevancy
Product picker that allows you to pull products directly from your inventory in a click
Contact forms, pop ups, landing pages, and dynamic gamified Wheel of Fortune sign up forms
Advanced reporting and data on your contacts for easy decision making
A/B testing and campaign boosters to get higher open rates
Omnisend Pricing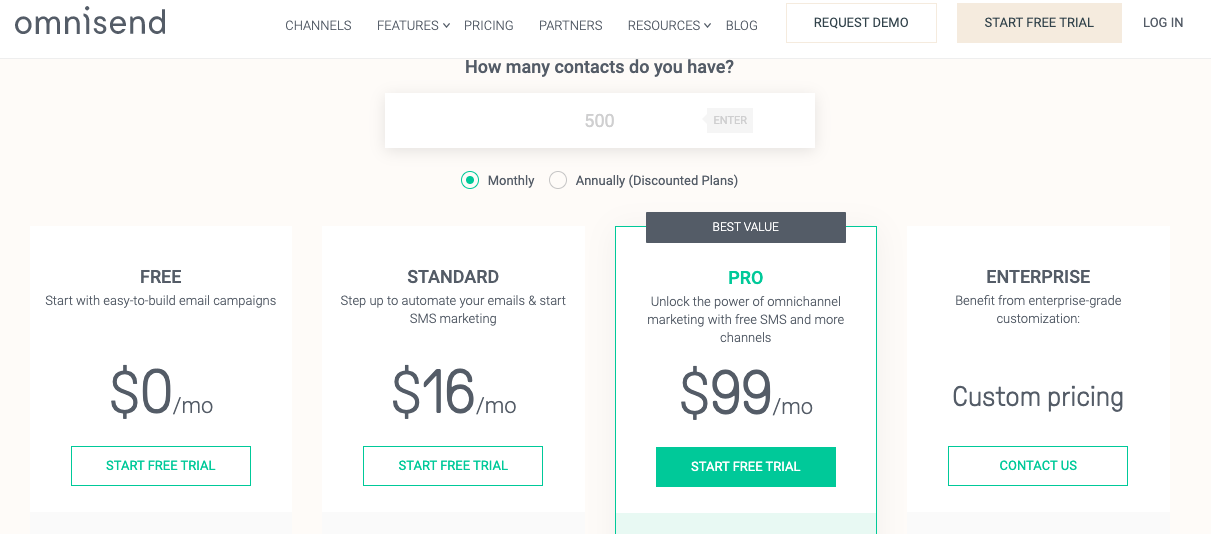 If you need just basic email marketing, Omnisend offers a free plan that includes up to 15,000 emails per month.
From there, the Standard plan starts off at just $16 per month and includes automation, segmentation, SMS, product importation, and sign up forms.
What's cool about the Standard plan is that you can customize it and add on modules if you're not quite ready to scale up to Pro.
Omnisend's Pro plan includes everything from the Standard plan plus integration with Facebook Custom Audiences, Google Customer Match, Facebook Messenger, Viber, WhatsApp, and push notifications.
Starting at $99 per month, this plan includes an account manager, and priority and deliverability support.
For those that need the full package plus more detailed needs, the Enterprise plan includes everything in Pro, plus user right management, advanced workflow customization, a dedicated account manager, and much more. Get in touch with them to subscribe for it.
Regardless of which plan you choose, Omnisend scales easily with your contact list and business.
Moosend is another Activecampaign alternative. It is an effective email automation tool that gives you the ability to craft professional emails and send them to targeted lists of subscribers.
It also provides you the ability to design newsletter templates, use pre-existing templates, or come up with something from scratch.
Features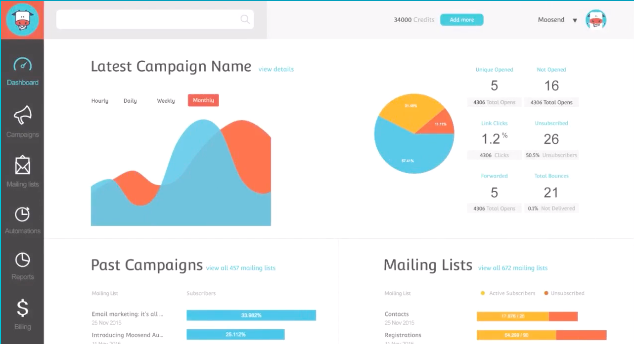 HTML or CSS design capabilities
Mobile responsive emails that work across all devices.
Generate automated cart abandonment emails for users who add items to their carts but leave before purchasing.
Moosend Pricing
Moosend's payment plans work on a sliding scale depending on how many subscribers you have. It's very precise, so you are able to dial into exactly the plan you need.
$10/month is the minimum you pay. If you have more than 200k subscribers, you can ask them for a custom quote for their Enterprise plan.
Most importantly, at the most basic level, Moosend offers its tools for free.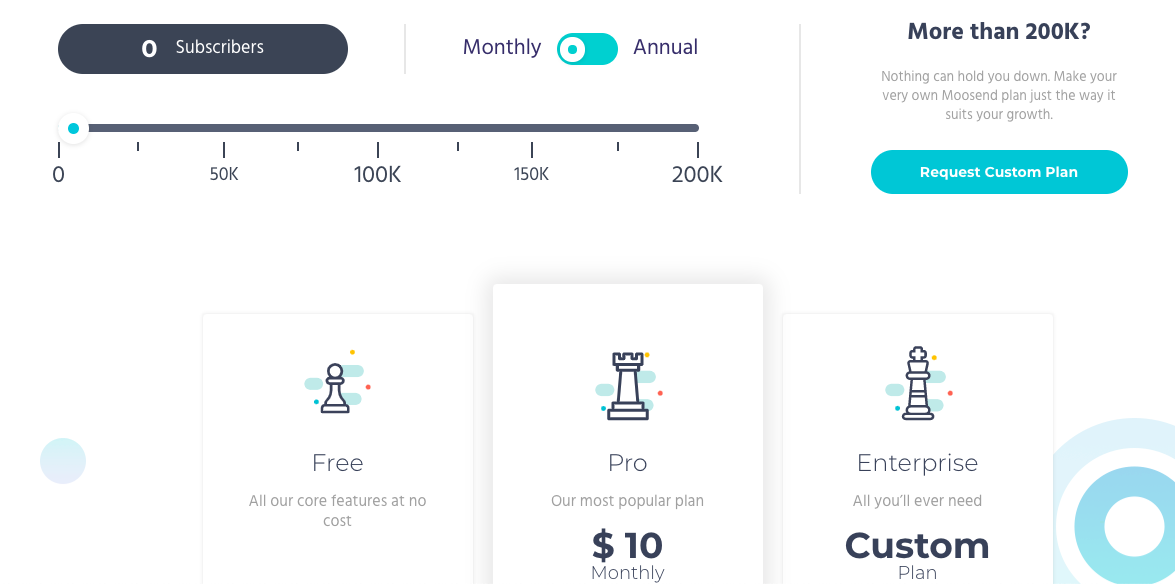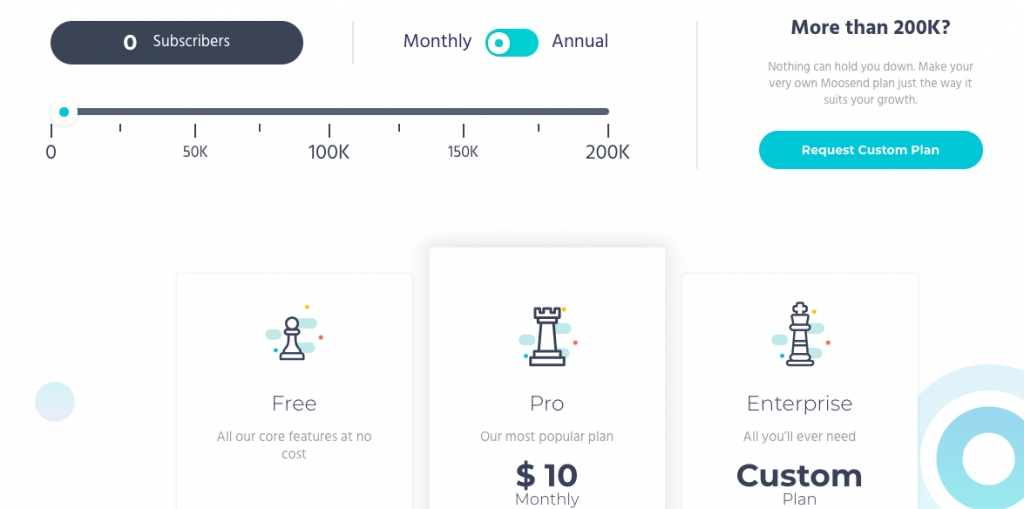 Or, if you prefer to pay in advance, you can sign up for an annual plan, saving you 15 percent or 20 percent, respectively.
Or perhaps you're only an occasional sender and would prefer the pay-as-you-go plan. In this case, users pay for each email they send.
Explore : Aweber Vs Constant Contact

We earn a commission if you click this link and make a purchase at no additional cost to you.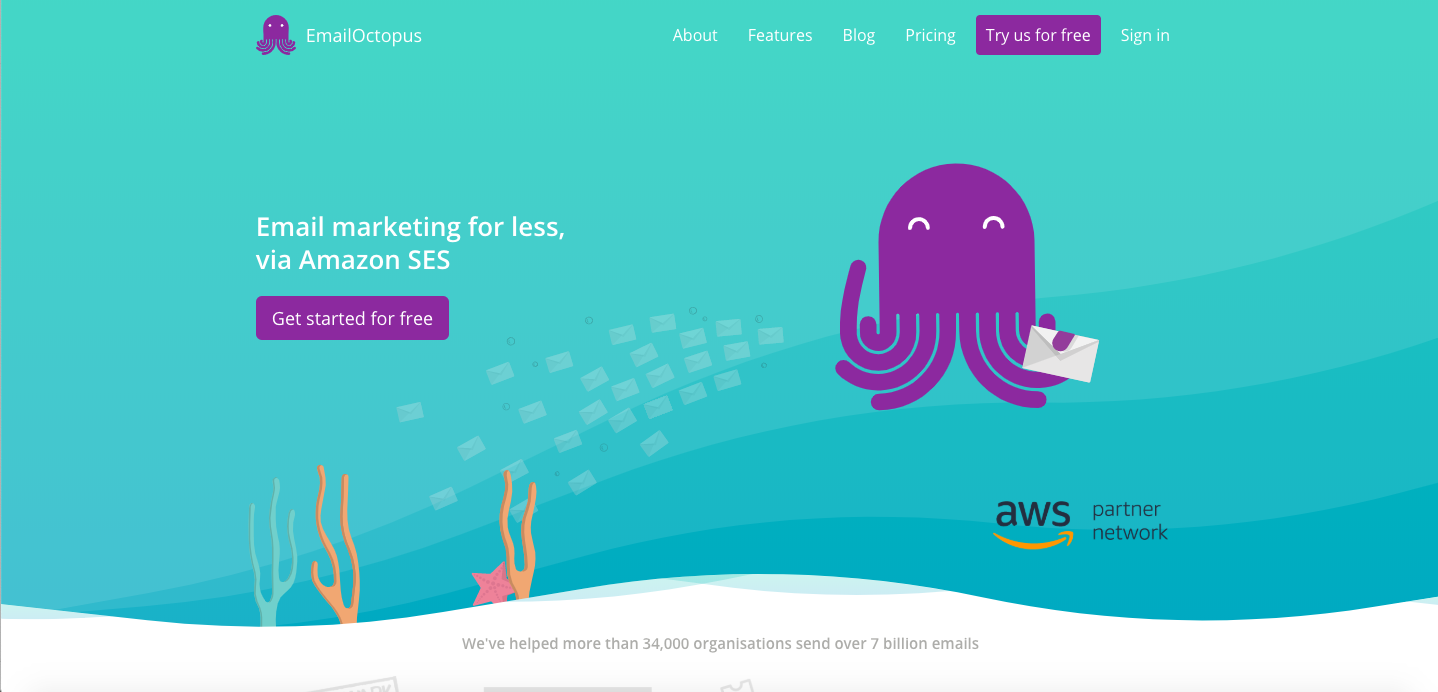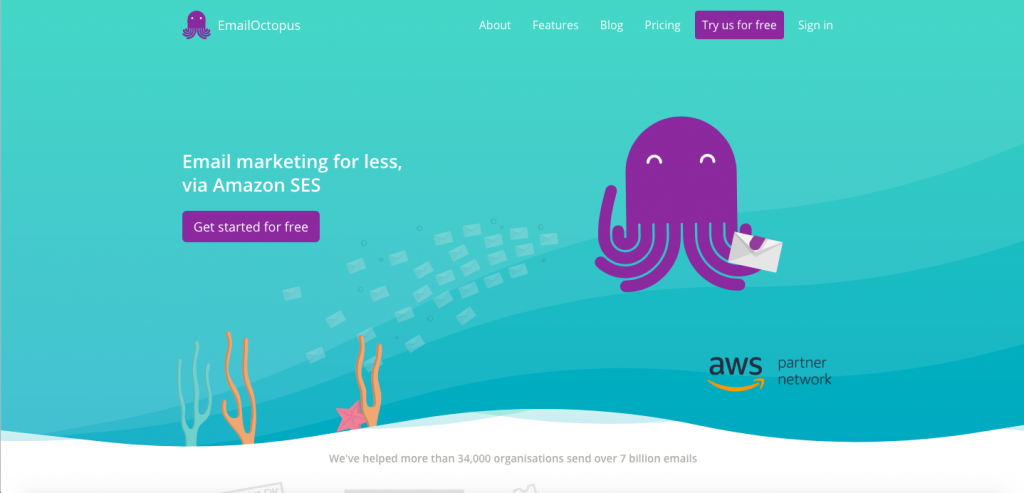 EmailOctopus is the next in our list of best alternatives to Active Campaign.
This fish-themed provider is great for sending time-based email campaigns. It includes a vibrant array of email marketing templates that can be used to send promotional or transactional emails.
It also gives you the ability to create your own email campaigns that look great across all devices, whether they're laptop, mobile, or desktop.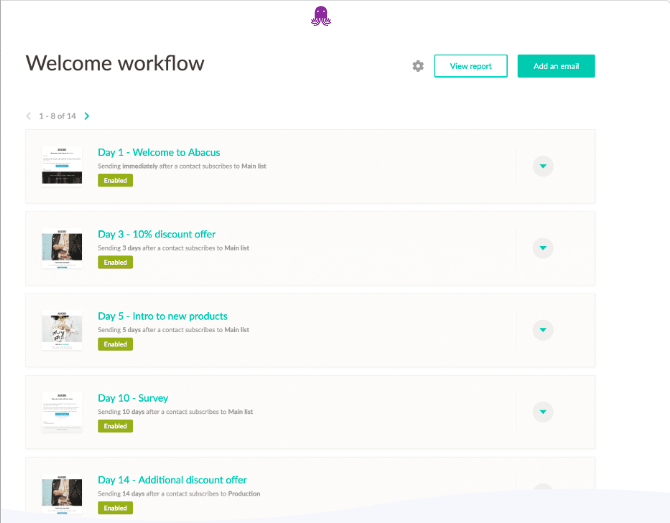 Features
Real-time analytics of your campaigns allow you to see the click and open rate alongside bounces and unsubscribes.
Embed forms on your websites to collect new leads
Helps in cleaning bounces, complaints, and unsubscribes from your list to make sure your domain reputation remains intact.
Integrates with more than 500 products including Salesforce, Shopify, and more.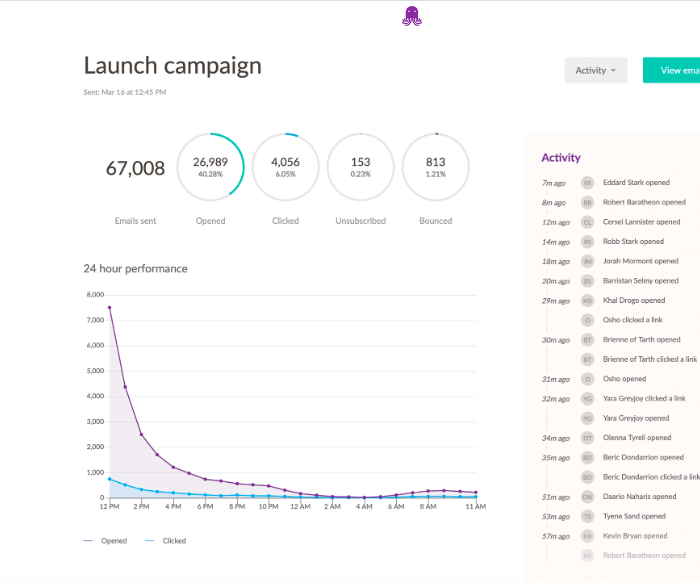 EmailOctopus Pricing
The company has unfortunately done away with its cute fish-themed price scales. Where once there was the Tuna Plan, The Stingray Plan, The Shark Plan, and the Whale Plan, there is now a sliding scale that depends on how many subscribers you have.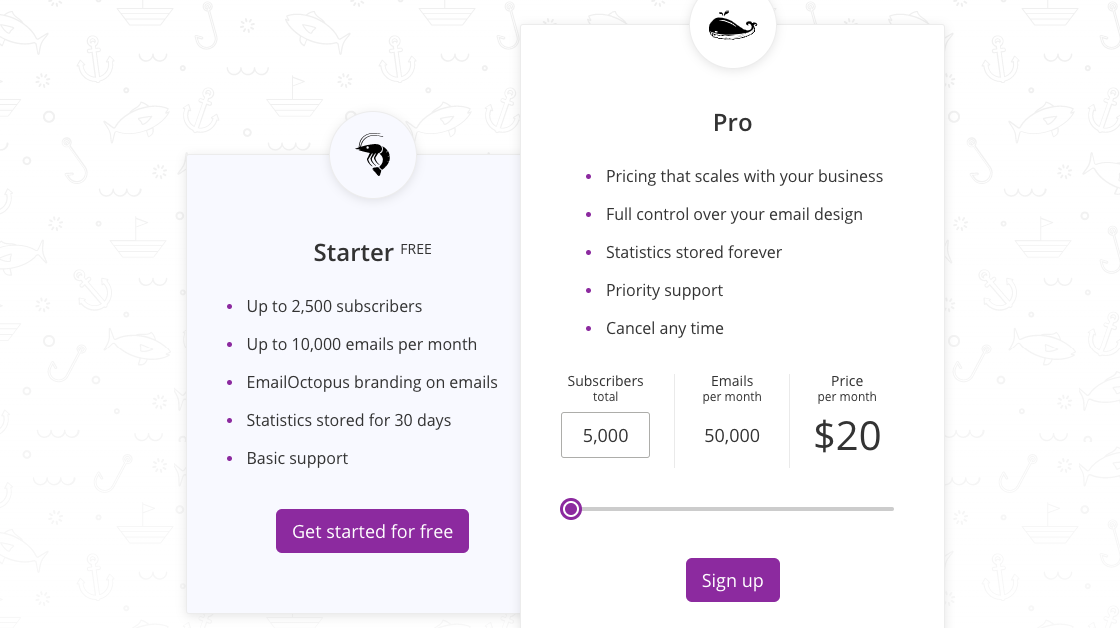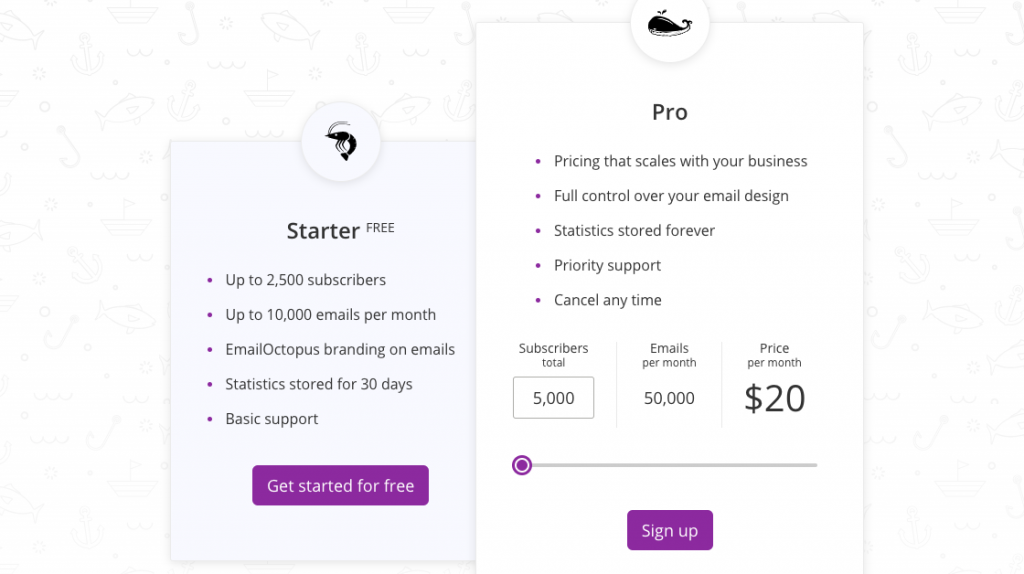 While this is unfortunate for those of us who enjoy a good marine life theme, it is likely to the benefit of EmailOctopus users who will now be able to find the option that suits their precise needs.
What's more, if you have 2,500 subscribers or less, Email Octopus has a free option available to you!
The Pro plan starts from $20/month depending on the number of your subscribers.
Also Read : MailChimp Vs PhpList Vs Sendinblue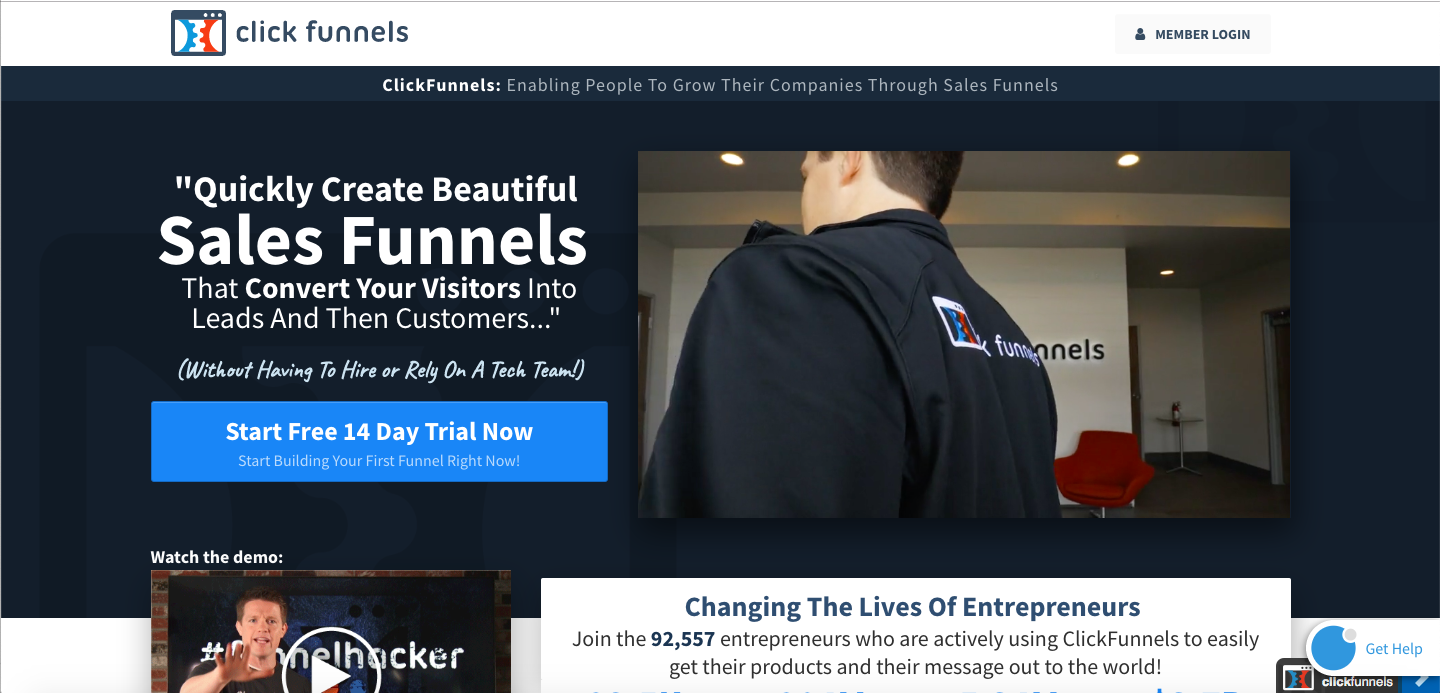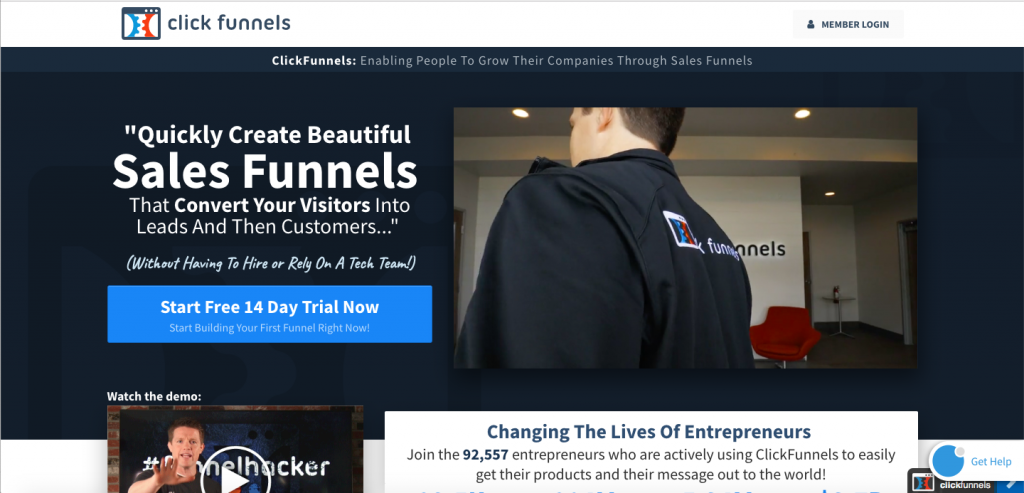 This sales funnel creation and management platform is overflowing with a number of specialized tools and features that are perfect for creating an email marketing campaign.
While it isn't specifically an email marketing and automation tool, it can be integrated with email marketing tools to make it even more powerful
Features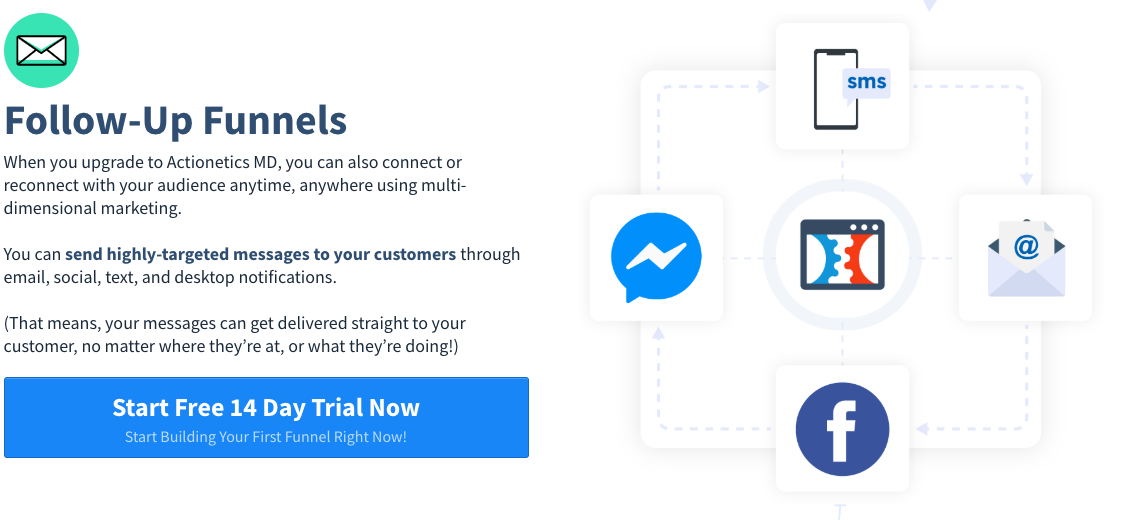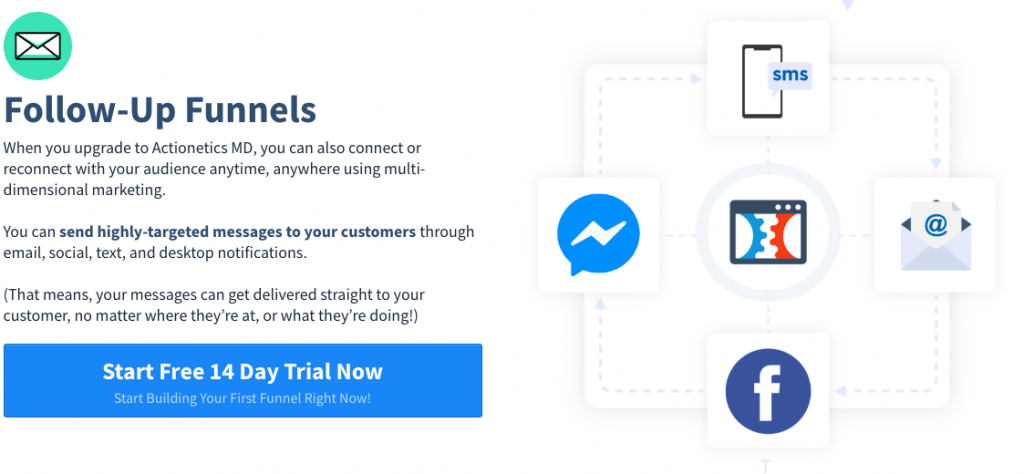 The Landing Page Builder allows you to create sleek landing pages to help you find more leads.
While it doesn't have a drag-and-drop builder, it does provide a basic building tool.
Choose a landing page template based on your funnel, and then tweak it to your personal tastes.
Based on your marketing funnel, you can send welcome emails, thank you emails, and segment customers based on their interests and purchases
Integrates with many autoresponders like ConvertKit or Drip.
Basically, ClickFunnels provides you with a touch of everything you need for marketing automation, making it a great option for small businesses, bloggers, and online sellers.
ClickFunnels Pricing
ClickFunnels loses significant points due to its cost.
While there is the 14-day free trial, after that you'll be paying $97 per month for the most basic package.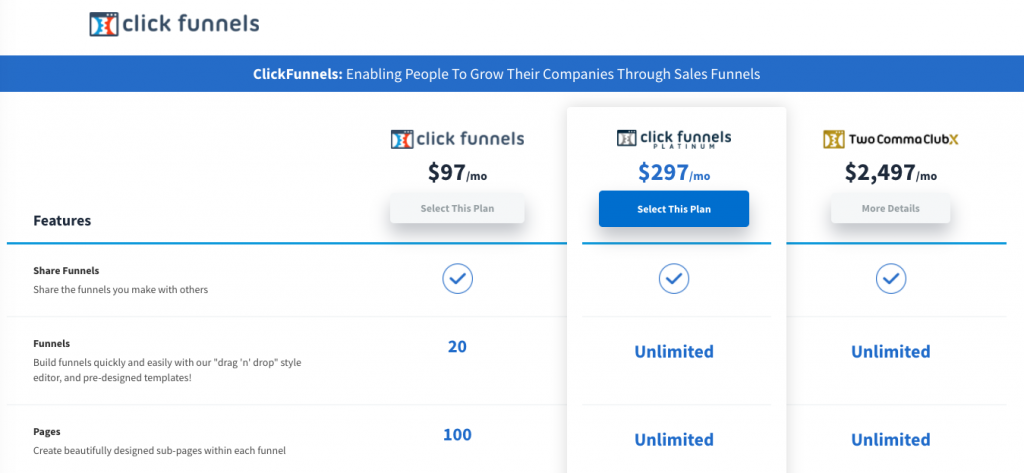 If you're looking for an email marketing tool that also allows you to create professional sales funnels then this is a good bet.
But if you're just looking for an email marketing tool, you're better off starting somewhere else.
Related : ClickFunnels Vs Leadpages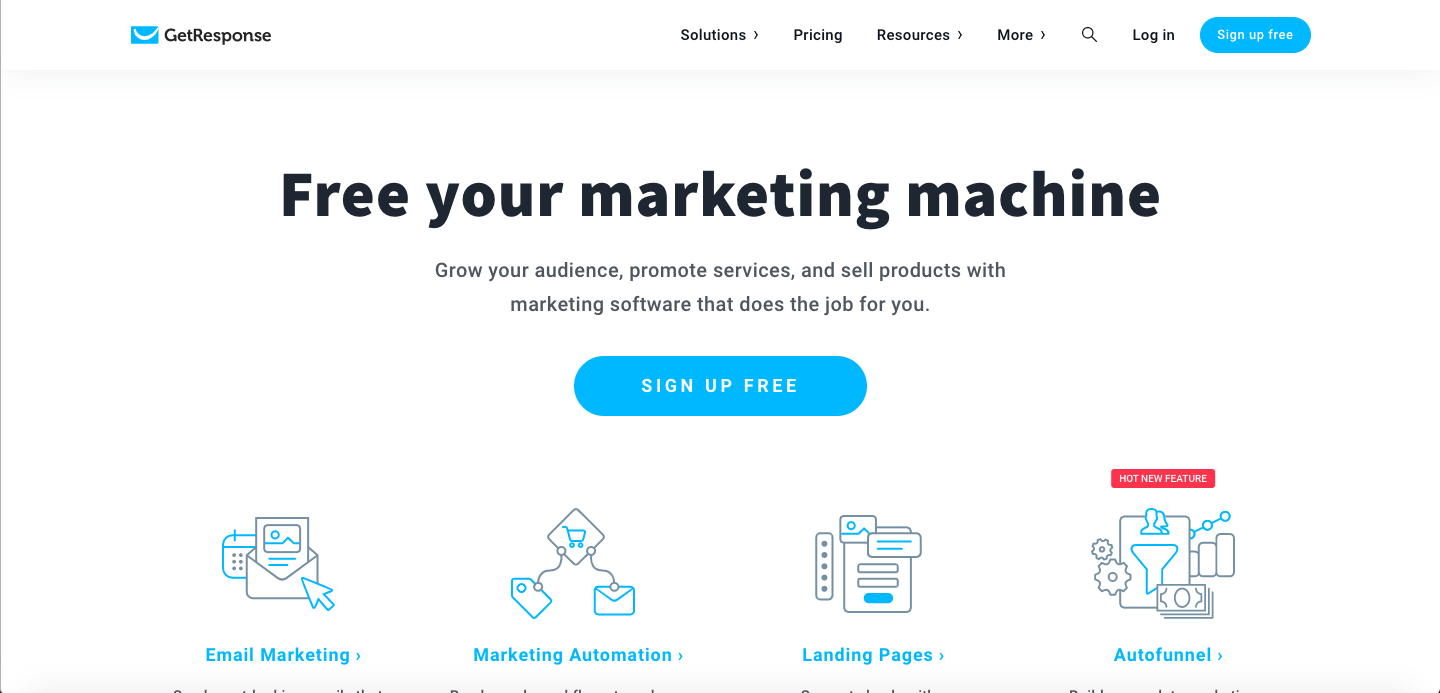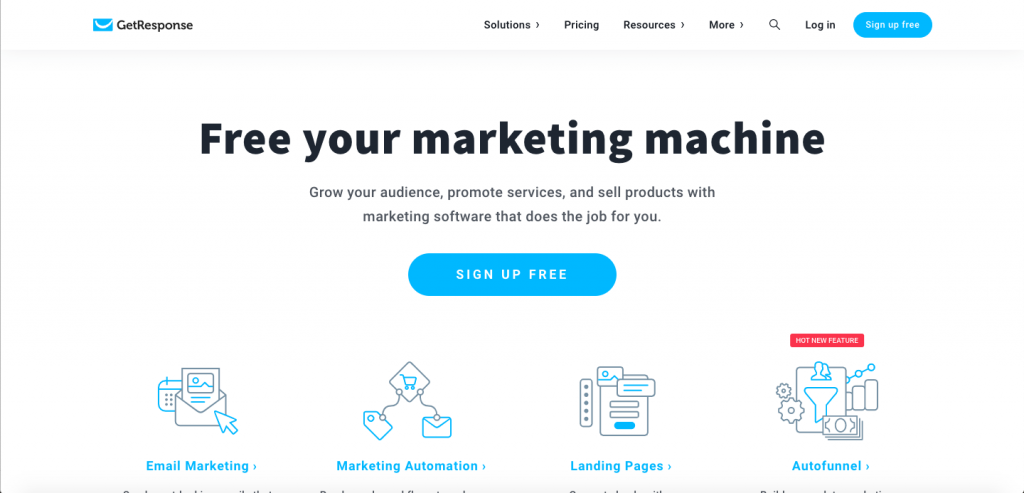 This all-in-one marketing platform offers email marketing, webinars, a landing page builder, and marketing automation to help you develop your business.
All types of businesses and marketers can benefit from this tool thanks to its smartly designed packages and cost-effectiveness.
Features
GetResponse sets itself apart from much of the competition by offering its own landing page builder. This allows you to create mobile responsive landing pages that look professional.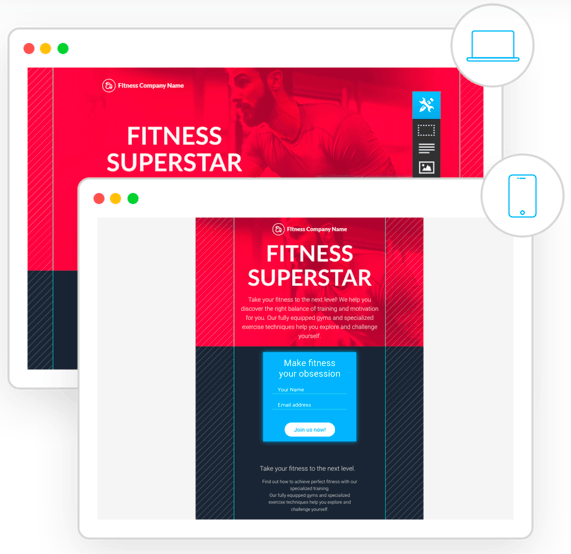 It has a wide selection of templates to choose from, which can then be customized in its drag and drop building tool.

Other features include:
Publish landing pages on your own domain or a free GetResponse subdomain
A/B test landing pages to improve conversions
Email marketing tools
Marketing automation
Webinars
CRM
Autoresponder
More than 500 pre designed email templates
1000+ stock images
A deliverability rate of 99 percent
GetResponse Pricing
After a free 30-day trial, you'll pay $15 per month for the most basic plan and $99 each month for the most advanced plan.
The Max plan is for giant companies that are looking for a tailored solution.
Explore : Best GetResponse Alternatives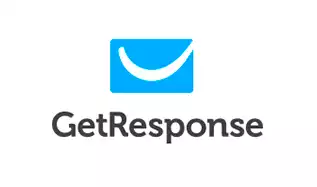 We earn a commission if you click this link and make a purchase at no additional cost to you.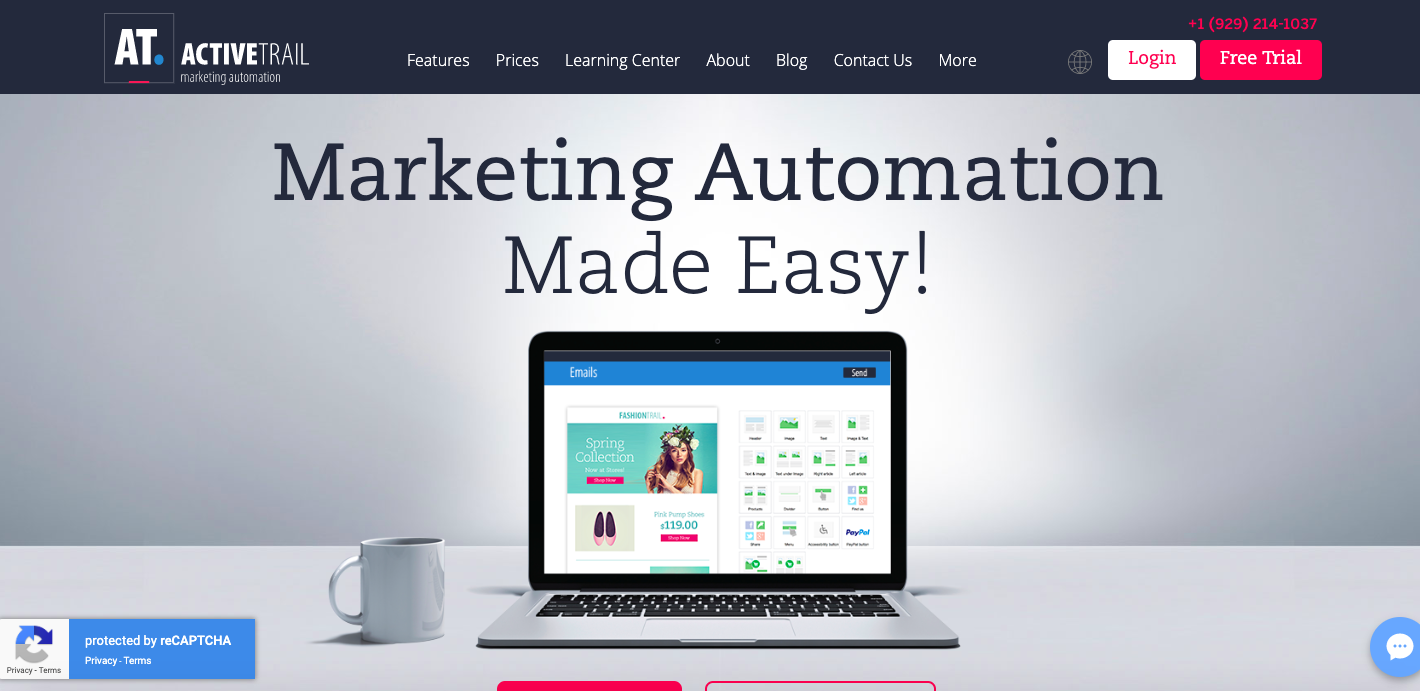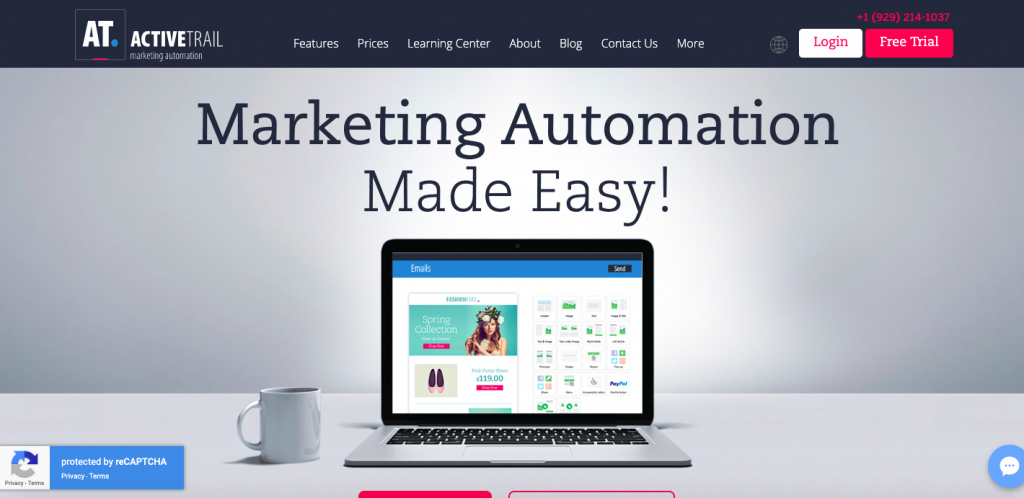 This platform provides an automated and smart solution for your email marketing necessities. You can create and send emails, look at your email stats and much more.
Features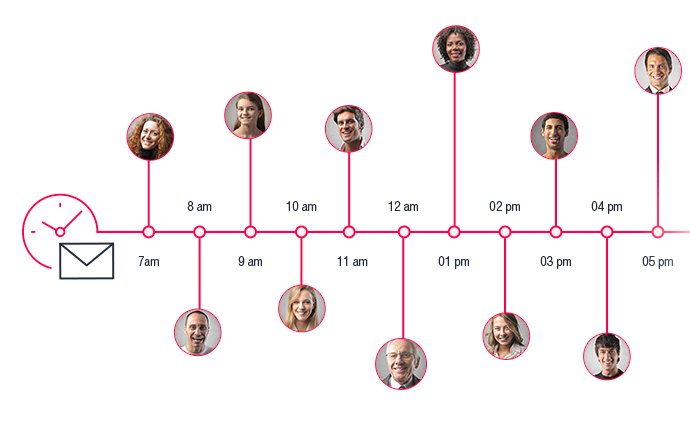 Manage email and contact lists with the List Management feature.
The advanced analytics reporting system provides granular details of your click rates, open rates, and more. It also allows precise yet simple tracking of each newsletter or campaign email.
Export all campaign data to Excel or PDF for presentation purposes.
High deliverability rates prevent your campaigns from ending up in Spam folders.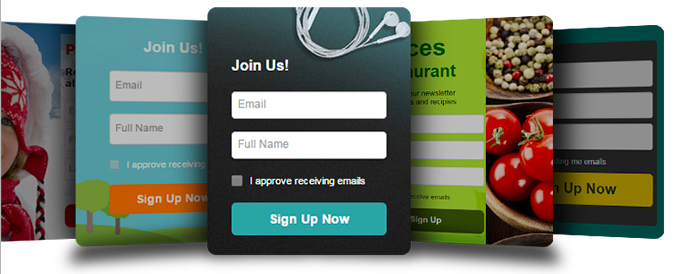 ActiveTrail Pricing
ActiveTrail pricing includes 3 plans:
Basic – $8/month, paid yearly – 1 user
Plus – $11/month, paid yearly – 10 users
Premium – $298/month, paid yearly – unlimited users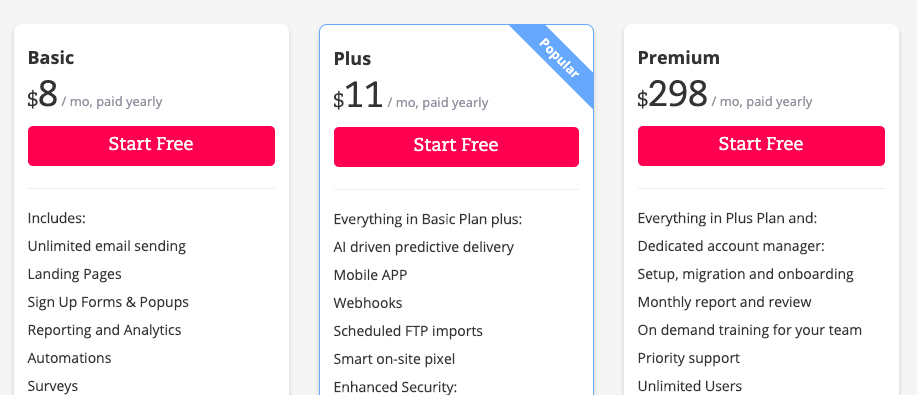 Interesting Read : Best Constant Contact Alternatives
Conclusion
As you can see, there are a number of ActiveCampaign alternatives.
Some of these are direct competitors and some of these are platforms that have eked out their own niche within the industry while providing many of the same functionalities as ActiveCampaign.
Whichever company you decide to go with, one thing remains vitally clear: email marketing remains one of the most effective ways for companies to grow and find new customers.
Fortunately, many of these companies offer you a free trial period in order to try them on and see which one works best for you.

Author: Sam Zaman
Sam loves to write on technology & related stuff. Ecommerce, mobile and internet marketing equally drive her interest. Likes gardening and experimenting with new recipes. An avid reader and absolutely mad @bout donuts :)