Let's talk about email marketing.
For many online marketers, resellers, and dropshippers, email marketing can seem old fashioned and out of date
After all, email has been around since the dawn of the internet and email marketing was close behind. So what could this quaint form of advertising offer us in the modern, fast-paced world of digital marketing? It turns out that there's plenty.
The bottom line is that email marketing can have a much greater impact on your business than many other forms of advertising. And the numbers are there to back up that claim.
I'm sure most of you are aware what email marketing is, but for those who may just be joining the party, here's a quick summation:
Email marketing uses email to promote your products and/or services.
But there's so much more! Email marketing can be used to grow relationships with current customers or reach out to potential new customers.
Businesses can use it to keep their customers abreast of current trends or sales and customize their marketing strategy accordingly.
In short, it's one of the most cost-effective and conversion rich methods of digital marketing today.
Don't believe me? Let's look at the numbers:
In 2017, there were 3.7 billion email users around the globe. According to Statista, that number is expected to grow to 4.3 billion users by 2022 accounting for half of the world's population.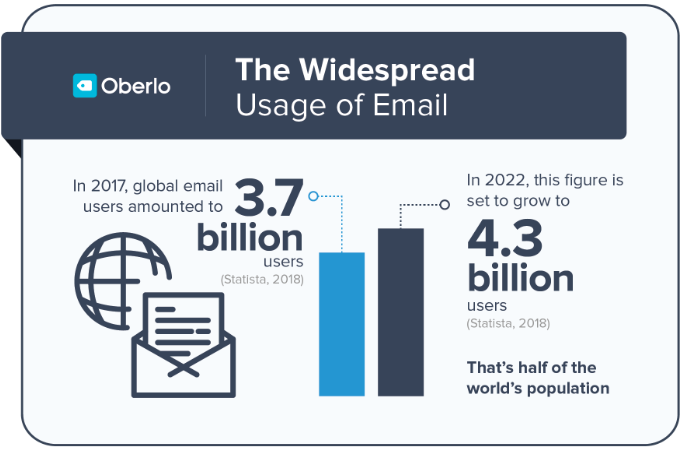 Image: Oberlo
Statista also shows that in 2017, 269 billion emails were sent and received EVERY DAY. Again, that number is only expected to increase, reaching 333 billion daily emails by 2022.
So clearly, email remains a popular – if not the most popular – form of online communication. But is there really an opportunity to make money from this popularity? I'm glad you asked.
According to a DMA study, for every one dollar you spend on email marketing, you can expect a $32 return on your investment.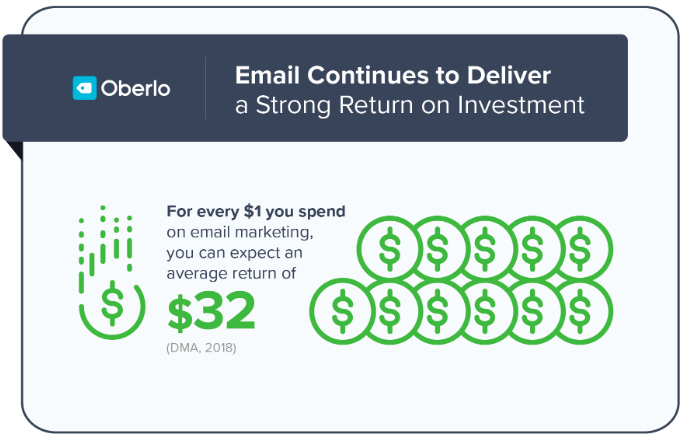 Image: Oberlo
With data like that, it's no wonder that 81 percent of small and midsize businesses (SMBs) rely on email as their main customer acquisition method, while 80 percent rely on it for customer retention, according to a study from Emarsys.
So it's obvious that email marketing is a worthwhile investment. It's an important resource that, if remained untapped, could potentially cost you money in the long run.
After all, customers want to be engaged with the companies that they shop from. Not to mention, people have incredibly short attention spans these days so remaining top of mind is an important aspect of business.
But how can companies wrangle the beast that is email marketing and make sure that it works for them?
Fortunately, there are a number of platforms that exist to help you do just that. We're going to take a look at three of them today: Mailjet vs Sendinblue (Now Brevo) vs MailChimp.
We're going to begin our journey today by looking back at where these companies came from.
Related : Best Autoresponders & Email Softwares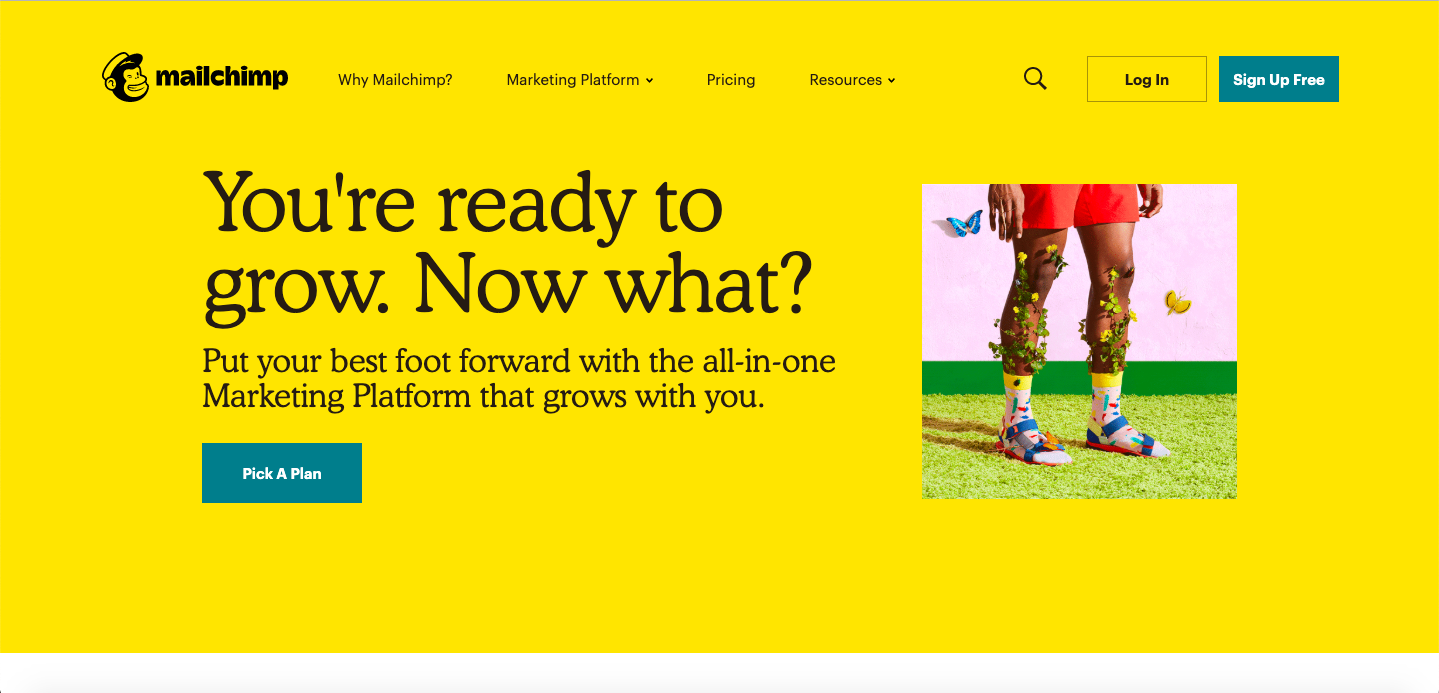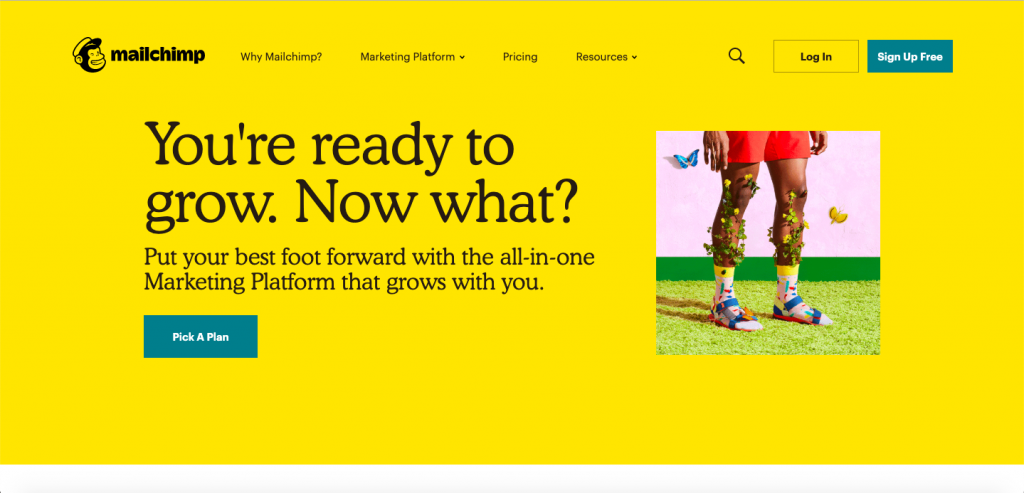 Image: MailChimp
Formed in 2001, MailChimp is the old man on the block. It's been around so long that it has every right to sit on its front porch and scream at the neighborhood kids to get off its lawn.
But rather than assume its perfectly respectable role as loveable neighborhood curmudgeon, MailChimp has positioned itself as a community leader.
For most people, when they think of email marketing, the first company that springs to mind is MailChimp. That's because the company has worked hard for nearly two decades to provide top-of-the-line service.
MailChimp is the product of Rocket Science Group, a company founded in 2001 by Ben Chestnut and Mark Armstrong. Dan Kurzius joined the company at a later date.
The platform began as a paid service before adding a freemium option in 2009. Within a year of the free option becoming available, MailChimp's user base grew from 85,000 to 450,000.
By June 2014, MailChimp was sending more than 10 billion emails every month. In 2017, it was gaining 14,000 new customers every single day.
Interestingly, MailChimp is still owned by its founders and has never accepted any venture capital funds.
This year, MailChimp announced that its revenue would reach $700 million with a stated goal of becoming a full marketing platform directed toward smaller organizations.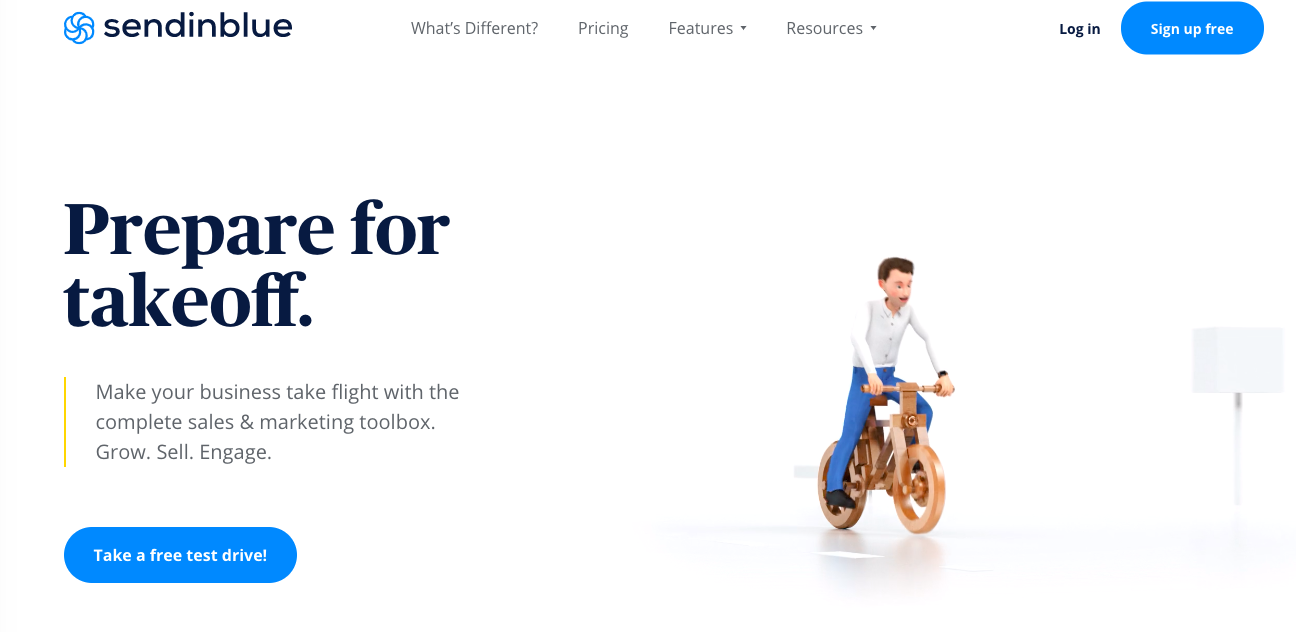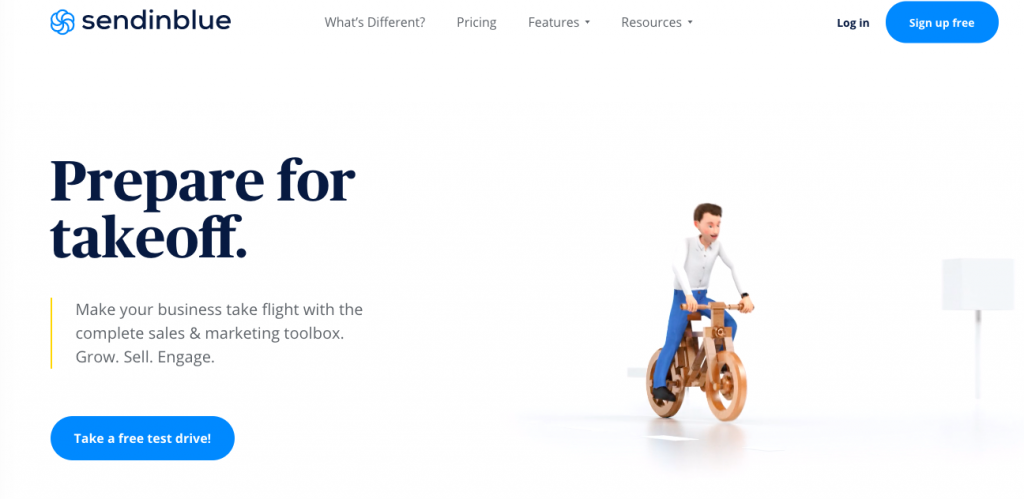 Image: Sendinblue
If MailChimp is the old man on the block, Sendinblue is one of the new neighborhood kids tearing up MailChimp's lawn.
Founded in 2012 by Armand Thiberge and Kapil Sharma, Sendinblue provides a cloud-based marketing communication software suite that includes email marketing, marketing automation, transactional email, customer-relationship management, retargeting ads, Facebook ads, landing pages, SMS marketing, and more.
Our Pick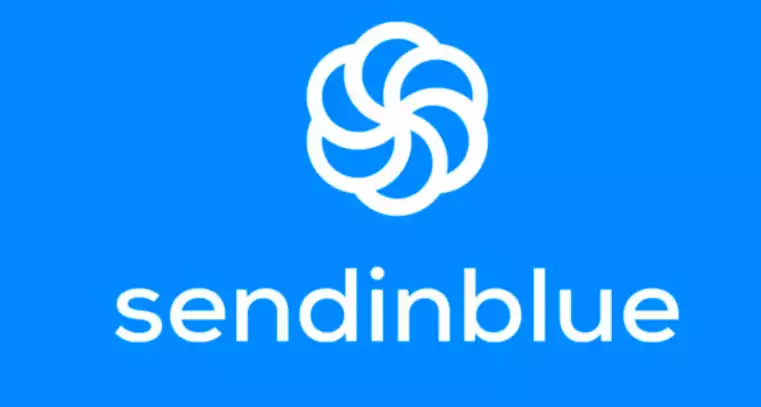 We earn a commission when you click this link and make a purchase.
Sendinblue has four offices around the world. It's headquarters are in Paris, France, another in Delhi, India, a third in Berlin, Germany, and the fourth in Seattle, Washington.
Last year, Sendinblue reported that its community included more than 50,000 users, throughout more than 100 countries, sending over 30 million emails every day.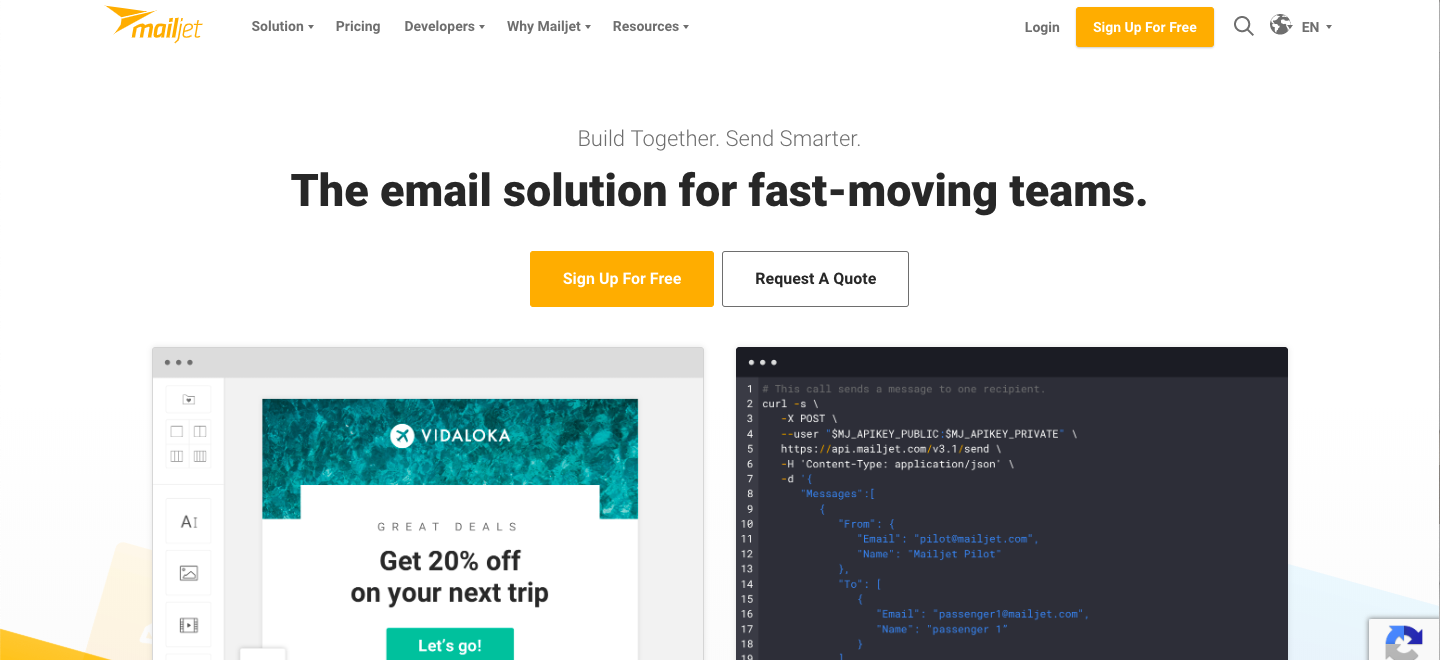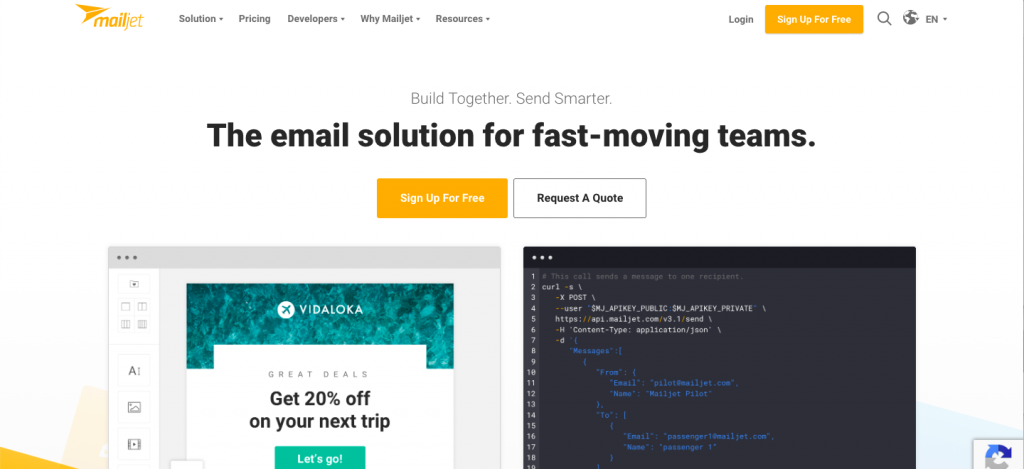 Image: Mailjet
Mailjet began operating in 2010 by Julien Tartarin, Nicolas Chaunu, Quentin Nickmans, Thibaud Elziere, and Wilfried Durand.
The company is also headquartered in Paris, France and boasts offices in New York, Toronto, Barcelona, Amsterdam, Sofia, London, Berlin, Düsseldorf, and Ho Chi Minh City.
Mailjet serves customers in more than 150 countries and sends two-billion emails per month.
MailChimp Features
Now that we know a bit about each company, let's dig into their separate offerings and see if we can suss out a superior provider.
Over the years, MailChimp has focused its attention toward ecommerce site owners. By leveraging powerful features – as well as the ever-popular free-version of its service – site owners seek to bolster their revenues.
But what exactly do those powerful features consist of? Let's dig in:
MailChimp's Landing Page Builder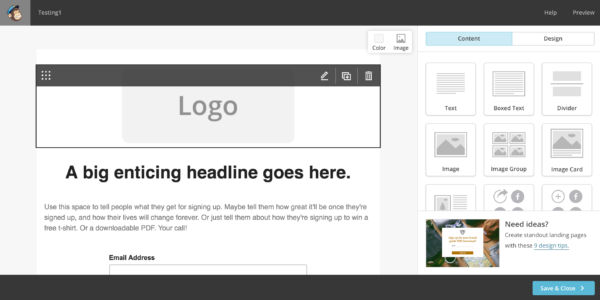 Image: Growth Marketing Pro
MailChimp is renowned for its drag and drop email design tool. In much the same way that people can take advantage of the tool to design their emails, they can also create sleek, professional looking landing pages.
If you crawled out of a cave yesterday, found your way to an internet-enabled computer, and the first thing you decided to do was start an ecommerce business, you would have no problems with MailChimp's intuitive drag and drop design tool.
Given its ease of use, you would likely be making conversions before you even understood what a hashtag was.
The landing page has a lot of useful functions, including:
The ability to promote products ahead of time
For brands who are preparing to launch a new line of products, this is a great way to generate buzz or offer your already loyal subscribers an exclusive rate.
Simply create a page about the new product or service and send out an email to your subscribers, allowing them to purchase your wares at a lowered price.
MailChimp also allows you to create a waitlist and prioritize each of them in order.
Related : MailChimp vs Constant Contact
Showcase your products
Whether you have new products that have just become available or you want to feature some of your best-selling stock, you can quickly and easily design a page, pulling images from your site directly to the landing page.
Offer free downloads
This is great if you want to offer something to people who don't traditionally shop online.
It allows you to create a unique piece of content that people can actually hold in their hands if they sign up as a subscriber.
Besides promoting the content directly on your site, you can use MailChimp to create a landing page to make the process run more smoothly.
Create giveaways
This gives your subscribers and followers a nice treat. For instance, you could create a raffle that is exclusive to people who already belong to your mailing list. You can also offer freebies and easily monitor the content through MailChimp's platform.
MailChimp's Ad Campaigns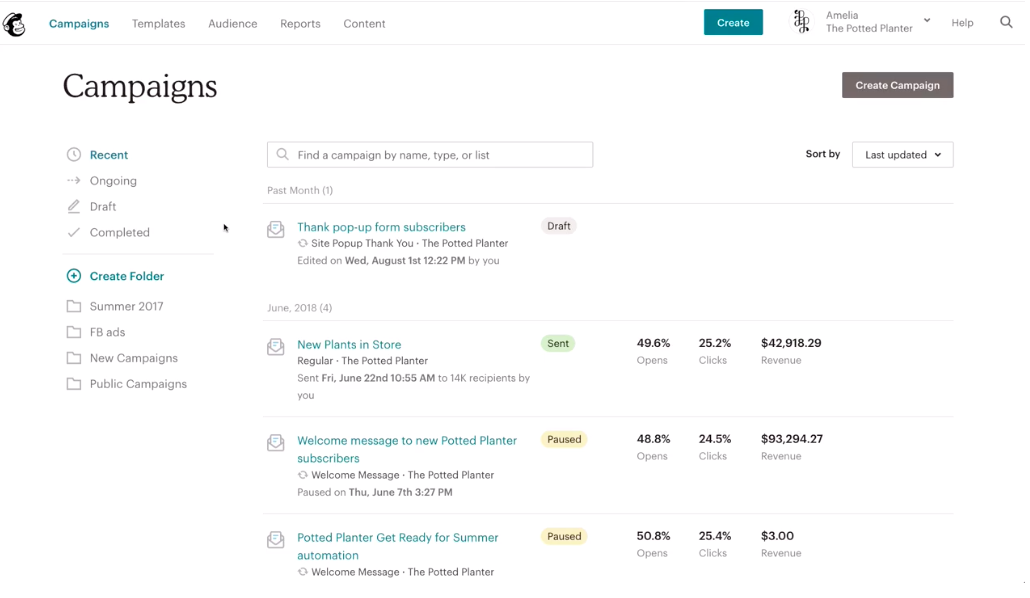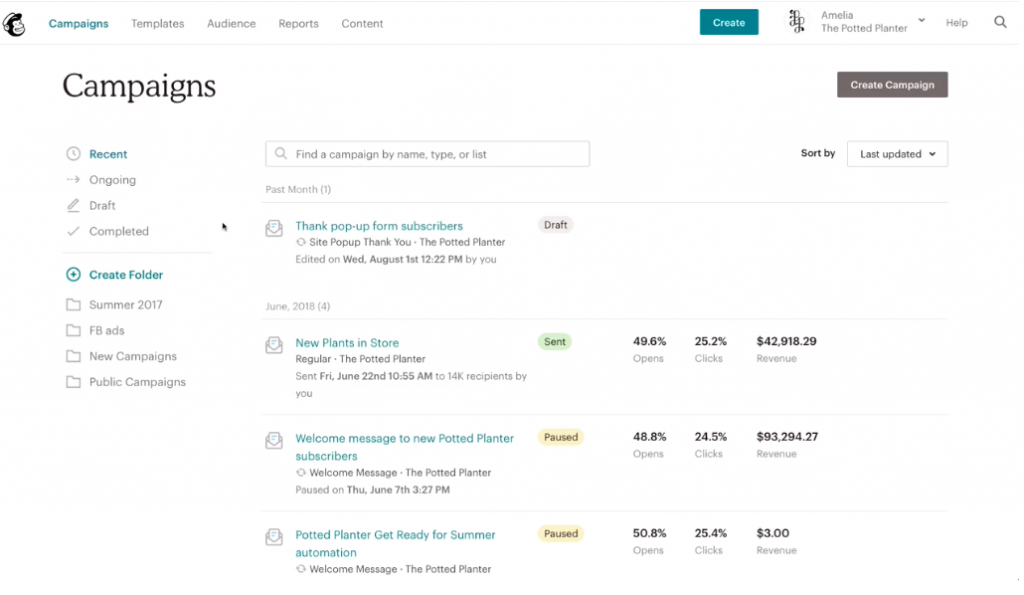 Image: MailChimp
MailChimp's ad campaigns provide an excellent opportunity to help expand the avenues you use to grow your business.
Take advantage of these by reaching out to different social media channels and ad networks in order to attract the right people to your brand.
MailChimp can be used to create Facebook ad campaigns, Google retargeting ads, Instagram campaigns, and more.
For instance, MailChimp allows you to create an image carousel (or a boring single image) to appear on people's Facebook feeds.
You can then monitor the performance of these ads directly through MailChimp's interface and make any necessary changes to improve the campaign.
Related : MailChimp vs Sendinblue vs Phplist
Third Party Integrations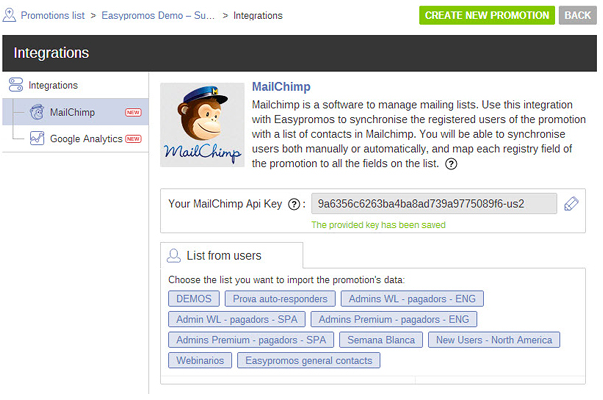 Image: Easypromos App
MailChimp integrates with many of the popular ecommerce platforms. Those include names like Magento, Shopify, Prestashop, and more.
You also have the power to connect your mailing list to different opt-in forms and WordPress plugins in order to build out your mailing list with even more tools.
MailChimp Templates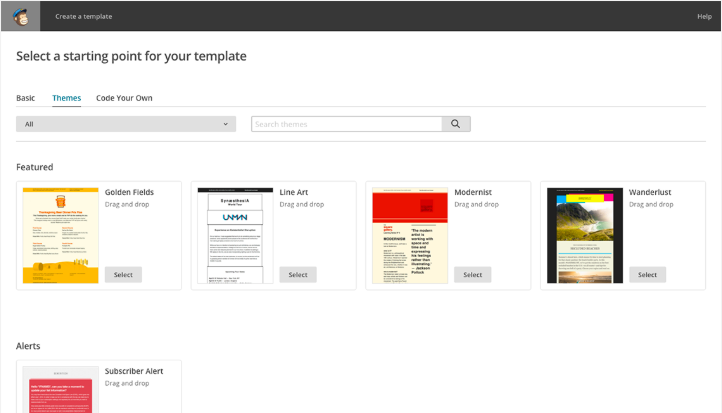 Image: MailChimp
In addition to the popular drag and drop email builder, MailChimp also provides a veritable smorgasbord of email templates depending on the industry and general purpose of the emails.
Sift through various templates for notifications, e-commerce sales, events, holidays, newsletters, and more. This allows you to simply select a look, build your message, and not concern yourself with the overall design.
These customizable templates can provide a nice starting off point for those fresh-from-the-cave online retailers.
Afterall, MailChimp has a pretty good handle on what converts and it's their goal to make sure you're converting customers into sales.
Related : Best MailChimp Alternatives
MailChimp Automation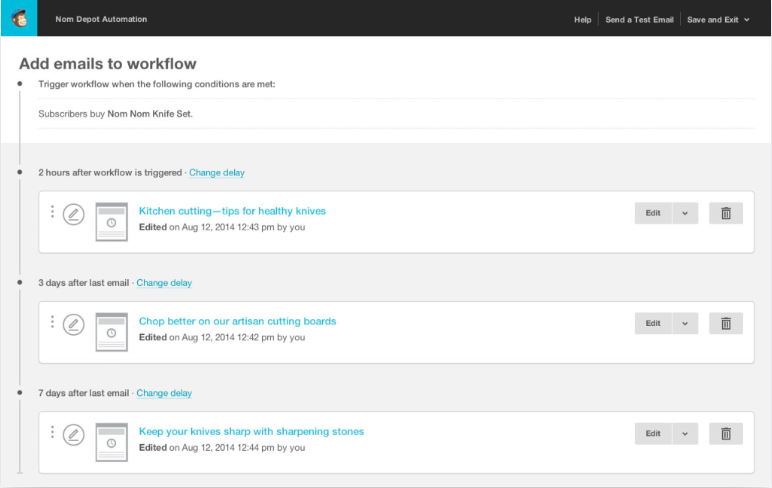 Image: MailMunch
Use MailChimp to create triggers that will help you generate more sales by capturing visitors. Essentially, you can send visitors emails based on an action they took on your site.
You can also send abandoned cart emails, follow up on purchases, and recommend similar products to recent customers.
MailChimp A/B Testing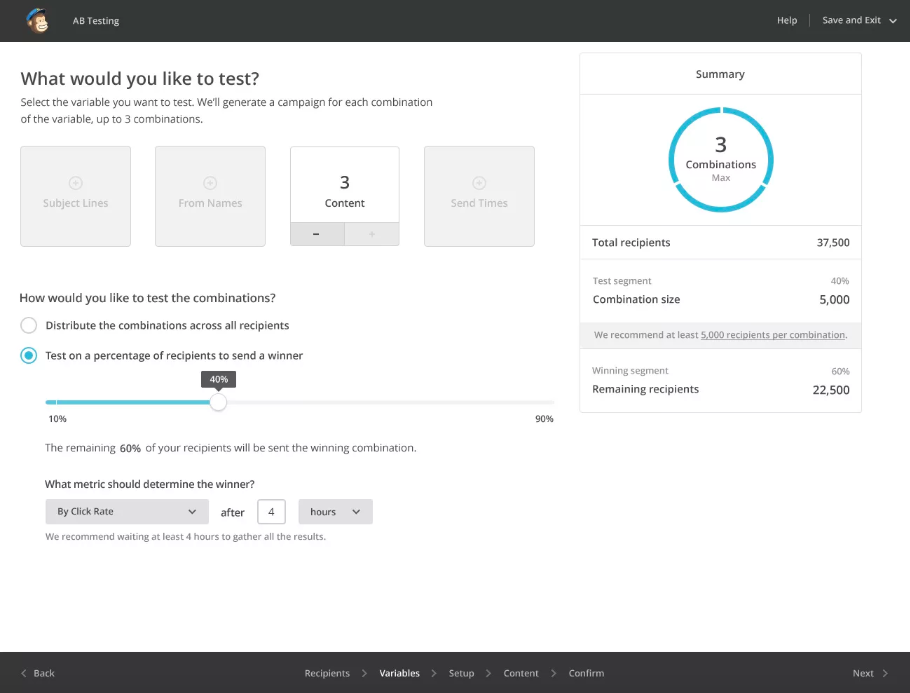 Image: Voila Norbert
All of the cool features and powerful tools in the world aren't worth a hill of beans if you can't measure the efficacy of your campaigns.
In order to help you refine your email campaigns, MailChimp gives you the ability to build two versions of the same campaign and see which one holds up the strongest.
Using the data gathered by MailChimp's analytics tool, you can see which campaign provided the highest engagement rates and conversions.
Following that, you can replicate these successful results across future campaigns. You can also continue testing and refining as you go, perfecting your approach as you move forward with your business.
Sendinblue Features
Sendinblue believes that email marketing is a powerful way to reach a target market.
With that in mind, the company created a tool designed to help businesses convert subscribers into customers, refining the traditional email marketing approach as it grows.
Let's look at some of the features that make Sendinblue stand out:
Sendinblue Transactional Emails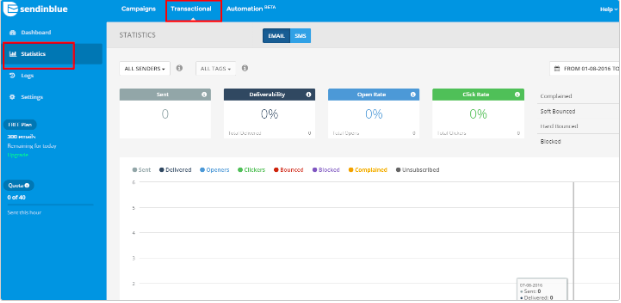 Image: Sendinblue
These are also referred to as "triggered" emails.
These data-driven emails allow you to automatically send certain users a targeted message depending on their interaction with your site or behavior on your app.
Our Pick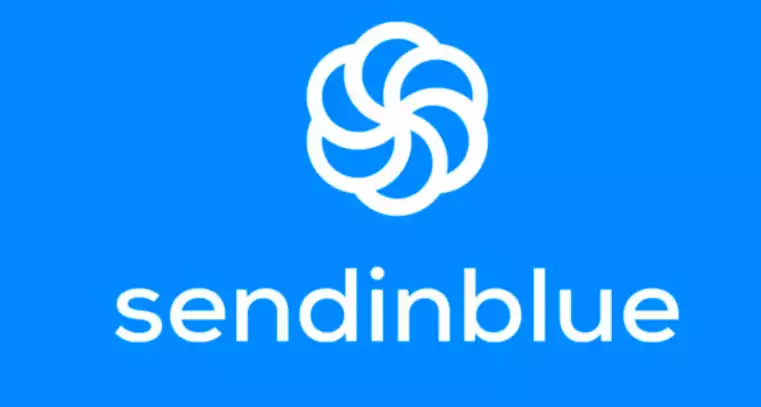 We earn a commission when you click this link and make a purchase.
So, if a user makes an in-app purchase, you can set up Sendinblue to deliver a receipt to that user via email. Following that, you can develop your transactional emails by using Sendinblue's SMTP email or transactional SMS.
This feature isn't available through MailChimp – though you can set up something similar through one of that platform's integrations.
Related : Sendinblue vs Constant Contact
Sendinblue SMS Marketing

Image: Sendinblue
I know that we've talked a lot about email marketing. Heck, that's the central point of this article. But sometimes a marketer needs to step out of the internet and interact with their customers in different ways.
Enter Sendinblue's SMS marketing tool.
This allows you to send SMS messages that your customers will receive directly to their phones. It is, after all, similar to email marketing in that subscribers will use their mobile devices to interact with your messages. But it does provide a few distinct advantages.
It allows for extra-fast delivery, a convenient way to opt in or opt out of your offers, and it has high conversion rates. One reason for this may be that there are no spam filters for SMS.
This may not be useful for all businesses, but if you can find a way to develop and use SMS marketing it might offer a cool, unique way to interact with your customers.
Sendinblue Email Builder
Image: Sendinblue
This tool is similar to MailChimp's drag and drop email builder.
You simply move the elements that you want to the area of the email you want to see them in and edit from there.
Sendinblue also provides a number of templates that help you avoid starting from scratch. These templates are also customizable, so you can ensure that your emails still meet your overall style.
Our Pick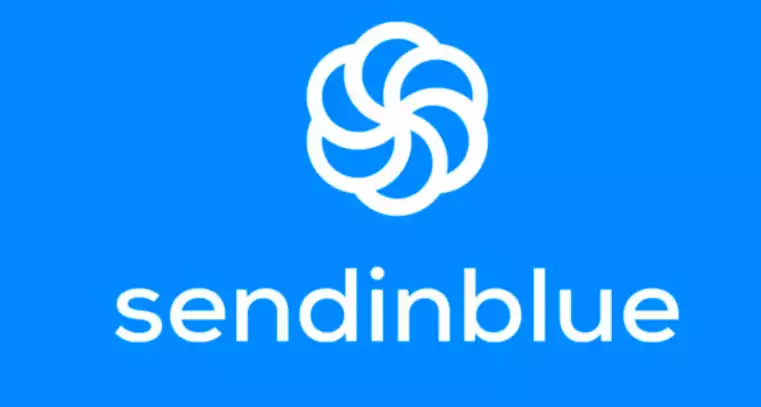 We earn a commission when you click this link and make a purchase.
One extra cool feature is that Sendinblue allows you to fill in individual details for each of your subscribers.
The tool can insert these details into the emails to make them look more personalized and special, encouraging conversion rates and keeping people on your list happy.
Related : Sendinblue vs Mailerlite
Sendinblue Contact Management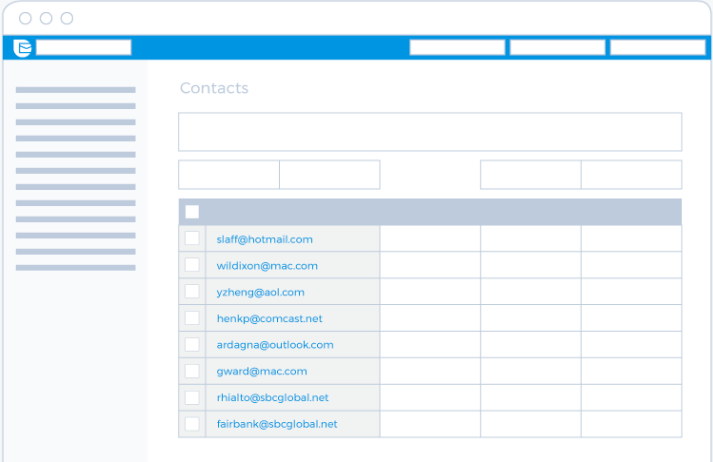 Image: Sendinblue
One of the most powerful ways to utilize Sendinblue's features is to begin sending highly targeted emails to a segment of your email list.
This can be used to simply engage with a segment of your audience for specific product launches or to increase conversion rates.
By segmenting your subscribers into specific lists, you make sure that each person is receiving content that they care about.
You can also organize subscribers into folders to help boost your own productivity. Or, create sign-up forms to display on your website and help boost your subscription count.
Sendinblue Campaign Reports

Image: Sendinblue
After you unveil your email campaign and let it loose on the world, you can begin tracking its progress using Sendinblue's technology.
You can track who has opened your email, who has clicked on the links, or look for deeper, unique insights.
For example, take a look at any geographical areas that may have engaged with your emails more than others, which platforms did they use to access your correspondence, and much more.
These analytics can be used to help you understand your audience and tailor your service to their needs.
Maybe most people open your emails in the morning, so you can begin making sure that your email is sitting in their inbox just as they sit down with their morning coffee.
Or perhaps most people are opening your newsletters on their mobile devices, so you can use that information to optimize your emails for small screens.
Sendinblue Automation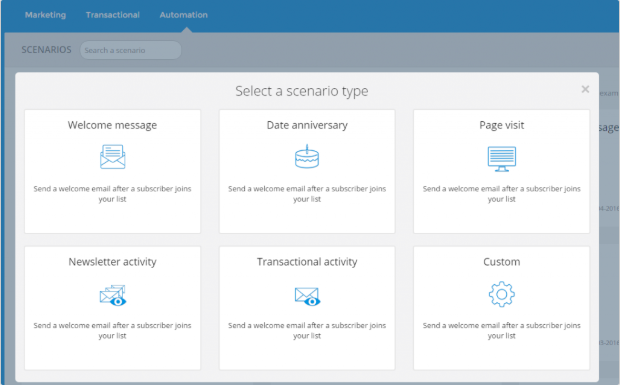 Image: Sendinblue
Use Sendinblue to build triggers and workflows that will help you automate the entire email marketing process, allowing you to spend more time focused on your business.
Our Pick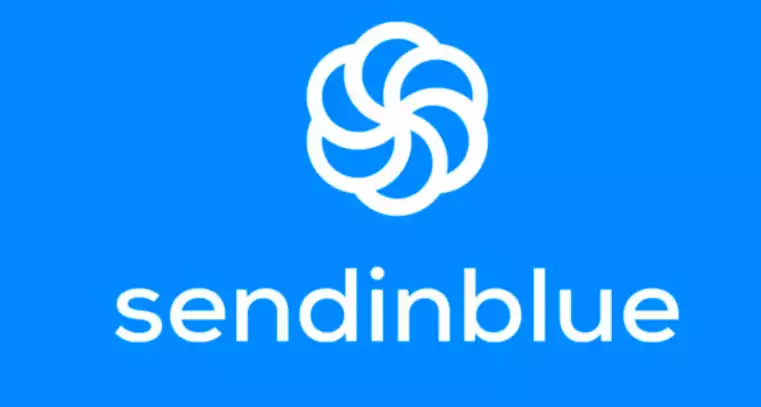 We earn a commission when you click this link and make a purchase.
Sendinblue's automations are fairly robust, allowing you to input many variables to create specific triggers and develop a more powerful, targeted campaign.
The SMS feature we mentioned earlier can also be integrated into this step.
Mailjet Features
Now, let's turn our attention to Mailjet.
This intuitive platform is well-designed for businesses from a single person operating a blog to an enterprise company looking to craft a well thought out email campaign.
Among Mailjet's many powerful features are things like a drag-and-drop design system that is both intuitive and easy; real-time email monitoring for quick data collection; and a decent selection of templates.
Those are all pretty standard across the board for these companies. But there are some pretty cool tricks that MailJet uses to set itself apart from the competition.
Among those are unlimited contacts storage, statistics tracking, and API support.
Explore : Aweber vs Constant Contact
Mailjet A/B Testing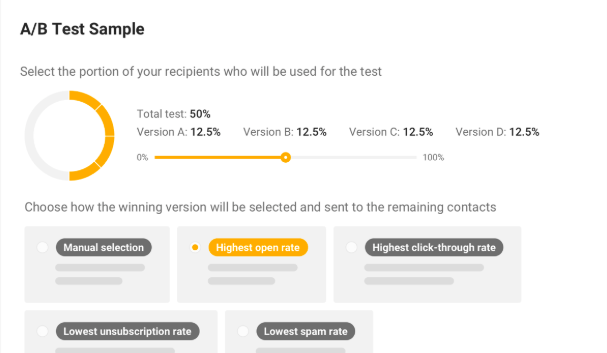 Image: Mailjet
Mailjet's A/B testing is simple and straightforward. All you need to do is set up a few basic features and the contact list you want to send the email too.
Then, you input the variables you want to test like the length of subject line or whether to include videos.
The most simple tests have two versions and look at a single variable. Mailjet allows up to ten versions of a single campaign.
Mailjet Segmentation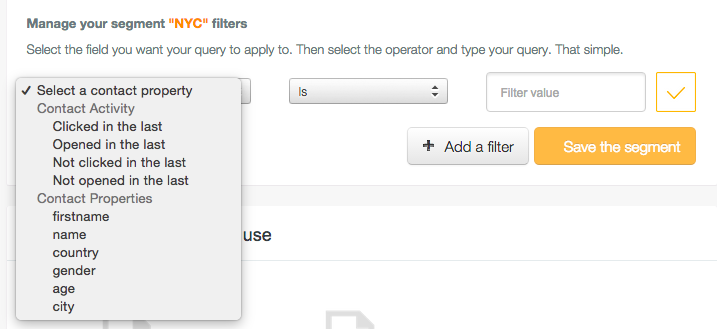 Image: Mailjet
This is only included with a premium account, but it's still pretty handy.
It allows you to take a group of customers and separate them into lists based on different variables. You can even investigate when customers become inactive so you can send them a re-engagement message.
Also Read : Best GetResponse Alternatives
Mailjet Real-Time Collaboration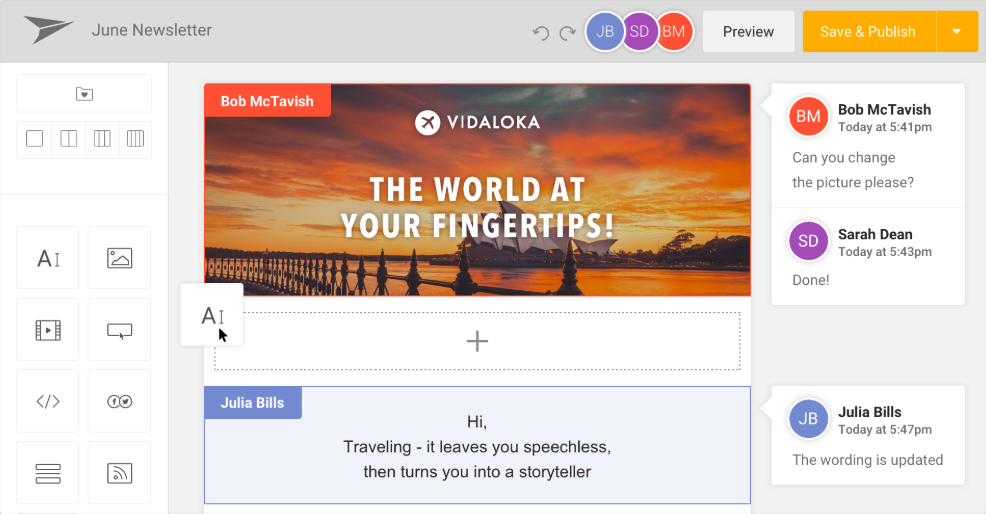 Image: Mailjet
This is a great way to engage with your team and increase efficiency. It allows you to easily assign roles like designer, developer, or marketer, but you can add as many people as you want.
Email sections are cordoned off as an individual finishes their work on that section. Once the work is completed, they're instantly shared with colleagues so you can all see what work has been done.
Mailjet Subscription Widget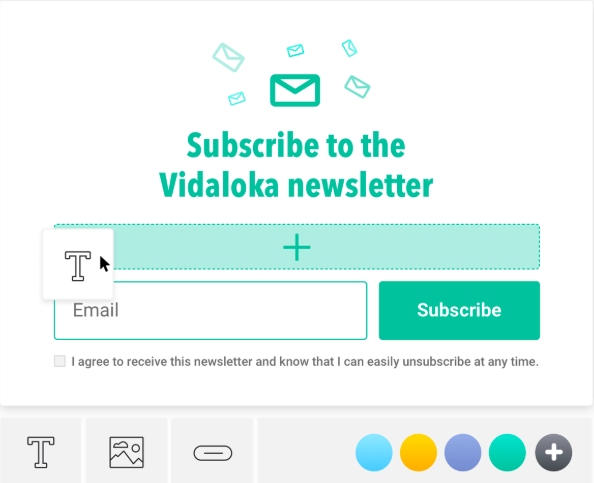 Image: Mailjet
The subscription widget allows anyone who opts in to automatically be added to your email subscription list.
The process of creating the widget is quick and easy. You can set it up as either an embed code or a pop-up, collect more than one email address, and use it as a chance to collect all pertinent information like names and addresses.
Worth Reading : Best Constant Contact Alternatives
Mailchimp vs Sendinblue vs Mailjet – Pricing
Let's talk about the pricing of each tool.
Mailchimp pricing
Now that we've examined the features of each company, let's look at how much they cost.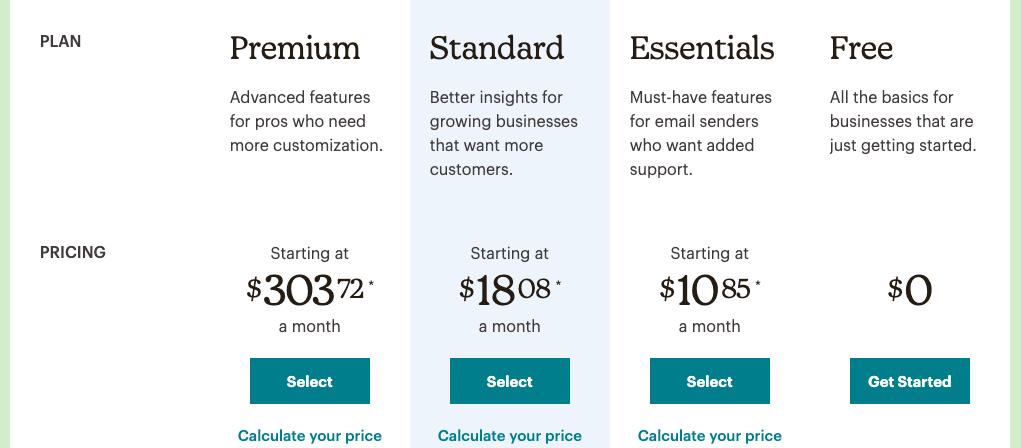 MailChimp is famously free for its basic package. And let's not forget, that package offers a lot of features.
Even after that, the prices are still pretty reasonable until you hit the Premium level. They start from $10.85/month.
However, if you have enough subscribers to warrant the Premium level, you also probably have enough income to afford it.
Sendinblue Pricing
Sendinblue also offers a free tier that provides 300 emails per day to an unlimited number of contacts.
The prices and availability of features escalates from there, remaining relatively affordable throughout. They have an Enterprise plan beside Lite (Starting $25/month) and Premium (From $65/month) plans.
Our Pick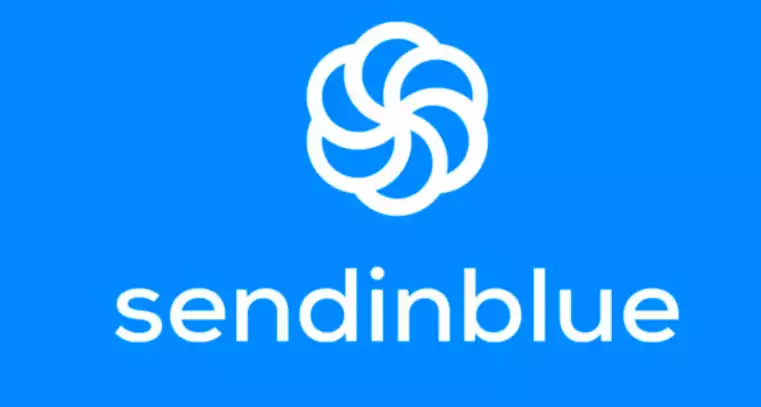 We earn a commission when you click this link and make a purchase.
Mailjet Pricing
Like the competition, Mailjet offers a free price tier allowing 6000 mails per month.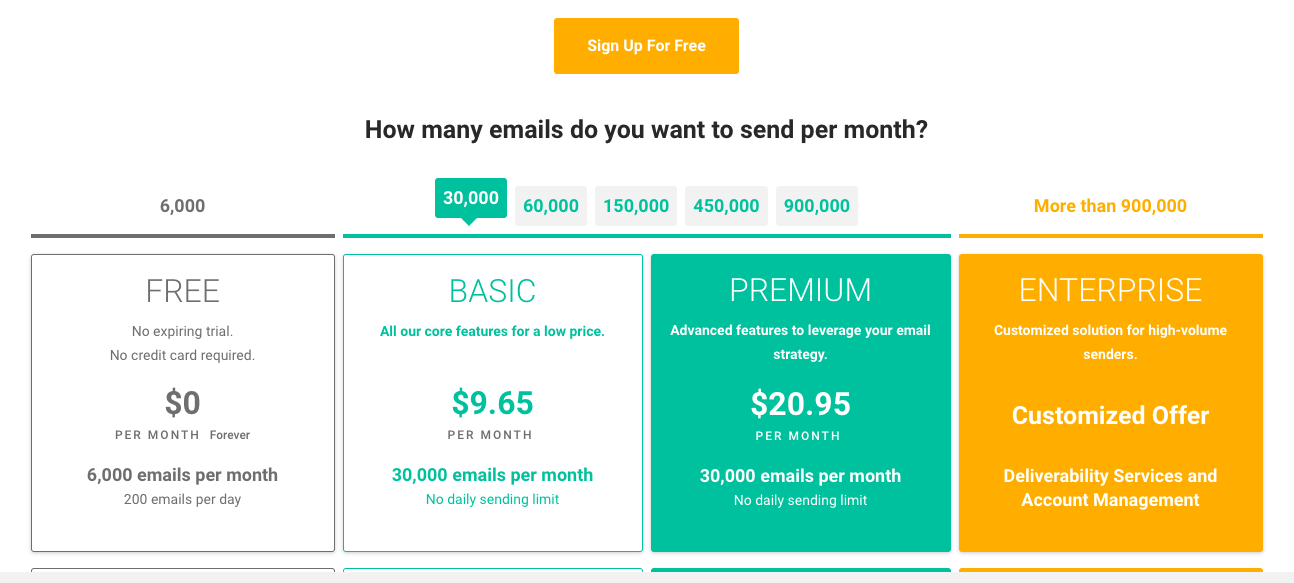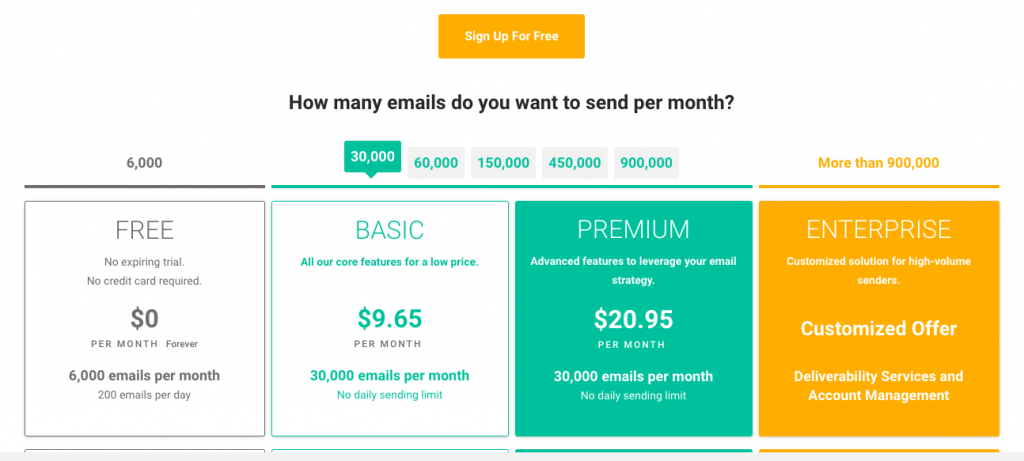 In fact, Mailjet's entire pricing structure remains much simpler than the others. Even at its most expensive it remains one of the more affordable options on this list.
Paid plans start from $9.65/month for 30000 emails.
Conclusion – Mailjet vs Mailchimp vs Sendinblue
Finally, we come to the conclusion of Mailchimp vs Mailjet vs Sendinblue review.
From the three options, we recommend Sendinblue. It not only offers transactional emails, which help you keep customers engaged and involved with your brand, but its platform is optimized to help you achieve the highest delivery rates possible.
These two features, which are a must have for a successful email marketing strategy, plus many others it offers put Sendinblue noticeably ahead of the pack.
Its automation features are more extensive than those of Mailjet and MailChimp, plus it offers a free package and is one of the few consistently priced providers as you scale up.
Having said that, each of these platforms has many powerful features, a number of useful integrations, and enough stylish design to make them a great tool in their own right.
Given that all three of them offer a free pricing tier, you might want to play around a bit with each before ultimately committing to one.

Author: Sam Zaman
Sam loves to write on technology & related stuff. Ecommerce, mobile and internet marketing equally drive her interest. Likes gardening and experimenting with new recipes. An avid reader and absolutely mad @bout donuts :)