If you are a nonprofit organization, donations are the life-blood of making the business achieve its goals.
Not only does that mean finding creative marketing channels to promote your organization, but it also means developing the most cost-effective and efficient ways to promote your campaigns to your audience.
Email marketing is one of those efficient ways to reach thousands of people on a minimal, tightly-regulated budget.
But with the advancements in email automation today, there are several different platforms that you can choose from for your email marketing needs.
Today I want to talk about two email marketing platforms in particular, namely Constant Contact vs MailChimp, and explain the main features, how to use them, and the pricing of each of them.
So let's dive right in!
Related : Best Autoresponders & Email Softwares


Let's begin with MailChimp in this MailChimp vs Constant Contact review.
MailChimp is one of the oldest email marketing platforms, being operated by a company called Rocket Science Group, a company founded by Ben Chestnut, Mark Armstrong, and Dan Kurzius in 2001.
Although the operating company has been around since 2001, MailChimp didn't start offering its "fremium" service until 2009.
Since then it has grown exponentially.
They continued to push on and grew strong as they "quietly" acquired a company called LemonStand, which was a Shopify competitor at that time.
You probably didn't know, but you can also send a physical postcard using MailChimp.
I only mention it here in this article because as a nonprofit, mailers are always a good way to spread the word as well.
You can also set up Facebook and Instagram ads directly from your MailChimp dashboard!
As you can tell, this company continues to innovate and adapt to the ever-changing email marketplace.
And as the marketplace has become very crowded now with other email platforms, MailChimp remains a crowd favorite due to its simplicity, low-cost, high-value, and ease-of-use.
Also Read : Complete MailChimp Review
MailChimp Features
Let's see what all it offers.
Broadcast emails
Broadcast emails are just another term used in the email marketing world for sending out a one-off or "broadcast-like" email to your entire list at once.  These are not automated, nor are they part of a sequence.
You may want to classify broadcast emails more as a strategy than an actual feature.
But it's good to note that you follow the rules of whichever email platform you are using when sending emails and take care not to abide by the CANSPAM laws.
The basics of setting up these types of emails are simple.
In order to create an email campaign that is sent once to a group, you will go to the "campaign" tab and click the "create" button on the top right-hand corner.
Then, when the screen comes up, you will choose "email":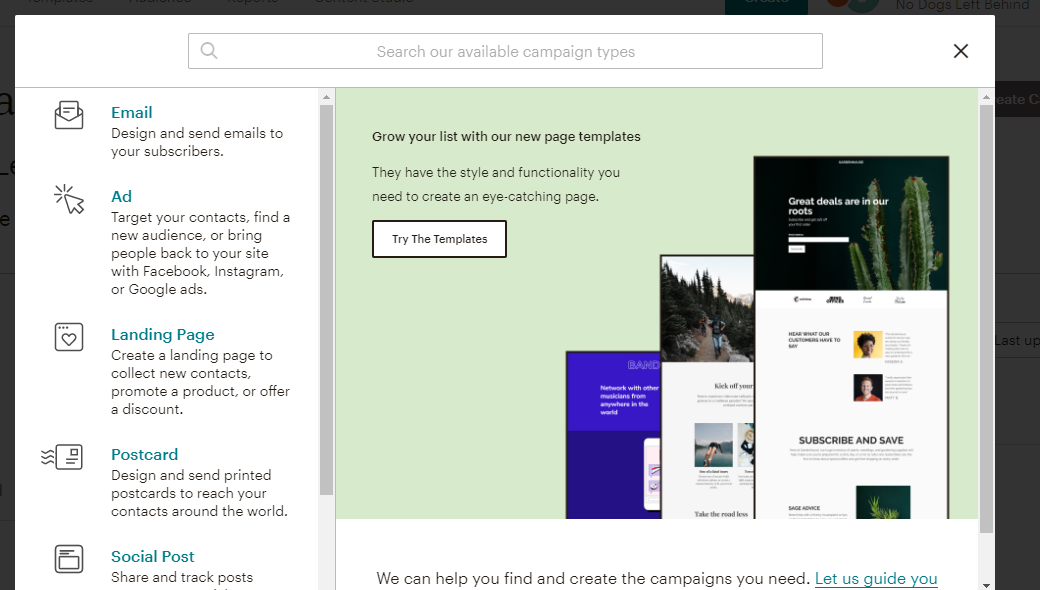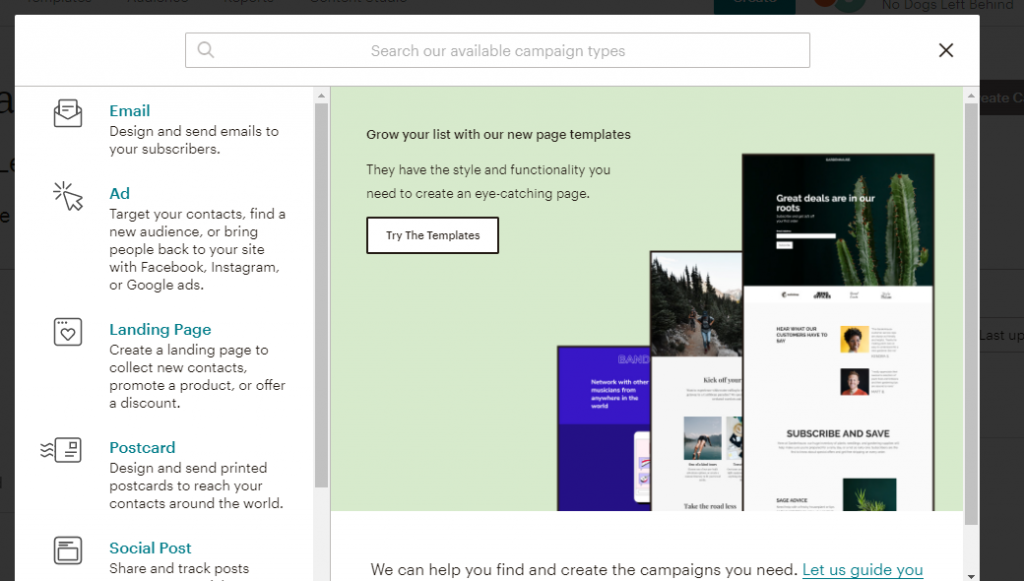 Once you click "email," it will ask you to name the campaign: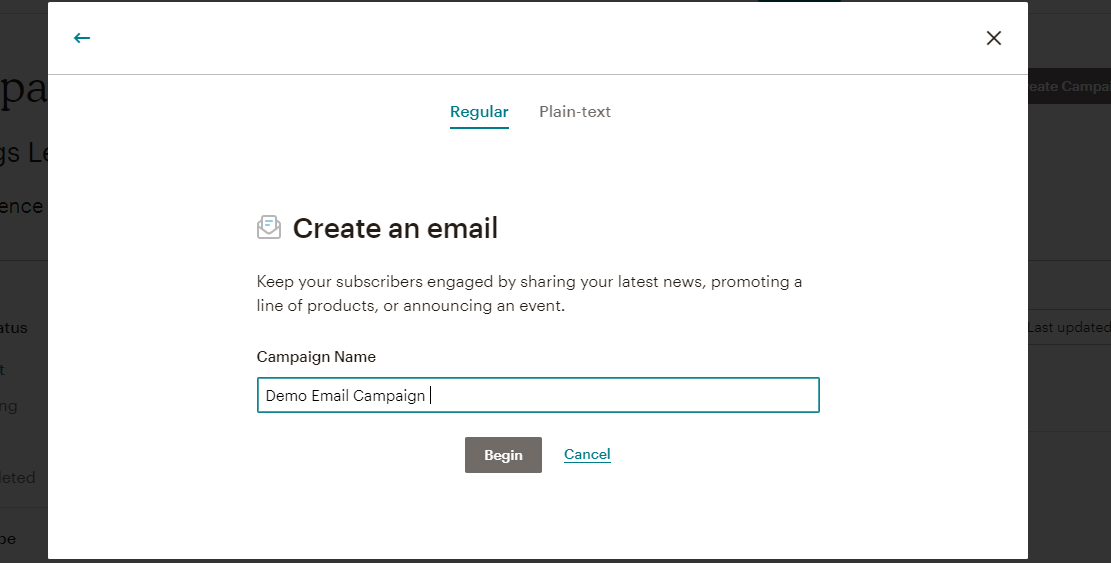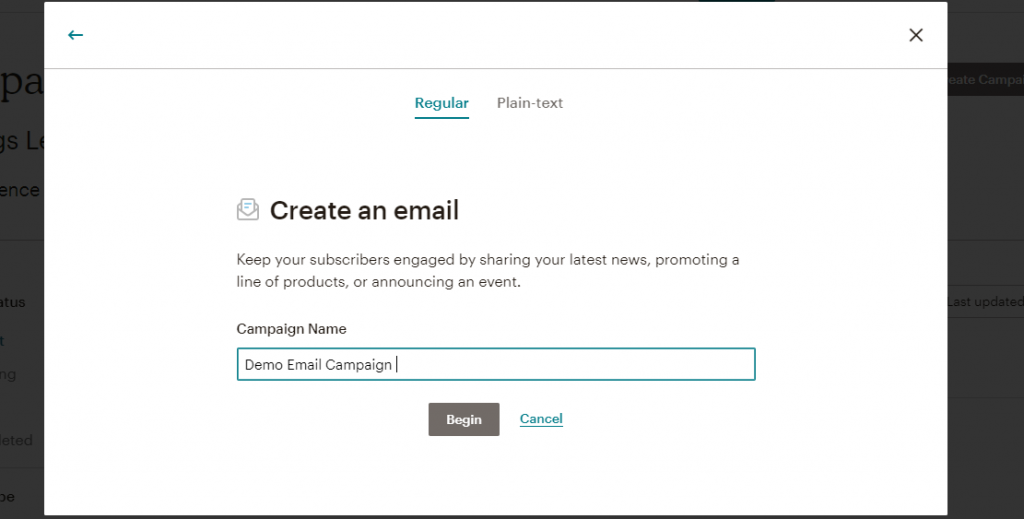 When you are done naming, click the "begin" button to move to the next screen. Here is where you will determine who your campaign is going to, what email address it will be coming from, the subject line of the email, and the content of the email.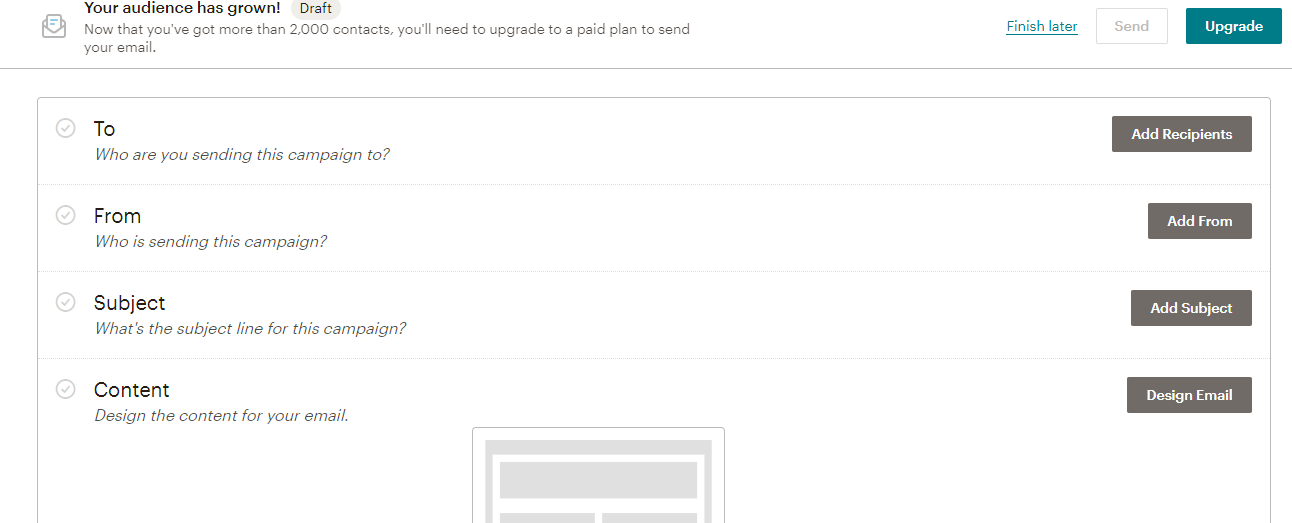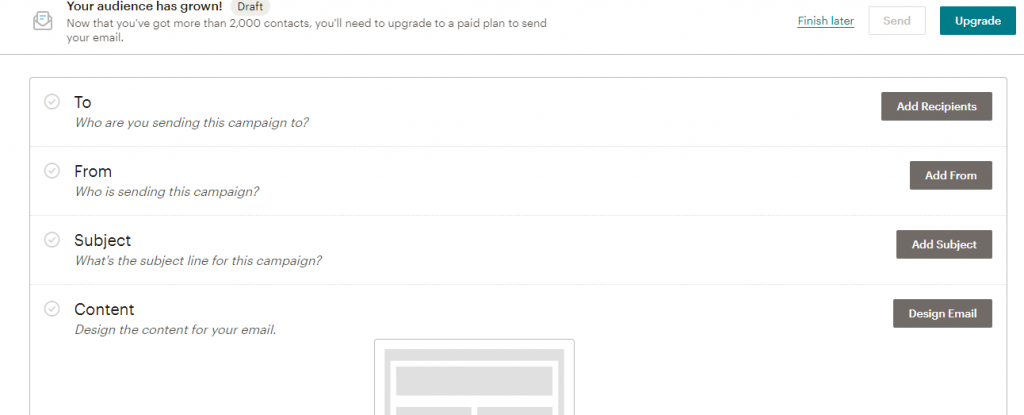 And that's it!  It's very simple and easy to do.
MailChimp Email Automation
One of the best things about email marketing platforms is they allow you to send automated email sequences out to your contacts.
So essentially what this means is you can set up a year's worth of campaign emails to your contacts all in one fell swoop!
In order to create an automated campaign, you will go to the "campaign" tab and click the "create" button on the top right-hand corner.  Then you when the screen comes up, you will choose "automated email":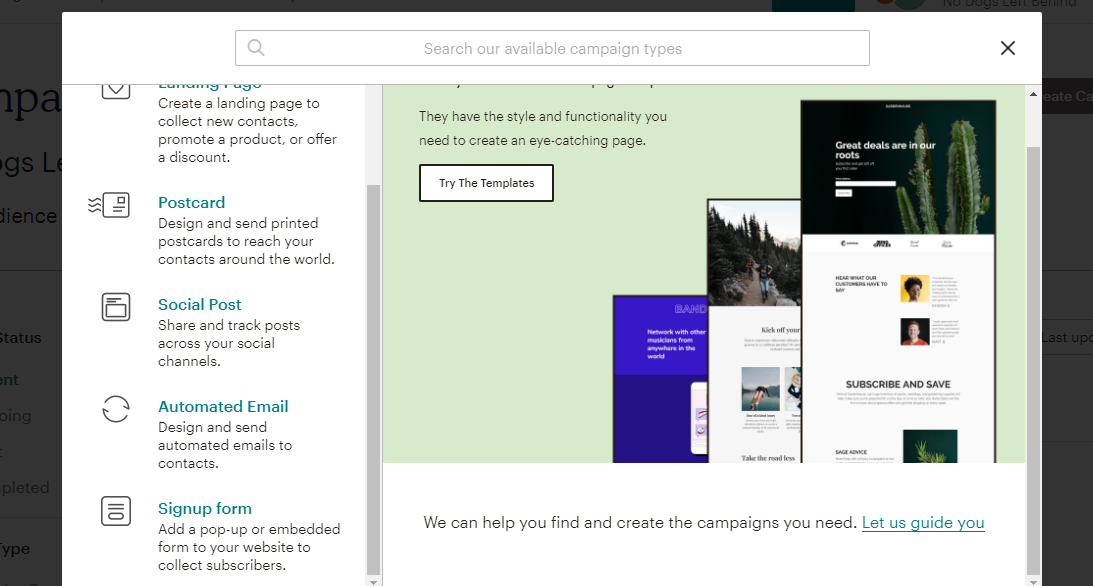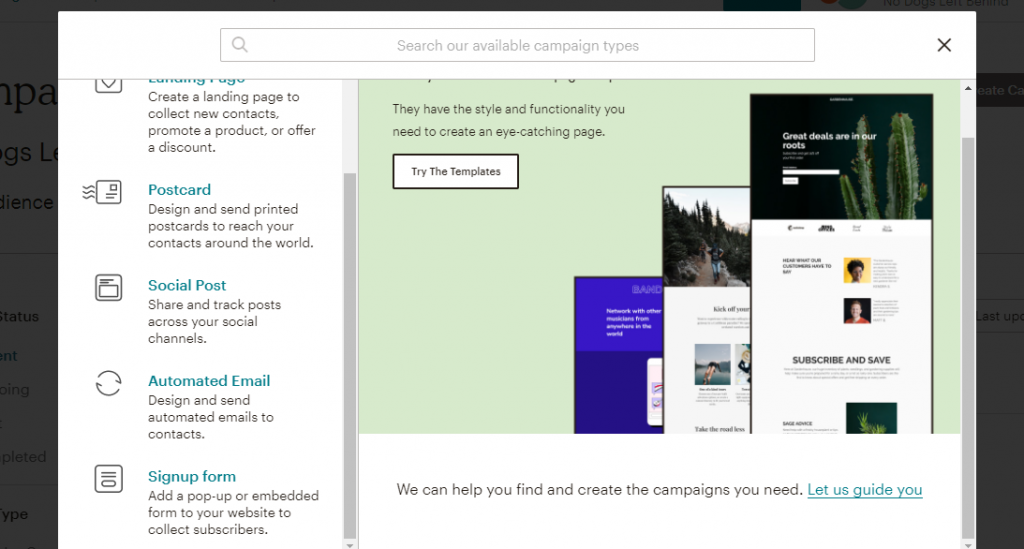 Once chosen, you will next have to choose which action will essentially trigger this automated campaign.  For this instance, and for most nonprofits, it could be when someone subscribes to your newsletter or gives a donation.
So, in this case, we could choose "Welcome New Subscriber."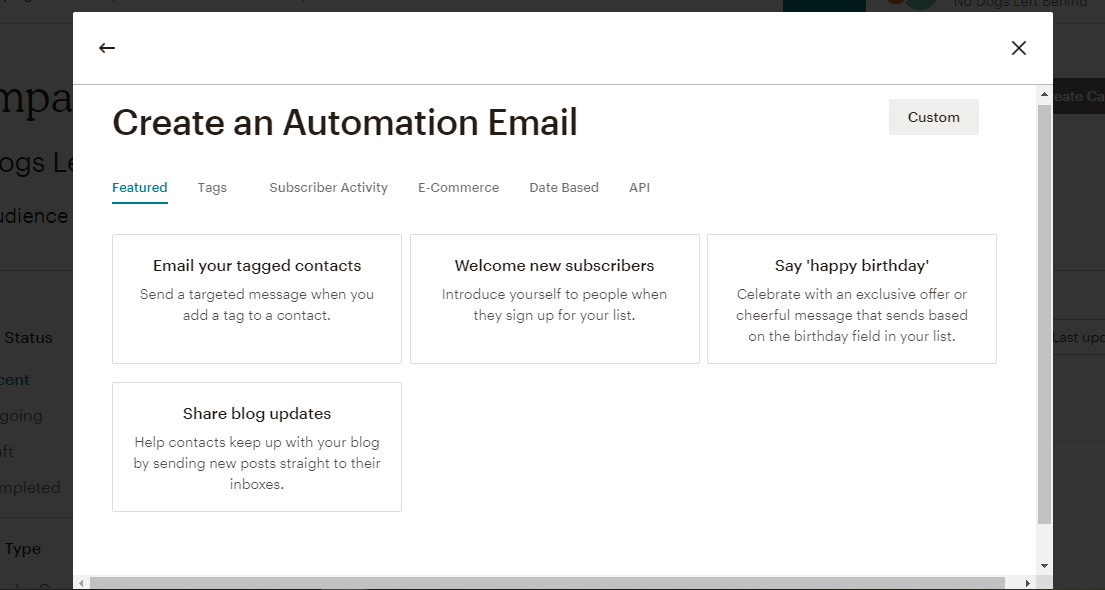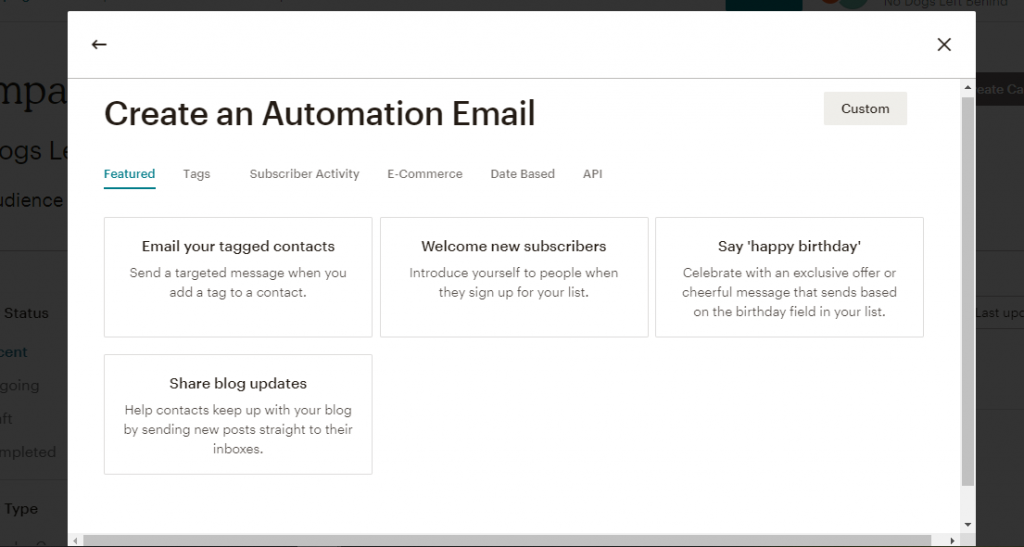 Once you clicked on "welcome new subscriber," it will take you to another screen where you can start building your automated campaigns out.
As you can see, the automation series campaigns only come with Standard and Premium plans, so make sure that you have one of those plans before you start to create automation.
Related : MailChimp vs Sendinblue vs Phplist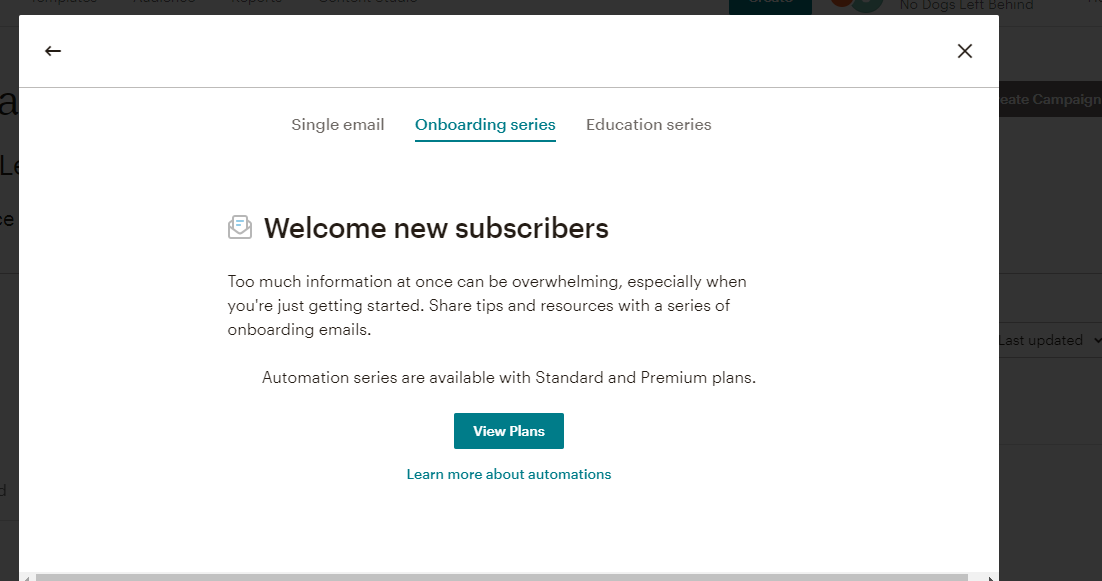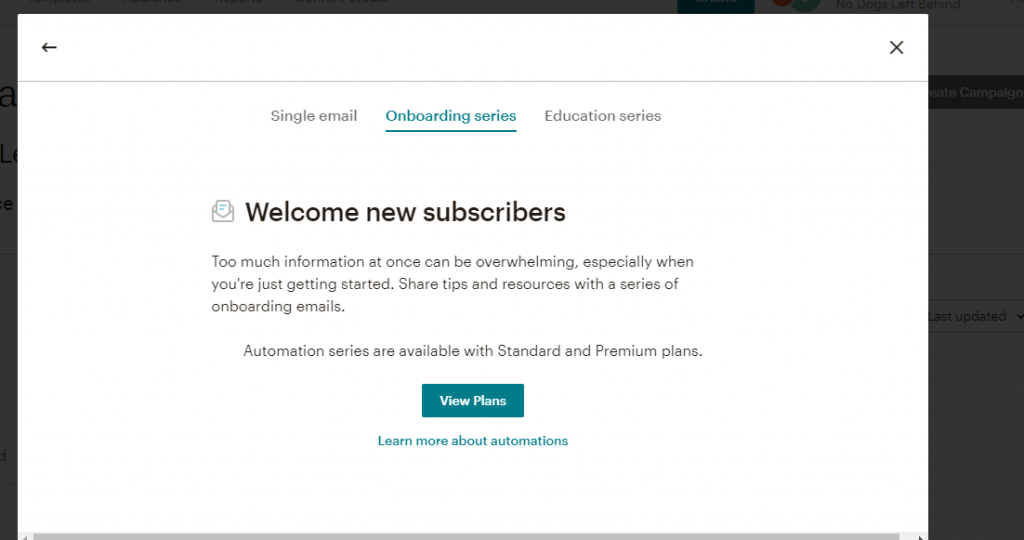 But essentially what you will be doing is setting up a series of emails to go out on a pre-timed schedule, let's say every seven days, to people who subscribe to your newsletter, or make donations.
It's a wonderful way to keep in touch with people without having to manage everything throughout the year.  It can all be set up at once.
So if you want to touch your database once/week over a period of six months, you would have to set up 24 emails ahead of time and load them into your automation sequence.
It's a lot of work upfront, but it saves you a ton of time in the back-end.
MailChimp Templates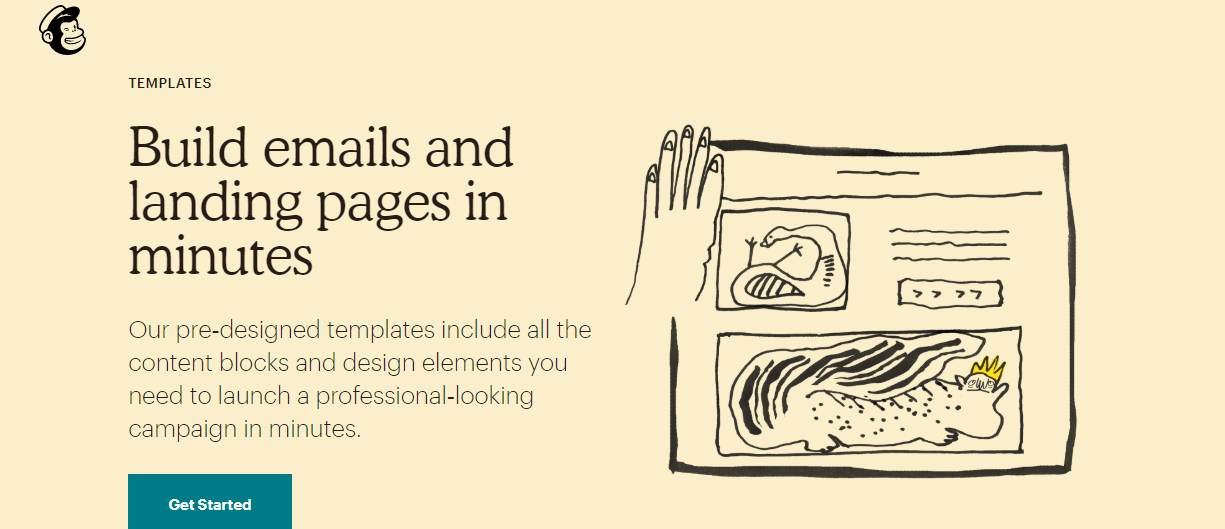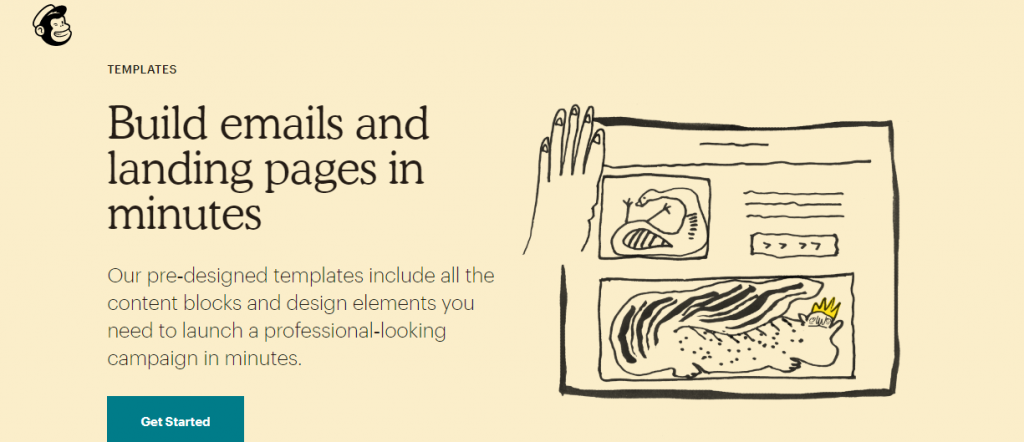 When it comes to templates, MailChimp has you covered.  You can pretty much choose your own template from one of their over 100 pre-designed templates, or you can create your own from scratch.
MailChimp also allows you to import a custom HTML template that you created somewhere else.  They even have guidelines as to how to create your own HTML email template.
If we view the Template tab in your dashboard it will take you to a screen that shows you your templates from past campaigns and then lets you choose if you want to create a new template or you can choose the Content Studio option which allows you to create templates using various content includes images, gifs, products, and your logo.
Related : MailChimp vs Sendinblue vs Mailjet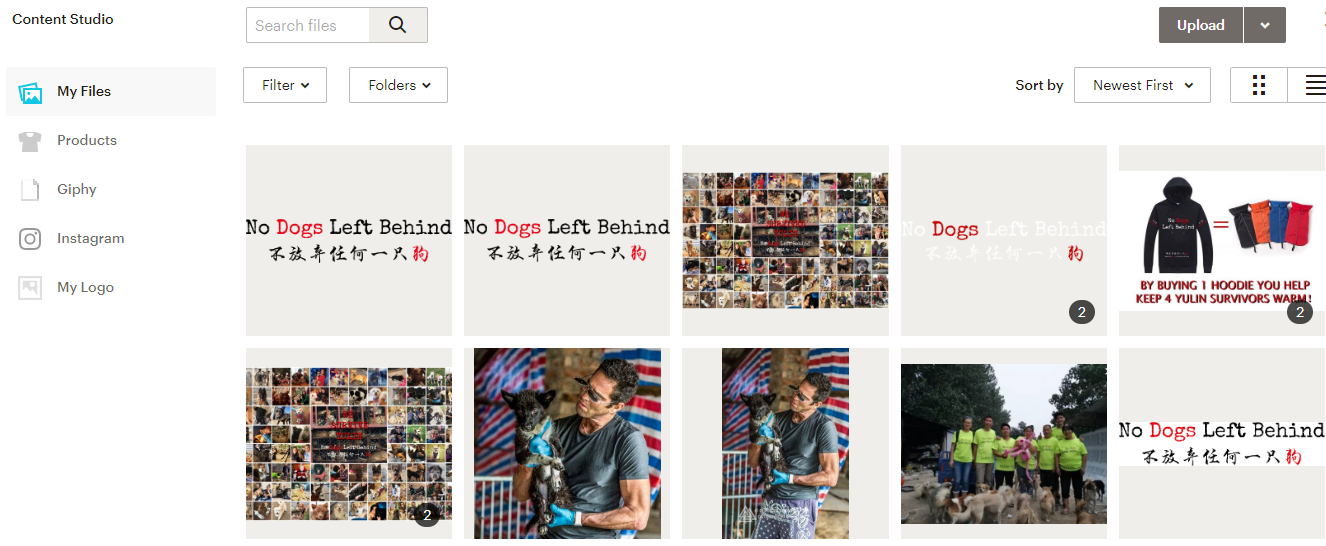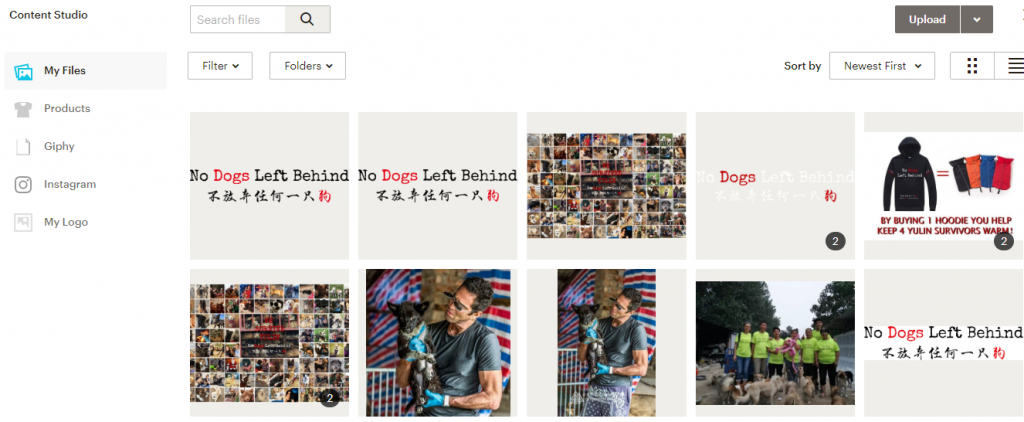 In this case, you can see a variety of images that were uploaded in order to create the automated emails for this nonprofit organization called No Dogs Left Behind, which I happen to be a part of.
Once you've got your content uploaded, then you can start creating new templates using that content.


The image above shows the "Featured" templates that are already made for you, and below those, you can find some of the other basic layouts that they provide for you based on such criteria as the number of columns and column width.


Once you've chosen your design, then you can use MailChimp's simple drag and drop editor that allows you to create the perfect design and input the exact content that you need for your new campaign email.


In this case, I easily uploaded the logo of the nonprofit organization, now I can move on to the style elements such as adding a border and determining how rounded I want my corners.
Under the settings tab, you will find elements such as alignment of your email, margins, and retina image support.
As you can see, this is a simple design, and not much is needed to make changes here except for the actual email copy.
If you wanted to make your email template more elaborate, you could definitely do that, as I mentioned that they have over 100 designs to choose from.
But always remember, more does not mean better. With email marketing campaigns, sometimes keeping it simple and direct is better!
Related : Best MailChimp Alternatives
MailChimp Tags & Segments


Adding tags and segmenting your audience is one of the most important things you can do in your email marketing campaigns.
This helps to target the correct audience and keep your subscribers organized so that you can send out better-targeted campaigns later on down the road.
As a nonprofit, it's important to keep your audience segmented into groups based on their interests or possibly products they have purchased in the past.
By tagging your subscribers as they come into your lists, this will help keep your campaigns organized.
It's very simple to start tagging your subscribers, you simply click on the "Audience" tab in your dashboard, click the person's name, and then click "add or remove tags."


MailChimp Deliverability
One important topic to talk about, and for you to learn about if you aren't familiar yet, is the ability for an email platform like MailChimp to send your emails out correctly and for those emails to reach as many inboxes without getting flagged as spam.
Believe it or not, some email platforms are better at getting through the spam filters in companies such as Hotmail, AOL, Gmail, Outlook, etc. than others.
I encourage you to review the way that MailChimp delivers their emails and what to do if your email campaigns are going into spam folders instead of inboxes.
Also Read : Best GetResponse Alternatives
MailChimp Pricing
MailChimp pricing for nonprofits offers a good discount.
It is a very affordable platform compared to others like it.  This is very important when you are a nonprofit organization and trying to save every bit of money you can.
Nonprofits get a flat 15% discount on its pricing plans.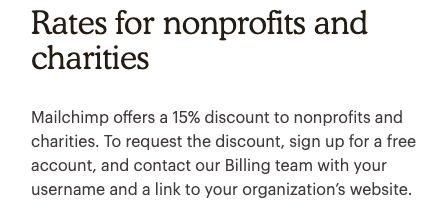 MailChimp essentially has four different pricing plans that you can choose from.  Each plan will depend on the size of your email list that you have and what types of campaigns you plan on sending.
So let's look at each plan in detail because this is one of the most important parts of deciding which email platform to use.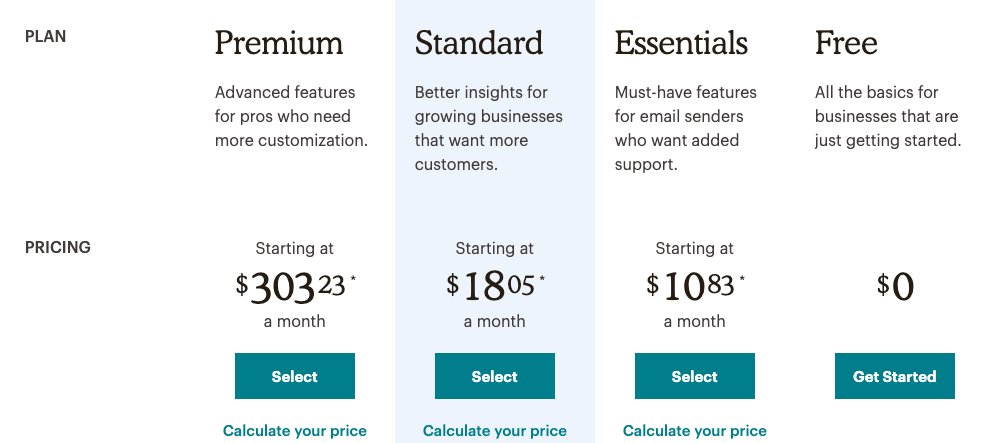 Free Plan
The great thing about MailChimp is they have a free plan that you can send up to 10,000 emails to a 2,000 email subscriber list.  The daily send limit on this free plan is 2,000, so make sure you're not exceeding that.
Here is a basic rundown of what you can expect with the free plan:
Essential Plan
The next plan up is the essential plan that starts at $10.83/month.  This plan comes with extra support, unlike the free option above.
Audience size is one of the main factors that contribute to the changes in pricing plans.  With the essential plan, you can have up to 50,000 contacts.
Here are the main features in the Essential Plan:
You will get three audiences instead of 1.
You will get three users that each can have owner and administrative rights to your account.
You can schedule email campaigns, which is a great feature for nonprofit organizations.
You will have 24/7 customer support access by both telephone and chat.
Standard Plan
The Standard plan starts at $18.05/month. It comes with 500 contacts and then you will adjust up from there depending on your audience size. With this plan, you can have up to 100,000 contacts stored.
Here are some of the features that come with the Standard plan.
You will get five audiences with this plan.
You will also have the ability to have five seats with Owner, Admin, Author, or Viewer permissions
You Might Want To Read : Sendinblue Review
Premium Plan
The biggest package of them is priced at $303.23/month. It includes a base contact list of 10,000 and then it goes up to 200,000 contacts that you can store.
If you need more than that, then you can contact MailChimp and they will put together a custom price for you.
Below you can see some of the main features that come with the Premium Plan:
Unlimited audiences
Unlimited seats, with Owner, Admin, Author, Manager, or Viewer permissions
Phone support
MailChimp also allows you to pause your plan at any time because they realize that businesses are always in a state of flux, so they are in turn, very flexible to their customers.
If none of the plans above seem fitting to your nonprofit, and you're not really sure what plan you will need, you can always choose their Pay-As-You-Go plan, which allows you to build slowly and only pay for what you send out each month.
There are also a few other Add-Ons that you can tack on to your plan.  One of those is called Social Profiles, and it allows you to collect social information on contacts who subscribe to your list.
MailChimp Customer Support & Resources
MailChimp has great customer service, which is very important when working with email automation campaigns.
Then have an entire library of self-help guides to help you every step along the way.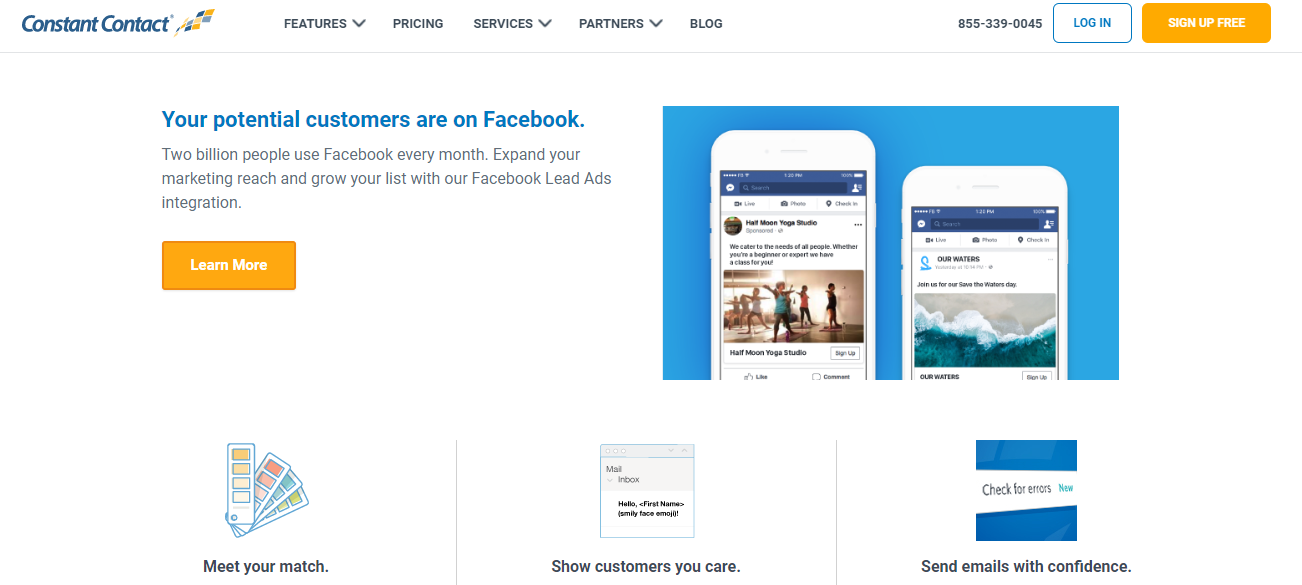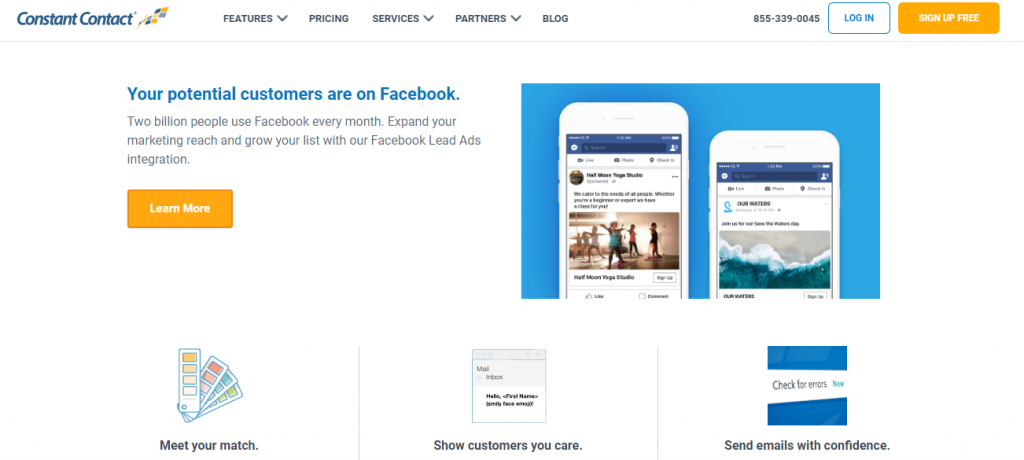 We now get down to Constant Contact in our MailChimp versus Constant Contact review.
Constant Contact is another oldy-but-goody email marketing software that has been around even longer than MailChimp, since 1995!
I remember this is one of the first email marketing platforms that I used when I first started back in the early 2000's.
Constant Contact has an easy drag-and-drop editor, which makes it super simple to create email templates for all of your nonprofit campaign needs.
Constant Contact Features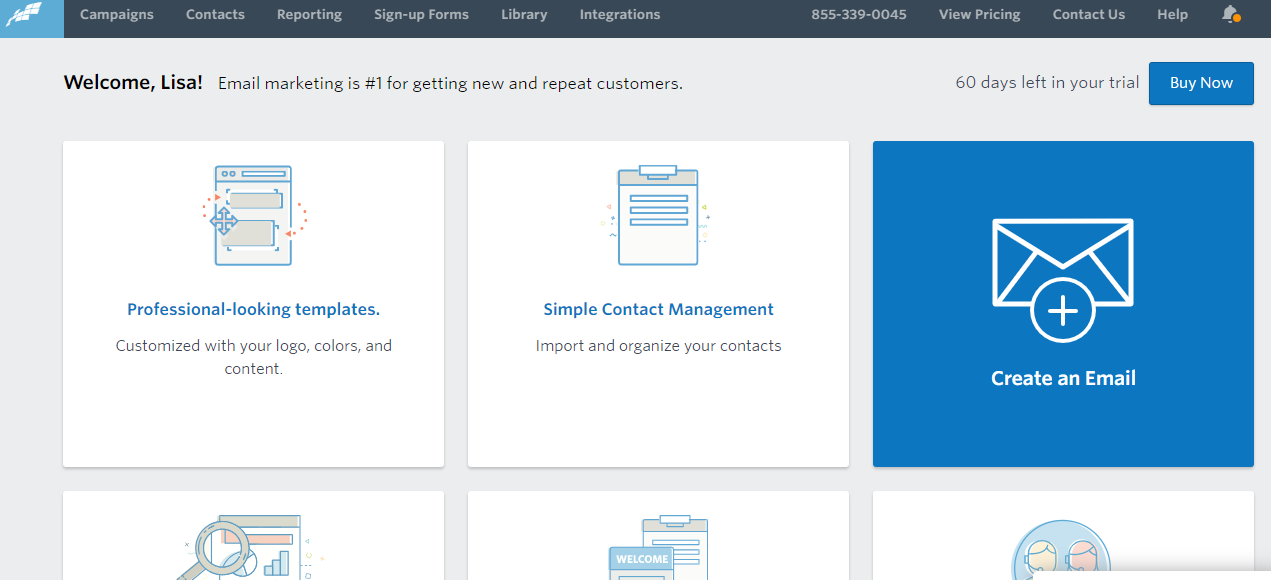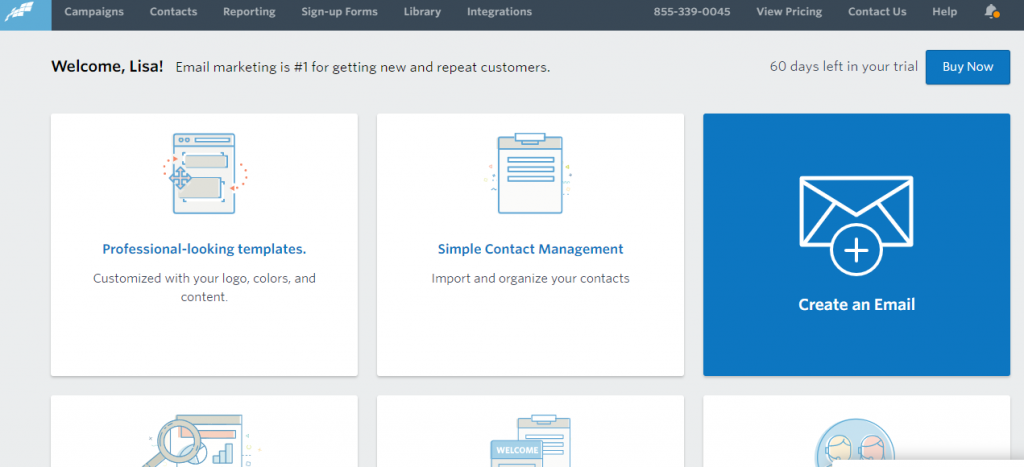 Constant Contact Email Marketing Campaigns
There is such a wide assortment of tools that Constant Contact offers when it comes to their email marketing capabilities. Let's talk briefly about them below.
When it comes to creating and editing tools, Constant Contact makes it easy to design. With their user-friendly email editing tools, you are sure to love this email platform for all of your needs.
When adding images, it makes it easy because Constant Contact has partnered with BigStock so that you have access to thousands of free stock images.
Constant Contact also has a ton of list-building tools to help add more people to your lists.  This helps tremendously when you have an automated system in place using Constant Contact's automated email campaigns.
Interesting Comparison : Aweber vs Constant Contact
Constant Contact Segmentation
When sending email campaigns to your subscribers, it's important to target them with the correct message.  This is where segmentation and tagging come in as a very important part of the campaign.
Segmenting your list can be vital to sending out the right message at the right time to the right audience.
Constant Contact Sending & Tracking
Like with any email campaign, you need to be able to track your results.  With Constant Contact, you will see everything from engagement reports, comparison reports, click-tracking heat maps, and click segmentation.
It's vital that you are able to see these statistics so that you can consistently improve on your campaigns.
You can also use their A/B split testing tool to test which campaigns are doing better, then use the tracking tools to determine a winning campaign.
Worth Reading : Sendinblue vs MailerLite
Constant Contact Templates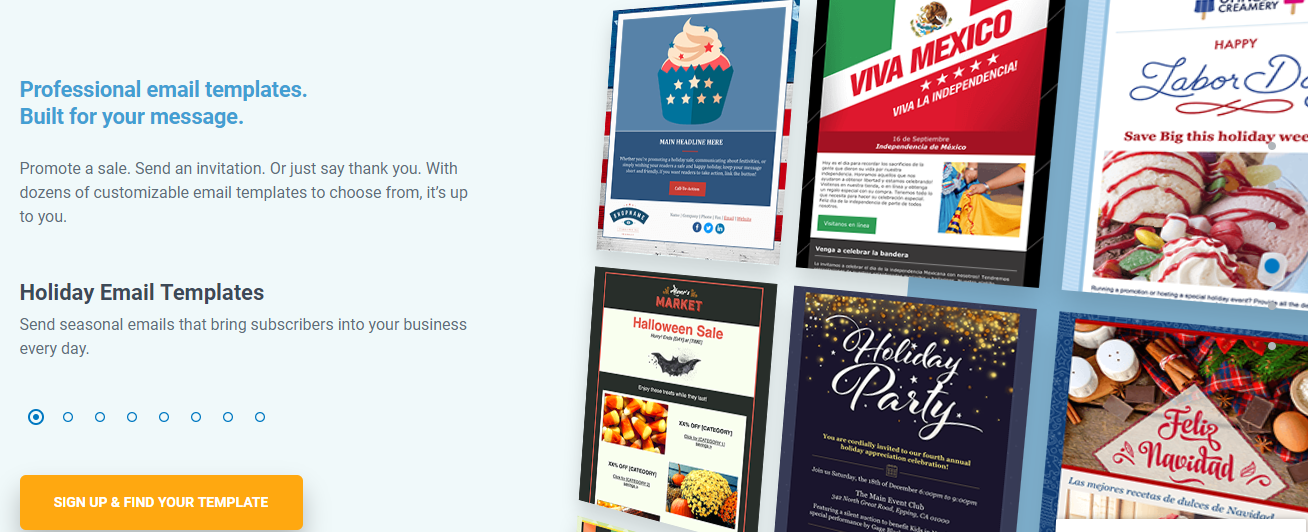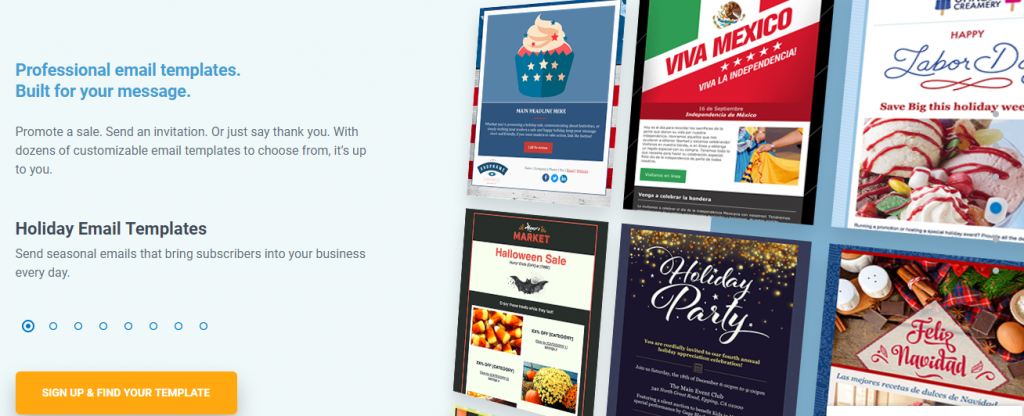 Constant Contact has over 100 templates to choose from as well, that you can customize and play with to create beautiful email campaigns.
When you first log in to your dashboard, you can click on the "professional-looking templates" icon in the center of your screen to view some of the templates they have and start creating your design.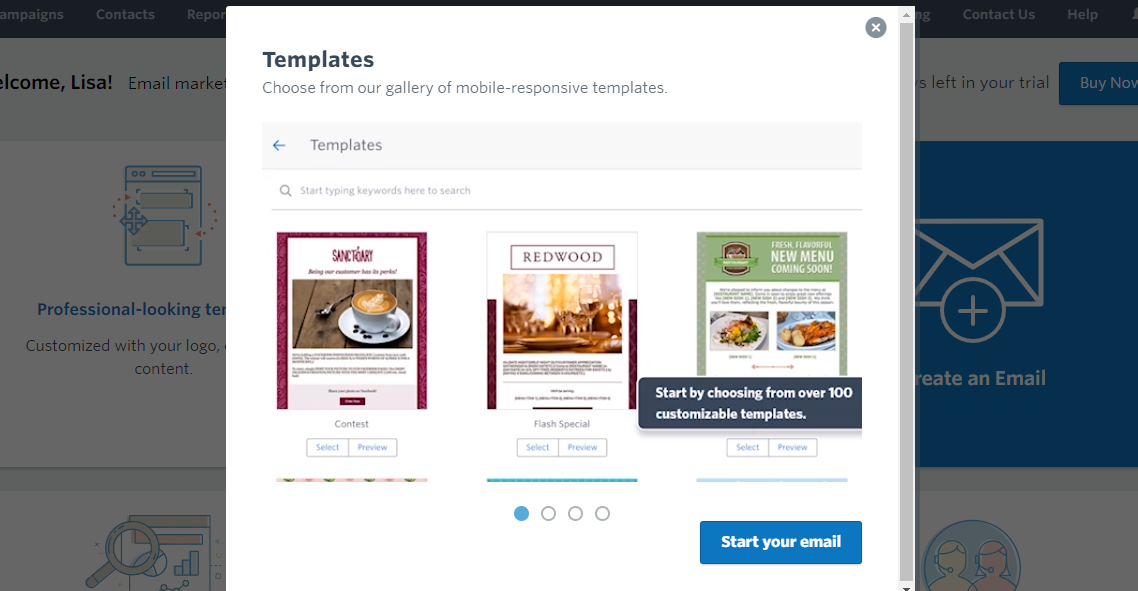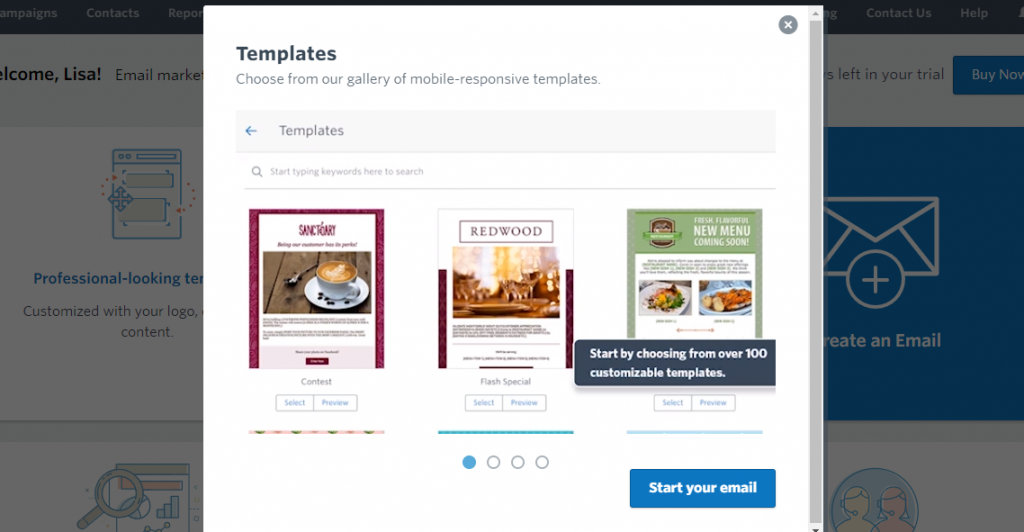 You can then click on "start your email," and another screen will open that lets you browse everything that they have.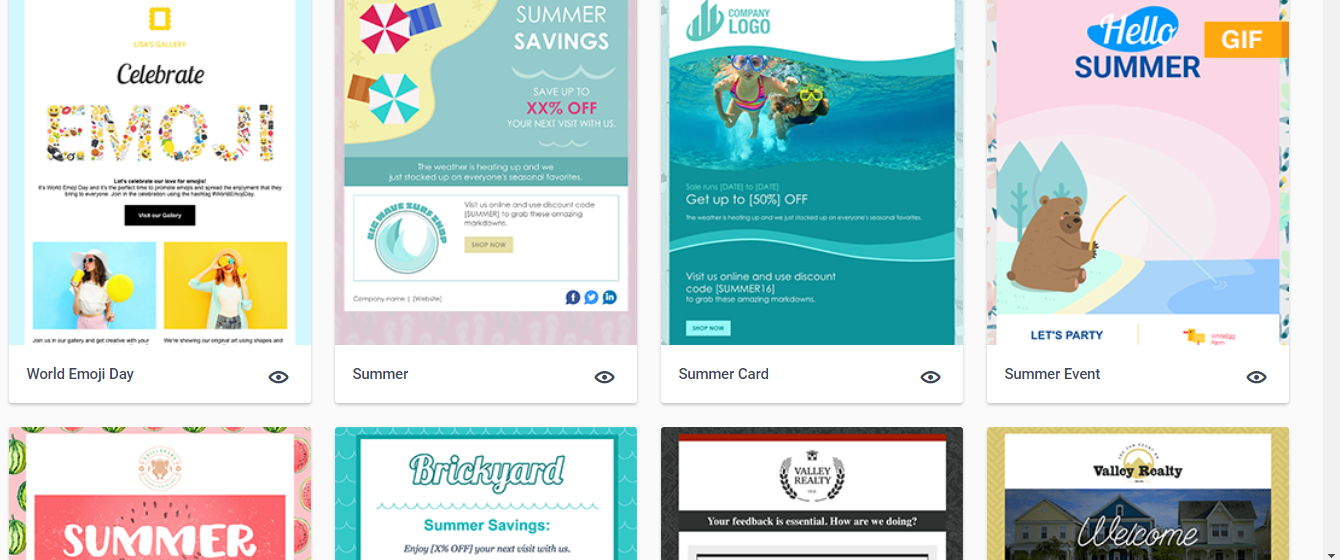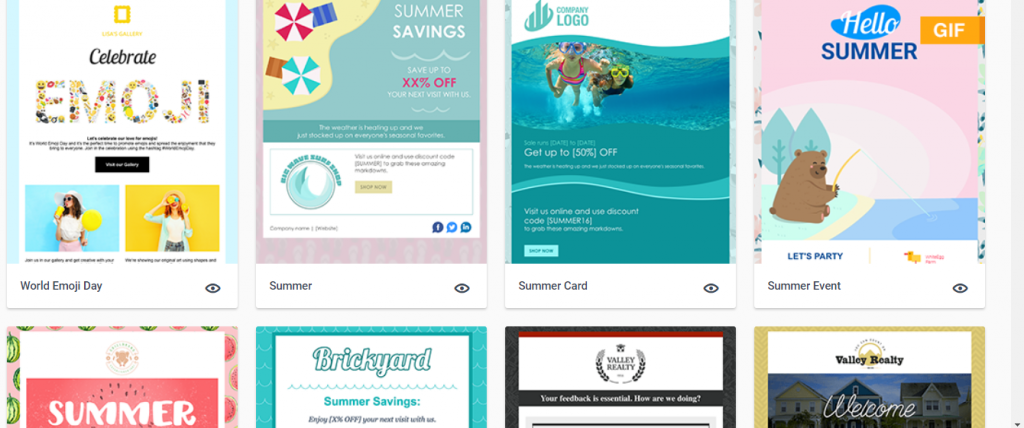 Once you've chosen the template you want, you will be taken to a designing screen where you can start creating your email using all of the creative widgets they have.
On the left-hand side, you will have basic building blocks and "action" blocks as well to start building out your email.
Related : SendInblue vs Constant Contact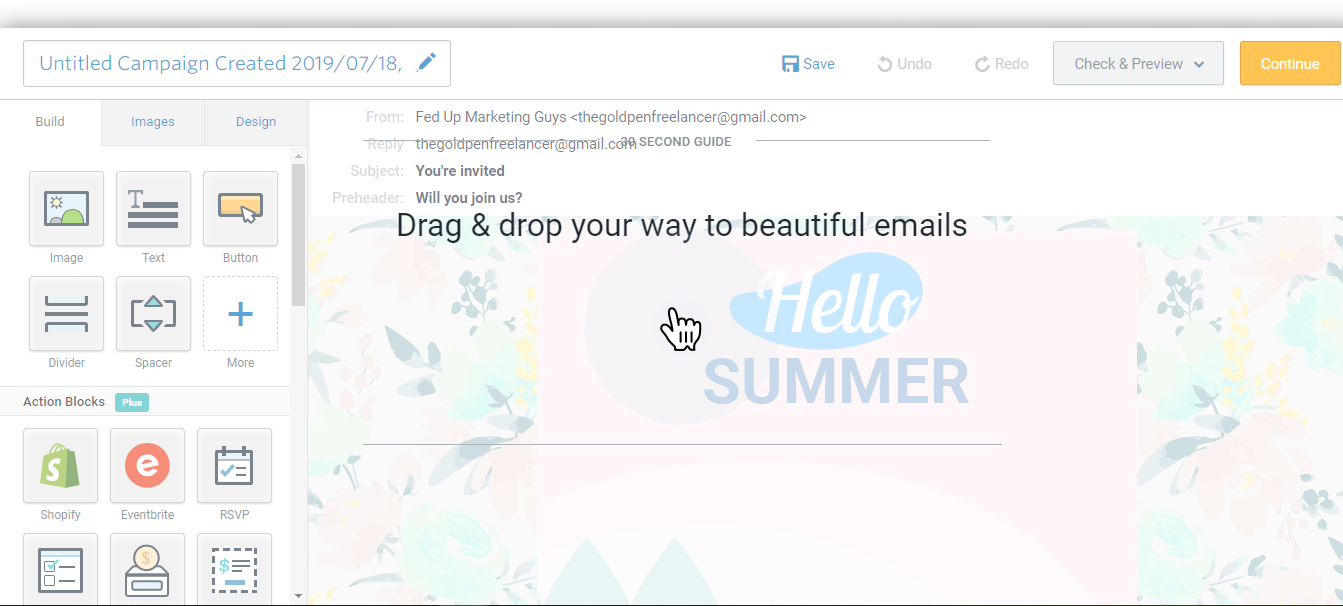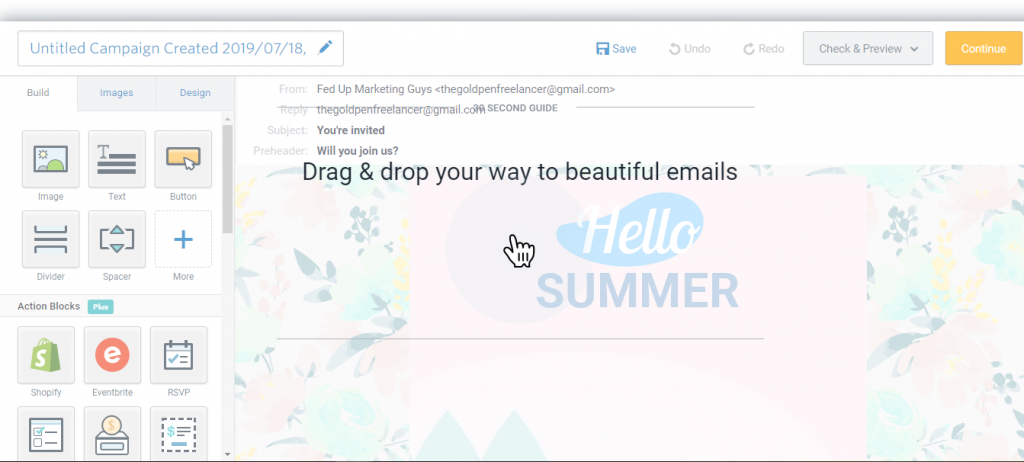 You will also want to add images such as logos, etc. to the "images" tab to customize your email template. Once you've done that and you get to the "design" tab, you can change the background image, colors, fonts, etc.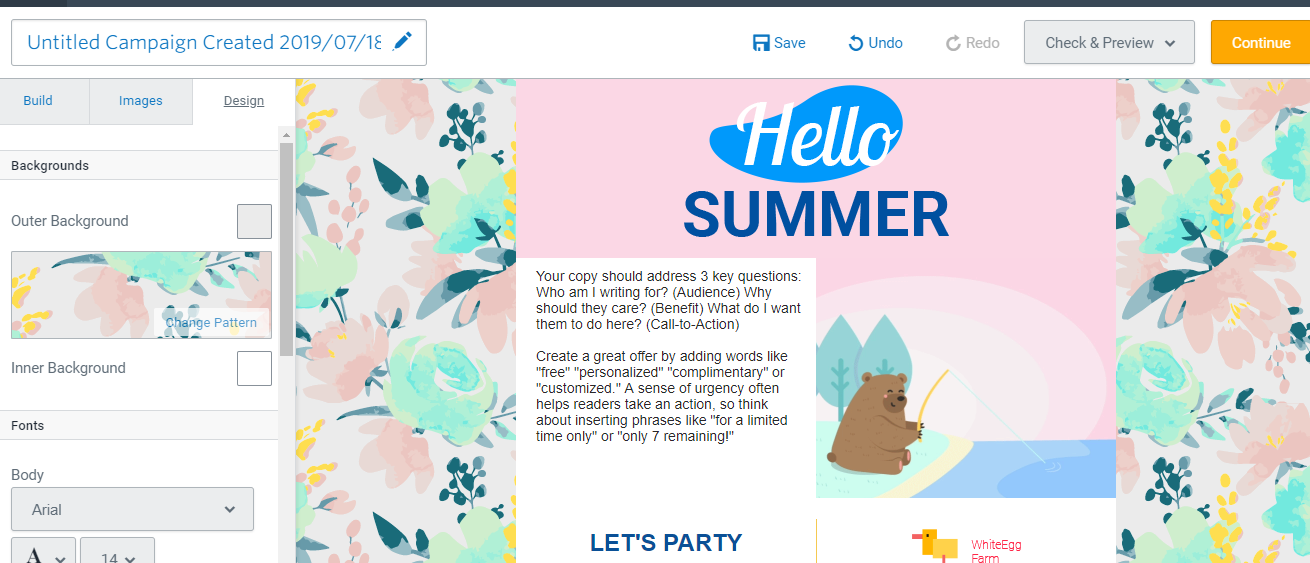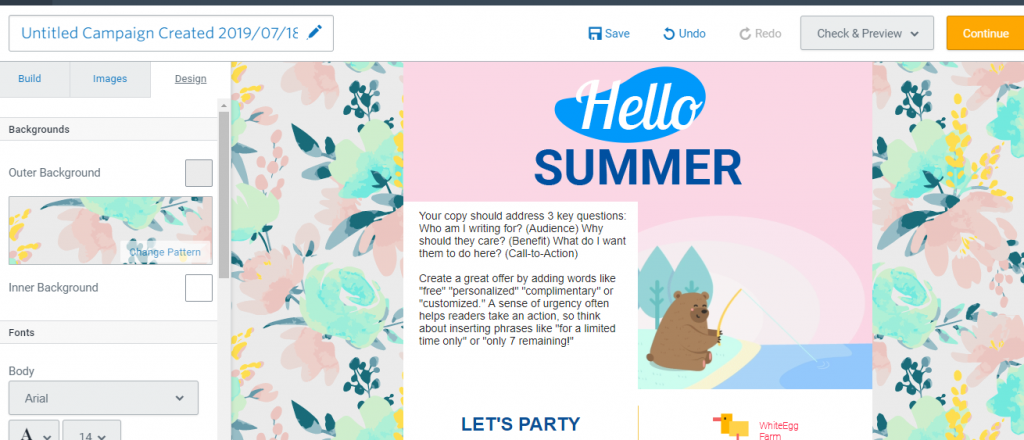 The sky's the limit when it comes to designing with Constant Contact.  And if you aren't sure exactly what to do, you can view some of their email design tips to get your creative juices flowing.
Explore : Best Constant Contact Alternatives
Constant Contact Nonprofit Pricing
Constant Contact pricing for nonprofits offers 20-30% discount on its regular plans. For this, Nonprofits need to opt for the prepay account.
They get 20% off if they prepay for 6 months. Paying for 12 months in advance entitle them a good 30% discount.
This is subject to change so it's better to check their site for the latest.

When it comes to pricing, Constant Contact is a little less flexible, but still offers great pricing. They also offer a free trial so that your organization can get used to their software.


After that, they have essentially two pricing plans, "Email" (starts at $20/mo for up to 500 emails and unlimited send potential to those 500 emails)  and "Email Plus" (starts at $45/mo for up to 500 emails and unlimited sends but comes with more features) plans.
Just like MailChimp, as you increase the number of subscribers, your pricing will go up.  For example, if you have between 501-2500 contacts, your pricing is now $45/month for the "email" plan and $75/month for the "email plus" plan.
To view the plans in more detail and what they include, visit the pricing page.  There is a comprehensive list there that you can compare to MailChimp.
Support is wonderful and comes with all of the plans above.
Constant Contact Additional Features
There are several added features that are provided by Constant Contact as well, such as the following:
On top of this, they have "plus" features that include:
All of these features can easily be used by nonprofits to grow their subscriber base and increase donations over time.
Constant Contact is a wonderful platform and is a little more robust than what MailChimp offers.
Interesting Read : Best ActiveCampaign Alternatives & Competitors
Which Is Better – Constant Contact vs MailChimp For Nonprofits
Wondering which one to go with – MailChimp or Constant Contact?
Both MailChimp and Constant Contact are excellent choices for nonprofits big and small.
They are simple enough for the user who is less savvy with email automation.
But at the same time, you can learn how to use the advanced segmentation and tagging techniques to develop higher-level, profitable campaigns that bring more money into your organization each and every month.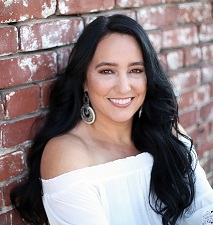 Author: Lisa Vargas
Lisa is a digital marketing content expert that focuses on SEO, SEM, and lead generating strategies. With over 13 years of experience in the field, she has helped numerous set-ups over the years achieving their business goals. Read more about her at 
TheGoldenPen