GetResponse is an efficient email marketing tool that packs a comprehensive feature set that lets you create and send emails with email tracking, so you can monitor your campaign's performance.
It also has a plethora of integrations, and though it lags behind its top competitors, it's definitely worth a try, especially if you run a small business.
You can send email newsletters, online surveys, campaigns, and follow-up autoresponders from an easy-to-use and simple interface.
GetResponse delivers a solid email marketing solution for businesses that don't need the most advanced features, and it incorporates marketing automation features that would be considered out-of-scope for some of its rivals.
This includes its long list of third party integration possibilities and decent analytics.
If you've been using GetResponse and want to change your email provider, it probably isn't what you hoped it would be, it may be time to consider some alternatives.
Related : Best Autoresponders & Email Softwares
Best GetResponse Alternatives & Competitors
Here we start with our list.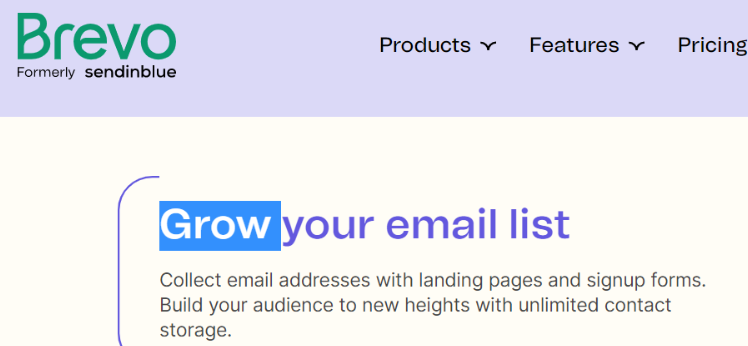 The first GetResponse alternative on our list is Brevo.
Brevo is a nicely featured email marketing solution that offers part email marketing, part SMS and part email services.
In terms of delivering digital marketing benefits, all three utilities it offers make it unique, and you can use its free version to see how it'll fit into your own marketing efforts.
If you just want to automate basic email sequences or build new workflows, you'll find Brevo's marketing automation tool easy to use.
It has eight basic workflow templates that you can edit or redesign for specific tasks.
Each account comes with a Birthday message, Welcome message, Page Visit, Abandoned Cart, Website Visit, Product Purchase, and activity-based templates.
Thanks to its plugins with WooCommerce and Magento, you can perform basic monitoring for your website and product purchase activity, which lets you add users to workflows based on their activities.
The tool is excellent for marketers who want to start blasting campaigns, though it doesn't offer search marketing, A/B testing, or drag-and-drop workflow creation.
It also limits you on how many emails you can send monthly, which makes Brevo suitable for small businesses or basic and niche use cases.
If you find Brevo confusing, you can read through its support resources, or click the Help button for context-relevant help.
There are tutorials, search FAQs organized by category, and you can request technical support by web form, creating a ticket, or calling a toll-free number.
For marketers who want to reach customers via SMS, as an addition to emails, Brevo is a useful tool.
It also offers transactional emails and texts besides order confirmation messages, which are essential for ecommerce website owners or sites that require logins.
Pros
Free plan available
SMS campaign functionality
Feature-rich with auto-responders and transactional email
Cons
Basic templates can be better
Account setup is a bit tasking
Also Read : Brevo Review
Brevo (formerly Sendinblue) | CRM Suite
Be it marketing, sales, or customer relations, Brevo is an all-in-one tool helping businesses to carry out everyday business functions with ease. Try it today!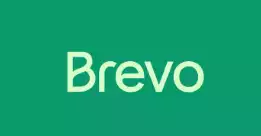 We earn a commission if you click this link and make a purchase at no additional cost to you.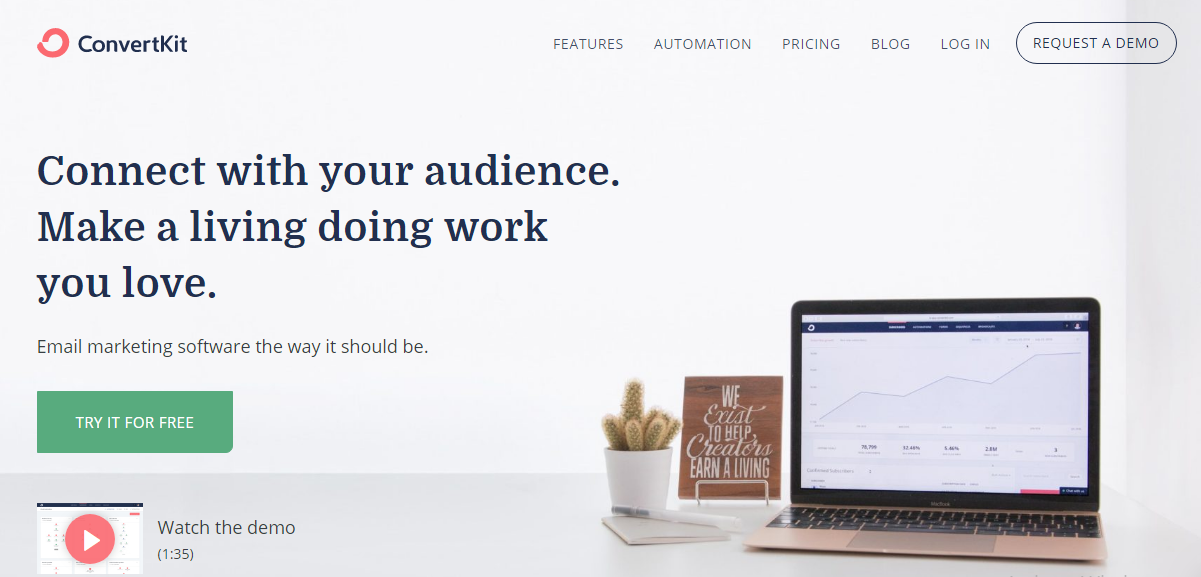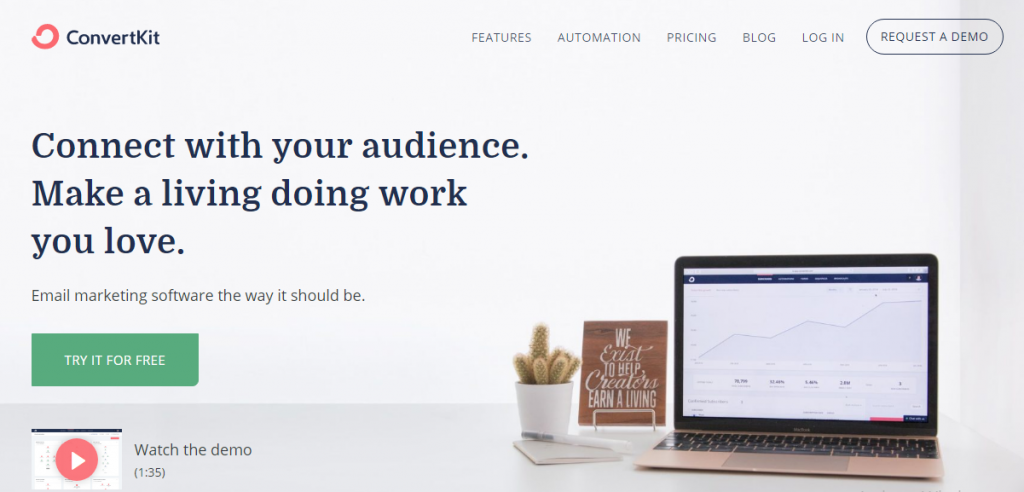 ConvertKit is another powerful alternative to GetResponse.
This email marketing solution sends millions of emails monthly with an impressive uptime. It's easy to use, but there are a few features that need rudimentary knowledge of HTML, which not all of its users have.
Personalizing and customizing newsletters and templates is straightforward, but there are a few options that ConvertKit lacks, such as more integration with social media, image, and video options.
It also lacks templates, which makes it more labor intensive to deliver an email campaign.
If you're looking for A/B testing, you'll find that ConvertKit offers this feature but it's limited to subject lines only, yet most marketers favor this over the entire email.
Not all solutions offer A/B testing, but it'd be preferable to have more detail in it.
That said, ConvertKit has some positives, like its list management system with tagging that works well together with email campaigns and excellent deliverability that reaches popular inboxes like Yahoo, Hotmail, AOL, and Gmail.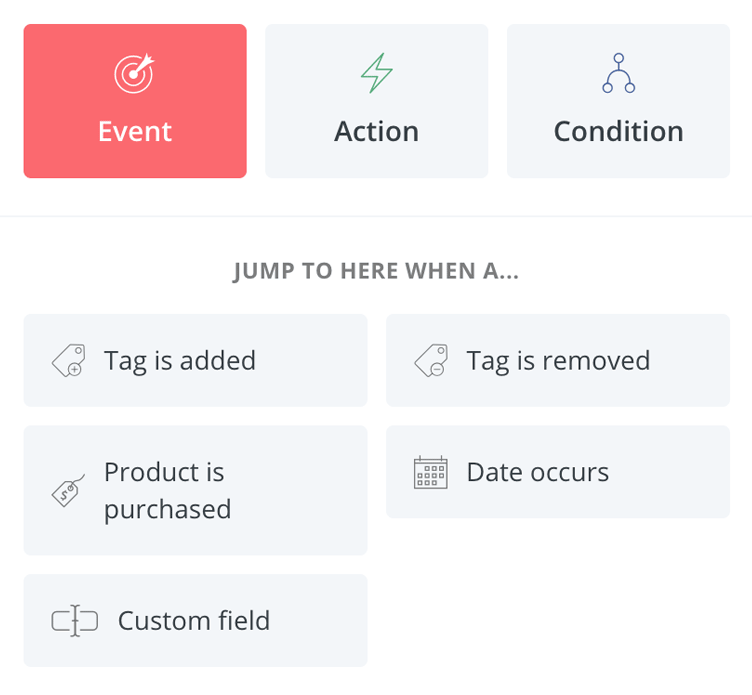 The tool covers all bases, though most of its elements could use some improvements, but it gets a lot of praises for its deliverability and uniformity of features that it offers across its pricing plans.
Otherwise, it handles email campaigns and subscriber management with flair, and is user friendly.
What's more, ConvertKit also offers a free plan allowing 1000 subscribers.
Start a 14-day free trial if you wish to use the tool.
Pros
Responsive support
Requires users to use HTML and CSS
Decent landing page editor
Flexible subscription management
Free plan available
Cons
Reports lack in depth
Inflexible registration forms
Related : ConvertKit Vs Aweber
ConvertKit - With Free Plan
Unlimited landing pages & forms, Unlimited traffic, Customizable domain.
No credit card required. Cancel any time.

We earn a commission when you click this link and make a purchase.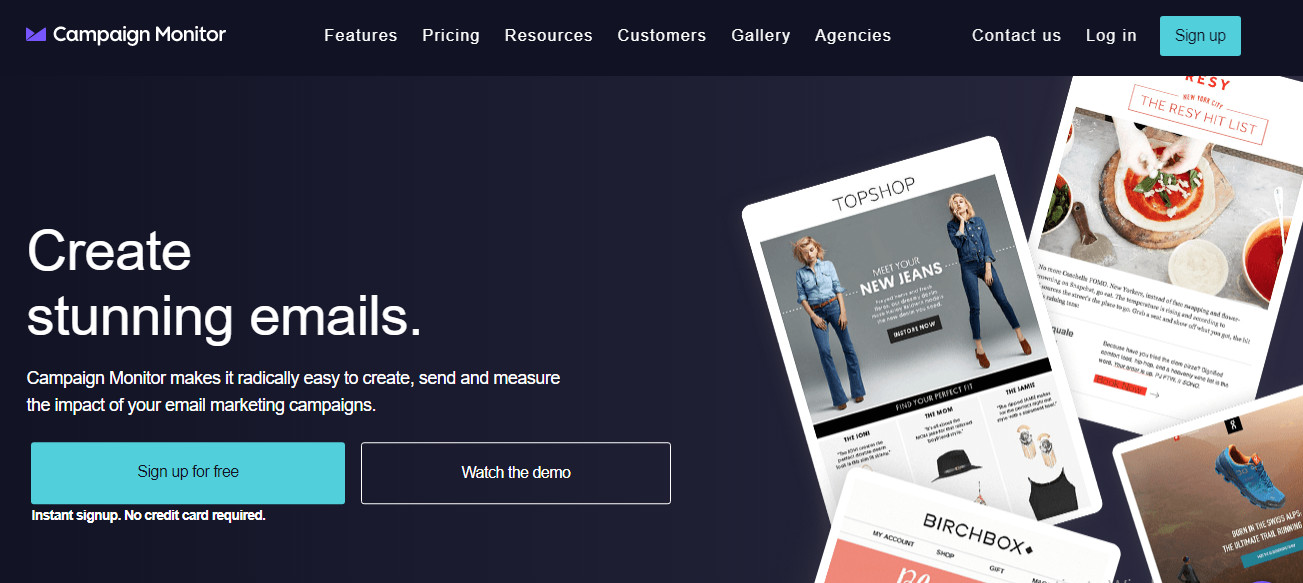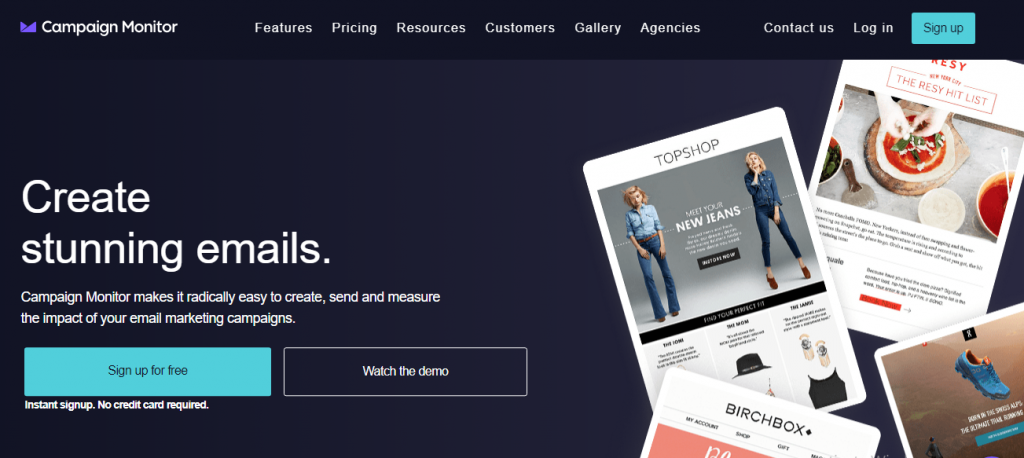 Campaign Monitor is another promising tool in the list of GetResponse competitors.
Campaign Monitor is built for designers and makes it easy to create and send beautiful emails, while managing lists and subscribers. It also lets you track your email campaign results.
Like GetResponse, this tool is used by multifarious businesses to design and send out bulk emails or program auto-responders, monitor, and analyze the campaign results.
It's easy to use and understand, with most of the features you'd want in an email marketing service.
The powerful email builder can help your marketing assets and content stand out, and its Insights analytics feature offers a more granular look at the overall campaign performance.


Specific metrics like audience health, aggregated views across campaigns and brands, detailed engagement, and acquisition trend analysis help you speed your ROI.
Once you send an email campaign blast, you can view reports and see the number of opens (registered nearly immediately), bounces, unsubscribes, link clicks, social shares, and more.
It displays these statistics in pie charts or a line chart showing rates over time so you can see spikes occurring at certain times of the day, and you get to know when to send out future emails.
It also allows you to drill down to recipients and their location based on IP addresses, the platforms they use to view the email, and the links they clicked on.
Other features you get to enjoy at affordable prices include app integrations, attractive templates, and custom auto-responders.
Campaign Monitor offers great support with its searchable resources section, detailed articles, user forums, and email support.
However, there's no phone or chat support, which can be frustrating if you need instant help, but emails are answered promptly.
Pros
Robust marketing and analytics functionality
Powerful email builder
Helpful auto-responders
Intuitive user interface
Competent and friendly support team
Above average reporting
Cons
No phone or chat support
Sending limitations capped at five times the maximum subscriber list
Interesting Post : MailChimp Vs Brevo Vs Mailjet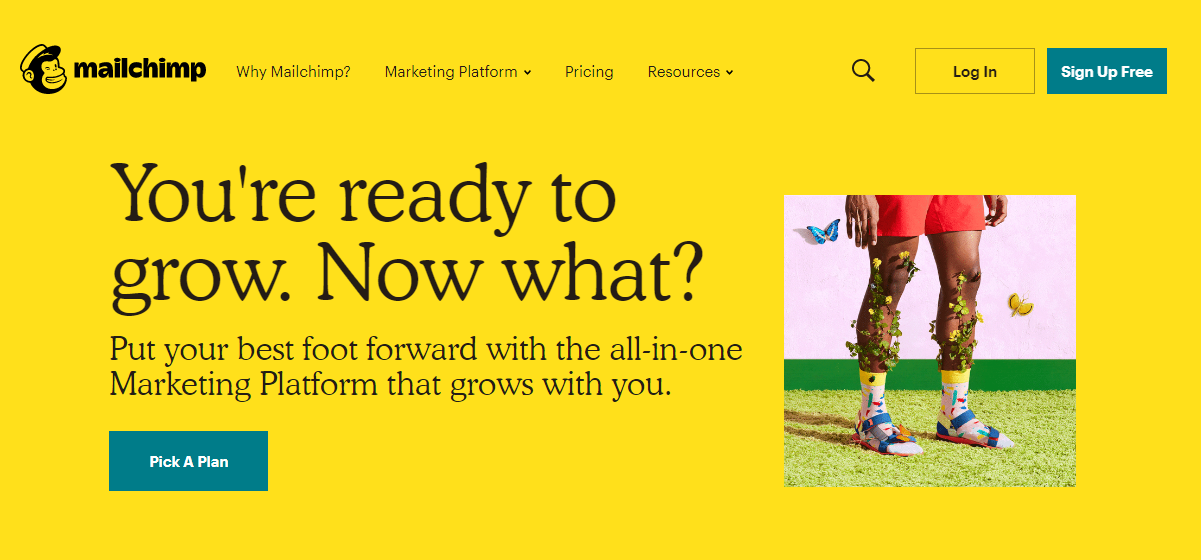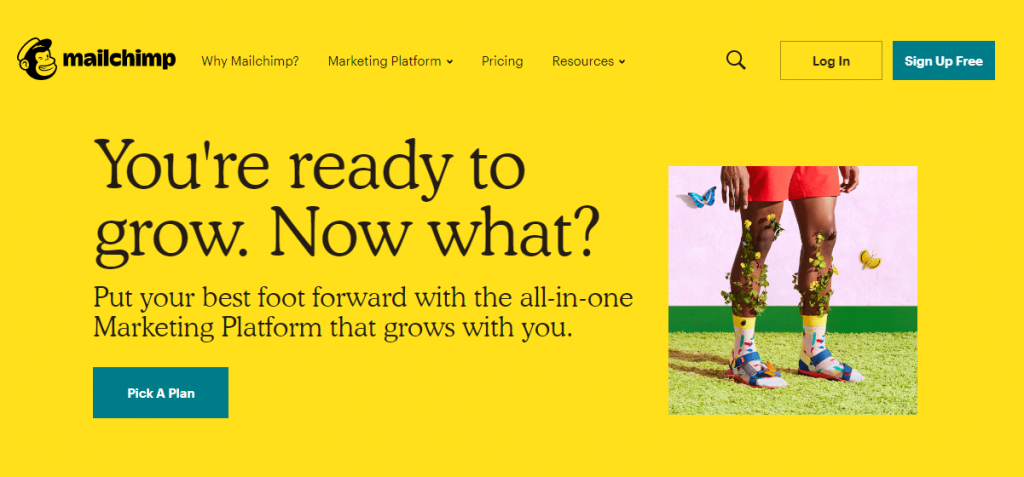 This is a long-time email marketing software leader that offers everything your small business needs to launch and manage effective campaigns.
It's quite easy to use and has a robust feature set so you have everything you need.
It also has a mobile app from which you can craft and send campaigns from Android or iOS devices, add promo codes to your landing pages, emails, and re-market through Google Ads.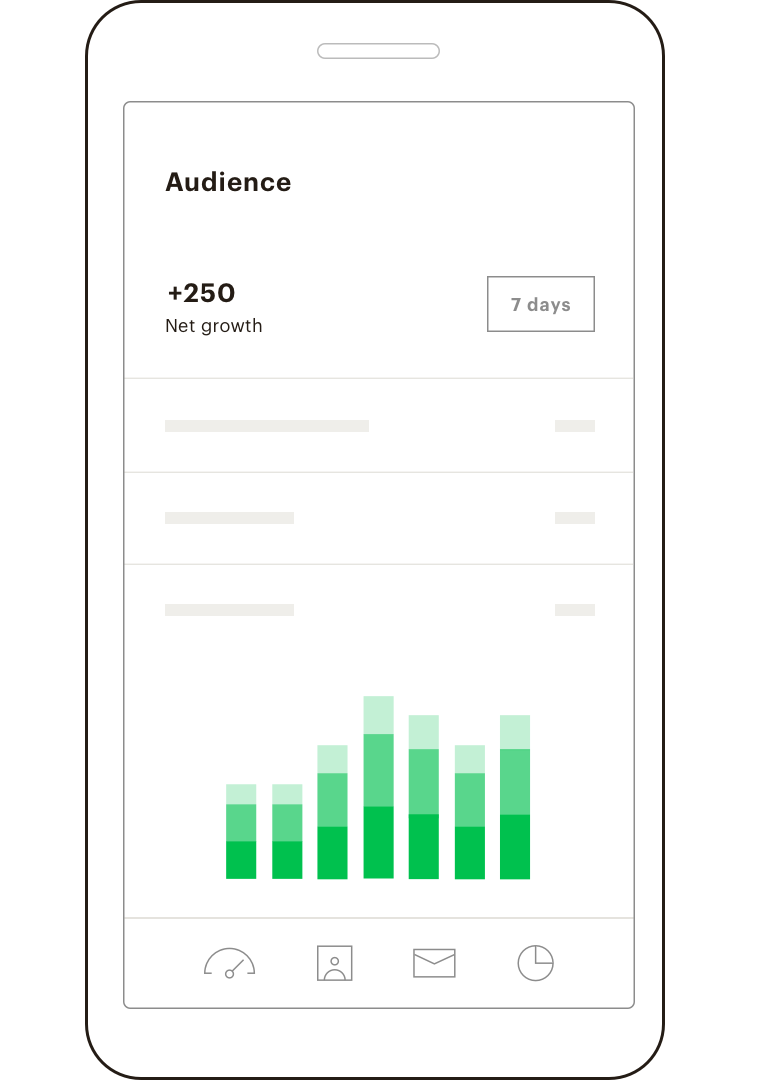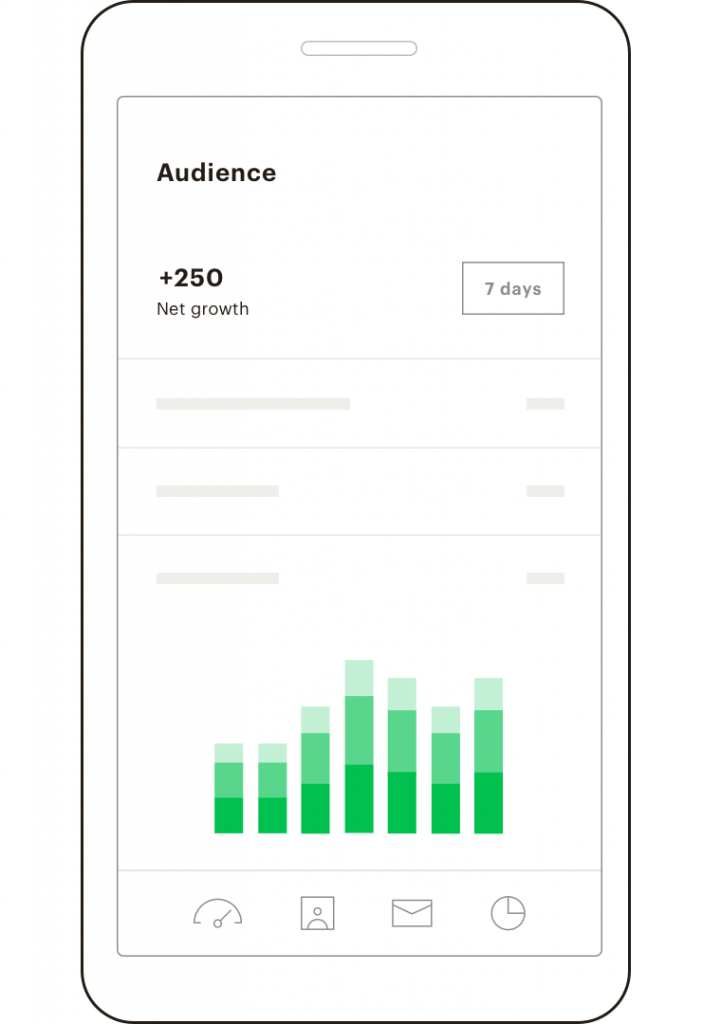 New features added to MailChimp's platform include the pay-as-you-go customers that can opt into Alerts when they hit the threshold and reload credits automatically, chat support for paid customers, and Inbox Preview.
Also included are Instagram and Facebook ad campaigns, free marketing automation, and product recommendations.
With Inbox Preview, you can see how your emails will look across over 40 mobile, web, and desktop email clients as each of these display HTML slightly differently.
You'd have to pay for this feature using tokens.
The tool is easy to use for small businesses just starting out with email marketing. Analytics are straightforward, showing bounces, CTRs, opens, subscriber behavior, and a lot more.
You'll get all you need at an affordable price, so you need not shy away from email marketing.
MailChimp is a popular Get Response alternative.
Pros
Flexible pricing
Third-party integrations
Helpful documentation
Cons
Pricing isn't very clear
Can do better in reporting
Related : MailChimp Review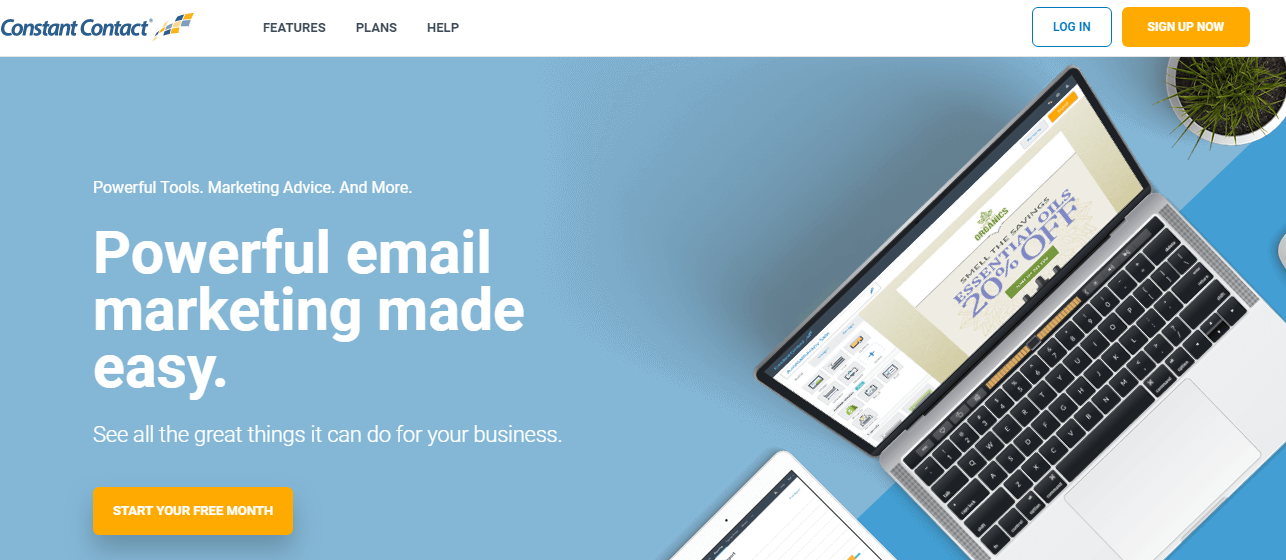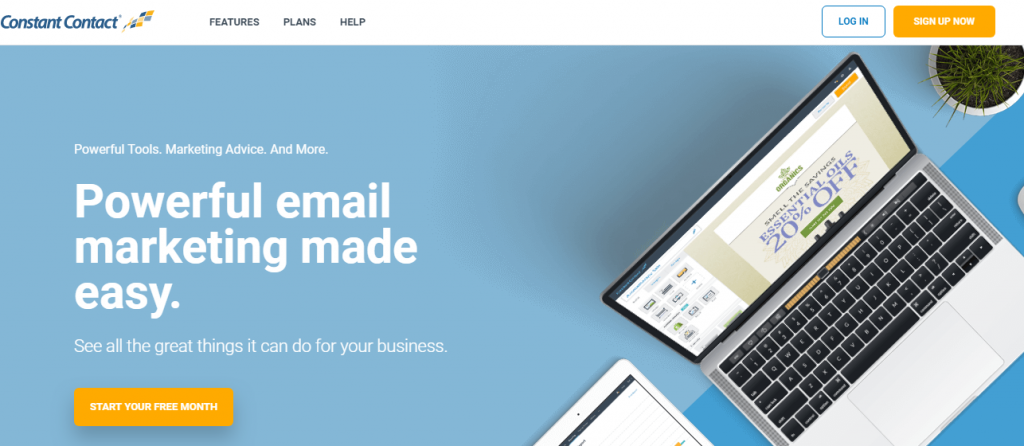 Want to grow your business with an affordable, easy to use, and powerful email marketing tool?
Constant Contact is your best bet as it provides a useful feature set and attractive user interface you can use, without a cap on how many messages you can send in a month.
Most of its customers are microbusinesses with up to 10 employees who don't have much time to deal with newsletters.
Thus, it speeds up and simplifies the process of creating, sending, and tracking email campaigns.
Constant Contact has an array of features focused on marketing integration, segmentation, integration, and personalization.
These include a branded template builder, 160-plus template library, and several integrations with Shopify and Eventbrite, among others.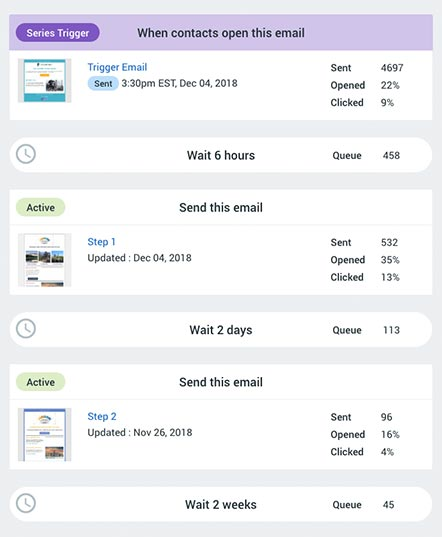 You can track your campaign's success using the Reporting tab in a dashboard, which also displays the basics like opens, bounces, CTRs and unsubscribe requests.
You can also see your most-engaged opens and subject line on mobile versus desktop.
A video tutorial is available to walk you through what all the reports mean, plus you get a lot of information on improving open rates and crafting subject lines.
The mobile app is also handy if you want to track your campaign performance on the go.
The tool has plenty of options for customer support including an extensive knowledge base of articles, information icons, contextual help on each dashboard, and coaches available at a toll-free number. Phone support isn't offered 24/7, but you can contact support anytime on Twitter or chat.
Constant Contact offers expensive pricing plans, but is an excellent marketing tool for small businesses that are new to email marketing or don't have much time to spend on this function.
Given all these wonderful features, Constant Contact is one of the best Get Response alternatives in the market.
Pros
Variety of templates
Selection of commerce and event integrations
Intuitive and flexible editor
Easy to use for newbies and small businesses
Cons
Pricey when contacts increase
Phone support isn't available 24/7
Worth Reading : Constant Contact Vs MailChimp


AWeber is another notable GetResponse competitor that offers some wonderful features.
It is a powerful email marketing tool that lets you manage and customize your email templates with flexibility, though it doesn't offer much in the third-party integrations docket.
If you want less fuss in email marketing, it's worth a look.
Its platform is easy to use, and templates simplify the creation of visually attractive email marketing campaigns, with basic stats tracked and made available on its reporting dashboard.
However, it can't import contacts from third party address books including Gmail, and there's no integration with Google Analytics so you'd have to try other tools like MailChimp or Campaigner for better third-party contact integration and tracking.
Like Constant Contact, there are no caps on how many messages you can send in a month, plus you get a free trial to try out the service and see if you like it.
One of the unique AWeber features is the Legacy Followup Messages, which lets you send a series of messages to new subscribers.
Also included is the Campaigns feature that offers various ways you can send auto-responders by day and time, or subscriber behavior.
You can also pause or stop auto-responders any time, and use campaign tracking to see how far your subscribers are in the email or campaign follow-up series.
Once you send out a broadcast, the Reporting tool helps you track its success and see the open and CTR rates, plus number of replies or unsubscribes.
It also offers reports showing opens or clicks over time, new subscribers, subscriber location and growth, ad tracking, follow up stats, and more.
Customer support is available through video tutorials, help text through links in almost every field or option, but live help is limited. Phone and chat support is also only offered during business hours.
Pros
Great helpful support material
Unlimited emails
Low cost plans
Extensive reporting
Cons
No free plan
No Google Analytics
Can't import from Gmail or third-party address books
Importing takes long
Explore : Aweber Vs Constant Contact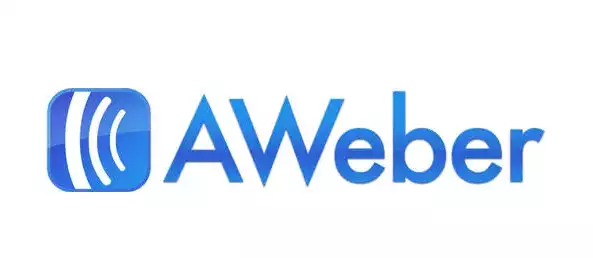 We earn a commission if you click this link and make a purchase at no additional cost to you.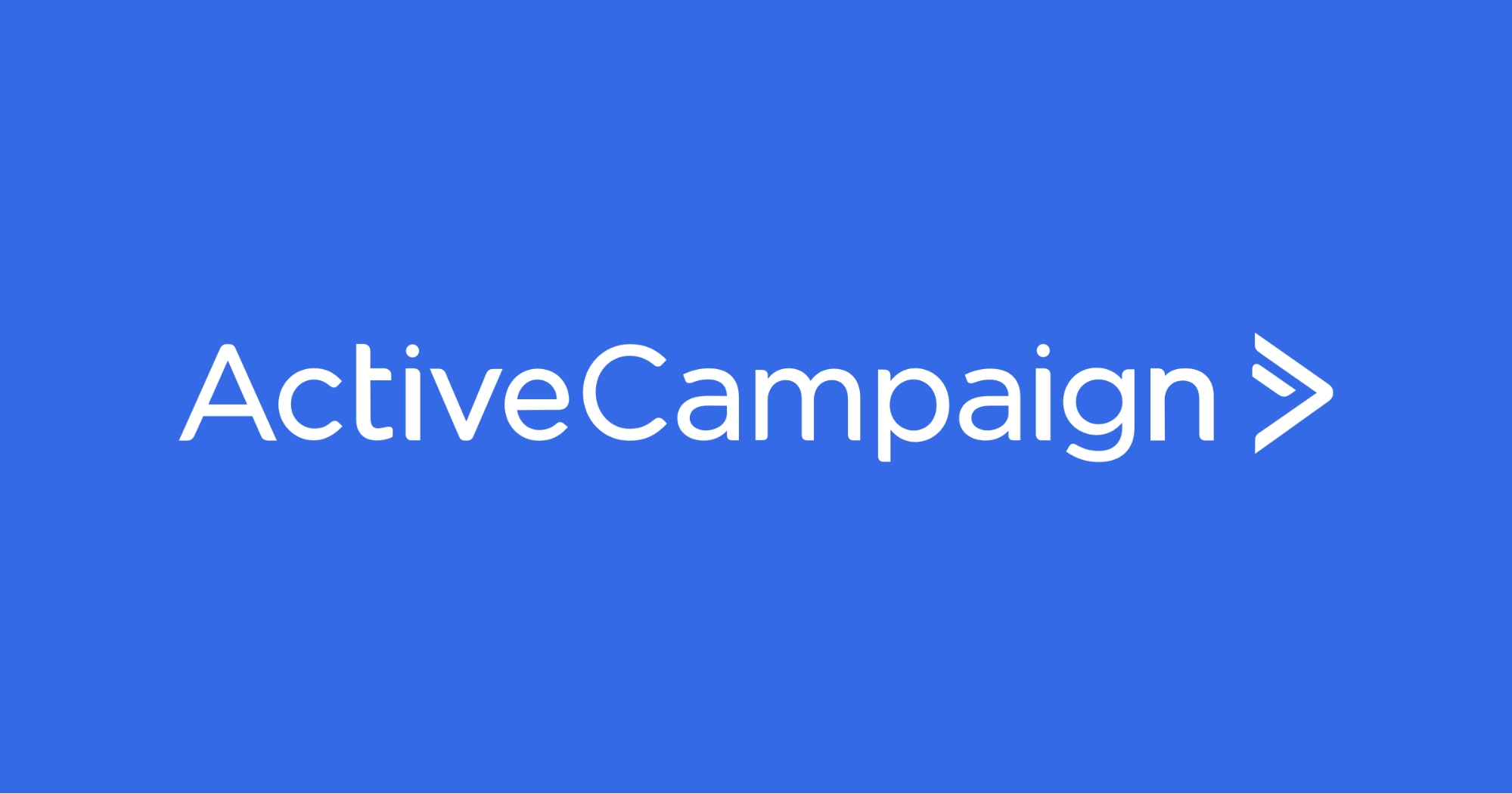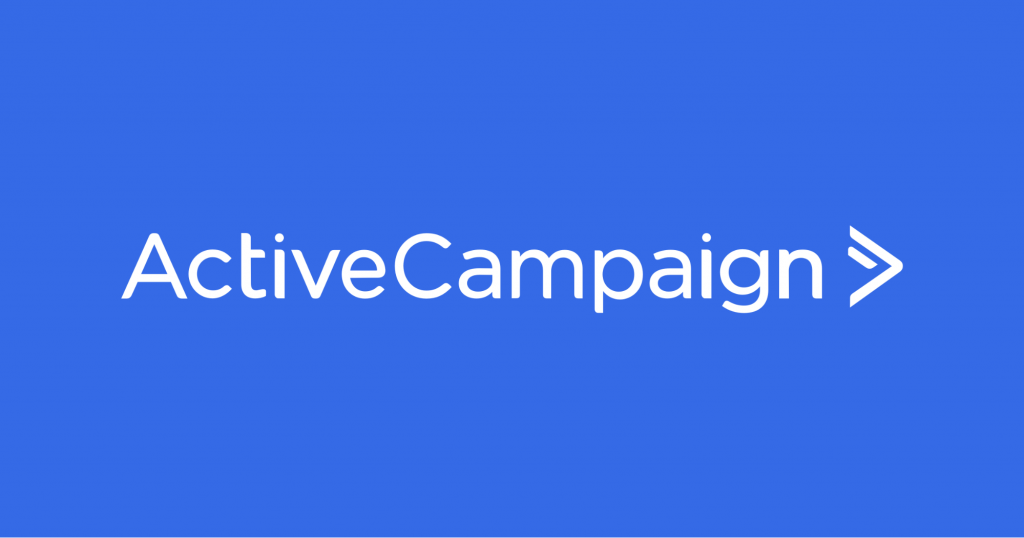 ActiveCampaign is worth giving a try when exploring the best alternatives to GetResponse.
ActiveCampaign is an all-in-one email marketing platform that's easy to use and helps businesses connect and engage meaningfully with their customers.
Its SaaS platform enables you create optimized experiences for your customers by automating processes and communicate with them through personalized and intelligence-driven messages.
It's also affordable and has an impressive set of email marketing automation features, making it one of the best choices for marketers.
You can create powerful automated sales and marketing processes, which are intelligent as they listen and learn about your individual contacts' needs and interests.
This allows you to send out more personalized and relevant messages when they have the most impact, thus your customers will be happier and more loyal.
It goes beyond the competition by tying its messaging and email features to a robust and user-friendly marketing automation platform, together with built-in sales automation and CRM functionalities.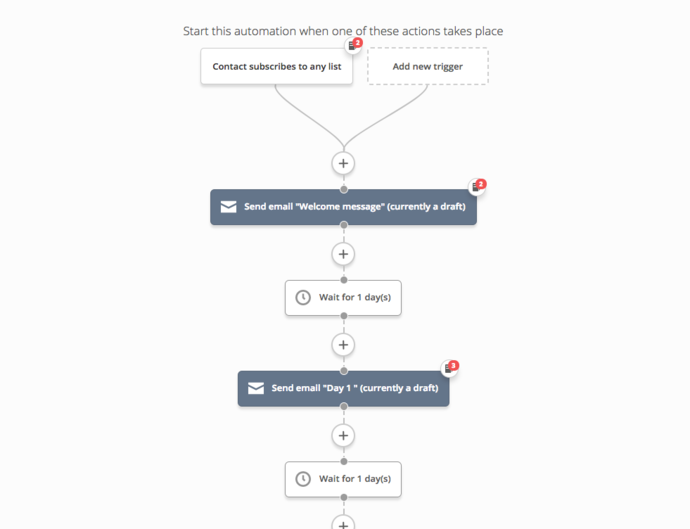 Businesses can create special marketing workflows and automated follow-up sequences while tracking behavior on multiple marketing channels.
It integrates with more than 150 apps and services ranging from analytics, CMS applications, services focused on support, sales, and lead generation.
If you're looking for pure power and flexibility, ActiveCampaign offers these and more, plus affordability as it's cheaper than most email marketing service providers.
It also offers a free 14-day trial so you can test it and see if it's suitable for your needs.
Pros
Powerful
Flexible
Affordable
Intelligent messaging
Free trial
Cons
Can be overwhelming at first for newbies
May have low deliverability rates
Check Out : Best ActiveCampaign Alternatives & Competitors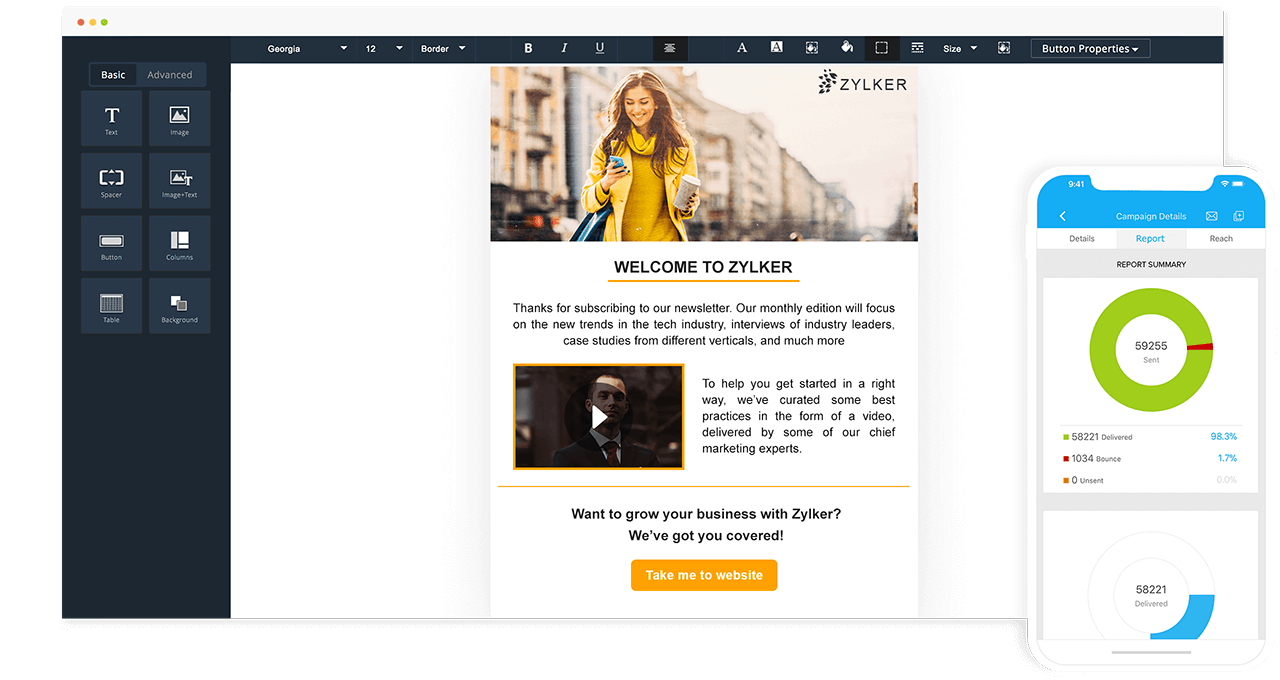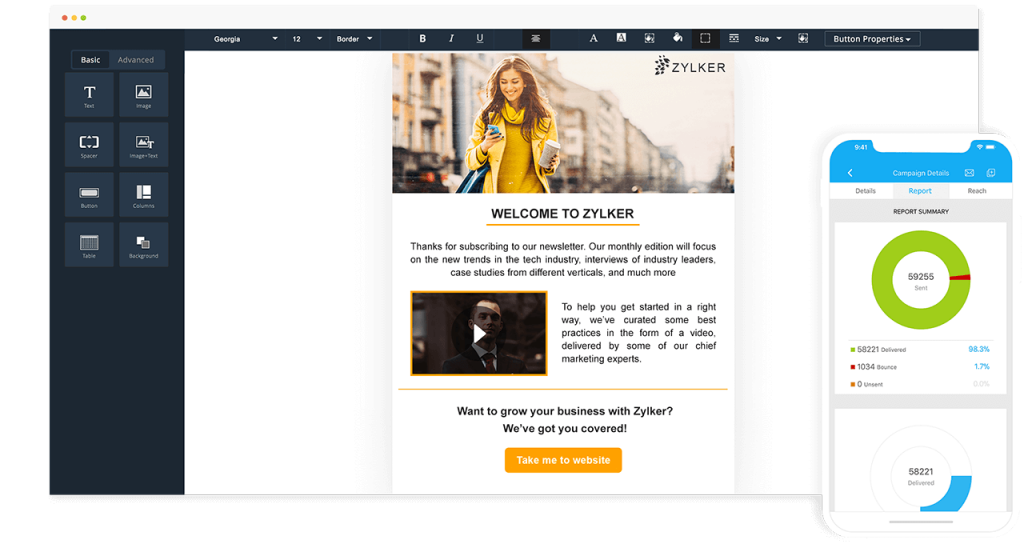 Zoho Campaigns is an effective email marketing solution with a respectable set of features.
It is part of the larger Zoho ecosystem, so it integrates with most of Zoho's other apps, which is great if you use these other services.
The pricing structure may be puzzling, but it's still a strong offering with an email marketing platform that's worth a look.
In Zoho Campaigns, you can add contacts by importing them, syncing with your CRM or other software connected to your account, or manually.
It also offers different email campaign types including A/B tests, regular newsletters, ecommerce campaigns, survey campaigns, and social media campaigns for LinkedIn, Twitter, or Facebook.
With this tool, you can personalize the address with the first and last names of your subscribers, plus link to websites, files, email addresses, and phone numbers in the body of your email.
What's more, it also offers automated workflows and auto-responders that you can use to send newsletters based on subscriber behavior for special occasions and holiday promos.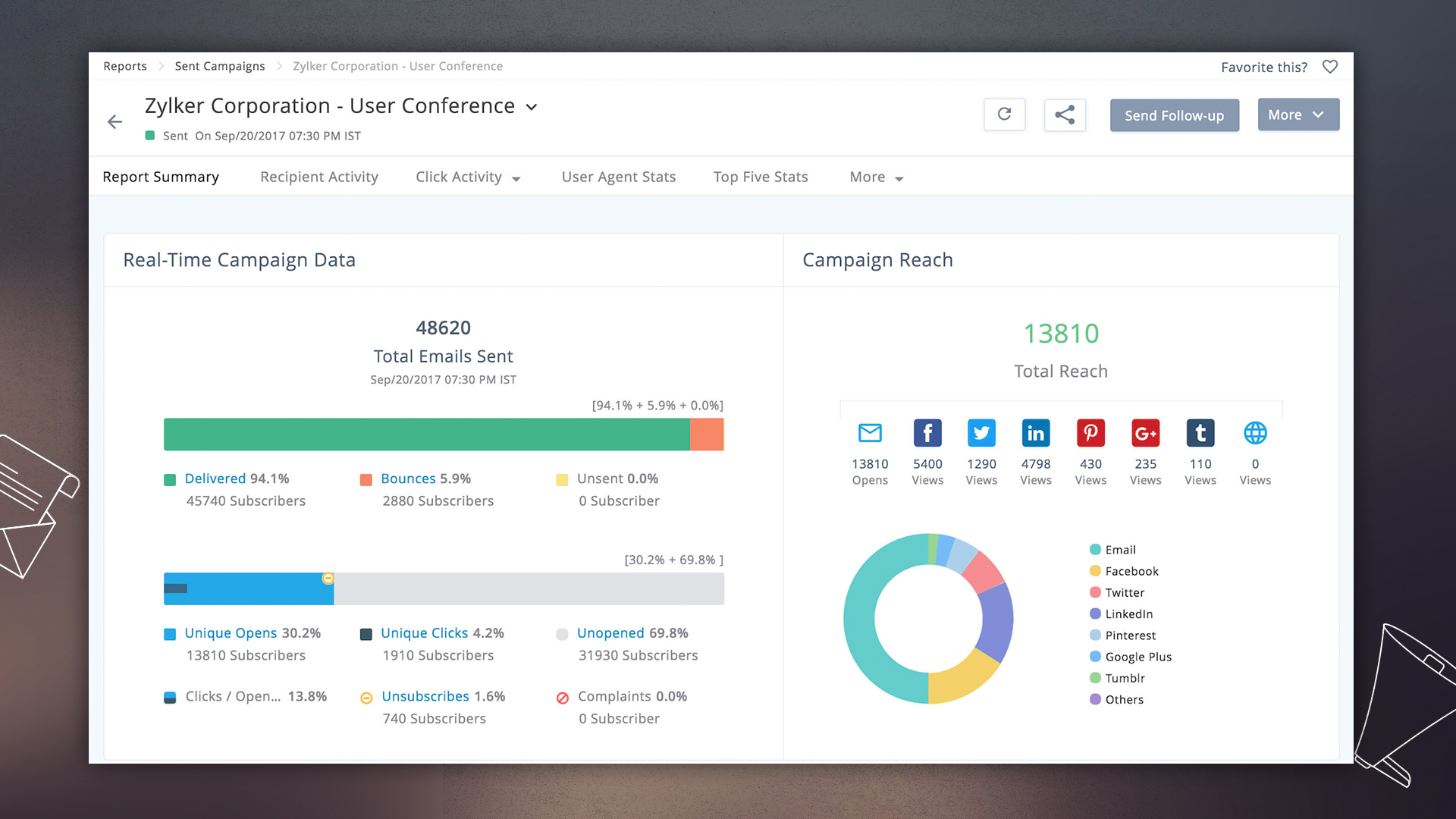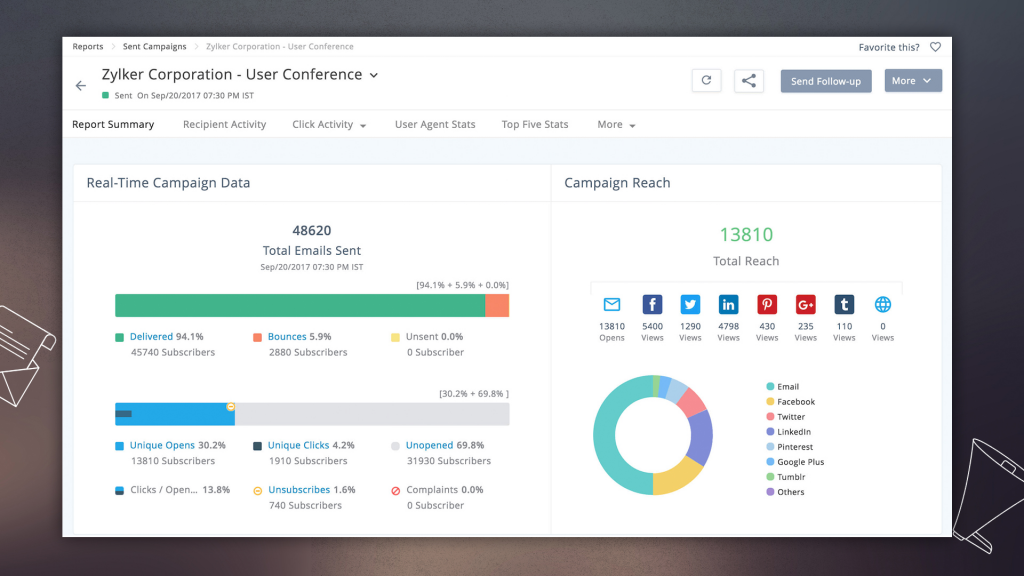 With workflows, you can send follow-up emails at the right time based on customer behaviors.
Once you send the campaign, you can track it from the dashboard in the Reports or Email Campaigns tab, with stats like opens, clicked campaigns, and top clicked URLs.
The downside with Zoho Campaigns is you can't do campaign branching as you would in other tools.
You can't also move users automatically through a campaign based on their responses without adjusting your messages manually.
Customer support is excellent with help resources such as user guides, blog posts, FAQs, email deliverability guidelines, forums, webinars, feature updates, an API guide, and videos.
The content is all searchable, and you can also get in touch by calling their toll-free number 24/7 (paid users), or submitting a support ticket online.
Pros
Lots of features
Connects easily with other Zoho services like third party apps, Google apps and CRM
All-day phone support
Attractive interface
Easy to use
Free version
Effective automation tools
Solid workflow and auto-responder functionality
Cons
You Might Want To Read : Best MailChimp Alternatives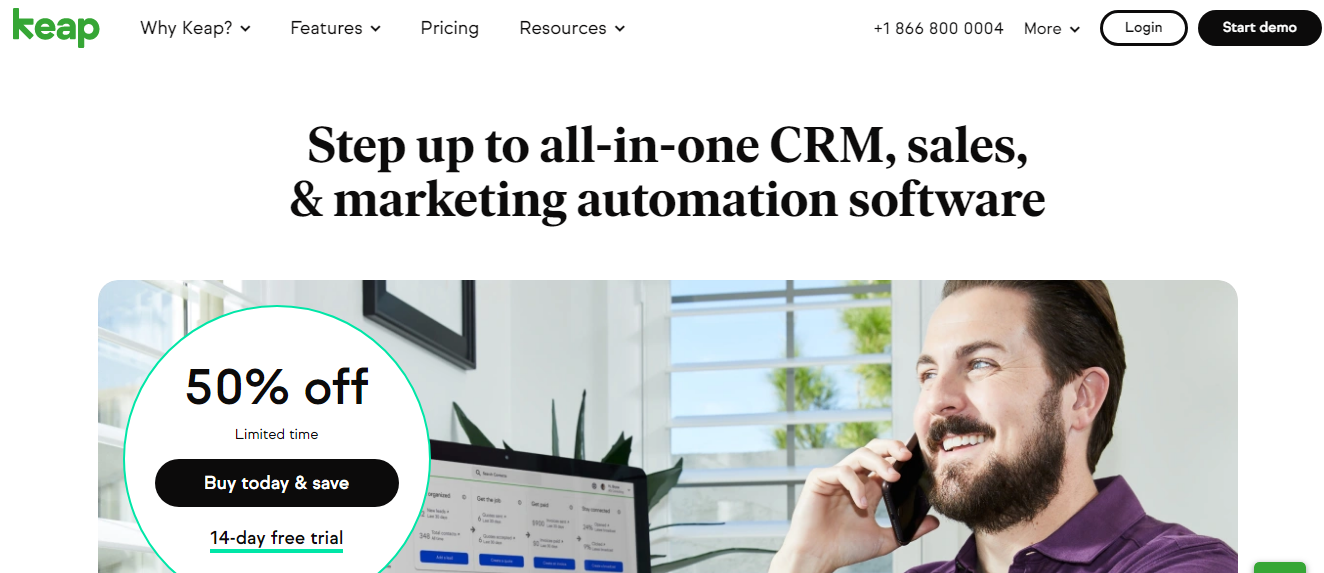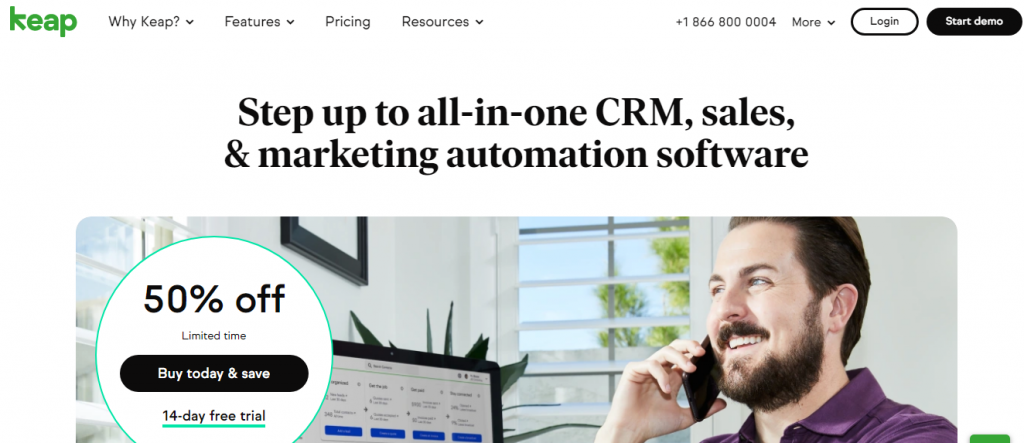 Infusionsoft is an email marketing tool that combines an intuitive interface with good analytics, marked by customizable dashboards from which you can track your customers and campaigns.
Designed for small to medium sized businesses, Infusionsoft offers a basic training panel they can explore and view a guided tour of its tutorials and navigations on sending emails, lead management, campaign building, management of automated tasks and processes, and more.
It features organized drag/drop widgets, a customizable layout, and dashboard which includes contacts, usage stats, quick email reports, tasks, custom stats, campaign reporting, and a lot more.
Creating and managing contacts is intuitive, especially with the newly introduced "Pipeline" feature that helps you organize and manage prospects and deals in one platform.
It links to customer information so you can get insights on all interactions and activity for prospects.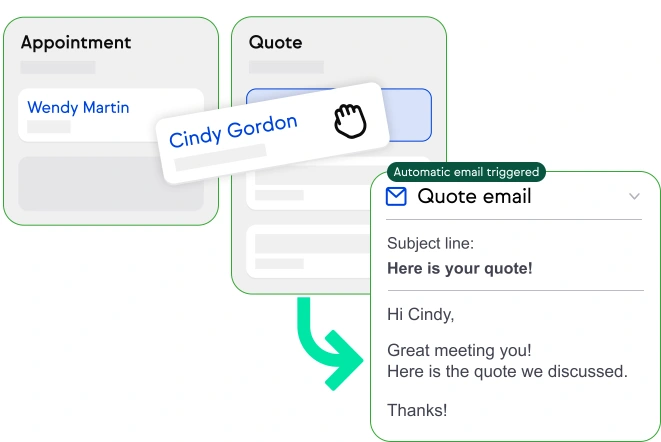 Another useful feature is "My Day", a separate dashboard view that's task-oriented and more centralized. It organizes appointments, tasks, notes and opportunities, and helps marketers organize their priorities and log lead and contact updates.
You can also import contacts from third-party apps including Constant Contact, AWeber or Outlook or upload a CSV file, and send out different broadcast types including email, fax letter or voice.
A marketplace is available from the navigation bar in the dashboard where you can get apps, add-ons, and services for the Infusionsoft ecosystem.
An email builder with dozens of predesigned templates are available, and you can customize them with your own text, links, or images.
Pros
Easy to use
Good for SMBs without much sales/marketing experience
Great support
Highly customizable auto-responders and dashboards
Helpful task management features
Cons
Interesting Read : Best Constant Contact Alternatives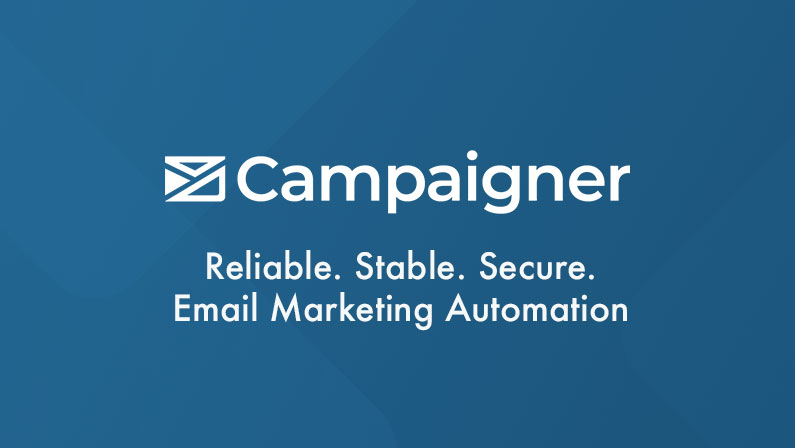 Campaigner is a decent GetResponse alternative.
This email marketing app delivers plenty of advanced features including email workflows, marketing automation, and auto-responders at a competitive price.
With the Smart Email builder, you get lots of layouts and templates to get started, plus the Full Email editor accepts HTML code so you need not struggle with that.
For enhanced tracking, you can integrate Campaigner with Google Analytics, and use the Refresh button to see real-time results in your reports, which can be exported as well.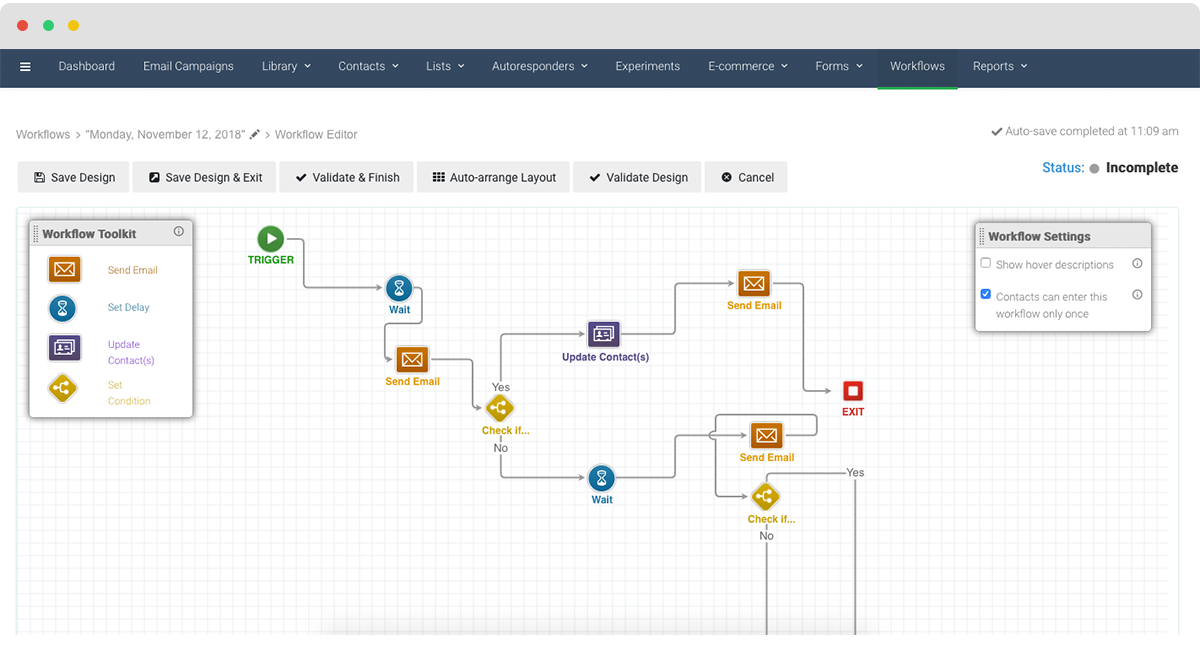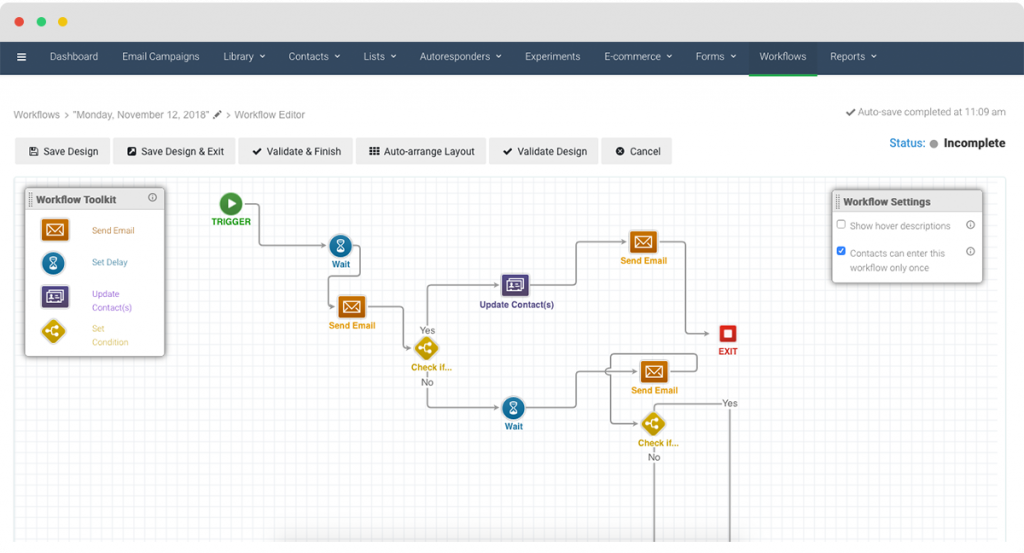 Campaigner is easy to use, with several support options to help you including a Help button that takes you to the relevant Help section automatically, a Status page to alert on outages, and phone or email support 24/7.
Webinars are available too, which Campaigner sends out as an email when you sign up to get you started.
The dashboard isn't as flashy as other tools on this list, but it's easy to use and perfect for basic workflows and triggers.
It's also easy to segment contacts using unlimited filters, but there aren't any social media automation tools, search marketing functionality, or mobile apps.
It also limits the number of emails you can send and lacks organic CRM tools.
Pros
Easy to reach customer support
Intuitive user interface
Simple and easy to use
Many beautiful layouts and templates
Cons
Explore : MailChimp Vs PhpList Vs Brevo
Conclusion
These are the most dependable GetResponse alternatives and competitors in the market.
You can pick the one that suits your needs and business objectives to take your business to the next level.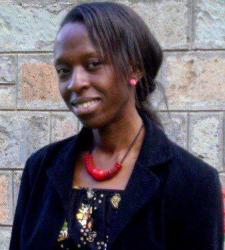 Author: Elsie Biage
Elsie started off as a freelance business and tech journalist. Having written for publications like Lifewire, and WindowsReport, she has garnered immense exposure over the years. She is a certified social media expert with deep interest in internet marketing, ecommerce and information technology.