As the world is becoming more and more digitized, the age of faxing documents to a client to sign is long over. These days, more and more businesses are shifting to electronic signatures as an alternative to traditional signing methods.
Electronic signatures allow you to increase productivity, save time, and get contracts approved quicker. You can send contracts, proposals, quotes, and other documents to be signed by clients, colleagues, acquaintances, partners, associates, and others.
Today, I will be talking about two solutions that facilitate electronic signatures for businesses and agencies: PandaDoc and HelloSign. I will compare the two, see how they measure up to each other, and help you decide which one would be a better choice for your business.
What Is PandaDoc?
PandaDoc is a solution designed to streamline electronic signing for your business. It allows you to create documents, send them to clients for easy online signing, and then get them back and store them securely in your account.
What Is HelloSign?
HelloSign is similar to PandaDoc. It allows your business to send documents for electronic signing, and it also allows you to fax things online.
Are Electronic Signatures Legal And Valid?
The answer to that does depend on your specific country and jurisdiction, so don't take this as legal advice and do your own research. Contact a lawyer for laws pertaining to electronic signatures in your country.
However, in most countries around the world, including the United States and almost all of Europe, electronic signatures are valid and considered just as binding as regular signatures.
They may have to conform to certain regulations, but both PandaDoc and HelloSign take care of those compliance issues for you, so you don't have to worry about that.
Now that we've covered all that, let's get into the PandaDoc vs HelloSign comparison.
PandaDoc vs HelloSign: Creating Documents With Templates And The Document Editor
Which platform has a better document editor: HelloSign or PandaDoc? Also, which platform provides more templates you can use to create documents quickly, and which one has better templates?
PandaDoc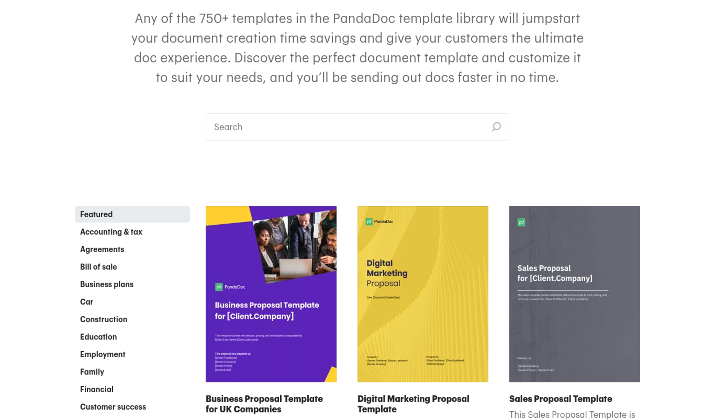 PandaDoc provides over 750 ready-to-use templates to premium users, in all sorts of categories and for all types of use cases. For example, here are just some of the categories for which there are templates:
Agreements
Bill of Sale
Education
Employment
Healthcare
Invoices
Legal
Quotes
Proposals
Marketing
Contracts
Consulting
Software
And many more!
One of the cool things about PandaDoc templates is that they are fully customizable. You can customize them yourself and allow clients to whom you are sending the documents to add their own information.
The custom token field allows you to customize each document for the specific client you are sending it to. By importing data from your CRM, you can populate the documents with personal information such as names and addresses.
You get access to all the templates on any premium PandaDoc plan, allowing you to quickly create beautiful, customized documents regardless of the industry you are operating in.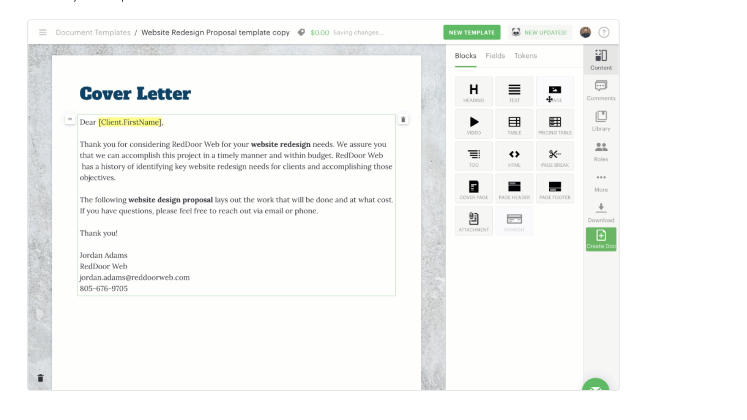 When creating your own template from scratch, or when editing a document, you can use PandaDoc's drag and drop editor to create beautiful end results. You can upload and drop product screenshots, drag signature blocks from one part of the document to another, and much more.
When you create a new template, use the drag and drop editor to add content blocks, headers, and so on. Then, save it for reuse.
Depending on your PandaDoc plan, you can lock content on the document so that the customer or client can't change or edit it.
That helps you preserve terms and conditions and other parts of the agreement. You don't want a client to make tiny, sneaky wording changes that you may not notice but which may have a significant legal impact later on.
HelloSign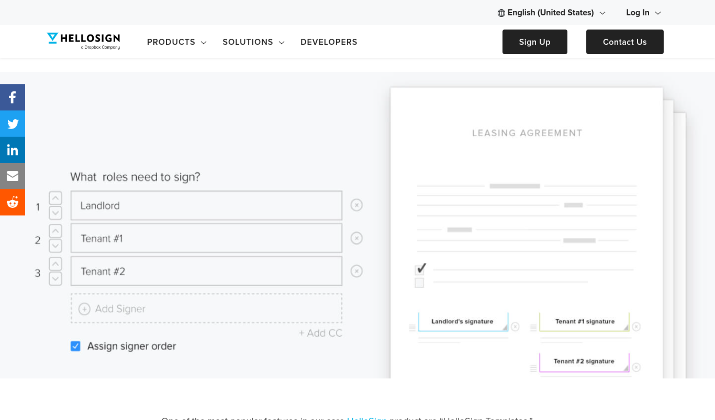 HelloSign does not seem to have an extensive library of ready-to-use templates like PandaDoc does. However, you can create your own templates and save them for future use, so you don't have to keep creating new documents from scratch.
Saving templates for future use allows you to simplify your workflow. You can base those templates on documents and forms you often use, such as common tax forms.
You can use drag and drop to add signature blocks and create your final template.
However, HelloSign limits you in terms of how many templates you can save. You can only have 5 to 15 templates on most premium plans; you need the most expensive plan if you want to save an unlimited number of templates for reuse.
When creating a document in HelloSign, you can add editable fields, which the client will be able to edit. Sometimes, you will make mistakes when populating certain fields with data, so it is useful to allow a client to correct those fields.
PandaDoc vs HelloSign: Creating Contracts And Quotes
When creating quotes or contacts, which platform is a better choice: HelloSign or PandaDoc?
PandaDoc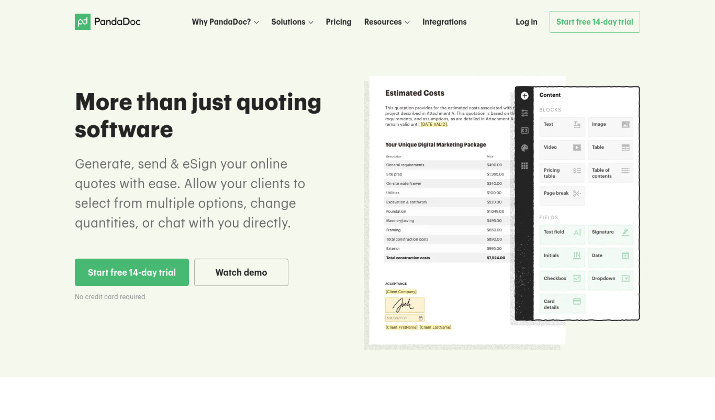 PandaDoc makes it easy to create and send quotes and proposals. The Contracts templates in the template library have ready-to-use clauses built into them, free of errors, and you can easily populate contracts with customer data by integrating PandaDoc with your CRM.
You can also transfer data from one contract to another if you need to create a similar but slightly different contract for a new client. Also, you can set up contract renewal notifications, so you can be reminded to send contract renewals on time.
Sending quotes is also an automated process. PandaDoc can pull price details from your product catalog to give your client a choice of several services at different price points. Your client will be able to choose which product or service bundle they want, and they can also change the quantity of how many bundles or packages they want to order.
Clients will have the option of choosing a package right away or chatting with you first.
HelloSign
HelloSign integrates with Oracle CPQ to allow you to send custom, complex quotes seamlessly. It seems like you will need Oracle CPQ for that, however.
You can create contracts and send them for signing with HelloSign just as you can with any document. You can create templates to reuse later and send reminders to clients who have not yet signed the documents.
I would have to say that PandaDoc wins here. It just makes it a more straightforward process to create complex quotes and contracts from premade templates and CRM/catalog data for customers to sign.
HelloSign vs PandaDoc: Accepting Payments
When you send quotes or contracts, can you accept payments from clients directly with PandaDoc or HelloSign?
PandaDoc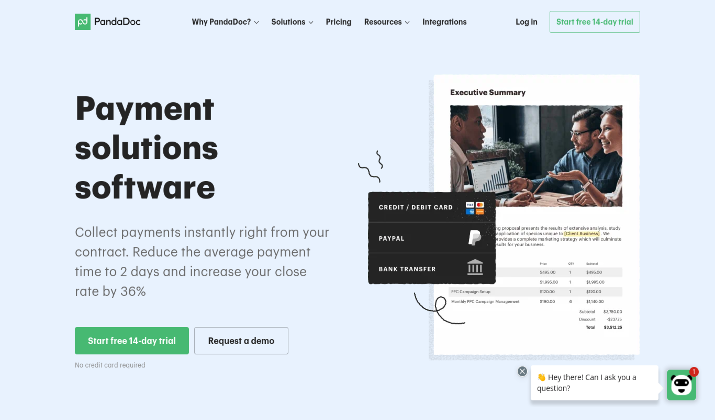 Yes, PandaDoc allows you to accept payments when sending documents, even on the free plan! You can accept payments from customers right after they sign a quote or proposal, thus increasing and speeding up payments.
Using the payment processors that PandaDoc supports, you can accept payments via:
Debit and credit cards (Visa, Mastercard, and Europay)
Bank transfers
PayPal
Merchant accounts
And more
PandaDoc even integrates with accounting software to allow you to collect invoices and store payment data easily.
HelloSign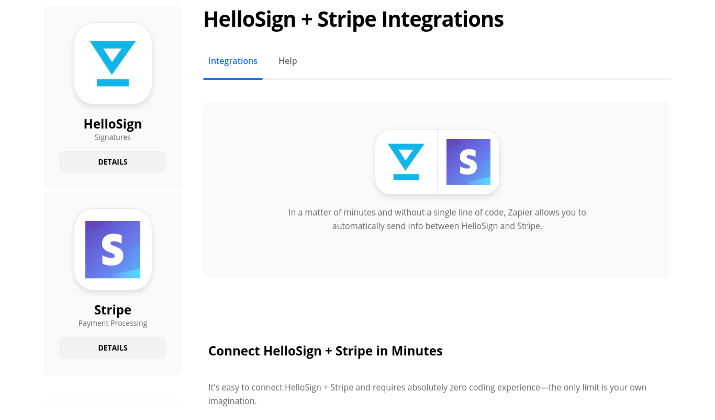 HelloSign does not seem to have built-in payment processor support as PandaDoc does. However, using Zapier, you can integrate HelloSign with Stripe.
That will allow you to set up an automation flow based on HelloSign triggers. For example, when a client signs a document, that can serve as a trigger for an action such as creating a new subscription in Stripe.
Nevertheless, PandaDoc wins when it comes to accepting payments, as it is more streamlined and straightforward.
PandaDoc vs HelloSign: Mobile App Document Management
Does PandaDoc or HelloSign allow you to manage your documents on the go? Do they offer mobile apps?
PandaDoc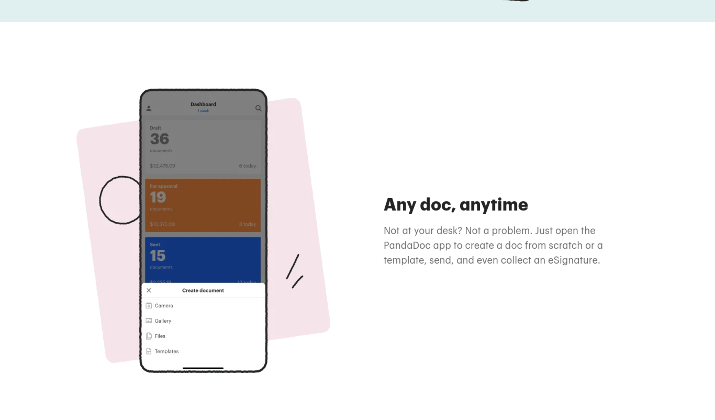 Yes, PandaDoc does offer mobile apps that allow you to view, send, and manage documents and contracts on the go.
What exactly can you do on the mobile app? Here is what the mobile app lets you do:
Create documents from scratch or from a template
Send documents to be signed and collect signatures
Receive alerts about activity related to the document you sent
See the document's history (what your team has been doing) and approve it for signature
Send reminders to clients to sign
Communicate with clients and answer their questions
The apps are available for both Android and iOS devices.
HelloSign
While HelloSign used to have an app for Android and iOS devices, that app is no longer available for download on the respective app stores. Those who have already downloaded the app can continue using it to send documents for signing, sign documents, and see status updates.
A help document from HelloSign states, "The HelloSign mobile apps are currently not available to download on the App Store or the Play Store. These articles are only for those who've downloaded the app previously."
There is no indication whether the app will be available again on the app stores in the future. When I looked in the app store, I could not find the HelloSign app.
The winner here is obviously PandaDoc, as new users can download PandaDoc from the app stores, while HelloSign is no longer available.
HelloSign vs PandaDoc: Email Alerts, Analytics, And Reminders
Does PandaDoc or HelloSign give you email alerts to update you on the status of a document you sent? Can you view analytics to track documents and activities related to them?
Also, can you have reminders sent to clients automatically when they don't sign a document right away?
PandaDoc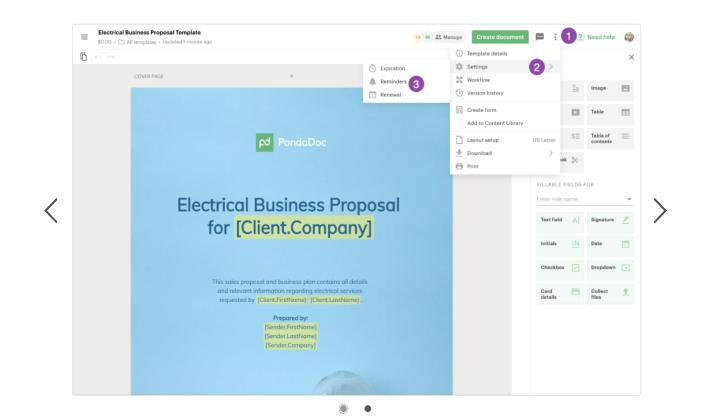 PandaDoc sends you notifications when a client has opened, viewed, and signed a document. You can also view analytics such as how many times the document was viewed and how much time was spent on it.
You'll know how quickly customers open documents, when they open them, how much time they view them for, and more, and you can integrate all that data into your CRM.
You can also have reminders sent to clients automatically; just set when and how often you want reminders sent.
HelloSign
HelloSign also allows you to set up notifications for when clients open and sign documents. In addition, default automatic reminders are sent on the third and seventh day to clients who did not sign yet, but you can disable these reminders or send custom reminders.
PandaDoc vs HelloSign: Teams, Workflow, And Integrations
In this section, I will compare how PandaDoc and HelloSign measure up to each other in terms of team management features, workflow streamlining, and integrations with other tools and software to help you get more done.
PandaDoc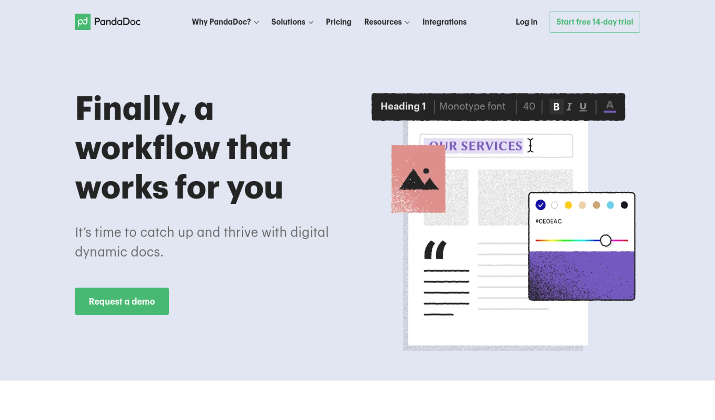 PandaDoc is great for team productivity. You can control how much access and control each team member has.
You can have documents sent to you for final approval before you allow them to be sent to clients. You can view each document's history, including what team members have done with it and any edits they have made.
You can leave comments on specific parts of the documents. Clients can leave comments as well, and you can reply to those comments to help them understand what they are signing or what a clause is for.
Since you can save templates and clauses, creating documents is a smooth process as well. With the approved content and clauses, team members can create documents without any errors and without worrying about running into legal issues later on.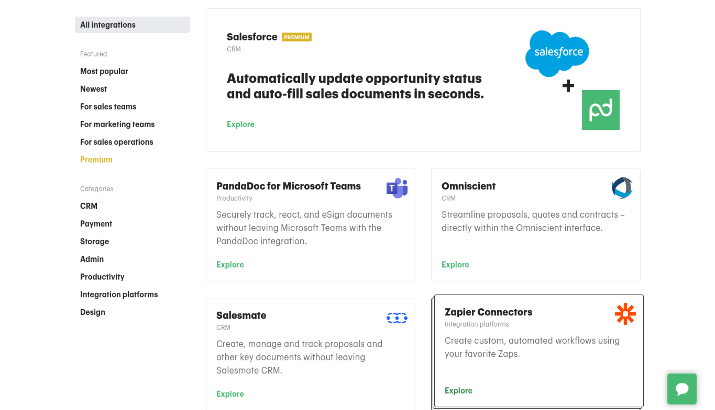 PandaDoc integrates with a wide range of tools to help you be more productive and get things done quicker. There are too many integrations to cover all of them, but I will cover some important ones.
CRMs: You can integrate with CRMs like Salesforce, Hubspot, Pipedrive, and many others to integrate customer data into your documents.
Payment processors: Payment processors you can integrate with include Stripe, Square, PayPal, Authorize.net, Quickbooks Payments, and more.
Storage: Need a place to upload and store signed documents safely, so you don't lose them? Integrate PandaDoc with Google Drive, Dropbox, Box, and Microsoft OneDrive.
Teams: You can integrate with Slack, so you can communicate with your team members. You can also integrate with Microsoft Teams.
Google and Word: You can integrate with Microsoft Word to create and send documents from within Microsoft Word. You can also integrate with Gmail to send documents from your Gmail address and with Google Sheets to integrate data. You can also integrate with Google Drive to convert existing PDFs into documents that clients can sign.
Zapier: Zapier's integration with PandaDoc allows you to set up workflows.
Design: Integrate with Canva to create beautiful images and templates.
HelloSign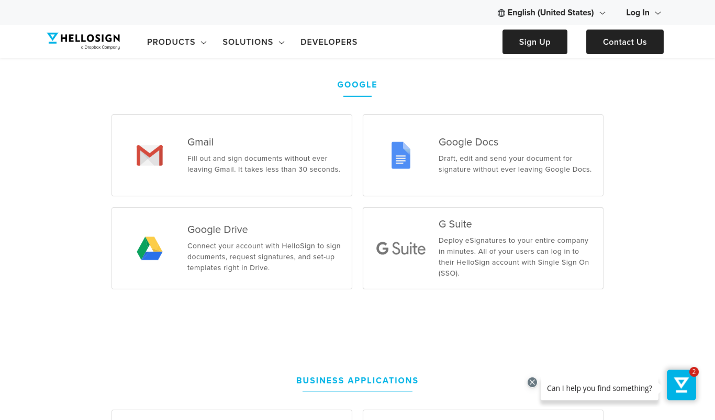 HelloSign also has a wide range of software tools it integrates with and extensions you can add. Here are some of them:
Google: Integrate with Gmail or Google Drive to send and upload documents, or integrate with Google Docs to create and send documents while working in Google Docs.
Storage: You can integrate with tools like Dropbox, Box, Microsoft OneDrive, and Google Drive.
Creation: You can integrate with Google Docs and Microsoft Word to create documents from within those apps and send them to clients. You can also integrate with Evernote to access notes in HelloSign and store documents in Evernote.
Team: Integrate with Slack for improved team productivity.
CRMs: Integrate with Salesforce, Hubspot CRM, and Oracle.
Zapier: Use Zapier to connect with other tools and set up workflows.
Who wins here? The answer would have to be PandaDoc.
While HelloSign's integrations are nothing to laugh at, PandaDoc offers a larger selection of tools you can integrate with.
HelloSign does have the advantage of offering an Evernote integration, however, which PandaDoc does not.
HelloSign vs PandaDoc: Online Signable Forms
What about signable forms? Instead of sending documents to clients for electronic signing, can you embed a form on your site and have your clients sign online electronically?
PandaDoc
PandaDoc allows you to do this. Embedding singable forms on your website comes in handy in so many cases.
For example, you can set up registration forms for business events, other events, university classes, and more. You can allow patients to sign healthcare forms (all forms are HIPAA compliant), and you can accept job applications and NDAs.
Employee evaluation forms, legal compliance forms, and membership forms are other ways to use the forms feature.
The forms feature allows you to add a self-service dimension, essentially, so you don't have to send individual forms to individual clients. You can still collect individual data.
HelloSign
HelloSign also offers this feature with HelloWorks. Instead of creating signable PDFs, you can create signable and fillable online forms.
You can use an intuitive drag and drop builder when creating those forms.
In this regard, PandaDoc and HelloSign are equal.
PandaDoc vs HelloSign: Online Faxes
In this section, I will explore electronic fax options offered by either company.
PandaDoc
Unfortunately, PandaDoc does not offer an online fax solution.
HelloSign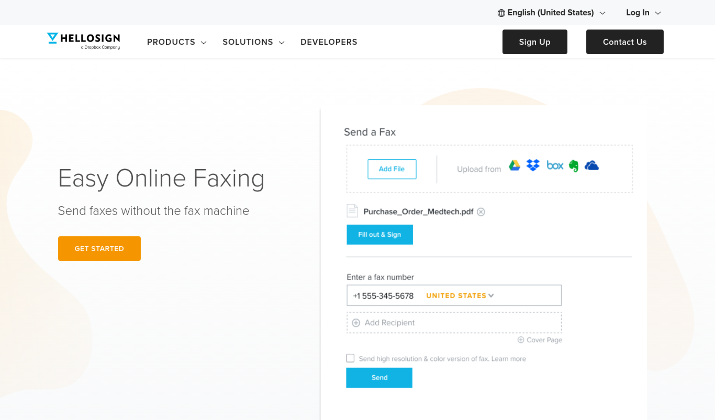 HelloSign, on the other hand, does offer an electronic fax option. Think of it as a VoIP number, but for faxes.
You can send faxes from your online HelloFax account to real fax numbers, and you can receive faxes online from real fax numbers. On your end, everything will be digital, but you will still be able to keep your original fax number if you port it to HelloFax.
The service is only available in the US and Canada. It's a great option if you have clients who still use traditional fax machines, but you don't have one yourself.
PandaDoc vs HelloSign: Free For Businesses
I'll discuss full pricing in the next section, but I feel it is important to cover what PandaDoc or HelloSign offer for free. Both have free plans, so if you're a business on a tight budget, the one that has a more comprehensive free plan will likely be your first choice.
PandaDoc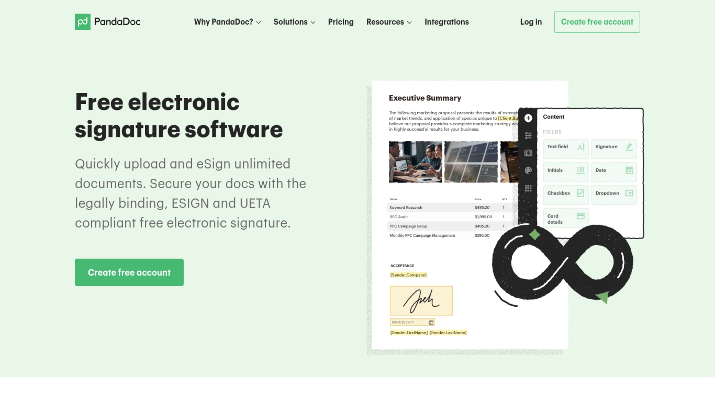 PandaDoc is the one with a more comprehensive free plan. The free PandaDoc plan for businesses allows you to upload an unlimited number of documents and send out documents for an unlimited number of signatures.
In addition, while on the free PandaDoc plan, you can accept payments and manage your documents in the mobile app.
HelloSign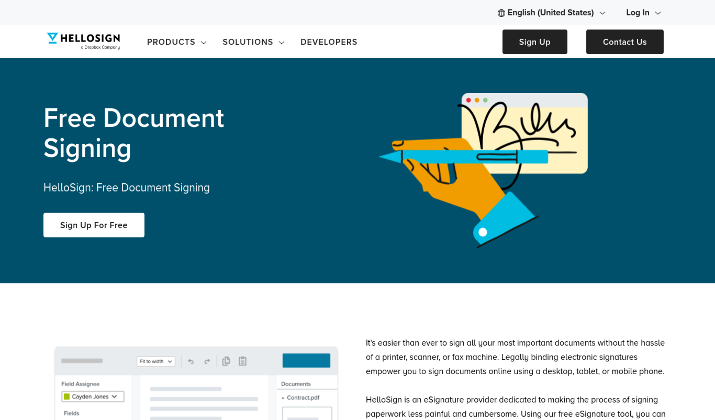 HelloSign offers a more restrictive free plan for businesses. You can only send out three signature requests per month as a business on the free plan.
While that might be enough if you have very limited needs as a small business and you only need to send an e-signature request once in a blue moon, it won't be sufficient for businesses that need to collect signatures on a regular basis.
Right off the bat, we can confidently say that PandaDoc is a better choice for businesses on a budget.
HelloSign vs PandaDoc: Premium Pricing And Trial
Let's look at the premium plans now and how they compare, as well as the free trials offered by either tool.
PandaDoc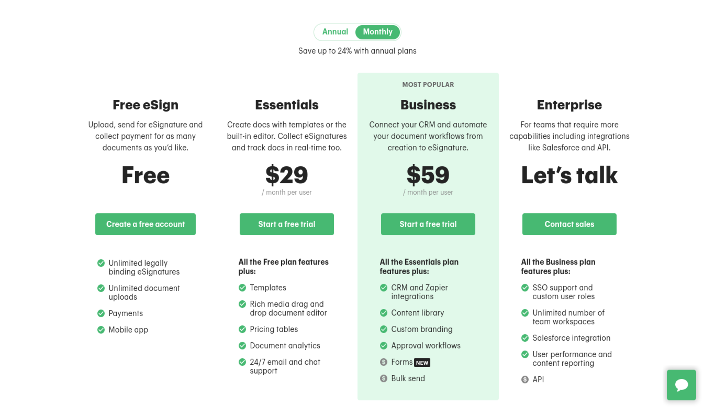 Here are the three premium PandaDoc plans:
Essentials: This plan costs $29/month ($19/month when billed yearly). It includes templates, the drag and drop editor, pricing tables for quotes, document analytics, and premium support.
Business: This plan costs $59/month ($49/month when billed yearly). It adds a content library, CRM and Zapier integrations, custom branding, approval workflows, and forms and bulk send features (the latter two are add ons that cost more).
Enterprise: This is a custom plan that includes user performance reporting, Salesforce integration, an API, and more.
A 14-day free trial is available for the premium plans. Check the pricing page for updated information.
HelloSign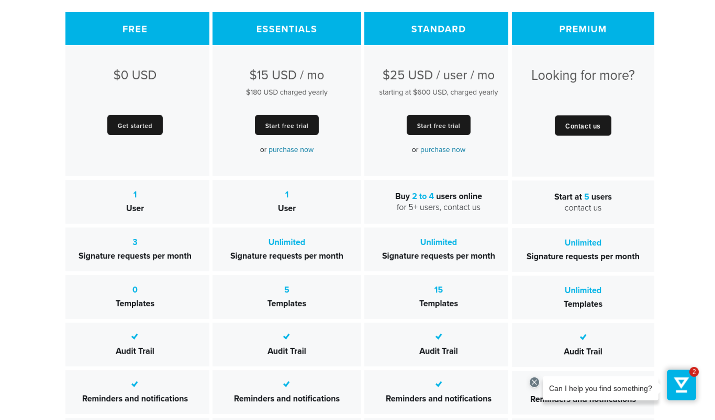 Premium plans on HelloSign are:
Essentials: This plan costs $20/month ($15/month when billed yearly). It is limited to one user, includes unlimited signature requests, lets you create five templates, and more.
Standard: This requires a minimum of two users and up to four users, costing $30/month per user ($25/month per user when paid yearly). It adds branding, bulk sending, and team features and allows you to create up to 15 templates.
Premium: This is a premium plan for unlimited users and templates and premium team features.
A 30-day free trial is available. Always check the pricing page for updated pricing information.
PandaDoc vs HelloSign: Similarities And Differences
Wrapping It Up: Which Is Better, PandaDoc Or HelloSign?
PandaDoc, although being more expensive and lacking an online fax solution, is a much better option. It has pre-made templates and clauses and an awesome workflow to make your work easier, as well as mobile apps.
The free plan on PandaDoc is superior to HelloSign's free plan, too.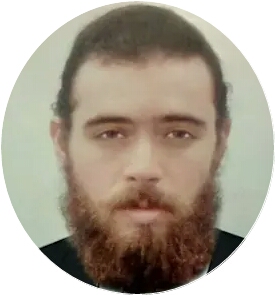 Author: Benjamin Levin
Benjamin Levin is a digital marketing professional with 4+ years of experience with inbound and outbound marketing. He helps small businesses reach their content creation, social media marketing, email marketing, and paid advertising goals. His hobbies include reading and traveling.