Do you know someone who loves to travel? Or do you have a family member who is constantly moving around?
A personalized map gift might be a thoughtful gesture for them.
Whether metal art or a wooden map, these unique personalized gifts can be designed to depict where that person's travels have taken them.
Although, the recipient of this gift doesn't have to be a traveler. A custom map gift can represent where the person grew up, a place that means a lot to both of you, or even a favorite destination.
You can customize each map gift to match a specific travel destination or area of interest. Personalize the map with the recipient's name, address, and photos. Create the right present for any season, journey, and occasion.
Whichever map gift you choose, we promise it will be a meaningful keepsake for years to come.
Best Personalized Map Gifts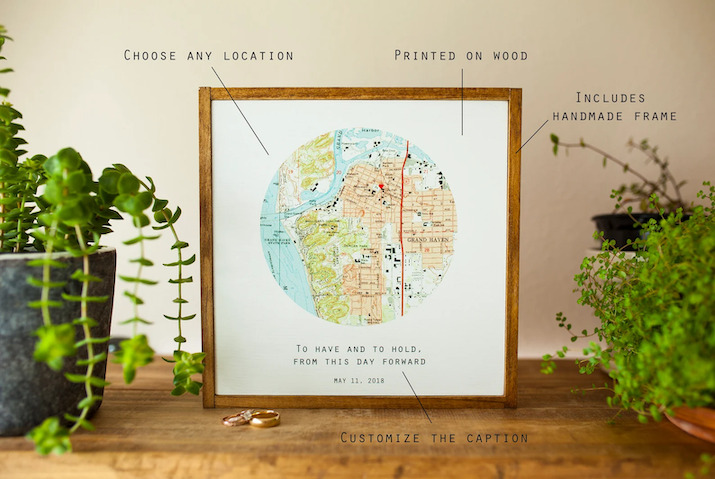 Not much can beat commemorating the place you and your other half met. Thankfully, with this map, you can do just that.
The Where We Met Map is the perfect personalized gift for couples getting married or celebrating an anniversary soon – it's the ideal place for the happy couple to write a special note to future grandkids, telling them the story of how they first met.
You can frame this customized piece of art and write a few words like "Where It All Began." It's an ideal decoration for the home, too. Let future family members know where the two lovebirds met is fun.
Also Read: Best Print On Demand T-shirt Companies
You can take things up a notch by gifting the couple a personalized map highlighting the three most important periods in their relationship.
The Met, Engaged, Married Map is an extraordinary gift that reminds a couple of their special times together. It's a lovely way to commemorate the journey to getting married and starting a family.
This is a sentimental art gift that the couple will cherish for years and years to come.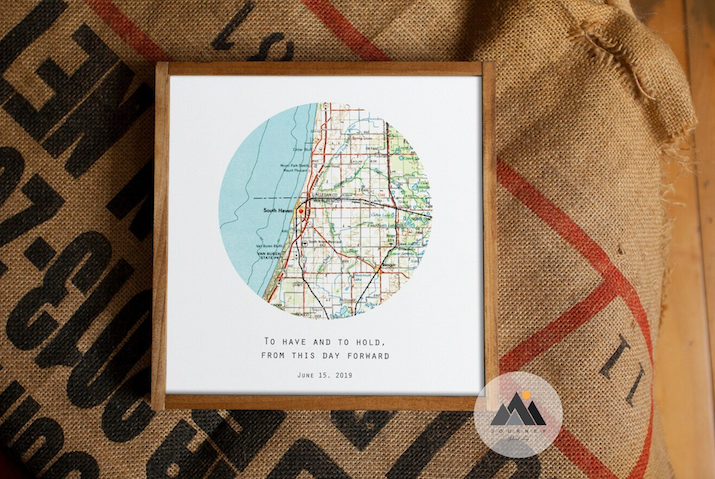 Traditionally, the 5th-anniversary gift is wood, representing strength, wisdom, and forgiveness. As the couple enters their fifth year of marriage, they begin to develop solid, deep roots, like those of a tree, preparing them for a long-term relationship.
The Wood Anniversary Map is the perfect way to tell a couple how special they are to you and how much you love them.
You can also get this gift for your partner to show them you understand the significance of this milestone.
This anniversary gift is made of wood and can be customized to feature any location you suggest. Leave some room at the bottom of the map to write a personal message.
Also Read: Best Print on Demand For Etsy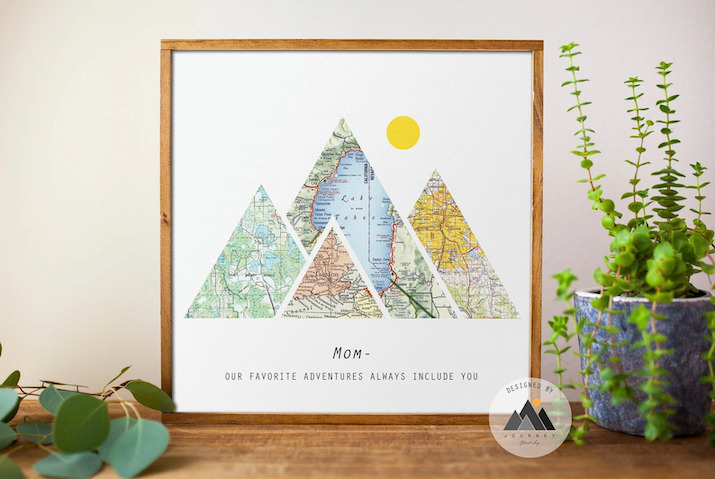 Did you two go on an adventure together? Maybe you and your mom no longer live together, or you are now far away.
No matter the circumstances, it's always nice to remind your mom how much you care.
Give mom a personalized map in honor of all her special places as a unique way for mom to remember all the special times she shared with you. This customized map gift is also a great Christmas or Mother's Day present.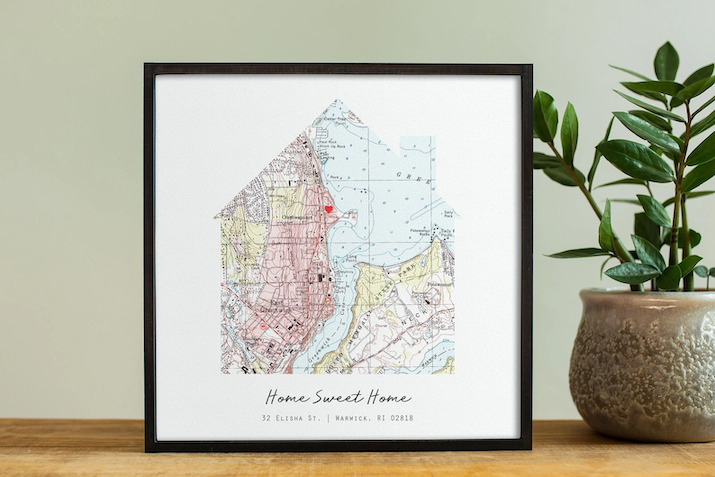 Do you know someone who just put down permanent roots? A First/New Home Map is an excellent housewarming gift.
You can get creative with this one by including the recipient's new address, favorite destinations, and home symbols like flowers or trees.
Whether a cozy apartment or a luxurious home, it's a perfect way to celebrate a new beginning.
Also Read: Best Print on Demand Sites Like Society6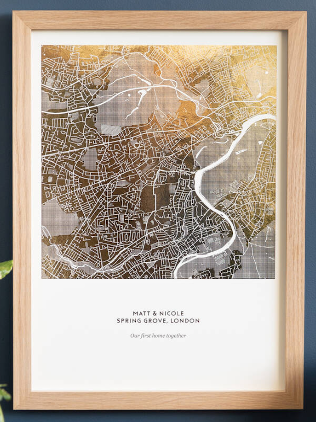 A personalized metallic foil map is a great gift to remember a particular location or event. A foil map print makes a thoughtful gift for an anniversary or a brand-new home.
Your choice of metallic foil is laid over the land areas, leaving rivers, seas, and roads bare, so the paper color shows through. This type of map is called "a land map."
You can add a location icon in the shape of a heart or a pin in a specific place. For instance, you could want a map print of your hometown with a heart icon.
Make your print extra special by adding your special touch underneath the map. You can use up to three lines of upper case text and two lines of italic text.
You can, for instance, make a custom map with your wedding or honeymoon location printed underneath, along with the couple's names, the place, and the date. You may also want to keep it simple and write the date and location.
Make it extra special by adding a matching foil-stamped greeting card with the words 'A Little Note'.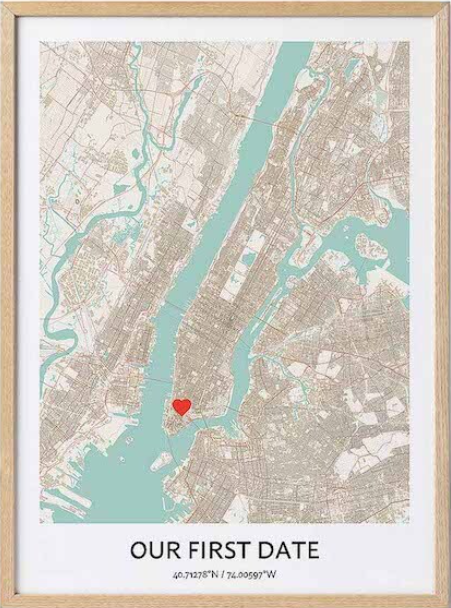 You know what they say about the first date; usually, it's the one that sticks. This personalized map is a great way to remember the location where you hit it off with someone special.
This map can be displayed and admired for years to come. The recipient can place it in a special place in their home, such as the entryway or living room, or hang it on the wall as a decorative piece.
Also Read: Best Print on Demand Book Companies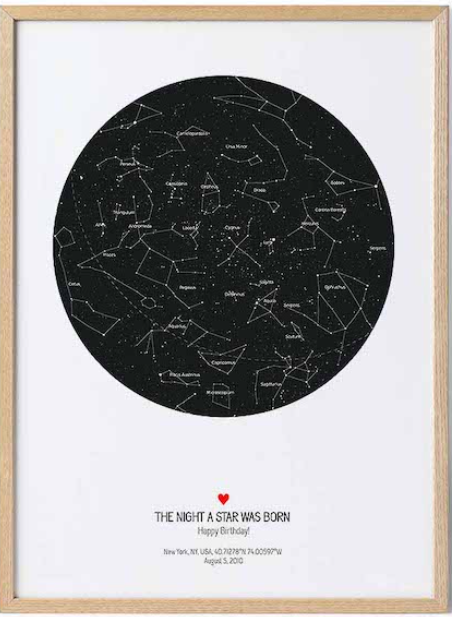 A Birthday Star Map is a personalized map gift designed with a clear view of the stars and can be customized with the place and date you choose. You can also improve the details by including planets, constellation names, and the Milky Way.
Do you know a child who is obsessed with outer space? This customized map print will be the perfect gift for them.
It is affordable and will look great on the wall in their bedrooms, complete with starry skies and constellation names.
You can also give this personalized map to your special someone as a birthday or Valentine's surprise gift. You'll be reminding them that they are the twinkle in your eyes.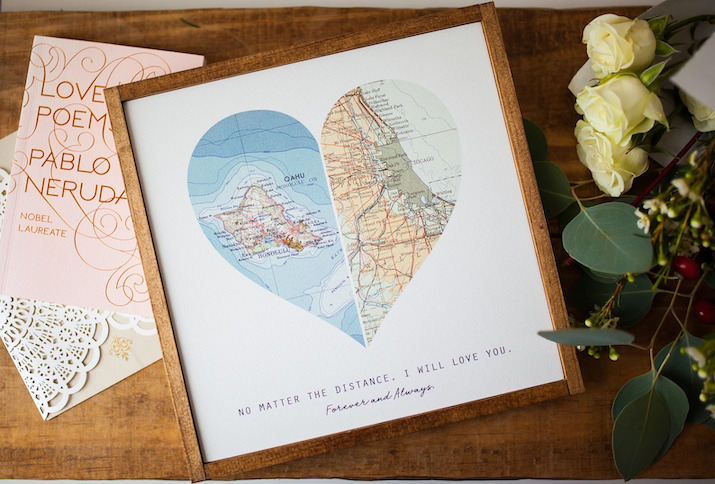 This map is perfect for weddings, anniversaries, and Valentine's day gifts. Your lover will enjoy seeing this sweet keepsake in their home for years.
Add a personal message to the map for your loved one, such as "To My Spouse" or "To My Husband."
Regardless, this timeless piece will look gorgeous in any room and remind them of the happy times spent together.
Explore: Best Print on Demand Sites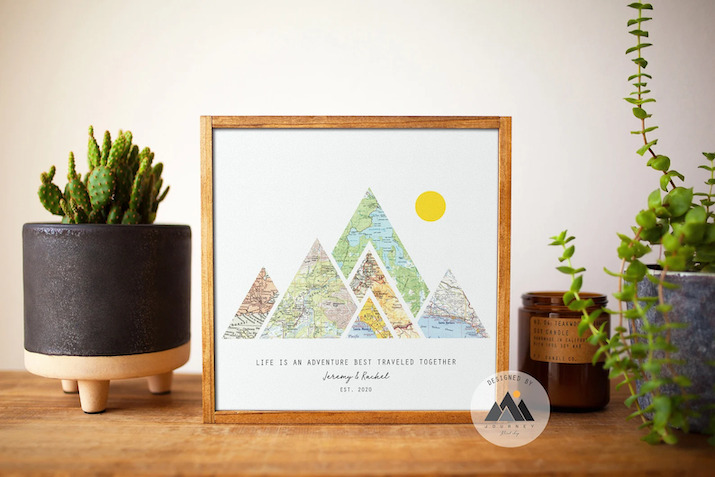 For the travelers in your life, this personalized travel map is a unique way to preserve memories of their favorite holiday spots. Framed or mounted, it is appropriate for hanging in their home.
This customized map makes the perfect gift for birthdays and holidays. It's also a unique wedding gift and the ultimate souvenir for honeymooners.
A travel map with their favorite places would be the most thoughtful gift for travelers. You can even gift it to a couple who are celebrating their 25th wedding anniversary as a way to congratulate them.
If the map is detailed, the recipients will find it more appealing. Design the map with the recipient in mind.
Make things easy and customize this gift with the recipients' favorite destinations, places they want to visit in the future, or vacation spots they have already seen.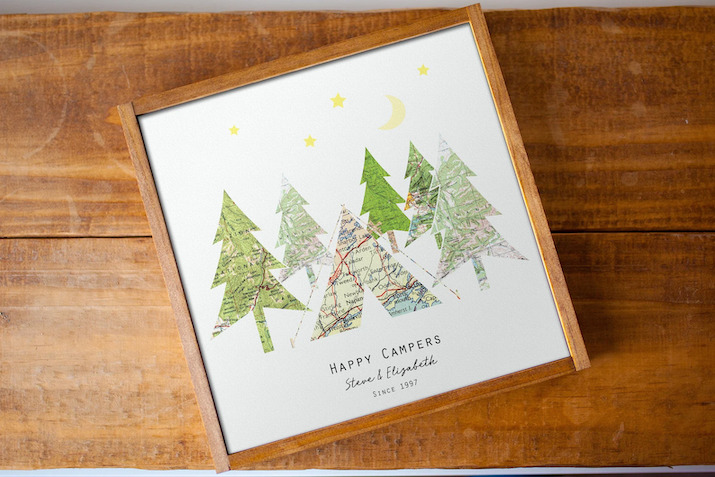 Get ready for adventure! With a wood travel map, you can celebrate your journey together. This wild map is perfect for lovers of the outdoors.
Your partner will love their camping map, which they can display on a wall in their bedroom or hang in the garage while they plan their next outdoor adventures.
You can also gift this personalized map to camping/hiking-inspired couples. They will be delighted to receive this customized map art as engagement, wedding, or anniversary gifts. It is a thoughtful reminder of their outdoor excursions and memorable camping trips.
Also Read: Best T-shirt Mockup Ideas For Dropshipping
Does your family live far apart? Is there a place that is dear to both of you?
You can show your love from afar with a Long Distance Birthday Gift for Mom or Wife Map. It's a special gift for family members living far away, friends in the military, or anyone you love.
These customizable wood maps are a beautiful way to preserve the memories of a special place.
Display this personalized map as a reminder of where you wish to return with your loved ones.
You can get creative with this personalized map art gift by highlighting your favorite restaurants from a previous visit to the city.
This lovely artwork will bring your loved ones joy every day and remind them of you every time they see it.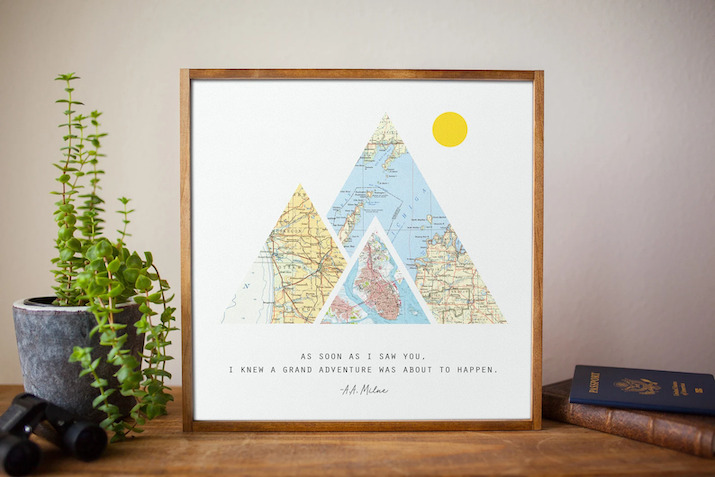 It's only fair that we have a personalized map gift for dad. Get your dad or husband a customizable wood map to mark his achievements and brag about his success.
Choose a mountain map print for your father and frame it with a personalized congratulatory message. You can also include a picture of the two of you for the added delight of your gift.
This piece is a perfect father's day, birthday, or anniversary gift for any dad who loves the outdoors. And it is sure to look good in his man cave.
Check Out: Best 3d Print on Demand Services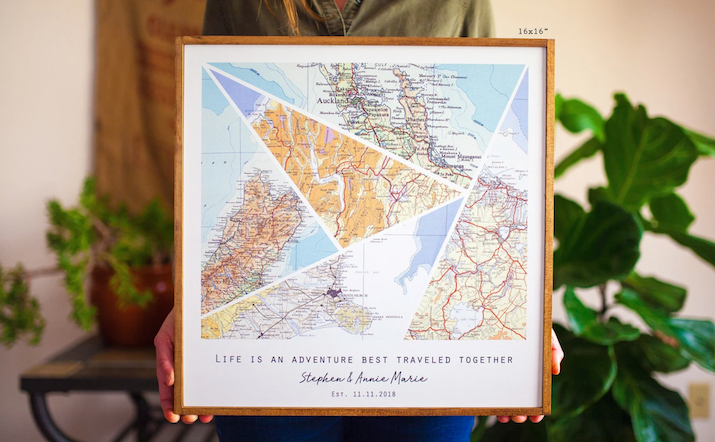 Another personalized map gift that will make the receiver happy is this stunning geometric framed wood wall art.
Your loved ones will appreciate this gift, and you can personalize it with any location or date you like.
Don't forget to include a message of gratitude to remind them of your love every time they look at this personalized map art.
These lovely personalized maps are a thoughtful gift for anniversaries, birthdays, and weddings.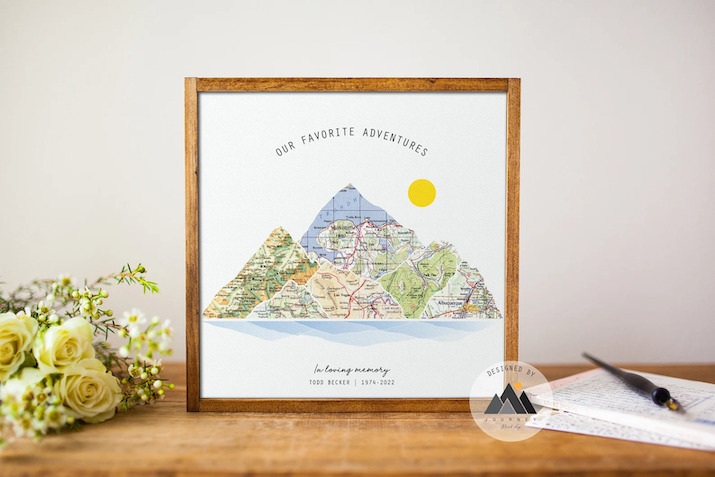 Did you lose a loved one? You can express your feelings about their importance to you and honor their memory with a personalized memorial map.
With this beautiful map, you can celebrate the life of your loved ones and the adventures you shared with them.
Choose one to six key cities and a caption that captures their story and helps keep their legacy alive. It is a thoughtful gift for remembering the loss of a parent, condolence, sympathy, or celebration of life.
Explore: Best Australian Print on Demand Companies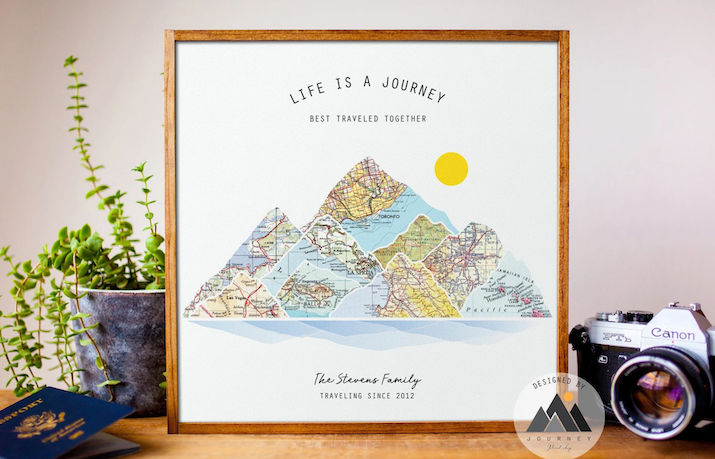 Remember that road trip you all took as a family or that unforgettable holiday you all shared? Celebrate your loved ones with this travel map specially designed to commemorate unique places where family memories were created.
Of course, you can add a personal touch to this map with locations like your favorite vacation spots, places you have been, where you lived, and dates important to your family.
Everyone in the family will love this gift, which is an excellent way of keeping the shared memories alive.
It is the perfect gift for dad's 60th birthday, mom's birthday, or anything in between.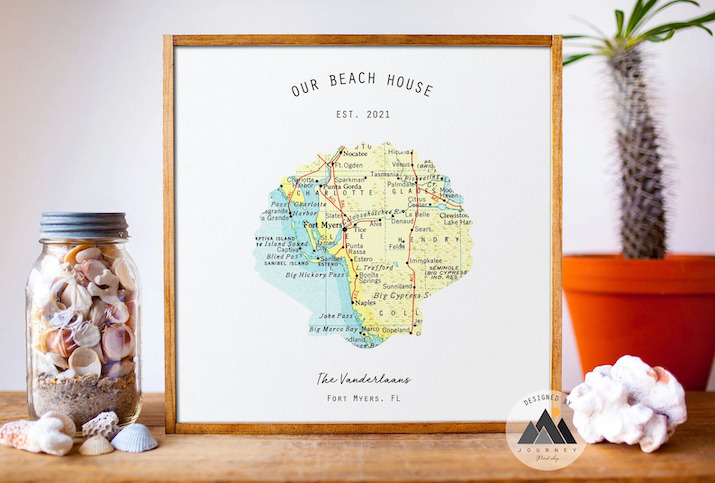 Families who love vacationing by the sea will love this map. This design is also ideal for people who enjoy spending their weekends on the front porch of their beach house.
Personalize it with the location of your beach house and a fun message for your loved ones to enjoy every time they visit their home away from home.
It will look great hanging from the wall in their living room or on the front porch of their beach house.
Also Read: Best Canadian Print on Demand Companies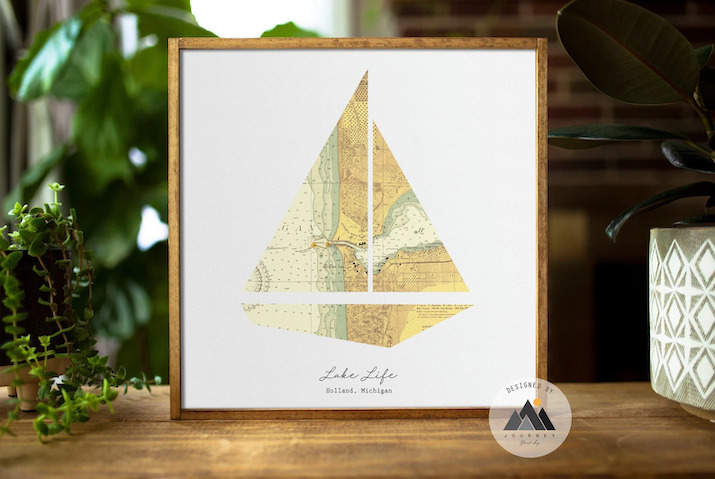 Do you know anyone from Holland, Michigan? This Sailboat map makes the perfect framed hometown wall art for anyone who wants to pay homage to their favorite city.
Gift it to someone from Holland or someone with something special to add to it. You can personalize your gift by including dates and places of significance to you or the recipient.
The recipient will appreciate this thoughtful gift, a meaningful way to commemorate their memories in Holland, Michigan.
And if you need to give this map print to someone who isn't from Holland, you can request a change in the town's name when making your order on Etsy.
If you need to surprise your partner with an anniversary gift, a personalized map is the perfect idea.
Customize this map art with locations significant to your love story and commemorate your anniversary with a beautiful map print. You can also add a picture of both of you for an extra surprise.
Your partner will be pleased to receive this personalized anniversary gift; it will look great framed on their bedroom wall or hanging it in their office.
Also Read: Best Print on Demand Sites For Artists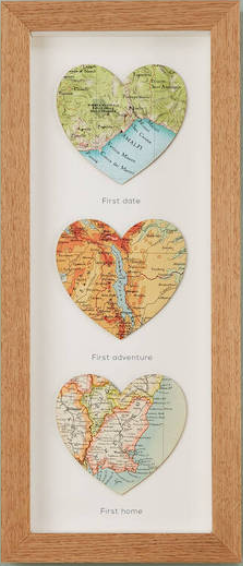 This personalized map gift is a wooden map print with three hearts, and each heart is a location. This can be a thoughtful present for a couple because you can get creative with the theme.
Choose memorable locations that mean something personal to them. It could be the location of where they had their first kiss, where they tied the knot, and their honeymoon destination.
They will appreciate this thoughtful gift, and each time they look at it, they will remember all the special moments the couple has spent together and the places they have been together.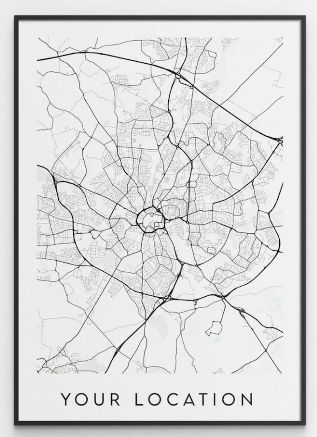 You know what's cool: you can buy yourself a gift too. Sometimes, you deserve something special, too.
Show off your hometown pridefully with a personalized map print of any place you like. This custom map art takes any location and makes it an art piece.
You can personalize this map with dates important to you and the date you purchased it. And for extra personalization, you can include a saying of your choice.
Frame it and hang it up in your home's entryway, study area, or office to remind you of the place that means the most to you.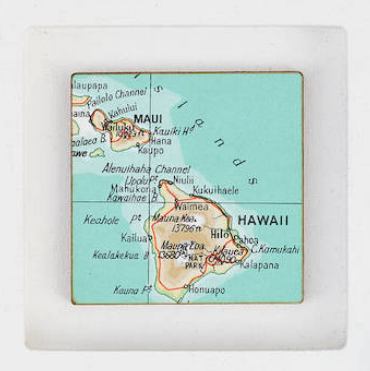 This keepsake is a charming addition to any home and a thoughtful gift idea for your loved ones. It is a wooden map in a square or heart-shaped frame.
You can embellish the gift by adding a favorite quote or message.
It is a personal gift for Father's Day, Mother's Day, or just to let someone very dear to you know how much they mean to you.
Explore: Cheapest Print on Demand Sites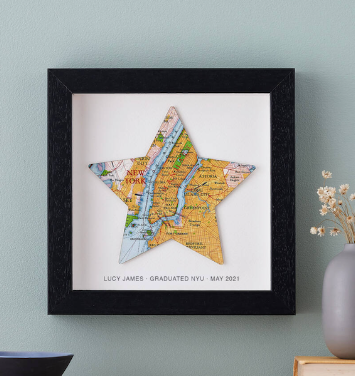 Is anyone you know graduating? Congratulate them with this beautiful personalized map graduation gift! You can personalize it with the location of your graduate's school.
Engrave a special message for the graduates to reflect on as they pursue their dreams and goals. Let them know how proud you are of them.
Wrap Up
Gifting can be tricky. Sometimes you don't know if you're going too big or too small. You want to make the gift special and something the receiver will treasure, but you don't want to break the bank.
Personalized maps are perfect for all of these situations. They are a thoughtful present for anyone and any occasion.
With this personalized map gift list, you will have no shortage of unique gift ideas.

Author: Sam Zaman
Sam loves to write on technology & related stuff. Ecommerce, mobile and internet marketing equally drive her interest. Likes gardening and experimenting with new recipes. An avid reader and absolutely mad @bout donuts :)