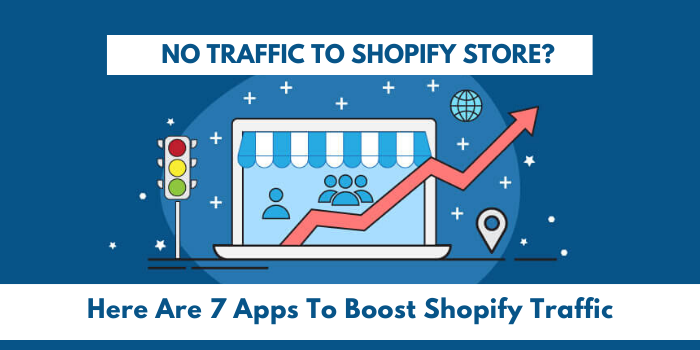 Take the traffic of an eCommerce website, and it'll die. So it's no exaggeration to say that traffic is the life-blood of your Shopify store.
The more qualified buyers that come to your store, the more money you'd make. You don't want to limit your traffic sources. SEO, PPC, and referral traffic are all excellent sources to explore.
In a report from Wolfgang Digital, 43 percent of traffic to an eCommerce site comes from organic searches on Google. No doubt, that's a significant number.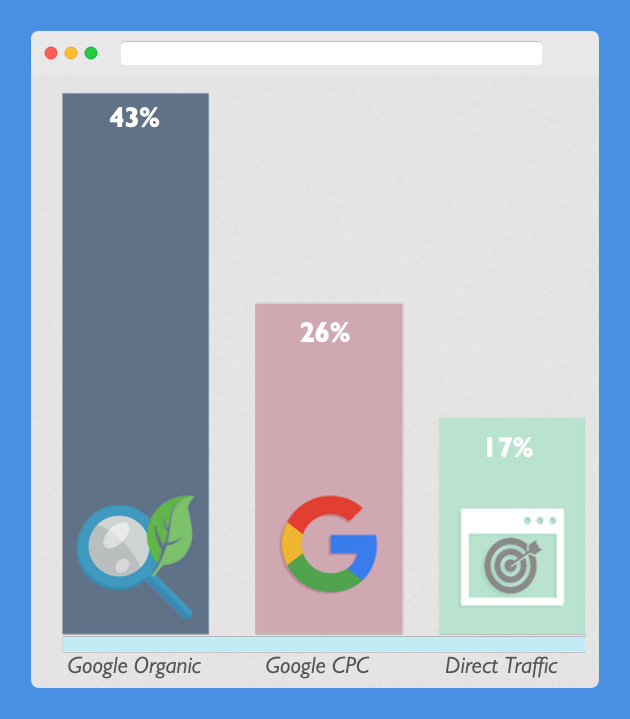 But 57 percent of buyers come from other sources.
So, even if you get zero search traffic and gained all your buyers from other sources, you'd still be making a killing.
Now imagine the magic. What would a blend of search, PPC, direct, and other traffic channels do for your Shopify business?
That's why you should consider these apps. They'll boost your Shopify traffic from all sources possible.
Let's make it simple. So if you're looking to grow your Shopify store traffic from a particular source, you can skip right to the one for you. Here's what I'll cover here.
Instant Traffic
Sixads
Ads by Verinode
Outfy
Plug In SEO
SEO Manager
Tobi
Let's explore each of them in detail.
Related: Practical And Proven Ways To Boost Shopify Traffic
Our Pick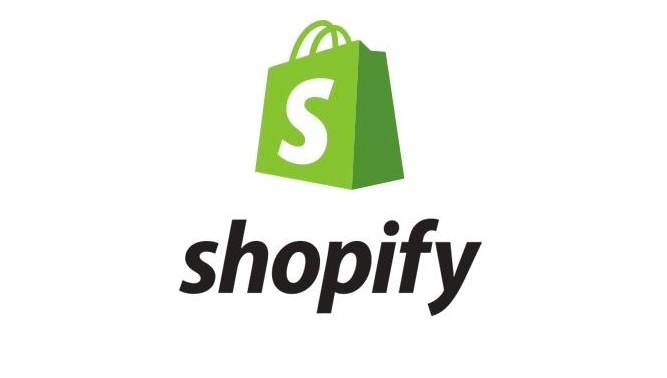 We earn a commission when you click this link and make a purchase.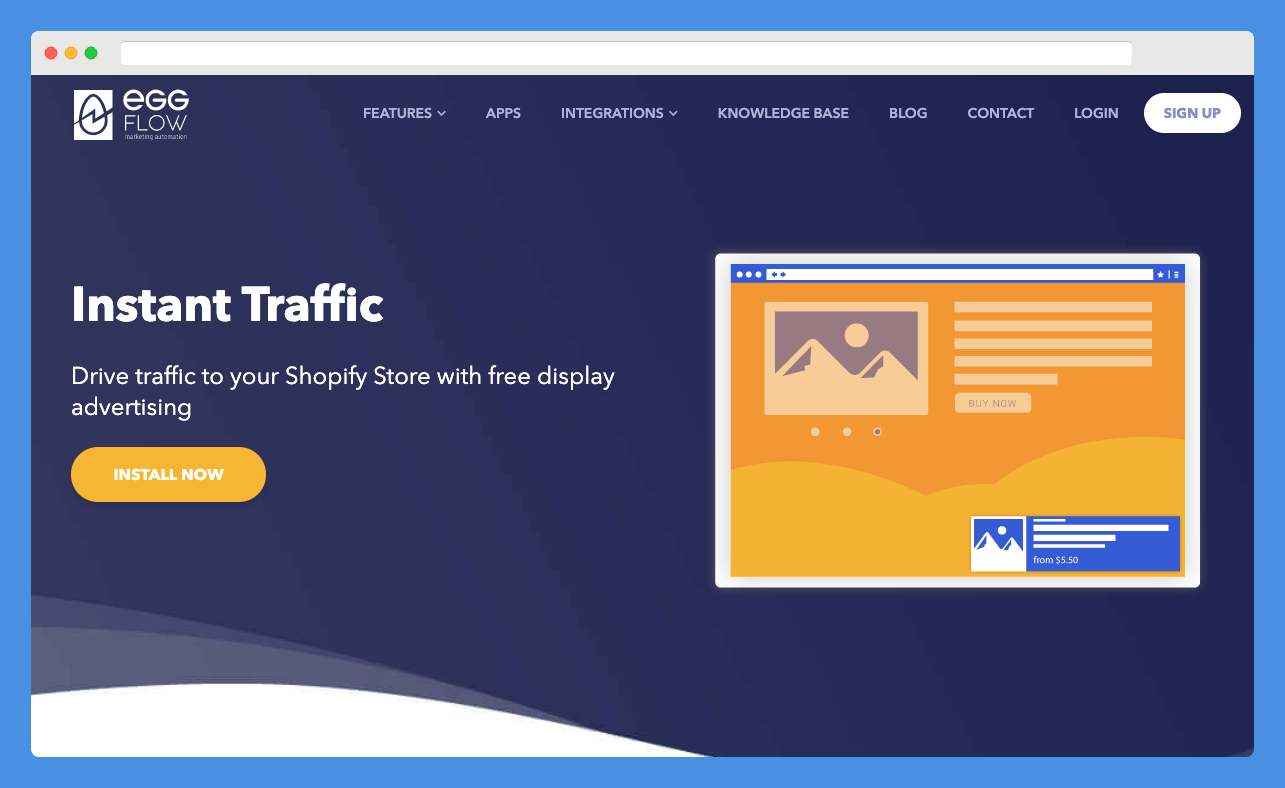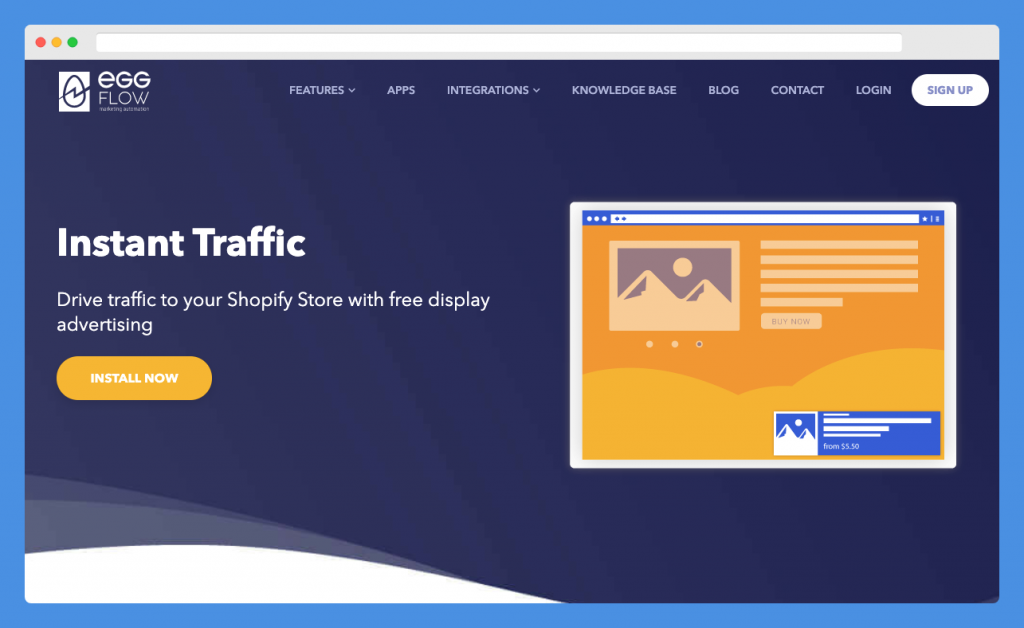 Instant Traffic is one of Eggflow's Shopify apps. This app helps you generate traffic to your Shopify store using Googe Ads and ad exchange partners.
One of the unique attributes of Instant Traffic is that it lets you target your traffic based on their devices and physical locations. The three most compelling reasons to use this platform?
Lets you display ads in other merchants' stores
Enjoy free traffic and ads
You can set it up pretty easily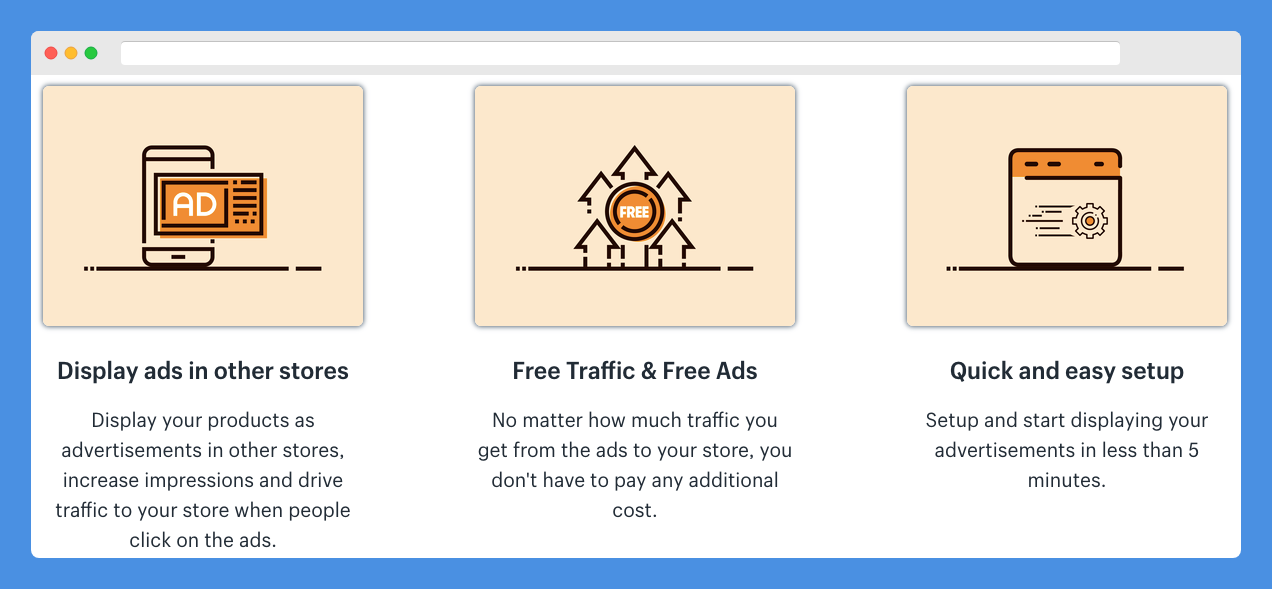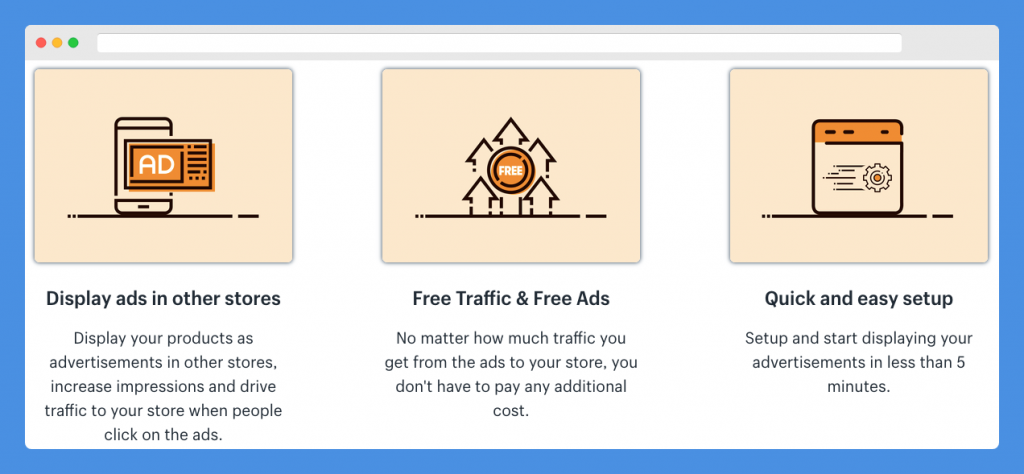 Instant Traffic lets you display your product on other people's stores, so it gets maximum exposure and impressions. The logic is that those impressions would convert to traffic for your site as people click on them.
What makes this tool special is that you don't have to pay extra fees to generate traffic. Once you have this app running on your site, you can enjoy its benefits without further maintenance.
You can set up and start benefiting from this app in less than five minutes.
Traffic Sources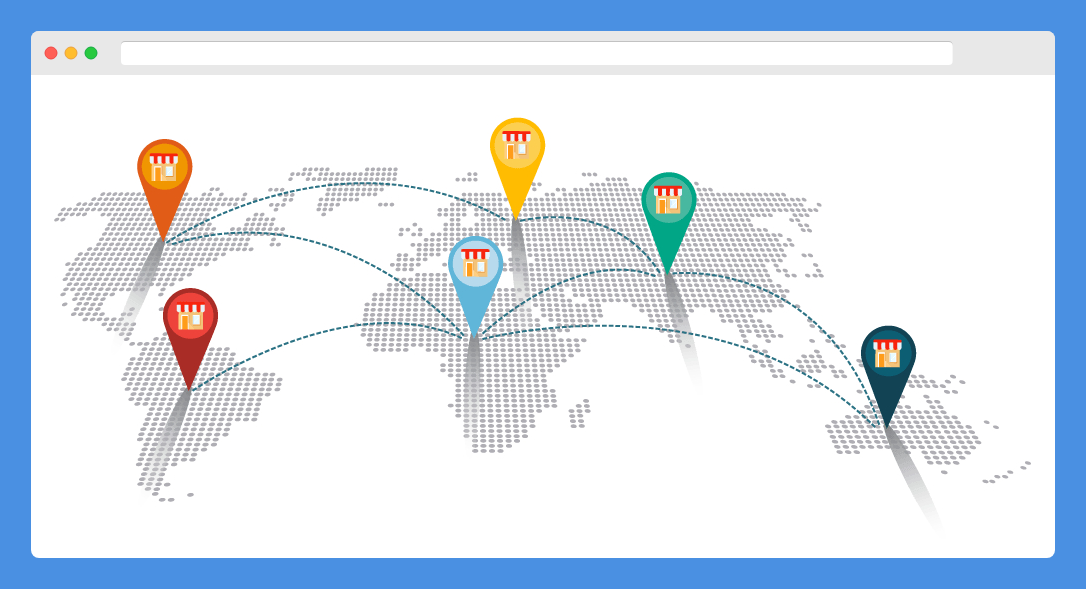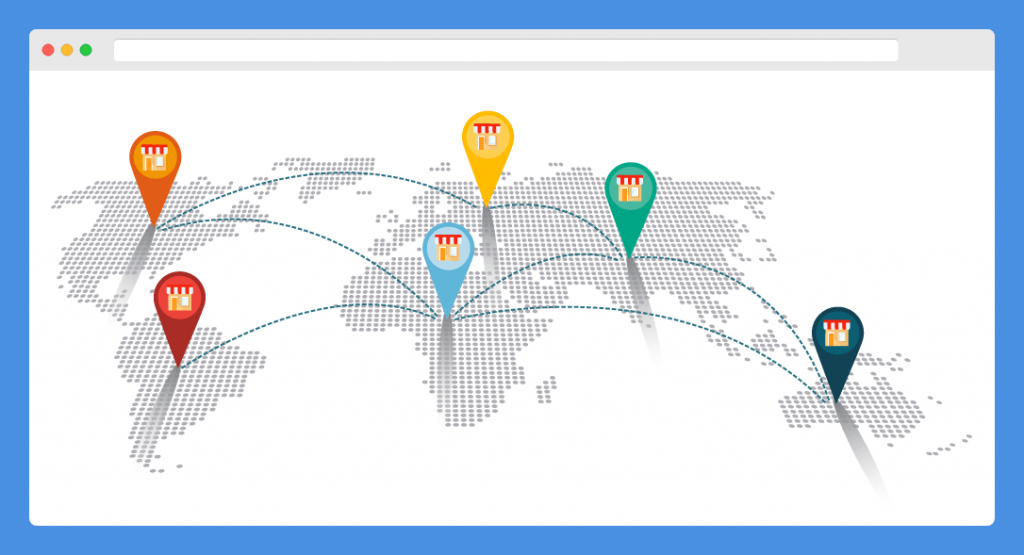 Instant Traffic offers two traffic sources for your Shopify store.
Ads appear as product recommendations on other Shopify stores.
Google Ads.

Related: Best Free Shopify Apps To Boost Sales
Ads on Shopify Stores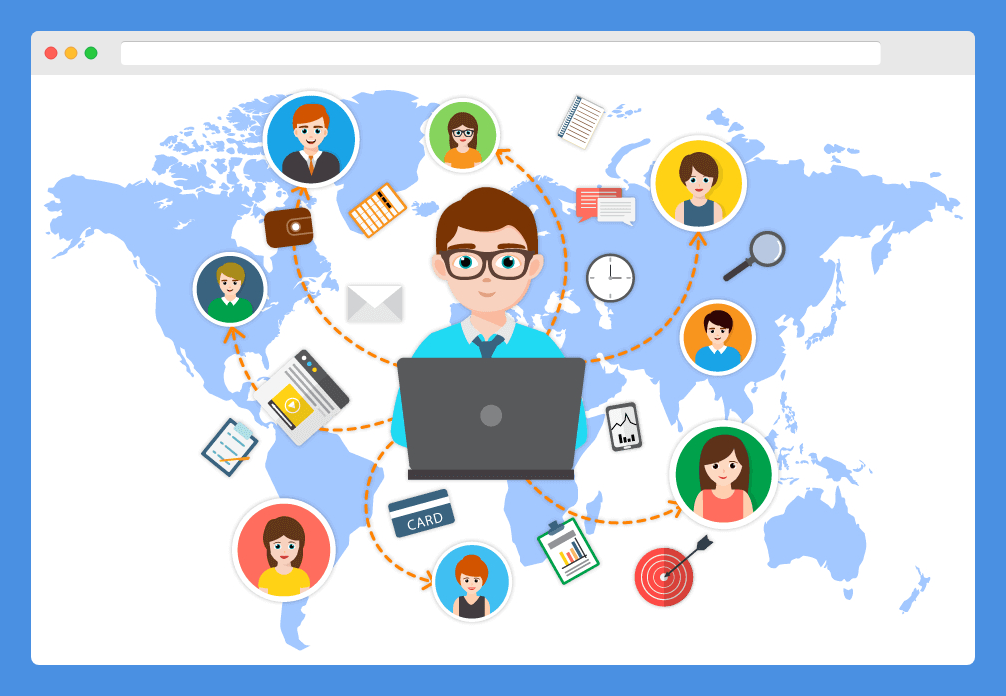 This app displays your ad as displayed like brief notifications. They appear for 30 seconds and appear at the lower right corner of a shopper's screen. The shopper may close the ad at any time.
You may edit the color of ads to match the store it features on. Likewise, your partners may adjust their ads to match the theme and color of their sites.
Google Ads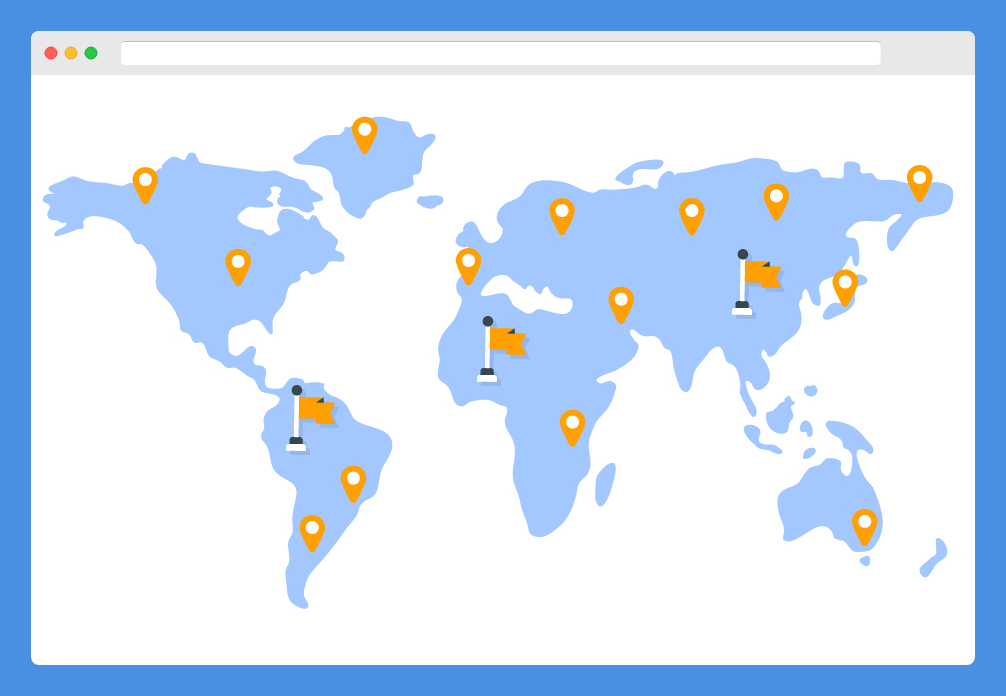 You can use Instant Traffic's remarketing ads and conversion optimization feature with Google Ads and Facebook Ads. You can auto-create ads without a creative's help.
Pricing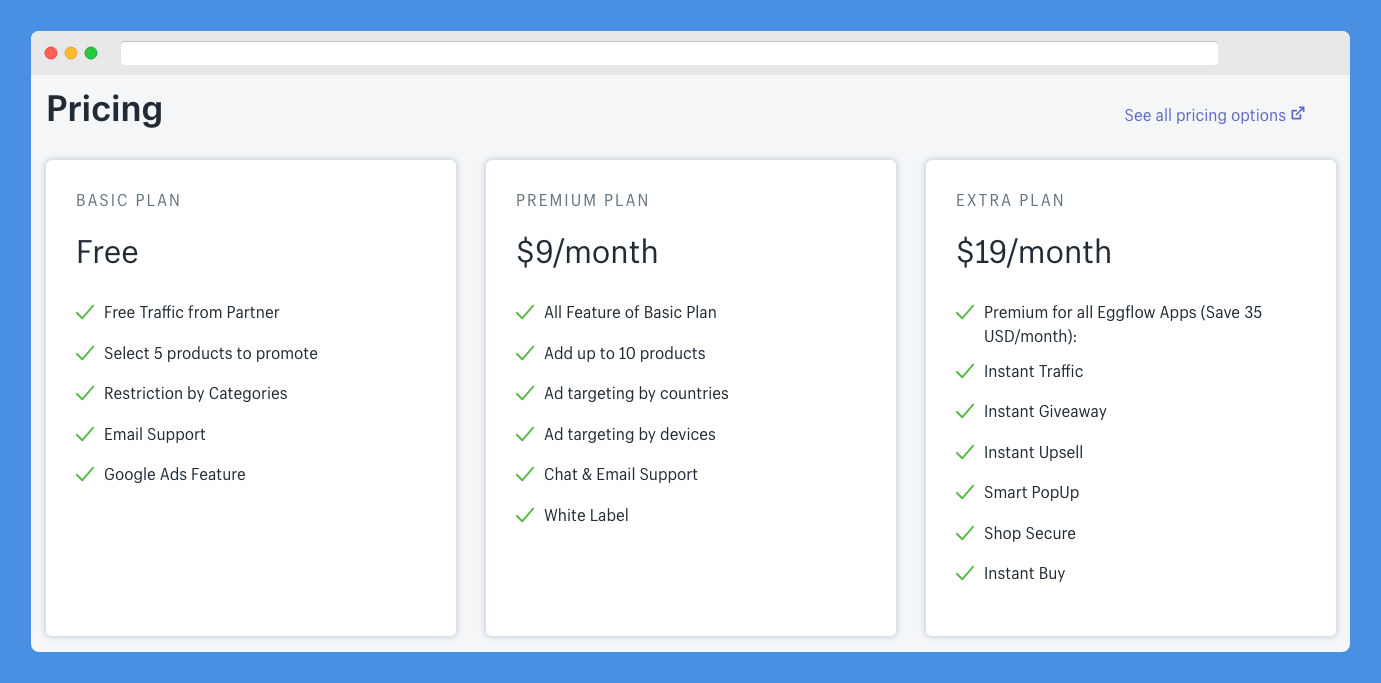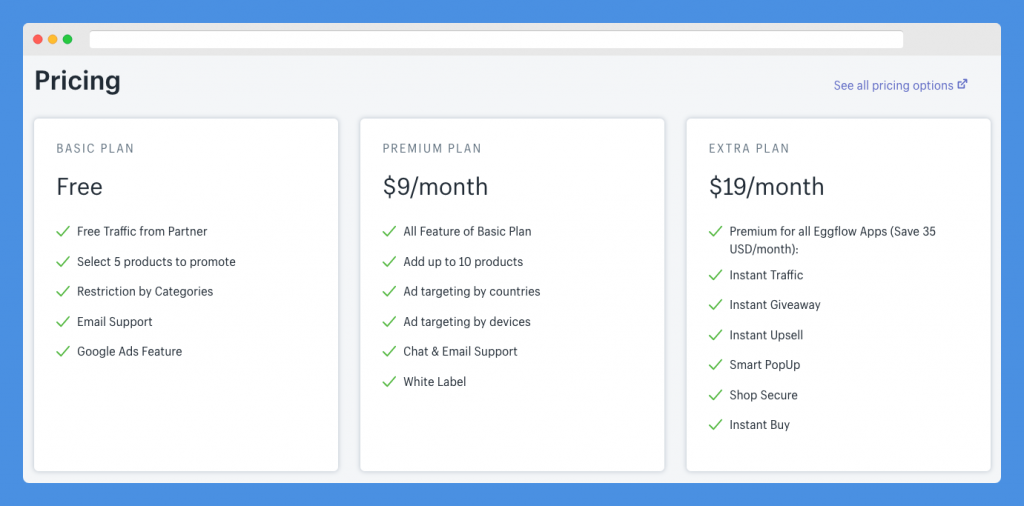 Instant Traffic has three pricing plans.
Basic – $0 (free forever)
Premium – $9 per month
Extra – $19 per month
What Users Love About Instant Traffic
Instant Traffic has 4.6 stars average rating from 1,242 reviewers. While 888 of these reviewers gave the app is a 5-star, only 28 rated it 1-star. Here's what these raving fans love about Instant Traffic.
Impressions happen fast!
Delivers on its promise of driving lots of traffic to users' sites
Sales are happening from the traffic that this app drives to stores
High-quality traffic, i.e., highly engaged traffic
Easy to use
Responsive customer service
Explore: Best Paid Shopify Apps
Limitation of Using Instant Traffic
What limitations should you expect?
Use it's filtering feature to obscure ads you don't want on your site. Some users found that extra effort a hassle
Some users complained the ads are not relevant to their audiences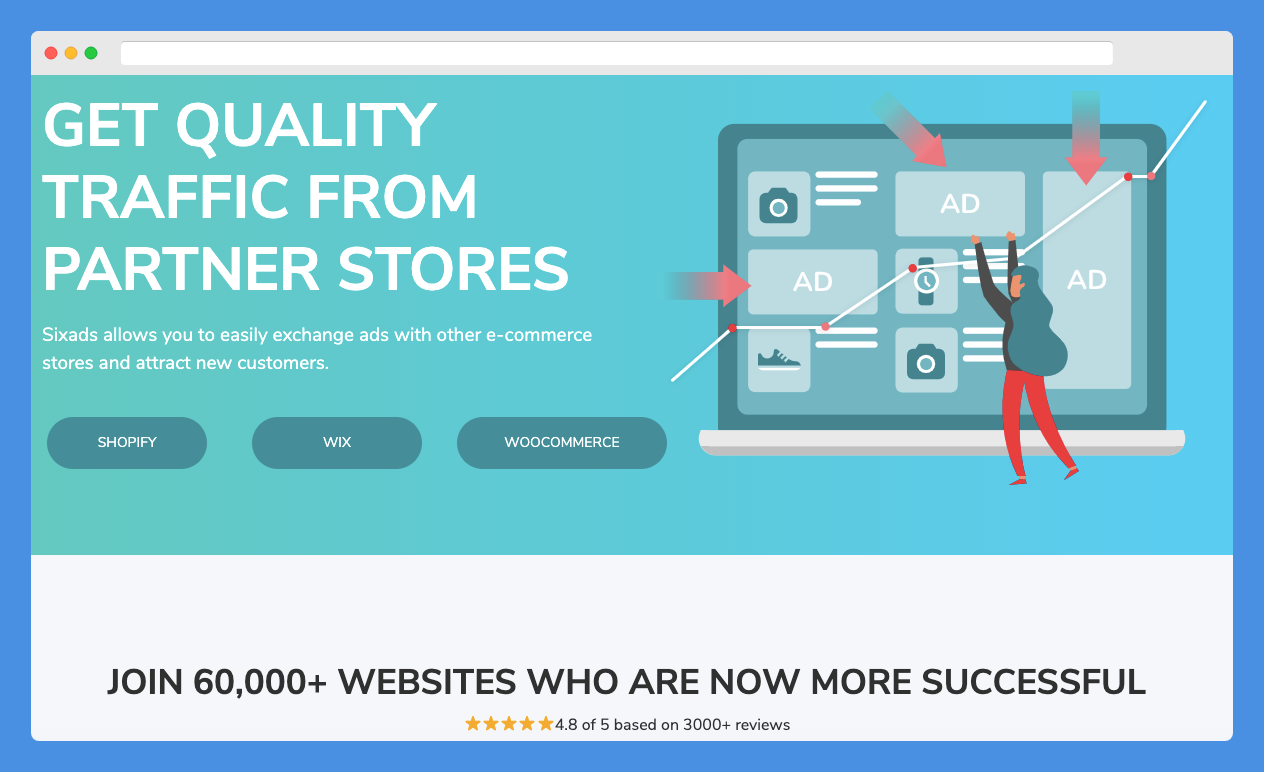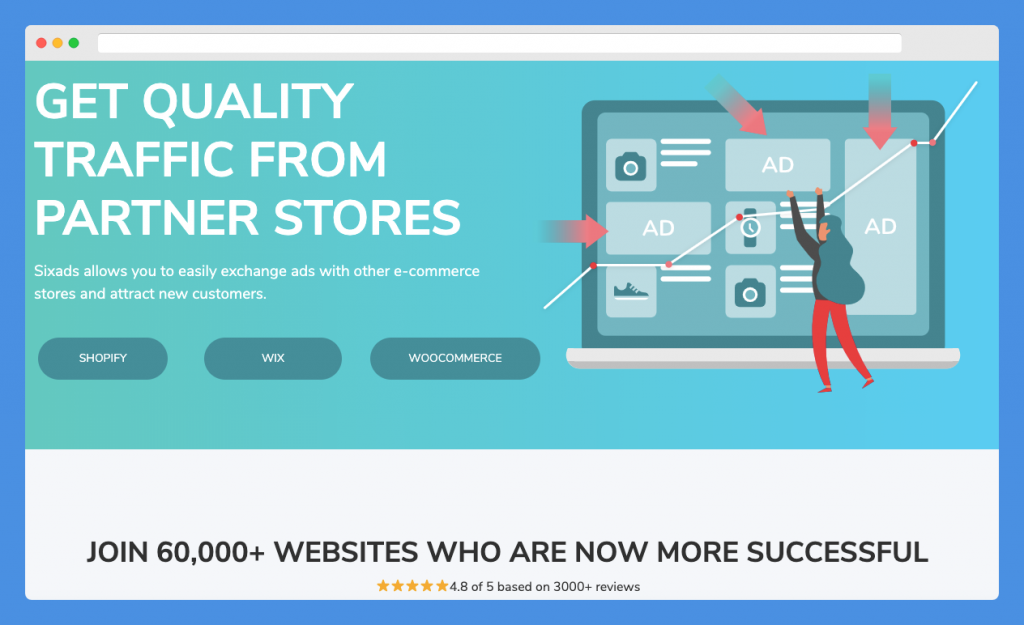 The Sixads app provides free traffic exchange for Shopify sellers. Users display ads to their stores on partner sites to attract traffic that converts to buyers.
Sixads promises its users three things.
Free quality traffic
Boost in sales using free ads
Highly targeted Facebook traffic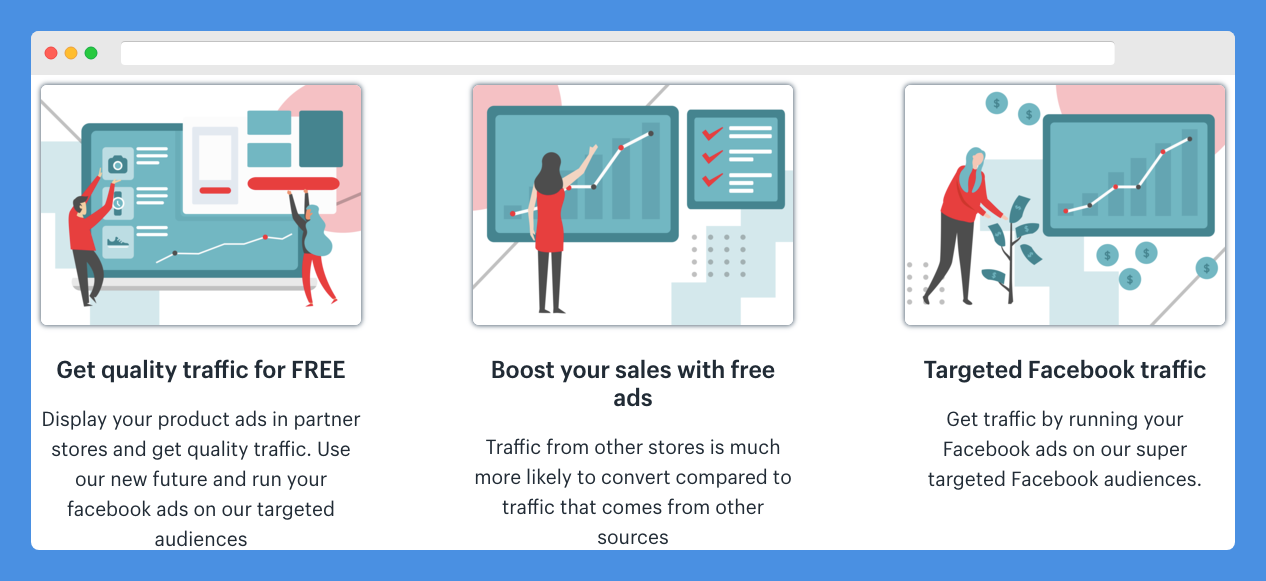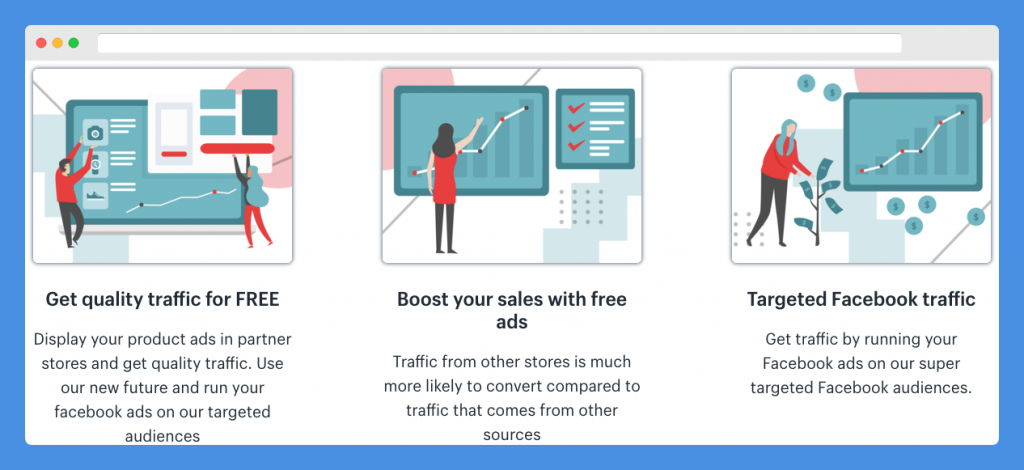 If you want the free traffic from Sixads, you'll have to accept other partners who'd display ads on your site. However, for the paid version, you can choose to have Sixads send traffic to your store without displaying the advertisements of other stores.
According to Sixads, their Facebook ads have an impressive cost per action of $0.3. The app has won the trust of over 60,000 eCommerce stores across the globe.
Facebook has billions of users, so any tool that helps you mine that audience is valuable. Sixads promises its users that it'll help them win highly targeted audiences through their Facebook ads.
Traffic Source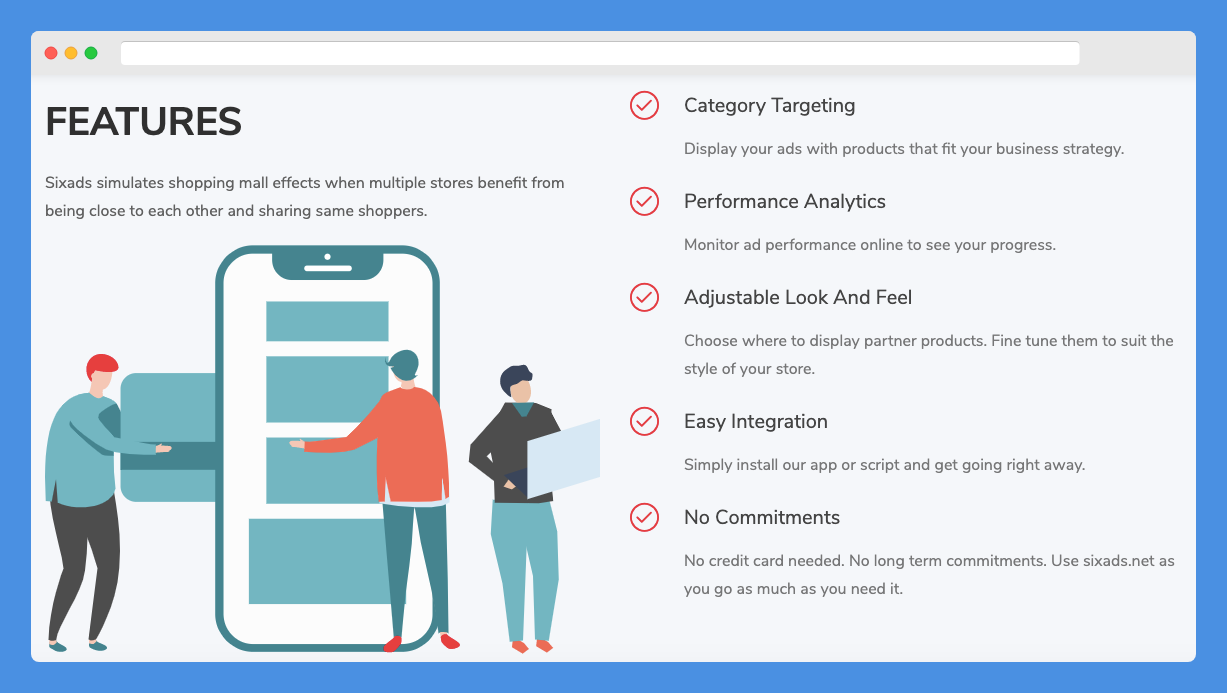 Sixads offers three traffic sources for your Shopify store.
Free traffic from partner Shopify stores through display ads on those stores
Paid traffic from Sixads network of stores and partners
Facebook ad traffic
Explore: Best Newsletter Apps For Shopify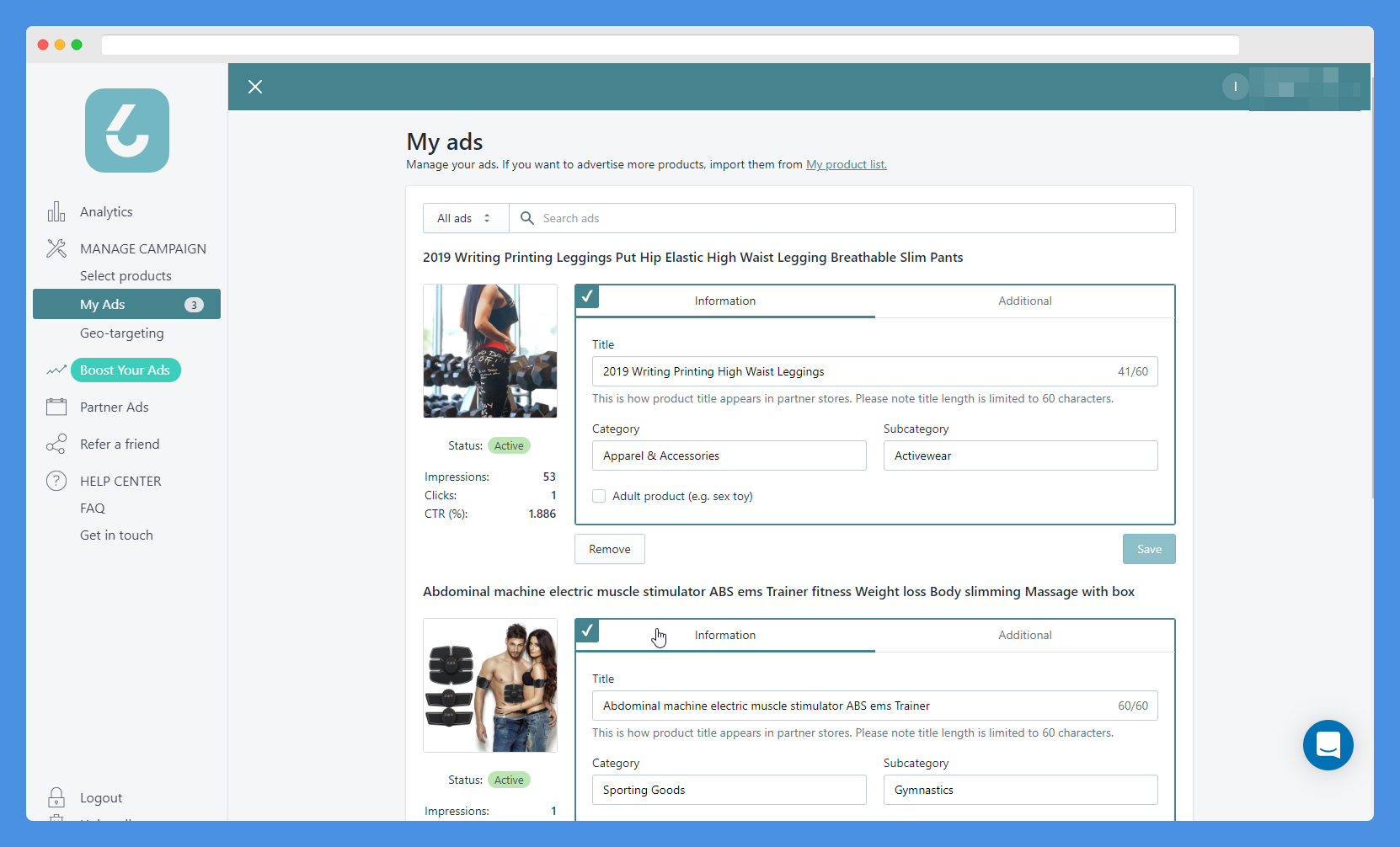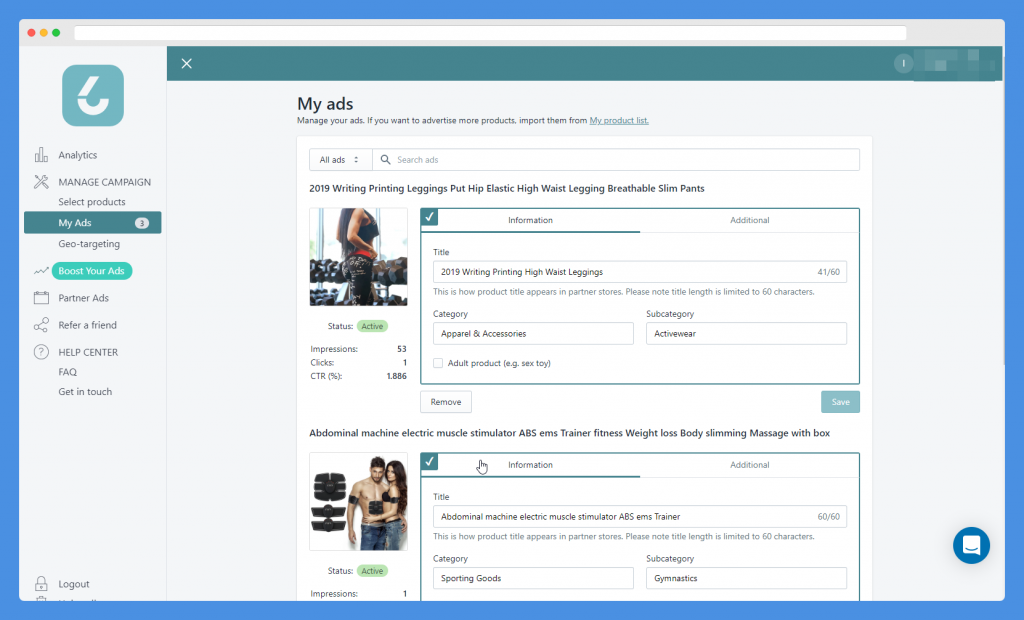 This app comes with a host of features too. You can target people from specific geo-locations, specific product categories, change the look and feel of your displays, and more.
Pricing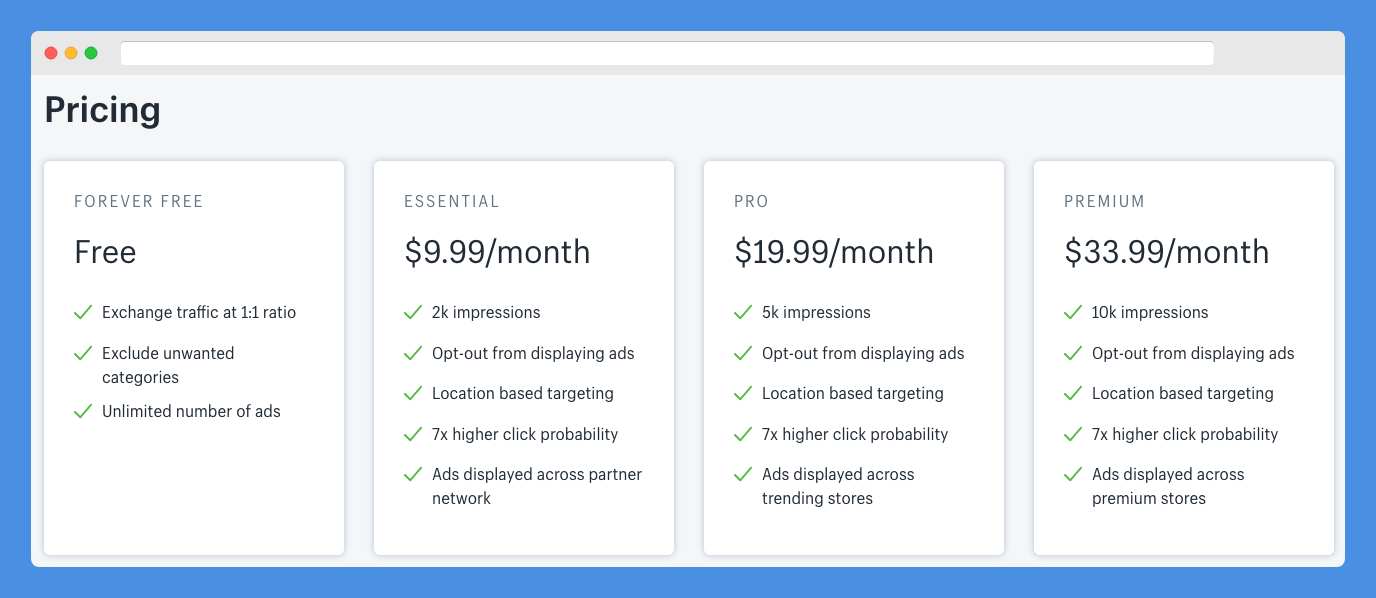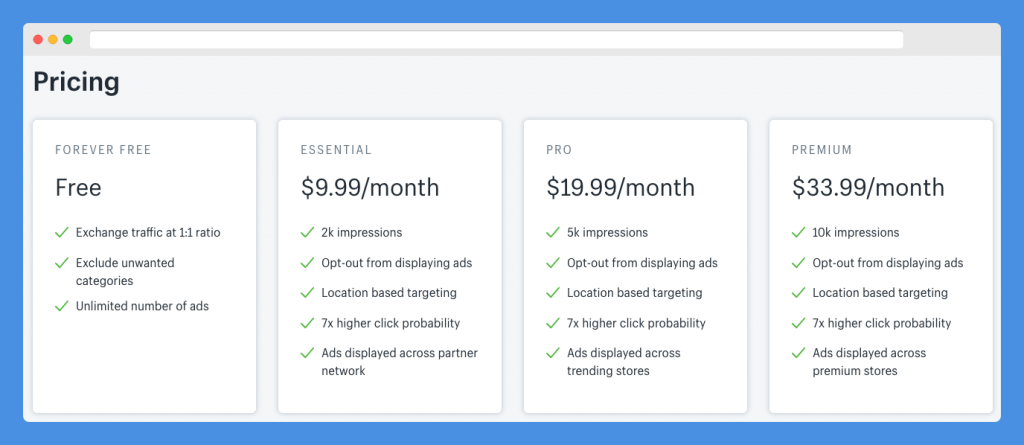 Sixads has four pricing plans.
Free Forever – Free
Essential – $9.99 per month
Pro – $19.99 per month
Premium – $33.99 per month
What Users Love About Sixads
This app enjoys overwhelming love from its users. It maintains an average star rating of 4.8 stars from 3,329 reviews.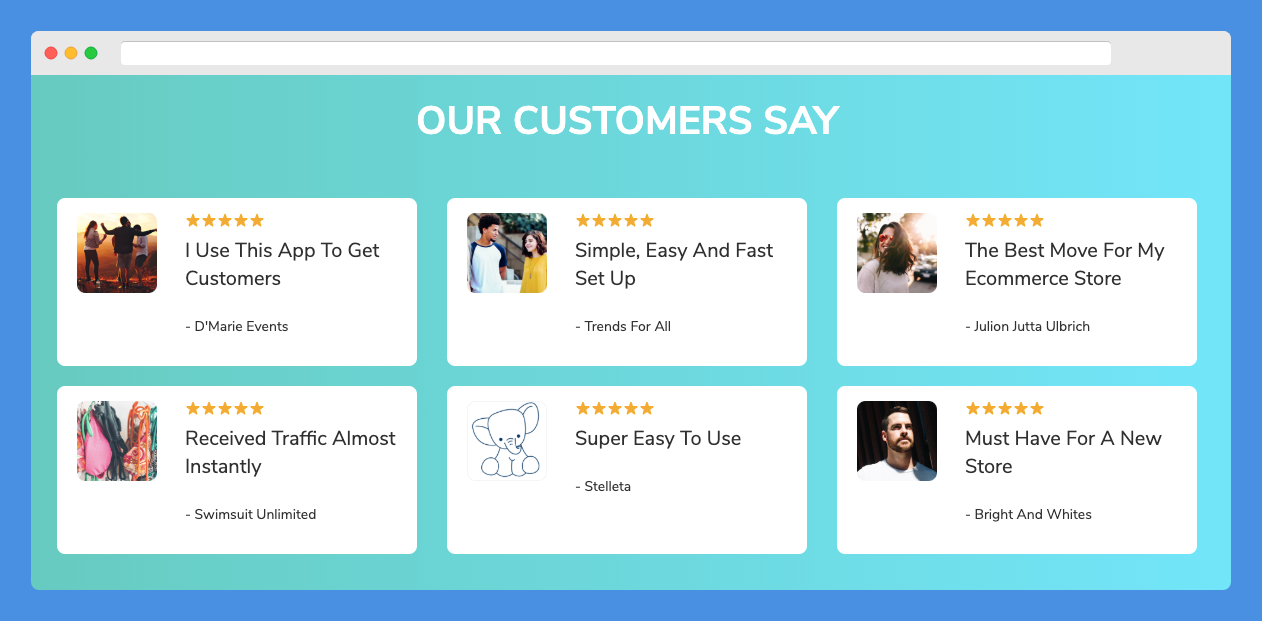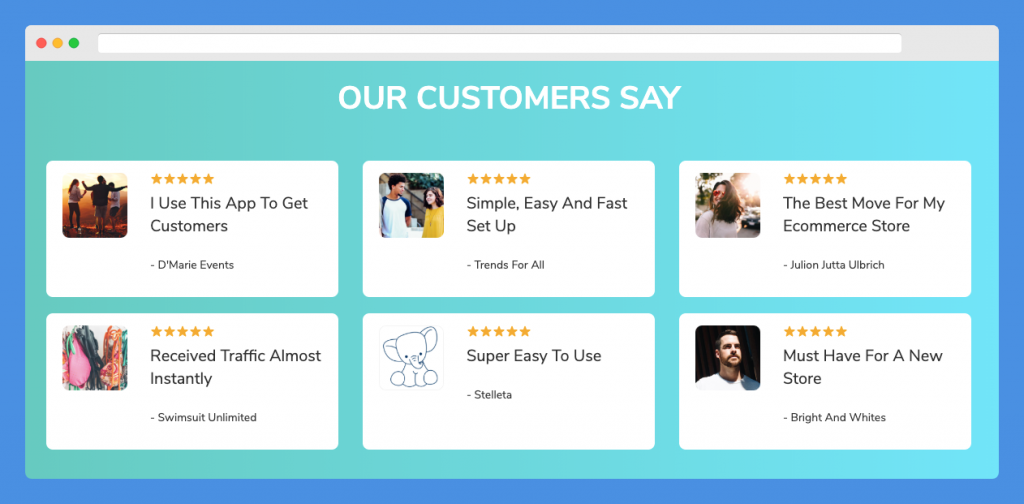 More than 2,800 of these reviews rate Sixads 5-stars. Only 49 — 1.75 percent — rate the app 1-star. Almost 3,200 users rate this app either 4-stars or 5-stars. So why the love?
Sellers report a high return on investment on this app
Boosts traffic to stores
Easy to set up
Helps SEO
Excellent analytics dashboard
Interesting Post: Best Shopify Stores
Limitation of Using Sixads
If Sixads performs so well, why has the app managed to get bad reviews? Let's find out.
 Sixads's customer service may not respond as fast as merchants want
Sometimes an equal number of ads do not appear on partners' websites
Our Pick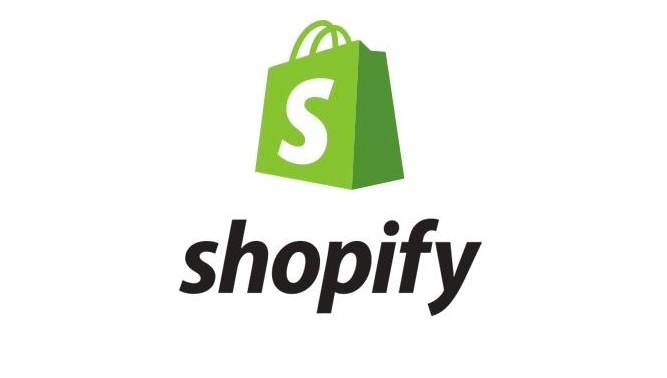 We earn a commission when you click this link and make a purchase.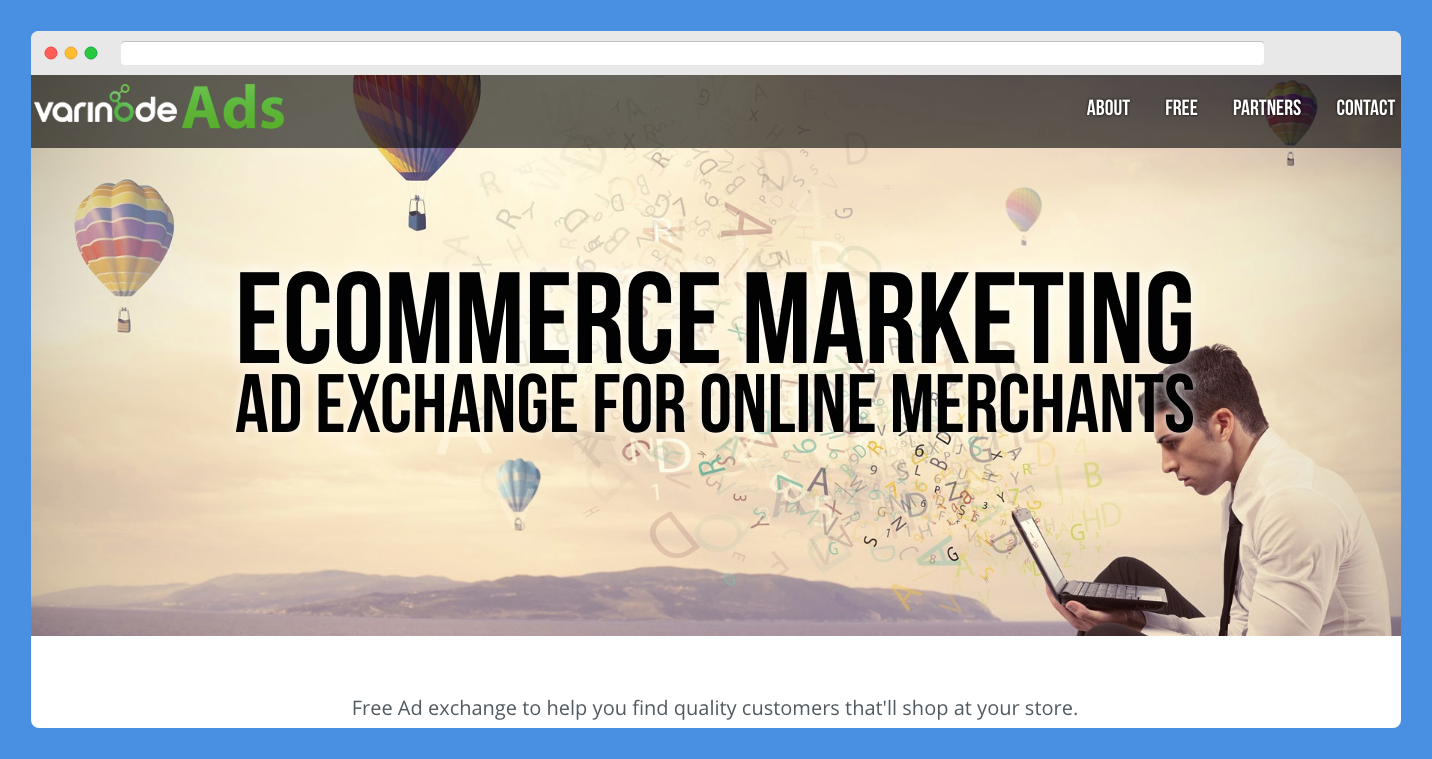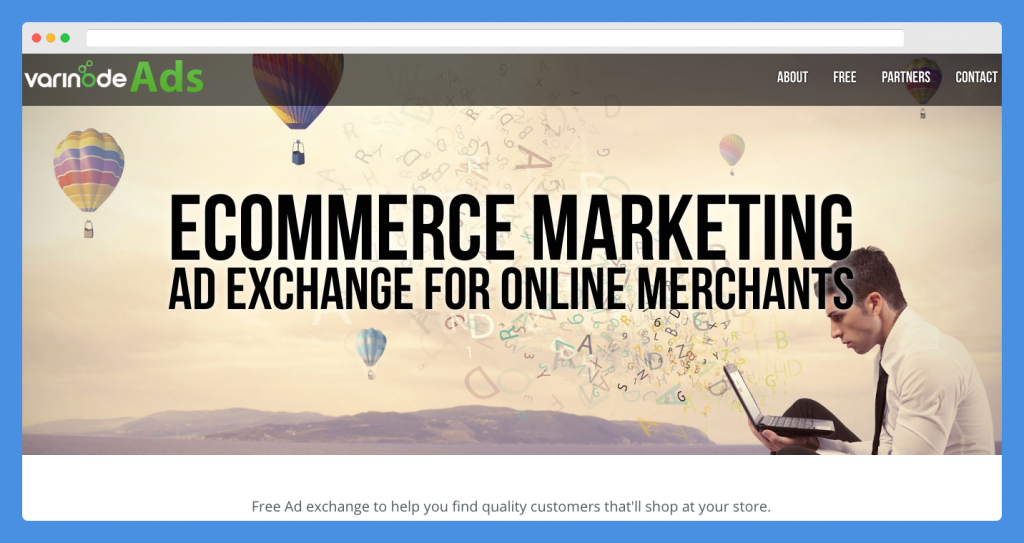 Verinode Ads focuses on helping you gain traffic from audiences that are already willing to shop. They do this by placing your ads on similarly themed websites.
But Verinode Ads doesn't assume that one size fits all. So it gives you the opportunity to
Customize your ad's look and feel
Decide on the audience you want to show the ad
Choose your preferred page to show the ad
Get your ad's reporting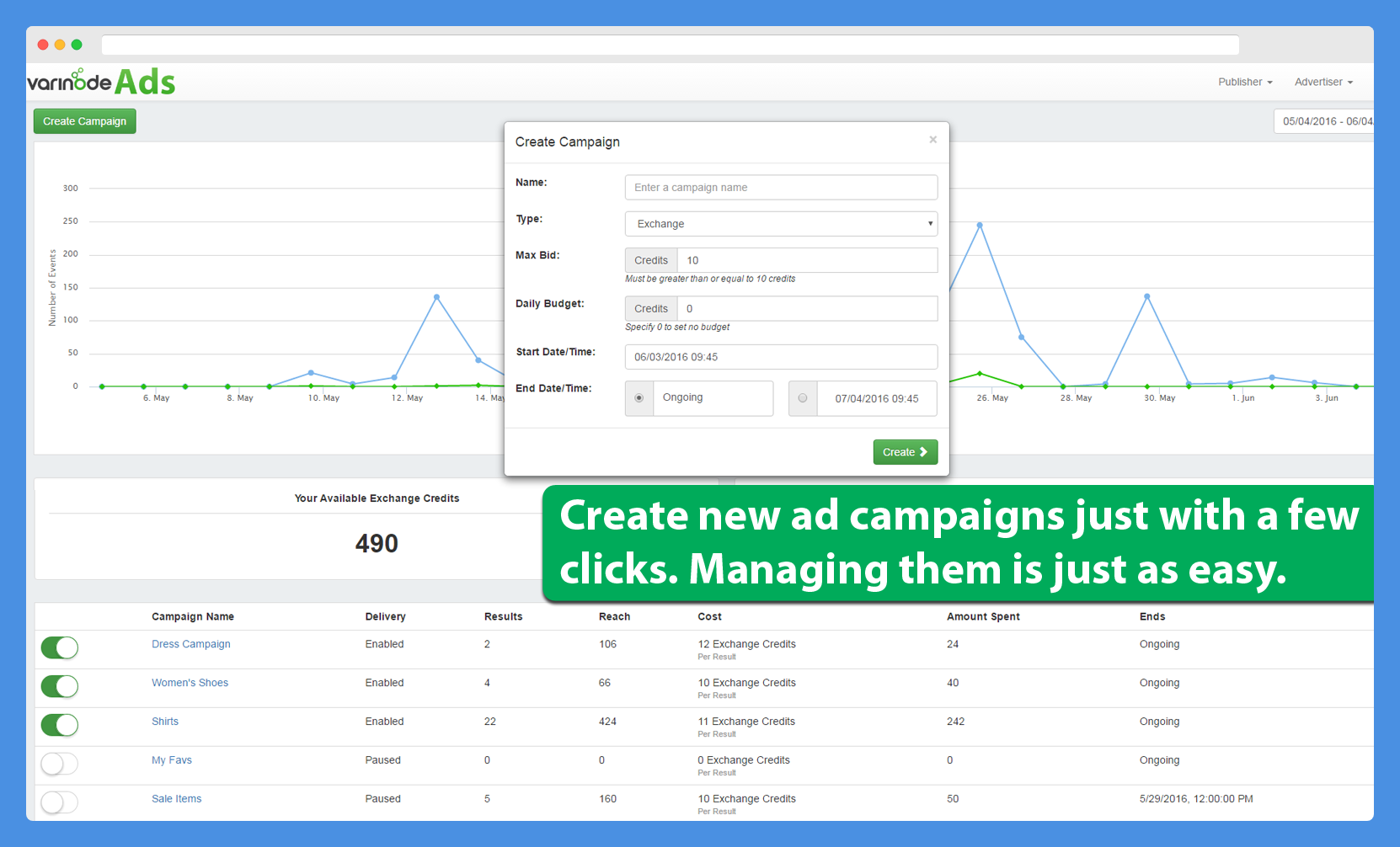 These features give you more authority over what happens in your store. You can benefit from this app in three ways.
Boost your sales
Cut your spend on marketing
Expose your products to new customers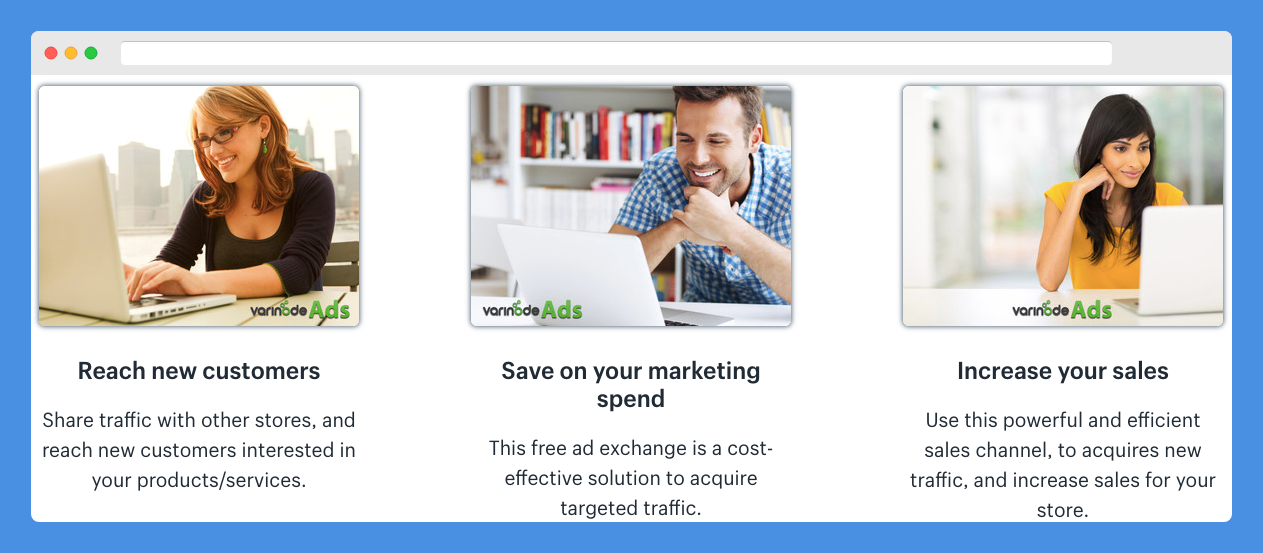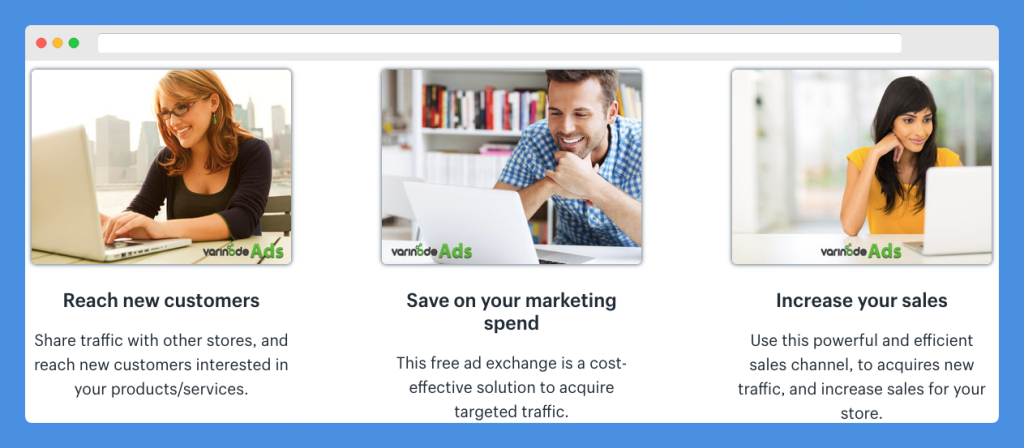 Summarily, Verinode Ads helps your Shopify store boost traffic, increase sales, save money on ads, and gain exposure to your products. That's the heart of this tool.
Luckily, it has social proof to back up its value.
This app has an average rating of 4.9-stars from more than 4,300 reviewers. Almost 4,100 of these reviews rated the app 5-stars, whereas only 37 of them rated it 1-star.
Traffic Source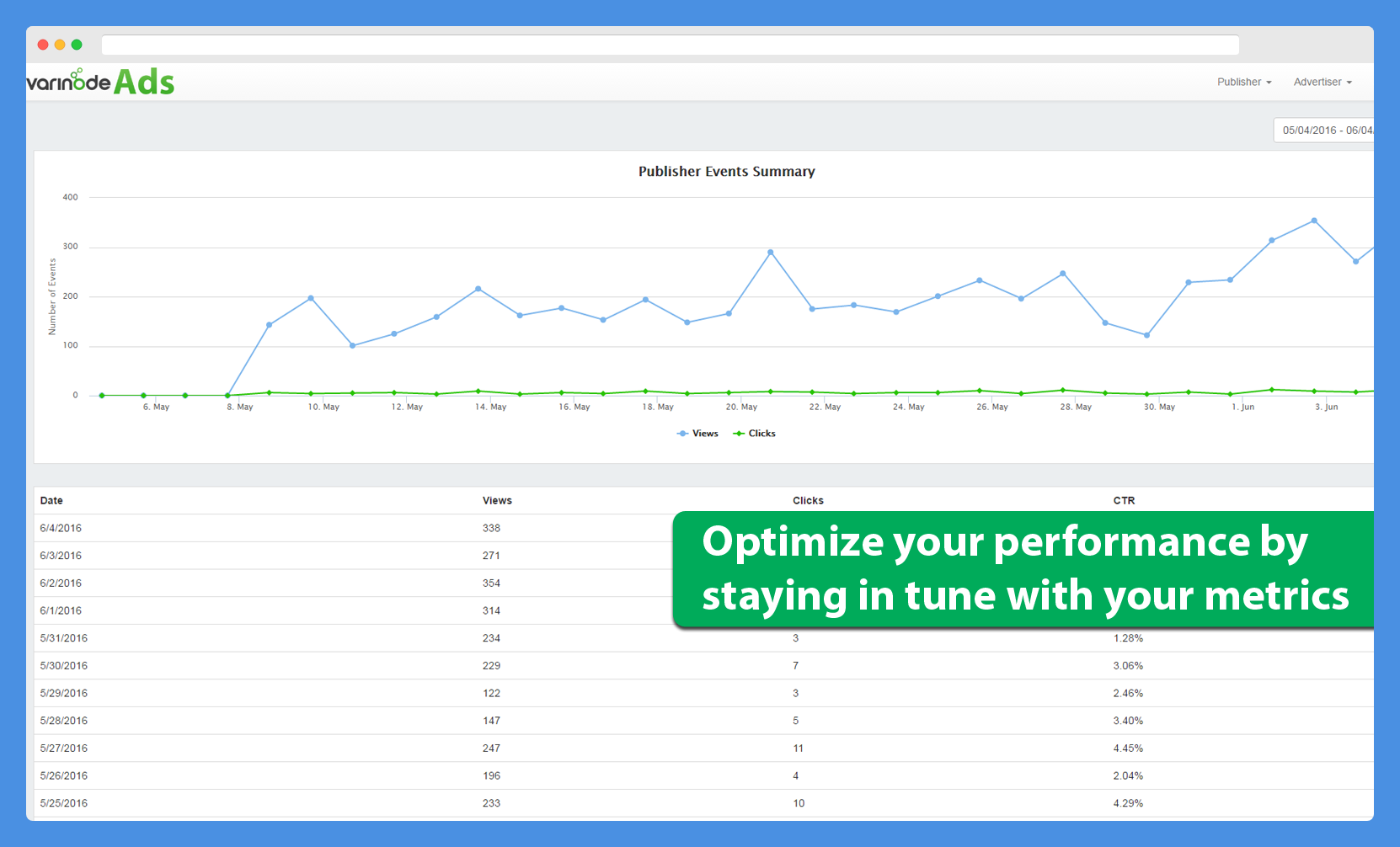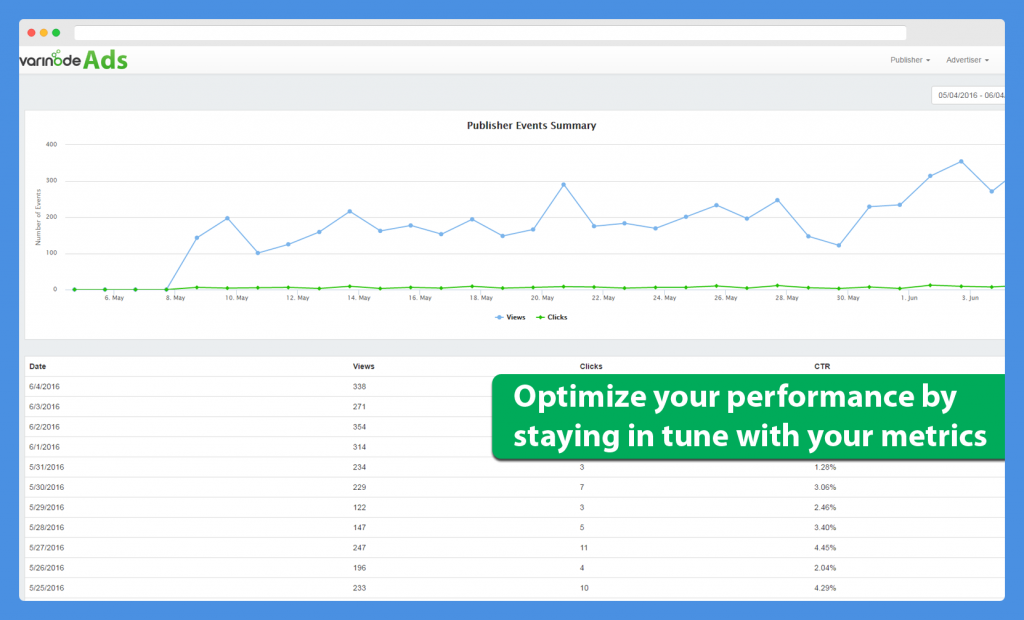 Verinode Ads offers one traffic source for your Shopify store. This traffic app leverages its free ad exchange uniquely.
It incentivizes members of its network to show the ads of other members. Here's how this system works:
Step #1: Whenever buyers click on an ad the merchant earns credits
Step #2: The merchant then uses the credit to buy clicks from other merchants' stores.
So by letting more of your traffic click on ads, you'll automatically earn the credits to get featured on other websites.
Pricing
How would you like to know that Verinode Ads is FREE?
Yes, you pay NOTHING to use this tool.
What Users Love About Ads by Verinode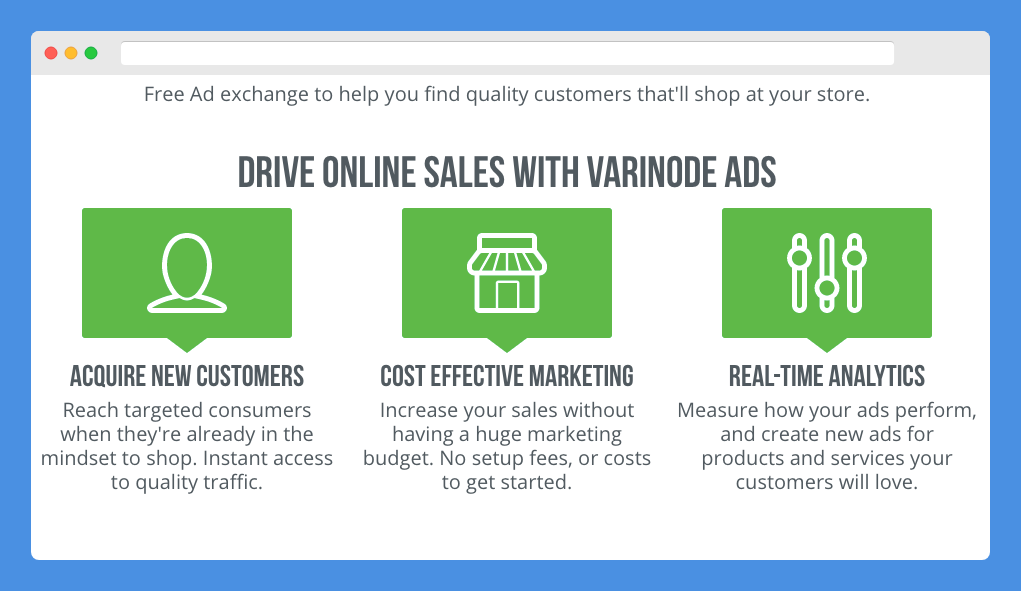 It's a little obvious why users love Verinode Ads. At least you can guess its the price. But what other reasons make Verinode Ads so endearing that only 0.9 percent of its users rated it down? Yes, not even up to one percent of them.
Easy to use
Saves time on marketing
Free to use
Boost store traffic
Allows geo-targeting
Limitation of Using Ads by Verinode
In spite of the free and effective service that Verinode Ads offers, it has limitations that bother some users. Let's explore them.
Check Out: Best Shopify Dropshipping Apps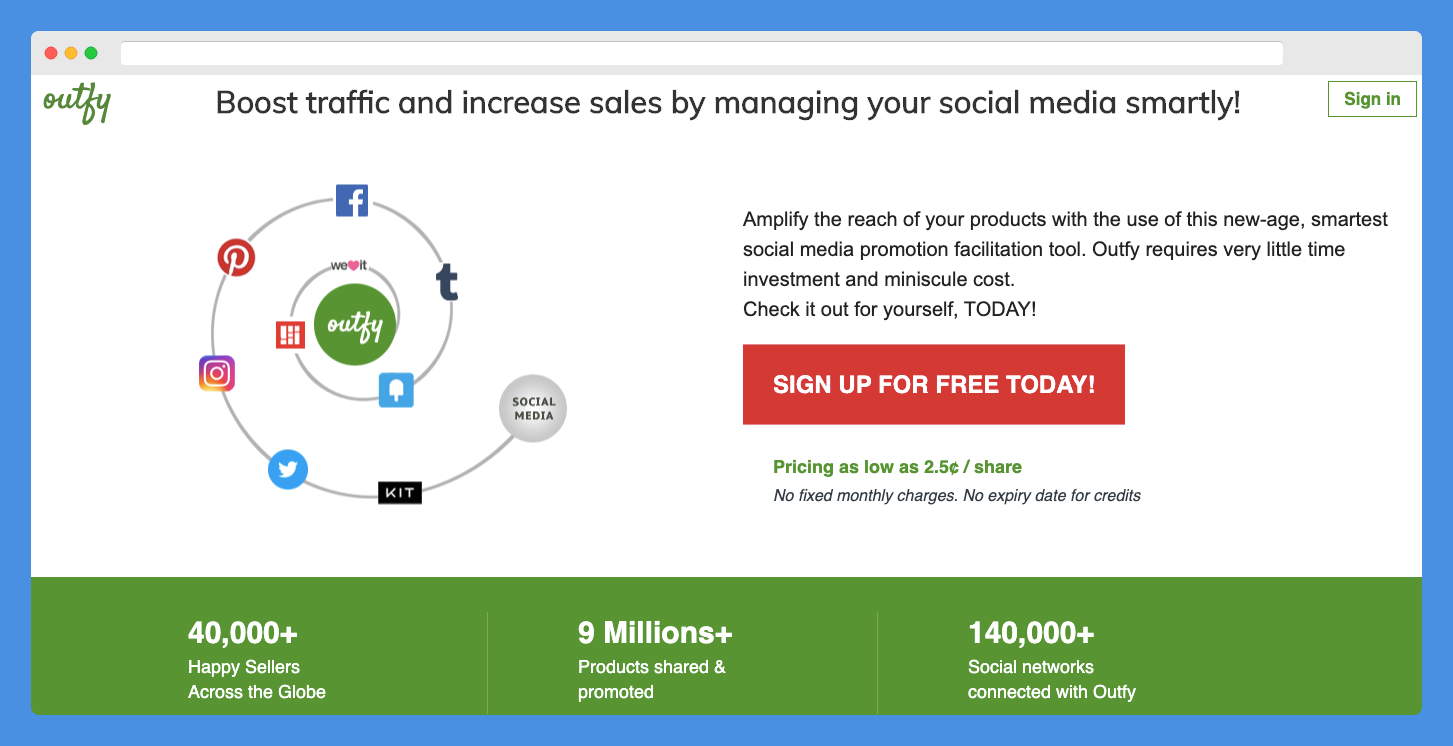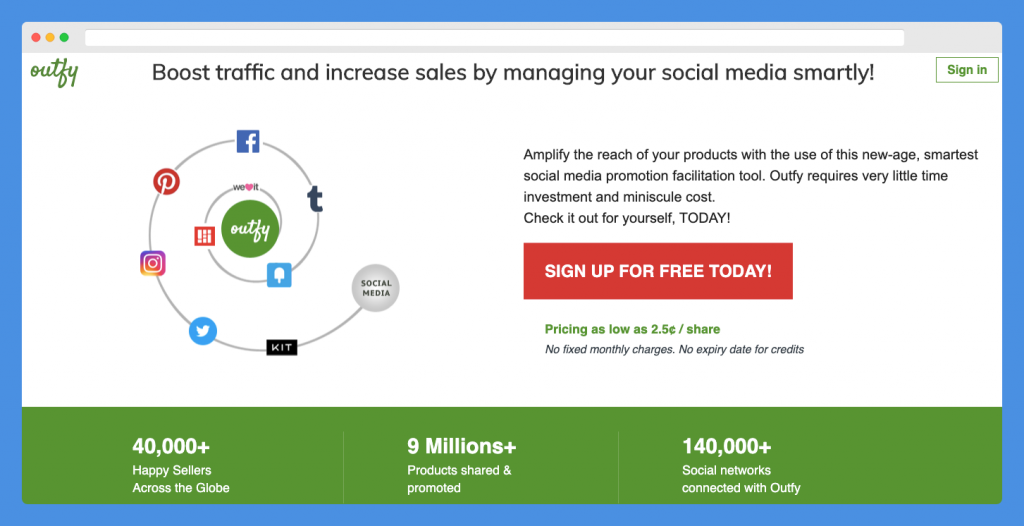 Outfy helps your Shopify store enjoy boosts in traffic and sales using smart social media management. This tool helps promote your store in more than 12 social networks to reach thousands of people and generate visitors for you.

Facebook Business Page
WeHeartit
Instagram
Wanelo
Pinterest
The Hunt
Twitter
Kit
Fancy
The platform automatically builds daily posts for your business, and you can review and make changes at will. More so, you can customize your posts to match your brand color and design without outsourcing the job to a pro graphics person.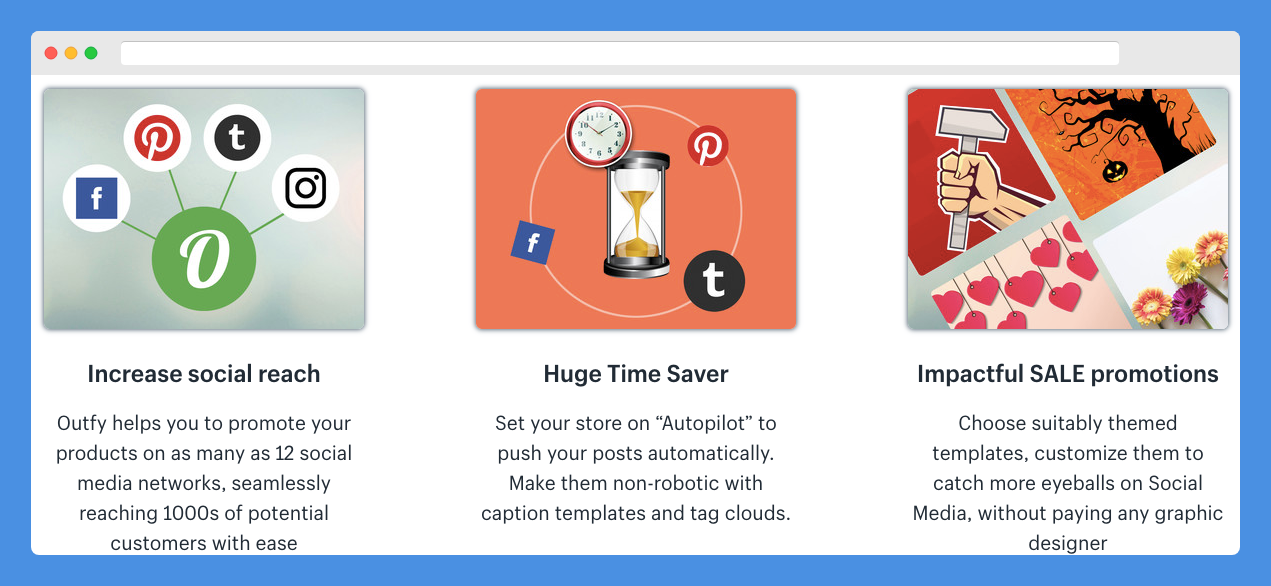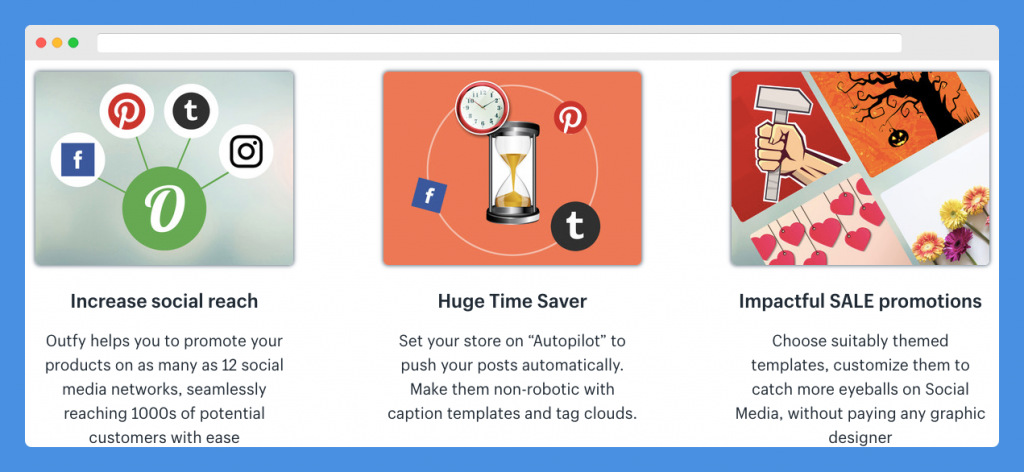 The three benefits you'll get from using Outfy are,
Launch sales promotions that win attention and traffic for your Shopify store
Save time and energy by leveraging Outfy's automation
Reach more people
You can also use Outfy with multiple seller accounts, but with one login credential. So you can switch accounts as you'd do with Gmail.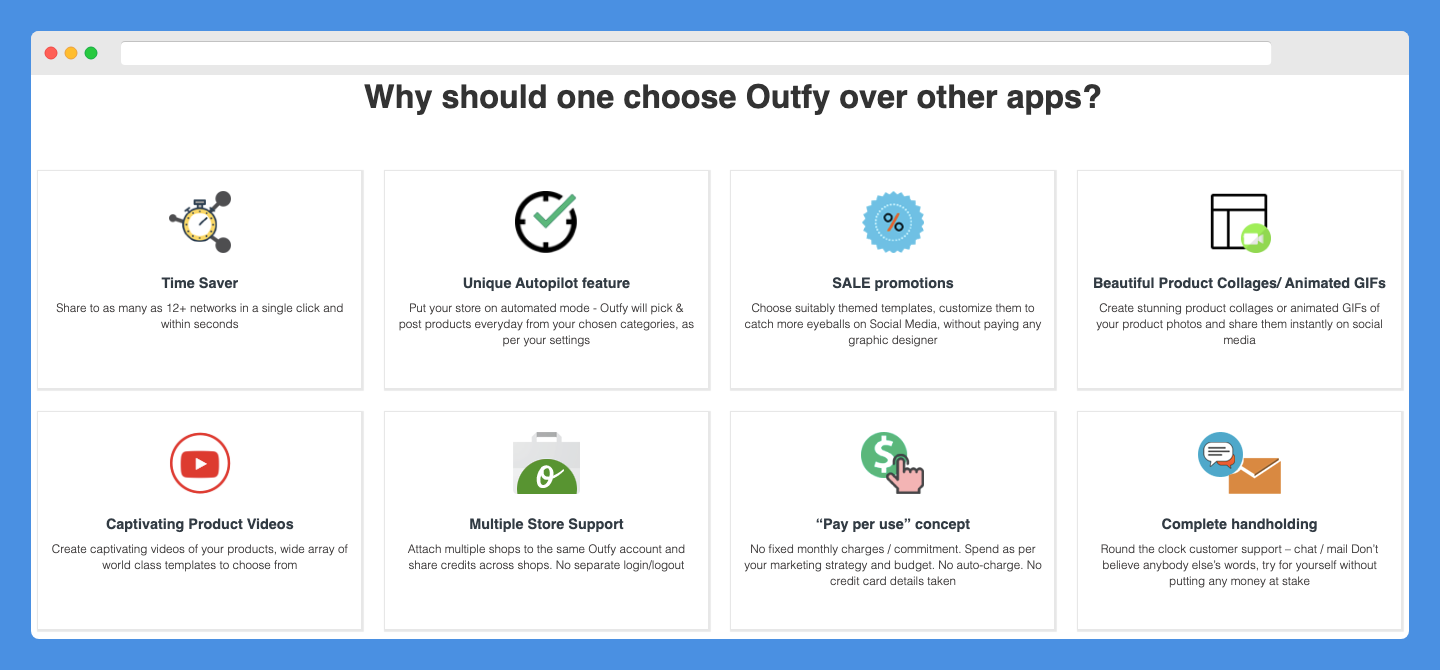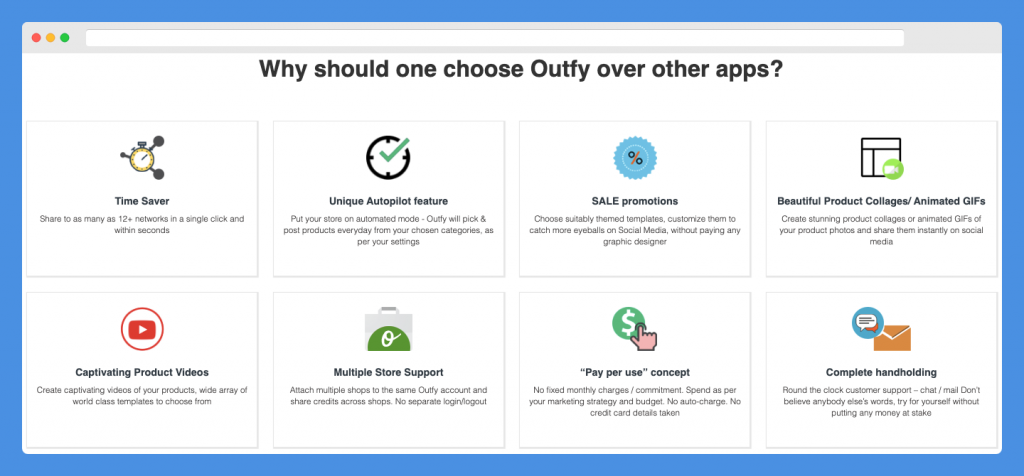 Additionally, you can make your posts feel more human and natural by using captions and hashtags on your social posts. For more impact, you can link your product posts with your Pinterest and Wanelo accounts.
Users seem to love Outfy. With 4.8 stars average rating from almost 1,000 reviews, it's hard to ignore the impact of this tool. Some 867 reviewers rated Outfy 5-stars rating, whereas only 15 reviewers rated this app 1-star.
Traffic Source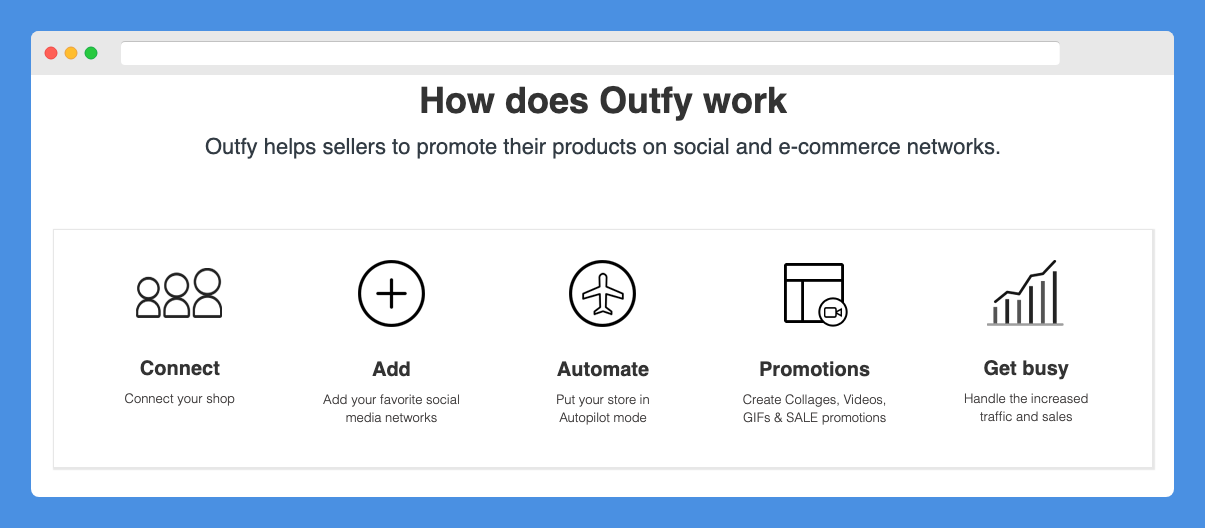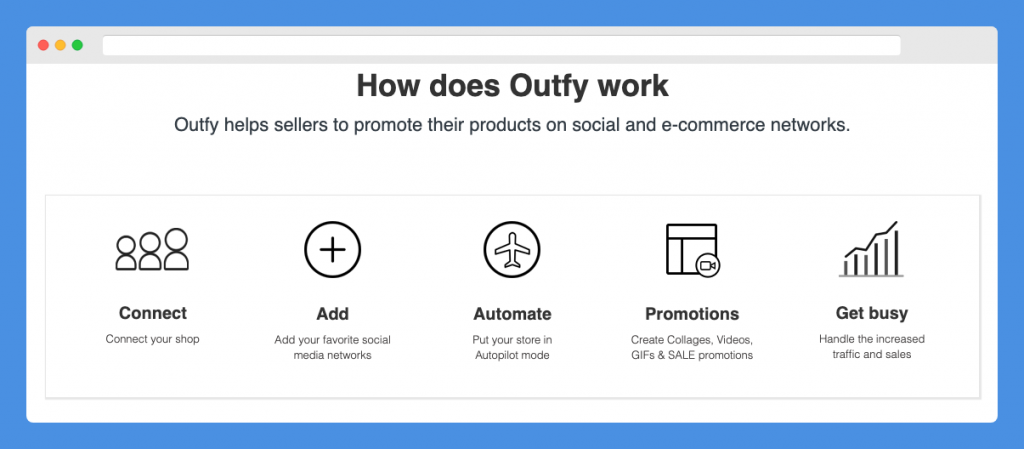 Outfy offers one traffic source for your Shopify store, and that's social media. This app makes the most of this traffic channel, maybe more than any other app on this list.
Pricing
You can install Outfy for free. It has no monthly payment commitment. You pay for what you use. They have two pricing tiers. Bult and small plans.
For the smaller plans, you have four pricing plans.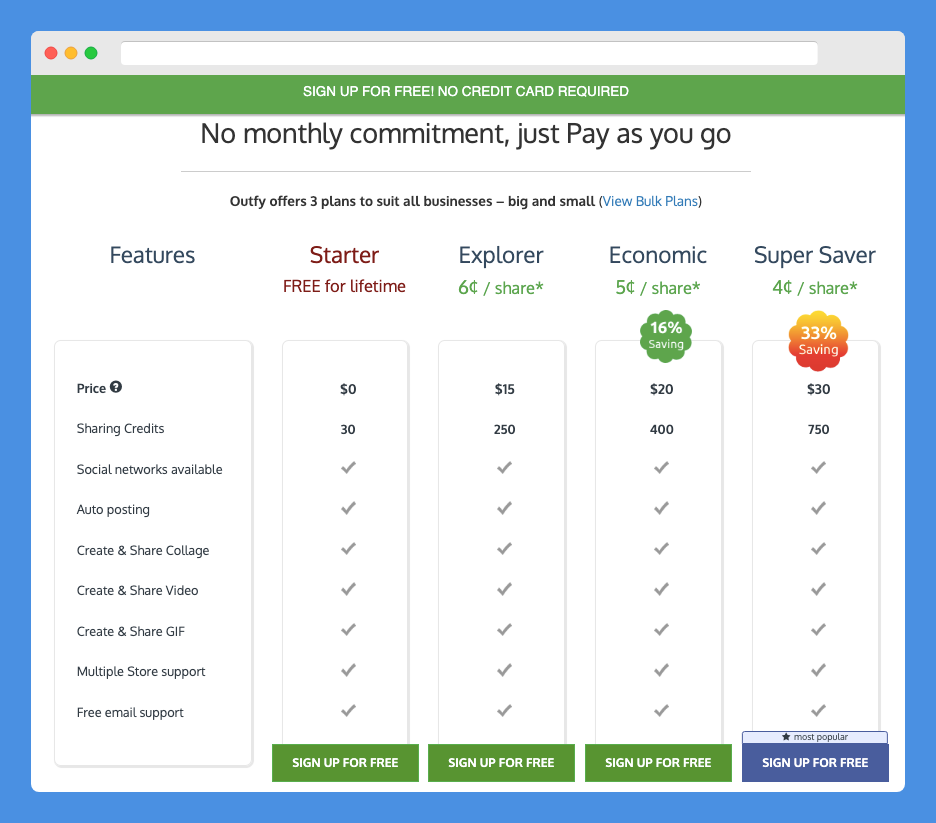 Starter – Free for life
Explorer – $0.06 per share
Economic – $0.05 per share
Super Saver – $0.04 per share
Their bulk plans are even cheaper. You can save 50 to 58 percent on them.
Also Read: Best Shopify Pop-up Apps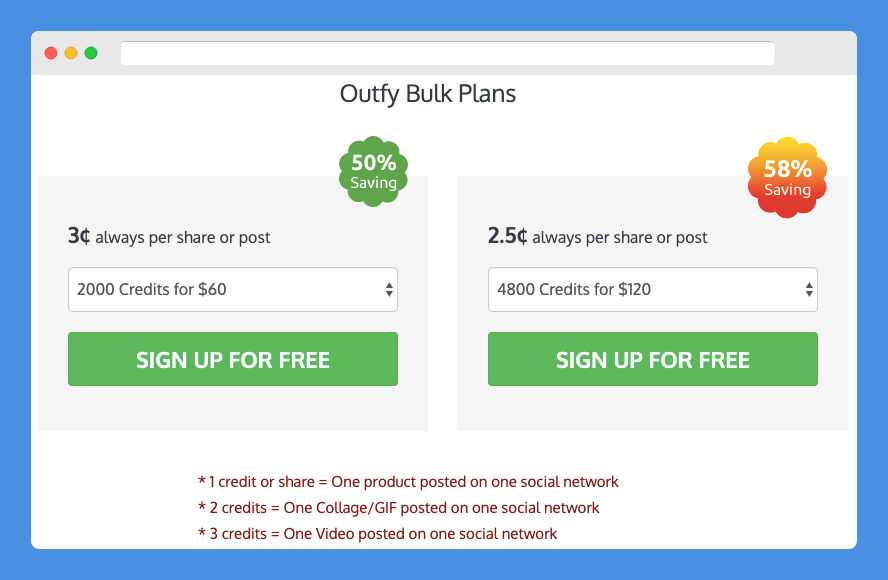 2,000 credits – $0.03 per share
4,800 credits – $0.025 per share
What Users Love About Outfy
It's clear that users love Outfy, but why?
Saves time
Responsive support
Automates the work like its human
Features rich graphics: collages, stickers, video, gifs, and shoutouts
Generates a lot of viable traffic
Saves money on social advertising
Limitation of Using Outfy
So if Outfy has all these benefits, why would someone rate it down? Let's find out.
Outfy may be glitchy with images, posts, and other technical issues
Sometimes the customer service and support may fall short of user expectations
A few users reported billing issues
Our Pick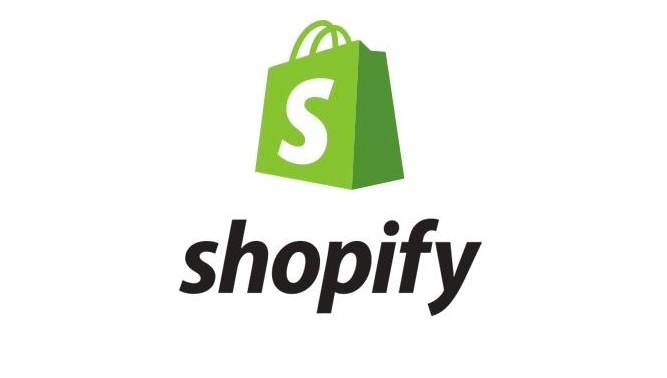 We earn a commission when you click this link and make a purchase.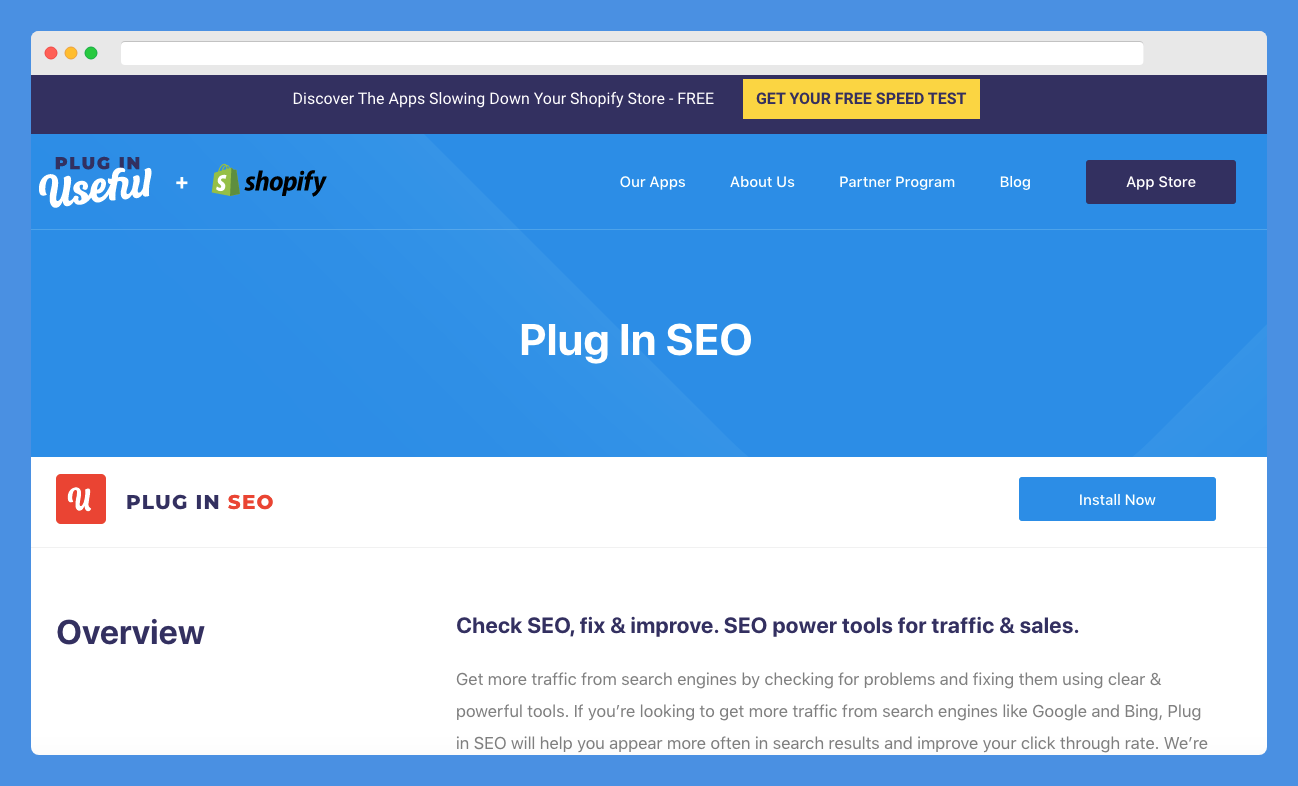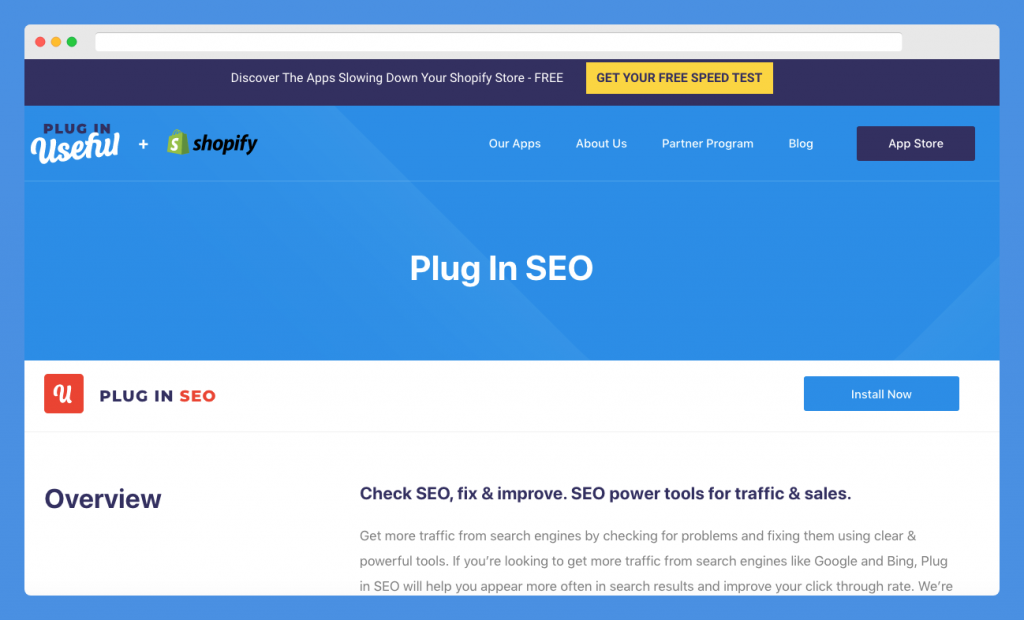 The Plug In SEO app focuses using helping merchants generate organic traffic to their stores. If you're thinking of boosting your store's ranking on search engines, then this tool will come handy.
More than 30,000 Shopify stores and hundreds of Shopify Plus stores use this app for SEO and traffic generation.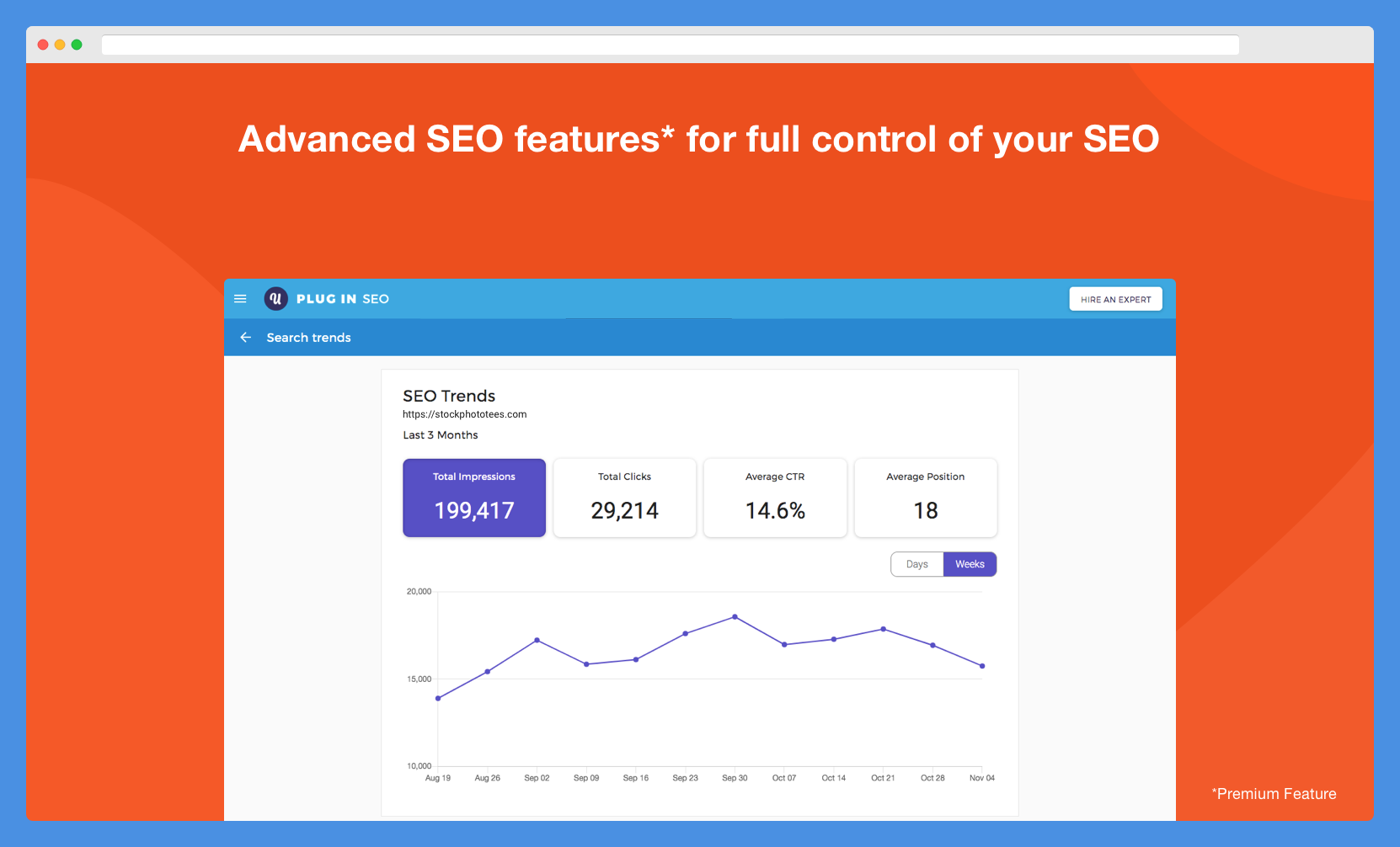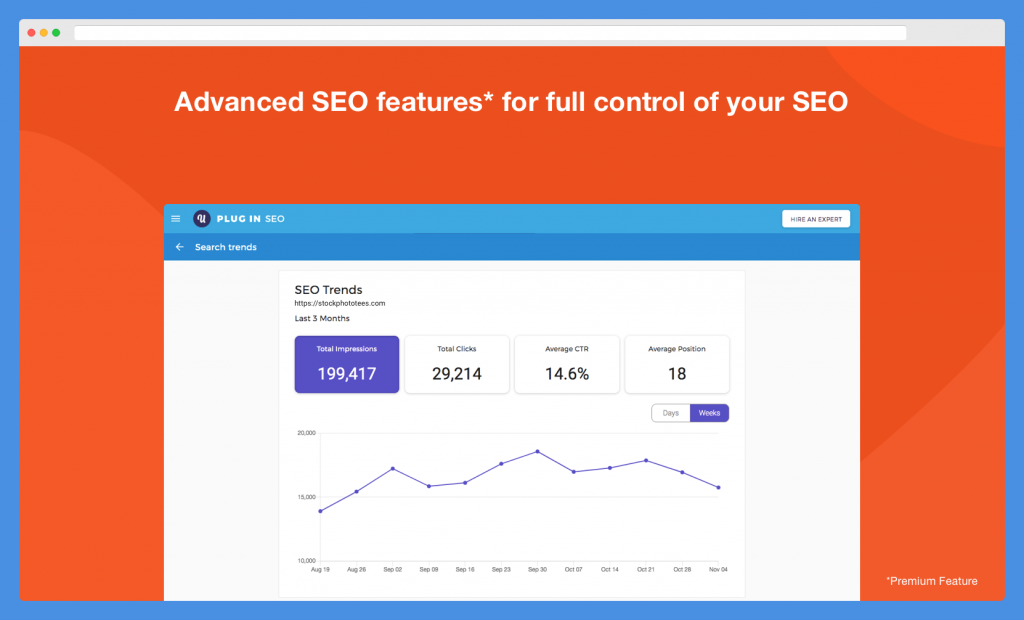 So what do you get from this app?
SEO fixes: the Plug In SEO tool helps you spot errors in your site's SEO so that you can fix them, including broken links
Schema markup and structured data
Integrates with Google Search Console
Bing integration
Meta description and meta title for SEO
Multilingual SEO for non-English audiences
Keyword optimization tools
Track rankings
Optimize filtered collection pages
This app has more than 1,640 5-star ratings from 1,970 reviews. Only 34 users do not feel this is a great tool and rated it 1-star.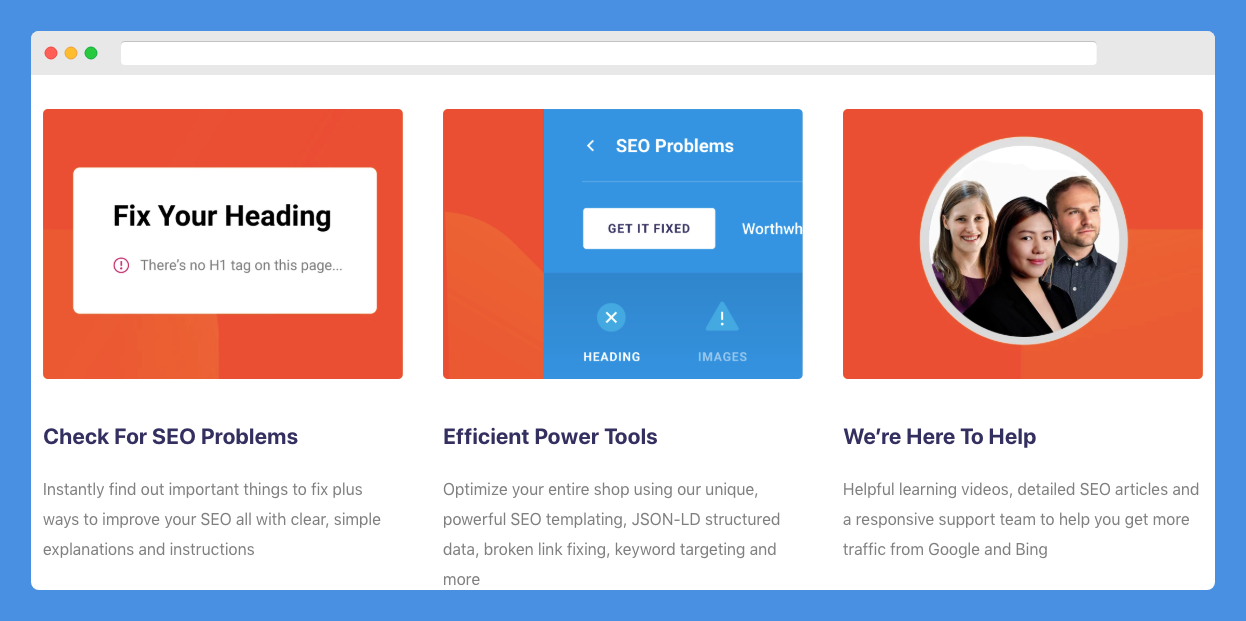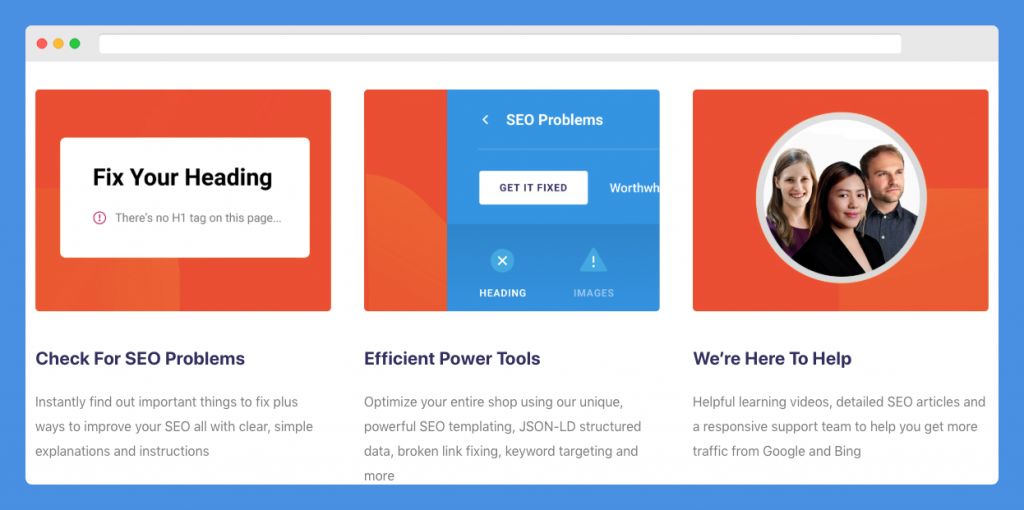 Plug In SEO's three promises are
Search for and discover SEO errors
Provide top-notch customer service
Supply SEO optimization tools that work
You can bulk-edit products with this app. You edit your product pages' meta titles and meta descriptions for tens, hundreds, or even thousands of pages at once.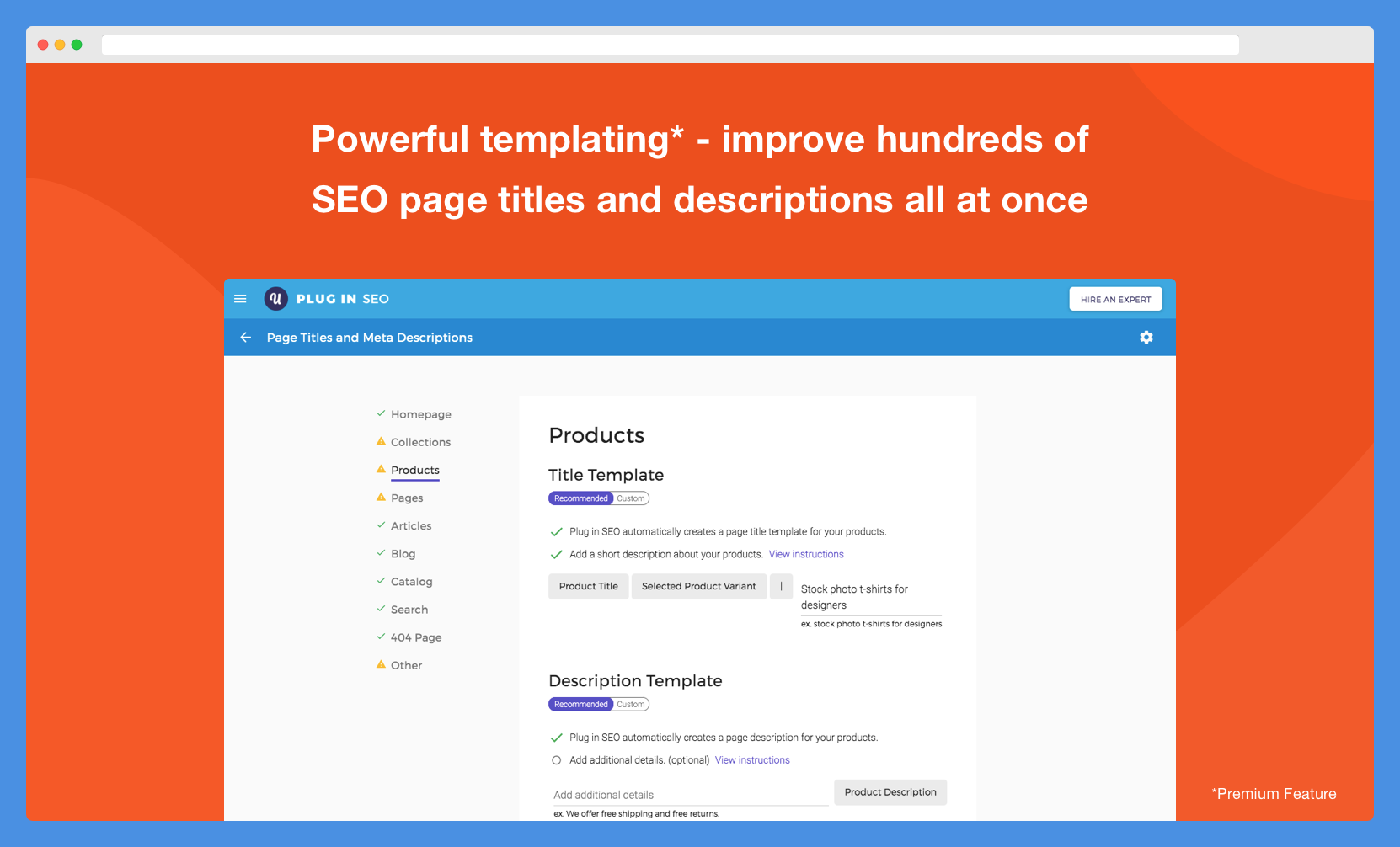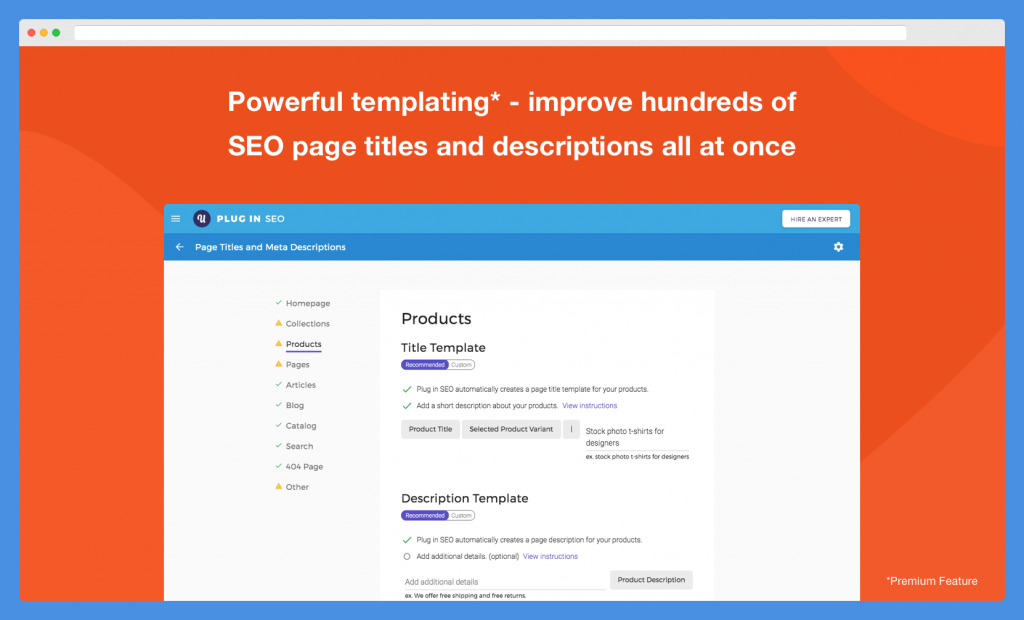 It doesn't stop at product pages. You can also edit blog posts, filtered collections, and other pages on your website.
Traffic Source
Plug In SEO helps you gain traffic for your Shopify store by improving your website's SEO issues and boosting organic search traffic.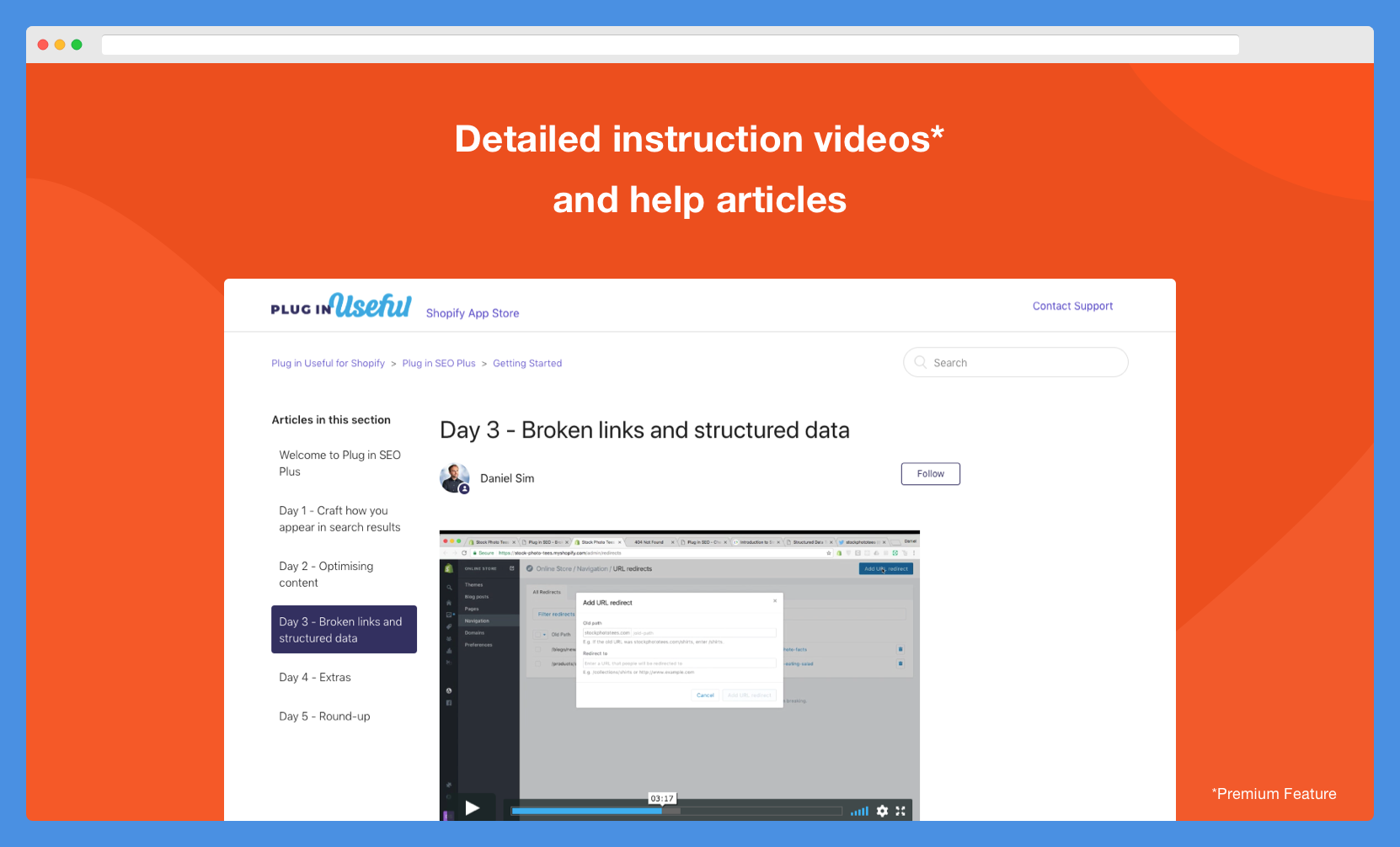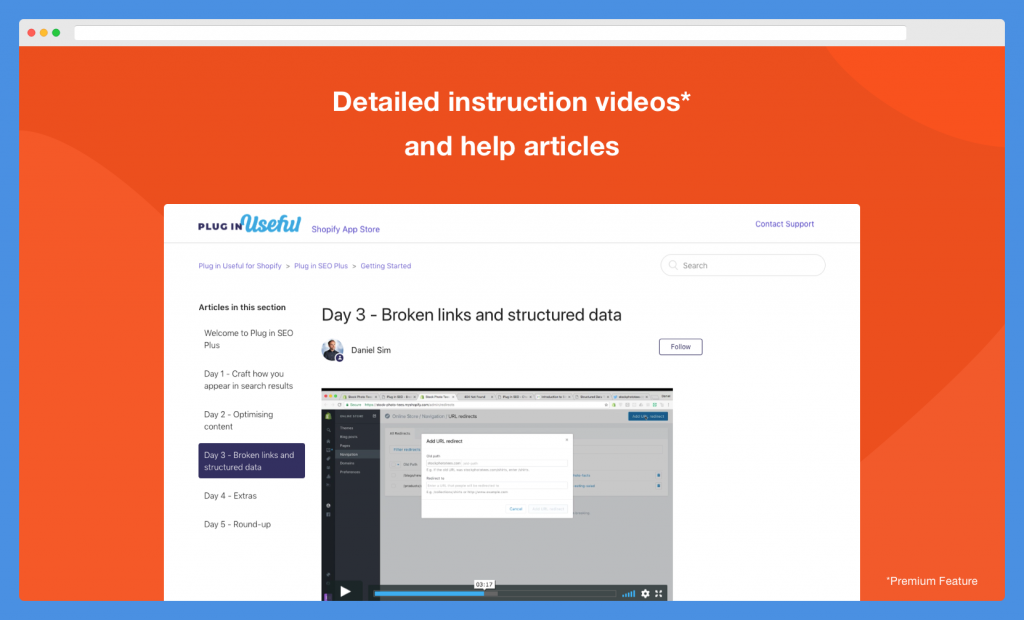 The app comes with detailed instructions and videos to guide you through all the processes.
Related: Best Shopify Exit Intent Apps
Pricing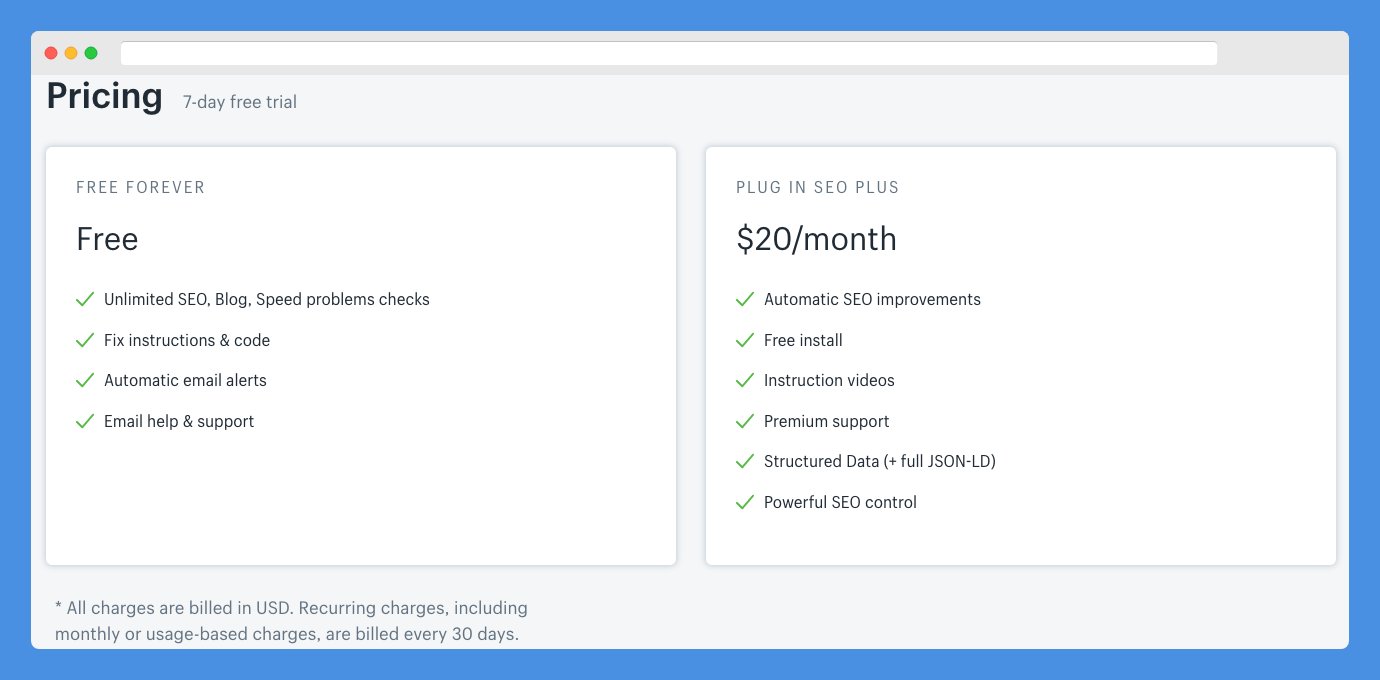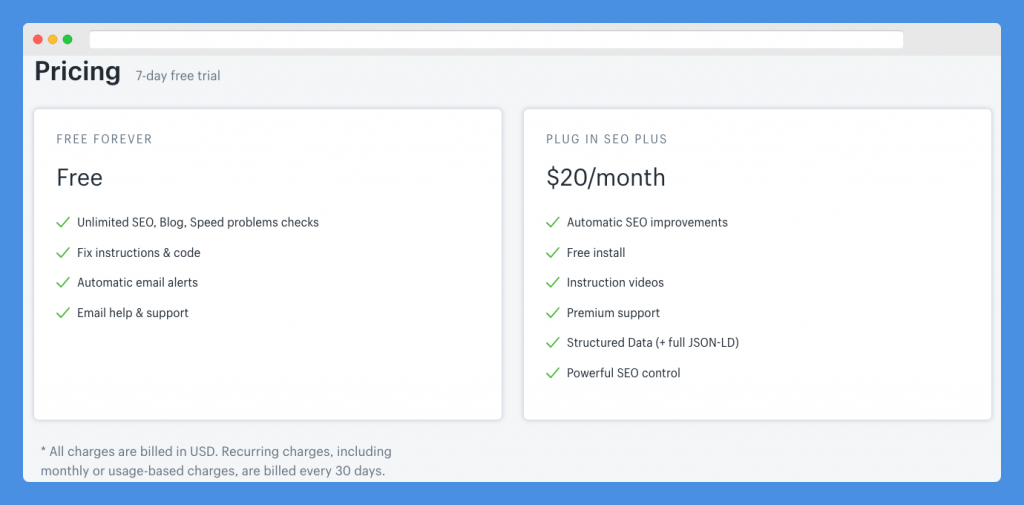 This app maintains a simple pricing plan.
Free Forever – Free
Plug In SEO Plus – $20 per month
What Users Love About Plug In SEO
Why do users love this app?
Actionable and useful tips
Suggestions boost site traffic
Helpful and responsive customer service
It's easy to use
Option to hire an expert to help with the work
Limitation of Using Plug In SEO
After looking through the reviews, what users don't like about this app seems either vague or resolved by customer service. It appears that this app has no limitations within what it should do.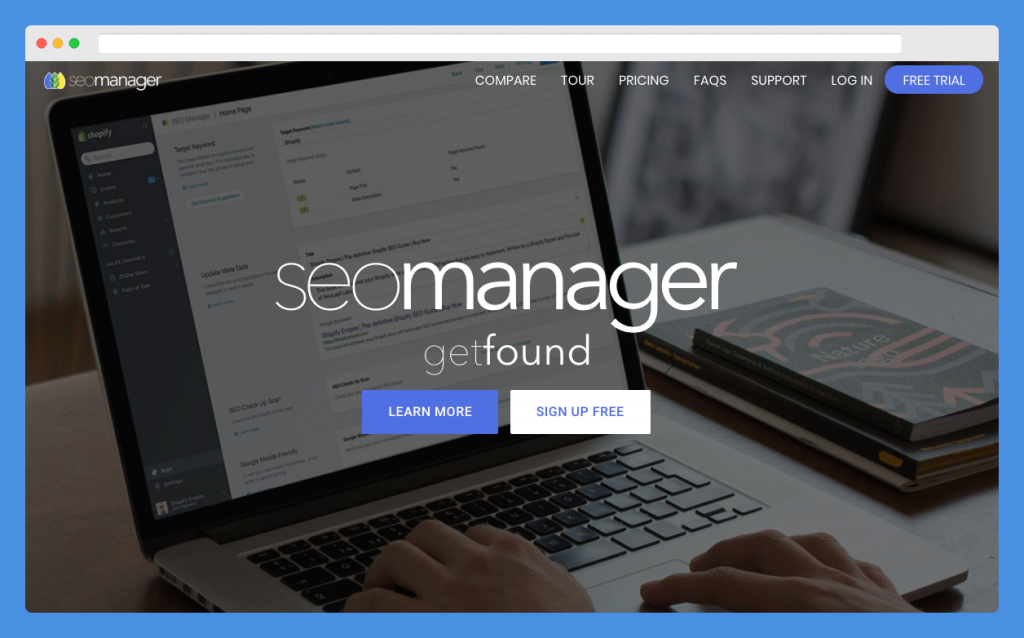 SEO Manager helps merchants make more sales by ranking higher on search engines and attracting more buyers. It promises real-time SEO reports that sellers can implement almost immediately.
This app takes SEO seriously. So it has 20 features, some of which are unique to the app. Among other features, you'll be able to
Spot and fix different 404 errors: logging, management, import, and export
Google knowledge graph support
Title and description editors
Structured data
Advanced meta settings
You get three benefits from this app.
Supercharged SEO tools
JSON-LD structured data
Broken link management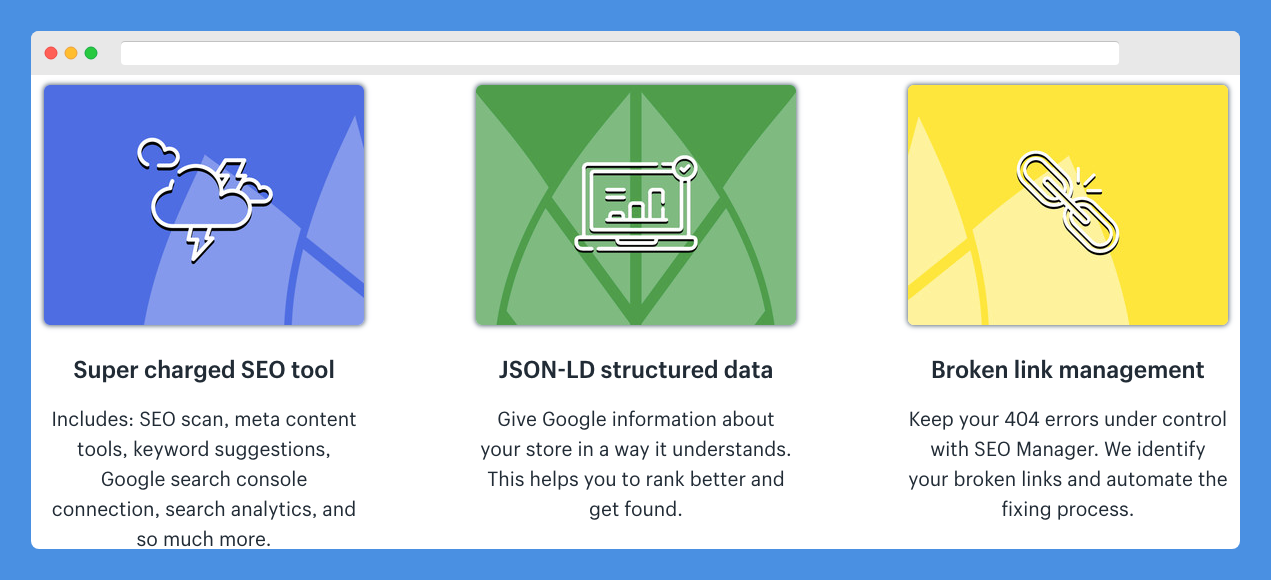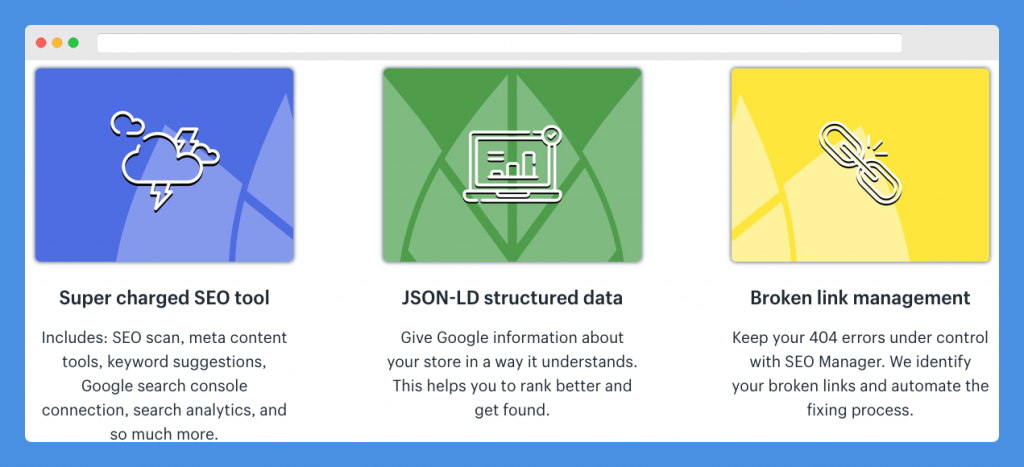 Traffic Source
SEO Manager helps you gain traffic for your Shopify store by improving your website's SEO. This tool takes you step-by-step to boosting your Shopify site's SEO and attracting more traffic to your store.
Pricing
This app has straight-to-the-point pricing. It's for $20 a month. Nothing fancy.
Yes, you'll get a 7-day free trial. But after that time, you will start paying $20 or drop the app.
What Users Love About SEO Manager
Here are the reasons why SEO Manager has maintained a 4.8-star rating on average after more than 1,600 reviews. More than 1,440 of these reviewers vote the app 5-stars, only 50 reviewers voted SEO Manager 1-star.
So, why the overwhelming approval for this app?
Helps users keep a clean website free of error
Features thorough video guides
Easy to use
Swift and responsive support
Great tool for beginners who don't know how SEO works
Works with Kit: Automate your marketing tasks
Limitation of Using SEO Manager
What users want the SEO Manager tool to change.
Quicker responses to Google changes as they occur
Occasional glitches
Our Pick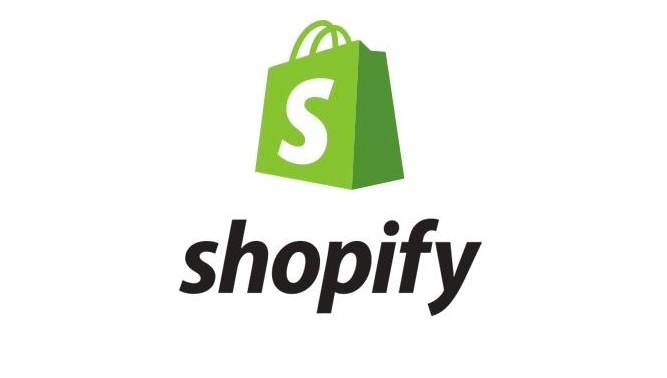 We earn a commission when you click this link and make a purchase.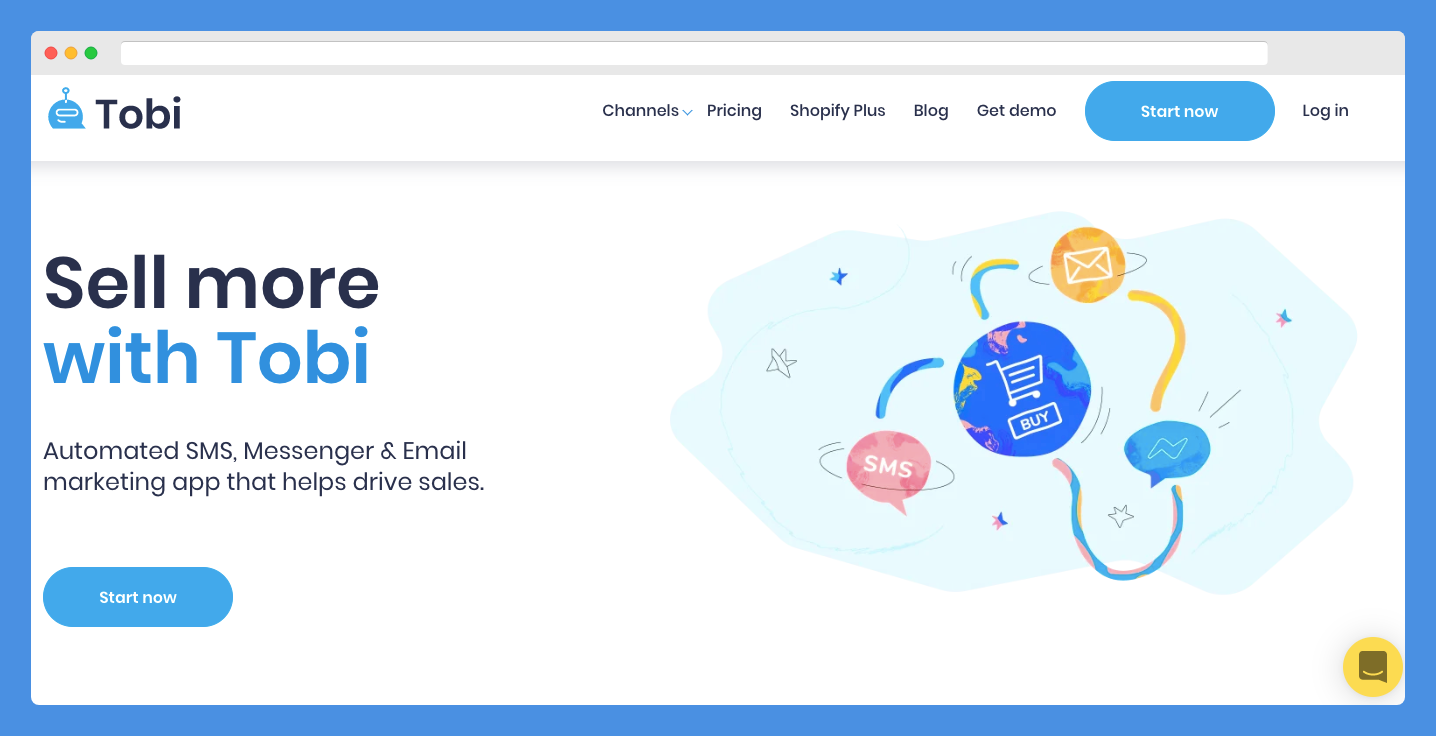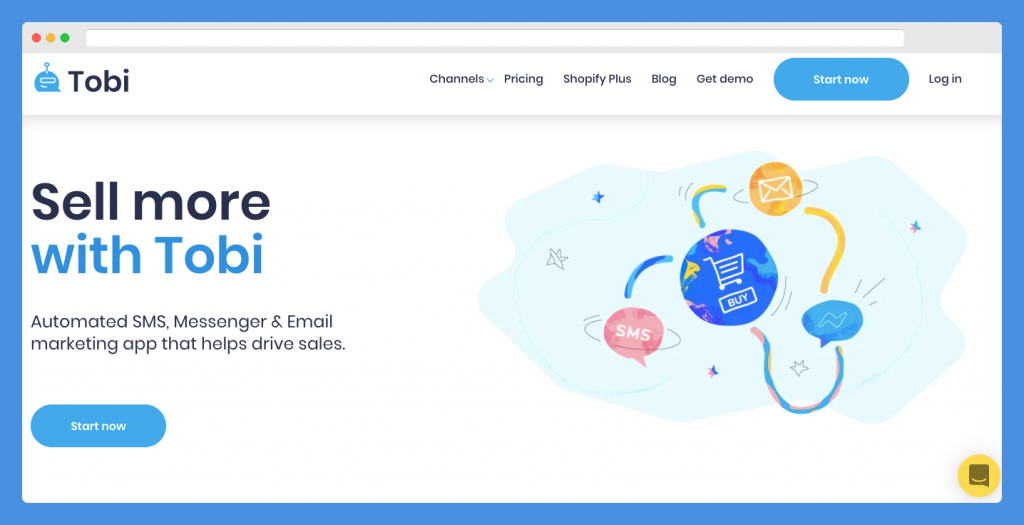 Tobi aims to help its users deliver targeted messages to their audiences through the channels these customers or visitors already use. This Shopify app focuses on giving you traffic from your hot or warm prospects.
This app offers a host of automation features, including
Order recovery
Buyer rewards
Promotional offers
Delivery updates
Abandoned cart
Review requests
But there's more.
Tobi features some subscription functions too. So you engage your visitors by offering them discounts, incentives to subscribe to your list or flash sales.
Users love this Shopify app as it has an average of 4.8 stars rating from 714 reviews. Tobi focuses on three functions.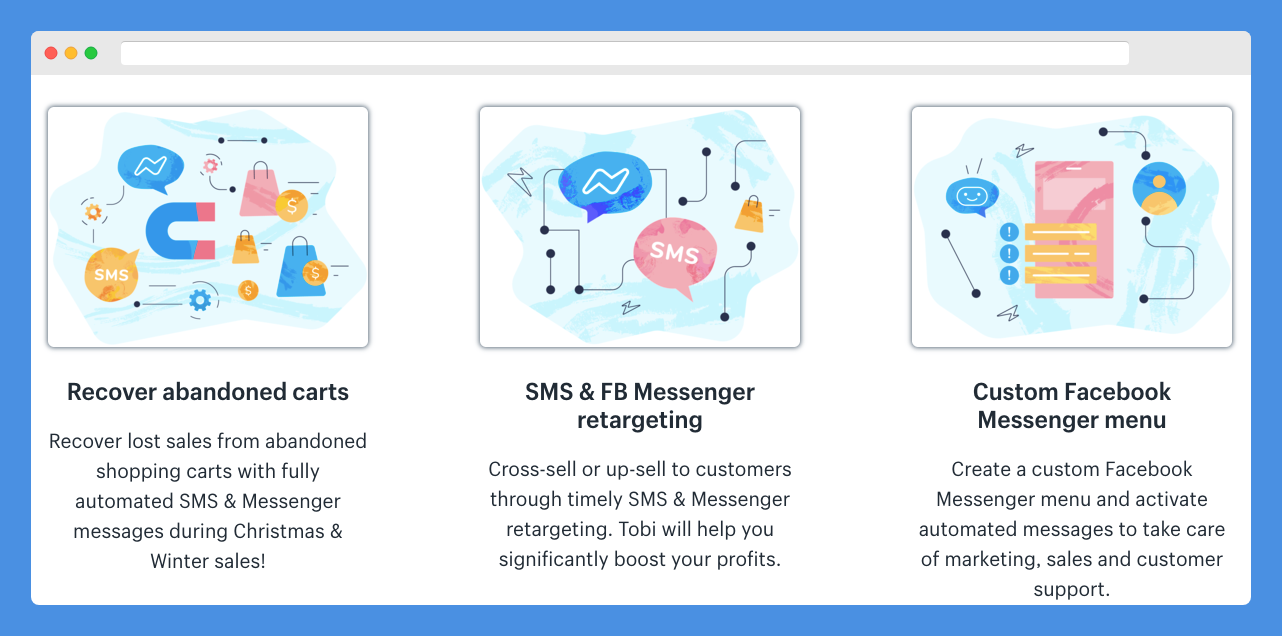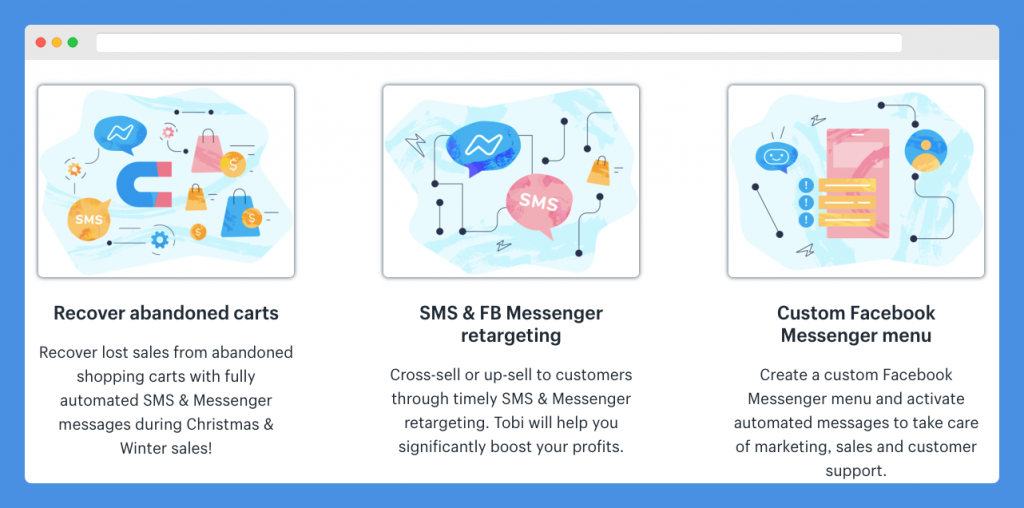 Abandoned carts recovery
SMS and Facebook Messenger Remarketing
Custom Facebook Messenger Menu
The tool helps you recover your store's abandoned carts using its automated SMS and Facebook Messenger feature.
Getting your buyers to complete their purchase is excellent. But what's better is that you can get them to buy more! Hence, you can leverage Tobi's SMS and Facebook Messenger feature to increase the value of your traffic.
You can do even more with the Facebook Messenger feature. Yes, you can generate more traffic, convert them, and handle customer support with Tobi.
But there's even more.
You'd initiate automated messages to execute these functions for your Shopify store. So none of these activities has to consume your valuable time.
Traffic Sources
Tobi offers two traffic sources for your Shopify store.
Abandoned cart recovery and remarketing
SMS marketing
Let's explore each of them.
Abandoned Cart Recovery and Remarketing
One study says abandoned cart emails are responsible for 28 percent of eCommerce revenue. In practice, you'll be gaining or losing nearly three in every ten carts that your buyers abandon, depending on your response.
Buyers abandon their carts often. Depending on the statistics you're looking at, cart abandonment rates can be up to 81.4 percent. But the average is 69.57 percent across 41 studies.
So this is abig deal. According to Wolfgang Digital, 17 percent of traffic to your store are repeat customers and visitors. So remarketing can raise your traffic profile by that much!
SMS Marketing
But Tobi isn't about remarketing only. It does SMS marketing — another high-impact traffic source. It has a 98 percent open rate and a 45 percent response rate.
Pricing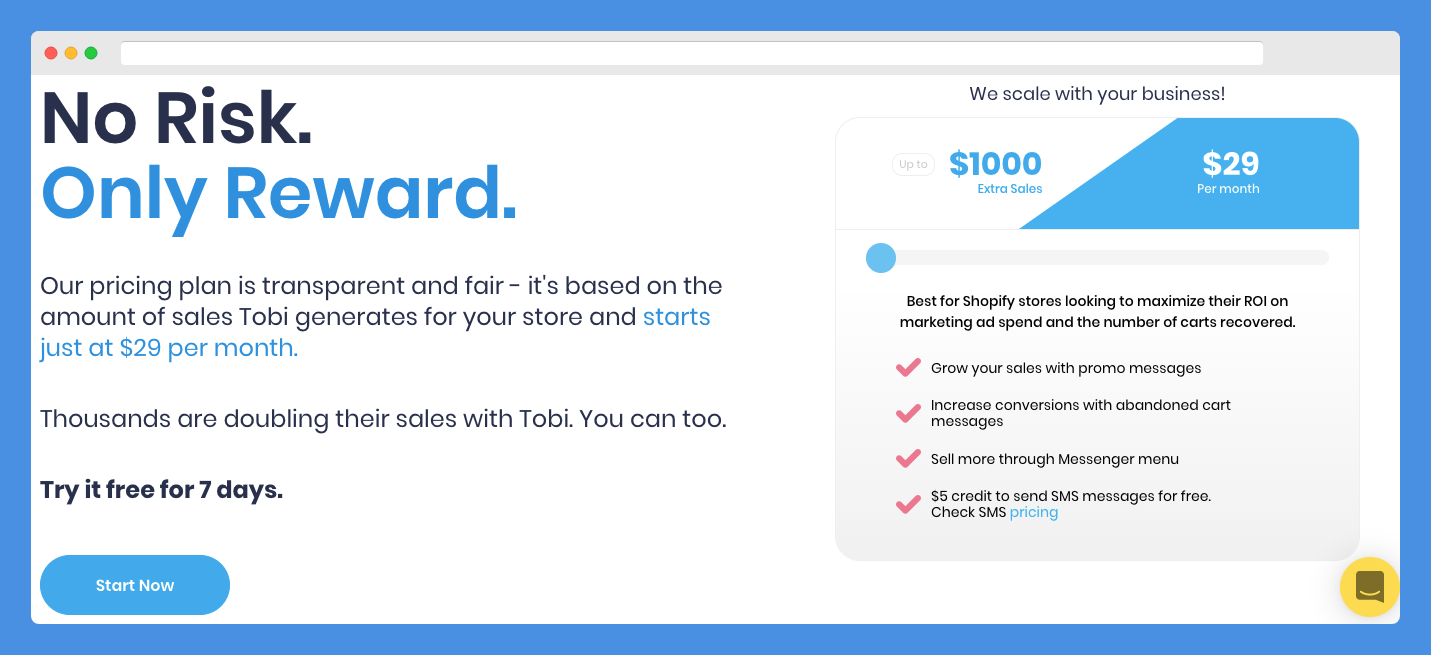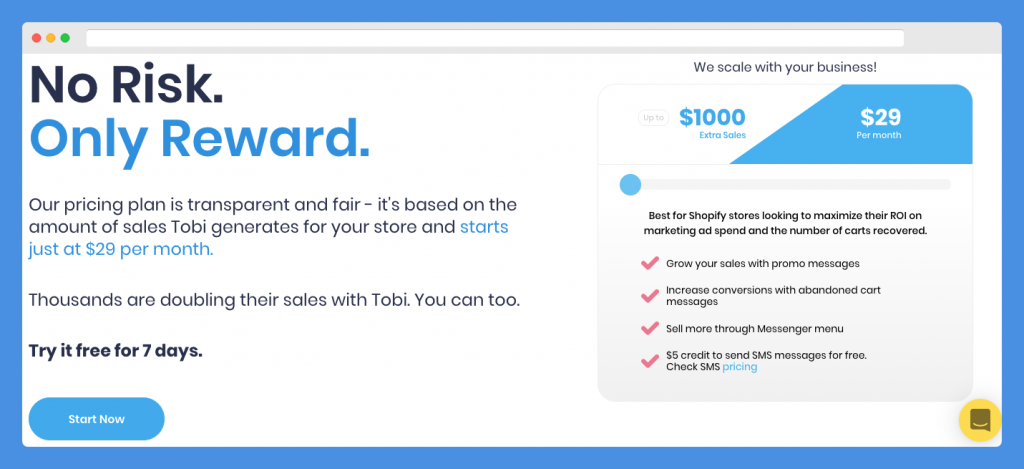 Tobi offers free seven days trial. After the trial period, you'd start paying $29 per month for every $1,000 you earn from using this software.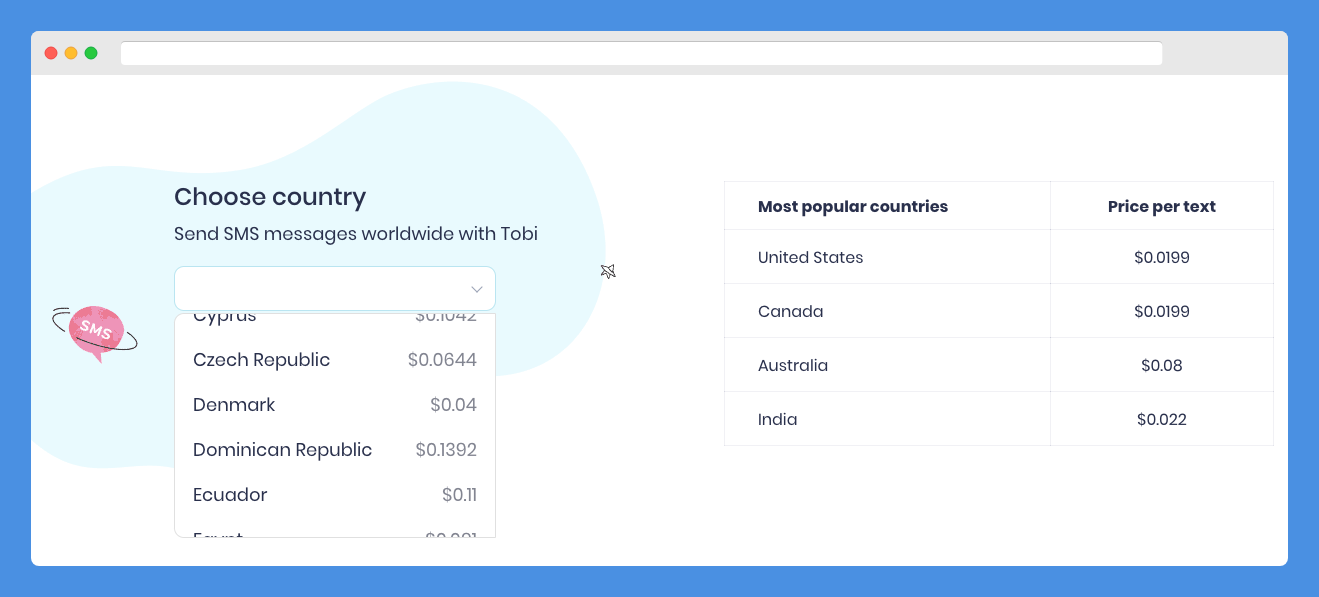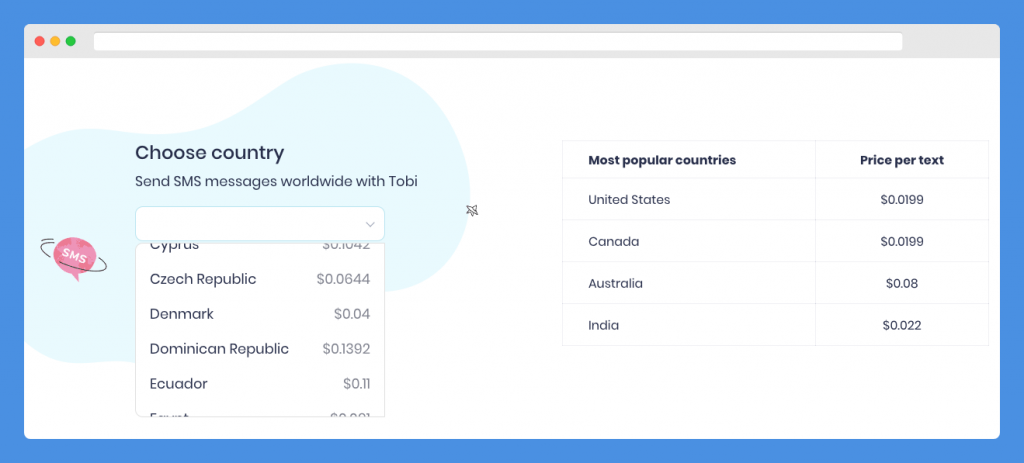 However, SMS pricing varies depending on the country. You can find Tobi's full SMS rates on their website.
Check Out: Best Shopify Print On Demand Apps
What Users Love About Tobi
Tobi has an overwhelming consensus on the quality of its customer service and support. Some of the other things users loved about this app include,
Responsive customer service and support
SMS tool works excellently
Easy to use
Doesn't slow websites down
Some users reported an increase in sales
Users experienced a boost in traffic
Limitation of Using Tobi
No product is perfect. Tobi has its limitations and reasons why some users don't feel it's an excellent fit for them.
However, it's worth mentioning that only a tiny fraction of users feel that Tobi didn't serve them right. All complaints were technical difficulties, of which Tobi fixed pretty quickly.

Time To Open Your Traffic Gates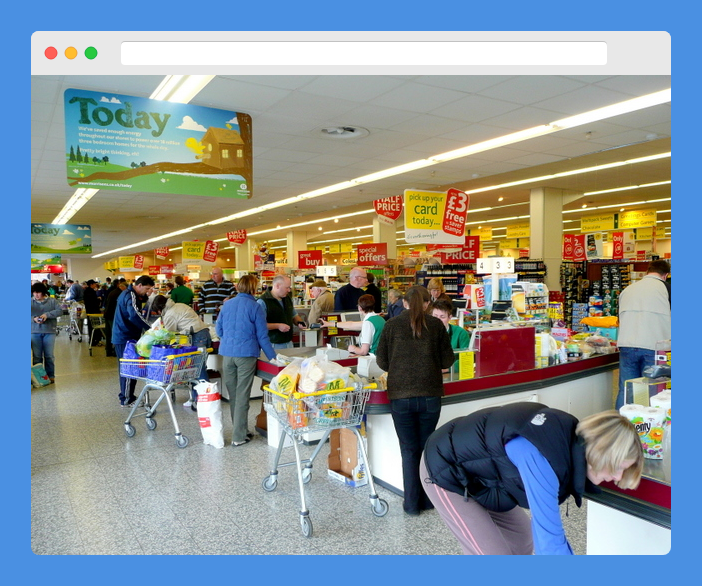 I handpicked these tools from the best of them all. So you have an arsenal of traffic generation tools you can instantly use. Some of these apps are free, and others are incredibly affordable, with lots of proof of performance.
With these seven Shopify apps, you can generate traffic from
Search engines through SEO
Social media
Facebook paid traffic
Google paid traffic
Shopify stores
Other eCommerce ad networks
Word of mouth promotions from buyers
So you have, at least, seven traffic channels you can instantly explore for results. Yes, it's time to open your traffic gates!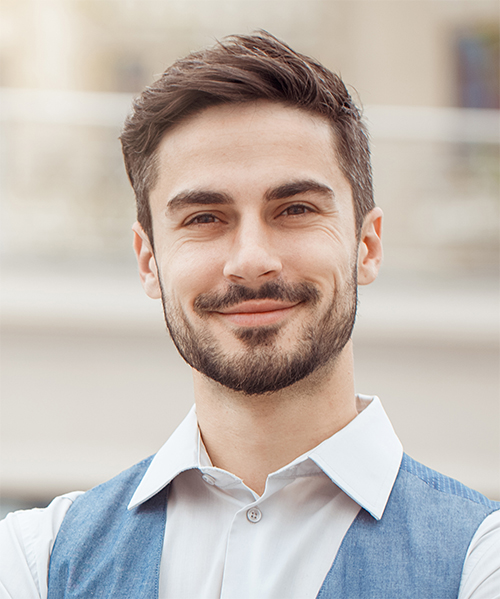 Scott L. Macarthur is a marketing consultant and an online author. He is mostly engaged in providing his expertise to startups and SMBs. He is also an author on TheNextWeb.