Looking for the best prices on Amazon? Sites like CamelCamelCamel can help you save money by helping you take advantage of reduced prices on Amazon.
CamelCamelCamel allows you to set up price drop alerts so that you get notified whenever the price of a product you are interested in suddenly drops. This way, you can quickly jump at the opportunity to buy the product for less.
You can also look up a product's price history to see if it has gone down from before.
However, CamelCamelCamel is not without its drawbacks. For example, it only works on Amazon, so if you like to shop on eBay, Walmart, or other sites, you are out of luck.
However, CamelCamelCamel, or 3C as it is sometimes called, is not the only tool you can use to get price drop alerts and save money when buying on Amazon or other sites.
In this article, I will go over the 10 best alternatives to CamelCamelCamel.
Best CamelCamelCamel Alternatives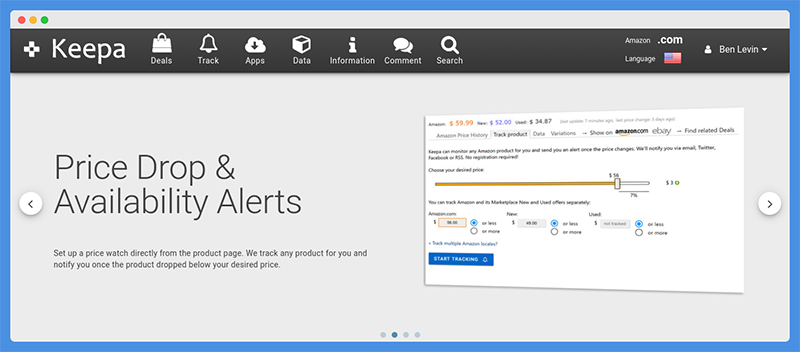 Keepa is perhaps the most well known CamelCamelCamel alternative. Like 3C, it offers a number of useful features that will help you save money when shopping on Amazon, including:
Tracking
Price history
Deals
Like CamelCamelCamel, Keepa does not require you to have an account to use the service, and they can provide you with price drop alerts via email, web push notification, RSS, and even Telegram.
To set up a price drop alert, install the browser extension, which is available for Chrome, Firefox, Edge, Safari, and Opera. Like with CamelCamelCamel, you can also simply paste a link to your Wish List on Amazon and Keepa will then provide you with price drop alerts for all products on your Amazon Wish List.
You can also go to the Deals page to see a list of the best deals on Amazon at any given time. You can search for all deals or select a specific category.
Each product in the Deals section will show you the average price vs. the current price and by how much the price has dropped.
By hovering with your mouse over the product, you will also see a chart displaying the product's price over time.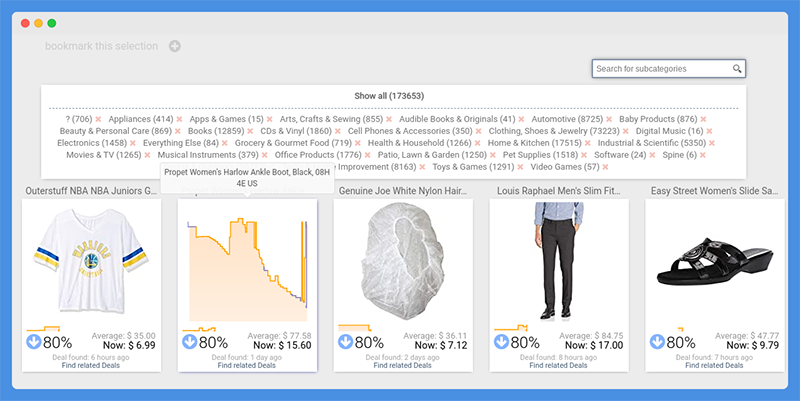 Click on any product in the Deals section to come up with a full size chart displaying the product's history.
You can also click on the Track tab to set up price drop alerts or the Data tab to get in-depth data about the product, including review information, sales rank, and much more.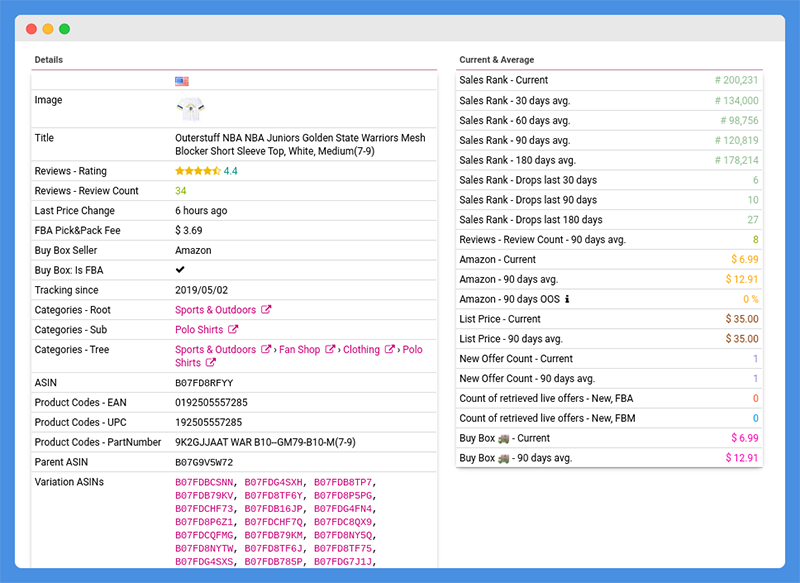 Click on the Variations tab to see different variations of the product or click on Find Related Deals to see similar deals on Amazon and eBay.
Using the Keepa browser extension on Amazon is very simple. Under each product, you will see a Keepa icon; click on it to bring up a price history chart and the following tabs:
Track: Set up tracking alerts for both new products sold by Amazon, new products sold by third party sellers, and used products sold on Amazon by third party sellers (these are the same three price types that CamelCamelCamel lets you track)
Data: Bring up the data shown in the screenshot above
Variations: Be shown variations of the product
Earn: Get your Keepa affiliate link
eBay: See an alternative listing on eBay
Settings: Here, you can manage how you want your price charts to be displayed and how you want Keepa to track price drops for you (for example, you can set it up so you only get a notification if the price drops by 10 percent or more)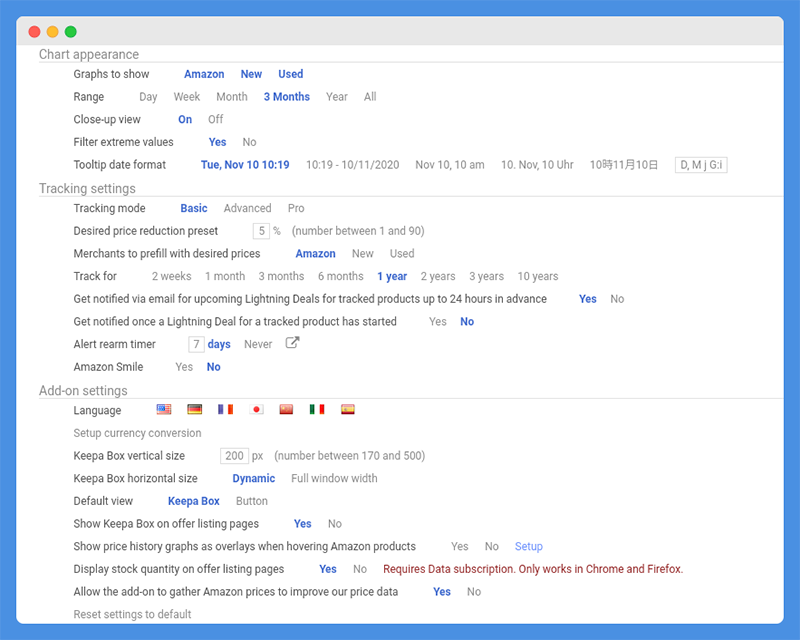 This is more information than what CamelCamelCamel generally offers. For example, the CamelCamelCamel extension will show you a list of all products on the page you are on, but it doesn't show you variations or alternative eBay products.
There are also a few premium Keepa features, which cost €15/month (always check Keepa.com for updated pricing information). Here are the features you will get if you sign up for the premium plan:
Product Finder: This tool lets you use advanced filters to find specific Amazon products that match your search criteria
Product Viewer: Upload ASIN or UPC codes to see in-depth data about Amazon products
Best Seller List: This is a list of the best selling products on Amazon based on sales rank
Top Seller List: This is a list of the top sellers on Amazon, along with data about their performance
Category Tree: This is a list of all categories on Amazon, along with sub-categories and links to best selling lists based on category
Price Increase Tracking: In addition to price drops, Premium members can track price hikes
Explore more Keepa-like tools here.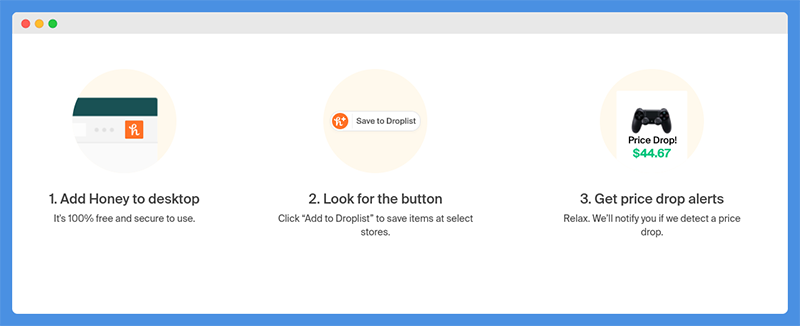 Honey is a well known cashback and coupon app. However, did you know that their Droplist feature allows you to track price drops for any product you want?
Droplist doesn't work on all stores. However, unlike CamelCamelCamel, which limits you to Amazon, Honey Droplist lets you track price drops on products on stores like Walmart, Macy's, and Target — in fact, over 200 stores are supported!
It is also much easier. Once you install the Honey extension, the Add To Droplist button will automatically appear on stores that are supported — just click the button to start getting price drop alerts.
The best part about Honey is that in addition to saving money through price drop alerts, Honey will help you save money through automatic coupons and cashback.
The automatic coupon feature is amazing and incredibly simple to use. All you have to do is install the Honey extension.
Then, when you are at checkout, Honey will be able to automatically search the web for coupon codes for the product you are buying — regardless of which product it is or on what website that is.
The extension will automatically apply the coupons to see which ones work and which ones are already expired.
In addition, it will try all of the coupons to see which ones give you the most savings, and then automatically apply that coupon to the coupon code box.
There's really nothing else you need to do — everything is automatic.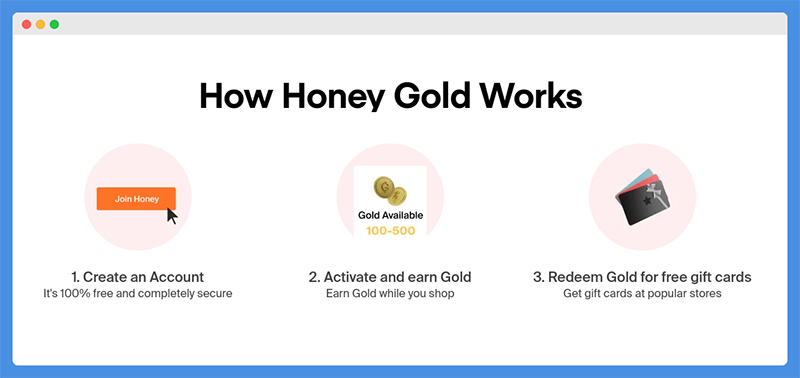 Finally, there is Honey Gold, which is the rewards program. Simply install the free Honey extension and earn rewards while you shop on over 4,500 ecommerce sites — including sites like AT&T.
Then, you can redeem your rewards for gift cards at Amazon, Walmart, Best Buy, Macy's, Nordstrom, Sephora, and more. Every 1,000 Honey Gold points will be worth $10.
Overall, Honey will help you save a lot more money than CamelCamelCamel, as it goes beyond simple price drop alerts and helps you save money on everything you buy — as long as a valid coupon code exists.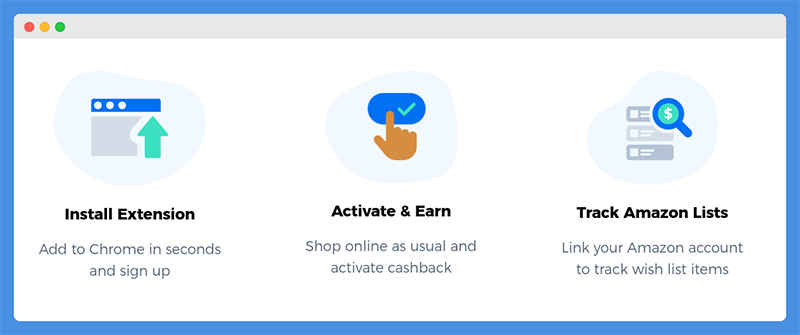 While CamelCamelCamel is only a price alert tool, Earny does a lot more than that. Like CamelCamelCamel, you can set up price alerts around the clock for your Wish List.
However, Earny has some other features. For example, it will notify you when Amazon deliveries come later than expected.
If you are busy and you don't have Amazon Prime (where all Prime-eligible deliveries are supposed to come within two days), it may be hard to keep track of whether your products arrived on time or late.
Earny will let you know when you may be entitled to compensation due to a delayed shipment and prepare a script that you can send to Amazon to ask for credit.
Earny also lets you earn cash back when you purchase products at supported retailers.
However, this does not apply to Amazon — though there are many other retailers that do support cash back.
In the Chrome extension, you will see a list of the supported retailers, which currently includes Walmart, Target, Groupon, Sephora, and many others.
Walmart will give you up to 1.5 percent cash back, while Groupon will give you up to 3.8 percent cash back.
The Chrome Extension is free to use. To import your Amazon Wish List so you can be notified of price drops, click on the Heart button at the bottom of the extension pop up and connect your Amazon account.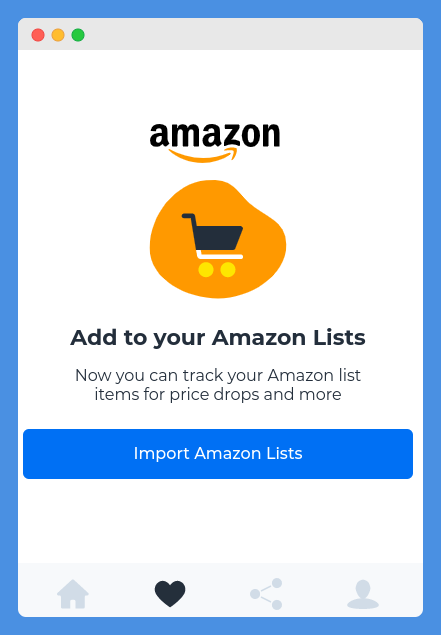 You will also get a share link you can use to refer friends to Earny. For every friend who uses the link to sign up and then shops through Earny to make a cash back eligible purchase, you will earn $5.
You will be able to cash out when your earnings reach $15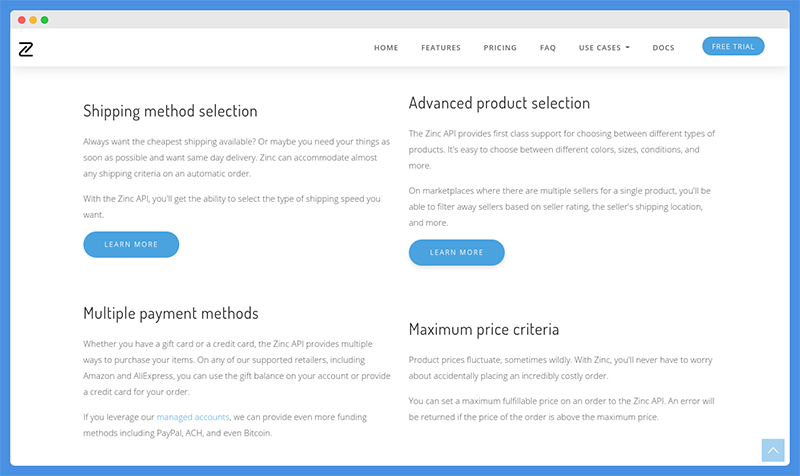 Zinc API is a bit different than CamelCamelCamel.
Instead of just notifying you when the price of a product drops like CamelCamelCamel does and then leaving all the work up to you, it will actually automatically place an order for you, provided the price has fluctuated and the product is below your set price point.
With CamelCamelCamel, you may be busy when the price drop alert comes in and only see it when the price goes up again, causing you to lose out.
Zinc API is a great 3C alternative if you have a busy lifestyle.
Actually, Zinc is an API that you can set up to automate orders on Amazon. It comes with the ability to set multiple parameters.
A maximum price limit for a product is only one of them; another feature is the ability to automatically select the cheapest or fastest shipping options.
You can also have the API automatically select products and sellers with the best ratings, certain variations, and more.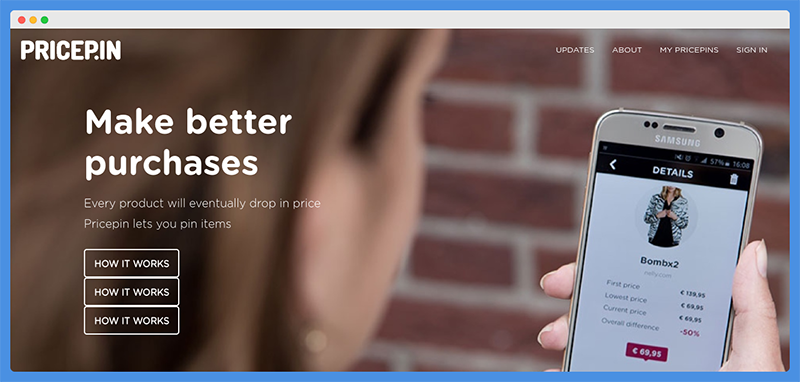 Pricepin is a website that will help you track prices of products you want to buy and will notify you of any price changes.
There is a free Chrome extension, and it is incredibly easy to use. Simply click the Chrome, Safari, or Firefox extension to add the product you are viewing in your browser to your Pin List.
Pricepin has both an Android and iOS app. CamelCamelCamel, on the other hand, only has an official Android app called TryCamel, although some third-parties have created iOS shortcuts to use with 3C.
When you want to track (or "pin") a product, simply click the share button from your browser or marketplace app and add it to your Pricepin list.
The Pricepin app allows you to quickly view all of the products you are tracking and see by how much their prices have dropped.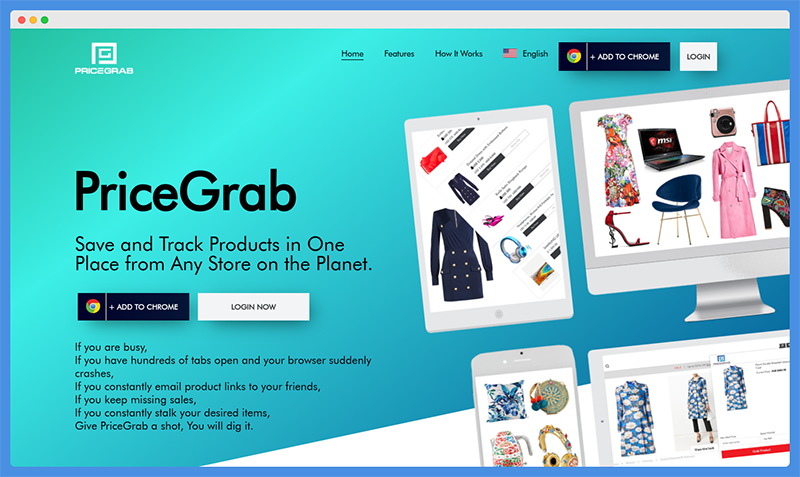 PriceGrab (not to be confused with PriceGrabber) is a Chrome extension that, unlike CamelCamelCamel, allows you to save products from any store online, not just Amazon.
Simply install the Chrome extension or mobile app and start saving products to your list (on the mobile apps, click the Share button and select the PriceGrab icon).
PriceGrab will note the original price of each product at the time it was saved and then send you notifications and emails when the products on your list go on sale.
You can actually create multiple lists if you would like to organize products into different categories. You can share lists with your friends and family.
Like Honey, PriceGrab automatically will try out and apply coupons to products you are purchasing at checkout.
This will help you save even more money than you would with CamelCamelCamel.
This is a new feature, but if you need to buy a product right away and don't have time to wait until the price drops (there is also no guarantee that will happen), the coupons feature can help.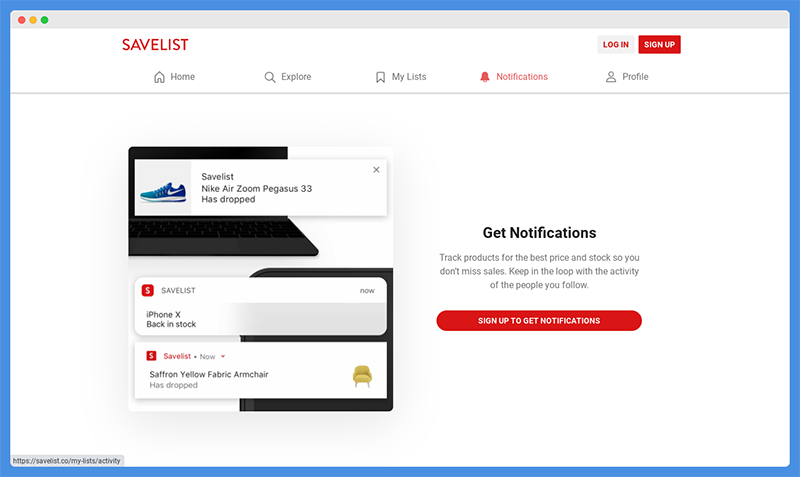 Savelist allows you to save products to lists so you can watch them.
Like CamelCamelCamel, you can set up notifications about price drops, but with Savelist, you can also get notified if a product you were watching is back in stock if it was out of stock when you wanted to buy it.
This way, if there is a product which has a high demand and often goes out of stock, you will be able to buy it as soon as it is back in stock before it gets bought out.
In addition to being able to create your own lists, you can use the Explore feature to find lists created by others.
This way, you can find lists of products you might be interested in and start tracking them.
In addition, you can find products and posts shared by others. This feature kind of works like Instagram.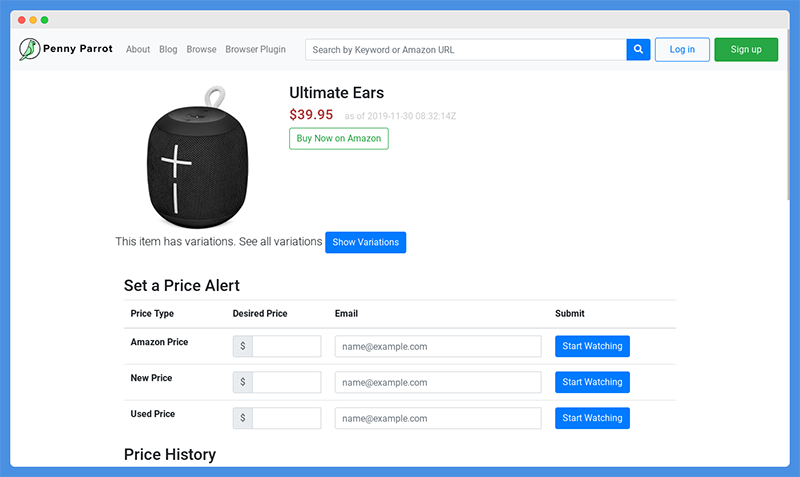 One frustrating thing about CamelCamelCamel is that it does not have an official iOS app or shortcut (though third-party shortcuts have been created without official CamelCamelCamel support). However, Penny Parrot does.
To use Penny Parrot on your iOS device, install iOS Shortcuts and then get the Penny Parrot shortcut.
Then, you will be able to add a product to Penny Parrot by clicking the share button.
You can also use Penny Parrot on the website or by downloading the Chrome or Firefox extension (support for Edge and Safari is in the works).
On the website, simply enter your desired price target, enter your email, and you will get notifications.
You can set up price notifications for three different price types: Amazon, Other Seller – New, and Other Seller – Used.
You will also get a chart displaying price trends for three price types. In addition, you will be shown similar products and can click the Variations button to see variations of the same product.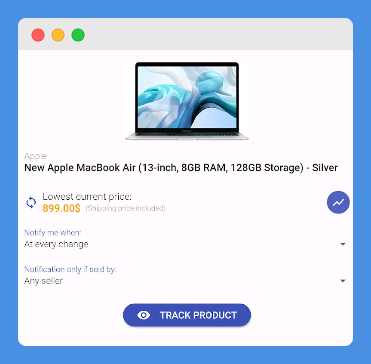 Reprice is an Android app that you can use with the Amazon app or when browsing Amazon products in your browser. Simply click the share button and select the Reprice icon from the list.
You will be given the option of seeing a chart with the product's price history or adding it to your tracking list so you can get notifications if the price drops.
If you decide to do the latter, you can choose between two options: Get notified whenever the price drops, or get notified only when the price drops below a certain point.
In addition, you can also open the app at any time to see a list of all the products you are tracking. There is also a Promotions tab in the app, which you can use to find promotions in different categories.
This is unlike the TryCamel Android app, which is CamelCamelCamel's app.
The TryCamel app also lets you select the TryCamel icon after clicking on the share button when viewing a product in the Amazon app, but then it just takes you to the CamelCamelCamel website in your browser.
In other words, there is no actual app you can open.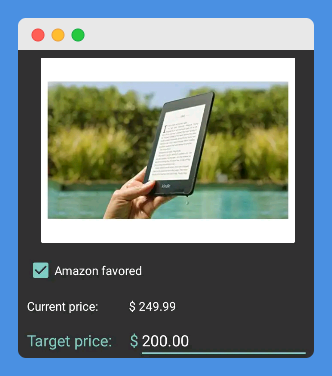 Another problem with CamelCamelCamel and the TryCamel app is that they do not work with eBay. Price Alarm, on the other hand, does.
It is created by MP Soft Labs. You can add products by clicking the Share button, or you can enter a product description in the app and click the Search Amazon or Search eBay button to find the product you were looking for on Amazon or eBay.
When you add a product to the app, you will be able to select a Target Price. If the product drops below this price, you will be notified.
Wrapping It Up: What Is The Best CamelCamelCamel Alternative?
Although there are many CamelCamelCamel alternatives, Keepa is the one that is the most similar.
Nevertheless, I believe Honey is a better choice unless you buy exclusively on Amazon, as it allows you to track products on other marketplaces and also helps you save money by giving you rewards for making purchases and by applying coupon codes automatically when you purchase anything online.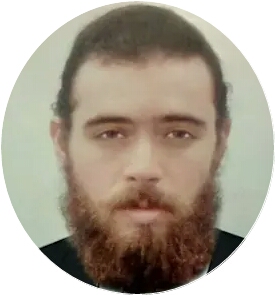 Author: Benjamin Levin
Benjamin Levin is a digital marketing professional with 4+ years of experience with inbound and outbound marketing. He helps small businesses reach their content creation, social media marketing, email marketing, and paid advertising goals. His hobbies include reading and traveling.