Are you looking for a way to monetize your Youtube channel in addition to YouTube ads? Or are you simply looking to create a full time or part time income online with minimal upfront investment?
Print on demand is becoming more and more popular as it allows anyone — whether you already have an online following or not — to set up a passive income stream selling t-shirts, mugs, and other items with unique designs.
There is no upfront cost involved, and you won't have to worry about shipping products to customers.
Two popular print on demand platforms are Teespring and Zazzle. Teespring is perhaps a little more well known, but Zazzle has many users as well.
Whether you are already using Teespring or Zazzle and are considering switching over to the other platform or you are just starting out and are wondering which one to choose, this article is for you.
I will compare Teespring and Zazzle and show you which one is better for setting up a print on demand business from home.
What Is Teespring? And What Is Zazzle?
Both Teespring and Zazzle are print on demand companies. These companies pose a great contest to some of the more established names in the market like Printful, Printify, Spreadshirt and others.
They allow you to sell custom clothing, home items, and other accessories to customers without actually buying those clothes and items first yourself.
Instead, you simply list the item in your store, and when an order comes in, Zazzle and Teespring will print your unique design or logo on the product in question and send it directly to your customer.
You won't handle the product at all — but you will still be able to collect the profits from the sale.
There are some differences between Teespring and Zazzle, however, which is what I will be covering in this article.
Let's get into it.
Teespring vs Zazzle: Which Products Can You Sell?
First, let me go over which products you can sell on Teespring or Zazzle. This is important if you want to sell something specific, like baby bibs.
Teespring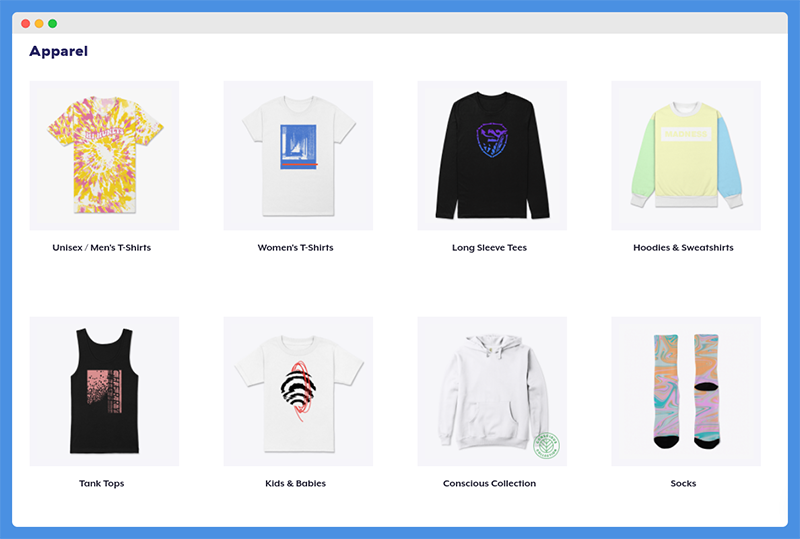 Teespring has the standard products most influencers sell to their fans: T-shirts, long-sleeved shirts, leggings, tank tops, phone cases, face masks, mugs, tote bags, and posters.
They also carry other products, like socks, pillow cases, stickers, neck gaiters, wall tapestries, blankets, and more.
The selection at Teespring is decent but not very large. On the one hand, this gives you fewer options, but it also makes things a little less complicated.

One thing that Teespring offers that is not yet being offered by most other print on demand platforms is the ability to sell digital products.
The three main types of digital products you can sell are audio files, documents, and images, but you can also upload a custom digital product.
The benefits of selling digital products are plenty.
If you are a graphic designer, you can sell wallpapers for phones and desktop computers, for example.
If you are a podcaster, musician, or language teacher, you can sell premium podcast episodes, music tracks, and language lessons.
If you are a writer, you can sell books.
Zazzle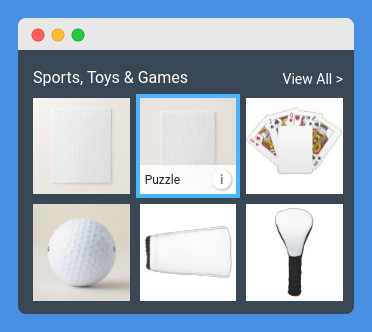 Zazzle's selection of products is more diverse than Teespring's. For example, they let you sell shoes and flip flops, while Teespring does not.
Other products you can sell on Zazzle include car magnets, license plate frames, air fresheners, various other types of magnets, wine bottle labels, aprons, ceramic tiles, towels, post-it notes, return address labels, thank you cards, wall clocks, business cards, puzzles, golf balls, mouse pads, buttons, button keychains, tissue paper, baby pacifiers, teddy bears, and more!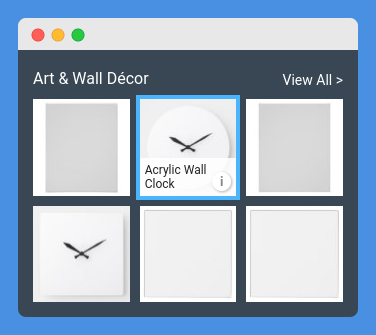 As you can see, there are quite a few products that are unique and can help you become very popular — after all, everyone loves teddy bars and moms would love to buy baby pacifiers for their babies, but these products are not offered on many print on demand websites.
Zazzle also lets you sell digital designs. You can sell digital postcards or images for Facebook, Instagram, and other social media networks.
Zazzle vs Teespring: The Digital Designer Tool
To create designs, you will have to use Zazzle or Teespring's designer tool. Which one is easier to use?
Teespring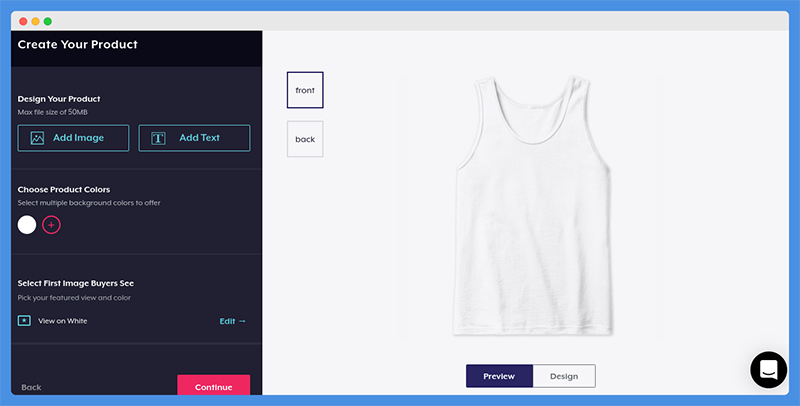 I found Teespring's digital designer very easy to use. It is not complicated, and, depending on which product you are selling, you may be able to place several designs on the product (such as one on the front and one on the back).
You can add images or text, select different colors, choose the top image to display to customers on the marketplace, and set a price.
You can see a screenshot of the Teespring digital designer tool above.
Zazzle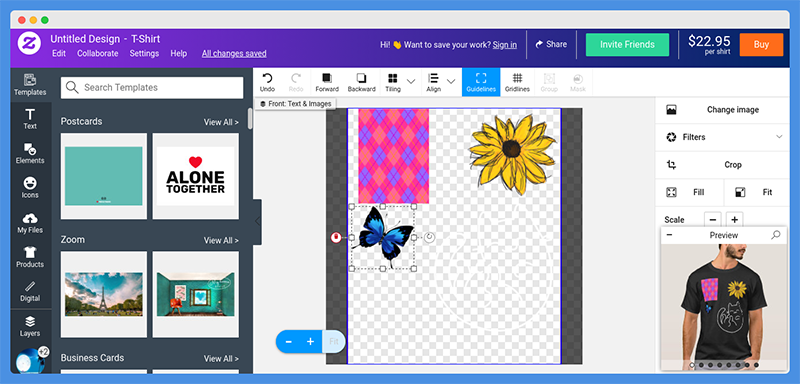 Zazzle's designer tool is more cluttered and complicated, but it also gives you more options. One of the good parts about the Zazzle designer tool is that it will give you templates you can add to your products, which you can then customize.
It also allows you to add elements such as shapes, lines, shape patterns, and illustrations/stickers. There is another section for icons of dogs, cats, flowers, foods, jobs, and much more.
In addition to choosing different colors, you can choose different background patterns. There are also some great designing features, such as the ability to select different "tile patterns" for any single icon or design you add to your product.
You can also apply filters, crop your designs, add grid lines to help you position your designs, and more.
In the screenshot above, you can see examples of the types of icons and images that come preinstalled in the Zazzle designer tool.
Overall, although it is slightly more cluttered than the Teespring tool, I found the Zazzle tool to be quite fun to use and loved the various options it gave me.
In the screenshot below, you can see examples of the types of tile patterns you can use.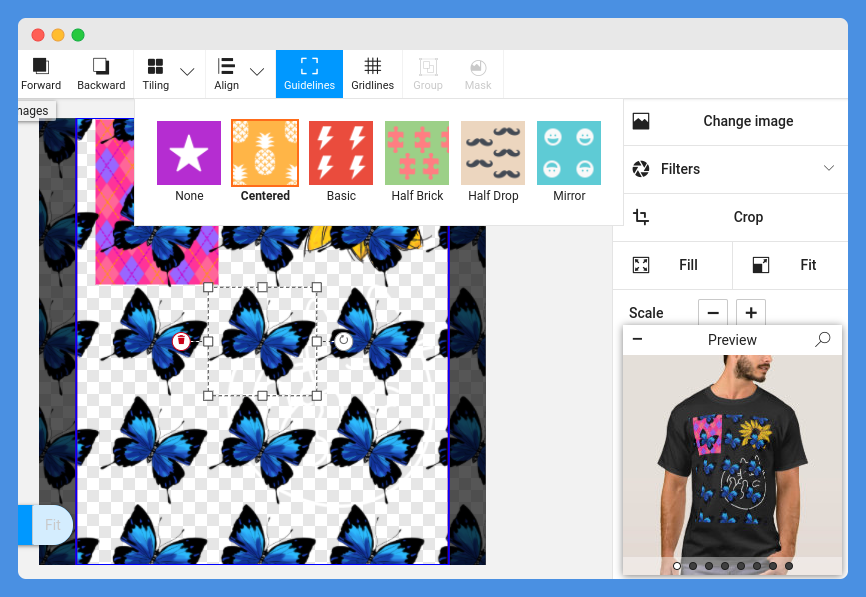 Teespring Vs Zazzle: How Much Can You Earn?
Are you in full control of how much you will earn with Zazzle or Teespring? How much can you earn, how often can you get paid, and how can you access your earnings?
Teespring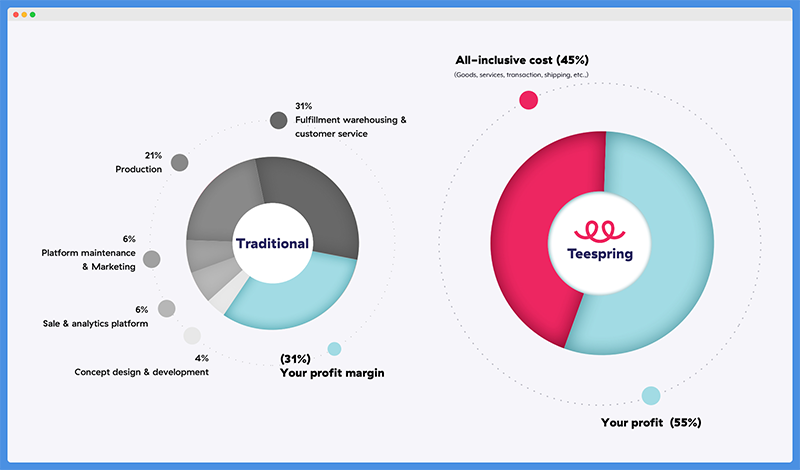 Teespring offers ample earning opportunities. Over the years, people have made millions of dollars using Teespring.
Teespring gives you full control over what you earn. Each product will have a starting price, but that's not the price you will be selling it for.
That price covers the manufacturing and processing costs, as well as Teespring's cut, but you will be selling it at a higher price to your customers.
For example, let's say the starting price of the product is $20. You add a design and sell it for $30.
Teespring will keep $20, while you will get the remaining $10 in profits.
You can sell that product for $35, $40, or even $50, depending on what type of product it is and how loyal your fans are (and how big your following is).
Digital products work differently, as they don't have any base costs for manufacturing and processing. Instead, Teespring will take 10 percent of the sale + a flat fee of $0.40.
For example, if you sell a digital wallpaper for $10, Teespring will take 10 percent ($1) + $0.40, for a total of $1.40. That leaves you with $8.60 in profits.
You can request a payout after a sale has been approved and the product's print cycle has ended (which is usually every three days). All payouts under $100 can only be requested every three days as well.
Once requested, a payout usually takes between one and seven business days. You can get paid via PayPal or Payoneer.
Zazzle
Zazzle also gives you full control over what you earn.
Just choose your royalty rate — for example, you can decide to set a royalty rate of 20 percent, which means the final price will go up so that your profit margin is 20 percent of the total price and the starting price is 80 percent.
The default royalty rate is set to five percent, but, as mentioned, this can be changed to anything (the maximum on most products is 99 percent).
You can get paid via PayPal once you reach $50 in earnings or via a check if you have reached $100 in earnings.
Zazzle vs Teespring: Where Can You Sell? 
Where will your products be sold, and where can you have them displayed?
Teespring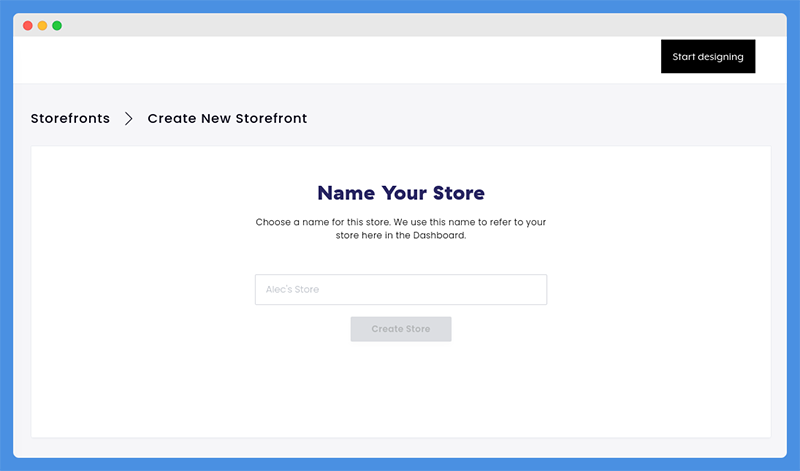 Teespring will give you the ability to create your own custom storefront. You can actually create multiple storefronts.
These storefronts are hosted on the Teespring website. This means that you will be selling your products on the Teespring marketplace (though you can hide them from the marketplace if you wish).
Teespring also provides free retargeting to people who checked out your products on Teespring.com. This means that even if someone did not buy your product the first time, they may see ads for the product and buy it later on.
As we will see in the next section, however, you can also have your products displayed on YouTube and Twitch.
Teespring also has something called their Boosted Network. This is optional, but it will allow you to get more sales.
The Boosted Network pushes products to these online marketplaces:
Amazon
eBay
Walmart
JD.com
Rakuten
You don't have to do anything — Teespring automatically decides which products to feature in the boosted network. Products that have at least one sale are prioritized for the boosted network.
Zazzle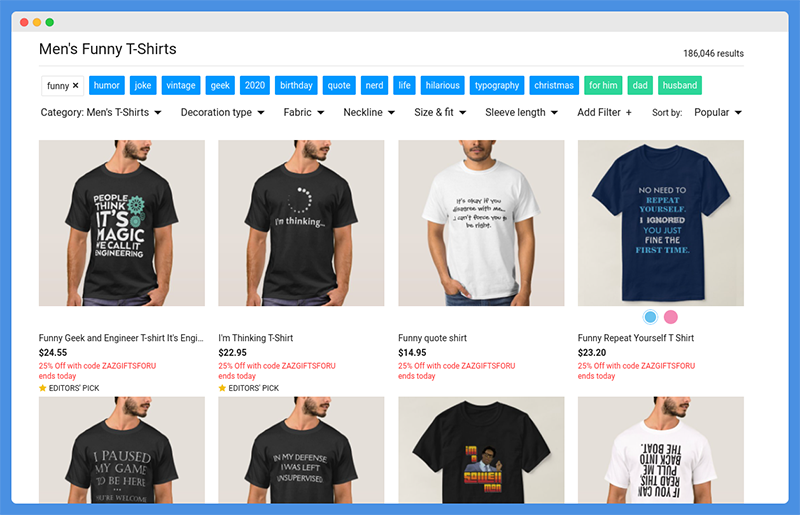 With Zazzle, your products will also be displayed on the Zazzle marketplace. However, you can have your products featured on your own website as well by using the Zazzle RSS feed.
Also, Zazzle has an API that lets you set up a site for customers to customize their own products and then order them on your website. Cartoonize My Pet is an example of a site that uses the Zazzle API.
Zazzle vs Teespring: For YouTubers, Twitch Streamers, and Instagrammers 
If you are a YouTuber, Twitch streamer, or Instagrammer, which platform is better for you?
Teespring
Teespring is one of the select merch suppliers that are supported by the YouTube Merch Shelf program. This Merch Shelf is a virtual "shelf" that appears under your YouTube videos and displays the products you are selling, along with images and pricing information.
Users can scroll through your shelf to find products they like and buy them.
In addition, Teespring lets you set up a virtual shelf that will be displayed next to your Twitch stream.
The benefits of this can not be stressed enough. Without the YouTube Merch Shelf, you will only be able to promote your products in your actual videos or by inserting a link to your products in your video descriptions.
A link in a video description does not catch people's eyes nearly as much as an actual image. Although you have to have at least 10,000 subscribers to use the YouTube Merch Shelf, if you qualify, it will definitely help you earn extra income from your channel.
You also qualify for the YouTube Merch Shelf program if you run an Official Artist Channel. Regardless of whether you have an Official Artist Channel or have 10,000 subscribers, your content needs to comply with YouTube's community guidelines.
Teespring is also supported by Instagram's shoppable posts feature, but this feature is in beta mode and no new Teespring sellers are currently being accepted.
Zazzle
Unfortunately, Zazzle is not one of the supported merch sites on the approved YouTube Merch Shelf list. As such, if you are a YouTuber, Teespring would be a better choice.
Teespring vs Zazzle: Affiliate Program
What about making money as an affiliate, without creating designs or selling products? Is that possible?
Teespring
Unfortunately, Teespring does not have an affiliate program. If you are looking to make money as an affiliate, you would be better off going to Zazzle.
Teespring used to have a Refer a Friend program, but this seems to have been retired as the link to that program now redirects to the Teespring homepage.
Zazzle

Zazzle, on the other hand, does have an affiliate program, which they call the Zazzle Associates Program.
All affiliates start out with 15 percent commissions per sale. Cookies last for 45 days, and you can get paid via PayPal or check.
As an affiliate, you will get marketing materials such as banners. Also, you can create custom affiliate links to product pages, search pages, category pages, and more using your Associate ID.
Although you will start out with 15 percent commissions, you can earn bonuses if you make more referrals. Bonuses start when you start making $100 in monthly sales — at that point, you will earn a bonus of one percent of your sales ($1 for every $100 in sales).
If you make at least $1,000 in sales a month, you will earn a five percent bonus ($50 for every $1,000 in sales).
Eventually, you can earn a 17 percent bonus, but that's quite difficult to achieve. Here is the full bonus scheme: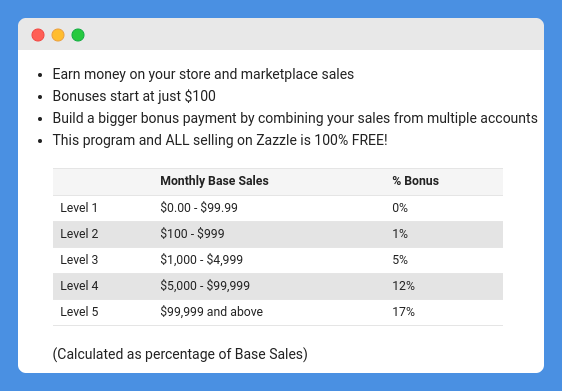 In addition to the Zazzle Associates Program, there is also a Refer a Friend Program. This is perhaps a faster way to earn money, as you will earn $25 in Zazzle credit for every friend you refer!
This credit can be used to buy things on Zazzle.
Your friend will have to make an eligible purchase before you can get that $25 Zazzle coupon code, but to incentivize your friend to make that first eligible purchase, they will get 25 percent off their first order of $25 or more and 60 percent off Holiday Cards.
There's actually an additional way to make money with Zazzle — as a Zazzle Maker. If you are a manufacturer of clothing or other items Zazzle sells, you can make money by producing and manufacturing clothes for Zazzle's customers.
In addition to allowing designers to sell clothes with custom designs, Zazzle allows customers to design their own products using the design tool. As a Maker, you can sell to these customers.
Zazzle vs Teespring: Customer Service
If your customers need help, will they be able to contact Teespring easily? This is important to ensure they are satisfied.
Teespring
Teespring customers can use the live chat during business hours or email support, which will reply within a business day or two. Buyers can also always check their updated order status and edit their orders.
Zazzle
Zazzle offers phone support during business hours, email support, and live chat when agents are available.
Similarities And Differences
Wrapping It Up: Is Teespring Or Zazzle Better?

While both Teespring and Zazzle have an A+ rating with the BBB, Teespring has better reviews on the BBB site.
You would be better off using the more well known Teespring, especially if you are a YouTuber, unless you are looking to sell specific products that only Zazzle offers.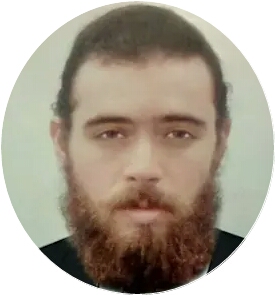 Author: Benjamin Levin
Benjamin Levin is a digital marketing professional with 4+ years of experience with inbound and outbound marketing. He helps small businesses reach their content creation, social media marketing, email marketing, and paid advertising goals. His hobbies include reading and traveling.