In this post we're going to cover the biggest mobile commerce trends in 2016. That way as a retailer you will know how to shift your strategies to improve your results in the upcoming year.
You will learn:
how mobile web performs compared to apps
how mobile performs compared to desktop
what is the growth of mobile in different markets
what your priorities should be when it comes to optimizing conversions
why you should track and optimize multiple device transactions
what is the effect on mobile on Holiday sales
and so on.
Mobile Web Still Rules Over Apps
What do you think performs better – mobile web or mobile apps?
There isn't a simple answer to this question but let's take a look at the benefits and advantages of both starting with mobile web.
Web Drives 2 Times More Traffic Than Apps –
According to a Morgan Stanley report mobile web traffic is twice as big as mobile app traffic. And it also grows faster.
For example: in 2013 the US browser median traffic was 16,478 and US app median 9,034 with the difference being 1.8x times.
In 2015 the average US browser median is 42,950 and the us app median is 20,457 which makes the difference even bigger – 2.1x times.
This is a bit controversial with the fact that people tend to spend 87% of their time on mobile apps. But actually both statistics are true.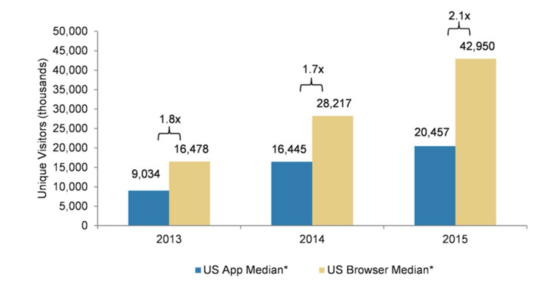 Deep Linking & Mobile Retargeting Great Ways To Bring Traffic –
As we know Google now is using deep linking to index and rank mobile app content in mobile search.
We assume that by the end of 2016 Search will play a major role in bringing traffic for mobile apps. Already 40% of Android searches turn up app-indexed results.
But still mobile web page results seem to dominate and they should be your first focus for optimization.
Then you should focus on optimizing your ecommerce app to deep indexing to take advantage of this new trend.
Related : Ecommerce Traffic Woes? Resort To These Techniques
But Mobile Apps Convert Better Than Desktop
So what are the advantages of the mobile apps? It turns out that even if they receive less traffic from mobile web they tend to perform much better – bringing higher engagement, conversion rates and sales.
Let's cover this more deeply:
People Spend More Time On Apps –
According to ComScore, in the US people spend 87% of their time on apps.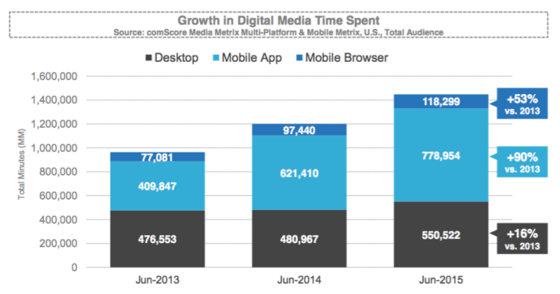 Interestingly, that number has grown with 90% since 2013%. For comparison mobile web time has grown only with 53%.
So deepest engagement happens on mobile apps and this trend will continue to grow into the future.
This means that ecommerce businesses who wants to focus more on engagement and loyalty will need develop and work on their mobile app strategy.
Related : Why Your Ecommerce Store Needs a Mobile App
Apps Drive More Transactions –
App transactions account for the 52% of all mobile commerce sales. In 48% of the cases happened in the mobile web.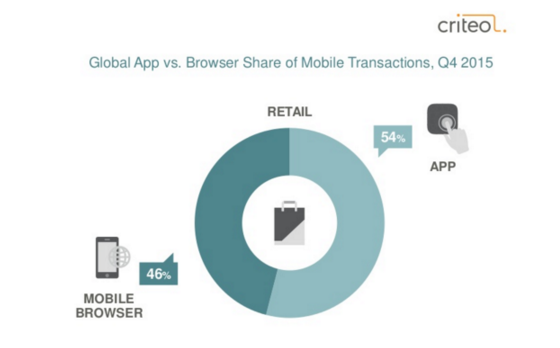 This is especially true for ecommerce businesses that focus on highlighting relevant products and removing barriers to purchases with their apps.
In other words, this trend show us that investing in an app and convincing your customers to use it is more likely to increase you revenue.
Mobile Apps Convert Better Than Desktop –
This might surprise you but the conversion rates on apps are higher than both mobile web and desktop.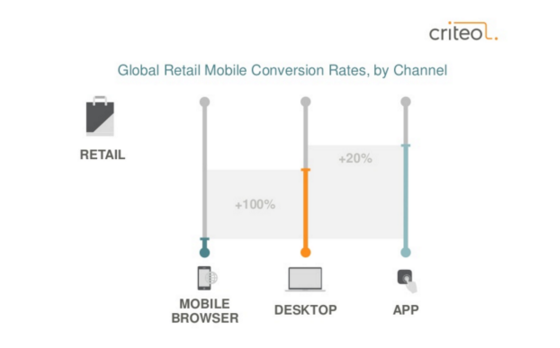 This is mainly thanks to better user experience and technologies that allow ecommerce to maximize conversion rates – like push notifications, using deep linking to optimize for mobile search and retargeting.
Mobile Apps Beat Browsers At Every Stage Of The Funnel –
The funnel of mobile apps is much larger at every single stage.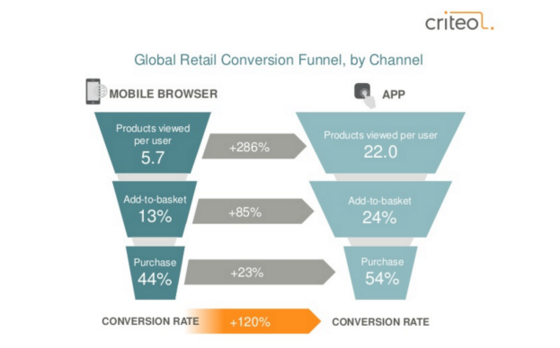 On apps people tend:
to browse more products (22 on average for apps and only 5.7 for mobile web)
add more of them to cart (24% of the cases for apps and only 13% for mobile web)
finish more purchases (54% of the cases for apps and only 44% for mobile web)
As a result on average the conversion rate for apps is 120% higher than on the mobile web.
So even if you get more traffic to your mobile site you might end up making a lot of more money with your app.
Related : Is Your Business Ready For Mobile Commerce
App Buyers Spend More Per Transaction –
Not only that apps convert better but also people tend to spend more on them than on both mobile web and desktop.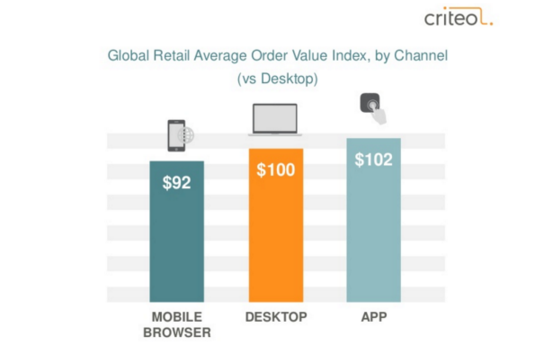 On average people spend $102 on apps, $100 on desktop and $92 when using mobile browsers.
Because retailers have a higher control over the app they can provide users with more engaging product content based on their browsing behavior and buying history.
This turns out to be more effective than generic signals founds on desktop and mobile web.
Mobile Transactions Will Grow
For ecommerce businesses that strongly focus on mobile transactions almost even with the ones from desktop in 2015.
Globally mobile accounts for 35% of all transactions. However, numbers greatly differ depending on locations.
Japan, UK and South Korea Are The Top 3 Countries –
The biggest growth is made by UK that surpassed South Korea last year and hit second place. Another huge step was for Australia that overcame 5 countries and landed on fourth place.
Brazil & Russia Hit The Bottom –
Brazil has the lowest mobile share of ecommerce transactions but the highest growth of 89%.
US – Middle Of The Pack –
Together with Germany, France and Spain – in Q4 in 2015, US Mobile share of ecommerce transactions grew to 30%. For comparison in 2014 it was 27%.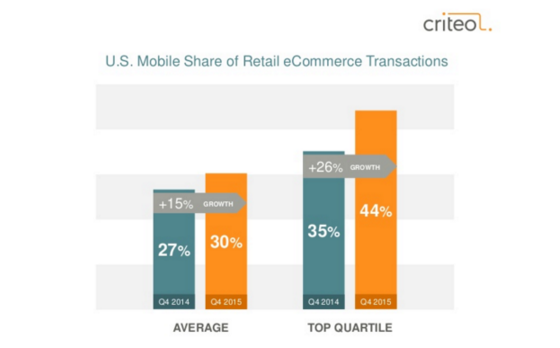 Top Quartile Retailers In The US Hit Even Bigger Numbers –
44% mobile share of transactions. They also tend to grow faster since in 2015 the mobile transactions accounted only in 35% of the cases.
Conversion rates in US are also in the middle of the pack.
The top 3 leaders in mobile share of transactions (Japan, UK and South Korean) also tend to have much higher mobile conversion rates.
This is interesting because most conversions in these countries happen on smartphones, even though smartphones almost always convert better.
These statistics lead us to believe that your mobile strategies should highly differ depending on your target market.
In Japan, South Korea and UK you should spend much more effort into your mobile strategy because this will have bigger impact on your overall ecommerce revenue.
In countries like Brazil, Russia and Italy mobile will have much smaller impact so you can still focus more on desktop.
Useful Post : Key Metrics For Measuring User Engagement For Mobile Apps
Ecommerce Companies Will Focus On Optimizing Conversions
Conversion optimization will be a huge priority for ecommerce companies as a way to increase sales.
The biggest focus should be on:
Optimizing Mobile Checkout Is A Priority Because Of Cart Abandonment –
Ecommerce companies are losing 18 billion annually because of shopping cart abandonment.
Almost 2 out of 3 people that add a product to the shopping cart abandon it without finishing their order.
This means that in order to increase results ecommerce companies need to come up with more success strategies to prevent cart abandonment.
Such strategies can include a follow up email campaign, optimizing check out, remembering and storing users' information.
Content Personalization –
A/B testing, email marketing and retargeting are still important strategies for optimizing conversion rates. But to take things further ecommerce companies must invest in content personalization.
When users open your site or app they want to see product recommendations for items that matter to them.
They want to see that you have spent the time to understand what they are interested in and to provide them with a personalized experience so they feel special.
This will not only increase you conversion rates but it will also create higher customer loyalty and retention.
To do content personalization right you must use tools like Optimizely or Commerce Sciences.
Related : Guide To Content Personalization For Ecommerce
Ecommerce Companies Will Need To Focus On Tracking & Optimizing Multiple Device Transactions –
A lot of the time browsing and transactions don't just happen on a single device.
People tend to browse from both desktop and mobile before they complete their order.
That's why ecommerce companies must focus on tracking and understanding this behavior to be able to increase the bottom line.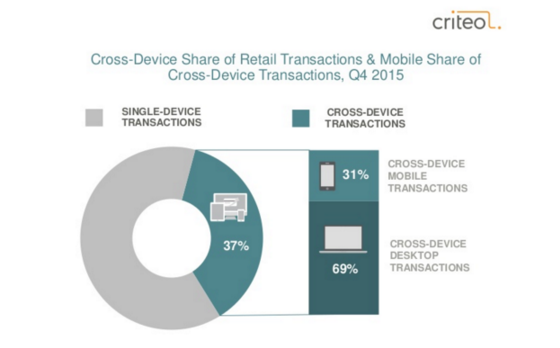 Sell To People, Not Devices –
37% of transactions occur on multiple devices – this means that customers used more than 1 device to browse your site, review your products and complete the transactions.
For example: a customer might first visit your site from his mobile phone to review products. Then he can go back home and use his PC to review the product again to be sure that's the right chose.
Then he can complete the transaction.
In 69% of the cases it was a cross-device desktop transaction (between mobile and desktop device) and only in 31% – cross-mobile one (between 2 mobile devices – like a smartphone and a tablet).
Tables are more likely to have the highest percentage of cross-device transactions – 43%. For comparison that's just 37% for desktop and 35% on mobile.
<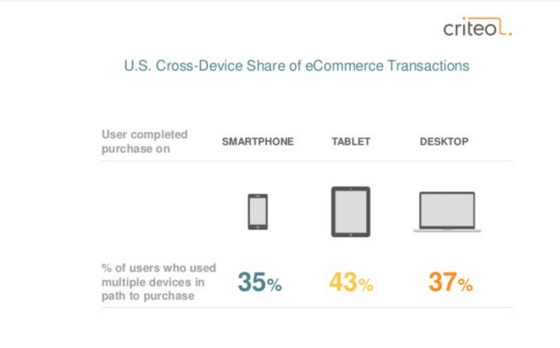 Desktop still holds the biggest percentage of ecommerce transactions but mobile is supporting it in a huge way.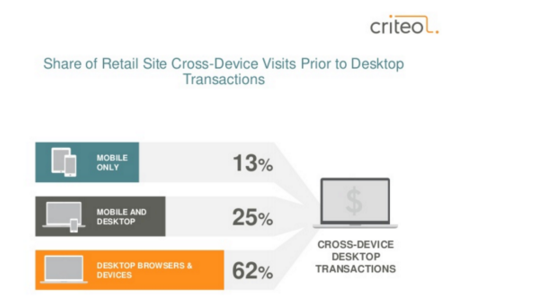 38% of the desktop transactions happened after the customer has browsed your ecommerce site from at least 1 mobile device.
In 13% of the cases it was only mobile browsing and in 25% included both mobile and desktop.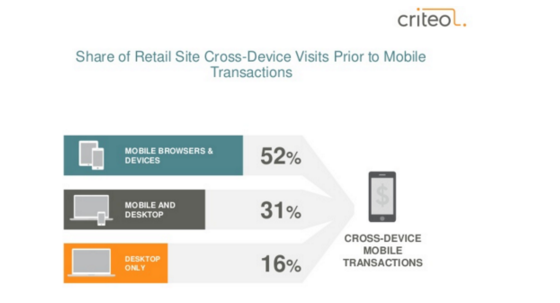 52% of the mobile Commerce transitions happened exclusively on mobile. This means customers never used a desktop device to view retailer's website.
In 31% of the cases customers browsed on both desktop and mobile before completing the purchases and in 16% of the cases they are browsed only on desktop before completing it on mobile.
Related : Elements Of Mobile-friendly Commerce
Smartphones Are The Mobile Purchase Device In Most Markets –
In most markets smartphones account for the majority of mobile Commerce transactions.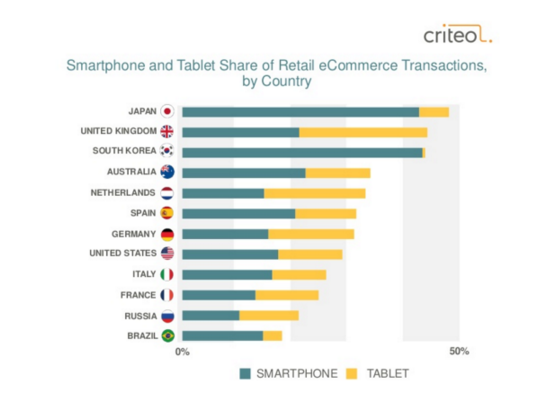 This trend is especially true for South Korea and Japan where almost all mobile transactions happen on smartphones.
The only exception to this rule is in markets such as UK, Netherlands and Russia where more transactions happen on tablets.
Cross-device Identification Technology Is Needed To Understand Connected Customers –
Since a big percentage of sales happen thanks to cross-device browsing ecommerce companies will need better ways to understand how this influences buying behavior.
Using tools like Google Analytics, KISSmetrics and MixPanel will become essential in understanding cross-device browsing and transactions.
New tools are likely to appear that do a better job at analyzing that behavior.
Related :
Top Performing Industries With Highest Growth –
Fashion & luxury, mass merchants, health & beauty
Some industries are definitely performing better when it comes to ecommerce sales.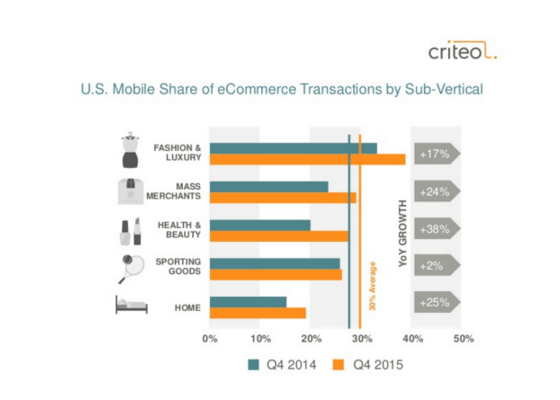 Here they are:
Fashion & Luxury & Mass Merchants Are The Top Performers –
The fashion industry has the highest percentage of mobile ecommerce transactions – 38%.
Just behind it is mass merchants with 29% mobile share of ecommerce transitions.
Health & Beauty Saw The Largest Increase In Mobile Transactions –
They grew with 38% in the last year making it the fastest growing niche in ecommerce.
Behind that is home with 25% and slightly behind it mass merchants with 24%.
Sporting goods gets the slowest growth with just 2%.
Smartphones Dominate Mobile
Smartphones had the highest percentage and growth of all mobile Commerce transactions.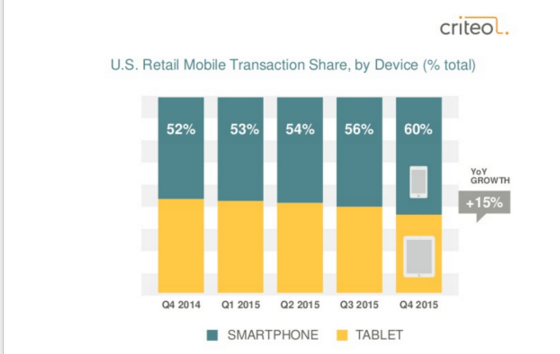 This means that smartphone's share grew with 15% in just a year.
Explore : Best Ecommerce Mobile Apps
Growth Is Driven By Better Models & Technology Advances –
Mobile manufacturing companies are pushing themselves to bring better models each year.
They constantly work on improving features such as bigger and better screens, faster wireless broadband, etc.
This indirectly helps ecommerce companies better present their products, provide better user experience and as a result this leads to more mobile commerce transactions.
Mobile Will Push Holiday Sales Even Further This Year
Mobile share of ecommerce transactions ruled last holiday season contributing to the huge amount of the revenue retailers made.
Here's what happened: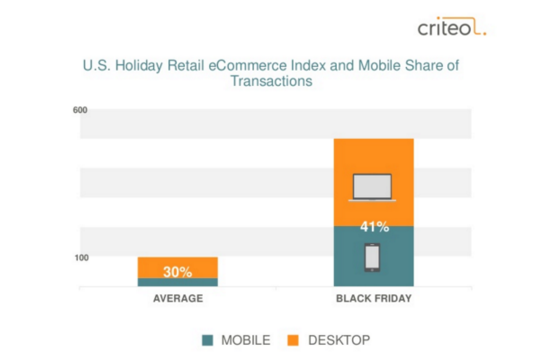 Holiday Shopping Broke Records This Year –
Mobile accounted for a huge amount of the ecommerce transactions during the holiday season last year.
The average mobile share of ecommerce transactions during the holiday season were 30% and we assume it will grow even higher this year.
Mobile Transactions Ruled On Black Friday –
The mobile share of ecommerce transactions on Black Friday were 41%. Which makes it the best performing day for mobile during the holiday season.
In fact, mobile share of transactions were 18% higher on Black Friday than on Cyber Monday.
Related : How To Increase Your Ecommerce Mobile App Downloads
In Conclusion
Mobile commerce is growing and retailers need to increase their focus in that direction in order to increase their results.
The overall trend suggest that app will become even more important into the next few years. Right now they have higher conversion rates and transaction value.
In the most developed countries like Japan and South Korea mobile transactions are almost equal to the one made from desktop. This trend is likely in other markets are they catch up.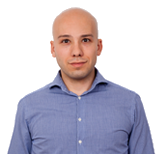 Author: Martin Zhel
Martin Zhel is an inbound marketing expert and Founder of Orior Creative. He specializes in SEO, content marketing & conversion rate optimization.