For the last few years, the debate over mobile web vs. mobile app has become a significant topic.
Until today, that Analytics firm Flurry published a chart where it showed how little time users spend online in the mobile browser.
As tablets and smartphones replace desktop computers, the choice of mobile app is far more useful than the mobile web these days.
Check out the chart that compared the time spent in mobile web vs. the mobile app.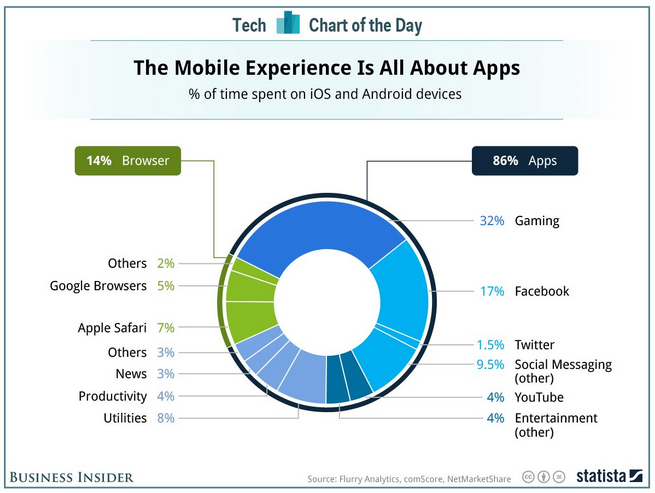 The chart clearly shows that mobile web is dropping with only 14% of their time compared to last year's 20%.
Various studies have shown that mobile web users are bombarded with too much information and other unrelated data.
Also, the web seems to be too big to reach for a certain information than the app. For instance, a weather app is more convenient than visiting a website like weather.com or waiting for the news.
Mobile web is typically a one-size fits all experience that is why users often see cluttered pages, unreadable text, and clunky interfaces.
A scenario that gives a terrible user experience. On the other hand, smartphones and tablets that were crafted by Apple, Google, and Microsoft are designed to exhibit the devices to their maximum advantage.
Read Full Article Here: http://www.businessinsider.in/The-Mobile-Web-Is-Dead-Its-All-About-Apps/articleshow/33089176.cms
Worth Reading : 

Author: Sonali Khanna
I am a digital marketing expert at Mofluid. Love writing on ecommerce & mobile. Reading newspapers, novels and eating nuts is what keeps me busy in my free time.