If you're writing a report, article, or another piece of content and you'd like to paraphrase some sections of your work to get a better or more unique version, a paraphrasing tool can help you with that.
QuillBot is one of the popular paraphrasing tools that new bloggers, scholars, and students alike use today to paraphrase human-like content.
However, there are several reasons that make people want QuillBot alternatives. For instance, QuillBot has character limits for paraphrasing content in both the free and paid versions of the software.
Not only that, but you can't upload multiple articles to write at once, so it's not the best option when you want to quickly paraphrase or rewrite multiple articles or blog posts.
Its rephrasing tool is also not as accurate, especially if you keep hitting redo to get a new result if the first one wasn't suitable. Plus, the results may also seem unnatural at times so there's no consistency, and the grammar checker is in beta mode, so it could use some improvements.
There are several QuillBot alternatives with better paraphrasing features, higher word limits, and results to help you spin, check your grammar, and rewrite your content.
Best QuillBot Alternatives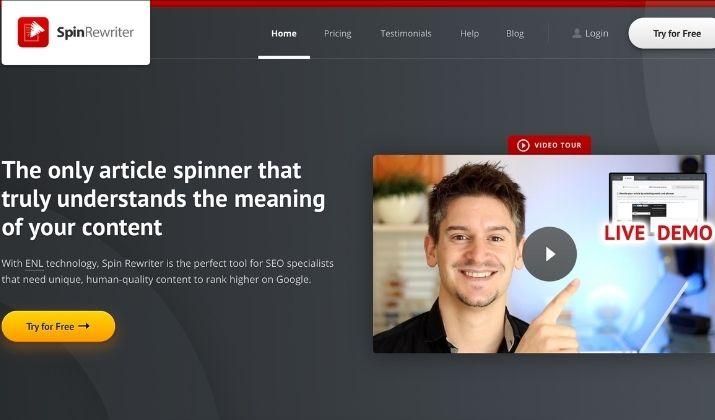 SpinRewriter is a paraphrasing tool that rewrites or spins your content and supports bulk upload and export, compared to QuillBot, which doesn't support uploading multiple pieces of content or bulk rewriting.
You can generate up to 1,000 variations of the content you upload instantly and export all of them. Plus, it integrates with Copyscape meaning the variations that SpinRewriter gives you are assured of passing the plagiarism test.
It also has a grammar and spelling checker built into it, which ensure that your work has no spelling or grammar errors before rewriting the content. The result is a well-spun piece with no mistakes.
The software uses Emulated Natural Language technology to spin your content to sound as natural as possible, just as if a human being wrote it. Since 2011, SpinRewriter has been getting more updates and features to improve the tool so you know you'll always get better human-like content each time you use it.
These updates include faster and simpler onboarding, a revamped user interface, 16+ hands-on tutorials, better phrase-level spinning from a refined ENL technology, and an updated synonym database.
Plus, its mobile version has the same features as the desktop version, and you can add stock photos and videos for better enrichment of spun articles. You can also categorize your articles, detect and get alerts if you copy and paste broken articles, better active to passive voice conversion, and the option to export your content in text, Word, or PDF formats.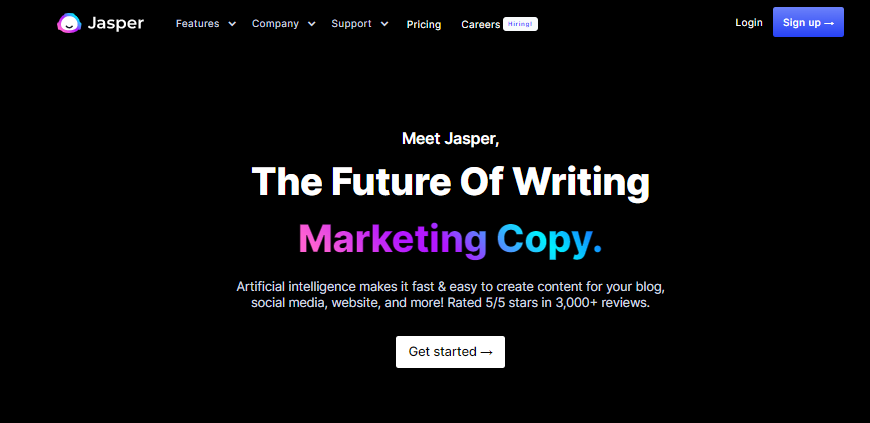 Jasper, also known as Jarvis or Conversion AI, is an excellent tool that helps you generate unique content that sounds as natural as possible. You can paste your article in the tool and it will deliver excellent, rewritten results for you.
The software goes beyond just rewriting to spin your content for you and generate AI-based content based on the topics or keywords you enter. Just write a prompt and it will generate human-sounding, natural ad copy or content in long or short form depending on your subscription.
With Jasper, you can generate product descriptions, sales copy, get blog post ideas, generate paragraphs to build your articles, and listicle ideas. QuillBot doesn't do all that for you and has character limits, meaning you can't go beyond what it prescribes.
You can also generate content for Facebook Ad headlines, post content, expand sentences, generate bios for your profiles (personal or company), video titles, intros, and descriptions.
With Jasper, you can generate long-form content compared to QuillBot, which limits you both in the free and paid versions to a specific number of characters.
And, you don't have to do anything manually because Jasper uses machine learning to create beautiful, natural-sounding content.
Jasper also integrates with SurferSEO, which QuillBot lacks, though this requires a separate subscription. However, you get to optimize your content for keywords and rank higher.
You can also translate text into more than 25 languages and still sound as natural in other languages, which can be hard to do with other tools.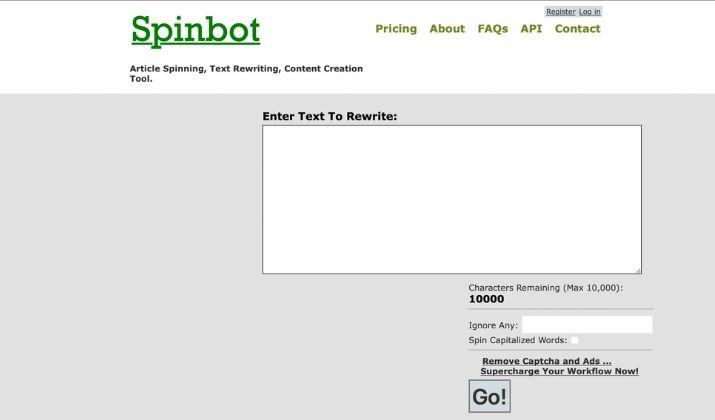 Spinbot is a great alternative to QuillBot, which helps you write large articles, unlike QuillBot that limits you in terms of the characters you can write.
You can use the free plan to rewrite up to 10,000 characters, which is the number that QuillBot allows on its paid plan.
Plus, you don't have to sign up to use Spinbot, which is great because QuillBot expects you to sign up to use more characters. And if you prefer not to sign up on QuillBot, you get just 400 characters to work with, which is a mere fraction of what you get with Spinbot.
If you want more characters and features, Spinbot's premium plan offers more at affordable rates plus an ad-free and captcha-free experience.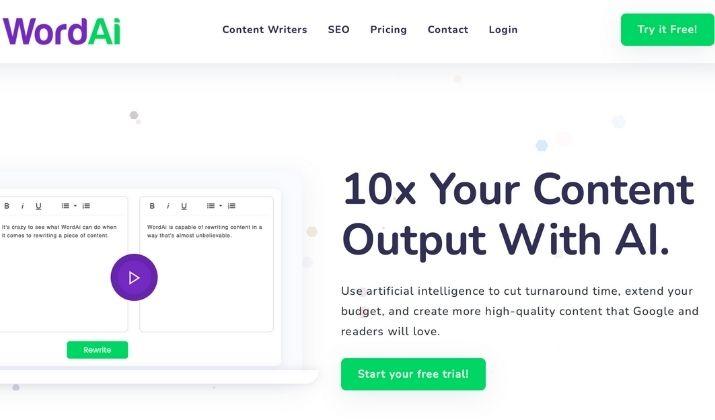 WordAi is an article rewriter but you can also use it to paraphrase your content. The software has a proprietary AI technology that understands your content's context before it can paraphrase it.
It's easy to use and supports scholars, bloggers, and SEO pros who want to rewrite or spin their content. It also supports multiple spintax formats, which makes it a suitable contender to QuillBot.
The software supports multiple languages, and you can directly import content from article generators like Article Forge, which you won't do with QuillBot. Plus, WordAi integrates with Perfect Tense so you can find grammar errors and spelling mistakes easily.
You can also add LSI keywords to your new content to make it SEO-friendly, and use other features in WordAi to improve the quality of your content while splitting bigger sentences to make them smaller and improve readability.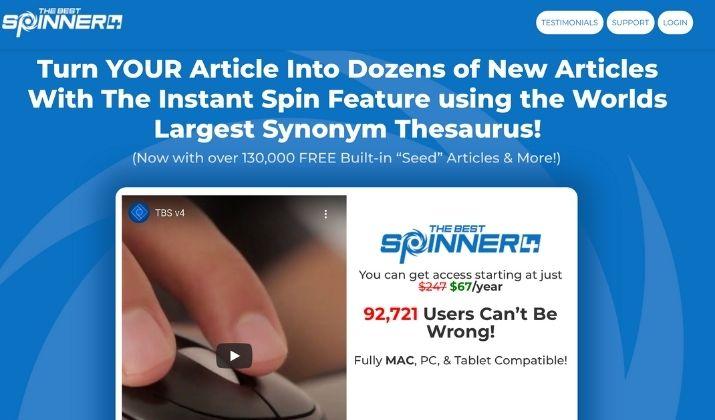 The Best Spinner 4 is an experienced paraphrasing tool that's more efficient than its predecessors. This is the fourth version of the software that's used by tens of thousands across the world to spin and paraphrase their content.
It contains the world's largest synonym thesaurus that helps you paraphrase a given piece of content logically, along with 130,000 free seed articles, which QuillBot lacks.
The Best Spinner 4 also has the biggest array of multiple language compatibility, meaning you can use it to translate and paraphrase articles for up to 14 different languages.
Plus, it can generate audio and mp3 files from your content thanks to its built-in text to speech module, and you can publish your content directly to WordPress from The Best Spinner 4 platform.
The Best Spinner 4 spins content at three different levels: word, sentence, or paragraph and still provides nested-level and deep-level spinning.
It also allows you to compare content – original and paraphrased – side by side and check the uniqueness of your newly generated copy via Copyscape's API, which QuillBot lacks.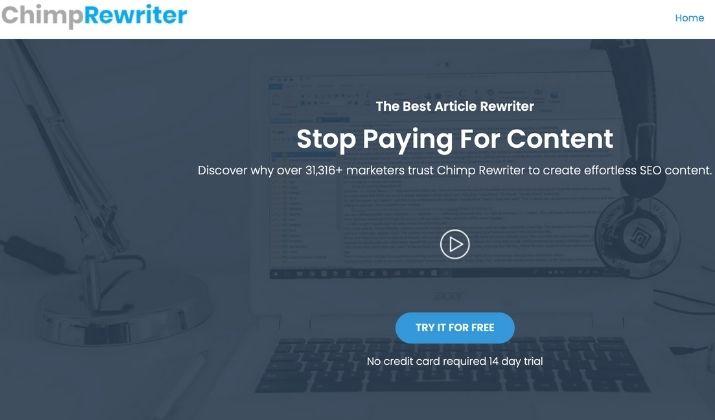 Unlike QuillBot, which is web-based, Chimp Rewriter is a downloadable tool you can use to paraphrase your content. The software is highly efficient and can handle all your paraphrasing needs besides offering an article rewriting feature.
You get an easy-to-use interface and the ability to paraphrase content in bulk, which QuillBot doesn't offer – and at lightning-fast speeds too.
Other great features in Chimp Rewriter that make it the best QuillBot alternative include the AI and NLP (natural language processing) technology that it uses to rewrite or paraphrase your content. These also ensure you get top-notch quality content.
You can also rewrite your content in multiple – 12 languages – especially if you're writing a foreign language report or paper.
Chimp Rewriter also helps you transform your content into insightful and valuable information, along with images and videos that you can insert at the push of a button.
You can check the grammar of your content, analyze word density and LSI keywords for SEO purposes, and connect with most 3rd-party SEO and content generation tools.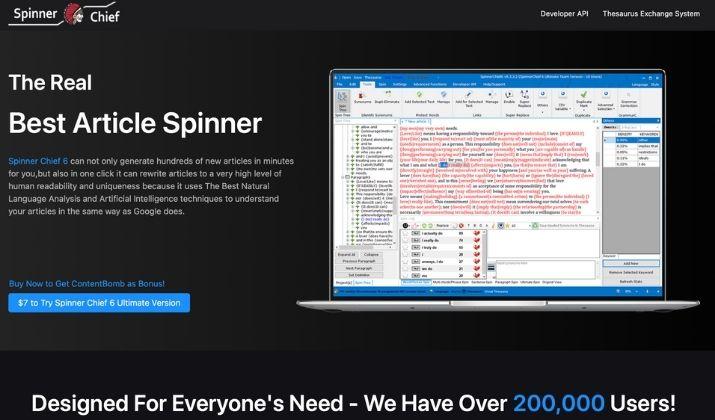 Spinner Chief 6 is another QuillBot alternative that's more improved than its predecessors. As the sixth version of the tool, Spinner Chief is not only capable of rewriting and spinning, but also paraphrasing your content to make it into human-readable quality material.
Plus, it has a dual nature i.e. you can use it as a desktop and online version compared to QuillBot, making it an ideal tool for SEO experts, scholars, bloggers, and students.
The content it churns out is also ideal for search engines and all readers.
QuillBot packs advanced technologies like ENL, AI, Statistical Replacement, and Part-Of-Speech analysis so you can get human-like content after spinning or paraphrasing your content.
You can also paraphrase into 20 different languages, set spinning and paraphrasing rules, and use a cloud thesaurus that replaces words with relevant synonyms.
Spinner Chief 6 also integrates with Copyscape so you can check your content for uniqueness before submitting it.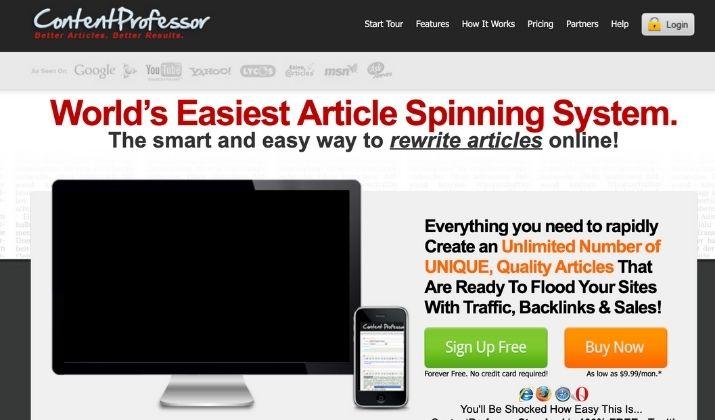 Content Professor is the world's easiest tool for spinning and paraphrasing your articles. It's easy to use and available as a web-based software so all you need to do is input your copy to set off the paraphrasing process and wait for the software to generate results.
You can use Content Professor on any operating system or device because you just need an internet connection and a web browser. Plus, it offers different types of article stats like grade level, readability, and SEO stats that QuillBot doesn't provide.
Content Professor also offers a multilingual thesaurus so you can paraphrase into 5 different languages, and a personal synonym database, which QuillBot doesn't offer. The software also boosts the database's efficacy by letting you import your own synonyms.
It also offers word protecting and excluding, which protects the words you choose from being paraphrased or spun.
A spelling and checker like that of QuillBot is included, along with a native duplicate content checker to deliver unique and error-free content.
You can also use it to generate SEO-optimized content and get online stats that tell you the keyword density in your paraphrased copy.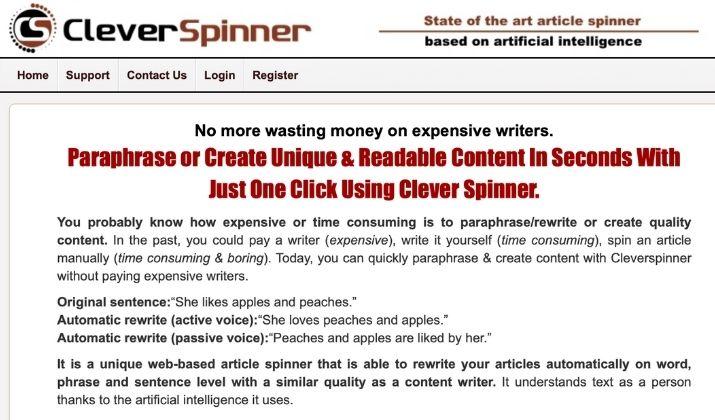 CleverSpinner is an online article paraphrasing and spinning tool that may not be as popular as other tools on this list, but outperforms many of them. The software is widely used by authors, beginner-level bloggers, scholars, and students to spin and rewrite their content.
It can easily understand the content context before spinning or paraphrasing it, so you can generate human-like copy with an almost perfect sentence structure.
The software is easy to use and has a low learning curve compared to QuillBot. It goes the extra mile to make your content is unique, by paraphrasing your content on word and sentence structure levels to generate human-like content.
It also has the ability to use correct synonyms at the right places, and paraphrase content for up to 500 words in a single attempt, which ensures that you get top-notch quality. This is great compared to QuillBot, whose 400-word limit may not be of the best quality to begin with.
Plus, CleverSpinner is easier to use than QuillBot, as you only need to copy and paste your content, set a few paraphrasing rules, and get fresh content at the click of a button. You also get complete access to the software with the free trial, which compared to QuillBot gives you a better deal and you can paraphrase as much as you want without content, word, or character limits.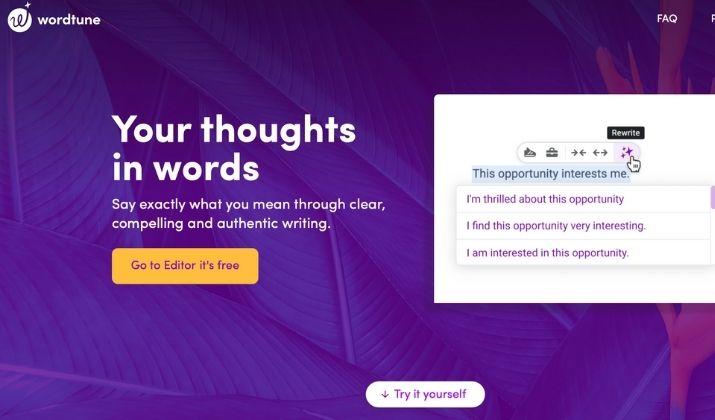 Wordtune is a paraphrasing and rewriting tool that's fairly new but can still do a great job like QuillBot. The software also comes with a grammar checker and spelling fixer, and you can use it to shorten, expand, or change the tone of your content.
It also comes with a better and more refined user interface than that of Quillbot, along with advanced language models and AI tools which understand the context of your written text.
A rewriter module is included that helps you break down content blocks into sentences and easily paraphrase them. You can paraphrase parts of a sentence or phrase, and get synonyms for words. You can also translate or rewrite content at the same time, which is not easy to do on QuillBot.
A Chrome extension is available that helps you paraphrase your content on the go on platforms like Slack, Twitter, Gmail, LinkedIn, Facebook, and more. You also get to use it on Google Docs or Outlook Web, and transform your content as formal or casual.
Its pricing structure is similar to that of QuillBot, but you get a forever free plan to use the software though with daily limits. The premium plan has a free seven-day trial period that gives you access to the software's advanced features.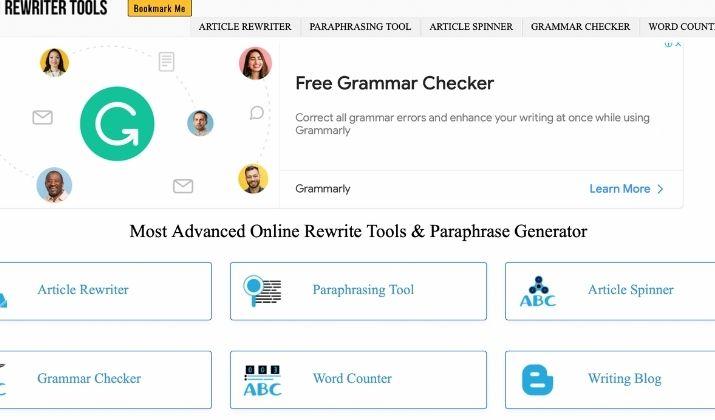 Rewriter Tools is a free QuillBot alternative that you can use without an account and doesn't have the character limits that you find with QuillBot.
The software has several great features that form a suite of five tools including a spinner that spins your content to give a new and unique piece, plus a rewriter with more control over what to rewrite and how it's rewritten.
You also get a paraphrasing tool like the rewriter, that you can use to rephrase paragraphs, sentences, or phrases.
A word counter is included to show you the number of words in your content and a grammar checker to check and correct grammatical errors in your copy.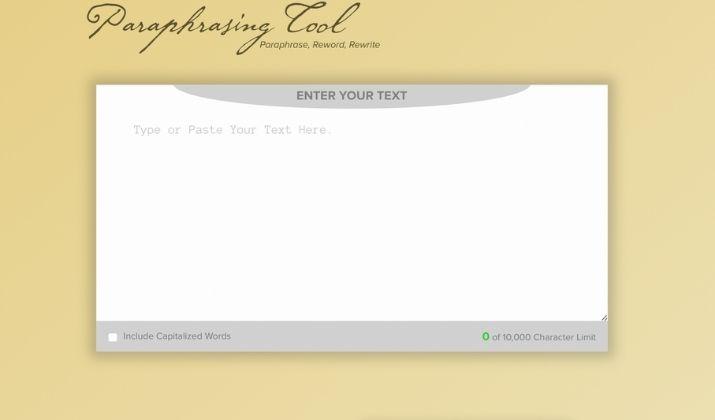 Paraphrasing Tool is another free alternative to QuillBot, which doesn't limit you in terms of the words or characters you can check like QuillBot does.
Instead, you can use it to rephrase up to 10,000 characters without even registering for an account, unlike QuillBot, which only gives up to a 400-word or character limit to use without an account.
The tool is completely free to use, and you can also rephrase capitalized words, which you need to keep in your text like names of people or places.
The software uses intelligent decision-making to find the most appropriate way to reword or paraphrase your text by looking at the context of your content and making different interpretations about the best way to rewrite it.
The end product is a brand new, intelligently written piece of content that saves you time and energy that you'd otherwise spend rewriting manually.
You can also use it to expand the SEO footprint of your blog or any other reference website, push through the difficult brainstorming process, and get writing that sounds appealing and intelligent to your readers.
To use it, type or paste the text you want to reword, and once you're satisfied with the level of grammar checking and spelling it has done, hit the paraphrase now button to get your rewritten or paraphrased content.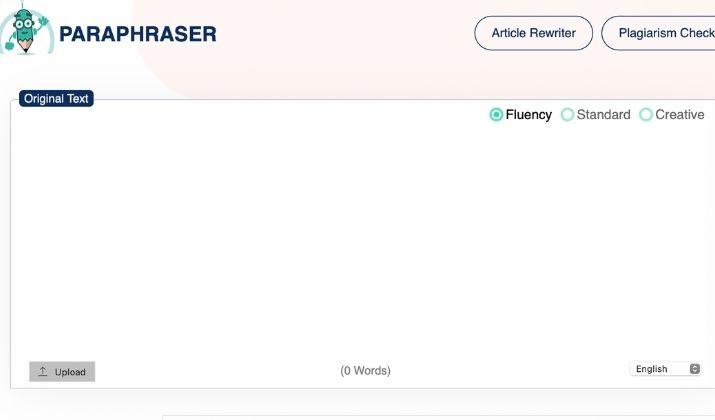 Paraphraser.io is a free paraphrasing tool that allows you to rephrase up to 1000 words without creating an account. This is a higher limit compared to QuillBot, which provides only 400 words without signing up for an account.
You also get three modes for the style of content you'd like to produce. These include Fluency, Standard, and Creative.
The software also supports multiple languages you can paraphrase in such as Spanish, German, French, Dutch, Japanese, Norwegian, Turkish, Indonesian, Russian, Chinese, and Vietnamese among others.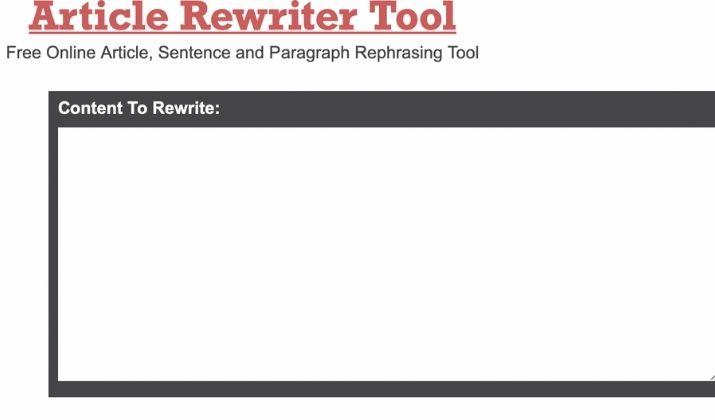 Article Rewriter Tool is another QuillBot alternative that's entirely free to use and you don't have to create an account for that.
The software lets you exclude specific words from the rephrasing process, and is preferable to QuillBot as it doesn't limit you to 400 words that QuillBot does for people using it for free without signing up.
You can spin capitalized words and get unique, search-engine-optimized content that's unique and readable.
The software allows you to turn this content into unique, extra blog posts for your website in seconds, and you can turn any number of blog posts into twice the number of readable and valuable content.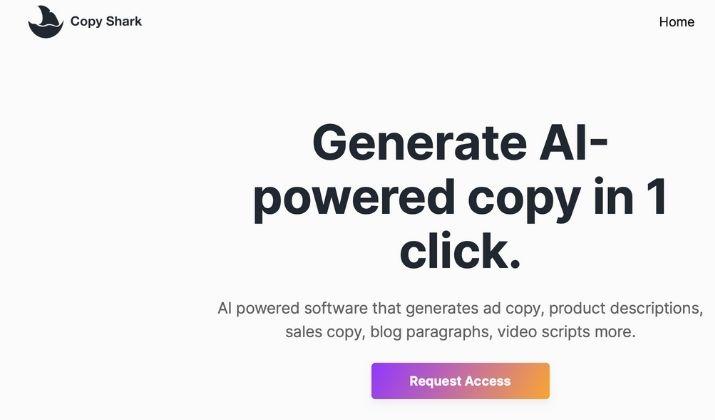 Copy Shark generates new AI-based content for you from scratch, which you can use for various purposes without having to write a whole article first. This QuillBot alternative helps you generate copy for ads, product descriptions, videos, sales pages, and more.
All the results sound human, readable, and natural, and you can generate content in over 20 different languages including Polish, Hindi, Korean, Danish, Lithuanian, Norwegian, and more.
Wrapping Up
Paraphrasing and content rewriting tools are helpful in every sector as they can accelerate the writing process making it less mundane, repetitive, and easier to do.
With these QuillBot alternatives, you no longer have to stick to one tool to help you write your content quickly. Plus, you can remove all the limitations that QuillBot has, like word or character restrictions, and get more features to help you rewrite, paraphrase, and spin your content.
You have more opportunities to generate unique and SEO-optimized content for your blog or website, with all these great options, many of which use artificial intelligence to deliver unique, plagiarism-free content quickly and effectively.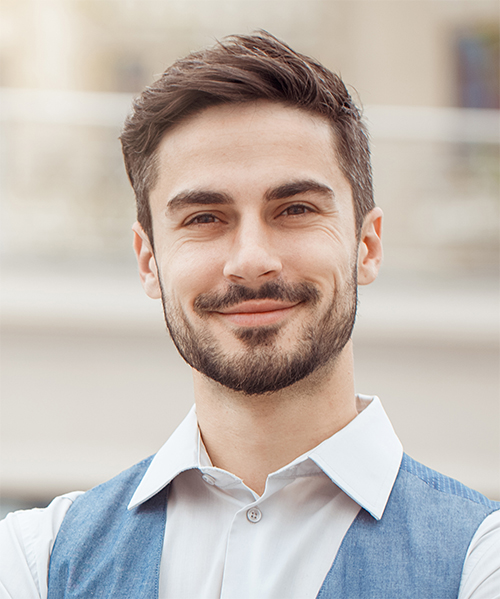 Author: Scott Macarthur
Scott L. Macarthur is a marketing consultant and an online author. He is mostly engaged in providing his expertise to startups and SMBs. He is also an author on TheNextWeb.