The eCommerce industry is booming, and the numbers are incredible. In fact, according to statista.com, retail online sale is expected to amount to $6.33 dollars by 2024.
It's no surprise that so many people are shopping on their mobile devices and computer these days because it makes life easier for everyone involved.
And with all of this money being spent by consumers worldwide, it's important to know who the top 10 eCommerce websites are in order to stay updated.
Top eCommerce Websites In The World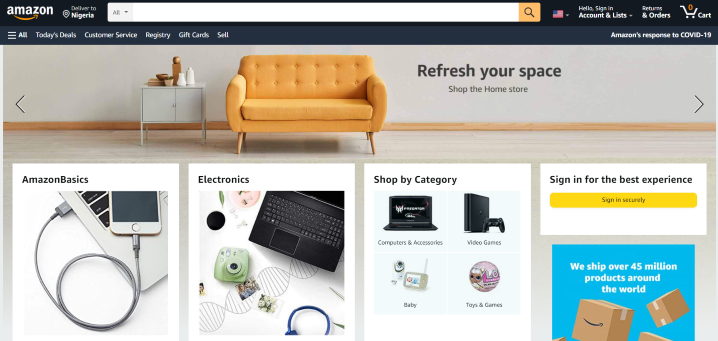 The biggest online retailer worldwide is definitely Amazon with over 550 million products on offer.
Amazon started in 1994 as an online book shop and has become the largest internet retailer in the world with revenues of $386 billion.
The giant is also present outside the US, for example in Canada since 2013 where it offers not only books but pretty much everything else you can think of.
If you are looking for mobile phones, you can easily find top brands and models on Amazon.
The company is always trying to innovate:
The Dash Button was launched in 2015 as a physical device that lets users order products with one push of a button
In 2016 the voice assistant Alexa appeared allowing customers to shop hands-free by voice
Amazon Prime, a paid membership service that provides fast shipping as well as music and video streaming benefits was launched in 2005
In 2014, the company opened its first physical bookstore called Amazon Books.
It manages an impressive number of websites from fashion, baby products to software as well as groceries through its two main websites: Amazon.com and Amazon.ca which have a worldwide reputation.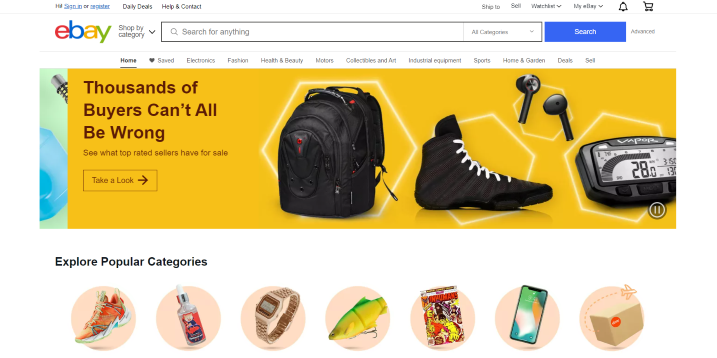 The second place is taken by eBay, the biggest online trading company with a very wide range of goods and services from objects to cars as well as business opportunities for entrepreneurs
eBay can be compared to a huge online shopping mall.
It was founded on September 17th, 1995 by Pierre Omidyar and was initially called "AuctionWeb" and today it has more than 180 million users worldwide.
eBay has its headquarters in San Jose, California and it is visited by more than 170 million users from all over the world every day.
There is no doubt that this is one of the most successful eCommerce websites in existence.
According to research, almost 80% of eBay's items are new and about 20% are used items.
There is an option for users to cooperate with each other when selling their goods called "eBay Trading Assistant" which allows them to buy or sell merchandise through the global network via chat rooms.
The website is easy to navigate and it has an intuitive design that makes shopping on the website a pleasure.
The company also offers free registration for all users, making them eligible to participate in their numerous activities including buying or selling goods through the global network via chat rooms.
Alibaba is one of the world's largest eCommerce websites that offer wholesale, retail, and B2B services.
It was founded in 1999 by Chinese business magnate Jack Ma.
The website works to connect buyers around the world with manufacturers and other businesses.
In addition to that, Alibaba is one of the best solutions for dropshipping because they have over 100 million customers buying products every year.
This makes it a great opportunity to market any product you wish and sell it through their platform as well as ship all orders directly from them.
It is very similar to eBay in that it allows you to sell new or used products and also become an affiliate marketer.
Alibaba was the first company of its kind to be established in China which makes them a leader when it comes to eCommerce websites worldwide.
Buyers can stock up crucial items on Alibaba and work with a dropshipping company to have the products shipped directly from them.
You can't buy intellectual property on Alibaba since it is prohibited by their terms of service as it's a wholesale company.
Their model encourages sales from business to business, thereby giving smaller companies access to the number of products they otherwise wouldn't be able to reach.
One important thing about Alibaba to take note of is that there are different qualities of products on the site.
Even though they have taken steps to mitigate against poor products, you still need to do your own due diligence when it comes to choosing what to sell.
There are many other reasons why Alibaba is considered one of the best eCommerce websites in the world; including their massive selection, low prices, and relatively high-quality products.
Their Tmall site also gives small businesses an opportunity to get directly involved with potential customers by hosting virtual storefronts for free which is a big advantage over other eCommerce sites.
This allows you to show your products off in front of many people and it can be an important step for those who want to grow their business on the internet.
For anyone interested, Alibaba is accessible from anywhere with an internet connection which makes it one of the most convenient online stores available today.
The website also has a mobile app that allows you to purchase items from your phone which is convenient for people who are always on the go.
Explore more sites like AliExpress with Faster shipping.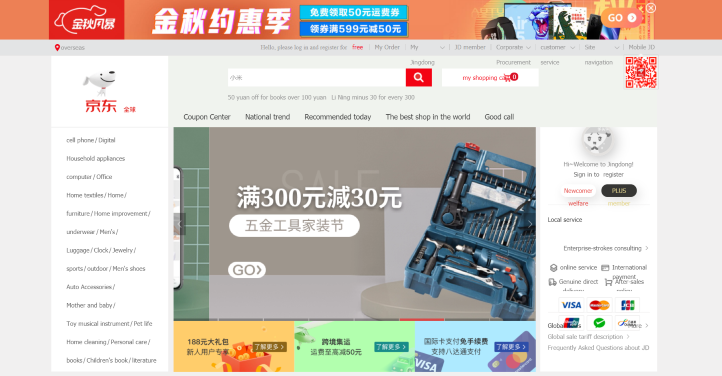 JD.com is a Chinese online retailer, founded by Liu Qiangdong.
The current company was established in 2004 with headquarters in Beijing, but it actually started as an online bookstore in 1998.
In 2003, it was the first company to go public on the Nasdaq as a Chinese online retailer and has grown into one of the eCommerce websites in China with annual sales revenue from its consumer-to-consumer website.
In 2015, JD.com relaunched its entertainment platform and streaming website as J-one which is a combination of original content created by famous Chinese celebrities such as Zhang Ziyi and Gao Yuanyuan.
JD has also acquired a majority stake in Chinese online electronics retailer yhd.com (YHD) and car website dianping.com as part of an effort to expand its business-to-consumer platform, the company said on March 26th, 2015.
In December 2016, JD bought the South Korean e-commerce site, Lotte, with an undisclosed sum after a month of negotiations, reportedly beating out eBay and Amazon for control over the company.
The acquisition has helped boost JD's presence outside China as it faces stiff competition from Alibaba and AliExpress in its home market.
In 2017, JD.com announced its intention to invest in logistics and build over 100 drone airports across China, to expand its home delivery network.
The company has been testing drones for deliveries but wants to speed up the commercialization of this service with automated warehouses partnered with local governments in Chinese cities.
The eCommerce company is pushing its drone services as an alternative to traditional courier firms, which are struggling to remain profitable in the face of fierce competition from JD and rivals like Alibaba.
The company also launched unmanned convenience stores that can be accessed by scanning a QR code using Alipay, allowing customers to buy goods without waiting for staff to serve them.
Etsy is one of the most popular eCommerce websites in the world. It is known for its handmade products and other vintage items.
There are over 300 million people who visit Etsy each month looking to purchase unique goods which can't be found anywhere else, including me.
The site was founded by Robert Kalin, Chris Maguire, and Haim Schoppik in 2005.
It was first named 'Etsyl', but they renamed it Etsy due to a small company already owning the domain name ETSY.
It was originally created as an online marketplace for people to sell their own handmade goods.
People that were into arts and crafts would upload photos of their products onto this website, where anyone could purchase them.
Now, It has grown into a simple and safe way to buy and sell stuff, as well as meet new like-minded individuals from all around the world who share your interests or hobbies.
It's not hard to see why Etsy is one of the most popular eCommerce websites in the world.
Not only can you watch other people making money from this website through their Etsy Success Stories, but there are also plenty of ways that you yourself can start making cash too.
You no longer have to be an artist or crafter in order for this website to work for you, as long as it's legal of course.
Of course, one of the best ways that you can make money on this website is still to set up a vintage or handmade shop.
Vintage markets are very popular in most countries around the world at the moment, which means that there will be a huge market for your products.
You can also sell digital products such as eBooks now on Etsy, which makes this website more versatile.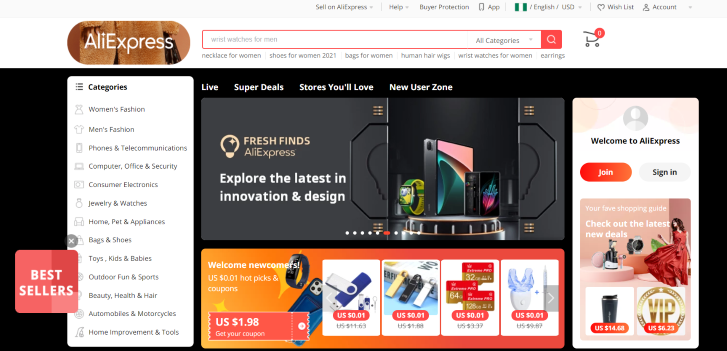 Just like Alibaba, Aliexpress is one of the most popular eCommerce sites, not just for consumers, but for entrepreneurs and small businesses around the world.
AliExpress is a website where you can buy cheap items from hundreds of manufacturers in China, Hong Kong, Taiwan, and many other countries that produce products at lower costs than major corporations.
In terms of what types of things are sold on AliExpress, there's an enormous range: clothing, accessories, jewelry, phone cases, bags, shoes, and more.
However, AliExpress is not just a place to buy items for yourself; it's also an extremely popular platform for selling your own products as well.
The company behind AliExpress was founded by the same people who created Alibaba back in 1999.
In fact, AliExpress and Alibaba are so similar, they offer the same type of website in exactly the same way.
The only real difference is that AliExpress has a focus on selling cheap products to customers worldwide while Alibaba operates more like an online wholesale marketplace.
AliExpress remains one of the biggest players when it comes to eCommerce websites, offering a marketplace where anybody can buy and sell anything to anyone else.
It's an excellent place for online sellers who want to expand their business, while it continues to be popular with people simply looking for cheap Chinese products.
The website is free to use, but they also offer fees or commissions when you start selling more than you originally intended to.
Explore: Best Sites Like AliExpress With Faster Shipping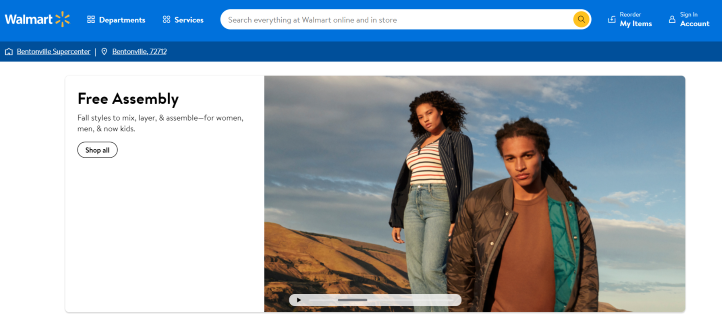 Walmart is a multinational company that is headquartered in Bentonville, Arkansas.
The website has a wide variety of products from clothing to groceries.
Walmart has been expanding into the eCommerce market as well by adding new features such as an online grocery list and reporting scam items that are found in stores.
It is one of the most popular eCommerce websites in America and worldwide with over 300 million online visitors every month, making it a great tool to sell your products or services through.
The website has many features that make it easy for customers to purchase items right from their phone or computer including an app for mobile.
One of the most popular features is their "pickup discounts" which give customers a discount on items they pick up in-store rather than have them delivered to them.
This saves money for both companies and consumers, allowing more people worldwide to purchase online products through Walmart.com.
It avoids shipping costs that are usually a big part of buying online.
In addition to their "pickup discounts," Walmart is constantly updating and innovating new ways for customers to shop on the website through initiatives.
For example, their Savings Catcher allows users to find out if they could have gotten items cheaper elsewhere in-store or online, and an update that enables Apple Pay purchases with the Walmart app.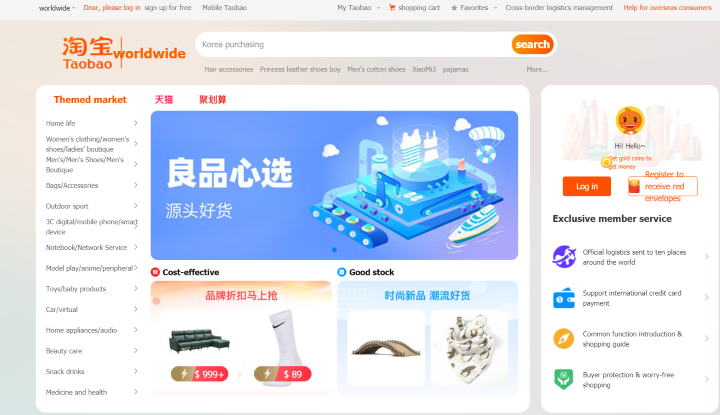 Taobao is a Chinese-based eCommerce website in which you can buy almost anything you want.
They offer good quality products at an affordable price with free delivery within 15 days for all orders placed.
This shows how much they are committed to providing their customers with full satisfaction when it comes to buying products online.
The website designs are simple yet very attractive which makes it easy for customers to go through the products and make their purchases.
Taobao offers great product images with detailed information for each of them which makes it easier to choose your product.
Taobao offers different delivery methods depending on what you are buying.
For instance, if you are looking to buy something that is non-tangible like membership on the website then it will be delivered through the mail.
However if your item of purchase is tangible such as an electronic item or a toy car, Taobao offers different shipping services depending on what you are buying which can either be express delivery service or standard delivery service.
Taobao also offers a great online shopping experience to its customers with the use of different languages such as English, Chinese, and Japanese.
They even offer Taobao coupons which you can get from various promotional websites in order for your items to be discounted giving you more savings.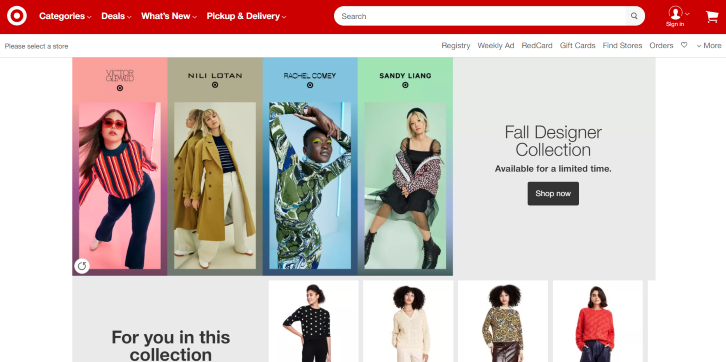 Target is one of the leading online retailers in the world that is known for its wide range of products.
The retailer was started in 1962 by George Dayton and it specializes in offering a large collection of traditional home accessories, clothing, personal items, etc. at an affordable price.
Target has more than 15 million square feet of retail space across 49 states with about 200 million visitors each month.
The retailer also offers several services to the users such as free shipping on most orders over $35.
You can browse tools that allow you to easily sort and filter your search results and save items that you wish to purchase at a later time.
Target's website also offers its customers an easy-to-use interface that helps them in exploring their favorite products through filters, categories, etc.
The users can compare prices between different sellers selling similar items using the "Compare Prices" option.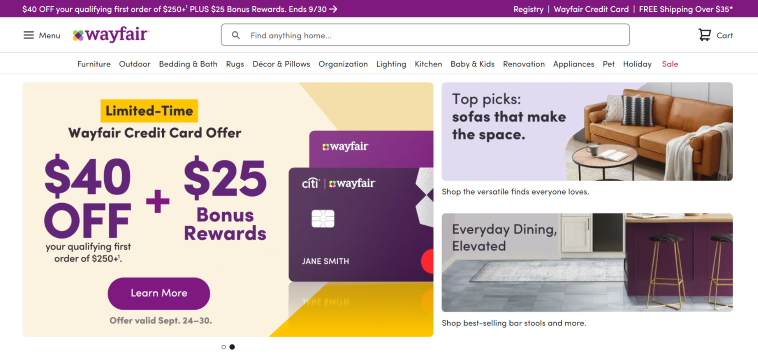 Wayfair is an American eCommerce company and It is one of the most trafficked websites in the world,
Wayfair is headquartered in Boston Massachusetts with more than 14 million square feet of office space across three buildings.
It was founded by Steve Conine and Niraj Shah in 2002.
Wayfair is known for its catalog that features furniture and home decor products from several different brands under a single storefront.
The eCommerce site allows users to shop for furniture and home decor items through the catalog.
Users can also read user reviews of products, see product details like dimensions, warranty information, or return policy on Wayfair's website.
Conclusion
Choosing the best eCommerce website really depends on what you want to get out of your online shopping experience.
The list of top eCommerce websites is constantly changing though some names are already known to be always high on it.
There are no doubts that the first position is always reserved for Amazon.com for their simple and easy solution to buy some products
If that's not enough, use this list as a starting point to explore the world of eCommerce and choose the best place to shop for your personal needs or build your own retail business.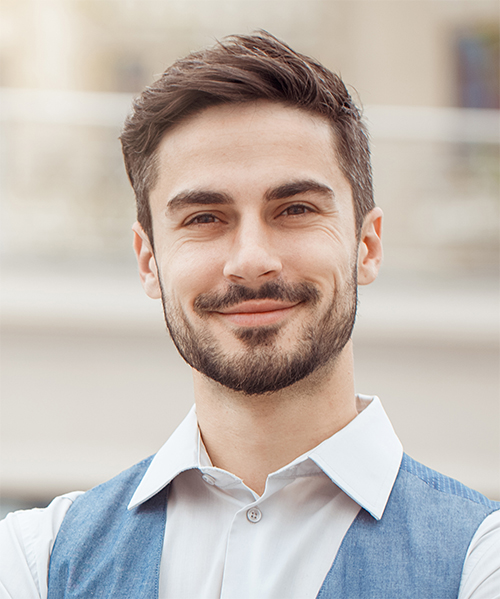 Author: Scott Macarthur
Scott L. Macarthur is a marketing consultant and an online author. He is mostly engaged in providing his expertise to startups and SMBs.