AliExpress is one of the most popular dropshipping wholesale sources. Unlike its sister site, Alibaba, AliExpress allows retailers to place orders in quantities of one, making it perfect for dropshippers.
However, AliExpress has a significant downside, and that is shipping times. One of the most common complaints you will hear from dropshippers is how long it takes for items from AliExpress to ship to their customers.
It's a trade-off you get with AliExpress. There are two sides to every coin, and with AliExpress, it is cheap products on one side and excruciatingly long shipping times on the other.
However, there are many alternatives to AliExpress that offer faster shipping and are still cheap. Sometimes, saving a few dollars in exchange for shipping that takes too long is not worth it.
Your customers will be dissatisfied and may leave bad reviews. They may cancel the order, forcing you to give them a refund and be straddled with the cost of the product you paid for already.
If you want to ship products from China – most products on AliExpress are from China – long shipping times are to be expected. There's no way to get around that.
For example, Banggood only guarantees that delivery will be within 60 days, and ChinaBrands says delivery can take up to 25 days.
While some AliExpress sellers may ship quicker than others, and some products will offer quicker ePacket options, many products will take weeks to arrive. You want to avoid that, and by using the following 10 sites, you will be able to.
Best Sites With Faster Shipping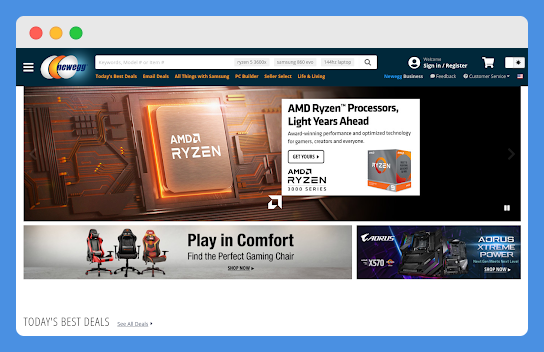 Newegg is a terrific alternative to AliExpress if you are in the electronics niche. There are all kinds of electronics on Newegg,
Unlike AliExpress, many products on Newegg offer next day delivery. Other, cheaper options are two business day and three business day delivery (keep in mind that you might have to factor in another day or two for processing, in addition to the actual shipping time).
You don't have to pay extra for one, two, or three-day delivery if you don't want to. Standard Newegg Ground Shipping takes only 1-5 business days, and even the Super Eggsaver Shipping time frame is only 4-7 business days.
These are both much quicker than AliExpress's standard shipping rates. Remember, AliExpress Standard Shipping takes 15-45 days, and even AliExpress Premium Shipping, which costs more, takes 7-15 days.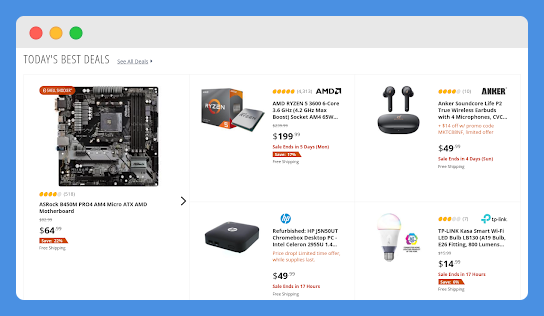 What can you sell when sourcing from Newegg? Here is a list of some of the top types of products you can find on Newegg:
Desktop computers
Laptops
Gaming computers
Keyboards
Mice
Monitors
Memory boards
Processors
Hard drives
Various other components and accessories
TVs
Home appliances
Coffee makers
Vacuums
Phones
Phone accessories
Headphones
Tablets
Video games
Playstations
Xbox
Desks
Projectors
Laptop stands
Software, such as antivirus software
Automotive products, such as automotive parts and tires
Furniture
Home items
Tools such as drills
Although Newegg is primarily an electronics site and a great option for sellers looking to start one-product stores, there is so much you can sell. You can even find things such as compression socks on Newegg.
All in all, Newegg is a great alternative to AliExpress which offers quick shipping.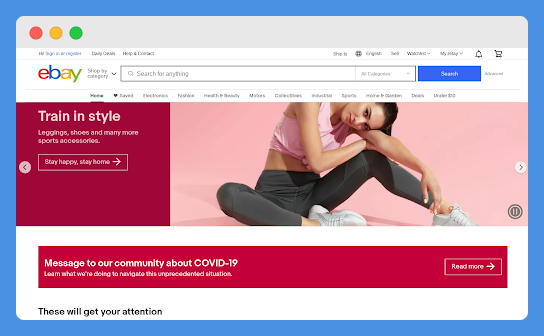 Well, eBay is obviously not the right choice if you are trying to sell on eBay. However, if you are selling on your own site, you can use eBay as your dropshipping source.
eBay products often ship pretty quickly. However, there is a catch here – you have to check shipping rates and make sure the product is being sent by the seller, from their own warehouse, in the United States.
Many eBay sellers are dropshippers just like you and are using AliExpress as their source. Their products can take weeks or months to ship, as they are coming from China.
The good news is that all eBay product listings tell you where the product is being shipped from. If you see that it is shipped from China, stay away!
Make sure the shipping origin is in the United States and the shipping estimate does not exceed a week. That's the good thing about eBay – you can filter by shipping, so you don't have to bother with products that take forever to ship.
Products on eBay are not as cheap as on AliExpress, but they are still usually less expensive than Amazon products.
Sometimes, eBay sellers may buy products from Alibaba in bulk and then ship them from their own warehouses in the United States. These products might also be offered on AliExpress, making eBay a good alternative for the same product, but with quicker shipping.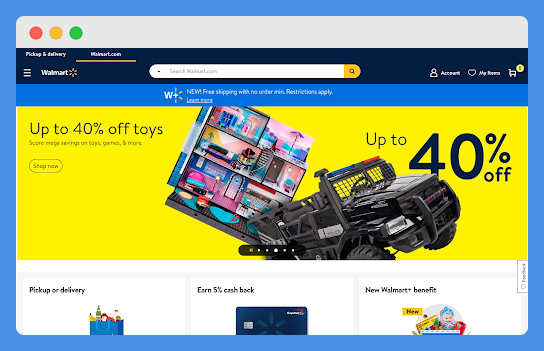 Walmart is a perfect alternative to AliExpress if you are looking for something that offers quicker shipping. On orders over $35, you will get free Next Day shipping!
If the order is under $35, it will still only cost $5.99 for Next Day shipping. Not all zip codes are eligible for Next Day shipping, however.
Nevertheless, if Next Day shipping is not available, you can get two-day shipping instead. As before, this is free if the order is $35 or more, and it is only $5.99 if it is less than $35.
However, not all products are eligible for Next Day or two-day shipping. Millions of products are eligible, though, and even those that are not are still eligible for 3-5 day shipping.
Again, for products that are only eligible for 3-5 day shipping, it will be free for orders of $35+ and $5.99 for orders under $35. 3-5 day shipping is a lot quicker than AliExpress's 15-45 day shipping!
The best part about Walmart.com is that, unlike Newegg, you are not limited to certain products. You can find everything on Walmart.com – and that means everything.
Whether you want to sell jeans, sweatpants, home appliances, boots, skincare, headphones, computers, electronic accessories, furniture, women's clothing, and even groceries, you can find it on Walmart.
Also, you can be eligible for 5% cashback on the purchases you make on Walmart.com. That's an additional 5% in profits in your dropshipping business!
Some people think that all products on Walmart.com are being sold by Walmart directly, but that's a misunderstanding. Walmart.com is a marketplace just like AliExpress and eBay are marketplaces – it is open to third-party sellers.
While Walmart sells some products, many others are sold by third-party sellers. This means you can find alternatives to any AliExpress product on Walmart.com, at competitive prices and quick shipping rates.
4. GeekBuying (Express Shipping)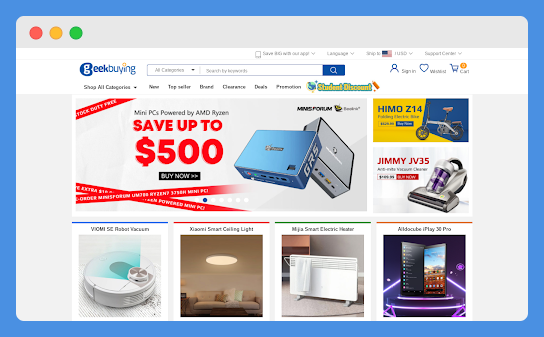 GeekBuying is an excellent alternative to AliExpress if you are looking for quicker shipping, but there is a caveat – you will need to select Express Shipping at checkout. Standard and Priority shipping have delivery times similar to AliExpress; it is only the Express Shipping option that is quicker.
Express Shipping might not be available for all products or to all countries. However, when a product is eligible, it can take just 3-5 days when shipped from China or Hong Kong to anywhere in the world.
Although you will have to select Express Shipping, it is still faster than what you can get when buying on AliExpress.
Also, products that ship from some parts of Europe to other parts of Europe can take just 1-2 days for shipping.
To see all shipping rates based on the shipping method and destination country, check the table on this page.
Also, you can select which warehouse you want to see products for on the homepage. Just choose Local Warehouses under Shop All Categories in the main menu; there, you can select local warehouses, such as US, UK, or EU warehouses.
When you sell a product that is in a local warehouse, shipping will be much quicker.
What can you sell if you use GeekBuying as your source? Here is a list of some of the products you can buy on GeekBuying:
E-bikes and scooters
Camping equipment
Electronics
Computers
Smart home gadgets
Security systems
Car accessories
Despite the name, GeekBuying is not only for "geeks," though they have many electronics and gadgets that "geeks" might be interested in.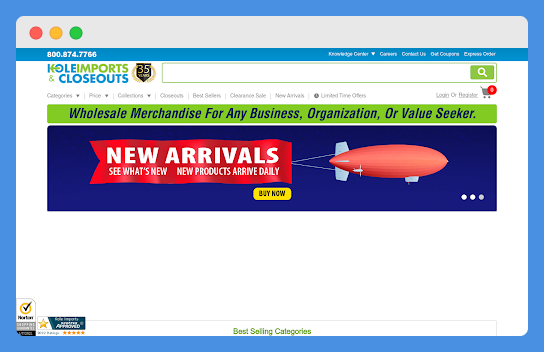 Kole Imports and Closeouts is a large importer of goods and merchandise. Unlike AliExpress, all products ship from the United States.
Kole Imports keeps all their products in a massive 250,000 square foot warehouse, which is located in Los Angeles. Since the products ship from that warehouse, shipping takes a lot less time than it does with AliExpress, where most products are shipped from China.
Kole Imports also has products for extremely cheap, just like AliExpress. You can go to the main menu and select Price.
There, you will be able to see all products that cost less than $0.25, products that cost less than $0.50, products that cost less than $0.75, products that cost less than a dollar, and so on. Each price range has its own page, so it is effortless to find cheap products.
The downside of Kole Imports is that a lot of the dirt-cheap products do not sell in quantities of one. Kole Imports and Closeouts is focused on wholesale selling, but you can still find products that you only need to buy a few or can buy in quantities of one.
The really cheap products – the products that cost less than $0.25 each, for example, often have high minimum order quantities. As you go up in price, however, that minimum decreases.
For example, once you get in the $5-10 range, most products have minimum order quantities of just 2-4. Once you get in the $10+ field, many products have a minimum order quantity of only one.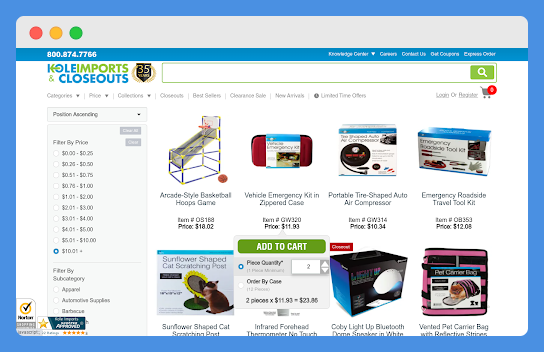 That's still enough for you to make a profit. Just resell it at a 20 percent markup on your own site or on eBay to make a nice profit.
The good part about Kole Imports and Closeouts is that they feature a lot of clearance sales and limited time offers you can take advantage of. These clearance sales let you buy a lot of products for extremely cheap.
Kole Imports has been around for 35 years, so you know you can trust them.
In addition to buying online, you can visit their warehouse in Los Angeles if you are nearby.
Bonanza is an excellent alternative to AliExpress. It is like eBay in a way – many sellers accept "best offers" on products.
If you use Bonanza instead of AliExpress, you can increase your dropshipping profits by using the best offer feature to get lower prices on fantastic products.
You can also use Paypal and Discover to pay for many items, in addition to Visa and Mastercard cards.
Not all products on Bonanza offer free shipping. However, many products do offer free shipping with just 2-3 day delivery times.
As you can see in the screenshot, this particular product offers free 2-3 day shipping with USPS priority mail.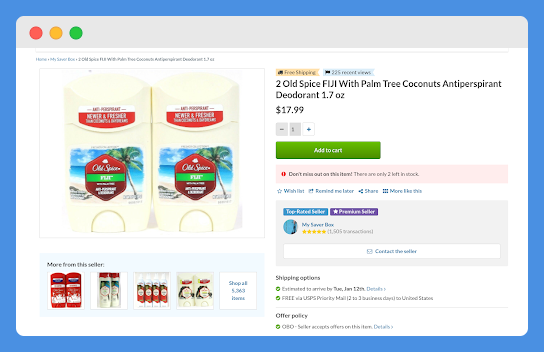 You can also see precisely how many items are left in stock. If only two are left in stock, for example, you should be careful to make sure it is still in stock as long as your listing on eBay is still published.
Bonanza is a general site. It is not limited to specific types of products – all types of products are sold there, from makeup to clothing.
You can search by category or by brands – for example, you can search for all Calvin Kline products to dropship.
There are millions of products and tens of thousands of sellers on Bonanza. Although Bonanza is not nearly as well known as more famous marketplaces like Walmart, Amazon, and eBay, it has a large selection of products and is up and coming.
Take advantage of Bonanza before it gets discovered by more people.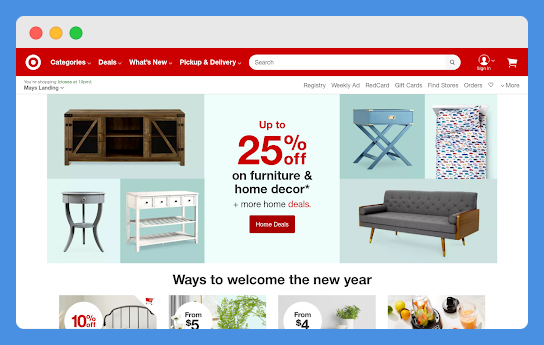 Everyone has heard of Target. It is easy to recognize a store belonging to the Target chain by looking for a big, red, "target" icon.
However, did you know that you can use Target.com as an alternative to AliExpress for faster shipping rates?
The best part about Target.com is that many products offer free two-day shipping. It's a trend now – sites like Walmart.com and Target.com are offering free two-day shipping in an effort to compete with Amazon.
The only problem is that two-day shipping is not available at the moment, due to the Covid pandemic and the shipping delays caused by it throughout the entire United States. However, as soon as the pandemic is over, expect free two-day shipping on hundreds of thousands of items to come back.
Not all products are eligible for two-day shipping, and you also need to spend at least $35 in an order or use a Target card to qualify for free two-day shipping.
Nevertheless, Target.com shipping times are still a lot better than AliExpress shipping times. As you can see in the screenshot below, products usually take just two to four days to arrive, including weekends, if orders are placed before the daily cutoff time.
Target also offers many deals. You can check the Top Deals section to find great discounts, or you can check the Clearance section to find items on clearance sale.
Everything is available for purchase on Target: Clothes, skincare, vitamins, appliances, and much more. Regardless of what you want to sell, you can use Target.com as your supplier.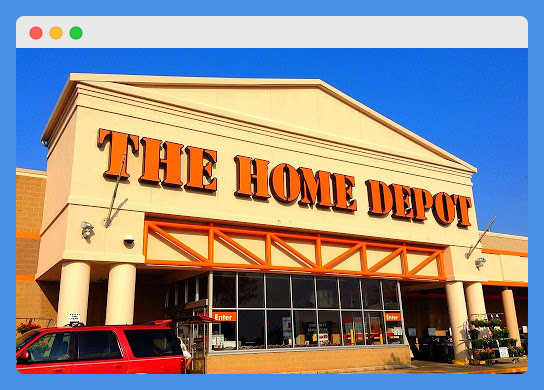 Like Target, Home Depot is a chain that is recognized throughout the country by its ubiquitous logo. If you are looking for a wholesale supplier to dropship on eBay, there is nothing that says you can not use Home Depot – their shipping times are a lot quicker than AliExpress's shipping times.
The best part is that free shipping is offered on orders over $45. Since the types of products Home Depot sells are often over that amount, you can provide free shipping to your customers on many products.
In select cities, Home Depot even offers same-day shipping on thousands of products.
Home Depot doesn't sell all types of products as Target does. Instead, as the name suggests, they focus on things people need for their homes, such as tools, home decorations, gardening appliances, kitchen appliances, and more.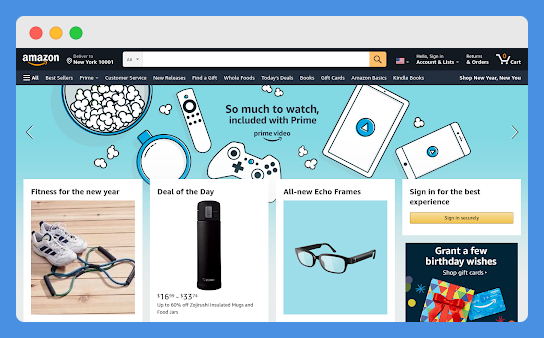 The downside of using Amazon instead of AliExpress is that products will be a lot more expensive than they are on AliExpress. Nevertheless, shipping is a lot quicker.
Everyone knows about Amazon Prime – all eligible products (most products on Amazon are eligible) will ship, for free, within two days, if the purchaser has an Amazon Prime subscription. This means that if you use Amazon as your wholesale source, all you need to do to guarantee super quick shipping is sign up for an Amazon Prime subscription.
Even if you do not have Amazon Prime, products still generally ship pretty quickly, usually under a week. Amazon is pretty good when it comes to shipping – not only do they use reliable shipping carriers like UPS, but they have their own mail processing facilities and delivery vans that they use to get products to their Prime customers quickly.
As long as you buy a product sold by Amazon or through the Amazon FBA program, in which case it will ship from an Amazon warehouse, you can be sure that the product will arrive quickly. If it is sold by a third-party seller, you can't be as sure.
Amazon usually lets you pick from a number of sellers (if there is more than one seller available). You can find these sellers by clicking on Available From These Sellers on the product listing.
However, not all sellers will be eligible for Amazon Prime shipping, even if the product itself is.
You Might Want To Read: How To Dropship From Aliexpress To Amazon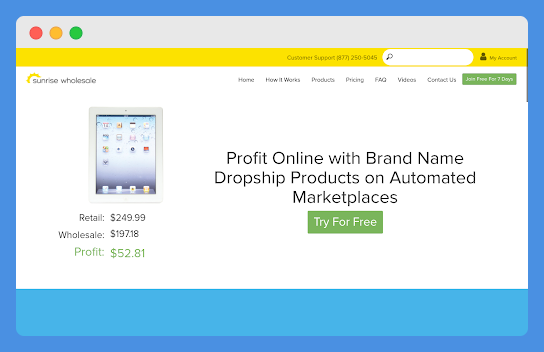 Sunrise Wholesale is set up for dropshippers – there are over 15,000 products you can sell on eBay, Amazon, and your own Shopify store.
Dropshipping is great with Sunrise Wholesale because they handle returns for you. This makes them a much better option than AliExpress, where you will often have to eat the cost of the product if a customer wants a refund.
You won't have to worry about dropshipping from Sunrise Wholesale, because it is designed specifically for dropshippers. This makes them a better option than sources such as Amazon, Target, and Home Depot.
Sunrise Wholesale also gives you a recommended retail price to resell each product for in order to get a decent profit. Many products have profit potentials over $30+, $50+, and even $100+.
According to Sunrise Wholesale, most products arrive within 5-7 days after an order is placed, which is a lot quicker than AliExpress. Express two-day and next-day shipping may also be available on certain products.
Sunrise Wholesale has been around since 1999 and has an A+ rating with the Better Business Bureau, so you know you can trust them. There is no minimum order – you can order one product at a time, regardless of that product's cost.
Some of the product categories available on Sunrise Wholesale include:
Automobile accessories
Fashion accessories
Bath and body products
Electronics
Gardening
Home decor
Kitchen appliances
Home tools
Toys and games
Sunrise Wholesale also has research and fulfillment tools for both Amazon and eBay. You can see what is trending on those sites and find great products to sell, and you can fulfill orders with just one click.
The downside of Sunrise Wholesale is that it is not free. After your free seven-day trial, membership costs $49/month, though it does include $20 in free merchandise (that's a one-time thing, though).
Wrapping It Up: What Is The Best AliExpress Alternative With Faster Shipping?
I believe if you only wanted to focus on one site, you should focus on Bonanza. However, Newegg and Walmart are two other great websites you should use as well.
Also, if you are buying in bulk, Kole Imports is a good site to use. Like AliExpress, products are incredibly cheap, and they ship from Los Angeles.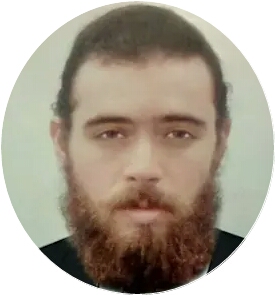 Author: Benjamin Levin
Benjamin Levin is a digital marketing professional with 4+ years of experience with inbound and outbound marketing. He helps small businesses reach their content creation, social media marketing, email marketing, and paid advertising goals. His hobbies include reading and traveling.