Gone are the days where marketers must open a warehouse or storefront. With dropshipping, you can sell products from reputable marketplaces like AliExpress, Amazon, eBay, and more.
While dropshipping remains an attractive business model, finding the right platform and suppliers can be a tough nut to crack.
AliExpress Dropship Center makes it incredibly easy for merchants to find and dropship profitable products from AliExpress.
Interestingly, Dropshipping Center Aliexpress platform was launched a couple of years ago and continues to deliver value for merchants.
In this guide, we will review and dig deeper into the AliExpress Dropship Center. We will also show you how you can use the tool to get the best out of your business.
Interesting Post: How To Dropship From AliExpress To Amazon
Overview
About Dropshipping Center Aliexpress Platform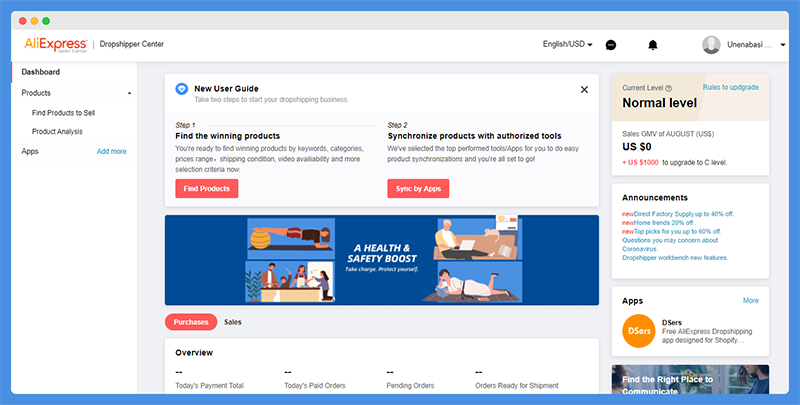 AliExpress Dropship Center is a dropshipping platform that allows marketers, retailers, and dropshippers to sell AliExpress products. With this exclusive dropshipping workbench, merchants can
Research and find top products and sync them with their store
Track orders
Know their profits in real-time
AliExpress Dropshipping Center helps dropshippers find the most profitable products to sell on their platforms. Beyond finding products, merchants can find the most reliable suppliers to buy from.
How Does the AliExpress Dropship Center Work?
If you are new to the platform, you must sign up on AliExpress to access the dropshipping center.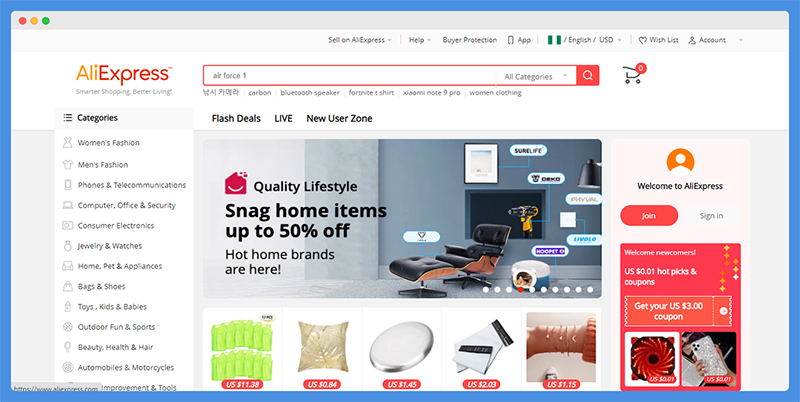 To signup on AliExpress, visit https://www.aliexpress.com/. At the top right, click on Account, and then click on "Join."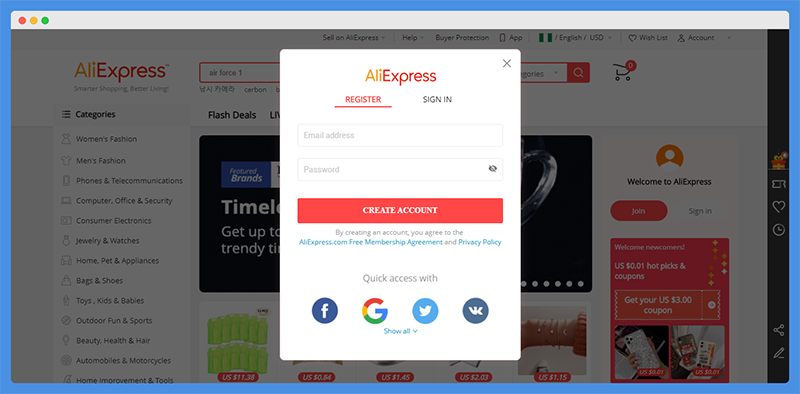 Click on Register, enter your email, password, and click on "create an account." Yes, it's that simple. After creating your account, you can visit the AliExpress Dropship Center website to get started.
If you already have an account on AliExpress, you can access the dropshipping center by clicking the AliExpress Dropship Center website.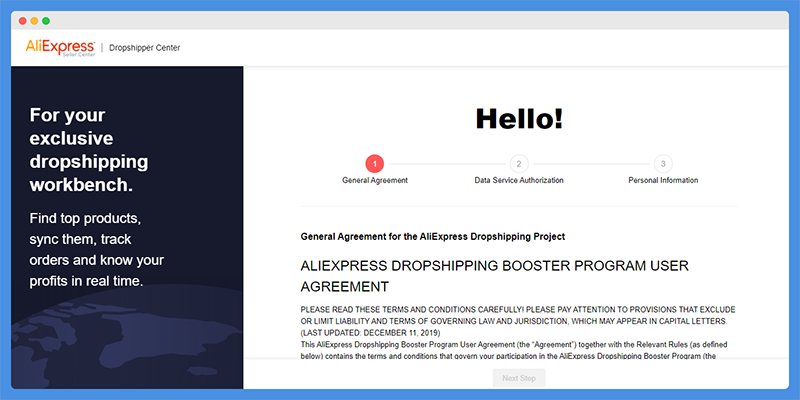 When you visit the page, you will be required to read and check the box to agree to the terms of the General Agreement for the AliExpress Dropshipping Project.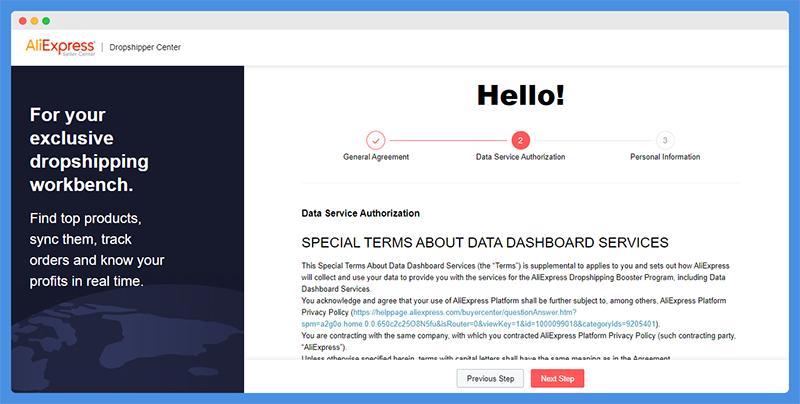 Click on "Next Step" to continue to the Data Service Authorization page. Read through the terms and check the box to agree to the terms of the Data Service Authorization.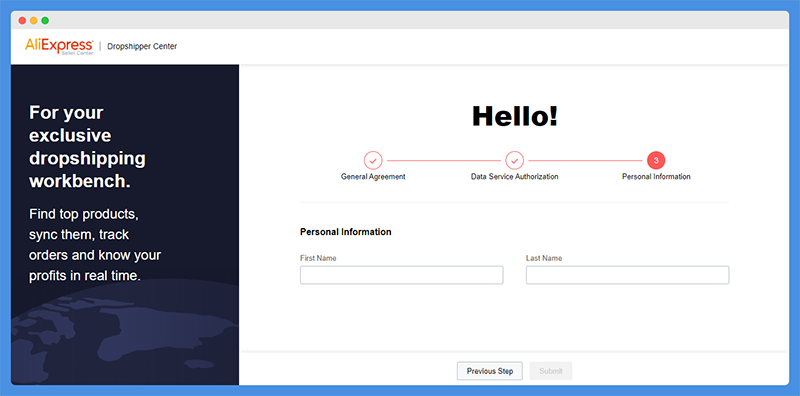 Then, click on the Next Step to go to the personal information stage. Enter your first and last name and click Submit.
You'll be redirected to a page that confirms your submission and registration. Click on "Go to Dropshipper Center" to access the dashboard. When you return to access the dashboard as an existing user, you won't need to go through the lengthy process. Your dashboard should be a few clicks away.
Now let's take a look at the AliExpress Dropshipping Centre dashboard.
Explore: Best Shopify Dropshipping Apps For Your eCommerce Store
AliExpress Dropship Center Dashboard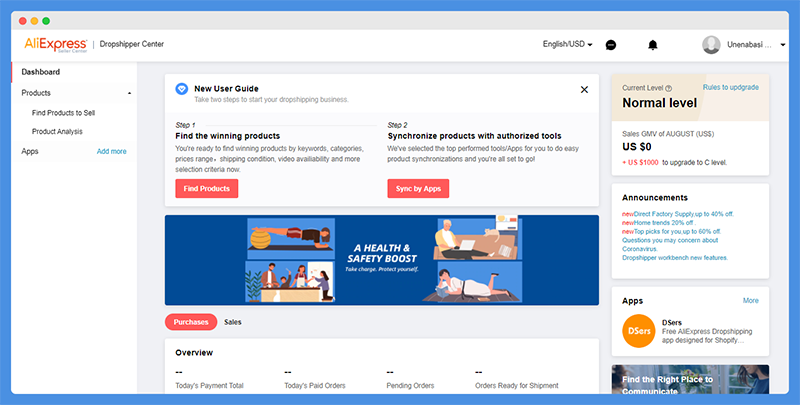 The dashboard gives marketers a bird-eye view of their business and dropshipping activities. At the top, users can select their preferred language. The platform supports seven languages including
English
Russian
Español
Italiano
Portuguese
French
Deutsch
Also, marketers can select their preferred currency including
Dollar (USD)
Euro (EUR)
Pounds (GBP)
Japanese Yen (JPY) and more.
The left tab of the dashboard showcases products and apps. Under products, you can find products to sell and product analysis tools. From the panel, you can
Access the new user guide
Find the winning products
Synchronize products using authorize tools
View sales and purchase overview
Gain insight into daily metrics
See monthly Gross Merchandise Volume (GMV)
View recent announcements and more
We will dig deeper into each section of the dashboard in the latter part of this article.
New User Guide
If you are new to the dropshipping business, the user guide is your go-to tool. The guide focuses on two key sections.
The first section shows you how to find winning products using criteria such as
Categories
Keywords
Price ranges
Video availability
Shipping condition and more selection criteria
The second part of the guide shows users how to synchronize products with authorized tools. Here you will find selected top performing apps and tools that can boost your business.
Purchases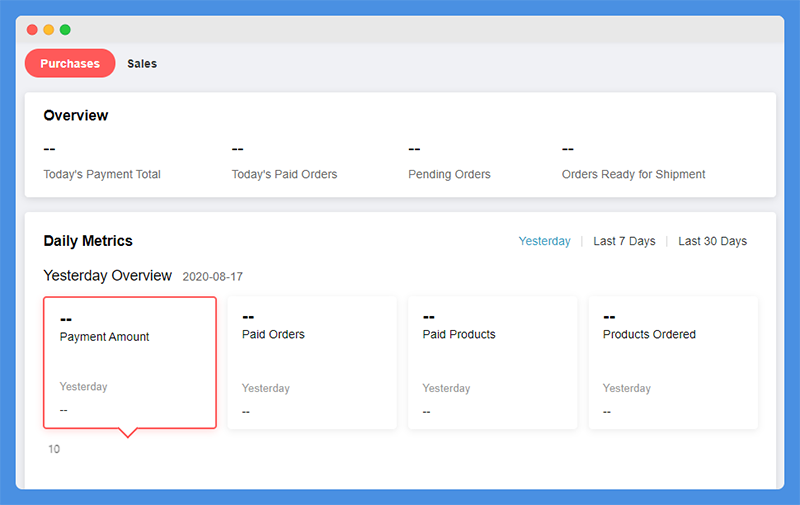 This section shows an overview of your purchase activity. Users can view the following information
Today's Payment Total
Today's Paid Orders
Pending Orders
Orders Ready for Shipment
Below the purchase overview, dropshippers can view purchase metrics including
Payment Amount
Paid Orders
Paid Products
Products Ordered
The platform shows metrics for the previous day, the last seven days, and the last 30 days.
Explore: Best Dropshipping Products To Sell
Sales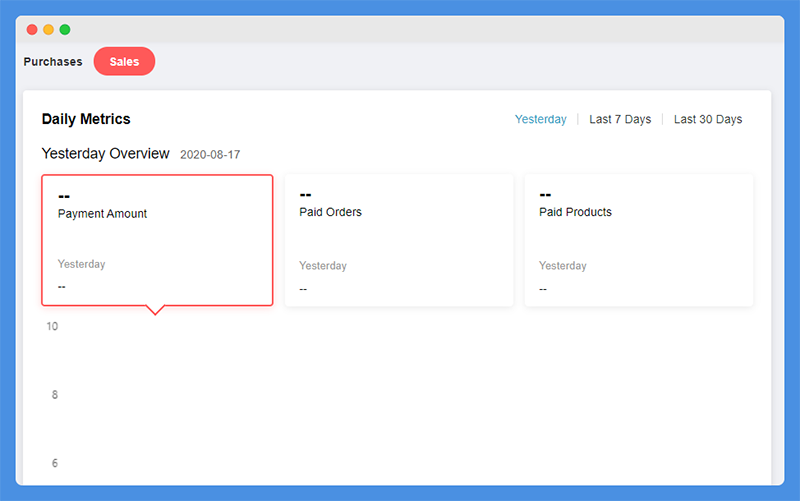 This section provides valuable insight into sales activities for the previous day, the last seven days, and the last 30 days. Users can view metrics including
Payment Amount
Paid Orders
Paid Products
Discount Levels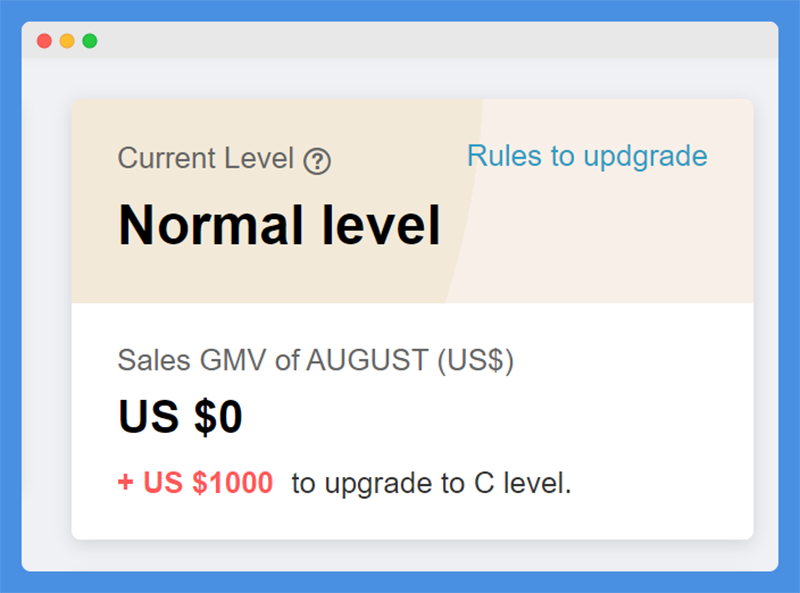 On the right side of the dashboard, you will find the discount levels for dropshippers. The discounts you will enjoy are based on the Sales Gross Merchandise Volume.
The Gross Merchandise Volume shows the total sales value in dollars for merchandise or products sold on this platform within a specified period. The more you sell and dropship products, the higher your level.
If you are a beginner and your sales GMV is less than $0, you will most likely be at the Normal level. So, you won't get any discount. Here are the rules to upgrade.
Announcements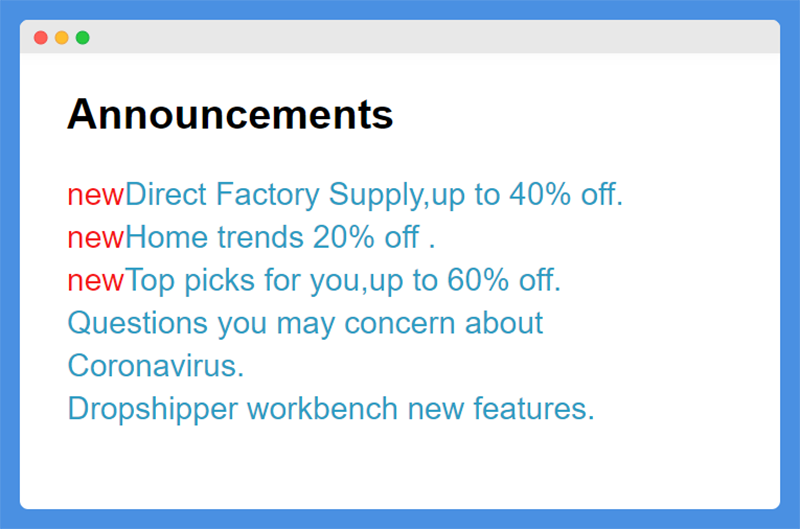 This section shows the latest news, updates, discounts related to AliExpress, and AliExpress dropshippers. When you click on each headline, it redirects you to the story or information page.
Check Out: Best Shopify Dropshipping Training & Courses
Apps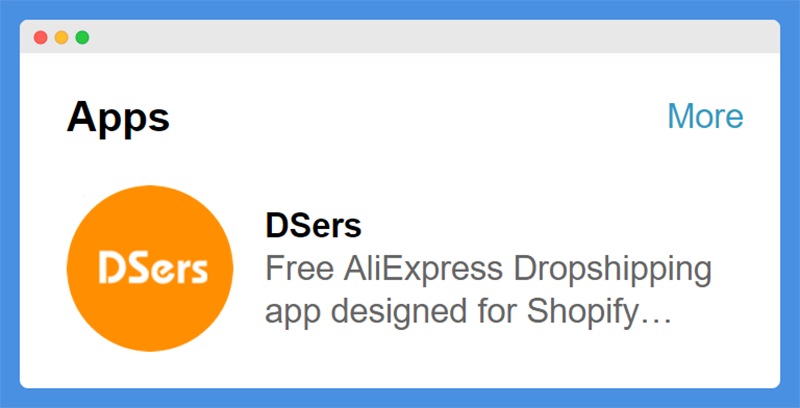 This section links directly to AliExpress Dropshipping Center Apps. We will discuss this aspect in the latter part of the article.
AliExpress Dropshipping Facebook Group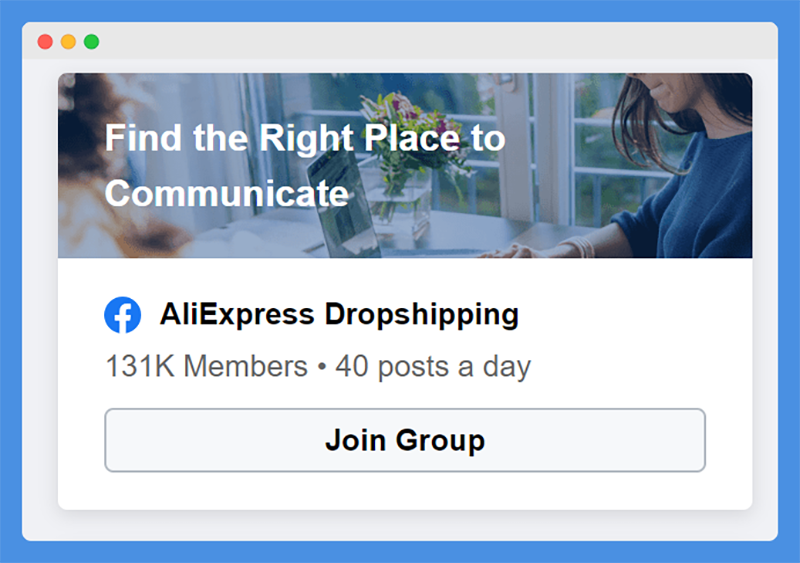 AliExpress has a Facebook group where dropshippers connect, communicate, and learn from each other. At the time of this writing, the Facebook group had 131,000 members and featured about 40 posts daily.
If you are a new dropshipper, you should go ahead and join the Facebook community. You will be glad you did.
Feedback & Support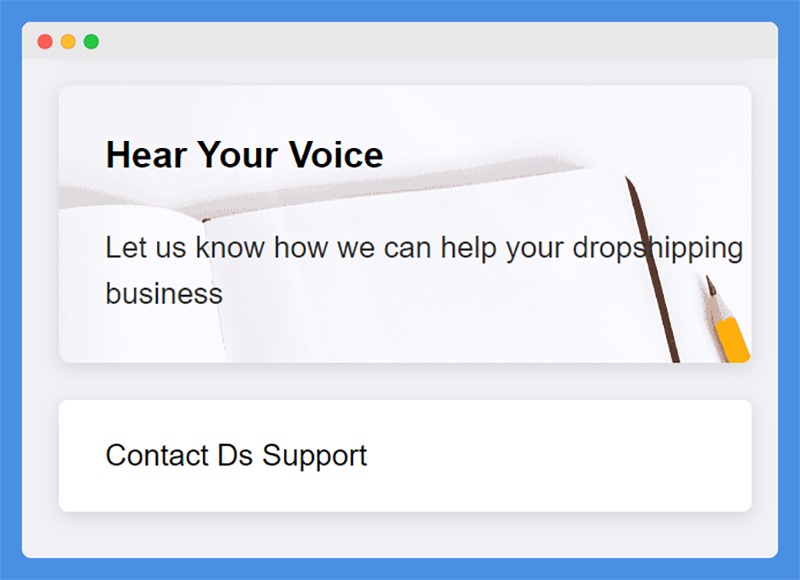 Dropshippers can drop their feedback via The "Hear Your Voice" section and get valuable suggestions to help them drive their business forward.
Also, you can click on Contact Ds Support to connect to Eva, AliExpress' service bot. You can select from ready-made questions or type your question to get answers.
Find Products To Sell
Whether you are starting a new dropshipping business or building an existing one, you need the right product mix. AliExpress makes it easy for you to pick products that fit your budget and sales strategy. You will also discover products that will drive sales and rake in profits.
This section also offers deep insights into each product. With data-driven insights, you can make the right product choices and other informed decisions.
Check Out: Best Dropshipping Companies
This section is directly under the Products tab and has three sub-tools under its tab including
Hot Selling
Search by Image
Sponsored Products
Let's take a look at each of the tools.
Hot Selling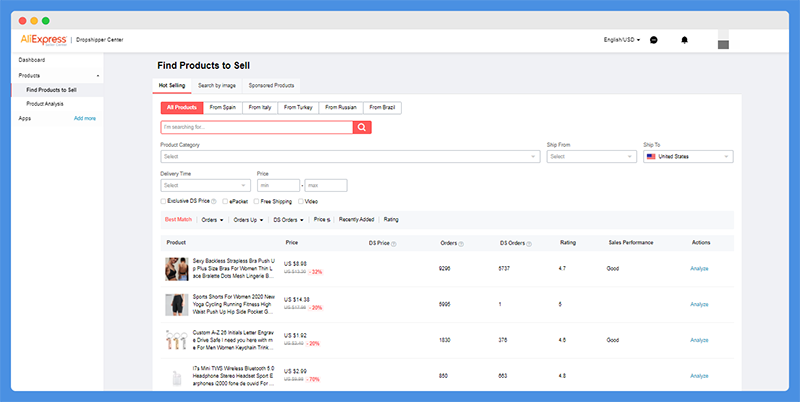 The Hot Selling tab is multi-featured and allows merchants to find the best selling products on AliExpress. Here, you can use multiple filters to discover products from different categories and locations.
By default, this section features hot selling products from all locations. Users can find hot selling products from different locations including
Spain
Italy
Turkey
Russian
Brazil
Merchants can also use the search bar to find specific products by typing the product's exact name or a related phrase. AliExpress has a rich product catalog, so you are spoilt for choices.
Rather than typing the product name, you can select from the different product categories including
Women's Clothing
Men's Clothing
Sports and Entertainment
Beauty and Health
Jewelry and Accessories
Consumer Electronics
Toys and Hobbies
Mother and Kids
Cell Phones and Telecommunications
Shoes and Watches
Luggage and Bags
Automobiles and Motorcycles
Lights and Lighting
Tools and Home Appliances
Computer and Office
Novelty and Special Use
Furniture and Home Improvements
Security and Protection
Education and Office Supplies
Hair Extensions and Wigs
Weddings and Events
Electronic Components and Supplies
Shipping Locations and Destinations
Merchants can select shipping location and destination. Marketers can dropship products from locations like China, Russia, Spain, Italy, Turkey, and France. Also, dropshippers can ship products to customers in countries including
United States
France
United Kingdom
Canada
Brazil
Australia
Germany
Poland
Netherlands
Spain
Portugal
Korea
Italy
Czech Republic
Israel
Japan
Belgium
Russia
Next, users can select the delivery time that fits with their business model. The delivery time options are 10, 20, 30, and 40 days. After choosing your delivery timeline, you can enter the minimum and maximum product prices to get the exact product fit.
The platform has more advanced filters to help users further narrow their search. Users can tick boxes to enjoy
Exclusive Dropshipper price
ePacket
Free Shipping
Video
Discounted products for dropshippers are offered exclusively by sellers on AliExpress. The discounts they offer vary based on the level of the dropshipper.
ePacket is a shipping service provided by third-party logistics providers. This shipping option enables marketers and dropshippers to offer affordable and fast shipping services for light packages.
Based on your selected filters, the products will appear beginning from the hottest selling products to the least. Each product shows the following.
Product name
Original product price
Percentage discount
Dropshippers price (Price varies based on the corresponding dropshipper level. Dropshippers above C level enjoy discounts.)
Number of consumer orders
Number of dropshippers orders
Rating
Sales Performance
Actions
You can filter to view products based on
Best Match
Orders (All Countries and the United States)
Orders Up
Dropshippers Orders (All Countries and the United States)
Price
Recently Added
Rating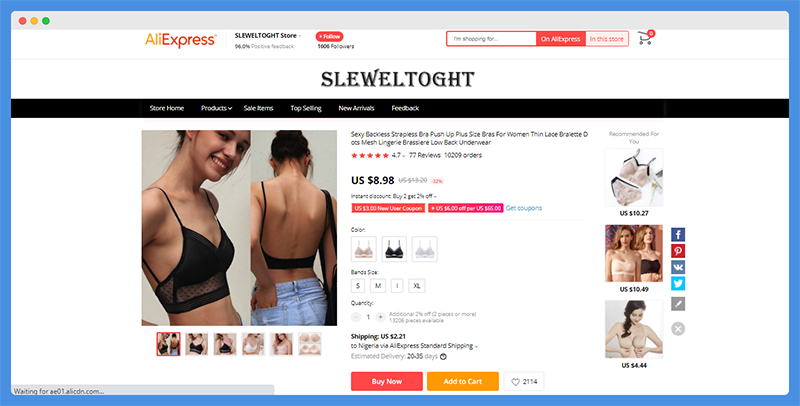 Examples
Without using any search term or filter, the hottest selling item at the time of this writing was "Sexy Backless Strapless Bra Push Up Plus Size Bras For Women Thin Lace Bralette Dots Mesh Lingerie Brassiere Low Back Underwear." The product's original price was $13.20. It had a 32 percent discount and a discounted price of $8.98.
Furthermore, the product had
9296 consumer orders
5737 dropshipper orders
77 reviews
Average rating of about 4.7 stars
The sales performance for the product is marked as good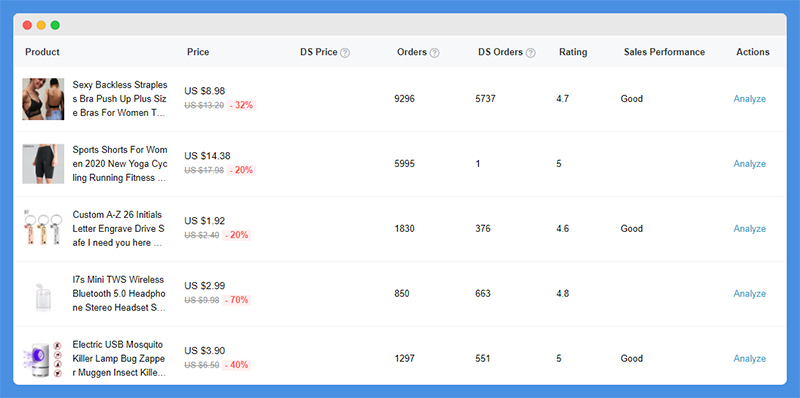 The second hottest selling product was Sports Shorts For Women New Yoga Cycling Running Fitness High Waist Push Up Hip Side Pocket Gym Shorts Leggings. The product's original price was $17.98. With a 20 percent discount, the product price came to $14.38.
Also, the item had
5995 consumer order
One dropshipper order
5-star rating
From the Hot Selling product view, merchants can click on Analyze to view the product's detailed analytics.
When you click on "Analyze," the software redirects you to the Product Analysis tab. It further shows data about the product including the
Product URL
Product name and ID
Store name
Logistics reliability
The platform shows an Overview of Sales Volume for that product. We will discuss AliExpress Product Analysis in the latter part of the article.
Interesting Comparison: Oberlo Vs Modalyst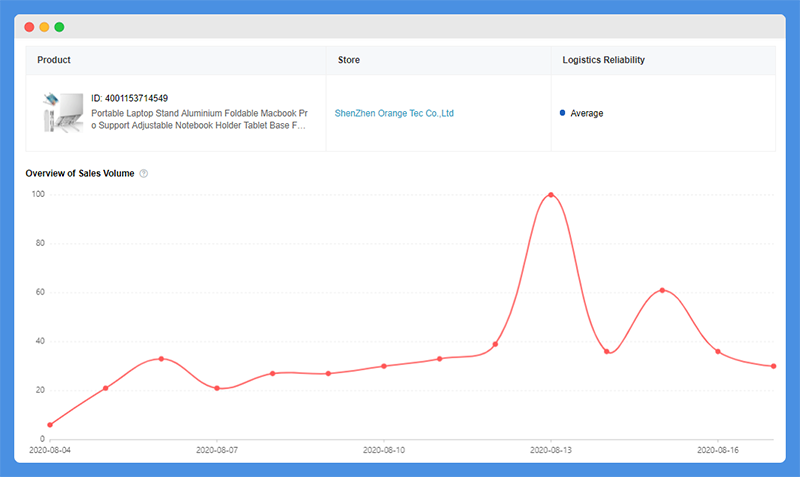 For the Sexy Backless Strapless Bra we highlighted above, the product was sold by SLEWELTOGHT. Plus, the product had an average logistics reliability.
Search by Image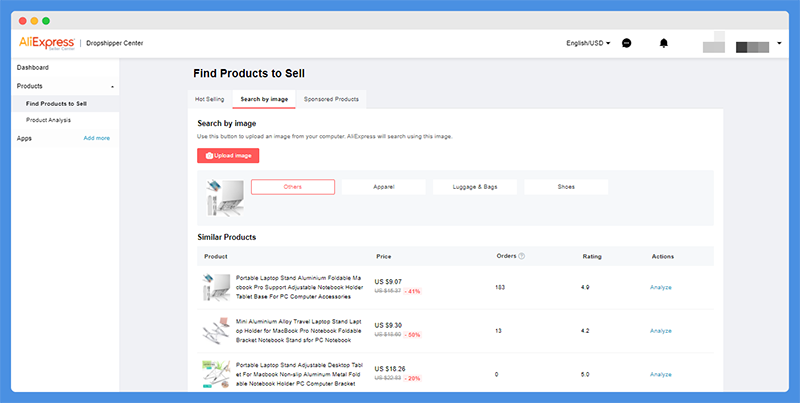 If you are not sure of the product name, you can upload an image via this tab. AliExpress will use this image to serve you related items that you can sell.
I tried out this option, and it worked out perfectly. I uploaded an image of a portable laptop stand and AliExpress provided a rich catalog of similar products.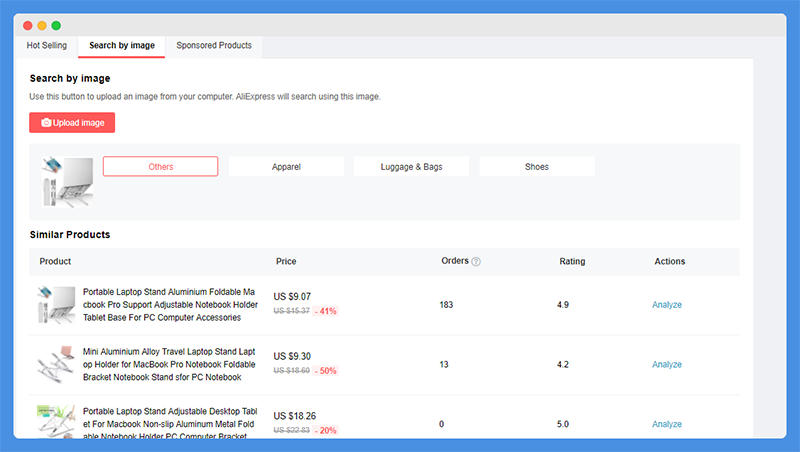 As you can see, the top-selling product is "Portable Laptop Stand Aluminium Foldable Macbook Pro Support Adjustable Notebook Holder Tablet Base For PC Computer Accessories."
At the time of this writing, the product's original price was $15.37. With a 41 percent discount, the product price came to $9.07.
The product price had about 183 consumer orders and an average rating of 4.9 stars.
The second-ranked product was Mini Aluminium Alloy Travel Laptop Stand Laptop Holder for MacBook Pro Notebook Foldable Bracket Notebook Stand for PC Notebook".
This product had a whopping 50 percent discount. The original product price was $18.60, and the discounted price came to $9.30. The item also had 13 customer orders and a 4.2-star rating.
Sponsored Product
The Sponsored Products tab provides a list of sponsored products by suppliers and sellers. Here you will find the
Store name
Product types and images
Overall store rating based on customer reviews and feedback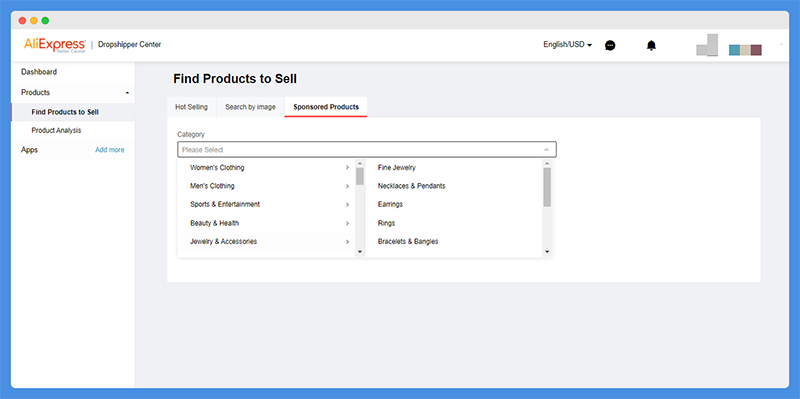 Also, you can select different product categories to view sponsored products based on your selection.
AliExpress Product Analysis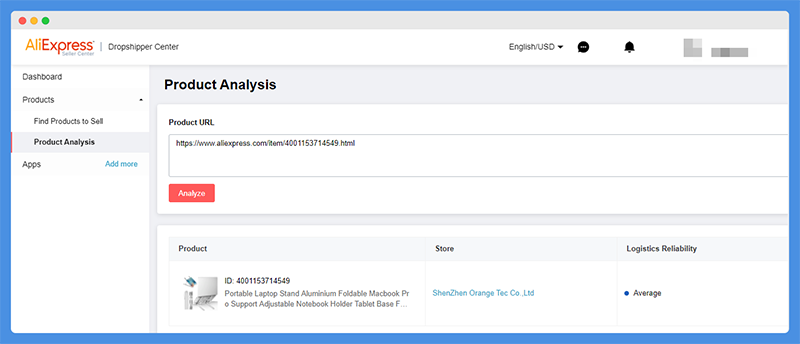 The Product Analysis section provides data you need to make critical decisions on the type of products you should dropship.
As a merchant, you certainly do not want to sell products that are not in high demand. If you are accessing the Product Analysis page from the left tab, you will find a space to input the product URL.
Just copy and input the URL of any product on AliExpress, click on Analyze, and you will find detailed analytics about the products including
Product name
Product ID
Store name
Logistics Reliability
Sales Volume
When you click on a product's name, it redirects you to that product on the AliExpress platform. Also, clicking the Store name redirects you to the store page on AliExpress and you can find other products sold by the supplier.
The AliExpress Dropship Centre shows an Overview of Sales Volume for that product. The Sale Volume is an index ranging between 0 and 100. The higher the value, the higher the sale volume.
Also Read: Oberlo Vs ShopMaster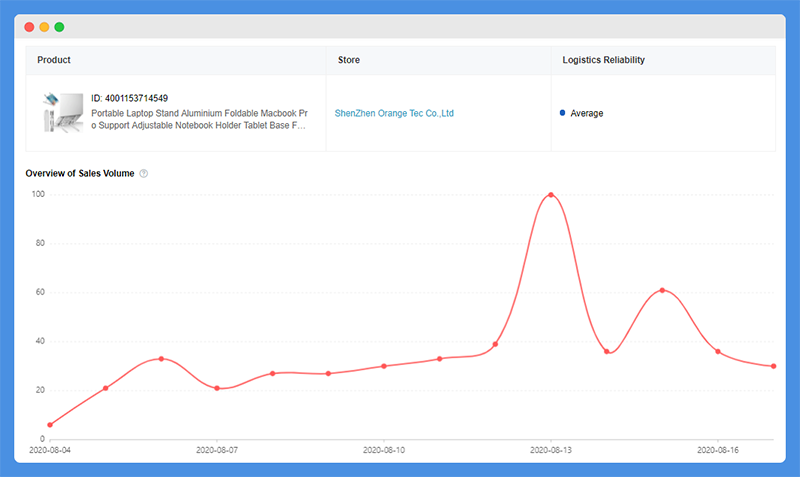 Sales Trend
The AliExpress Dropship Center shows a sales trend analysis for products over a period of time. You can see sales peaks and drops, and more. You can hover on the graph to view the sales volume at specific points and dates.
With the graph, you can quickly view products that have steady sales trends and dropship them.
For example, the Portable Laptop Stand Aluminium Foldable Macbook sold by ShenZhen Orange Tec Co., Ltd has an average logistics reliability. From the graph, you can see that the item hit peak sales of about 100 units on the 13th of August 2020. Albeit, sales dropped to 36 units on the 14th of August, 2020.
AliExpress Dropshipping Center Apps
AliExpress supports integration with third-party apps and plugins to help dropshippers boost their business.
If you want to get the best out of your business, these apps offer additional features and extended functionalities to help you get started.
Let's take a look at each of them.
DSers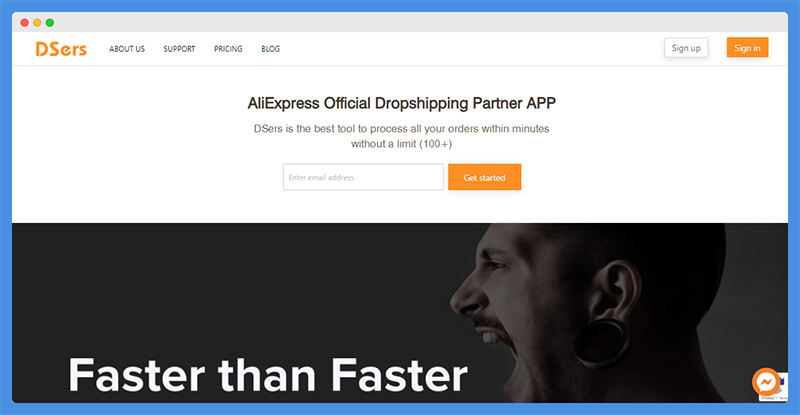 Dsers is an AliExpress dropshipping partner app. The app is free and built to help Shopify clients process more than 100 AliExpress orders within a few minutes.
The tool supports the automatic update of product inventory, order tracking, and management. With a single button, dropshippers can quickly place orders on AliExpress and sync them to their Shopify store.
Dsers allows dropshippers to manage suppliers. You can add multiple suppliers to one product.
With this feature, you don't need to run out of stock. When your default supplier is sold out, the tool quickly activates the substitute suppliers.
With CSV bulk orders, merchants can
Place multiple orders at once
Create and upload their product database
Import awaiting orders to the app and more
Other key features of this app include
Multiple order processing
Variants Mapping – You can sell various product variants by adding suppliers.
Shipment setting – Users can set shipping methods based on countries and fees.
AliExpress whitelist
Multiple stores manager – This feature allows users to manage different stores using one account.
Product importer- Users can import products using the Chrome extension.
Auto-Messaging and email template
Tracking – Tracking shipping information accurately
Price monitor and Inventory monitor- Merchants get real-time notifications about price and inventory changes from AliExpress.
ShopMaster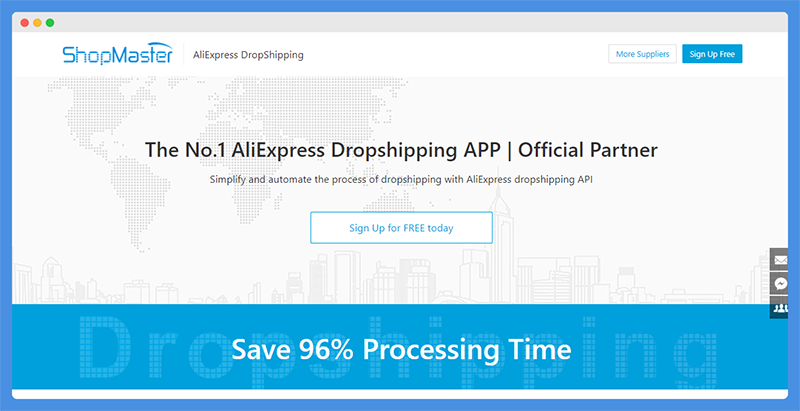 This app automates and simplifies your dropshipping business. If you are a new dropshipper, this tool provides features you need to drive productivity. The tool is free and supports features like
One-click bulk import of more than 100 products to your store
Import of products with over ten types of languages
Overseas Import – Merchants can import products from the US, and UK warehouses for quicker delivery.
Auto Pricing
Price and Inventory Monitor – automatic update of price and inventory
Automated processing of bulk orders with a single click
Automatic sync of tracking numbers
Order shipment details tracking
Free Chrome Extension
Multi-channels and stores management – You can manage all your Shopify, eBay, WooCommerce, and Wish stores using one account.
Check Out: ShopMaster Review
ANTDIY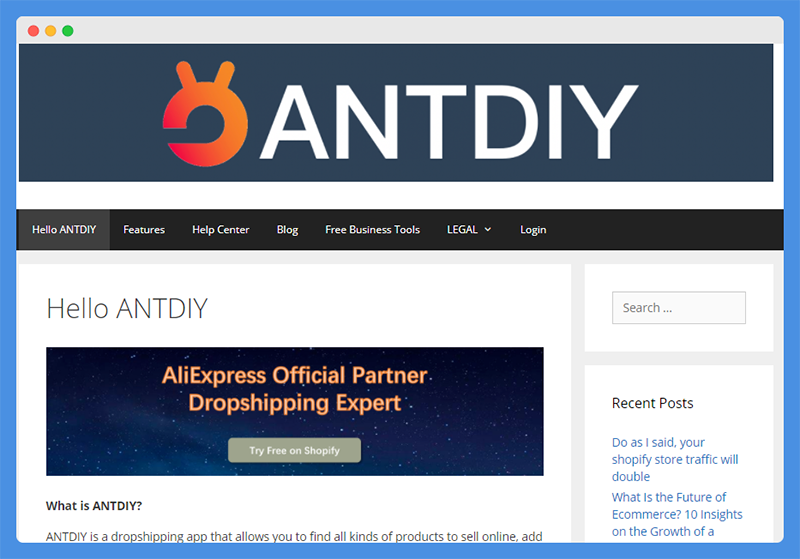 If your dropshipping business is based in Europe or the USA, then this app can help you boost and accelerate sales. With their free Chrome Extension, you can add products from AliExpress to your dropshipping store with a few clicks.
The tool lets users drive productivity by automating bulk orders and fulfilling orders with one click. You can sync orders and tracking numbers with Shopify so that customers know when their products will arrive.
Topdser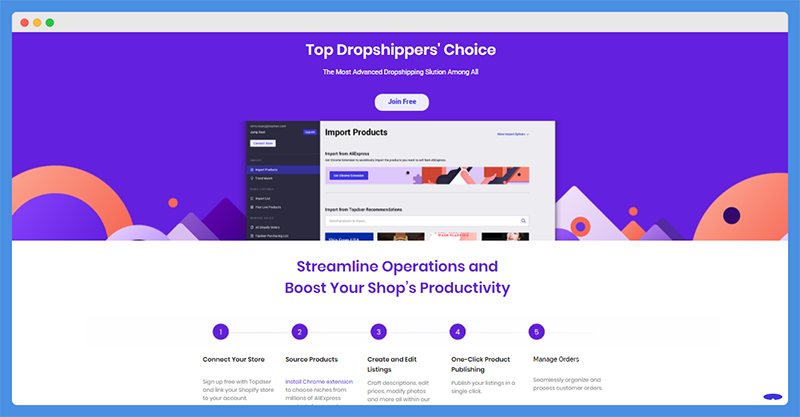 This tool helps dropshippers streamline their operations and increase sales. Dropshippers can link their Shopify store and sync products to their store.
With the Chrome Extension, users can select profitable niches and add products to their store. The tool allows users to
Create and edit product listings
Seamlessly organize, process, and manage customer orders
Publish products and listings in a single click
AliExpress Dropship Center Pricing
The AliExpress Dropship Center is free.
Just signup for an account on AliExpress, visit the dropshipping center, agree with the terms and conditions of use, and you are good to go.
Customer Service & Support
AliExpress Dropship Center offers multiple dropshipper support options. You can quickly contact Eva, the customer service bot, to get answers to pending questions.
Unfortunately, you can't access live chat and phone support on this platform. So this feature gets a 4-star rating out of five.
Ratings
Ease-of-Use
The software's dashboard is user-friendly and easy to navigate. Dropshipper can easily find products and analyze products. This feature earns a 5-star rating out of five.
Features
AliExpress Dropship Center is feature-rich. Dropshippers can access multiple features to take their business to the next level. You can research the best performing products, analyze them, and use partner apps to streamline your business. So, this feature earns a 5-star rating out of five.
Value for Money
AliExpress Dropship Center delivers incredible value for dropshippers and merchants. So this feature earns a 5-star rating out of five.
Dropshipper Service and Support
AliExpress Dropship Center offers multiple customer support channels including
Customer feedback
Customer service bots
Facebook Group
The customer service chatbot provides multiple answers to customer queries. Merchants can drop feedback on the platform and get responses that will help their business.
Explore: Best Dropshipping Niches
Pros
Here's why dropshippers love this platform
The platform is easy to use
Dropshippers can use partner apps to streamline their business operations
The tool is free
The platform is directly linked to AliExpress so merchants can find thousands of products for their dropshipping business
Cons
No phone and live chat support
The software times out quickly
Conclusion
There you go. Whether you are a veteran dropshipper or a newbie, AliExpress Dropship Center is a must-have tool.
The platform makes it easy for marketers to find and sell profitable products. Users can view detailed analytics about products, including sales volume and trends, to help them make timely business decisions. The software offers complete purchase and sales activities to help users track and improve.
AliExpress Dropship Center offers integration with partner apps to help you streamline your business process. You can sync your store, automate, and boost your business.
We get it; dropshipping isn't a walk in the park. AliExpress offers a free solution to make your work easier.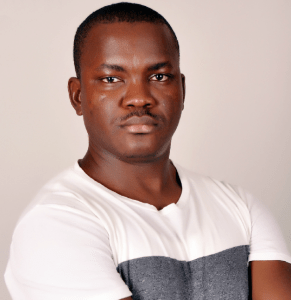 Author: Nicholas Godwin
Nicholas Godwin helps businesses tell profitable brand stories that their audiences love. He's worked on projects for Fortune 500 companies, global tech corporations and top consulting firms, from Bloomberg Beta, Accenture, PwC, and Deloitte to HP, Shell, and AT&T. Works with Mofluid these days.