Editor's note: If you're thinking of starting your Shopify dropshipping store, but have limited capital, go slow. Instead of adding multiple products to your store, pick just one. Selling a single product, saves you the time and energy you would otherwise spend in finding out multiple high-demand products. You also get the benefit to research the product and its market. Check out this post how these single product dropshipping stores got the best of dropshipping. Or get in touch with EbizON for high-class end-to-end Shopify store development services.
In this post, we will show you the 12 best one product dropshipping stores.
Some of the most popular dropshipping stores have a vast range of products. While this might seem like a trend, it doesn't imply that it is the only way to go. 
You can make it in the eCommerce industry without selling too many products but instead, by selling a single product. That brings us to one product stores. 
If you run a one product store, you simply sell a specific product in your store. Such a type of store has its advantages; hence, a lot of people are beginning to have an interest in them. 
When you've got minimal capital for inventory, one of the ways to survive in eCommerce is via dropshipping. 
Thankfully, you can become a successful online retailer seller by operating a one product dropshipping store. 
Without delay, here are the 12 best one product dropshipping store examples for your inspiration. 
Also Read: Best Dropshipping Products To Sell This Year
Best One Product Dropshipping Store Examples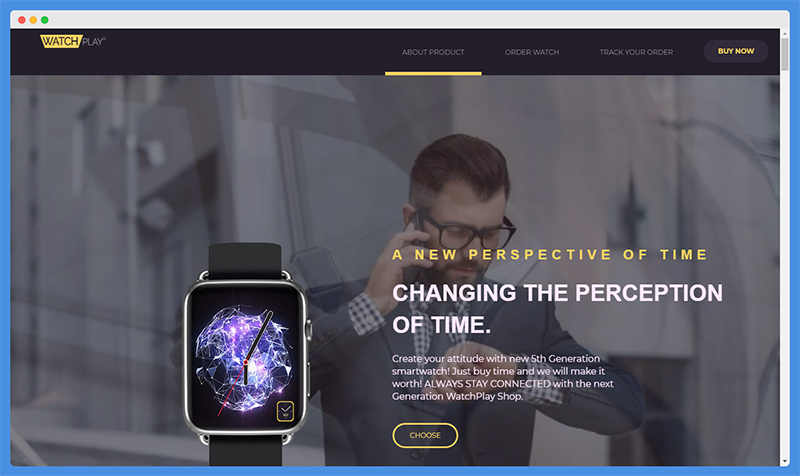 The WatchPlay Store is a one product dropshipping store for a smartwatch with 5th generation technology. 
Apart from being a relatively new online store, it is one of the best due to the product quality. Interestingly, this online store is hosted on Shopify. 
Not to mention, the smartwatch incorporates superb features, which has attracted a lot of positive reviews from customers.
Take, for instance, the smartwatch which allows you to capture images/record videos, track activities, play media, connect to social media platforms like Facebook & Whatsapp, browse the internet, make calls, and much more. 
The WatchPlay Store accepts payment from customers via credit cards. Customers can follow up their purchase with the Order Tracker which is a unique selling feature for dropshipping stores.
Another selling feature on the WatchPlay Store is their 30-day refund policy. 
Customers can get their money back or get replacements if there are damages. Their delivery time is relatively fast, between one to five working days after the purchase is made.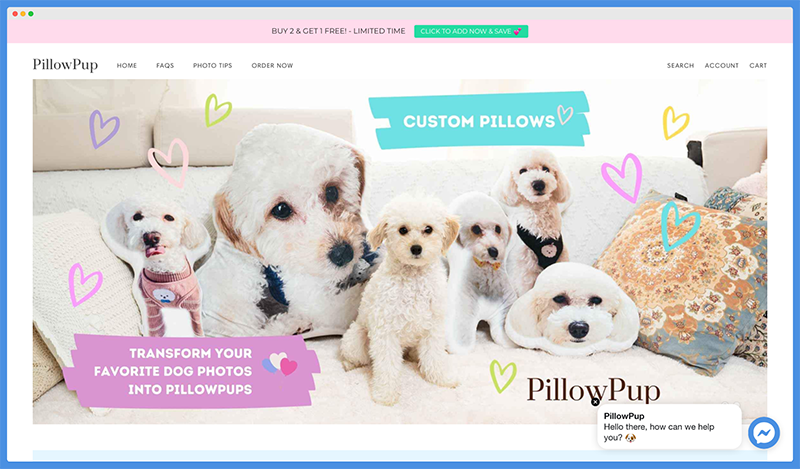 PillowPup is a one product dropshipping store where custom pillows and cushions for puppies are sold.
In fact, this online store dropships products via a print on demand platform. Customers can order custom products for their puppies based on their preferences. 
Customers take pictures of their puppies/dogs and upload them to the store. The photo gets edited and printed on a custom pillow. After that, the item is shipped. 
Pillows from PillowPup are created in different shapes and sizes and they can work with any photo so long as it meets their good-photo requirement. 
To influence customers in making purchases, PillowPup gifts 1 extra custom pillow for free when 2 pillows are ordered. 
Customers can pay via a variety of payment methods including G Pay, Apple Pay, PayPal, OPay, and credit card. 
PillowPup ships products to customers within three to five days. As the products are custom made upon customers' orders, refunds are not accepted.
The PillowPup one product dropshipping store is hosted using Shopify. 
Explore: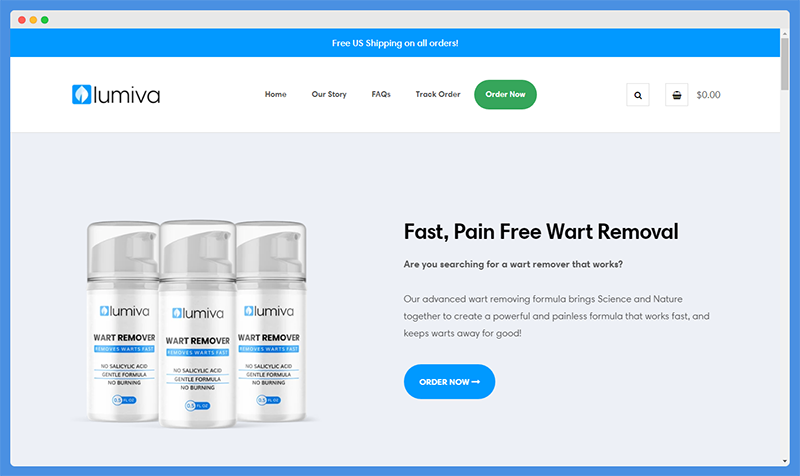 Here is another single product ecommerce store that sells a health-related product. The product here is the Lumiva Wart Remover, which has been rated 5 stars by all customers. 
It is an effective product against plantar warts, flat warts, and common warts. 
On the other hand, it is free from salicylic acid, which ensures that the product is safe for sensitive skin. 
Interestingly, Lumiva Wart Remover provides customers with a 60-day guarantee. If changes are not seen within these 60 days, customers can get a full refund.
Lumiva ships within and outside the United States. Shipping within the United States is free while outside attracts a fee. 
One reason why Lumiva is among the best one product dropshipping store examples is that their delivery time is fast.
For most orders, products are shipped the same day, others get shipped the next day. 
Also Read: Best Shopify Dropshipping Apps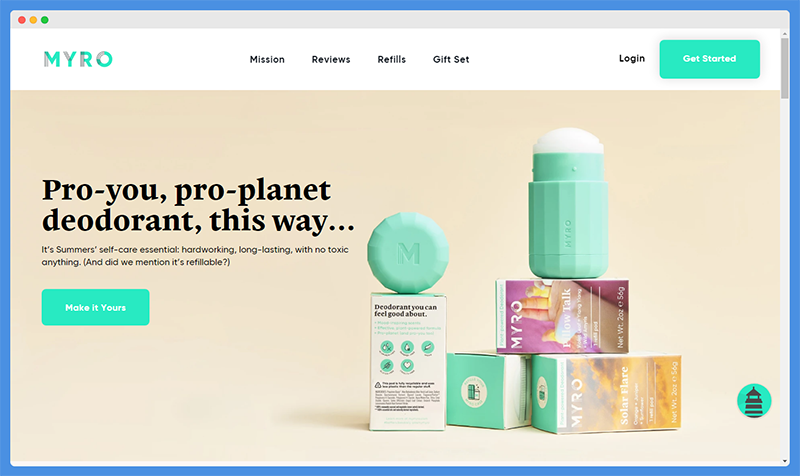 Myro is the next one product dropshipping store example on our list.
On the Myro online store, customers can purchase top quality deodorants.  In fact, this online store is the perfect example of dropshipping private-labeled products done right.
The deodorant is free from aluminum, paraben, and gluten. All these prove to the customers that the product is safe to use. There are five different deodorant scents available on the Myro store. 
Aside from the deodorant quality, the container design makes the product unique and sophisticated. Myro was launched in 2017 and in less than 3 years, the store has managed to convert over 600 loyal customers who rate the products 4.6 stars out of 5. 
The store's success story links with its convenient subscription method. When you provide a seamless platform for customers to constantly purchase their favorite product once it is used up, you won't lose them.
Likewise, customers can purchase the product without a subscription.
Apart from retailing deodorants, Myro also sells in wholesale so partnering with them will be easy. 
Explore: Best Dropshipping Niches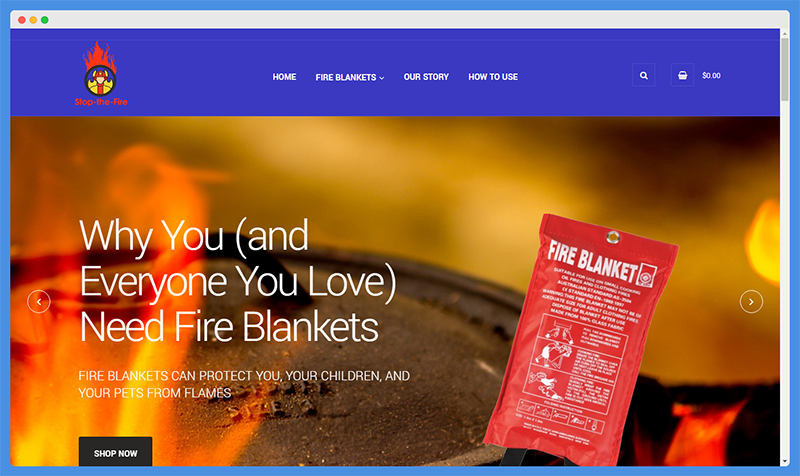 Another noteworthy one product store example worthy of mention is Stop The Fire.
Stop The Fire sells life-saving products – high-quality fire blankets for emergency survival that are capable of resisting high-temperatures up to 550 degrees. 
The fire blankets on this online store are affordable and to attract more sales, customers can purchase them in packs and get a discount, up to 20 percent. 
These fire blankets are optimized to be very easy to put on. Made with fiberglass, they meet the AS Standard. Likewise, the product is environmentally friendly and does not expire.
They are ideal for cooking fires and clothing fires.
Customers can make purchases on this store using credit cards and PayPal. With the 30-day refund policy, customers can get a product exchange or refund if the delivered product has issues. 
Their company is based in New York, and although they ship to several countries, most shipping is done within the US. 
Check Out: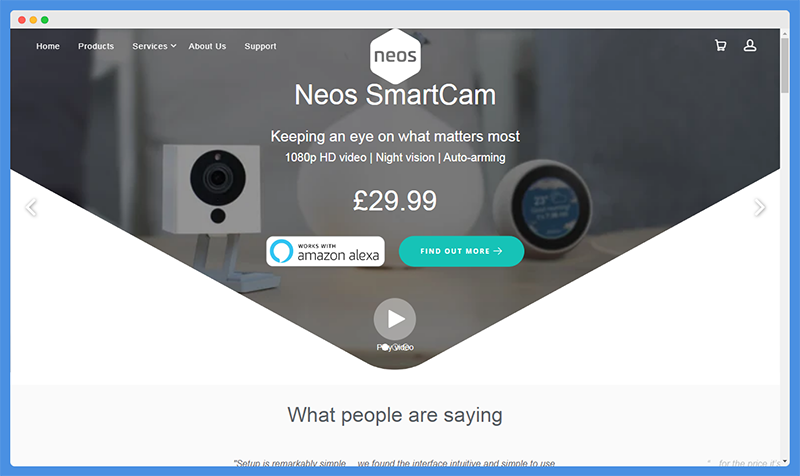 Here is a one product dropshipping store that focuses on security. The Neos SmartCam is a device that can be used to monitor all happenings at home, work, or any other place. 
This SmartCam is an easy-to-use device as it can be operated using a mobile application. Primarily, it is a camera but one with advanced functionality as it features an auto-alarm, cloud recorder, and 2-way audio system.
It records images and videos in full HD at 1080p. Also, it is compatible with Amazon Alexa.
Customers can order a single SmartCam or two by purchasing the Twin Pack. Accessories to install the cam like the mounting kit and memory card are available, but sold separately. 
The online store processes returns only within 28 days of purchase and the product comes with a 1-year warranty.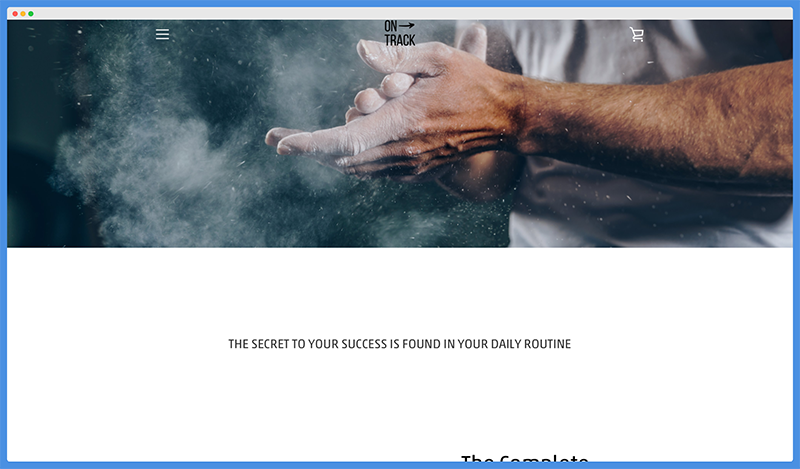 The last example on our list is one that sells a single fitness product is On Track. It's a one product Shopify store.
On the On Track store, the product sold is a complete fitness planner that is available in two colors, Cognac Brown and Grotto Black. 
This complete fitness planner is like a journal for people to record their daily workouts and exercises. Since the tracker can get filled up at any time, On Track provides the option for it to be preordered. 
Most people prefer the modern methods of tracking workouts via mobile apps and other gadgets, but for those who still fancy the traditional way, this product will spike their interest. 
Payments can be made securely by using credit cards or PayPal. The product is dropshipped from Canadian manufacturers and shipping is mainly within Canada.
The store is hosted on Shopify and there's a provision for customers to track their orders after payment. 
Check Out: Best Amazon Dropshipping Training Courses
How To Set Up A One Product Dropshipping Store
Here are ideal steps you can apply to set up a one product dropshipping store:
Decide on your product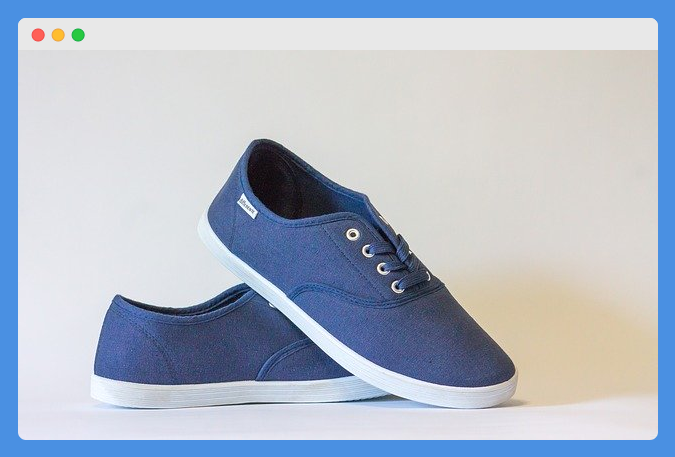 This is the basic thing that has to be done when it comes to eCommerce. You are going to sell a specific product in your store, so you need to first decide which product it will be. 
Some people might consider selling products they are familiar with or products which they can easily source. On the other hand, you can choose the hottest product on the market. 
Whichever one you select, it'll be profitable if you put in work. However, selling hot products can have an advantage.
You can use seller tools to sort through major marketplaces like Amazon, eBay, and Walmart to figure out which products are attracting the most traffic.
Locate Suppliers/Manufacturers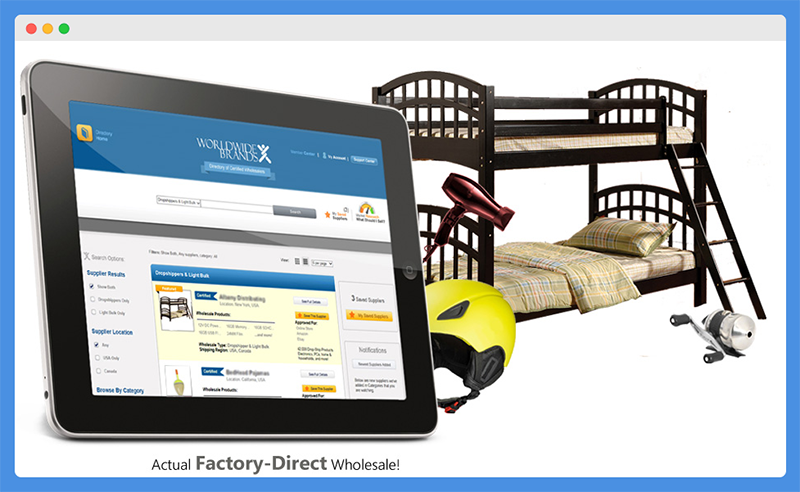 Suppliers are the backbone of your dropshipping business. You have to source for good suppliers who will be able to provide and deliver goods on time. One of the major reasons why dropshipping stores fail is due to unreliable suppliers. 
Reliable suppliers can be expensive, but they are not scarce; there are lots of dropshipping companies online where you can source for these suppliers. 
While you decide on what product to sell, you should already have some ideal suppliers or manufacturers in mind. There are some things to consider such as distance between the suppliers and customers as well as the shipping methods.
Your suppliers will be responsible for sending products to your customers, but if their shipping and fulfillment process is subpar, your business will be the one to suffer. 
Pick a store platform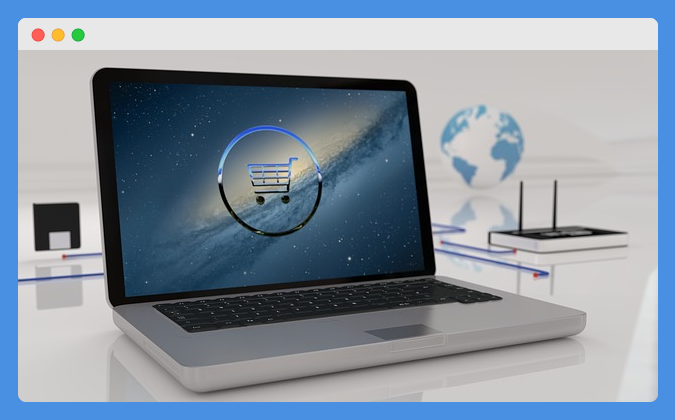 There are several eCommerce store platforms on the internet that you can make use of. Already, you should be aware of popular ones like Shopify, WooCommerce, BigCommerce, and Magento. 
You can also make use of an online marketplace such as Amazon, eBay, Etsy, Walmart, etc.
While choosing your store platform, you might want to consider using dropshipping companies.
Platforms like Oberlo, Doba, SaleHoo, and Worldwide Brands offer dropshipping products from top suppliers and if you intend to use any of them, your store platform should be able to integrate with them seamlessly. 
Design your store 
Designing your store brings it to life. Depending on the eCommerce platform you intend to use, you should consider using a one product store theme or template.
Likewise, your brand logo, color, and the overall impression should reflect on your store design. 
It is important that the design is responsive, especially for mobile devices. 
Another thing to consider are the store details; About and Contact pages are very important. Most buyers want to know about your business to see if you're legit and some will want to contact you for further questions/inquiries.
Upload products
After your site is designed, you can now upload your single product. Some store platforms provide product templates so you just have to put in the product description and other details here.
Others let you design product templates from scratch. 
Nonetheless, you should ensure that you provide all the necessary product details, as every little detail matters. Also, make it as easy to read as possible. 
The product images you upload should be crisp. On all product pages, ensure there's space for customers to drop reviews and comments.
Get Customers 
Attracting customers to your store will ensure that your one product dropshipping store succeeds. It is one thing to gain traffic and it is another for the visitors to trust your store enough to make online purchases.
To succeed, you first need to understand your ideal audience and target them. 
You can attract customers to your store from recommendations, paid advertisements, SEO, and social media marketing. 
Then, you can influence their buying decision through proven methods like low prices compared to competitors, discounts, outstanding customer service, and a strategic sales funneling process.
Check Out: Best eBay Dropshipping Courses
Rounding Up
One of the ways to minimize spending and loss as a relatively new eCommerce store is by starting small. As you make profits, you can then expand your business and operate on a large scale.
With a one product dropshipping store, you can do just that. 
By focusing on one product at a time, you can channel all resources into satisfying niche-specific customers. With time, you can become an authority in your niche by gaining the trust of your audience.
If you choose to start big with a variety of products, you can succeed, but it will require a lot of resources on your end which is something most startups don't have.
As you can see from our list of the 12 best one product dropshipping store examples, several stores even private-label their product for branding purposes.  
Fortunately, you can also launch your single product/one product dropshipping store. All you have to do is apply the simple steps that we highlighted above.

Author: Sam Zaman
Sam loves to write on technology & related stuff. Ecommerce, mobile and internet marketing equally drive her interest. Likes gardening and experimenting with new recipes. An avid reader and absolutely mad @bout donuts :)