There are over 3.2 billion social media users globally, according to Oberlo, and over 90 percent of millennials are active social media users.
Around three-quarters of businesses have said that social media marketing has proven to be effective for their business.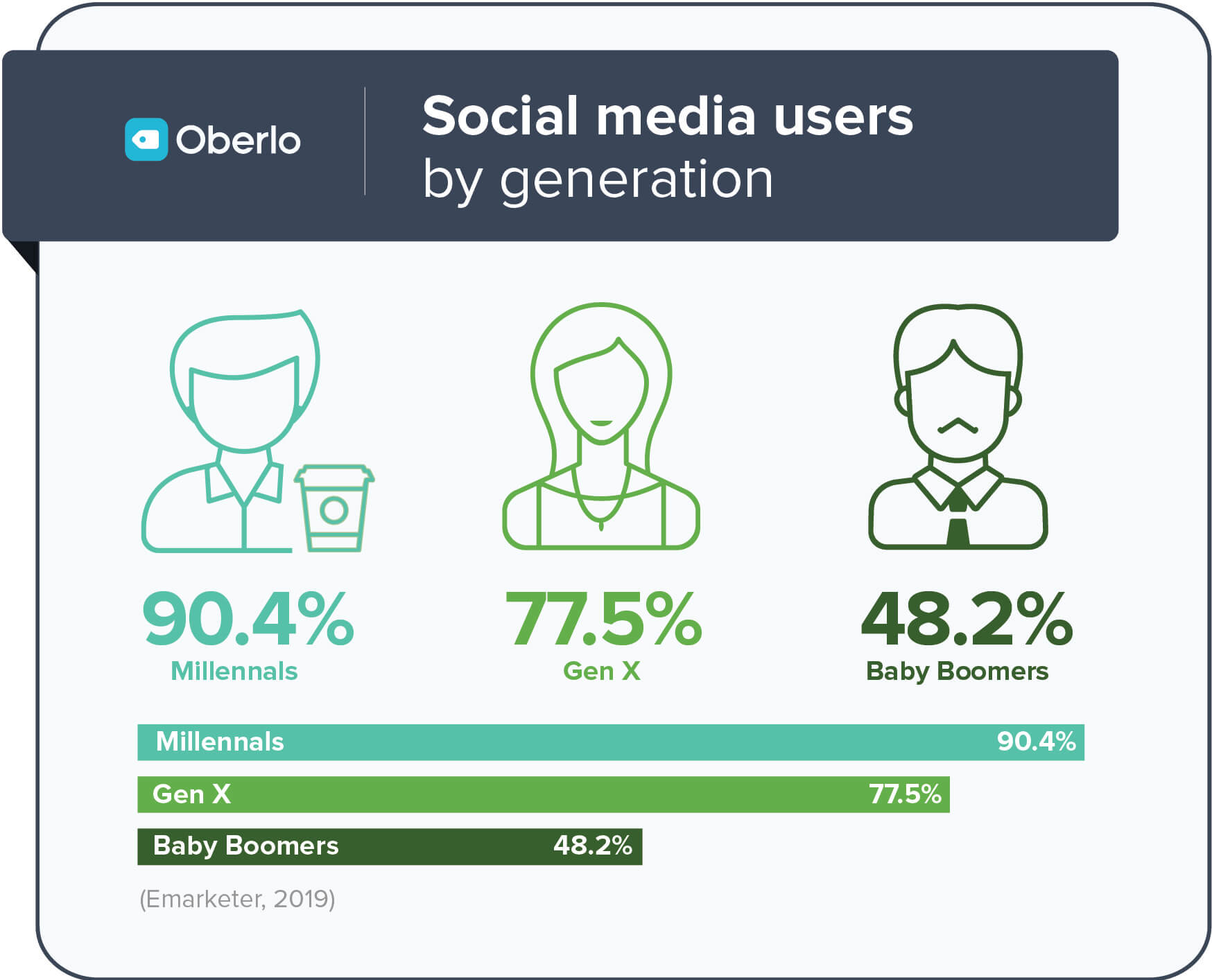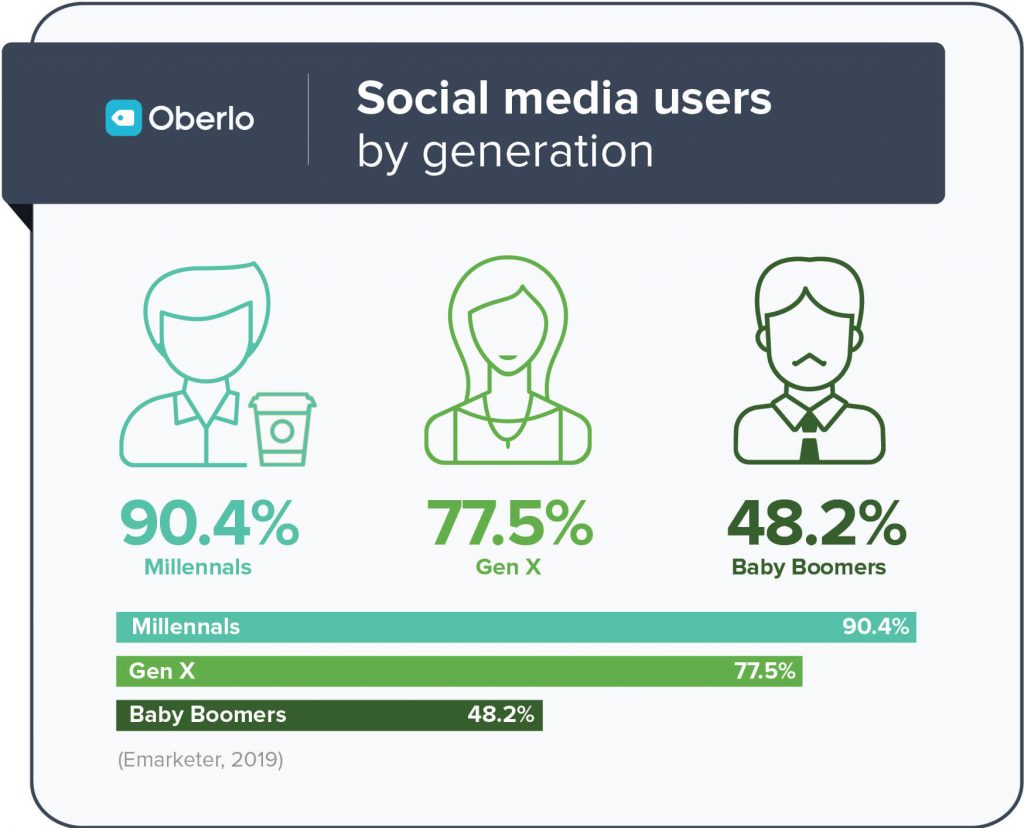 However, as more and more businesses start creating social media profiles, it is important to know how to stand out from the crowd. Sharing the right content at the right time is crucial for achieving success.
Fortunately, there are tools that will help you find the best content to promote. Social Ad Scout is a popular one.
It's more than just knowing what to share. You also need to know who you are reaching and which content your target audience is responding to the most.
When running paid ads, it's even more important to pay attention to statistics and demographics so that you can improve your performance and achieve a better ROI.
In this article, we will explore five great alternatives to Social Ad Scout that will help give your social media marketing strategy a boost.
Sprout Social is one of the most popular social media marketing and management tools. Not many sprout social competitors have as many features as Sprout Social has.
Sprout Social allows you to manage many pages at once. You can plan and schedule posts, respond to comments, manage conversations in Messenger, manage team efforts, create workflows for your team to collaborate on, and collect strategic data and insights on your performance.
Sprout Social covers five social media platforms:
Facebook
Instagram
Twitter
LinkedIn
Pinterest

Content Creation
Sprout Social makes it easy to create and publish content on social media.
Instead of logging onto each platform and waste time sharing content to each platform, you can manage everything from one dashboard – you can automatically share your content to several platforms at once.
You can save even more time by scheduling your posts in advance. This way, you can set aside time each week to schedule your posts and not have to worry about it later.
Not only that, but Sprout Social will analyze your data to determine the optimal time to schedule your posts.
Their ViralPost feature analyzes your audience and engagement metrics to discover when you are having the greatest impact.
There will be an interactive calendar where you can see which posts are scheduled for which platform. Sprout Social is also great for teams – you can set custom user permissions so that different team members can publish content to different platforms.
You can also access your dashboard from different devices to streamline your content creation strategy.
Uploaded images can be saved in the library so that you can reuse them at any time.
All your images can be edited straight from the Sprout Social platform before you share them – you can add filters, text, and more.
You will get detailed analytics about each post to help you figure out which messages are resonating with your followers.
Customer Relationship Management
Sprout Social also acts as a CRM platform.
A common problem large businesses have is keeping up with all of the customer interactions they get on their social media accounts – there are comments to reply to, messages to keep track of, and more.
Sprout Social has several tools that will help you engage with your customers properly, which can lead to increased customer satisfaction. All tools come with training on how to use them and customer support.
All messages will be displayed in a central inbox. You will be able to see and respond to messages across all accounts from a single dashboard.
You can group and filter messages based on tags, which can help you sort them and reply to them more efficiently.
You can also see a customer's previous message history and profile to be able to provide better and more customized responses.
You can also create chatbots to quickly respond to customers and provide them with answers and solutions to common questions and problems.
For Twitter, you can set up an automated messaging system that gives suggested replies based on algorithms and machine learning.
This can allow you to respond quicker and save you time and effort.
You will also get alerts when there is a spike in messages. This way, you can set aside time or assign a team member to be available when there is a crisis or another problem.
Sprout Social also allows you to manage reviews across sites such as Google and Facebook. You can reply to positive reviews as well as respond to negative ones to manage your reputation.
Sprout Social is set up to allow you to manage teams and assign tasks. It also integrates with other customer support and CRM platforms, such as Zendesk and Hubspot.
Analytics and Reports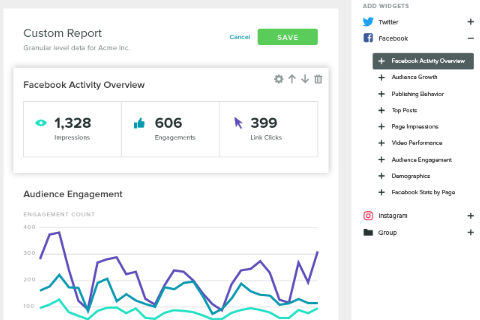 Social Sprout will give you access to advanced analytics and reports across all your platforms to analyse your social media competitor.
For Facebook, you can learn about your page growth, fans, and compare your competitors' pages.
For Twitter, you can analyze your posts and see their performance, such as their clicks and engagement.
You can get hashtag reports and analyze historical data to determine what your best content is.
For Instagram, you can get detailed reports about your performance and the hashtags you are using, as well as your sent messages.
For LinkedIn, you can see the impact of your page and LinkedIn posts. By comparing your organic and paid growth rates, you can see how much of an impact your paid campaigns are having.
On all platforms, you can create custom criteria so that reports are generated with data that is important to you. All reports can be saved and exported.
Brand Marketing and Engagement Tools
Besides detailed analytics about your followers and the performance of your posts and the engagement they are getting, you will also get deep insights that can help your brand overall.
Social Sprout uses social listening to find out what consumers in your industry care about, what bothers them, how they feel about issues or products, and more.
You can then use this information to shape your marketing and/or product creation strategies.
Sprout Social competitor analysis features are notable too. You get data about competitors. You can identify emerging trends, influencers who are becoming popular in the industry, and other consumer sentiments.
There will also be analytics about your brand. By listening to what people are saying about you, you can learn how to increase brand visibility.
You can even set up listening queries to find out consumer sentiment about specific topics that matter to your brand.
Collaboration
Sprout Social's collaboration tools make it easy for teams to get things done.
For example, you can assign tags to different conversations so that different team members can take care of them.
All activity and new messages will be updated in real-time in the inbox, so you will never cross paths.
You can also assign notes to messages or designate types.
The scheduling calendar can be shared among team members, and you can also collaborate on post drafts.
Besides being able to assign different messages and tasks to different team members, you will also have access to real-time updates that will help you see the performance of different team members. The Team Report will help you measure workflow efficiency.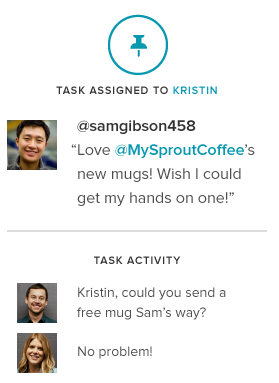 Support and Resources
Sprout Social has a wide range of resources to help customers figure out how to use the platform and succeed in social media marketing.
They have live and recorded webinars, a help center, a FAQs section, case studies, a free image resizing tool, and even live events in select locations at select times.
You can reach their support team in four ways:
By calling them
By submitting a request on their site
Via email
Vial social media (Twitter, Facebook, Instagram, LinkedIn, Youtube)
Pricing
Sprout Social has three plans:
Standard – $99/month
Professional – $149/month
Advanced – $249/month
Each plan allows for a different number of connected social account and has different features.
For example, to get access to the competitive reports, you will need to get the Professional plan, and to use the chatbots, you will need the Advanced plan.
Each plan has a free 30-day trial.
If you're specifically looking for the best paid social media monitoring tools, Sprout Social is the one to consider.
BuzzSumo is another popular competitor social media monitoring tool. It works a little differently than Sprout Social – its main purpose is to help you find the best content to share on social media.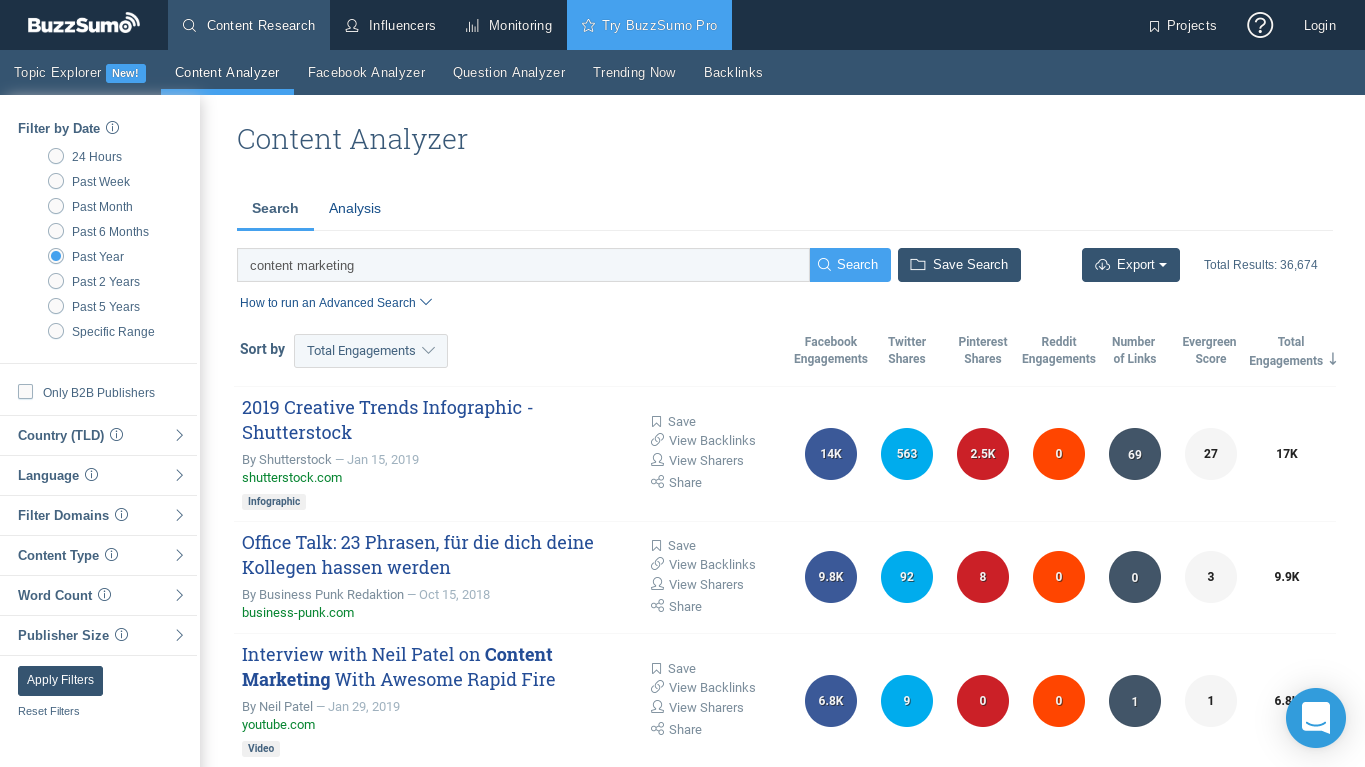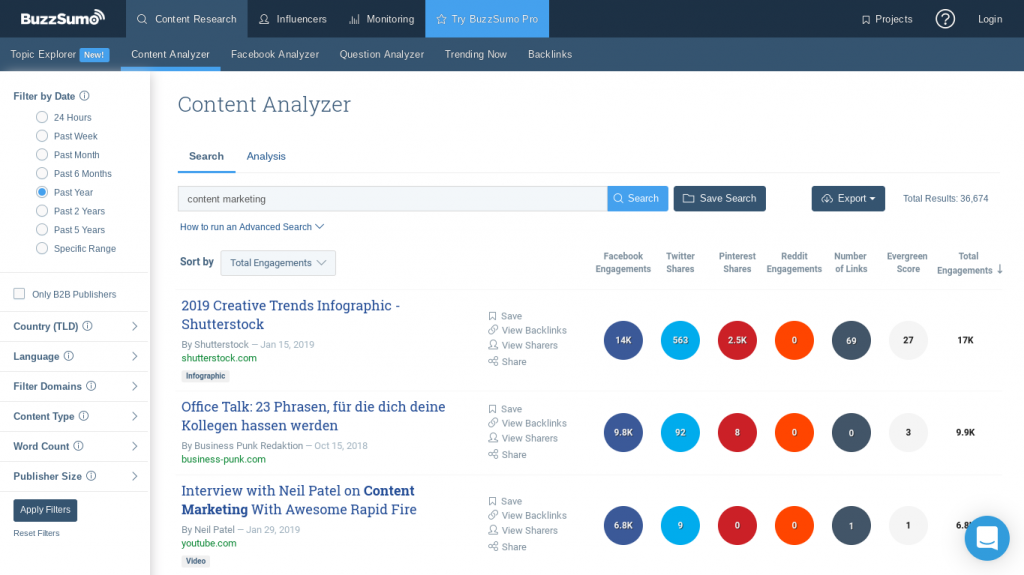 Content Analyzer
On its homepage, you will be able to perform a search by typing a term or domain into the search bar.
BuzzSumo will show you the top webpages that were posted in that category or related to that topic, along with stats about engagement and how many times it was shared to each of the major social media platforms.
You can also see a list of backlinks to the site and the search term's popularity over time.
Facebook Analyzer
This tool allows you to analyze your Facebook posts and see which ones are getting the most engagement.
You can also track your competitors to see the content they are sharing and the content that is bringing them the most engagement, as well as the most popular posts on Facebook for any given topic or search term.
Question Analyzer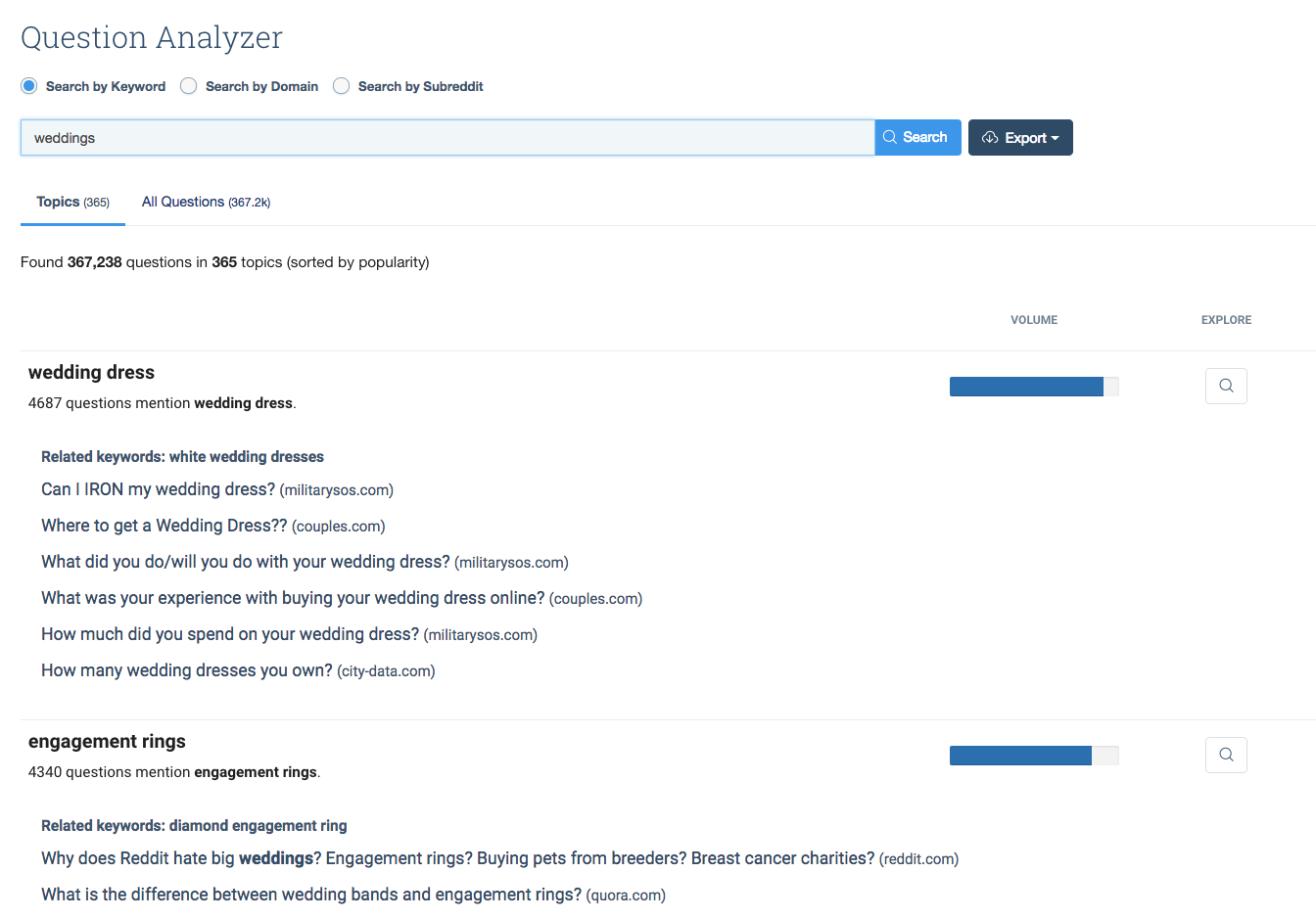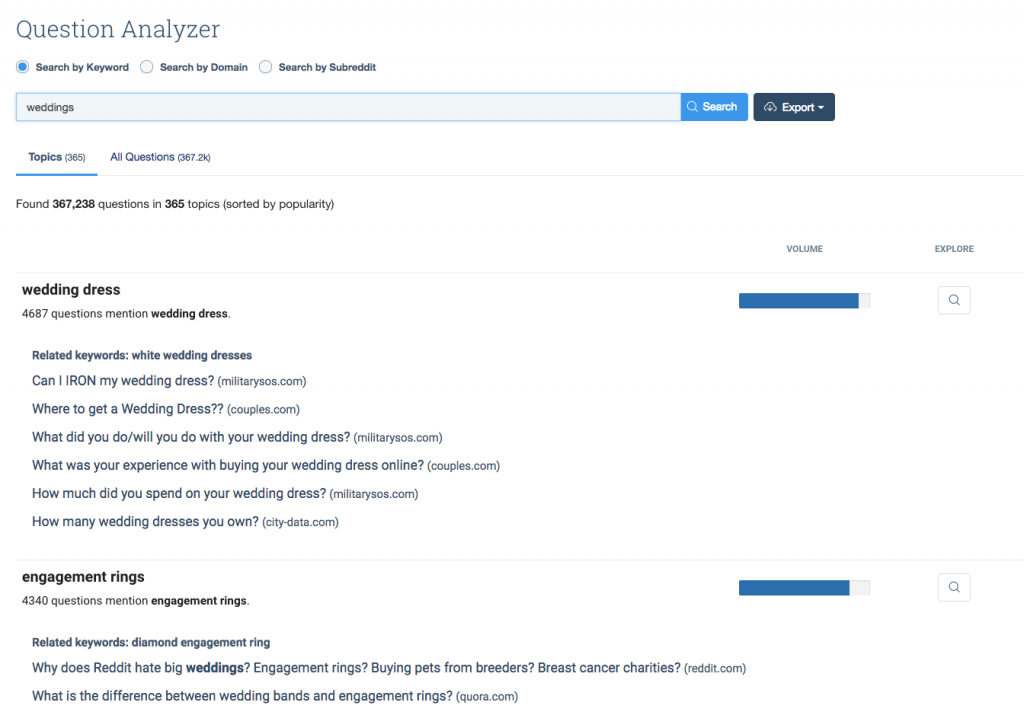 Type any search term or topic into the bar and you will see a list of the most popular questions being asked on sites such as Quora and Reddit.
These sites are great for discovering consumer sentiment. You can see what consumers are worried about, what problems they are having, and what solutions they are looking for.
Topic Explorer
Enter any broad topic or niche to discover sub-niches and other ideas you can talk about on your blog or on your social media accounts.
Trending Now
This tool will show you the most popular news articles that are trending at any given time. You can filter results based on category or topic.
Influencers
This tool is a great way to discover influencers who are popular in your niche.
Not only can you collaborate with them to further your reach, but you can also learn from them about what kind of content is currently popular.
Monitoring
You can monitor your online performance. For example, you can get alerts when people mention you or track your competitors' activities.
Pricing
One of the best things about BuzzSumo is that some things, like the Content Analyzer, is free (although you will be limited in your results).
Plans start at $79/month. You'll need the $139/month plan to get the Question Analyzer tool, and you'll need the $239/month plan to get the Facebook Analyzer tool.
Fortunately, you can try out these tools with their free trial.
Also Read: How To Develop Social Media Content Strategy
Zoho Social is another entry in the list of the best social media monitoring tools.
Zoho Social is a bit like Sprout Social, but it is much more affordable. Plans start at just $10/month!
It supports Facebook, Twitter, Instagram, LinkedIn, and Google My Business.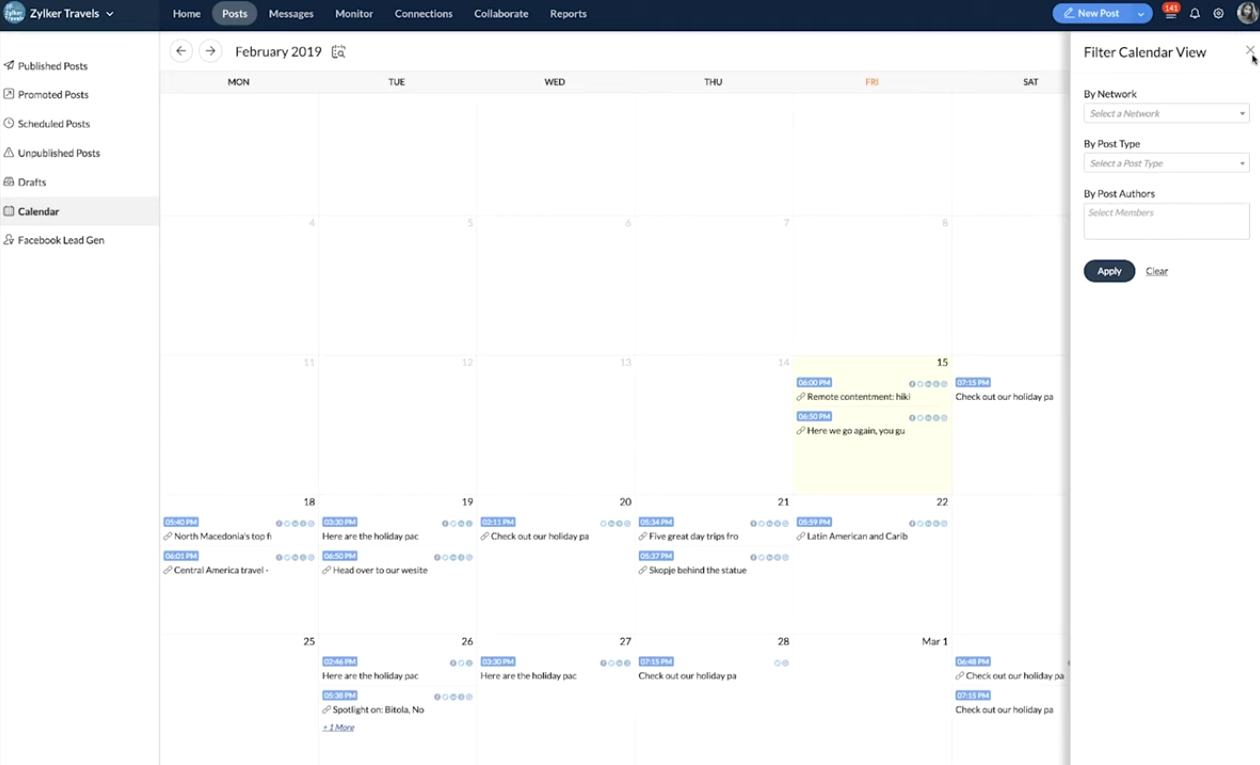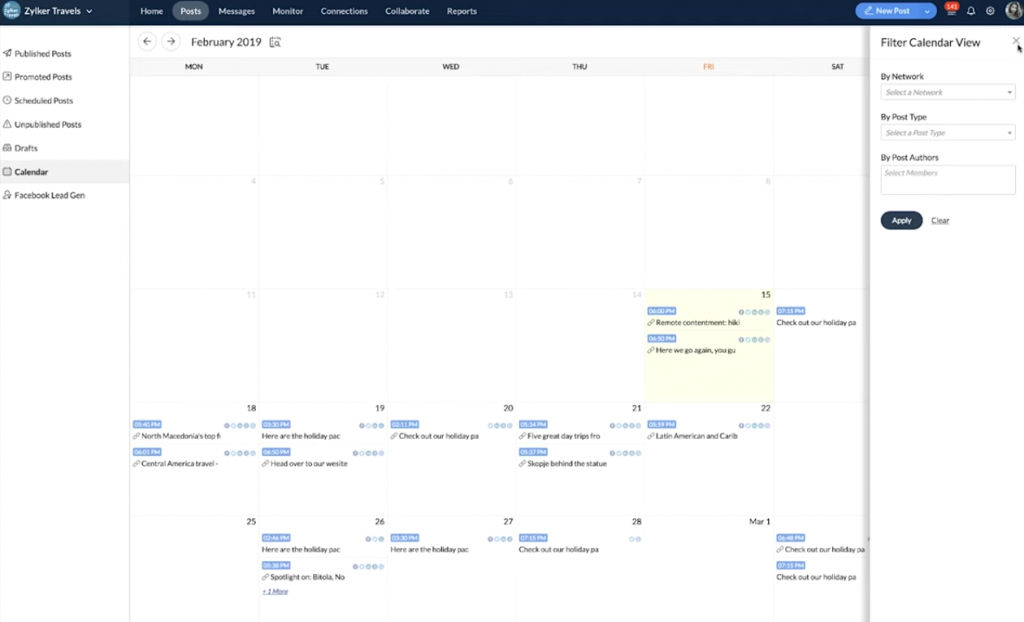 Post Scheduling
Zoho makes bulk scheduling easy.
You will have a content calendar that you can use to schedule posts for different social media accounts and add them to your posting queue, or you can use a spreadsheet if you have a lot of content you want to share.
Live Reporting
You will be able to see mentions, reviews, keywords, and trending conversations in one, single dashboard.
All results will be shown in real-time, so you can engage with fans and people who are discussing topics related to your industry.
You can also see all of your Facebook and Twitter messages in one dashboard and respond to them.
Teamwork
You can assign tasks and give permissions to different users to streamline your social media marketing campaigns.
You can also create team discussions so that you can hear new ideas and perspectives.
Data and Analysis
There will be detailed statistics about your performance and followers, such as what content they are engaging with and their demographics.
You can create custom reports by filtering the data points you want to include.
Pricing
As mentioned, pricing starts at just $10/month. You can also use Zoho as an agency managing clients' social profiles – agency plans start at $200/month for 10 clients.
Social Animal is a bit like BuzzSumo. However, plans are a bit cheaper and the interface might be easier to use for some.
There are also some exclusive features in Social Animal which you might find useful.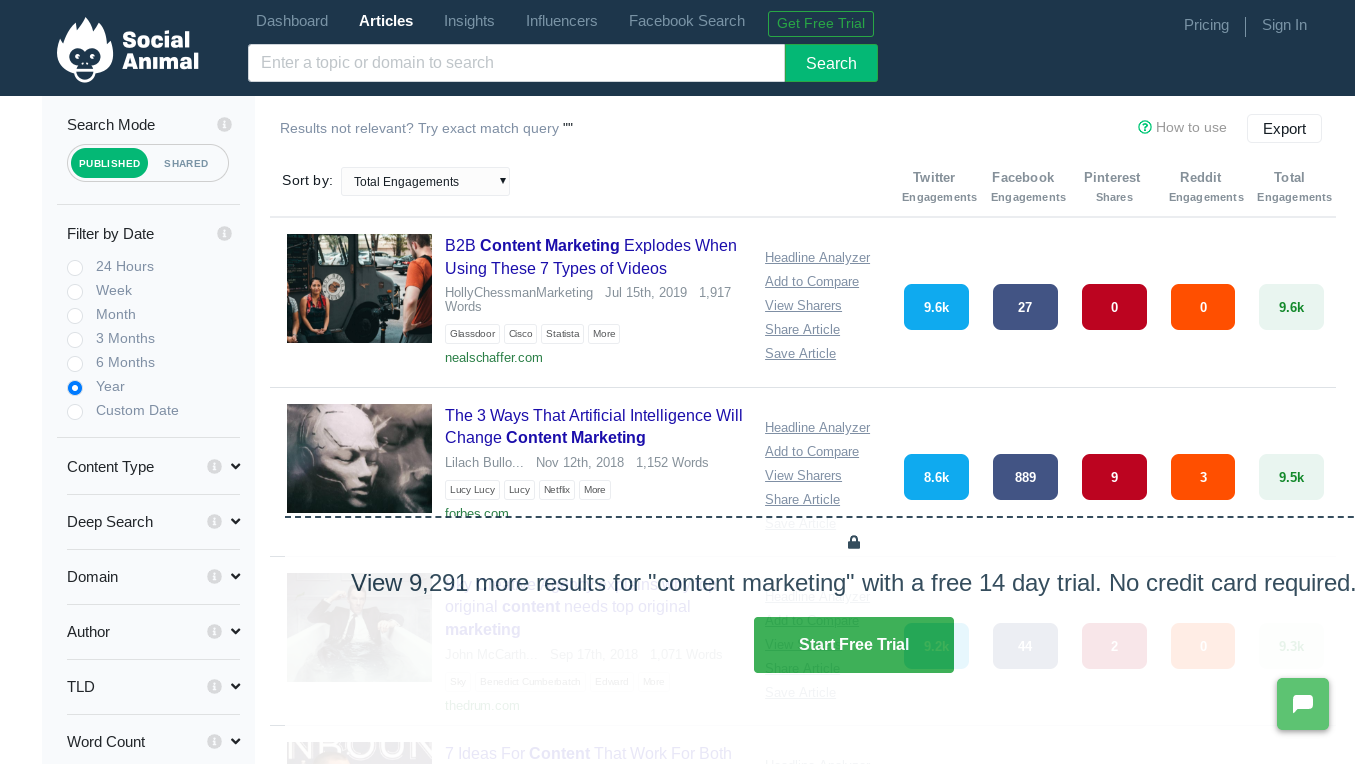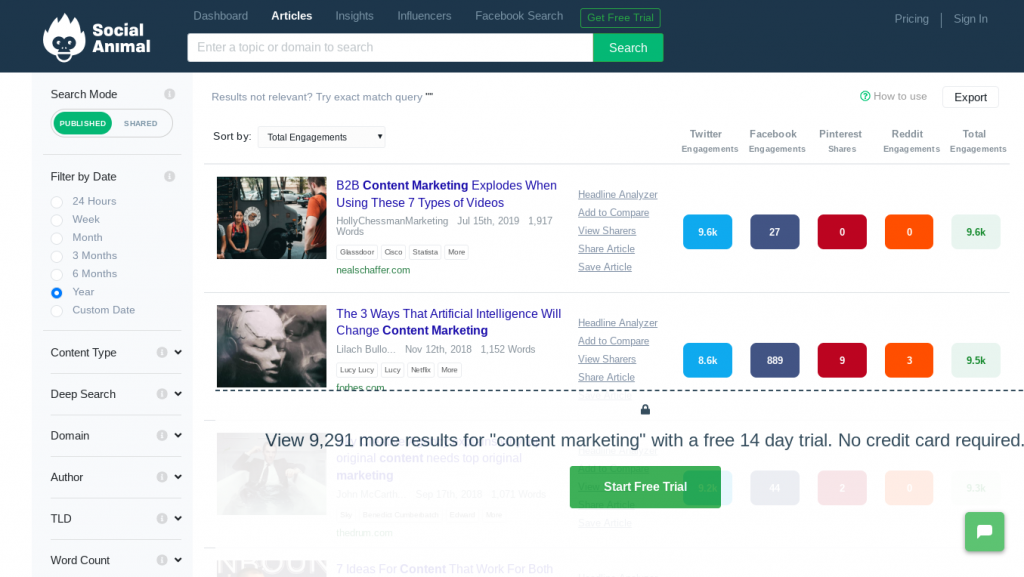 Researching Content
As with BuzzSumo, you can search for the most popular content in any niche or topic.
You will get stats for each article, such as how many times it was shared on different platforms, and a graph displaying its historical popularity.
With Social Animal, you can go even deeper and get a side-by-side comparison of two articles, allowing you to compare data such as their word count and number of social shares.
There is even a Headline Analyzer, which you can use to optimize your headlines.
An article's headline can determine whether it gets a lot of clicks and views, so make sure your headline has a good score.
You can use Social Animal's tools to find content to share. They don't just pull articles featuring headlines that contain the keywords you typed in.
Instead, they will look for those keywords appearing throughout articles. They will also use natural language programming to give you more accurate and relevant results.
You will also get a daily digest of content that might be relevant to you so that you can save time and share it without doing any additional research.
Influencer Marketing
Eighty-nine percent of marketers say that the ROI generated from influencer marketing is as good or even better than what they get from other channels.
In fact, 65 percent of influencer marketing budgets will increase this year.
Social Animal makes it easy to find and connect with influencers.
They have an algorithm that looks for the influencers in your industry that have the greatest impact, along with popular content authors and Twitter users.
As with content curation, you can have a regularly-updated list of influencers sent to your email in your Daily Digest, saving you time and effort on research.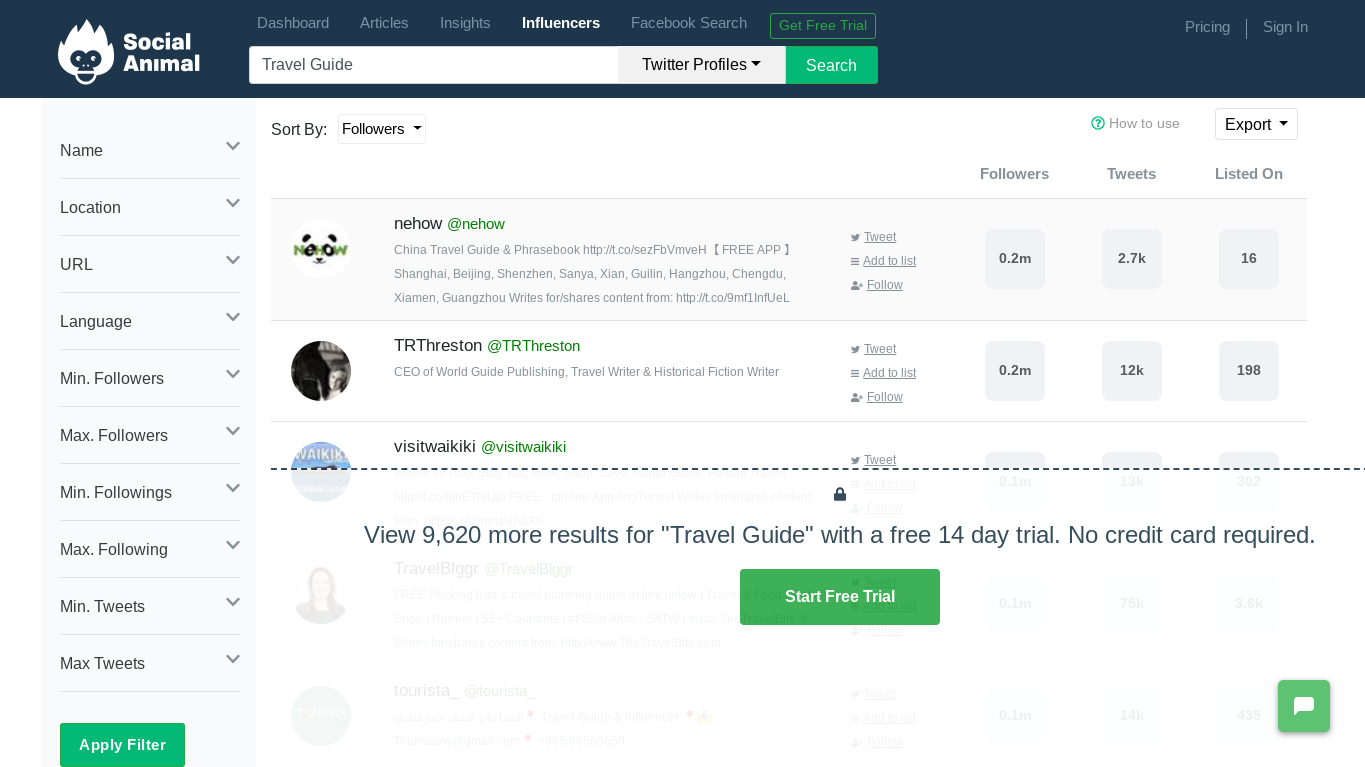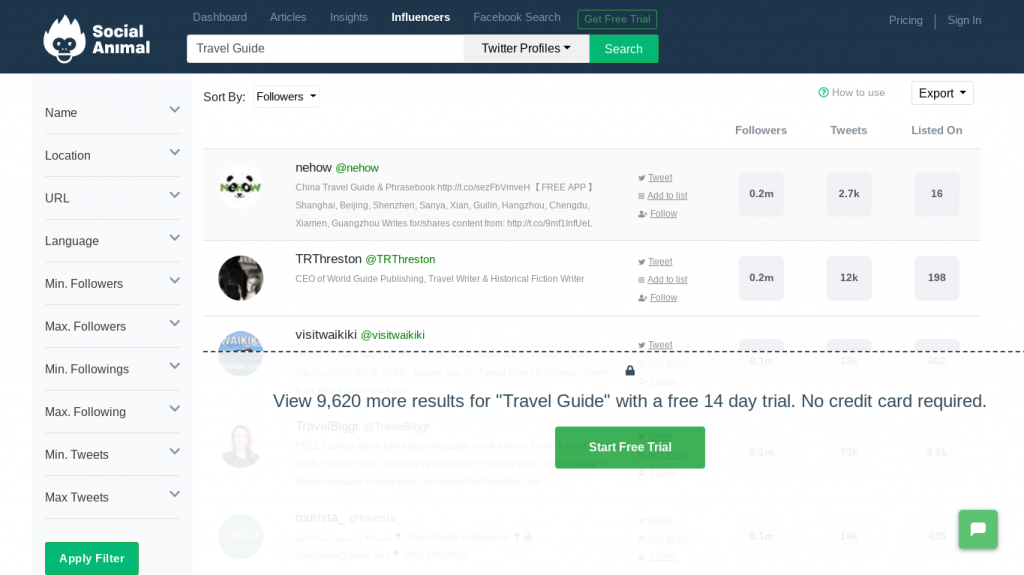 Facebook Research
Finding popular content to share and engage with on Facebook has never been easier.
You can track the performance of posts based on any keyword, find the top content for your curation campaigns, and sift through billions of posts to find the most popular ones.
You will also get detailed analytics and graphs about your followers and audience, such as what kind of content they engage with the most, where they are from, and other useful data.
Posting at the right time is important as well – if you time your posts correctly, you can maximize their visibility.
Social Animal will analyze millions of Facebook pages and the content they produce to find out when is the best time for you to post on Facebook.
Spying on Your Competitors
Social Animal is a decent competitors social media monitoring tool.
To spy on your competitors with Social Animal, set up one or more projects and add keywords, businesses, or organizations you want to track under each project.
The dashboard is updated every few hours with information such as competitor mentions and new articles. You can also have this information sent in your Daily Digest email.
Pricing
Prices start at just $41/month with yearly billing and $49/month with monthly billing, which is cheaper than BuzzSumo's paid plans. There are also Agency and Enterprise plans.
As with BuzzSumo, you can conduct limited searches on select tools for free, and you can also get a 14-day trial for any plan.
AdEspresso is focused on paid ads, unlike the other tools on this page, which focus primarily on creating free content. They focus on Facebook.
It can be used by small businesses, online stores, and even agencies who are managing accounts for their clients.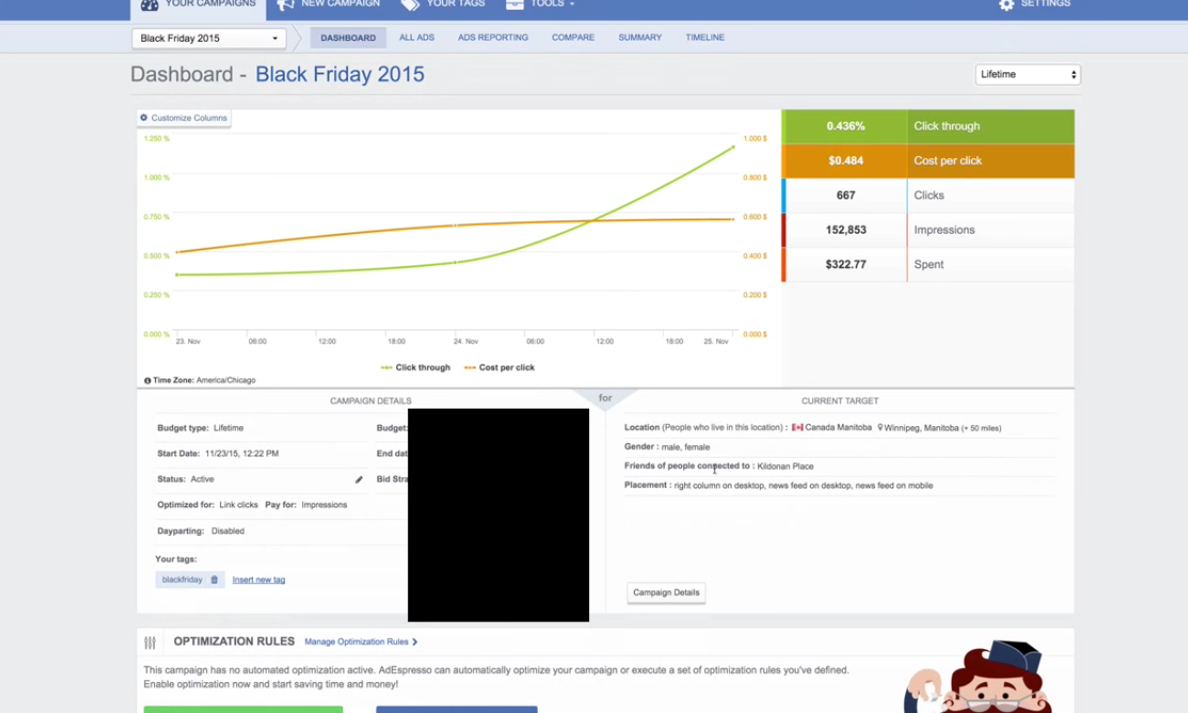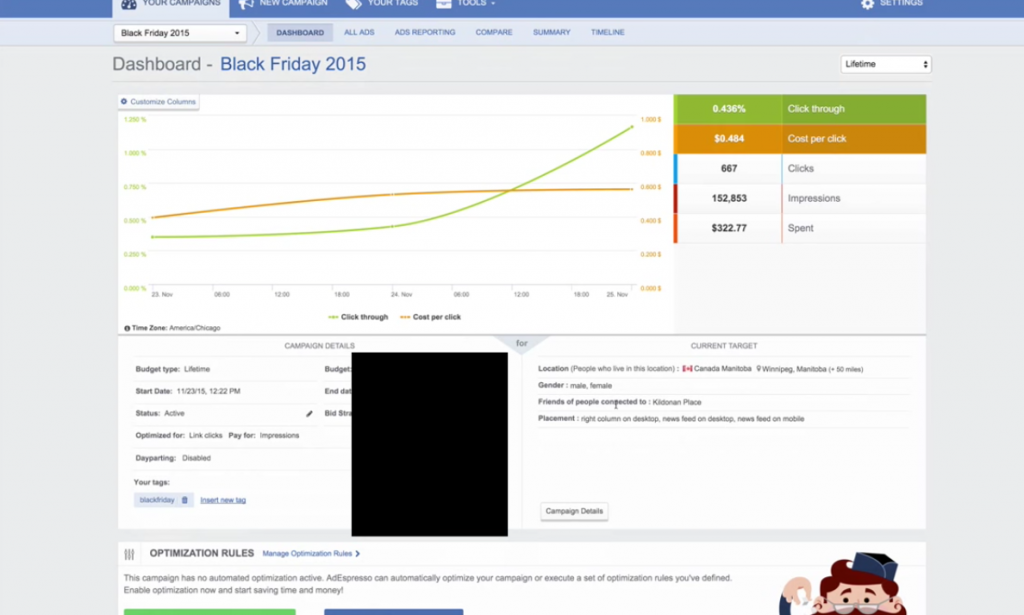 Ad Creation, Management, and Optimization
The Grid Composer lets you create ads with multiple fields and for multiple locations at once. You can even create two different versions of an ad for split-testing purposes.
The All Ads page allows you to easily edit your ads after publishing them.
By adding your products to your AdEspresso Catalog, you can quickly create dynamic ads that promote multiple products.
You can also take advantage of their Automatic Post Promotion feature, which will turn your organic content into paid ads based on parameters you set.
There is also an Optimization feature, which will automatically assess the performance of your ad campaigns and shift your budget to your more successful ads.
You can set parameters for what determines this, such as CPA or CPM.
You can also create custom and lookalike audiences easily by using any of their 12 platform integrations (including Google Sheets).
It goes both ways – once you have collected leads through Facebook Ads, you can sync them into your CRM quickly and easily.
Reporting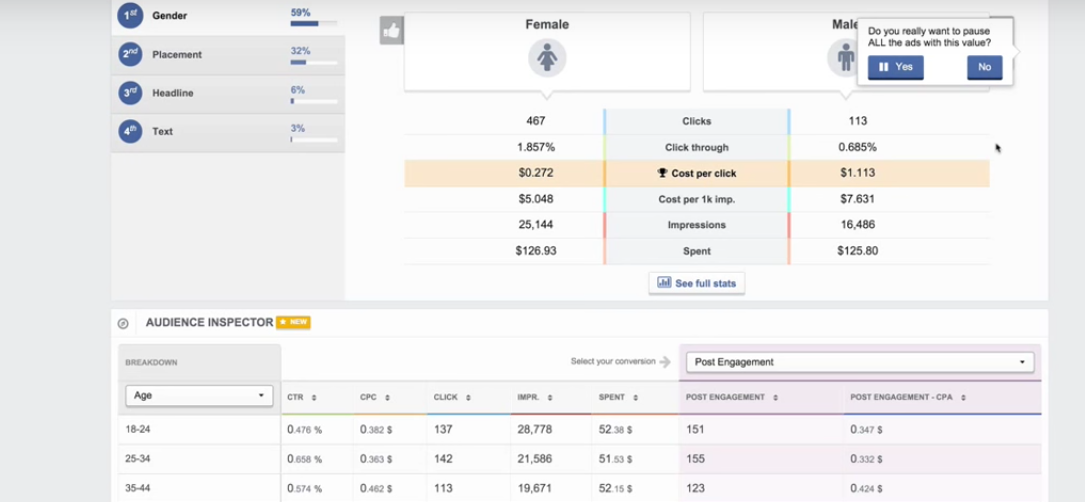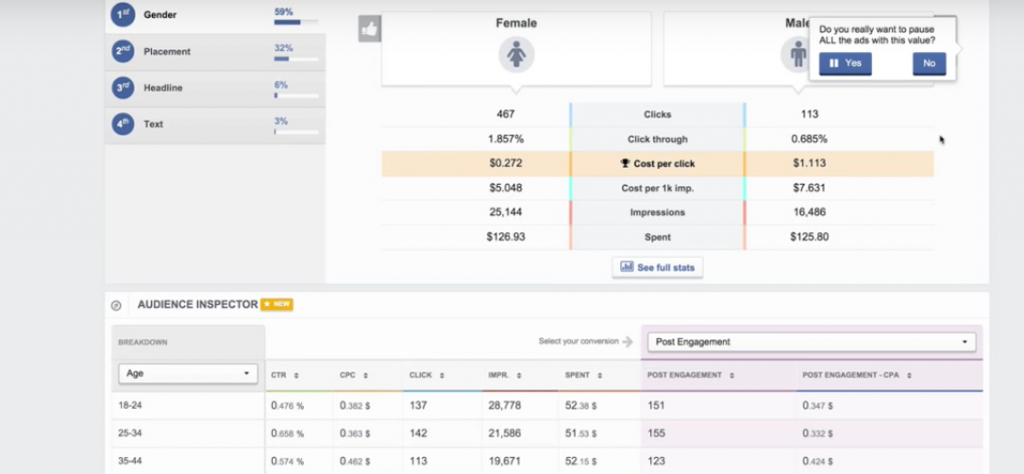 AdEspresso's reports can be customized so that you only get the granular data you want to see. You can use a drag-and-drop builder to build your report with a range of charts and graphs.
Different clients or projects can be tagged and organized into different sections.
Teamwork
AdEspresso makes it easy to add new users to your campaigns and assign them tasks.
You can also request approval for any campaign, even if the one you are requesting approval from doesn't have an AdEspresso account.
Support
AdEspresso has a wide range of educational resources to help you improve your marketing strategy. There are guides, ebooks, webinars, and Facebook ad examples.
They even have a service where you can request that they review any campaign of yours and provide you with a 10-minute video explaining how you can improve it.
Pricing
AdEspresso's cheapest plan is $69/month and its most expensive plan is $599/month. You can try it out with a free trial.
Wrapping It Up
If you want to improve your social media results, using one or more of the above tools can help you out. These are some of the best paid social media monitoring tools.
Without knowing which content you should be sharing and tracking your results, you won't be able to optimize your campaigns.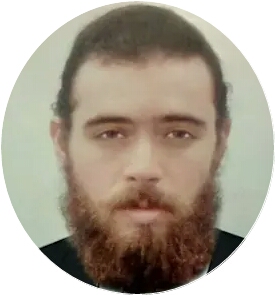 Author: Benjamin Levin
Benjamin Levin is a digital marketing professional with 4+ years of experience with inbound and outbound marketing. He helps small businesses reach their content creation, social media marketing, email marketing, and paid advertising goals. His hobbies include reading and traveling.