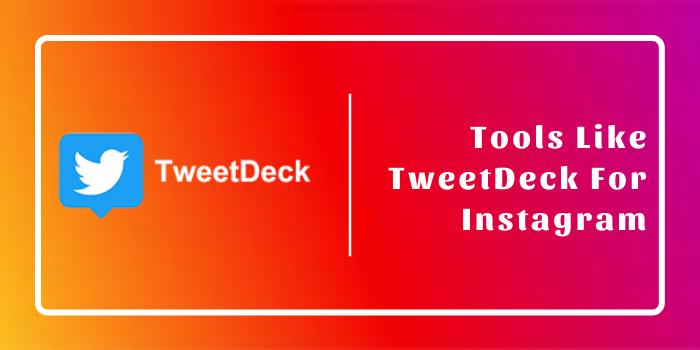 For a long time, Instagram had remained one of the major engagement apps with the most restrictions. Even third-party party apps couldn't post on it.
Instagram marketers longed for a service like TweetDeck that allowed them to manage their Twitter accounts, plan content ahead of time, and publish automatically.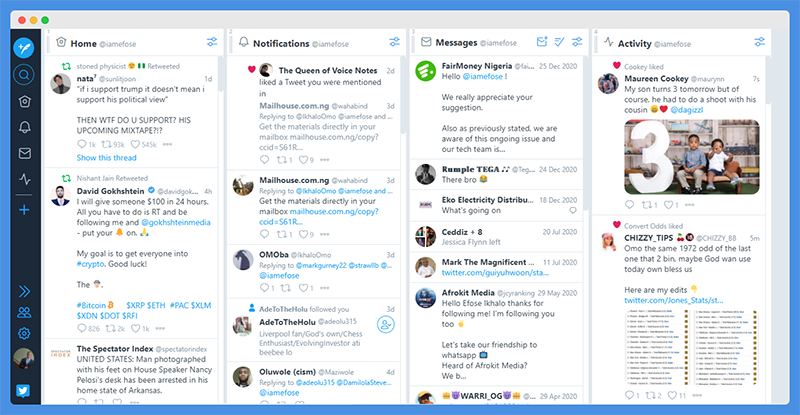 Fast forward to some years later, Instagram now allows third-party apps via APIs. So, it's easier now more than ever to leverage Instagram at the top of your sales funnel and spend less time doing so.
Tools Like TweetDeck For Instagram
In this article, I will introduce you to 6 Amazing tools like TweetDeck, but for Instagram.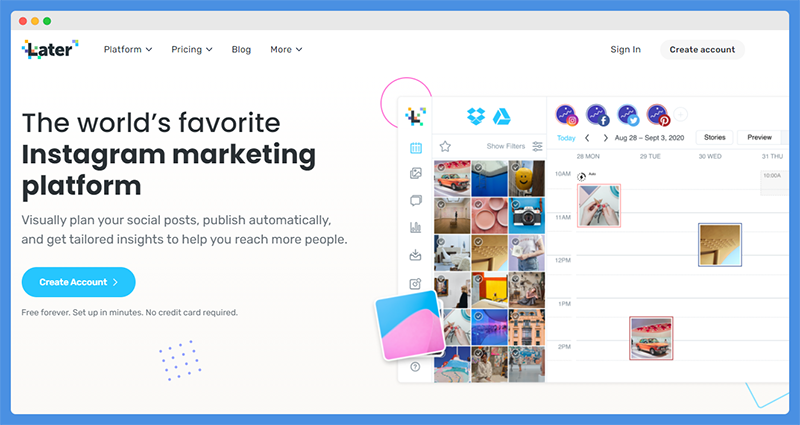 Later is a multiplatform service. It lets you manage your Instagram, Twitter, Facebook, and Pinterest accounts, but its emphasis is on Instagram.
Unlike TweetDeck, Later gives priority to visuals, which makes it a perfect match for Instagram.
Rather than typing a message before adding a visual, Later mandates you to first upload an image before you can be allowed to make a post. Once the image is up there, you can follow-up with appropriate texts to drive home the message.
If you are using Later for the first time, you might find it a bit tricky to set up, especially allowing automatic scheduling.
However, it seems this isn't peculiar to just Later. Other social management tools I've used have also been just about tricky when it gets to automating Instagram postings. So I've concluded that it is an Instagram thing.
Once you get past scheduling, it becomes easier from there. You can even schedule your Instagram stories.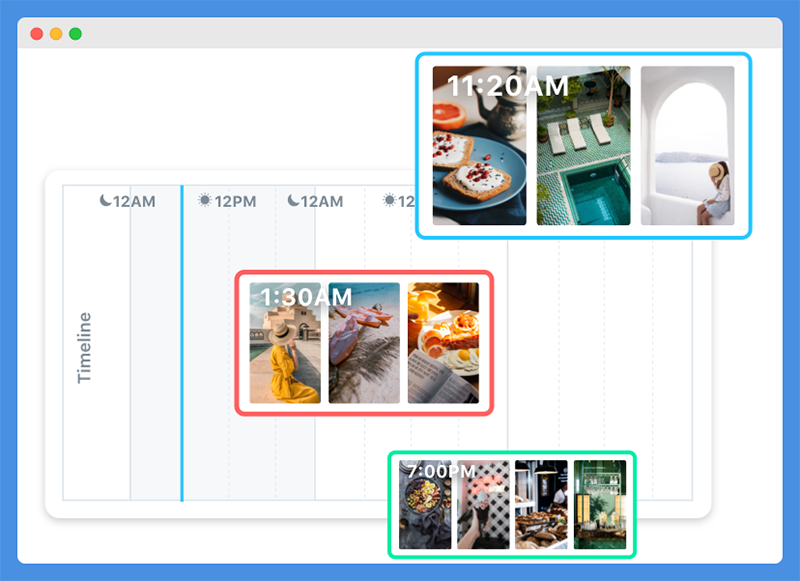 Later's graphics approach is not just for Instagram. Even if you want to prepare a Facebook post or Tweet from the app, you must begin with an image.
On its masthead, Later boldly claims that they are the "number one marketing platform for Instagram", so while you can also use the platform for Twitter and Facebook, it makes no sense to use it if you don't have an Instagram account.
As earlier hinted, using Later, especially as a first-timer, isn't exactly a walk in the park.
It took me a while to realize that I had to first download its mobile app before I could use Later.
After several tries, I had to accept that scheduling posts on Later for Instagram in the same way I could for other platforms was not possible.
The best I could do was use the platform as a reminder, to remind me whenever it was time to make a post.
I later discovered that to set up Later to automatically schedule posts on Instagram, you require an Instagram business profile.
Later's media library is the center of the app. Since every post must begin with an image, I always make sure to have my images on the media first.
Pricing:
Later offers one free plan and four paid ones. Payment on these plans varies according to the number of platforms, users, posts, and tools are allowed. You will find the latest information about prices on the product page.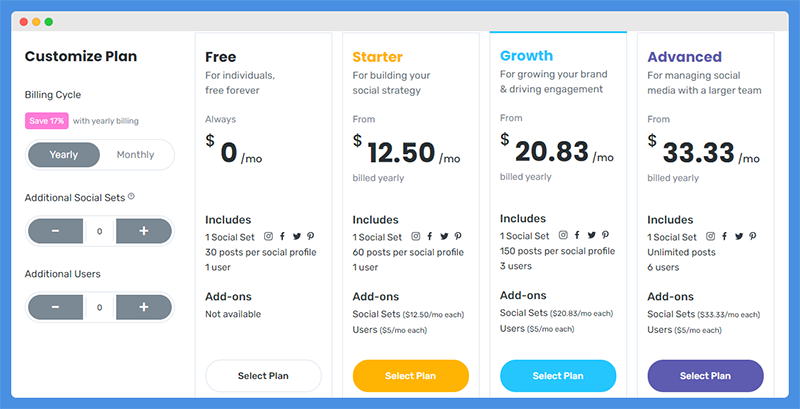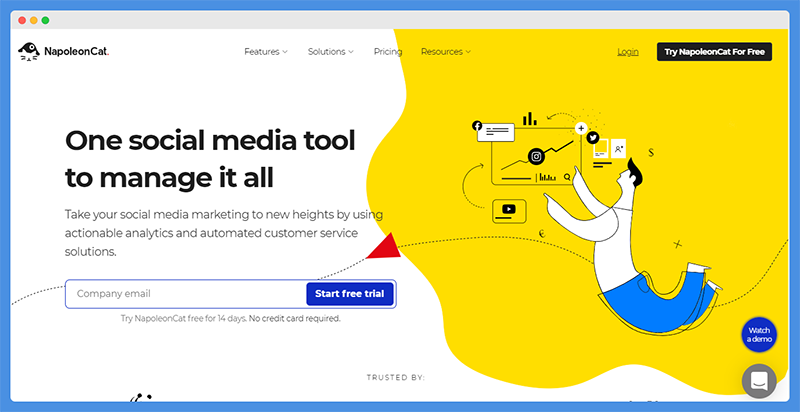 NapoleonCat is another tool that supports Instagram, Facebook, YouTube, Twitter, LinkedIn and Google My Business.
You can use this tool on-premises or like TweetDeck, as a cloud-based application.
It is a cloud-based, monthly subscription application that lets you manage multiple profiles at once.
This tool has a simple interface. My only concern is that some new users may find a lot of its icons and tasks confusing.
The interface seemed to have been designed for those that are already familiar with what some of the icons mean. That being said, you can figure out what most of it means through quick Google searches, otherwise, their customer service team is a few clicks away and can quickly help you with any task.
It is rich in features including analytics and scheduling functions. But what I like the most about it is that you can manage more than one social media account from a single platform.
This makes content management as easy as it gets.
NapoleonCat is a web-based tool, so it does not require you to log in through a mobile device, and you can manage all your accounts on a computer without common mobile devices constraints such as 'not enough storage'.
For as long as I have used NapoleonCat, while I haven't found its analytics feature to be its biggest strength, I have used the reports to track my page's engagement and find out what my followers are interested in.
Not only that, but these reports have also helped me to take competition head-on. I use the insights generated to compare to mine and spot the actions that they have taken to strengthen their business.
These reports can be downloaded as PDF or Excel formats, which are the right formats to give clients if you work as an agency.
However, I feel like the tool can provide more comprehensive reports that will be available for different social networking platforms.
Its Instagram content scheduler is the major reason I like the tool. It allows you to schedule your posts ahead of time and with ease. However, it does not support Instagram stories.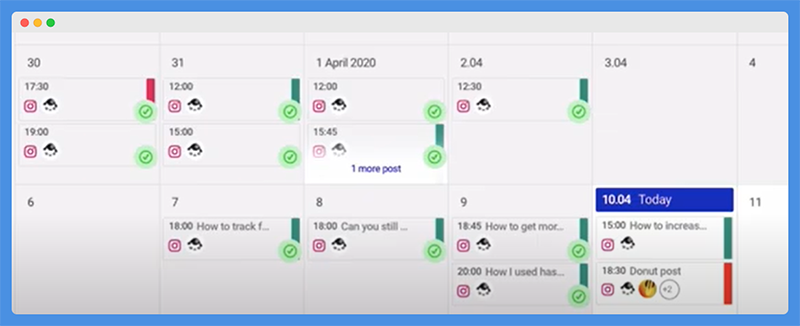 It nearly makes up for the absence of a story scheduler with its automatic comment handling feature. Here, you can handle your comments either by hand or automatically.
To have the best effect, it is advisable to define automatic responses only for repetitive questions. You can also use this feature to hide and delete spammy comments automatically.
NapoleonCat is perfect if you have a team to work with. You can assign tasks and posts to team members manually.
Pricing: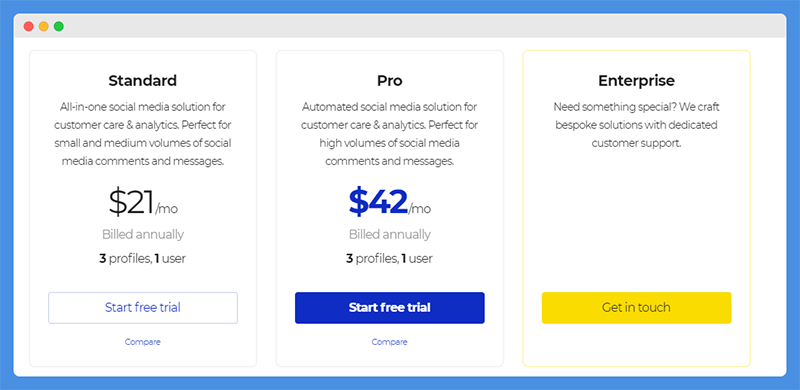 NapoleonCat has three pricing tiers that vary depending on the number of users and profiles you require. You can find the current pricing on the product page.
Although the prices are not the most expensive in the industry, you will likely find good alternatives at cheaper prices.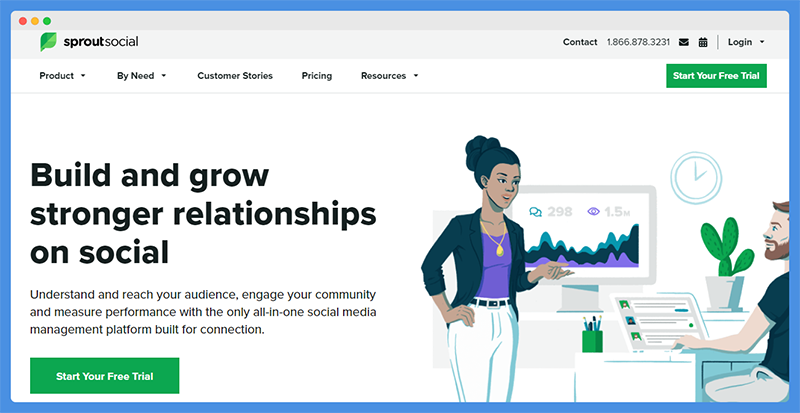 Sprout Social is another social media management tool with a blend of social media management and analytics.
This tool has been around for a long time, but it has expanded significantly since 2018 when they landed a $40.5 million Series D funding.
It not only supports Instagram, it also supports Pinterest, Facebook, Twitter, and LinkedIn. You start by linking your accounts to the app. The process is very simple; a lot simpler than most of the other tools on this lineup.
One of its major selling points is its smart inbox that allows you to collect all your social messages. This feature gives you a choice to condense all your inboxes into one or keep them separate.
You can combine inboxes in any variation and also set the types of messages that you want to show.
I love this feature because it means that I almost never have to open my Instagram and other social accounts themselves. I can view and respond to messages from inside the social inbox, and I can also repost, like, and pin content from there.
Social Sprout also has a feature that collects all your tasks and places them into different categories. I may not have toured all the social management tools in the market, but for the Instagram tools I have used, this feature doesn't exist on any other platform.
The feature lets you see messages that require your attention and you can assign appropriate tasks to any member of your team.
Another feature unique to Social Sprout is its chatbox that helps to automate responses to repetitive conversations so that you can resolve disputes faster.
The Social Sprout Feeds tab lets you monitor Instagram hashtags which provide you with a lot of content that you can share with your audience.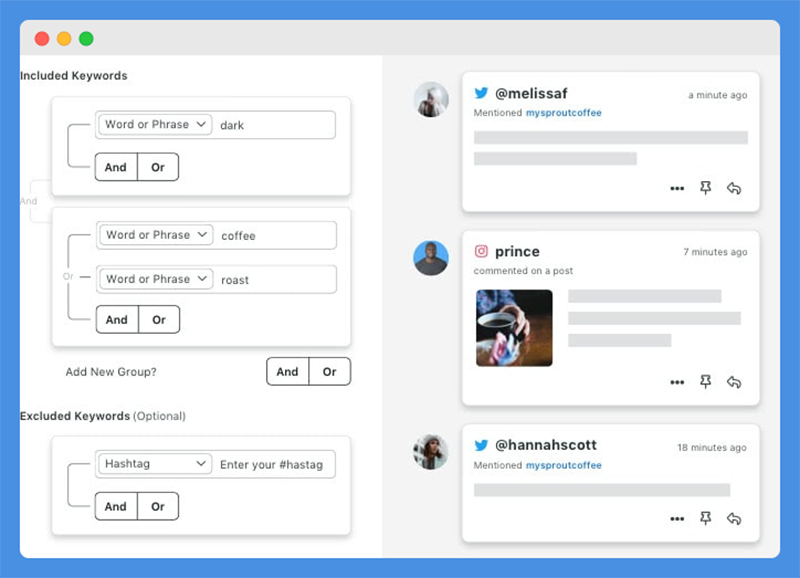 This tool would not be complete without a social media manager feature that allows you to create and schedule your own posts, and it has one of the best in the industry.
Social Sprout's manager feature is almost similar to TweetDeck's in that it lets you create content for all your social accounts with ease. You can add multimedia content such as graphics, videos, and other materials that you need.
You can view your social posts from your calendar, both the ones you have posted and the ones scheduled to go live.
If you have an agency set up, Social Sprout will make your work very easy. You can set up an entire system that makes approval and general management seamless.
Social Sprout also has a social listening module. This feature helps you to discover trends from ongoing conversations that you can then incorporate into your marketing strategy.
Its analytics feature is as good as it gets. It enables you to keep track of the performance of your posts and accounts. So, you can closely monitor your ad campaigns and even cross-reference your Instagram profile with your competitors to see where you stand.
Pricing: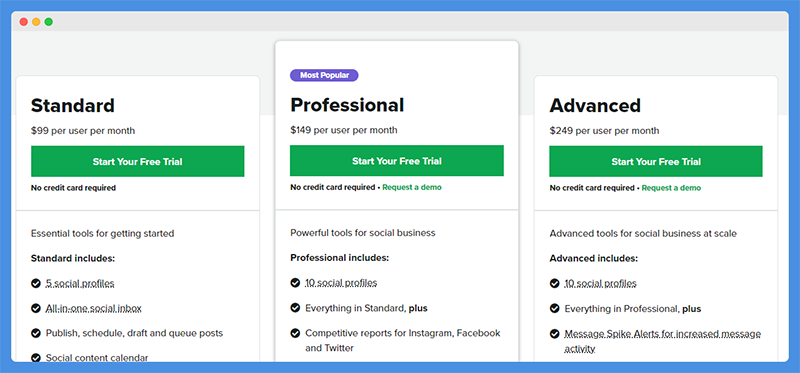 From its plans, it is clear that Social Sprout targets larger businesses with heavy-duty needs as it does not have a free or cheap plan like most others.
It has three plans and the subscription is per month.
These plans are usually separated by the number of profiles allowed and how many features you have at your disposal. You will find a more updated price list on its website.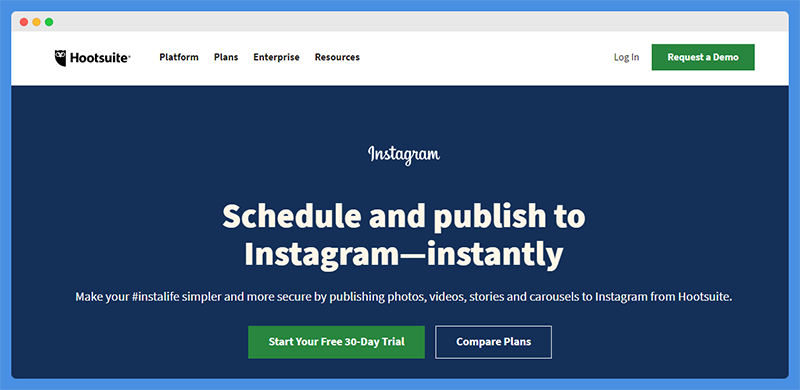 For me, Hootsuite is one of the best deals you will find when it comes to Instagram, and any other social media management tool for that matter. In fact, I consider it a more impressive version of TweetDeck.
It is the tool I have the most experience with and in my years of handling social media accounts, I have yet to see another tool that will wow me enough to let go of Hootsuite.
The number one Hootsuite feature everyone is always talking about is 'streams'. Streams allow you to set up tabs for your different social accounts.
For example, for my business Instagram account, I set up streams for my scheduled posts, mentions, and my fields. You can set up as many as 10 streams for all your social media accounts.
Your streams will enable you to carefully keep tabs on the performance of your social accounts. For example, one time I created a stream for people who regularly made posts on my preferred topics. I was able to use the columns representing the streams to find content to repost every day.
As far as I can tell, none of the other social media management tools can manage to match this.
Another interesting Hootsuite feature is the unified inbox which allows you to see all your incoming messages from your Instagram account and make replies without leaving Hootsuite.
Of course, Hootsuite enables you to seamlessly publish posts. You can do this in a number of ways according to your preference.
I always opt to use its composer and after their last upgrade, this feature is now much friendlier than ever.
From the composer, you can enter your post directly or cut and paste your content from another source.
You can opt to publish your post immediately, schedule it for a later time, or allow Hootsuite AI to suggest a good time to publish it based on your audience's behavior.
Another way to post via Hootsuite is with its publisher option. This feature has three segments – planner, content, and promote.
Here, once you create a new post, you can pick the time you want your post to go live and save it. Once you have created a scheduled post, it will start showing in your planner.
Hootsuite also has a sophisticated analytics tool, although it is not available across all plans. So, you will need at least a Team subscription to access this feature.
One thing I can say is that Hootsuite is easy to manage, especially since it provides an excellent range of educational resources in the form of its academy, white papers, guides, etc.
That being said, the platform offers a wide range of features even more than I know, and I have used the tool for at least three years.
Hootsuite allows you to do the most basic tasks like making a social media post to some more specialist tasks like setting up social listening via streams.
Pricing:
For a tool of this caliber, Hootsuite is very reasonably priced. The plans vary according to your needs and they are predominantly focused on social publishing. You will find the list of plans on Hootsuite's official website.
However, you can buy Hootsuite Insight if the standard product isn't enough to meet your business capabilities.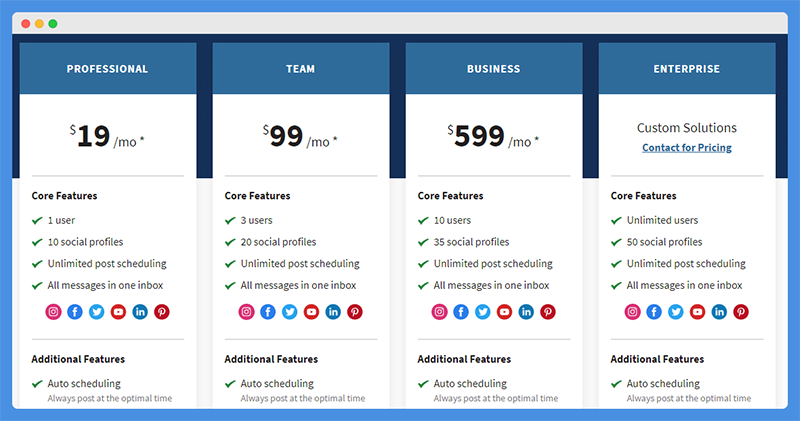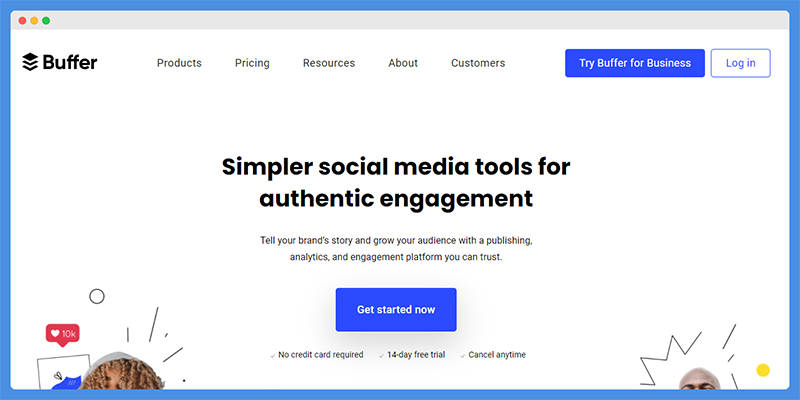 If there's such a thing as the most straightforward social media managing app, it would be Buffer.
It is as simple as attaching your Instagram account to your profile and then scheduling your content to post. So when you have your content ready, add it to your "Buffer", and the app publishes it at an agreed time.
However, Buffer has more expansive features classified under three sub-applications – Buffer Publish, Buffer Reply, and Buffer Analyze.
Buffer Publish is what I already introduced. It is where you create and schedule your posts. Most people usually refer to it as 'Buffer'.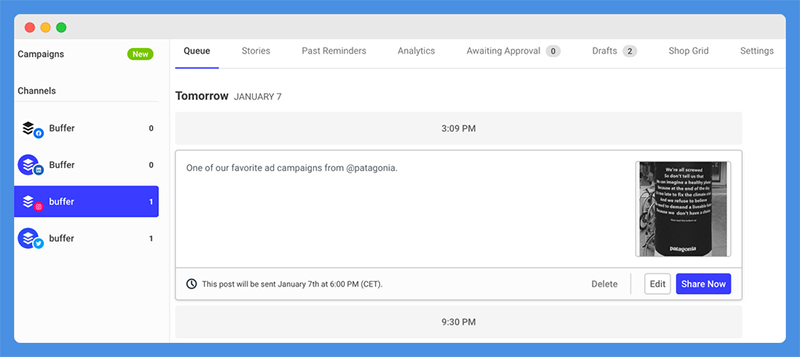 Buffer Reply is a tool that enables you to respond smartly to social conversations. Buffer Analyze is still in development. Once released, it will be accessible to premium subscribers.
I have mostly nice things to say about Buffer. For starters, sharing content is as easy as with TweetDeck. You merely need to link your social media account and create a post inside the app.
You can choose to use multiple accounts of the same social media, but there's a catch. Buffer does not allow duplicate posts.
For example, if you have more than one Instagram account and you make a post on one of the accounts, Buffer automatically prevents you from making the same post on your other Instagram account.
Instagram still has restrictions when it comes to third-party apps despite the APIs. This makes connecting your Instagram account a bit convoluted.
However, it is easier to integrate Instagram on Buffer, than on most of the apps on this list.
You can connect your personal or business accounts to Buffer. However, if you want to want to be able to make scheduled posts, then you need an Instagram business account.
Buffer lets you group your social accounts. This means that you can keep related accounts together, which will be particularly helpful if you run an agency and have multiple clients.
The app allows you to add other members of your team for easy collaboration and delegation.
Buffer's scheduling feature is smarter than most. You can set up a publishing schedule for your accounts so that you needn't bother about post dates and times. Once you make your posts, Buffer will automatically place them in the order they should be.
One feature I value in Buffer more than most is in sourcing for content.
For starters, Buffer keeps track of the number of characters that you type. As you know, different social networks may have different character limits and of course, you can set the time for your post to publish.
A premium plan gives you access to Buffer analytics that gives insight about your posts and social media accounts.
The report collates all of your scheduled posts and the engagement each post generates.
At first glance, Buffer has fewer features, but in many ways, you will get a better value for your money if you go for it.
Aside from the fact that Buffer does not support social listening, I'm overwhelmed at how it's one of the most straightforward apps to set up and still has wonderful capabilities.
Pricing:
Buffer has one free plan and five paid ones. As with others, the price of each plan depends on the number of social accounts that have access to it and its features.
You'll find an updated price list on Buffer's official website.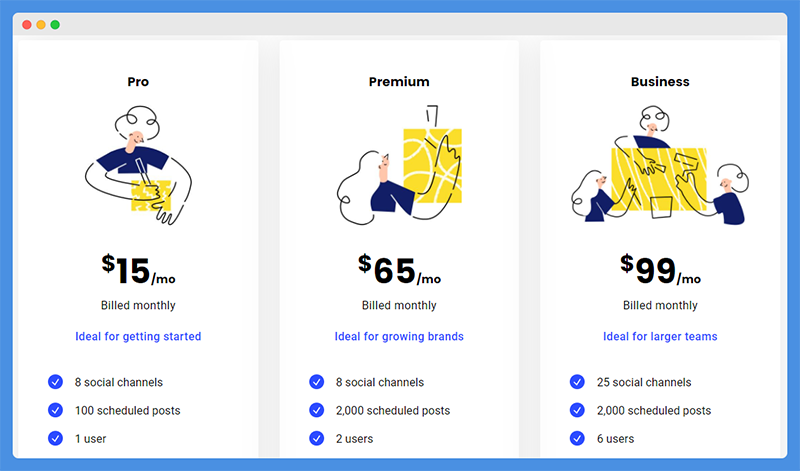 CoSchedule offers scheduling for your Instagram accounts, but there is more to it than its name.
At its cheapest, it is a blog post and social media organizing tool, and at its most expensive, it is a full-blown marketing tool.
The major selling point of CoSchedule is its calendar. As an online entrepreneur, I have been using this feature for a while and I'm not ready to jump ship any time soon.
Your calendar will typically contain your upcoming Instagram posts and the to-do list that you have set for yourself.
You will get the best results with CoSchedule if you have a blog to go with it, but you can make do with just your social media account.
What I like most about CoSchedule is the easiness to schedule one's marketing activities and the way everything integrates. While TweetDeck may be easier to set up, CoSchedule is easier to use for your business.
Pricing:
CoSchedule offers a 14-day free trial period to test the waters. After that, you will be charged every month for any of the plans you choose.
The plans are placed in two categories – the editorial and the startup. You can check the true prices of each plan at the official CoSchedule website.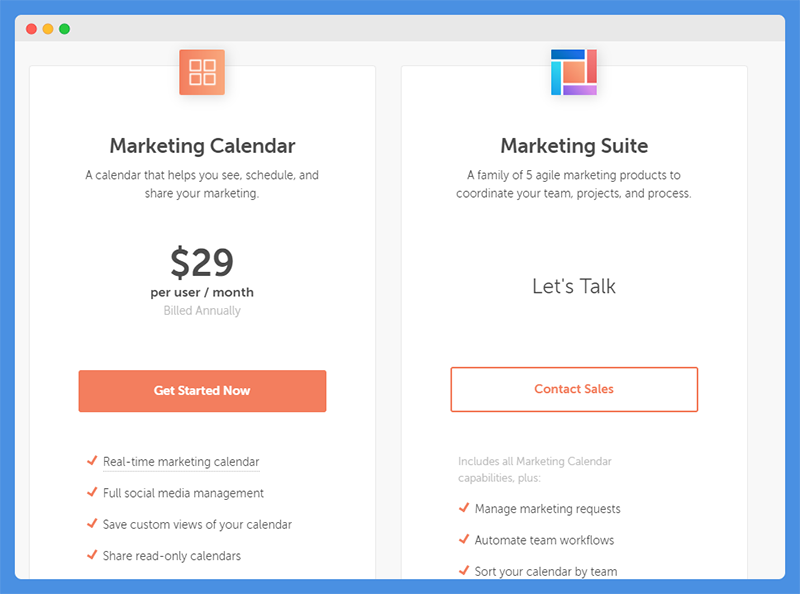 Wrapping it up
I may not have used all the tools extensively, but I have used them long enough to pass a verdict on which is the best choice for someone transitioning from Twitter to Instagram and is looking for a platform that can provide that same TweetDeck experience or better.
Perhaps I'm a bit biased because I've been a Hootsuite user long before I heard about any of the other tools, but the more I use Hootsuite, the more I discover a new part of the app and discover that it has more features than I realized.
I find it fascinating that Hootsuite Streams offers the same services that some of its heavily priced competitors are unable to achieve.
Sam loves to write on technology & related stuff. Ecommerce, mobile and internet marketing equally drive her interest. Likes gardening and experimenting with new recipes. An avid reader and absolutely mad @bout donuts 🙂