Landing pages have come to stay. And I have numbers to support this bold claim.
In one study, 55 percent of businesses saw a boost in leads generation by going from ten to 15 landing pages on their site. Additionally, landing pages that used videos converted at 86 percent.
But to make landing pages that convert, marketers must put in the work. So they are constantly iterating and testing everything.
Hence the ubiquity of split testing features on marketing tools.
In fact, A/B tests have become so prevalent that 56 percent of marketers have come to rely on it as their primary conversion rate optimization tactic.
You might wonder whether building landing pages is a tough nut to crack. Well, it depends on your approach.
But one thing is sure today. You don't have to hire a developer to craft your landing page from scratch.
With tools like Leadpages and Wishpond, you can pay to access highly customizable, drag-and-drop page builders.
If your next concern is "what's the right landing page for me," then you're here to discover the right answer.
Let's begin with our Leadpages vs Wishpond review.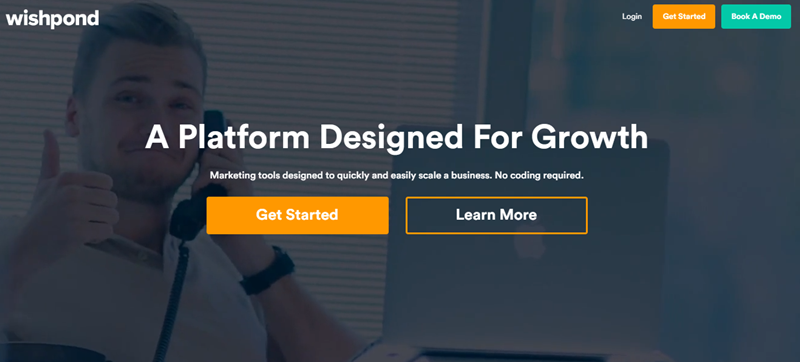 Ali Tajsekandar founded Wishpond in 2009, and he serves as the company's CEO.
Wishpond aims to be the marketer's most accessible platform for getting, managing, and nurturing business leads. So the platform has built and deployed marketing tools to achieve their goal.
Marketers can benefit from the platform's tools, including
Landing pages
Website popups
Social promotions
Lead tracking
Lead management
Online forms
Email marketing
Analytics
Lead intelligence
Furthermore, this platform allows integrations with other tools. So you can connect the tool to your payments, CRM, and collaboration applications.
Wishpond | Marketing Made Simple
Create powerful landing pages, generate leads using popups & forms, run contests & promos, automate your marketing & sales. Wishpond offers tools to scale your business in no time.

We earn a commission if you click this link and make a purchase at no additional cost to you.
Getting Started With Wishpond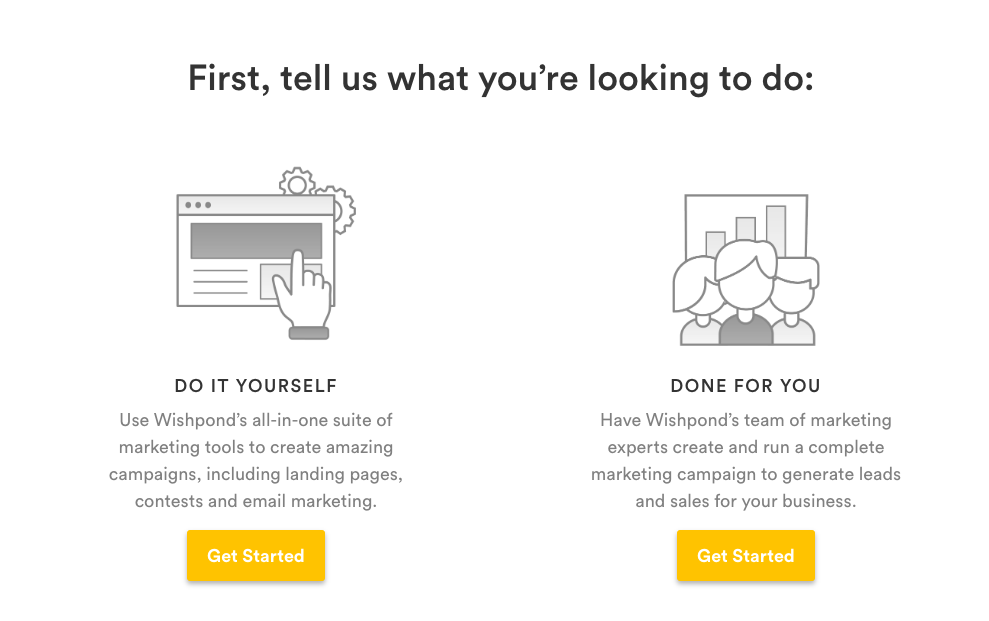 Wishpond lets you choose between their Do It Yourself or Done For You options. If you choose Wishpond's Done For You package, they'll have their experts take care of your marketing work.
But if you prefer the DIY option, then you can take the platform on a test drive using their 14-day trial.
After this period, you can decide whether to subscribe, change plans, or unsubscribe from the service.
However, if you prefer that Wishpond handles your marketing for you, they can book a session with them.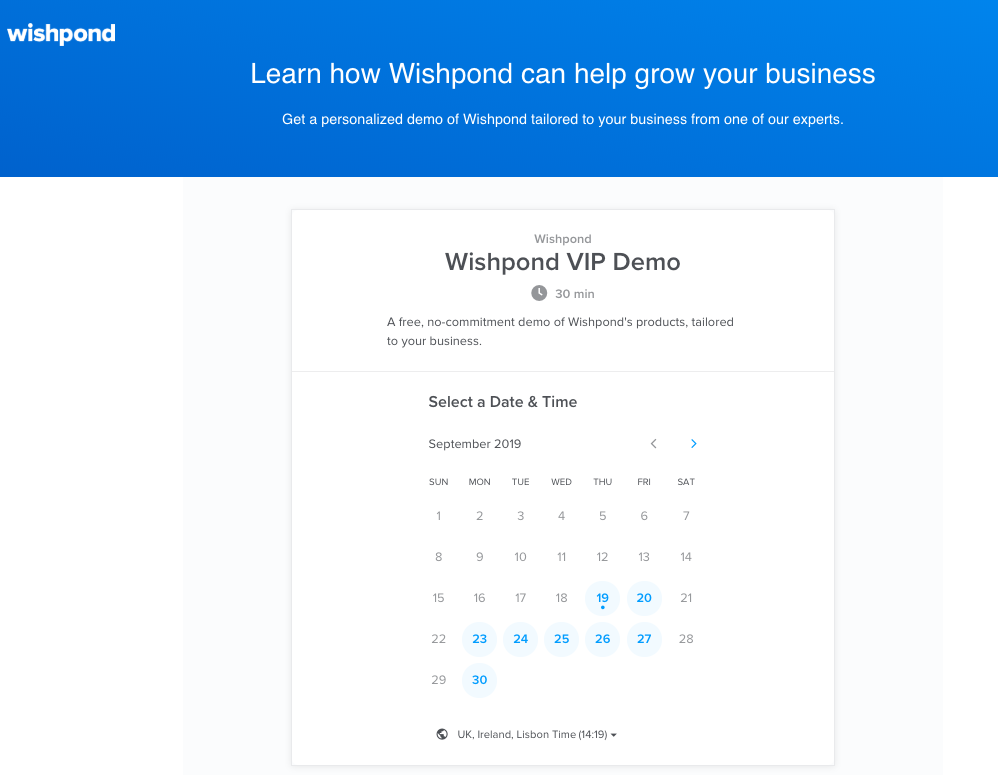 Wishpond targets small businesses, and they divide all their offerings to these businesses into four parts.
Namely, Wishpond's marketing tools include
Landing pages
Popups and forms
Contests and promos
Marketing automation

The software improves lead generation and engagement with the following features:
Wishpond | Marketing Made Simple
Create powerful landing pages, generate leads using popups & forms, run contests & promos, automate your marketing & sales. Wishpond offers tools to scale your business in no time.

We earn a commission if you click this link and make a purchase at no additional cost to you.
Wishpond Landing Page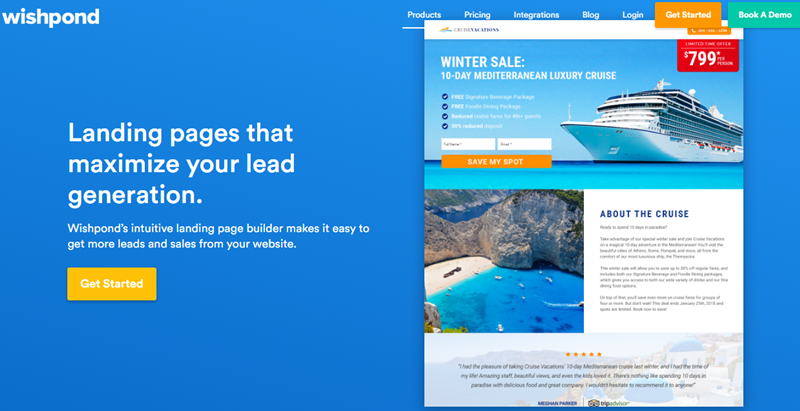 Wishpond provides a drag-and-drop editor to build landing pages within minutes.
You aim to convert as many visitors as possible, and you can achieve that by using Wishpond's built-in popup tools.
Specifically, these tools could be slide-in popups, welcome mats, or opt-in bars.
Furthermore, with a click, you can use its split testing feature to optimize your landing pages. Then, you can monitor the performance of unlimited variations of these pages in real-time.
You'll receive notification emails about new leads and you'll also get a personalized, detailed report of weekly statistics.
Besides, you can customize your forms by creating fields to get relevant information from your leads. Luckily, the software comes with pre-filled fields that make the process faster.
Your landing page looks good, regardless of the device you're using, which is helpful because entrants get to your landing pages via mobile phone.
Also Read: Best Landing Page Builders
Wishpond Popup Builder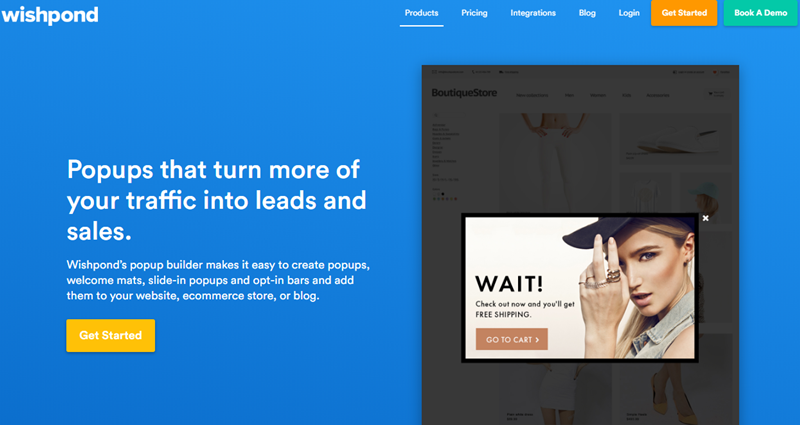 With Wishpond, you're not restricted to use only standard popups. You can vary them to suit different cases such as subscriptions, blogs, coupon offers, and so on.
You can add your popups wherever you want on your site, and you can even use its Shopify integration for your ecommerce store.
Even more important is that you can decide how these popups appear on your site.
Wishpond allows you to track your campaigns by showing you in which URLs your popups appear, and you can track each of the URLs to know the pages that convert the most.
You'll improve your SEO ranking if you disable popups on mobile devices.
Wishpond Integrations

Wishpond makes it easy to set up integration with almost any app in your marketing toolbox. The software integrates with over 30 third-party tools and more than 500 more with Zapier.
So, you can be confident that the software would work well with tools that you are already using.
Wishpond Marketing Automation & Leads Database

With Wishpond's marketing automation, you automatically convert leads to customers and retain them.
The information you collect from your visitors allows you to make segmented email campaigns easily, and you can base the emails you send on lead activity.
Wishpond helps you identify hot leads. This information is helpful for your sales team to carry out proper follow up.
Wishpond Referral Suite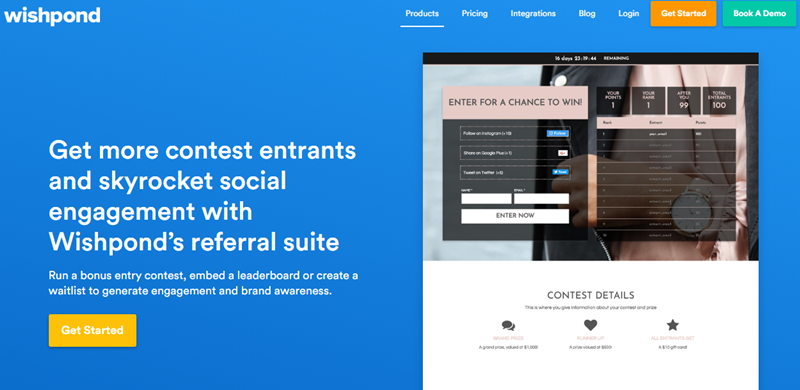 With this feature, Wishpond gives an exponential increase in your social engagement.
You can generate engagement and brand awareness by creating a waitlist, embed a leaderboard, or bonus entry contest.
You can give each entrant a unique referral link and let them do the work for expected points, and you can award bonuses to activities like entrants sharing your contest on Twitter or following your social handles.
Interesting Post: Unbounce vs Hubspot Landing Pages
Wishpond | Marketing Made Simple
Create powerful landing pages, generate leads using popups & forms, run contests & promos, automate your marketing & sales. Wishpond offers tools to scale your business in no time.

We earn a commission if you click this link and make a purchase at no additional cost to you.
Forms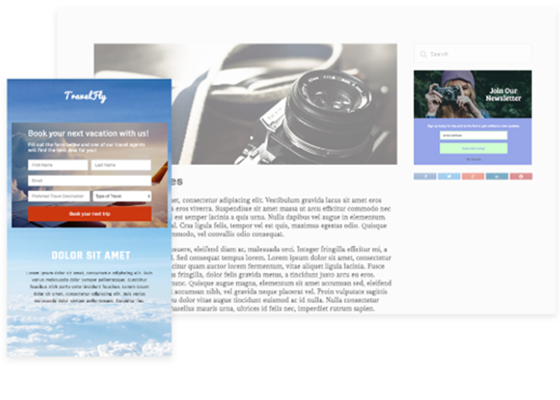 With Wishpond's drag and drop builder, you can create forms without coding.
Wishpond runs A/B tests on as many forms as you want and gives results in real-time. All you have to do is copy your Wishpond code and paste it where you want.
This action embeds your form where you need it.
Wishpond Email Marketing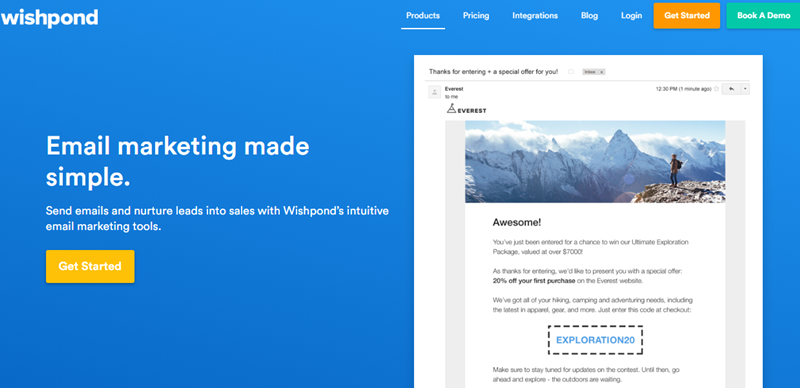 Wishpond optimizes your emails to work well on mobile, and you can build emails without HTML and use simple controls to style them.
So, with the help of Wishpond's email editor, you can continuously inform or remind them of promotions or new products. All you have to do is create newsletters.
Wishpond's email drip feature allows you to send a series of emails automatically, and these emails are sent to match the actions of your visitors.
Wishpond Contest Tools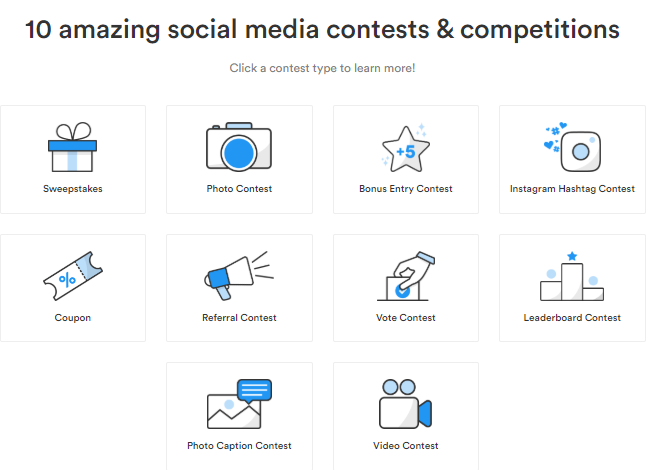 With Wishpond's contest tools, you'll generate more social engagements.
Wishpond Pricing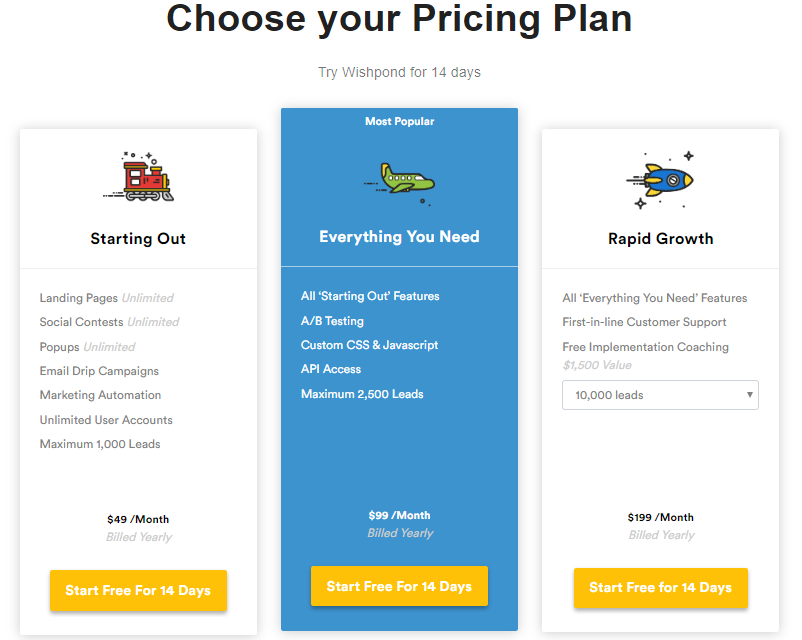 Wishpond has three pricing plans to match your business needs. These plans are:
Starting Out
Everything You Need
Rapid Growth
At $49 per month, the "Starting Out" plan gives you unlimited landing pages, social contests, user accounts, and popups. You also have access to email drip campaigns and marketing automation.
The maximum leads you can get is 1,000.
"Everything You Need" gives you all the features of "Starting Out" but with maximum leads of 2,500. Also, you have A/B Testing, custom CSS and Javascript, and API access. All at $99 per month.
"Rapid Growth" has all of the "Everything You Need" features, but with maximum leads of 10,000. However, Wishpond lets you increase your leads cap to as high as 1 million leads for $2,989 a month.
Additionally, Wishpond gives Rapid Growth users a $1,500 value implementation coaching for free. And they also enjoy first-in-line customer support.
For all three plans, billing happens yearly.
Wishpond | Marketing Made Simple
Create powerful landing pages, generate leads using popups & forms, run contests & promos, automate your marketing & sales. Wishpond offers tools to scale your business in no time.

We earn a commission if you click this link and make a purchase at no additional cost to you.
Wishpond Pros & Cons
Pros
Workflows and automated emails
Drag-and-drop landing page builder
Unlimited user accounts
Unlimited landing pages
Free trial
Done For You option
Cons
Allows a limited number of leads per pricing plan
Poor WordPress plugin experience
Only yearly billing available
Explore: Clickfunnels vs Leadpages vs Instapage vs Unbounce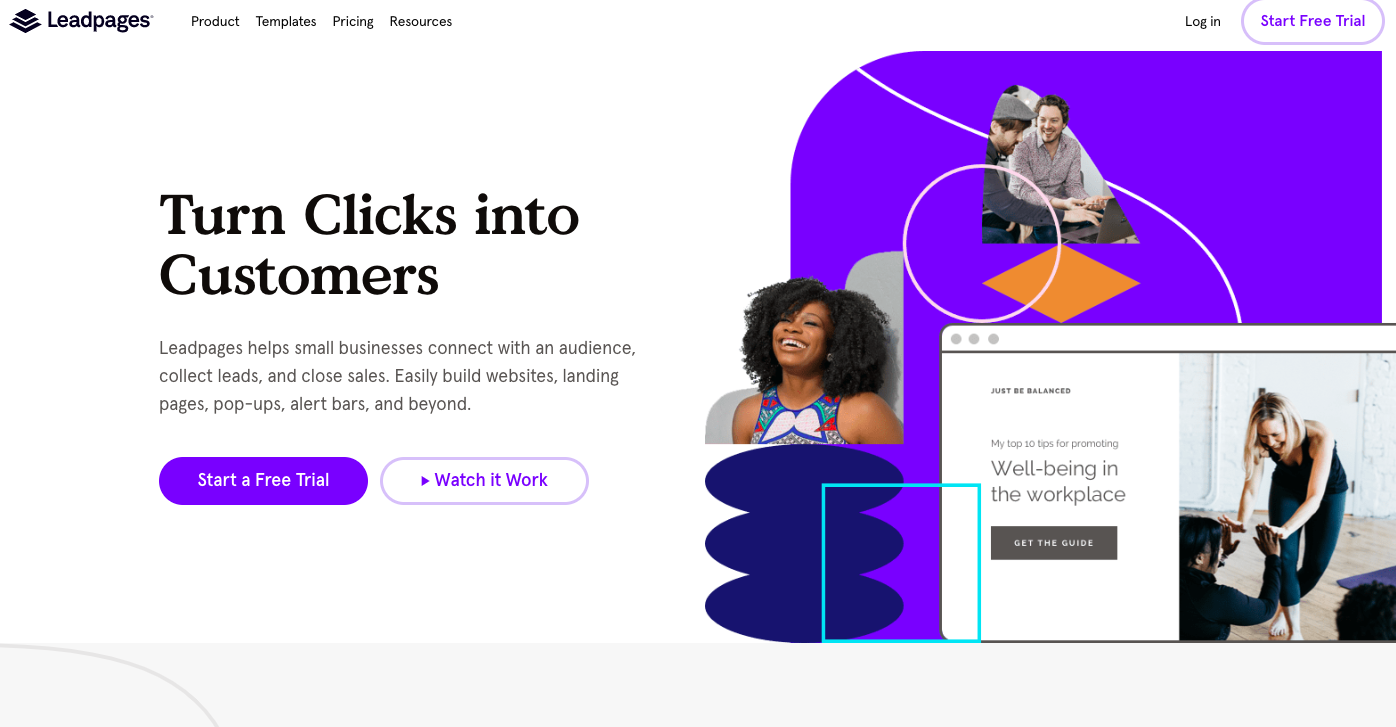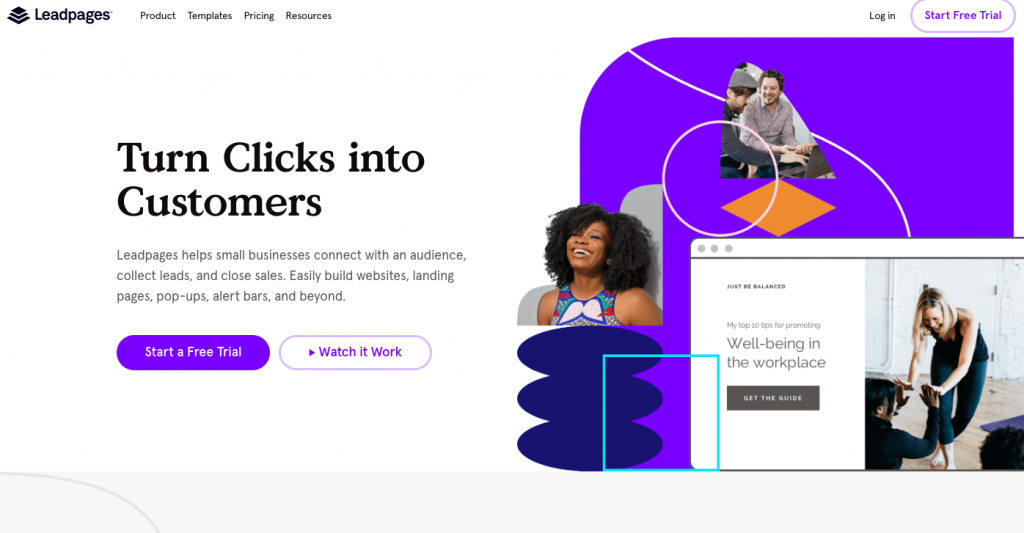 Leadpages was primarily an email collection tool until recently when they started adding more features. Right now, the company maintains its headquarters in the greater Saint Paul Minnesota area.
Clay Collins and Tracy Simmons founded Leadpages in 2012, but they had a third founder, Simon Payne, who left the company.
Over the years the platform has grown to include more functions, specifically landing pages, pop-ups, websites, conversion optimization tools, alert bars, opt-in texts, and others.
Leadpages offers five core products.
Codeless website builders
Landing pages
Social Ads
Pop-ups
Alert-bars
For their websites and landing pages, Leadpages gives its users free templates to use.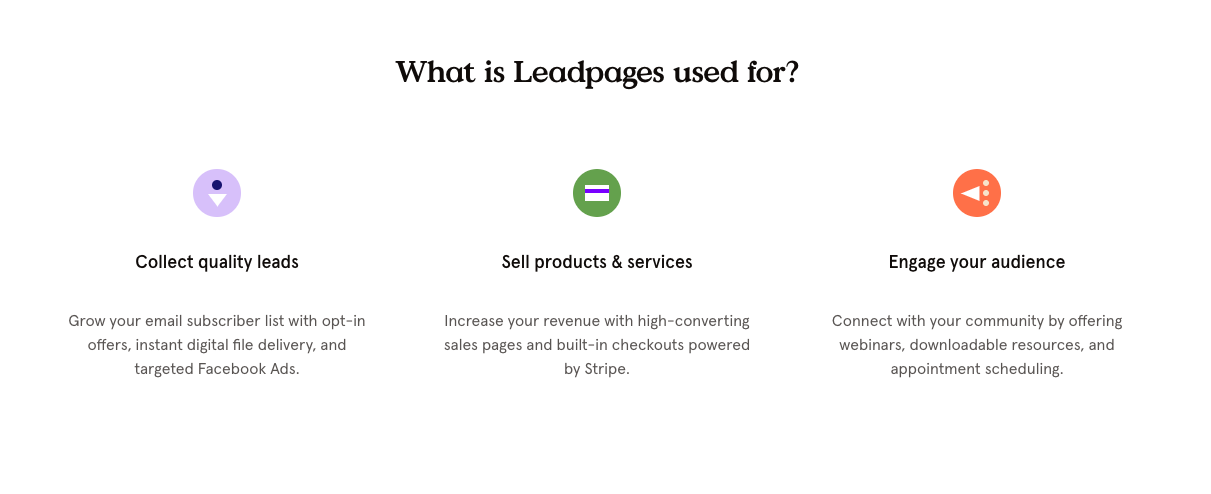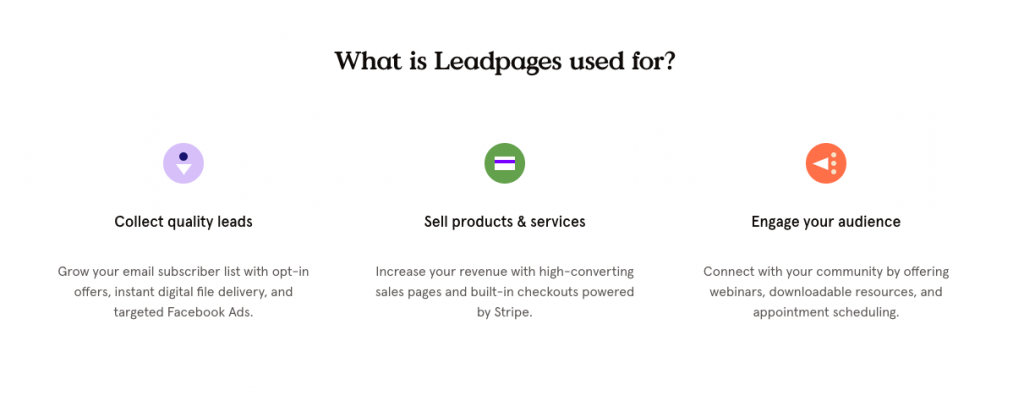 But it doesn't stop at templates.
The conversion powerhouse makes it possible for users to choose between Newest or Highest converting landing pages. And they also categorized these landing pages by:
Author
Checkout
Consultation
Contest or Giveaway
Event
Free Resource or Download
Lead Capture
And more.
Their website builder is a new product, so the options are limited for now.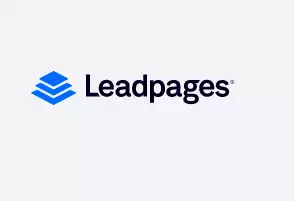 We earn a commission if you click this link and make a purchase.
Getting Started With Leadpages
You can take Leadpages for a test drive before deciding to buy. They give 14-day trials for their landing pages and website offers.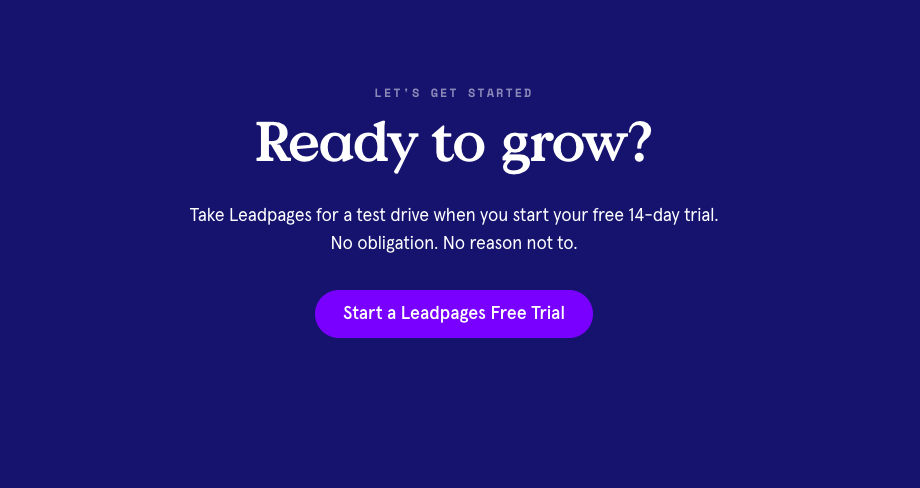 Beginners can get the hang of Leadpages using their Help Articles. If you want to build a landing page, you can use the six-step process they suggest.
You'll learn specifics like:
How to integrate your Leadpages with other tools
Develop customized subscriber follow-up experiences for your leads
Opt-in page incentivization
Launch your landing page
Earn traffic with advertising
Also Read: Leadpages Review
Creating Landing Pages With Leadpages
Leadpages takes you by the hand and guides you through their landing page builders and templates. They also guide you through their integrations menu and options.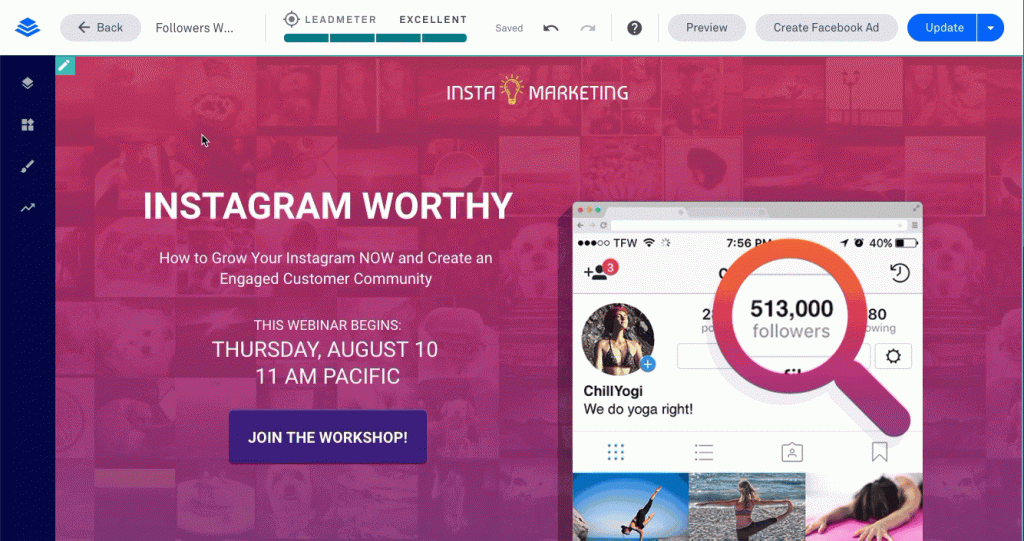 You don't have to be an expert to get the work done. Leadpages shows you how to build landing pages and convert leads.
Leadpages is a robust guide for creating landing pages.
Newbies and veterans can learn both foundational and advanced strategies. You'll come through this experience with the knowledge to craft landing pages that convert.
If you're wondering how to generate targeted leads for your business, Leadpages doesn't leave you hanging. They provide you with lead generation guides to get you moving in the right direction.
So you can expect to learn things like:
Lead generation techniques
Ideas for getting leads
Website optimization to help boost leads generation
Tools for getting leads
And a host of other helpful guides.
Building Websites With Leadpages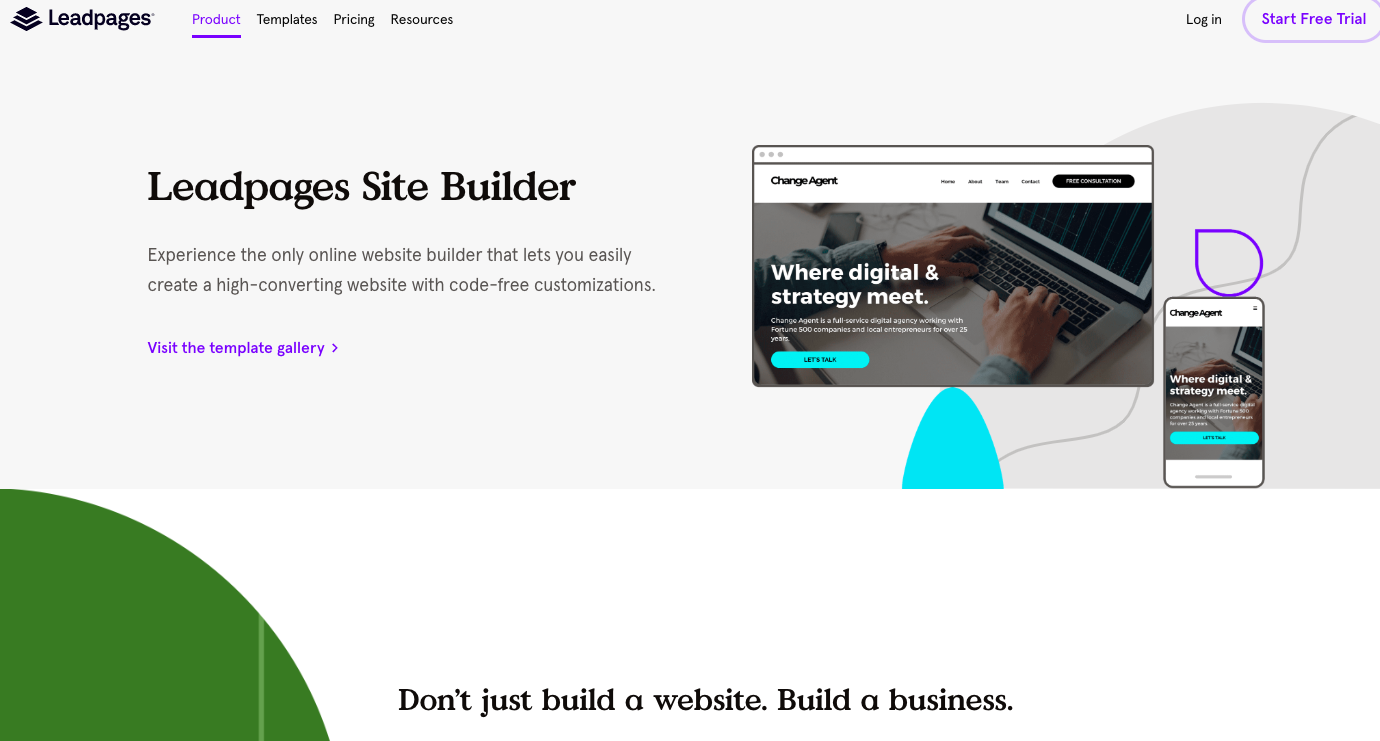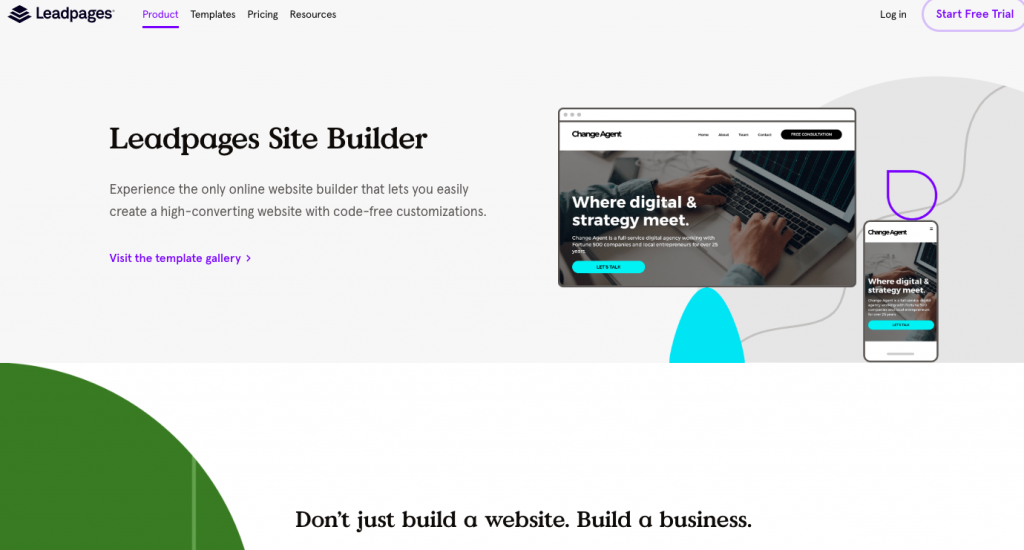 Would you rather set up a website with Leadpages? They also provide helpful guides.
They take you by the hand and help you navigate details like:
Choosing the right site template
Editing header and site navigation
Managing widgets
Editing your site's pages
Adding other site customizations
Setting up forms
Publishing thank you pages
Setting up lead magnets
So whether you know how to build websites or not, their video and text guides will show you precisely what you need to do.
What Businesses Should Use Leadpages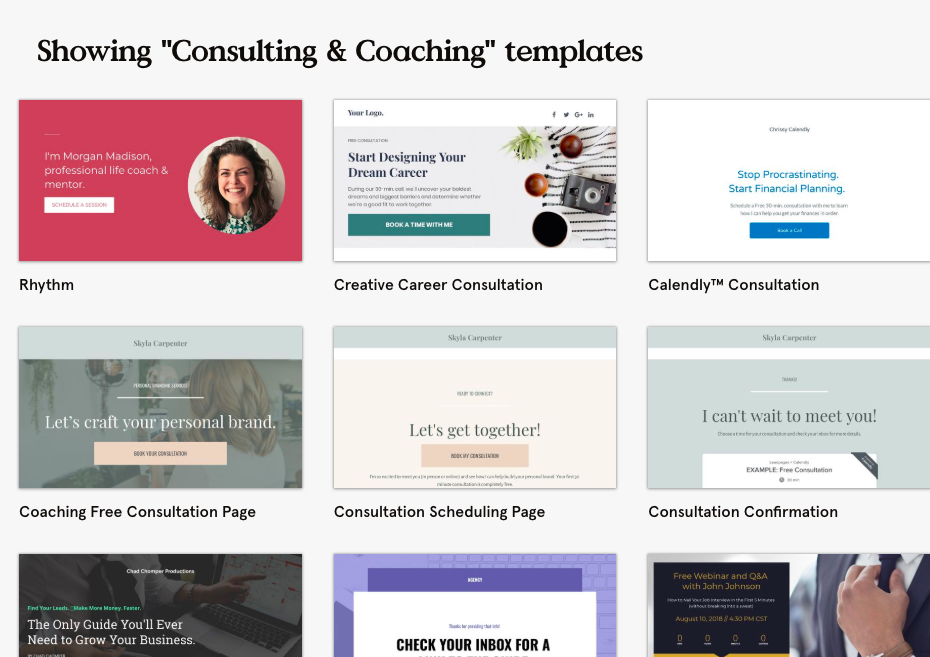 Leadpages sports a full suite of solutions targeting small businesses. Consequently, they've created landing page templates to support these businesses.
Specifically, you'll find templates for businesses across these industries:
Agency
Consulting & Coaching
Ecommerce
Education
Finance
Food & Beverage
Government
Health & Fitness
Lifestyle Blogging
Photography
Real Estate
Retail
Software & Technology
Startup
Travel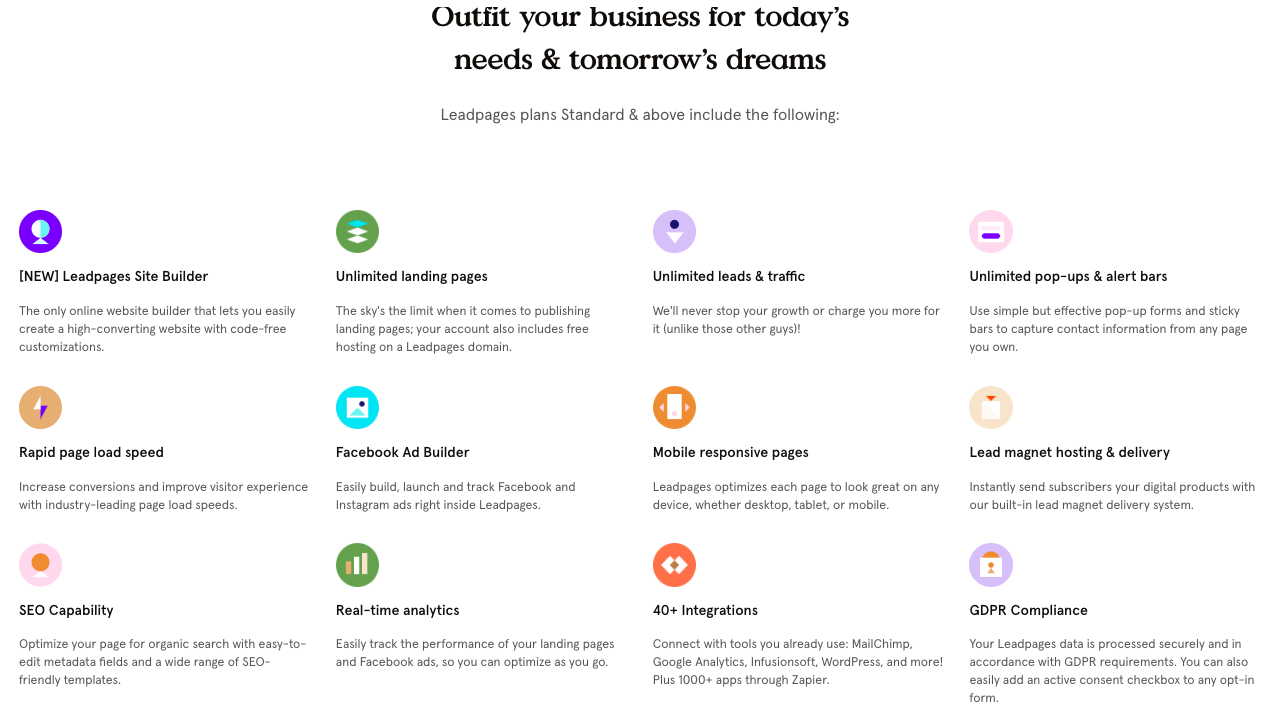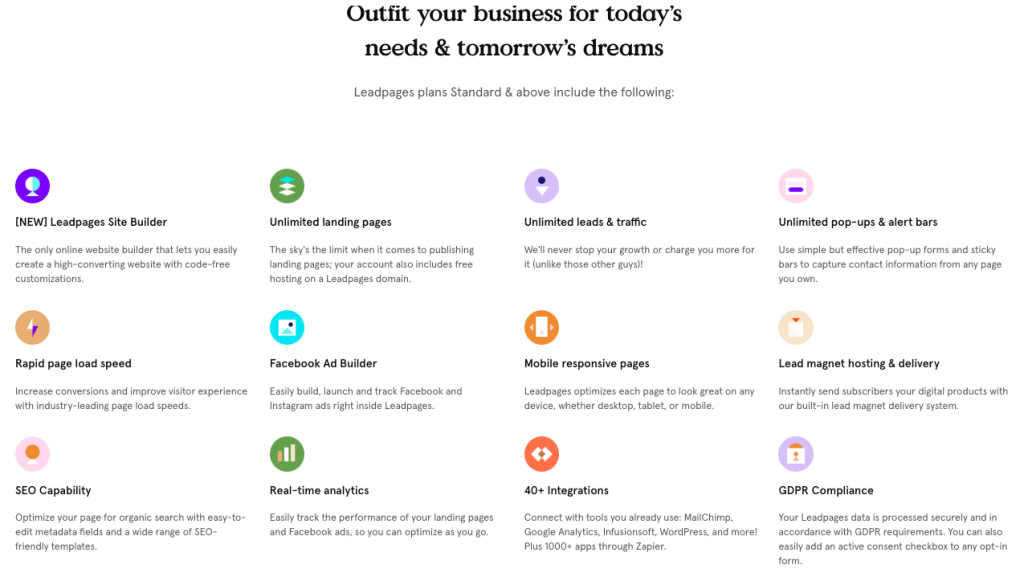 One of Leadpages' core strengths is its robust features set. They leave nothing to your imagination.
You can build your business from the ground up and manage it using the toolset they provide.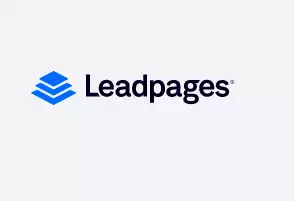 We earn a commission if you click this link and make a purchase.
Leadpages Advertising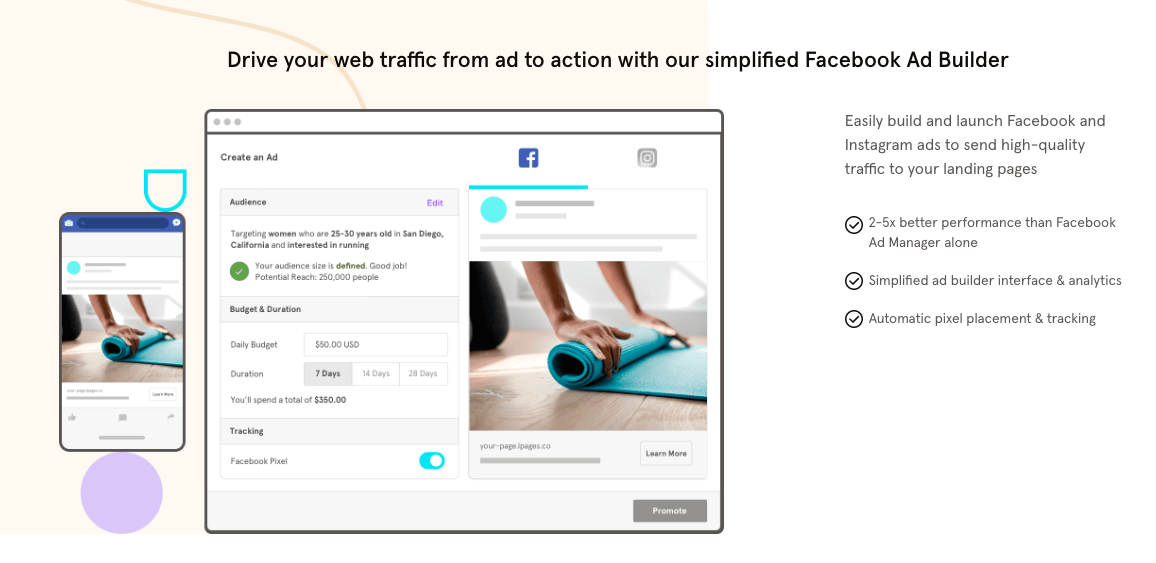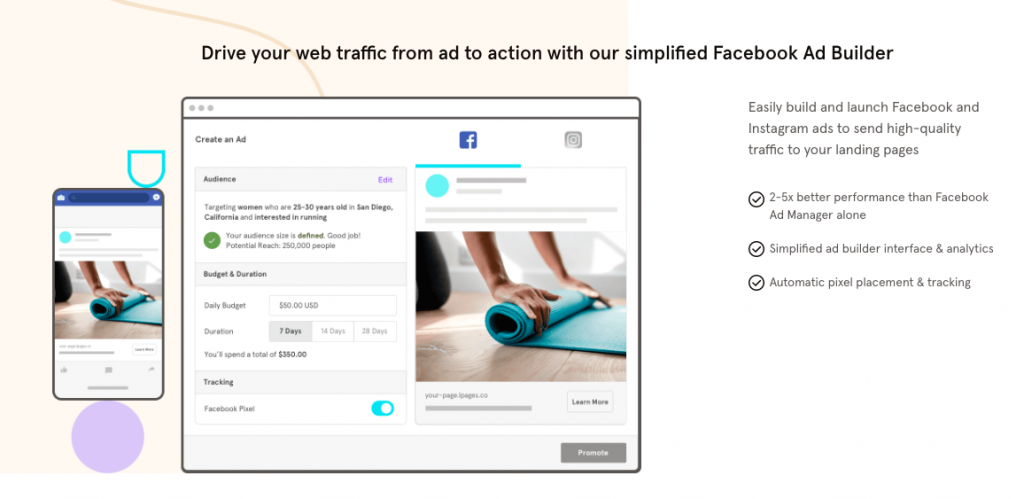 You get access to Leadpages' advertising tools when you sign up for the free trial. Even better, you keep this feature when you upgrade to their page program.
They offer you three advertising tools.
1. Automatic Facebook pixel tracking
Leadpages automatically places Facebook ad pixels to ads you create inside of it. Consequently, you save time and energy, so you can focus on tracking and improving your results faster.
2. Facebook and Instagram Ad Builder
With their ad builder, you can benefit from creating your Facebook and Instagram ads more quickly. Let them add your pixels automatically.
3. Message-match ads to pages
You can pre-populate your ads with content from your landing pages and then adjust them to match your needs.
Furthermore, this message-matching gives your ads one voice across all platforms.
Also Read: Leadpages vs Clickfunnels
Leadpages Builder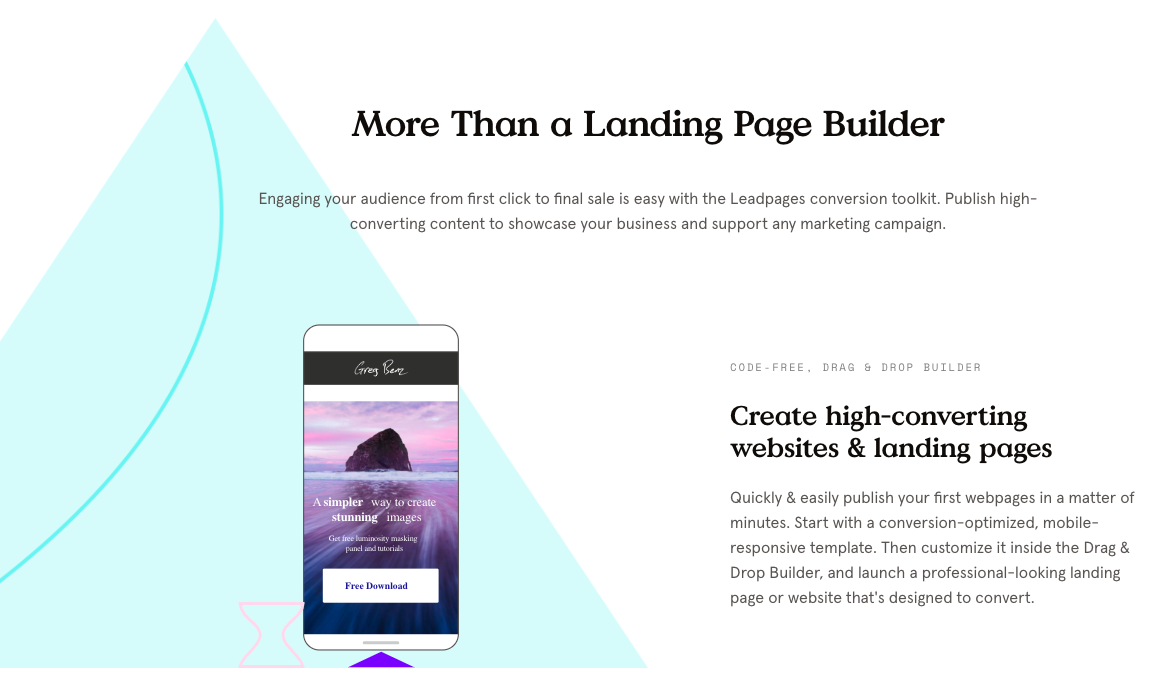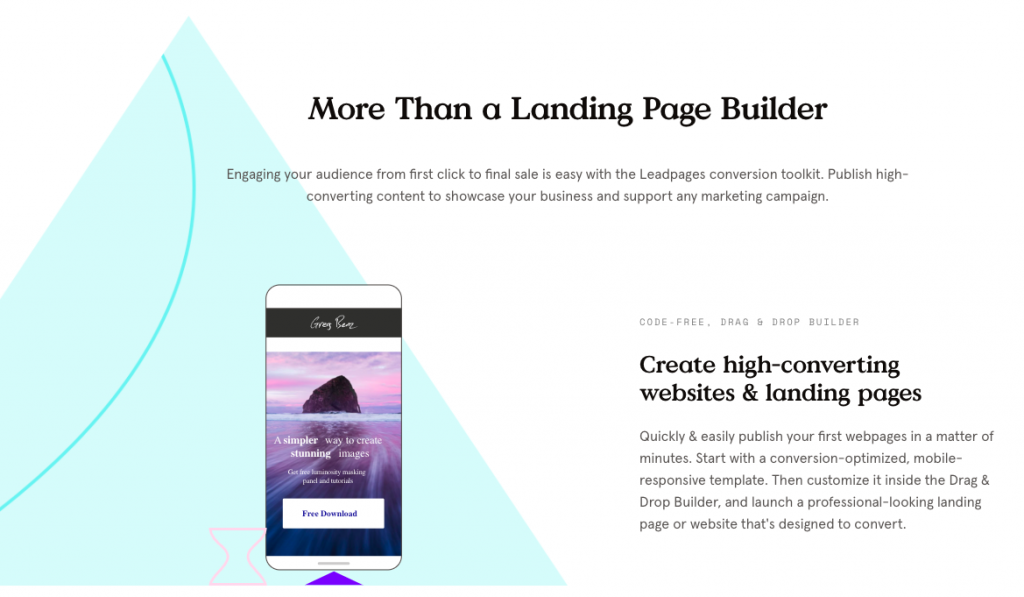 Leadpages' page builder is one of the most powerful features you'll find on the platform. Indeed, it's one of the industry's most extensive builders.
1. Five Free Sub-Accounts
Most top marketers keep a team to help with their marketing campaigns. Hence the need for the sub-accounts.
But it's not only your team members who might need an account. Even clients may need to have access to certain features, and that's where this tool finds its most important use.
No one wants to be dealing with frustrated clients. You'd rather have them see things evolve before their eyes than brief them on your effort.
2. Automatic Saving and 99.9% Uptime
Like most busy people, you probably don't enjoy trivialities ruining your day. Imagine losing a full day's work because you didn't click "save."
That's not happening with Leadpages. They have made a provision for your work to save automatically to their servers.
The system saves your work every time you make a change.
If you're like most business people, you love stability. But in reality, that's a tough call.
Unlike most other platforms, Leadpages isn't sweating reliability. They promise to deliver 99.9% uptime by relying on Google's App Engine.
In their own words, they will "keep your content in the hands of your audience."
3. Custom and Hidden Form Fields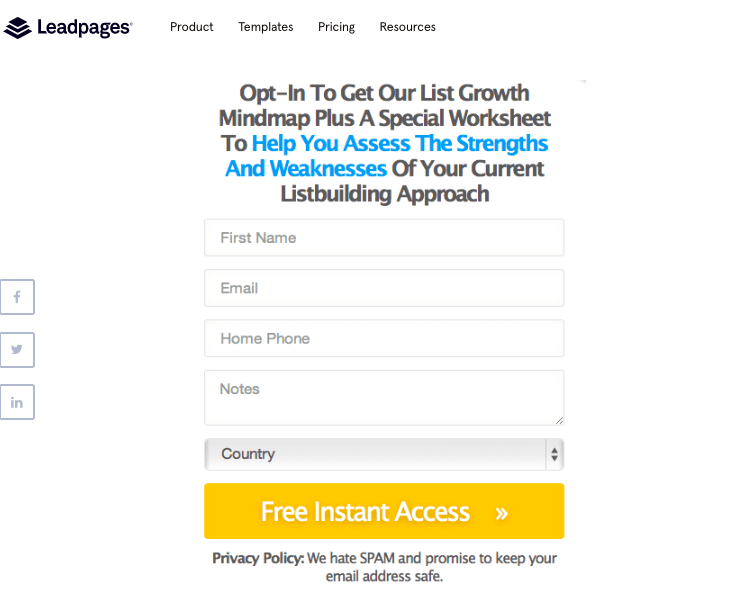 You can supercharge your data collection with Leadpages' hidden form fields feature. In the background, you can collect and forward any information to your CRM or email service.
Apart from the hidden form capabilities, you can customize those forms fields to collect the data you want.
4. Custom Social Media Preview
Leadpages lets you add and customize your page's Open Graph. So if you're going to control your content display on social media, this is it.
5. Device-Specific Preview
If you'd like to see how your landing pages would look across devices, Leadpages says they've got you covered so you don't publish your pages wondering if they will look great or grime.
6. Digital File Delivery and Hosting
Leadpages houses your lead magnet files and delivers them for you, so during opt-in, your subscribers get your digital bribes or downloadables in their inbox or right on the landing page.
7. Easily Duplicate and Edit content
If you have content that you want to reuse or adjust for a new landing page, then you can duplicate and edit it. Ultimately, this feature saves you time from building pages from scratch every time.
8. Drag-and-Drop Template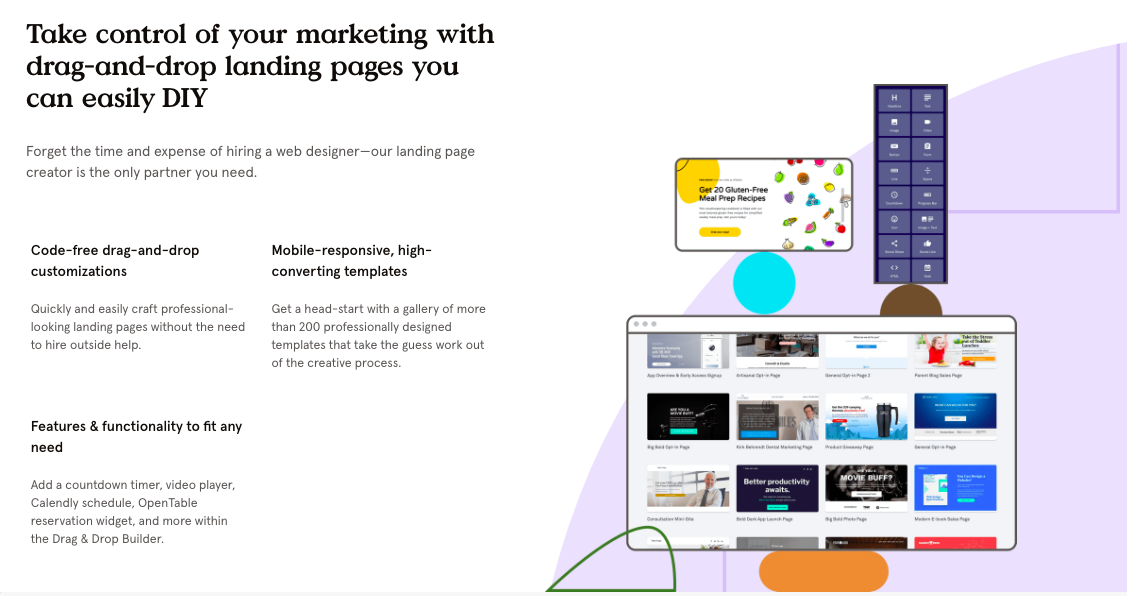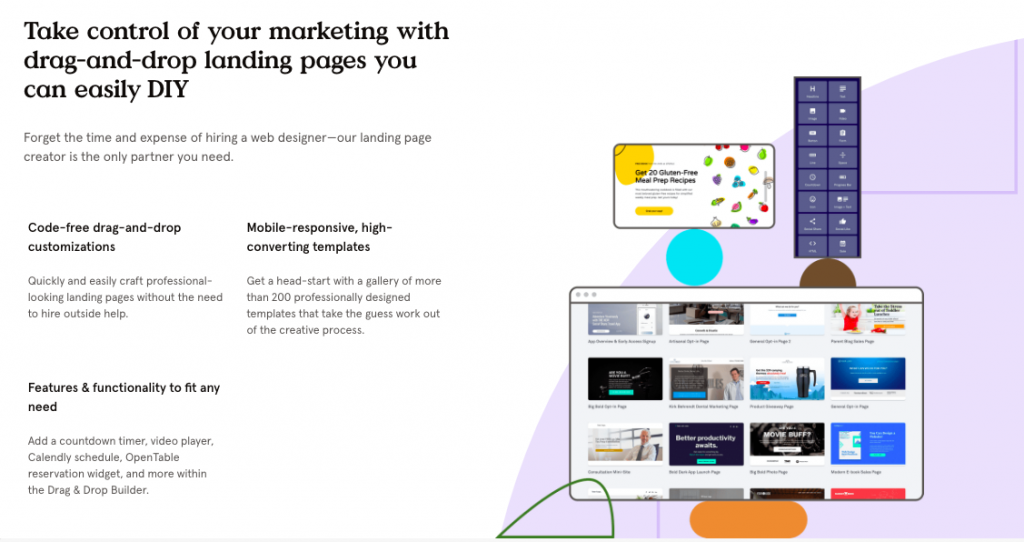 It's cool to code, but not when you can get the job done faster and easier. Moreover, Leadpages' drag-and-drop template is just as cool as building your pages with grit.
But without the grit.
They made everything customizable for your website, landing pages, and forms. So you'll never have to sacrifice your creativity.
9. Form Builder for Lead Generation
Like most design elements in Leadpages, the lead generation form builder lets you build with drag-and-drop so you'll never need help from a developer or a techie.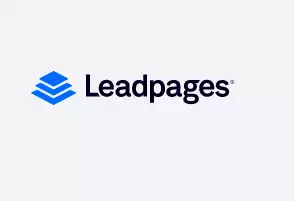 We earn a commission if you click this link and make a purchase.
10. Route Leads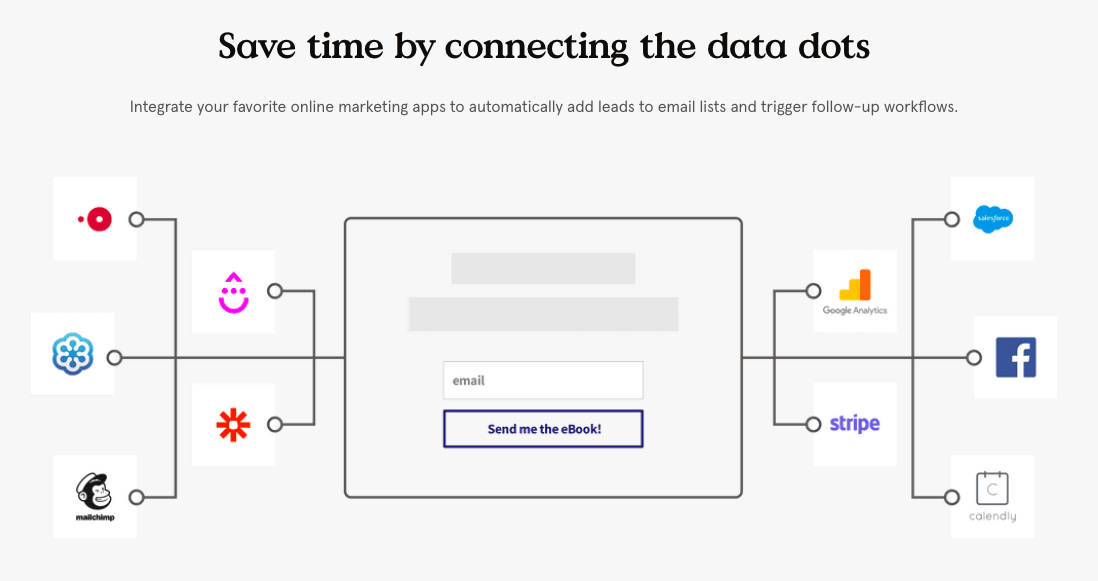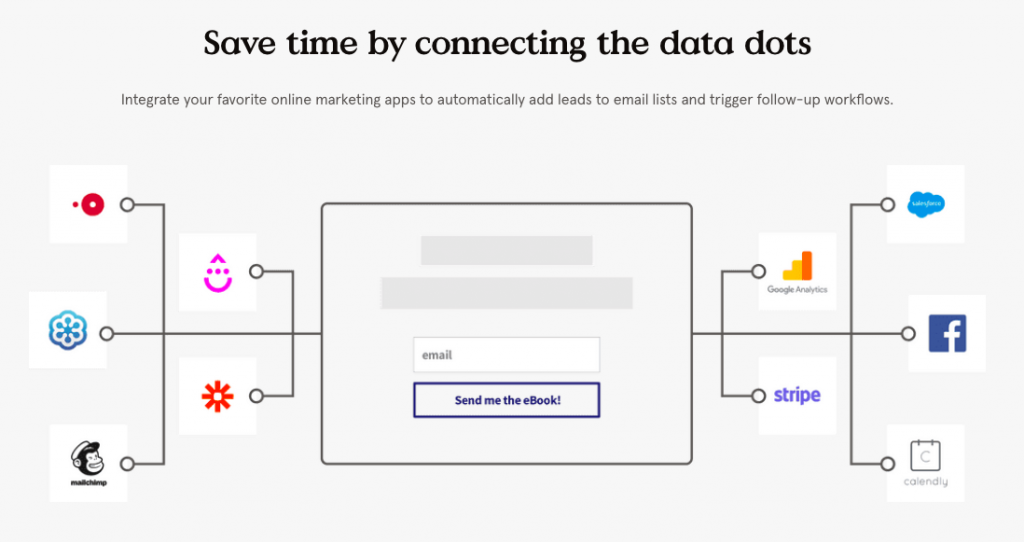 If you prefer to have your leads going to your email management service or CRM, you can have it.
You probably know a thing or two about list segmentation, so you have complete freedom to segment your list as you want it, thanks to this feature.
But segmenting your list isn't all that lead routing does for you. You can also send your leads to any destination that helps your marketing.
Explore: Leadpages vs Optimizepress
More Builder Features
You will find Leadpages' builder full of high-value features. Specifically, you'll have these features at your disposal:
Image library
Lead backup or spreadsheet download
Page grouping
Leadpages Lead notifications
SEO-friendly website and landing pages
Widgets
Analytics
Revert pages to previously published versions
Leadpages Conversion Tools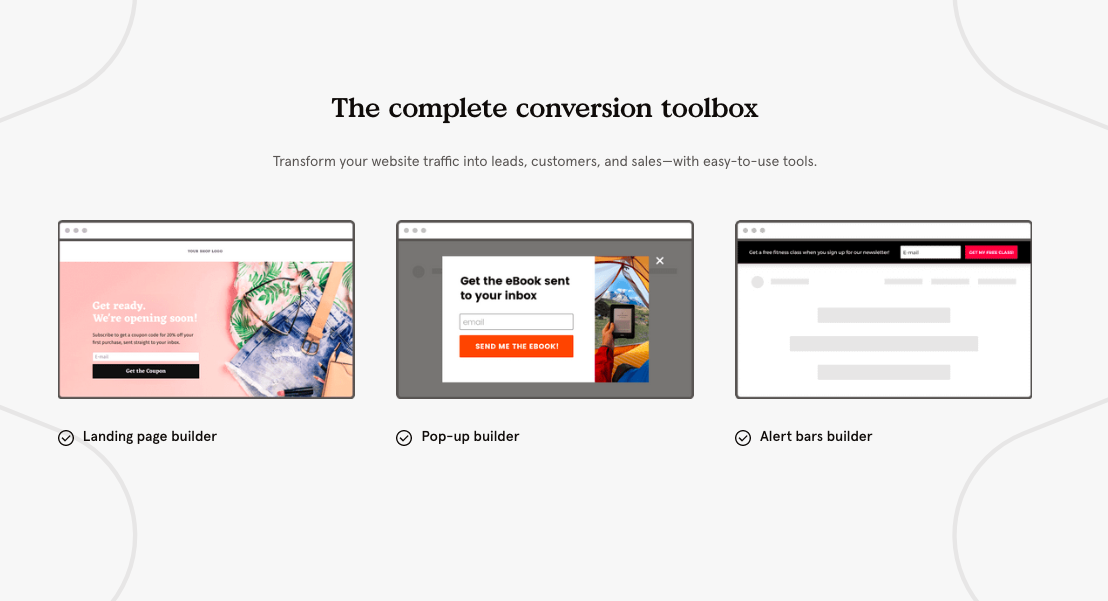 The heart of Leadpages is conversions. In fact, they boast themselves as the first conversion-centered website builder.
If that's their stand, then you probably see why they've created a ton of conversion elements into their offerings.
1. Leadpages' Leaddigits
For users who want to leverage SMS, Leadpages provides a feature it calls Leaddigits, so you can reach your audience and have them download a digital file or join your email list.
Furthermore, you can use this Leadpages registered feature to grow your business via SMS marketing.
2. Leadpages' Leadlinks
Leadlinks is a trademarked Leadpages tool for email trigger link conversions. If you want to trigger user sign up with the click of a link, this feature comes handy.
3. Unlimited A/B Split Testing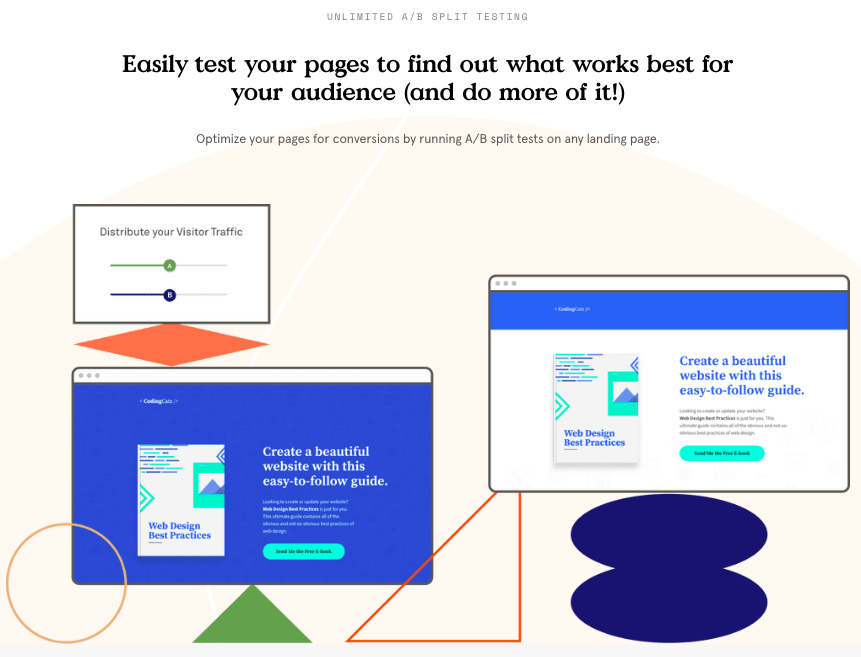 A/B testing is a marketer's next best thing after sliced bread. Hence, almost every marketing tool has a split-testing feature appended to it.
More Conversion Features from Leadpages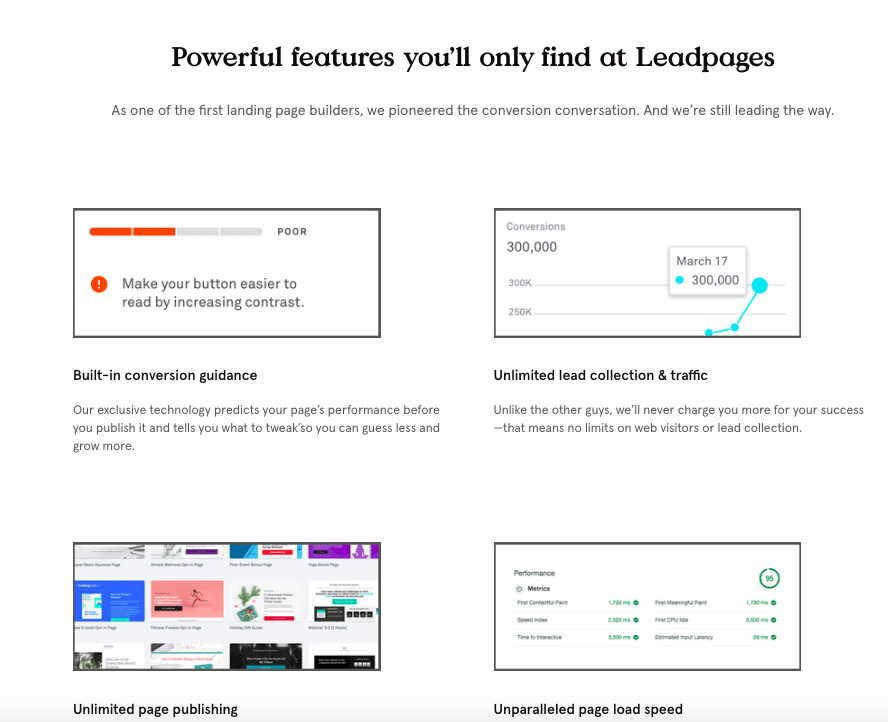 Mobile-friendly alert bars
Instant optimization tips in real-time
Pop-up opt-in forms
Exit-intent pop-ups
Real-time analytics
Campaign ROI report
Third-party tracking and analytics
Leadpages Design and Templates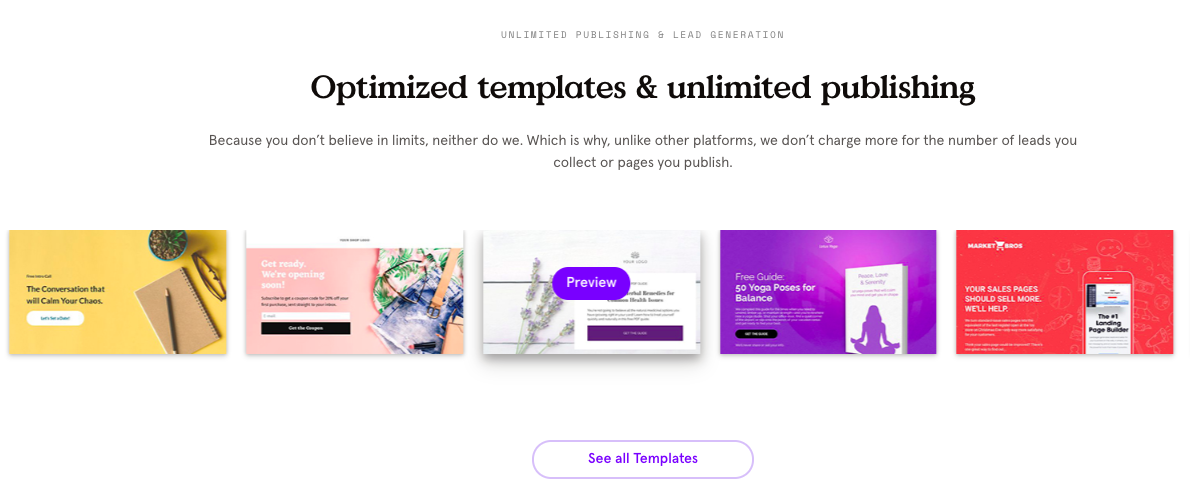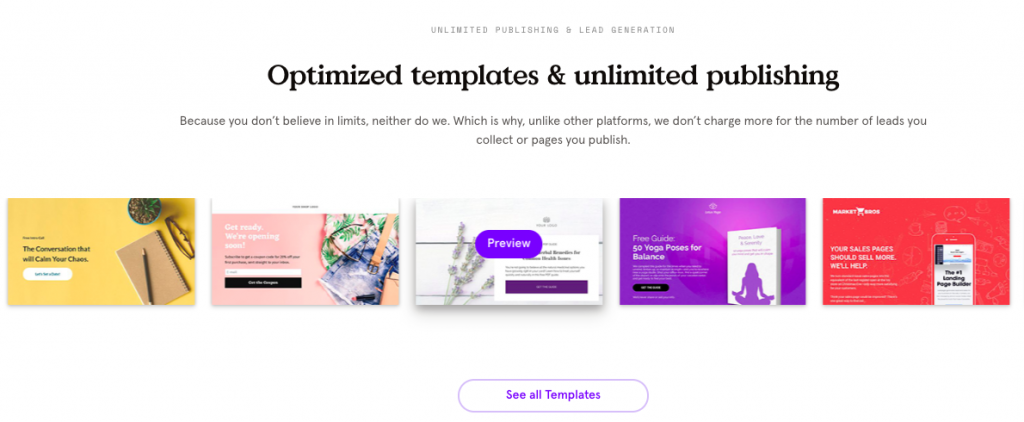 One thing that Leadpages gets right is their knack for great design. Almost above anything else, the platform's designs have stood out consistently.
For example, they include 17 design elements and these design features include HTML and custom code editing options, customizable templates, custom branding features, to name a few.
So what specific design features do Leadpages offer you?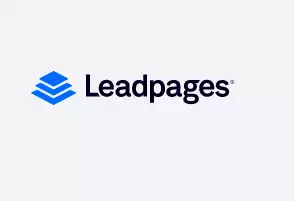 We earn a commission if you click this link and make a purchase.
1. Premium Shutterstock Images and Icon Library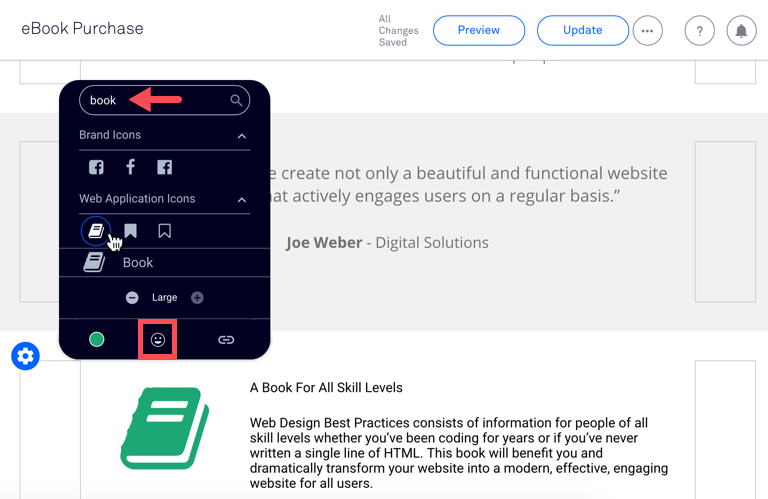 The platform makes it easy for you to buy and instantly use stock images from Shutterstock. You can also access, select, and customize icons and graphics from the drag-and-drop builder.
2. Custom Branding
You can brand your pages with your logo, look, and feel. Most importantly, Leadpages makes everything editable, so you can remove extra page elements that may misrepresent your brand.
3. Video embed Widget
Videos can go into your pop-up boxes and pages, so you can embed videos from hosting sites like Wistia, Vimeo, and YouTube.
Give your site visitors social tools to share your web pages and landing pages. Have your visitors sending your pages to their friends and family without delay.
Leadpages comes with social share buttons for LinkedIn, Twitter, and Facebook.
5. Device-Specific Display
So you don't want certain features to show on mobile or web-based devices? No problem. Quickly set your device-displays options to what works for you.
6. Mobile-Friendly and Responsive Templates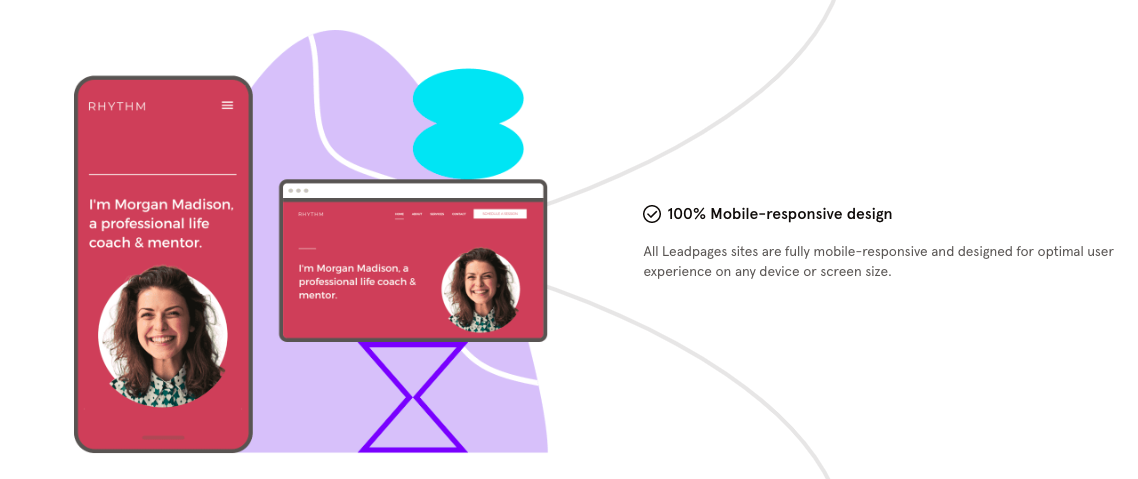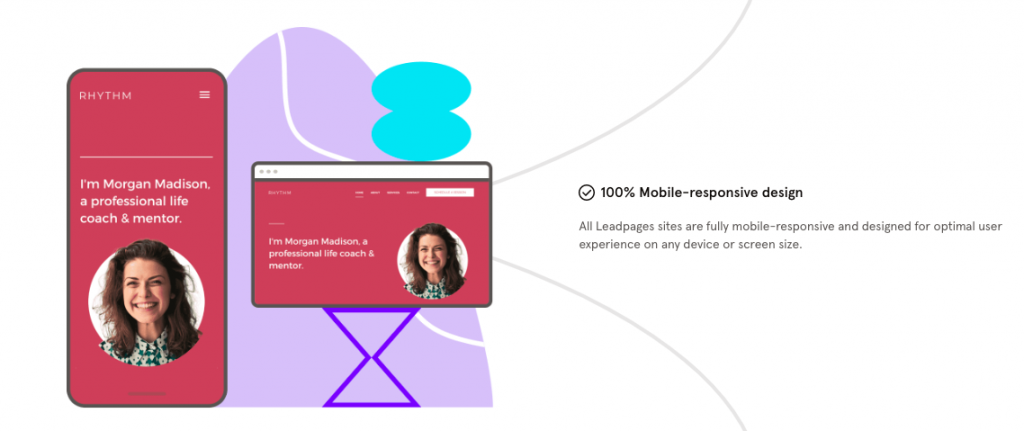 When you're building websites or landing pages, Leadpages has mobile-responsive templates to match those needs – and it doesn't stop there.
You can adapt each of those templates to fit your specific business needs.
Also Read: Leadpages vs Wordpress
More Design and Template Features
OpenTable embed widget
Calendly embed widget
On-page section links for easy on-page navigation
Confirmations and thank you pages
Keyboard shortcuts
Countdown timers
Leadpages Education & Support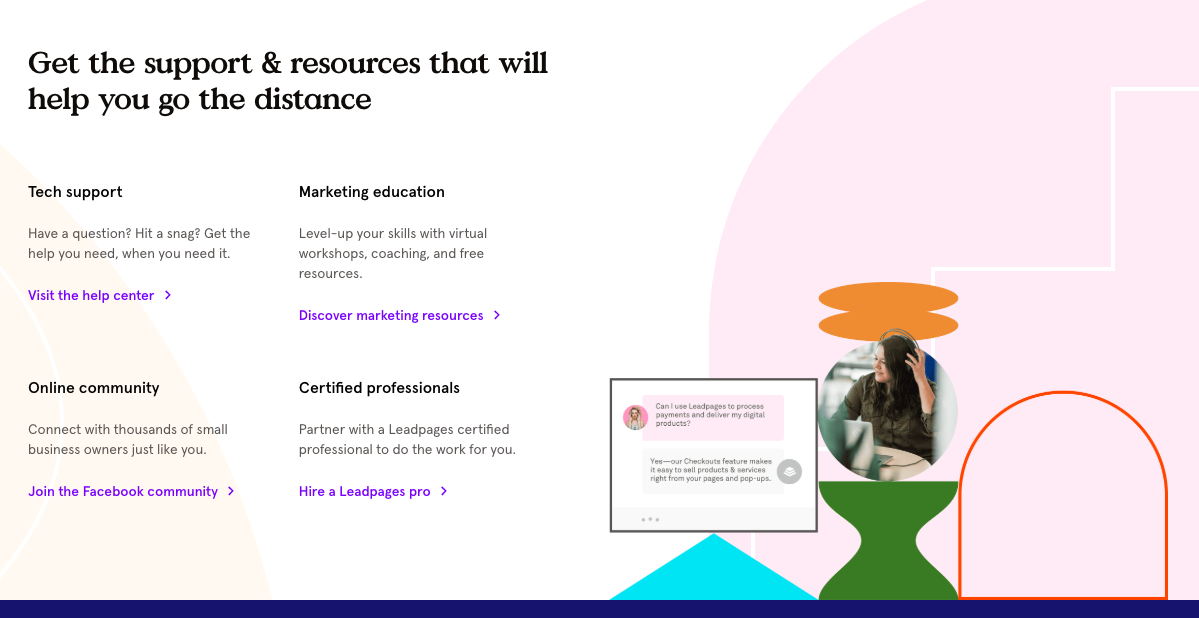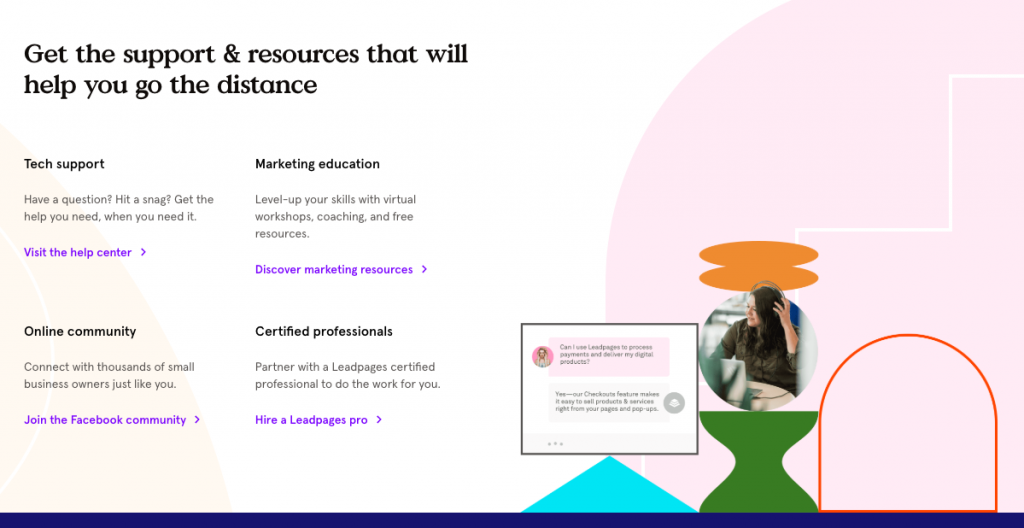 Would you appreciate talking to someone one-on-one while setting up your Leadpages? You're in luck! The platform provides you the option to speak to a specialist when launching your Leadpages.
In other words, you'd have a private coach helping you get onboard.
Second, Leadpages provides its users with regular virtual workshops. This way, you can keep discovering better ways of benefiting from the platform.
Also, you can reach their technical support by phone, email, and chat. If you'd rather seek out solutions by yourself, then you can use their Knowledge Articles to get what you want.
Finally, Leadpages hosts a coaching call every week.
Leadpages Integrations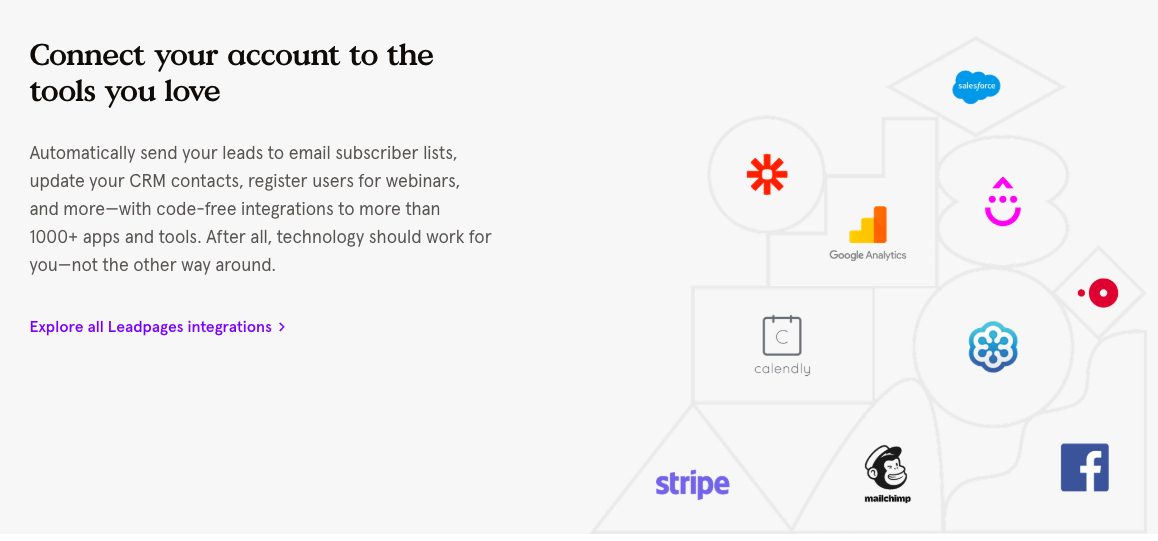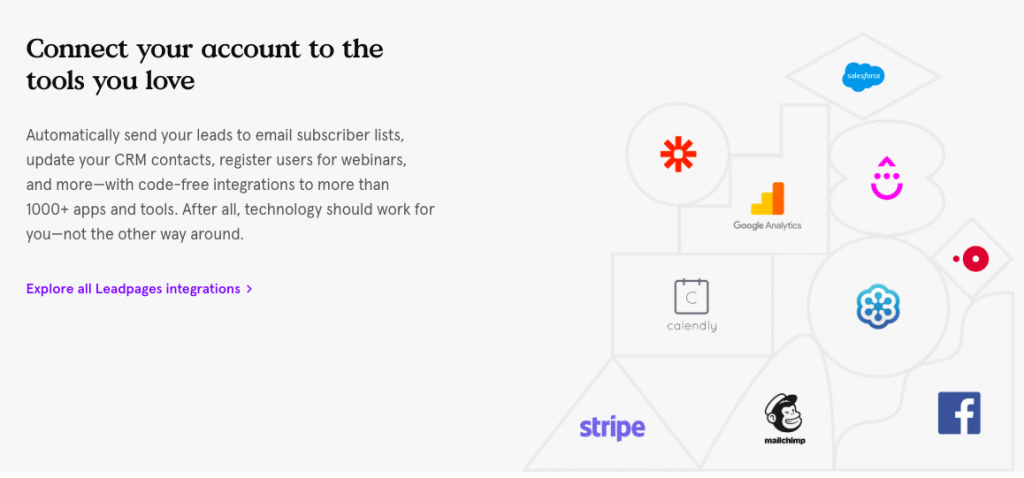 With more than 40 standard integrations, you have little to seek outside of Leadpages. However, they have managed to go even further!
If you ever need any unfeatured integrations, Leadpages works with Zapier to make things happen!
Furthermore, Leadpages integrates with all leading email service providers, and also, the platform gives you advanced integration options with Salesforce/Pardot, Hubspot, and Marketo.
Leadpages Publishing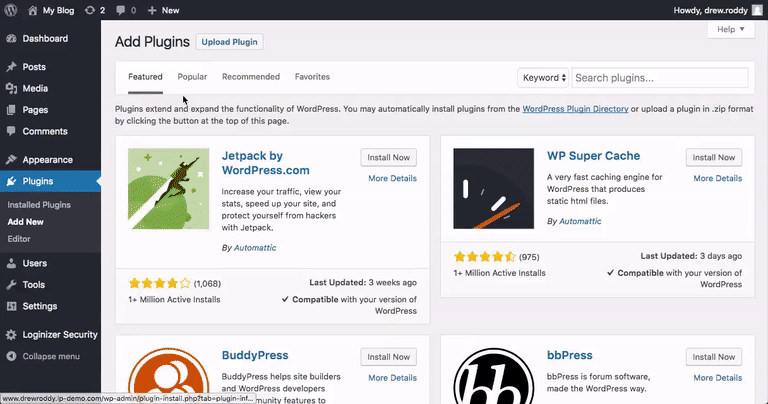 The Leadpages platform offers free hosting for landing pages and websites on non-custom domains. But you can also connect your domain name to the platform.
Additionally, you can use their WordPress plugin to connect your Leadpages to your existing websites.
Leadpages Security
You won't have to spend extra on security features like an SSL certificate or assigning user permissions.
These features come with Leadpages, and they are all GDPR compliant.
Leadpages Site Builder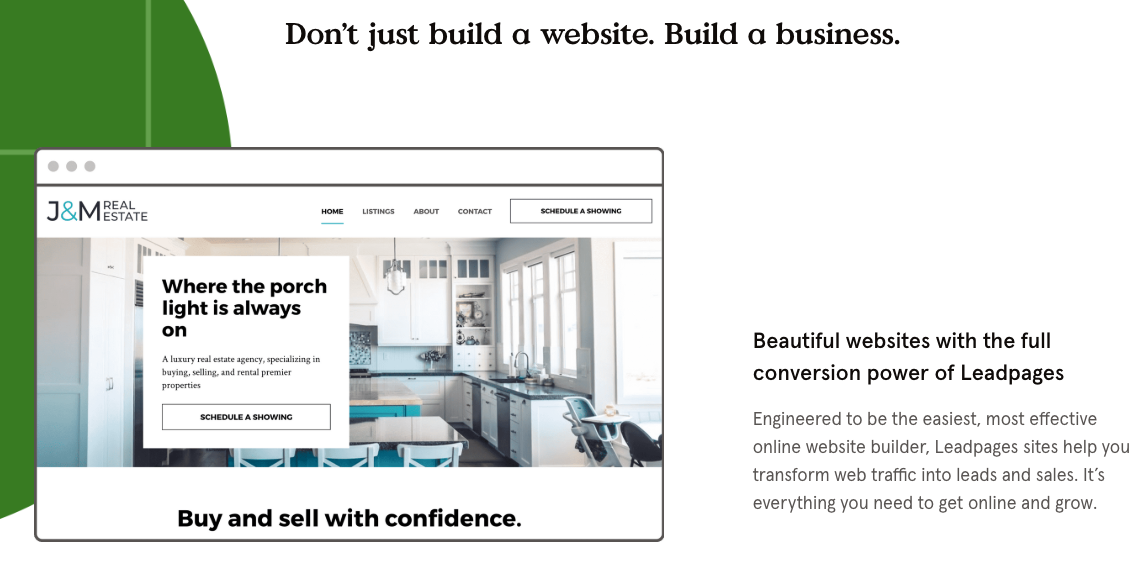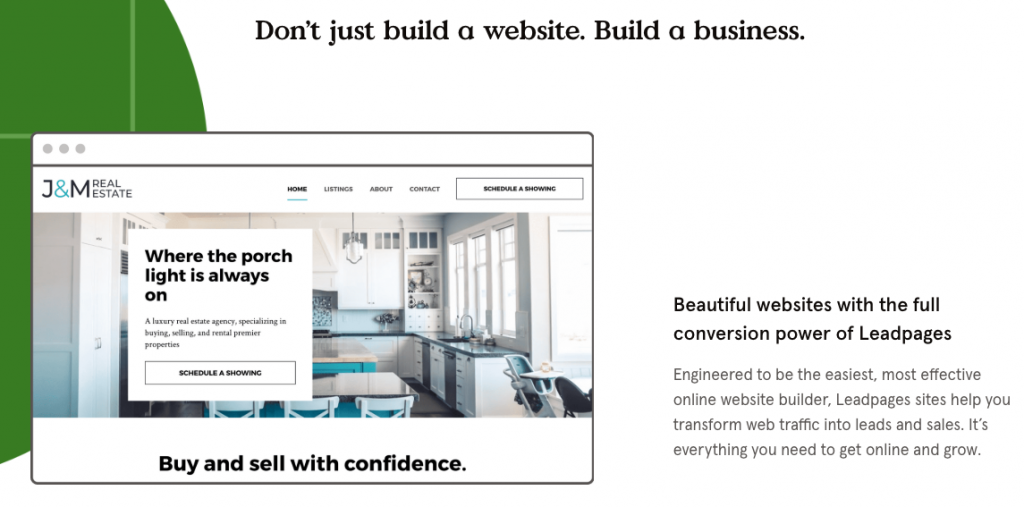 The site builder feature borrows most of its uses from Leadpages landing pages. For example, it's drag-and-drop elements, mobile-responsiveness, site styling settings, and more.
Site owners who choose their yearly plan get a free custom domain name.
Leadpages Pricing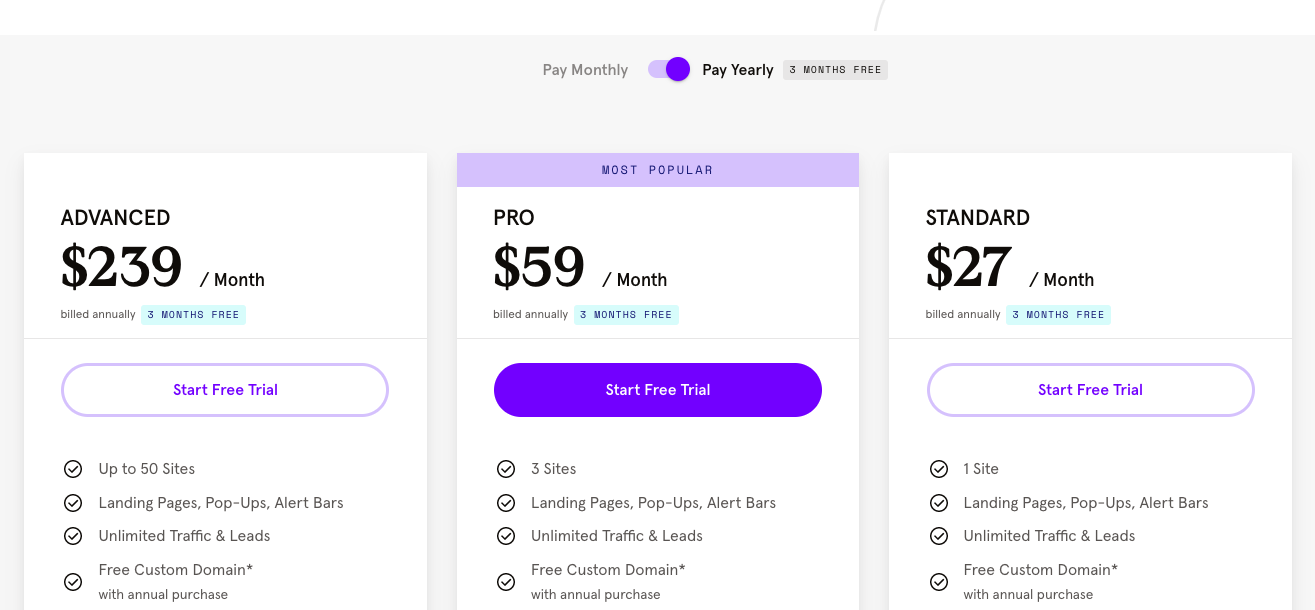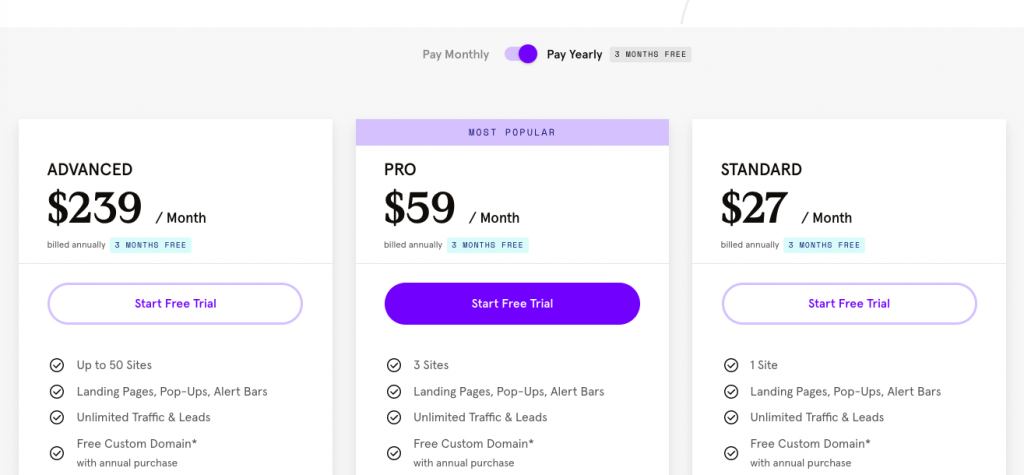 Leadpages maintains three pricing plans for its landing pages. However, each pricing plan has a yearly and monthly payment plan.
Standard Plan: Costs $27 per month if you're paying a full year's price. But if you choose to pay monthly, Leadpages will charge you $37 every month.
Pro Plan: Costs $59 per month if you're paying a full year price. But if you're paying monthly, they'll charge you $79.
Advanced Plan: Goes for $239 per month at a full years' price. If you pay monthly, it'll set you back $321 every month.
You get 14 day free trial to the tool.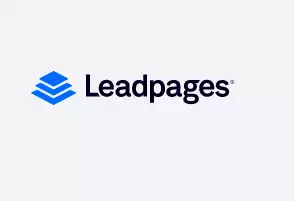 We earn a commission if you click this link and make a purchase.
Leadpages Pros & Cons
Pros
Highly efficient support team
Easy drag and drop builder
Very flexible page layouts
Hundreds of conversion-optimized templates
Mobile-responsive pages
Non-techie people love it
Hundreds of testimonials that conversions went up
Allows monthly payments
Cons
Expensive for the audience they are targeting, i.e., small businesses
The page builder is for non-techies only, so might limit creativity
Check Out: Best Leadpages Alternatives
Conclusion – Wishpond vs Leadpages
In spite of its limitations, Leadpages is the better leads collection and engagement tool, so if you're looking for the right tool for your leads collection needs, look no further than Leadpages.
Also, you can benefit from the tool's optimized landing page templates.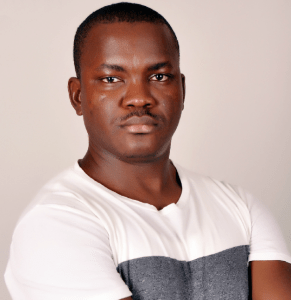 Author: Nicholas Godwin
Nicholas Godwin helps businesses tell profitable brand stories that their audiences love. He's worked on projects for Fortune 500 companies, global tech corporations and top consulting firms, from Bloomberg Beta, Accenture, PwC, and Deloitte to HP, Shell, and AT&T. Works with Mofluid these days.