Every successful business that sustains in the market for a long period of time relies on marketing funnels.
Marketing is one of the key business aspects that makes or breaks any business and takes it from just an idea to a reality.
In the past, marketing was quite expensive and lack of funds prevented businesses from advertising their products and services.
However, the digital age has brought internet marketing tools that allow small businesses and startups to compete with bigger companies.
Businesses today have an opportunity to embrace advanced marketing strategies at a low cost.
Why Invest In Digital Marketing
Whether you run your own business or responsible for managing it for investors, you need to capitalize on the benefits offered by internet marketing.
Businesses are increasingly looking to invest in the best internet marketing tools that give them the greatest visibility and market share.
There are dozens of great marketing tools available today that make the marketing process much smoother.
Tools such as Unbounce, Instapage, and Convertri are all aimed at improving the marketing efforts for digital business.
Each of them offers unique pros and cons and they are ideal for businesses in specific industries.
In this piece, we'll look at Clickfunnels, a marketing tool that has the reputation of growing hundreds of seven-figure businesses across the world in the past few years.
We will compare it with Kartra, a marketing platform that has been around for a while and started doing a major comeback recently.
If you have been into digital marketing, then you must have read something about marketing funnels.
Sales funnels are one of the most talked about subjects in the industry today. Marketers consider them to be their new best friends.
In essence, marketing funnels are all about automation.
A marketing funnel helps a potential online customer go through an online journey to discover businesses from start to finish.
The funnel informs the customer about the business, its products and services, its history and the benefits the customer will get from purchasing from the business.
The ultimate goal is to build an advanced automated system that helps close sales.
The funnel is easy to monitor and measure at any point during the customer's journey.
Data gathered from the funnel is used to improve the customer experience to promote sales.
So let's begin with our Kartra vs Clickfunnels comparison.
Kartra vs Clickfunnels Overview
Both internet marketing tools create sales funnels for businesses that promote their products and services more efficiently in the market.
The difference is that Clickfunnels is a type of unique SAAS tool, designed to help your business create sales funnels with just a few clicks.
It focuses on a task-based approach. On the other hand, Kartra relies on a different goal-based approach.
Both tools are quite good and make life much easier for online marketers through their built-in automation.
They offer unique benefits that would suit marketers in different situations.
However, the tools have a steep learning curve and it will take you a couple of weeks to understand all their features.
There is also a lot of room for improvement in both platforms and they are far from perfect.
Luckily, both Kartra and Clickfunnels are actively supported by developers and they receive periodic updates to improve functions.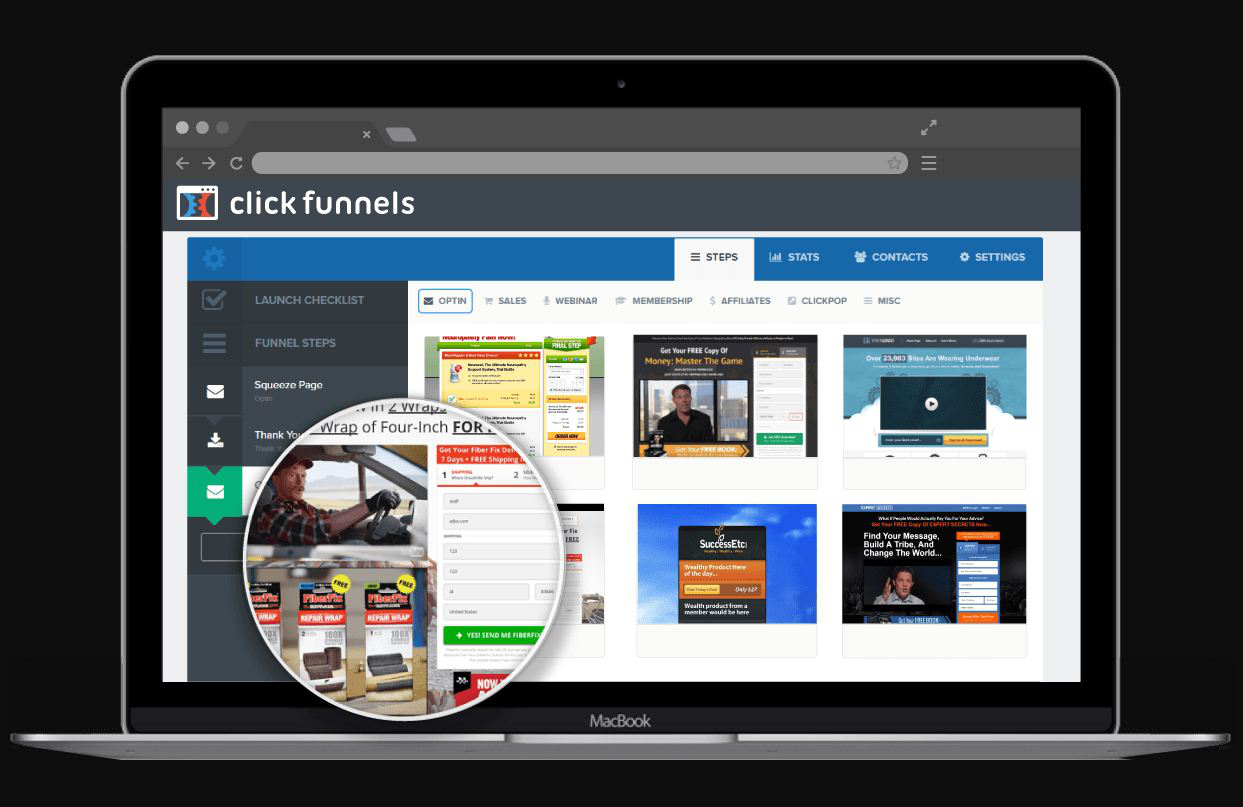 Clickfunnels was created in 2014 to make the process of creating funnels and marketing easier for entrepreneurs.
It was created with a joint effort by Russell Brunson, CEO and Todd Dickerson, Lead Developer for the company.
The company envisioned a huge demand for the marketing tool in the future.
The company realized that digital businesses have a high demand for online marketing.
But they do not have the technical knowledge and expertise to design websites and marketing platforms on their own.
Business owners either had to hire a team of technicians and programmers to do it for them. Or learn coding themselves to build what they wanted.
One way many businesses solved this problem was to hire independent web designers and digital marketing companies.
The business would give an outline of what they wanted and then fund the project. The results were mixed.
And many websites never got past the design process.
It became a risky investment and many entrepreneurs found their core business idea getting pushed aside in favor of developing digital marketing assets.
This was one of the reasons many digital businesses failed.
Clickfunnels was created to solve this problem by improving the design process significantly.
It allowed businesses to create beautiful websites from scratch without needing to learn HTML language or coding.
The idea was to create a graphical user interface (GUI) that could be operated with buttons and clicks instead of writing hundreds of lines of codes.
The major benefit of Clickfunnels is that it allows you to use a single app for carrying out a variety of functions.
It allows you to create a fully customized website, collect customers' information and advertise your products and services to visitors and customers.
Some of its major features include the following.
ClickFunnels - Check Special Pricing
Beautiful high-converting sales funnels. Simple, quick & easy to build. Includes email, Facebook automation along with in-built shopping cart. Check Special Pricing.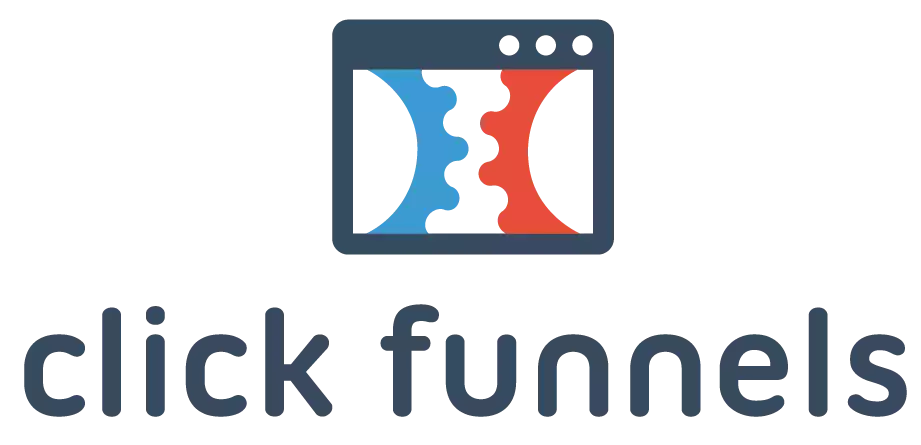 We earn a commission if you click this link and make a purchase.
Clickfunnels Lead Capturing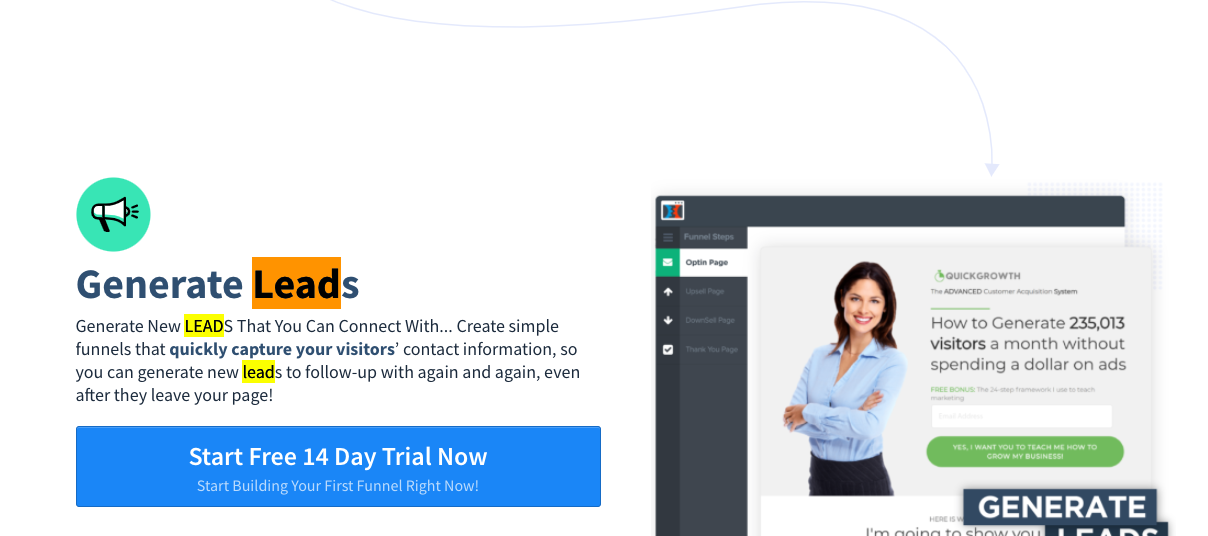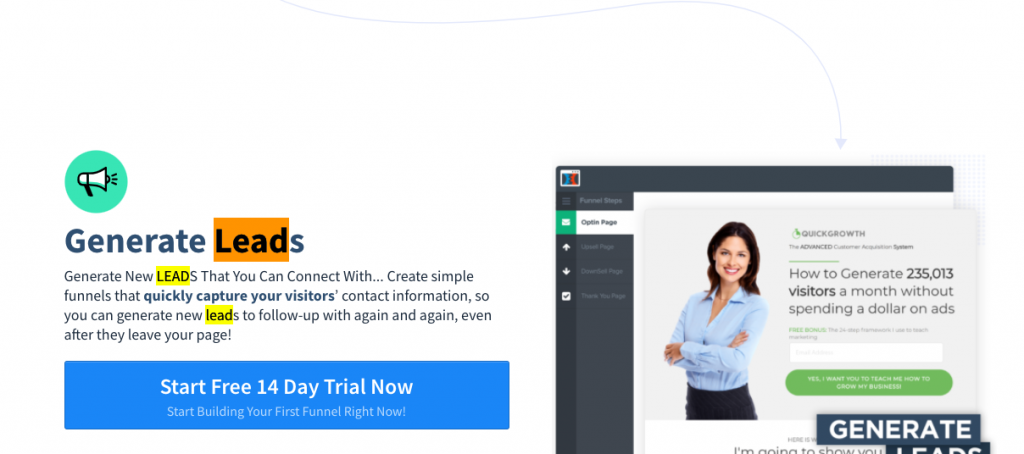 Email lists are crucial for the marketing effort. Emails allow businesses to market their products and services to customers directly.
Many businesses entrepreneurs find it difficult to build functionality to capture, store and use email lists.
Clickfunnels makes the process much easier by encouraging website visitors to submit their emails.
The platform stores all the emails in a database which can be used for building sales leads.
The company can use these stored emails for advertising products and services to sales leads and generate more sales.
Clickfunnels Webinars, Vlogs and Site Streaming
There is nothing better than video to promote products and services.
Many businesses use webinars to spread awareness about their products and services to potential customers.
Live streaming and podcasts can be used to engage with customers directly.
They give them an opportunity to interact with the business and provide feedback on service quality.
Clickfunnels has an easy to use webinar funnels option that can be used to instantly create and upload webinars on your website.
The feature has been used most effectively in the entertainment, education and technical services industries.
Basically, industries where professionals often have to engage with a live audience.
ClickFunnels - Check Special Pricing
Beautiful high-converting sales funnels. Simple, quick & easy to build. Includes email, Facebook automation along with in-built shopping cart. Check Special Pricing.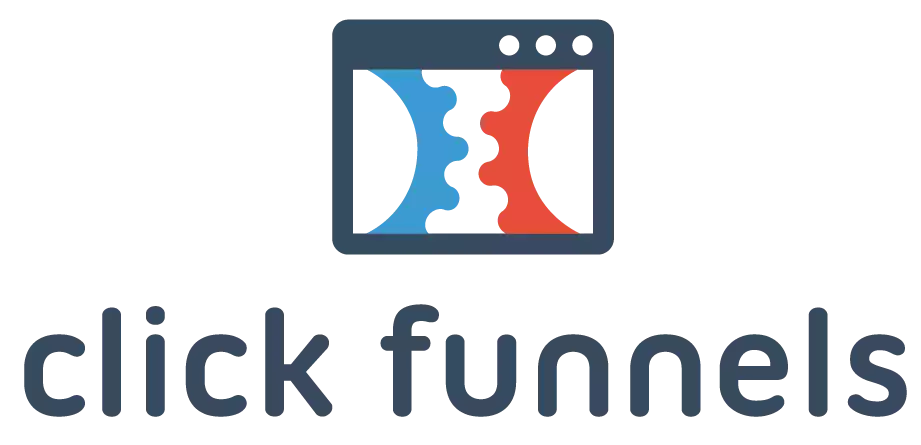 We earn a commission if you click this link and make a purchase.
Clickfunnels Sales Page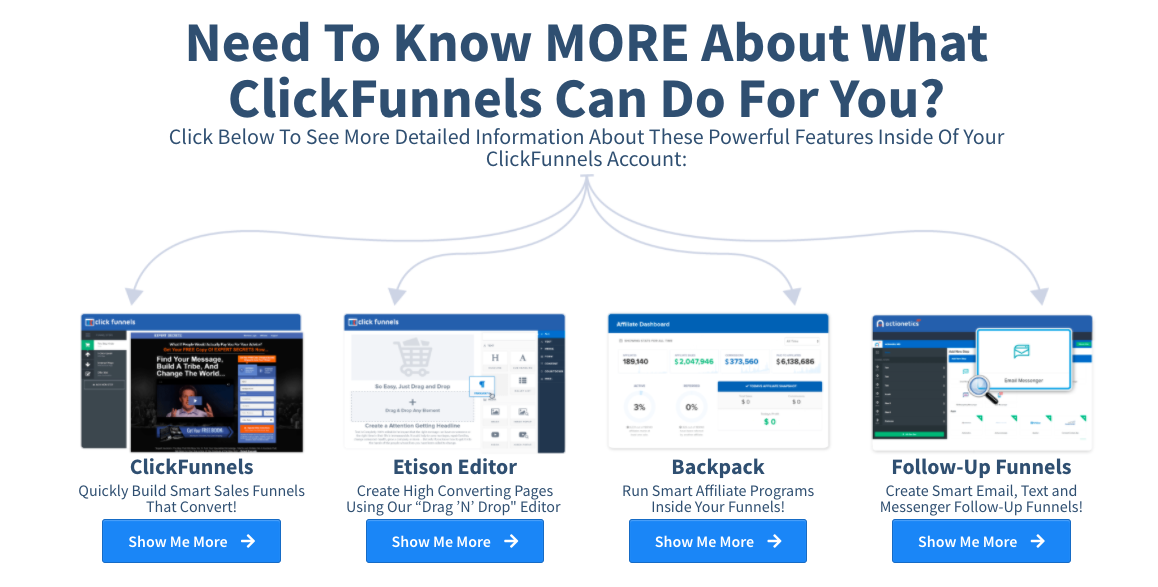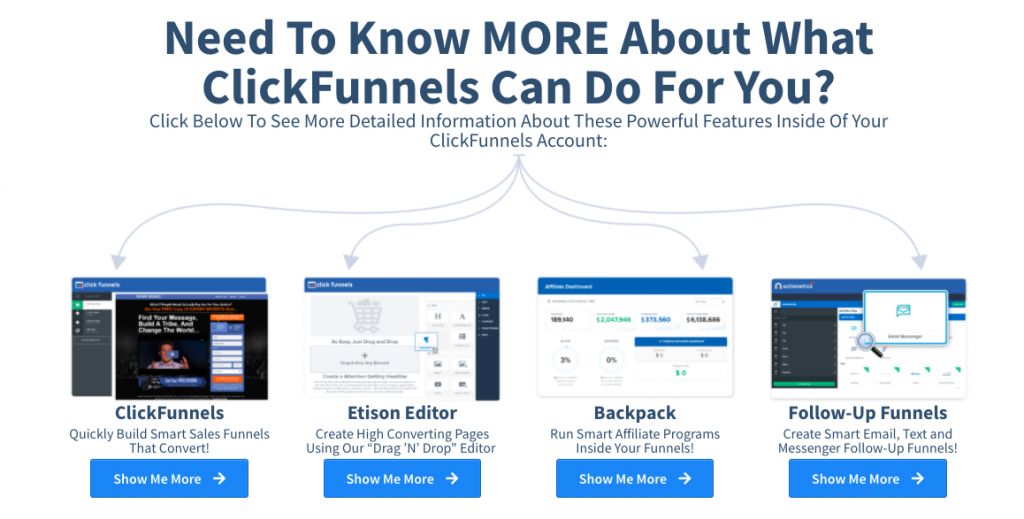 Sales pages are a form of a post-click landing page that advertises and promotes the business products with a clear call to action for the customer to buy the products.
These pages are generally used by retailers to list their products on the website. However, service businesses are also starting to use them to a great effect.
Sales pages can either be short-form or long-form. Short form sales pages are precise and to the point.
They tell the visitor why they need the product. They also mention a list of benefits and promotional discounts that they can get if they order the product soon.
Visuals can be used to enhance the message and a large CTA button is necessary to close the sale.
Long form sales pages include a lengthy explanation of why the customer should buy the products advertised by the business.
These pages are also called a sales letter. Think of it as a sales-pitch that contains many graphics, charts, and testimonials to convince the customer to buy the advertised product.
Clickfunnels includes sales page features like upsell, downsell, and OTO to maximize sales and profits for the business. A full list of Clickfunnels features include,
A/B Split Tests
All Advanced Funnels
Auto Webinar Funnels
ClickOptin
ClickPops
Custom Domains
Downsale Pages
Email Integrations
Hangout Funnels
Webinar Funnels
Upsell Pages
Share Your Funnels
Sales Funnels
Priority Template Requests
Priority Support
Order Pages
Optin Funnels
Membership Funnel
Clickfunnels Integration
Clickfunnels is designed with the option for easy integration with other marketing platforms. It can be integrated with the following platforms.
ActiveCampaign
AWeber
Clickbank
Constant Contact
Ever Webinar
GetResponse
GoTo Webinar
WebinarJam
Twilio
Stripe
ShipStation
Sendlane
OntraPort
Maropost
MailChimp
Infusionsoft
Good support and wider integration options make Clickfunnels an ideal marketing tool for digital businesses.
ClickFunnels - Check Special Pricing
Beautiful high-converting sales funnels. Simple, quick & easy to build. Includes email, Facebook automation along with in-built shopping cart. Check Special Pricing.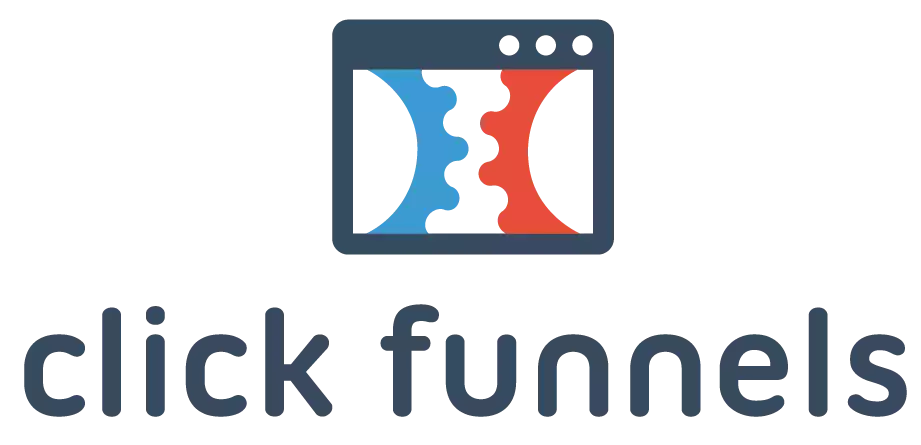 We earn a commission if you click this link and make a purchase.
How Clickfunnels Work?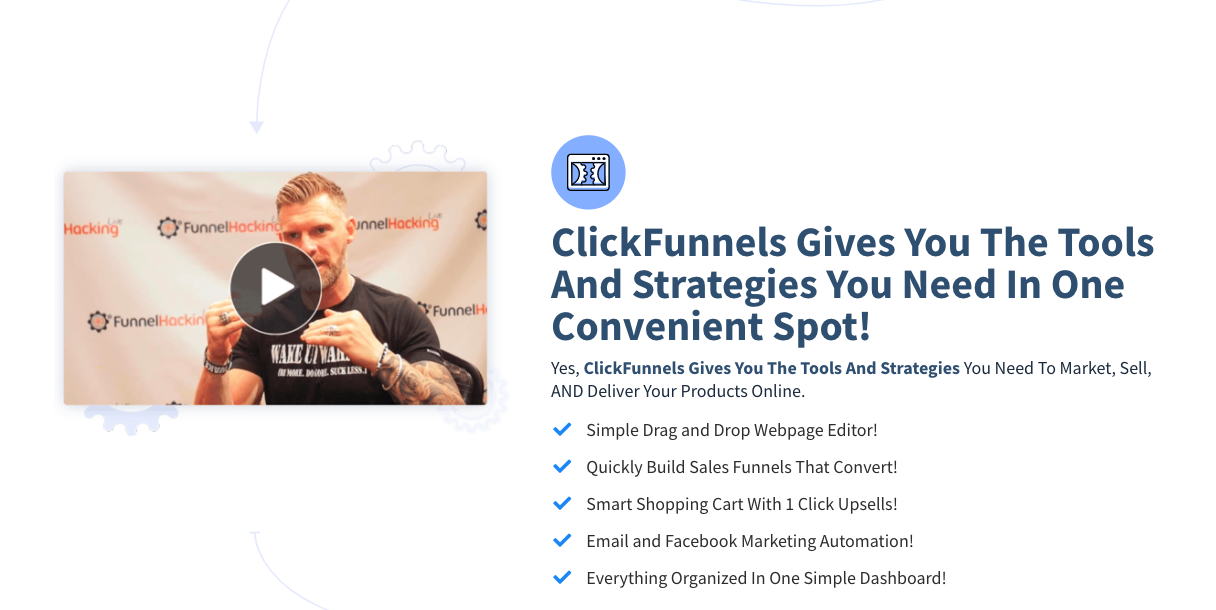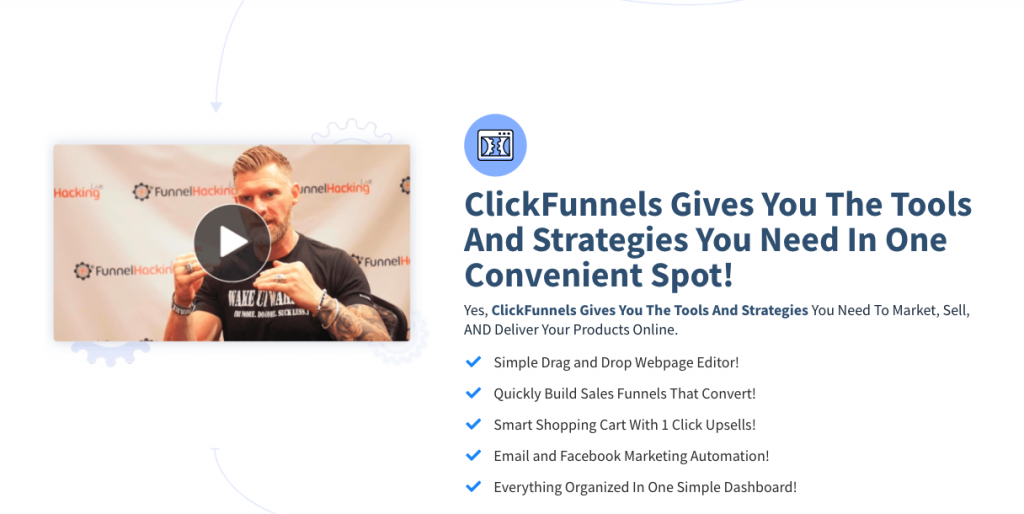 Clickfunnels is marketed as an easy-to-use tool that even novices can operate.
It works in three simple steps and allows users to create sales funnel websites easily.
It's helpful for businesses trying to convert their traffic into paying customers.
We should note that the tool is useful whether businesses want to market retail products or services like online courses.
First Step
In the first step, the user selects a specific type of sales funnel that suits their business needs.
The tool offers a large number of pre-designed templates that can be used for a variety of products and services in different industries.
Second Step
As a printing or delivery business is different from personal development or coaching business, marketers need unique messaging styles and content that is suitable for their industry.
Clickfunnels fits your industry and personal taste in style with potential traffic preference.
Intense market research and analysis have gone into the development of the templates.
If you are unsure about which funnel to use for your business you can also get a variety of free templates with the marketing tool.
The second step requires you to pick a specific page design for your funnels.
The Clickfunnels team has digital marketing experts working for them.
They make sure that your marketing pages are designed to look unique and different from other websites out there.
The tool comes with hundreds of themes for page design and allows you to create unique, customizable pages.
Every page you design with Clickfunnel will be unique. And you will be able to design them yourselves without worrying about the need for writing any code.
Third Step
The third step is perhaps the easiest. This is where you click a few buttons and bring everything on your website together.
After completing your marketing design and content, you can launch your website with the tool in less than 15 seconds.
Clickfunnels Pricing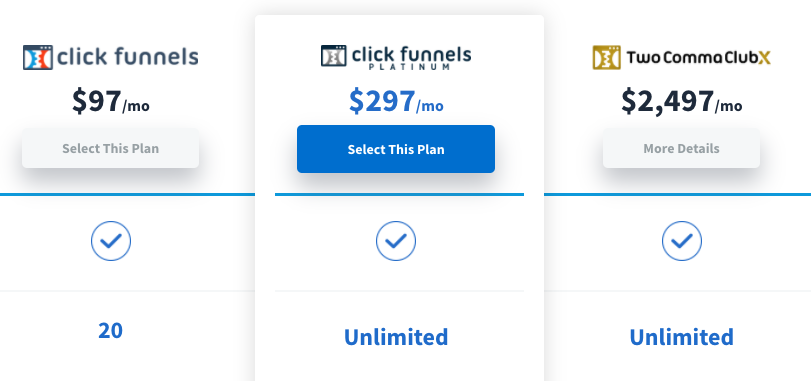 ClickFunnels offer 3 different pricing plans, along with 14-day free trial. The lower-tiered plan costs 97 USD/month allowing 100 pages, upto 20 funnels, unlimited contacts and upto 20000 visitors/month.
The second plan is Platinum costing 297 a month. The plan offers unlimited funnels and page creations.
Finally they have this Two Comma Club X plan which is priced $2497/month providing unlimited features. Check their site to see if the plan is open at the moment.
Related : Best Clickfunnels Alternatives
ClickFunnels - Check Special Pricing
Beautiful high-converting sales funnels. Simple, quick & easy to build. Includes email, Facebook automation along with in-built shopping cart. Check Special Pricing.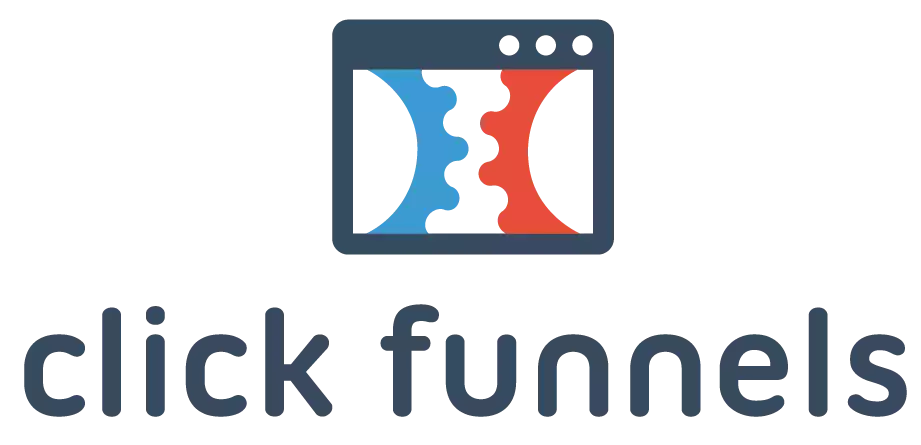 We earn a commission if you click this link and make a purchase.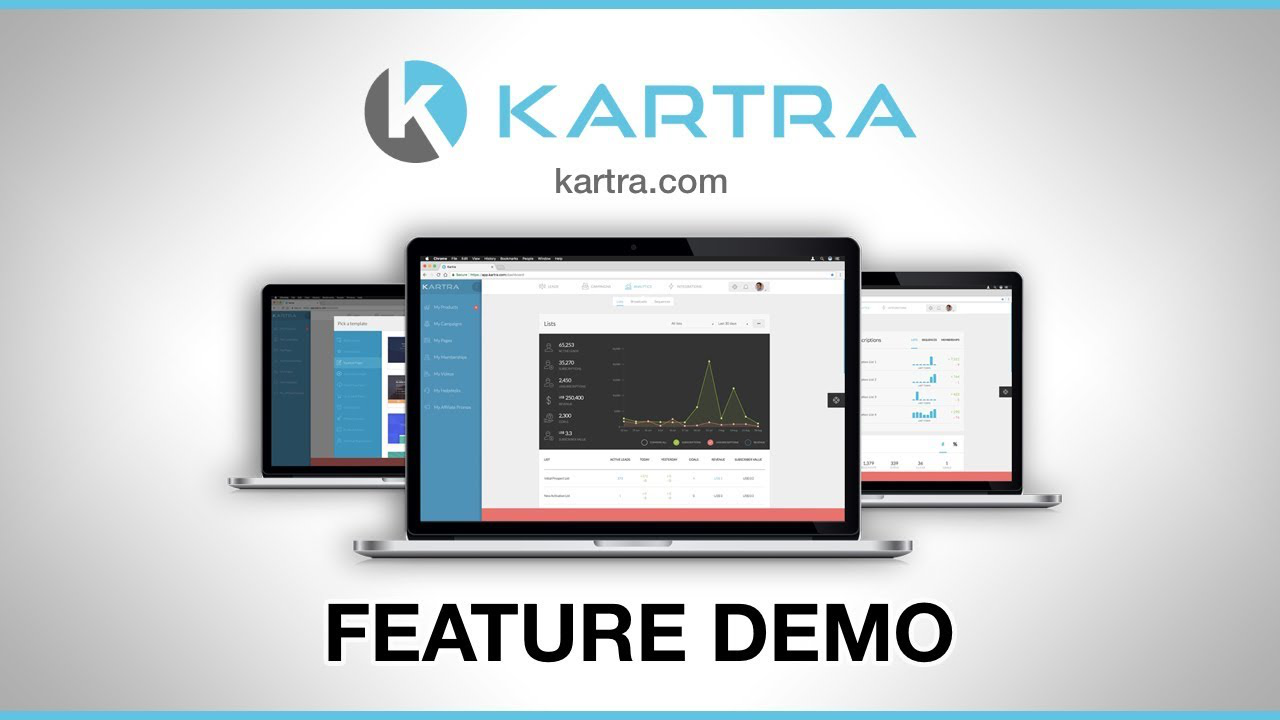 Kartra started out differently than Clickfunnels.
Clickfunnels was designed to offer complete marketing solutions to digital businesses.
While Kartra, started out as a single purposes tool that was primarily used for eCommerce by businesses.
Recently the tool was significantly improved and re-launched as a multi-purpose marketing platform.
The program was created by Andy Jenkins and Mike Filsaime in March 2018.
Both of them are seasoned marketers who felt there was a need for developing an all-in-one SAAS marketing solution for digital entrepreneurs.
They had been working on updating the system behind the scenes quietly for several months before they launched it in the market.
Kartra is now being used as an internet marketing tool by business managers and entrepreneurs.
You can use it to sell everything from clothes, food, and books to training services and educational lessons.
Kartra Features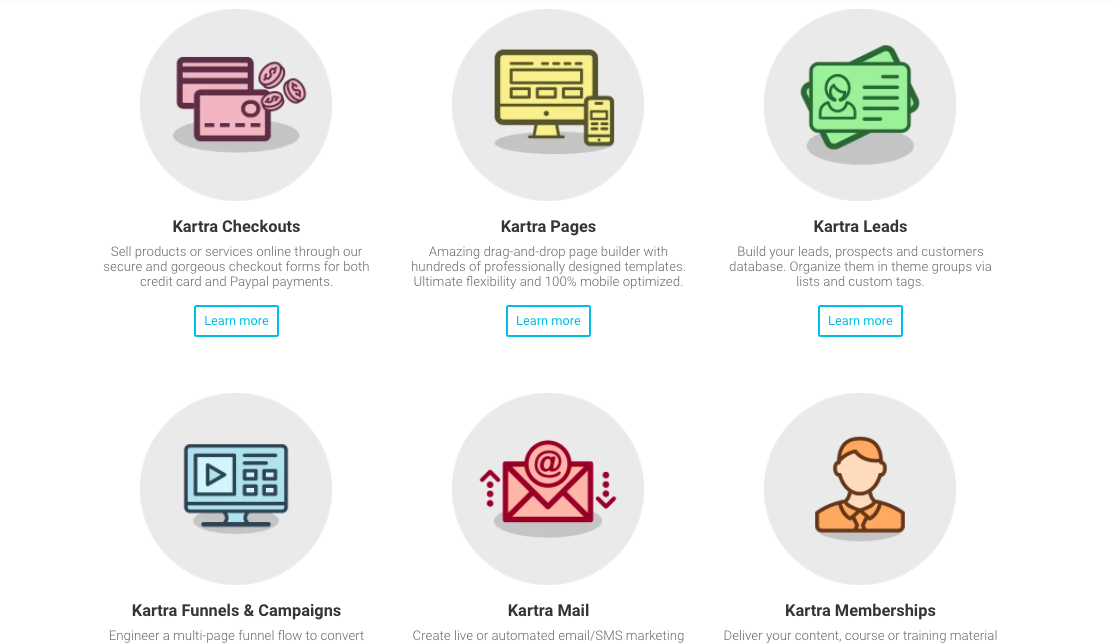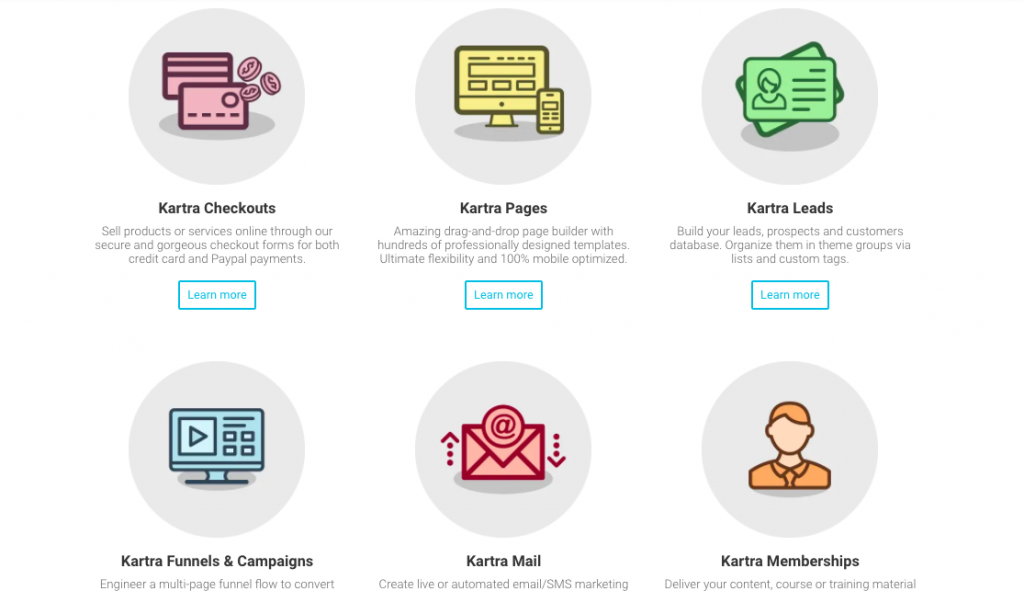 As far as Kartra features are concerned, businesses can market their products online easily using the variety of built-in features that are a part of Kartra services.
It allows businesses to build full-featured product carts for their website which make the ordering process very easy. You can build as many products and membership subscription options as you want.
The platform allows you to integrate affiliate management into your website with ease. You can share your products with influencers and marketers to generate sales quite effectively.
Kartra email marketing offers powerful automation for businesses looking to market their stuff. It allows integration with listing databases that make it easy to collect, store and use emails addresses. "My Campaigns" offers a robust set of features for utilizing the email database for targeted marketing.
Kartra allows you to build rich opt-in forms that are highly customizable and can be embedded anywhere you choose.
You can also host videos on your website with Kartra without needing an external video hosting platform.
The tool offers a history option that is useful if a lead reaches out to you through the helpdesk. It allows online businesses to create multiple helpdesks to answer visitor tickets and can be used to create live chats, Skype or phone calls.
The platform offers custom-designed pages that are pre-built for use. Some of the pre-built pages include sales pages, landing pages, check out pages, leads follow-ups, list management, check out pages and behavioral triggers.
Kartra allows you to set up full membership portals that have various subscription levels. This allows you to cater to a variety of customers who choose different membership tiers.
Kartra blog is quite popular. They make sure to keep it updated with relevant articles and quality posts at all times.
Kartra Integrations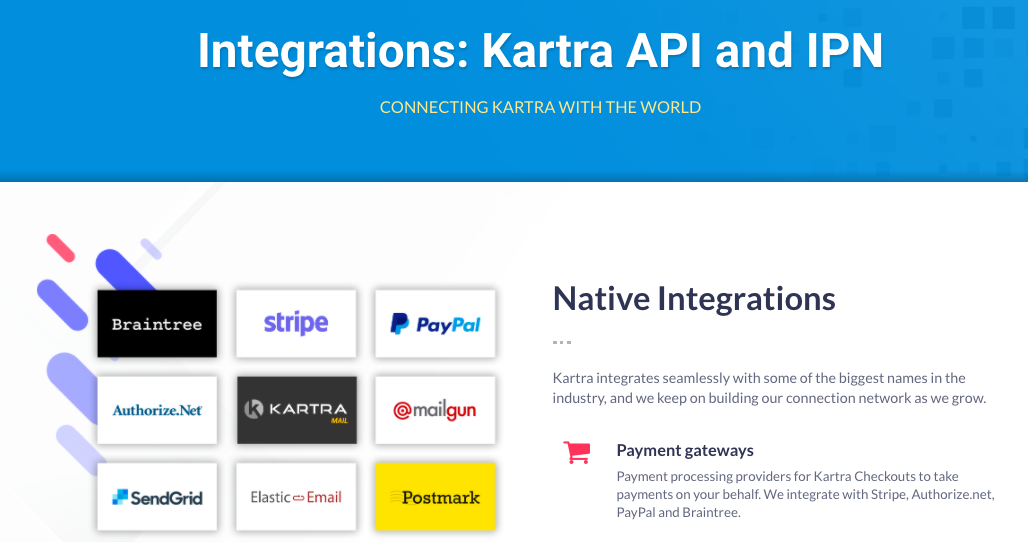 Talking about Kartra integrations, the tool offers extensive integration with other existing marketing and online digital tools.
The development team has made it clear that they are improving the platform to complement WordPress instead of competing with it directly.
This means you can switch from a WordPress development framework to Kartra, or vice versa with ease.
This is something that cannot be done with Clickfunnels.
Kartra can also integrate with Shopify fairly well. However, some users have mentioned that it is quite slow when integrated with the platform.
How Kartra Works?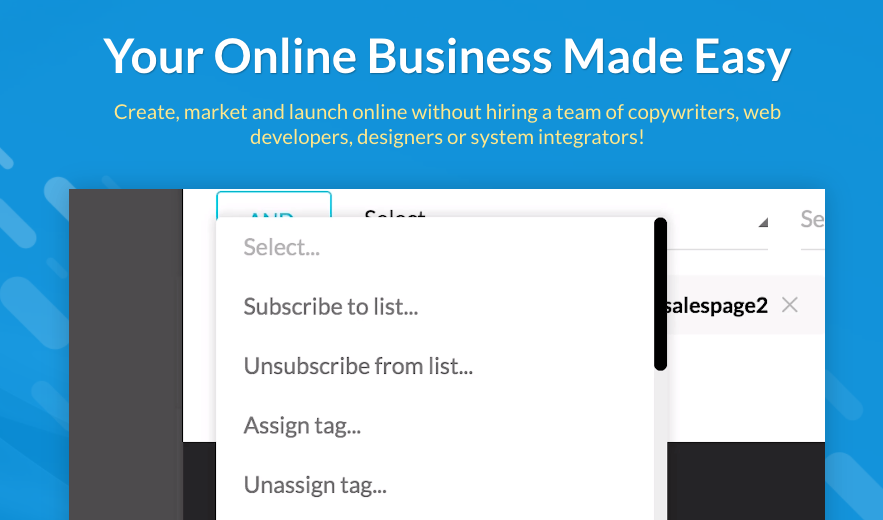 Kartra allows you to accomplish everything that you can normally do with Clickfunnels.
However, the processes are not the same, and Clickfunnels allows you to perform functions much more quickly.
One area where it differs is that Kartra will allow you to create more marketable and diverse pages.
When you use Kartra you will get a feeling that you are working with an in-house team of marketing experts that help improve the marketing effort for your budding business.
Clickfunnels is a more task-oriented platform while Kartra follows a goal-oriented approach to market your products and services.
What this means is that Clickfunnels will help you design a sales funnel webpage for your website.
The only thing you need to do is start the tool and click a few buttons to create your website's landing page, sales page, and others pages in a 3-step process.
On the flip side, Kartra works in a different manner. Instead of creating the sales page and dedicated Kartra funnels, you will design the process that allows you to achieve the sales funnel objective.
As most sales page end with a thank you now, you will start your design with a thank you page. And then work your way back to the landing page.
The process of marketing used in Kartra is unusual and it has a longer learning curve than Clickfunnels.
It is more complex which can be a good or bad thing. It is good if you want to have more control over the sales funnel design process.
But bad, if you don't have the time to learn everything and want a quick fix.
Kartra Pricing

Kartra pricing is simple. It has 4 plans:
Starter – $99/month (2500 leads and 1 domain)
Silver – $199/month (12500 leads and 3 domain)
Gold – $299/month (25000 leads and 5 domain)
Platinum – $499/month (50000 leads and 10 domain)
Clickfunnels vs Kartra – Differences
We will now speak about the differences between Clickfunnels vs Kartra.
Both tools are designed to make things easier for digital marketers and offer plenty of automation.
However, there are differences in the platform that make them unique and one platform might be more suitable for a business compared to the other.
Clickfunnels Integrates With Other Auto-Responders
Clickfunnels offer much more integration options. You can use it with Aweber, ActiveCampaign, MailChimp and Infusionsoft, etc.
without using a third party software like Zapier. With Kartra can only use their built-in automation software or connect with another tool with Zapier.
Kartra Allows More Functions For Businesses
With Kartra, you get lots of funnels, an affiliate platform, and extensive marketing automation. Even the basic plan offered by Kartra comes with these functions.
On the other hand, clickfunnels offers this features at an additional monthly cost.
Clickfunnels Has Pre-Built Sections In Its Page Builder
Clickfunnels page builder comes with dozens, if not hundreds, of custom-built sections that users can drag and drop on their page.
This allows you to build completely unique websites for your business.
Although Kartra also offers pre-built designs, the choice selection is not as big as Clickfunnels that lets you create beautiful, custom pages in a matter of minutes.
You Can Run Multiple Businesses From One Account In Clickfunnels
If you are planning to run multiple businesses with distinct accounts, domains and business ideas then Clickfunnels would be the better option.
Kartra only supports one business per account and you will need to buy separate accounts if you want to run more than one business.
Kartra Offers Dynamic OTOs
The platform is more customizable as you can immediately take customers to different pages or offers based on their previous purchases while Clickfunnels will always show all of your OTOs no matter what your customers purchased previously.
Behavioral Marketing With Kartra
Kartra offers dynamic controls and you can take visitors to different pages based on their previous actions.
On the other hand, Clickfunnels does not offer this function at present.
Clickfunnels Has Been Around Longer
Clickfunnels has been around since 2014 and developed an extensive support network.
There's a big community behind it and they have an active Facebook group. Kartra, on the other hand, is a new marketing tool and has not built a big community yet.
Kartra Lets You Host Videos
You get a fixed limit of storage with each Kartra plan, and you can use those to host videos.
If you go over the limit you will need to pay for the additional bandwidth used.
With Clickfunnels you don't get any limit and you will need to host your videos and files elsewhere.
Clickfunnels Webinar Feature
Webinar technology is popular and enables you to hold conferences with visitors, clients, and suppliers.
ClickFunnels offers this function while Kartra does not have evergreen webinar feature.
Kartra's Timers Are Better
Kartra offers a better timer system as it is connected to people's account and you can monitor it easily.
Cookeis track the timers on Clickfunnels, which make making them slower.
Wrap Up –
So that was our Clickfunnels vs Kartra comparison.
Both platforms are useful for online businesses.  New entrepreneurs that are looking for a tool that is easier to understand and quick to use may prefer Clickfunnels.
More advanced users will have a better time with Kartra.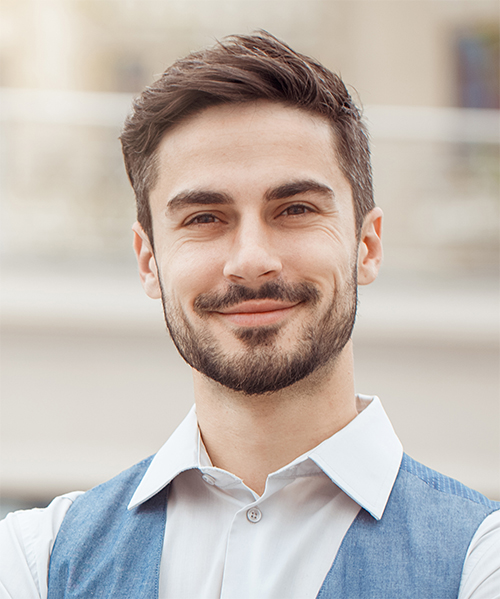 Author: Scott Macarthur
Scott L. Macarthur is a marketing consultant and an online author. He is mostly engaged in providing his expertise to startups and SMBs. He is also an author on TheNextWeb.