TweetDeck is a popular social media dashboard app, but it is designed primarily for Twitter. Other than posting live to your Facebook Page, it offers minimal features for the Facebook user.
Below is a list of six of the best social media management, monitoring, and scheduling tools to use in conjunction with your Facebook account.
Best Tools Like Tweetdeck For Facebook
Free Plan: Yes
Free Trial: 14-day
Cost: $15/month – $149/month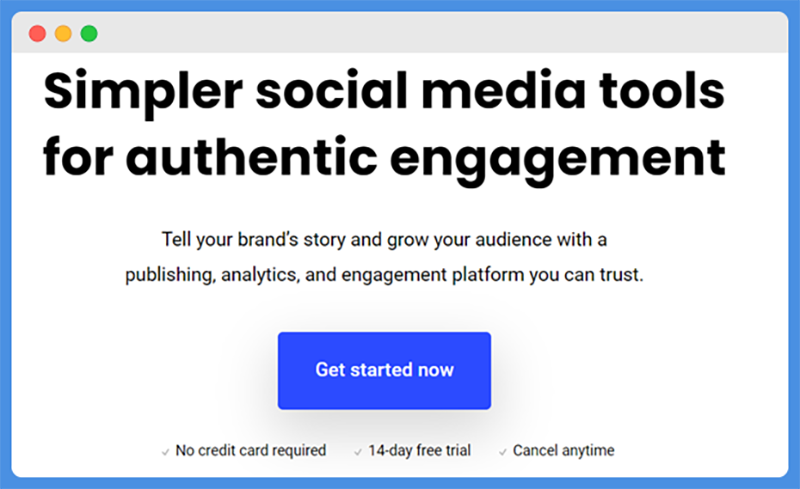 Web-based Buffer enables you to plan, write, and publish posts to Instagram, Facebook, Twitter, Pinterest, and LinkedIn.
It has a single dashboard, and unlike some of the tools on this list, it can be used by individuals with only one or two websites, and by agencies with a more extensive portfolio of social media profiles.
Best suited to power publishers, Buffer offers a single dashboard from where users can create posts and then publish to all the major platforms in just a few clicks.
It allows collaboration with other members, and you can add up to 25 users, depending on your account.
Like Tweetdeck, it allows for the scheduling of posts, but unlike Tweetdeck, it offers this feature across multiple channels.
It also has a calendar view that lets account holders see exactly what will be published and when.
Social media marketing is best when it is a collaborative effort.
Combine the power of copywriters, team members, videographers, and editors.
Workflows allow you to save a draft of a piece which is then passed for editing.
An editor or manager, can view the content and either send it back for changes or schedule it for publication.
It is possible to assign different users different access levels, making it easy to assign writers, editors, and admins specifically.
With different publishers and editors across multiple accounts, it can be difficult to keep track of performance.
Buffer has been chided for being somewhat confusing, thanks to its separate Publish and Analytics products, but this allows for more powerful analytical records.
Determine which publishers perform better, which platforms offer the best results, and where to concentrate your social media efforts for the greatest returns.
Buffer offers a free account. This enables an individual to add one user and up to three social media profiles, which will be enough for some websites and small business owners.
Some account options are restricted with the free package. For example, there's no calendar view and the account is missing some Instagram features.
Check Out: Best Facebook Funnel Examples For Ecommerce Stores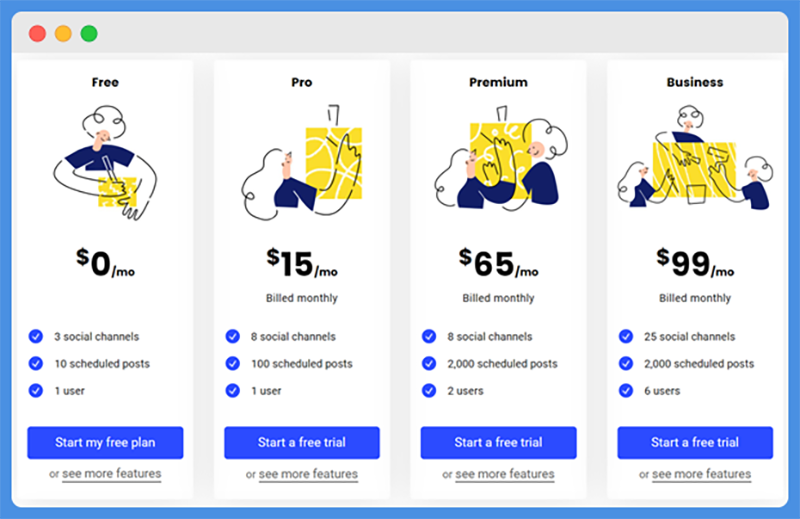 Other packages allow up to 25 social channels, as many as 2,000 scheduled posts per channel, and up to six users. Costs range from $15/month to $99/month depending on account size.
Add up to an extra $50/month for comprehensive analytics.
Suitable for solo bloggers and small business owners, right through to agencies and freelance social media managers, Buffer is less expensive than a lot of the competition.
Facebook scheduling and publishing features are included in the free, basic package, making even this a viable option.
Check Out:
Free Plan: No
Free Trial: 14-day
Cost: $10/month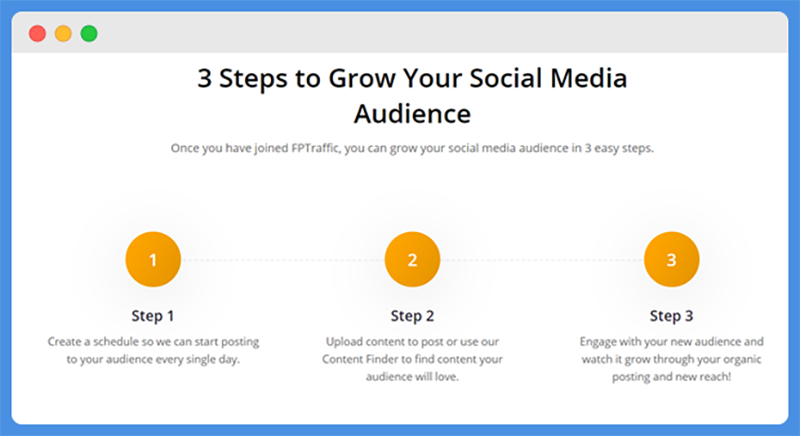 FPTraffic is a simple tool. It lacks some of the features of the most advanced tools but offers the same scheduling features as Tweetdeck, can be used with a host of social media channels, and has a single, low monthly charge.
As well as allowing the scheduling of your own content, FPTraffic aims to help you find relevant content and publish this to your channels.
Content curation can help build a social media profile. Unless you have a team of dedicated content publishers, you will struggle to post a lot of content.
But, part of the backbone of social media is the sharing of others' content.
Post regular content updates, share relevant and targeted content, and social media users will check back on your profile often. FPTraffic offers a content discovery tool.
The Content Finder lets you enter a keyword, search term, or topic, find the content your visitors will engage with, and then publish or schedule it for later publication.
Scheduling social media posts enables consistency and ensures that you offer regular updates to your users.
You can concentrate half a day or a day every month on curating content from other social media accounts, editing posts from business stakeholders, and scheduling content.
Offer a consistent presence that will encourage your social media connections to check in with you every week or even every day.
Also Read: Beginner's Guide To Content Personalization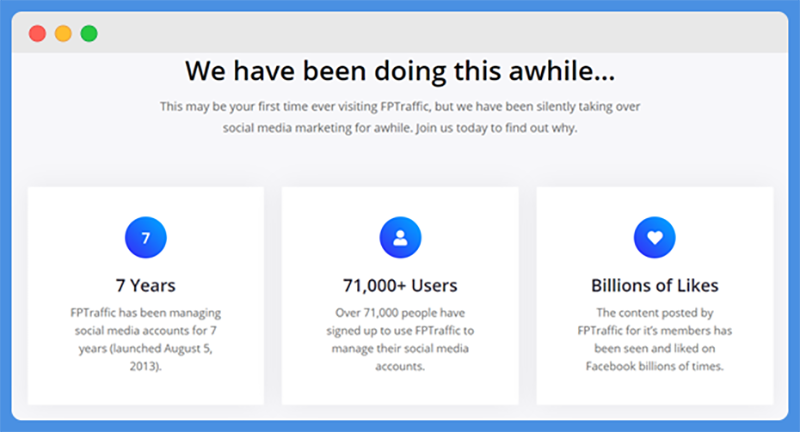 FPTraffic works with Facebook Groups and Facebook Pages. It also publishes on Twitter and Instagram.
Once you're a member, there are no limits to the number of scheduled posts or the frequency at which you can publish content.
A lot of social media management tools have complex account options to accommodate all potential users.
FPTraffic has a single account option. What's more, it costs a fraction of other tools: just $10/month, with a discount for annual payments.
Although the service does not offer a free account, you can enjoy a 14-day trial. Once subscribed, there are no limitations so you can schedule as many posts as you want and include multiple social media platforms, without paying extra.
You can also get a refund within the first 30 days of your subscription if you are unhappy.
FPTraffic doesn't work with as many social channels as some other tools. It does offer a simplified account plan with one membership level, and it doesn't restrict your scheduling or publication.
It is best suited to individuals concentrating their efforts on Facebook and Instagram and for a single brand.
More complex social media campaigns will require a more complex service offering, but basic plans with limited social media accounts will benefit from FPTraffic.
Free Plan: Yes
Free Trial: 30-day
Cost: $29/month – $599/month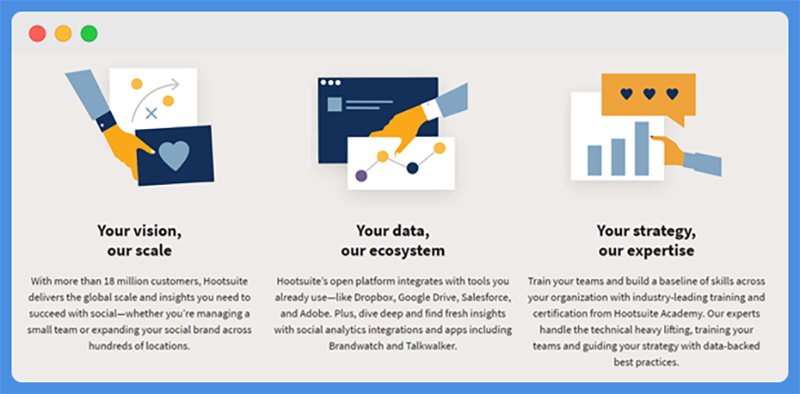 Hootsuite is a well-known all-in-one social media marketing platform.
It's a powerful tool that connects with a wide range of social media channels including Facebook.
It is an advanced option, which is great for agencies and enterprises, but it comes with an expensive price tag and is overkill for those with only a relatively small social media presence.
Compatible with Twitter, Instagram, LinkedIn, Google+ and YouTube, as well as Facebook, Hootsuite offers a web-based application, but it also has a handy Chrome extension.
The extension allows you to write, publish, and schedule content from your browser.
It also allows you to quickly share and schedule the sharing of content that you find when browsing.
Users can also install a desktop app, and a mobile app is also available.
Write content from your desktop, schedule posts when browsing publications on your mobile, and don't miss any updates when you're online.
Like FPTraffic, Hootsuite offers content curation and discovery tools. It also includes advanced analytics features.
It offers basic data, such as the number of social media posts you have published, which can be broken down according to social network and when you posted the updates.
You can view engagement figures, including how many responses, likes, and shares that you have received.
Hootsuite analytics also offers more general analytic details, too. See how many followers you have on each platform, and how this has changed over time.
Hootsuite Impact integrates Hootsuite with Google Analytics or Adobe Analytics.
This means that you can follow the path of your social media engagements and determine whether views, responses, and shares lead to additional income and revenue.
Calculate your social media ROI to increase or decrease expenditure and even to present to the board or your bosses.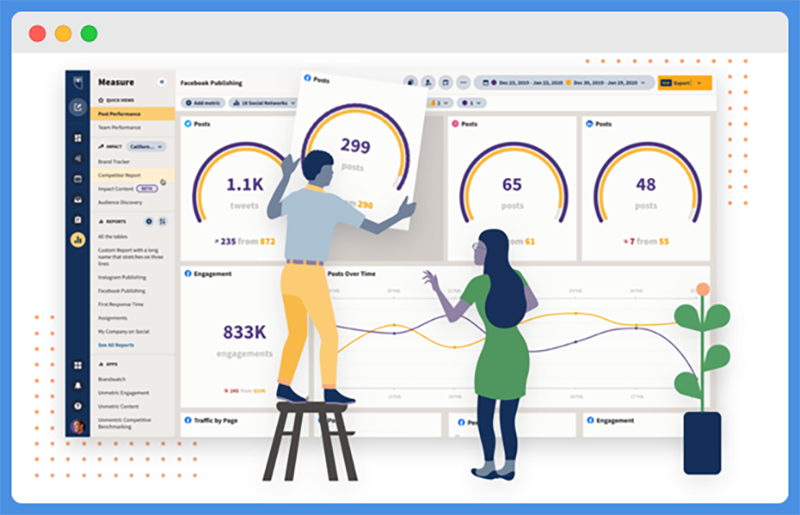 It is easy to get lost monitoring engagement and statistics like shares and reads while forgetting that these are a means to an end.
Even if your social media posts are getting tens of thousands of reads, if they are not leading to sales, signups, or some other desired action, they offer no benefit.
Ultimately, your social media efforts need to lead to bottom line profits.
Tweetdeck's analytics capabilities are restricted, which is not true of Hootsuite.
Hootsuite is one of the most expensive social media marketing platforms on this list.
It costs between $29/month and $599/month for professional plans.
The Professional plan allows 10 social media accounts and a single user, while Enterprise accounts can be used for 50 or more social accounts for more than five users.
All paid accounts allow for an unlimited number of scheduled messages.
You can get a 30-day free trial of the cheaper plans, and there is a limited free plan. The free plan offers up to 3 social accounts, a single user, and only 30 scheduled social media posts at a time.
Although Hootsuite does offer a free plan, which is beneficial to see whether you get along with the software, it is the paid plans that will interest most users.
They are more expensive than most, but the tools that are included, such as Hootsuite Impact and its capability to integrate Analytics' software from Google or Adobe, means that Hootsuite is not only a viable option but a beneficial one.
If you're serious about monitoring ROI and expenditure, Hootsuite offers more comprehensive data.
Free Plan: None
Free Trial: 30 day
Cost: $79/month – $159+/month

Agorapulse is a social media management tool that includes brand monitoring features. It works with Facebook, Instagram, Twitter, YouTube, and LinkedIn.
It also makes collaboration easier and can be used to schedule social media posts to all of the major platforms.
Users can stay informed of comments, tweets, and messages that mention them or their brand name.
This allows you to monitor and optimize your direct engagements.
It also enables you to pick up failed engagement attempts, for example, because a potential connection fails to properly include your name.
You can also monitor conversations that take place around your brand. Listen in on what your customers are saying about you.
Whether you are a social media agency, you have a portfolio of websites and social media accounts, or your business has multiple Facebook Pages for administrative clarity, with Agorapulse you can manage them all from a single dashboard.
View and respond to comments, messages, replies, page posts, and other engagements from a single hub; manage posts and users manually, or set up Inbox Assistant rules to help deal with automatic bans; utilize saved replies to respond more quickly.
For users that post a lot of content, the publishing tools can minimize time spent. Upload multiple posts directly from your desktop or using RSS feeds.
You can also schedule content, which allows you to repost and republish content regularly or at set times and dates.
Monitoring posts enables optimization of social media campaigns.
See what content attracts more likes, which posts garner more responses and greater engagement, and which publications fall flat with no user response.
Agorapulse lets you easily track your most important key performance indicators.
This is another tool with more comprehensive analytics than Tweetdeck.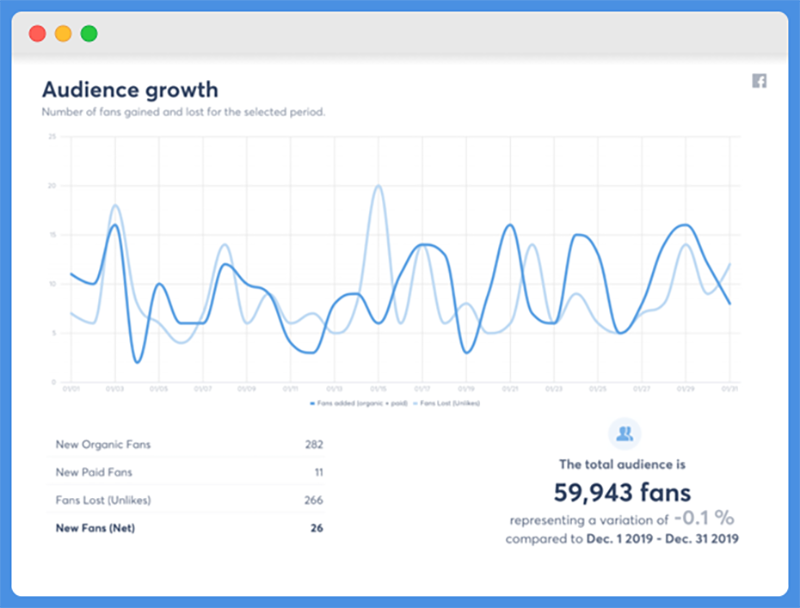 There are no free account options, but Agorapulse does offer a free 30-day trial.
Prices start at $79/month for a Pro plan that includes 10 social profiles and 2 users, to $159/month for Premium plans with 25 social profiles and 4 users.
Enterprise users speak to the company directly for a custom price. Additional users and social profiles cost extra and are available with Premium plans.
Membership also gets you access to a private Facebook group and a listing on a directory of social media agencies as well as discounts on SaaS tools for agencies.
Agorapulse works with most major social media websites, including Facebook.
The features of the tool lend themselves to use by social media agencies.
They enable agencies to manage multiple social media profiles for different clients and pages.
Pricing and account options are also geared towards those with a lot of accounts to manage.
If you're a solopreneur or small business owner, Agorapulse may be more than you need, but agencies and freelancers benefit from it's rich features.
Free Plan: No
Free Trial: 15-day
Cost: $25/month – $249/month

Loomly was created by social media managers and it shows, especially in the ways that it allows you to integrate Facebook marketing efforts.
It is a social media calendar but it also enables you to keep a library of content so that you can quickly and easily add posts to any of your social media profiles.
Find content or receive content ideas and updates using the platform. Add RSS feeds, view trending topics, and view date-related events.
If you find anything that will interest your social media visitors and get them engaged with your content, you can schedule it for submission and posting.
Whether you find existing content that you want to share or create your own unique content, you can add it to your library.
From your library, you can choose to post the update yourself or leave it to other members of your team when they are updating your channels.
When you have multiple team members creating posts and updates, your library of assets can become disparate. Some team members will store videos and photos on their own desktop.
Others will forget and leave them on their phone or tablet.
With an asset repository, content and updates can be quickly deployed, and the assets can be used on paid social media ads, which can also be published and monitored on the platform.
Other tools, such as Tweetdeck, do not offer this central repository of assets which can make finding your content more difficult and time-consuming.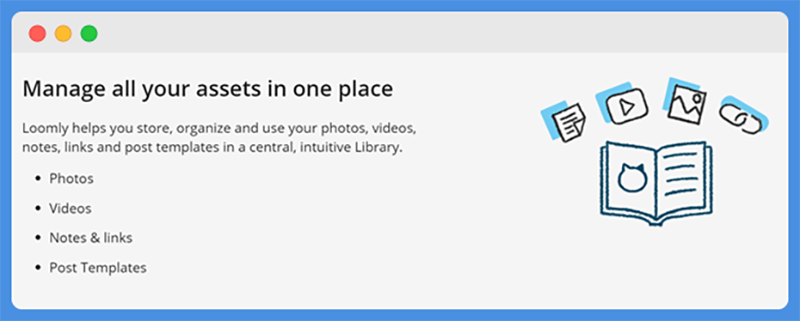 Customizing your content for each social media channel is important.
Not only do different audiences demand different content and different platforms work better with certain types of content, but some of your followers probably follow multiple social media accounts.
If you're posting the same content and the same format on every page, it will alienate some of your views.
Fine-tuning lets you change, add, and remove content according to the platforms you add. It also includes some helpful optimization tips that are specific to each platform.
Loomly offers multiple account options. The Base account, which costs $25/month, allows two users to access ten social accounts.
If you want improved features like Advanced Analytics, you will need to upgrade to the $57/month Standard account, with its six users and 20 social accounts.
Additional account options include the 16 user, $119/month Advanced account, and the $249/month Premium account with 26 users and 50 social accounts.
There is no free account option, but you can enjoy a 15-day free trial for the paid options.
If you're running paid ads on sites like Facebook and want the benefit of a central library of assets that is easy to access, Loomly offers this and more.
It also has a wide variety of account levels, which means that it can be used by everybody from small businesses to agencies.
Loomly is best suited to agencies and businesses with multiple users looking for a collaborative tool to share updates to multiple social media platforms.
Free Plan: No
Free Trial: 14-day
Cost: $25/month – $85/month

While Tweetdeck only works with Twitter, Social Pilot will work with your Twitter, Instagram, Google, LinkedIn, Pinterest, Tumblr, TikTok, VK, and Facebook accounts.
It lets you upload and schedule posts, allows access for multiple users, and has useful white-label features that make it a beneficial tool for agencies and freelance social media managers.
You will find the usual features for this kind of tool including post creation and sharing, scheduling, and a content calendar that brings all of your planned updates together.
You can use Social Pilot to track RSS feeds and monitor updates from industry-relevant accounts.
There are even content suggestions, which let you continue to offer fresh content, while bulk upload and publishing tools mean that you can post hundreds of updates in very little time and have them go live when you know you will get the best results.
Facebook ads can be a highly effective way of diverting more eyes to your social feeds.
As long as your posts are optimized for conversions, boosting your Facebook ads with some additional exposure really can enhance your social media performance.
This does require close management of your ads and posts. Fortunately, Social Pilot offers decent analytic tools.
Social Pilot is geared towards the agency and professional marketer with a portfolio of client and client websites.
Its account levels allow for multiple users and a host of social accounts, and even the analytic and performance data can be published as a white label report.
White label reporting means that you can add your customer or personal branding and send the report to clients.
Your clients don't know that you used the Social Pilot tool, which is available as a desktop app, mobile app, or browser extension. PDF reports can be created on the fly and emailed directly to your clients straight from the app.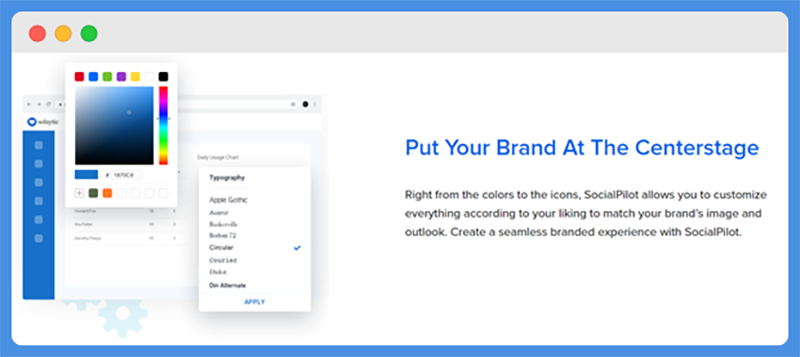 There are no free account options available, but there is a 14-day free trial for Social Pilot's paid accounts.
Paid plans range from the Professional to the Agency account, with prices from $25.50/month to $85/month and allowing from 25 to 100 social media accounts, 2 to 10 Facebook ad accounts, and 3 to 10 team members.
It is worth noting that if you want the white label reports, you will need the Small Team $42.50/month account, or higher.
Social Pilot's features mean that it stands out as being a tool for agencies and social media marketing managers, although its price is lower than many of the enterprise and agency tools.
In particular, its white-label reports and client management features are beneficial, but these are only available in the more advanced, expensive accounts.
Ideal for agencies and freelance social media managers, Social Pilot's reporting and management tools are very beneficial.
Conclusion
Tweetdeck is a useful tool for scheduling Tweets and managing a Twitter account via a third-party dashboard.
However, if your social media campaigns concentrate on Facebook or incorporate accounts from websites other than Twitter, Tweetdeck is not an option.
We found Buffer to offer some advanced tools even as part of its lower-priced accounts and while FPTraffic offers limited functionality compared to some, it also has one of the cheapest prices.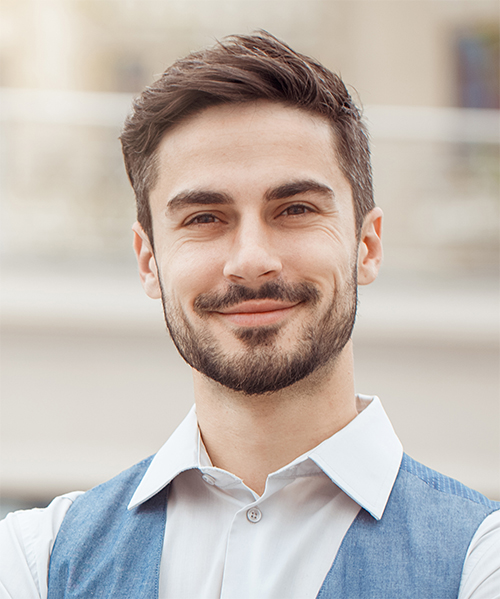 Author: Scott Macarthur
Scott L. Macarthur is a marketing consultant and an online author. He is mostly engaged in providing his expertise to startups and SMBs.