Do you want to set up a successful merch business?
Whether you're selling t-shirts on Redbubble or mugs on Merch by Amazon, tools like Merch Informer and Merch Titans help you do market research, discover which niches are most profitable, find products to sell, search for profitable keywords, and more.
Merch Titans and Merch Informer are two of the most popular research tools for merch businesses. But which one is better if you want the best shot at being successful in competitive markets?
Today, I will compare these two powerful platforms and help you determine which one is best for your needs. Let's get into it.
Merch Titans vs Merch Informer: The Basics
Merch Titans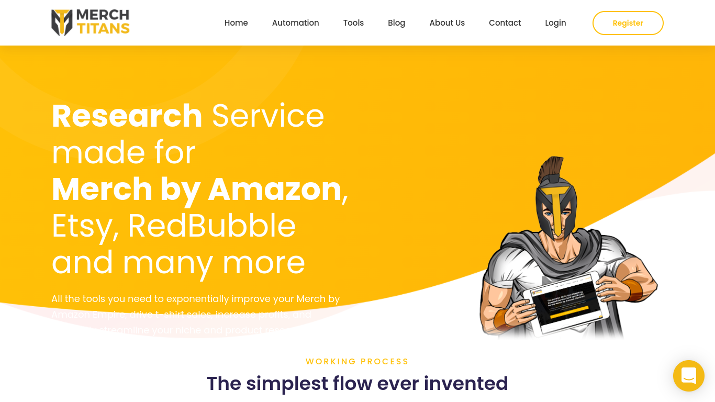 Merch Titans is a Merch By Amazon research tool that also offers several other tools for merch sellers. For example, it offers automation tools to list your product on multiple print on demand platforms at once, as well as a trademark checker to ensure you won't get in trouble for selling trademarked designs.
Merch Informer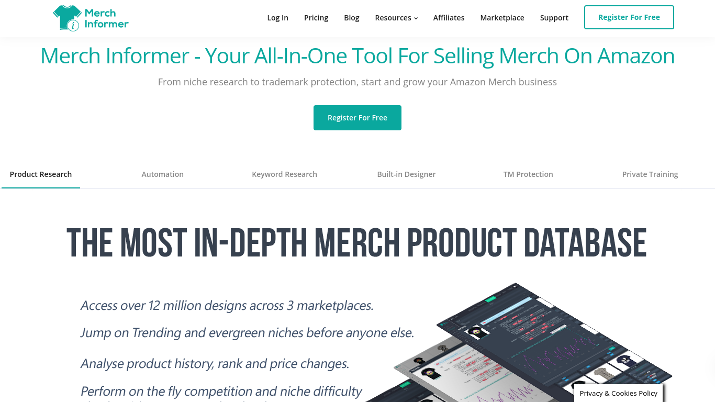 Merch Informer is similar to Merch Titans in many ways, but there are some crucial differences, which you will learn about in this article.
It is a product database and research tool for Merch By Amazon. It offers automation and design tools as well.
Also Read: Merch Informer vs SpyAMZ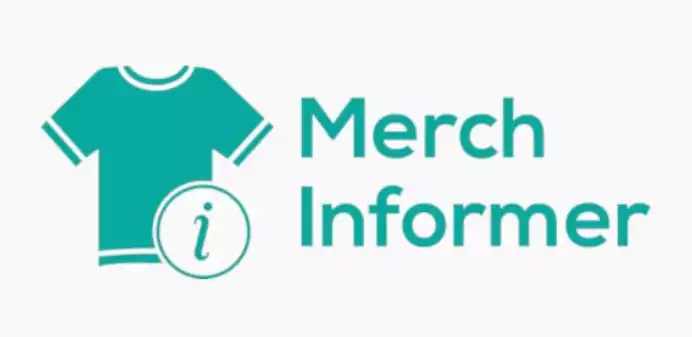 We earn a commission if you click this link and make a purchase at no additional cost to you.
Merch Informer vs Merch Titans: Product Research
Merch Titans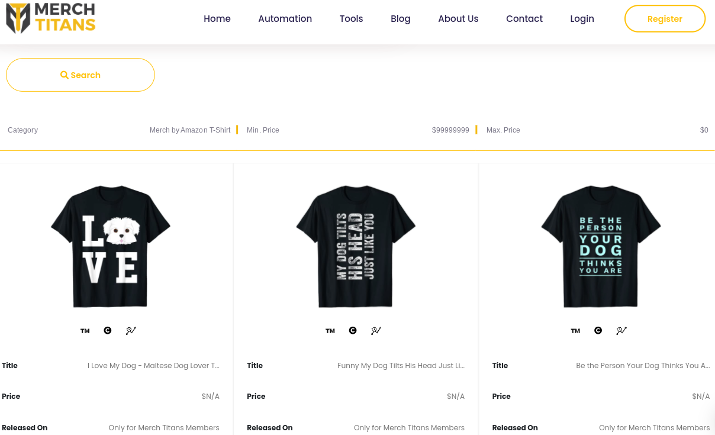 Let's talk about niche and product research first, as that is usually the first step in starting a print on demand business from home.
If you pick the wrong niche, such as one without much interest or with too much competition, it can be hard to be successful. So, choosing the right research tool before starting your company is critical.
Merch Titans has some pretty robust product and niche research tools. Start by entering a keyword in the search bar on this page – you can enter a search term related to a specific niche or idea.
For example, if you'd like to sell t-shirts with a picture of a dog on them and a cute message, you can enter "dog." Be more creative than that – this is just an example.
Before starting your search, you can filter by category and select which Amazon Marketplace you want to conduct your search on.
You'll see the top products for that niche or keyword, alongside information such as:
Product image
Price
Product details (title, description)
Estimated monthly sales
Seller rank
Price history
Seller rank history
Reviews
And more
You can also see:
Average BSR
Average, minimum, and maximum price
Total results
Keep in mind that you must be a Merch Titans member to see some information, though you can view some details without logging in or creating an account.
Also Read: Best Merch Sites For YouTubers
Merch Informer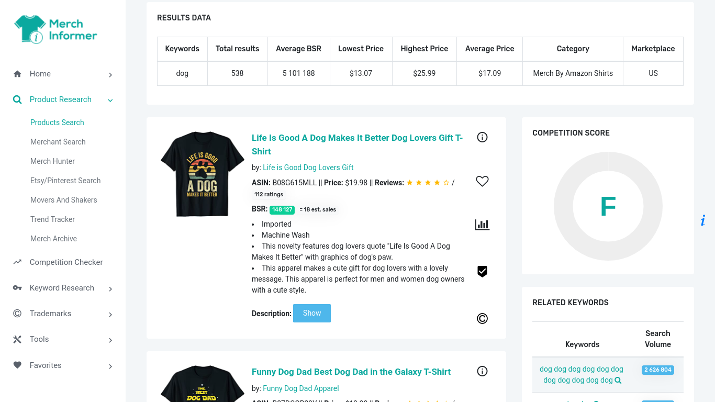 At first glance, the Product Search feature on Merch Informer gives you pretty much similar information as Merch Titans, though the exact products that show up in a search can vary.
However, Merch Informer also incorporates keyword research into product search results. So, when you run a search for a keyword (and you can filter by marketplace or category), you will see data such as:
Total number of product results for the keyword
Lowest, highest, and average price
Average BSR (Best Sellers Rank)
Each product's price
Each product's BSR
Each product's description
Product ratings
Price and popularity graph for each product
Competition score for the keyword
Related keywords, alongside search volume
Overall, Merch Informer gives you more information than Merch Titans, so I would say that it wins in the product research aspect.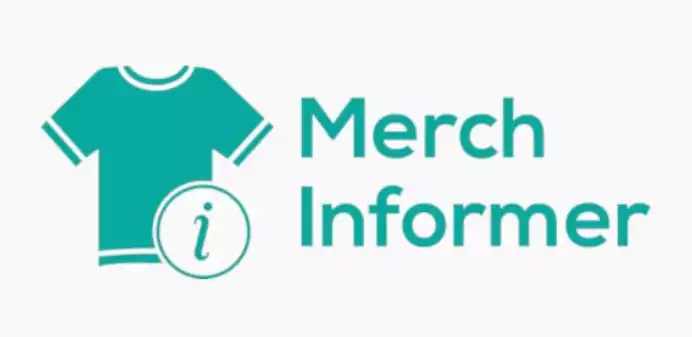 We earn a commission if you click this link and make a purchase at no additional cost to you.
Merch Informer also has a Merch Hunter tool, which allows you to use additional filters when searching for products. You can search for the top 100-500 bestsellers, exclude specific brands, and filter by price range or BSR.
The results are somewhat similar to before, but the layout is a bit different.
Also Read: Best Anime Merch Websites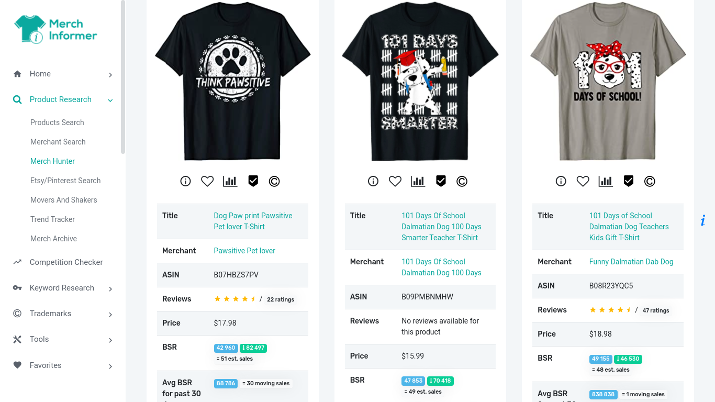 One thing that Merch Informer has that Merch Titans seems to be lacking is an Etsy & Pinterest research tool. Instead of searching for results on Amazon, you can search for those on Etsy or Pinterest instead.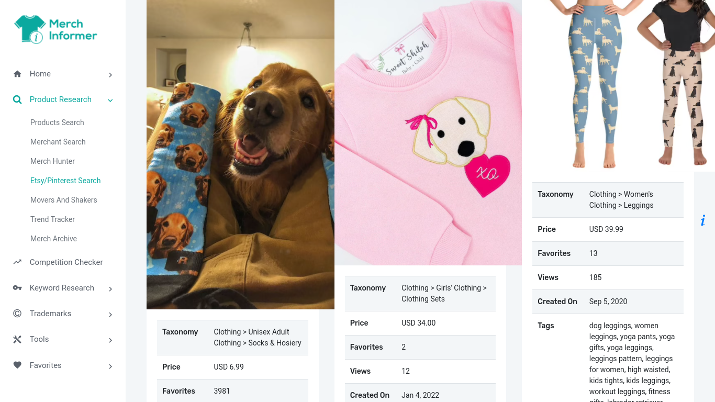 You won't get as much data, however. For example, running an Etsy search will only show you top products and information such as:
Category
Price
Favorites
Views
Tags
Description
Date created
A link to the product page
Let's look at some other Merch Informer research tools:
Trend Tracker: This tool helps you spot trending products from the past 1-3 months in a specific category.
Movers & Shakers: See the top "movers & shakers" for the day, week, or month on Amazon.
Merchant Search: Search for products from a specific Amazon seller.
Merch Archive: Go back in time and pull up search results from a day in the past.
Explore: Best Places To Buy Anime Merch
Merch Titans vs Merch Informer: Keyword & Niche Research
Merch Titans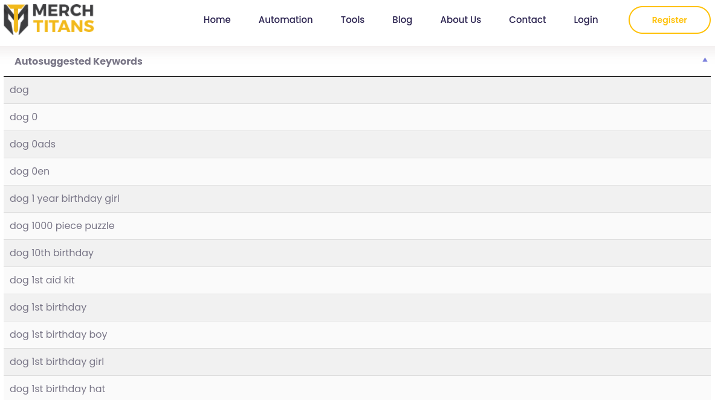 Merch Titans has a powerful keyword research tool for Amazon and Etsy. Support for Redbubble and even Google is in the works, though there are already many tools for keyword research on Google.
The keyword research tool basically gives you a list of suggested keywords, based on a keyword you entered. These keywords are the top keywords, by search volume, for that niche.
In the past, you were limited to 10 keyword suggestions, but Merch Titans announced that the tool will now return 50 results. However, you are limited to 15 when using it for free.
Merch Informer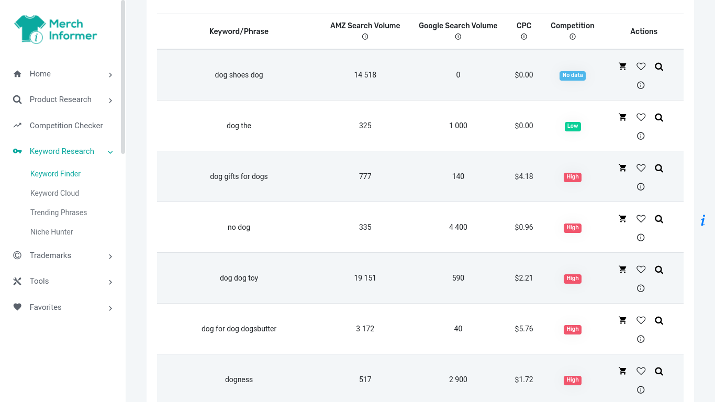 The Merch Informer Keyword Finder is similar to the Merch Titans keyword tool. However, it integrates both Amazon and Google keyword data.
After entering a keyword, you will see related keywords, alongside data such as:
Amazon search volume
Google search volume
CPC
Competition score
From the tool, you can run a search for Amazon products related to each keyword in the results. There are some other important tools as well.
For example, the Competition Checker allows you to enter any keyword and get a competition score. If it's an F, you might want to stay away from entering the market.
The Competition Checker will also tell you how many products are ranking for that keyword and how many are in the BSR. The more products there are, the more competitive the niche is.
There is also the Niche Hunter tool, which is an excellent tool that will help you find a niche if you don't know where to start. Simply select a category, like "shirts," and the tool will give you keyword and niche ideas, alongside search volume data and images of the top-ranked products.
Check Out: Best Merchandizing Business Examples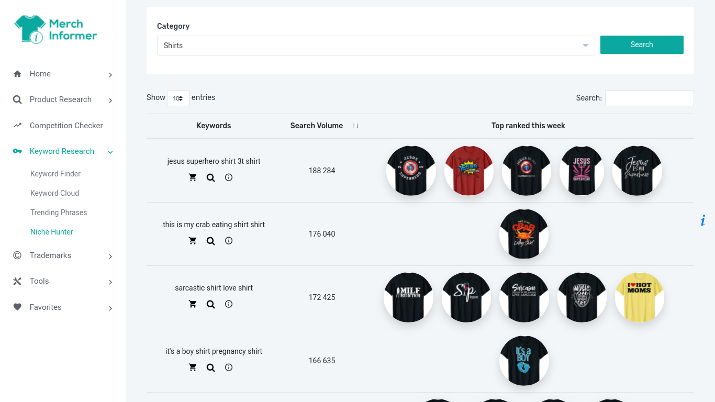 In the Trending Phrases section, you can find trending keywords for any past date by selecting a date from the calendar.
Under the "Tools" section in the main menu, you will find Synonym Suggest, which is a great way to find similar synonyms, nouns, and verbs related to your keyword. Simply enter some words to find synonyms, including verbs and nouns most often searched together with that keyword.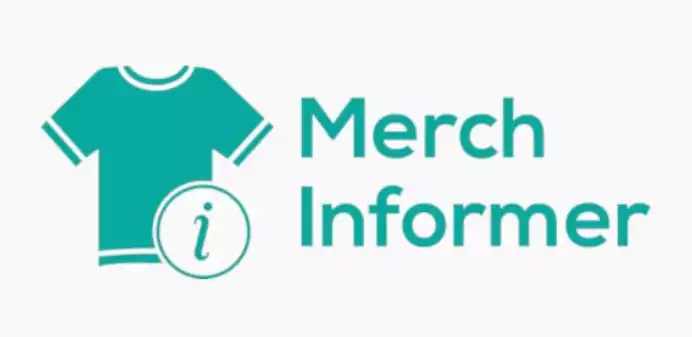 We earn a commission if you click this link and make a purchase at no additional cost to you.
That is a feature that Merch Titans offers as well, albeit not as a separate tool – when you run a product search, you will see nouns that are frequently used to search for those products.
So, which platform wins when it comes to keyword and niche research?
Merch Informer has a bit of an edge. There are more keyword research tools available, and you will get more data, whether you already have a keyword in mind or are starting from scratch.
Merch Informer vs Merch Titan: Trademark Research
Merch Titans
The last thing you want when starting a print on demand business is to use a trademarked phrase. Merch Titans has a simple tool that will return either a "safe" or "not safe" result for any string of words or phrases you enter into the tool.
While this tool was released a number of years ago, I was not able to use it. Instead, I was presented with a message reading, "This free tool is under development. Please try again later."
The search bar was grayed out, and I couldn't enter or search for anything.
However, it's supposed to allow you to enter multiple phrases and conduct daily automatic searches for them, retrieving a safe/unsafe result for each term.
I'm not sure if this was just a glitch – perhaps Merch Titans was doing some maintenance on its site. You can try the tool for yourself here.
Merch Informer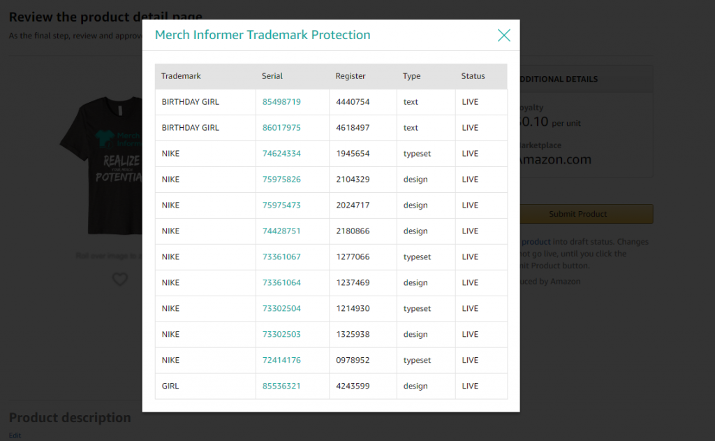 Merch Informer allows you to enter up to 100 phrases at a time to see if those phrases infringe on any trademarks. If they are marked as safe, you can include them in your product titles, descriptions, and bullet points without worrying about getting into trouble.
The tool will automatically run a trademark protection search once a day. You can also upload a CSV file with a list of ASINs.
Alternatively, you may use the Merch by Amazon Trademark Protection Chrome extension by Merch Informer. This plugin allows you to scan your listings on Merch By Amazon straight from Amazon, without ever leaving the site, for trademark infringement.
When you run a search using the Chrome extension, it will highlight every trademarked line and phrase on the page and show you the trademark serial number, as well as the type of trademark.
Merch Informer uses the USPTO database to run its trademark searches. In the Chrome extension results, you can click on the serial number to bring up the USPTO page with more information about the trademark.
Which platform wins here? Again, I'm going to have to go with Merch Informer, simply because I wasn't able to use Merch Titans' tool at all.
Furthermore, the Chrome extension is bound to come in handy and save you time.
Merch Titans vs Merch Informer: Amazon Book Research
Merch Titans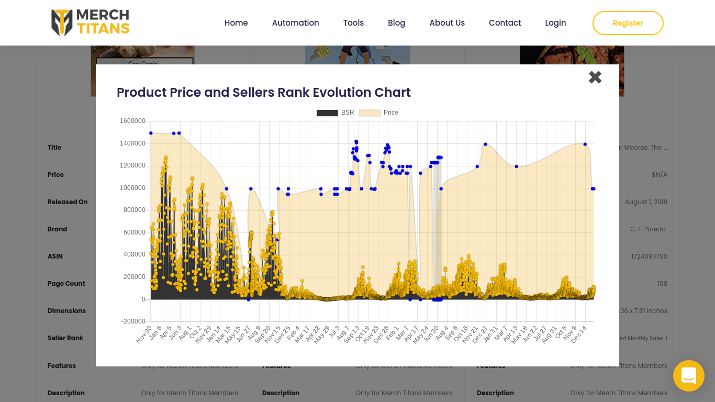 With Merch Titans' KDP Research tool, you can search for trending books on Amazon. While not exactly tied to print on demand, it's an excellent tool to use if you want to publish a book on Amazon Kindle and are wondering whether the topic will be well received.
The results will be similar to those in the regular product search tool. You will see an image of the top books for the keyword you entered, along with information such as:
Title
Price
Release date
Page count
Brand
ASIN
Seller rank
Estimated monthly sales
Description
Reviews
And more
For each book, you'll be able to open up a price and BSR history graph, showing how the price and BSR fluctuated over time. You can click on any point in the graph to get the exact price or BSR of any month.
Also Read: Best Print On Demand Book Companies
Merch Informer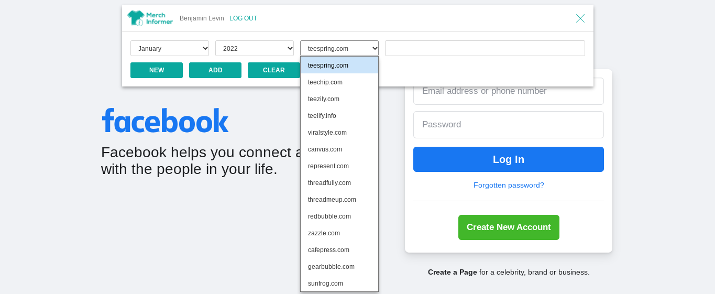 Merch Informer doesn't seem to have any KDP research tool. While it has a Merch Informer Book Hunter Chrome extension, that's a separate thing – it is important not to confuse that with actual book research.
The Chrome extension used to be called the Merch Informer Facebook Hunter, and it's now been renamed the Book Hunter. However, its purpose remains the same – to conduct product and niche research on Facebook.
It's simply for finding t-shirts and merch inspiration from Facebook posts. You can search for merchandise from a variety of marketplaces, including Teespring, Zazzle, Redbubble, and SunFrog.
So, in this aspect, Merch Titans win.
Merch Informer vs Merch Titans: Automation
Merch Titans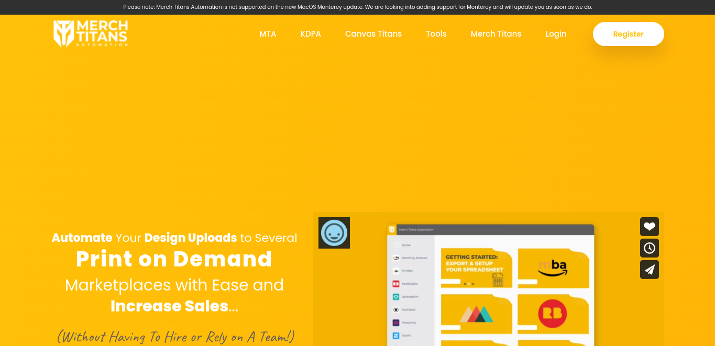 Merch Titans allows you to automate posting your listings to multiple print on demand platforms at once. The desktop app works on both Mac and Windows.
Start by exporting a spreadsheet from the app and filling in the details of your listings, including the titles, descriptions, tags, and image paths. Fill in the details for as many products as you want.
With automatic image resizing and language translation, you can upload multiple products to Merch By Amazon at a time. In addition, the app supports uploading to the following print on demand platforms:
Redbubble
Printful, including its integrations (Etsy, WooCommerce, eBay, Wish, etc.)
TeePublic
Teespring
Spreadshirt, including its US, UK, and Germany marketplaces
Society6
Zazzle
Other platforms may be supported in the future.
It's actually free to use the automation app – you get three uploads to each of the supported platforms per day. For more uploads, you'll need to subscribe to the premium plan.
Though perhaps less useful, you can also use the tool to publish your books to Amazon Kindle. The only platform supported for books is Amazon Kindle, but you can upload multiple books at once.
There are other tools for those selling on Amazon Kindle. For example, you can generate an HTML version of your book for Kindle, or you can convert a PNG into a KDP book cover format.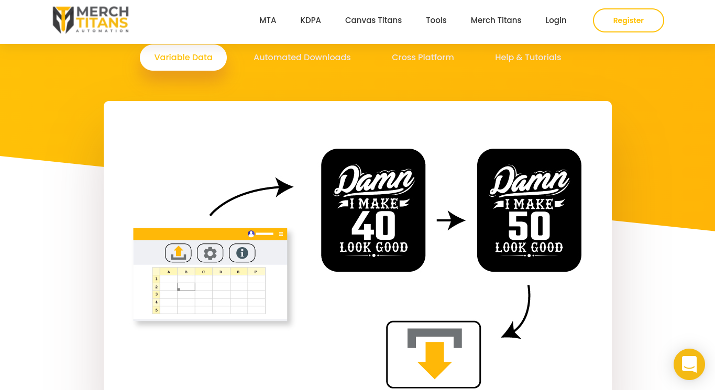 Another tool worth looking at is the Canvas Titans Chrome extension, designed for those using Canva.com to create designs for print on demand. After creating a scalable design on Canva, you can use the tool to set variables and download variable data.
Use the tool to create variations in your design and download them as PNG or PDF files to later upload to print on demand marketplaces.
I also liked the tag generator tools for Etsy, Redbubble, Spreadshirt, and TeePublic. Simply enter a base keyword to generate a list of the top trending tags for that niche or topic on any of the above four platforms.
Then, copy and paste those tags into your product listing. It takes just a few seconds, and it will allow you to get a lot more exposure.
Explore: Best Print On Demand For Etsy
Merch Informer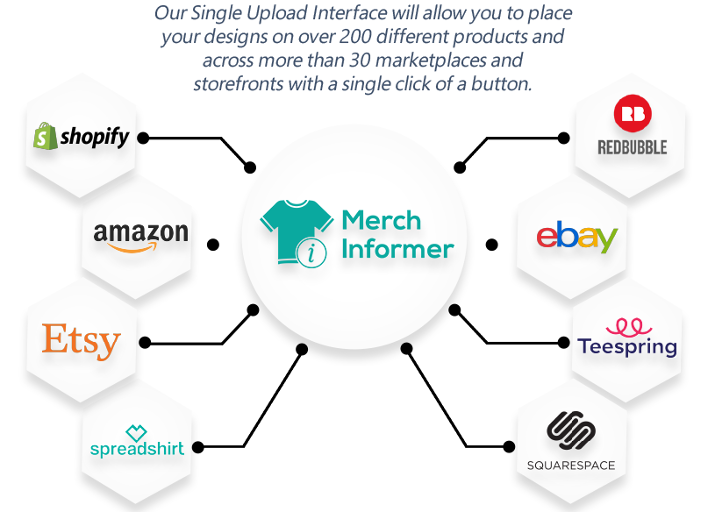 Merch Informer also lets you automate your product listings, but to over 30 marketplaces and storefront platforms. Those include Etsy, Squarespace, eBay, Shopify, Teespring, Spreadshirt, Redbubble, and others.
Not only that, but you can take a design and upload it to multiple products, including t-shirts, hats, mugs, and other merchandise, at the same time.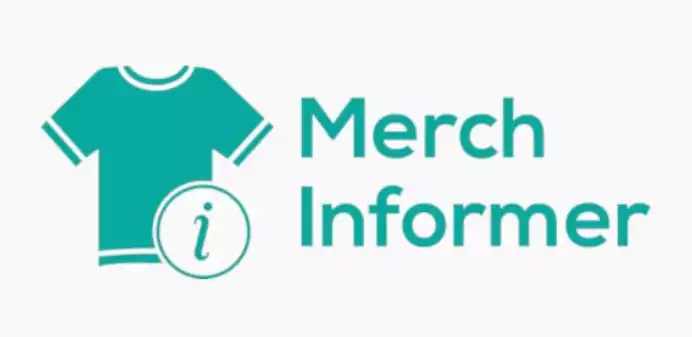 We earn a commission if you click this link and make a purchase at no additional cost to you.
Merch Informer also provides a bulk upload tool for Merch By Amazon. You'll need the Merch Informer Lister Chrome extension.
Using it, you can upload multiple variations of the same product. For example, you can set different hotkeys for different colors and create multiple listings with different colors.
Merch Titans vs Merch Informer: Design Tool
Merch Titans
Merch Titans has an online design tool for print on demand sellers. It's actually pretty good.
Start by selecting a product. As of now, there are less than a handful of options available, which is the biggest drawback of the tool.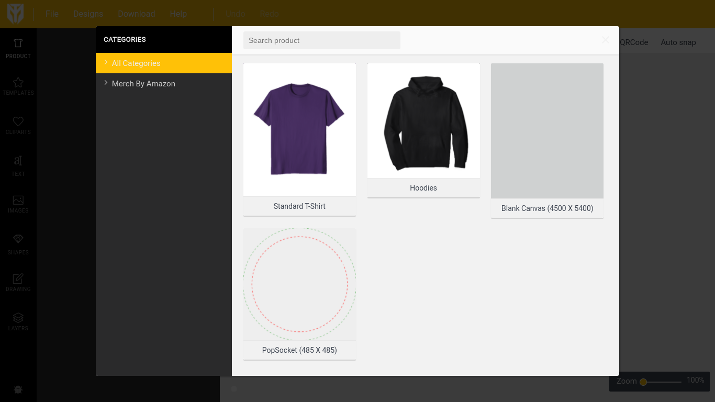 However, the rest of the tool is pretty good. You can choose from various colors for your product background.
If you want, you can start with a template, or you can design your product from scratch. Either way, you can add free clip art or text, selecting from a variety of available fonts and styles.
If you have an image you want to add to your product, simply upload it from your computer. There are also tons of free shapes and icons you can pick from the library.
Using the free drawing mode, you can use your artistic skills to draw your own logos, designs, or icons. You can even add a QR code to your product.
Once you're done with your design, you can download it as a PNG file or save it to your drawings.
The design tool isn't perfect, but there is a bug reporting tool that allows you to provide feedback when you experience bugs and glitches.
Also Read: Best 3D Print On Demand Services
Merch Informer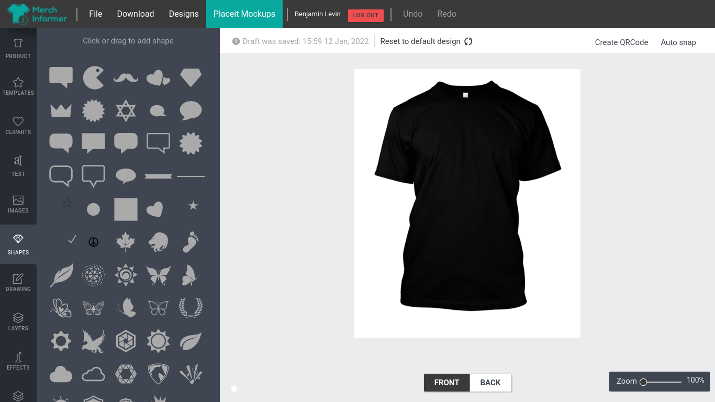 Merch Informer also has a design tool. As you can see in the screenshot above, the layout actually looks pretty much the same as the Merch Titans Designer tool, and I'm wondering if they both use the same software.
There are some differences, though. There are a lot more product options available on the Merch Informer tool, including phone cases, handbags, mugs, and jewelry cards.
As for the rest of the tool, the features are pretty much the same. You can add shapes, clip art, images, text, and drawings.
However, the shapes and clip art in the Merch Informer library seem somewhat different from those in the Merch Titans library.
Overall, I'd say that the two platforms tie when it comes to their design tools, as they're extremely similar.
Merch Informer vs Merch Titans: Pros & Cons
Merch Titans Pros
Provides free tools
You don't need to log in to use some tools
You can do research for Amazon Kindle
Merch Titans Cons
It supports fewer POD platforms
It has fewer product and niche research tools
Its keyword research capabilities can be improved
Merch Informer Pros
Supports more platforms
Has excellent product, niche, and keyword research capabilities
Has many awesome Chrome extensions
Merch Informer Cons
There is a free trial, but only for three days
Doesn't support Amazon Kindle research
All the different tools and features can get confusing
Also Read: Best Print On Demand Sites For Artists
Pricing
Merch Titans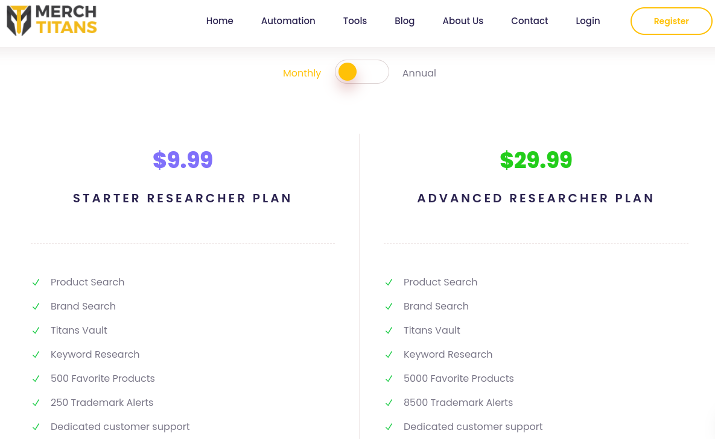 Merch Titans offers free access to many of its tools, but free users will be restricted in the data they can access. Pricing starts at $9.99/month and goes up to $29.99/month for the research tools.
You can get almost 30% off by paying annually.
See updated pricing here.
The automation app costs $24.99/month for one platform of your choice and $69.99/month for access to all platforms. You can see updated pricing on the automation page.
Merch Informer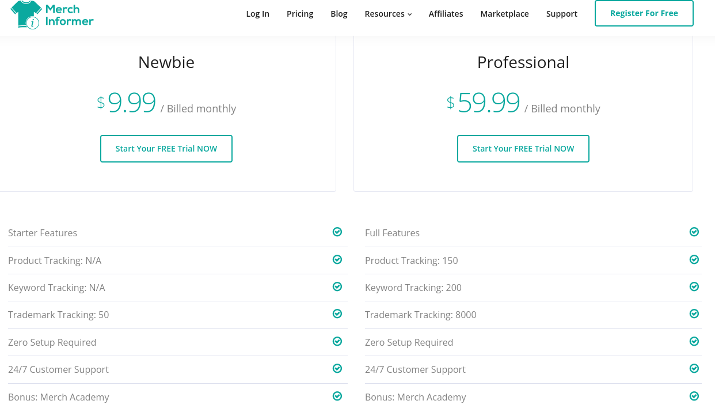 Merch Informer's Newbie plan costs just $9.99/month, but it is missing product and keyword tracking, the merch graphics pack, and the automation interface. You will also be limited to 50 trademark alerts.
The Professional plan costs $59.99/month. See updated pricing here.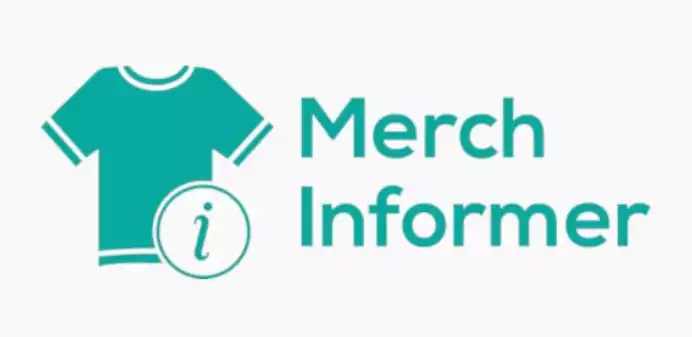 We earn a commission if you click this link and make a purchase at no additional cost to you.
Similarities & Differences
Wrapping It Up: Which Is Better, Merch Titans Or Merch Informer?
I recommend using Merch Informer, despite Merch Titans offering free access to many of its tools. If you really want to be successful with your print on demand company, Merch Informer is the way to go.
Its wide range of research tools is unrivaled and will give you access to a wealth of data you can use to stay one step ahead of the competition at all times.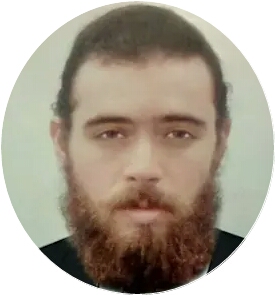 Author: Benjamin Levin
Benjamin Levin is a digital marketing professional with 4+ years of experience with inbound and outbound marketing. He helps small businesses reach their content creation, social media marketing, email marketing, and paid advertising goals. His hobbies include reading and traveling.