Many people have the objective of launching a successful print on demand business. However, you need strong experience to survive in the eCommerce industry due to stiff competition.
You can learn all you need to know by taking the best print on demand courses. Check out the top 10 ones below.
Best Print On Demand Courses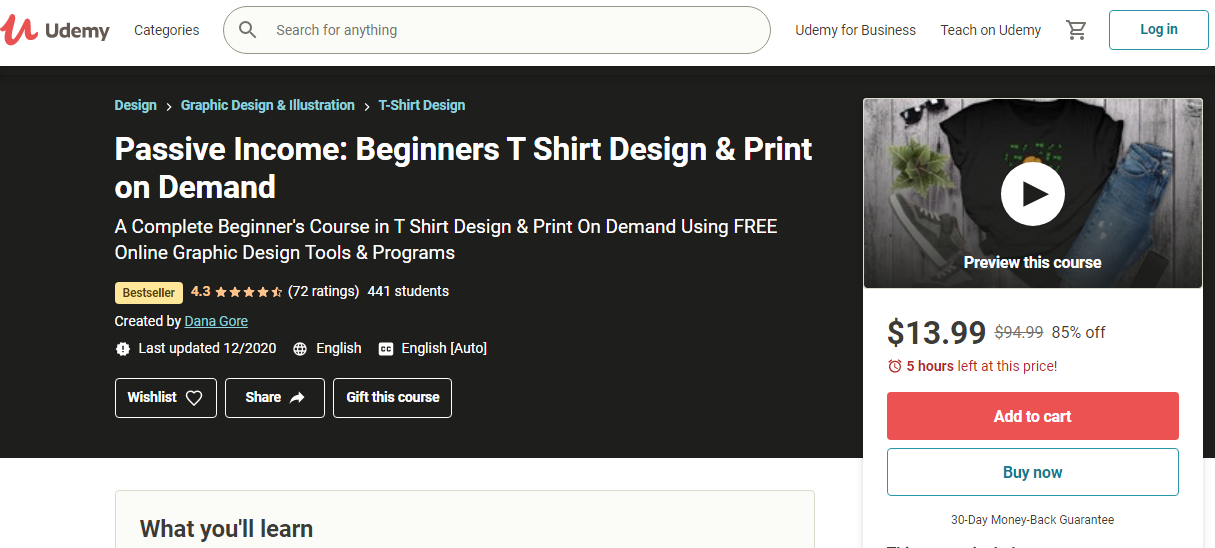 Created by Dana Gore, this is a bestselling POD course on Udemy. The course covers t-shirt designing and print on demand with free graphic design tools. It is offered in English and since its launch; over 440 students have partaken in the course.
With this course, you'll learn how to make designs for not just t-shirts but also mugs and other print on demand products. You'll learn how to create mockup images for these items on your listings and also how to purchase and sell print on demand products. As a beginner's course, no previous experience is required.
It is divided into six sections, which include the introduction, merch designing, uploading designs, mockup creation, additional resources, and conclusion. At the end of the course, you'll discover some of the best print on demand companies that you can work with.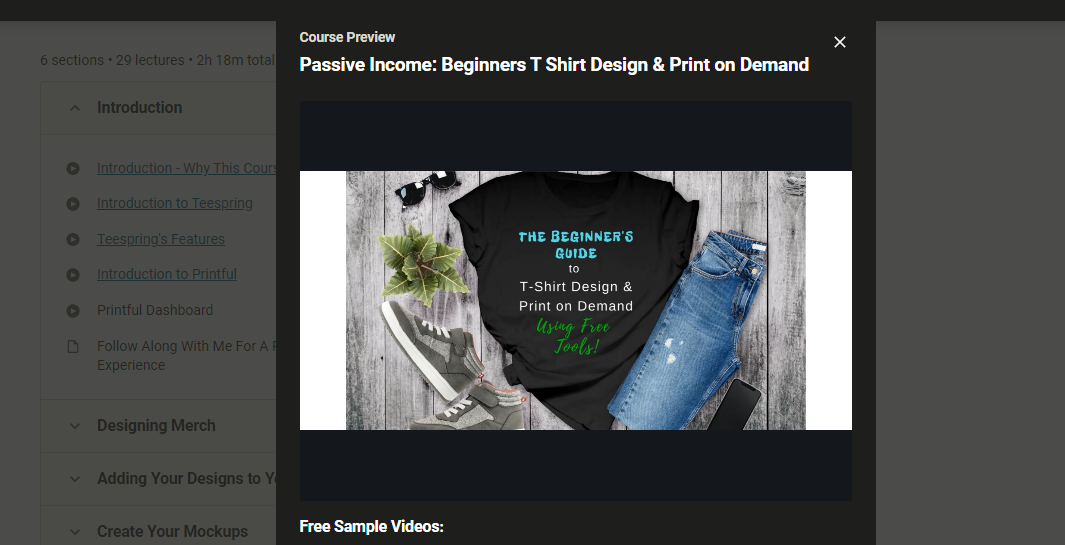 Some of the print on demand platforms touched in this course include Teespring and most particularly, Printful.
For designing, the course covers Ipiccy, PiZap, Photopea, and Printful's built-in design tools. According to students who have taken this course, the lessons are easy to understand as the explanations are great.
Also, it's not a very long course that'll take your time; everything is straight to the point and you can complete it in one session.
You get full lifetime access when you pay for it and once completed, you get a certificate. It has a 4.3-star rating out of 5 on Udemy.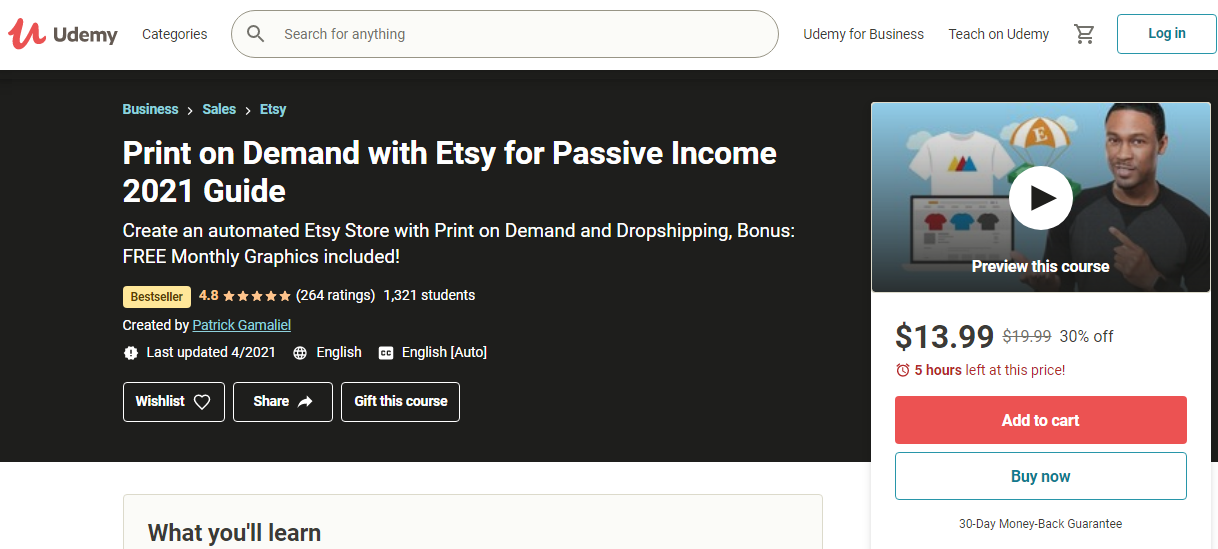 If Etsy is your preferred eCommerce platform, this course is for you. The course was created by Patrick Gamaliel and it is available on Udemy. It will teach students how to create automated Etsy stores for print on demand and also dropshipping. Furthermore, a monthly graphics class is available for free.
This course is a broad one. It covers how print on demand on Etsy works, how to start the business, how much can be made, where to find designs, store customization, and a lot more.
Notably, students will learn how to integrate Etsy with Printful to share listing products. Also, it delves into eCommerce SEO so your store can be easily discovered by prospective customers.
There's no special requirement needed – it's a complete beginner course. It's not recommended for print on demand merchants alone. Graphic designers who want to make an income by selling their designs can learn too.
The course content is shared into 13 sections starting from the introduction, what you should know, creating accounts on Etsy, design research, design creation, listing products, generating sales, resolving after-sale issues, other useful tools, and a bonus lecture. As a guide, the course is conducted in a straightforward step-by-step pattern.
Full lifetime access is offered when you purchase the course and you can learn using your mobile phone, computer, or TV. You will receive a certificate after concluding this POD course.
As a popular print on demand course on Udemy, over 1,300 students have taken this course and the course has 4.8 ratings out of 5 from over 250 ratings.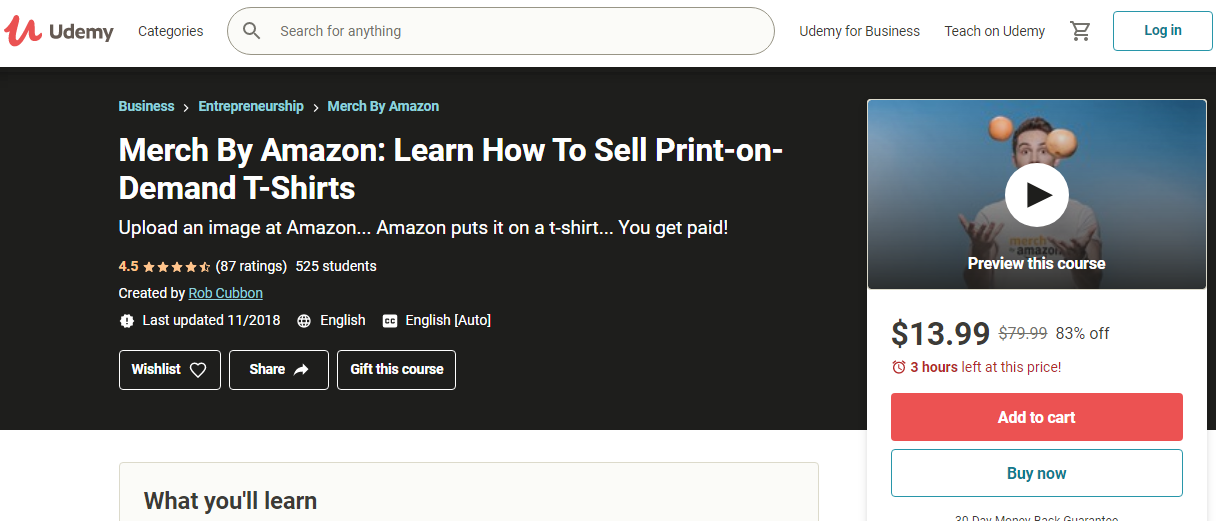 Amazon Merch is a widely used print on demand platform. To learn how to conduct print on demand business on Amazon Merch, this Udemy course is one of the best you can find. It's a simple course created by Rob Cubbon and has so far attracted more than 500 students with a 4.5-star rating.
The course is all about creating successful print on demand merchants. Students who take this course will learn how to identify the most profitable t-shirt niches on Amazon and also how to utilize free and premium graphics tools in designing their products. Amazon has a strict content policy which this course breaks down so students don't violate it and get their account banned.
Furthermore, it explains different tools and platforms that'll help the students make the most out of their business. The course is thorough but still takes minimal time to be completed.
Students don't need any marketing or designing experience for this course. You'll be taught how to tap into Amazon's organic traffic to increase your sales.
There are just four sections in this course and they include the introduction, t-shirt design ideas, t-shirt designing & uploading, and the conclusion.
For designing, the course focuses on Photoshop and Illustrator. In addition to Merch by Amazon, the course also explains uploading print on demand products to Redbubble.
Likewise, you will get bonus materials and other useful resources at the end of this POD course. For example, you'll learn how to promote your print on demand store on Facebook, YouTube, and also via podcasts.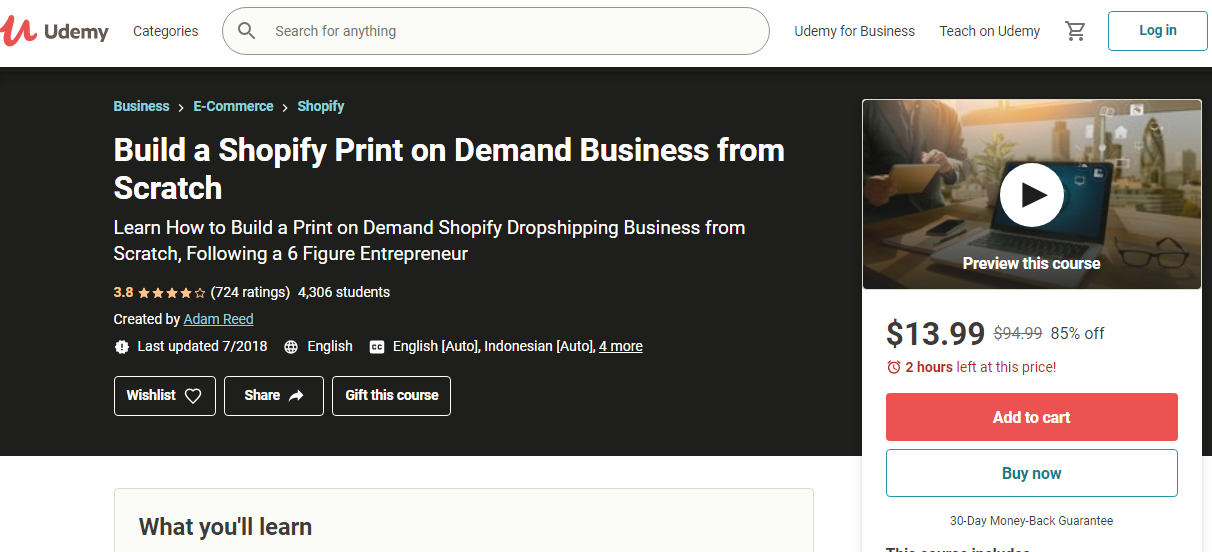 Number 4 on this list of the best print on demand courses is this Udemy course created by Adam Reed. For emphasis, Adam Reed is a bestselling author that has coached over 30,000 students.
The course is offered in English, but there are closed captions available in Indonesian, Italian, Thai, Romanian, and Polish. It aims to teach students how to build a successful POD business from scratch using Shopify.
This course is an in-depth one and about the longest on this list. It's ideal for you if you're an artist or graphic designer that wants to sell your work or a merchant who wants to start eCommerce with minimal capital.
Over 4,300 students have participated in this course and it's got a 3.8 rating out of 5 from 724 ratings. As an in-depth course, there are so many learning objectives.
Some of them include how to build a Shopify store, improving your conversion rate, social media marketing, how to source graphics and designs, etc.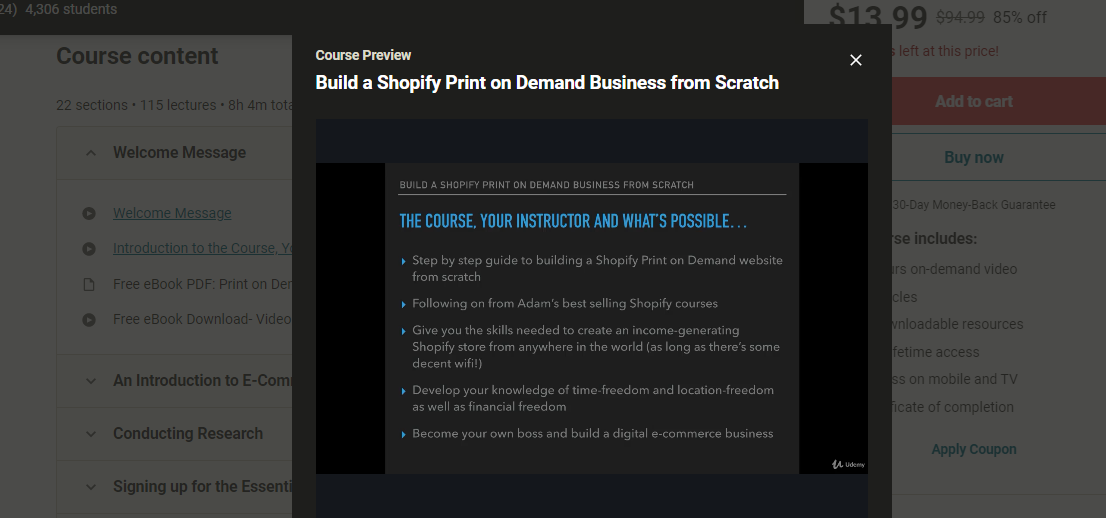 To take this course, the only thing you need is knowledge of how to use a computer and a reliable internet connection.
The course content is divided into 22 sections with a total of 115 lectures. Starting from the welcome message, the course covers conducting print on demand research, creating Shopify pages, editing themes, adding apps, print on demand shipping, driving traffic, and various monetization channels amongst other lectures.
It'll take eight hours and four minutes to cover the full course. Aside from the eight hours of on-demand video, there are also four downloadable resources and six articles. Furthermore, you will get a certificate upon completion.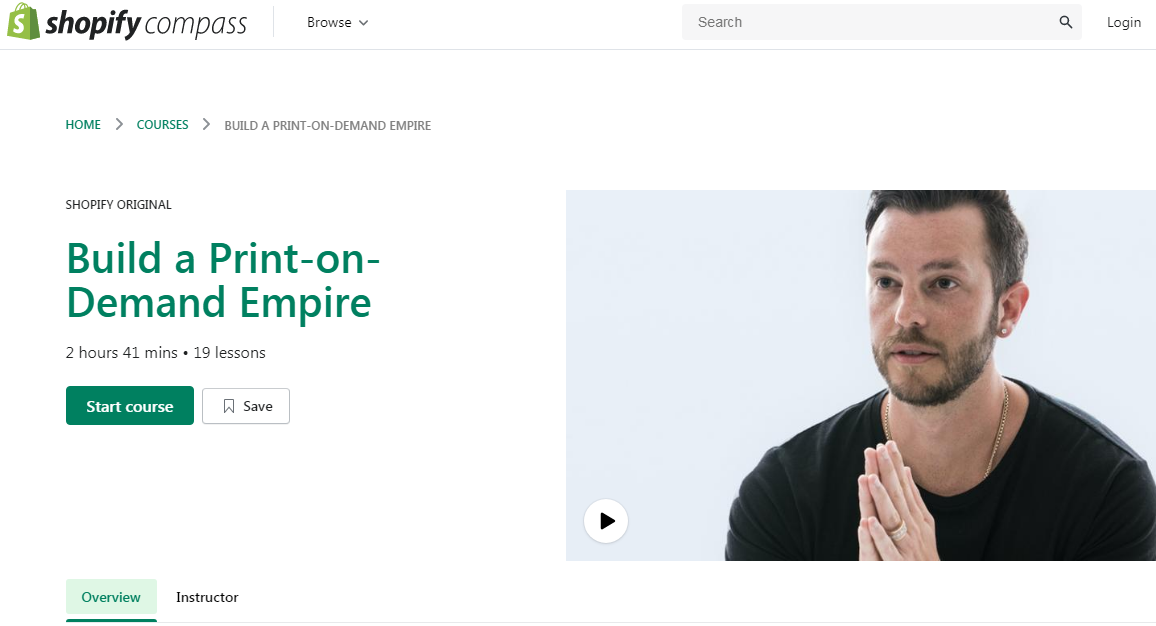 The Build a Print-on-Demand Empire online course is the best print on demand course from Shopify. It is offered by Adrian Morrison, an eCommerce, and print on demand entrepreneur who has recorded seven figures in sales. The course is based on the Shopify platform and print on demand fulfillment apps in the Shopify App Store.
If you take this course, you'll learn how to build and customize a Shopify store from start to finish, how to pick the best product niche, and maximize your ideas.
You'll also learn how to pick the best print on demand fulfillment platform to work with and how you can increase your traffic and sales via digital marketing.
This Shopify print on demand course is shared into five sections. It starts with the introduction, how to create print on demand products, how to create a Shopify store, how to generate traffic and sales, and finally, how to grow your print on demand empire. Specifically, the course covers Facebook and email marketing.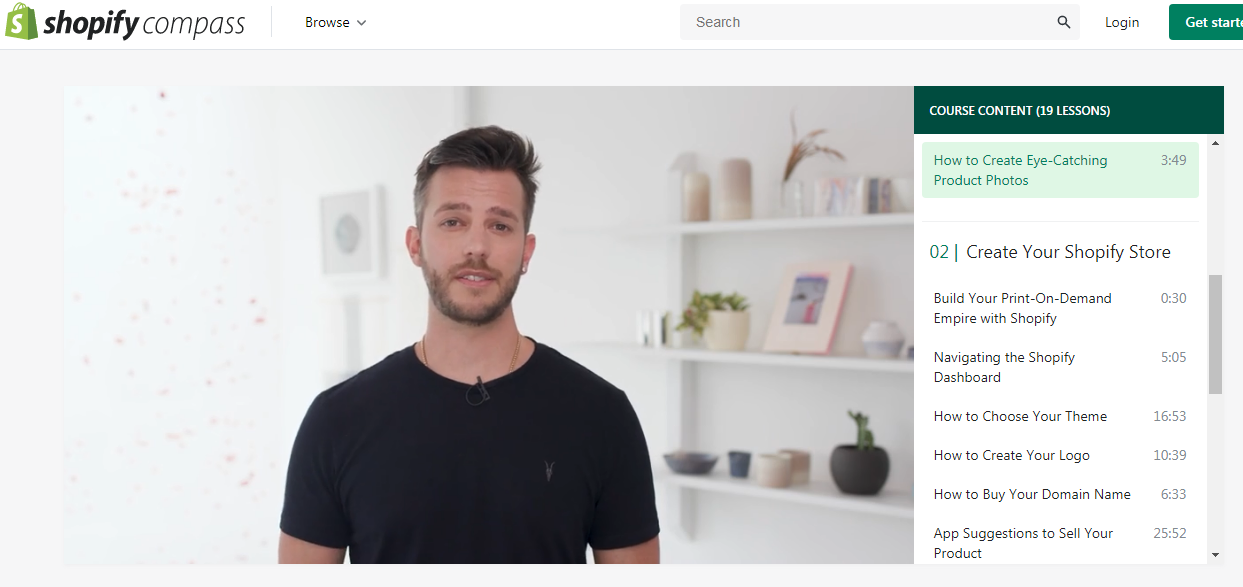 In total, there are 19 lessons featured in this print on demand course. All are video lessons and can be completed in less than three hours.
There are text transcripts along with the videos and you can complete the course in less time by speeding up the videos. The course is ideal for you as a beginner or even if you've previously conducted such an eCommerce business.
The Build a Print-on-Demand Empire online course by Shopify is free of charge. You don't have to pay any money but the course doesn't feature any certificate of completion. Upon completion, you can access other free print on demand resources from Shopify.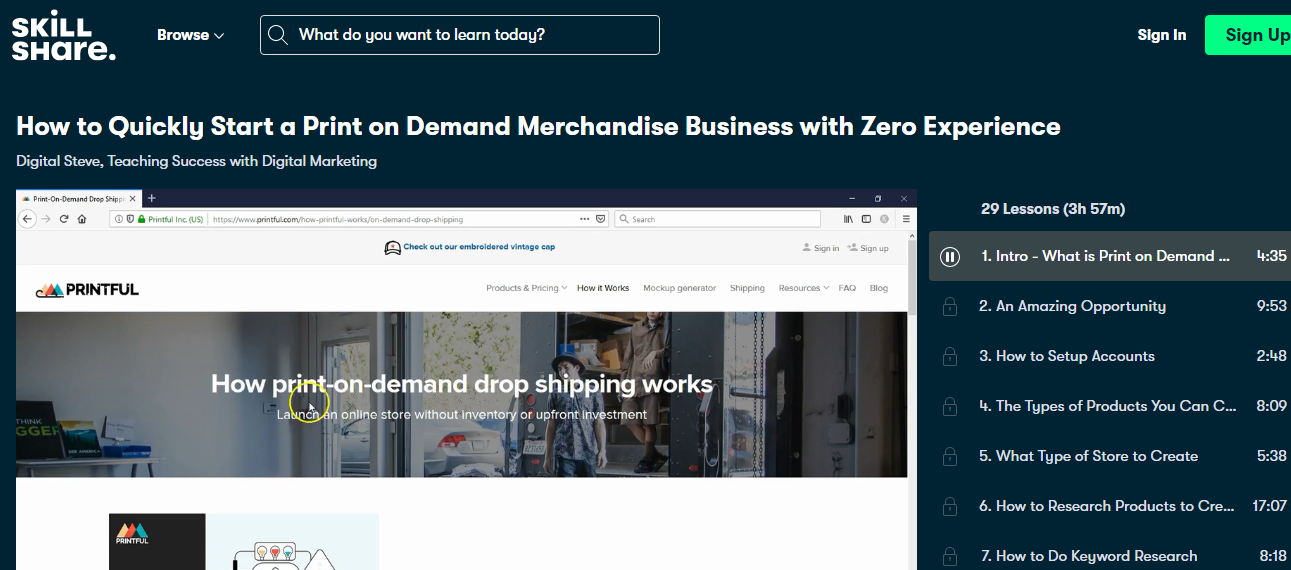 Available on Skillshare, the course description explains all that it is about. The course is taught by Digital Steve, an expert in digital marketing, and it's a full premium course. Students need zero eCommerce experience as the course features easy-to-understand lectures and tools.
As a student, you'll learn the best marketplaces for selling your custom printed products and how to scale traffic. It covers low-cost marketplaces that you can start using with little or no capital.
Also, you'll figure out the best print on demand suppliers that'll offer 100 percent fulfillment. Notably, the course focuses on t-shirt and custom mug print on demand.
This course is divided into 29 lessons that run for a total of 3 hours and 57 minutes. These lessons cover topics like how to do keyword research, what type of store to create, connecting with the best print partners, paid promoted listings, analytics strategies, social media advertising, etc.
Students who completed this course rate it highly for its helpful examples, organization of lessons, and actionable steps. Interesting, it features a Hands-on Class Project.
This project exploits your creativity in coming up with intuitive design ideas. You'll share your project with other students so they can rate your design skills.
You can conveniently learn offline using the Skillshare mobile app and also gain access to the Skillshare online creative community where you can interact with other print on demand merchants. Fortunately, you can access the course for seven days free before a paid subscription is required.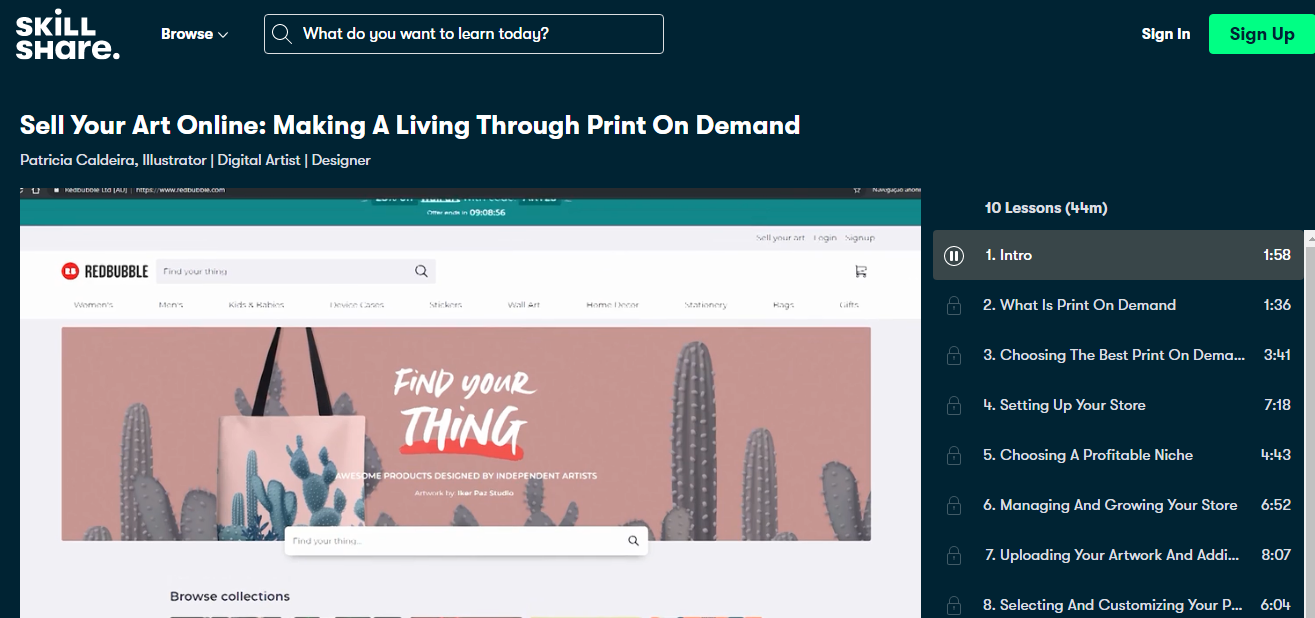 Here's another course from Skillshare and one of the best print on demand courses online. You'll find this course interesting if you want to learn the cores of print on demand business in the shortest time. Patricia Caldeira, a digital artist, designer, and Illustrator explains it all in just 44 minutes.
On Skillshare, the course is popular as it has recorded more than 3,000 students. It's most ideal for designers, just like the author, that plan to sell their art online via print on demand stores.
The course targets four objectives – to teach students how to select the best print on demand platform, how to pick a profitable product niche, how to increase sales, and how to expand their business.
As mentioned earlier, the course is a very short one; it features just 10 video lessons. This includes an introduction, about print on demand, picking the right print on demand platform, building a store, picking a niche, managing the store, uploading designs to products, customizing design on products, leveraging social media to increase sales, and conclusion.

Like most Skillshare courses, this course features a hands-on class project. However, the project is simply applying what you learned to create your POD store. Conversely, you can also post your already existing POD store for review.
Furthermore, as a Skillshare course, you can learn using the mobile app and also access the online community.
The Sell Your Art Online: Making A Living Through Print On Demand course is rated for its actionable steps, clarity of instruction, and class engagement. Forty-seven percent of students who've taken this course said it exceeded their expectations, while 48 percent said it met their expectations. Only five percent said otherwise.
Check Out: Best Australian Print On Demand Companies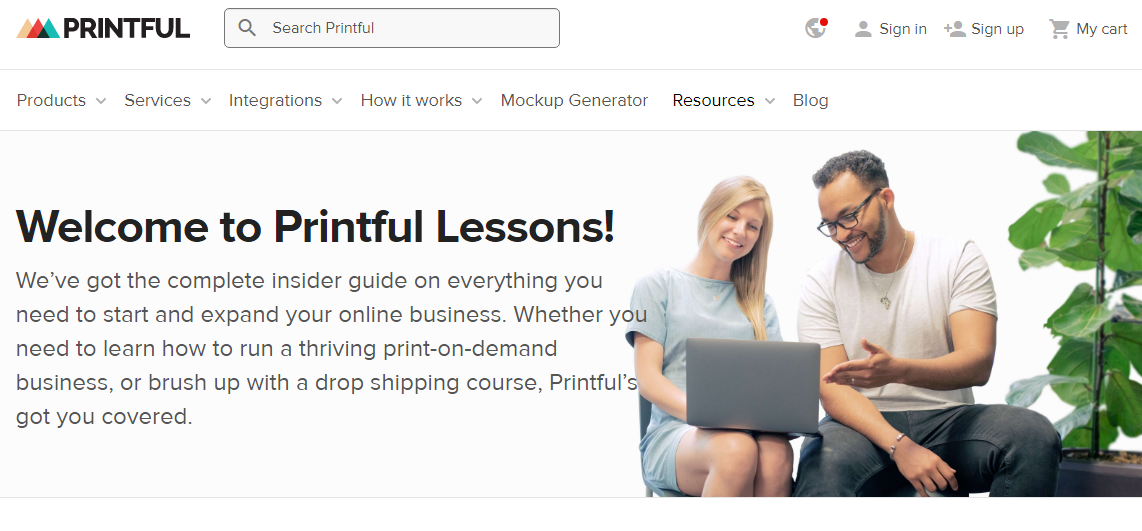 Although there are many print on demand companies in the market including Printify, Redbubble, Print Aura, Teespring, etc., not many are as reliable as Printful. It is also the most popular of the lot. This course includes everything you need to learn about the business.
There are lessons available for both eCommerce beginners and experts. It's not a closed course as new lessons get added from time to time. Furthermore, this course is free; you don't even have to be a Printful user to access the lessons.
With Printful lessons, you'll learn how to set up your print on demand store from scratch, how to prepare the best store content to attract customers, and ensure that they keep coming back. The course mainly covers selling T-shirts with Printful although there are lessons for other products on the platform.
Printful Lessons consist of so many short-length videos. It's divided into four different sections with at least 20 videos per section.
You'll learn how to pick a niche market for your store and how to make use of the apps Printful integrates with. Furthermore, the course covers the best product pricing strategies, and most importantly, you learn the pros and cons of print on demand business.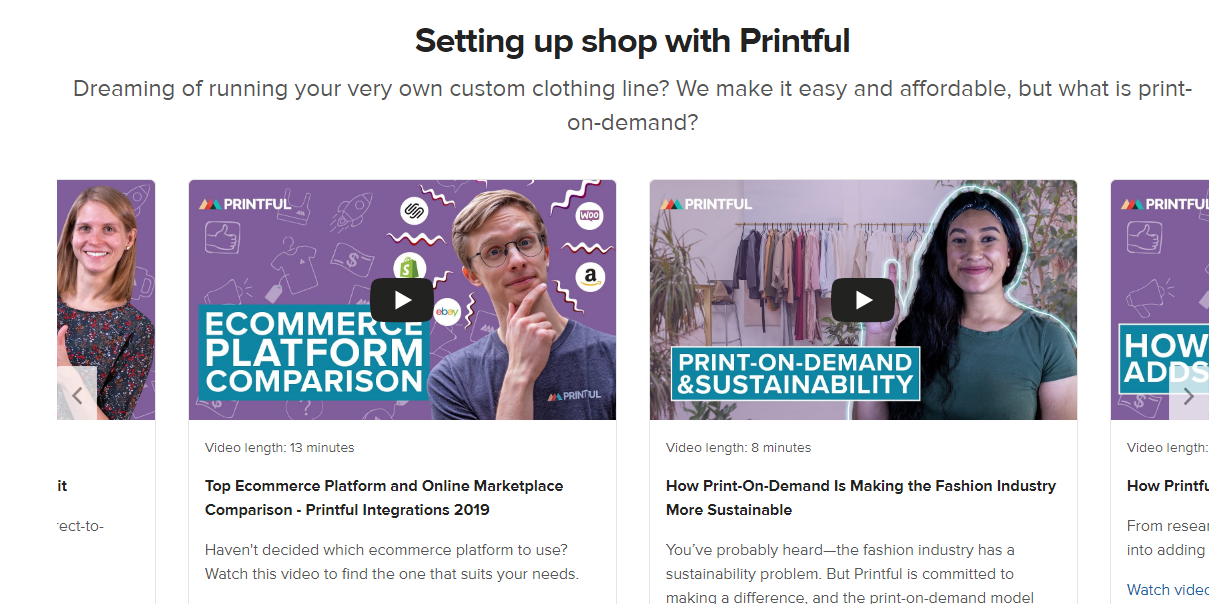 The course is not all about selling, there are so many lessons for product designing and styling as well.
You'll learn the top graphic designing trends, how to use particular designs on multiple products, the best graphic designing apps to use, and how to properly utilize colors. Particularly, the course explains designing with the Printful Mock-up Generator tool.
While the first three sections are generalized, the final section of this Printful course focuses exclusively on the platform. With the lessons here you'll learn how Printful order fulfillment works, how you can use Printful features to promote your brand, and the best eCommerce platforms that work with Printful.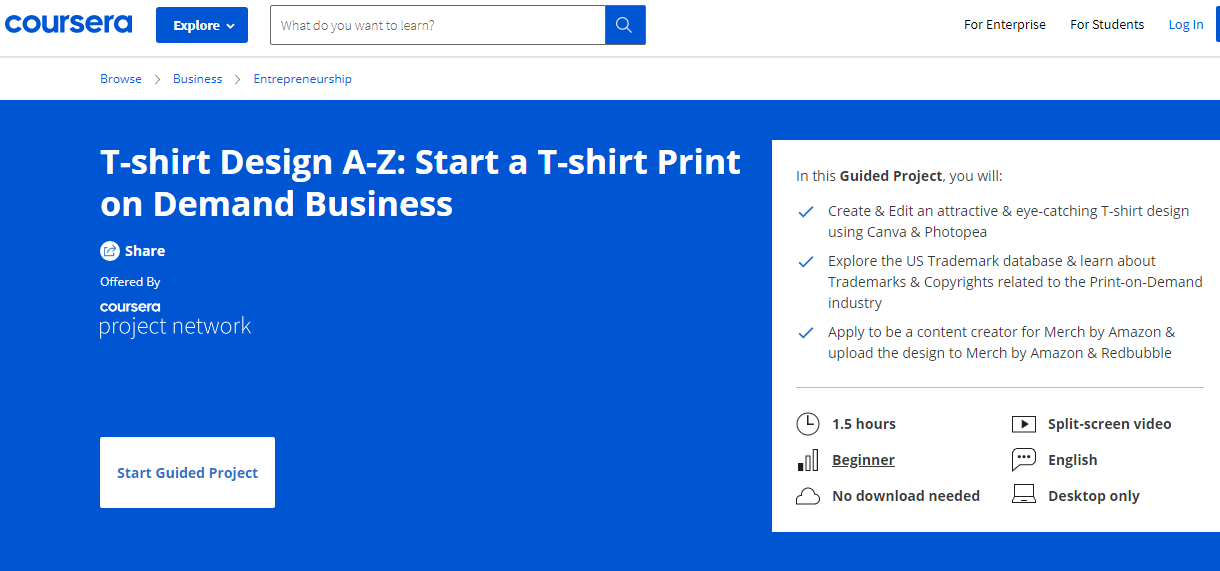 From Coursera, here's a step-by-step course for t-shirt print on demand business. The course is 100 percent for beginners and it is a premium course. It is a relatively short one as it runs for just 1 hour and 30 minutes and it is offered in English.
From this course, you can learn how to create and edit designs for t-shirts using Canva and Photopea. The course is more on creating designs for t-shirt print on demand and less on selling them.
Nevertheless, you'll learn how to sell print on demand products on Amazon Merch and Redbubble as a content creator without spending much capital. Furthermore, you'll learn about copyrights and trademarks in the print on demand industry; you'll gain access to the US Trademark database.
There are six total sections featured in this course including creating an account on Canva, creating designs, editing using Photopea, exploring trademarks using Redbubble, and using Merch by Amazon.
The video lessons are deployed in a split-screen; one part of the screen features the instructor while the other part features the tasks you have to complete. They are instructed by Abhishek Jha.
Coursera Guided Projects are offered on the cloud, so the only thing you'll need to undertake this course is either a computer or mobile device.
When you pay, you'll have access to this print on demand course and several other projects. However, the course is most suitable for residents in North American countries. If you don't reside in this region, you may not have the best experience.
Also Read: Best Canadian Print On Demand Companies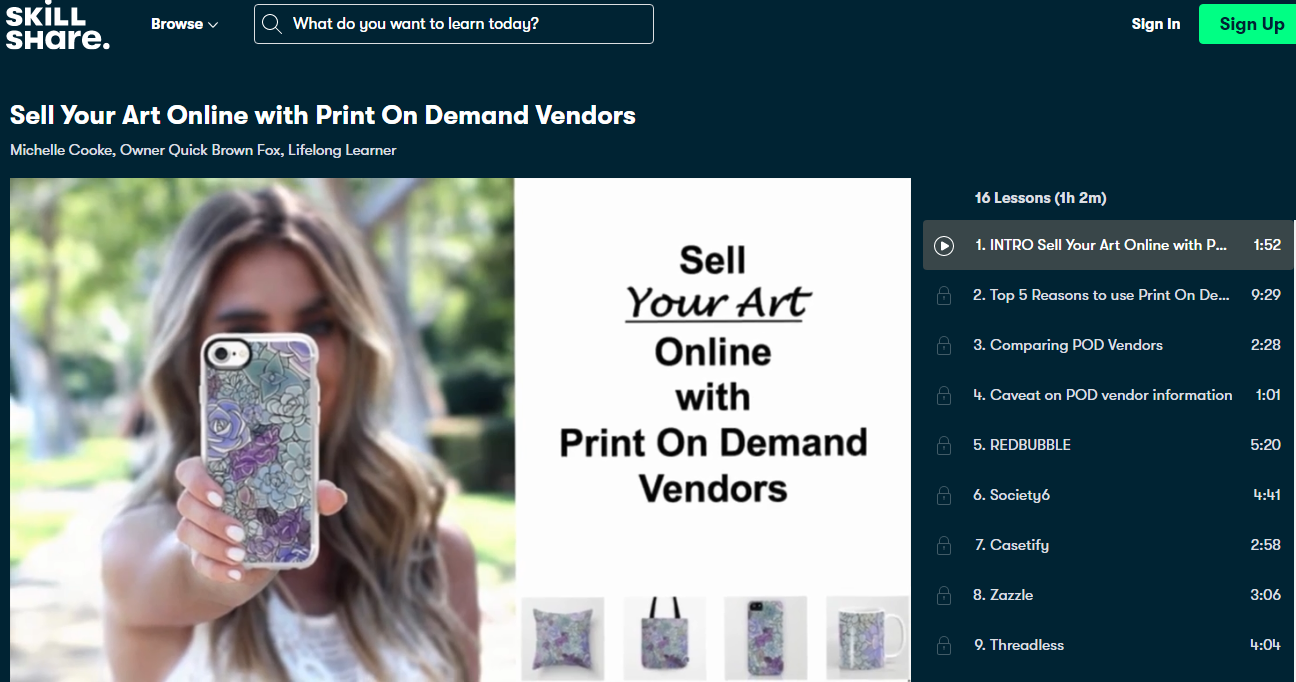 Featured on Skillshare, this print on demand course is offered by Michelle Cooke, the owner of Quick Brown Fox Canada.
The course is a straightforward one that has so far been taken by close to a thousand students and it's for beginners. Students will learn how to sell their art with different online print on demand vendors such as Redbubble, Zazzle, Casetify, Society 6, etc.
From Skillshare's class ratings, 50 percent of students said the course exceeded their expectations while 43 percent said the course met their expectations. It was most rated for the clarity of instruction, helpful examples, and teacher engagement. The course lessons are available as videos but, there are transcripts featured alongside the videos.
There are a total of 16 lessons available in this course with a total running time of 1 hour and 2 minutes. Hence, this course is one of the shortest print on demand courses on this list.
The bulk of the lessons are focused on individual print on demand vendors. The full list of vendors discussed in this course includes Redbubble, Society6, Casetify, Zazzle, Threadless, Fine Art America, Printful, Printify, and Design by Humans.
Notably, the course compares all of these print on demand vendors, explaining their pros and cons so you can pick the most suitable for your business.
Also, the course explains how to load your art to different print on demand websites, and you are directed to more learning resources upon completion.
The hands-on project featured is a simple one; just pick a platform, build your store, and share with the rest of the class.
Bottom Line
As a fast-growing eCommerce business model, there's money to be made in the print on demand industry.
The 10 best print on demand courses listed in this article are ideal if you want to learn from eCommerce experts that are experienced in print on demand. The most recommended are courses from Udemy.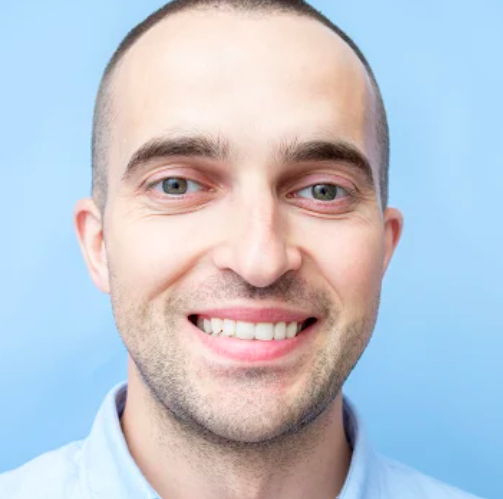 Author: Brian Erwin
I am Brian. I started my first e-commerce company in college designing and selling t-shirts for my campus bar crawl using Print-On-Demand. Having successfully established multiple 6 & 7 figure e-commerce businesses (in women's fashion and hiking gear), I think I can share a tip or 2 to help you get succeed.