If you're an anime fan or know someone who is, then you might be wondering where to buy some of that awesome merchandise. Well, wonder no more.
In this article, we will go over 11 places where you can find a variety of anime products and gifts for all your favorite characters.
Best Places to Buy Anime Merch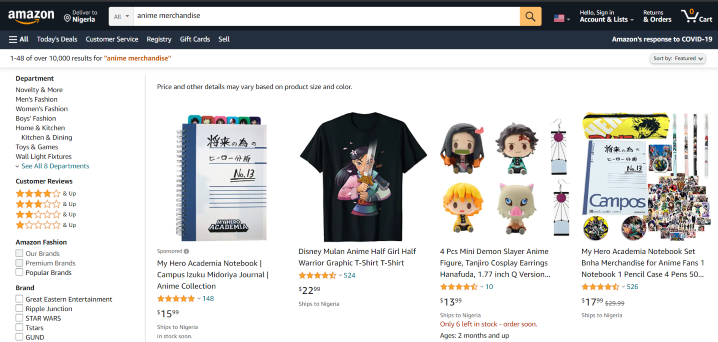 We'll start with the most obvious place: Amazon.com.
Amazon has a huge selection of collectibles, DVDs, Blu-rays, and manga.
If you're looking for a gift card or something else to put under the tree this year, Amazon is always a good choice because people can get pretty much anything they want from there.
If you have a Prime membership it's even better because shipping is free and two-day delivery makes sure your items arrive in time for Christmas morning (or any other occasion).
The Amazon anime store has great prices on hard-to-find products you won't find anywhere else.
If you're looking for something that's a little bit off the beaten path, Amazon is where you want to go.
They have lots of products from smaller brands and lesser-known companies so if your friend or a family member has very specific tastes this might be the best bet because it will definitely cover all the bases.
The top anime merchandise you can find on Amazon includes all of the official products from your favorite series.
Even now, Amazon carries limited edition figures and plushies which are not available anywhere else.
Also Read: Best Merch Sites For YouTubers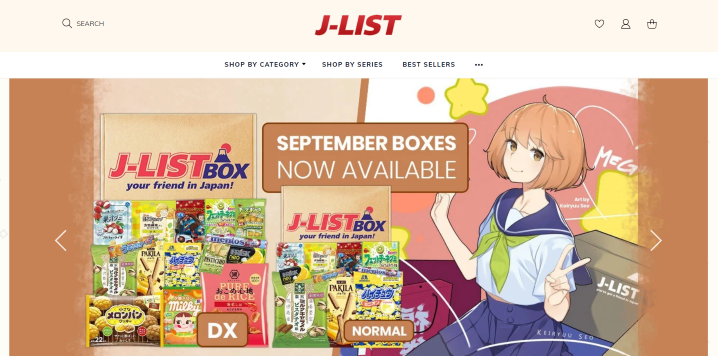 J-List is a great place to buy anime merch, with an amazing selection of figures and other goods.
This site was created in 1996 by Peter Payne, who is also the CEO of J-List.
J-List offers an extensive list of different anime action figures, artbooks, and doujinshis that you can purchase directly from their online store.
Other products you can get on J-List include cosplay outfits, replica weapons, and swords.
J-List also has a lot of great anime merch for your favorite video games including Anime Expo 2016 Exclusive Hestia Cosplay Wig Blue.
J-List offers great prices and free shipping on orders over $75.
The company even has an eBay store where they offer several different items that are 100% authentic Japanese products.
You can also buy pre-owned figures on J-List, which is a great way to save money.
I have bought from them several times and they are legit and reliable sellers. Shipping takes a little bit longer than other sites but the wait is worth it.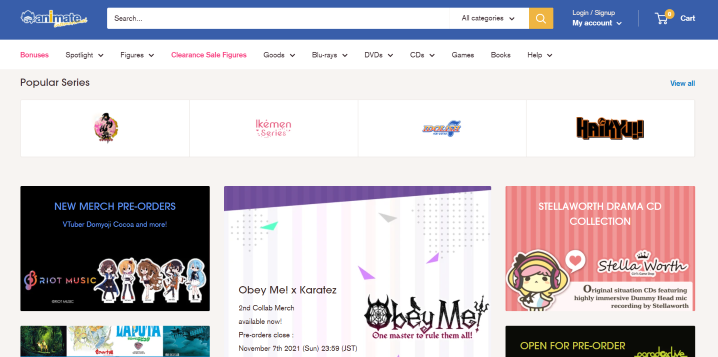 Animate International is one of the best places to buy anime merch.
They have a huge selection of merchandise ranging from plushies, figures, bags, and toys.
If you are looking for an online store that is dedicated to selling only anime-related products then this would be your go-to site!
Animate International has its own Ani-Com event called Anime Festival Asia.
The event takes place in a variety of cities across the world and you can find all the information on their website.
They recently launched their website and they have a Facebook page too.
If you would like to keep up with the latest news and product updates then be sure to follow them.
The website is modeled after their chain of shops in Japan and is easy to navigate.
When you visit the website, you will be able to easily find character plushies along with other anime-related products that are available for sale.
You can even sort through their merchandise by genre or brand name.
It also has a special section where they list out all of their bestsellers so that you know what's popular with their customers.
They have a special page where they list out all of the anime series that are available for purchase in case you want to buy something related to your favorite show.
If there is an item that you cannot find on their website, be sure to contact them and ask if it will become available.
You will be sure to get the best deals here because the website has so many promotions and sales.
Animate International also sells items that are still sealed in their boxes. That's right, you will find unopened figures at low prices here too.
If you want to sell back your anime merch, this is not a place where you can do it, but they have an amazing return policy.
You can't go wrong by shopping at Animate International because they have a large selection of popular anime merch from Dragon Ball Z, One Piece, and more.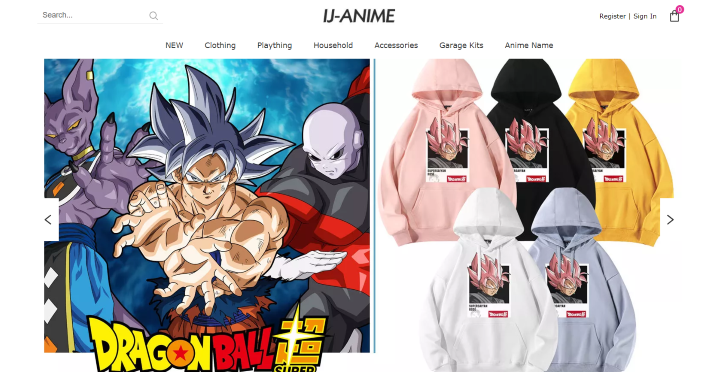 IJ-Anime is a great place to buy anime merch. They have a variety of different types of merch, from apparel and accessories to posters and figures!
It is one of the best places to purchase your favorite animes goods online because they offer free shipping on all orders over $30 in Canada or the USA. In addition, our prices are competitive with other retailers.
The website is relatively new, but it has grown to include a variety of anime goods.
They offer a variety of anime merch, including apparel and accessories to posters and figures.
Their range of merchandise is sure to impress even the pickiest otaku out there.
Not only do their prices make them one of the top places for anime merch, but they also have a variety of other items from brands such as Sailor Moon and One Punch Man.
You will get your anime wares as quickly as possible, plus they offer great deals for new arrivals too.
IJ-Anime is perfect if you are on a shoestring budget, but still need to shop for some quality anime merch for your friends or loved ones.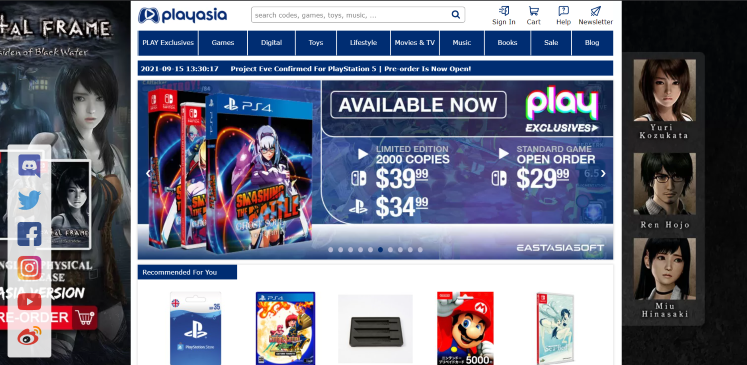 Playasia is a great place to buy anime merch for popular shows like Dragon Ball Z, Attack on Titan, and Sailor Moon.
The website also offers video games from Japanese developers that are hard to find in the United States.
The site is dedicated to providing anime fans with other hard-to-find merchandise from their favorite shows.
It offers a wide range of products, including soundtracks and figures for popular titles like Naruto Shippuden and One Piece.
Playasia is one of the best places where you can buy official anime merch online that ships worldwide.
It is a great place to buy anime merch for popular shows like Dragon Ball Z, Attack on Titan, and Sailor Moon.
Any item you buy is tagged with its country of origin, so you can see where it was manufactured.
They are constantly updating their stock with new items, so if you check back often you will be sure to find the latest stock.
Not only do they offer good quality products at reasonable prices but Playasia is very reliable with its services which makes them one of the top places to buy official anime merchandise online today.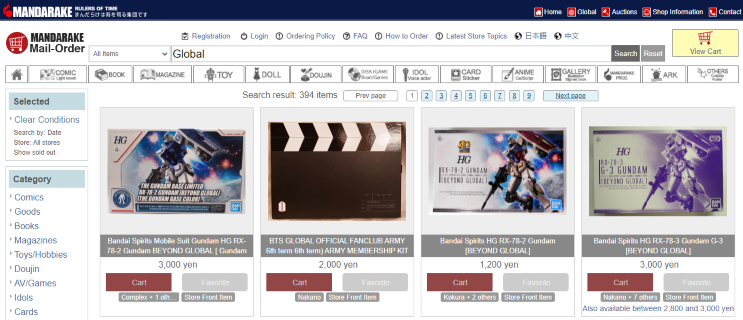 Mandarake Global is a great place to buy anime merch online. They have a large selection of different items, and the prices are very good too.
They will ship internationally from Japan, so you can get your favorite anime characters on shirts or figures in no time at all!
The site is very similar to Amazon or eBay, so it will be easy to navigate. The categories are also very descriptive and helpful when looking for a certain kind of item.
Mandarake Global will deliver the order in an average of two weeks, but keep this in mind as some countries might take longer because of shipping times.
They do not focus so much on actual merchandise, but more so on "art". This means that they have a wide range of anime illustrations, figures, and posters.
They offer both new items as well as used ones, so this is great for people who are looking to save up some money or give the item to someone else right away!
You can find all types of manga and anime here, and many of them are hard to find in other places. You can also purchase figures that you cannot get anywhere else!
They offer a huge variety of Japanese fashion items such as clothes and accessories for men and women, bags/wallets, shoes, dresses, cosplay costumes (for both young boys and girls), etc.
You will also find almost any popular anime in their listings, from Dragon Ball Z to Death Note. They even have real-life items that look like something out of an anime too.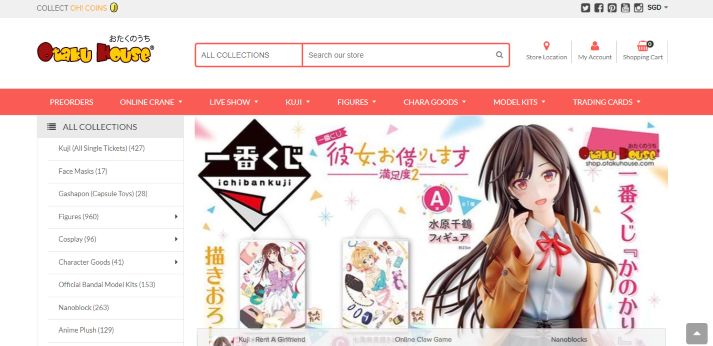 Otaku House online store has over 8000 different items, as well as a wide range of collectibles for your favorite characters and series. Some of them are rare and not easy to find.
Otaku House has great customer service; we received our ordered item on time and in excellent condition.
Additionally, their online store provides fast shipping that arrived within the estimated delivery date range.
If there is any problem with your order or product they will send you another one without any additional charges.
The Otaku House online store also offers free shipping for orders over $75, so you can get your favorite anime merch without spending too much money on it.
Their website is very easy to navigate and all the products are arranged by category which makes things easier when searching for a specific item.
Their physical store is based in Singapore, but they ship worldwide.
Otaku House started with anime goods, but now they are also selling authentic Japanese items such as Shiseido & SK-II.
They have partnered up with the best stores in Singapore to offer you a wide range of products at competitive prices!
Their customer service is also available 24/24 and it's always very helpful in case you have any questions or need help with your order.
Otaku House really deserves a spot among the best places to buy anime merch, since they offer high-quality products at affordable prices that will satisfy even the pickiest shoppers.
You can get exclusive products that are high quality and officially licensed. The site is often updated daily with new releases & popular brands.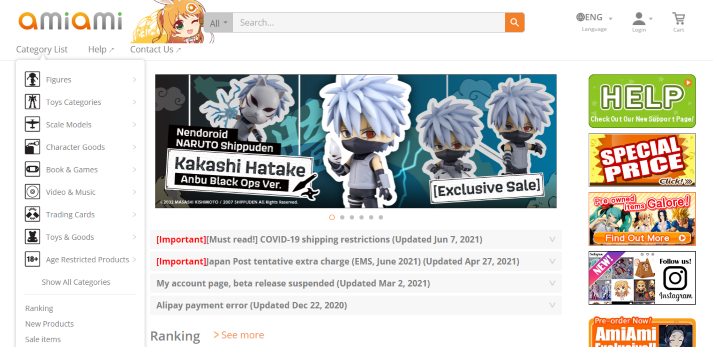 AmiAmi is a Japanese retailer that specializes in anime, manga, and video games.
In addition to selling new merchandise from Japan, they also sell items used for cosplay.
Amiami's product line includes figures of popular characters such as Sailor Moon, along with less recognizable or "otaku" products like Gundam model kits.
The auction site allows users to bid on items. Payment is done through credit card, wire transfer, and PayPal.
The site has a wide range of selections from games to manga and figurines, and they have a standard shipping rate of $16.00 for up to two kilograms, so it is relatively inexpensive compared to other sites.
Amiami's products are imported items from Japan directly to the customer, not resale items being resold by an intermediary service.
This assures that customers will receive new merchandise with full manufacturer support.
The site is very similar to Animate International with the most significant difference being that you will find more recent items on Animate.
However, this is not a problem if you are looking for something specific.
Both sites have sales and closeouts which can be hard to find anywhere else and will offer significant savings if you catch them at the right time.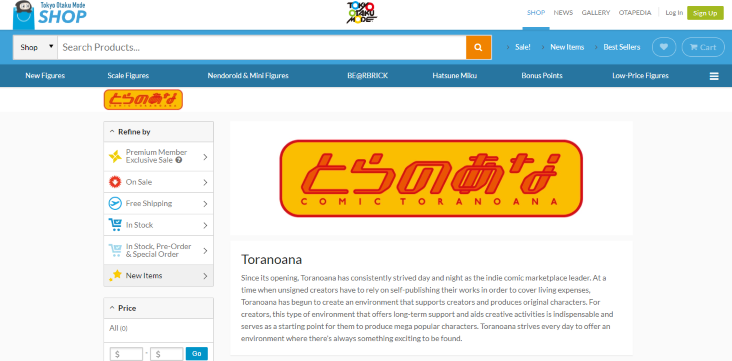 Toranoana is the largest chain of anime/manga specialty bookstores in Japan. Its headquarters are located in Akihabara, Tokyo.
Toranoana's main product line includes manga, magazines, and light novels but they also sell merchandise related to anime, video games, adult movies, and cosplay costumes.
You will find all sorts of rare items in this store. Some of their most popular items are the Love Live, Nijigasaki High School Idol Club T-shirts, and Sailor Moon official merchandise from Bandai.
They also sell many doujinshi, which is a manga that has been created by fans instead of professional artists or companies and ALL their price tags include a QR code for a free wallpaper download on their website.
You can find Toranoana stores all across Japan, but there are two main branches in Akihabara and Nakano which you should visit first if you ever find yourself in Japan.
The store is easily located thanks to its big sign that gives away what kind of products it sells.
This place has been running for over 40 years and it has even received the Guinness World Record for selling the most doujinshi in one location.
Their website is in Japanese, but you can use Google Translate to navigate it easily.
If you are a fan of anime, manga, or cosplay this should be an essential stop on your list.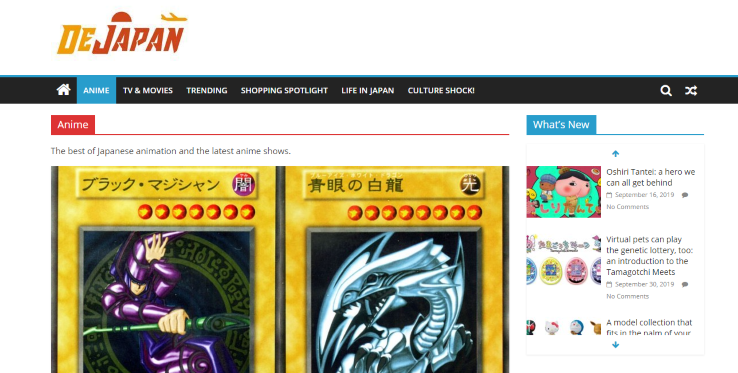 BOOTH is a popular global marketplace for buying and selling anime goods of all kinds.
At BOOTH, you can find an array of figures, plushies, stationery items, apparel, accessories, and more all at affordable prices.
BOOTH is the best place to buy anime merchandise because they offer good quality products that are unique to their marketplace.
If you are an anime fan, BOOTH is the best place to shop for anime merchandise because they offer a plethora of products that can be hard to find in other places.
Since it's an indie art marketplace, you can expect to find a lot of rare and one-of-a-kind items that will make great additions to your anime merch collection.
Another great thing about BOOTH is that most of the items they sell are directly from the creators and made by hand.
This means that you can guarantee that the quality of each item is great and will make your collection more valuable.
However, it also means that the products will be in limited supply, so you will have to act fast if you ever find something that interests you.
So whether it's a rare poster or an old toy from your childhood, BOOTH is one of the best places for anime merchandise.
You will never get bored with the wide selection of excellent quality anime merchandise at BOOTH.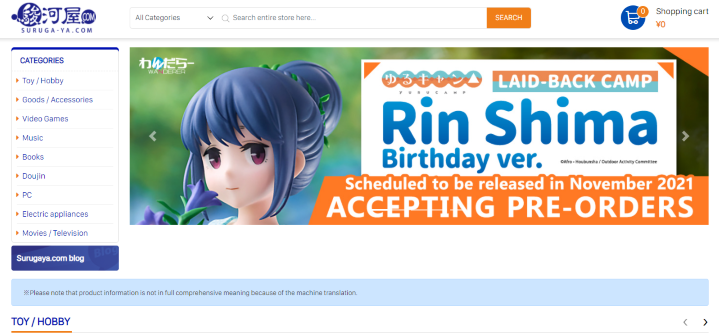 Suruga-ya is a family-owned and operated business that has been open in Japan since 1993.
It has grown to become one of the largest anime merchandising stores in Japan, boasting over 100,000 sq. feet of retail space for anime goods.
Suruga-ya has an extensive line of merchandise to choose from including DVDs and Blu-Rays, Japanese imported toys, figures, and autographs.
They also carry English language manga which includes One Piece, Naruto Bleach, Death Note, Seven Deadly Sins, Fairy Tail, and Attack on Titan.
If you are a collector, you will love this site because they carry a very large variety of rare items that are hard to find.
Suruga-ya offers free shipping from Japan to anywhere in the world.
The home delivery service is available for a flat rate, which includes all customs duties and fees associated with receiving packages from outside of Japan.
This fee can be expensive, but it's important to note that Suruga-ya will not inflate the price or charge any additional fees.
Suruga-ya also offers an English language ordering service that has a very user-friendly interface for browsing and purchasing items online.
They accept international credit cards, bank transfers, cash on delivery (in Japan only), and PayPal.
Conclusion
That was our list of the best places to buy anime merch.
We hope that this was helpful and we know it can be difficult to find the right online store for buying goods, even when you're looking specifically at anime merchandise.
The good news is that once you do, it will be well worth your time.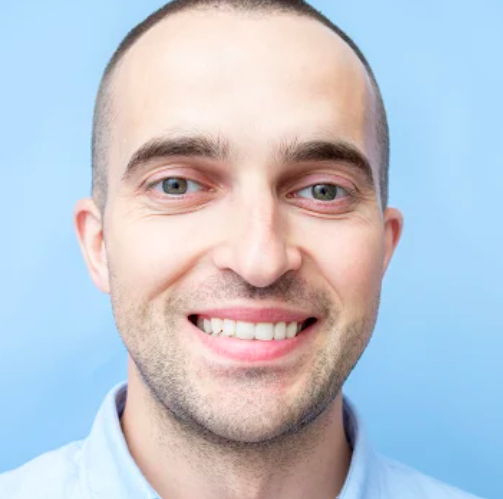 Author: Brian Erwin
I am Brian. I started my first e-commerce company in college designing and selling t-shirts for my campus bar crawl using Print-On-Demand. Having successfully established multiple 6 & 7 figure e-commerce businesses (in women's fashion and hiking gear), I think I can share a tip or 2 to help you get succeed.