The print on demand industry is booming and if you're looking for the best t-Shirt POD company, you're in the right place.
Whether you're just researching options available before making the decision, looking for the best POD T-shirt company you can do business with, or you're only after the most affordable "partner" who will increase your margins, you'll find a solution down below.
Not only have I reviewed the 10 best print on demand T-shirt companies, but I will also share more information and my own thoughts on the print on demand business which will also help you make the right choice.
10 Best Print on Demand T-Shirt Companies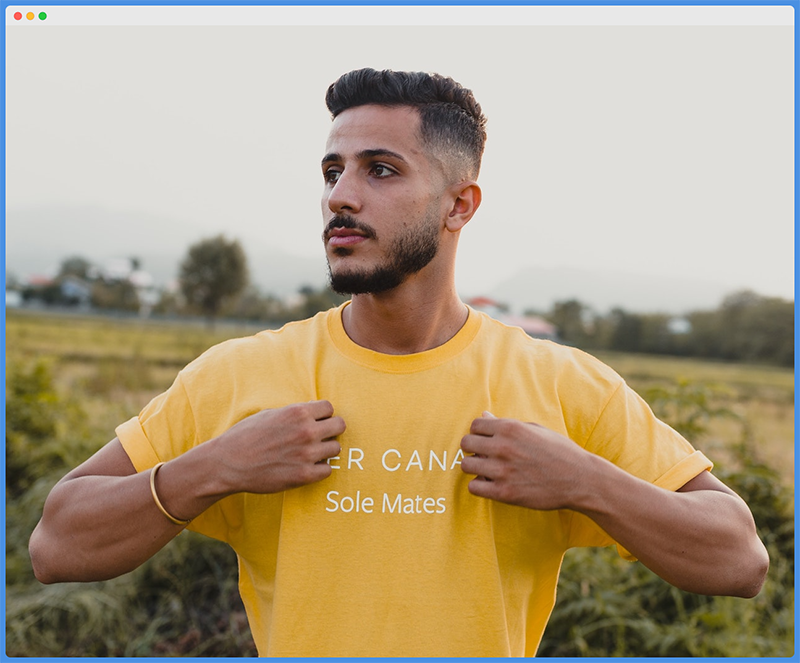 All print on demand T-shirt companies have their advantages and disadvantages and down below, you'll find both the good and the bad of each company so you can make the best choice possible.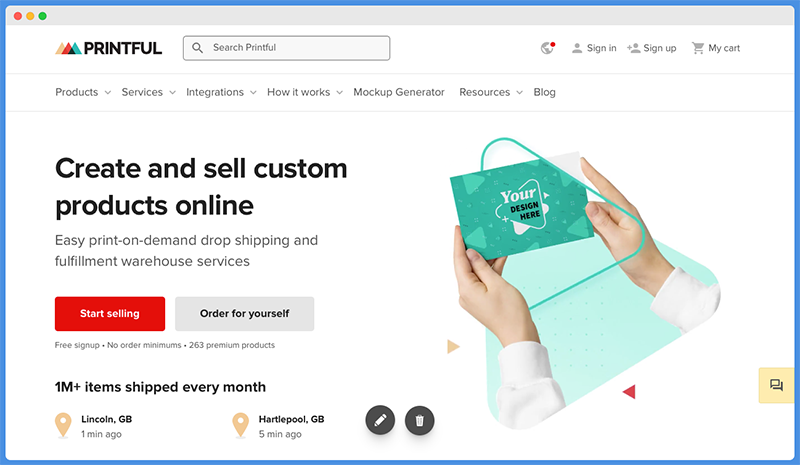 Printful is one of the most popular print on demand companies on the internet. Not only can they print and ship T-shirts with your design on them, but they also allow users to create and sell all types of custom products online.
The reason Printful is one of the best companies is that it is very easy to integrate with platforms such as Shopify, WooCommerce, Wix, and many others.
Regular T-shirts
All-over shirts
Polo shirts
Tank tops
¾ sleeve shirts
Long sleeve shirts
Embroidered shirts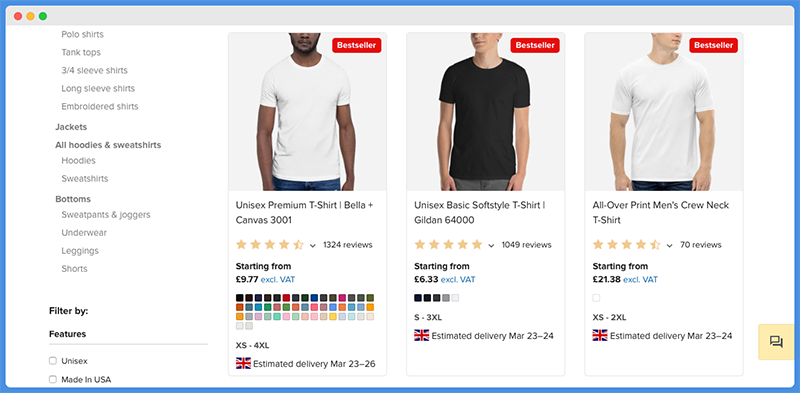 Printful also features anywhere between 3 to 47 colors for its T-shirt models which is a perfect fit for many brands as it's fairly easy to match the right colors with designs.
The process is very simple. All you have to do is join Printful, integrate it into your store, select your T-shirt model and color, and add your design to it.
Explore: Best Print On Demand Sites For Artists
Our Pick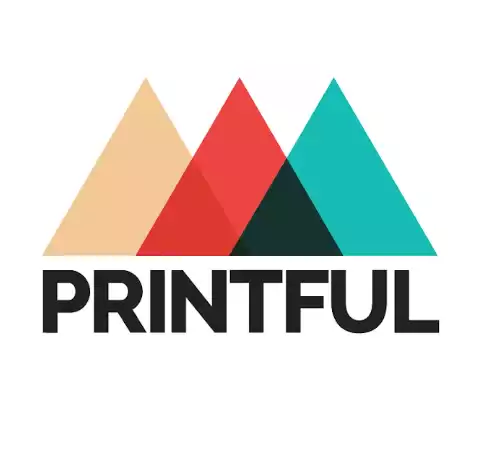 We earn a commission if you click this link and make a purchase.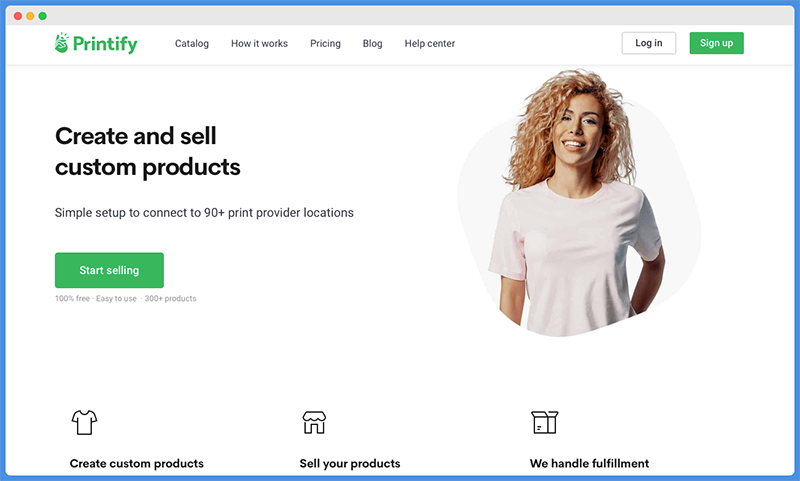 Printify is the second-best print on demand company and while it operates very similarly to Printful, it has its pros and cons.
The biggest benefit of Printify is that it features over 50 T-shirt models (along with other products) and it features a pretty straightforward process.
Along with 50+ T-shirt options, Printify offers 23 colors you can choose from and almost all T-shirt types come in most standard sizes.
What I like the most about Printify is that they allow you to automatically sync its app with your store as it's compatible with the most and once you upload your designs and get orders, Printify will take care of the fulfillment for you.
Another interesting thing about Printify is that it allows great printing options which means that you won't only be able to print on the front or the back of the T-shirt, you will be able to print over the sleeves and also the neck label (inner and outer).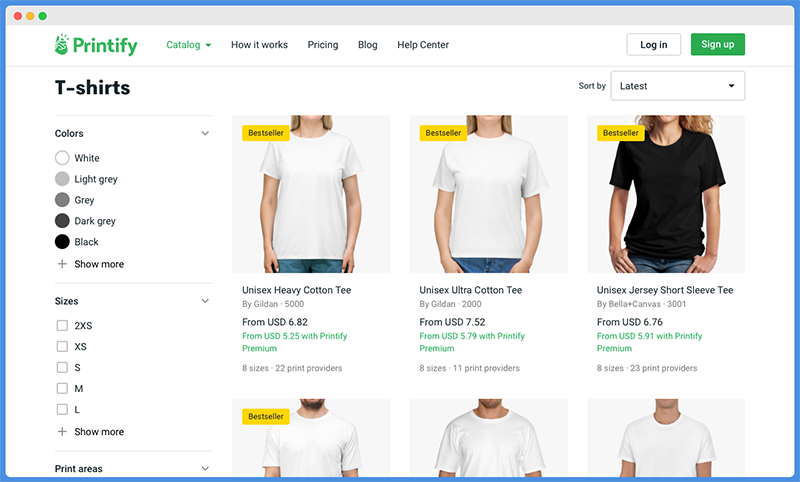 Printify also owns fulfillment centers on all continents, including the following countries:
Canada
Czech Republic
Germany
United Kingdom
United States
When it comes down to the prices, Printify T-shirts start from $6.76 and can go all the way up to $19.31.
With the discount, T-shirt prices will range from $5.25 all the way up to $14.87, which is a great savings if you sell a lot of T-shirts.
Check out how Printify does when put against Printful.

We earn a commission when you click this link and make a purchase.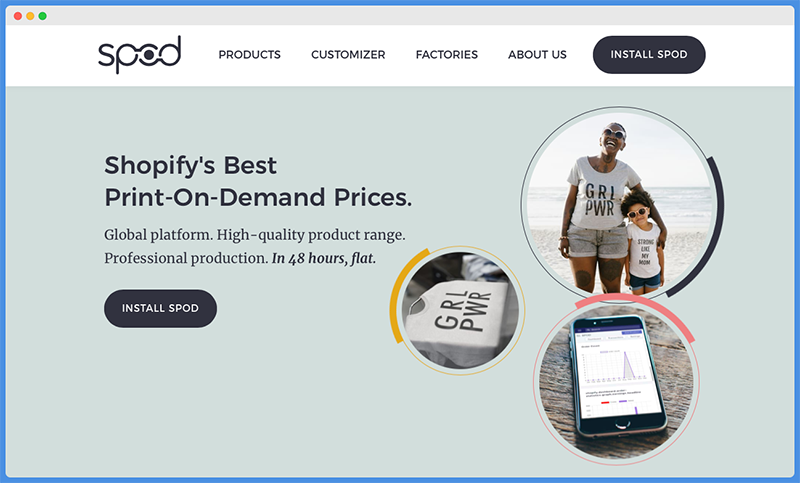 If you own a Shopify store and you are looking for the best T-Shirt print on demand prices, SPOD might be a great option.
Another benefit of SPOD is that along with a wide range of products on top of the T-shirts, they also have a database of 50,000 free designs you can use.
When it comes down to T-shirts, SPOD doesn't feature as many T-Shirt models as some other print on demand companies do, but they provide T-Shirts of almost all materials you can think of.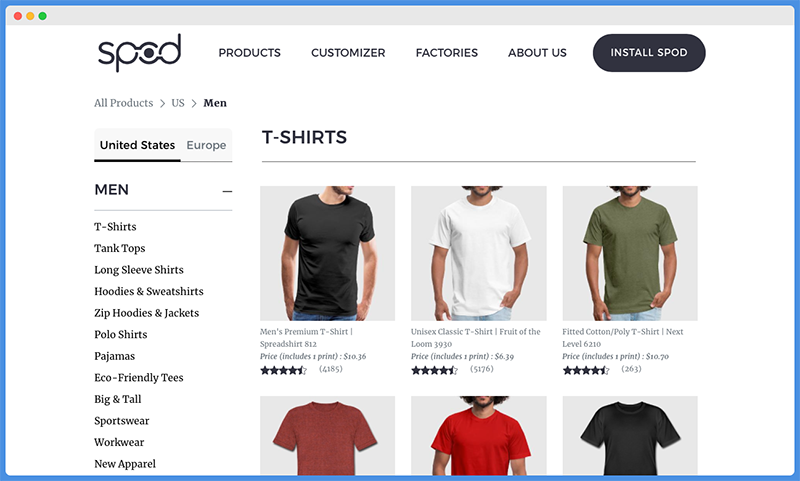 Therefore, quality isn't questionable, and yet when it comes down to the pricing, you can expect to pay from $6.39 to $14.55 for a T-shirt with printing included in the price.
I should also mention that SPOD has plenty of colors and their T-shirts come in the most standard sizes you would expect.
Interesting Comparison: SPOD Vs Printful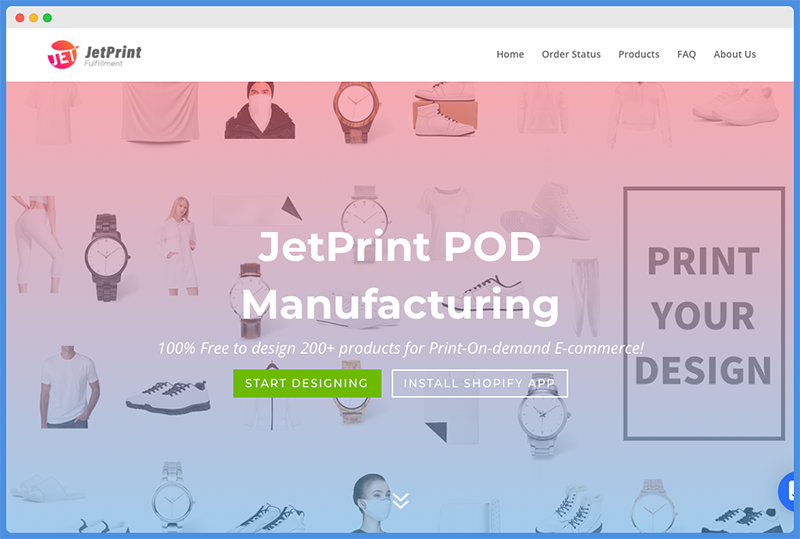 If you're just getting started with a budget, you don't have a design yet, and you're not sure if your T-shirt designs will sell at all, JetPrint is a great choice.
Why?
JetPrint allows you to design up to 200+ products (including T-shirts) for free without paying anything up-front.
When it comes down to T-shirts, JetPrint has only 3 T-shirt models but they come in all standard sizes and colors.
The biggest benefit is the simple user interface that allows you to easily create designs right within the interface, pair it with T-shirt options of your choice, and inspect the 3D visual.
From there, you can display them in your store while keeping an eye on the orders both in your store or in the JetPrint dashboard.
Even though JetPrint doesn't have as many T-shirt models as its competitors, this doesn't necessarily have to be a downside.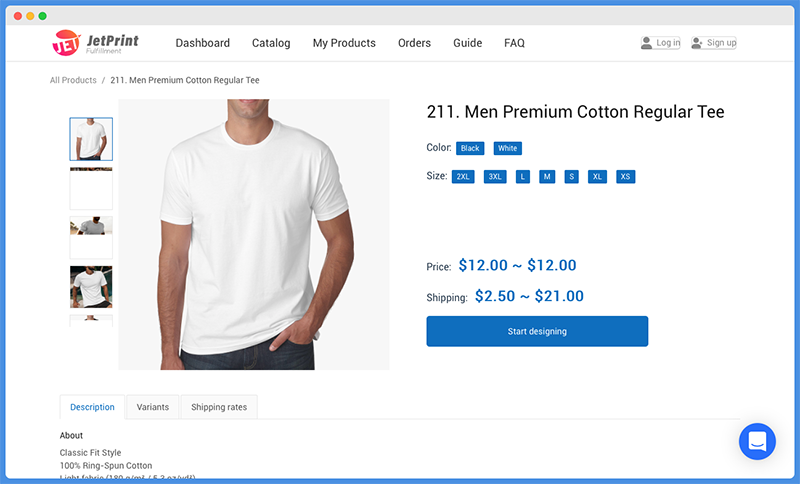 JetPrint focuses on products that are unique for print on demand companies so you can design watches, shoes, all types of hoodies, and even home products such as bathroom curtains.
If you're only starting with T-shirts and you decide to expand to your merchandise later on, JetPrint will have a wide range of interesting products to offer.
When it comes down to the prices of T-shirts, this will cost you from $13.99 to $26.99 per T-shirt, including the printing.
Also Read: Best Print On Demand For Books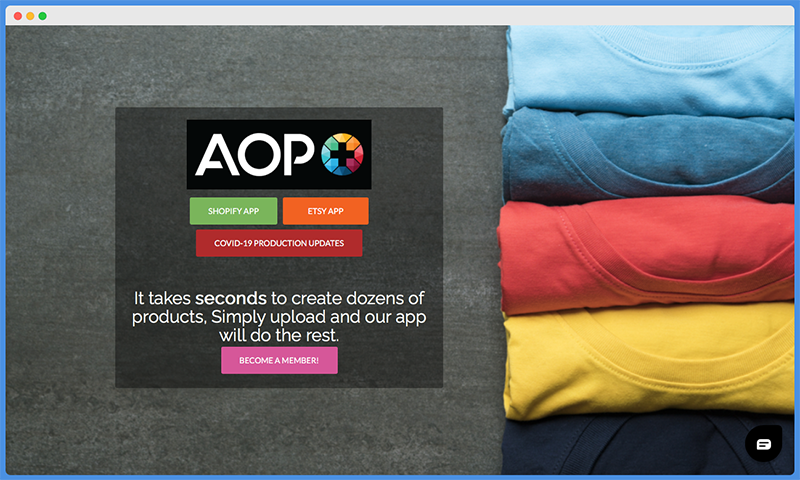 AOP+ is a print on demand company that offers three membership types which consist of:
Starter – $0/month
Super Member – $11.99/month
Hero Member – $19.99/month
If you're just starting out, the Starter membership will help you build out your brand either on Shopify or on Etsy without a limit on the number of designs you can produce within the AOP+.
However, the Super or Hero membership type offers a discount on all prices, access to personalized products, branded inserts, or even expedited shipping with FedEx.
I believe AOP+ covered all types of sellers and stores and while nothing is wrong with their starter membership, upgrading definitely makes sense and it's really affordable.
The biggest benefit of AOP+ is that they're manufacturing all of their products instead of sourcing the products from different wholesale sellers.
Therefore, AOP+ has the ability to offer unique products that aren't available anywhere else which is a big advantage if you're building a long-term brand.
Not only you can choose from a variety of products that are ready for you to design, but AOP+ can also work with you to create types of products and print on demand designs that would be unique to your brand only.
If you're looking for a long-term "partner" that will help you fulfill all your products, AOP+ has a great advantage right there.
When it comes down to the T-shirts, AOP+ offers a wide number of T-shirt options that come in all standard sizes with the most common colors for a relatively decent price.
However, there's something you should keep in mind. AOP+ is only suitable for Shopify or Etsy sellers as AOP+ only works through the app that's installable on Shopify or attachable to an Etsy account.
Check Out: Best T-shirt Dropshipping Companies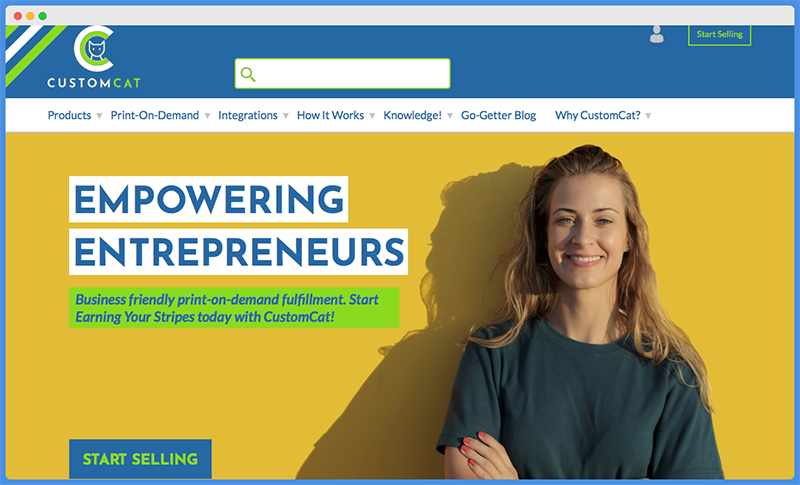 They also offer various types of print of demand to match different needs so you can use CustomCat as an individual, as a high volume store, or as an online seller.
When it comes down to T-shirts, you'll be pleased to learn that CustomCat offers 70 T-shirt models that come in most standard sizes.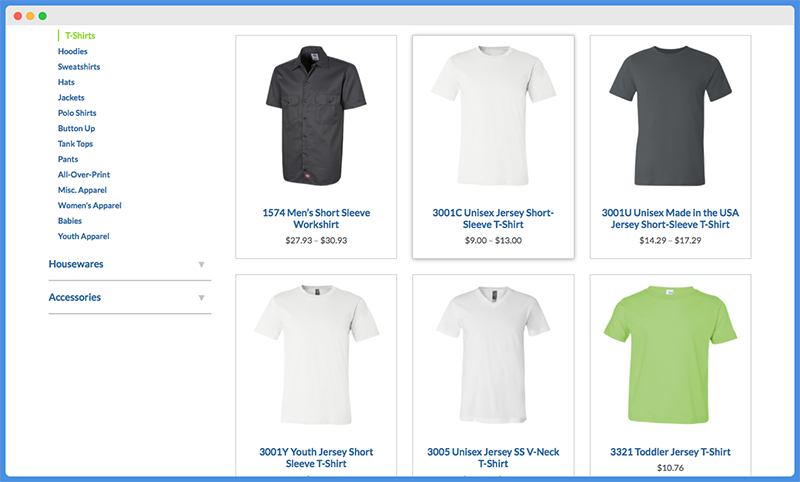 Colors depend on the T-shirt model, and the prices go from $7.00 to $30.93 per T-shirt.
I've noticed that CustomCat has more than only the basic T-shirt options, which is great if you're looking to offer unique merchandise and earn a decent profit.
Also Read: Best Shopify Print On Demand Apps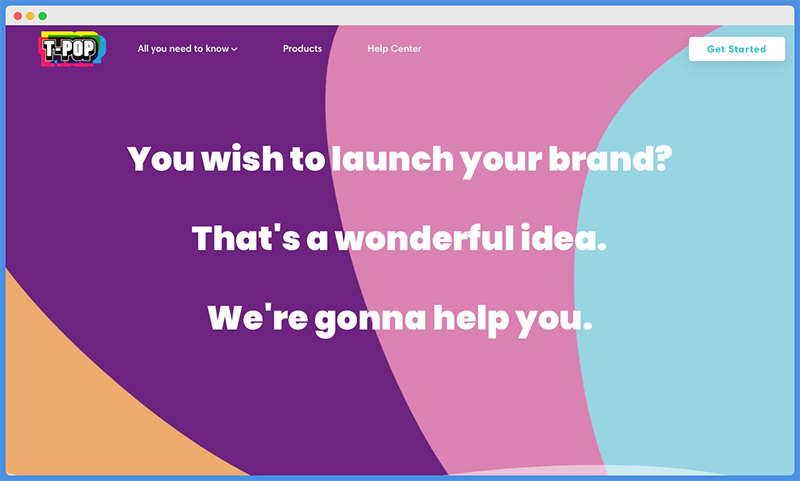 T-Pop is a great print on demand company that offers a great range of branding options that will help you either start your own brand/store online or add better merchandise to your existing store.
The T-Pop print on demand process is very simple and all you need to have is your own designs.
Upload your designs and place them on products of your choice, and T-Pop will handle everything else from keeping the stock, printing on demand, and shipping.
Products, including T-shirts, are made of quality materials such as 100% cotton or are made from recyclable materials which are decently priced.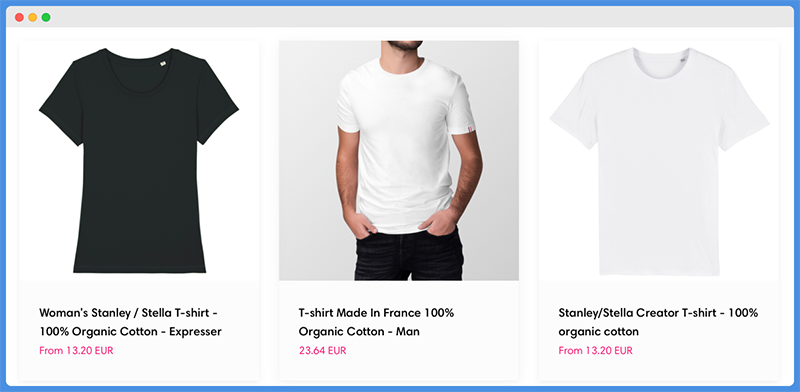 The great thing is that there's no up-front investment required, everything is 100% automated, and the quality of the products is high which is important if your customers will be wearing the T-shirt with your design on it.
Also Read: Best Merch Websites To Sell Your Merch Designs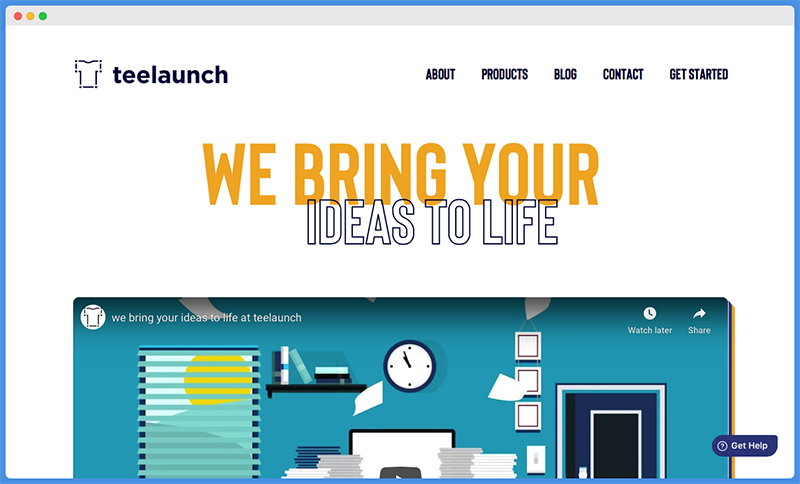 Teelaunch started out as a T-shirt print on demand company but now they sell a wide range of interesting products that are completely designable.
Teelaunch print on demand is suitable for sellers with audiences from all around the world, with 15 facilities across the United States, one facility in Canada, and 2 facilities in Europe.
Since it's a print on demand company specifically created to ensure T-shirt designs are brought to life, this might be the place for many sellers who are only focusing on T-shirts.
When it comes down to T-shirts, there are over 12 different models that come in the most common colors and sizes.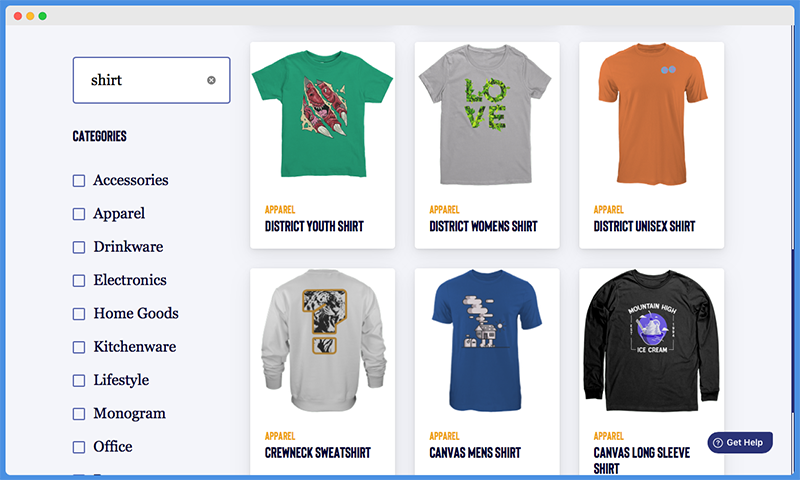 Price-wise, T-shirts go from $8.50 to $11.50 and the quality is pretty decent. However, keep in mind that shipping is paid on top of the base T-shirt price.
On the bright side, shipping for both the United States and internationally only costs $1.50.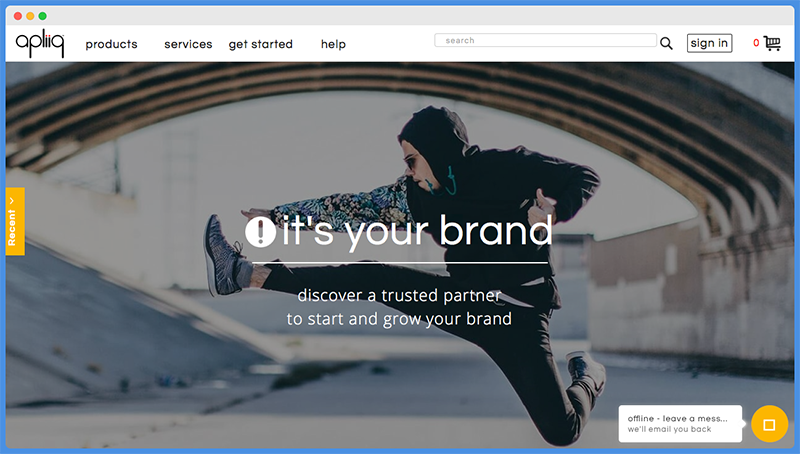 Apliiq has been in the game for a long time now and so far, its biggest strengths are worldwide presence (international shipping), high-quality, minimal cost, and well-optimized processes that allow you to hold no inventory at all yet lead a fashion brand without worry.
When it comes down to T-shirts, Apliiq features about 65 different designs that cost from $8.99 to $12.99+.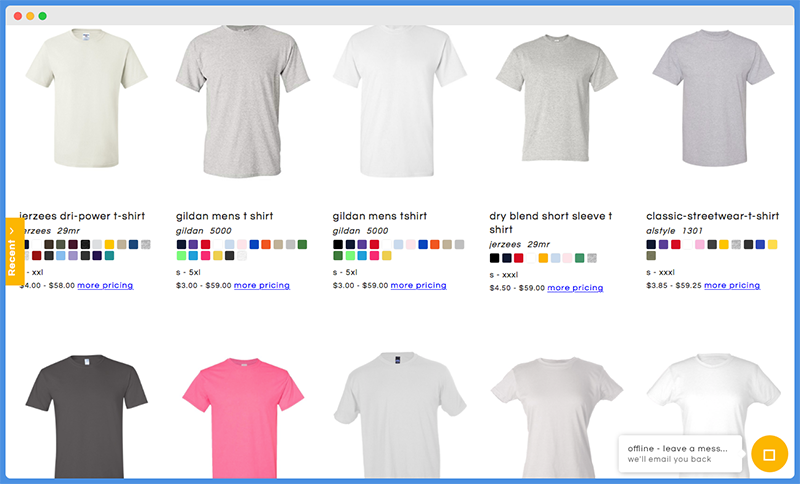 The private label often costs only about $0.75 – $2.50 per product, however, you should also consider the shipping costs.
Apliiq shipping within the United States starts at $3.99, and on top of that, they also charge $1 per fulfillment anywhere in the US.
The costs can quickly add up (especially if you opt-in for the private label), but if you already have a decent internet presence and you're on the verge of starting a fashion brand, Apliiq definitely makes more sense.
Check out this post if you want to explore how Apliiq performs against Printful.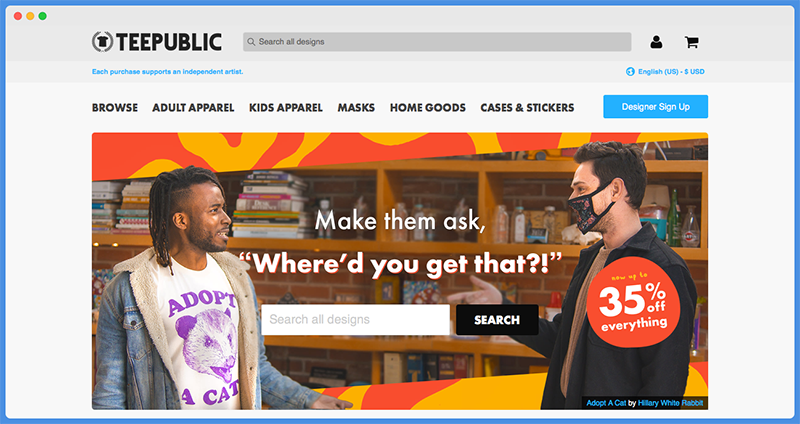 Since you're strictly looking for a T-shirt print on demand company, even though it's hard to find a specific print on demand company, TeePublic is one of a couple that made the cut.
TeePublic is a print on demand company that helps sellers, brands, and companies design and produce unique apparel that will attract attention.
Remember the last time someone asked you where you got a particular clothing item?
Therefore, TeePublic isn't a typical print on demand company that integrates into various eCommerce platforms.
However, this doesn't need to be a downside. Instead, it is ideal for people who aren't eCommerce owners but want to put their designing skills to work and start wearing and selling T-shirts you love wearing.
Once you register and start uploading your designs, you will need to do a bit of marketing just like you would do with your own store.
However, the most interesting thing is that TeePublic has an internal algorithm that showcases the most popular designs.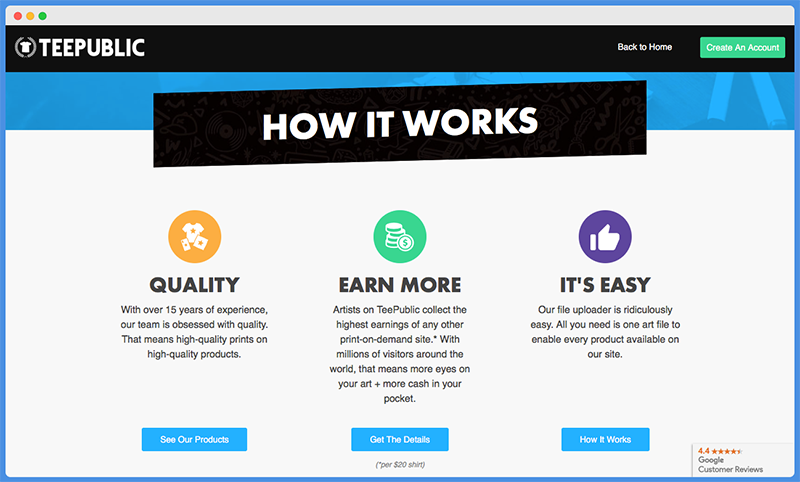 If your T-shirt ends up being popular, you can get more sales than you expected in a relatively short amount of time.
The best thing about it is that it can turn into passive income since TeePublic is dealing with everything from inventory to printing and shipping.
However, one thing to keep in mind is that margins are a bit low as you can get $4 per T-shirt and only $2 when it's on a discounted sale.
Conclusion
The print on demand business is a lucrative business model that can help you share your personality, spread your internet presence, and offer something nice to your audience/followers.
Partnering up with a platform that's designed to run everything for you is a great way to focus on design and forget about inventory, printing, and fulfillment.
Printful and Printify are two print on demand companies that tick the most boxes, but other companies offer at least one unique feature that might be a great fit for your needs.
Therefore, I highly recommend checking all of the options before making the choice as some strictly-shirt companies such as TeePublic can make a lot of sense if you're only interested in designing T-shirts.
Whether you'd like to offer your followers merchandise or you're putting your skills to work to become a T-shirt designer, all it takes is only one great design and some decent demand to create a possible passive revenue stream.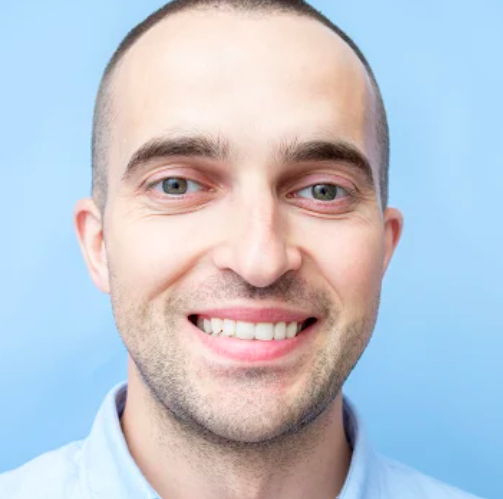 Author: Brian Erwin
I am Brian. I started my first e-commerce company in college designing and selling t-shirts for my campus bar crawl using Print-On-Demand. Having successfully established multiple 6 & 7 figure e-commerce businesses (in women's fashion and hiking gear), I think I can share a tip or 2 to help you get succeed.